My toddler just turned three – and I'm finally ditching my maternity clothes! See my HUGE clothing haul, where I picked up some cute spring outfits from American Eagle, Aerie, Target, ONecklace, & Roolee!
---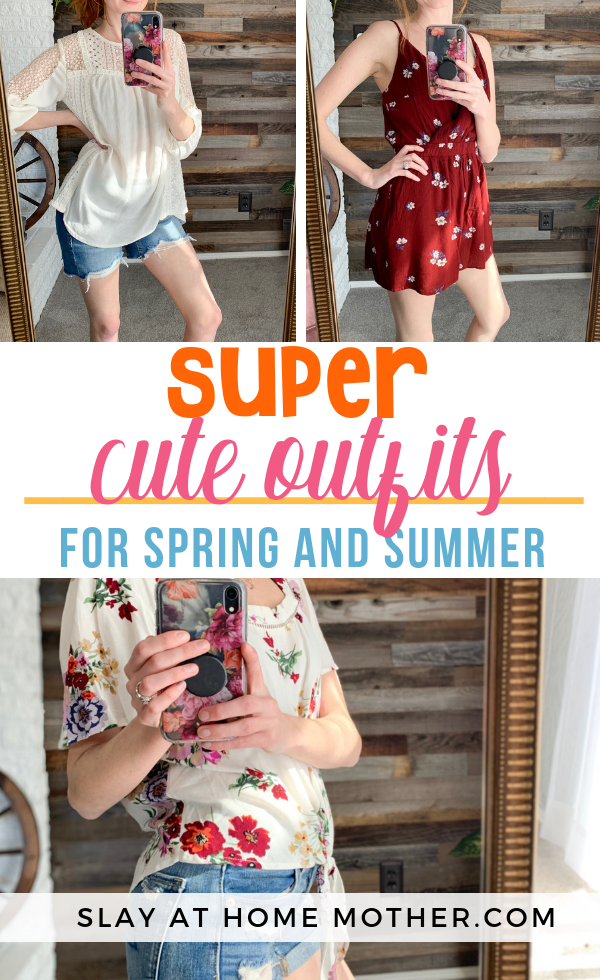 Hi friends and #slayathomebabes! I'm super excited to share my HUGE Spring Shopping Haul with you all (although you might've already seen a bunch of these in a recent Instagram Try-on series I did that was highly requested)!
In this post, I'll be sharing some cute spring outfits for 2019 that you can grab at great prices while the sales last!
Before I share this shopping haul with you guys, first understand two things:
I don't do large shopping hauls like this for myself (like, ever)
I have been wearing maternity clothes for the last three years
After I went Marie Kondo on my closet this winter, I stood back and looked at all of the clothing items I owned. the ideas behind the KonMari method is to only keep the things that spark joy for you.
For clothes, I translated that into meaning keeping the clothing that made me feel good. It was a surprise to me that most of what made me feel good were maternity clothes! I have been wearing my maternity clothes as regular clothes for the last three years. Almost all of my sweaters and tees are made to house a baby bump in. It really isn't the most flattering look – shocking, I know, but true.
Needless to say – I have been in serious need of a wardrobe update! As much as I love my comfortable sweaters, tops, and leggings – I'm starting to feel like a bum when I'm wearing them. So, I waited for a few sales to hit my inbox at some of my favorite stores, and worn down my pretty plastic debit card.
This post contains affiliate links for your convenience, at no cost to you! Thank you for supporting Slay At Home Mother.
Spring Tops
After three years of sporting long maternity shirts, it was time to ditch the pregnant-but-not-really-pregnant look and grab some cute shirts on sale…
Spring Sweater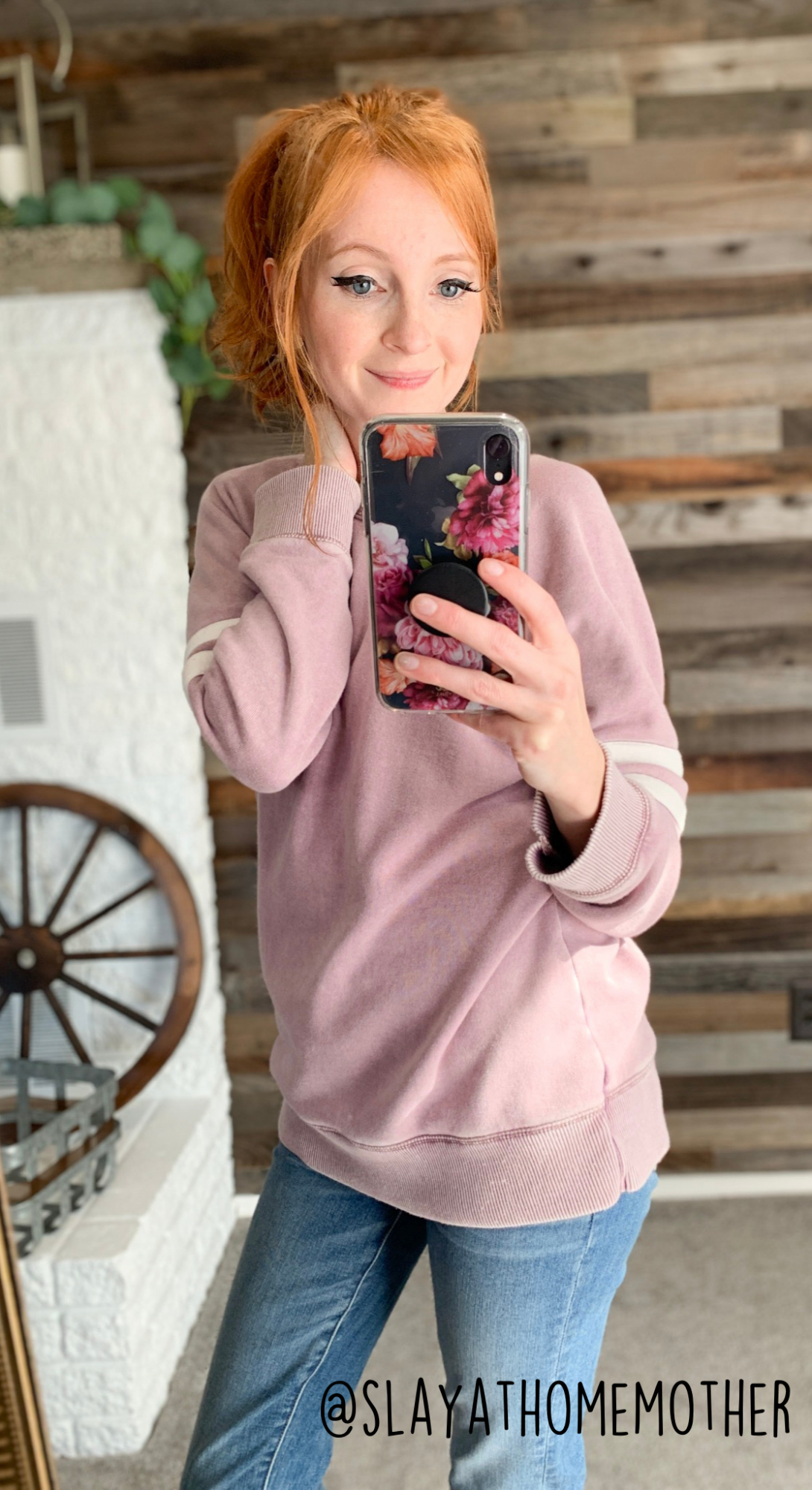 Purple pullover | AE Ne(x)t level jegging
This sweater is so incredibly soft – I've been sporting it almost every morning on my way out of the door to drop the boys off at school. The purple color is soft and muted – it's the perfect addition to my new wardrobe.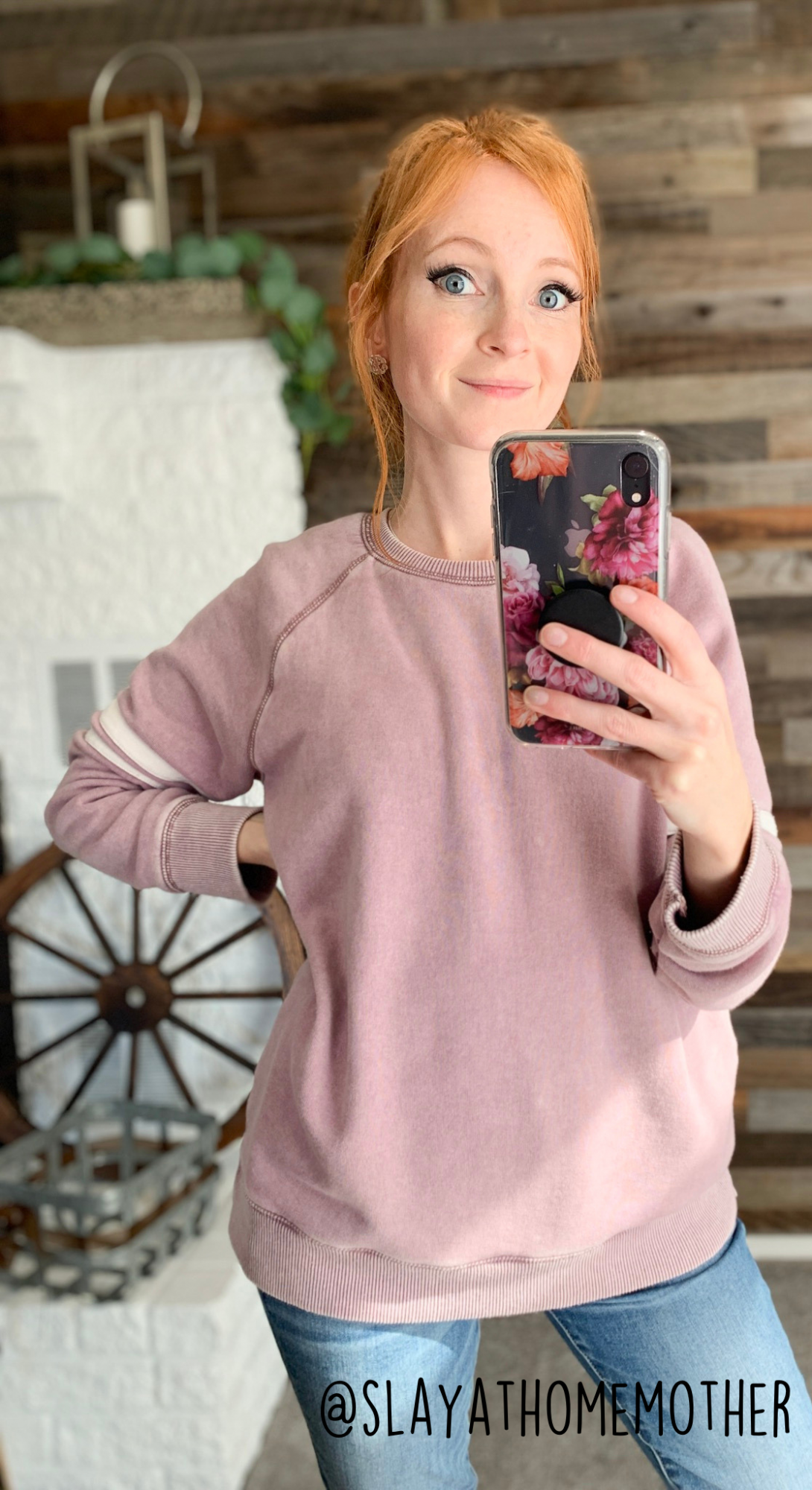 Purple pullover | AE Ne(x)t level jegging
This cuddly purple sweater is seriously my favorite – it's perfect for chilly Spring morning here in the Midwest, and I can tie it around my waist when it gets too warm out. It's seriously so soft, too!
Shirts & Tanks
brown tank: https://shopstyle.it/l/1zly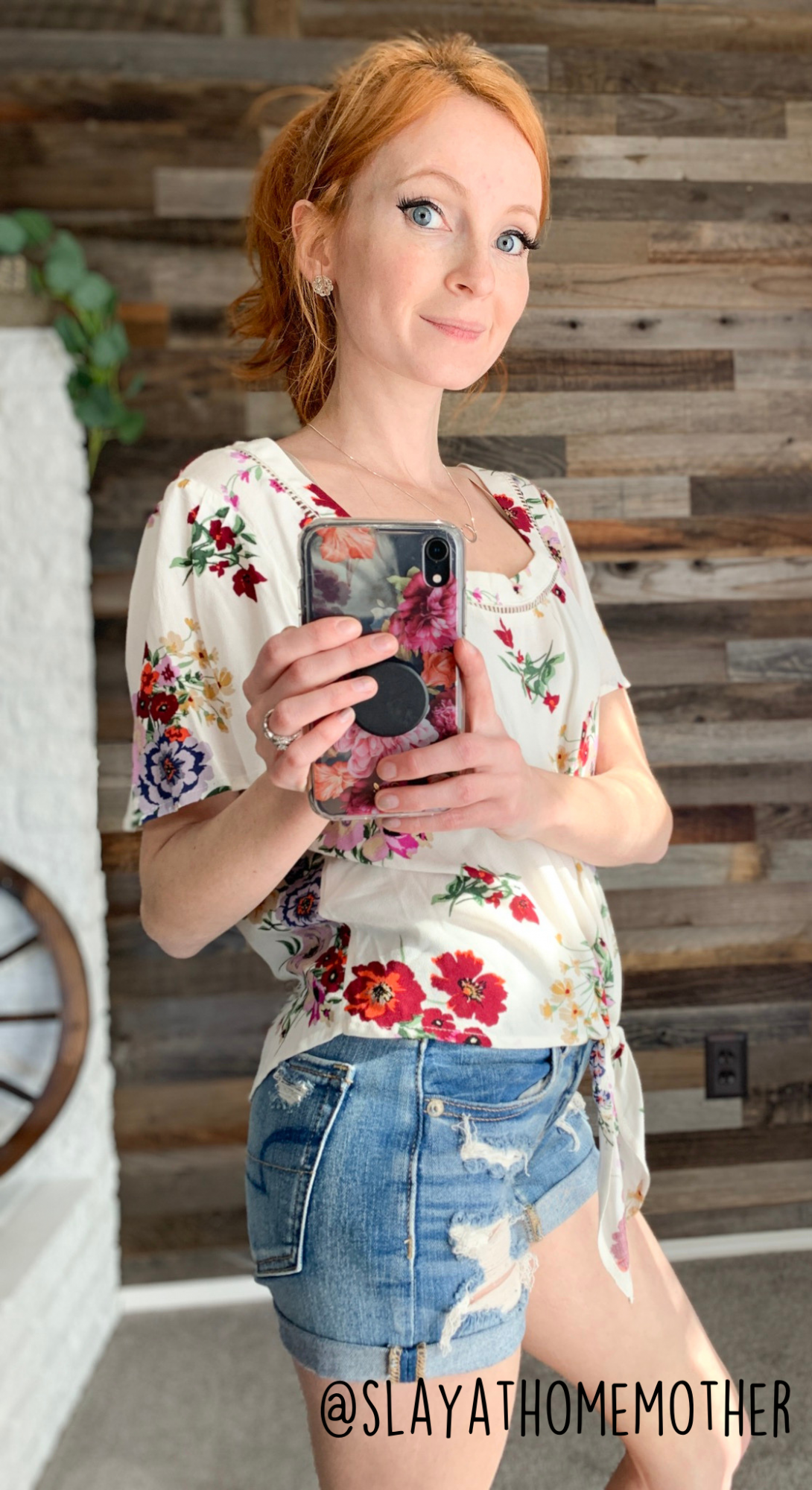 White floral top | AE shorts | Initial necklace | Monogram earrings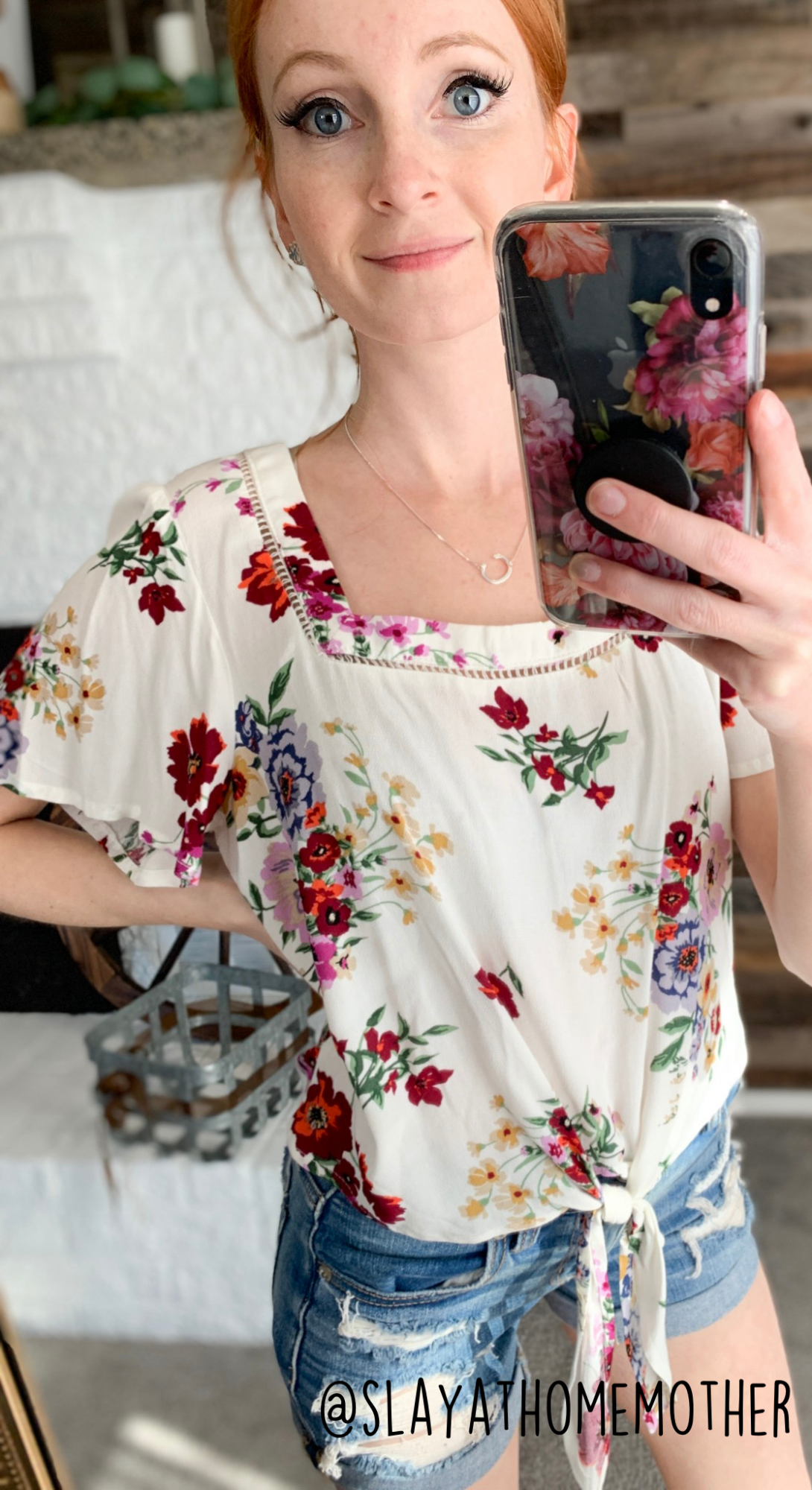 White floral top | AE shorts | Initial necklace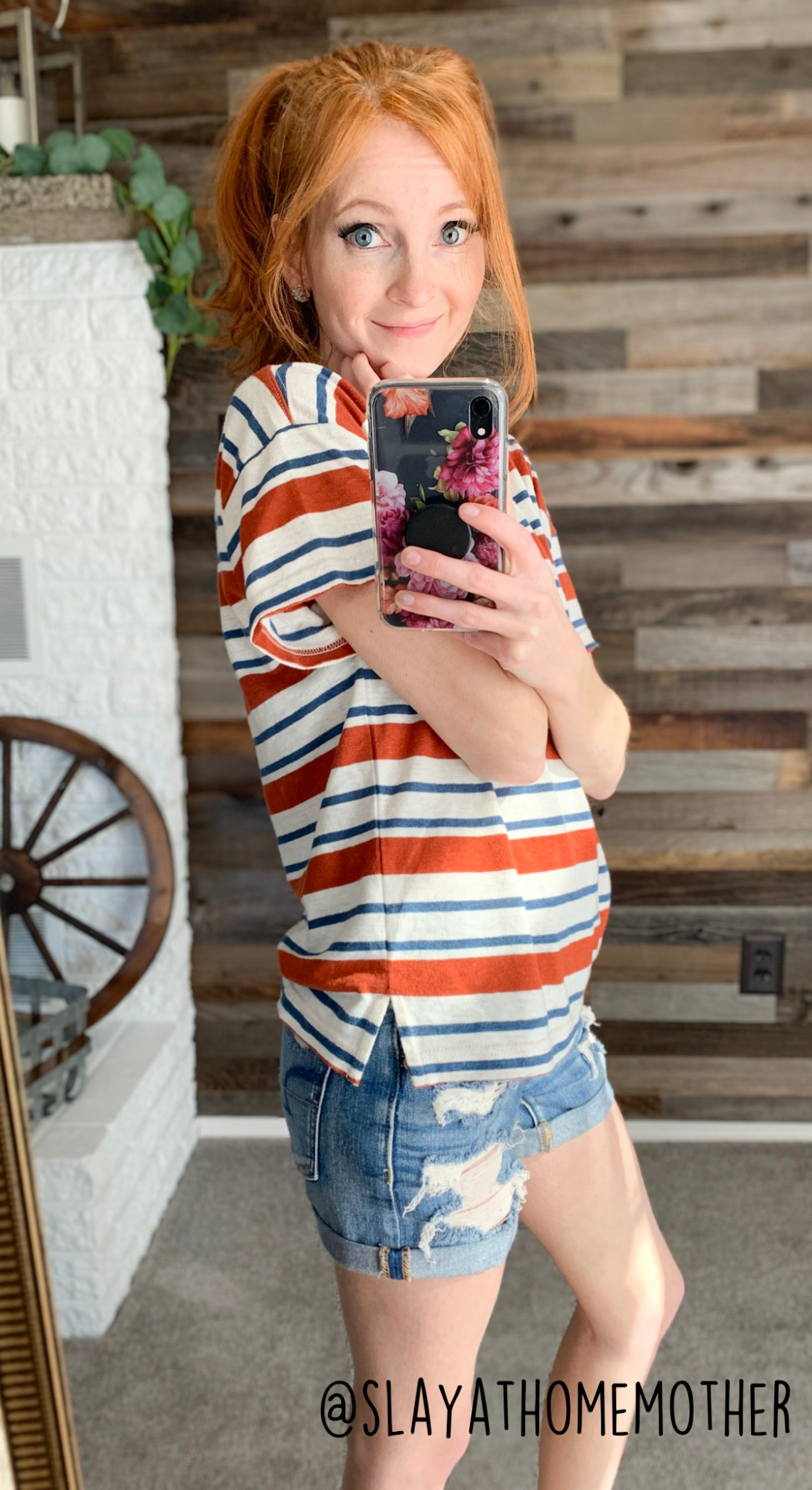 Kossin striped tee from Roolee | AE shorts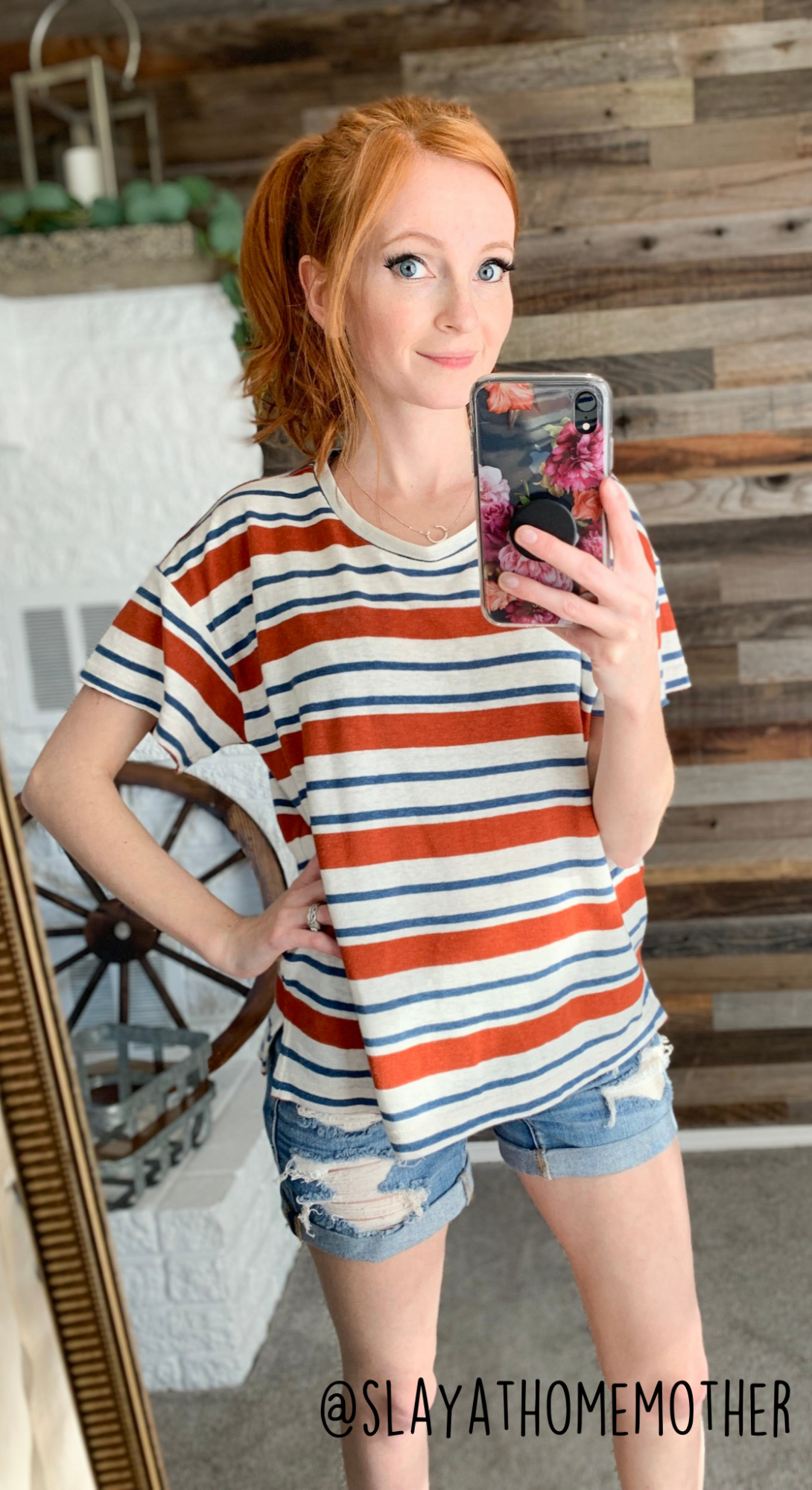 Kossin striped tee from Roolee | AE shorts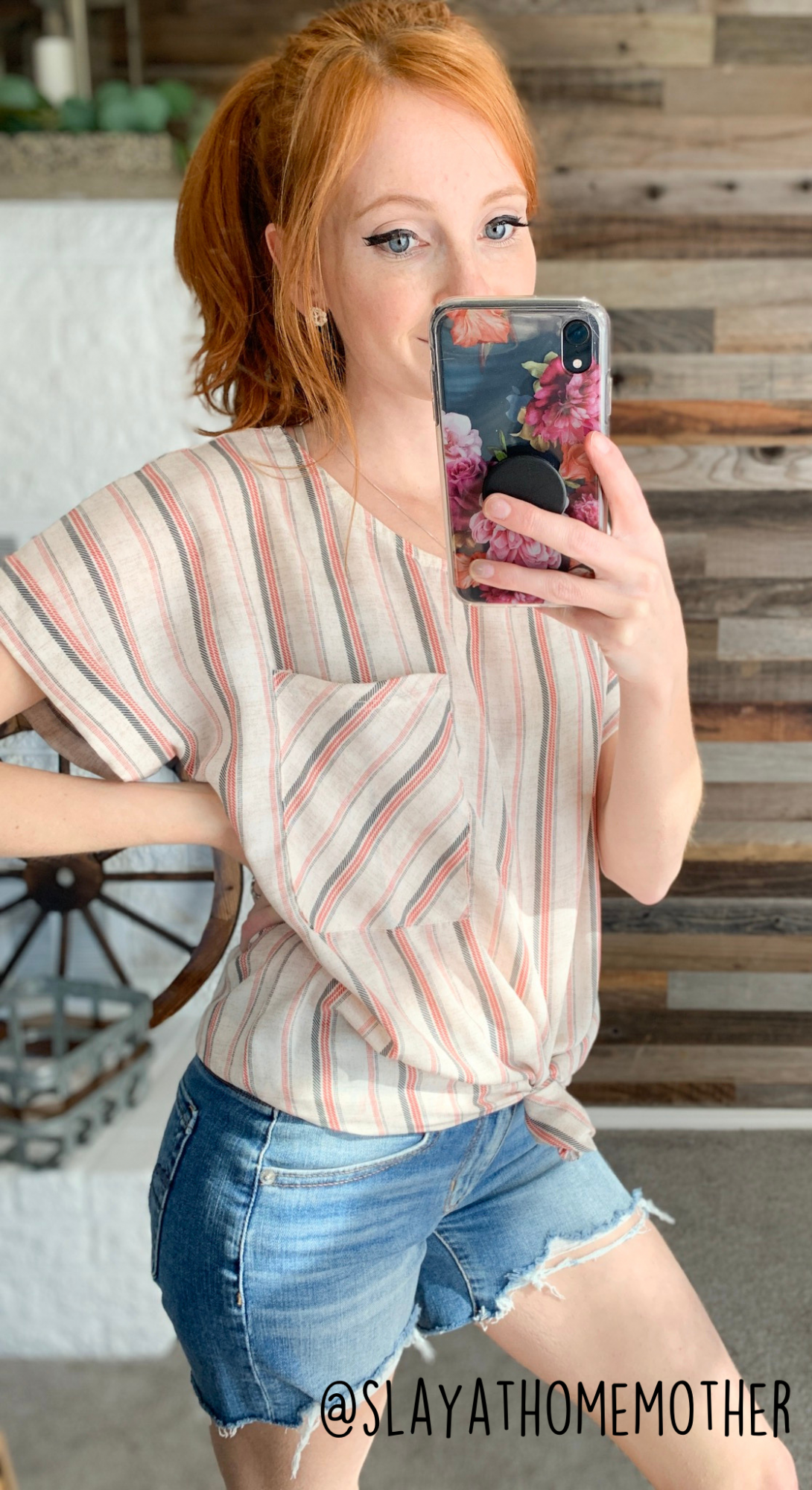 Randi pocket blouse from Roolee | AE shorts | Monogram earrings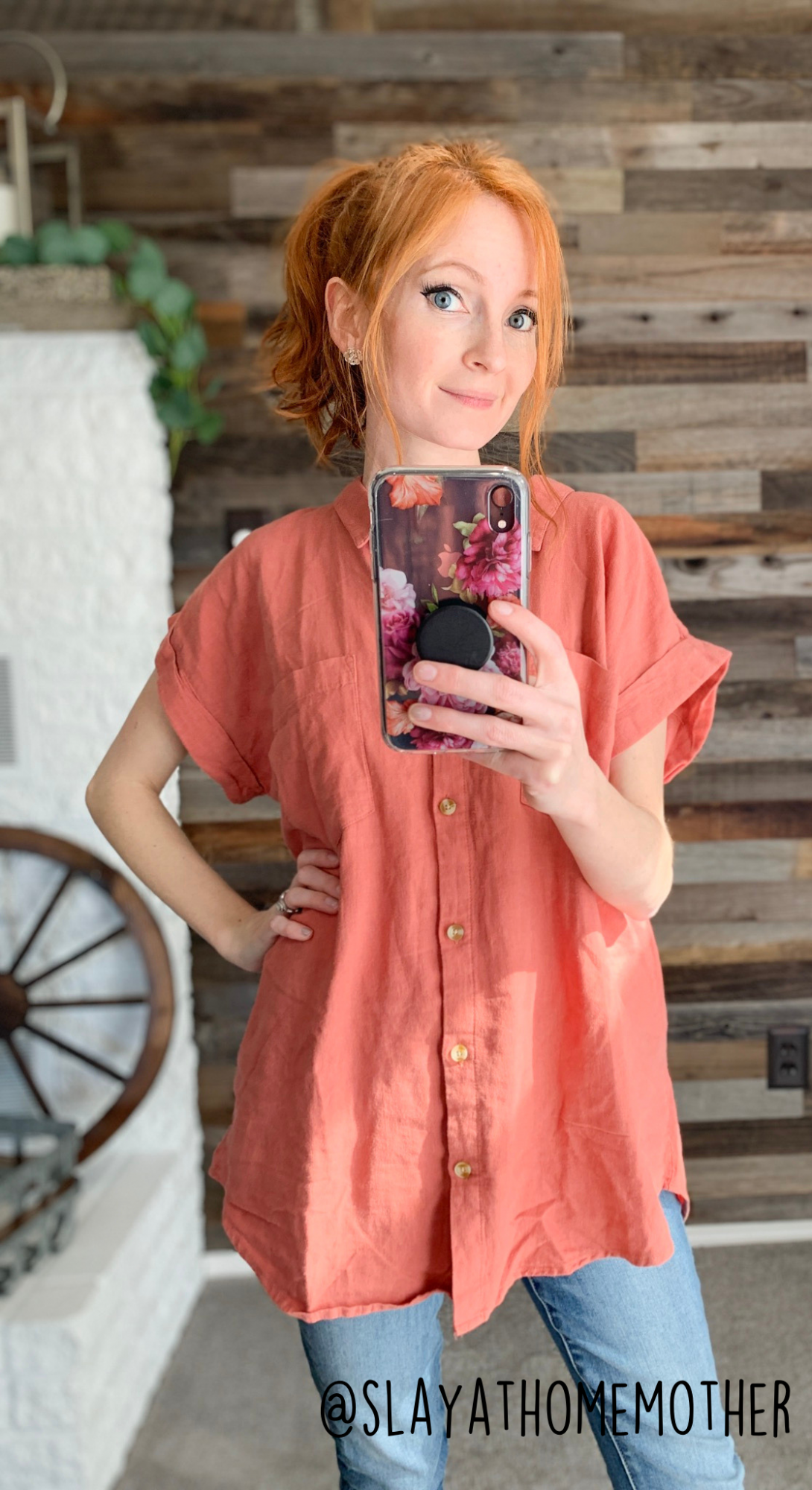 Erin detail top from Roolee | High-waisted jegging
Use code NEWTOROO to save 10% on your first order!
Bralettes
These days, I'm all about comfort. When it comes to bras, I still need a little support to be comfortable, but underwire annoys me. I wanted to try something different.
Hello, bralettes!
While I am too modest to share what my bralettes look like with you all (because let's face it, the internet is a scary place and you never know who is looking), I can share my experience with you guys! I bought my first bralette from Aerie just to try it out – and fell in love!
I wear a 32B size bra, and found that the XS bralette was perfect for me! The band is stretchy, the 'cups' have light padding that can be removed, and the straps were crazy comfortable.
I'm not sure how these bralettes work for women who are gifted in the chest – feel free to leave a comment on this post if you are and have tried these bralettes so I can share!
After having such a positive experience with my first bralette, I grabbed a couple more in a different style (see them HERE). This second style of bralettes features gorgeous straps that look great under any top. They are so feminine and pretty!
P.S. While I don't feel comfortable showing you guys what these gorgeous bralettes look like on, I did share some quick stories on Instagram (now added to my Try On highlight) to show you what the straps look like under a tank top!
Bottoms
Because American Eagle was having a HUGE sale on their denim, I decided to stock up on both pants and shorts! I even picked up a soft pair of joggers when I'm on-the-go.
Jeans
Possibly my new favorite jeans, I purchased a pair of super high-waisted jeggings and was not disappointed! Having kids has given me hips – which isn't a bag thing, considering my body type is very slender and I did not have many curves to start with ;). I always joke with my husband that my hips start up at my ribs because they certainly look like it. These jeans hug me in all the right places!
I also grabbed some AE Ne(x)t level jeggings (two pairs to be exact), because they go with everything and last forever.
I typically get my jeans from Hollister – but they don't last very long at all :(.
Shorts
Midi short | Ne(x)t level midi short
Featured in the shots above, these shorts are so cute and perfect for spring and summer weather.
Joggers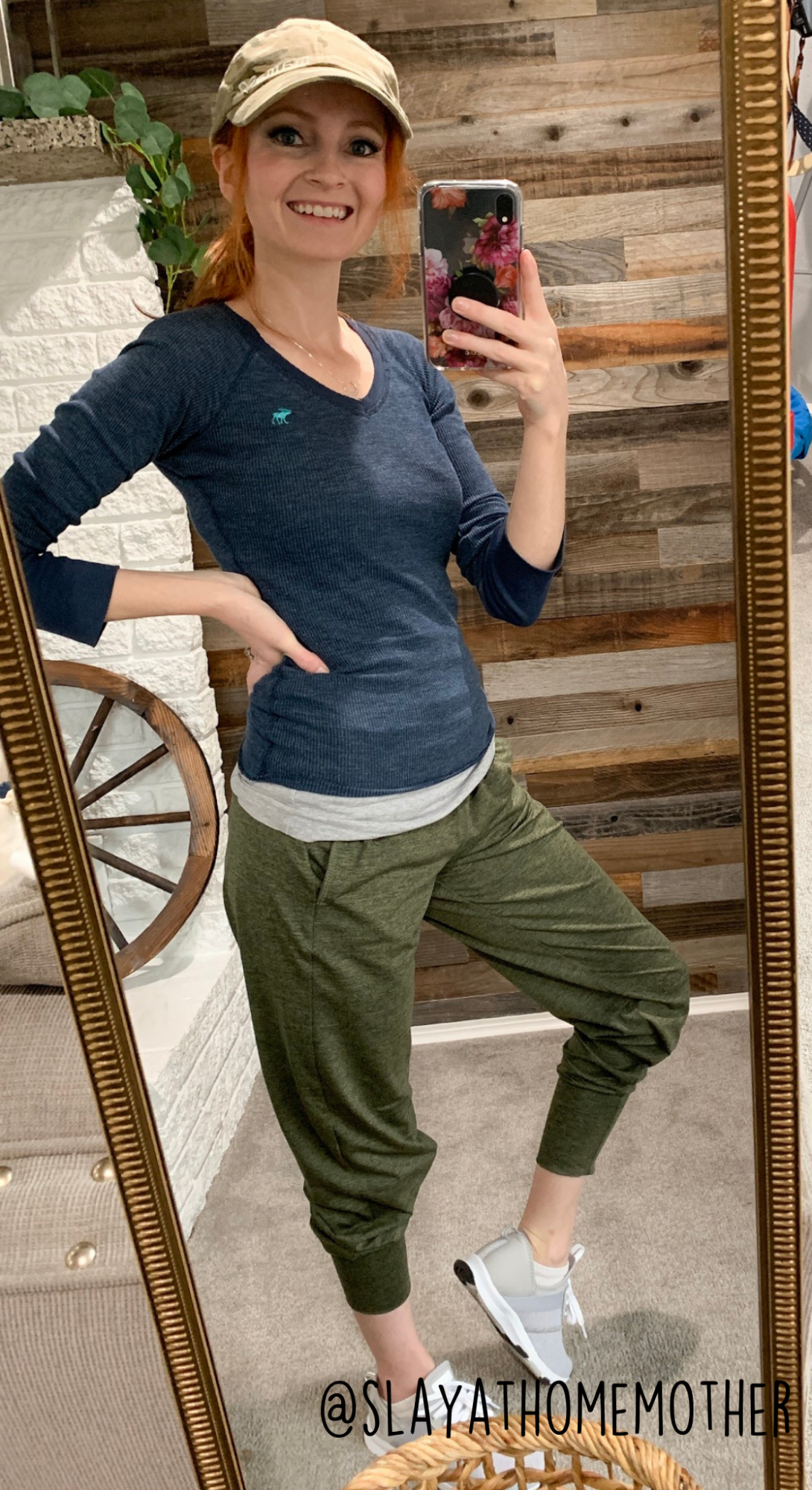 Camo 'Mama' Hat: Etsy (RightHereAtHome) | AE Real Soft Joggers | NB FuelCore Nergize Kicks
Rompers
These are my first rompers – ever! I'm super late to the romper party, but I'm glad I made it because these are so fun and adorable!
P.S. The striped one if my fave!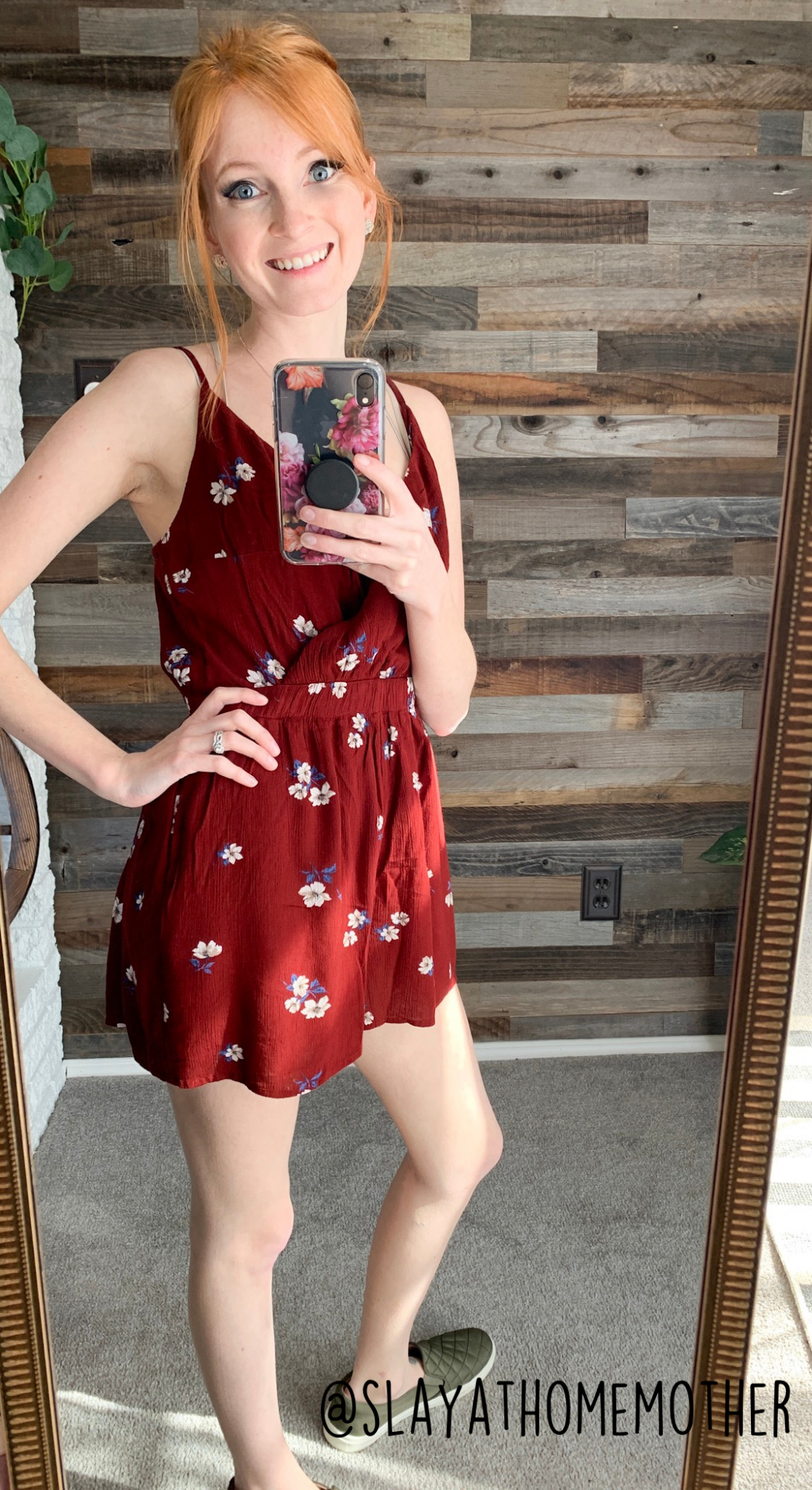 Red romper from AE | Olive green quilted slip-ons from Target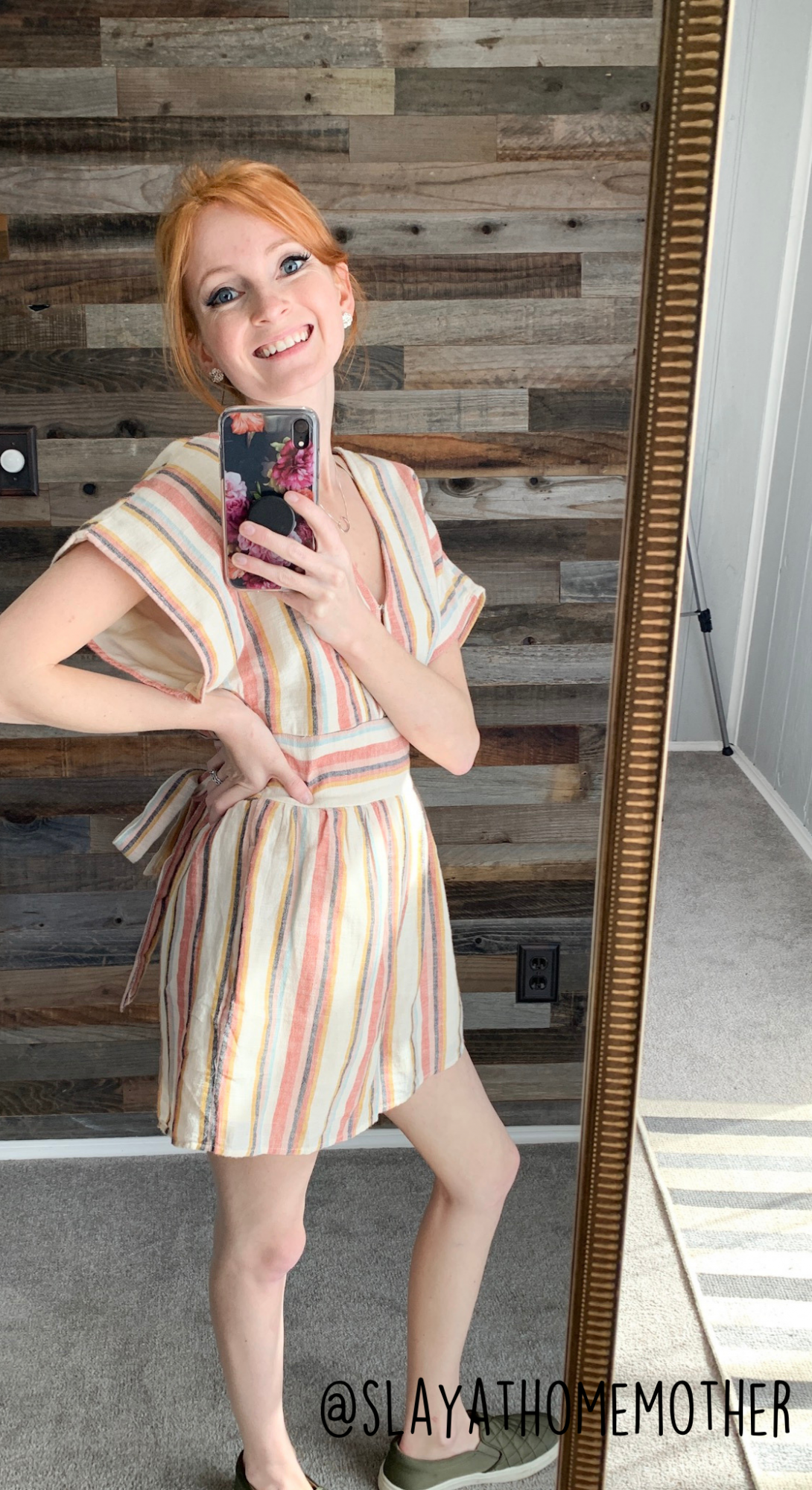 Striped kimono romper | Olive green slip-ons from Target
Slip-On Shoes
For my loyal readers and Instagram followers, you've probably seen me sporting the same ol' rugged Uggs all winter. They have paint on them from my fireplace project, and they're dirty as all heck. I certainly can't wear them during the spring and summer seasons – so it was time to grab some easy slip-on shoes to go along with my new outfits.
Jewelry
Since Jax isn't a little baby pulling on my earrings and necklace, I thought now was the perfect time to grab some chic jewelry to add to my wardrobe. ONecklace gifted me these two sets to feature:
monogram earrings: https://www.onecklace.com/monogram-stud-earrings/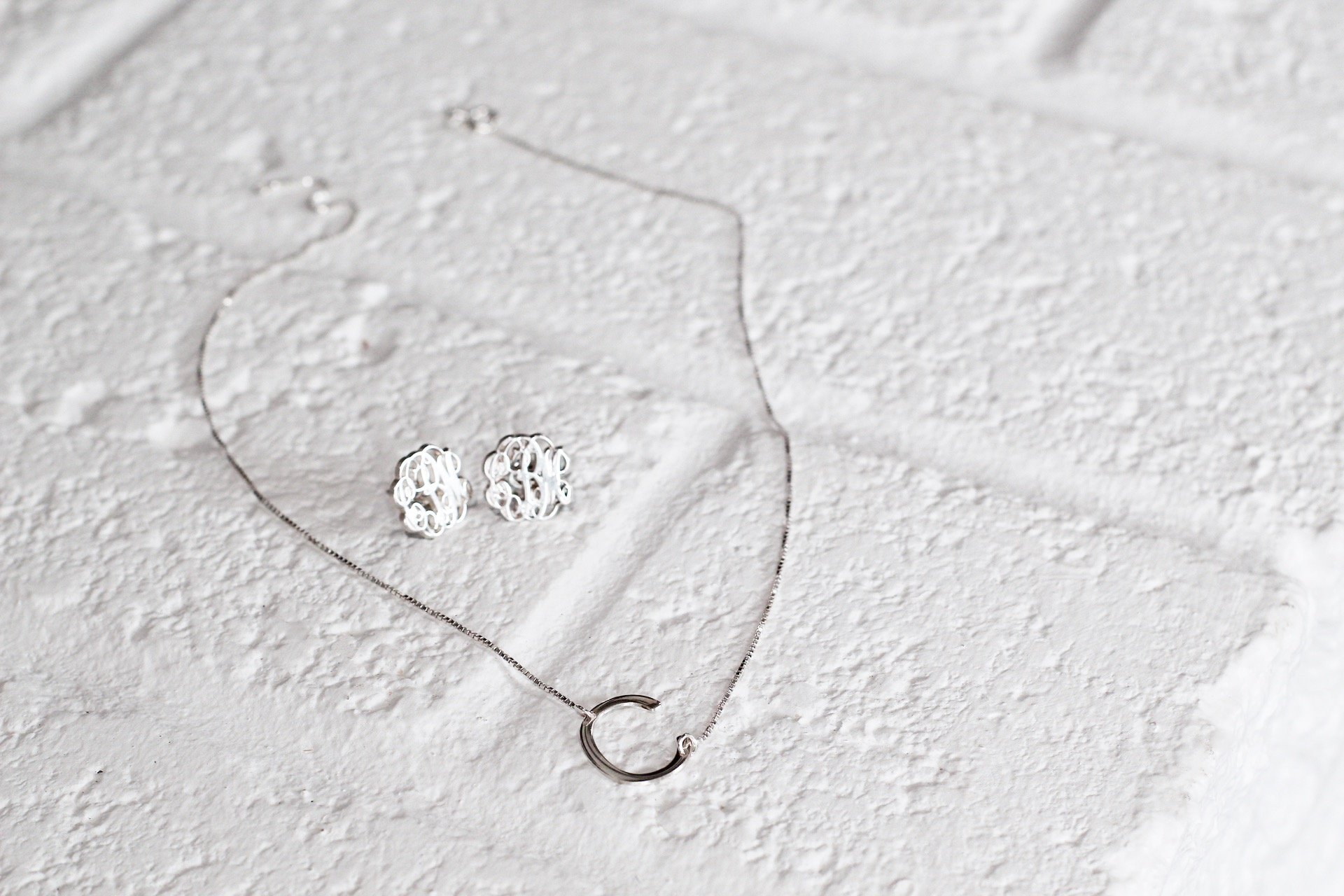 Monogram earrings | Initial necklace
They're both so perfect! I love how simple and elegant they make me feel.
---
Alright, ladies, that's it for my spring shopping haul – hope you enjoy this post and feel inspired to treat yo self ;). Keep an eye out for new clothing try ons and purchases on my Instagram!