This shop has been compensated by Collective Bias, Inc. and its advertiser. All opinions are mine alone. #WelcomeToFamilyNight #PeterRabbit #CollectiveBias
Hello, friends! In the spirit of 'Eat What You Want' day (May 11th), I'm sharing our fun little Family Night In – Max style. Max is my oldest son, and while he appears to be my sweet and sensitive 8-year-old, he is actually an old soul wise beyond his years and too smart for his own good. And every once in a while, we let our young man decide everything we'll be doing for family time.
As a family, we spend time together every night and have a routine down for school days – but once a week, we try to dedicate an entire evening to spending time together that isn't centered around bath time, homework, or reading. We try to select activities and meals we know the kids will love. For this Family Night In, we decided to hand Max the reins! He got to choose what activities we would be doing together, and what foods he would like to eat. Max chose to do a Family Movie Night together!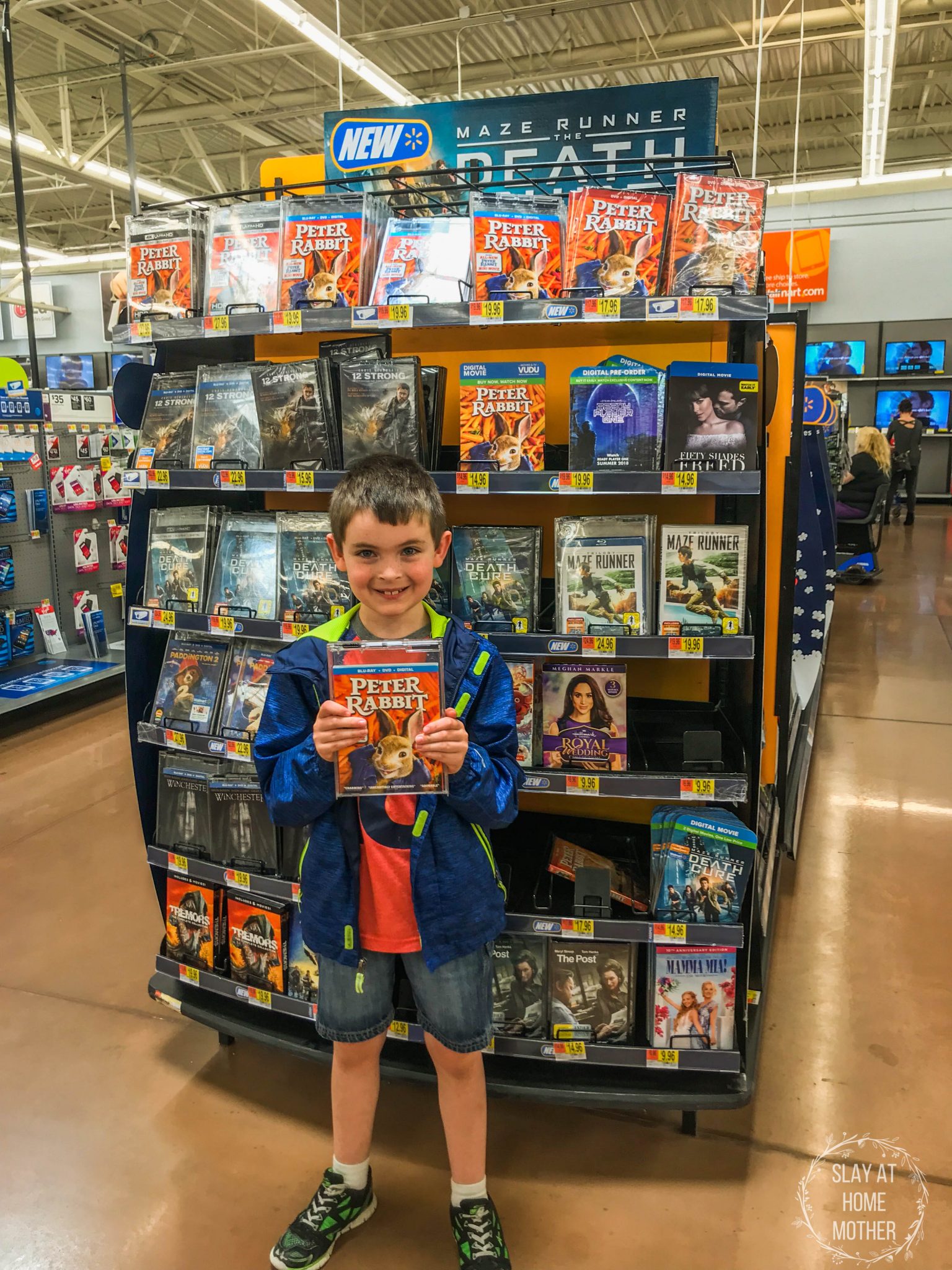 And since we found out that Walmart released the Blu-Ray + DVD + Digital Copy of Peter Rabbit on May 1st, this was Max's movie choice. He's been wanting to see it since he first found out it was in theaters.
For his meal choice, Max has a favorite – Kid Cuisine!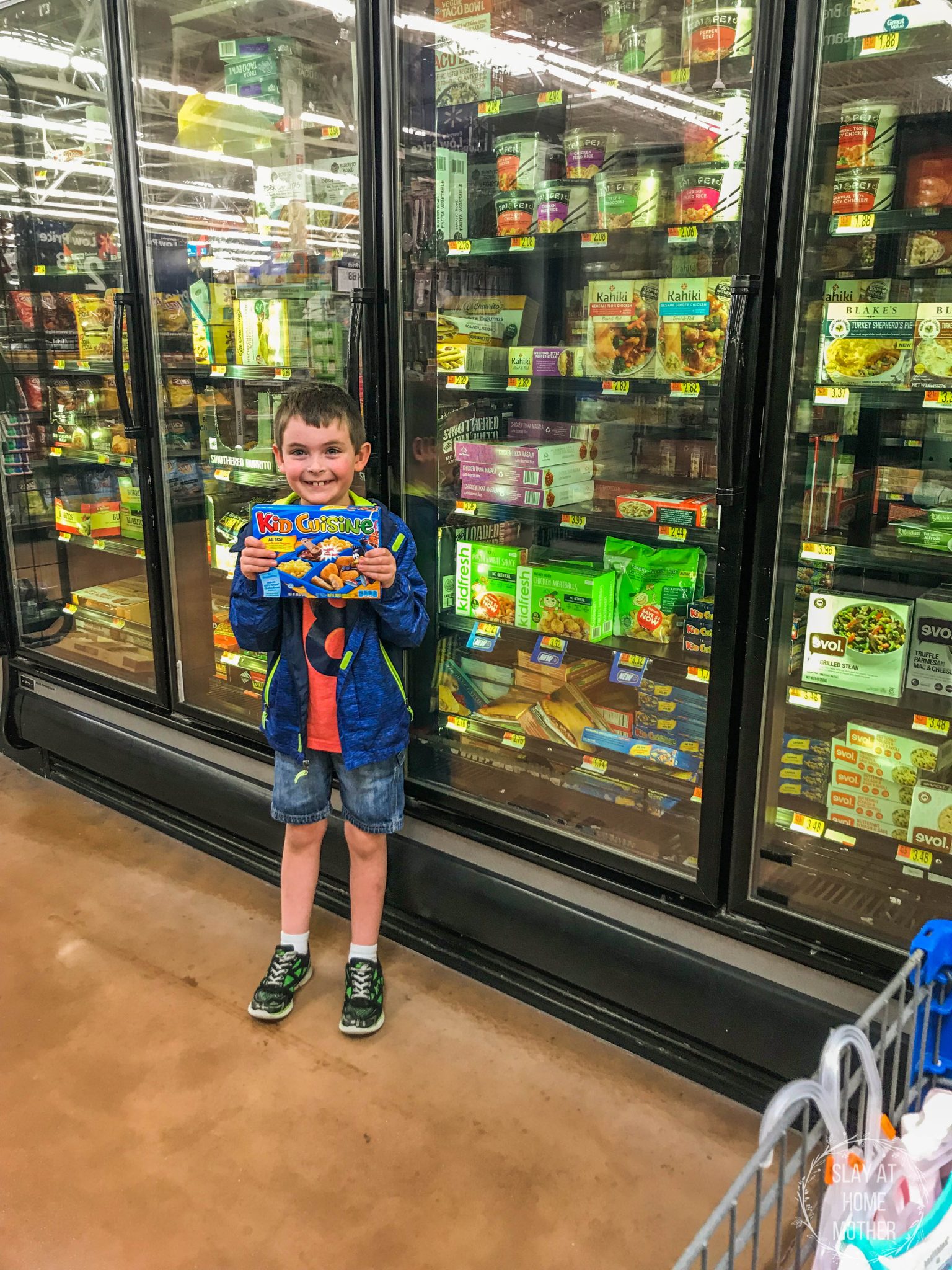 Kid Cuisine offers kids' all-time favorites, like chicken nuggets and macaroni and cheese with a fun dessert so our kids can enjoy their meal. I loved the ease in purchasing one of his favorite meals for our movie night, and Max was thrilled to be able to have chosen his own dinner. I'm just thankful he didn't request ice cream…
He said he felt like such a grown up!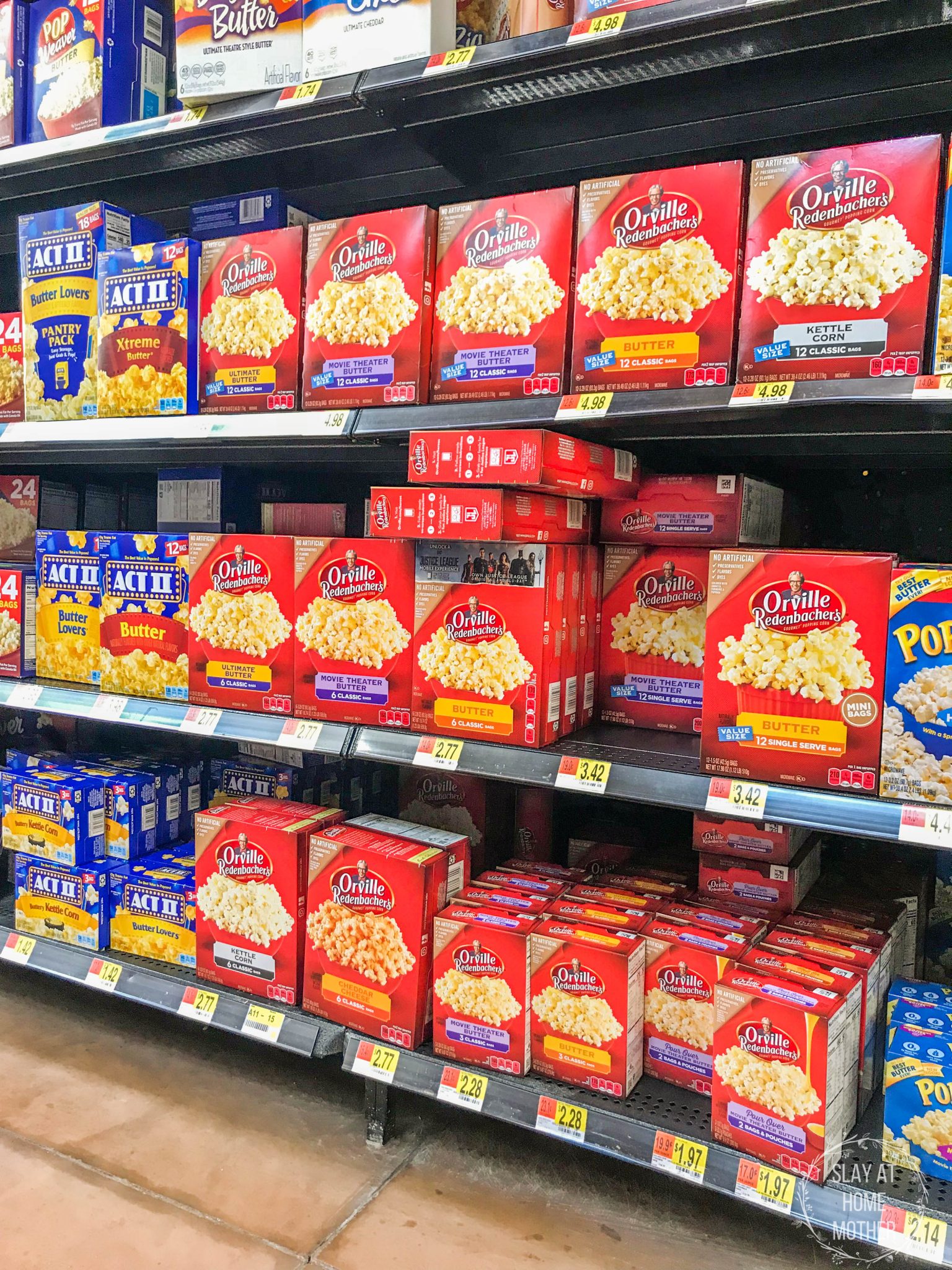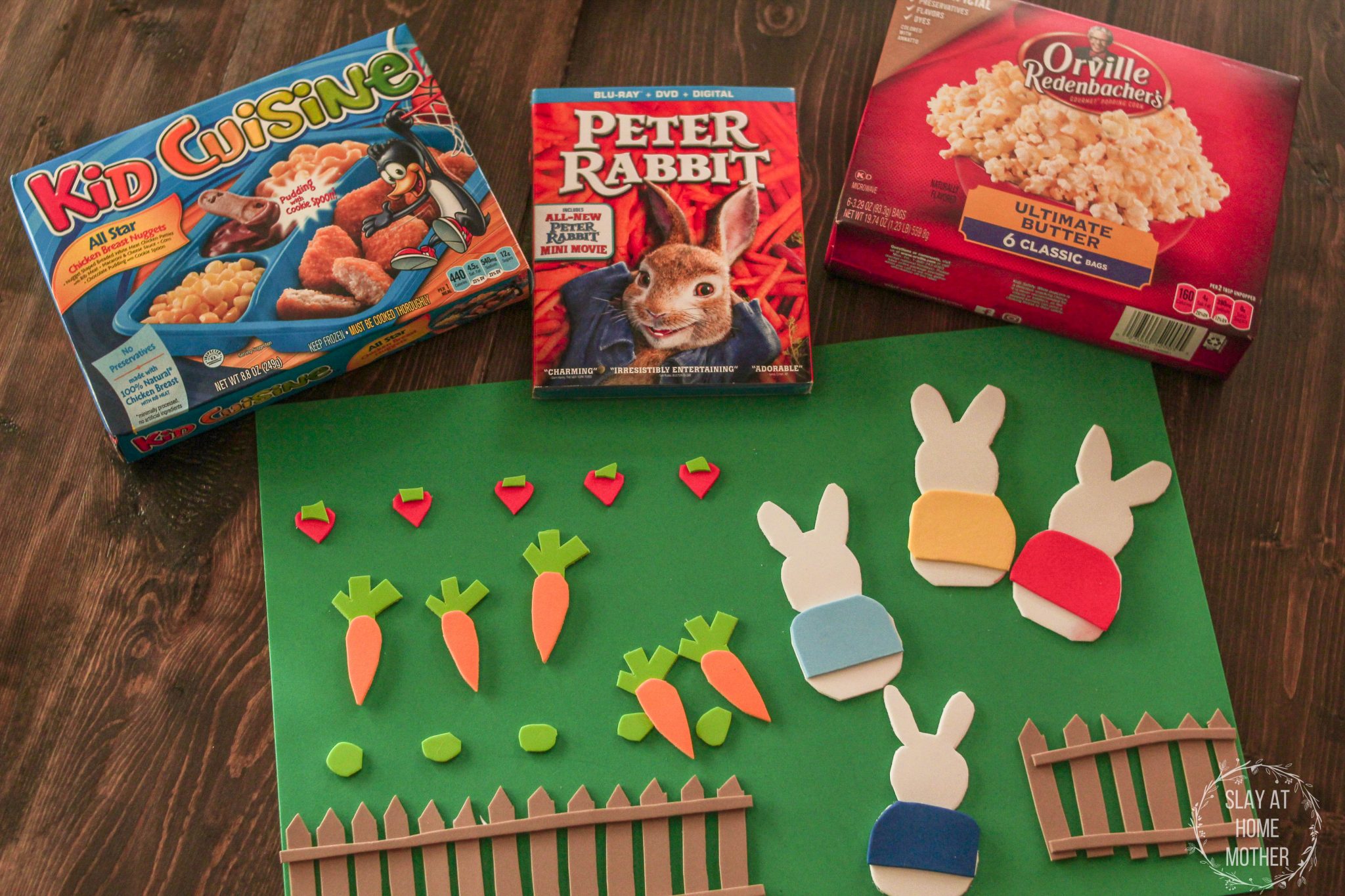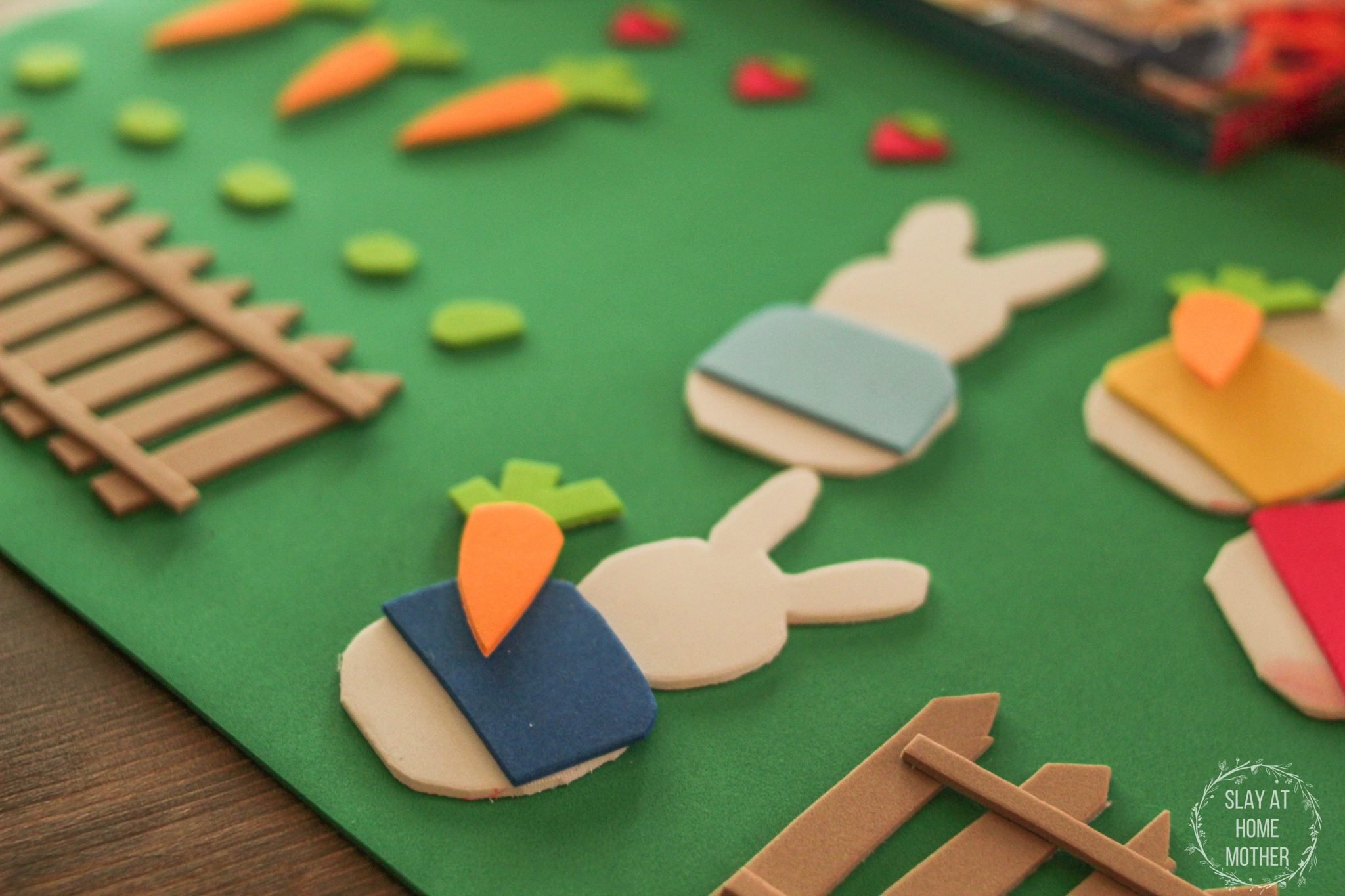 For our Family Night In, Max also requested we do a special craft to go along with our new movie, Peter Rabbit. I'm always in the mood to craft! We grabbed some Craft Foam Sheets from Walmart while we were in the store that came in a pack of assorted colors. Max helped me cut out the shapes of the bunnies, a fence, and some fruits and vegetables for our soon-to-be foam garden. With our pretend garden, Max could play along with the movie as Peter Rabbit and his siblings (Flopsy, Mopsy, and Cotton-Tail) stole food from Mr. McGregor's garden.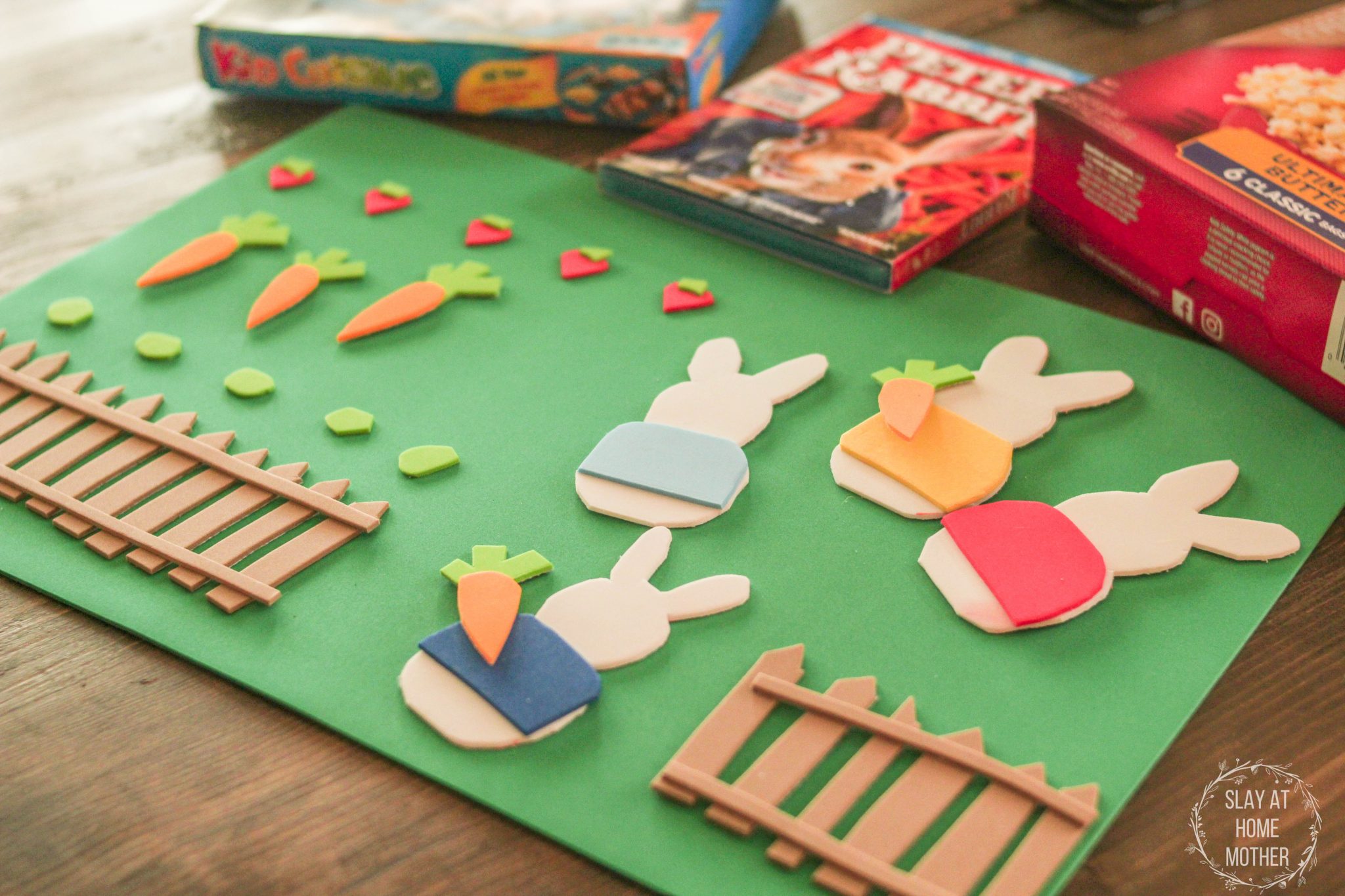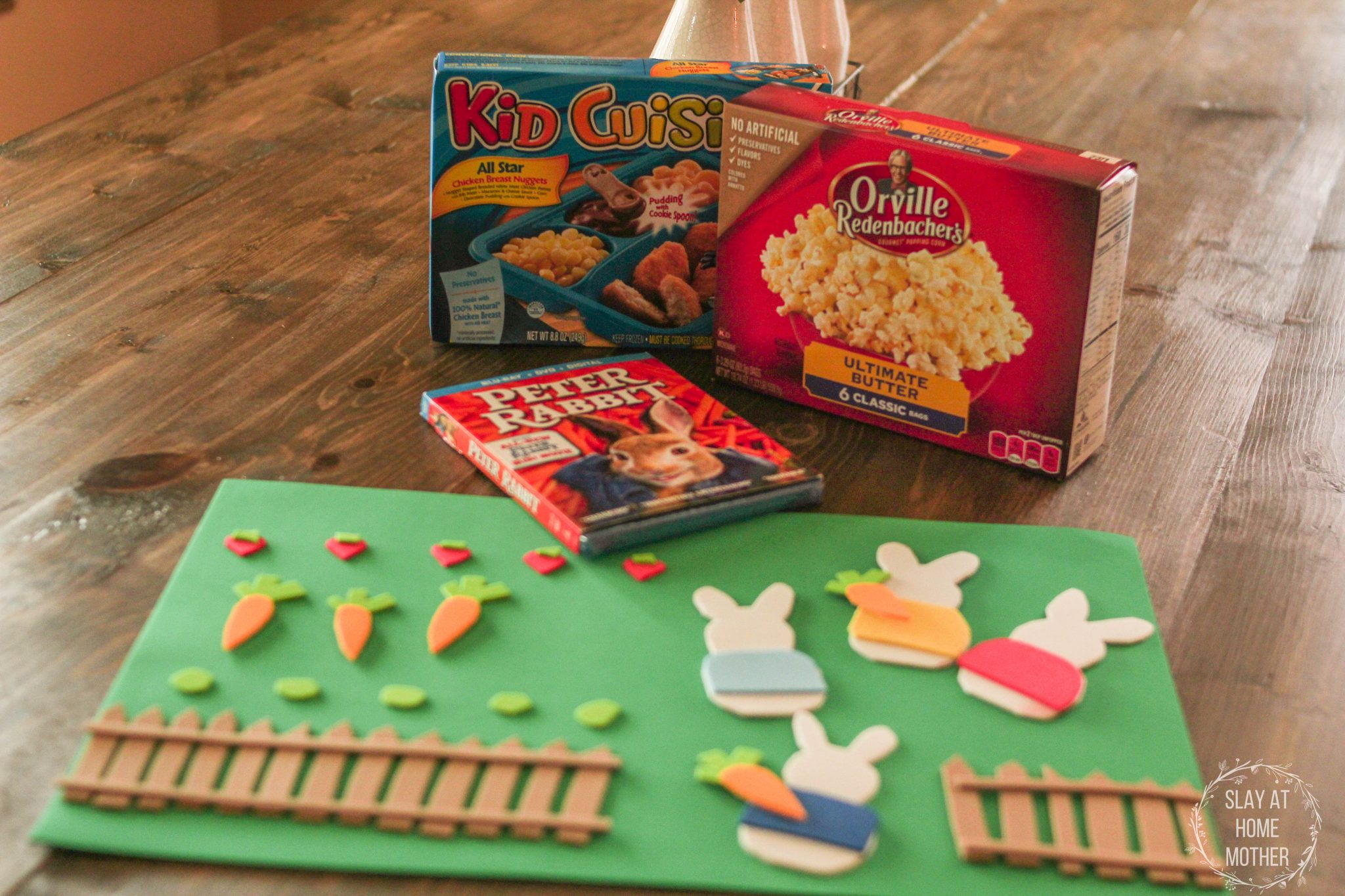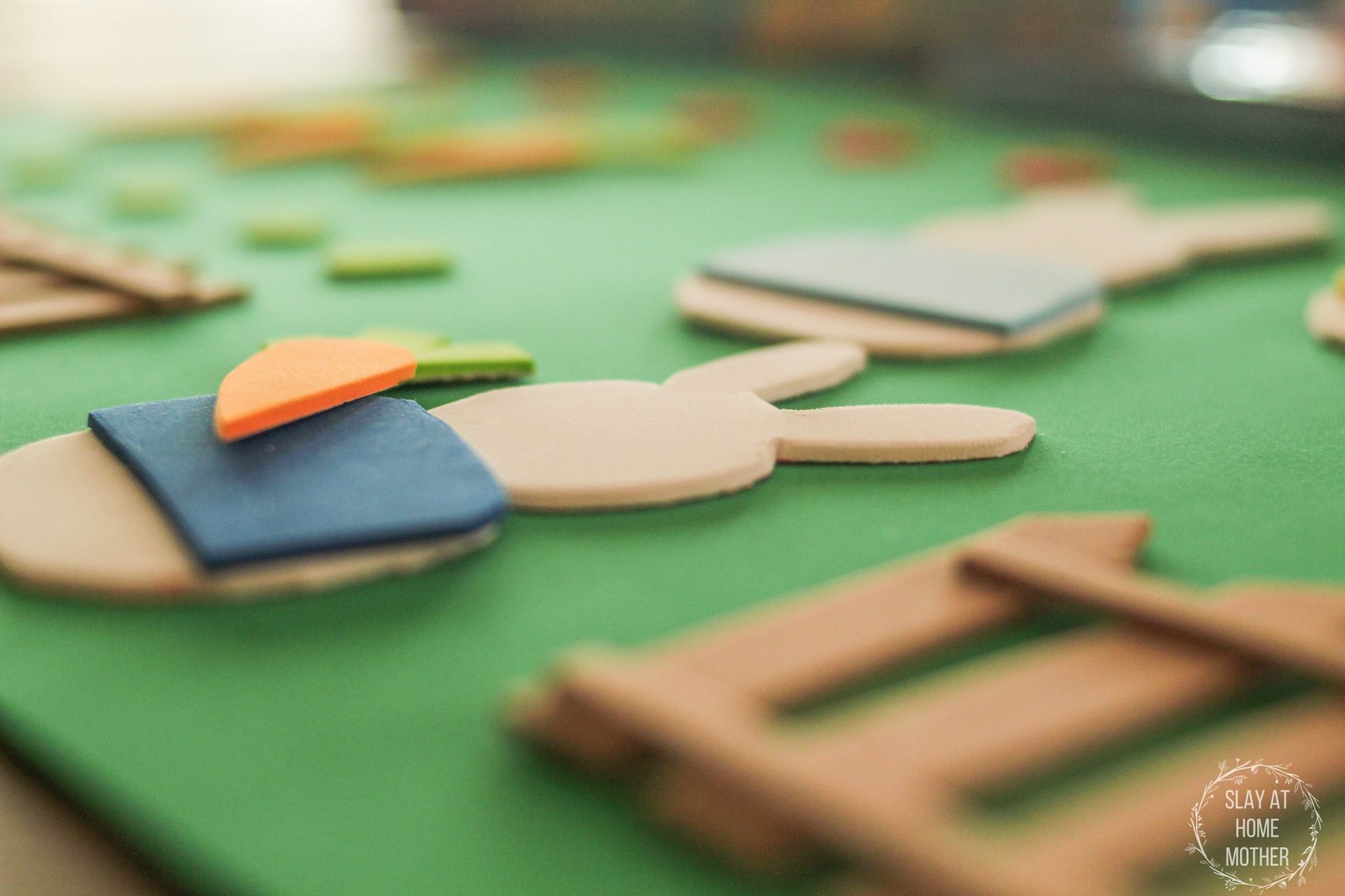 We used safety scissors to cut out the shapes of our foods, and chose to include some carrots, strawberries, and cabbage. Yes, those green circles are cabbages. The fence looks kind of complicated, but it really isn't! We simply cut out thick strips of brown foam, cut the top edge on each strip so that it appeared to be pointed, and then laid a long strip of brown foam over top along the 'top' and 'bottom' of our garden's fence.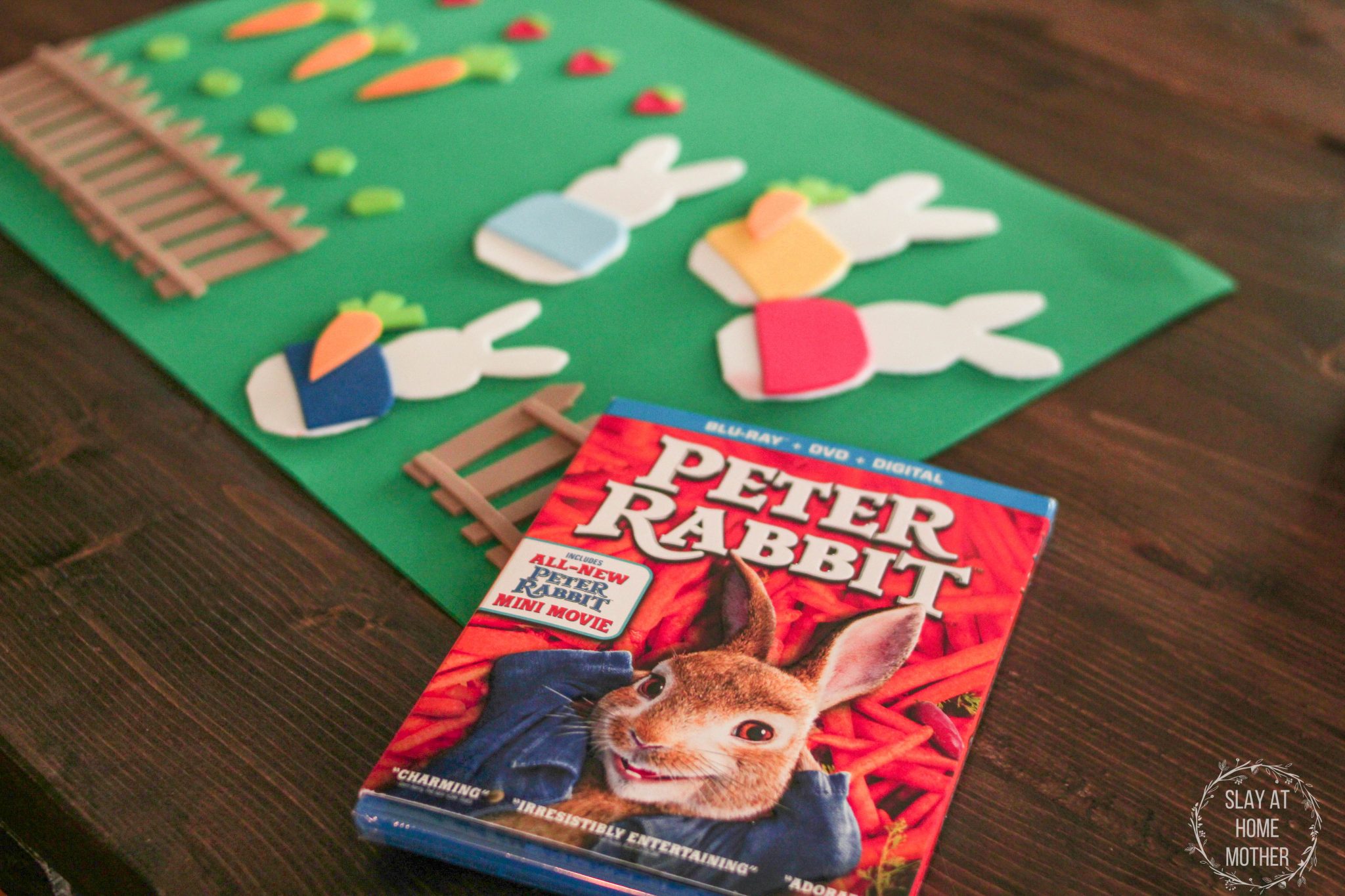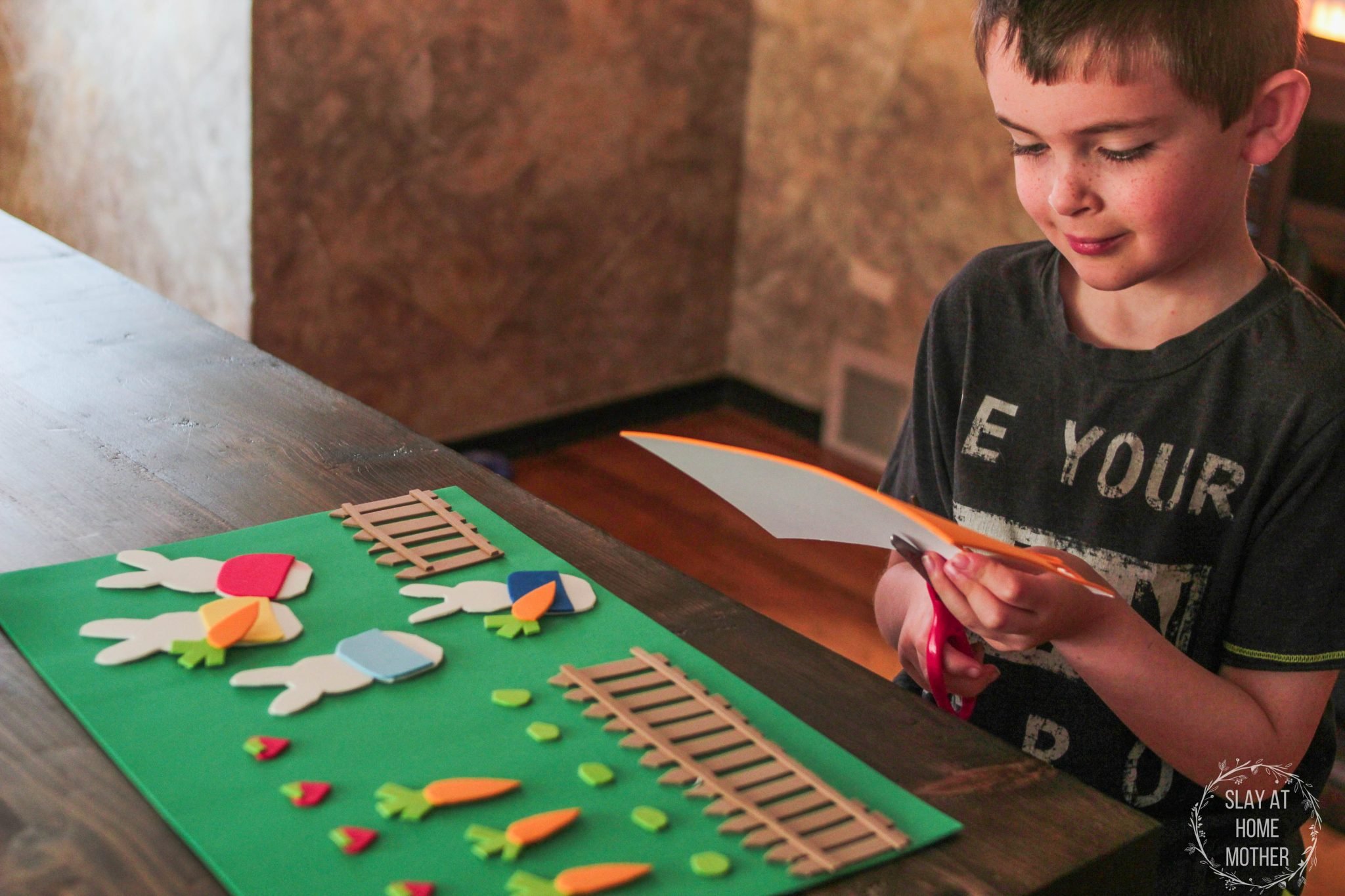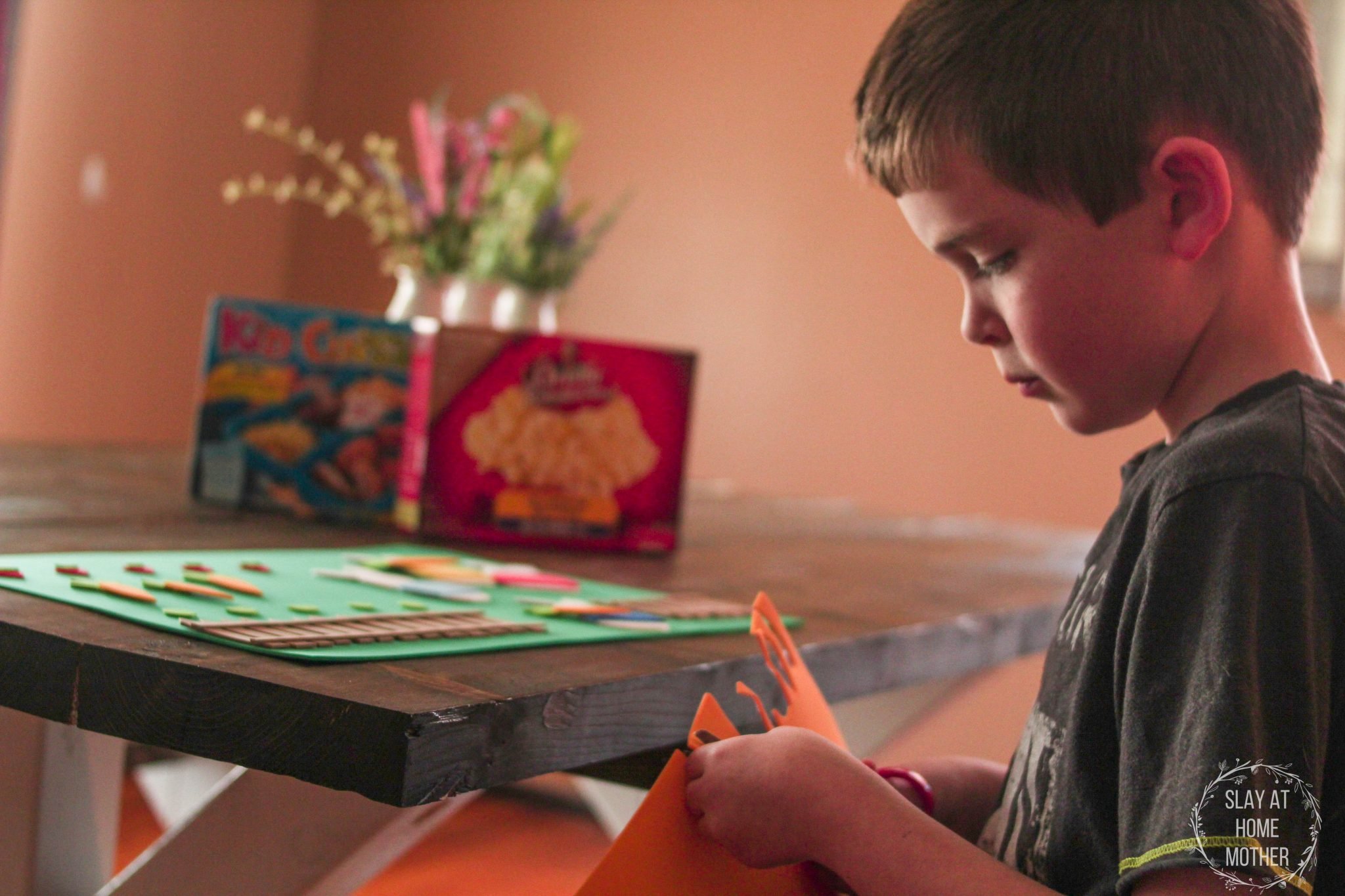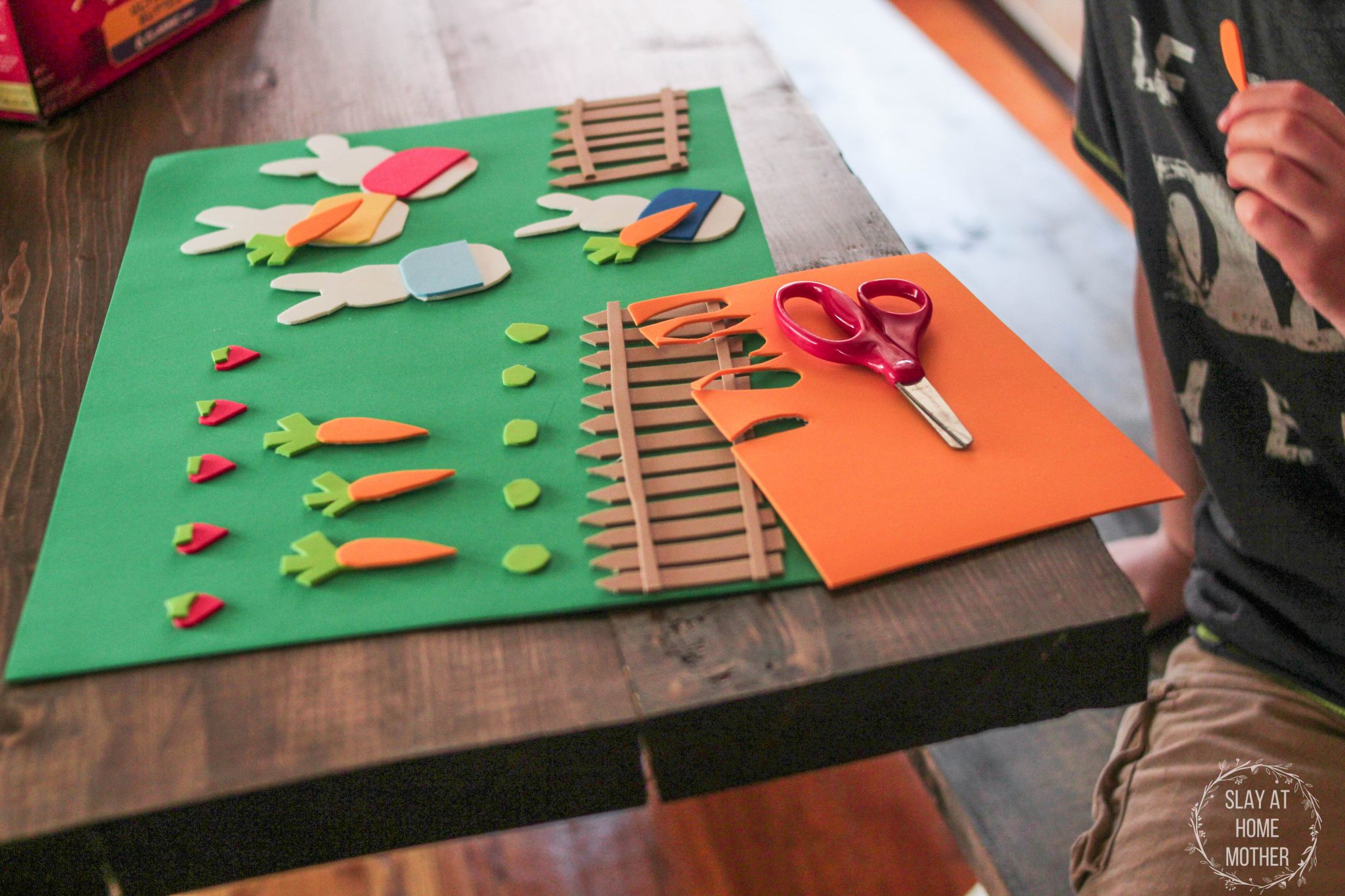 Each bunny received a different colored coat. The foam sheets we purchased were sticky on the back, which made them perfect to stick on our garden and layer each element (like the strawberries, carrots, bunny coats, and fences).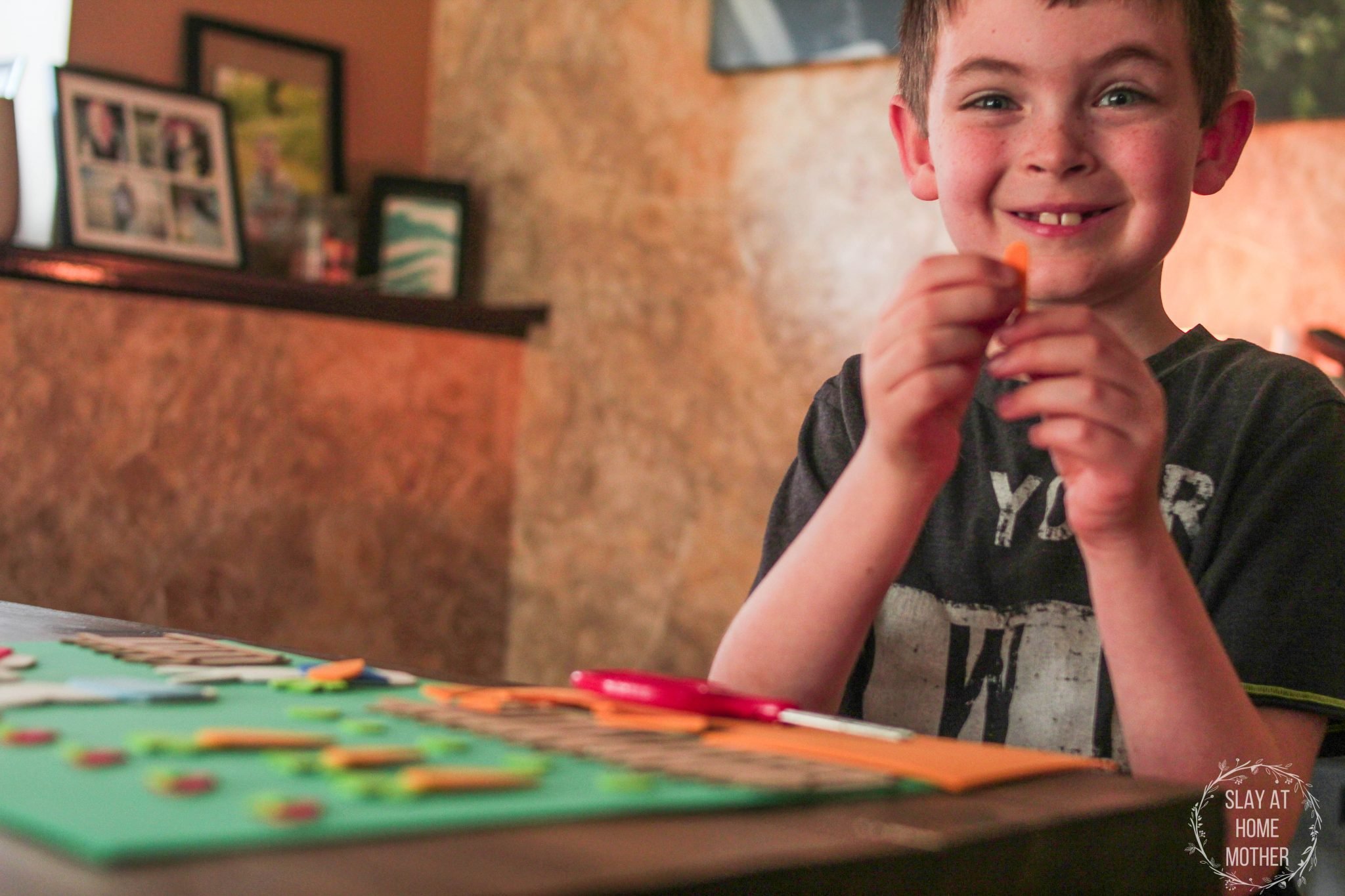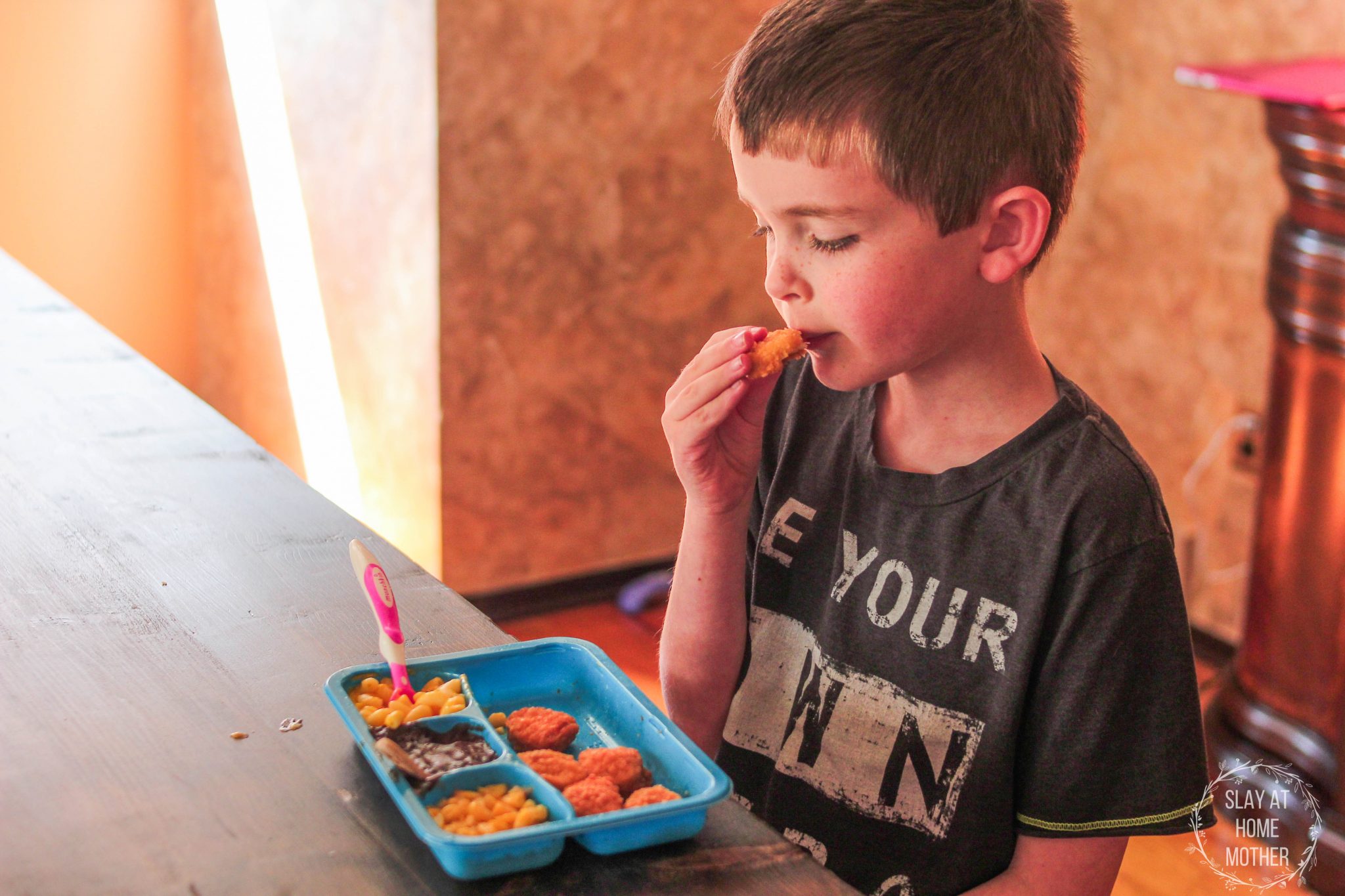 My sweet boy worked himself up an appetite by the time we were done with our garden, and sat down to enjoy his Kid Cuisine meal. His favorite part was the cookie spoon!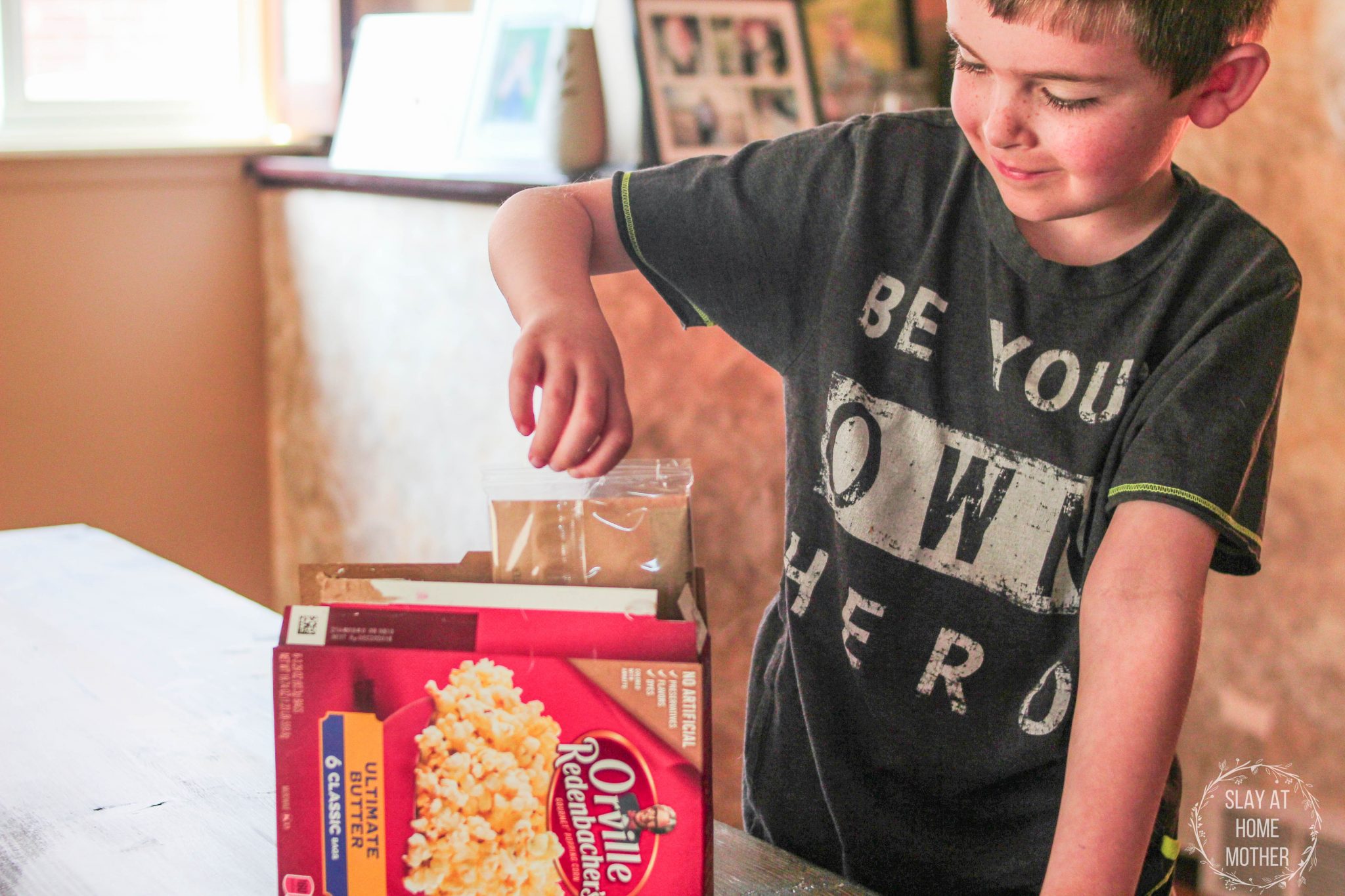 After dinner, Max played outside in the sunshine with his younger brother since we've been having such good weather. The bubble machine was going, and the boys played so nicely together on our swing set. Once Max was ready to watch his new movie, we cooked up our favorite popcorn from Orville Redenbacher.
Max loves to pour the bag into the bowl all by himself.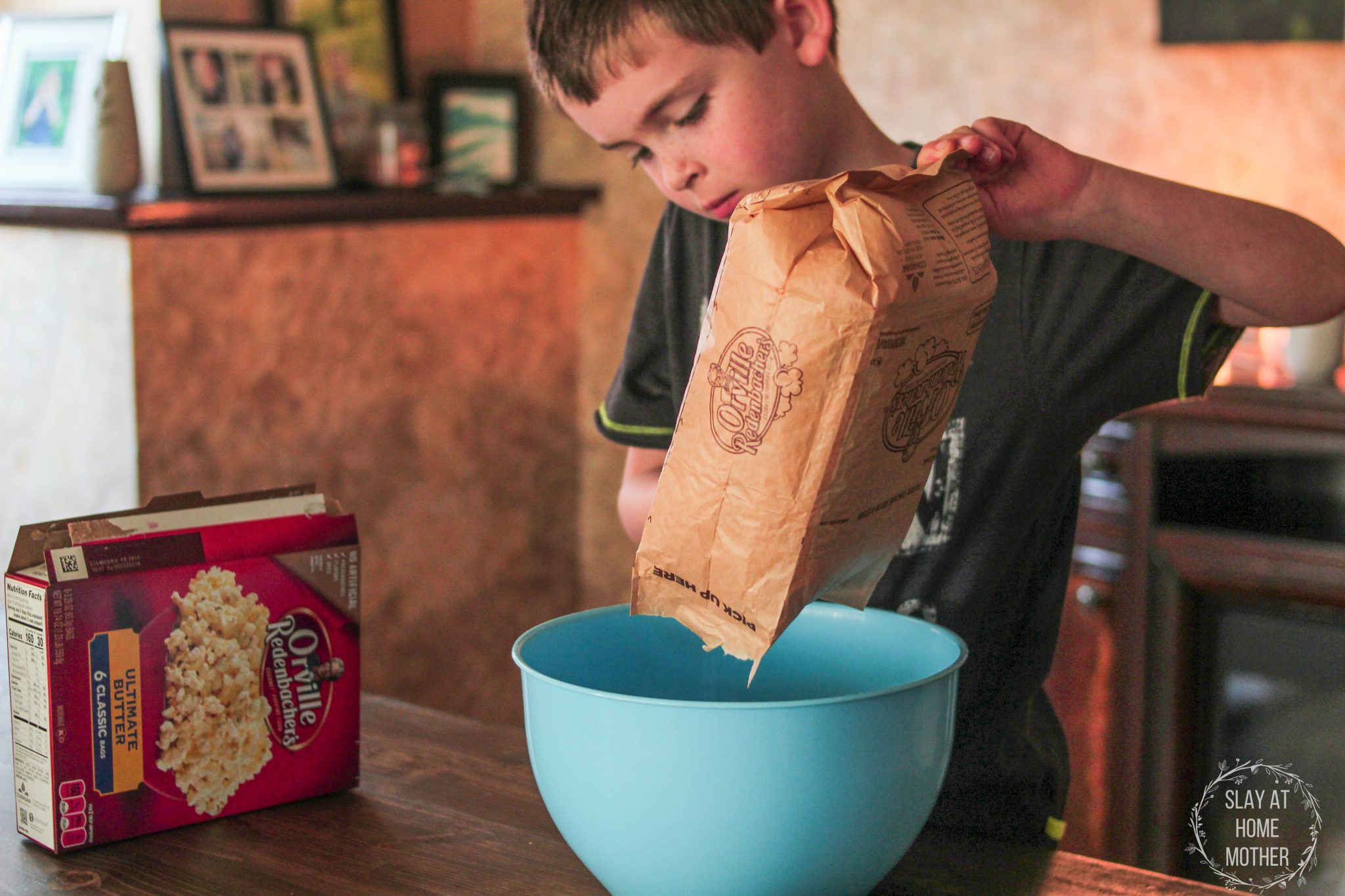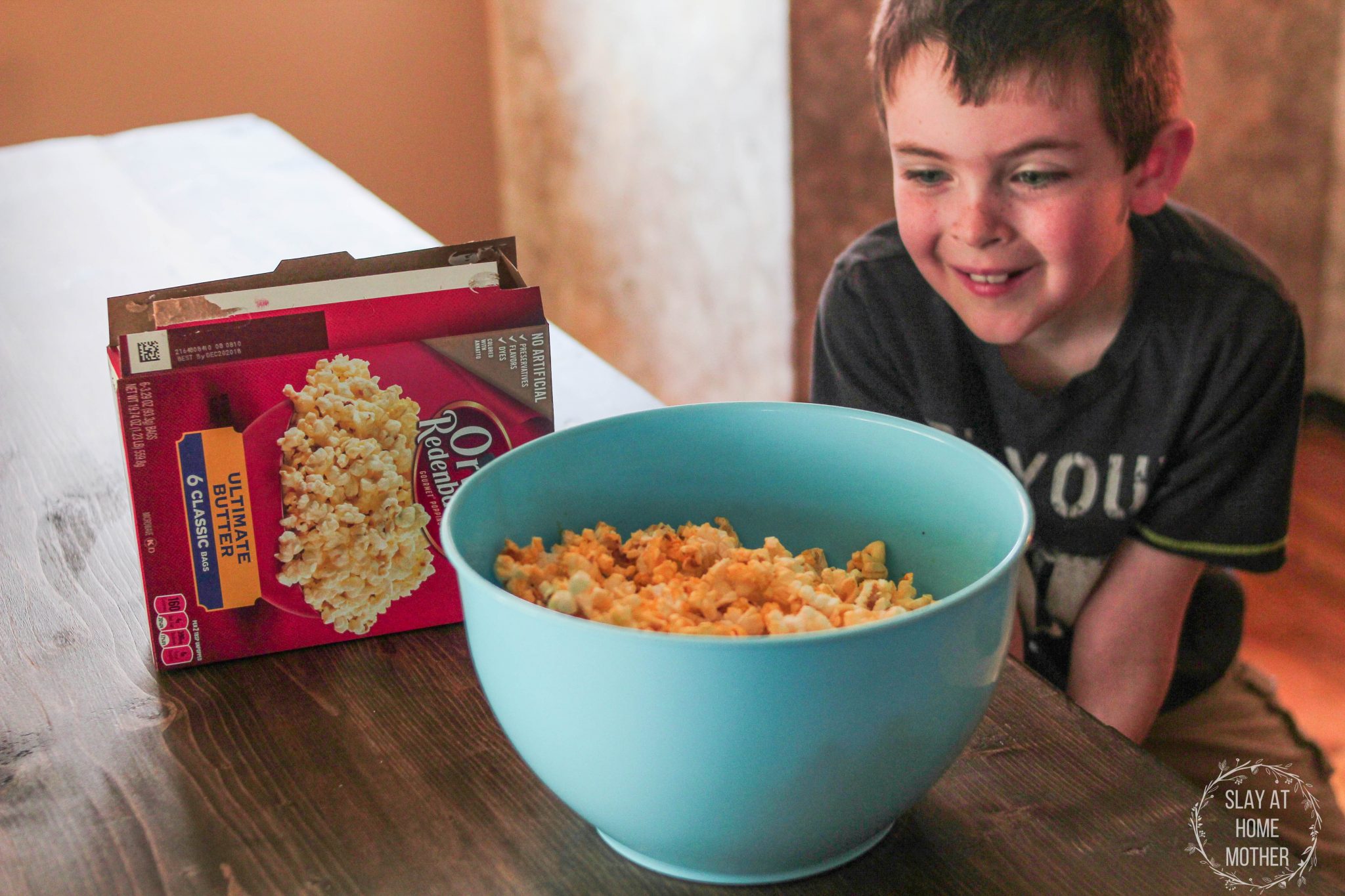 Orville Redenbacher is our ultimate favorite brand of popcorn – it comes out just right every time! Plus, as a mom, I love that it is the only leading brand of microwave popcorn to boast such a delicious movie time snack that is free of artificial preservatives, flavors, or dyes in any of its products.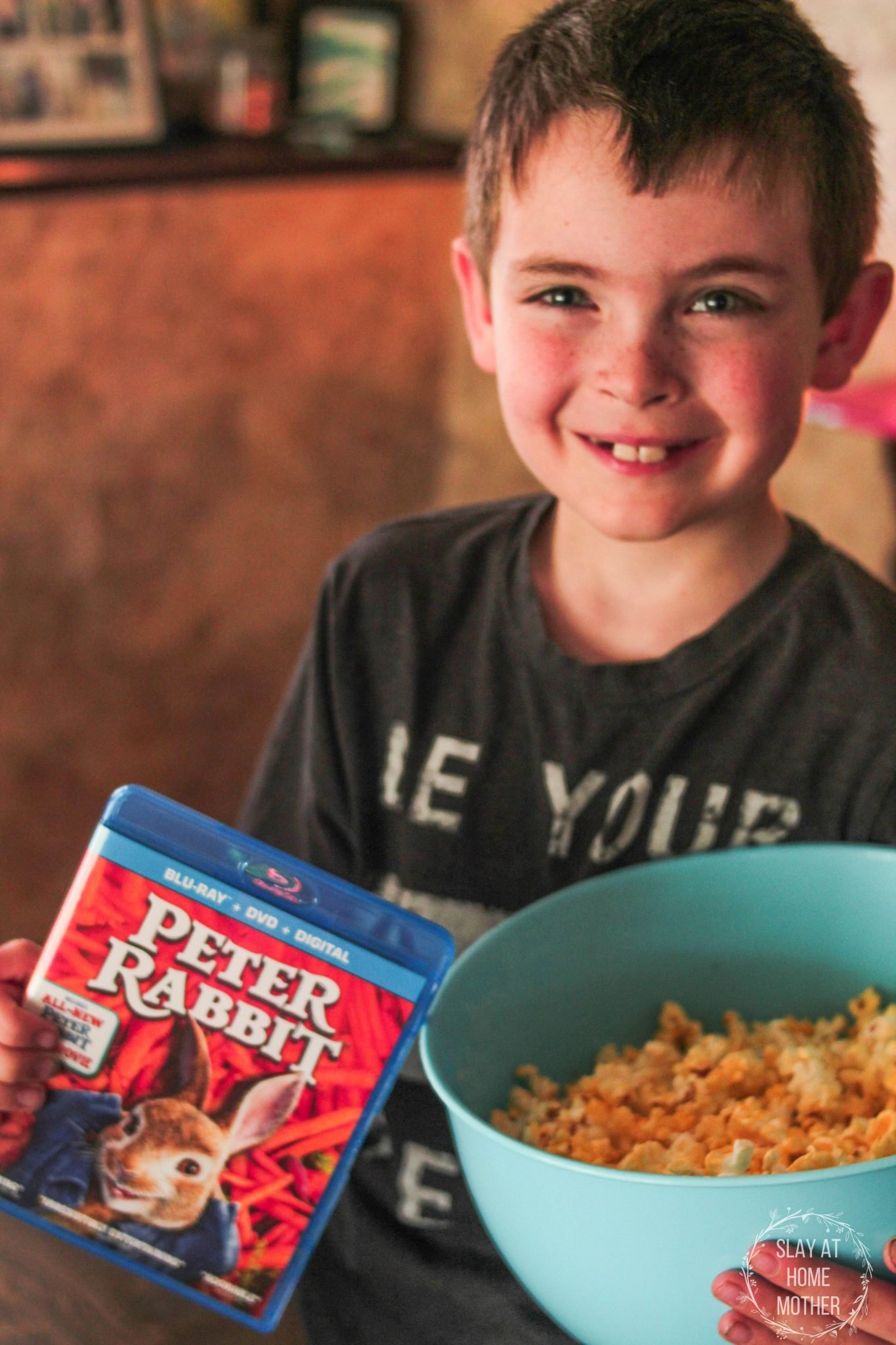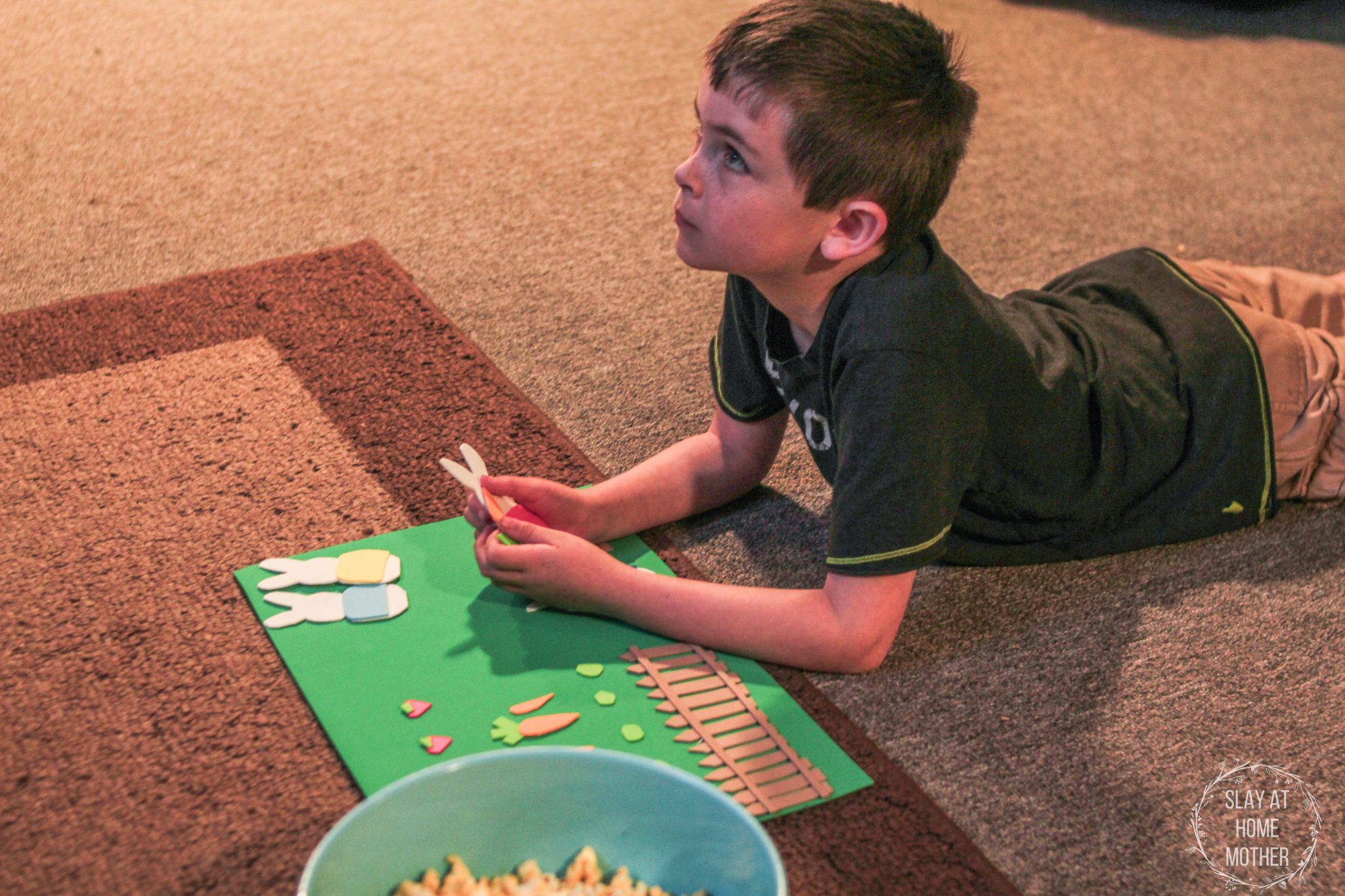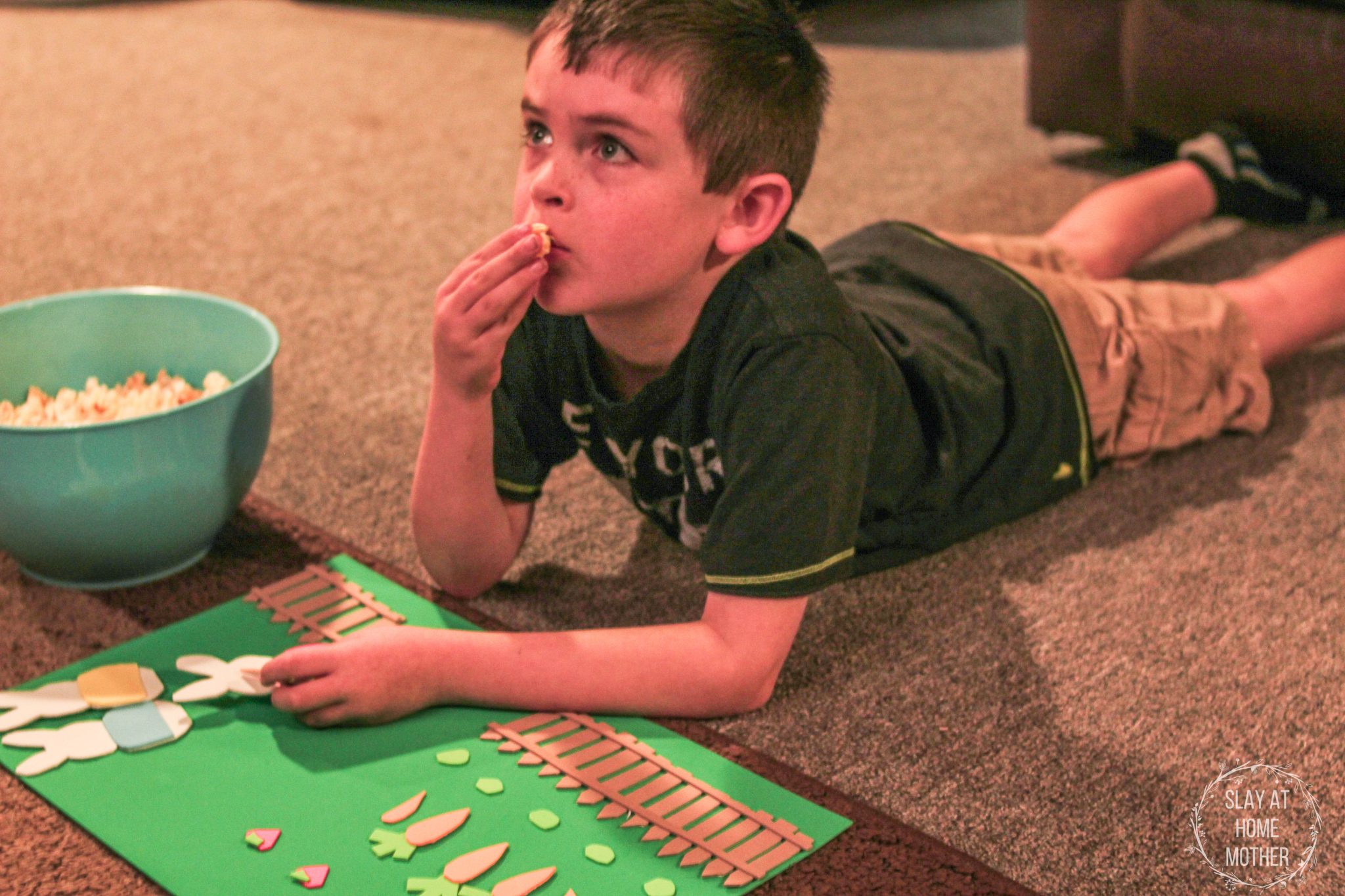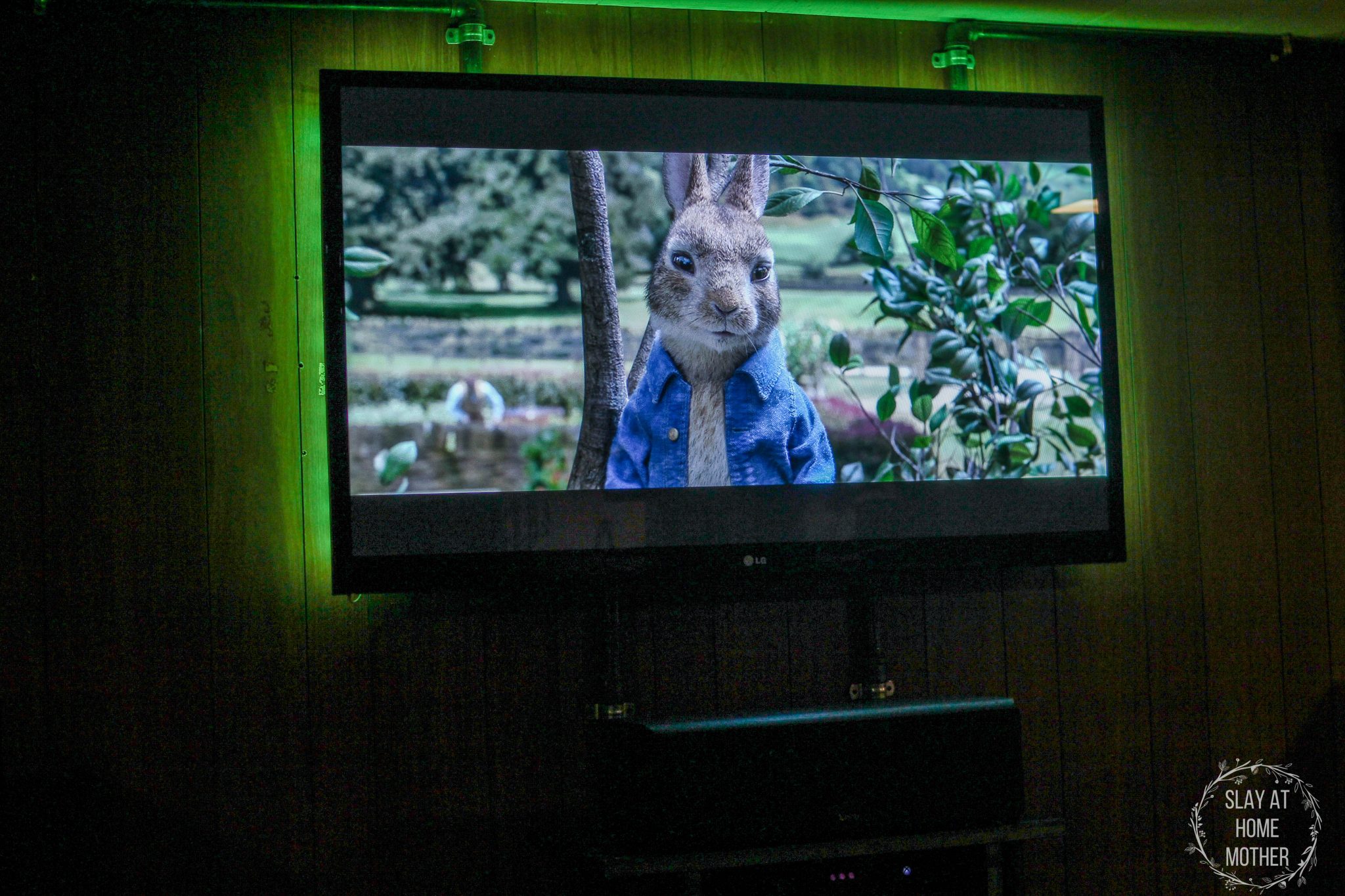 We had such a wonderful Family Movie Night together – Max did a wonderful job orchestrating the perfect night in for our family. And Peter Rabbit was such an adorable movie! With a little bit of every emotion tied into its story line, we loved watching it together as a family. I think every family should own this heartfelt (but hilarious) movie!
Have you seen Peter Rabbit yet? Tell me in the comments below!

Widget not in any sidebars