This homemade floor cleaner works like *magic*, and makes your whole house smell like Heaven while leaving your floors clean and sparkly…works on all floors types!
---

Hi friends! I'm back with another cleaning post today, featuring my homemade floor cleaner recipe.
I've featured this cleaner on my Instagram stories a dozen times before, and always get requests asking how to make it.
It seriously smells up your home, so it's my favorite floor cleaner to mix up and mop with before we have visitors over.
With our floor cleaner, I've been through many rounds of trial and error, and this is what works the best for our wood, laminate, and tile flooring.
I'm excited to share this cleaning recipe with you, though, so you can experience this magic floor cleaner for yourself!
Here's how to make your own homemade floor cleaner that will make your home smell SO DARN GOOD….
*This post contains affiliate links, however, all opinions are my own, as always…
Homemade Floor Cleaner Recipe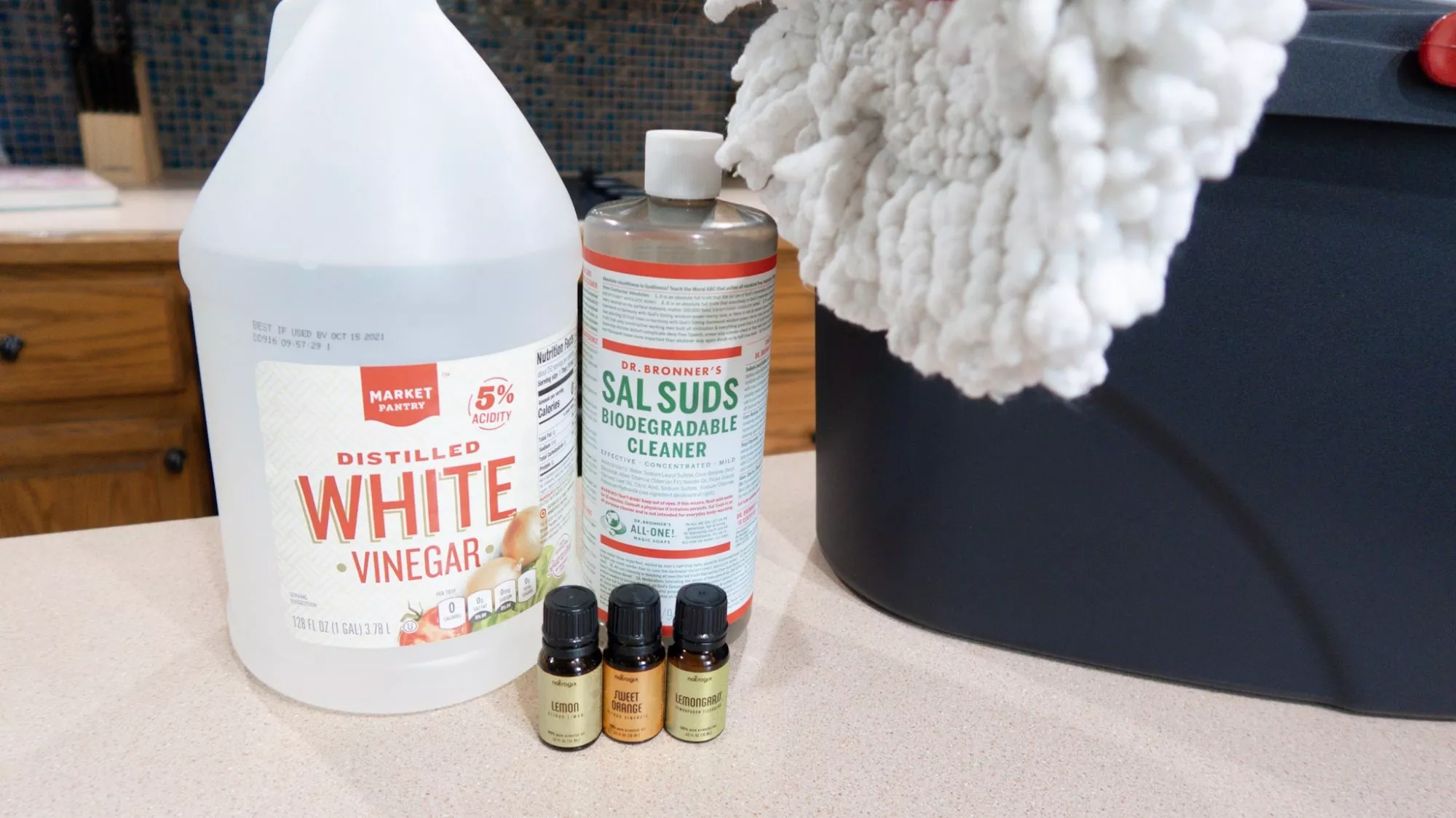 Here's what you'll need to make this Magic Homemade Floor Cleaner:
*To make your floors and home smell like Heaven, this is the combination I like to use: 20 drops of lemongrass essential oil, 15 drops of lemon essential oil, and 10 drops of sweet orange.
If you're thinking of substituting Sal Suds for Castile soap – don't!
Vinegar will de-saponify Castile soap and create a curdled, ineffective slime.
Sal Suds is different from castile soap, however, and CAN be combined with vinegar.
Here's another homemade cleaner you can make with vinegar and Sal Suds.
Speaking from experience, you do not want to use more than 1 tbsp. Sal Suds in your floor cleaning recipe because it will generate a ton of suds.
*Also, be sure to visit my notes below on Sal Suds for use in cleaning products, as well as several credible sources to consider.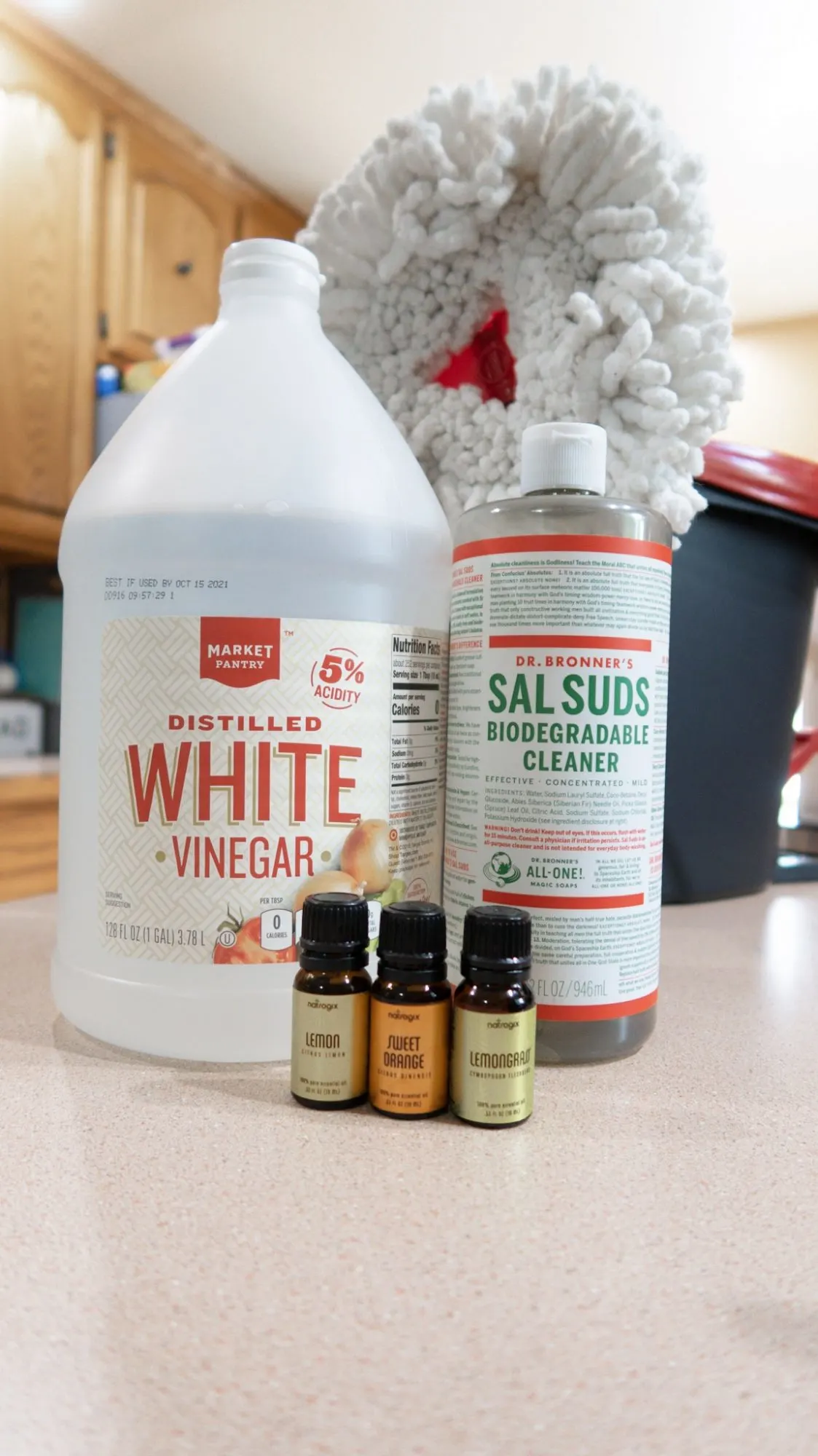 The vinegar in this cleaner helps disinfect and sanitize floors, the Sal Suds diluted in hot water helps remove dirt and grime while cleaning the floors, and the essential oils work to both disinfect and smell up your home.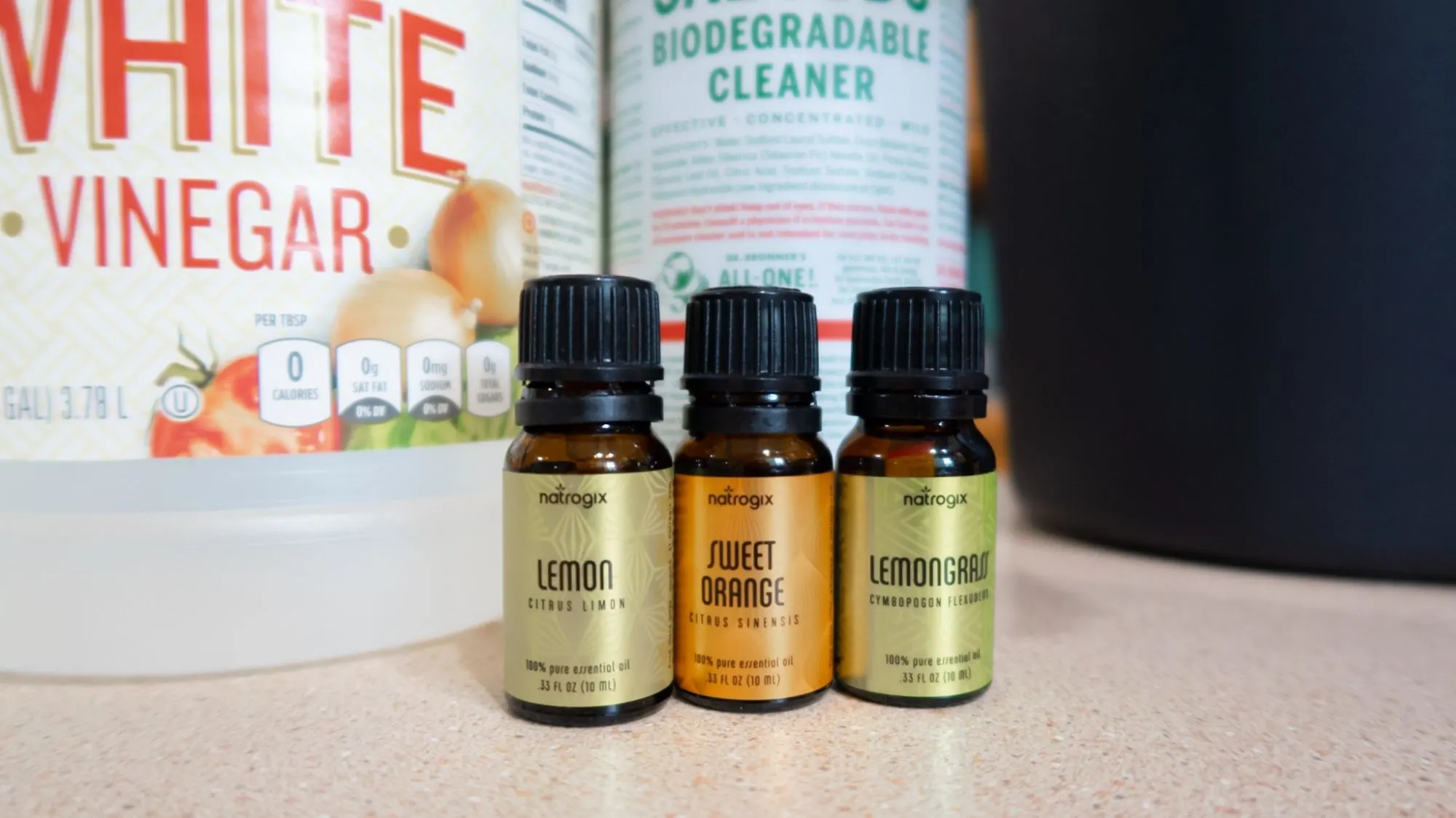 In my experience, with the quality essential oils and ingredients I use, as well as the type of mop I use to mop our floors, I never notice any streaking, cloudiness, or lifting on my inexpensive laminate floors.
Our floors look sparkly, clean, and shiny when they're cleaned with this homemade floor cleaner!
What Floors Can I Use This Cleaner On?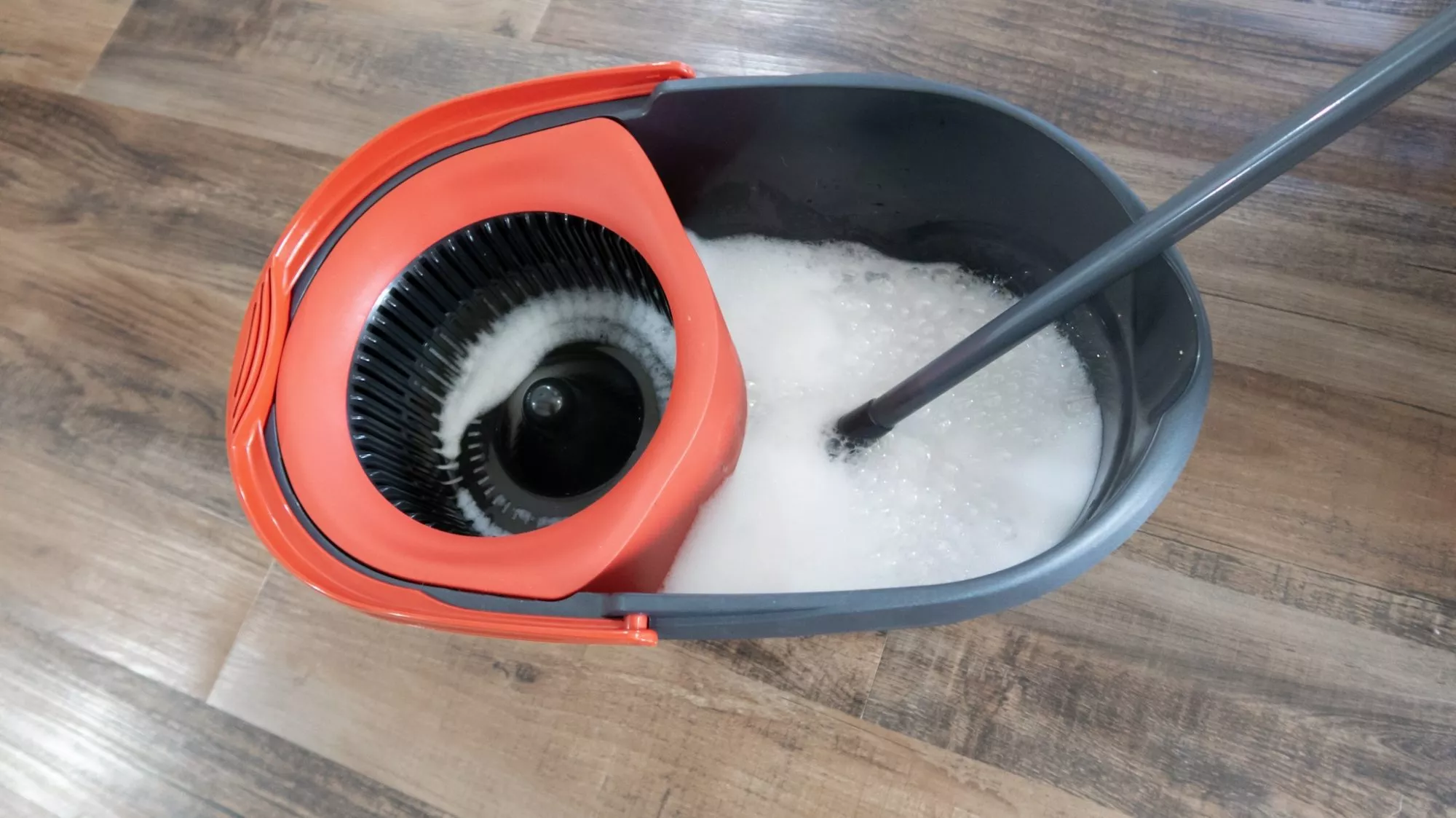 Any floor besides carpet!
Technically, this cleaner should work on carpet, perhaps as a small spot cleaner), given the ingredients.
The only concerning 'ingredient' for me would be the essential oils.
If they are of lower quality or a bad batch, there's no telling how that might affect your carpet.
I mean, hey, if you try it on your carpet, do yourself a favor a do a spot test first, and be sure to write me and tell me how it works for carpet cleaning ;).
I'd be more concerned with the type of mop you use to clean your floors and ensuring you aren't soaking your floors with any cleaning solution, particularly on flooring that has an adhesive backing and would lift from its position if flooded with water.
What Is Sal Suds?
I was really surprised to learn that a lot of people don't know what Sal Suds is! I only started using it this year myself, but I figured with as many homemade cleaning recipes available online, especially those made with vinegar, people would already know about it.
But my Instagram never fails me, and I had so many people comment and DM me to ask what it is – so here are the deets…
Sal Suds is made by Dr. Bronner, like castile soap, and is a hard surface multi-purpose cleaner.
Vinegar will de-saponify Castile soap, but will NOT de-saponify Sal Suds because it is chemically different.
This is important because mixing vinegar and Castile soap is a lot like mixing oil and water – you end up with an ineffective, slimy mess!
Vinegar can be combined with Sal Suds, though.
Sal Suds does contain Sodium Lauryl Sulfate, for those who are concerned with SLS…
What About SLS? Isn't that bad for you?
I encountered this question quite a bit over the past few days on Instagram with concerns that Sal Suds contains Sodium Lauryl Sulfate.
I'm all about educating yourself and doing the research because there's A LOT of misinformation out there to wade through, but here's what I know…
As of 2016 (I think they only update their rating once every 4 years or so), the EWG gave Sal Suds a rating of "A". That's the highest possible rating, and it means there is very low concern towards asthma and respiratory issues, skin allergies and irritation, developmental and reproductive toxicity, and the environment.
Straight from Chemical Safety Facts, here's what you need to know about SLS:
"Sodium lauryl sulfate (SLS), a cleaning agent and surfactant, is an ingredient in many personal care and cleaning products. SLS can be derived from natural sources like coconut and palm kernel oil and can also be manufactured in a laboratory setting."
"Common questions about the safety of SLS often stem from its use as an ingredient in both personal care products and household cleaners. Some believe that SLS is too harsh to safely use on skin, but claims that SLS is corrosive to the skin are inaccurate. While cleaning products containing SLS may have the potential to be skin irritants if not made properly, products that contain SLS are not necessarily irritating to the skin. According to a 2015 peer-reviewed study published in Environmental Health Insights, there is no scientific evidence to suggest that skin contact with SLS causes hair loss and no scientific evidence indicating that SLS is a carcinogen."
"The most egregious claim by far is that SLS is carcinogenic.16,32 The origin of this claim is uncertain, but it is likely to have derived from multiple misinterpretations of the scientific literature. There is no scientific evidence supporting that SLS is a carcinogen.33,34 SLS is not listed as a carcinogen by the International Agency for Research on Cancer (IARC); U.S. National Toxicology Program; California Proposition 65 list of carcinogens; U.S. Environmental Protection Agency; and the European Union."
Lisa Bronner addresses the SLS misinformation phenomenon on her blog, as well.
Here is EWG's Skin Deep rating, which has a 'low concern' rating.
It's important to note that this does NOT really apply to the use described in this post because we aren't applying it to our skin like a moisturizer or makeup where this homemade floor cleaner will be applied and left on the skin for countless hours in a day, but I feel is important to mention to fully disclose the risks and concerns associated with SLS: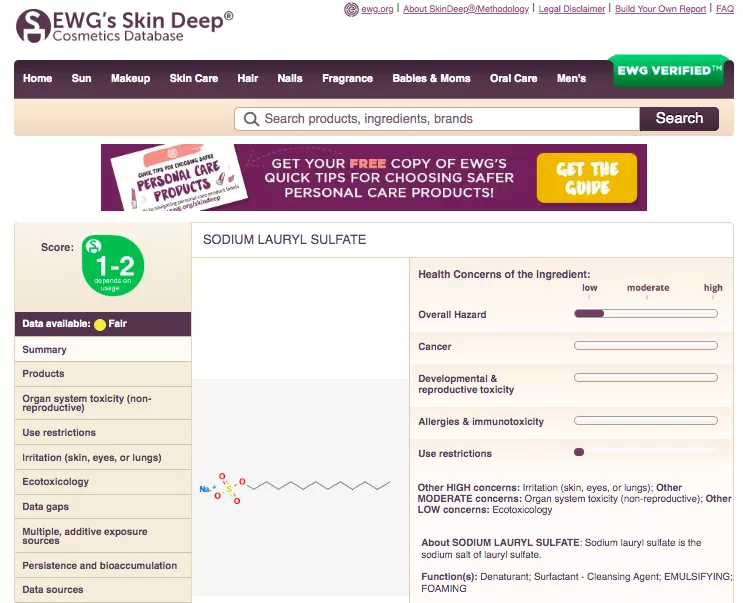 So, again, do your research and consider the way you'll be using a product to determine if the ingredients pose a risk to you and your family.
My position is to do the research for yourself from credible sources (like those mentioned above) and decide for yourself!
I feel, as a very minimal, diluted ingredient in my homemade floor cleaner recipe (which is used to clean, disinfect, and sanitize our floors every week or so after they've been thoroughly muddied up by children, dogs, guests, and everyday walking traffic), it's safe to use in the compacity mentioned in this post-cleaning your floors.
You May Also Like: Dropps Review: Non-Toxic Laundry Detergent Pods & Wool Dryer Balls
My Favorite Floor Cleaning Mop
Here is my current mop – I love it!
You can easily wring out the excess water before applying the mop to your flooring so you aren't just spreading around a bunch of water.
Just be aware that this mop handle lengthens from two different places on the handle, while the directions are pretty vague and don't spell that out for you. 😉
I feature it on my Instagram stories frequently and finally figured out how to extend the handle all the way thanks to my amazing Instagram following, who acted as my soundboard and helped guide me to the answer!
How To Clean Hard Floors
Here's one of my latest cleaning videos, which shows me making the cleaner and using it on our floors (watch at 23:43)…
Remove everything from the floors you need to clean (toys, plants, dog bowls, baskets, and furniture).
Vacuum all dust and dirt from floors.
Using a spin mop and bucket, add in one tablespoon of Sal Suds to your clean, empty bucket.
Add in up to 40 drops of essential oils (see above for my favorite combination that makes your house smell like Heaven!), and one cup of white distilled vinegar.
Fill up your bucket with 2 gallons of HOT water.
Use your mop head to swirl the solution together and combine the ingredients.
Spin the excess mop water out of your mop head using the pedal, and start mopping.
Try to mop your way out of the room, going from one end to the other so you aren't forced to step on wet floors that you've just cleaned.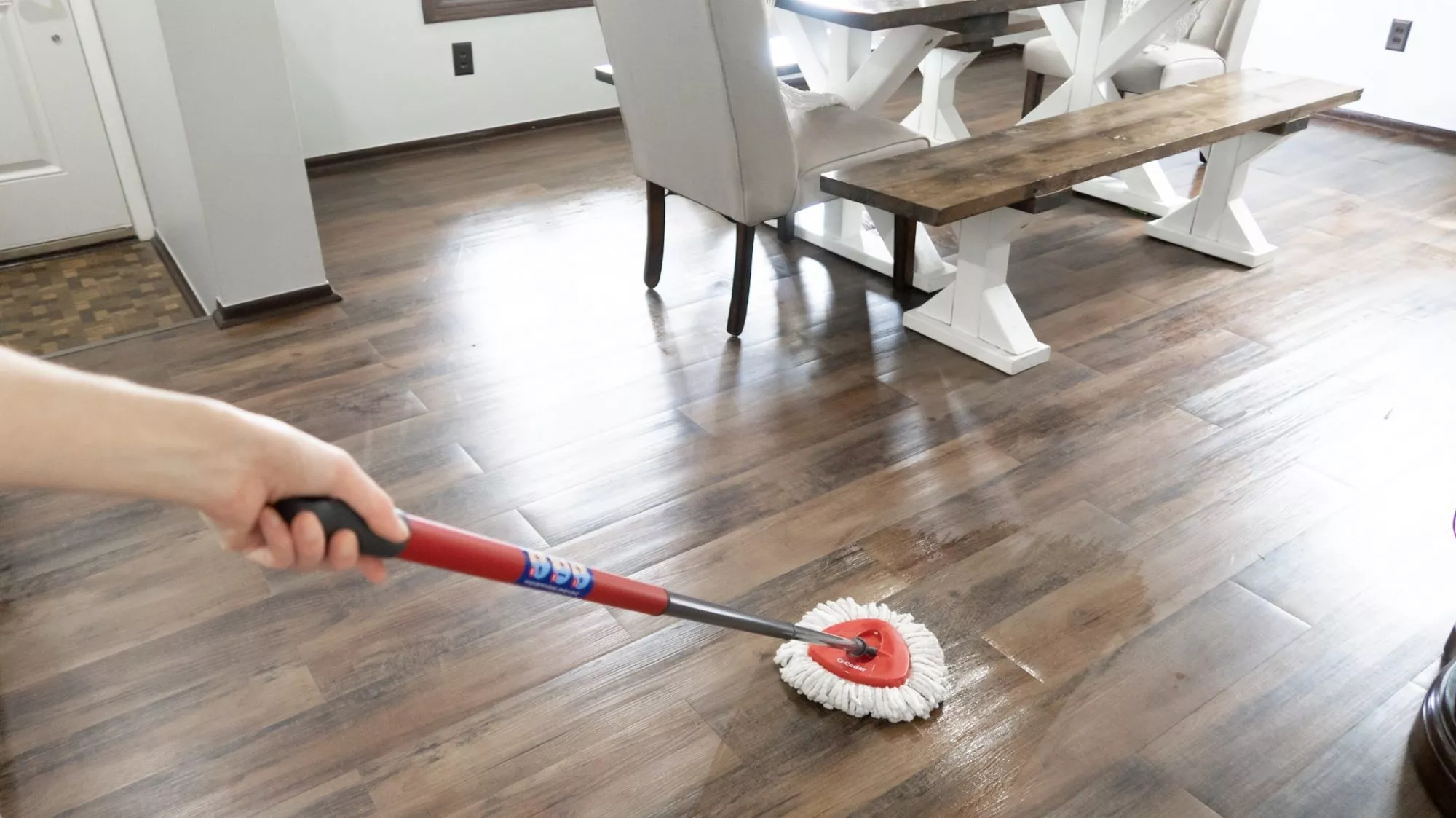 Allow your floor to air dry.
**Post originally published in August 2019, updated with pictures and cleaning video inserted September 2019.
---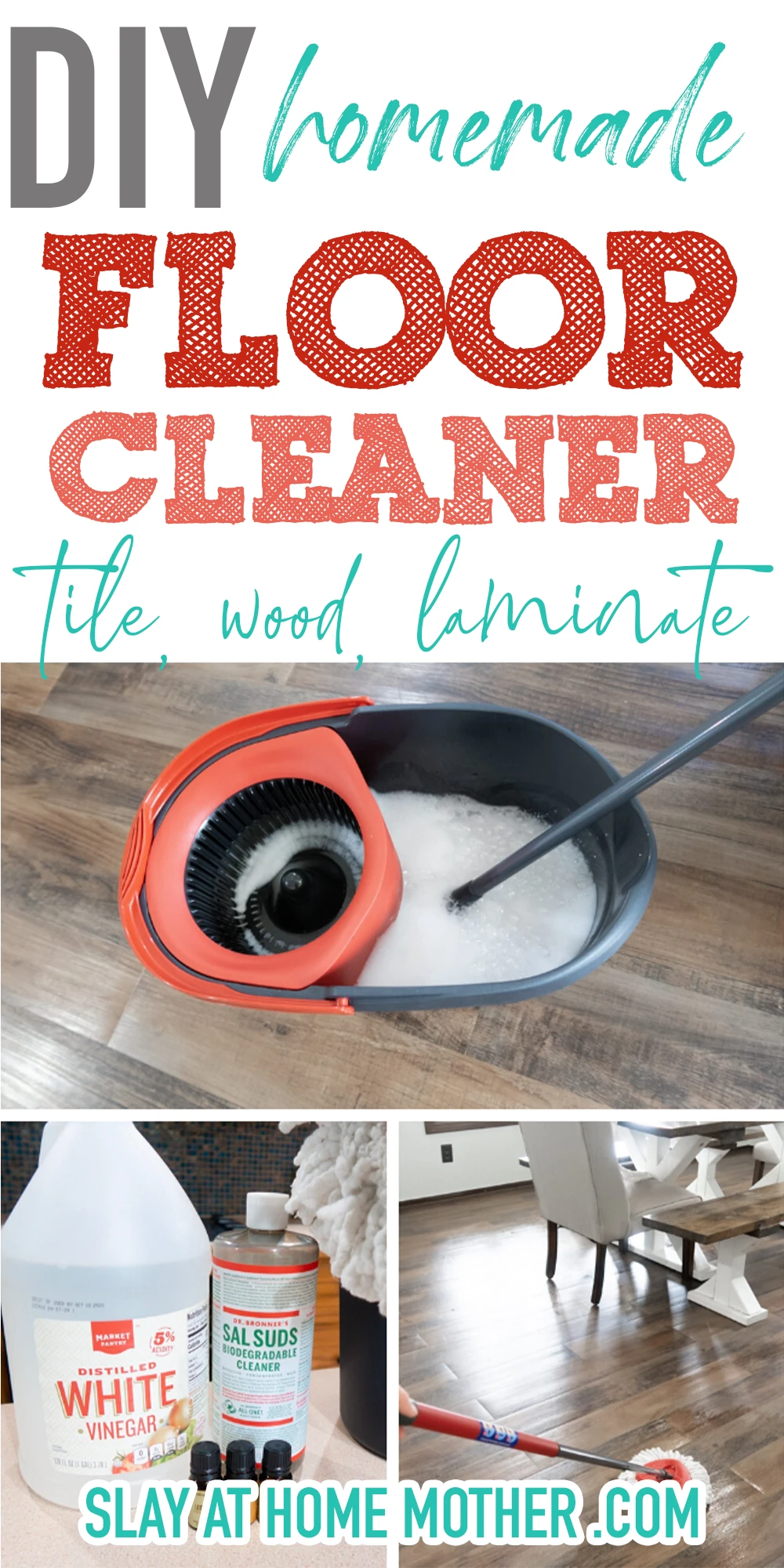 Let me know if you've made this cleaner (and your thoughts!) in the comments below! Have you tried any other essential oil combinations that smell amazing?