Thinking about having your child's birthday party at Legoland Discovery Center? We recently threw our son Max's party, and it was so much fun! See our birthday party experience at Legoland Discovery Center in Auburn Hills, MI…
---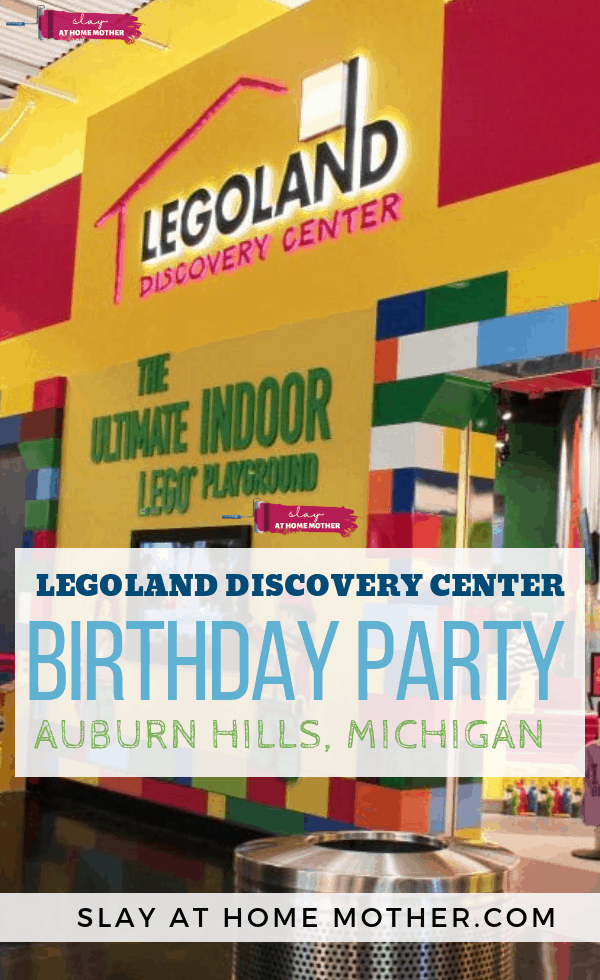 *This post is sponsored by Merlin Entertainments PLC, and contains affiliate links. As always, all opinions are my own – no positive reviews or remarks are ever guaranteed. Thank you!
My first born is eight-years-old! The morning of his birthday this year, I sat up in bed before our youngest woke up, and revisited all of his newborn photos with happiness in my heart, and a tear in my eye. Of course, I always want my children to grow, to succeed, to learn, and to try new things. But I wasn't really ready to wake up the mother of an 8-year-old. They say the days are long and the years are short – and they are absolutely right, whoever 'they' are. Max is my sweetheart – he is sensitive and absolutely brilliant. He has the most compassionate heart, and a wonderful imagination that I hope never escapes his ever capable mind.
For Max's 8th birthday my husband and I wanted to do something really special for him! If you follow me on Instagram already, you probably hear me talk about Legos all the time! I'm either obsessing over the latest releases for my Lego-lover or hating life because I've stepped on another one in a dark hallway in the middle of the night on my way to use the bathroom. Regardless of their toe-curling pain once stepped on, we love them in This Tiny Nest of ours! And for our sweet Lego-obsessed 8-year-old, what better way to celebrate than a party at Legoland Discovery Center? The closest Center to our home is in Auburn Hills, MI within Great Lakes Crossing Outlets – about 20 minutes away! Once we announced our plans to the birthday boy himself, his eyes grew big and his heart leapt right from his chest as he hugged us with pure joy.
Deluxe Party Package
For his party, we selected the Deluxe Party Package, which included:
Admission to Legoland Discovery Center for up to 20 people (children 2 and under are free!)
Lanyard and small gift for the birthday boy/girl
60 min in a private part room with your own host
LEGO mini-build activity with private instruction provided by your party host (kids take the mini-build home as a favor!)
Water, Pop, Pizza (cheese or pepperoni), and Sheet Cake

Gluten-free option available! More info on that below…

2 hours in Discovery Center after your time in the party room
2 FREE annual passes to Legoland Discovery Center for adult and child
Once your party is booked, Legoland Discovery Center will send you a Party Package Overview PDF with the details of your party, and printable invites for all of your guests. You'll be encouraged to send in a Guest List if you choose, but this isn't required (although it really helps for guests who are late to the party to check-in so they can quickly join you!). Their Coffee Shop & Café Menu is included as well if you wish to order additional food or drink items, as no outside food or drinks are allowed.
Walk Through
What's really cool is that you can schedule a walk through with a manager before the party so you can be shown all the different activities, areas, party room, and rides! We scheduled ours a week before the party and were happy to know exactly where everything was beforehand and very grateful with the time Manager Monica took showing us all of Legoland's features and attractions.
Check-In
There is normally two lines – one to purchase tickets, and one for those who already have tickets or annual passes. On the day of Max's party, we arrived in the Pre-paid tickets line, and were checked in quickly. The process was completed in minutes as we promptly received our wristbands. On our way to the party room, we passed through Miniland, a miniature version of Detroit's famous landmarks built from over 1.5 million legos!
Party Room
Our party host brought us back to our party room, where Max received his Lanyard and activity booklet. The kids built with tubs of Legos until the rest of our guests arrived. I was really impressed with the party room decor – I am usually not a huge fan of the Circus theme, but our room was so tastefully decorated and fun! It looked like the perfect spot for a kids party with the overhead banners, string lights, and permanent hypoallergenic balloons installed.
Food, Drinks, & Cake
Our pizza came as soon as we got comfortable in the room, and our host served the birthday boy first. There was plenty of pizza to go around (we even got to take the rest home thanks to some guests that couldn't make it). For one of our friends with Celiac's disease we had invited to the party, we discussed our concern for a Gluten-free option with Dawn, the Cluster Trade Sales Coordinator, who accommodated us so generously with a Gluten-Free Pizza from Rise Pies (located in the Great Lakes Crossing Shopping Outlets food court adjacent to the Legoland Discovery Center entrance).
The staff and party host were conscious to avoid the gluten-free pizza box from being anywhere near the other pizzas – this was greatly appreciated! Thank you, Dawn! The pizzas were even on opposite sides of the room (which is really important for people with Celiac's!). Our friend was so thankful and felt perfectly fine after eating the pizza, attesting to the pizza being Gluten-free. So this is a great option for any of my local readers that have this same concern for their guests. For drinks, we were given water, Lemonade, Coke, and Diet Coke.
The cake was wonderful! It was not gluten-free, but thankfully only one of our guests had to go without because of that reason. My husband, who was on a Carb-free and sugar-free diet had two whole pieces! It was just. that. good. Legoland Discovery Center gets its cakes from Costco, and we had more than enough to go around.
Note: No candles or fire are allowed. A birthday video song was played on the flat screen TV in our room before we sang Happy Birthday to Max!
Mini-Build With Private Instruction
With each party at Legoland Discovery Center, an age-appropriate mini-build activity is included and counts as a favor for each child. Our mini-build was a Raptor, and our very own 'Master Builder' ended up taking over the class to show everyone how it's done! Our host was gracious enough to let him lead the instruction, as eager as he was, and was kind and attentive to all of the children throughout the build.
Exploring Legoland Discovery Center
Merlin's Apprentice Ride
After our time in the party room, we were sent out to explore in the 35,000 sq.ft that Legoland Discovery Center has to offer, with 10 unique family attractions inside! Max's first stop was Merlin's Apprentice ride. This ride was so much fun – the faster we pedaled, the higher up we went as we spun in circles. Max, who is naturally cautious in nature, was a little nervous about getting on his first ever ride, but had the biggest smile on his face! Even though he was taller than the 3-foot height requirement for the ride, he couldn't quite reach the pedals, but the ride did start to lift up and drop down for all of the carts.
Kingdom Quest Ride
We also went on the Kingdom Quest ride and got to shoot bad guys to save a dragon's egg!
*I didn't get to grab good pictures of this ride because the lighting was too dim*.
This adorable and ornate little clock, standing in the middle of the Discovery Center sings and play music every 15 minutes, where kids gather around it and dance along!
The Creative Workshop
The Creative Workshop is where builders can unite every hour and learn some real insider tips from some great Pro's! We unfortunately didn't get to see this attraction within our three-hour party because I couldn't pull Max away from the City Play Zone….more on that below.
The Café
The Café and dining area is in the very center of the Legoland Discovery Center, next to the giant clock! There's plenty of room to eat, and it surprisingly wasn't too loud with the many guests that were there. Besides the many options available at the Café, there was Dipping Dots available, which the kids devoured!
The City Play Zone
The City Play Zone was the star of the show for our birthday boy – it was about the size of two indoor playhouses connected by a crawl-through tube! On the opposite wall, there was a coat rack for belongings (which was great considering our party was in the beginning of February in Michigan!)
4D Cinema
Legoland Discovery Center's 4D Cinema was a fabulous experience. We all sat together in the theatre, spouting our super trendy orange 3D glasses, and watching a quick movie and experiencing the lights, fog, wind, and rain effects throughout the movie!
Near the clock is a little play area for smaller kids, filled with legos and sweet tots. Our littlest, Jax, loved playing around in this sweet spot!
Other attractions we checked out were the Earthquake Tables, Lego Raceway, and the Lego Factory Tour!


Duplo Farm
One of our family's favorites spots was the Duplo Farm! This play area is great for all ages, and we saw children of all ages playing with the oversized (but soft) Duplo blocks, and sliding down the slide.
Quiet Room And Nursing Space For Parents
Okay, moms and dads! This really impressed my husband and me – but Legoland Discovery Center actually has a dedicated Nursing Area for breastfeeding or pumping mothers within a quiet room for parents to relax in while they watch their children play! Sometimes, all that stimulation can be really overwhelming for parents – it's great to have a space just for mom and dad to recollect ourselves while we watch the kids have fun.
Hygiene Questions/Concerns
Alright, I did some pretty thorough questioning with how the legos and 3D glasses are cleaned. Dawn, the Cluster Trade Sales Coordinator, assured me that the 3D glasses are cleaned after each use (once you are done using them, you will place the in a large bucket outside of the theatre). They are washed on trays in the brick washing station, and then dried and polished to remove water spots.
The legos are washed daily! Once they are collected in large laundry bags, they are taken to Legoland Discovery Center's on-site brick washing station where they are thoroughly washed and dried. They are on a rotation so the Discovery Center has clean, fresh bricks daily!
Annual Passes
Our family, and the birthday boy (my big 8-year-old!), had an absolute blast at Legoland Discovery Center. It was the perfect spot to host our Lego-loving "Master Builder's" party. We can't wait to go back with our annual passes (included in our birthday party package) and enjoy more of the great attractions the Discovery Center has to offer!
---
PIN THIS FOR LATER!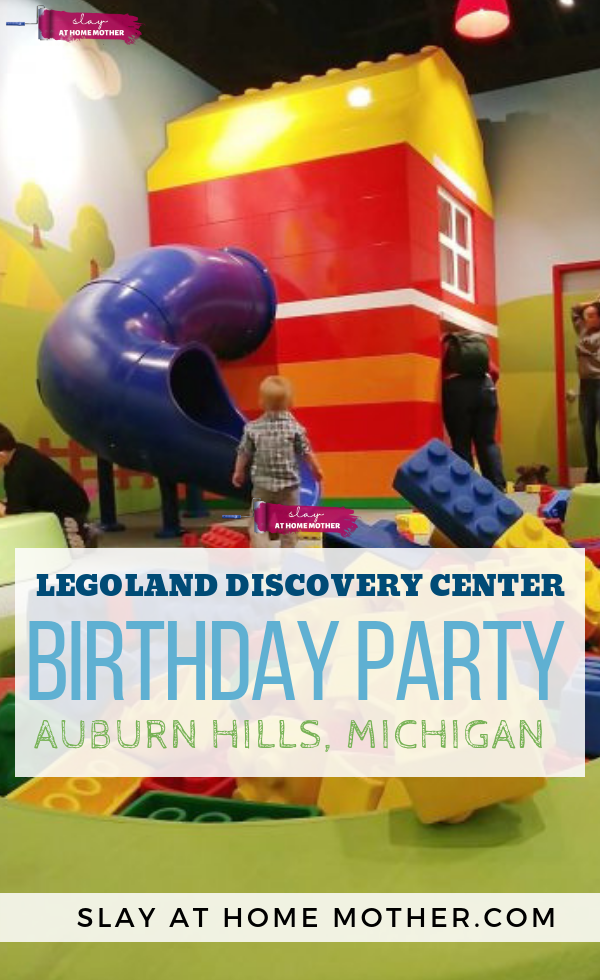 Have you gone to your local Legoland Discovery Center? Let me know in the comments below!