Are you looking to increase your chance of getting pregnant? Do you want to know which free Ovulation App is right for you?
These 8 fertility tracker apps help determine when your fertile window is and help you get pregnant faster…
---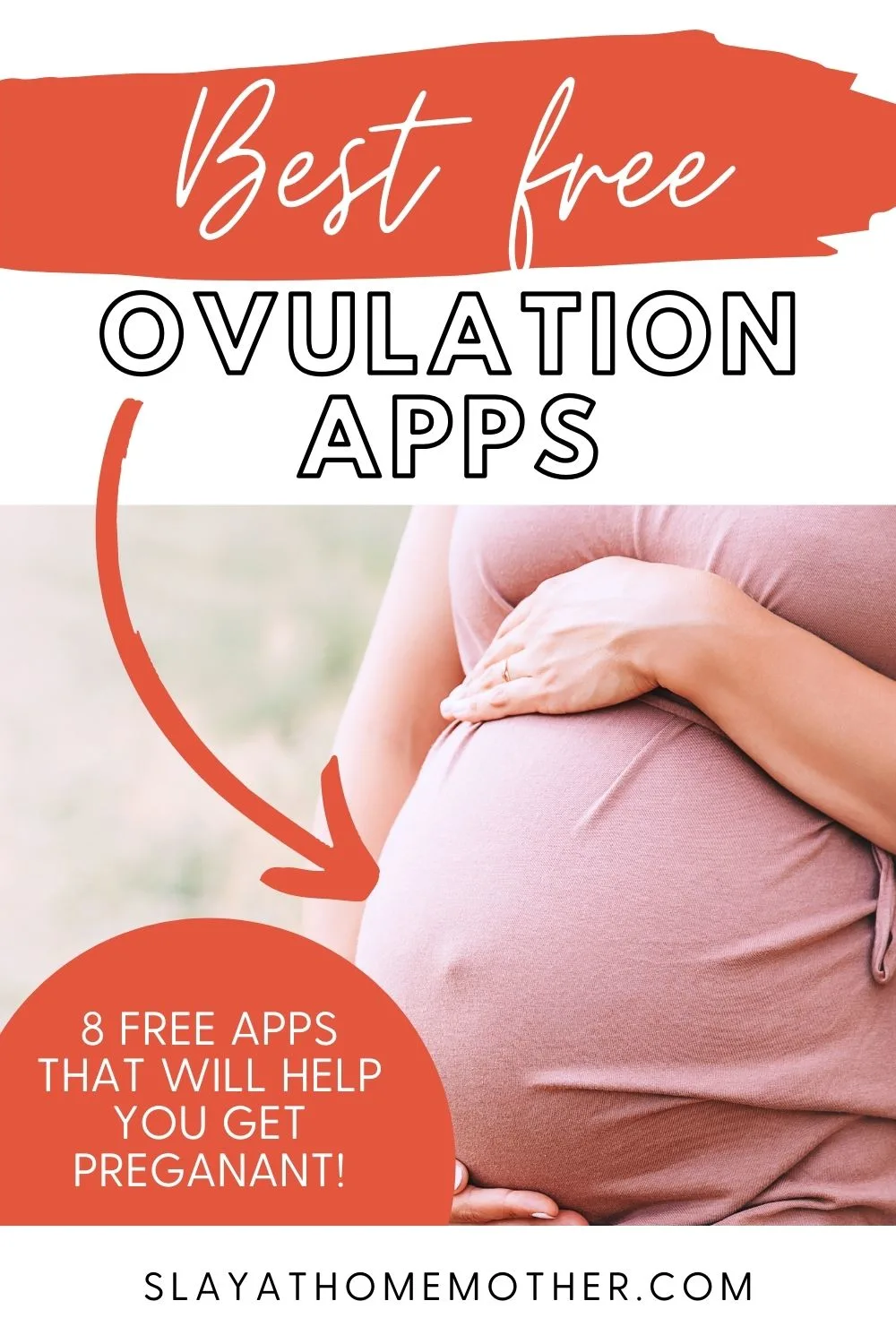 Free Ovulation Apps To Track Your Fertility
Hi friends!
I'm sharing my top 5 favorite apps to help track your fertility – and the best part is…they're all free!
There have been tough times, I'll admit.
I have realized that there is purpose in my season of waiting, however. I can feel God working on my heart, my priorities, and my patience.
I'm not a patient person.
I like things to happen on my time – but God doesn't care about my plans, He cares about His plan.
And while I won't ever be able to completely comprehend His plan or timing, I have faith in His design.
BUT – that doesn't mean I'm not doing my part in making sure I am ready when the time comes.
Part of being ready is being able to effectively track my cycle and ovulation times. I also do fertility yoga every morning.
I know how difficult it can be to guess when you are most fertile.
Sure, you can try every single day, and that's honestly the best method you can use so you for sure don't miss your ovulation day, but I think it really helps mentally to know the number of days you are actually fertile..
That way, you have 'a goal' in mind. It also really helps to understand your body, and know when you can test for pregnancy.
For these reasons, I've been tracking my fertility in a number of different ways, and I've found that fertility apps are easy and pretty accurate!
I'll share which one is my go-to (and all-time fave) with a high chance of conceiving in this list as well, but all of these are excellent references.
It's important for me to note that this is opinion-based, and I am NOT a medical professional.
Apps are a great way to help you understand your body, the length of your menstrual cycle, and the days leading to the 12 – 24 hours you might be ovulating, so you can best estimate the time to try, try, try for that baby!
This post contains affiliate links for your convenience, however, all opinions are my own.
Without further ado, here are the best apps for ovulation tracking and TTC!
Ava Bracelet App
App Store rating: 4.0/5 stars
Price: FREE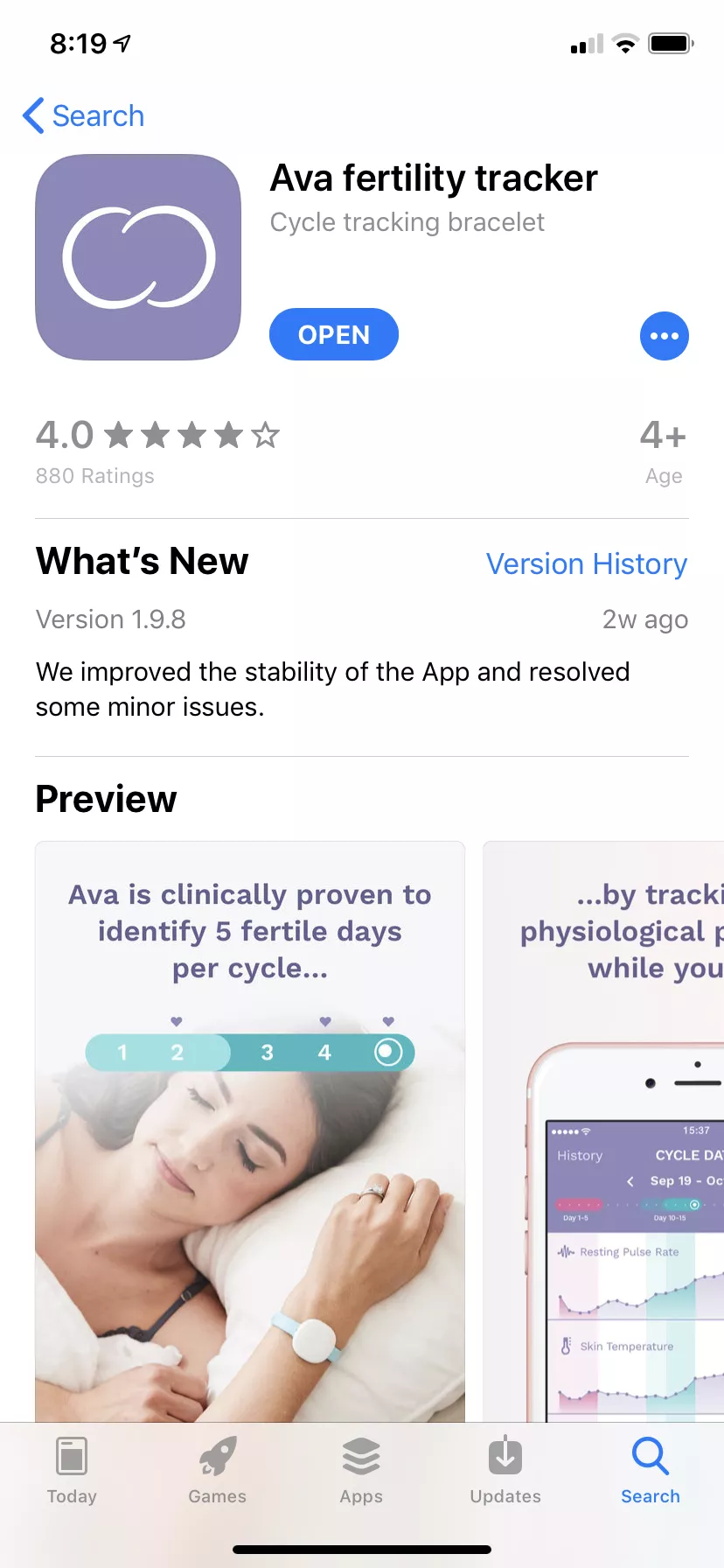 I'll go ahead and start with my favorite app – the Ava Fertility App!
If you already follow me on Instagram, you've probably seen or heard me mention this before!
This is by far the most comprehensive app I've used, but to be fair, it is so accurate because it works in conjunction with the Ava fertility tracker bracelet which retails for $299 right now.
The bracelet features a temperature sensor, a photoplethysmographic sensor, and an accelerometer to help track your cycle in its entirety.
It tracks:
Resting pulse rate
Skin temperature
Breathing rate
Sleep (light vs. deep)
HRV ratio (heart rate variability, or the time interval between heartbeats)
Body Symptoms (nausea, dizziness, breast tenderness, bloating, ovulation pain, headache, cramps, etc)
Mood
Cervical mucus (sticky, creamy, egg white, or watery)
Pregnancy test results
Custom log (so you can jot down notes if you need to for your cycle)
Sex (protected vs. unprotected)
Period/Spotting
As you can tell, it's pretty thorough!
Ava uses physiological parameters to help determine when your most fertile days are and plans out when your next period will be!
While it takes only a moment to sync with the Bluetooth on your phone, it takes a couple of months to fully 'sync' with your body for the most accurate predictions.
To use the bracelet, you just pair it and wear it!
Pair it with your smartphone, wear it overnight each night, and sync it with your phone in the morning.
I've found that there are a few nights I forget to wear it, and it can still effectively predict my ovulation and period.
However, If you forget to wear it for multiple days the app will inform you that the 'nightly data is insufficient.
You can see in the screenshot above that I've provided, in the lower-left corner the app is stating that 'nightly data is sufficient'.
You can continue to wear the bracelet after you conceive as well since there is a 'pregnancy mode'.
Flo Period Tracker & Ovulation Tracker
App Store Rating: 4.8/5 stars
Price: FREE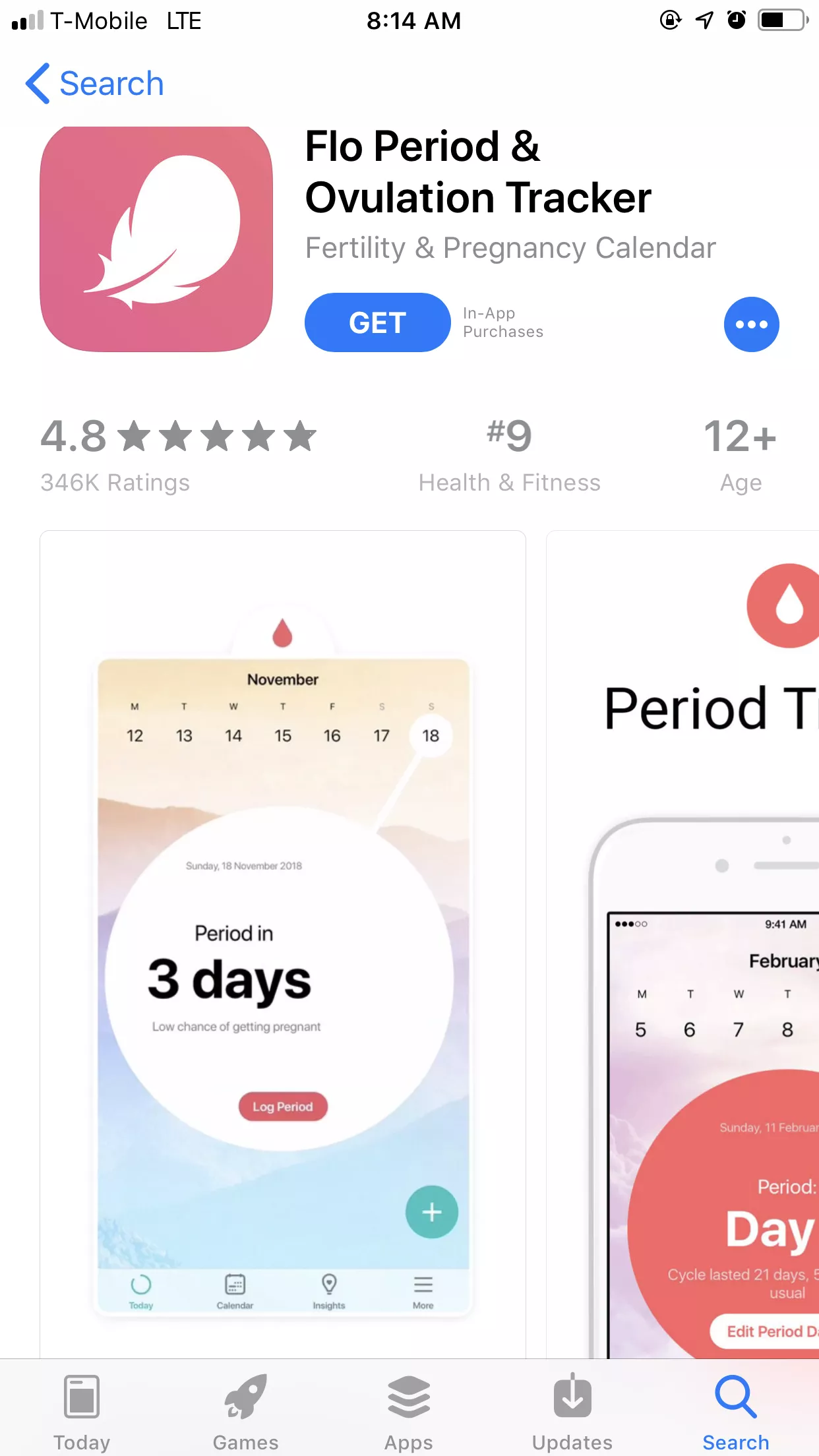 This app has EXCELLENT reviews and helps track your month to month cycle in its entirety for free!
Currently, it ranks at #9 in Health & Fitness apps in the App Store.
You can easily track your symptoms, period, and the app will estimate when your ovulation is.
And once you get pregnant, there's a Pregnancy Mode where you can track your pregnancy from week to week.
This app even alerts you if you chart symptoms similar to certain medical conditions, like PCOS…
"After a few months of use, this app alerted me that I have symptoms similar to PCOS. I went to the doctor and they confirmed my diagnosis." – Flo user
Ovia Fertility App & Cycle Tracker
App Store Rating: 4.8/5 stars
Price: FREE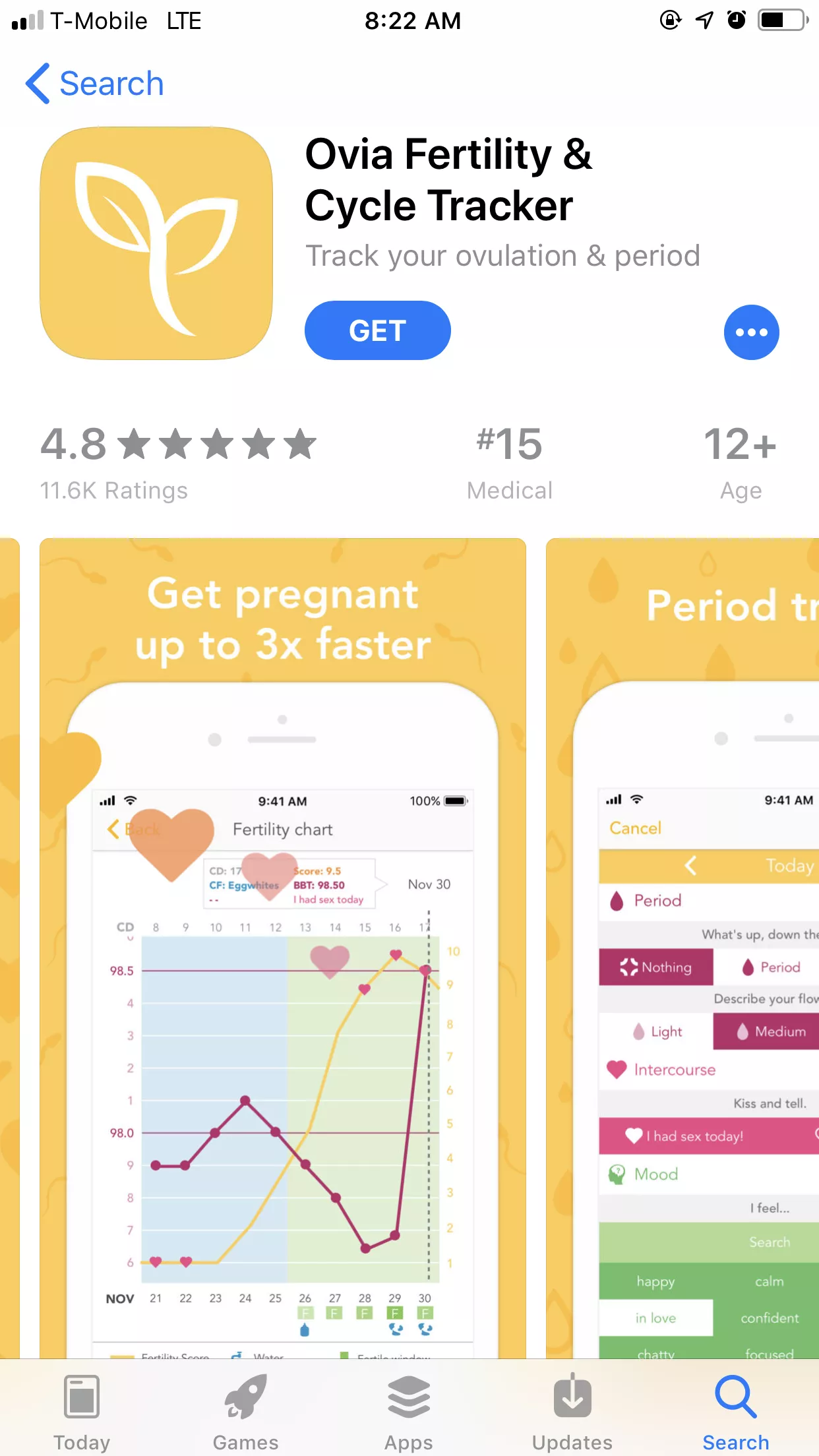 I used this app when trying to conceive baby #2 (aka Jaxson)!
I found it to be really user-friendly and very accurate with forecasting my cycle and ovulation days.
"This app is AMAZING. I downloaded the app in December and was pregnant by February, and just gave birth to a beautiful, healthy baby boy!" – Ovia user
Glow Fertility App
App Store Rating: 4.7/5 stars
Price: FREE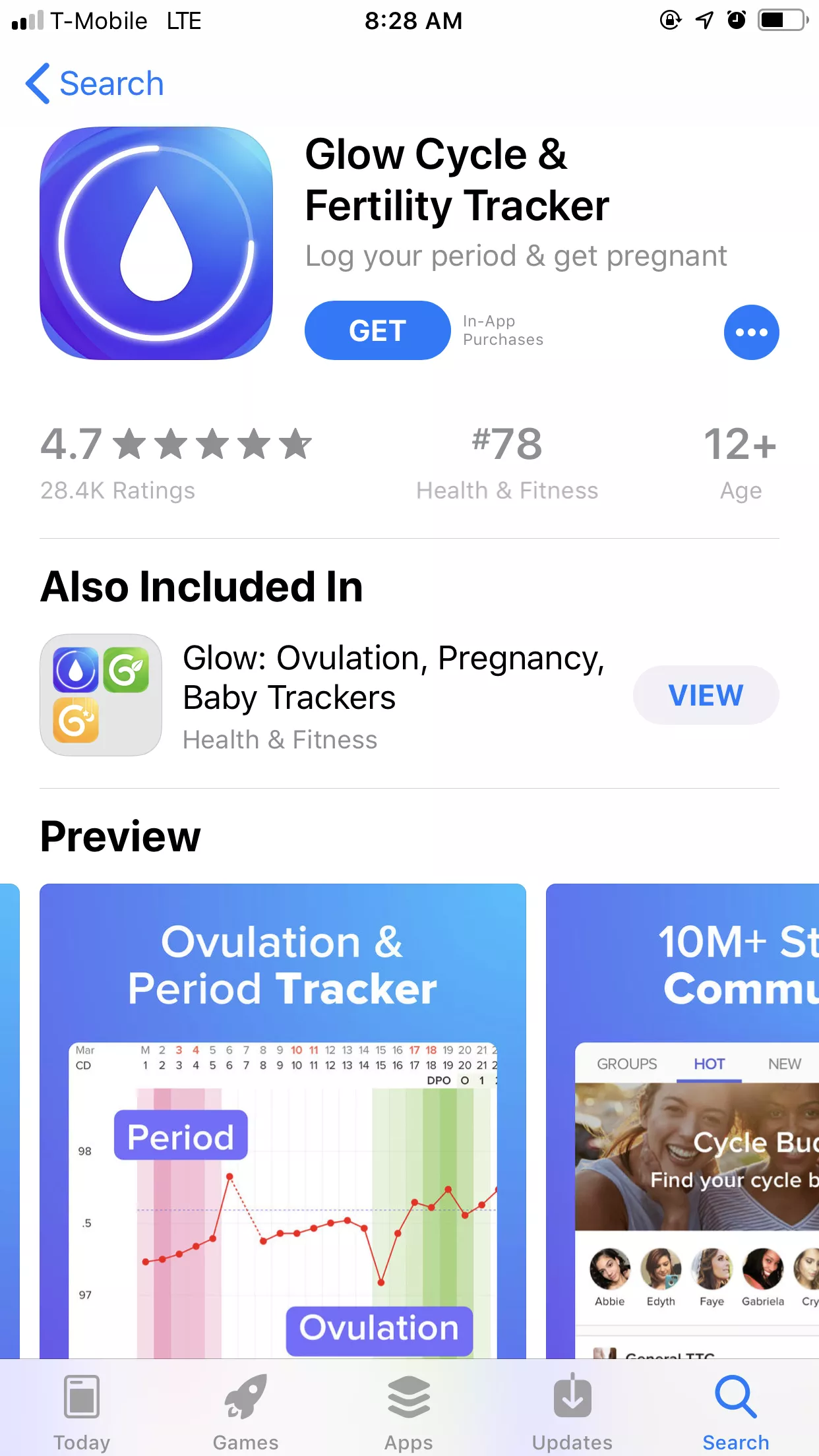 I've added Glow to this list because of its great reviews and community center.
If you're familiar with Babycenter's online forums and enjoy the anonymous posting and sharing, then I think you'd enjoy Glow!
They have a community tab where you can join groups and share with other Glow app users.
I found them to be reasonably accurate when predicting the start and end of my cycle, and within a day or two of estimating my ovulation days.
I have friends that swear by the app too, so I definitely think it's worth a try!
Clue Period Tracker, Ovulation
App Store Rating: 4.8/5 stars
Price: FREE
A dear friend told me about Clue.
Much like the other apps I've listed here, you can track your period, body symptoms, sex, and even your energy levels.
Clue stands above these other guys in that it was voted the top free period and ovulation tracker app by the Obstetrics & Gynecology journal (a publication of the America College of Obstetricians and Gynecologists (ACOG)).
Kindara
App Store Rating: 4.6/5 stars
Price: FREE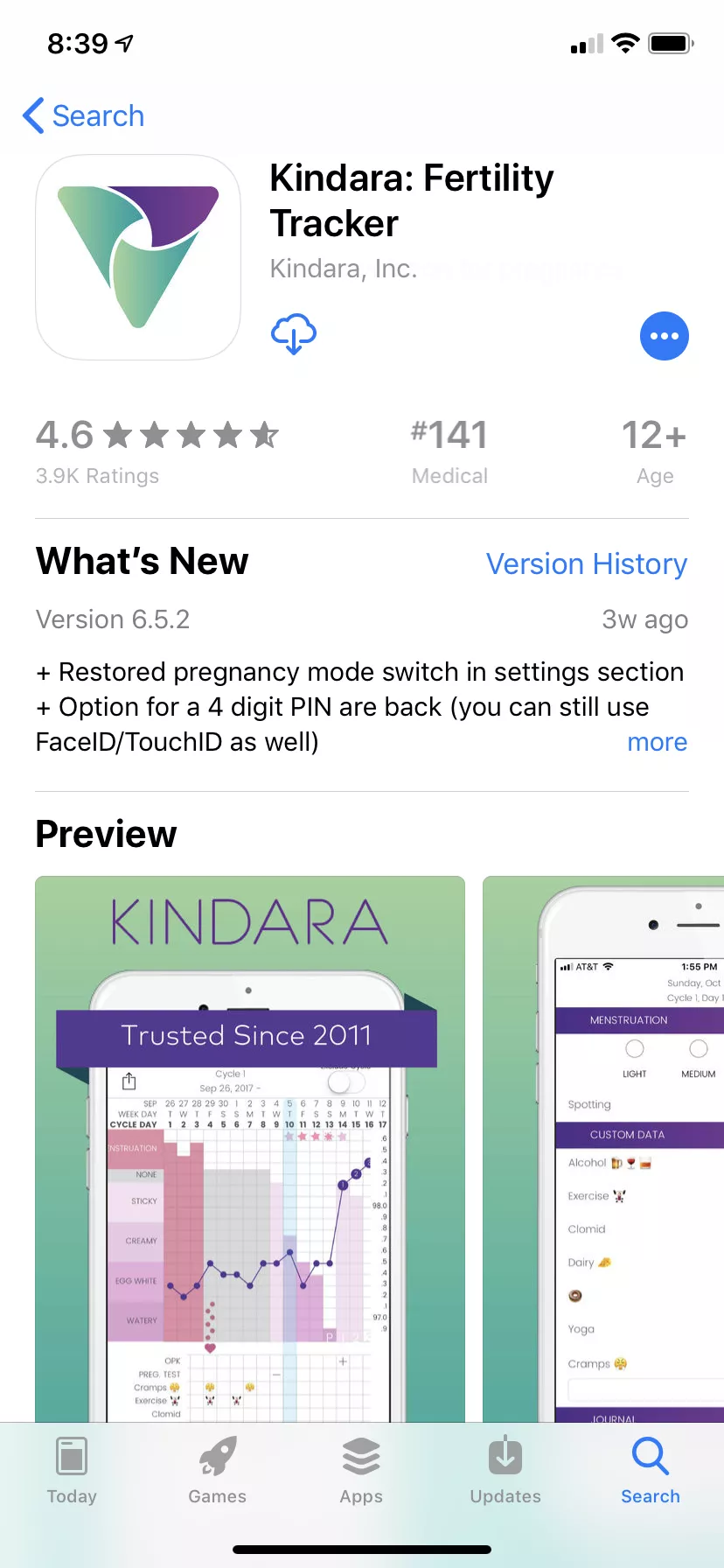 The Kindara app is a well-trusted ovulation calculator.
It has a chart so you can visually track your cycle, ovulation, and fertile days, and an extensive education library where you can learn about cervical fluid, basal body temperature, cervix tracking, and even menstrual cycle phases!
Use the Kindara app with their WINK oral fertility thermometer to get the most accurate charting for your cycle and pinpoint your fertile days with ease.
Life – Period Tracker Calendar
App Store Rating: 4.8/5 stars
Price: FREE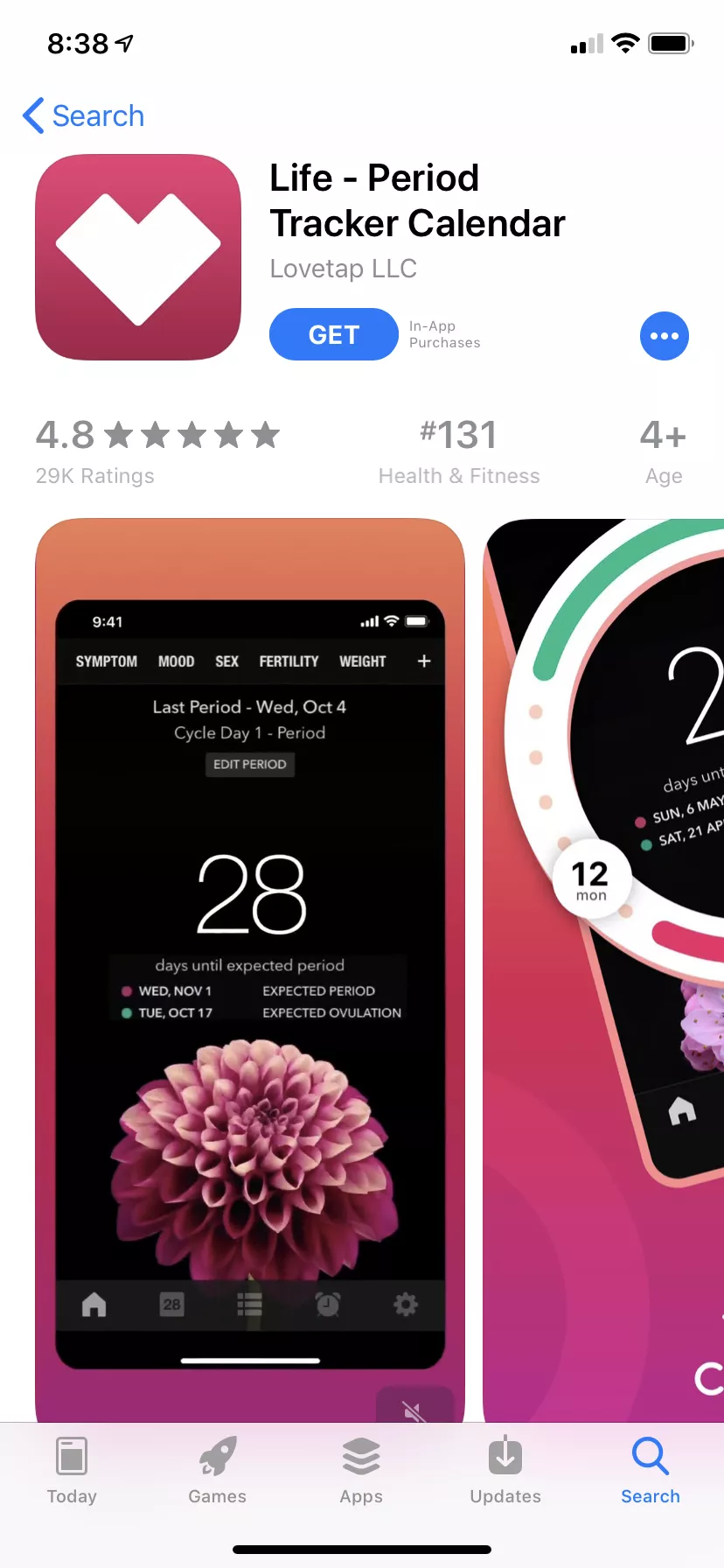 Life is another great fertility app to consider when trying to conceive.
With its easy-to-use interface, Life users have rated it 4.8 out of 5 stars in the App Store.
You can easily chart your fertility, cycle, moods, symptoms, and learn when to expect your next period.
*Premium features include tracking sex, weight, fitness, medications, and pregnancy.
Fertility Friend FF App
App Store Rating: 4.8/5 stars
Price: FREE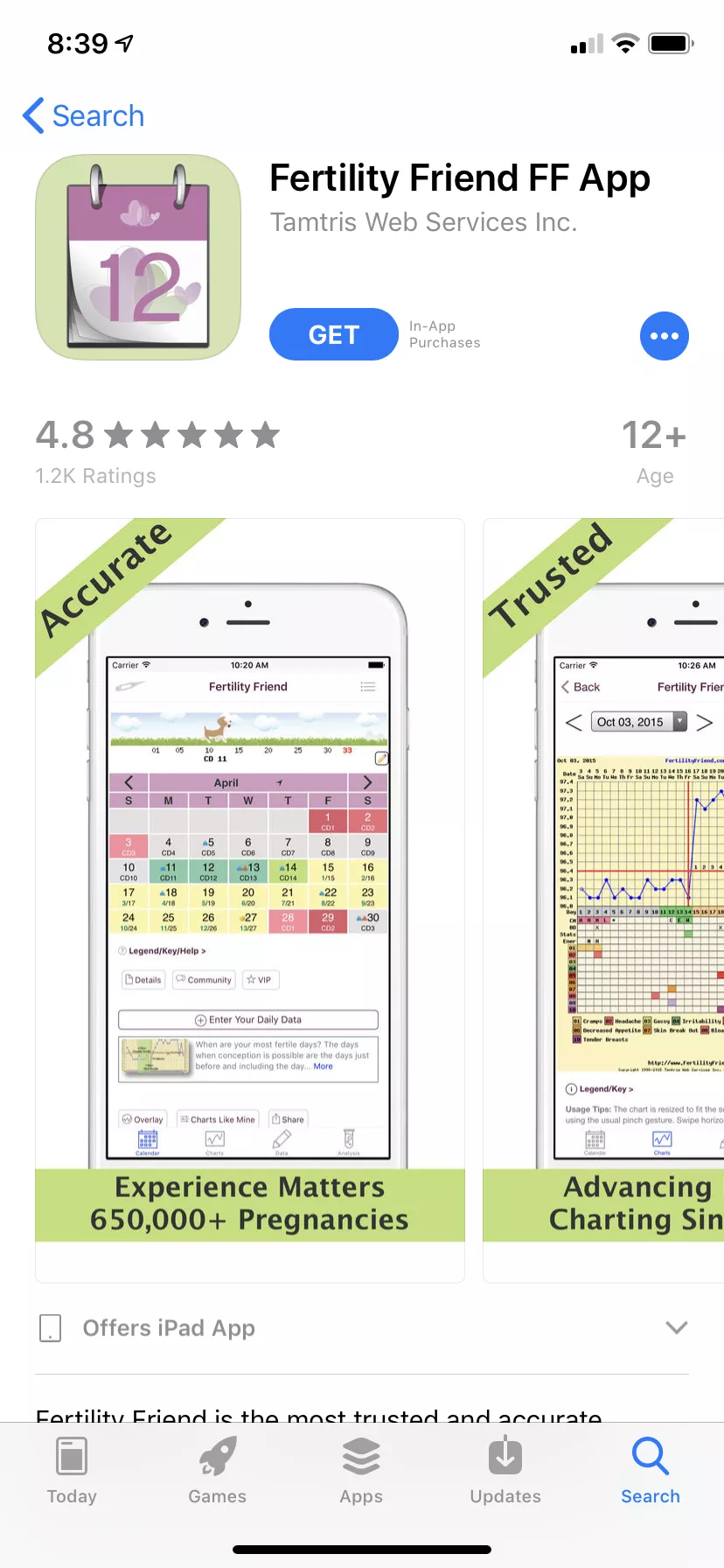 This color-coded fertility app is user-friendly, and super accurate, earning itself a whopping 4.8 out of 5 stars in App Store reviews!
This app even features offline data entry options so you can log your data when you need to, even if you are without internet access for a bit.
The app will sync your information once you are connected to the internet again!
---
Thank you so much for reading – I hope this post helped you find the best ovulation app to help track your fertility.
Feel free to share any apps you think I missed (remember, I'm listing only the BEST), and a little about your TTC journey in the comments below!
Looking for ways to boost your fertility? These out these 5 Fertility Yoga Poses You Can Do To Get Pregnant Faster!