Make your own gorgeous cleaning labels with just your printer and scissors…
---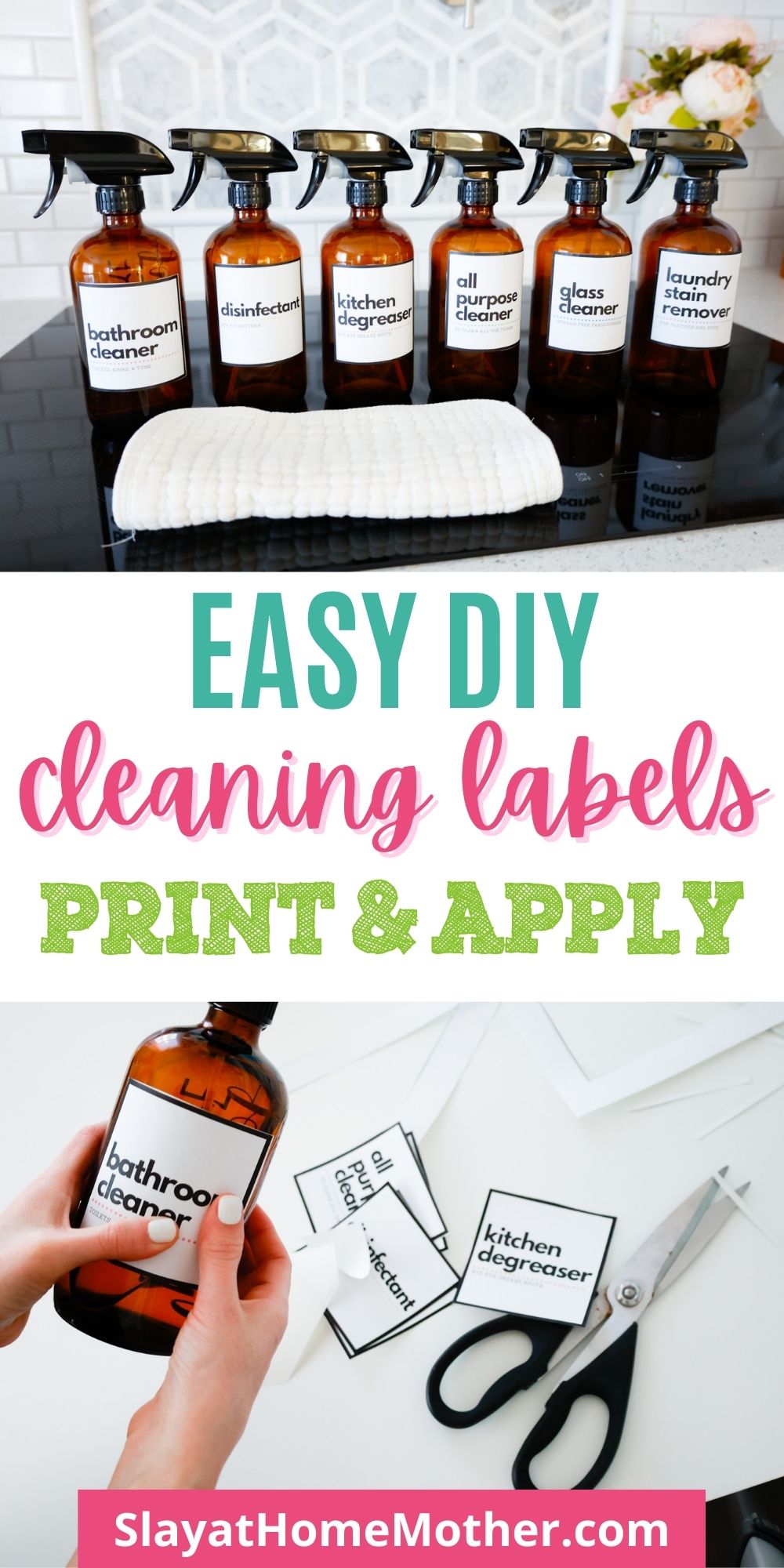 Hey there, lovelies and clean freaks!
In today's post, I'll be showing you how to make your own cleaning labels.
I love creating my own labels, whether it's with my Cricut or my printer and some paper.
Labeling bottles, baskets, and containers not only keeps everything organized but also makes things look pretty!
And I feel more motivated to keep everything organized when it's pretty.
A lot of my crafting on my blog has to do with the Cricut, but I know and understand that not everyone has the desire (or the budget) to own one.
So in this post, I'll be showing you how to make your own using your computer, a printer, and some sticker paper…
There are tons of pictures and helpful screenshots to help you every step of the way.
*This post contains affiliate links, however, all opinions are my own, as always. Thank you so much for your support.*
What You Need To Make DIY Cleaning Labels
Here's what you'll need to make these labels…
a computer with internet (or your smartphone)
printer
scissors
bottles to label (these are my favorite glass spray bottles!)
You May Also Like: DIY Cleaning Labels – Free Digital Download!
How To Make Your Printable Cleaning Labels
First, you'll need to design your labels.
I like to use a program called Canva.
I have the pro version, but many tasks can be completed in the free version!
You can easily sign up for a free account with your e-mail to get started.
Once you've signed up, browse through the Recommended template sizes and find the one that says US Letter Document.
This ensures your design will fit on the size of a piece of paper.
Because we're printing these labels, we wouldn't want to go any bigger or smaller than that size!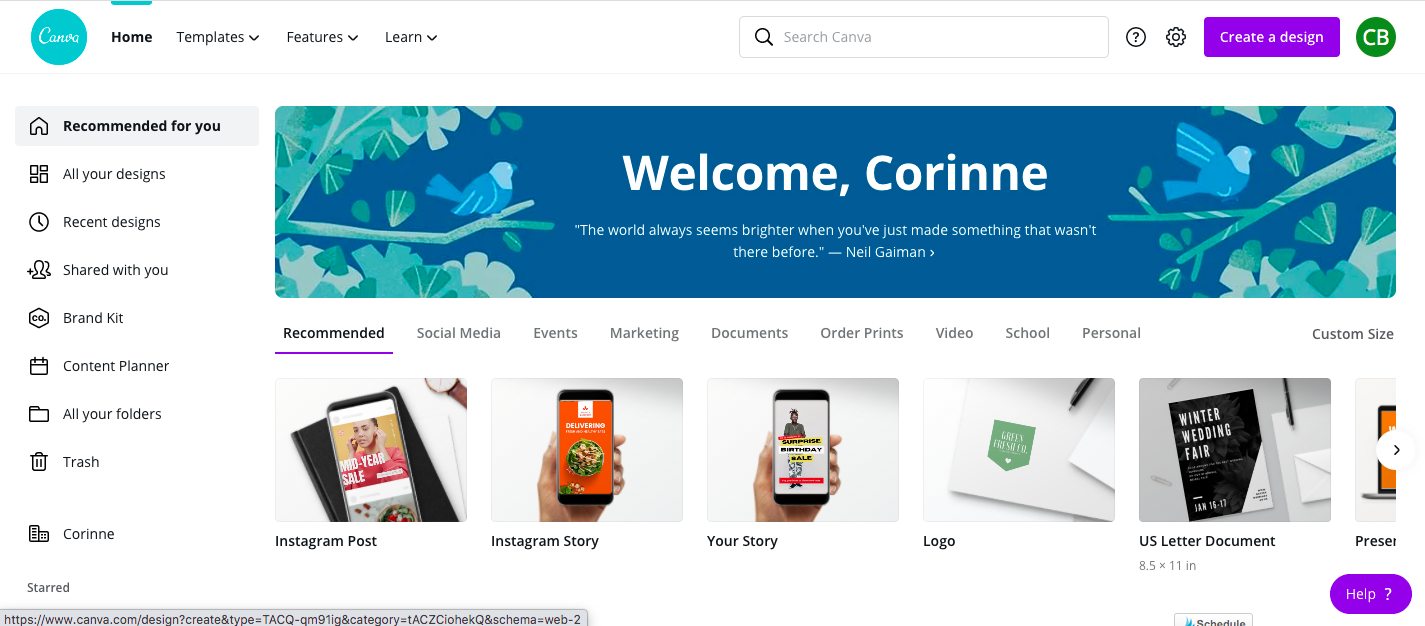 Next, you can get as creative as you want with your DIY labels!
For my labels, I wanted to include a square outline.
This makes them easy to cut with scissors once they're printed.
To nsert a shape (or shape outline), navigate to the left toolbar and click on Elements.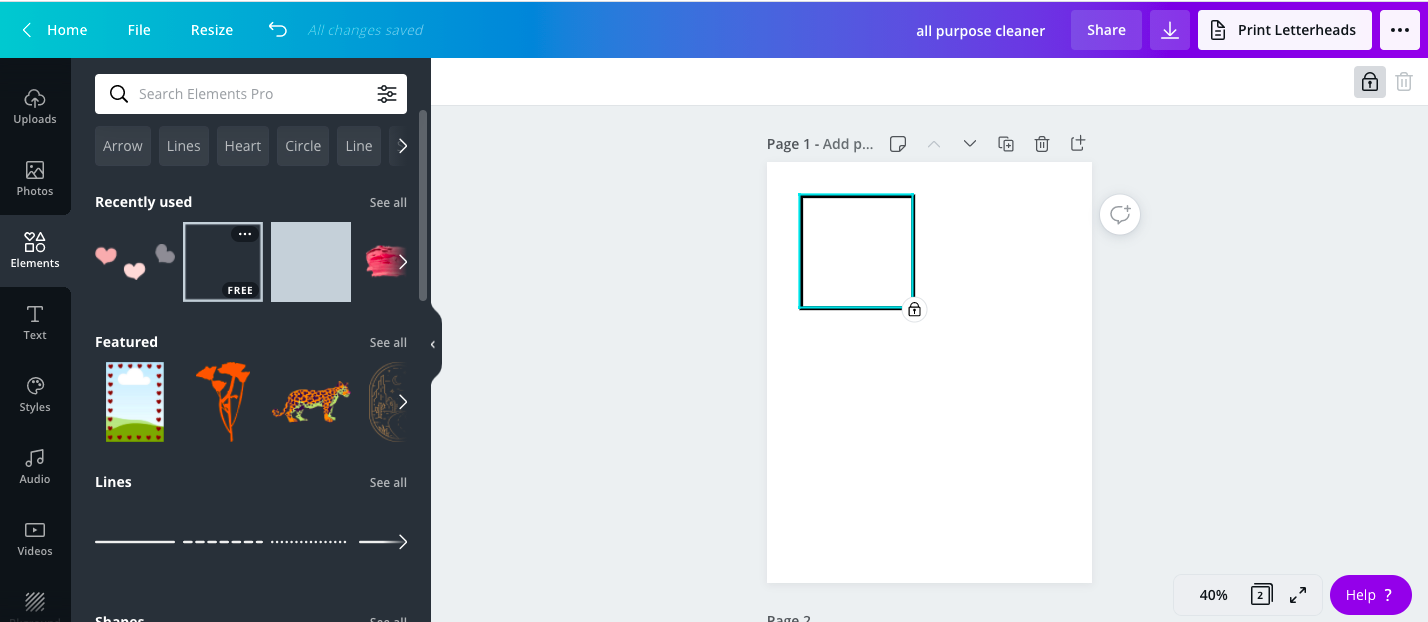 You can either type in square or browse through until you find what you'd like.
Once I inserted the first square, I copied and pasted the square outline 5 more times.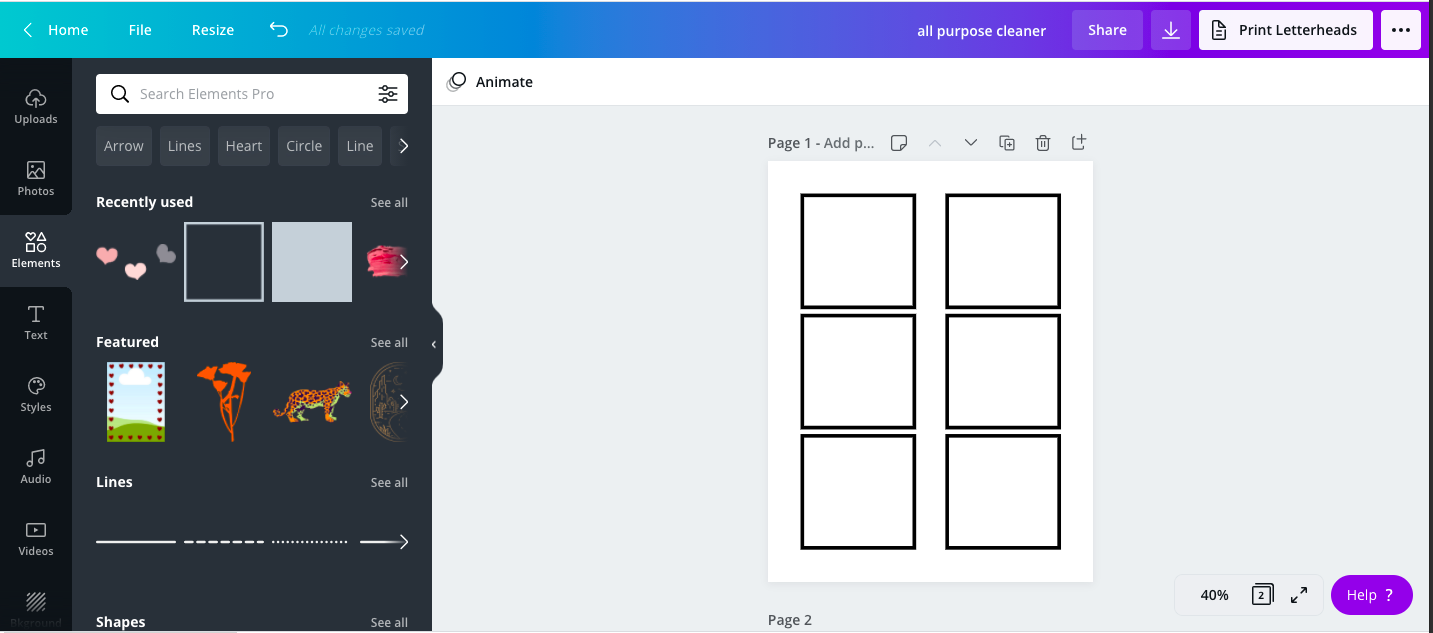 Now I have six total squares and am ready to add some text for the labels.
Now is the time to quickly browse through your homemade cleaners or cleaning bottles.
Here are the labels I included in my design:
all-purpose cleaner
disinfectant
bathroom cleaner
kitchen degreaser
glass cleaner
laundry stain remover
To add text, simply click on the Text option on the left toolbar. One option is that you can select one of the font combinations listed (you'll notice that I chose the one that says 'cold, smooth & tasty – Angelo Brewing' for my labels.
Or you can use one of the free fonts included in the Canva program.
The Pro version has many more options for fonts, as well as the option to upload your own fonts!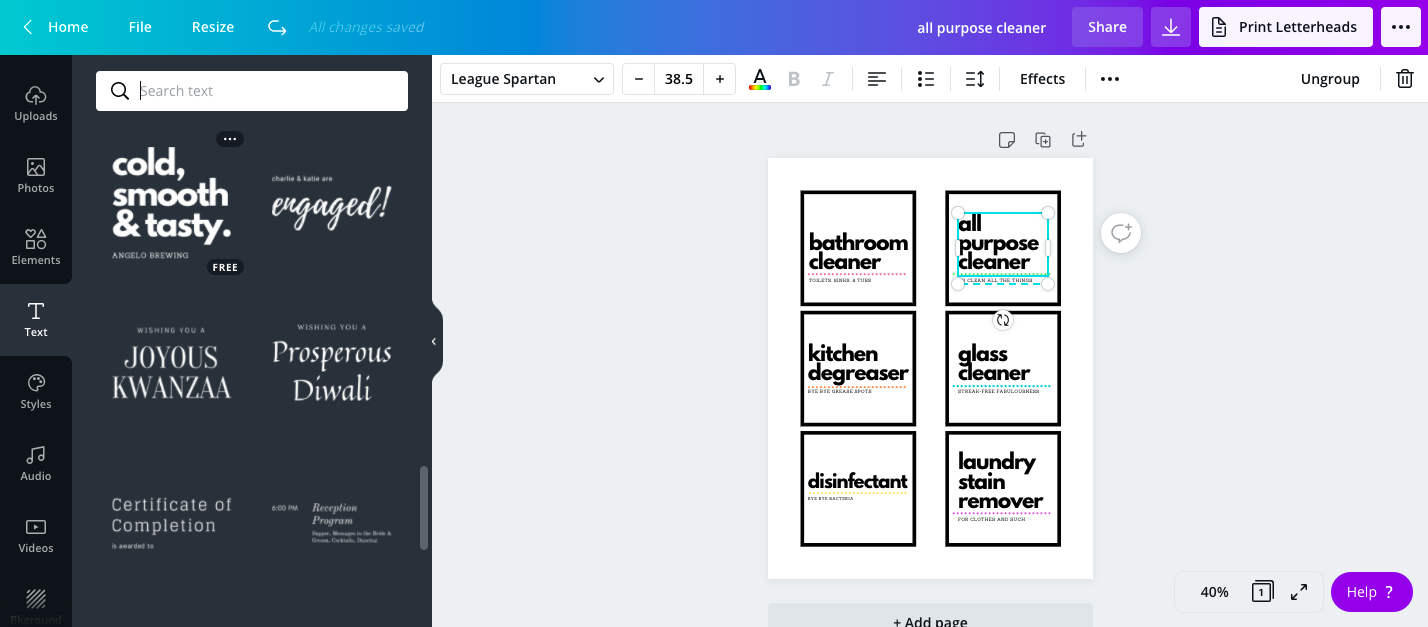 Once you've typed out your cleaning labels so they're pretty and detailed, feel free to add different elements like pictures, clipart, lines, etc.
Canva has a lot of design elements to chose from – they can be found within the Elements tab in the left toolbar.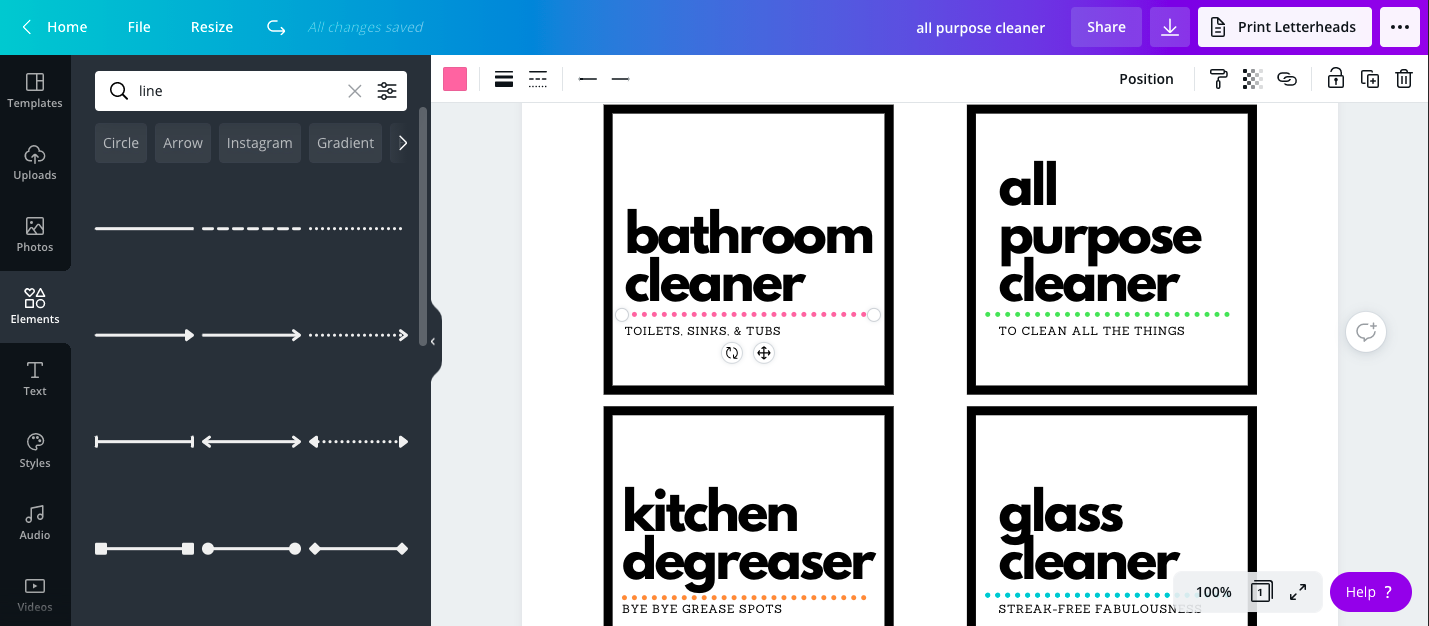 For my labels, I chose to add colorful dotted lines to my labels for a little extra flair.
I changed the color of each dotted line so it was different from the others.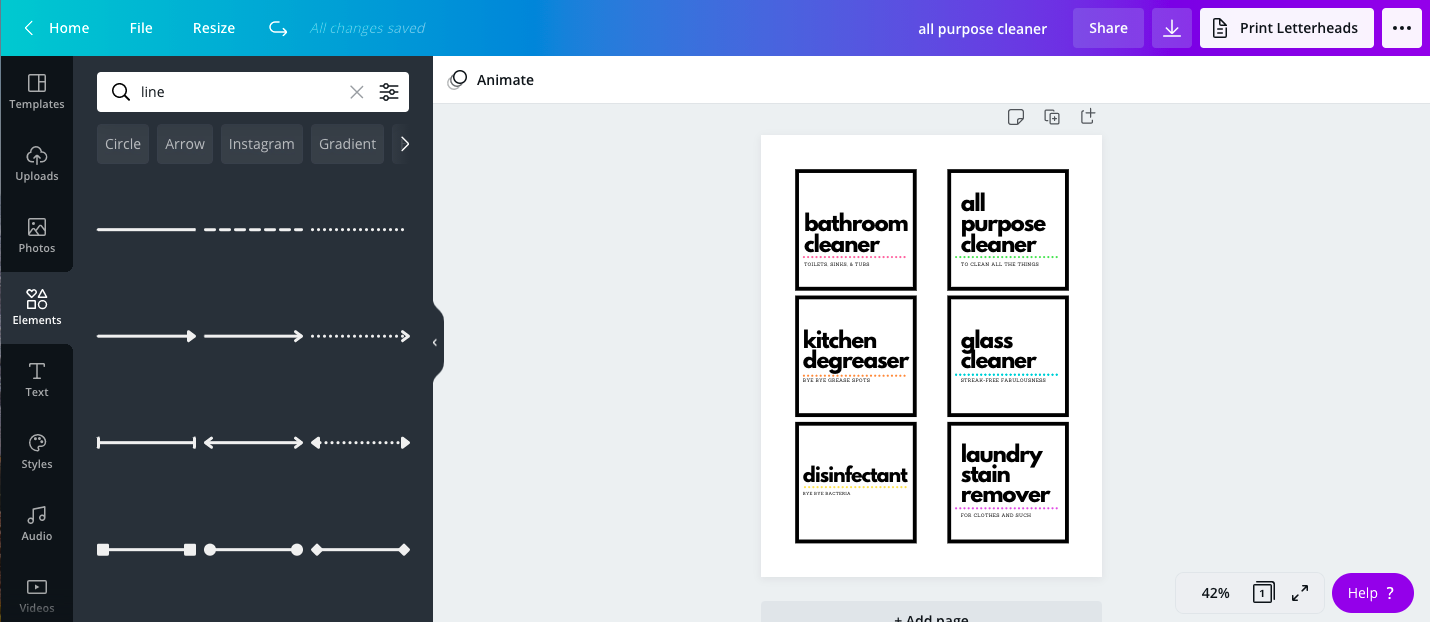 Once you are done and happy with your cleaning labels, download your design from Canva as a PDF-PRINT.
Download And Print Your Labels
After you've downloaded your design, you'll be able to print out your labels!
Insert your sticker paper into your printer.
It helps to know whether your printer pulls paper to print upside down or right-side up, as full-page sticker paper has cut creases along the back and you don't want to print on that side of the sticker paper!
You can run a test sheet of copy paper through your printer first so you don't waste any sticker paper.
I do this from time-to-time by grabbing a sheet of white copy paper and drawing an 'X' with pen on it. I place the paper in the paper tray of my printer with the 'X' facing up.
I print a test page and note whether the 'X' side was printed on or not.
If it was printed on, I know to place my sticker paper with the printing side facing UP.
If the side of the paper with the 'X' was not printed on, I know to place my sticker paper in the tray with the peeling creases facing UP instead.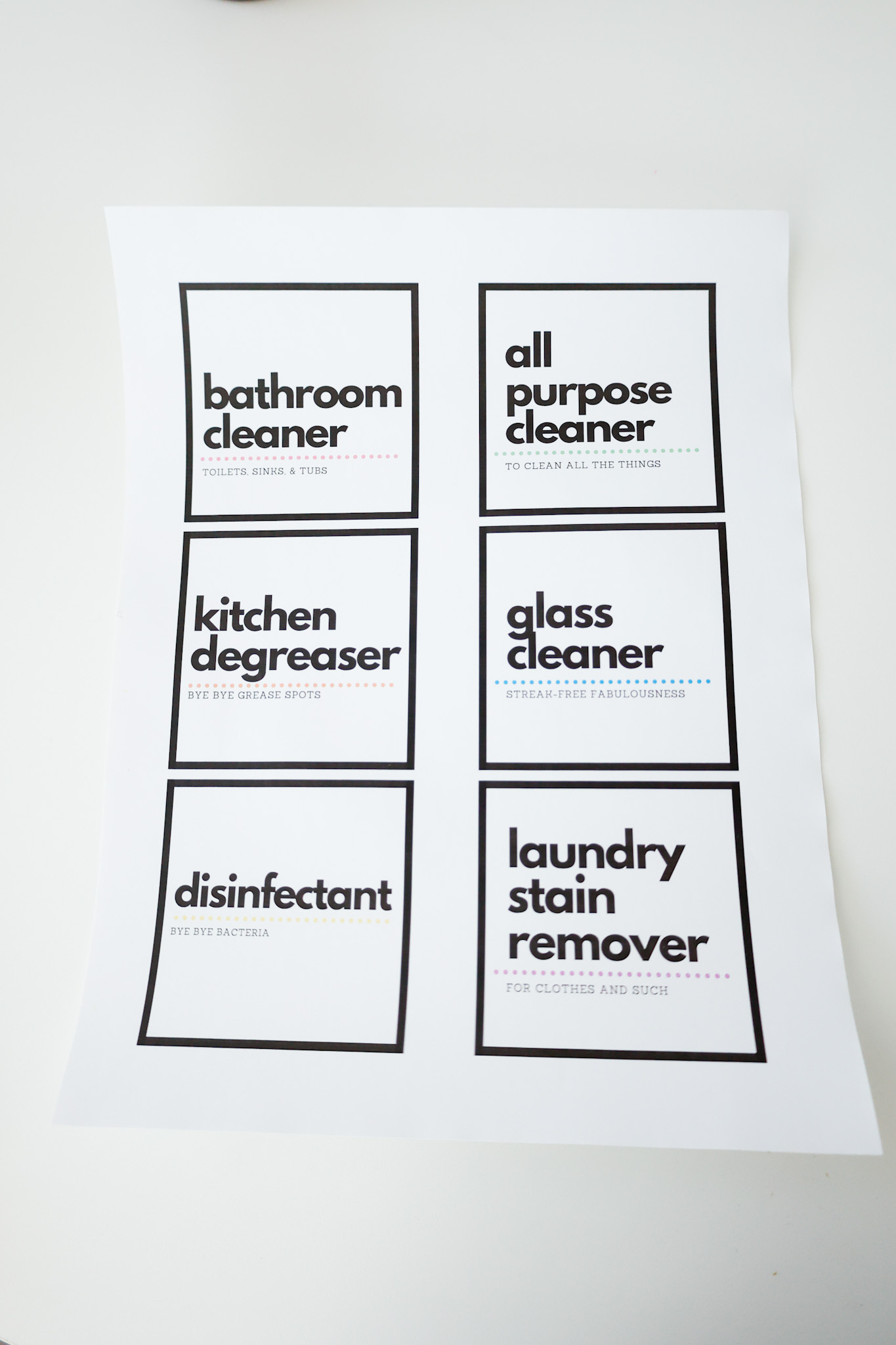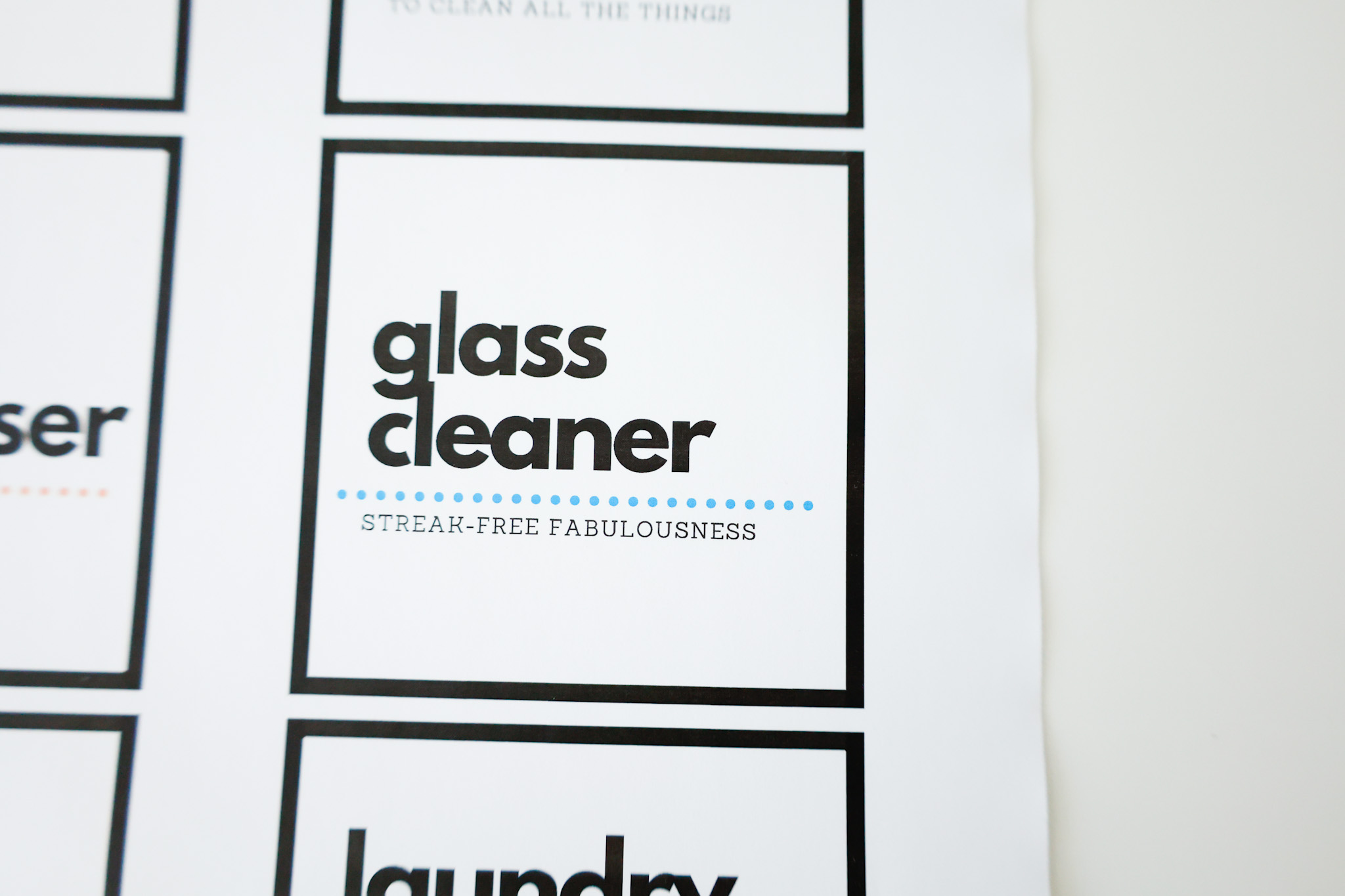 Once your labels have been printed out onto full-page sticker paper, cut them out with scissors, following along the square outline shapes.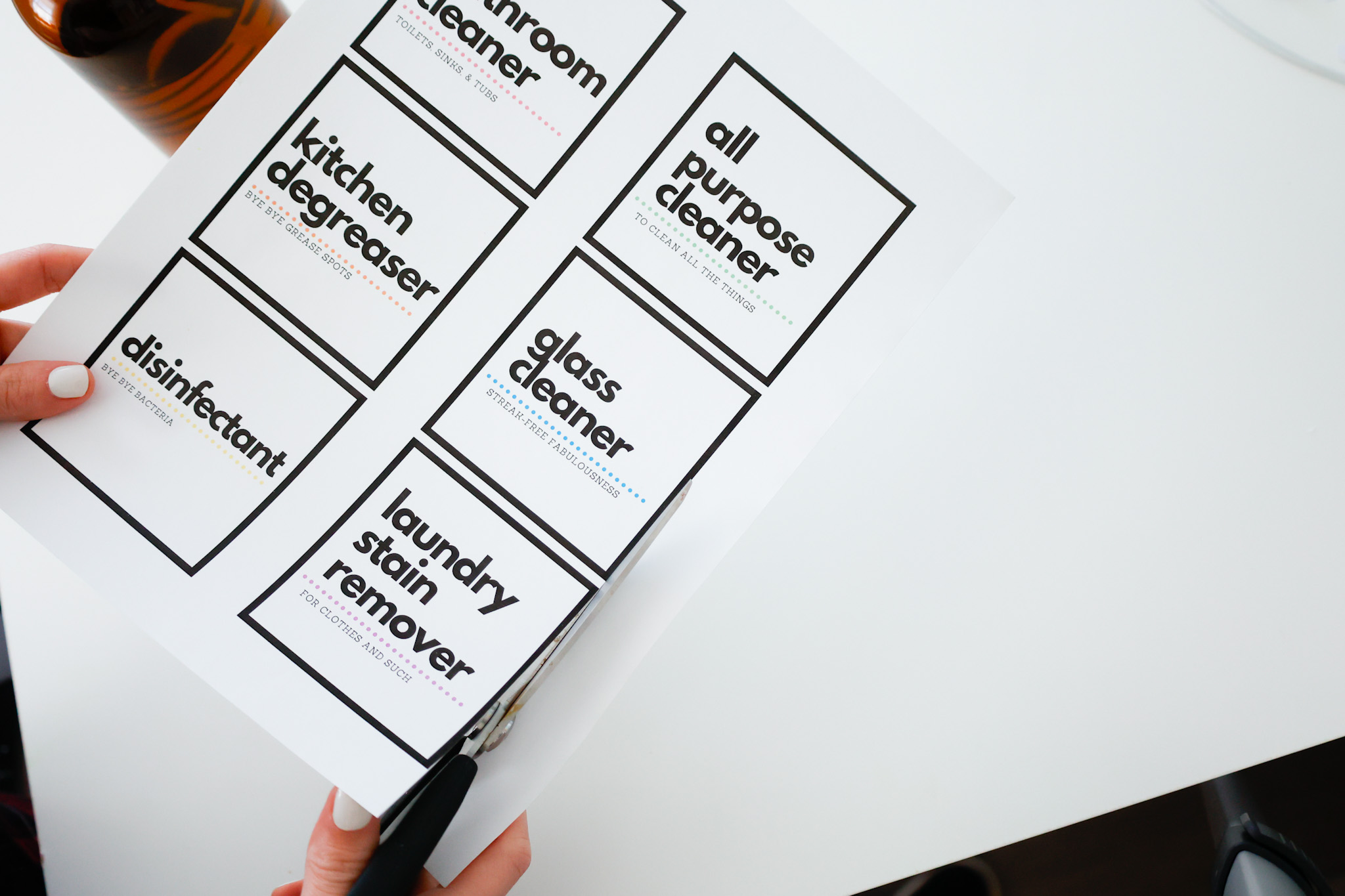 Peel away the backing of the sticker paper, and adhere to your clean glass cleaning bottles or containers.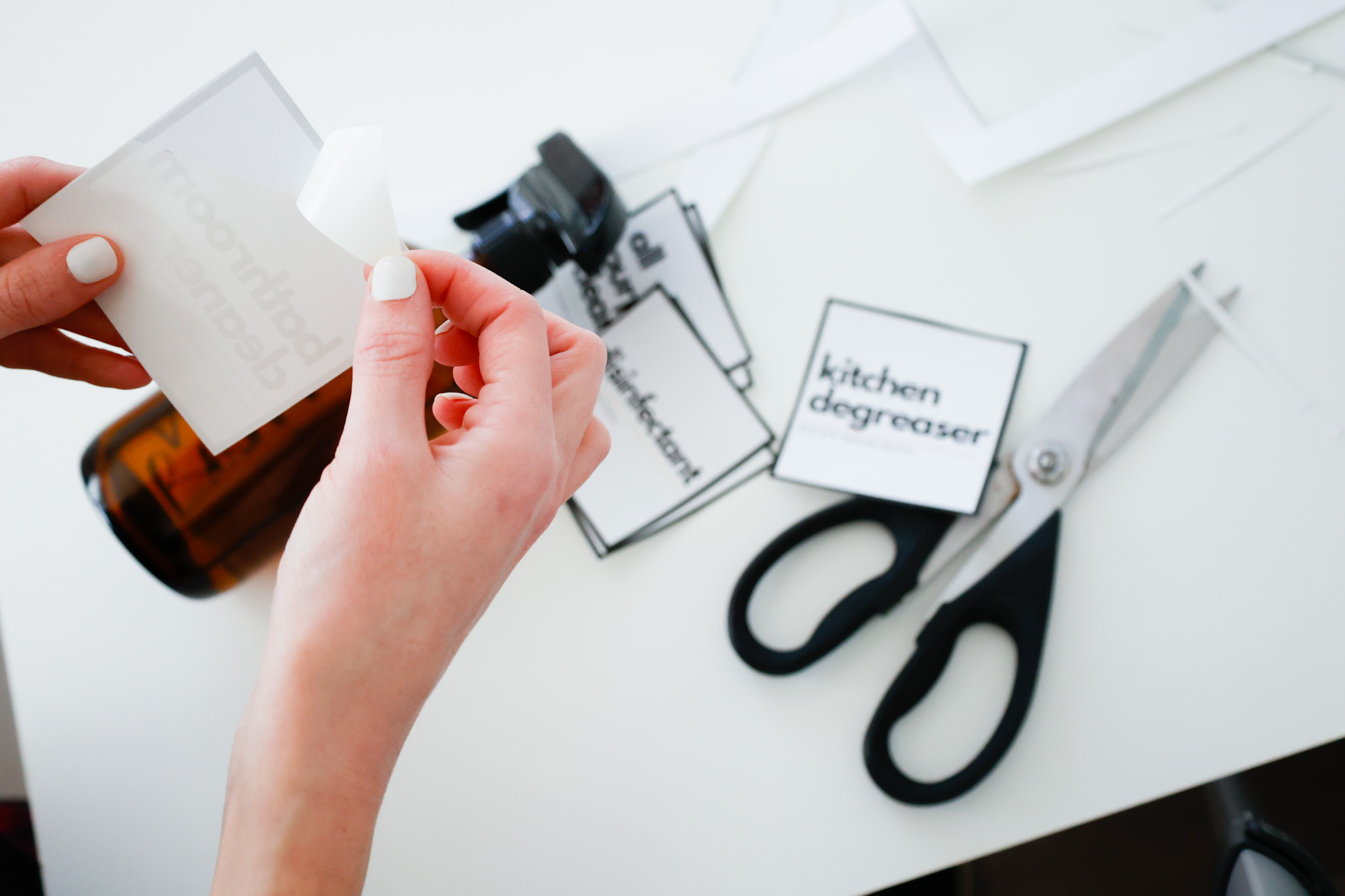 Can I WaterProof My Cleaning Labels?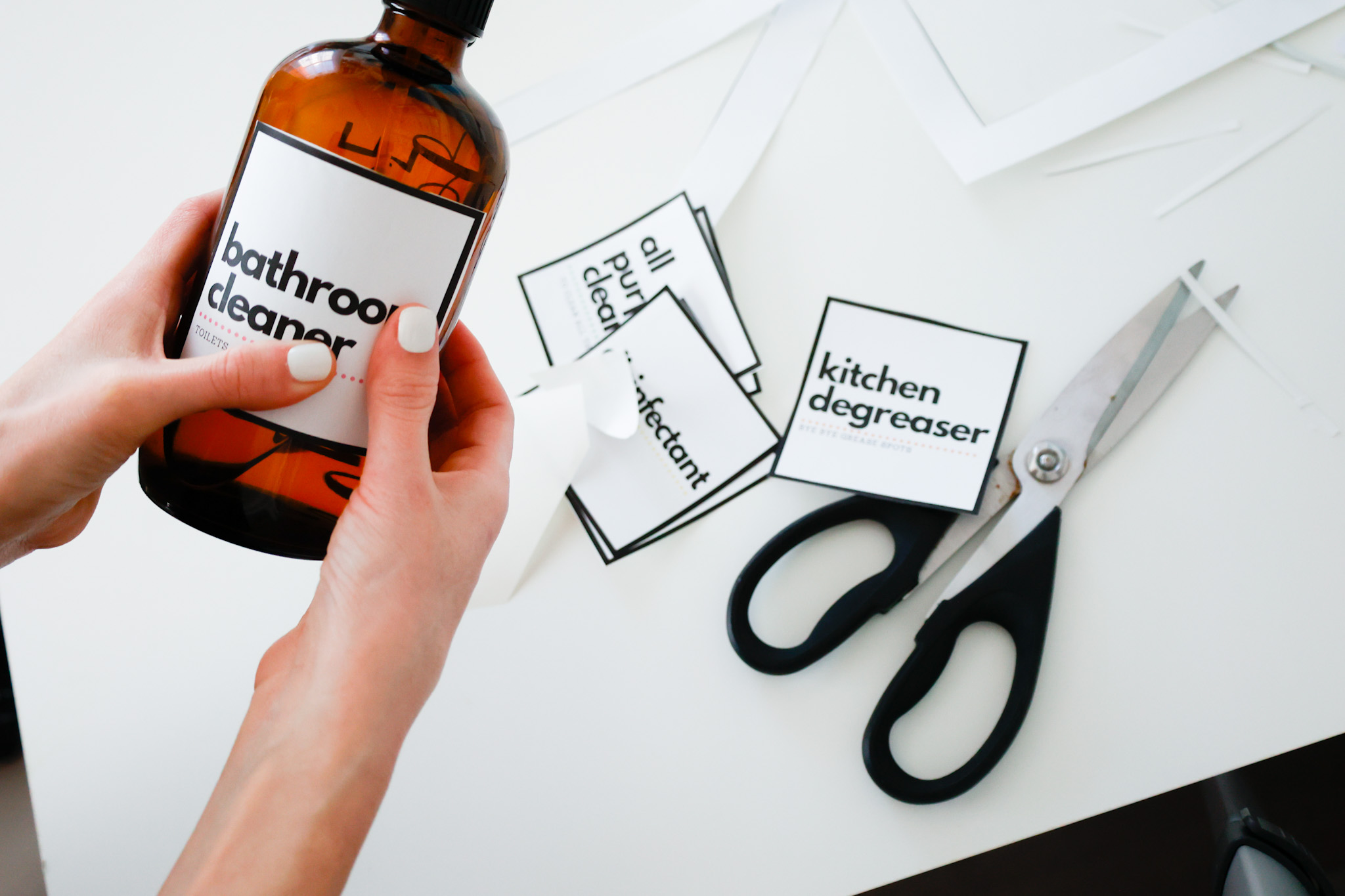 You can further waterproof your labels by placing a square of clear contact paper or clear sticker paper over top of your labels.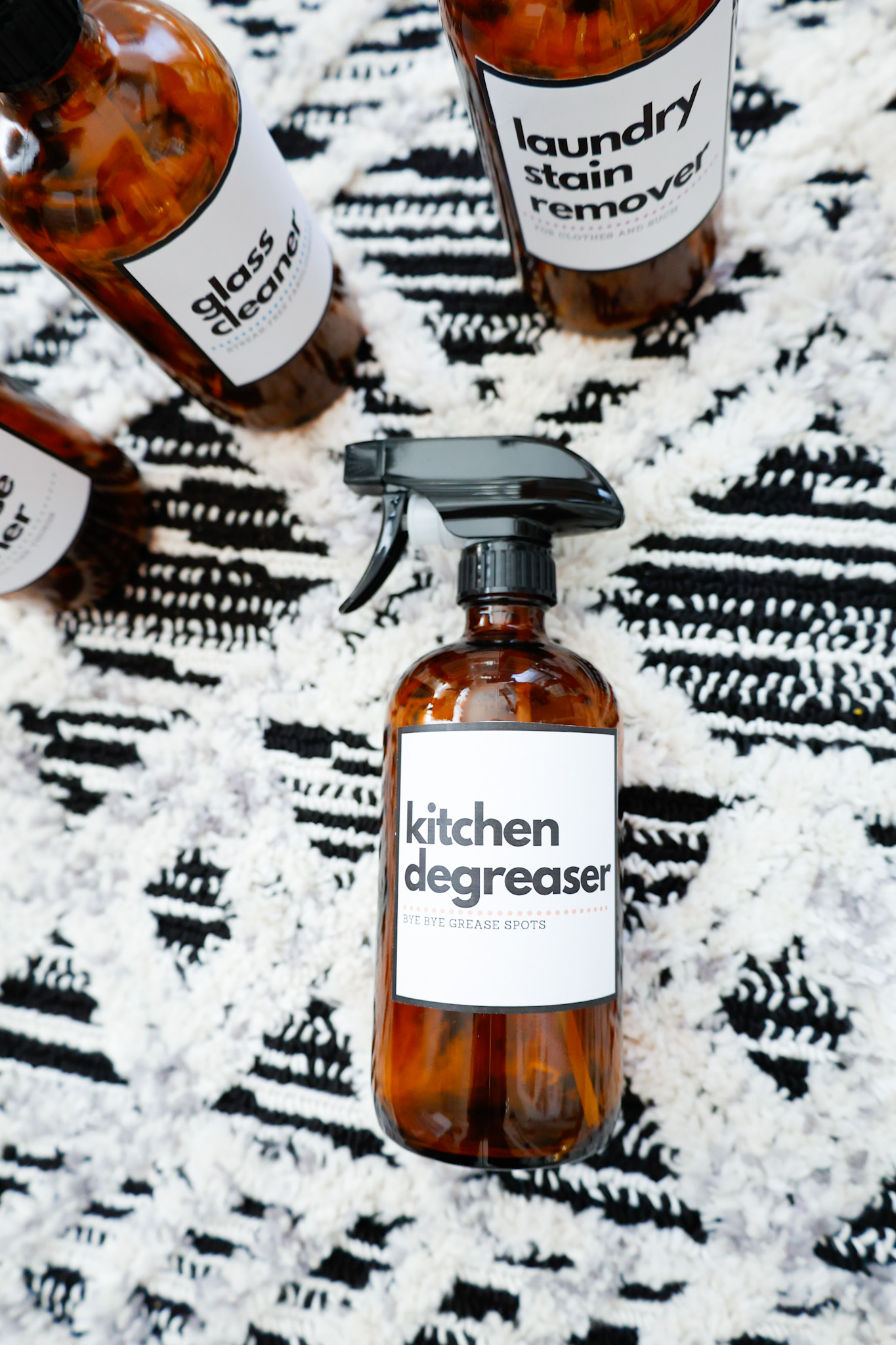 Once you're done, fill up your bottles with cleaner if you haven't already, and admire your beautiful design work!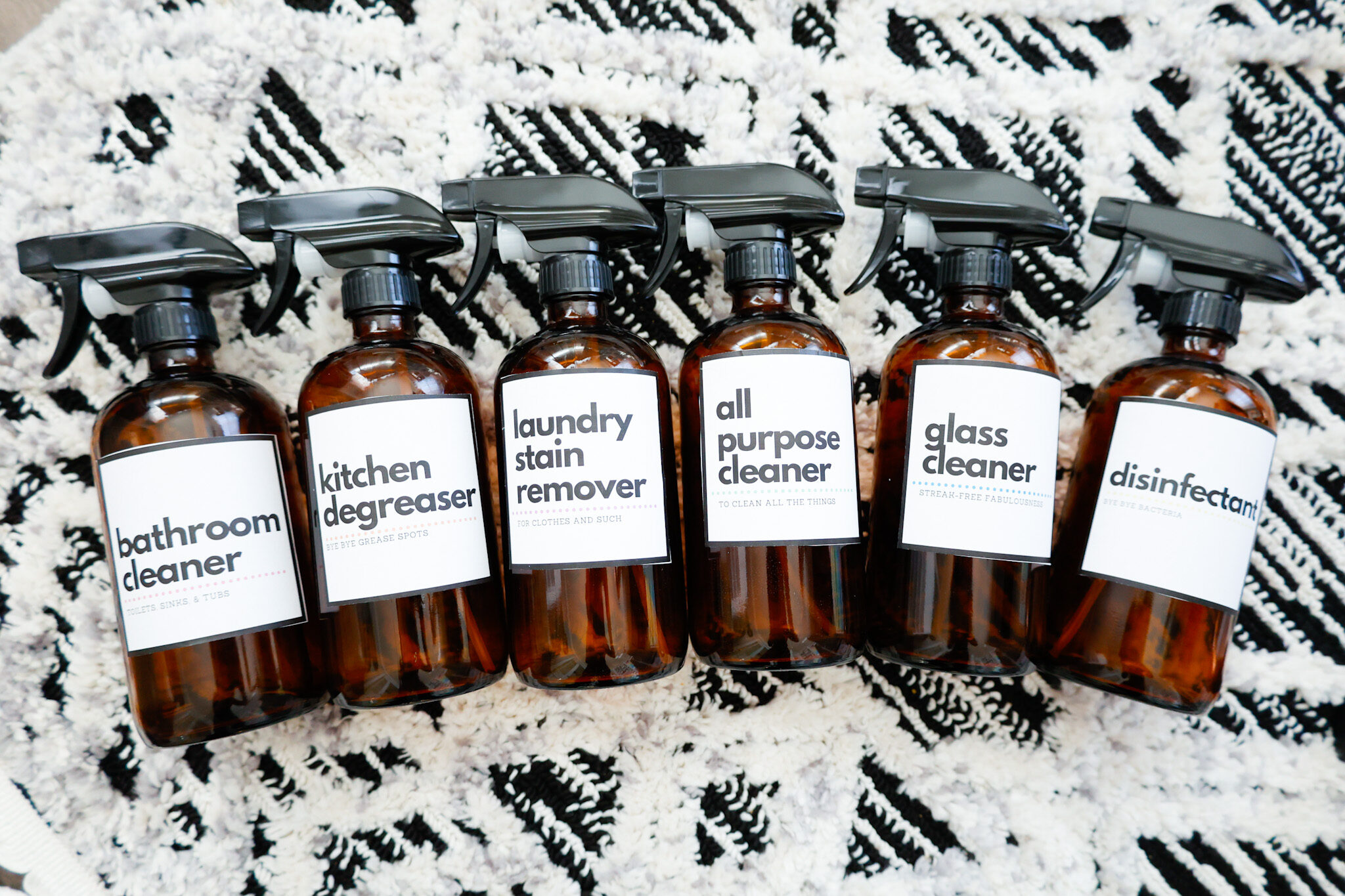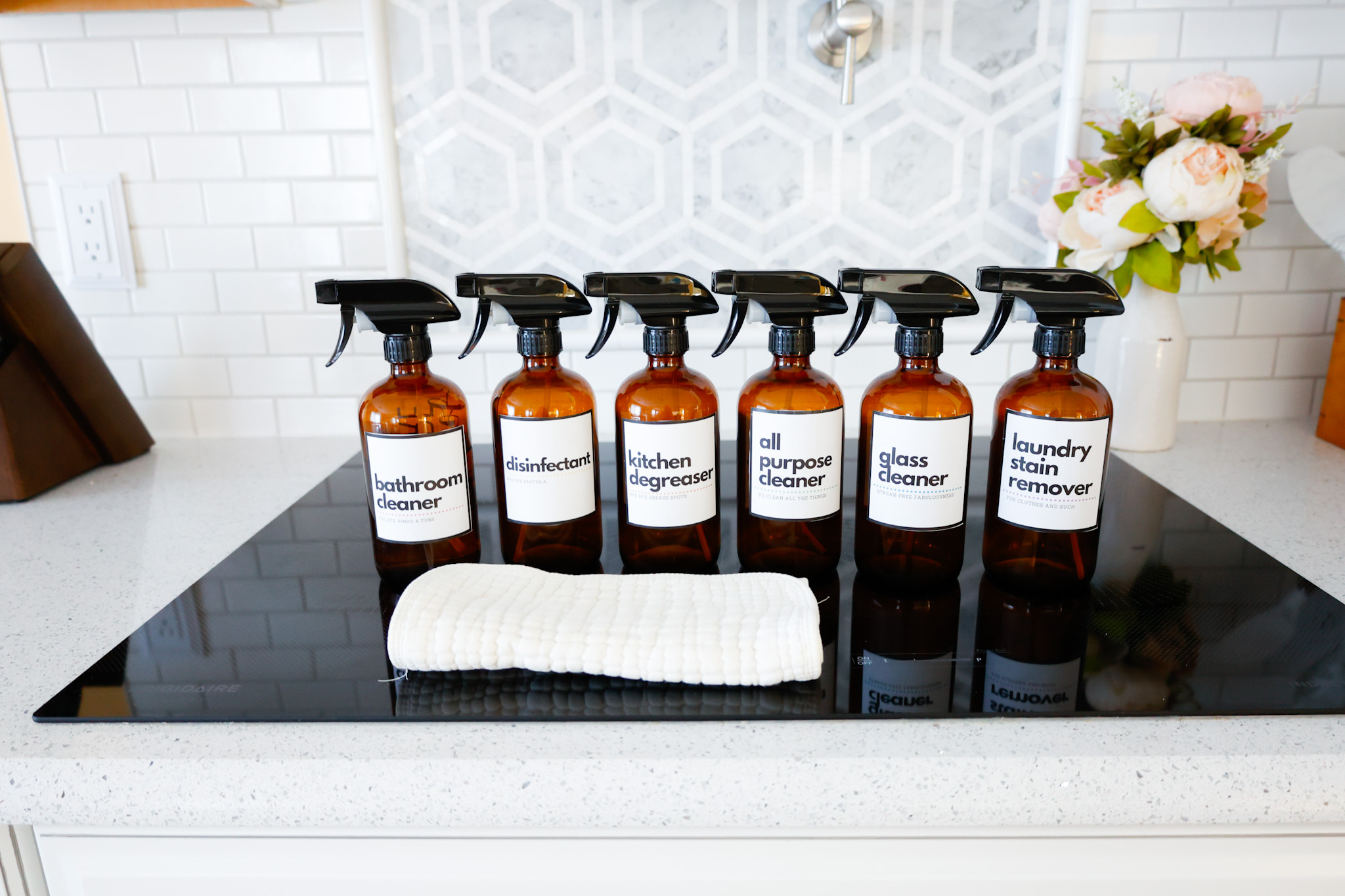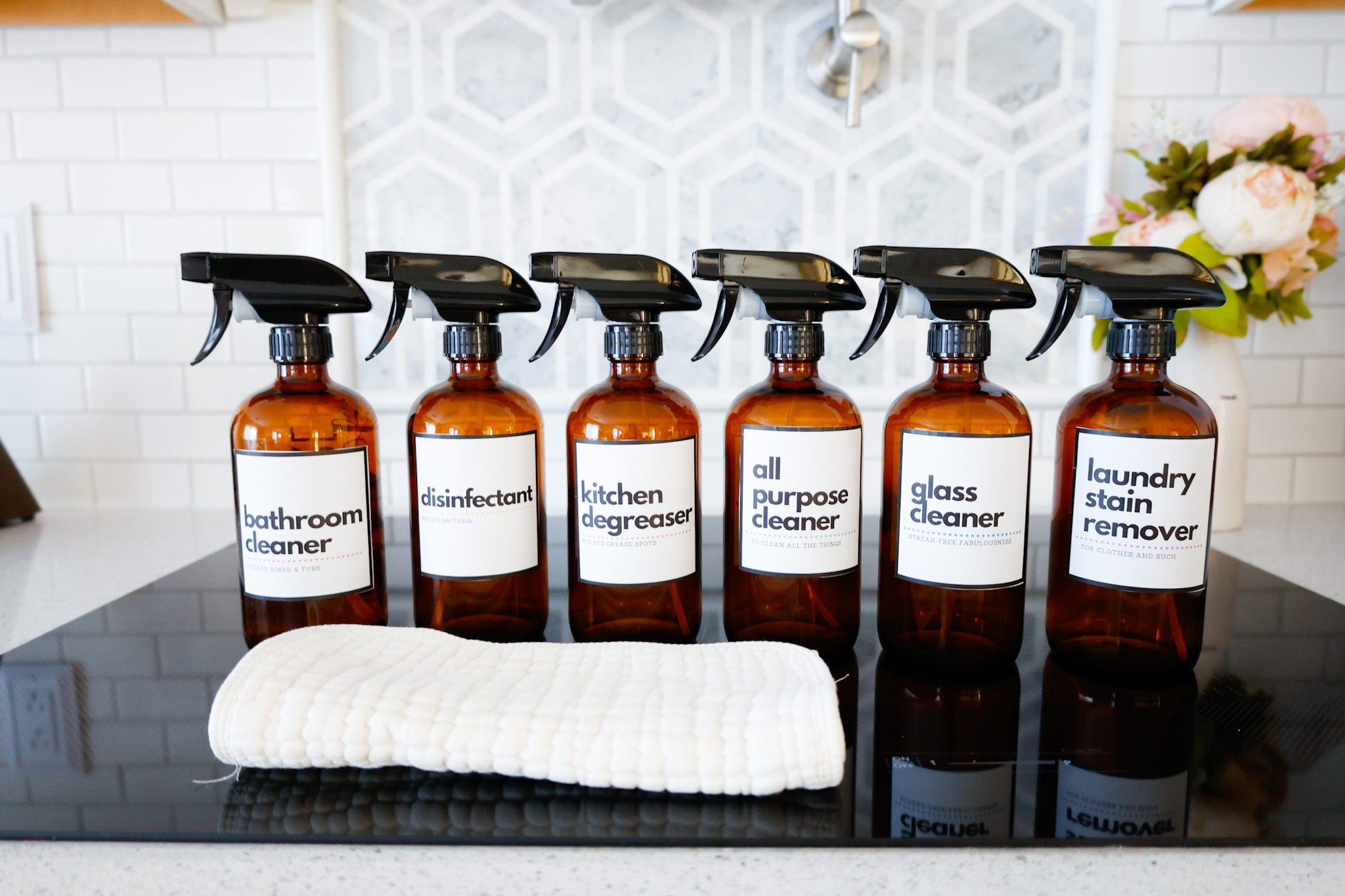 These labels are so fun to make, and are a great alternative way to label cleaners when you don't have an expensive Cricut machine and permanent vinyl to work with!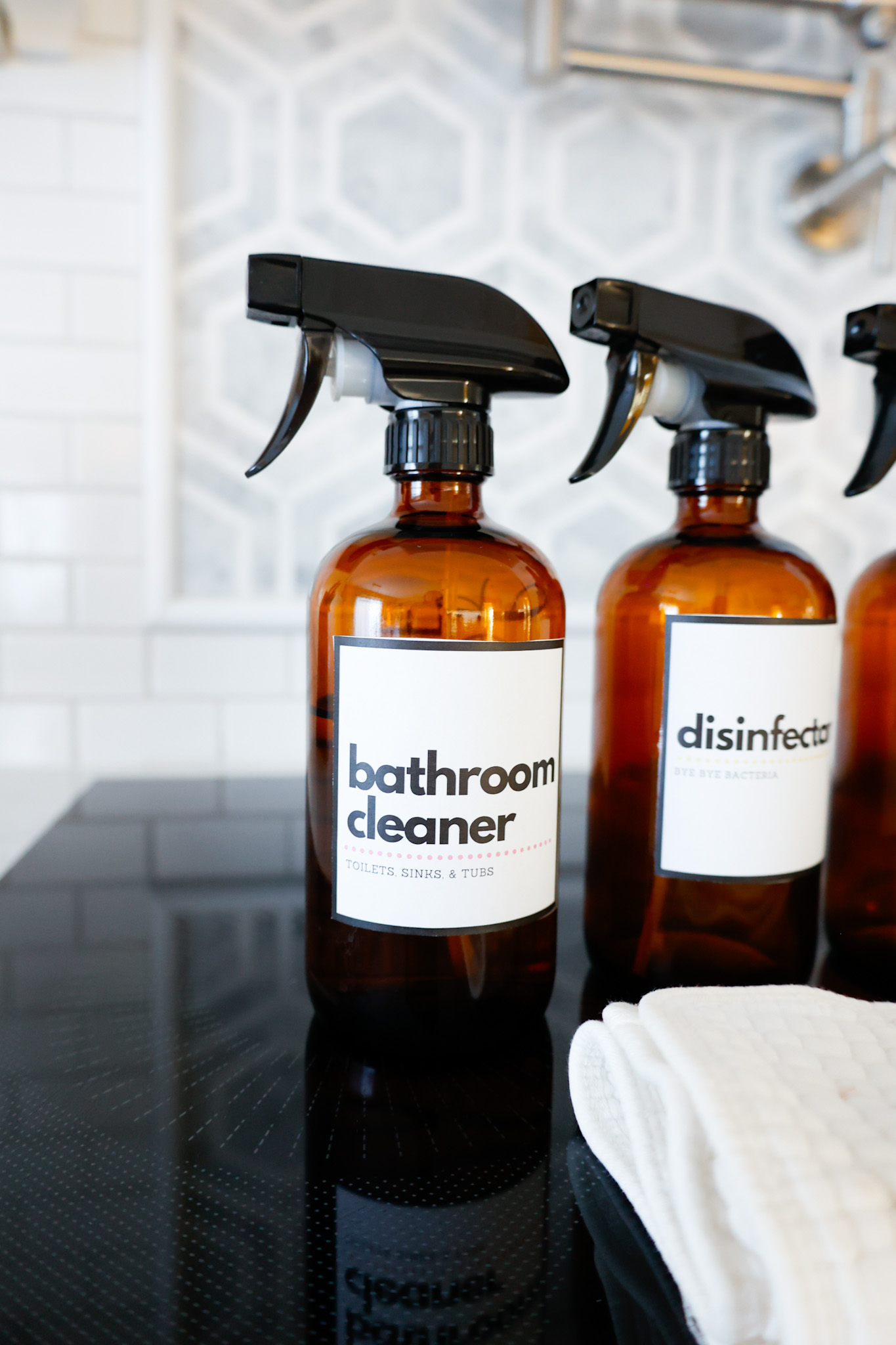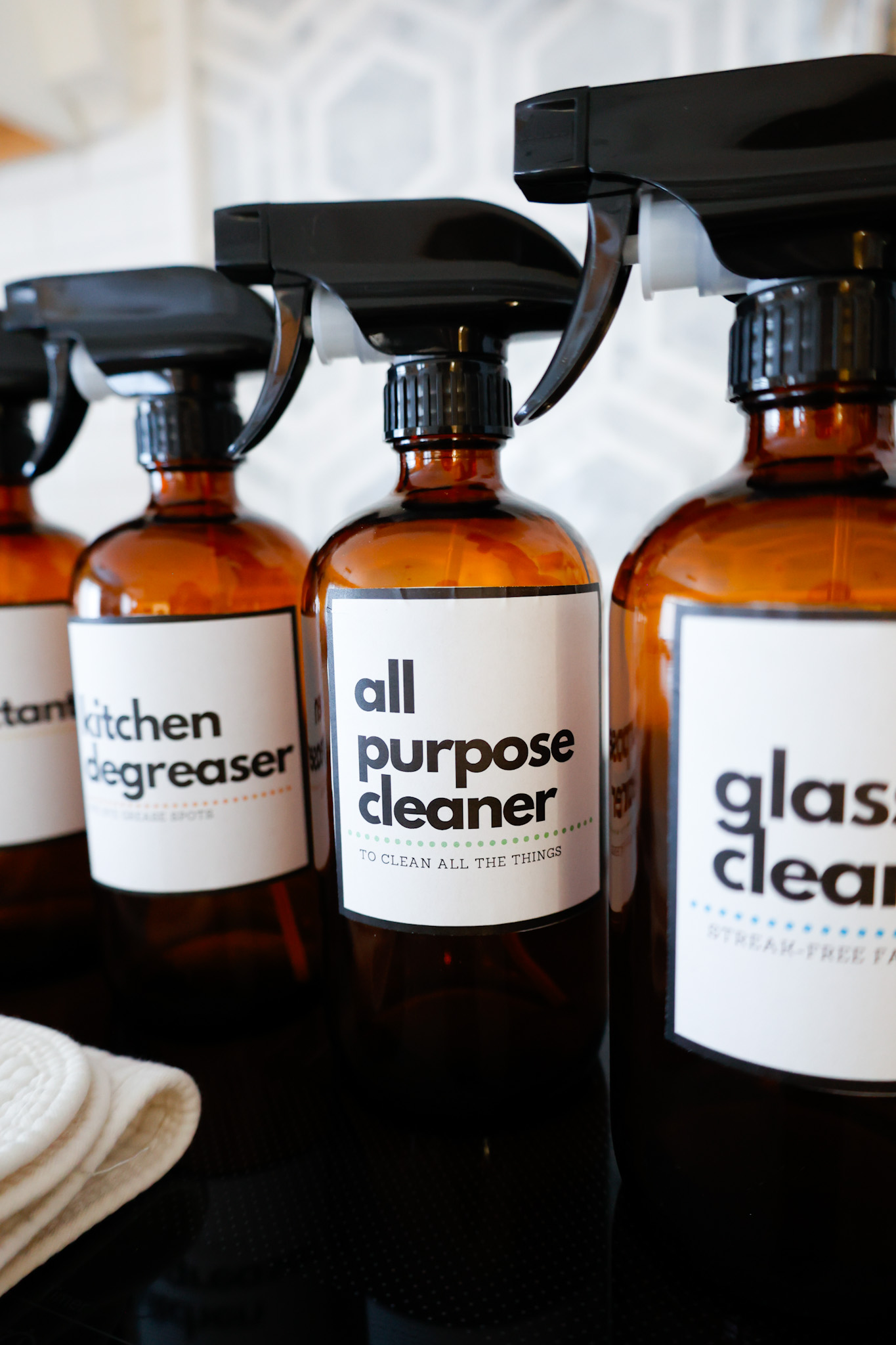 P.S. The printable PDF for these cleaning labels is available in both my Etsy store or my Shop here on the blog, along with many other printables!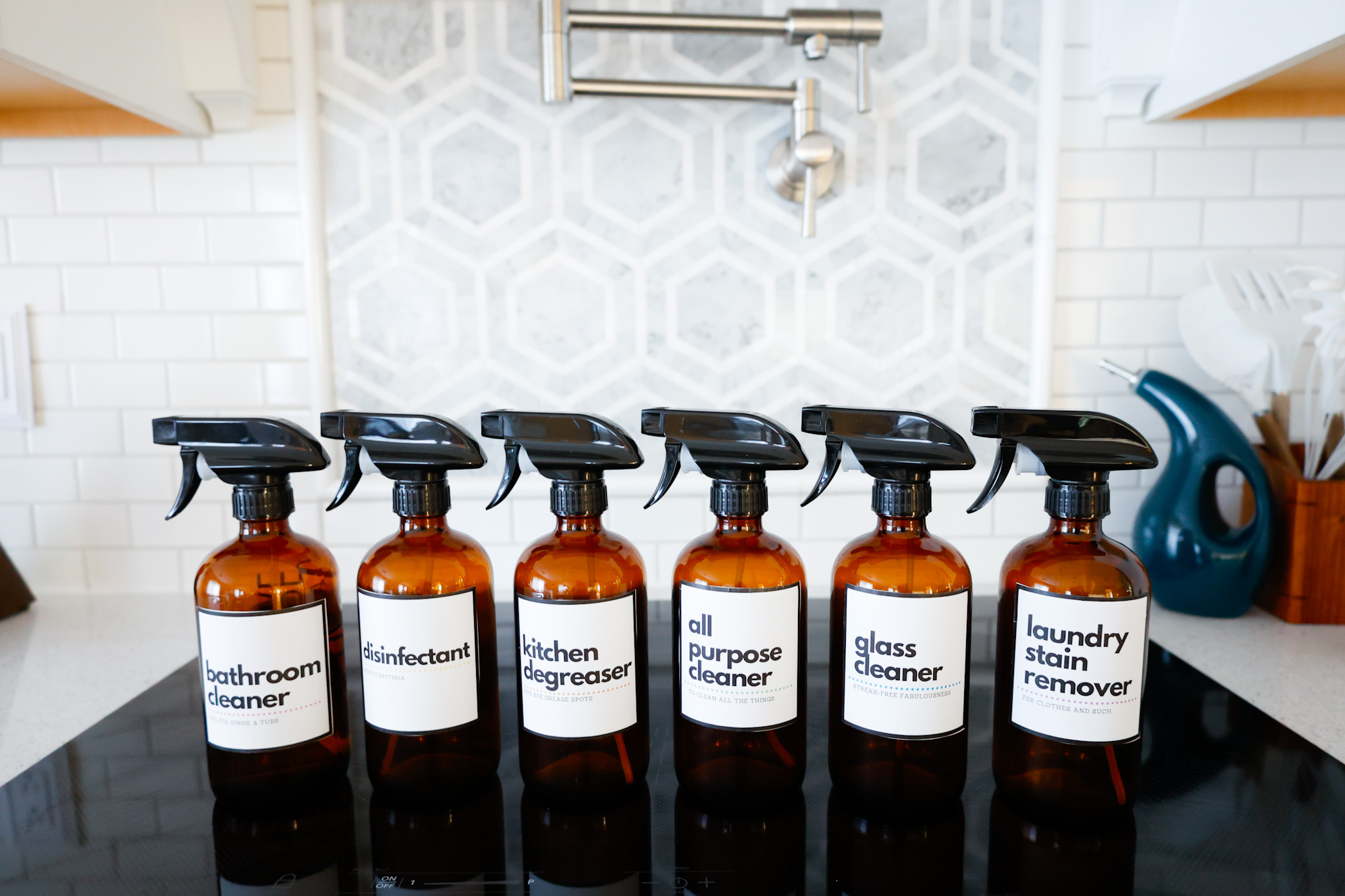 ---
Have you tried making your own cleaning labels before? Tell me in the comments below!