Here are my 11 diaper bag essentials to help you save your sanity while you're out and about with baby…
---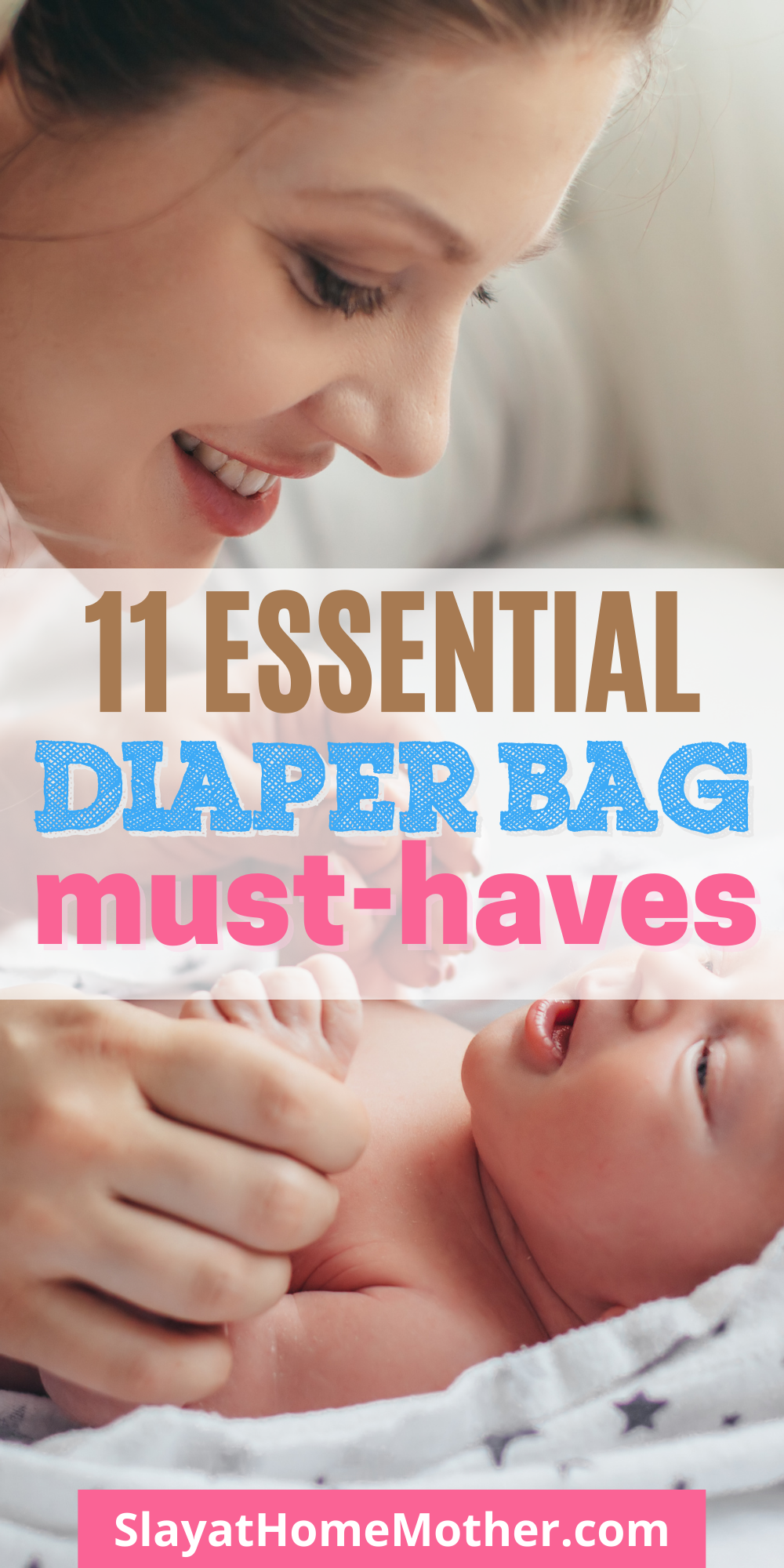 Diaper bags are with us from the early days shuffling back and forth to the pediatrician to the preschool days when baby wipes are still a 100x a day necessity.
Can I be honest with you? I mean, what better place to just be myself than my very own blog, right?;)
I am a serial over-planner.
I like to sit down before going anywhere and imagine every possible scenario that could happen and pack accordingly.
Even if it's a quick trip to the grocery store to grab milk.
There could be a blowout in the car seat.
My toddler could spill milk all over his outfit at his cousin's birthday party, and it will be hot and yucky outside…better pack 10+ outfits…
Needless to say, I've been a serious over-packer as a result of over-planning.
My husband, who is such a sweet, patient, and supportive person, has tried to help me tone down this part of my personality because it can be a little extreme.
Which ended up leading to quite a few instances of underpacking our diaper bag.
In which case, Murphy's Law kicked in, and we were dealing with a crazy blowout in the car seat.
Yup, it finally happened, and I wasn't prepared for it!
Over the years, 10 of which I've been a mother, I have learned to pack the essentials in my diaper bag, because I've definitely suffered from overpacking and underpacking my diaper bag.
Overpacking always led to a sore bag and an inability to locate the things I needed during clean up and diaper changes, while underpacking our diaper bag led to not having enough or any of the supplies we needed in the heat of the moment!
My advice to you when packing your toddler bag is to be fully aware of Murphy's Rule of Packing That Toddler Bag: You'll never use what you pack enough of, and you'll always run out of what you thought you wouldn't need.
So, with my decade of experience under my belt, I've collected the 11 diaper bag essentials I pack every time we leave the house.
Feel free to add or take away as you see it, or as your lifestyle allows…
BTW, Here's my current diaper bag, and I can tell you right now I am IN LOVE!
This post contains affiliate links to help support my blog, however, all opinions are my own, as always.
Diaper Bag Essentials To Pack
Diapers
I always stick with the 2:1 rule when our babies are young, where I plan to pack at least 2 diapers for every hour we will be out.
This usually translates to packing between about 4-6 diapers for each outing.
You May Also Like: Potty Training In 3 Days (Plus A Free Potty Training Sticker Chart!)
Wipes
Whether you're potty training or not, you'll need these for sticky fingers, shopping cart handles, or restaurant high chairs to wipe down before use, and clean after use.
BTW, if you find yourself running low on baby wipes in your diaper bag, make a note to pick some up while you are out, or exchange the low supply of wipes with a fresh pack.
You won't want to encounter a massive blowout that you don't have enough wipes for while you're out, especially without an extra pair of hands to help out.
Diaper Cream
In the early days, having diaper cream with you can help a seriously sore tush.
And that cute little tush might not be showing any signs of redness or irritation, but it's come in handy for our babies plenty of times, and is certainly worth mentioning in this list of diaper bag essentials!
It's easy to clean off the skin, especially when there's already a really sensitive rash, and goes on like clay.
Easy to put on, easy to take off.
There's nothing I hate more than trying to clean a messy diaper and having to work really hard on already-sensitive skin to remove the diaper cream that's stuck to the bum :(.
Your toddler's bum will thank you!
Hand sanitizer
This diaper bag essential doesn't even have to take up space in your diaper bag, just grab a container that clings onto your diaper bag.
You can pick these up at Target, your local grocery store, and even Bath & Body Works.
They are usually found near the checkout aisles.
I always try to wash our hands while we are out, but they are some instances where you can't clean your hands in a really dirty public restroom, and hand sanitizer saves the day!
2-3 Quart-Sized Zip-Loc bags
I keep these in my bag for the messy diapers.
My toddler has the wonderful finesse of choosing to go while we are in dressing rooms, public restaurants, on an airplane, and our friend's house (who have no kids!).
They've absolutely come in handy, and I really praised myself for thinking of that one the first time I used them in public.
I'm probably not the first one to come up with that, but I can still give myself a good pat on the back!
Once you are done changing a really messy diaper, just pop them in a bag, seal it up, and toss it in the trash.
The mess and the smell will be contained.
Everyone else will thank you, too, especially those who don't have kids.
People don't want to deal with anyone else's poop, believe it or not.
2 Changes Of Clothes
Kids are messy.
Even when they seem like they are pretty good at table eating, and hardly ever have diaper explosions.
For us, we have 2 shirts, 2 pairs of shorts, and sometimes a pair of socks.
Because it's summertime, Jax has been sporting his sandals, so we have no use for socks.
1 Board Book
Good for teething, reading, and distraction! These have come in handy when my still-rear-facing guy is cranky driving the 45 minutes to his grandparent's house and while we are out to eat.
Have you read the Stinky Face series?
They're our current fave!
2 Snacks
We usually carry easy convenient foods like Gerber yogurts (these don't need to be refrigerated), peanut butter crackers, applesauce pouches, and Nutri-grain bars.
These snacks are all pretty slim, and take up minimal space in your bag.
We always pack at least one spoon as well.
1-2 Pacifiers
This is currently a must-have for long car rides and nap time.
We're planning on taking it away at 18 months, so this is only a temporary diaper bag must-have.
If you currently keep a pacifier clipped onto your baby's clothing, feel free to stash just one extra pacifier in a diaper bag pocket.
1 Sippy Cup
A recent Instagram poll I did revealed that more than just my two kids seem to be forever thirsty!
Keeping a sippy cup in your bag filled with water can help you either make formula bottles as you need or provide a drink for a thirsty toddler whining in the backseat.
Jax loves his Miracle 360 Trainer Cup from Munchkin! It took him some time to learn he could drink from it, but now at 16 months old, he has figured it out and loves it.
Phone Charger
If you don't already keep a phone charger plugged in your car, remember to stash one in your diaper bag for emergency charging.
We like to plug our phones into our vehicles so we can use the maps as we need to, or to pull up our Netflix app to play a movie on long car rides.
What's in your toddler bag? Tell me in the comments below!
*This post was originally published in July 2017 but has been updated in September 2021 to correct outbound links.