Create your own custom wall decals with this easy-to-follow tutorial featuring the Brother Scan N Cut CM350 machine…
---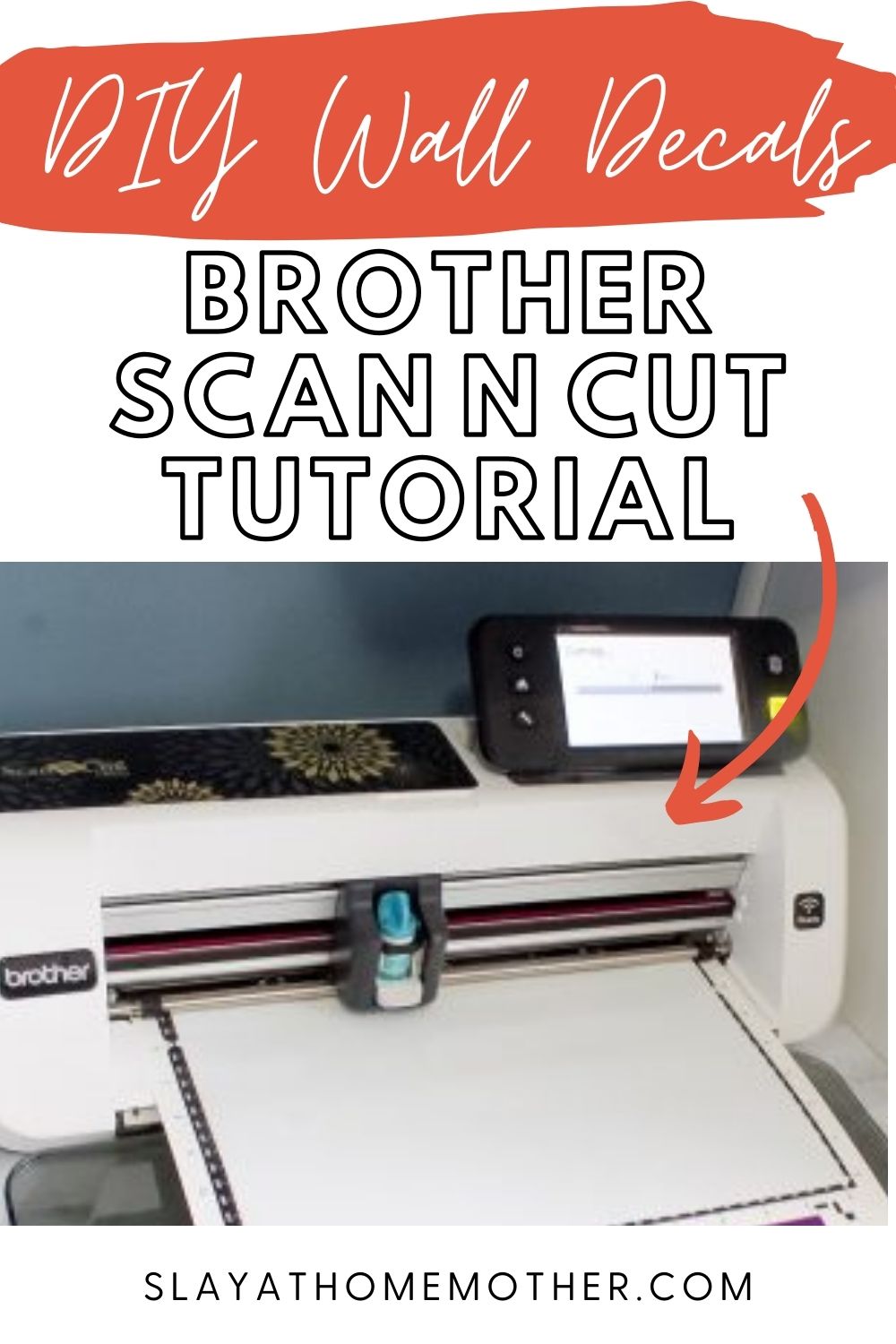 I'm so excited to share this easy tutorial with you guys, and to share my new favorite cutting machine!
Vinyl Cutting Machine Options
As a lover of all things organized and labeled, I was dying to have my own vinyl cutting machine.
I could picture labeling everything from the fridge (which came out beautifully!) to the pantry and the boys' room!
I could even create my own custom vinyl lettering for walls like I did in this post…
I've been wanting to create my own DIY vinyl lettering for quite some time, so when I saw a good deal on a cutting machine, I jumped on the opportunity!
I was a little worried about given the little information available on it and the underwhelmingly small amount of tutorials and project ideas available both on the web and on YouTube. Can't a girl just get a Brother Scan n Cut video, please?
I mean, there are a few, but I could see how it would be easier to buy a Cricut vs Brother Scan n Cut or even another machine with confidence being that there are SO many tutorials out there.
So let's cut to the chase – Do I like it?
I LOVE IT, I truly do!
I'm so glad I made this purchase and chose the machine that I did.
I think the Brother Scan N Cut is the true underdog of cutting machines.
How to Use Your Vinyl Cutting Machine
You can cut paper, vinyl, fabric, and even balsa wood! Better yet, the software is included in the machine – no monthly payments until the end of time or paying for a month of software that you didn't even use but have to pay for.
I sincerely think Brother has been focusing more on other projects and products to market – although it saddens me because this is truly an amazing product and machine, and I'm disappointed that more people don't know about it!
In this post, I'll be taking you through an easy Scan N Cut tutorial to create your own custom wall decals – think about applying your design to mason jars, walls, basket tags, or even your car windows!
*This post contains affiliate links, however, all opinions are my own, as always.
Materials Needed For Your Custom Vinyl Project
Here's what I used to create this project:
Printer
White Printer Paper
Computer (to create design on)
*See notes on the removal of Oracal 651 at the bottom of this post if removal is a concern or you are renting your current home.
You don't need a special printer for this project, just a working one with plenty of black ink.
How To Make Vinyl Stickers with your Brother Scan N Cut
In this tutorial, I'll show you how to make vinyl stickers for a custom wall decal using my Brother Scan N Cut 2 machine in less than 10 minutes…
I'm an extremely visual person, and I know that photos help when you're trying to figure out a new machine like this one, so I've included tons of photos in this post to help you navigate the Brother Scan N Cut 2!
Create A Vinyl Wall Quote Design On Your Computer
For my design, I wanted to create some pretty cursive lettering to go in the empty space on my office wall.
I look at this wall day in and day out and wanted to put something there that would inspire me.
I saw this quote, 'Take the risk or lose the chance', and it reminded me of the many risks I've taken with my blog, from reaching out to my favorite companies to tackling huge DIY projects in our home.
I am very much a creature of habit and very introverted – but almost every risk I've taken with my business has paid off enormously.
When choosing your own design, think of something that really speaks to you, and consider the space you'll be putting it in.
For example, you could create a wall decal that says 'Brush, Floss, Flush' for your bathroom, or 'Farmhouse Kitchen' for your kitchen!
To create a vinyl lettering design with a font of your choosing, you'll need to design your lettering, print it out on printer paper, and scan it into your machine (or use a USB to transfer the image from computer to machine).
The Scan N Cut 2 has some great fonts included within the machine, but they may not be exactly what you're looking for. So here's how to get the lettering you want…
To start with, select the font and type out the saying you'd like to print.
I use a program that allows me to import any font called Canva.
I pay monthly to be able to use any font I like – though you can also use the free version with a ton of beautiful fonts included! You do have to sign up for an account to use Canva.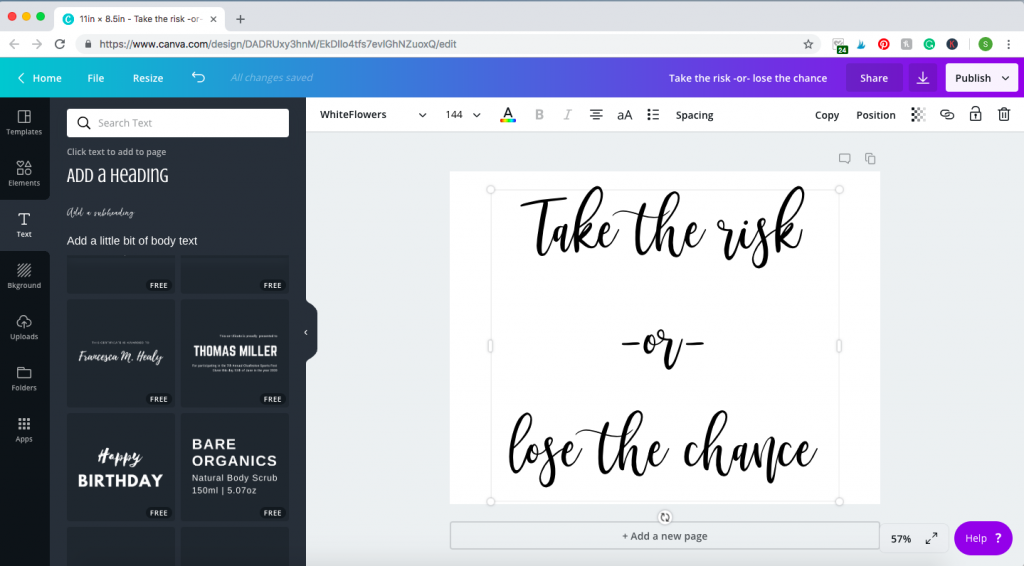 Font used: White Flowers
If you have Microsoft Word on your computer, you can use custom fonts within that program!
Try downloading a font from DaFont.com for free and importing it into Microsoft Word.
For this project, I used the dimensions of a horizontal piece of paper (11 inches wide x 8.5 inches tall).
Black lettering works best for the scanning process below…
Once you're happy with how it looks, download it (to either your computer to print or save onto your USB to transfer).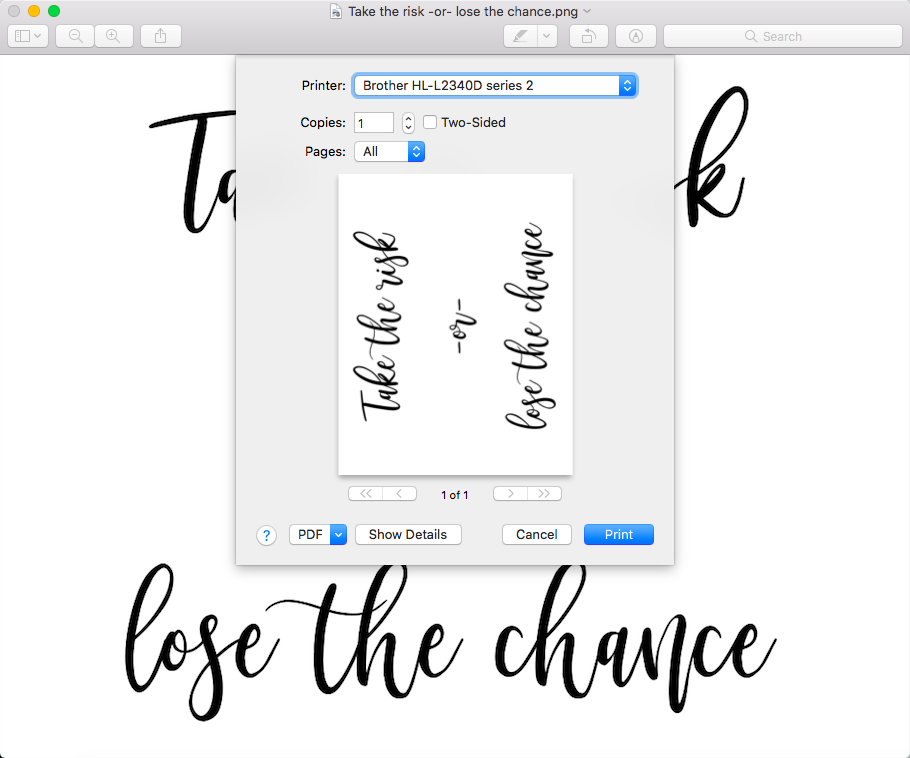 Print your lettering out onto white paper.
If using a USB drive, save the design to your USB, plug your USB into Scan N Cut and skip this printing and scanning process.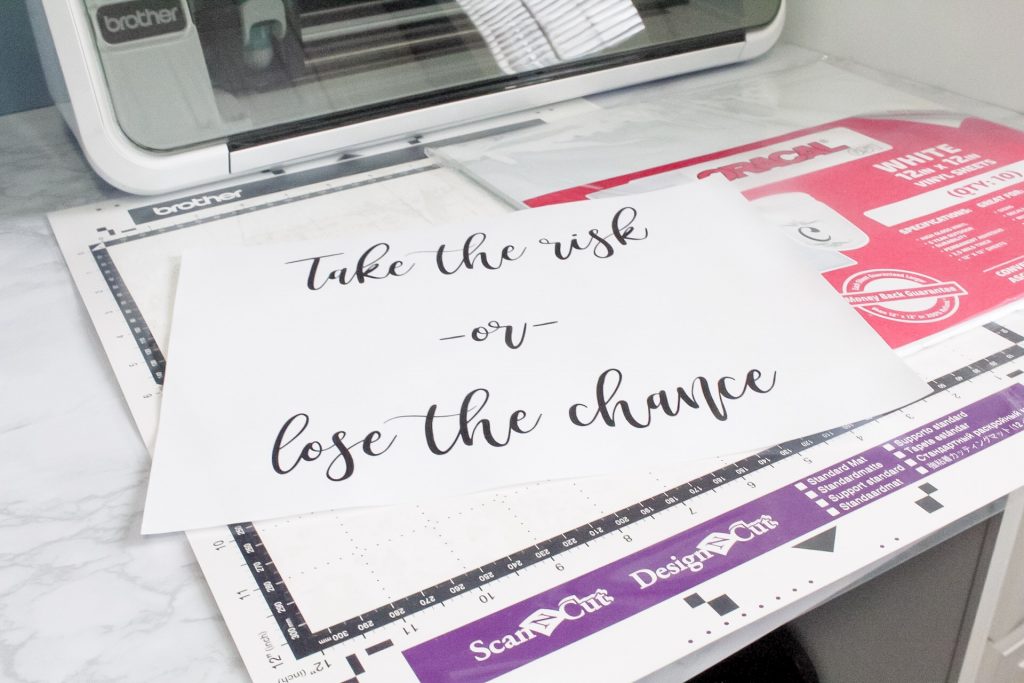 Prepare Your Vinyl Decal Cutter To Scan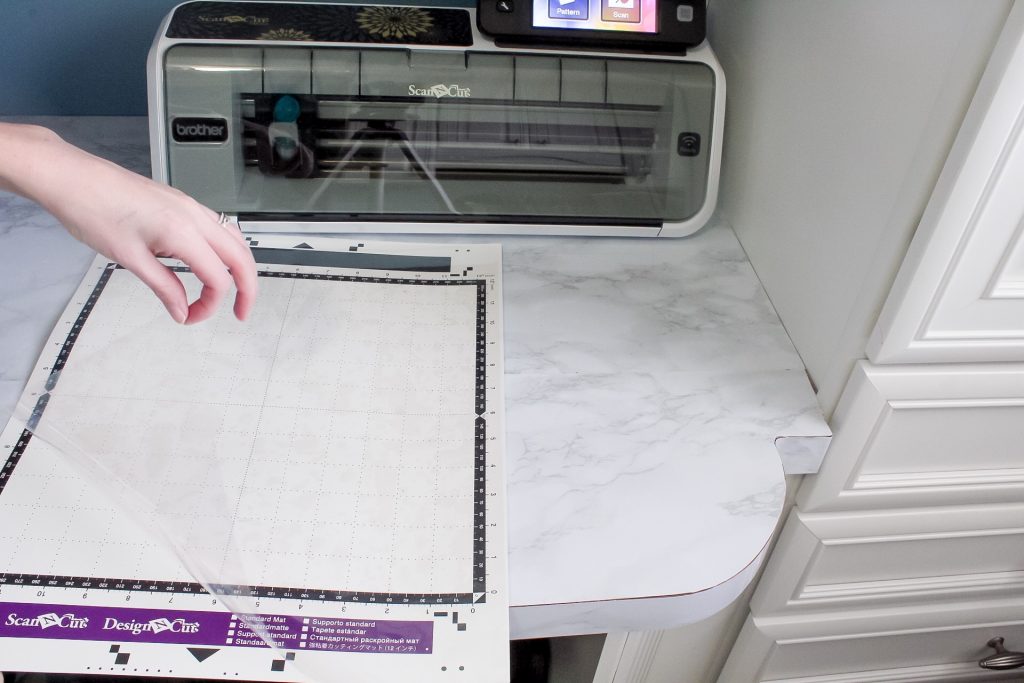 Take the protective plastic off your scanning mat (it should be sticky), and attach the piece of paper with your printed design to the mat with the lettering facing UP.
Load the scanning mat into the machine.
*The protective plastic only goes on the mat when you are NOT using it. Do not reapply the plastic until you are done using it. It serves only to protect the mat's sticky surface.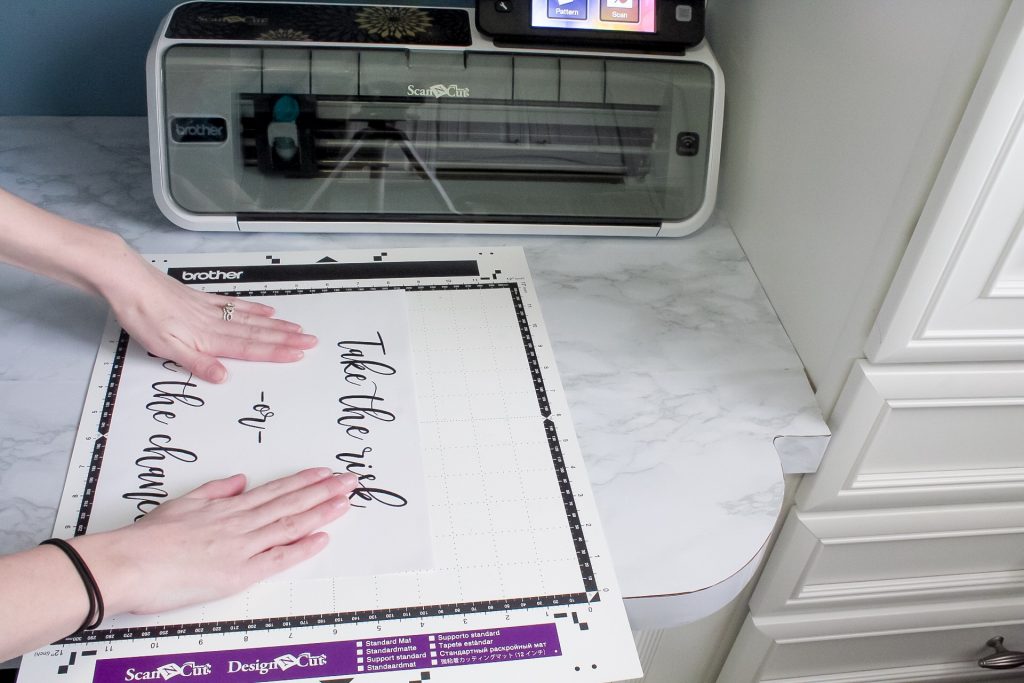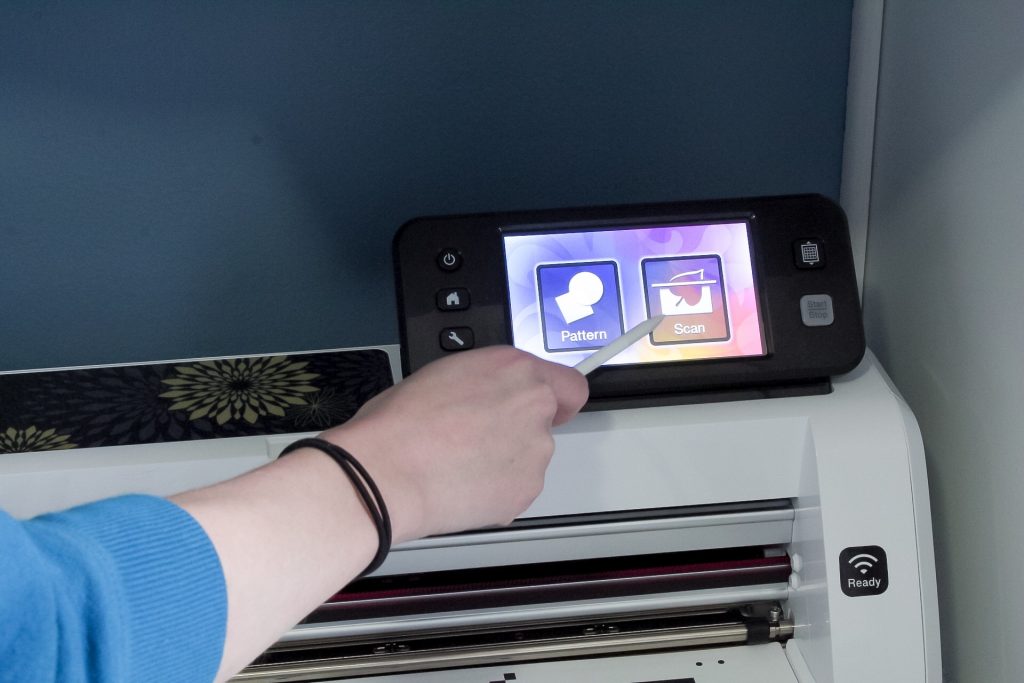 On your Scan N Cut machine, click on 'Scan', and then 'Scan To Cut Data'.
Let your machine do its thing!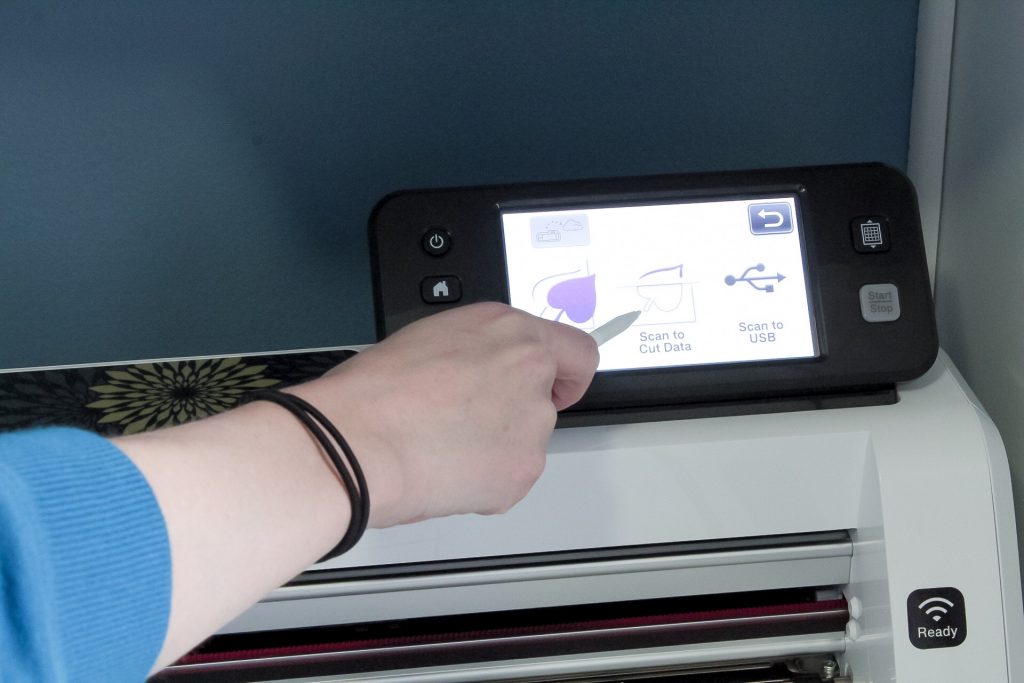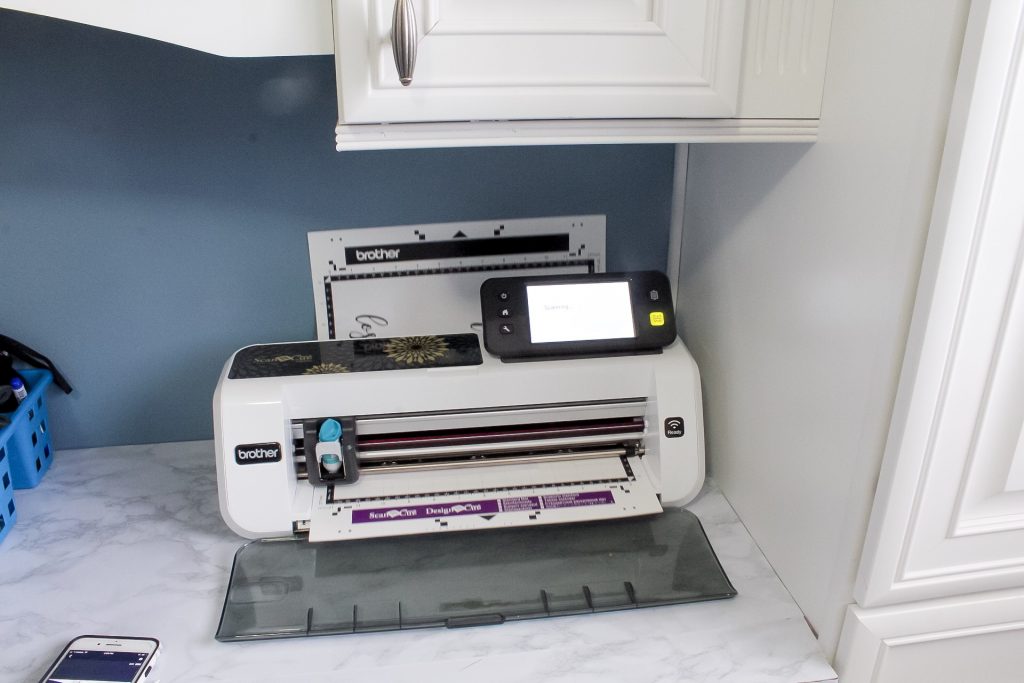 Save Your Custom Design To Your Machine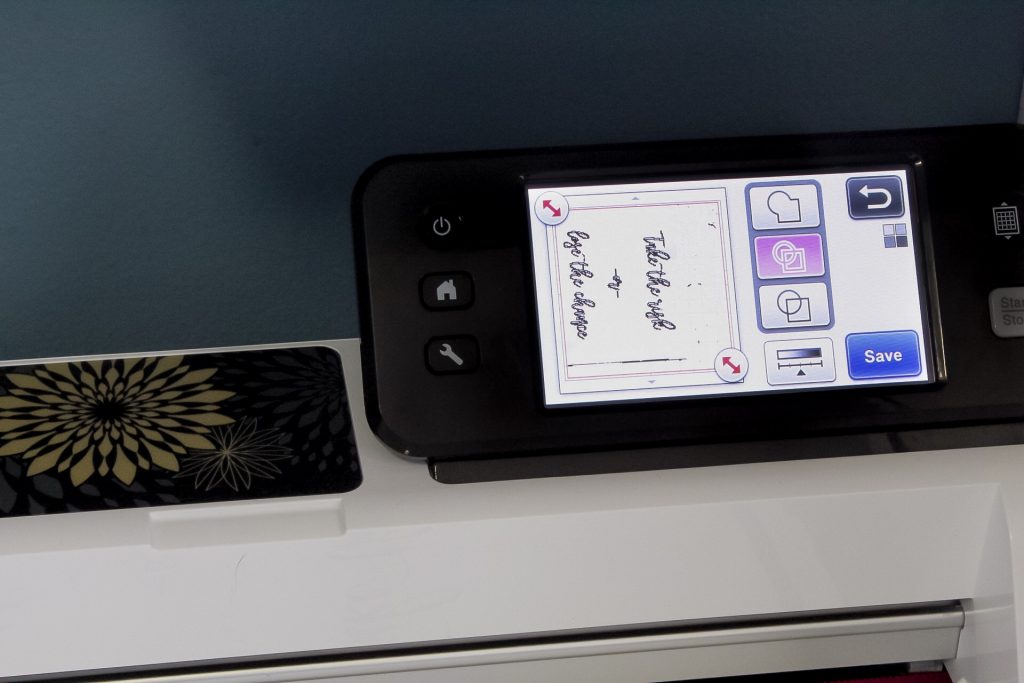 The button on the top will cut the outline, but will not cut out any spaces for vowels (like the space in a lowercase 'e' or in the loop of a cursive 'h').Once your design has been scanned into the Scan N Cut, it will be displayed on the touchscreen for you to see.
You'll want to save the design to your machine, but first, you'll need to determine what kind of cut you want to make with your design before you save it, this way your machine will know what to do with the design when it's time to cut (more on that down below).
Select the button in the center (the one highlighted in purple in the photo above – this will allow you to cut the outline of the lettering).
Selecting the button on the bottom will cut the outline, but it will also cut through the lettering outline to complete each letter.
The button on the top will cut the outline, but will not cut out any spaces for vowels (like the space in a lowercase 'e' or in the loop of a cursive 'h').
So, for this design, we are using that middle button highlighted in purple on my screen because that will give us the look and result we want.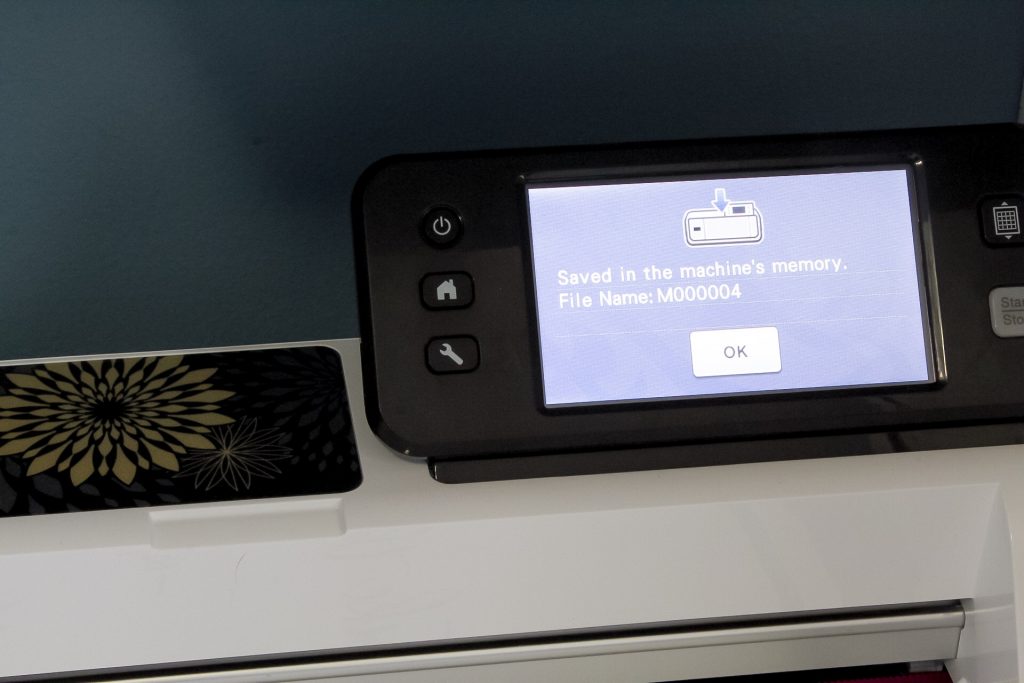 Save the design to your Scan N Cut, and return to the home screen.
Cut Your DIY Vinyl Lettering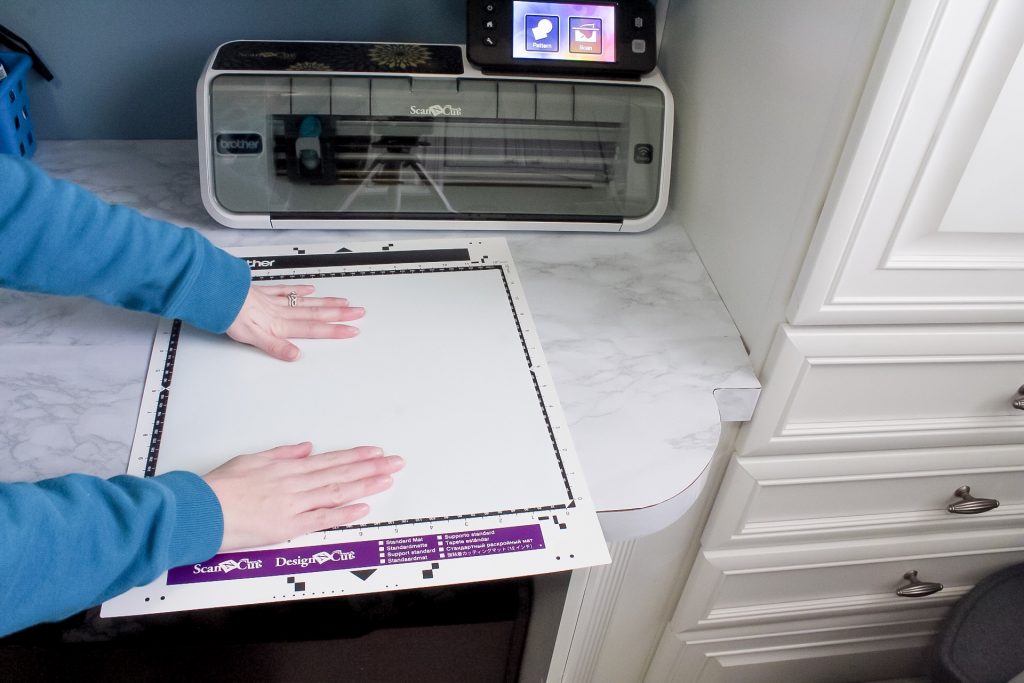 Related: DIY Marble Countertops With Contact Paper
Carefully and slowly remove the piece of paper from the scanning mat and apply your vinyl.
The glossy vinyl should be facing UP while the backing should be touching the mat.
Load your mat into the machine.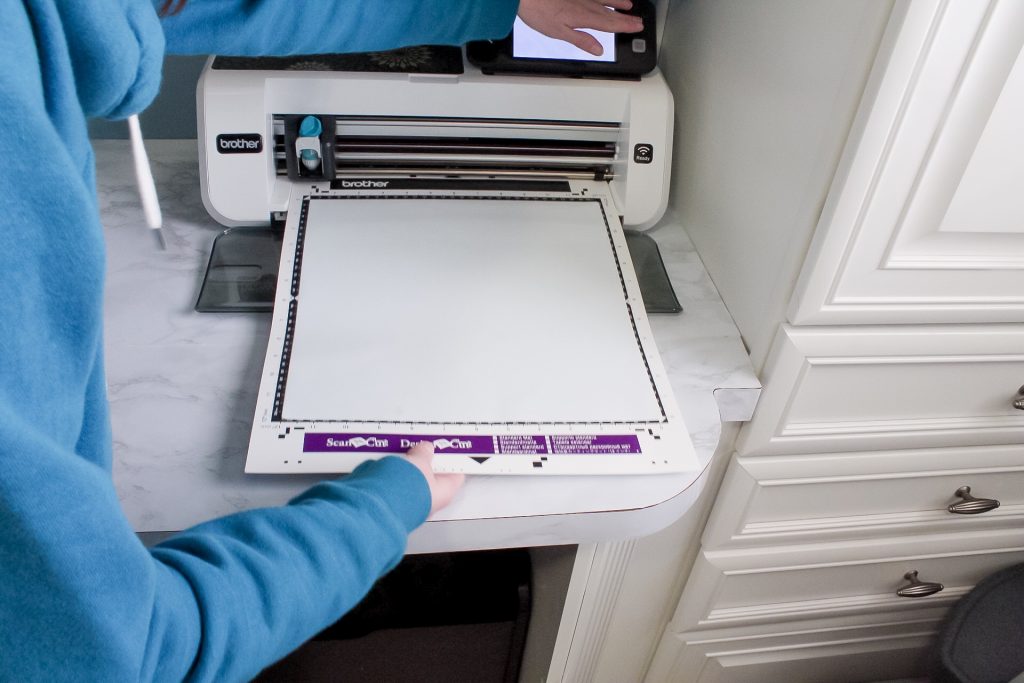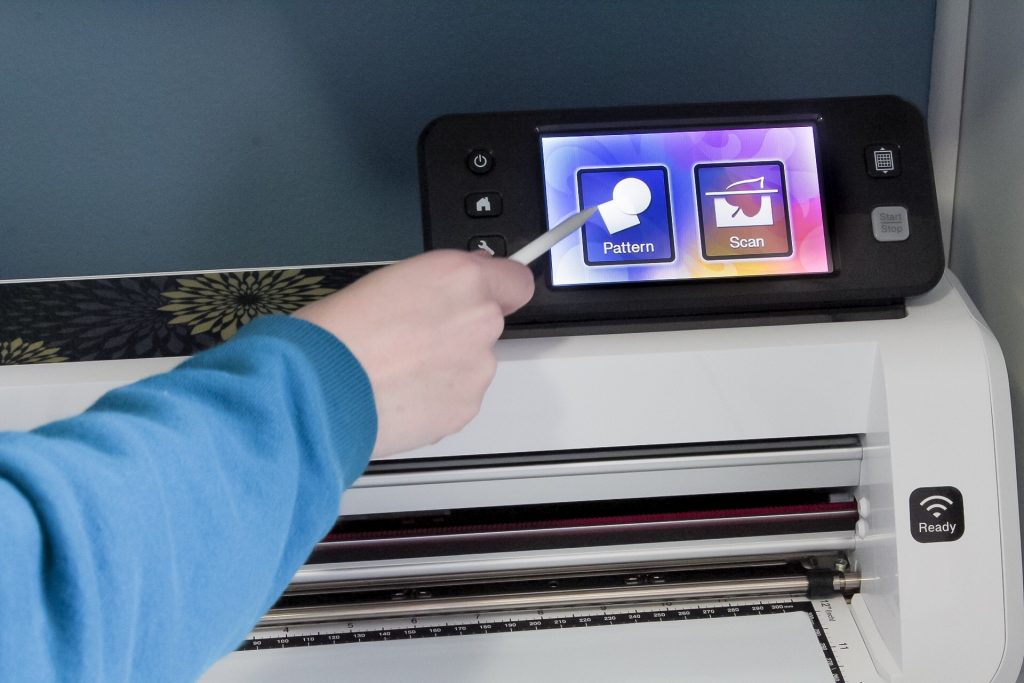 To cut your design on the vinyl, you'll need to find it in your saved patterns. On the home screen, click on Patterns, then Saved Data.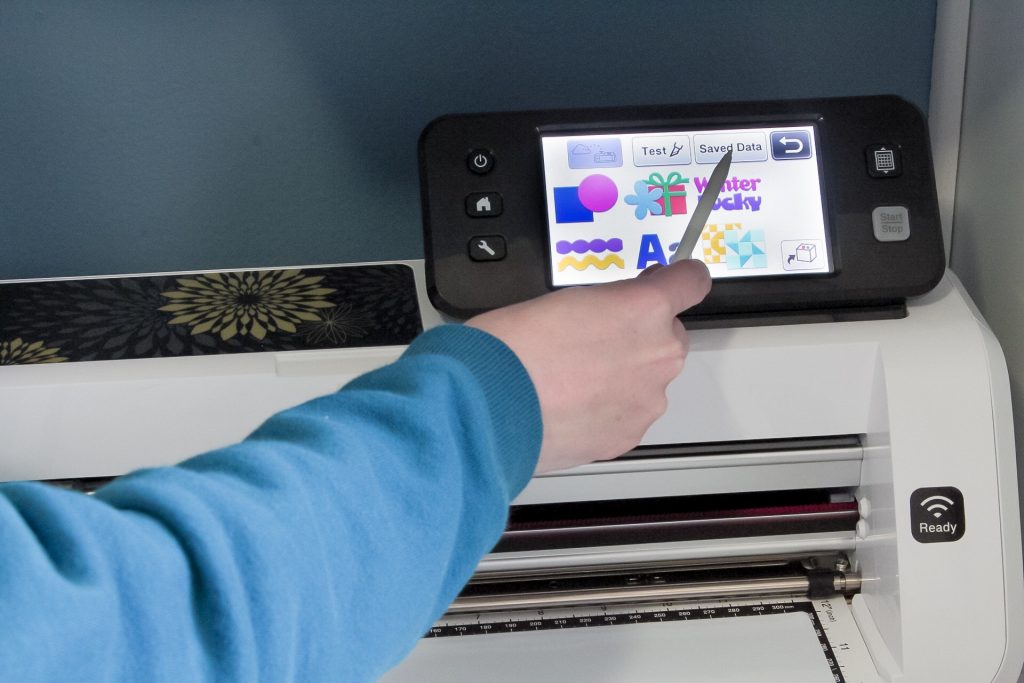 Select the device you saved your design on (for this tutorial, I saved it to the machine itself).
If you used a USB, select the USB option and you will be able to select your design from there.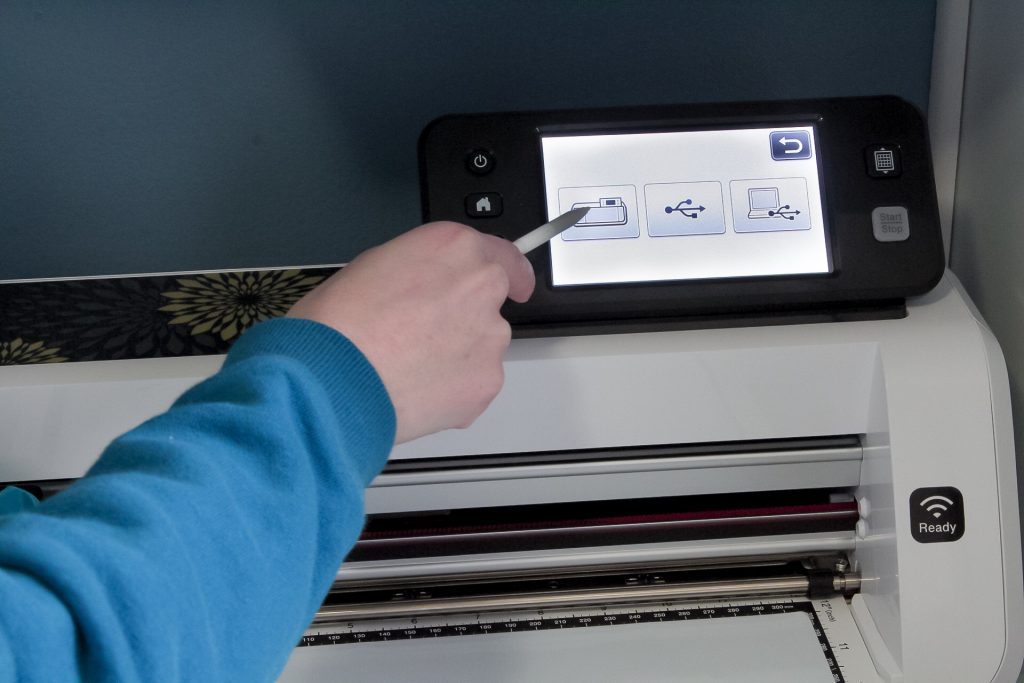 Find the design, and click on it.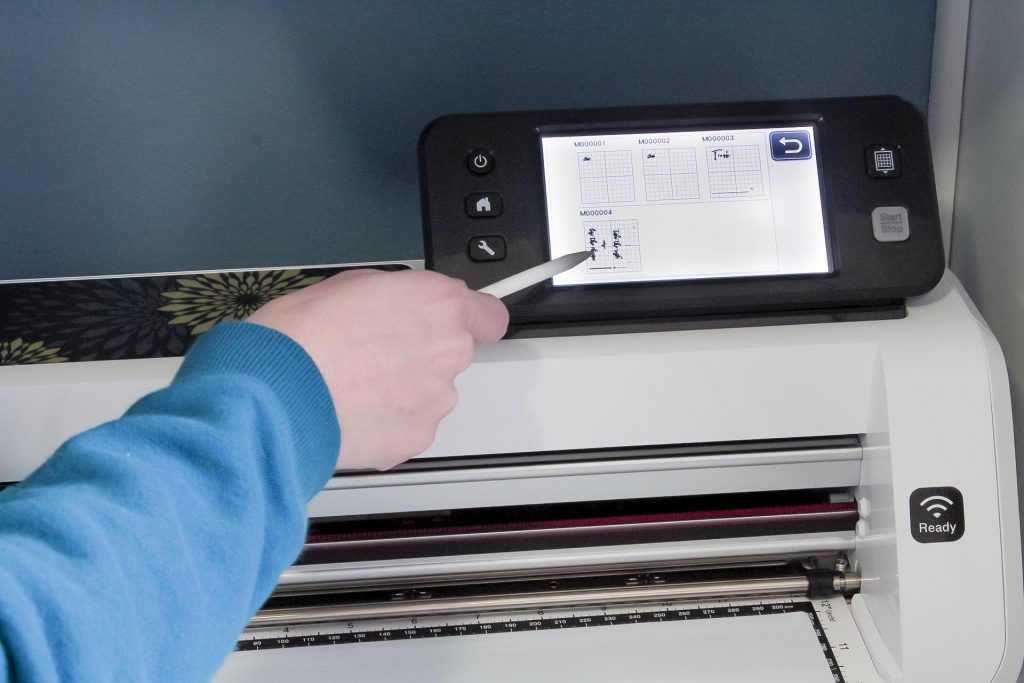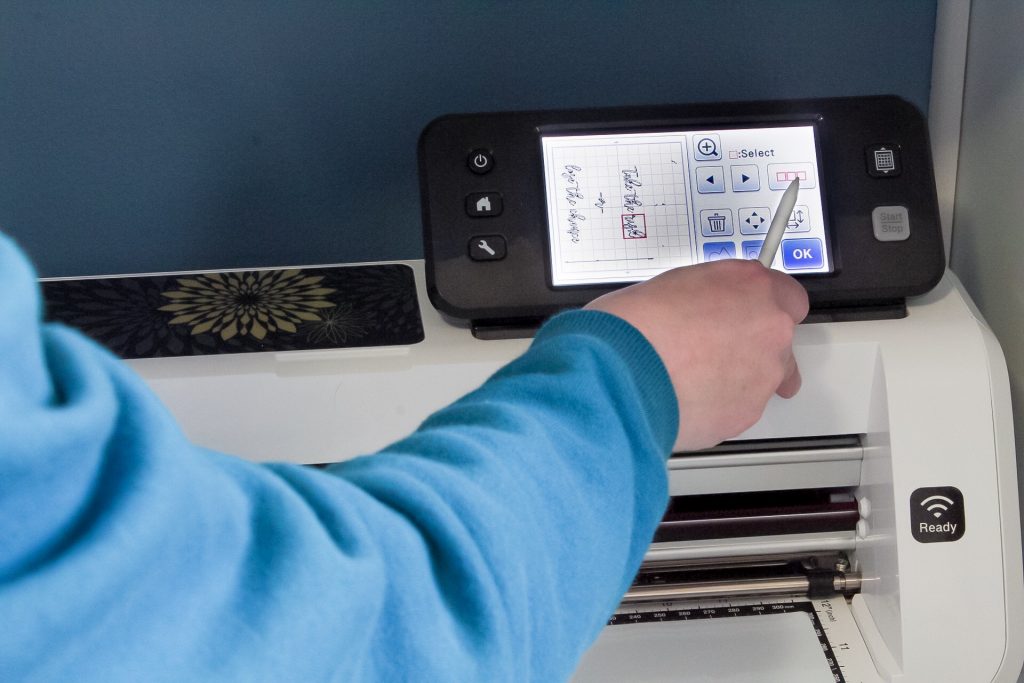 Click on the button with the three horizontal squares, and then the picture with the single red square within another square (see photo below).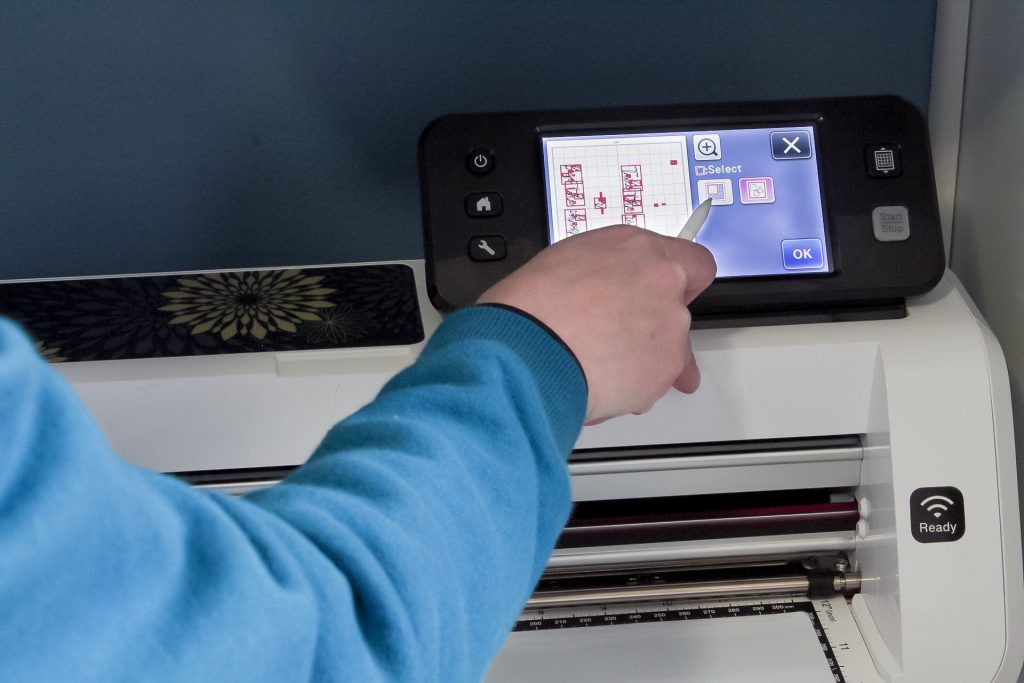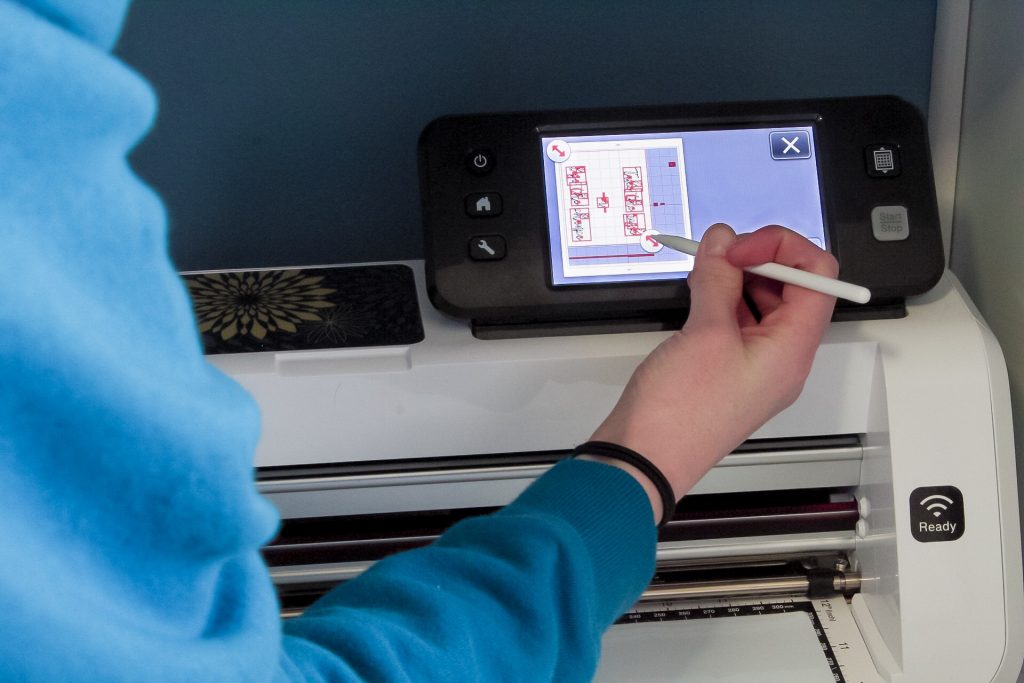 From here, you can shrink the design field to include just your letters if you choose.
Press 'OK' to save.
For the purpose of this tutorial, I did not 'save' in the step above or adjust the design field to eliminate the extra marks so I can show you how to erase them should you need to…
Now that you've shrunk the area you want your machine to cut, look at your design and make sure there aren't undesired objects in your design that your machine could mistake for an area to cut for you.
See the little red dot that's selected on my screen, towards the upper right?
That's a little mark that was on my piece of paper that the machine picked up during the scanning process.
If I left it there and proceeded with cutting, the machine would think it's supposed to cut my vinyl there!
I don't want to cut my vinyl there, so I will select it by clicking on it, and then clicking the trash can.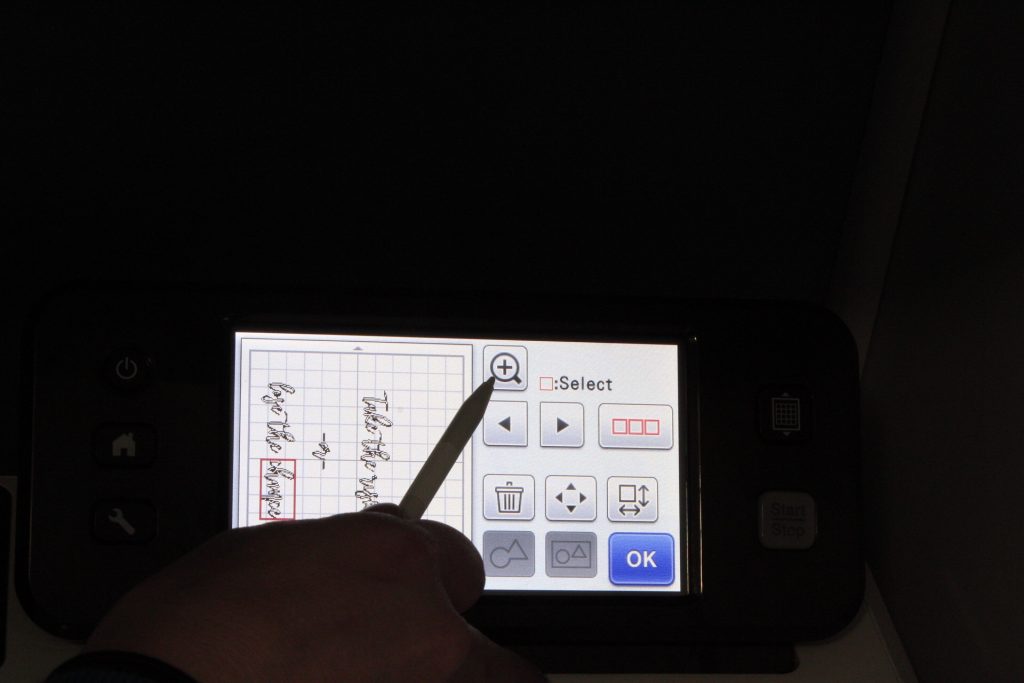 Once you are happy with the design, be sure to zoom in to make sure it looks the way you want it.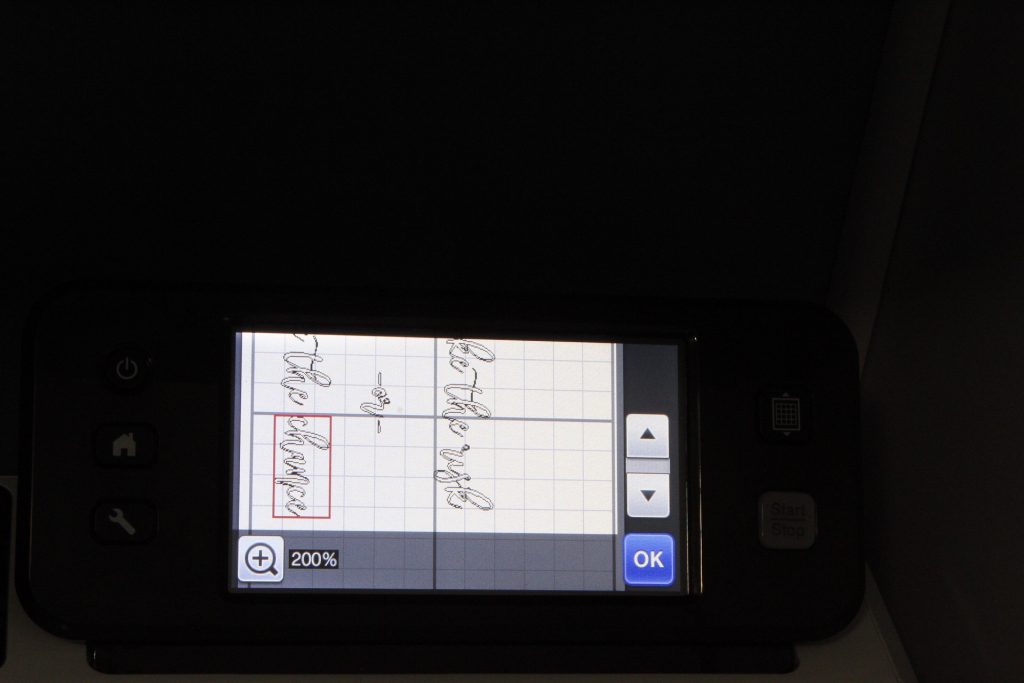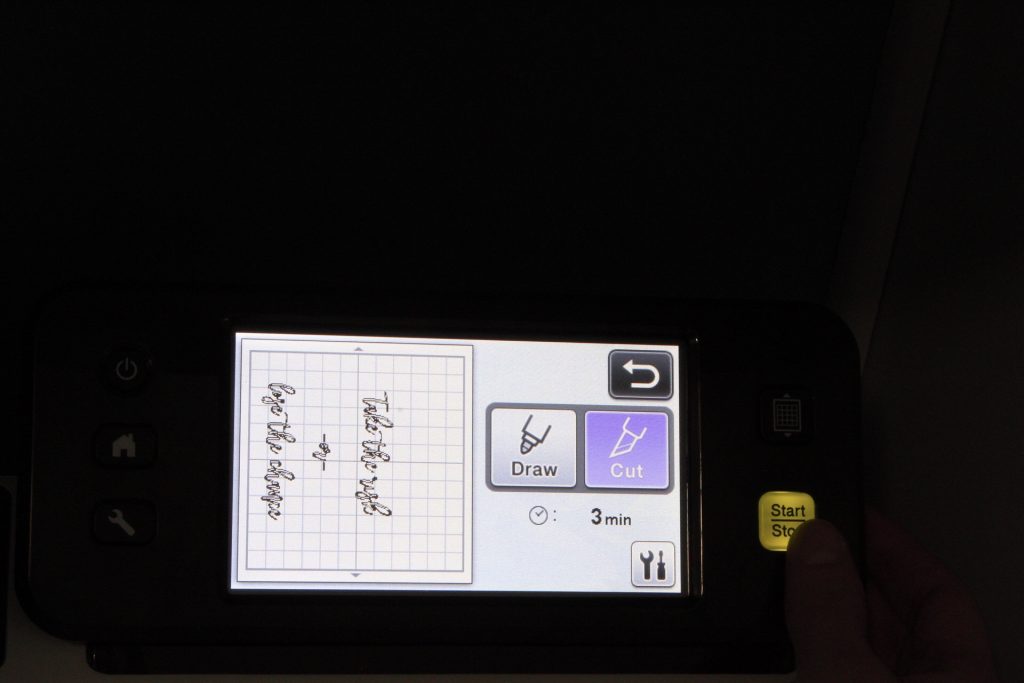 With your Brother Scan n Cut mat and vinyl properly loaded, and your cutter set to 1.5 (I had mine set to 2, but recommend trying to cut at 1.5 to start with if you're new so you can avoid cutting through your mat), select Cut on your machine.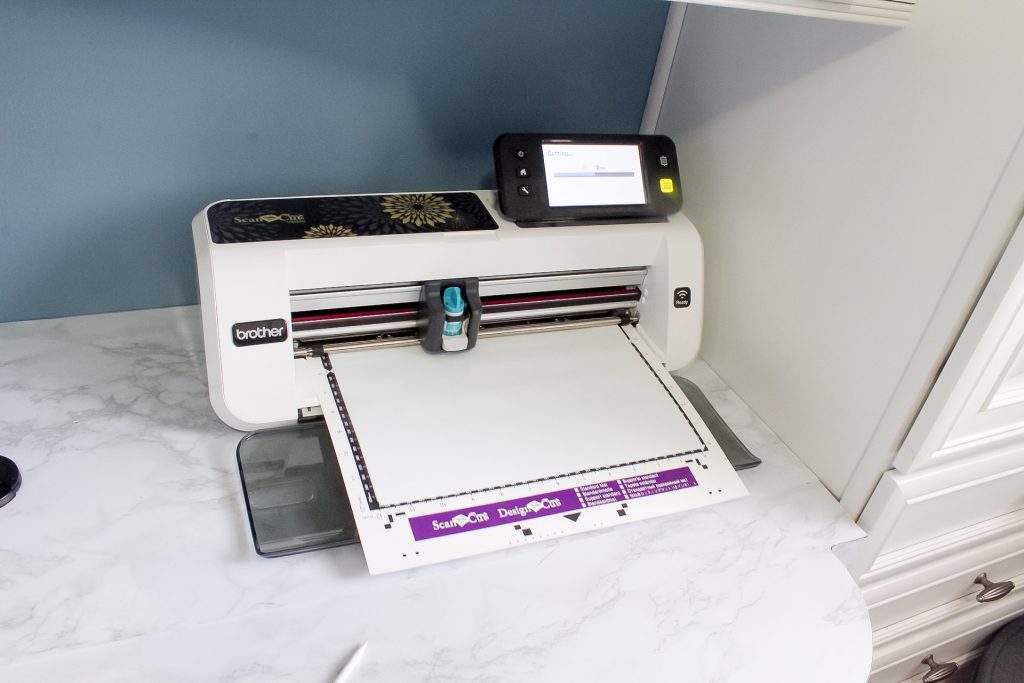 Wait for the machine to completely cut – my particular design took 3 minutes.
Once it is done cutting, remove the paper from the machine using the Load/Release button and examine your design.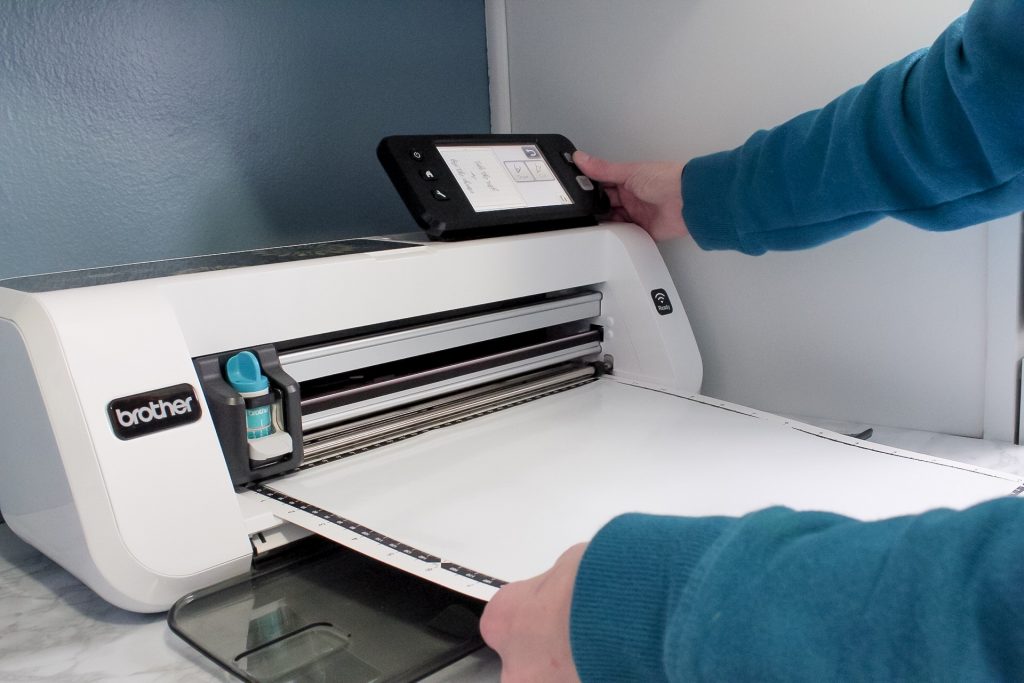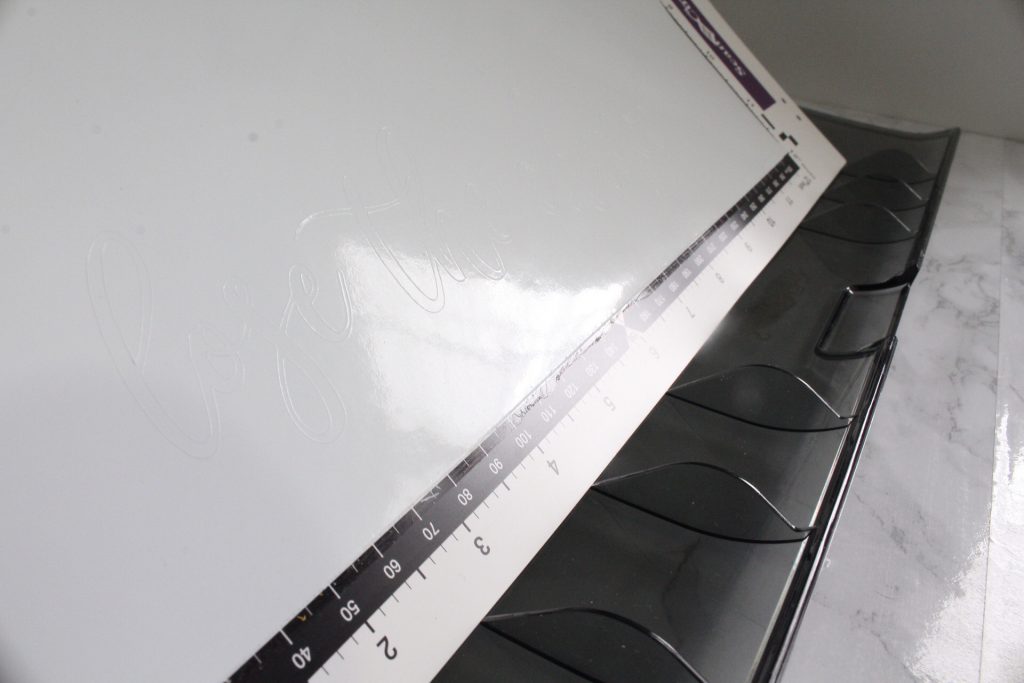 You can barely see the cuts in my paper because it's white, but I promise they're there!
Remove Negative Space From Design
Carefully remove the vinyl sheet from the scanning mat (always do this slowly because the mat is sticky and can rip the backing off the vinyl, which you don't want to do until you're ready).
Pull away the negative space vinyl away (the vinyl that is surrounding your design). Be careful and go slowly.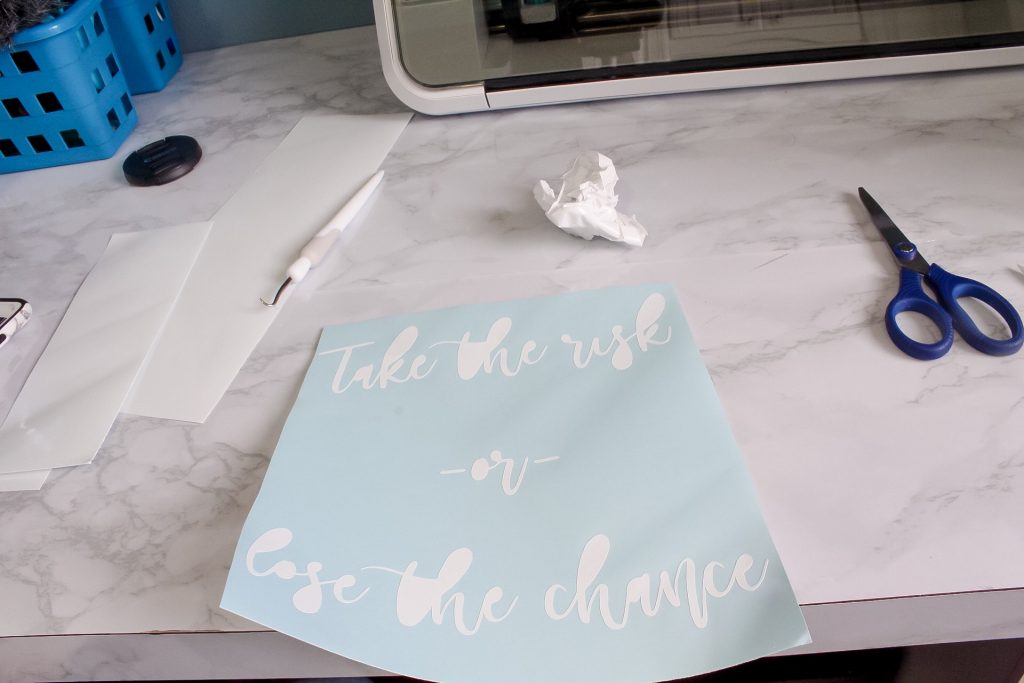 Using a weeding tool (that metal hook object in the photo above), eliminate the negative space between the letters in your design.
In my design, I needed to remove the spaces in my vowels, and the loops in my cursive letters.
For the larger pieces I removed, I could bend the design and peel the pieces away much like peeling away a sticker from a sticker sheet – easy!
For the much smaller pieces I needed to remove, I had to use my weeding tool.
If you'll be working with vinyl frequently, you'll need one of these bad boys!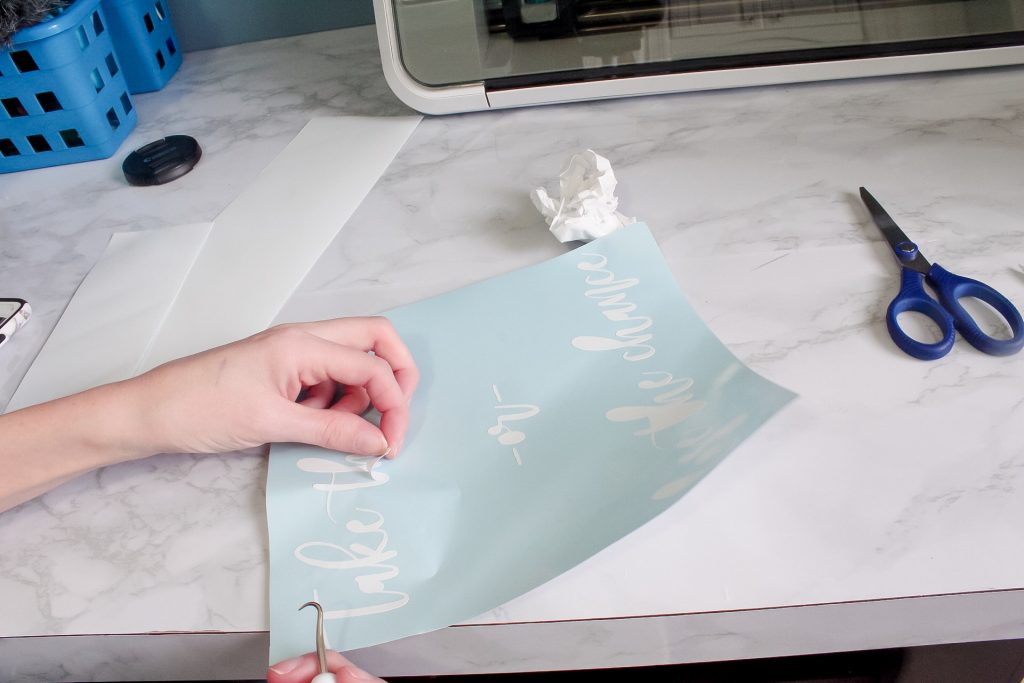 Transfer Your Design To The Wall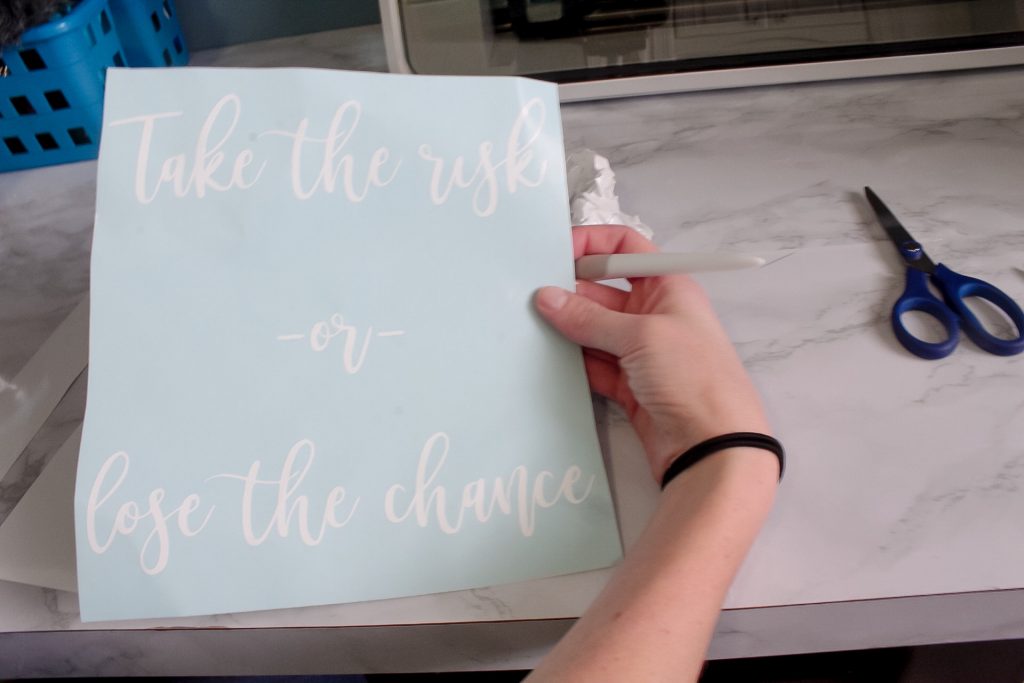 Once you're done removing all the negative space, you're ready to begin the transfer process!
Apply some transfer paper to your design (I like using the kind with grid lines on it).
Burnish the paper onto the design (rub the letters with your fingers or even the handle end of your weeding tool).
You really want the letters to stick to the transfer paper so you can transfer the design to the place of your choosing.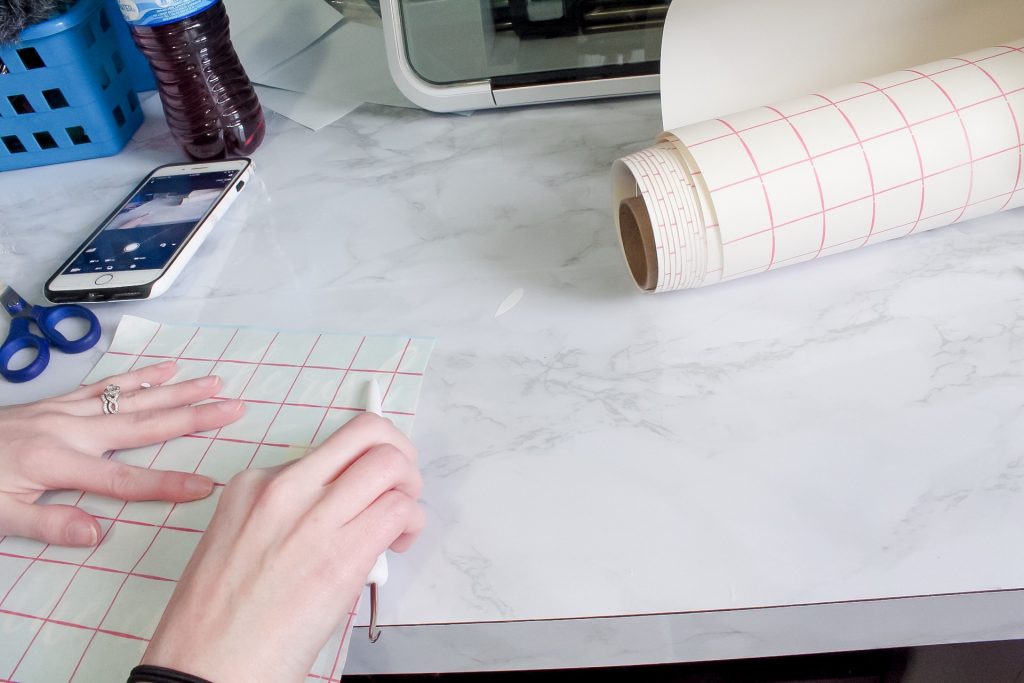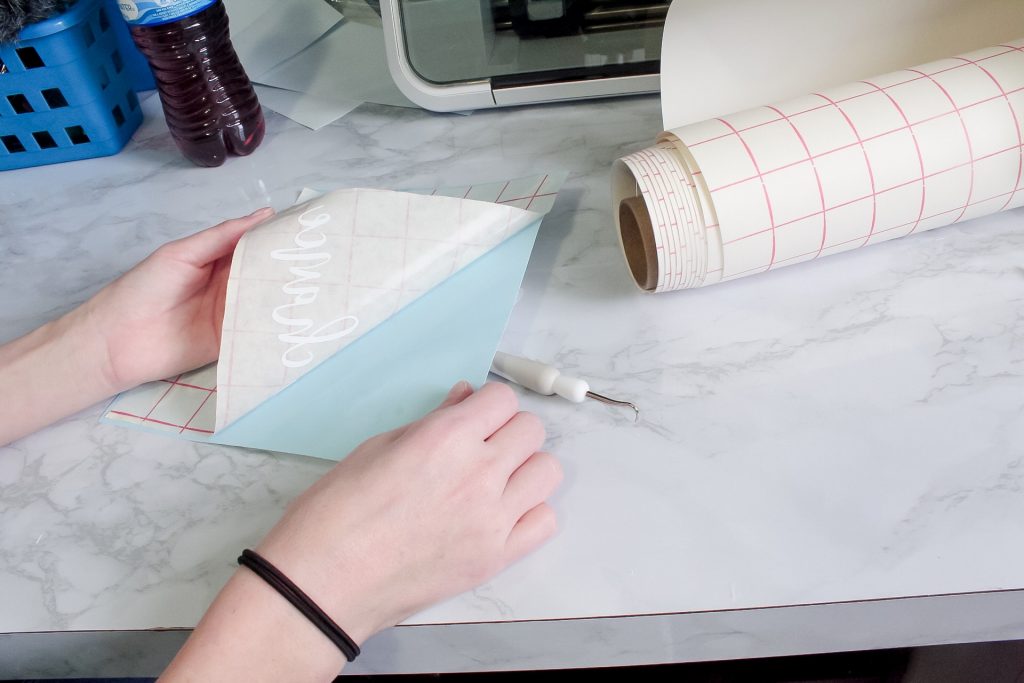 Peel away the transfer paper from the vinyl paper backing – the letters should be sticking to the transfer paper now.
Pull slowly – if any letters aren't sticking to the transfer paper, gently place the paper back and burnish even more on the letters that need it.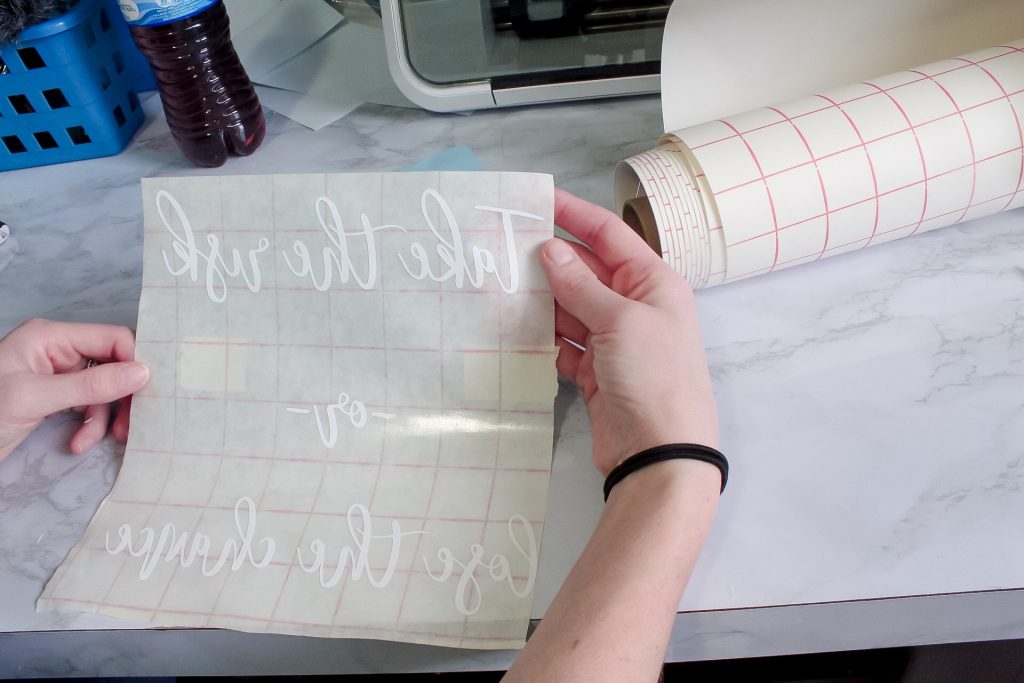 With all of your letters transferred onto the transfer paper (and reading backward), center your DIY vinyl letters onto your wall (or wherever else you are placing them).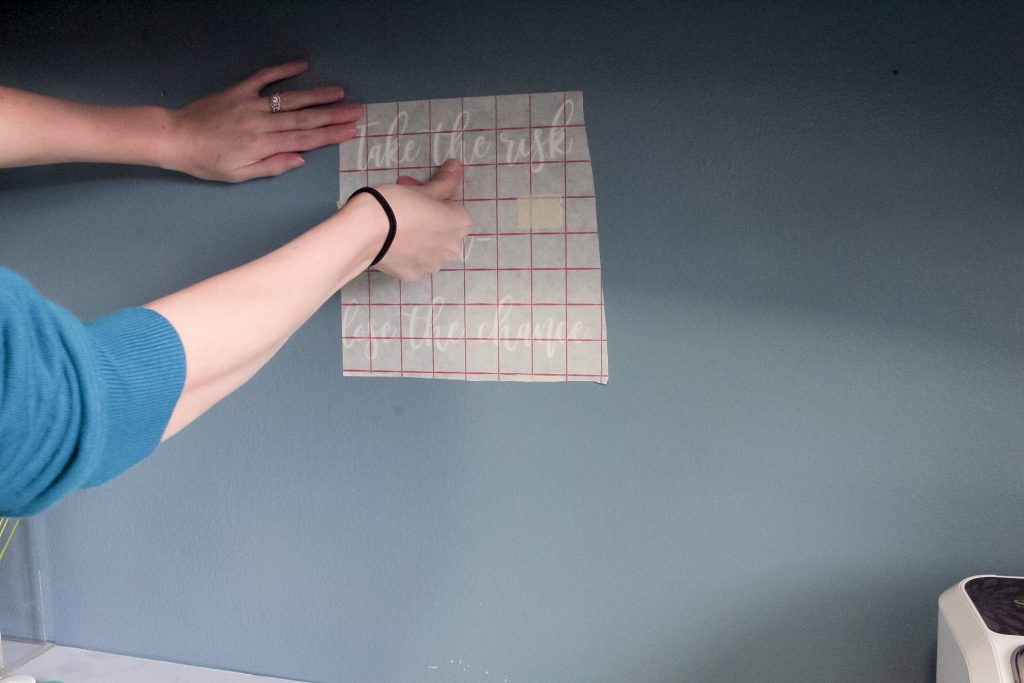 Burnish the letters against the wall now so they will stick.
If you have very thin cursive lines and loops (like I have in my design), you'll want to pay extra attention to those as you burnish so they will stick.
Gently pull away the transfer paper to see if the letters are sticking to the wall.
You may need to burnish more in some areas and on certain letters.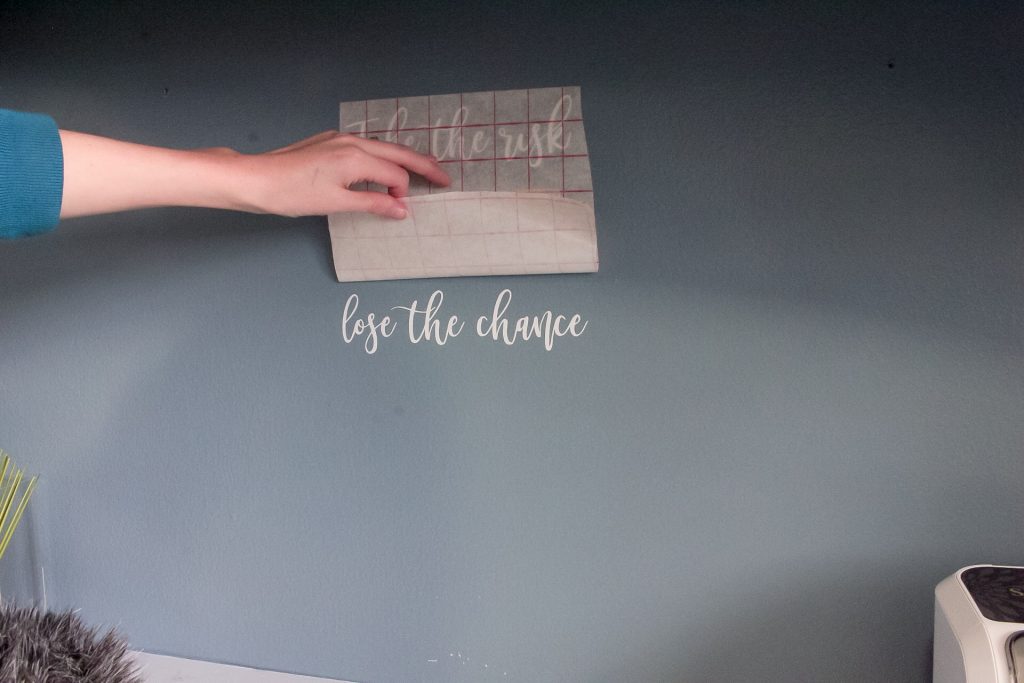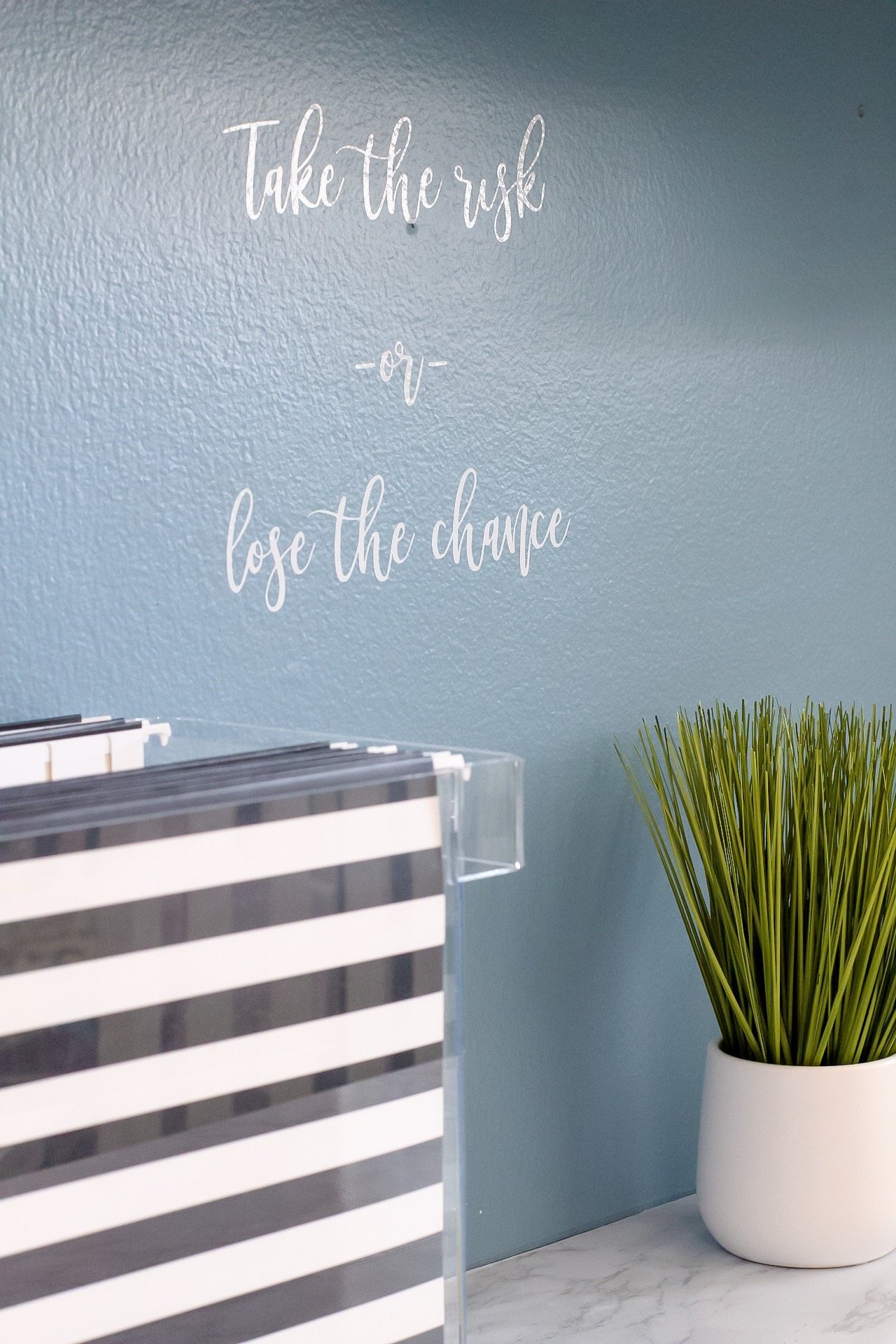 Vinyl Decal Removal And Considerations
If you are renting, or are only applying this vinyl for a short period of time, you may be wondering how to remove vinyl wall decals.
If removing your DIY vinyl lettering is something you're considering (I'm thinking dorm room walls too!), I would recommend using Oracal 631 instead of Oracal 651. 631 has temporary adhesive, whereas 651 has a permanent adhesive.
I cannot guarantee that the 651 I used in my tutorial will not have any impact on your wall color or paint, as I so not know the quality of your paint, wall structure, or the adhesive Oracal fabricates.
However, I can tell you that most wall decal companies use permanent adhesive in their products (think of the kinds you would buy from Etsy, Amazon, or other online retailers).
The adhesive may create faint lightened spots on your walls after removal or may remove some paint if not handled carefully during removal.
To remove decals, use a hairdryer to help heat and loosen the adhesive from your walls, and try using a microfiber cloth and warm soapy water to help loosen the stick from the adhesive.
If you're doing a larger design, or a design with larger, thick lines or curves and are concerned about your paint, I would choose Oracal 631 (which has a temporary adhesive).
Other Brands for Vinyl Cutting Machines
Although I used Oracal brand vinyl, there are other companies that make good quality vinyl.
Here are a few other companies and their most popular vinyl products:
Silhouette – Silhouette brand vinyl is what I started out with when I first got my Silhouette Cameo 3. I still use it occasionally, but prefer Oracal now. The main reason I don't use it as often is because I think it's a little pricier than Oracal, and the colors aren't as consistent (some colors are more glossy than others).
Cricut – Cricut brand vinyl is also popular. I haven't personally used Cricut vinyl, but I have heard good things about it!
Etsy – There are a ton of great small businesses on Etsy that sell high-quality vinyl. If you're looking for something specific or unique, definitely check out Etsy!
Amazon – You can find just about anything on Amazon, including vinyl! I would recommend reading the reviews before purchasing, as with anything on Amazon.
---
I hope you guys enjoyed my tutorial and can appreciate just how easy and fun it can be to create with the Brother Scan N Cut! I have a ton of DIY wall décor ideas filling my head and I can't wait to use it for my other planned projects with vinyl – I might just start labeling everything in my home and drive my husband crazy ;).
What are some Scan N Cut 2 DIY's you'd like to see? Let me know in the comments below!