Print off these free Easter coloring pages, and celebrate Easter with these fun candy-free basket filler ideas…
---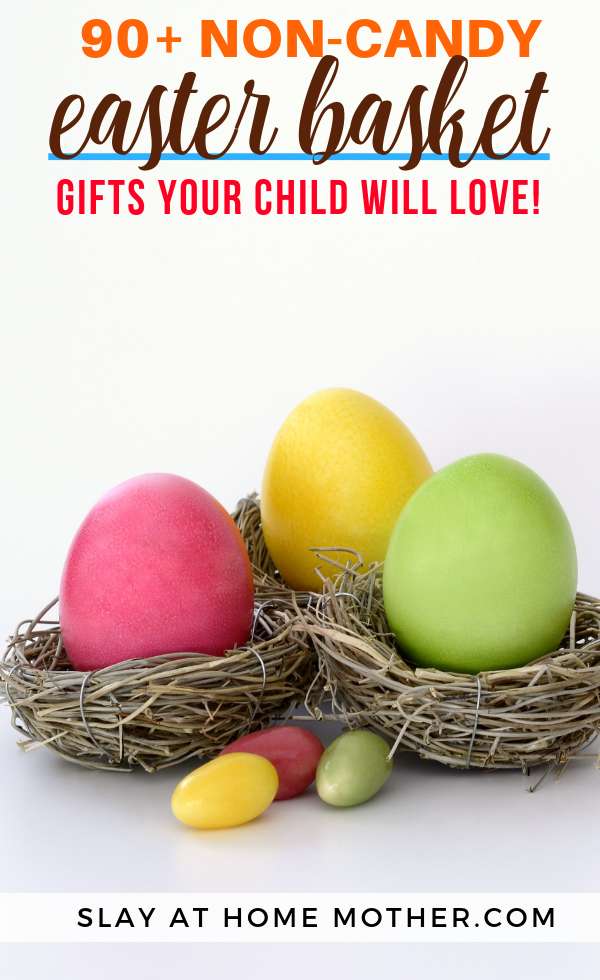 Okay, #momfail moment here.
My oldest son had a total of 6 cavities at his last dental checkup and cleaning.
Seeing his dental X-rays and chart, I felt really ashamed.
How did I miss this?
How did I let it get this bad before realizing?
The truth is, I did the best with what I was given, and now that he's older and more aware of the situation, we can tackle this whole oral care thing together (with the help of our dentist and better home care practices now that he's willing to let mom help out 😉).
With all of this going on, and Easter approaching, I know I want to try and limit the amount of sugar he'll be getting.
For this Easter, we are going to try to do a candy-free Easter basket for both kids.
I've been focusing on toys and items they can use for fun and experiences, as well as free Easter coloring pages since they love to color.
If you follow me on Instagram, you'll know that I LOVE the Target dollar section.
It's there, waiting for me when I first walk in those automatic doors.
Everything there is about $5 or less, and my poor husband has to deal with me never leaving the store with less than $50 worth of 'staples' that I need thanks to this lovely section of Target.
Both baskets were $20 or less put together, including the reusable bins I chose for $3 each.
Everything I picked will be contributing to the fun we will be having in the spring and summer months – I almost can't wait to give them their baskets!
Here are some great ideas I've pulled in for some Candy-Fee Easter Baskets this year, including some free Easter coloring pages you can print off…
Non-Candy Easter Basket Fillers
OUTDOOR TOYS
1. Chalk
2. Jump Rope
3. Bubbles
4. Water Balloons
5. Floaties
6. Sprinkler
7. Hula hoop
8. Umbrella
9. Swimming pool
10. Large bouncy ball
11. Tacklebox
12. Baby Swing
13. Sandbox
14. Soccer ball
15. Football
16. Water gun
17. Frisbee
18. Dump truck
19. Pool noodles
20. Play Lawnmower
21. Glow sticks
22. Kite
LEARNING & DEVELOPMENT TOYS
23. Flashcards
24. Rainbow counting bears
25. Y-Phone learning toy
26. Sort & Stack toy
27. Aqua Doodle Mat
28. Deck of cards
29. Pixl Smartphone Camera
30. Easter movie
BATH TOYS
31. Rubber ducks
32. Bathtub paint/drops
33. Foam bath letters
34. Bubble bath
35. Loofah/Washcloths
BOOKS
36. Pete The Cat: Big Easter Adventure
37. Llama Llama Easter Egg
38. Happy Easter, Mouse!
39. The Great Easter Race (Sesame Street Scribbles)
40. Happy Easter, Little Critter
41. The Tale Of Peter Rabbit
42. The Berenstain Bears' Easter Sunday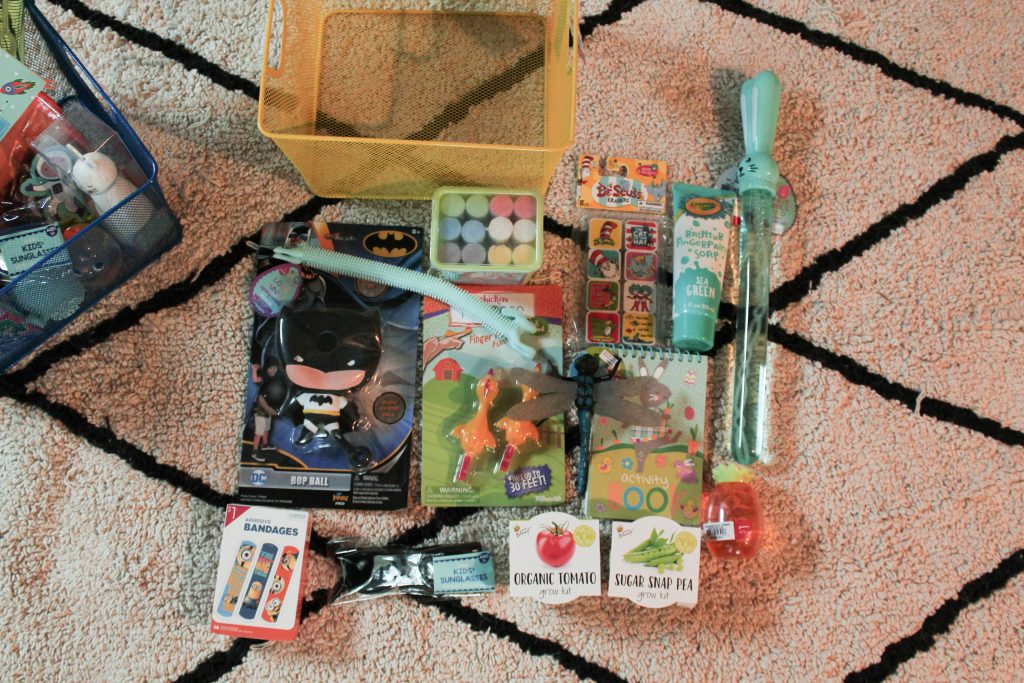 GARDENING
43. Melissa & Doug Sunny Patch Gardening Tools Set
44. Gardening Gloves
45. Garden Root Grower/Viewer (see the roots as they grow!)
46. Heart Shaped Mini Grow Kit
47. Mini succulent plant (only needs to be watered 1x month)
SNACKS & DRINKS
48. Annie's Cheddar Bunnies
49. Animal crackers
50. Fig bars
51. Organic food pouches
52. Sugar-free gum
53. Sugar-free mints
CLOTHING
54. Socks
55. Headbands/Bows
56. Swim shoes
57. Bathing Suit
58. Beach towel
59. Sun hat
60. Bunny ears
61. Rubber boots
62. Raincoat
63. Shoes
64. Goggles
65. Backpack
66. Purse
67. Glow necklaces
SNACKING
68. Water bottle
69. Section plates
70. Bowls
71. Cups
72. Utensils
73. Popsicle Molds
ARTS & CRAFTS
74. Stamps
75. Paints
76. Play-Doh
77. Stickers
78. Markers
79. Coloring Books
80. Construction Paper
81. Crayons
82. Markers
83. Glitter
84. Pipe Cleaners
85. Power Toothbrush
86. Toothpaste
87. Hairbrush
88. Gummy Vitamins
89. Band-aids
90. Potty (for potty training!)
PETS
I do not add this category lightly, and any live animals that should be adopted into the family on Easter should absolutely stay in the family.
Please only adopt animals you are willing and able to care for, just as you would with cats and dogs and traditional pets…)
91. Bunny
92. Baby chicks –> check out this great blog post on how to raise your own!
93. Puppy
94. Kitten
Free Easter Coloring Pages
Here are some great places to grab some FREE printable Easter coloring pages:
---
I hope you enjoyed this post, and have a wonderful Easter celebration!
*Post originally published February 2018, last updated December 2021.