See how we transformed our outdated dining space into a gorgeous farmhouse dining room using Sherwin-Williams Gray Screen paint…
---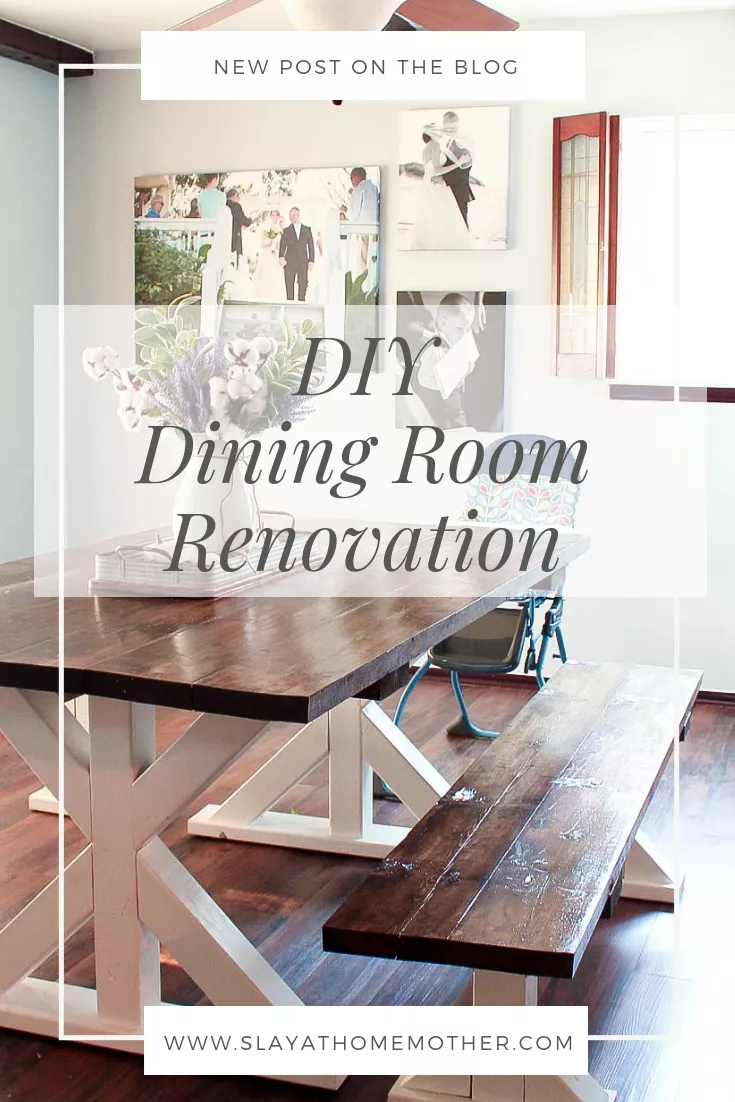 Hi friends!
We've been revamping our living space to give it a farmhouse feel, and I'm so excited to finally reveal our new dining room.
While this project ended up turning into more than we originally bargained for, Chris and I are loving it so much.
We actually agreed on just about everything (which is rare for two hard-headed folks in love) and were able to pull everything together within 72 hours.
I can't wait to share these photos and the process with you guys, but before I show you the AFTER, I feel that you need a little glimpse of the BEFORE so you can really appreciate it.
I've partnered with Sherwin-Williams for this post, however, all opinions are my own.
Here's one before shot of what our dining room used to look like…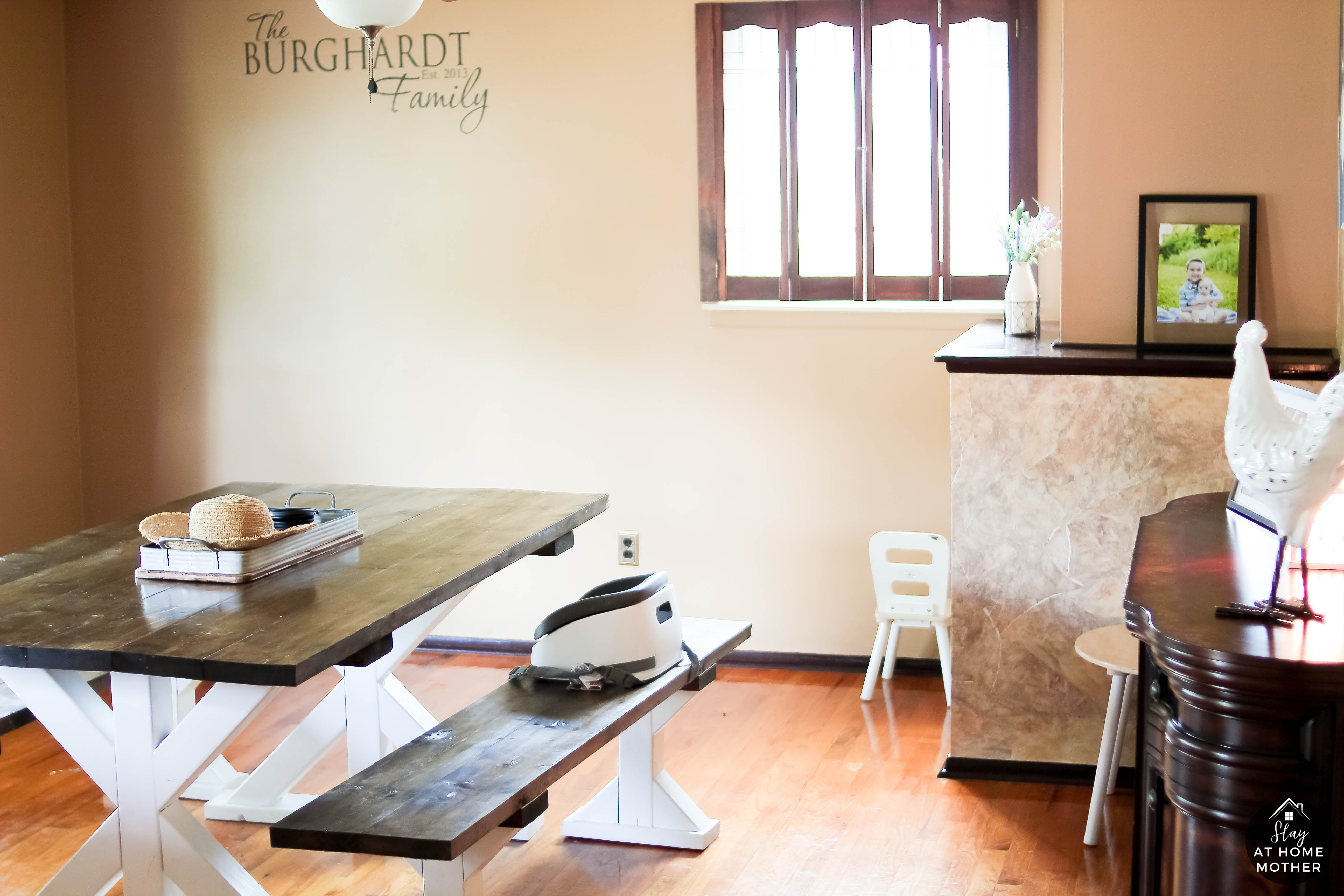 Plenty of brown up in here.
If you want to see ALL of the BEFORE pictures, click here!
Needless to say, while the brown was okay, I knew I wanted to create a more neutral feel in our home.
We originally planned to paint the brown walls gray, leave the wallpaper, and maybe do some light decorating.
We did SO MUCH MORE than that…
After the kids were tucked in bed, Chris and I got starter on our dining room refresh.
For this project, we chose Sherwin-Williams Emerald Interior Acrylic Latex Paint in the color Gray Screen SW 7071 in a satin finish.
I chose to partner with Sherwin-Williams for their Emerald Interior paint because of its reliability, washability, and quality.
And with two boys in the house, being able to clean our walls of Nutella spread or crayon marks is essential ;).
Their Emerald Interior Acrylic Latex paint also contains stain-blocking technology for top-notch performance, which is great for such a light color like Gray Screen.
The color we chose, Sherwin-Williams Gray Screen SW 7071, is a cool gray color with blue undertones, which really showed when we started to paint at night!
I was actually kind of nervous looking at it, and wondered if I chose the right color because it really looked blue!
But each gray paint has a certain undertone, whether that is green, blue, violet, or taupe.
Being a lover of all-things-blue (seriously, have you seen my kitchen coffee bar?), I was happy that we chose a color with blue undertones instead of green or taupe.
*When picking a gray color for your walls, consider bringing home a bunch of paint swatches, even ones you wouldn't necessarily choose, and stick them to your wall for a few days before committing to a color.
Sherwin-Williams Gray Screen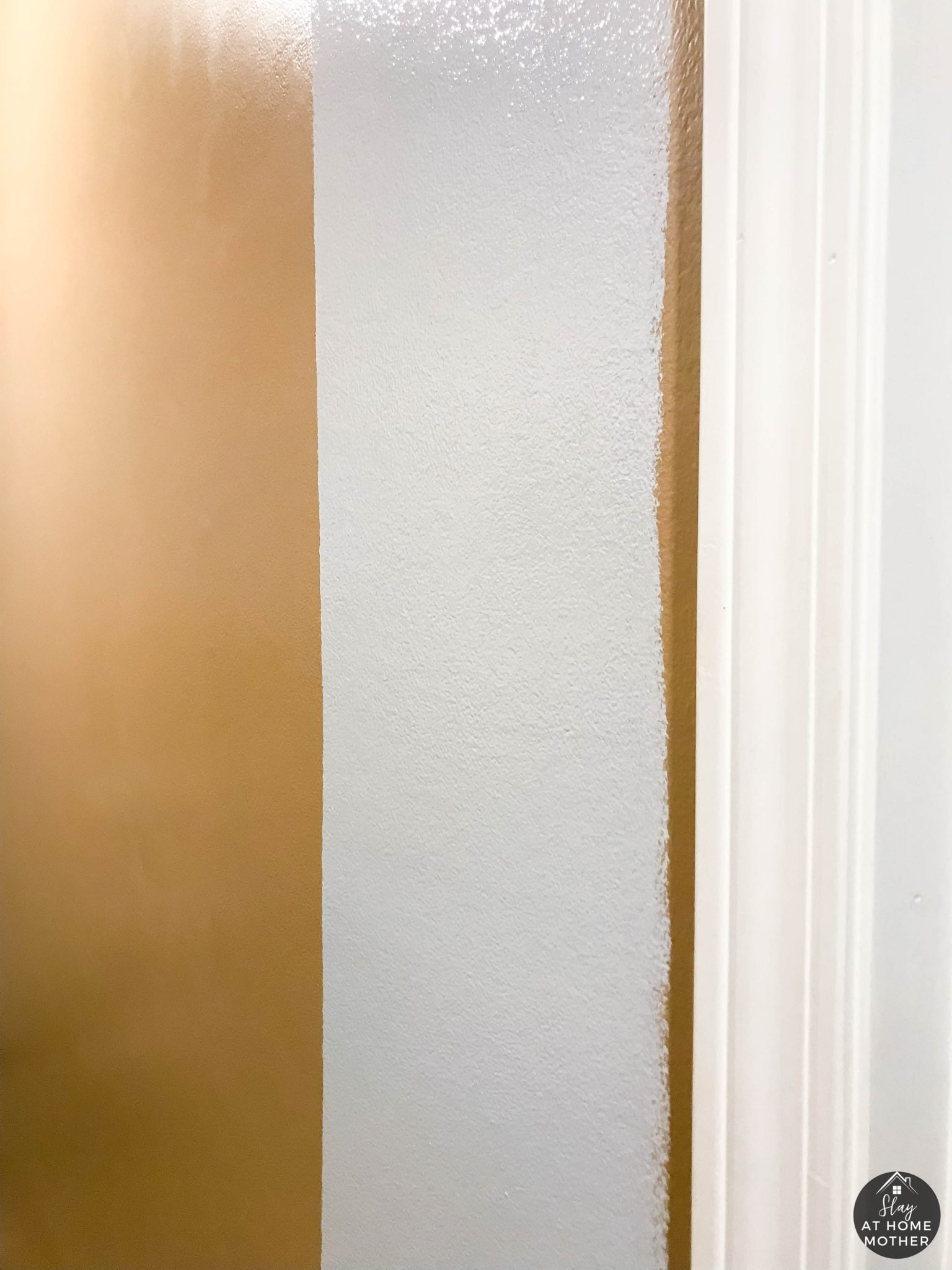 The paint itself went on so smoothly, and covered a lot!
Even though we applied a very light gray paint over the darker orangey/brown color that was previously on our walls, our Sherwin-Williams paint kicked butt and hardly needed a second coat.
Totally impressed.
And once we saw how awful the gorgeous new wall color looked next to the hodgepodge-second-grade-esque wallpaper that our home's previous owner applied to half of the hallway and half of the dining room (who does that?!), we decided that this project was going to be bigger than just two walls.
We enlisted some help from one adorable little booger who has previously gotten into trouble for ripping pieces of wallpaper off the wall to do just that.
Now, he got to do it for fun!
I have to say that ripping the wallpaper off was way more fun than cleaning it all up…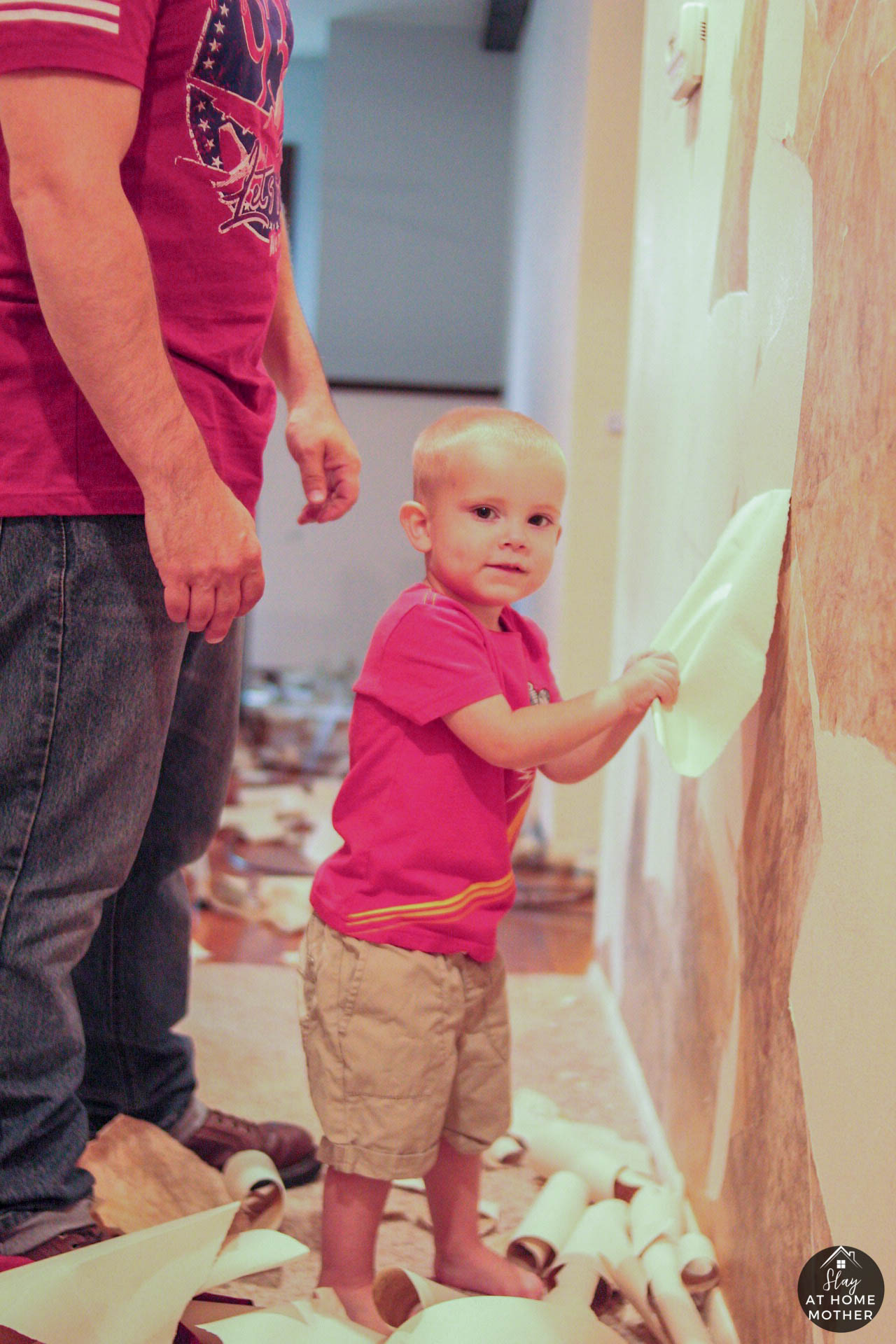 When we finished removing the wallpaper from the wall, we stripped the adhesive, cleaned, waited for the walls to dry, and got to painting!
We ended up painting the entire dining room, entryway closet, and hallway.
Flooring, Too?! Yes!
Once the paint was on the wall, we took a good look at the floors, which were a honey oak color, and decided to lay down some new vinyl flooring to match the ceiling beams in the room.

This has been one project that we were going to complete in the next few months anyhow and now seemed a good a time as any.

We prepped, rinsed, dried, applied adhesive, and then applied flooring.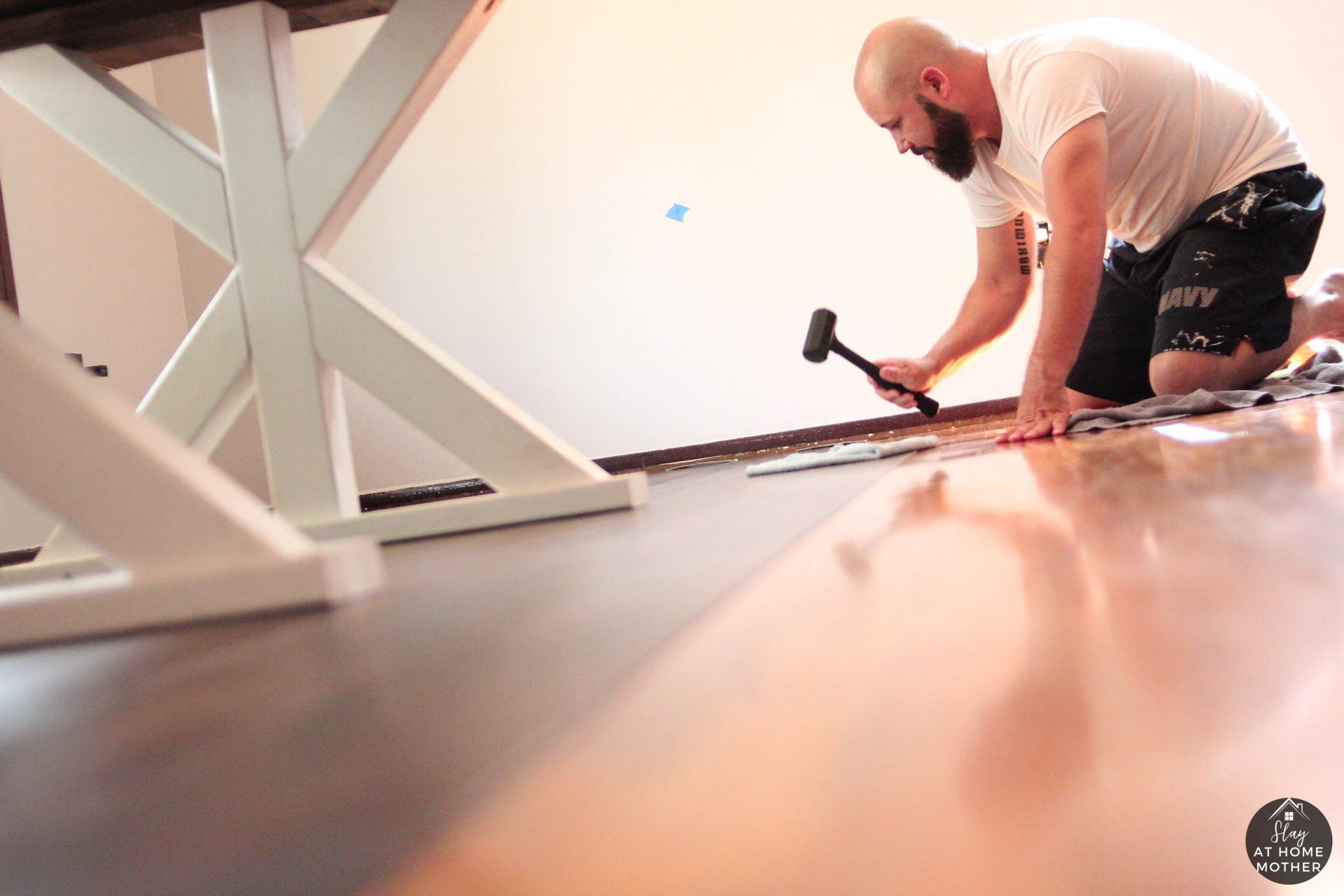 Our Finished Dining Room
You can tell with this specific paint color, and the lighting/sunlight offered through our windows, that in some lighting the paint color's blue undertones really show through.

Once the sun is high in the sky about midday, the color looks much more gray.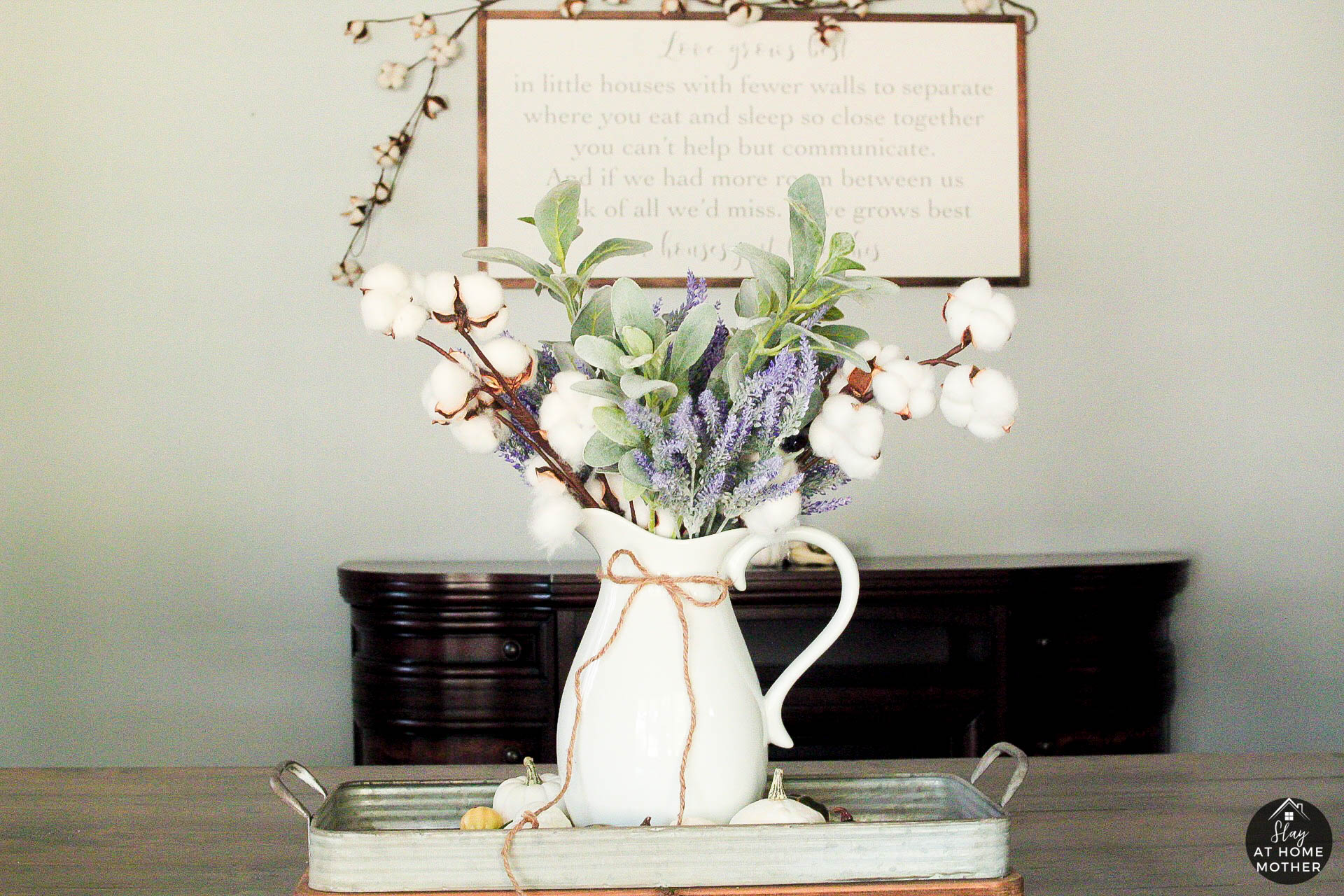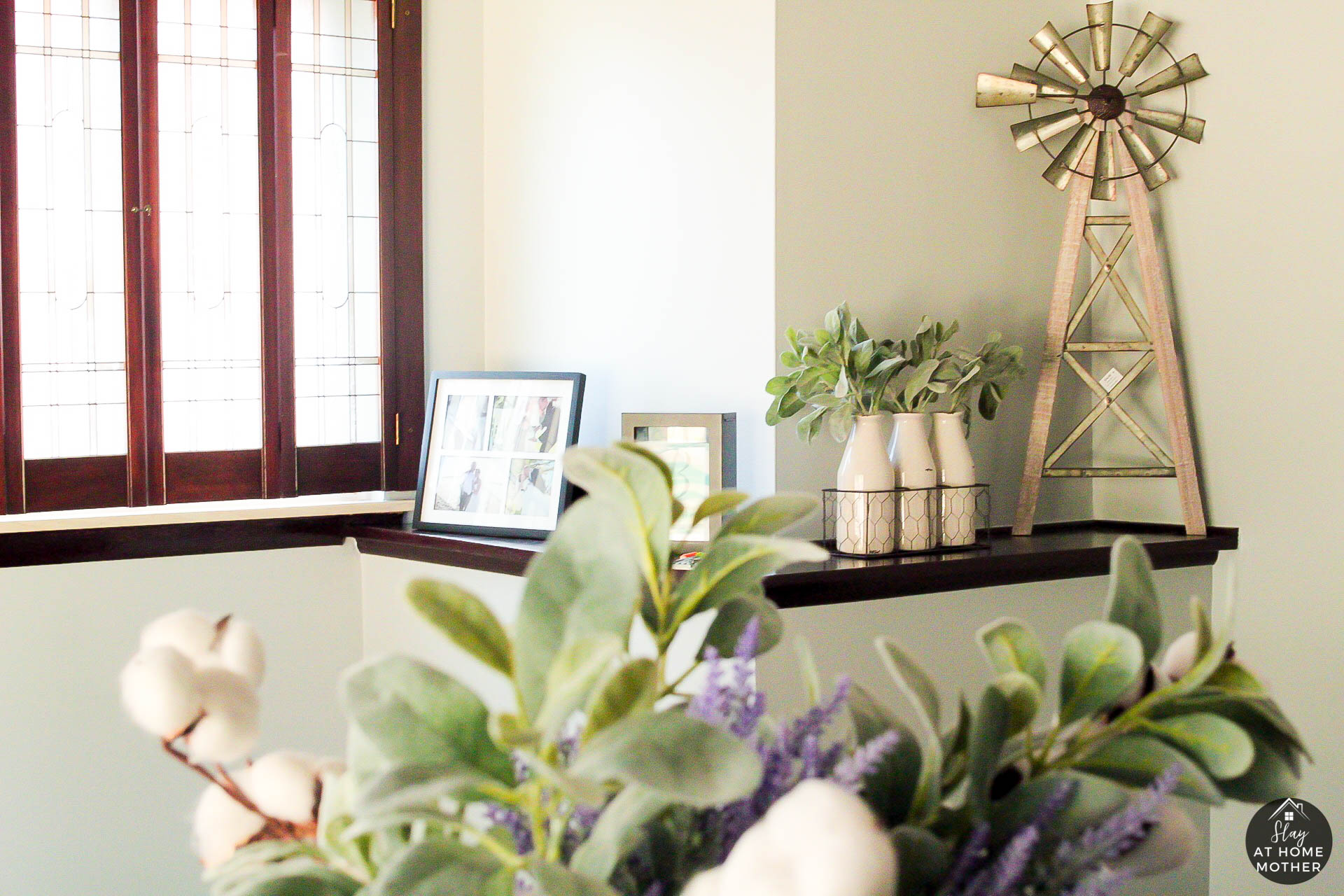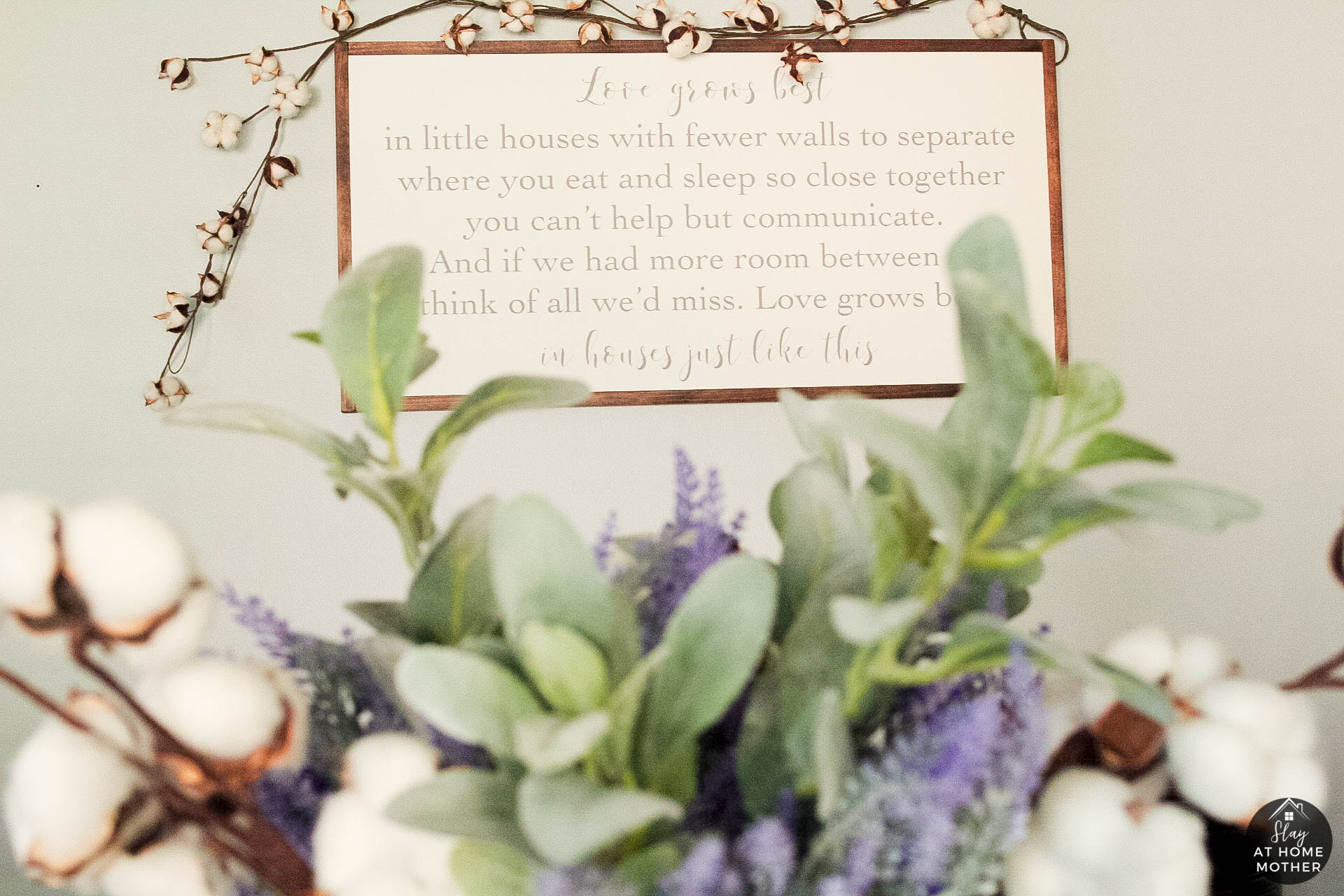 We decorated in a farmhouse style, and incorporated a lot of neutral and dark tones to the room, inspired by our new paint color and the darker trim/ceiling beams/furniture pieces in the room.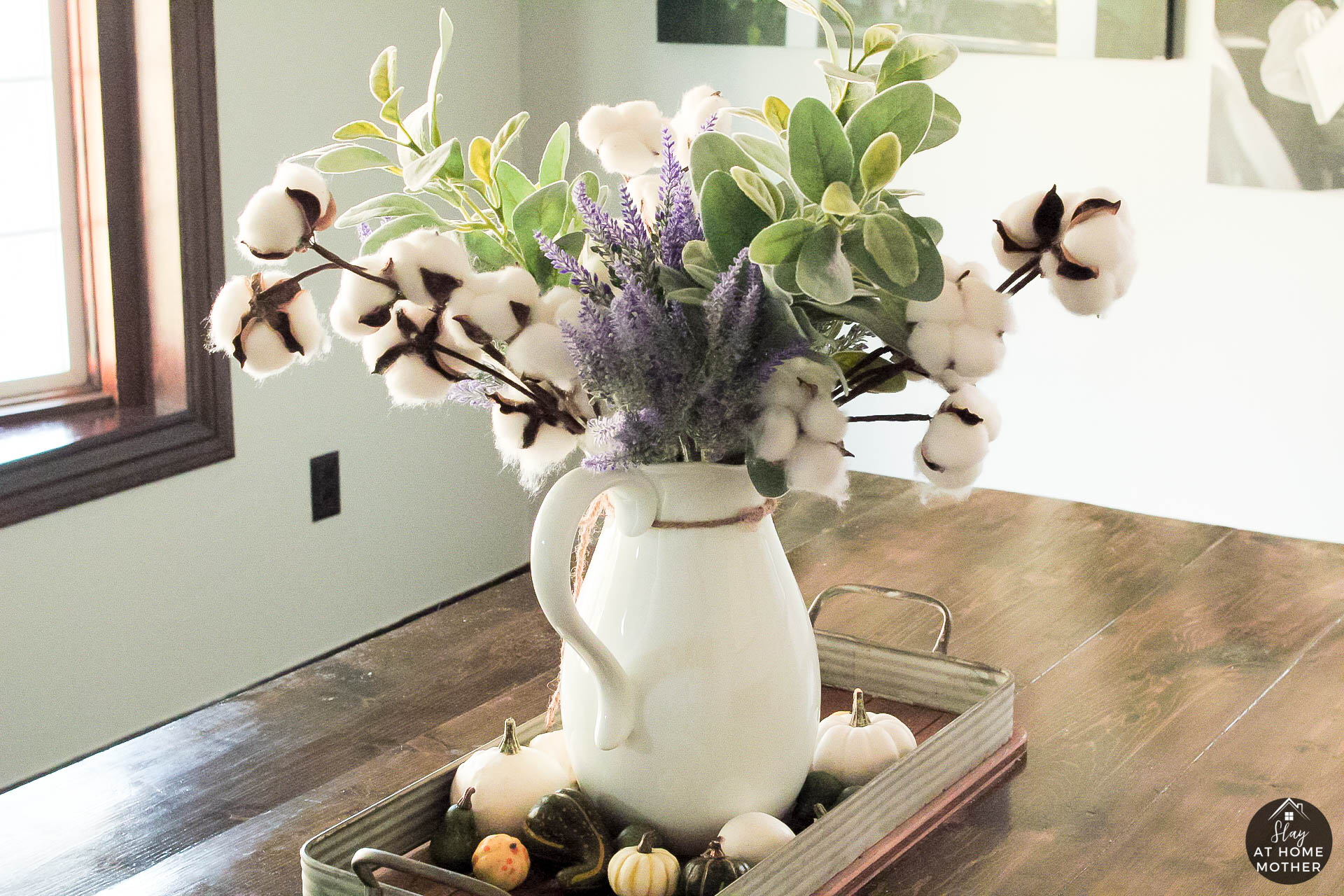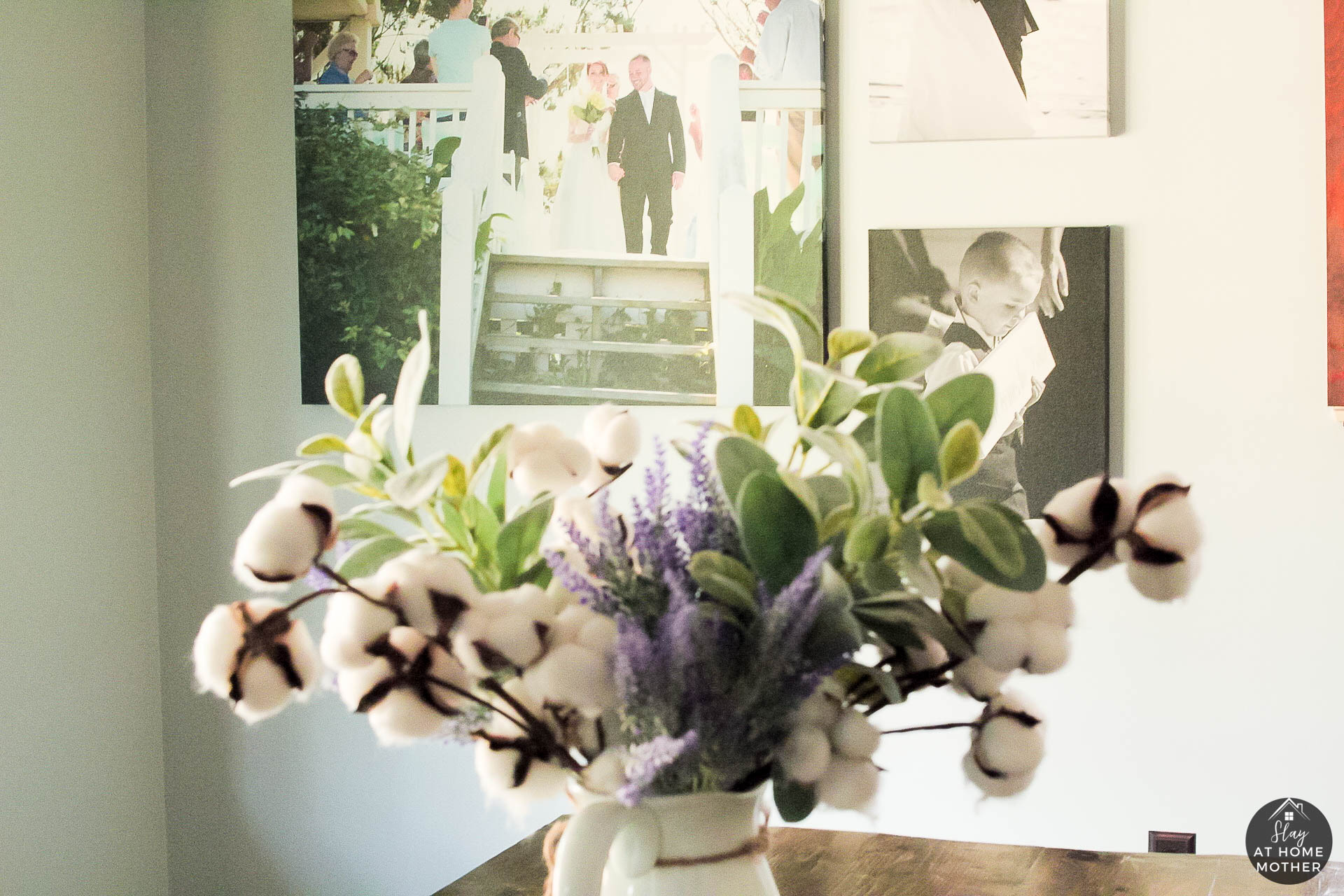 A staple in our dining room is our collection of canvas wedding pictures. They used to hang over the fireplace, but we decided they looked so much better by our stained glass window.

They also get much more attention now that they aren't mixed in with the busy wallpaper that used to adorn the walls, and are arranged differently.
For our bay window, we actually needed to repaint the 'seat' portion because our Puggle, Cooper, loves to jump up there when we get home to greet us and wag his curled tail in the window, scratching the surface paint the previous owner applied there.

The folks at Sherwin-Williams were able to match the paint can we had so we could repaint, and it looks so good!
I can't say Cooper won't jump up there again, but at least we have a high-quality can of touch-up paint when we need it!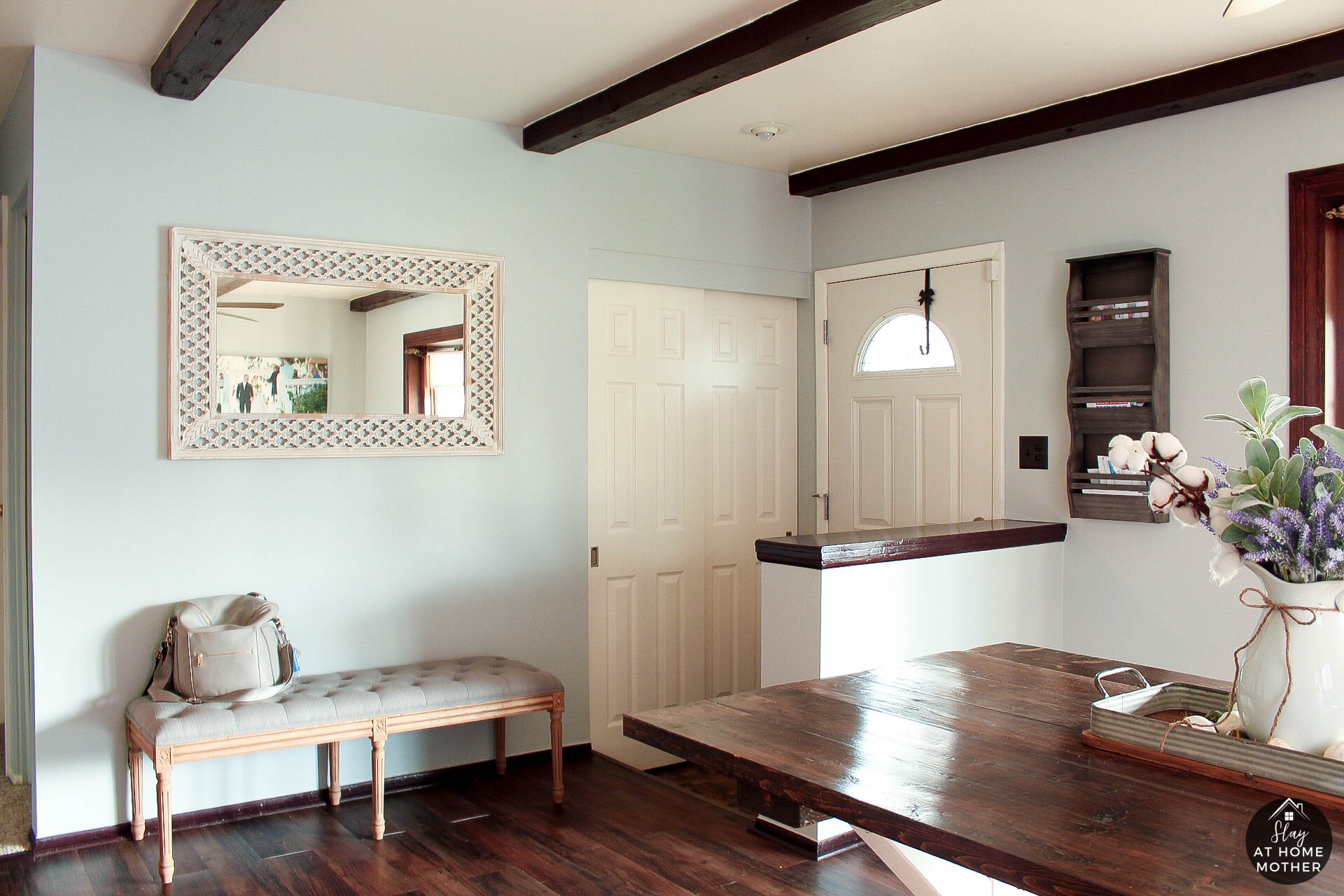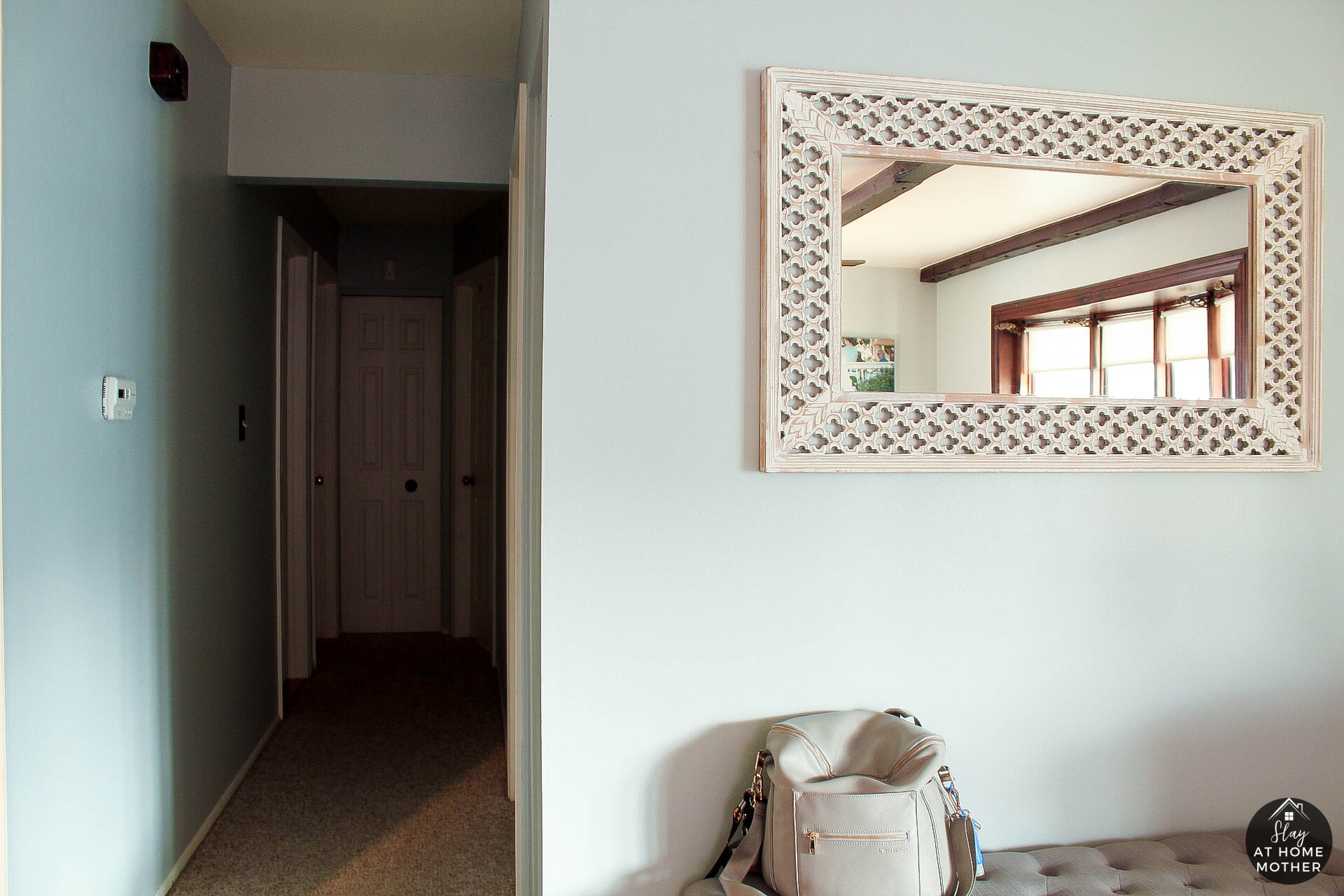 So that's our dining room refresh! We couldn't have done it without our beautiful and durable paint supplied to us by Sherwin-Williams.

Originally posted in August 2018, updated October 2021.