Need some shopping inspiration this holiday season? Here is an Amazon Gift Guide for the whole family…
---
Amazon Gift Guide For The Whole Family
Hi, friends!
I'm excited to finally share my Holiday Gift Guides with you this year – this guide focuses on Amazon items, but you can also shop at some of my other favorites stores like Walmart or Target.
Whatever fits your budget and shopping needs!
I love putting these guides together for my readers because they are a great reference and jumping-off point to inspire you.
If you need ideas, I've got them!
I've included Amazon gift guides for women, men, and kids…
*This post contains affiliate links, however, all opinions are my own, as always.
Amazon Gift Guide For Women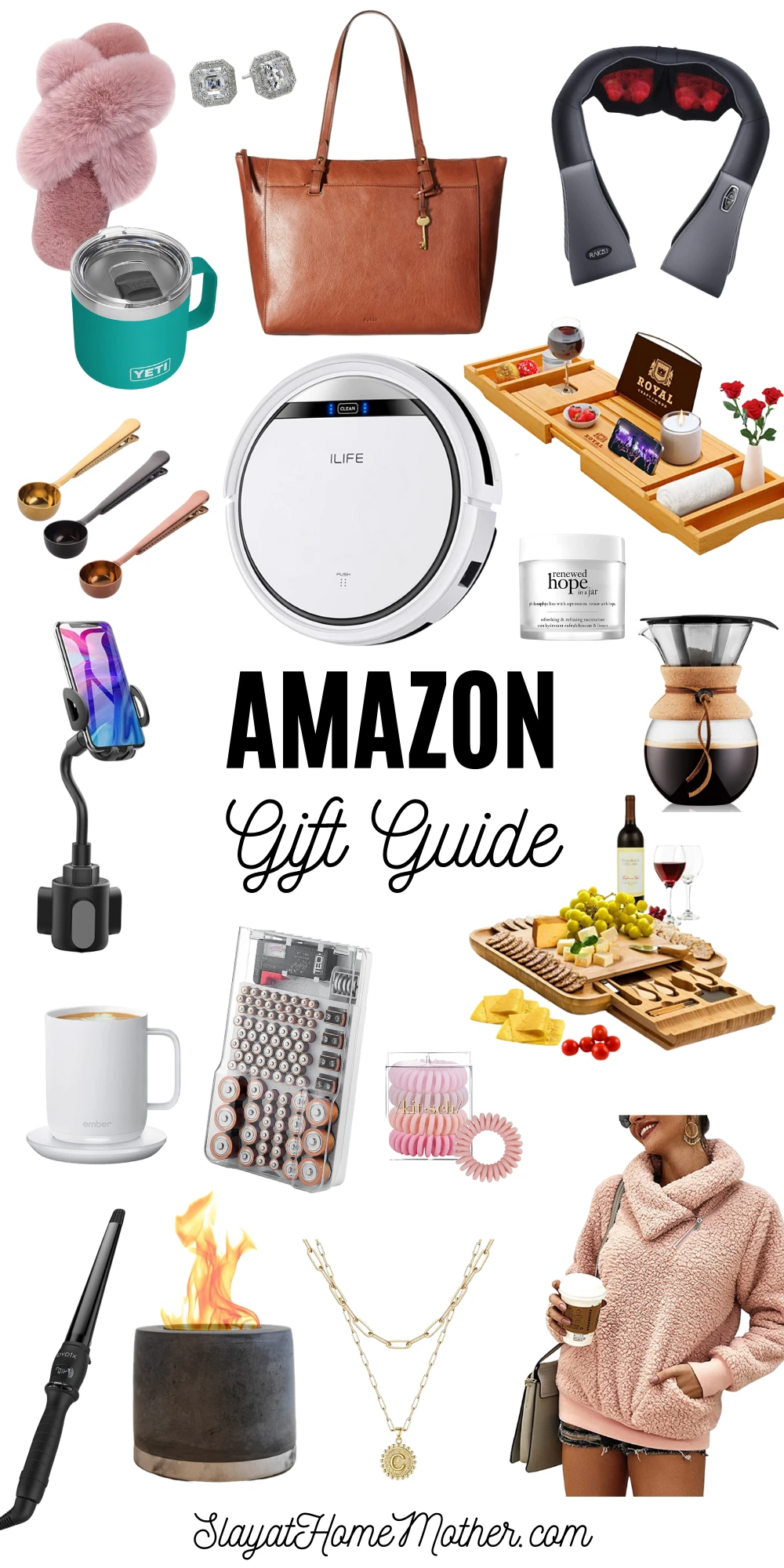 Cozy Slippers // Swarovski Earrings // Leather Tote // Neck Massager // Yeti Mug // Coffee Scoop Bag Clip // Robot Vacuum (Self-Charging) // Wood Bathtub Tray // philosophy Moisturizer // Cup Car Holder // Pour Over Coffee Maker // Ember Temperature Control Smart Mug // Battery Organizer // Spiral Hair Ties // Charcuterie Board Set // Twist Curling Wand // Table Top Fire Pit // Layered Initial Necklace // Fuzzy Fleece Pullover
Amazon Gift Guide For Guys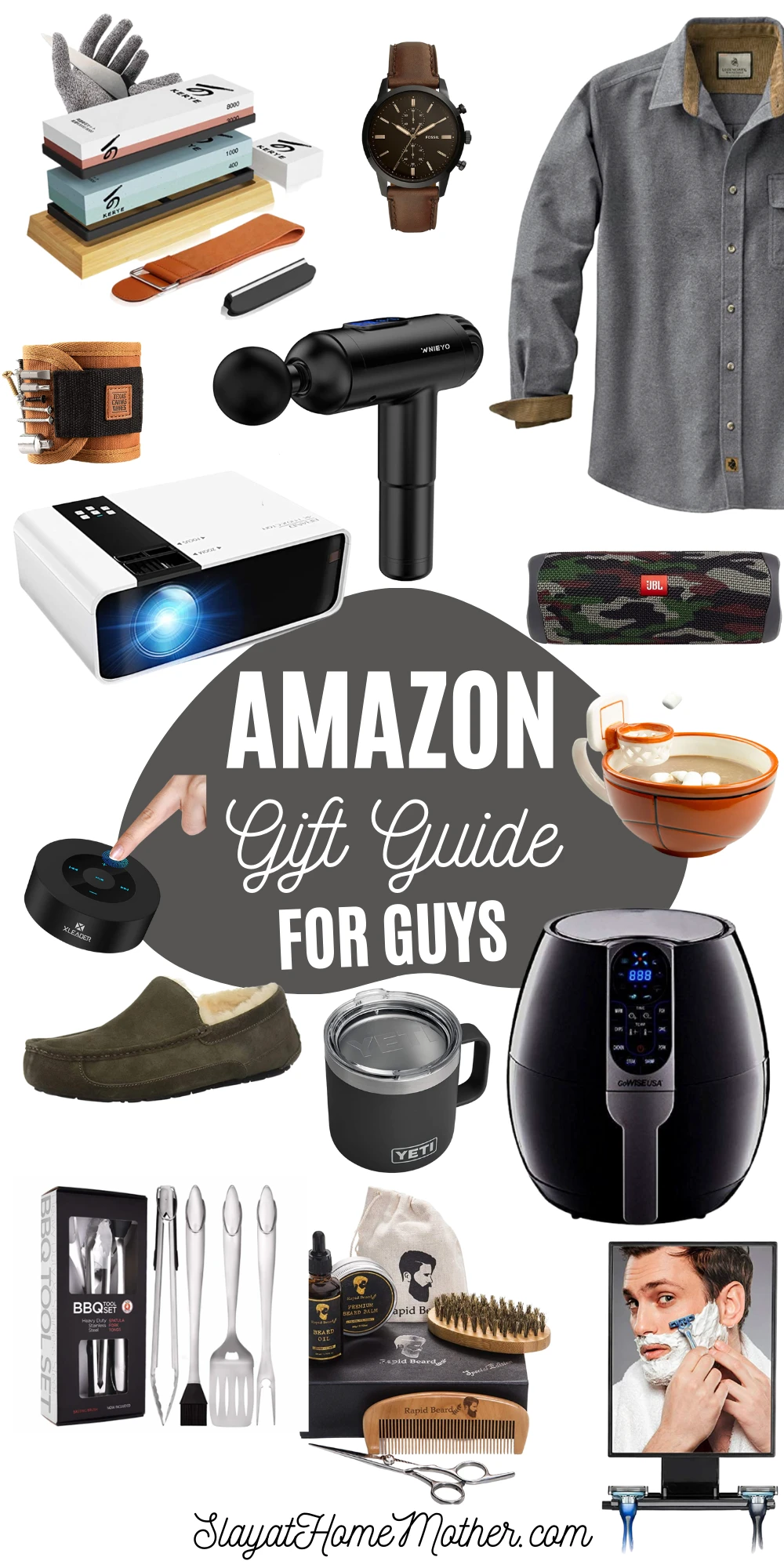 Here are my top picks for guys…
Knife Sharpening Kit // Men's Watch // Men's Flannel Shirt // Magnetic Wristband // Deep Tissue Massage Gun // Projector // Waterproof Speaker // Basketball Mug w/ Hoop // Shower Speaker // Men's Slippers // Yeti Mug // Air Fryer // BBQ Set // Beard Grooming Kit // Fog Free Shower Mirror
Amazon Gift Guide For Babies & Toddlers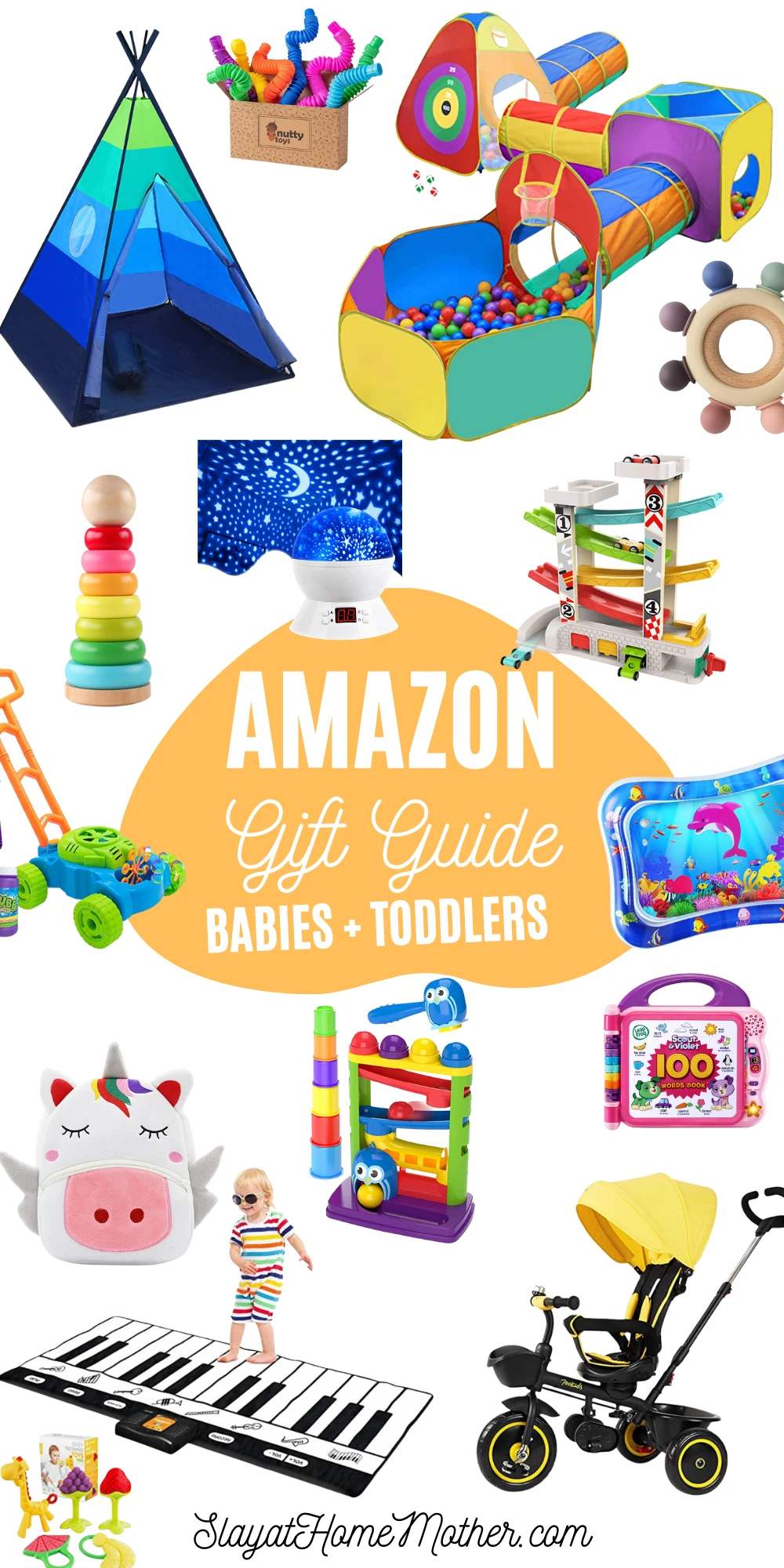 I don't usually do a big selection for babies when it comes to the holidays because they're easy peasy – cute pajamas and books are my top picks for babies. So that that reason, I've combined baby and toddler gifts…
Indoor Popup Tent // Pop Tube Sensory Toys // Play Tent Tunnels + Ball Pit // Silicone Teething Ring // Rainbow Stacking Rings // Star Projector Nightlight // Car Ramp Toy with Wooden Cars // Bubble Mower // Tummy Time Water Mat // Unicorn Backpack // Pound-A-Ball Toy // Leapfrog 100 Words // Keyboard Playmat // Push Tricycle Stroller // Silicone Fruit Teethers
You May Also Like: Christmas Planner – Printable Holiday Planner
Amazon Gift Guide For Little Kids (3-7 years)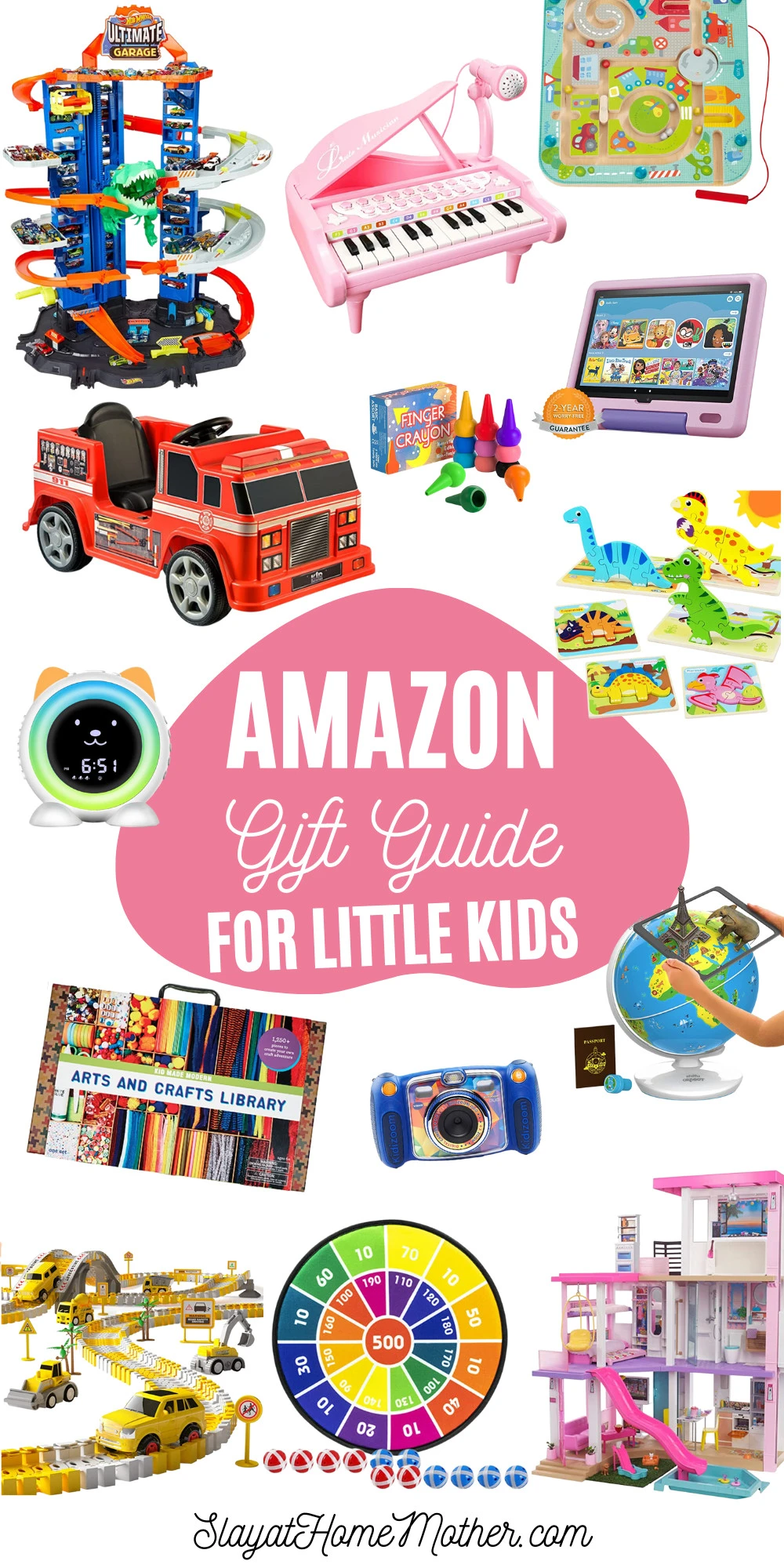 Great gifts for ages 3-7…
Hot Wheels Ultimate Garage // Toy Piano // Magnetic Town Puzzle Game // Ride-On Firetruck // Finger Crayons // Kids Fire HD Tablet w/ Case // Dinosaur Wooden Puzzles // Ambient Alarm Clock // Kids Crafts Supplies // Kids Duo Selfie Camera // Interactive Globe // Flexible Track Set – Construction // Sticky Ball Dart Board // Barbie Dream House
Amazon Gift Guide For Big Kids (8+)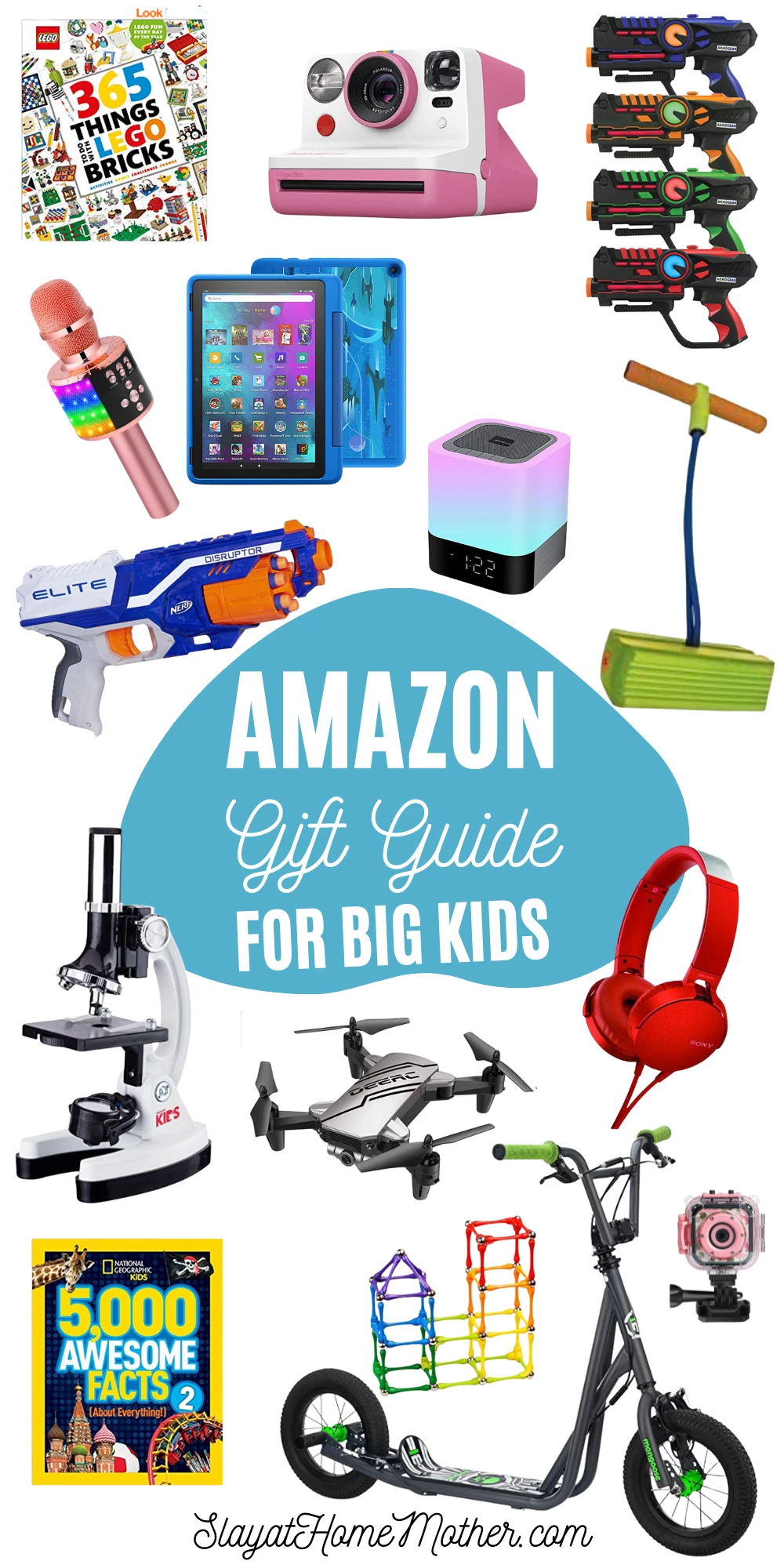 These gifts are great for ages 8+…
Lego Building Book // Polaroid Instant Camera // Laser Tag Set // Karaoke Microphone // Kids Tablet: Fire HD 10 // NERF Gun // Bluetooth Speaker Alarm Clock (changes color, touch-sensor) // Foam Bouncing Toy // Kids Microscope // Mini Drone // Headphones // 5,000 Awesome Facts About Everything // 110-Pc. Building Sticks // Scooter // Waterproof Video Camera
---
What's on your wishlist this year? Tell me in the comments below!