Hi friends!
I am so excited about all of the warm weather we're getting here in the Midwest (finally).
It has been unbelievably HOT here, and although we're welcoming the drastic temperature changes, we are also craving sweet cold treats more often as we're playing outside.
I decided to head to Walmart and explore their new Walmart Home selections, and found the perfect ice cream maker for our family, as well as some adorable summer home picks for the kitchen.
I came up with the perfect homemade strawberry lemonade sorbet – I hope you love it!
The story behind the recipe is really simple – I had a ton of lemons and strawberries on hand that were going to expire soon and figured I could make them into something delicious ;).
*This post contains affiliate links and is sponsored by Walmart.

Homemade Strawberry Lemonade Sorbet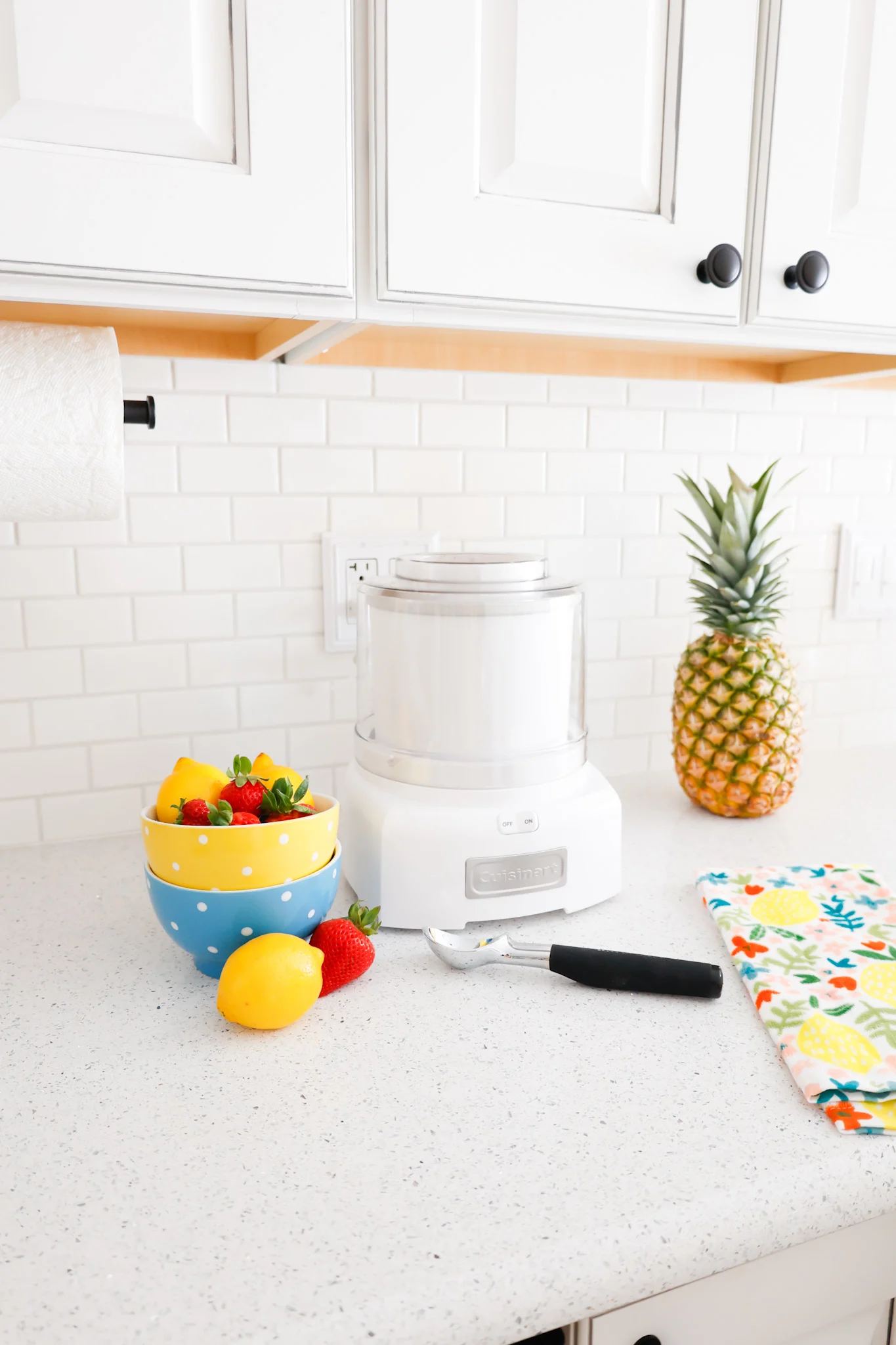 To make this recipe, you'll need…
spoons
sugar
water
strawberries
lemons (or lemon juice)
zester* (optional)
mesh strainer* (optional)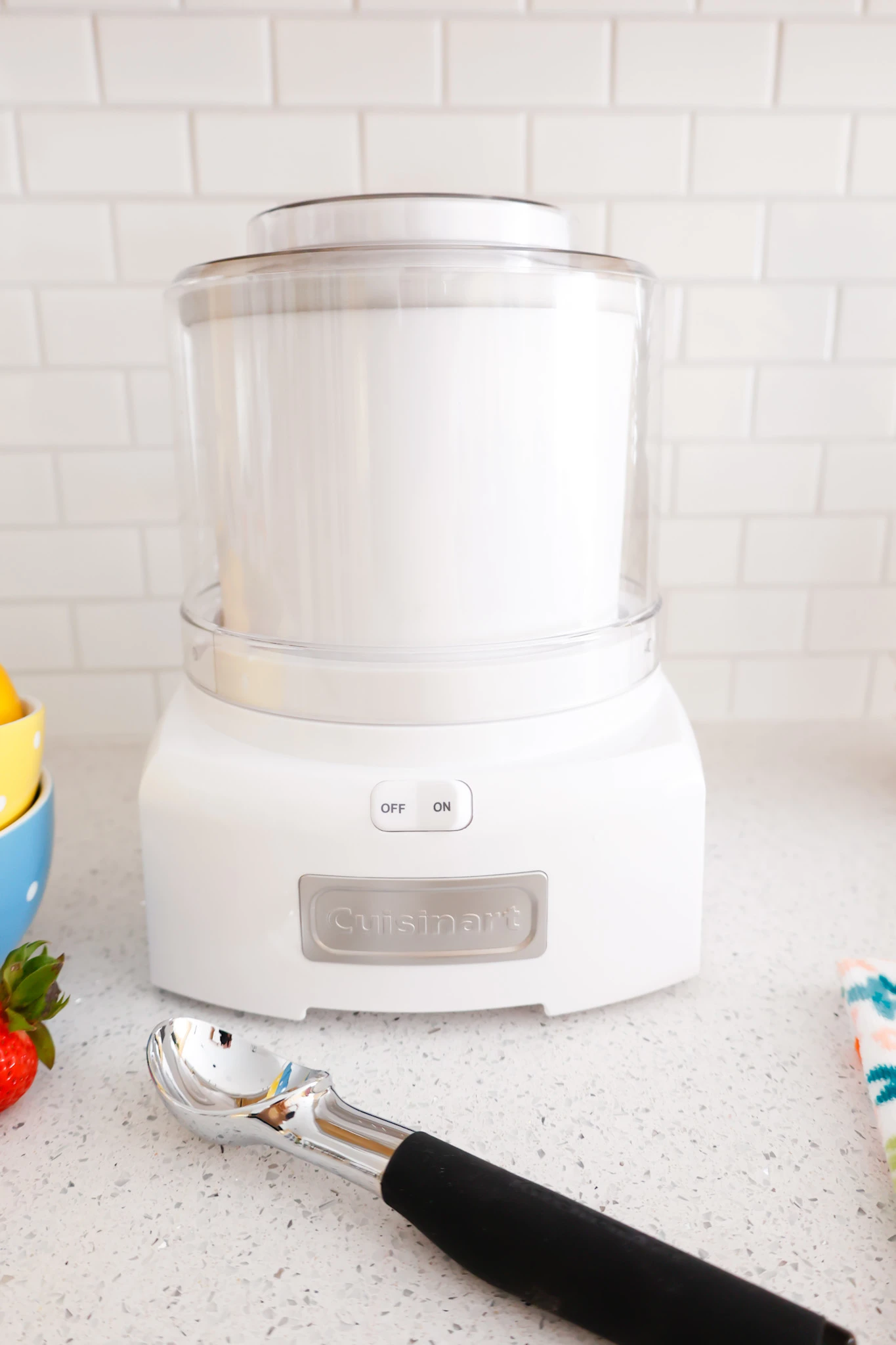 For your ice cream scooper, I always recommend going for a dishwasher-safe scooper, like this one I picked up from Walmart.
Remove your ice cream machine's bowl and place it in the freezer the night before you plan to make ice cream.
Heat 2 cups of water and 2 cups of sugar together to a boil, simmer for 1-2 minutes and chill overnight. This creates a simple syrup base for your sorbet.
The next day, cut the tops off and hull out 6-8 strawberries (I used varying sizes) and puree.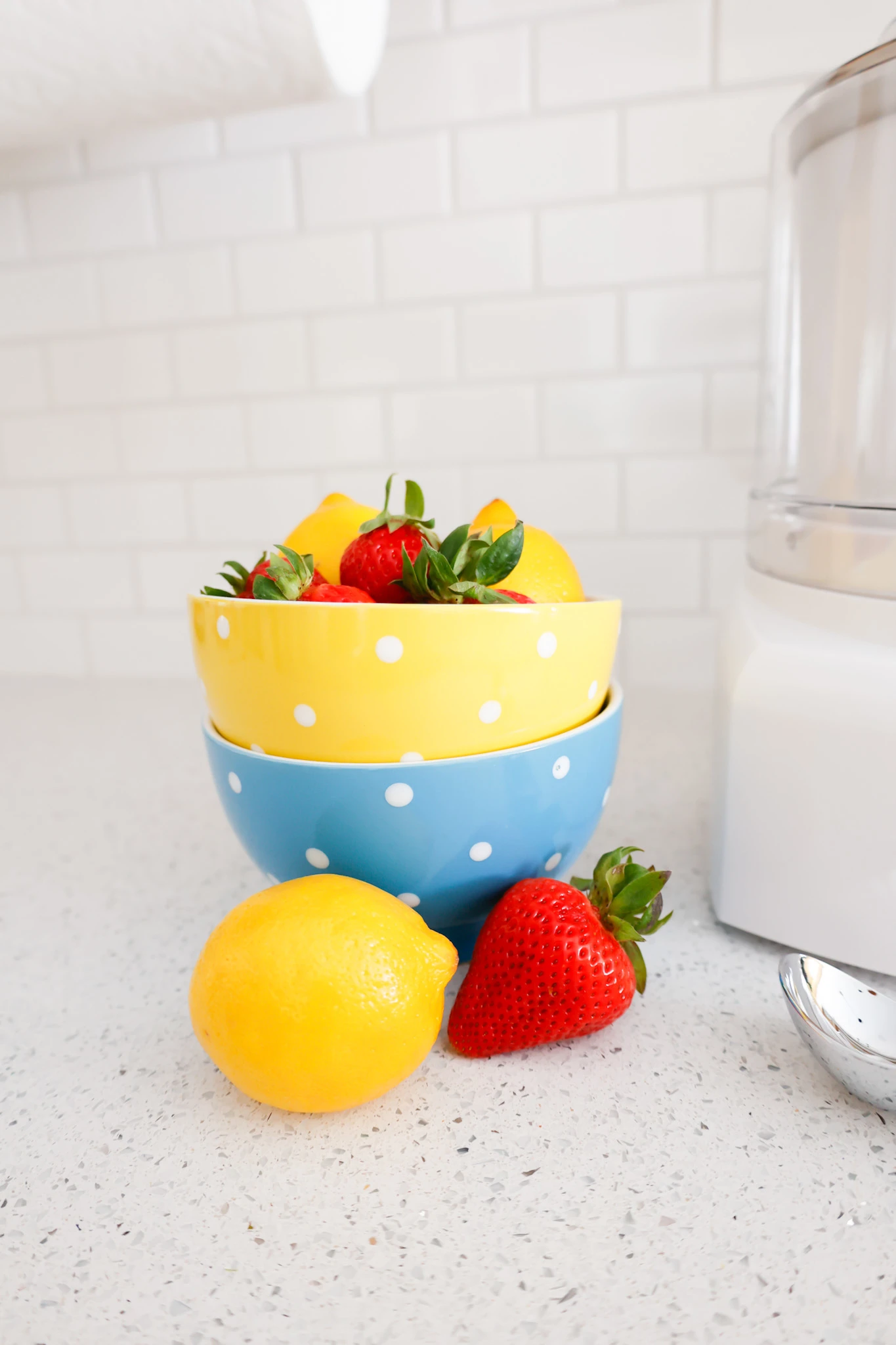 Juice about 4 lemons into your strawberry puree.
*Optional: strain the strawberry puree through a mesh strainer to get rid of the seeds.
*Optional: add in some lemon zest (about 1 tbsp.) and your simple syrup.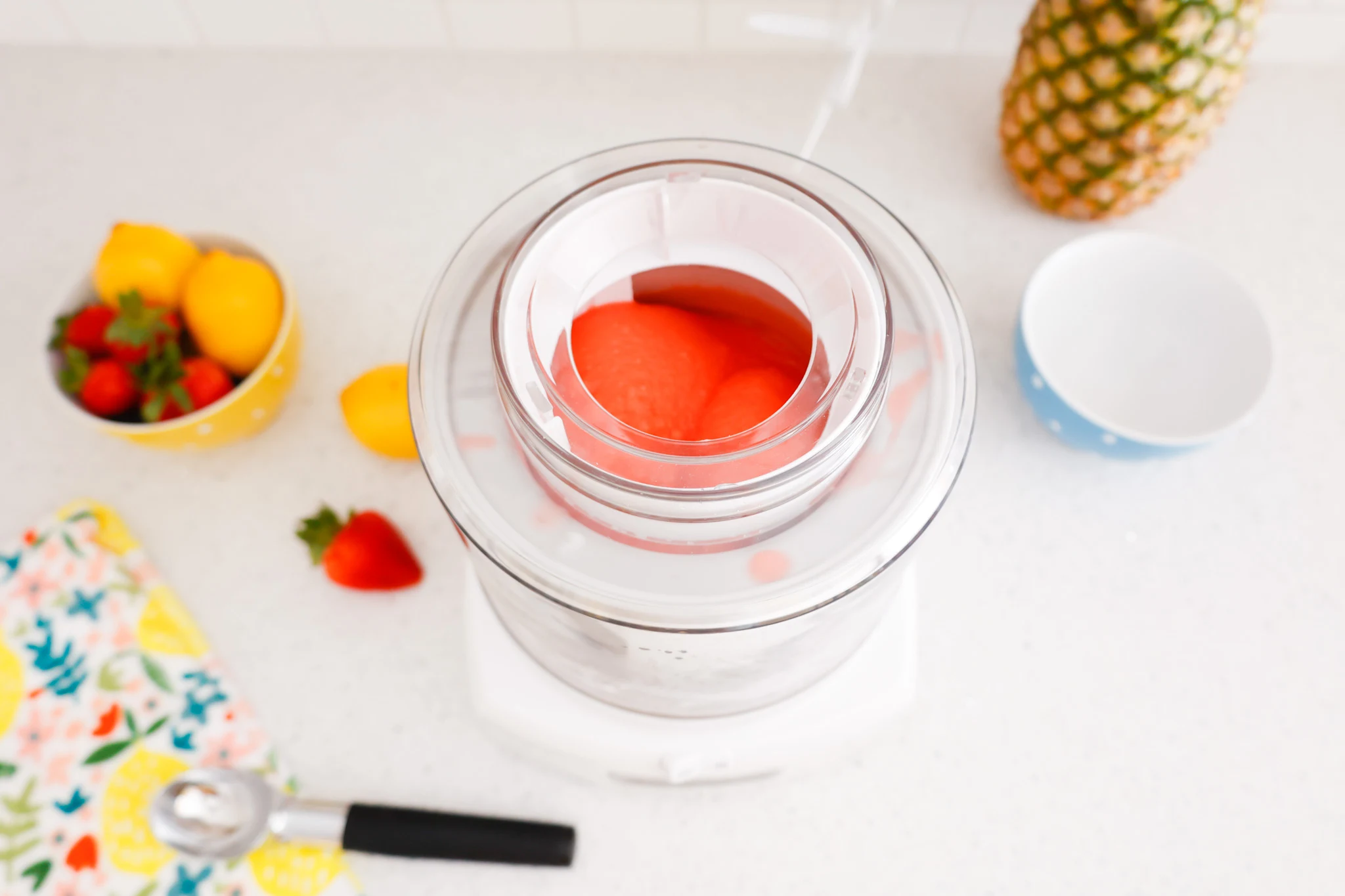 Place the ice cream bowl back on your ice cream machine, and pour in your sorbet mixture.
Turn on your ice cream machine, and in about 20 minutes you should have a good family-sized bowl of sorbet to share!
Our machine is so easy to use, was super affordable at Walmart, and has a simple ON/OFF button.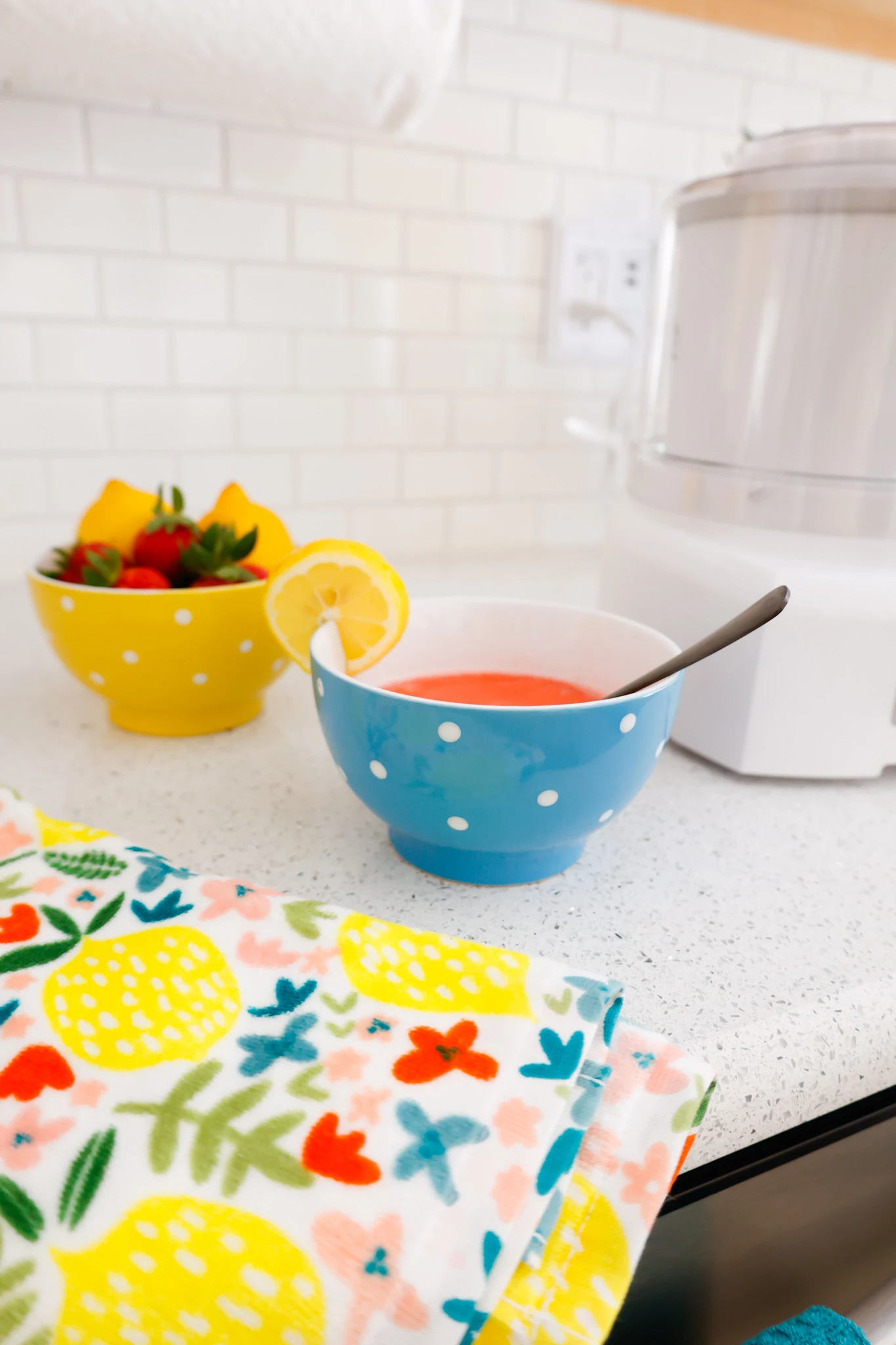 How adorable are these kitchen towels, by the way?
Walmart Home has some incredible summer selections, and I was so excited to pick up this 5-pc. floral lemons hand towel set.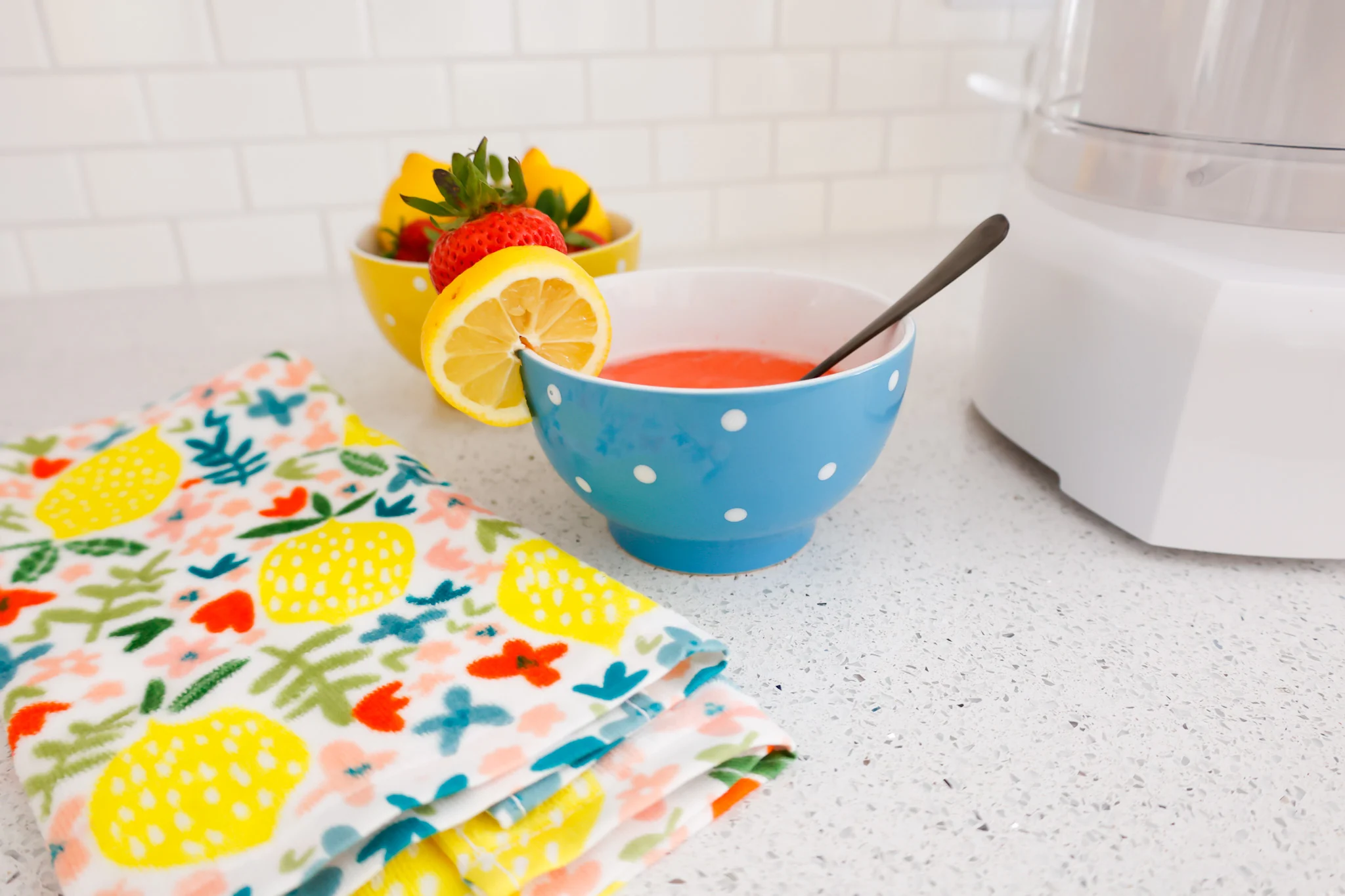 I absolutely love polka dots, so I just had to grab these colorful bowls at Walmart.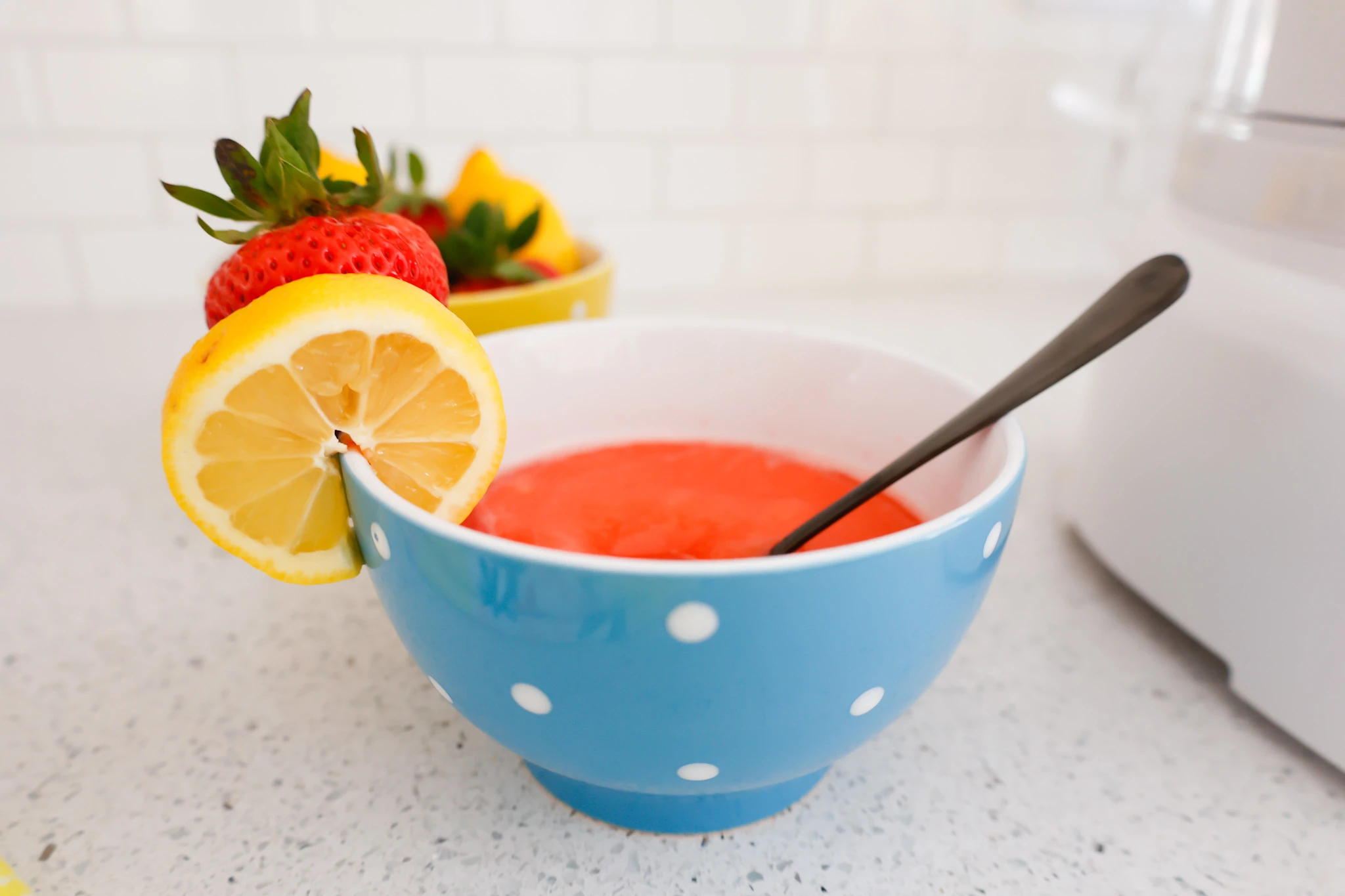 The 4-pack of bowls comes in red, blue, green, and yellow colors.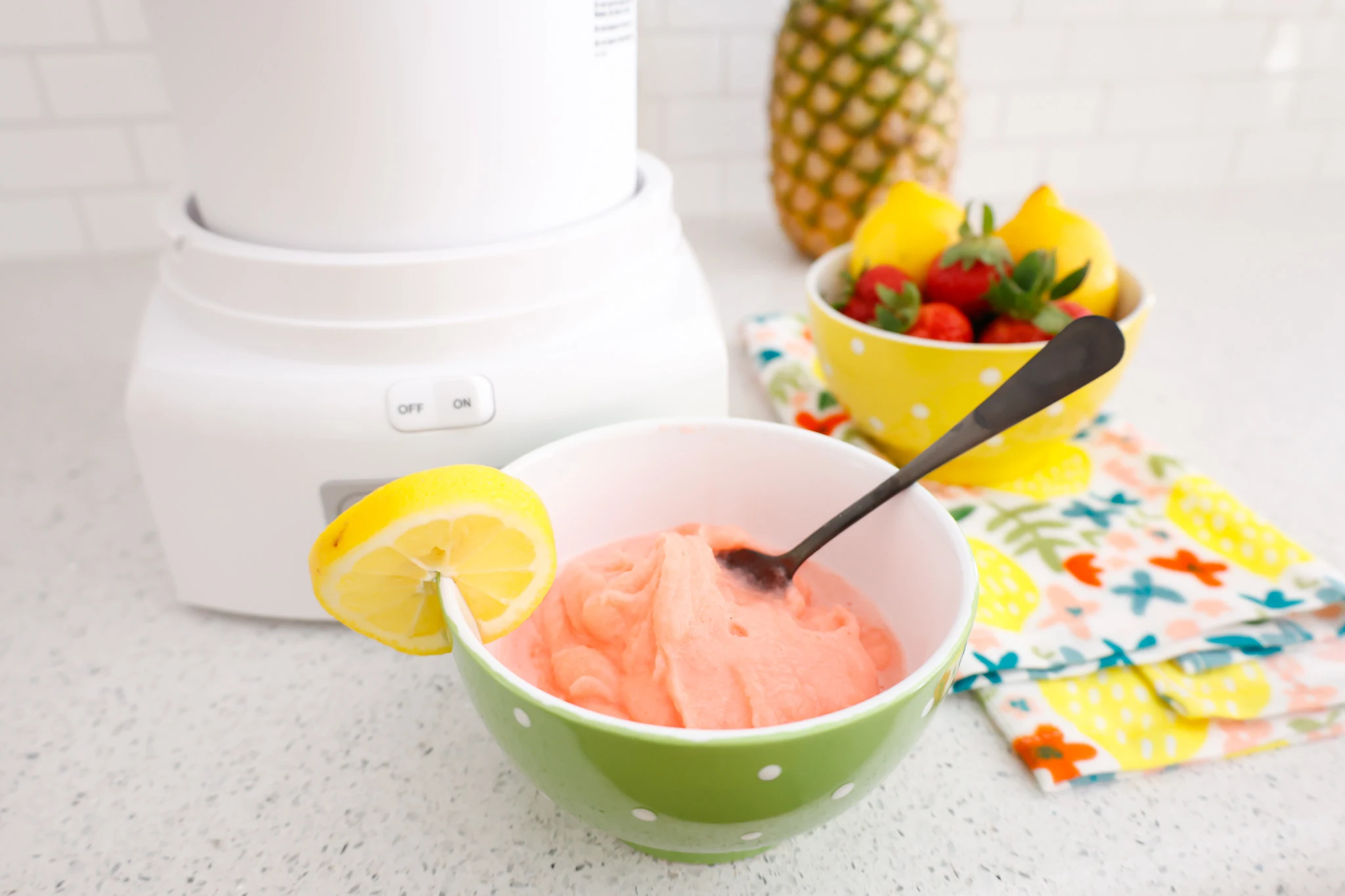 This was the perfect summer purchase for your family. I can't wait to try new recipes and flavors of ice cream and sorbet this season.
It is the perfect size to store either on the counter or in the cabinet.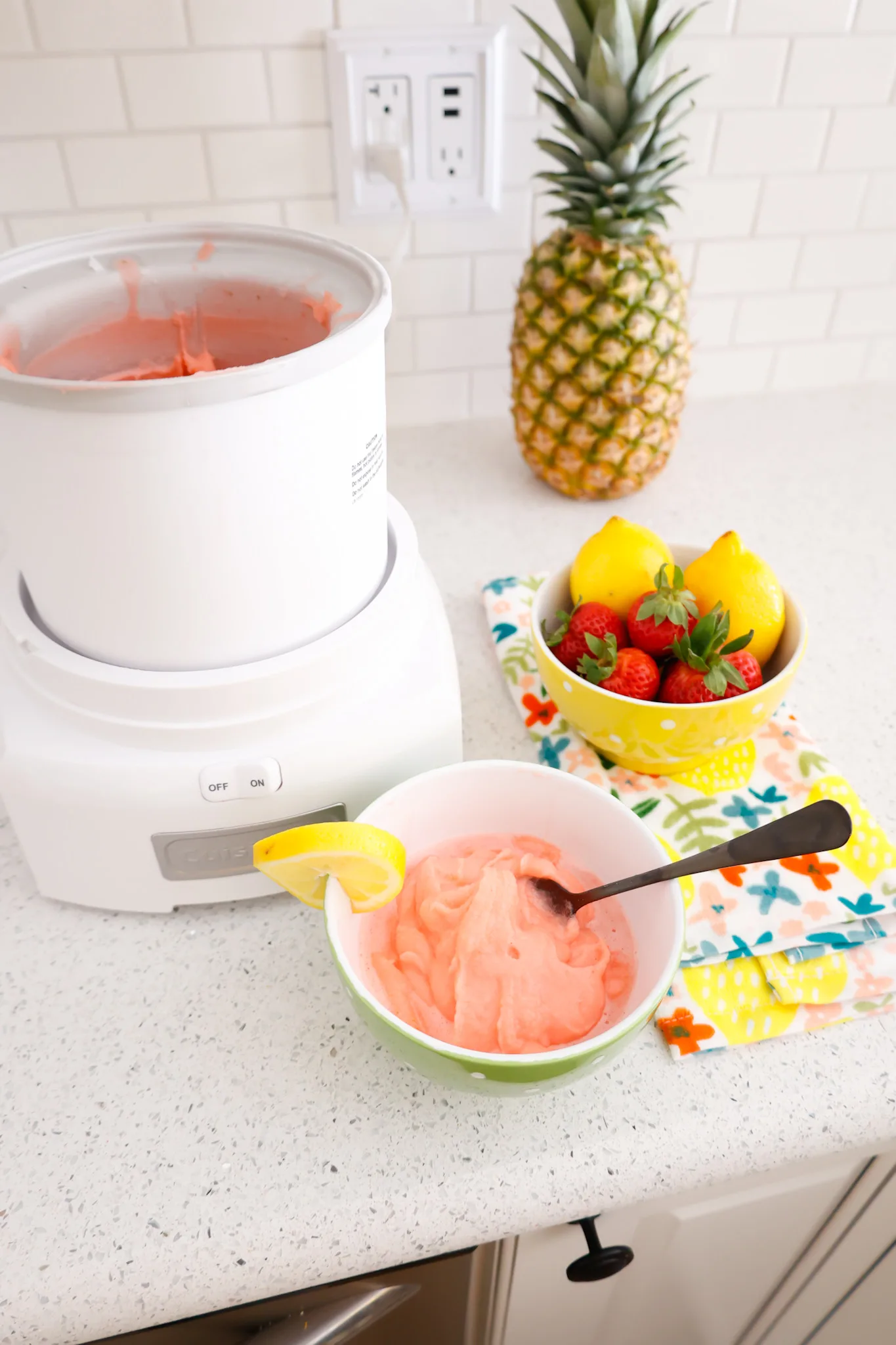 Here is the sorbet when it's allowed to run for a little longer in the ice cream machine – highly recommend letting it run the full 20 minutes!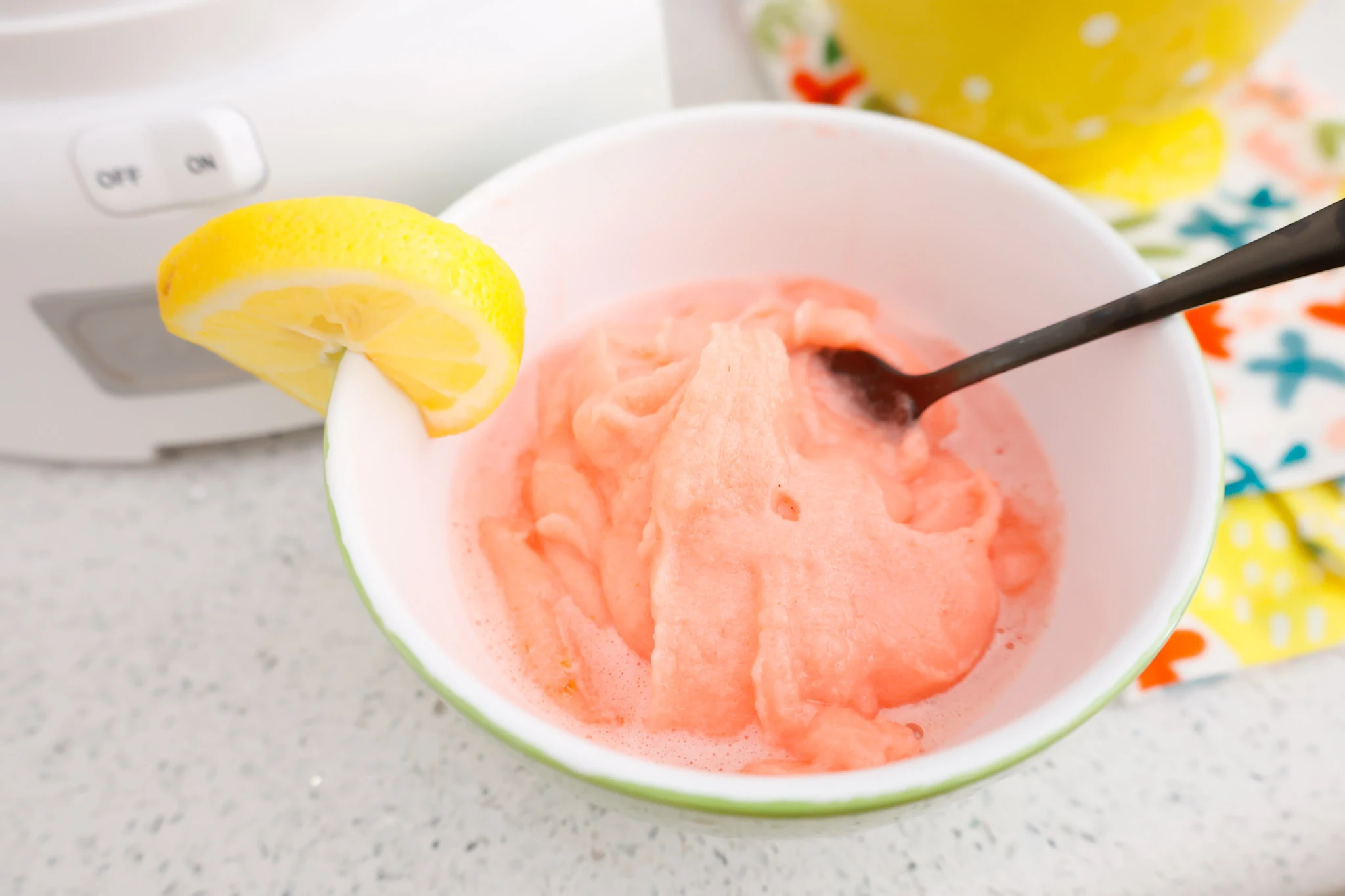 Not only does Walmart Home carry ice cream machines, but they also have a great selection of juicers, coffee makers, margarita machines, and more!
Be sure to check out Walmart's Home Summer collection here!