An honest Lily Jade Shaylee diaper bag review…
---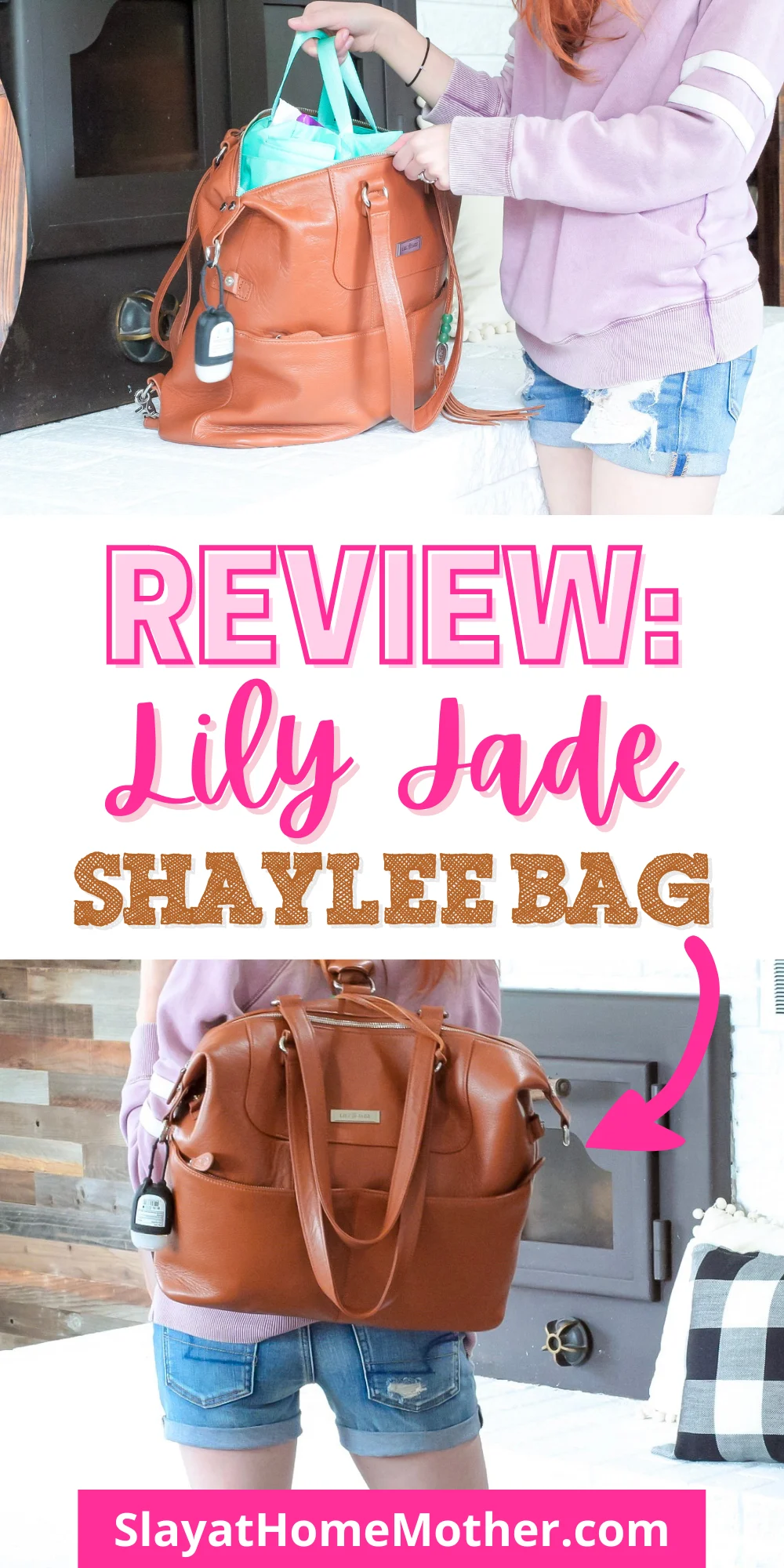 Hi friends!
I'm so excited to share today's post, in partnership with Lily Jade, because I finally have the chance to tell you guys that I found THE BEST DIAPER BAG EVER, hands down.
In the last three years, I've gone through five total diaper bags.
I've been on the hunt for a backpack diaper bag that works with my on-the-go schedule and can be worn for hours on end.
I've been deeply disappointed in the past by bags that look cute and seem worth the chunk of change I spent, but have uncomfortable straps, not enough pockets, or have fallen apart at the seams.
All that has changed now, and I'm so happy to be able to share my new Lily Jade Shaylee diaper bag with you…
*This post contains affiliate links, however, all opinions are my own, as always.
Lily Jade Shaylee Bag
First off, let me just say that this bag is incredible.
It fits my frame perfectly, holds everything I could ever want or need in it, and I love how organized it is inside.
I should've done my research and just gotten this one from the start.
It puts all of my other bags to shame.
I imagine my old bags have collected themselves in the corner of my closet, quietly sobbing together as they realize I've moved onto something better…
When it comes to diaper bags, backpack diaper bags are my favorite.
They are easier to carry and allow you to get things done hands and arms free!
Since having my little wild child (isn't the second child always the crazy one?), I have to have my hands free so I can catch him.
He loves running away from me – especially when we're in public or near traffic.
I wish I was kidding.
I won't even entertain the idea of buying a diaper bag that doesn't have straps so I can wear it like a backpack now that I have an insane toddler to chase after.
I need my hands to be free so I can scoop him up when he tries to escape.
Shaylee Bag For Petite Moms
I wanted to add in this post, if you are a petite mom like I am, and are worried about how large this bag is or would be on your frame – don't fret!
I can tell you as a 5′ tall, size 0 slender woman that this bag does not disappoint.
Other Lily Jade styles, like the Meggan or Elizabeth, are larger and may not fit your petite frame as well as the Lily Jade Shaylee diaper bag will.
Lily Jade Shaylee Diaper Bag Dimensions
The Shaylee diaper bag from Lily Jade is spacious, and it is one of their smaller bags – so if you have a petite frame, or don't want to lug around a large diaper bag, this one is perfect for you!
Dimensions: 13″(H) x 5″(W) x 14.5″ (L)
Shoulder Strap Drop: 12"
Cross Body Strap: 56″
Cross Body Drop: 16″ – 30″ (adjustable)
Weight: 3.40 lbs. with organizer, 2.60 lbs. without organizer
The Shaylee is super lightweight and is comfortable to carry around for hours.
I take it with me when we are out at the park, clothes shopping for the boys, or walking through apple orchards together! It goes everywhere with me.
You can get this beautiful bag in camel (like mine!), black, galena (silver), brandy (deep brown), black, blush, or gray!
What's Inside
The interior of the Shaylee bag is so spacious!
The insert makes it possible to keep everything totally organized, which is great because after having two kids, I know all about how crazy the inside of a diaper bag can get.
Especially when you're constantly on the go like we are!
Lily Jade Diaper Bag Insert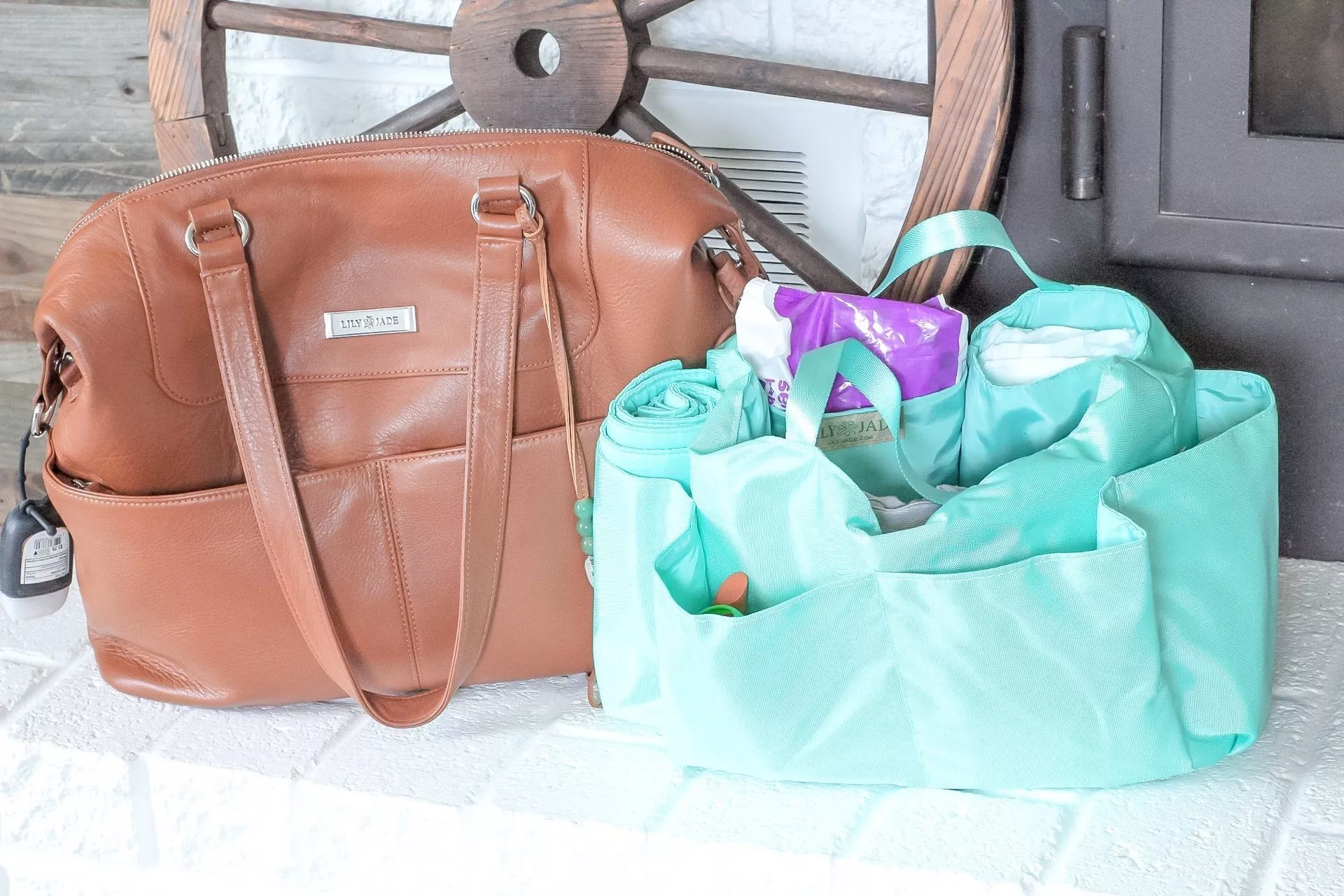 Inside every Lily Jade bag is an insert that can be taken in and out.
The jade-colored insert is not only removable but washable as well.
With 12 large pockets, it has room to store everything you need for a newborn up to a toddler and beyond.
Past the baby phase and don't need the extra pockets as much as you need the extra room? Take it out!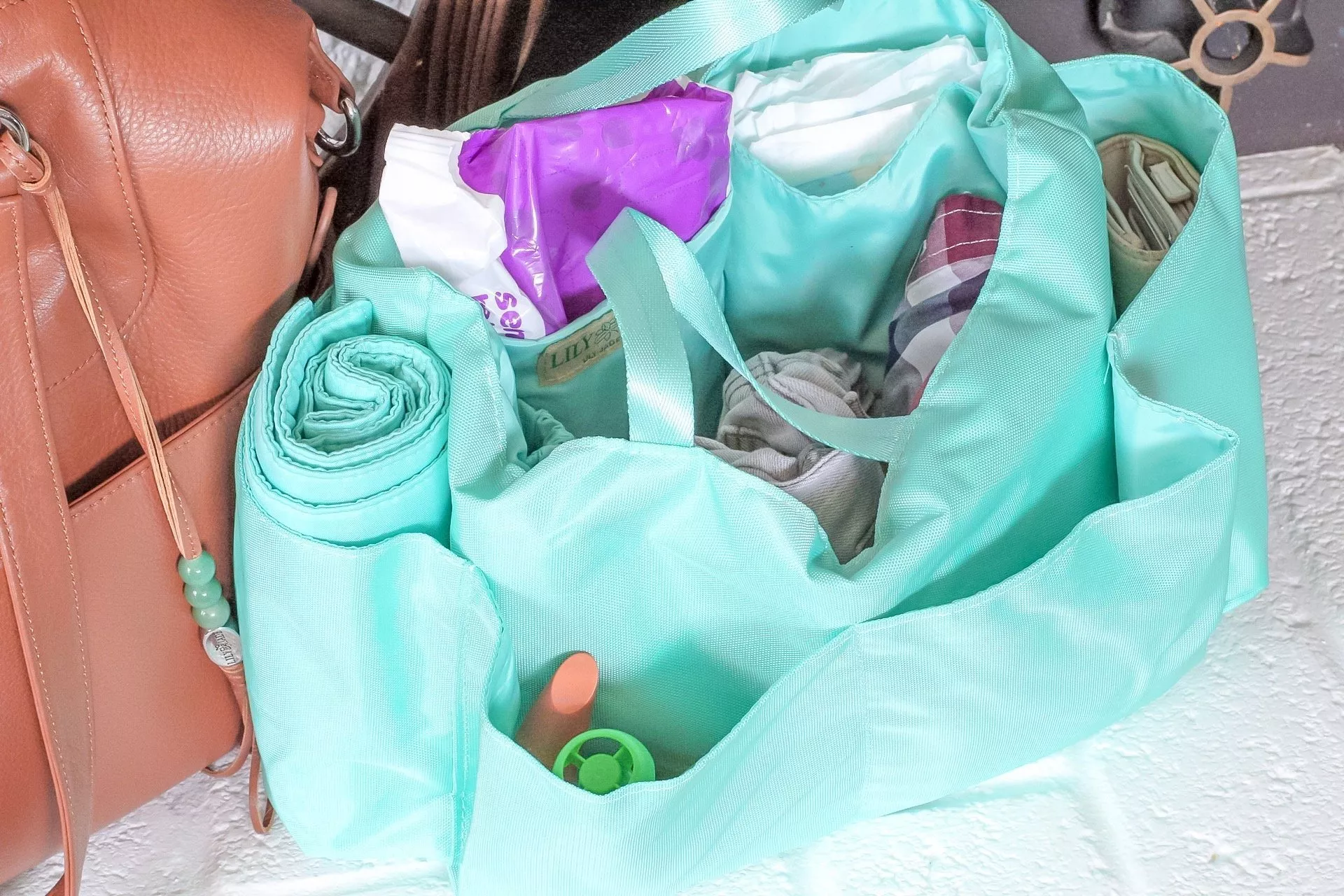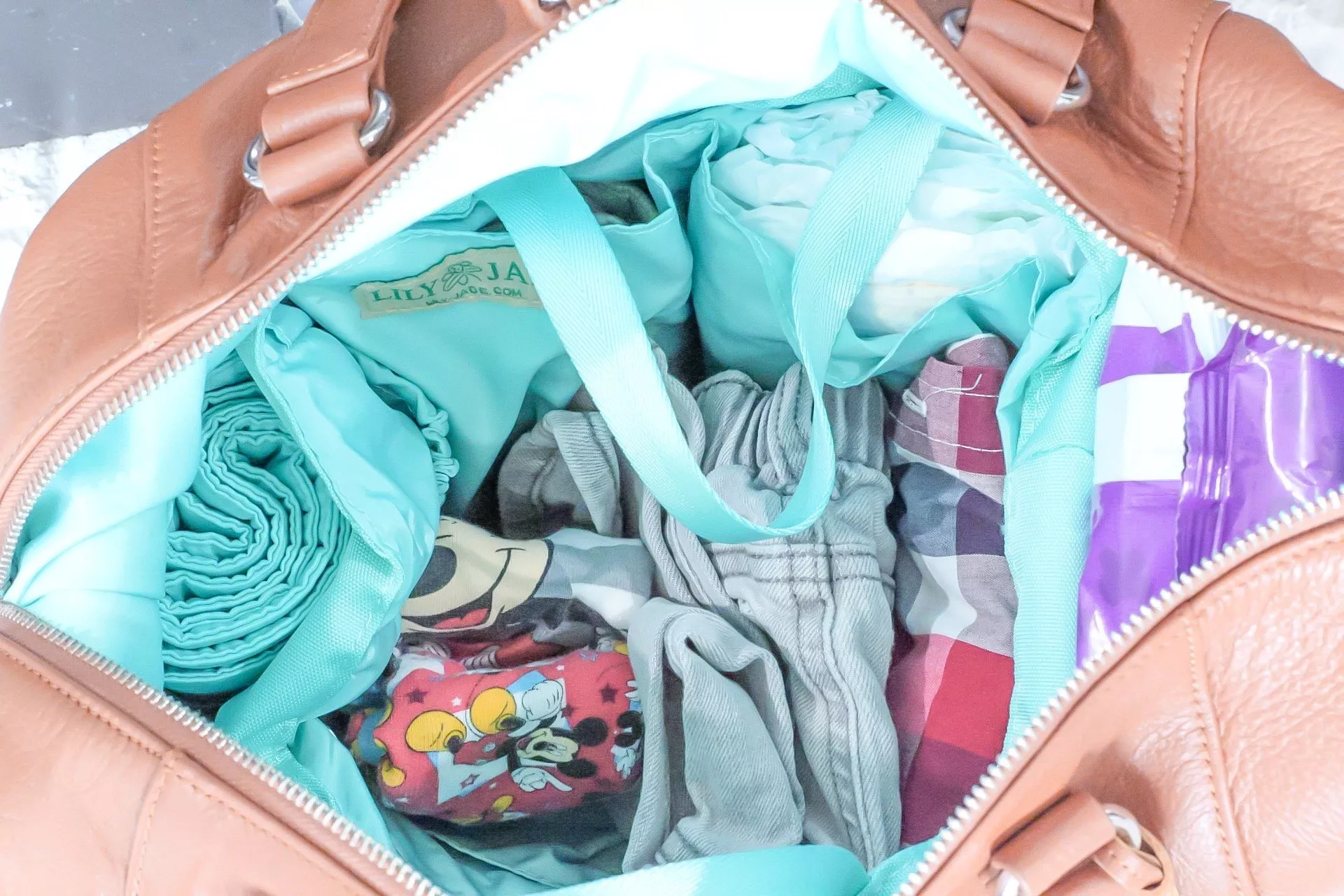 I'm able to store Jax's clothes, mascara, numerous snacks for both boys, diapers, wipes, a Lily Jade changing pad, my wallet, and a few extra toys to keep my toddler entertained in my Shaylee.
With both a 3-year-old and a 9-year-old who are both going through growth spurts, the extra room for snacks is great.
Key Clip

I love this interior key clip – I secure my keys on this clip so they don't get travel to the bottom of the bag!
It's just another way my Lily Jade bag keeps me organized and hassle-free.
Changing Pad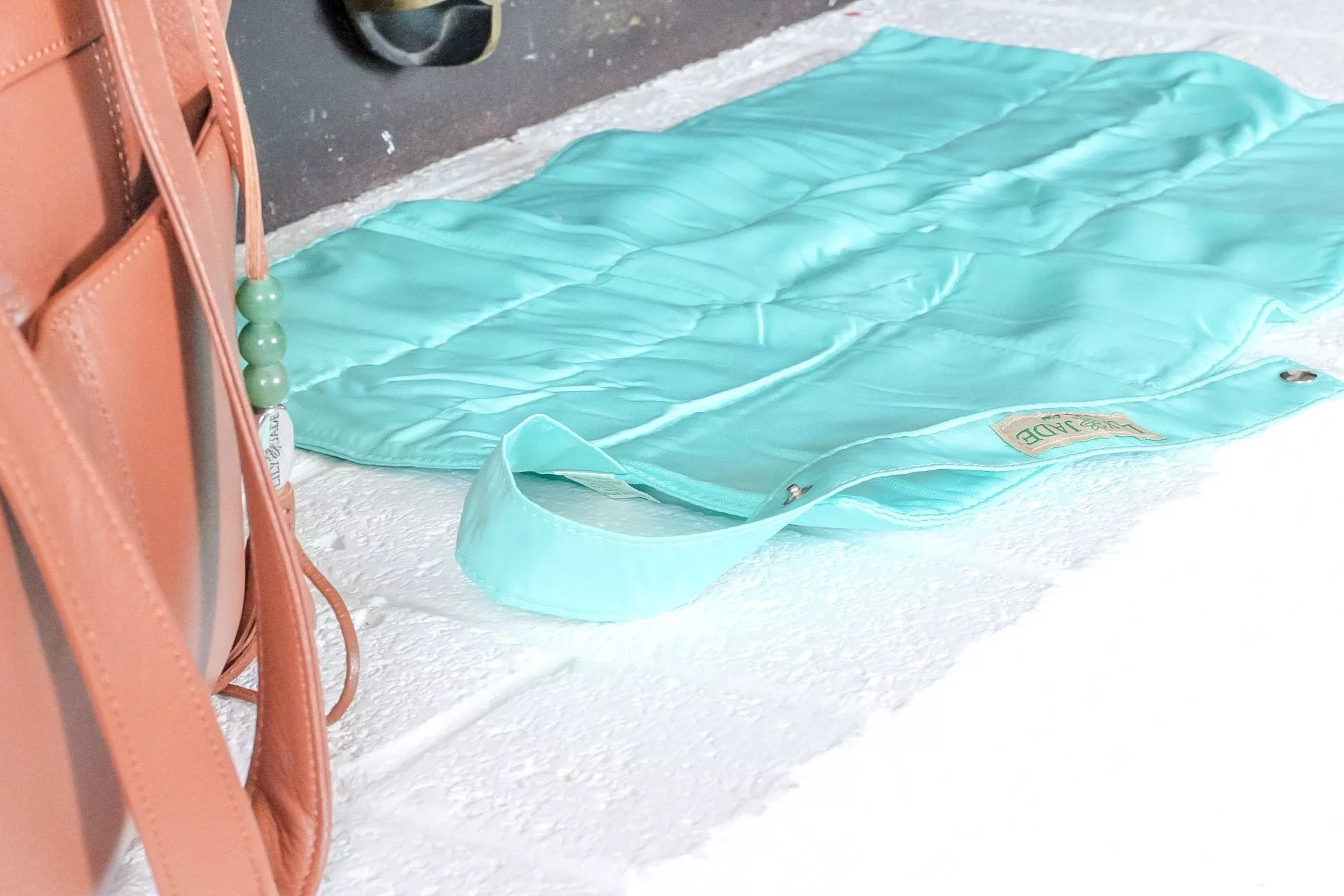 You May Also Like: Lily Jade Caroline Bag Review + C-Section Checklist
Also included with every Lily Jade diaper bag is a beautiful jade changing pad.
This soft and cushiony pad is great to use in public restrooms when you need to change your baby.
Just unfold it, use, and roll it back up to stash back in your Shaylee.
Adjustable Extra-Long Strap
You can use the extra-long strap that comes with your Lily Jade bag to transform it into either a messenger bag or a backpack-style bag.
Here's a video from Lily Jade that shows how to turn your beautiful leather bag into a backpack diaper bag:
Simply fold
the long backpack strap
in half, slide the loop at the middle through the top D-hook.
Pass both strap ends through the loop, and pull tight. Flip the front of the 'knot' you've made.
Now, clip each end clasp onto the hooks at the bottom corners of your bag, and you're ready to wear your Lily Jade Shaylee diaper bag backpack style!
Wearability
This bag is so comfortable! Wear it as a messenger bag, shoulder tote, or as a backpack.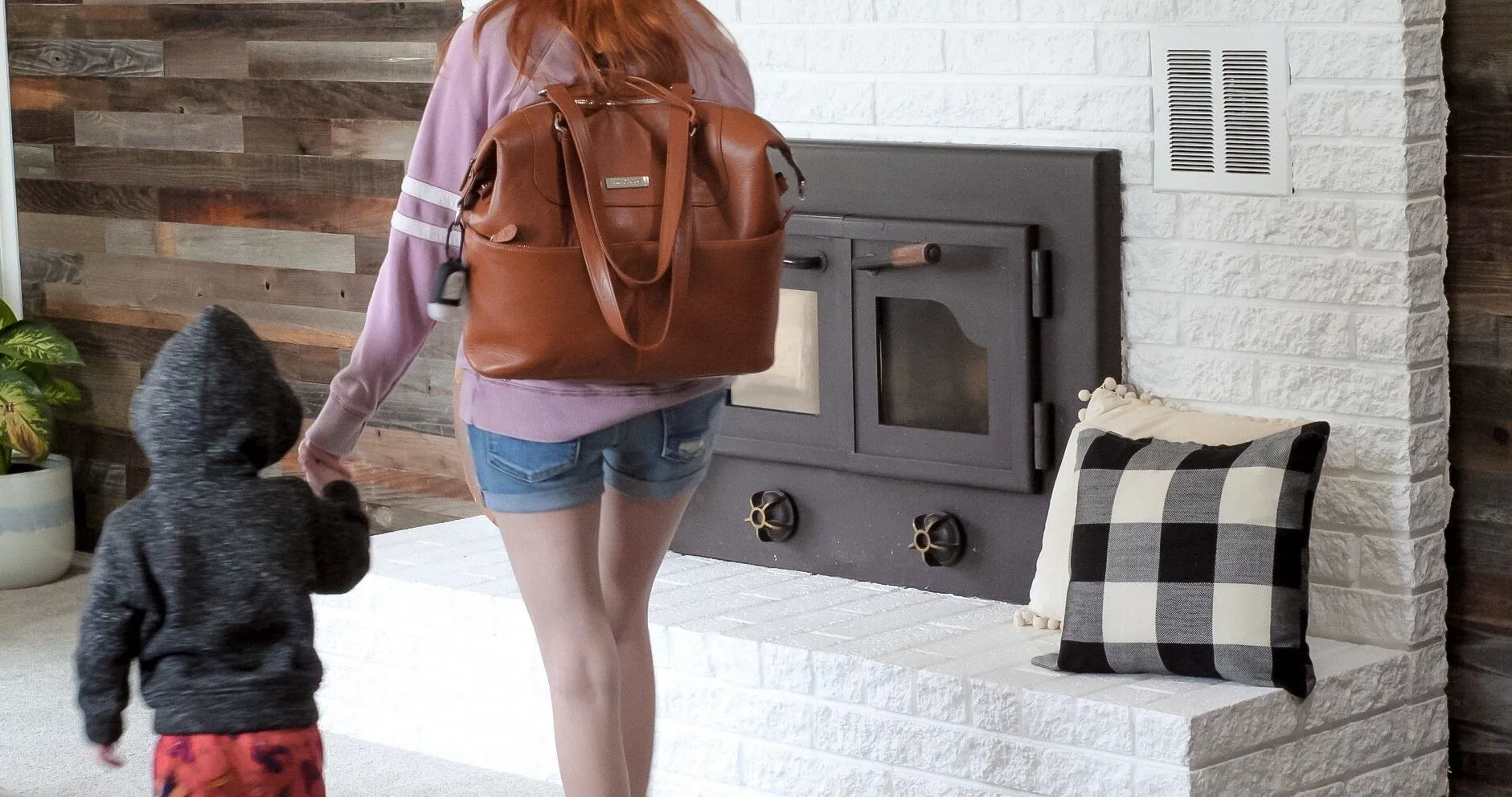 For me personally, I love wearing my Shaylee like a backpack.
Wearing my Shaylee with the tote handles is just as comfortable, though.
Quality
Some other 'high-end' diaper bags use a sand and stamp method to make their leather bags look and seem soft and to be of higher quality.
This helps them sell lower-grade leather for higher prices.
Lily Jade doesn't skimp on quality when it comes to their leather – they tumble their full-grain leather to bring out its natural texture!
They also tuck in the leather on their bag's handles, straps, and pocket edges so that you don't have edge paint that will wear and crack over time.
Reinforced stitching ensures this bag will last!
That's a great feeling to have when you know that you'll be using this bag for years and years to come.
Cost
Price range: $$$
When you have a baby or a young family, cost can be a huge factor.
No one gets that more than I do.
I'm always trying to figure out a way to do things on the cheap so my family and I can live better.
But if I added up all the money over the years that I've spent on other diaper bags, I could pay for this bag twice over.
Lily Jade bags are made to last.
Not just a stylish diaper bag, the Shaylee has endless uses, wears, and possibilities.
They are well worth the price for the comfort, durability, and style that they offer.
They're made to get you through the early newborn days, the terrible twos and threes, and countless mom's-night-out's with your friends!
Lily Jade also backs up their bags with a 1-year warranty that you can read about here.
Payment Plans
If you're dying for a quality bag from Lily Jade but can't afford the cost upfront, Lily Jade does offer a payment plan option!
Overview – My Thoughts
I'm madly in love with this bag.
I can't recommend it enough, and can honestly say that I'm so sad to have wasted so much time, money, and closet space with my other bags.
Nothing compares to the quality, durability, wearability, style, and comfort that the Shaylee provides.
---
I hope this post helped you decide if the Shaylee bag is right for you! Let me know if you have any questions about the bag in the comments below.
*Post originally published April 2019, last updated December 2021.