See how we threw an amazing The Big One fishing birthday party…
---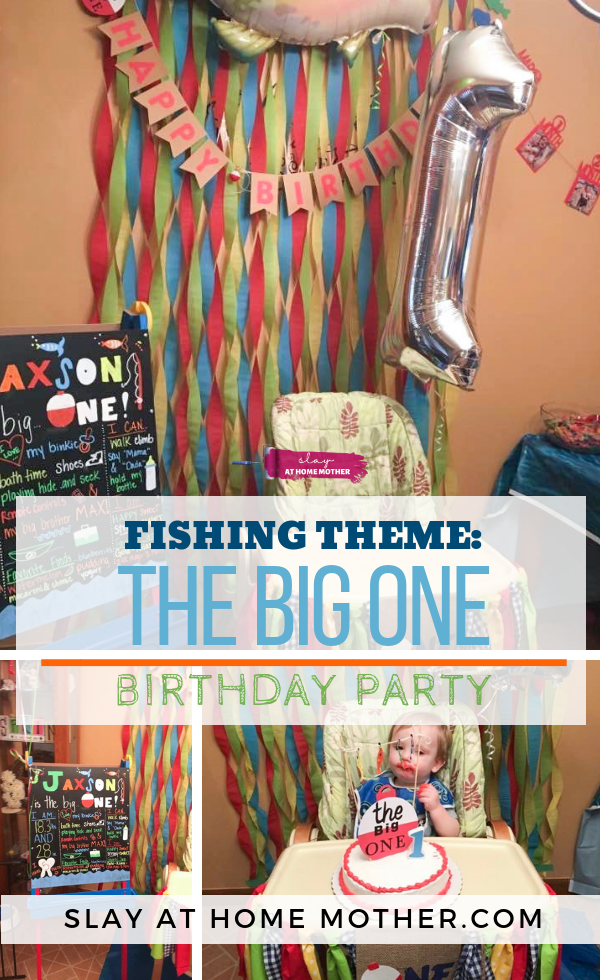 Hi friends!
Today, I'll be sharing my not so little man's 1st birthday with you – from decor and food to our choice of theme and special favors, I've got the deets…
I can't believe my youngest is already over a year old!
Jaxson turned THE BIG ONE on March 24, and we chose to do a fishing-themed birthday for him.
Before his first birthday, I spent a lot of time researching themes, figuring out costs, food, and putting together the guest list.
The first birthday is kind of a big deal, at least in our family.
If you skip a birthday here and there, it's okay, but you better be throwing your youngin' a party for their first or you'd be getting an earful…from both sides.
Haha, but really, I'm not sure I've ever met anyone who HASN'T thrown their sweet baby a first birthday (even a small get-together to celebrate).
I debated the traditional and seemingly popular Mickey Mouse theme, Where the Wild Things Are, etc. And all those themes are ADORABLE!
But, I finally found one that fit our family with amazing precision, The "Big One" Fishing Birthday theme. My husband is an avid kayak fisherman and has fished since the age of 8 or 9.
He's now in his early thirties, and you cannot find a weekend where his hands aren't holding a fishing pole.
He goes fishing after work, on weekends, and of course during holiday breaks.
Rain or shine, you can't separate that man from his favorite sport.
I discovered this fishing theme for the "BIG ONE" on Pinterest, and absolutely fell in love.
Not only did the theme fit perfectly because of how big fishing is in our family, but I loved the play on words!
I began planning about 4-5 months ahead of time, knowing that I needed to save some money and get all the details worked out.
In case you haven't picked this up in any of my previous posts, I am an EXTREME planner.
I am pretty meticulous when it comes to details.
Check out the details below and my free printable birthday checklist PDF to help you plan your own birthday party…
Fishing Birthday Decorations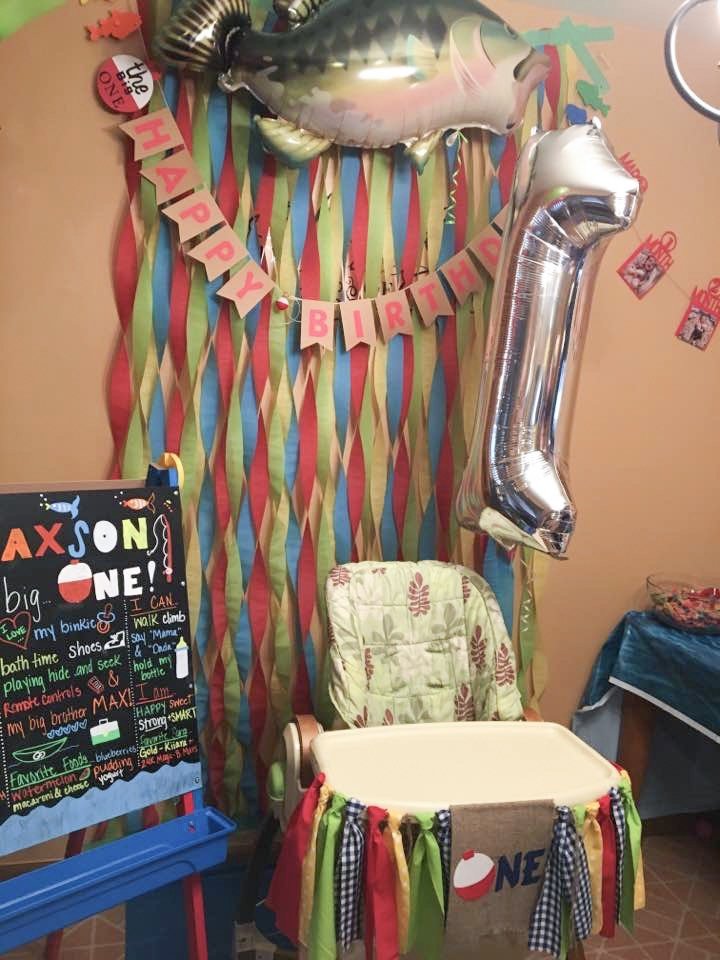 First came the streamers! I needed to find a cheap way to create a colorful, easy, and pretty backdrop.
Streamers were totally the way to go.
For this theme, we used red, green, blue, and yellow.
We had at least two 81 ft rolls of each color, and I was still left wanting more.
If you are using streamers to decorate, please give yourself more than two rolls per color, especially with consideration to using them for the backdrop.
The main colors we used were red, green, blue, and yellow!
I took a large piece of green painter's tape (I was thinking the blue tape would look obvious – you don't really see green tape too often) and laid it out across my kitchen floor, about 6 feet long.
I wish I had used a longer piece for a bigger backdrop, but it ended up working out just fine for the number of streamers I ordered from Amazon.
I actually twisted them a few times (some I twisted more than others to keep it interesting and put a little texture into the backdrop).
For balloons, we ordered three bass fish balloons from Amazon and a giant #1 balloon from Party City. I spaced them out, with one above the high chair backdrop, and two of them tied to the gift table.
For the gift table, we used these awesome water patterned table cloths, also from Amazon.
They fit our theme so perfectly – and were so cheap!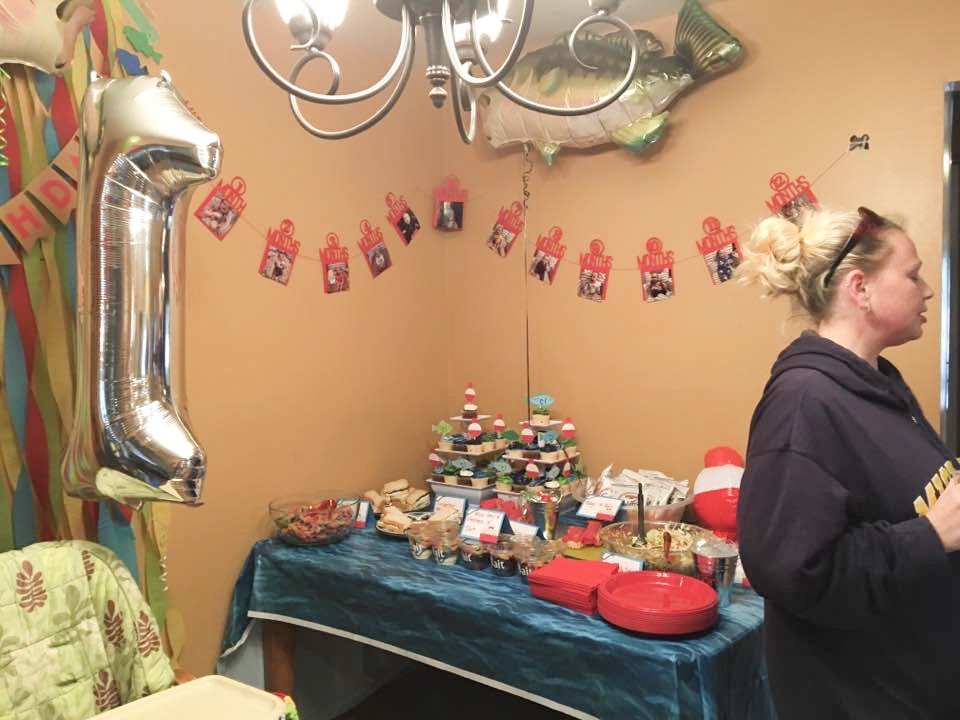 For decorations throughout the rest of the house, we mainly just placed balloons everywhere, decorated the high chair/backdrop, and printed out monthly photos of Jaxson's first year to put on our photo banner.
DIY Personalized Birthday Chalkboard
For his first birthday, I knew I wanted to have one of those adorable chalkboards that has all the details of their first year and what they're doing now!
But, I didn't like the price tag.
It would have cost me anywhere between $35.00 and $70.00 for what I wanted, theme and all. So, I got really creative!
We already have an artwork easel for the kids that has a chalkboard on one side, a whiteboard on the other, and a giant roll of paper at the very top that you can pull down on to draw on the paper.
So, I already had the chalkboard. Could I make/draw everything myself?
YES!
Challenge accepted!
I purchased some chalkboard markers from Target that turned out to be duds…they barely showed up on the black chalkboard.
Very disappointing for how awesome the reviews were online.
So, I turned to Amazon (Prime membership, anyone? LOL) to find a better set.
Here are the markers I purchased, and how it turned out!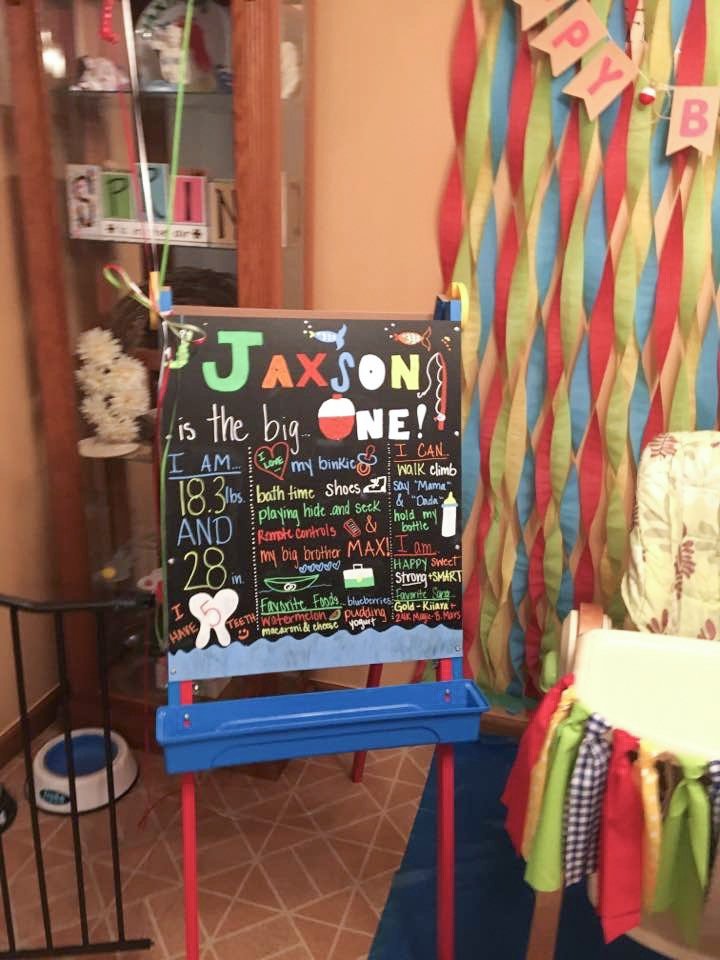 Well, I am no Picasso, and certainly not as clean as a computer.
But I think I did pretty good.
I got a LOT of compliments on it and had a lot of fun drawing everything.
I free-handed everything and included a cute little frowning worm on a hook/line, fishing pole, tackle box, fish (the poor orange guy, I forgot to color in his tail fins!), a large tooth, a boat, and some other baby-related pictures.
These markers were WAY better than the "top-rated" Target ones I bought first, and are still serving a purpose for our chalkboard/blackboard magnetic calendar on our fridge 🙂
I really love that all the colors really pop!
Fishing Birthday Game and Prize
Since our party for Jax was packed into our house (Hello cold March in Michigan), I had to be a little creative with the game.
I originally wanted to fill up our kiddie pool in the backyard with water, and go "fishing".
With the weather the way it was though, we had to figure something out indoors.
I didn't want to use the bathtub.
There were so many wrong things that could happen with trying to cram 5-7 kids into a narrow bathroom with a sliding glass door on the shower!
So, we resorted to using a metal ice bucket we had leftover in the basement from my husband's 30th birthday.
We filled it up with water, marked a single fish with a black dot on the bottom, and waited for the winner to pull up the marked fish!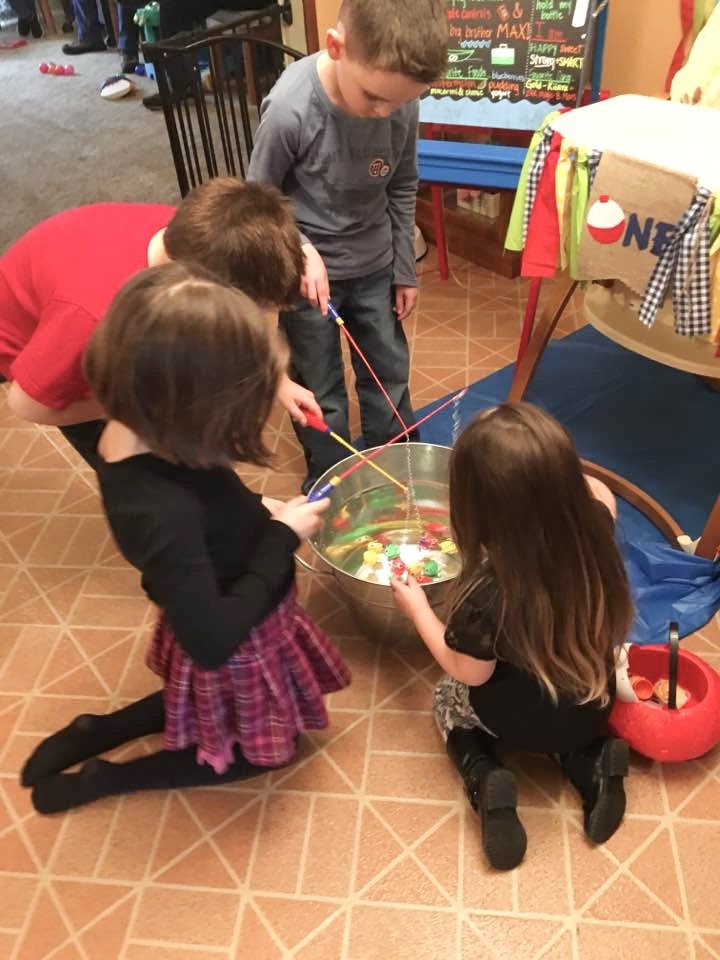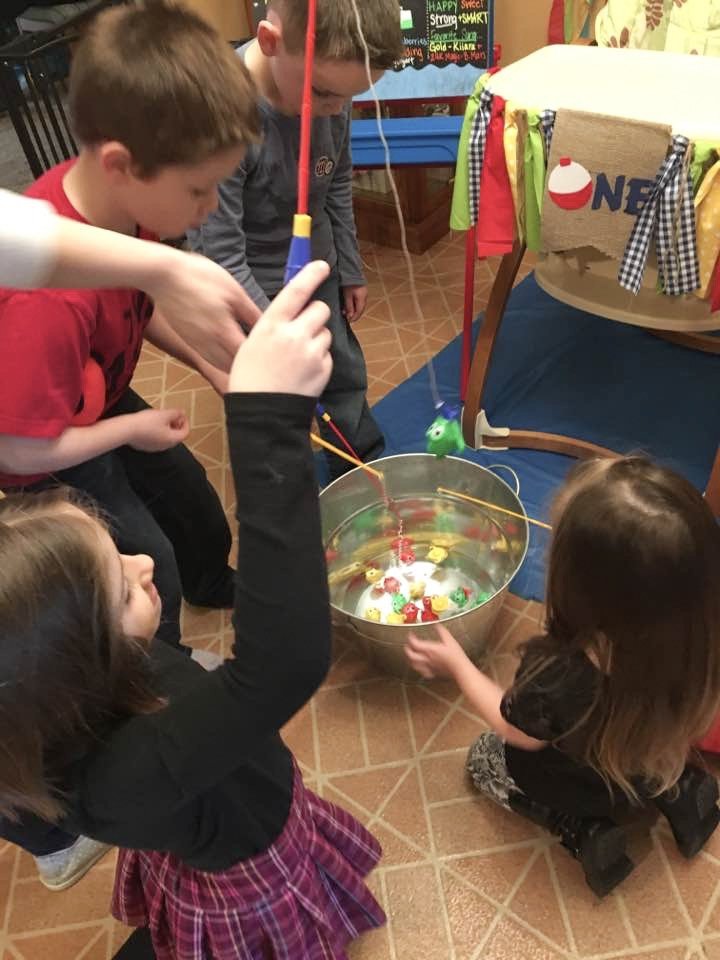 I sincerely regret NOT having taken more photos, but I can honestly say that playing hostess with a house FULL of people can keep you pretty busy!
For the game, we really wanted something cheap and easy to set up and have the kids entertain themselves with.
Fishing Birthday Food And Drinks
For drinks, we had two drink dispensers – one was for "Pond water" and the other was "Lake Water".
We also served "Freshwater" (bottles of water).
The Pond Punch was a mix of frozen lemonade, sprite, and green Hawaiian Punch – it was my absolute fave (even though I hate anything green!).
Sunshine Parties Blog used a different recipe from what I can tell, but I'm guessing hers was also very good!
POND PUNCH RECIPE
Ingredients
1

can frozen lemonade

1 2-

liter

bottle of Sprite

we used a store brand lemon-lime soda!

Hawaiian Punch 128 fl. oz

Green Berry Rush
Instructions
Mix together in large drink dispenser 20-30 minutes before the start of the party. For the drink to resemble "pond water", you want to use the green Hawaiian Punch (Green Berry Rush). For best results, use drop down ice well included with drink dispenser to keep drink chilled.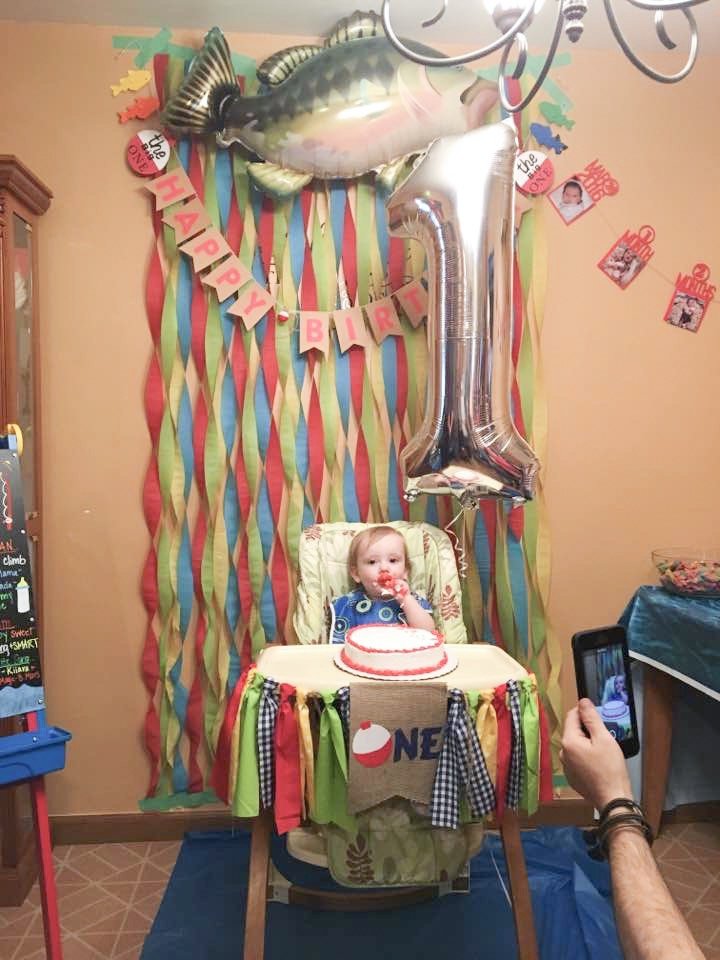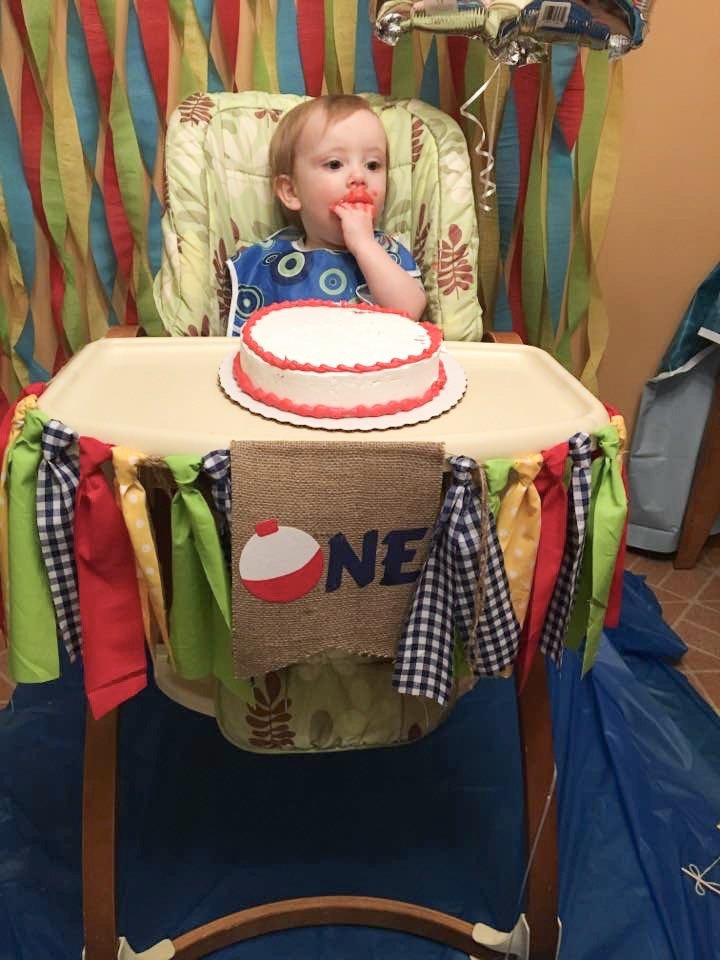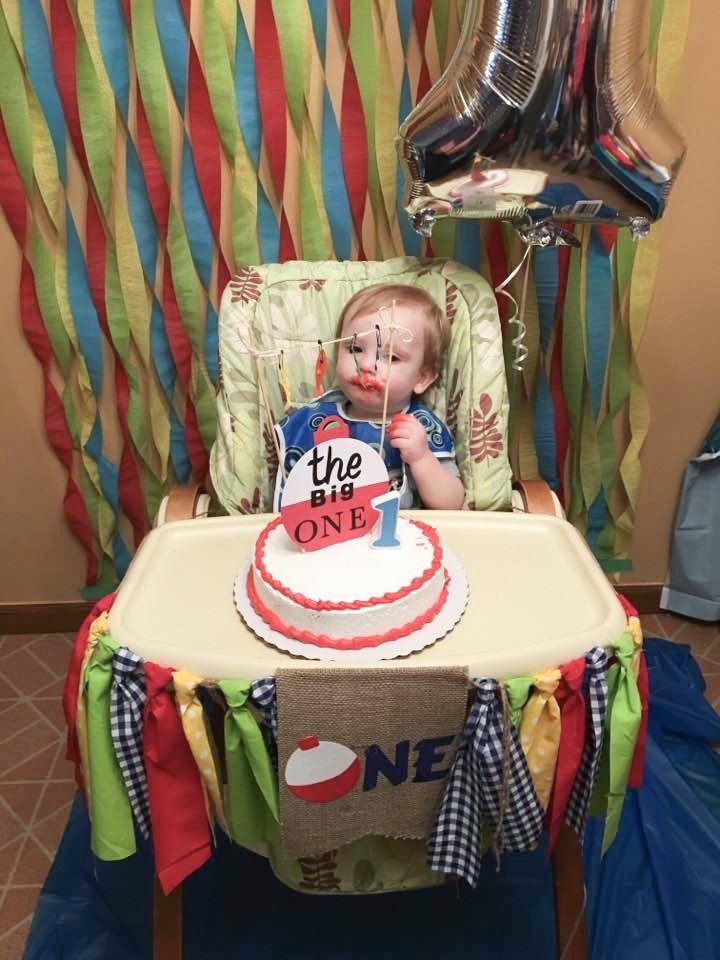 Fishing Birthday Favors
As far as the favors went, I used a credit I had with VistaPrint to get customized reusable shopping bags, which I used as the kid's favor bags. I loved that the bags were reusable, and were a great souvenir for the mom's to use for shopping trips, packing for Grandma's, etc. I still had a bunch leftover that I now use and love :).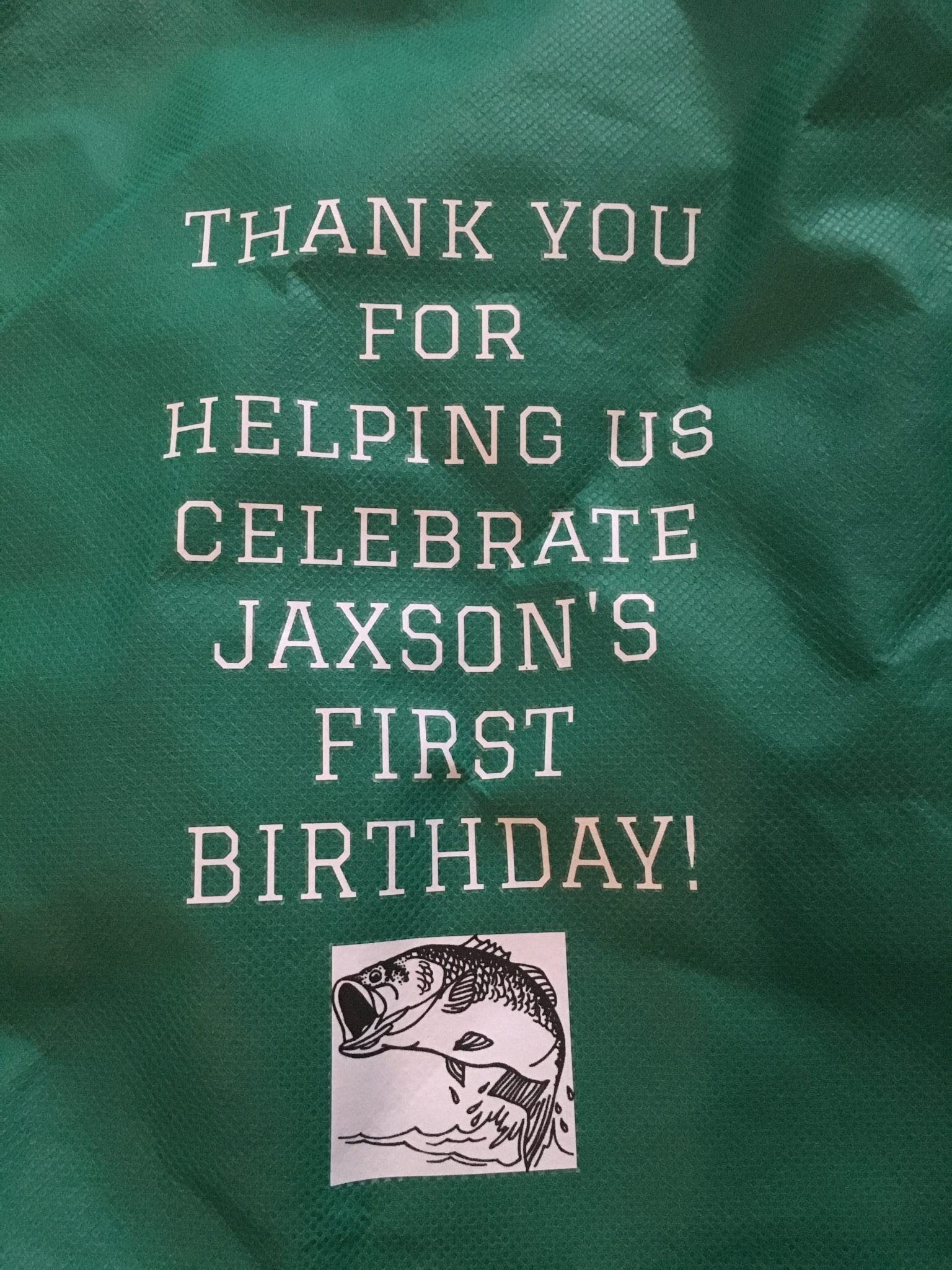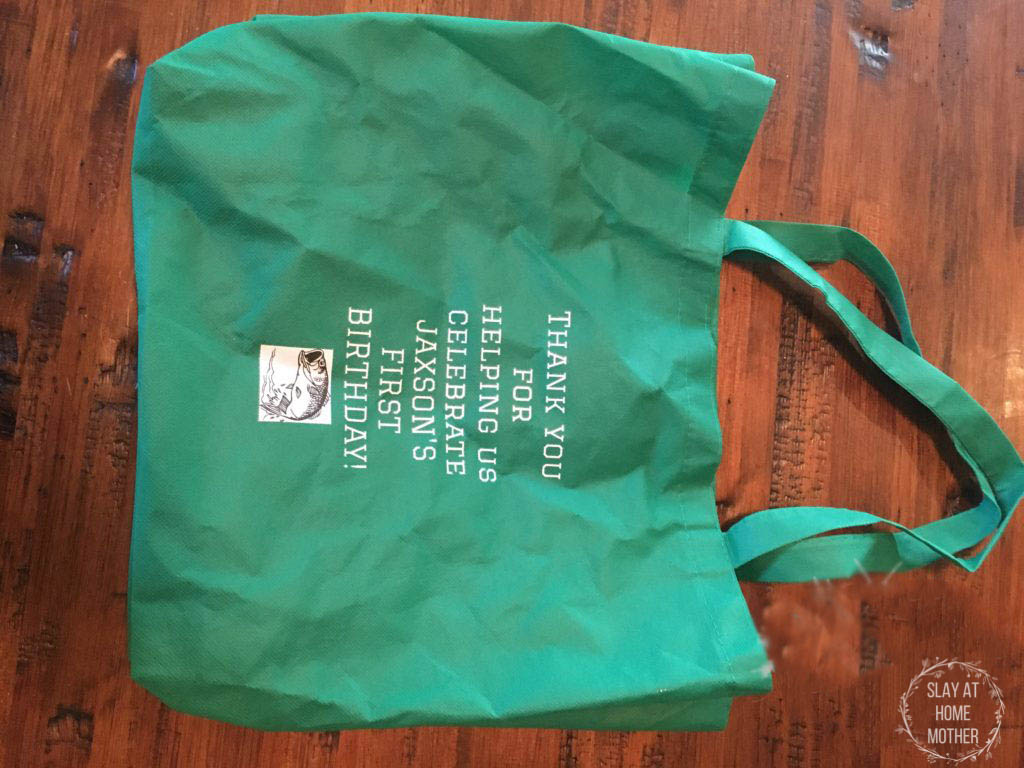 I found the cutest little inflatable bobbers that would fill up the bag and be great for summertime.
We purchased them on Amazon, but they originally came from Oriental Trading.
I don't think they actually sell them anymore, but they really should, this birthday theme is growing in popularity every day!
Along with the bobbers, we stocked the bags with bubble wands, water beads, bags of goldfish crackers, and worm soaps!
I found a seller on Etsy that makes soaps (grab them here) in different shapes, and the worms were perfect!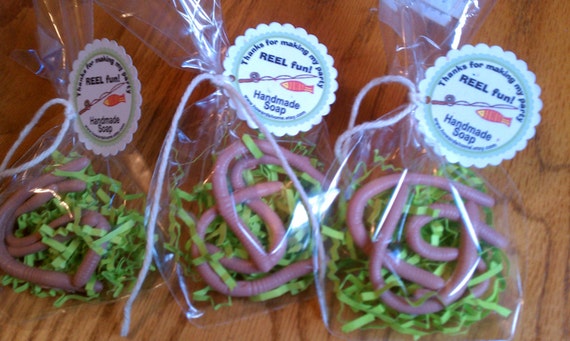 All of our guests told me how much they loved washing their hands with the worms the next day!
Aren't they ADORABLE! I can't handle how cute they are. I just can't.
Jaxson's party turned out GREAT! My family was able to come up from down south, and we had a lot of loved ones there to celebrate with us.
My husband and I felt truly blessed to be able to throw him a dream first birthday party, and we really enjoyed every minute.
You may also like: Jaxson's Lumberjack Bash
*Post originally published June 2017, last updated October 2021.