Hi friends! You asked, so here is one of the holiday gift guides that I'm rolling out this year! If you missed it, I hosted a quick Q&A series on my Instagram where my followers could ask me anything, and I had a bunch of you guys ask if I was going to be doing gift guides this year. I figured starting with my Toddler Christmas Gift Guide would be a great way to kick off the holiday shopping season, but I have a few other guides coming out, so keep those eyes peeled (you can always subscribe to my newsletter to get them delivered straight to your inbox as well).
We are a mere 40 days away from Christmas, and only 8 days away from Black Friday – can you believe it?
For my Toddler Gift Guide, I've compiled a list of toys that are great for cause and effect, speech, sensory exploration and discovery, fine motor skills, counting, colors, and warmth 😉. Check it out below, and be sure to leave a comment with what you'll be buying for your kids this year…
As a reminder, please pay attention to age recommendations set by the manufacturer/company, and use your best judgement when purchasing toys with small parts for your child. This post also contains affiliate links, however all opinions are my own.
Wood Sorting Puzzles Toys Shape Sorter Number and Math Stacking Blocks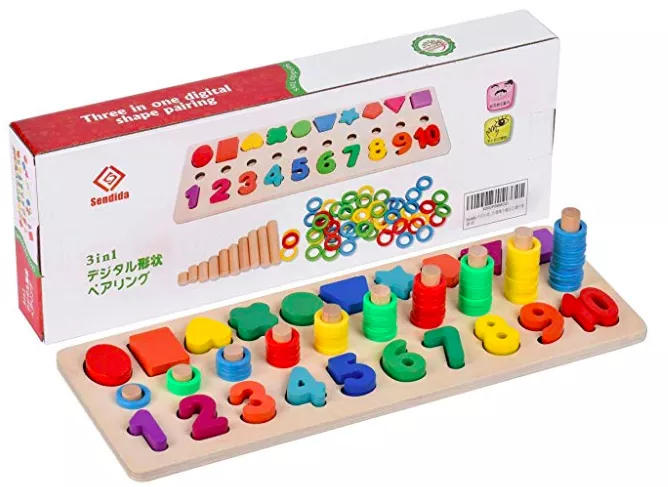 This toy, if it isn't already obvious, is great for learning shapes, colors, numbers, and fine motor skills. Your child can stack the colored rings on the wooden pegs while counting to the number below!
Lacing Beads Toy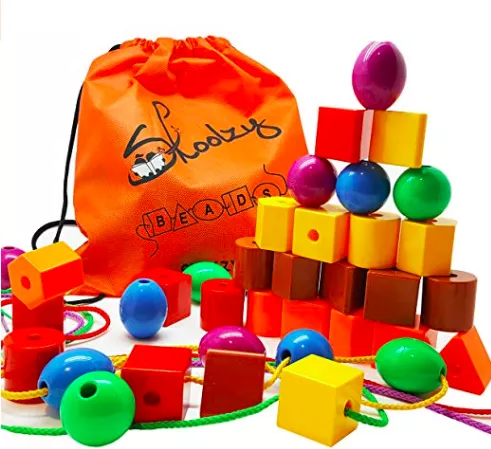 Jax and I encountered these lacing toys on a regular basis in Occupational Therapy – they are great for learning to sort, practicing fine motor skills, and patterning.
Your child can also stack the cube-shaped beads!
Magnetic Doodle Drawing Board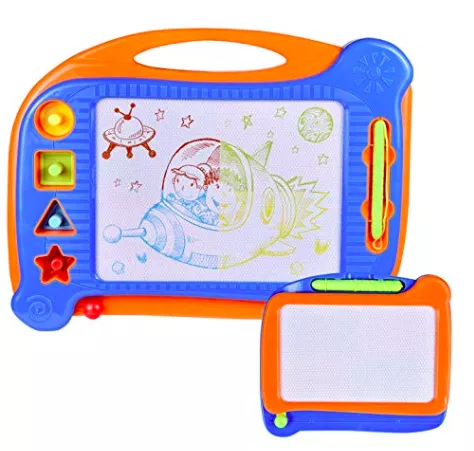 I love these boards! Not only because they were a favorite toy of mine when I was growing up, but because they are great (mess-free) tools you can introduce to help your child learn to hold a pencil/crayon and write.
Practice making straight up-and-down lines, horizontal lines (side-to-side), and circles with your child. These are the three main motions they will need to learn to write later on!
Pegboard Stacking Toddler Toy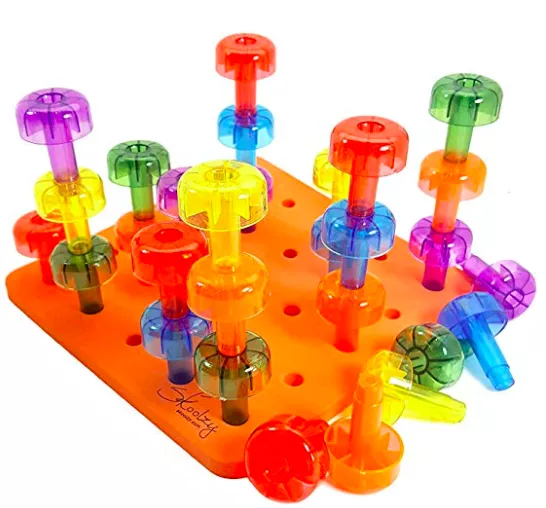 I think this would be a big hit in our home! Stacking things seems to be a favorite for our toddler, and if it's the same for your toddler then that's great news because stacking toys like these pegs helps with hand-eye coordination. They have a lesser chance of falling over, too, because of their design, so they are a great introduction to stacking play.
ORIBEL VertiPlay Tree Top Adventure Wall Toy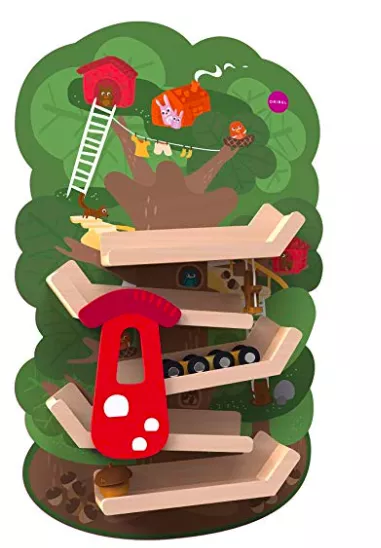 I'm really excited about wall toys this year! I recently discovered this brand that designs easy removable wall toys that you can stick, remove, and stick again. That means less mess on the floor, and less toy storage to have to worry about.
Toy Vacuum- Dyson Ball Vacuum With Real Suction

I learned that Jax (my sweet, and sometimes not-so-sweet toddler of 2.5 years) isn't the only kiddo who is obsessed with the vacuum! I recently shared on y Instagram stories some sweet videos of Jax taking over the vacuuming for me in our living room and dining room, and received so many messages on how common that is!
So I'm not totally surprised there are so many toy vacuums! This one has great reviews, and some real (gentle) suction that makes it seem like they really are helping mom and dad clean up.
Super Durable Pound A Ball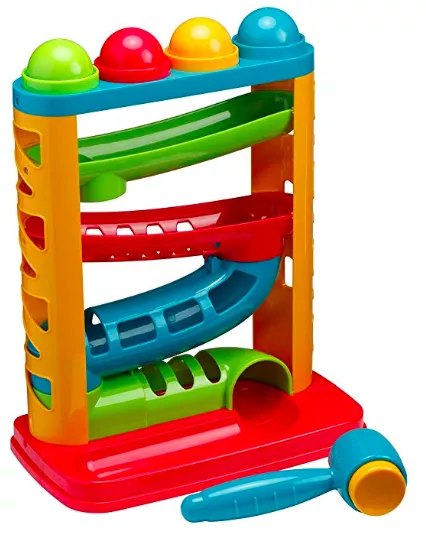 This is another toy that is great for learning cause and effect – hit the ball, and watch it go down!
This is another toy that became familiar to me through Speech Therapy and Occupational Therapy, and is a favorite for Jax.
Laugh & Learn Smart Stages Piggy Bank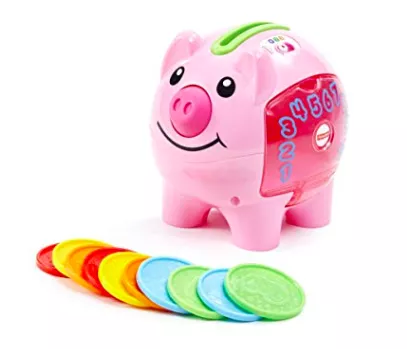 This cute little piggy bank is great for learning colors and counting!
Toddler Educational & Musical Percussion for Kids & Children Instruments Set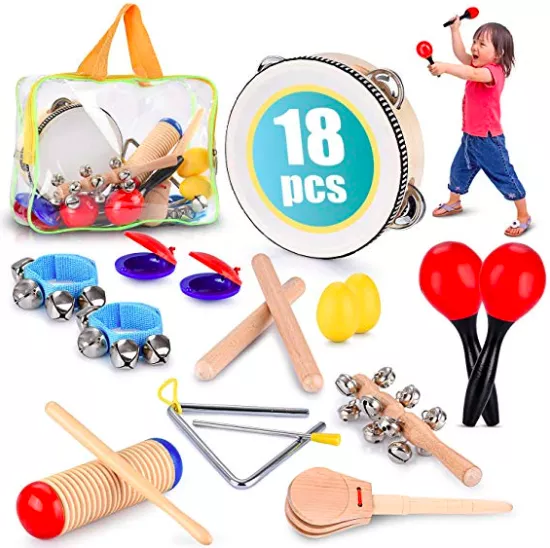 Okay, so I've linked to a similar set since Amazon isn't cooperating with generating a direct link to this set, but I'm sure you can find this one on your own!
This musical instrument set is fantastic for speech, learning colors, counting, and even sensory play (with sounds).
Kid's Doctor Kit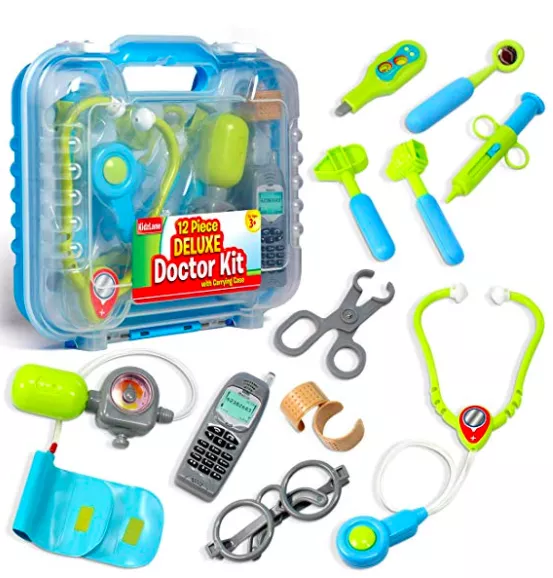 Our pediatrician recommended this one, and I think it's a great idea! Especially with toddlers that have issues with having their teeth or ears checked (because it certainly feels funny for them), this neat doctor's kit can help them explore and familiarize themselves with all of the tools a doctor uses in the exam room while having fun!
Use the stethscope on your toddler, and 'listen' to their heart! Use the phone to make an appointment or call in a RX, apply band-aids to a favorite stuffed animal or teddy bear, and let your child pretend to check your mouth and ears!
Scissor Skills Activity Book With Pair of Child-Safe Scissors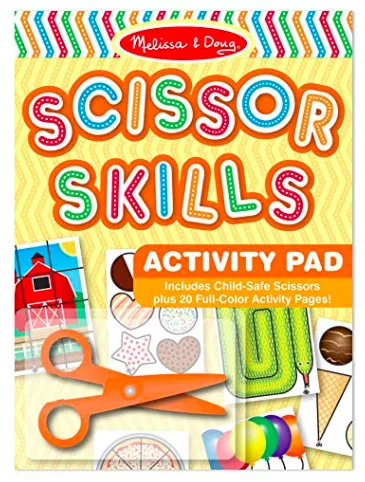 According to our Occupational Therapist, toddlers around 2-3 years old should be working on pre-cutting skills. A book/set like this with hard plastic scissors can help your little one(s) learn to cut!
Water Bead Sensory Kit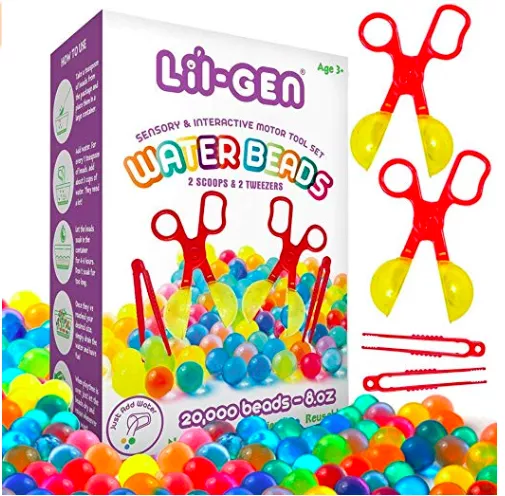 If you are looking for a really fun and easy sensory activity to do with your child – I cannot express to you the sheer awesomeness of water beads! This kit includes a set of tongs to help pick up the water beads (for fine motor skills), and some funky-looking scoop 'scissors'. Your child can practice those pre-cutting skills I was just talking about by using the same motion t open and close them scoop tongs that they would use for cutting with scissors.
Froogz – 25 Piece Suction Toy Construction Set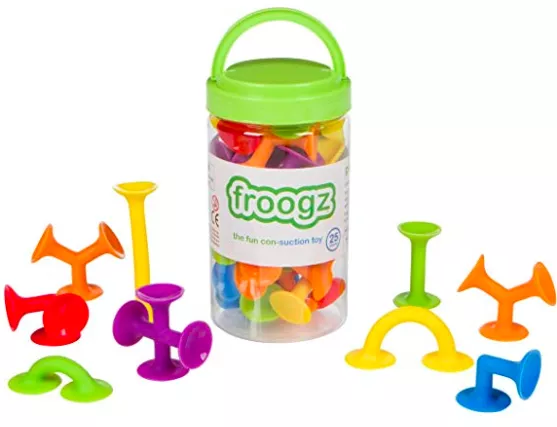 Aren't these so cool? They are bath toys that your child can use together to build all kinds of cool creations. Probably best for older toddlers!
Footless Pajamas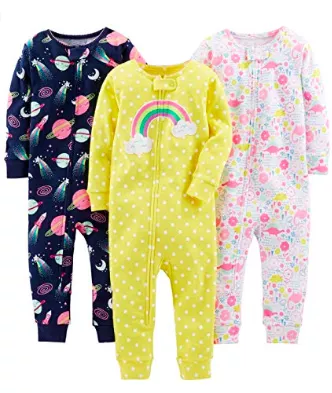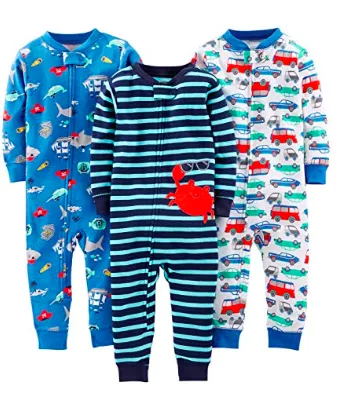 Even on chilly winter nights, it's nice to be able to poke your toes out from under the blankets to cool down just a tad, right? I catch Jax doing this on the monitor all the time! As cute as footie pajamas are, I am glad Carter's has the same fuzzy, cozy pajamas without the feet attached! Plus, I like to stretch the use of our clothing when the kids seem to grow an inch overnight, and those attached feet kind of prevent that ;).
3′ Trampoline With Support Bar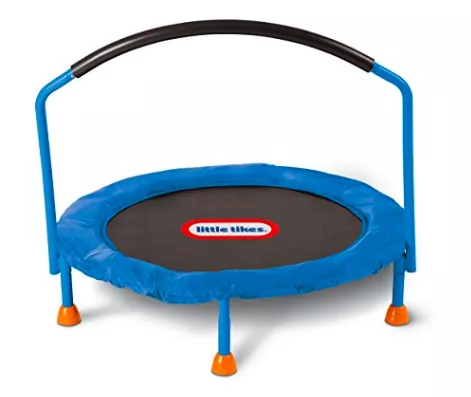 Jumping strengthens every cell in your body, and is a great workout! But it's even better for little guys and gals (and their moms) because it burns some energy – which means they might actually nap so you can get some stuff done ;).

Be sure to share this post with a toddler mom or dad you know, and comment below with what you're going to be getting your toddler this year!