Anyone else a huge coffee fan?
As a working mom of 3, I loooooove my coffee.
Add a shot of espresso, some sugar, and foam – that's my cup of joe right there!
To help celebrate National Coffee Day 2021 (which this year falls on September 29th, 2021), coffee stores nationwide are offering some amazing deals and freebies that I'll be sharing with you in today's post.
Grab your free coffee tomorrow, Wednesday 9/29/2021 at these 8 spots…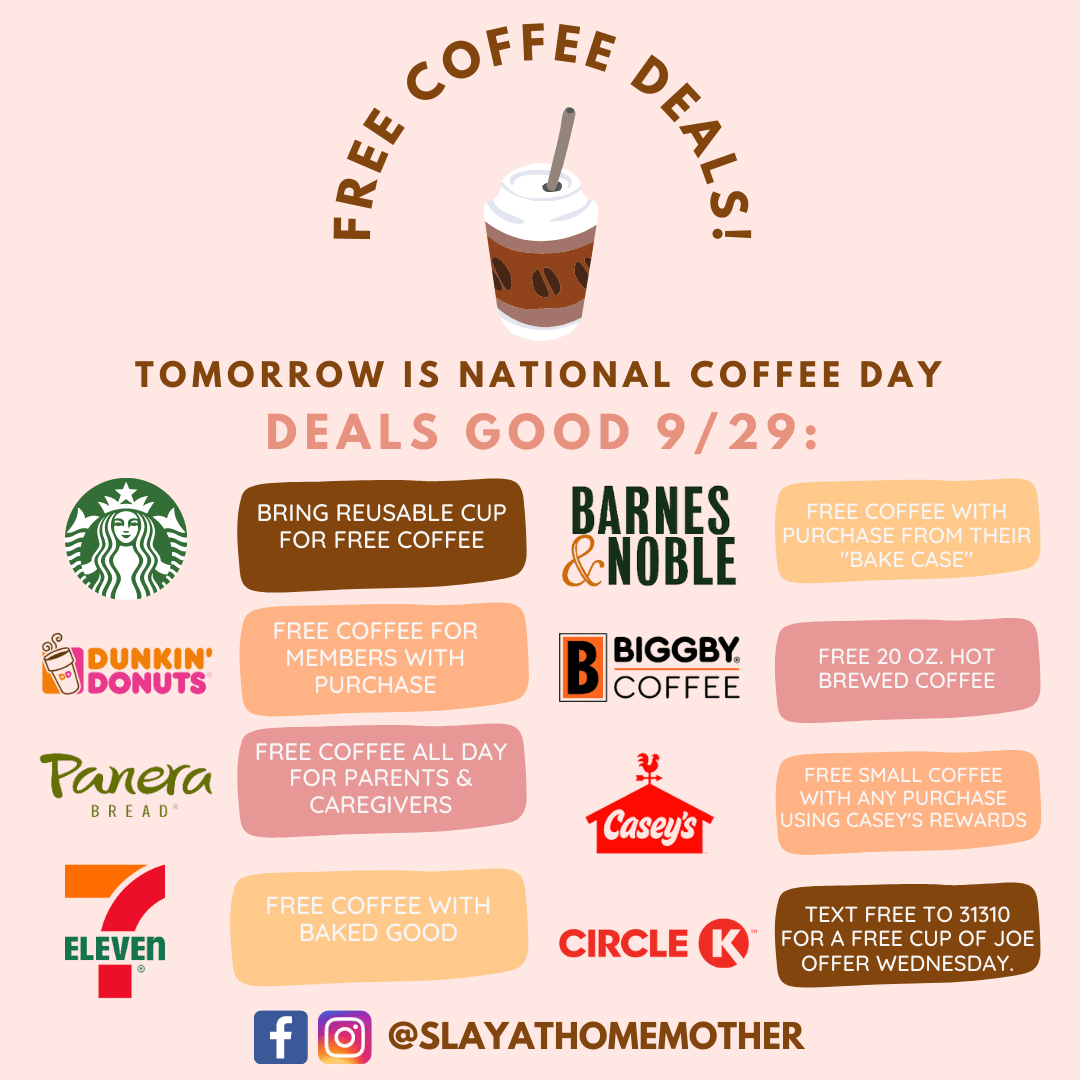 Starbucks Is Offering Free Coffee
Just bring in any reusable cup or mug for a free coffee at your local Starbucks coffee shop!
No purchase necessary.
Dunkin Donuts Is Giving A Free Coffee Away Wednesday 9/29
Free coffee for Dunkin Donuts DD Perks Members (just download their app!) with any purchase.
Panera Is Giving Parents And Caregivers Free Coffee
If you are a parent or caregiver, Panera is offering you free coffee for National Coffee Day!
No purchase necessary, just mention the deal.
7-11 Free Coffee With Baked Goods
Purchase a baked good from your local 7-11 to get your free coffee.
Barnes & Noble Offering Free Coffee
Get a free coffee this Wednesday from Barnes & Noble with the purchase of anything from their "bake case".
Biggby Coffee Giving Away Free 20 Oz. Coffee
No purchase necessary – get a free hot brewed 20 oz. coffee from Biggby's/
Casey's Offering Free Small Coffee
Download their app and use your rewards option to get your free small coffee from Casey's.
Circle K Free Coffee With A Text
Simply text FREE to 31310 to get your free coffee offer for Circle K.
Be sure to check with your favorite local coffee shops to see if they are also offering a coffee day deal!