Practical and affordable bathroom closet organization ideas to help you tidy up your bathroom this year…
---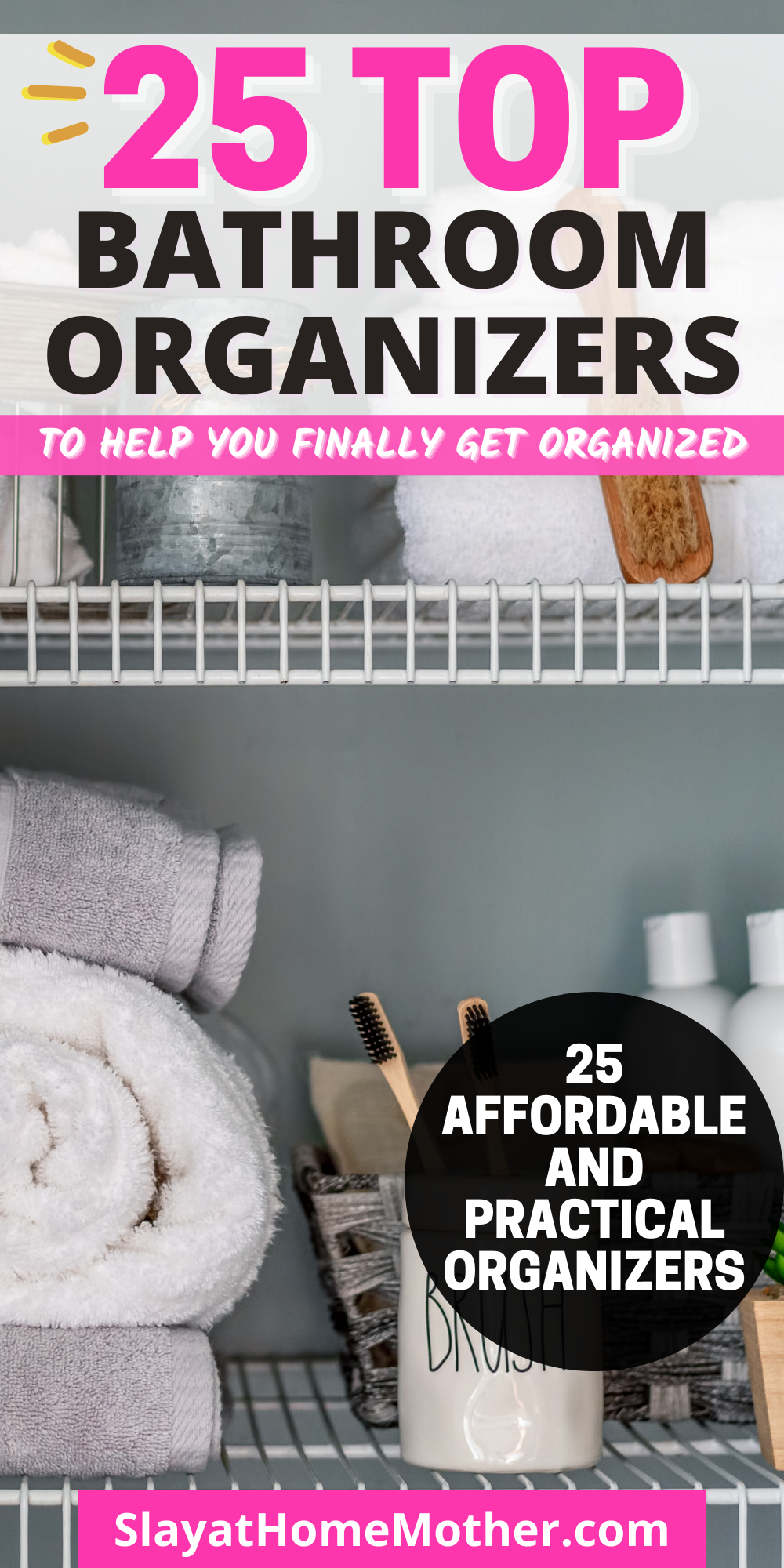 25 Bathroom Organization Must-Haves
Under Sink Organizer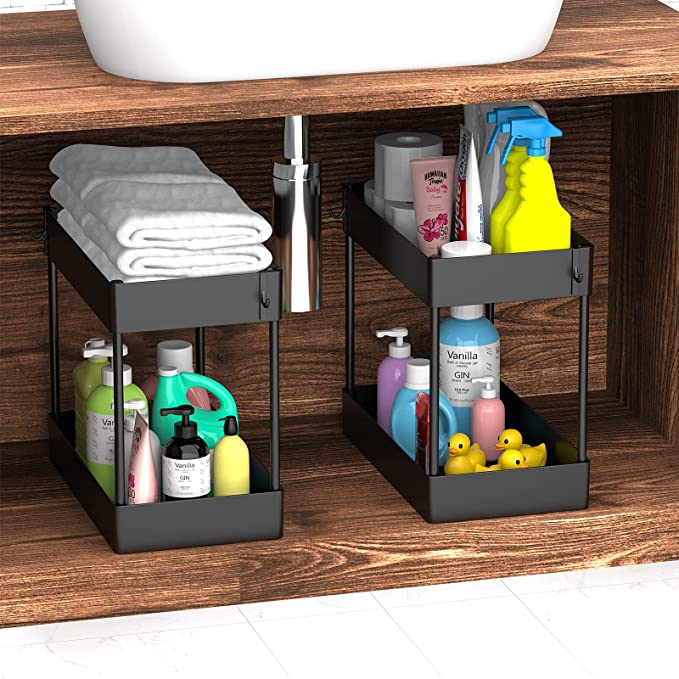 This Under the Sink Organizer is a game-changer for all the bottles, cleaning supplies, and products that hang out there!
I know that my cupboards under the sink can often be a "catch-all" place for all the random supplies, no more adding to the chaos…keep that space clean and organized making it easy to find what is living down there!
Plastic Bathroom Storage Bins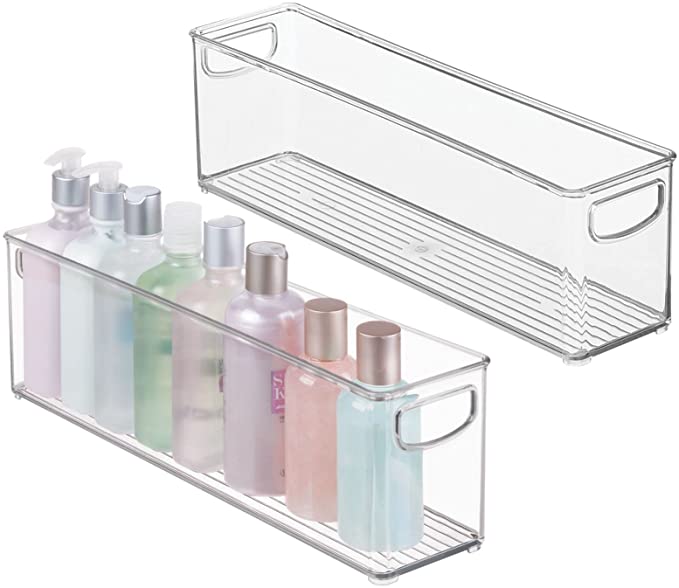 These Bathroom Organizer Bins are perfect to add to your bathroom closet because they are skinny and deep!
They are the absolute perfect size for storing all those bottles of products and fit nicely into skinny spaces.
Slim 3 Tier Storage Cart

This Slim Mobile Storage Cart comes HIGHLY rated and is the perfect addition to your storage space!
Because this cart is slim it is great to add to those narrow places that often go unused.
Stackable Cosmetic Organizer Drawers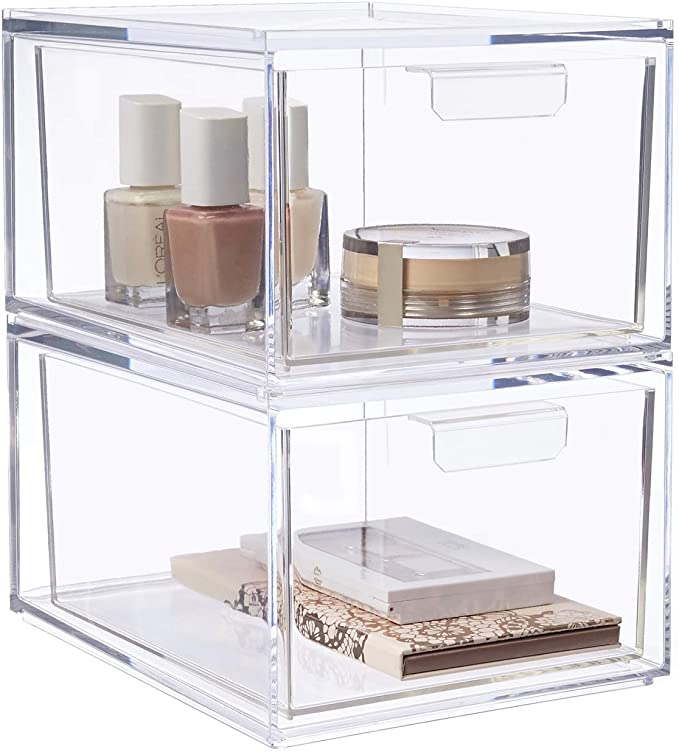 This set of 2 Stackable Cosmetic Organizer Drawers is so practical and a great way to organize your bathroom products!
These come in with almost a 5-star rating and over 19k reviews! Because they are stackable they are easy to fit into any space.
See these drawers in action with one of my recent Instagram organization reels below!
View this post on Instagram
Slide-Out Storage Baskets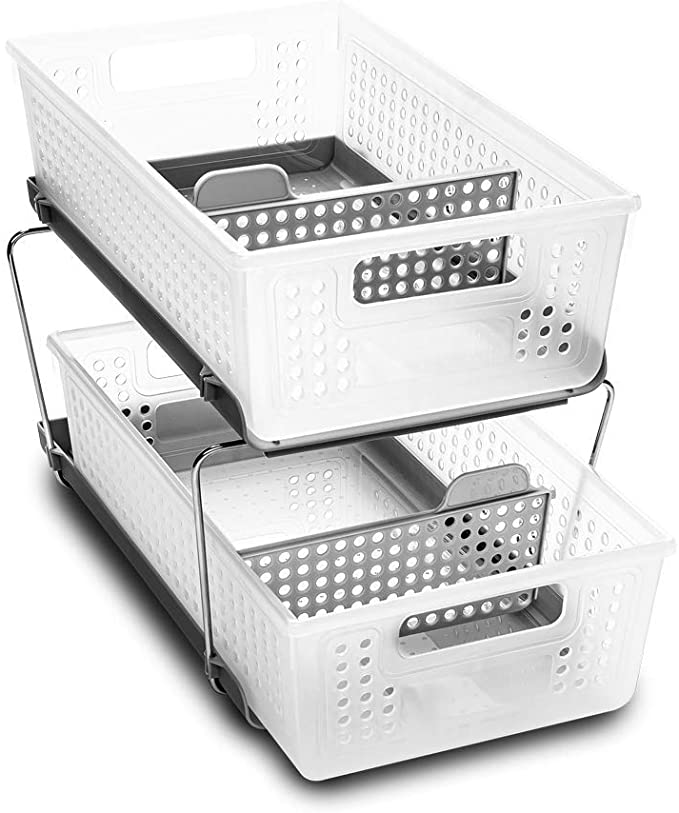 Slide-Out Storage Baskets are great for any closet organization project!
They are designed to maximize your space with 2 removable baskets and 2 adjustable dividers.
And this set comes with great reviews and is an Amazon bestseller!
Fabric Storage Bins
This set of 3 Fabric Storage Bins is perfect if you are looking for something a little more decorative for your organizing.
These will transform your space by not only cutting down on the clutter being seen but also double as great décor!
You May Also Like: Easy Bathroom Organization & Linen Closet Refresh
Shallow Plastic Organizer Bins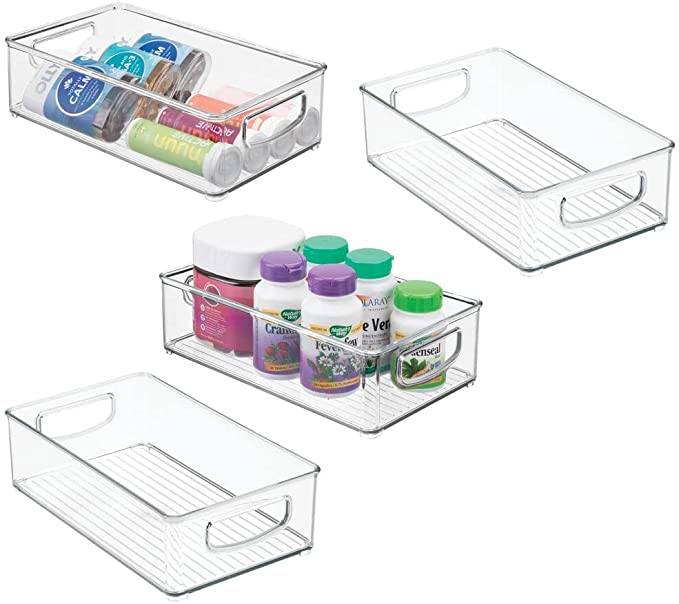 This set of Shallow Plastic Organizer Bins is a great option for your bathroom storage due to their ability to fit in either a closet, cupboard, or drawer!
Compactable in size they keep all those small, pesky items organized and are easy to pull in and out for access to your supplies.
2 Tier Stackable Sliding Baskets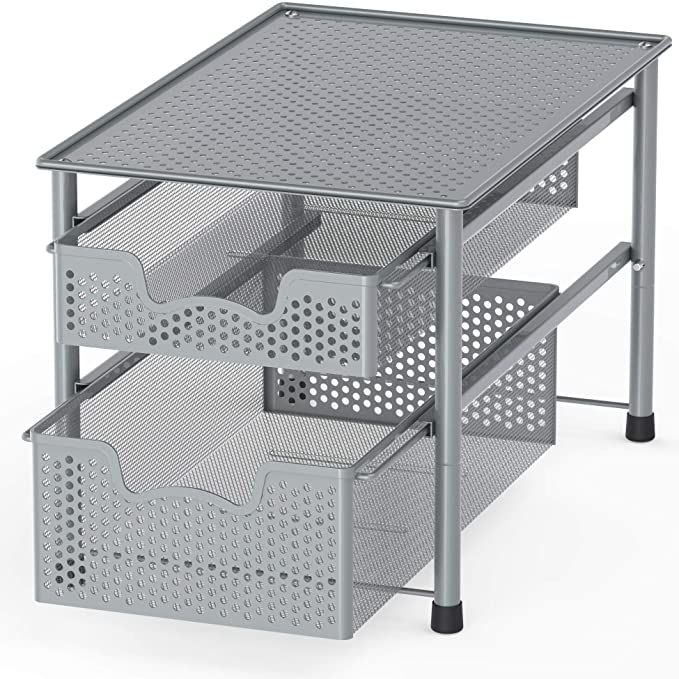 These Stackable 2 Tier Sliding Baskets are great if you have some space to fill up with higher drawers!
I love that you can easily stack these to maximize your space and store more supplies.
Towel Storage Rack

Towels can be a pesky thing to store but this Towel Storage Rack makes them easy to roll up and store on the wall or in a closet!
With six levels you can store towels for the whole family and free up some of your linen closet space.
Set of 4 Organization Canisters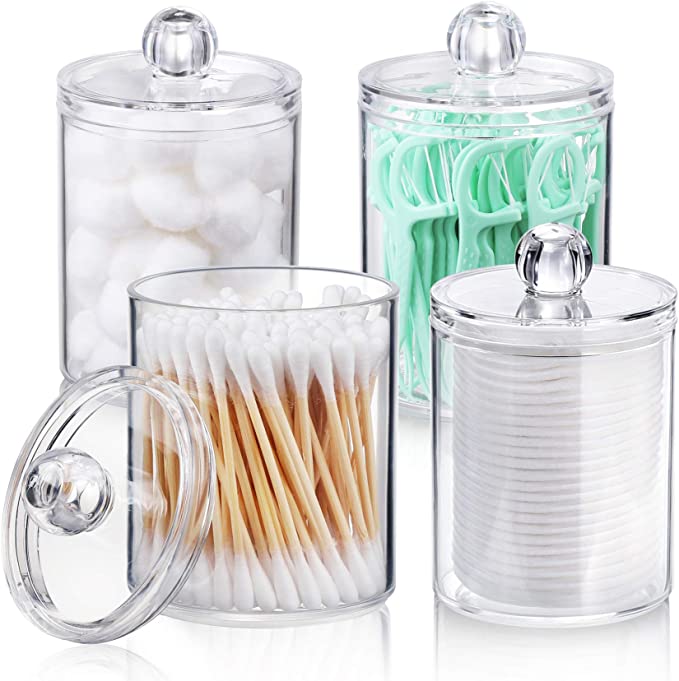 These Storage Canisters are perfect for organizing all the little things in your bathroom.
Think cotton swabs, q-tips, flossers, hair ties – these can be used for so many different things.
And I love the fact that they are clear making it easy to organize and know where your things are!
Drawer Organizer Tray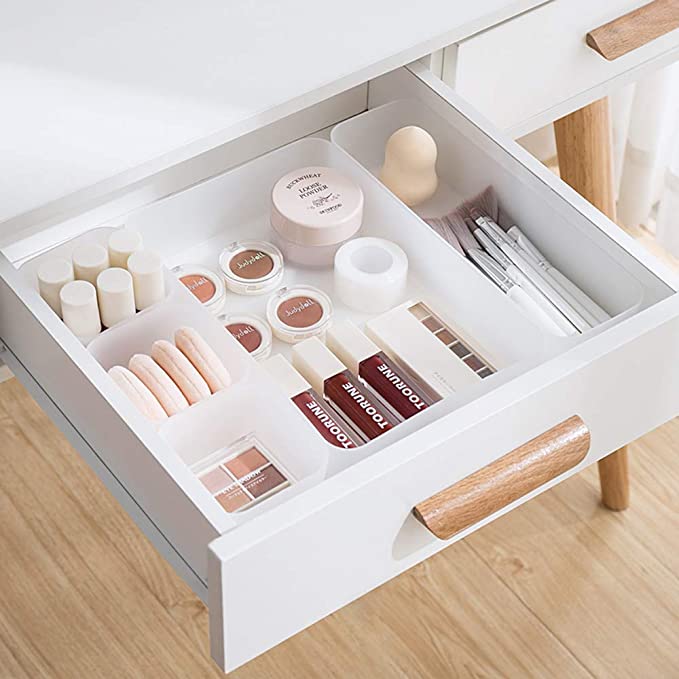 This set of Drawer Organizers will save you tons of space inside your bathroom drawers!
You can arrange them how works best with your drawer and needs.
Say goodbye to drawers that are messy and hard to find things…
Wall Mounted Bathroom Tool Organizer
This Wall Mounted Tool Organizer saves so much bathroom counter space and is so practical!
Mount this anywhere in the bathroom to have better and more efficient storage space for your hair and self-care tools.
You can also place this close to a plug so that charging and plugging in your tools is easy.
Rotating and Adjustable Cosmetic Organizer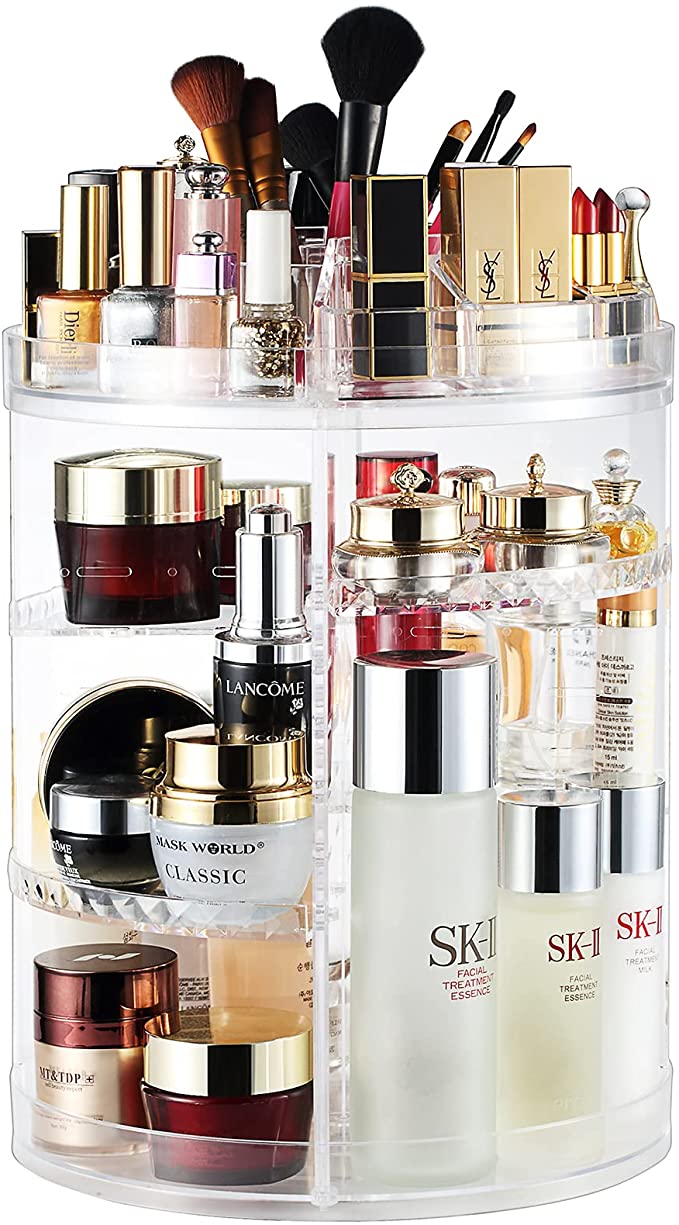 This Rotating and Adjustable Cosmetic Storage is perfect for clearing up some of your counter space but also for still having access to all of your products and cosmetics.
I love that this storage rotates and the levels can be adjusted to fit what products you need.
Shower Shelves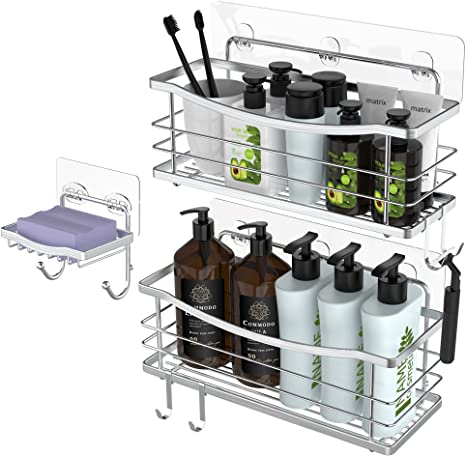 This set of 3 Shower Shelves comes HIGHLY reviewed and is so easy to install. If your shower is lacking in storage space these are a must-have!
You can install the shelves where you need them and it will free up space for you.
Bathroom Toilet Storage Baskets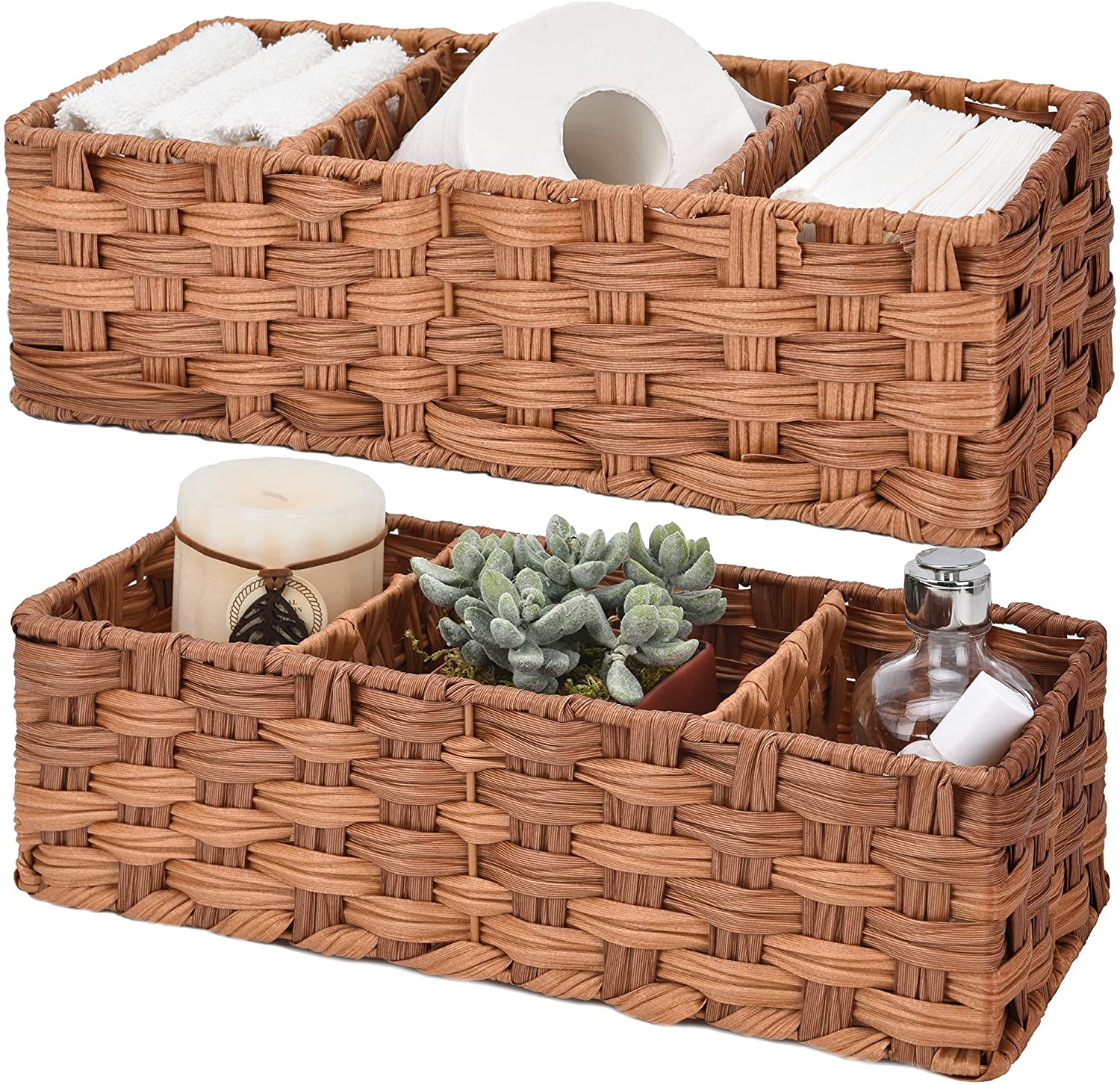 This Storage Basket fits perfectly on the back of the toilet and is a great option for storing bathroom necessities while keeping them out of the way!
An added bonus is that these baskets are so cute not just practical!
Stackable Accessory Containers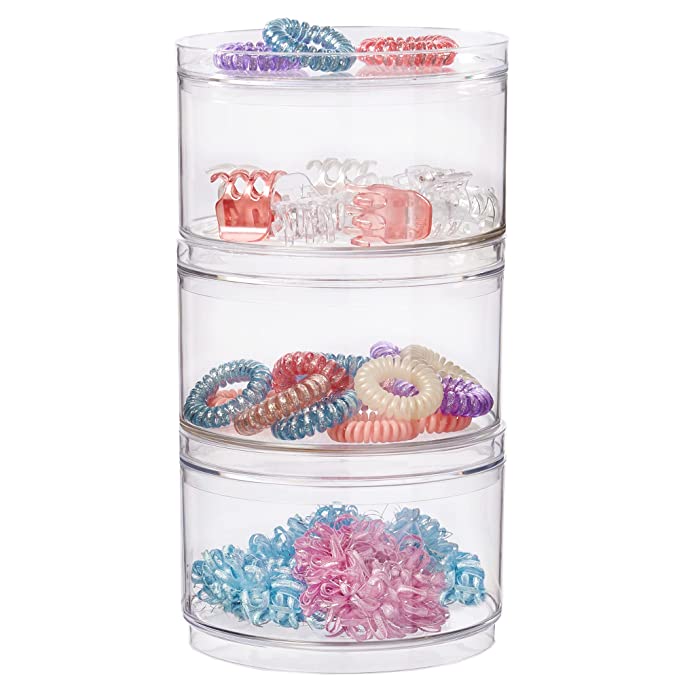 This set of 3 Stackable Accessory Containers is useful for a variety of different things!
You can use these for more than just hair accessories but free up some counter space and make finding items easier with these containers.
Adjustable Drawer Dividers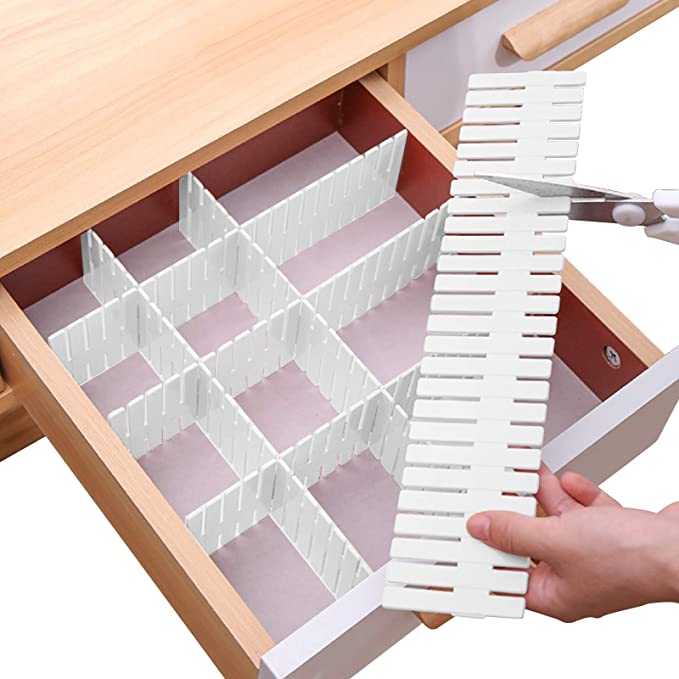 Keep your drawers tidy with these Adjustable Drawer Dividers!
These are so practical, handy, and very easy to install.
You can customize them to fit your drawer space and they will make a huge difference in your drawer organization!
Hair Tool Organizer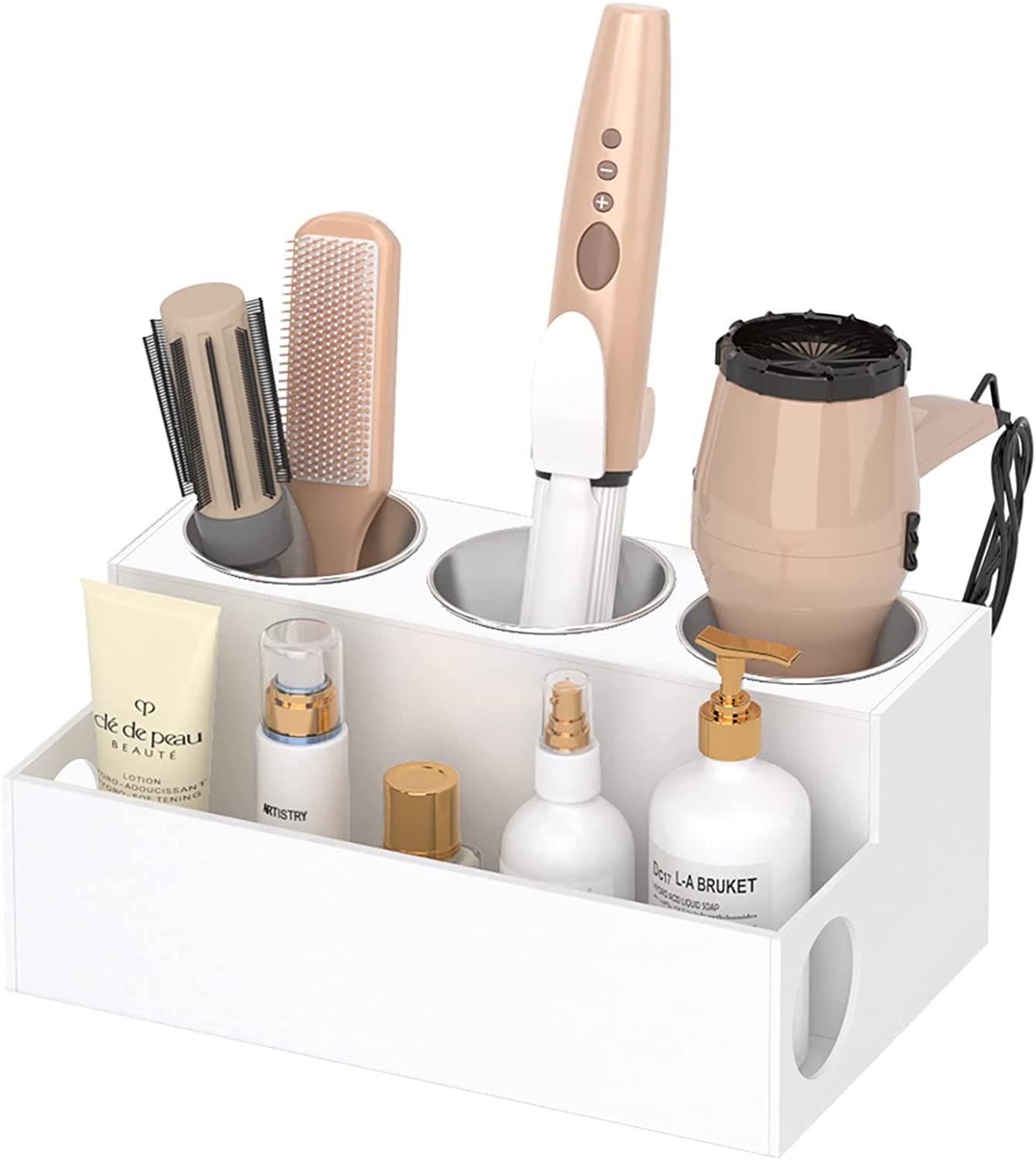 This Hair Tool Organizer is a great option especially if you have a little extra counter space to set it out on.
Hair tools can often be hard to store so having a place to easily put store them, especially while they cool can save you space and make your bathroom feel more organized.
Plastic Storage Bins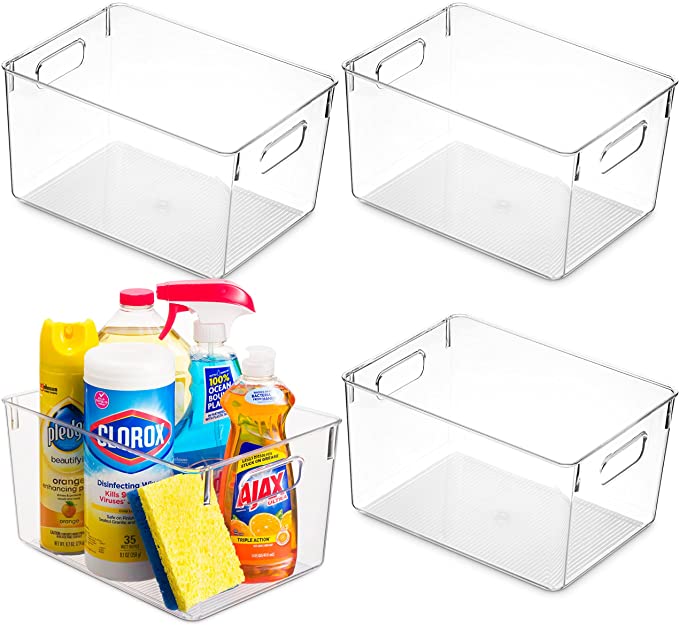 These Plastic Storage Bins are perfect for helping organize the bathroom closet or under the bathroom sink!
Since they are tall they are perfect for storing cleaning supplies, extra products, or even towels.
Bathroom Countertop Organizer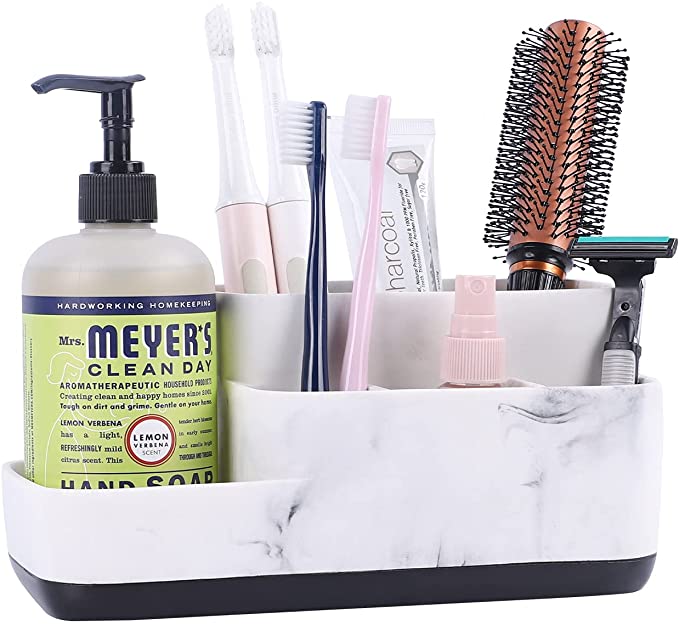 This Bathroom Countertop Organizer is the perfect container to help keep your counter organized while still having easy access to all your regular-use items!
No more having things laying around on the counter, just pop them in here to keep your counters free.
Countertop Makeup Organizer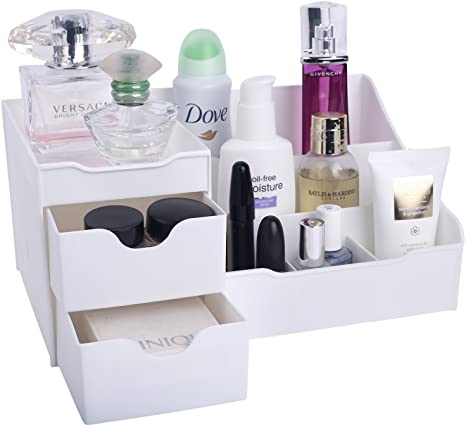 This Countertop Makeup Organizer is another great option for a countertop space saver!
The drawers on this one are so functional and this organizer can hold a variety of different items to help keep your bathroom organized.
Toilet Paper Holder with Shelf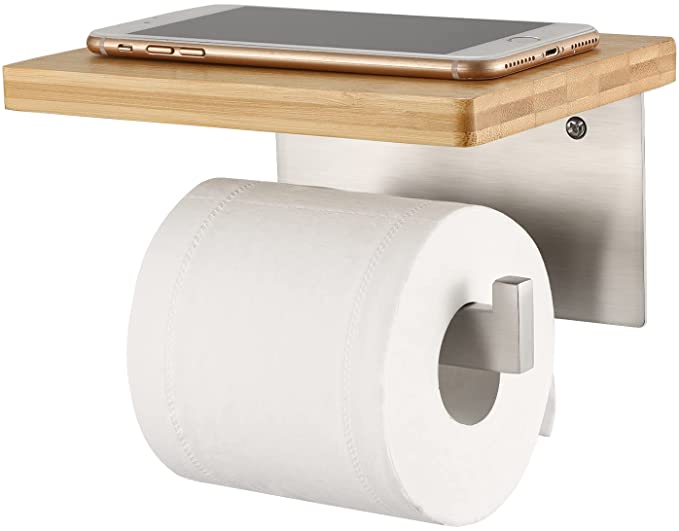 This Toilet Paper Holder with Shelf is a fun and different option for keeping the bathroom organized.
You can easily store things on the top shelf that you may need access to while on the toilet.
Over Cabinet Storage Container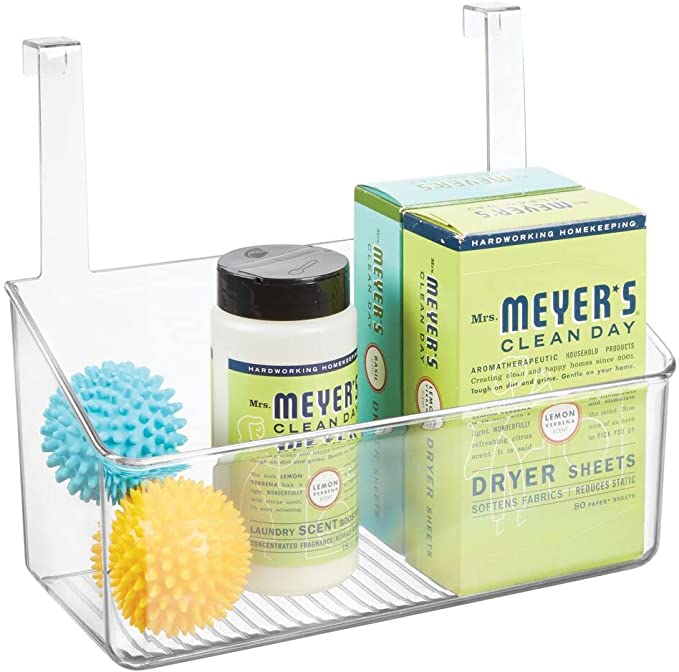 This Over the Cabinet Storage Bin is a great way to store supplies without having to sacrifice your storage space.
This bin conveniently hangs over your cabinet door keeping things out of the way but still easily accessible.
Wall Mounted Towel Swivel Rack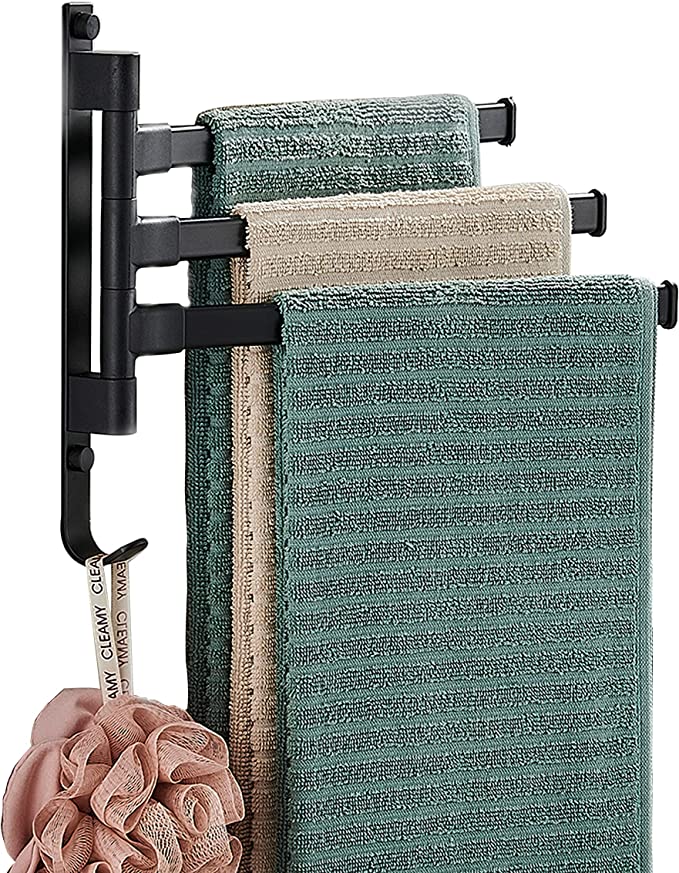 This Mounted Towel Rack is a great way to store towels and save space!
This is a must for any small bathroom to maximize your space.
Roll Out Under the Sink Caddy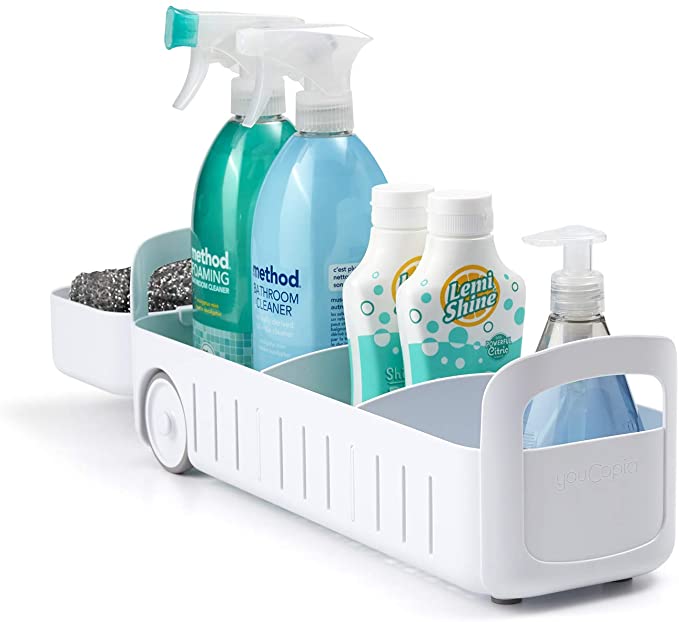 This Roll Out Under the Sink Caddy is perfect for storing cleaning supplies or bathroom products you use all at once.
The wheels make it easy to pull out from under the sink and it is the perfect size that you can pick up and take with you wherever you need to go.
And here are some of our favorite container labels for bathroom closet organizers: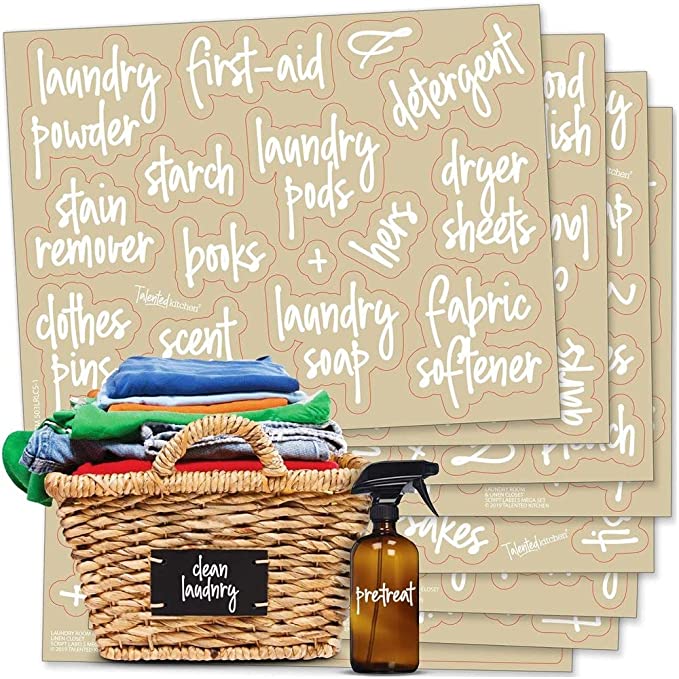 -Bathroom Jar Labels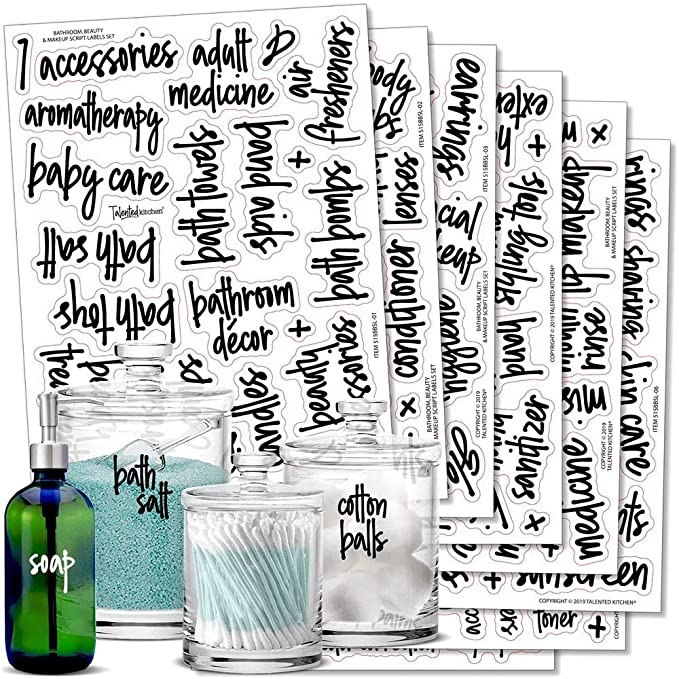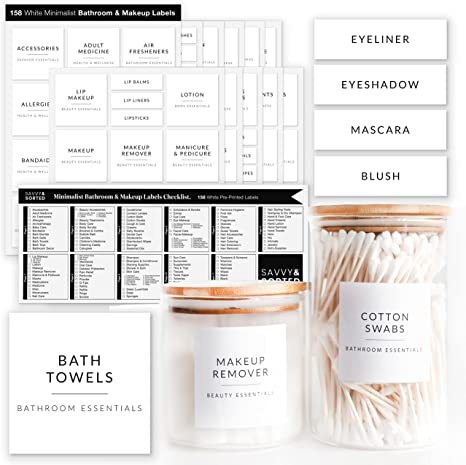 – Makeup Sticker Labels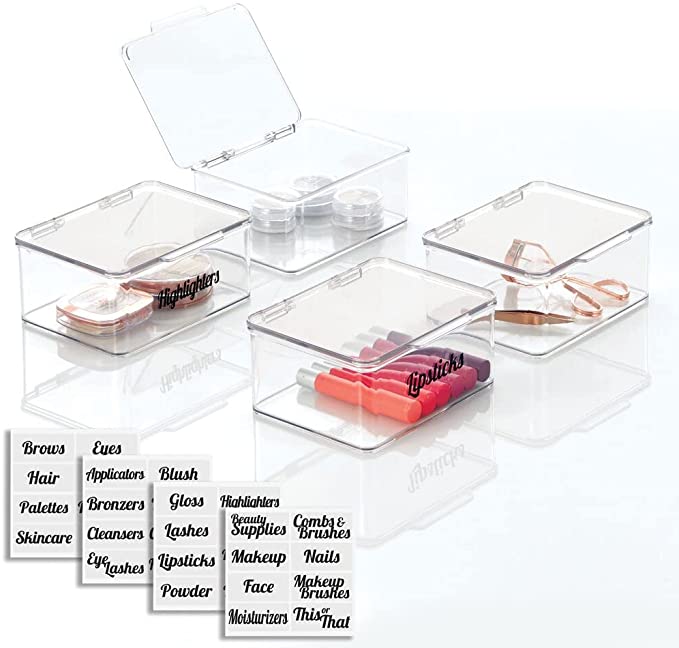 -Bathroom Organization Stickers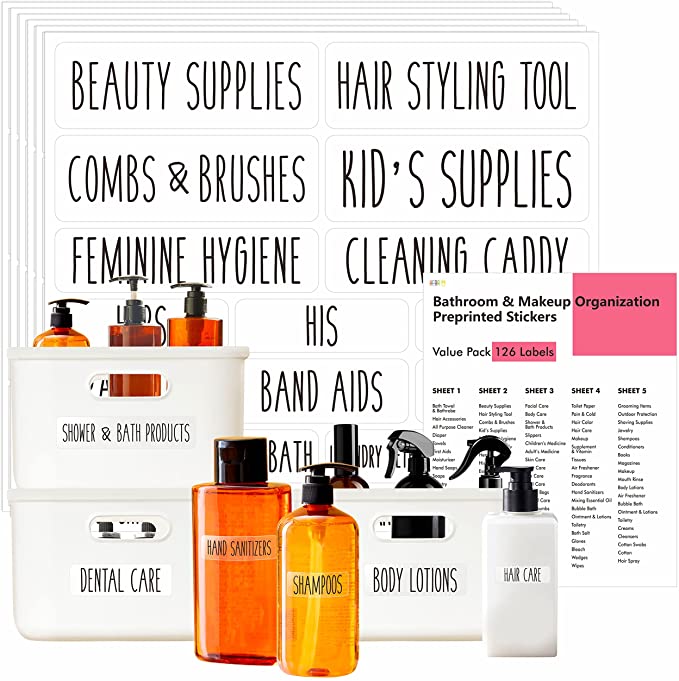 ---
What are some organizers you found that helped you save space and maximize storage? Let me know in the comments below!