Make this Spring Simmer Pot recipe with some common kitchen ingredients to help make your home smell amazing…
---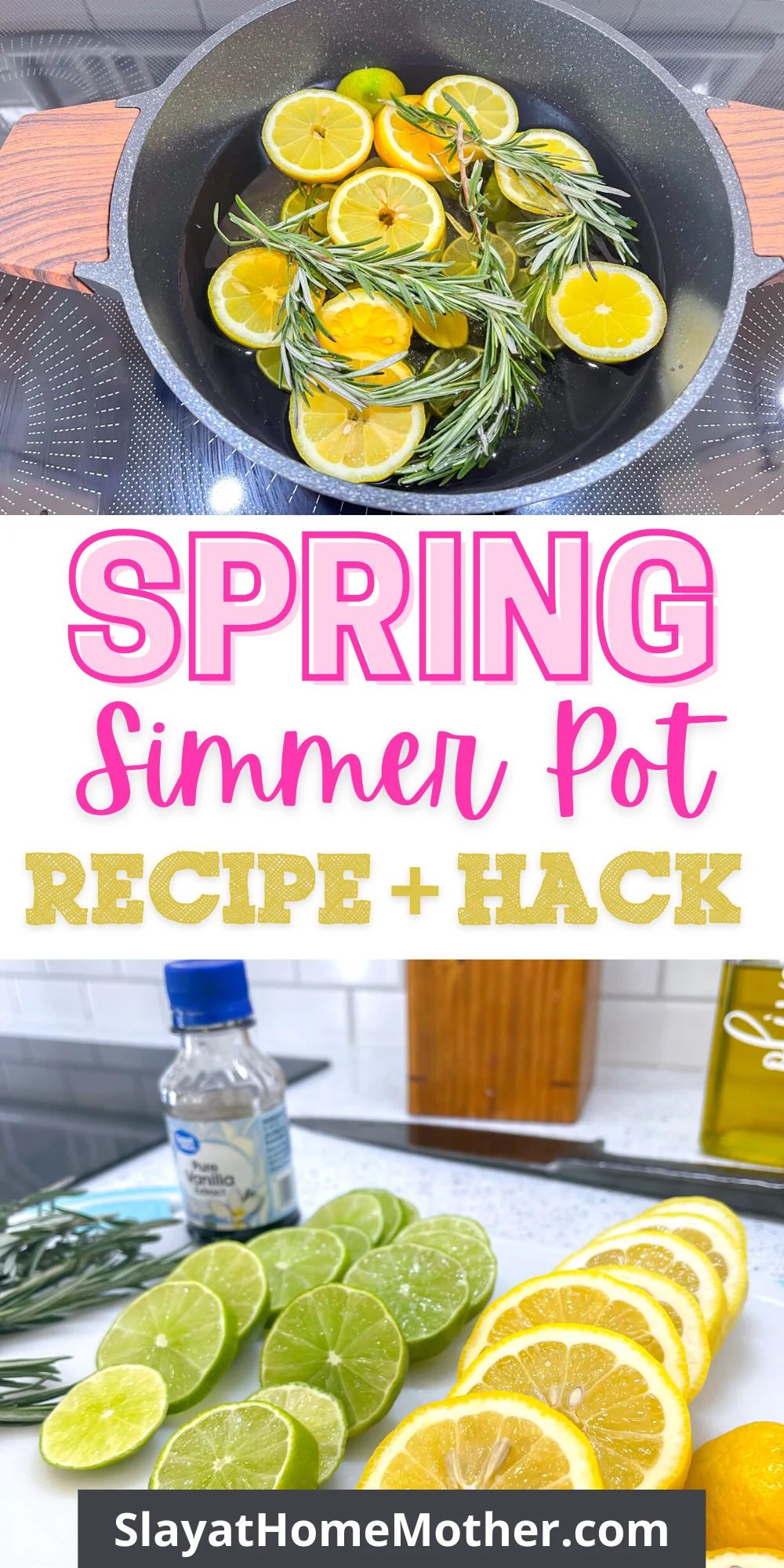 Hi, friends!
I'm excited to publish this post, although my Instagram followers have already seen this one.
This stovetop potpourri is the perfect aromatic recipe to try for spring, and it can even be repurposed for an elbow-grease-free cleaning hack when you're done!
I love recipes that can be repurposed like this one.
What's great about this simmer pot recipe, too, is that you don't have to use the freshest fruit.
If you have some old lemons and limes that are on their last leg, going bad, or even getting brown spots – don't toss them in your composter just yet…
Use them in this easy recipe!
That's right – you can absolutely use them in this DIY stovetop potpourri recipe as long as they aren't molding or very mushy.
You want the citrus smell still present, so a couple of brown spots and a lack of super-firm skin is just fine for this purpose!
I can almost guarantee you have the ingredients on hand…
*This post contains affiliate links, however, all opinions are my own.
Spring Stovetop Potpourri Ingredients
Here's what you need for this spring stovetop potpourri recipe:
1/2 tbsp. vanilla extract
lemons (2-3)
limes (1-3)
fresh rosemary (3-5 sprigs of fresh rosemary or 2 about tbsp. dried)
cutting board
For this recipe, I'm using what I have on hand that is on its last leg and about to go bad, which is 2 medium-sized lemons and 3 limes.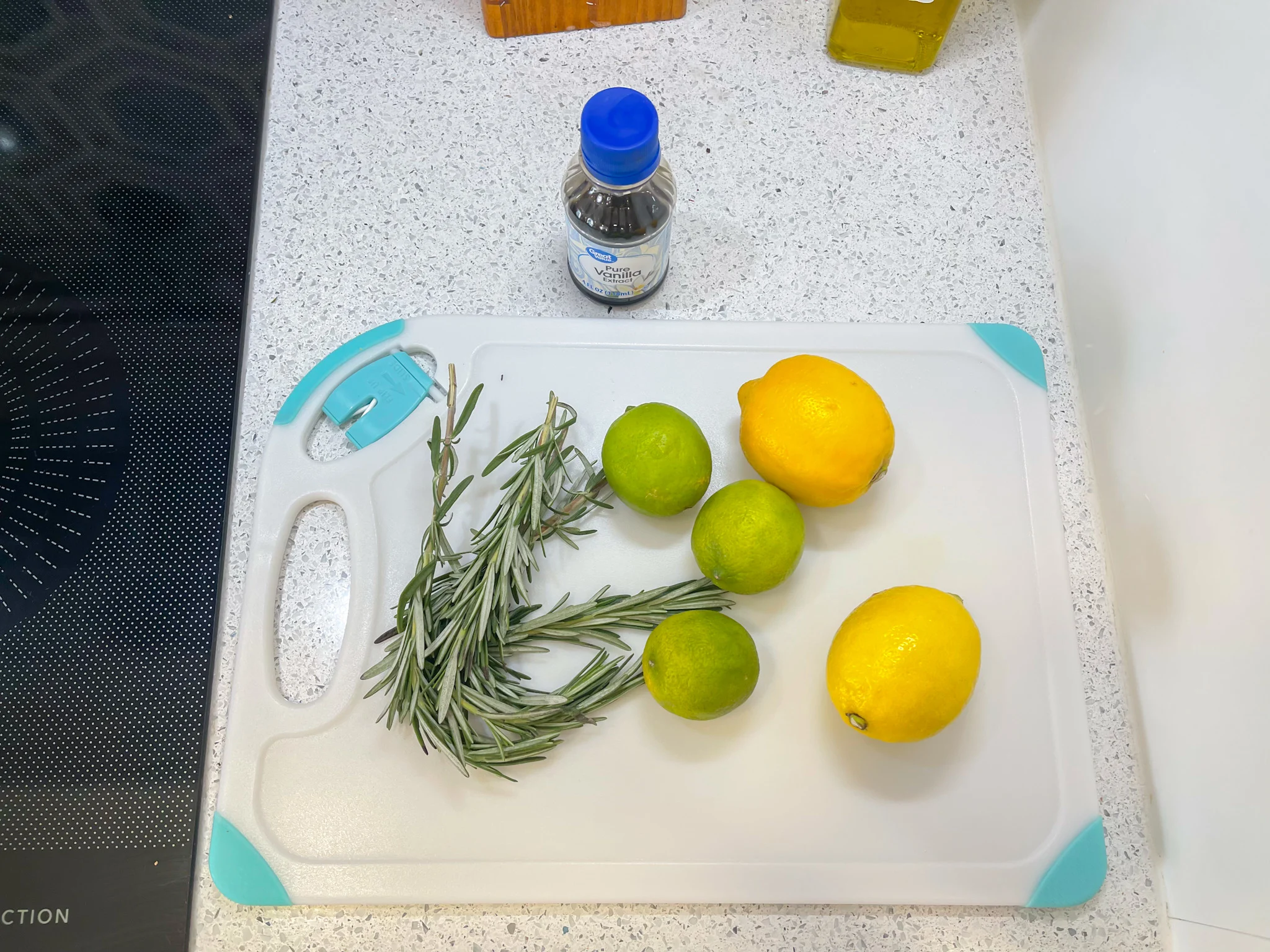 If you're wondering if you can use dried rosemary, yes you can!
You can also use a combination of citrus fruit you have on hand, like oranges, lemons, and limes.
How To Make A Spring Simmer Pot
First, cut your lemons and limes into thick slices.
They don't have to be pretty or polished, just sliced!
You certainly won't get the same aromatic effects using whole fruit… 😉
If you're using dried rosemary instead of fresh, measure out 2 tbsp.
You May Also Like: DIY Compost Bin For $15!!
Look how pretty these lemon slices are – right? You don't have to lay your slices out like this, I'm just being fancy, ha!
Add your sliced fruit, rosemary, and vanilla extract to a large pot filled about halfway with water.
You can give it a quick stir to combine the ingredients, although the simmering process will help combine them for you.
Allow your stovetop potpourri to simmer for about 3-4 hours.
Be sure to do this on a day you will not be leaving the house, for safety reasons.
In the same way you wouldn't leave a candle burning and leave the house to run errands, please be mindful of your stove running.
It's best to pick a weekend day or evening when you know you'll be home.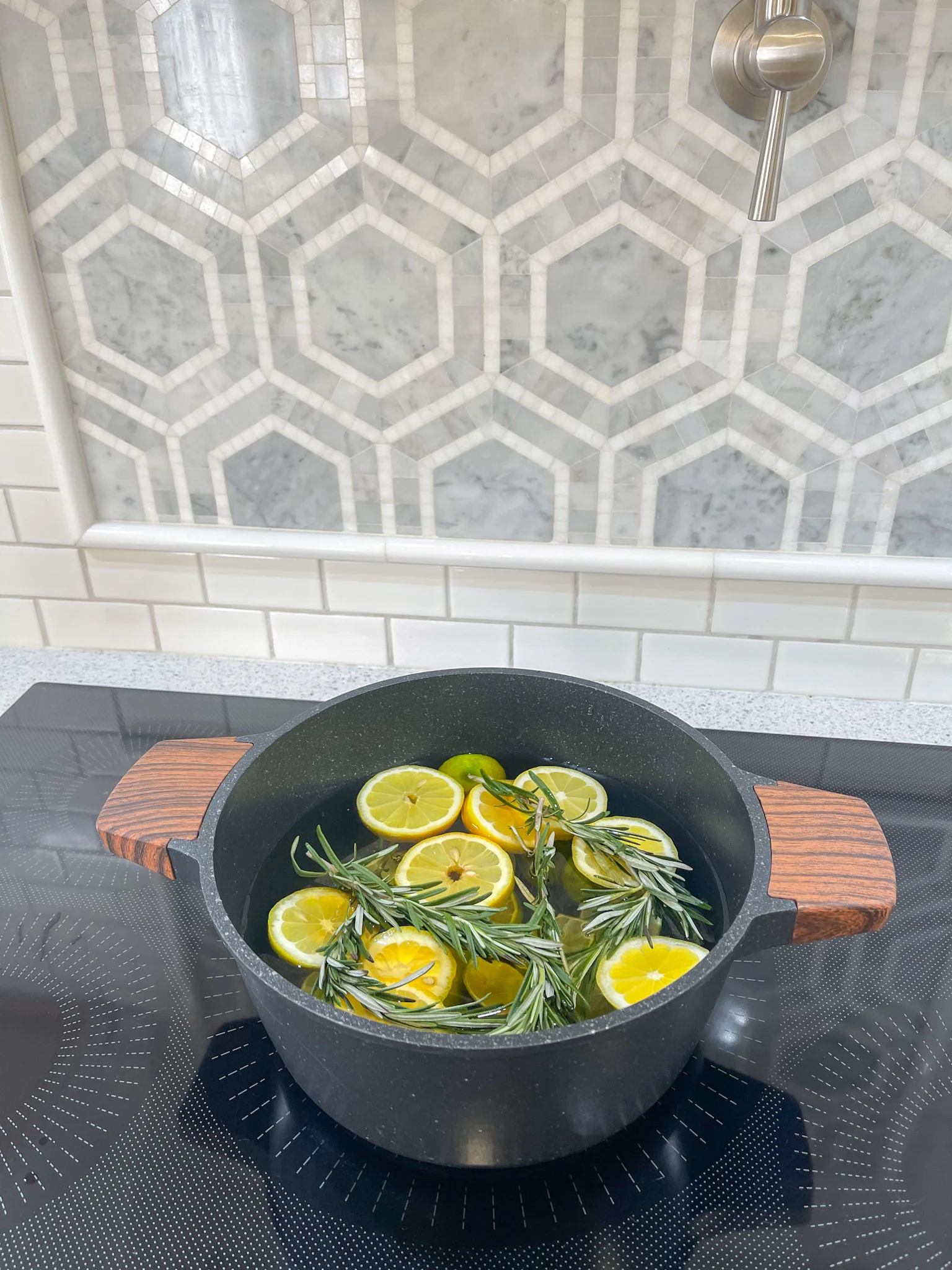 Once you are done smelling up your home with this natural fragrance, you can repurpose your stovetop potpourri by carefully scooping up some of the lemon slices in a measuring cup, dipping a cloth into it, and wiping away any built-up grease and grime in your microwave.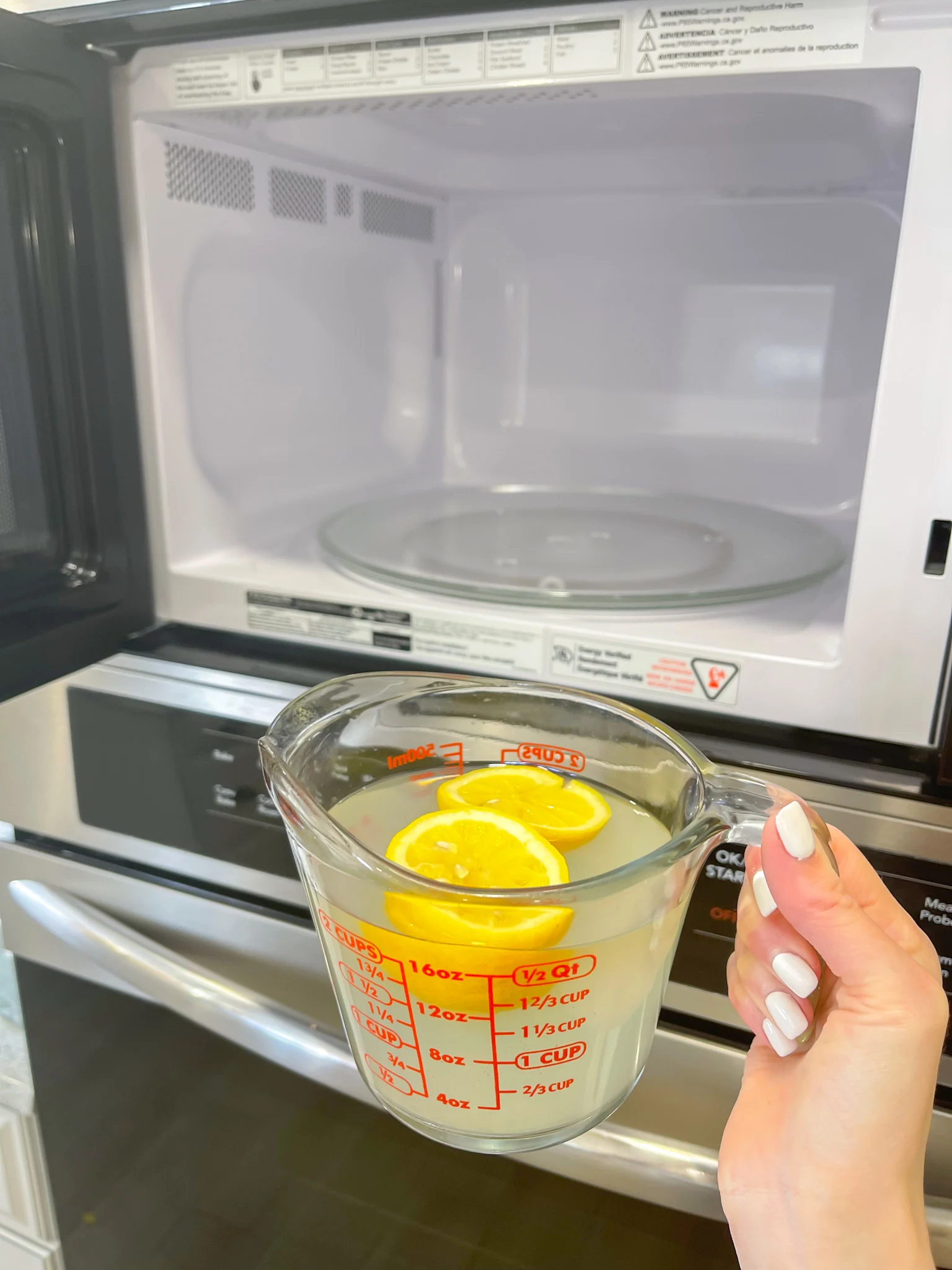 This is a twist on my normal microwave cleaning hack, which you can read here, but it works great, too!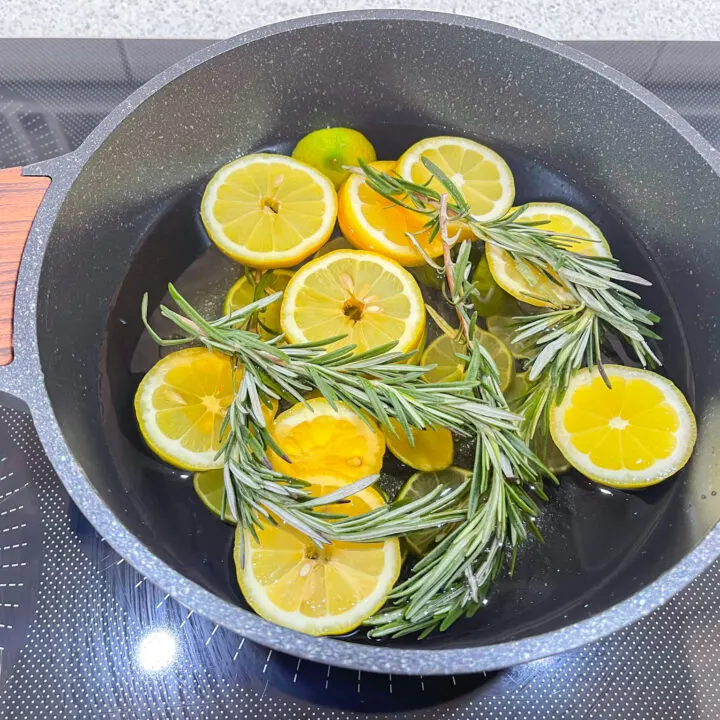 Spring Lemon & Rosemary Stovetop Potpourri
Total Time:
4 hours
2 minutes
A spring Stovetop Potpourri recipe with lemon and rosemary to help make your home smell amazing!
Ingredients
2 lemons
3 limes
3-5 sprigs of fresh rosemary (or 2 tbsp. dried rosemary)
1/2 tbsp. vanilla extract
Instructions
Fill a large pot halfway with water.
Slice your citrus fruit into thick slices.
Add your lemon and lime slices, rosemary, and vanilla extract to your pot of water.
Cover with a lid and allow to simmer for 3-4 hours.
After use, repurpose your stovetop potpourri by scooping some up in a measuring cup, dip a washcloth or rag (carefully) into the lemon water and wipe away grease and grime in your microwave.
Recommended Products
As an Amazon Associate and member of other affiliate programs, I earn from qualifying purchases.
Nutrition Information:
Yield:

1
Serving Size:

1
Amount Per Serving:
Calories:

132
Total Fat:

1g
Saturated Fat:

0g
Trans Fat:

0g
Unsaturated Fat:

0g
Cholesterol:

0mg
Sodium:

9mg
Carbohydrates:

38g
Fiber:

11g
Sugar:

8g
Protein:

3g
I would not recommend consuming this as it is meant for aromatic purposes only.
---
Have you tried this recipe, or making your own Spring Simmer Pot? Let me know your experience in the comments below!
*Post originally published April 2022, last updated February 2023.