Thinking about getting Beddy's for your RV bedding? Read this post first. Plus, a Beddy's discount code to help you save…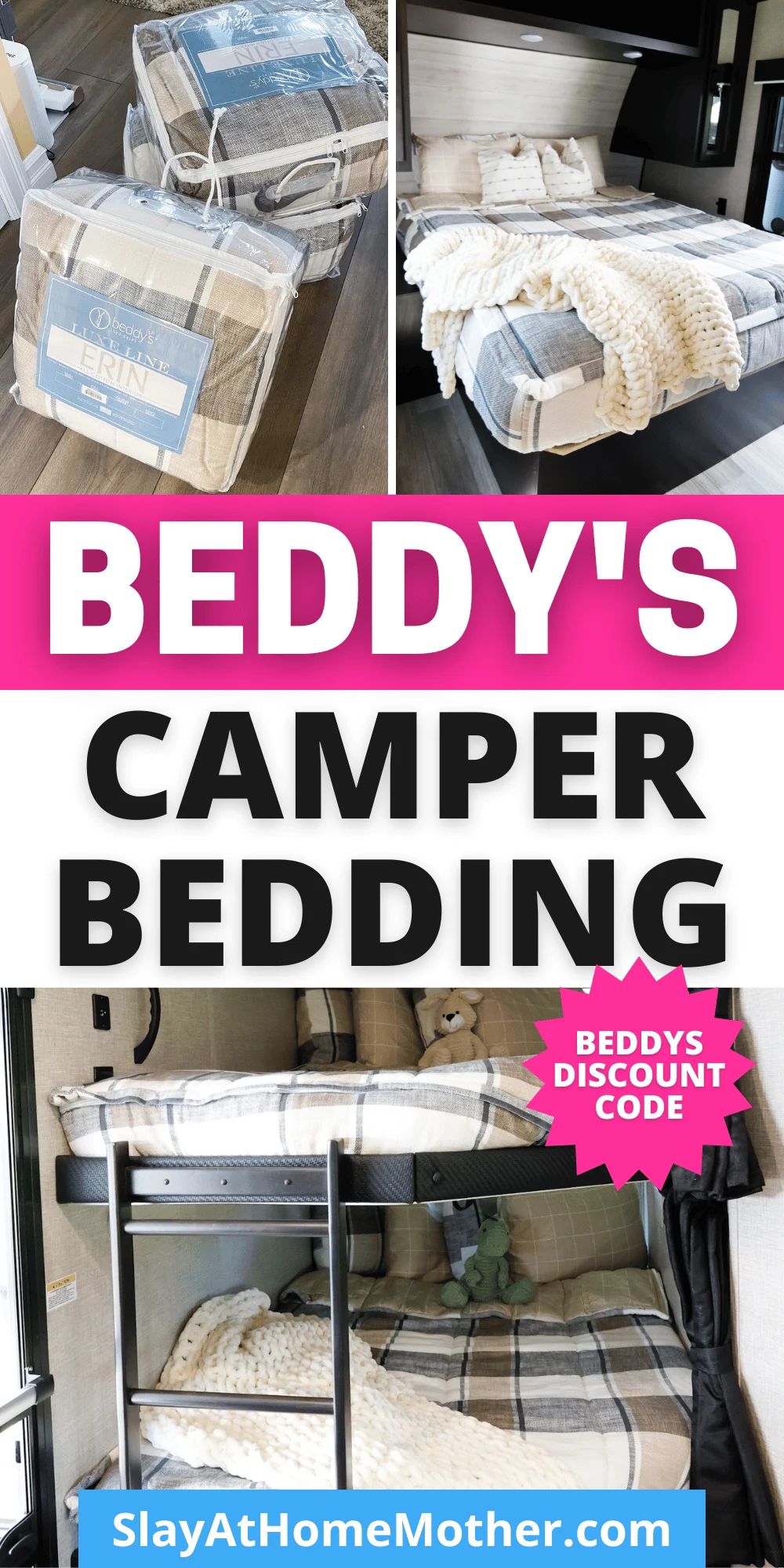 We're a camping family – we absolutely love camping!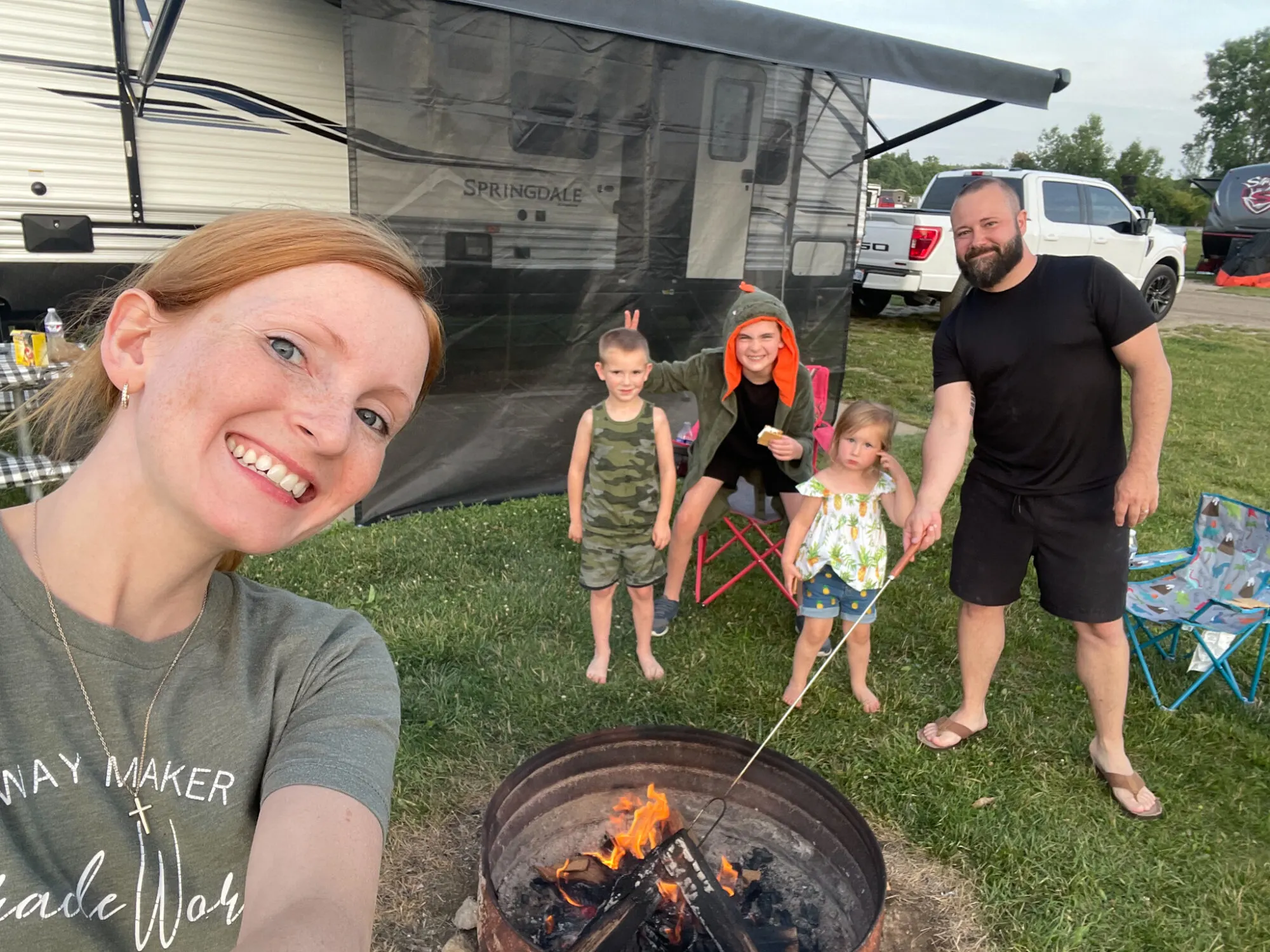 With a recent freak hail storm in Michigan, hail the size of baseballs rained down on our camper and caused a lot of damage to the roof and aluminum siding, resulting in our camper getting totaled.
This means that the damage incurred by the hailstorm would cost more than it would cost to simply replace the camper.
We had camped in and grown to love our camper over the last three years, so it was a hard goodbye for our family.
Luckily, insurance ensured we would be able to replace our camper, and we recently upgraded!
With three kids, a bunkhouse-style camper was essential for comfortable sleeping.
For reference, we now have a Jayco Jay Flight 285BHS.
With this new upgrade, I wanted to figure out an easier bedding solution for our beds.
While we did upgrade our camper, we are still limited on space, and being able to keep areas tidy in our camper is crucial.
Especially with 5 people (two adults and three kids).
If we're being honest, our beds aren't usually very tidy and the standards for keeping them tidy aren't very high because we're on vacation, at a campground, or we're busy!
As someone who currently already owns a Beddy's bed set for our toddler, I know that being able to zip the bedding in the morning is a quick and easy solution to messy beds.
I was excited to partner with Beddy's in our new camper to help eliminate this problem.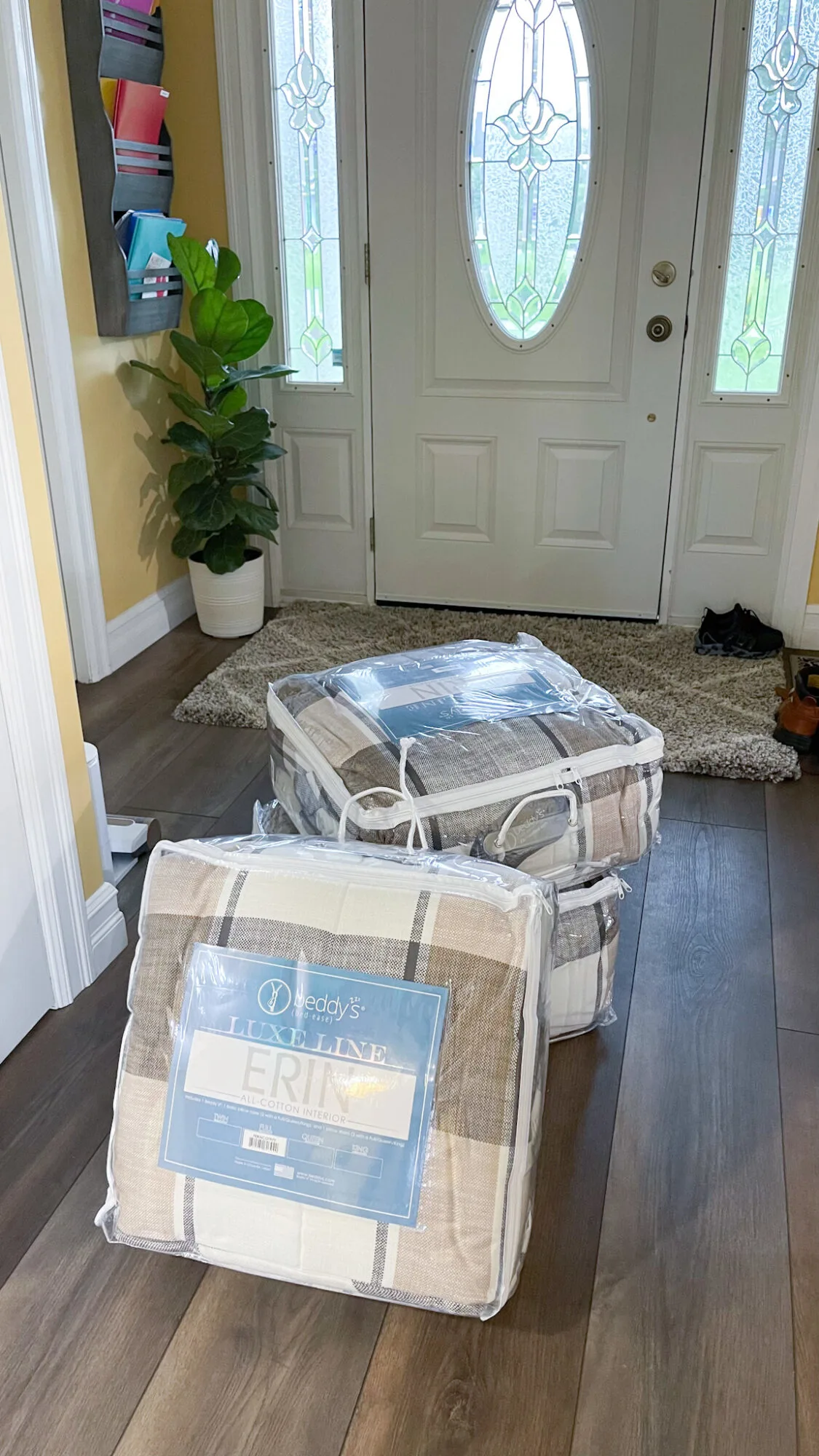 This post may contain affiliate links, however, all opinions are my own, as always.
SAVINGS ALERT: Use my partner code SLAYATHOME at checkout for 20% off your total order!
RV Bedding with Beddy's
What Our Camper Bedding Looked Like Before
Here's what our current bedding situation looks like in our new camper…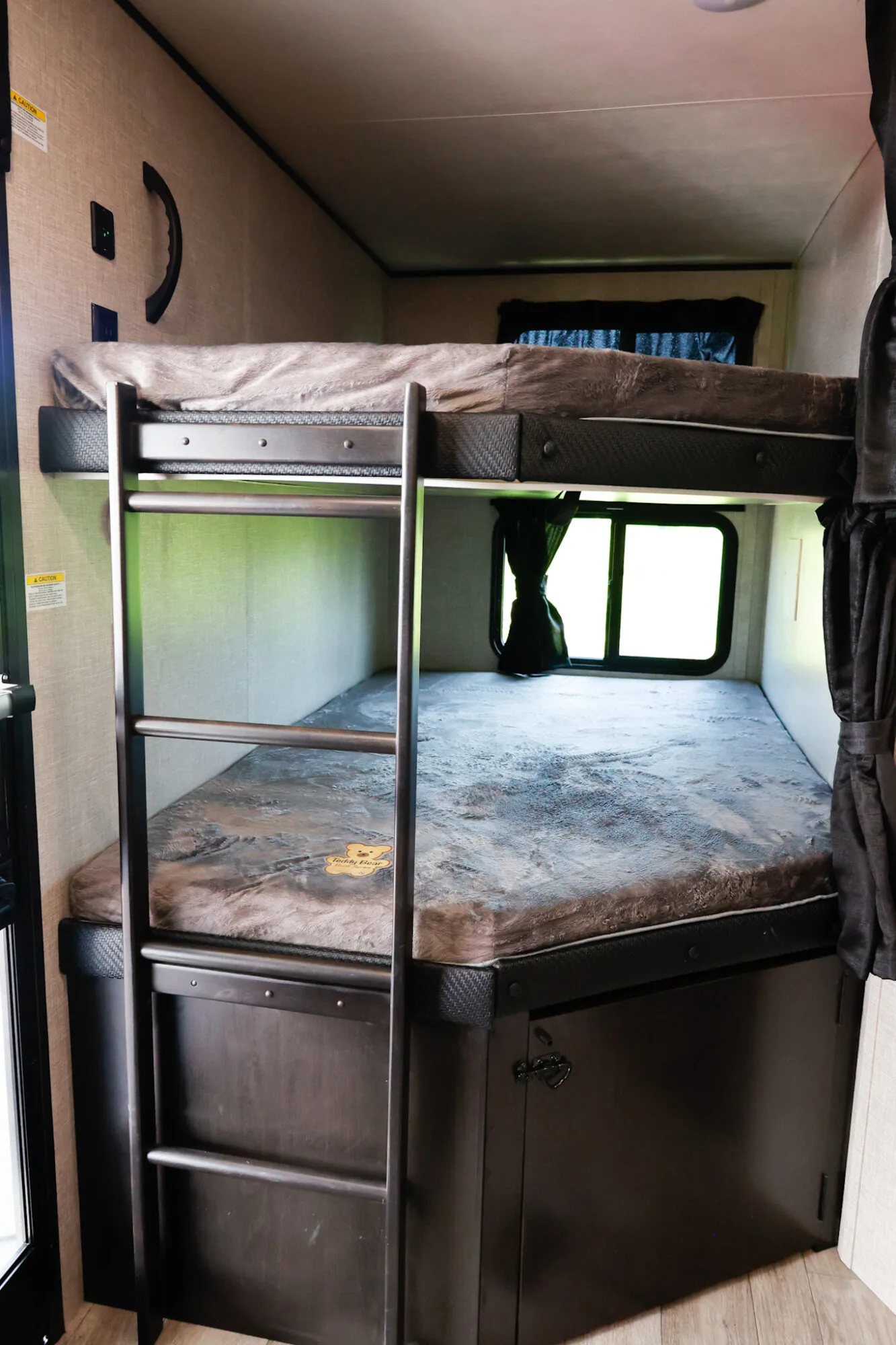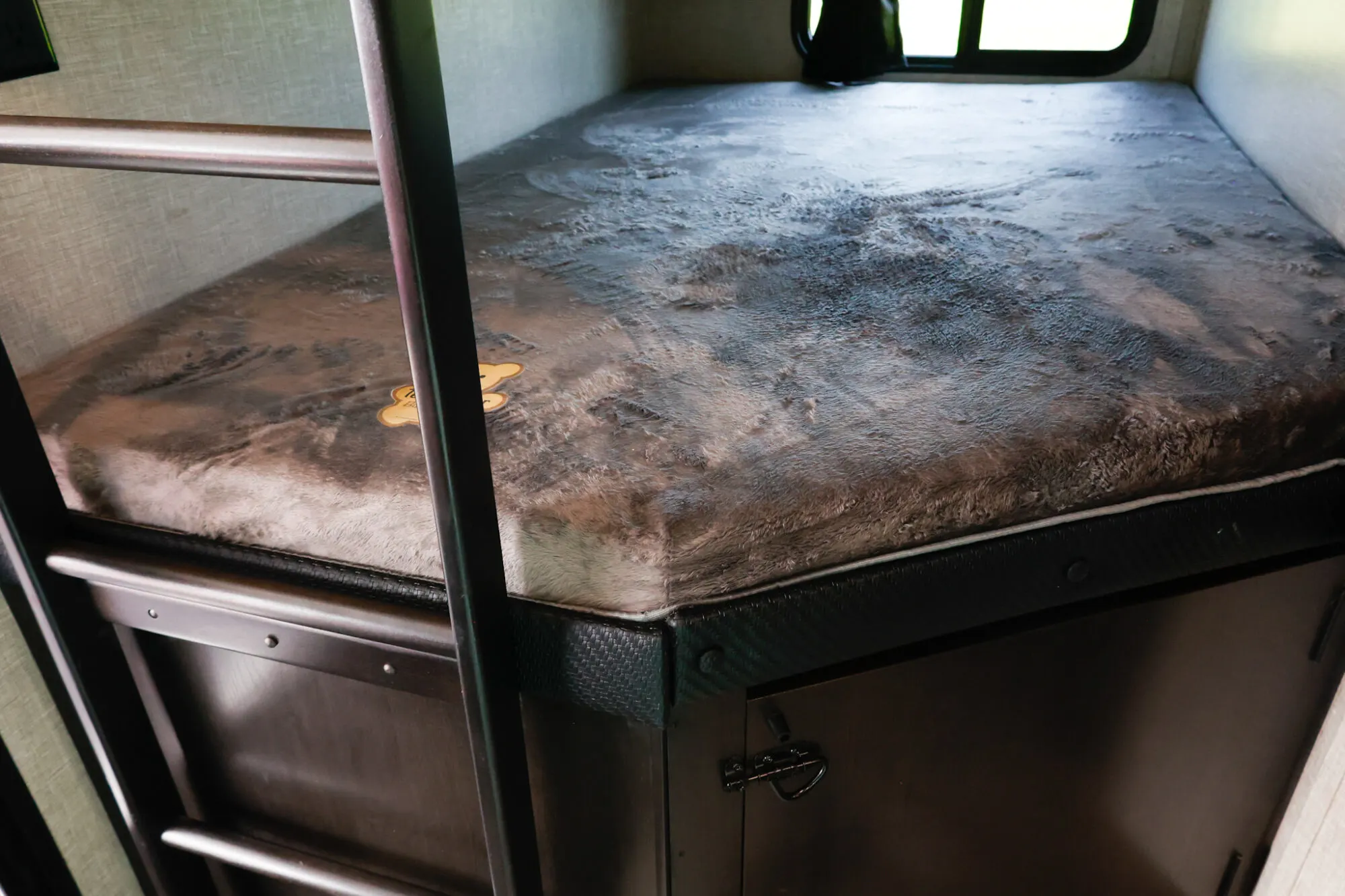 Our camper bunk bed mattresses are about 4″ tall, which is double the height of our last camper's bunk mattresses.
I just want to note that as that may not be the case in your camper and could affect the size you need for your bunk beds.
Here is our master bedroom and mattress: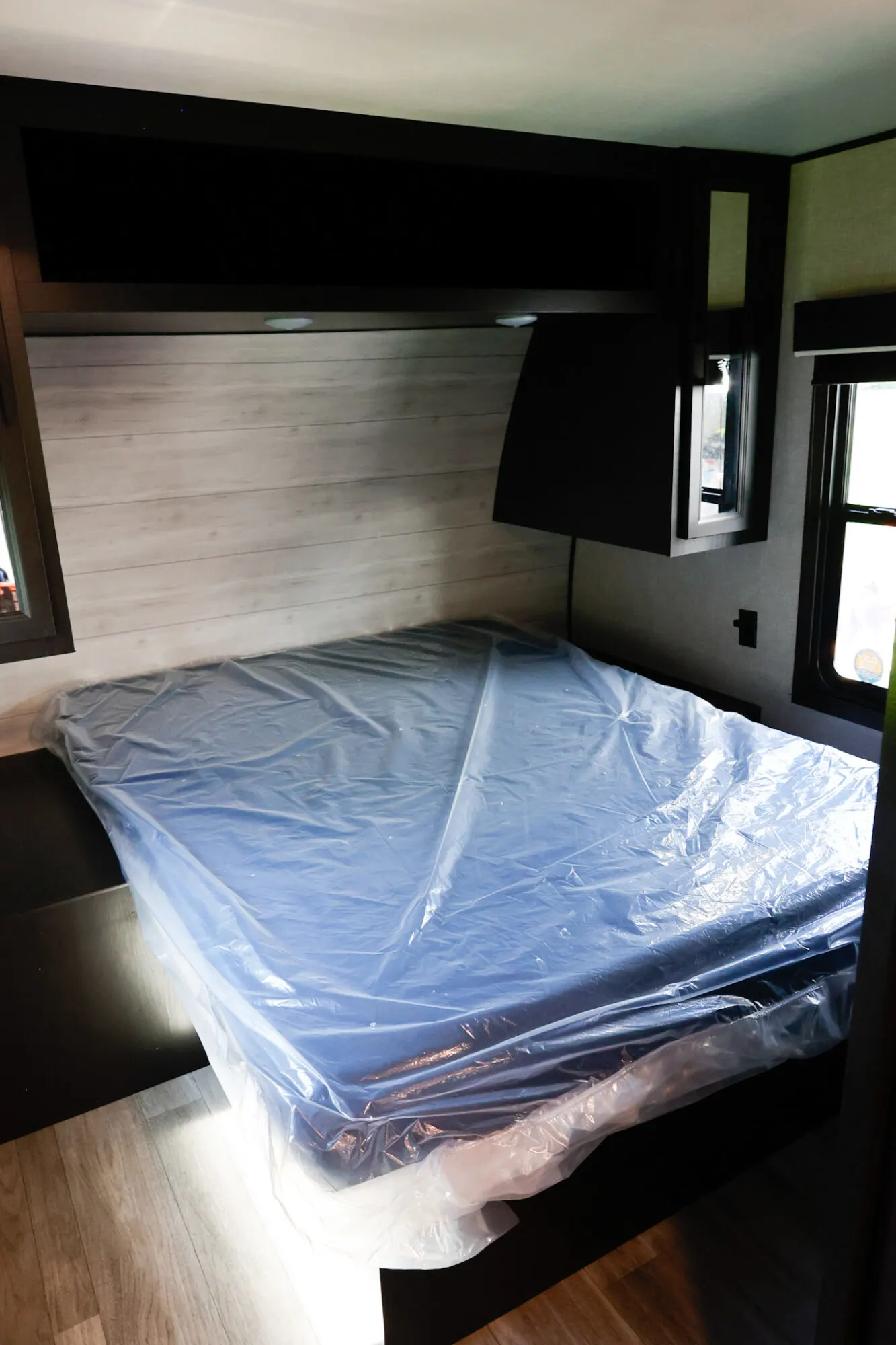 I took this picture right after it got delivered and the plastic was still on the mattress. We removed it before placing any bedding.
But after camping for the last 3 years without a solid bedding situation (just loose blankets and random pillows), I'm ready to implement a more permanent, solid solution!
Beddy's RV Bedding in the Master Bedroom
Our mattress is Queen sized with an added foam topper (I highly recommend getting yourself a foam topper for your mattress).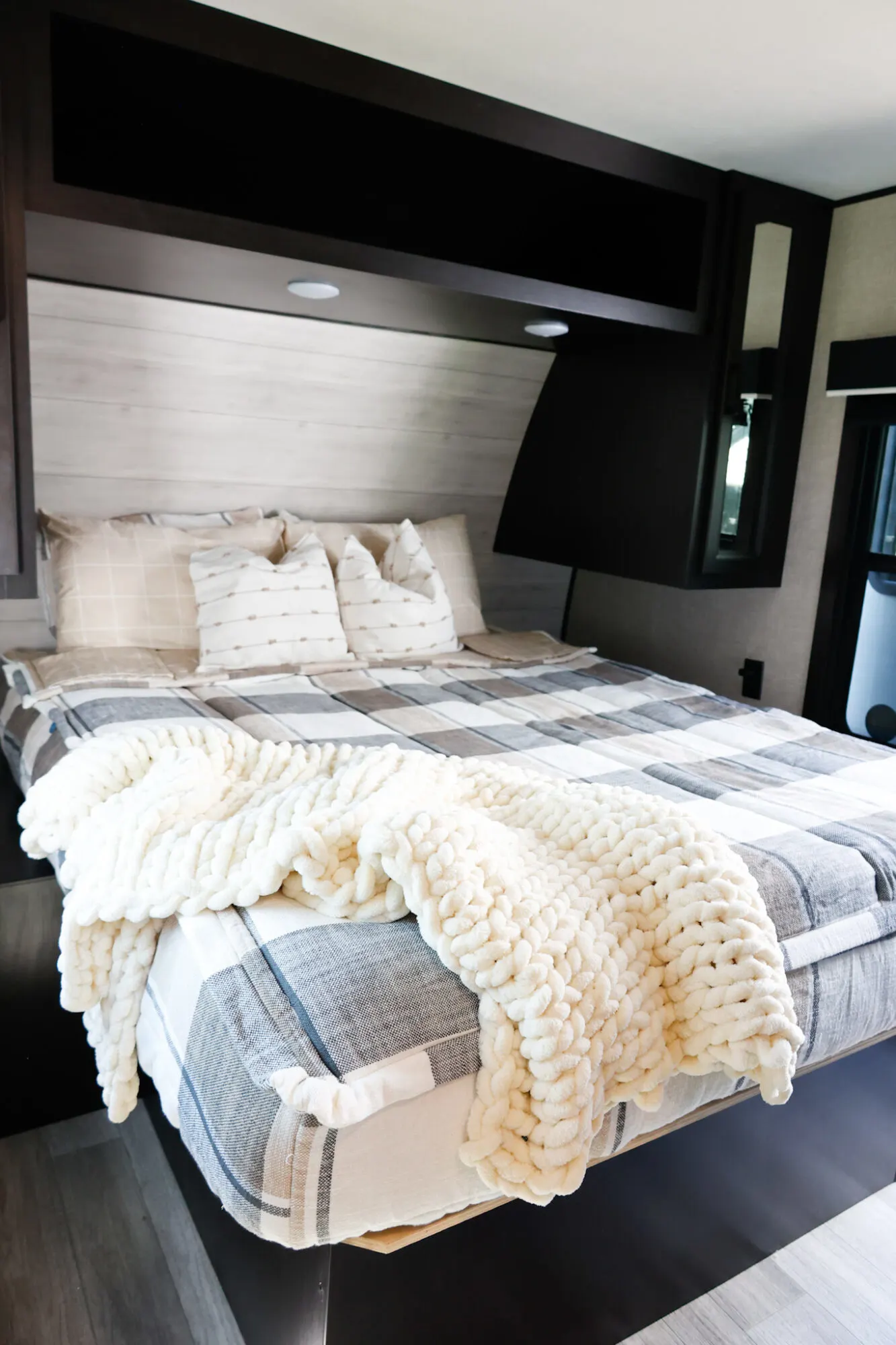 I absolutely LOVE the Erin Luxe set we got for all of our bedding – the colors are perfect for our camper.
The accent pillows and chunky knit blankets are extra – you can find them HERE.
We chose the cotton interior instead of the minky interior inside our bedding sets as we are all hot sleepers.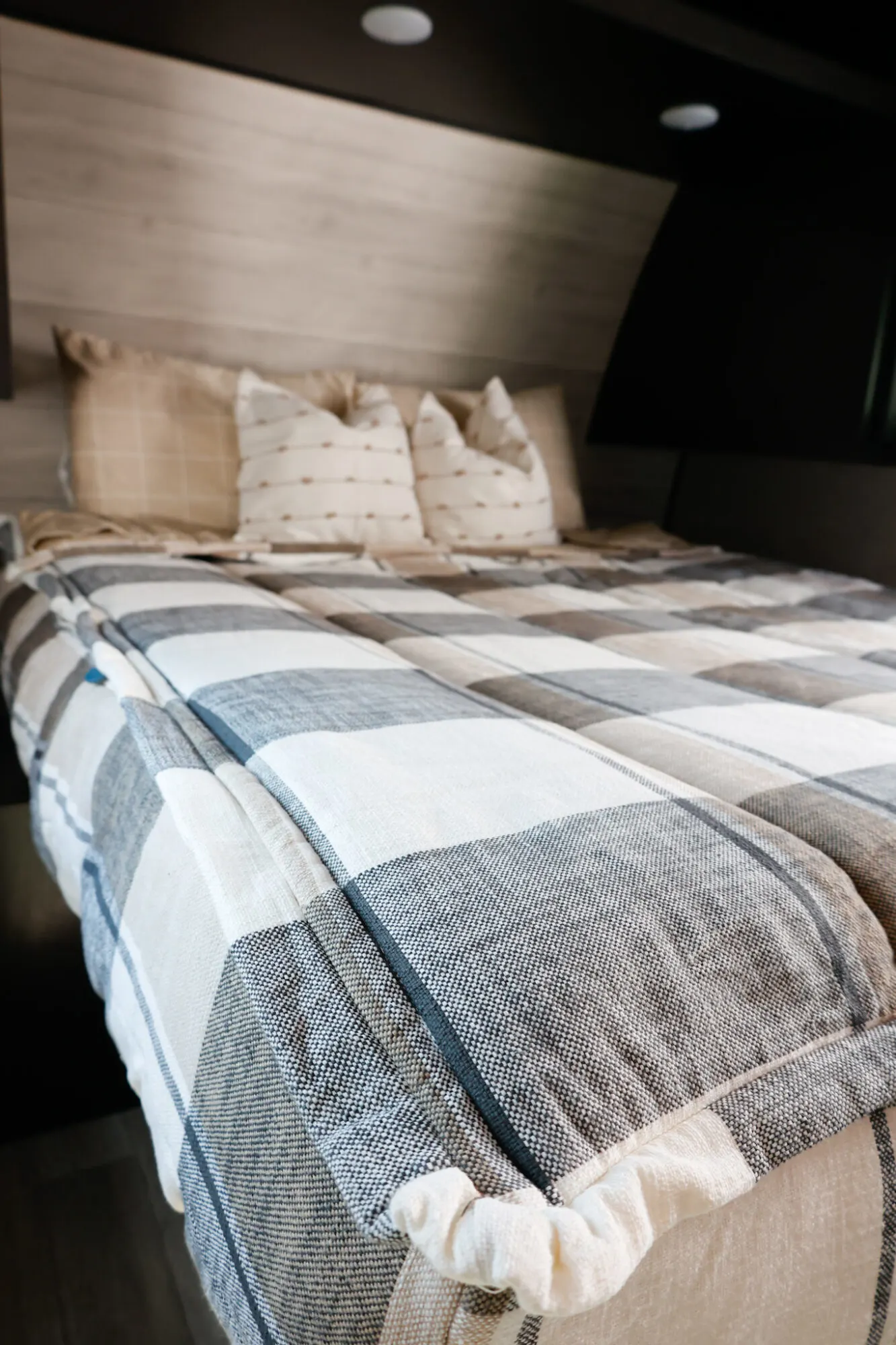 You can tell these bedding sets are very well-made, with sturdy zippers and quality fabric.
Beddy's zippered bedding works by fitting over the mattress like a fitted sheet, and zipping the top sheet on top so it is all one piece.
You can see in the picture below that there are extra sheet fabric panels sewn to the top comforter.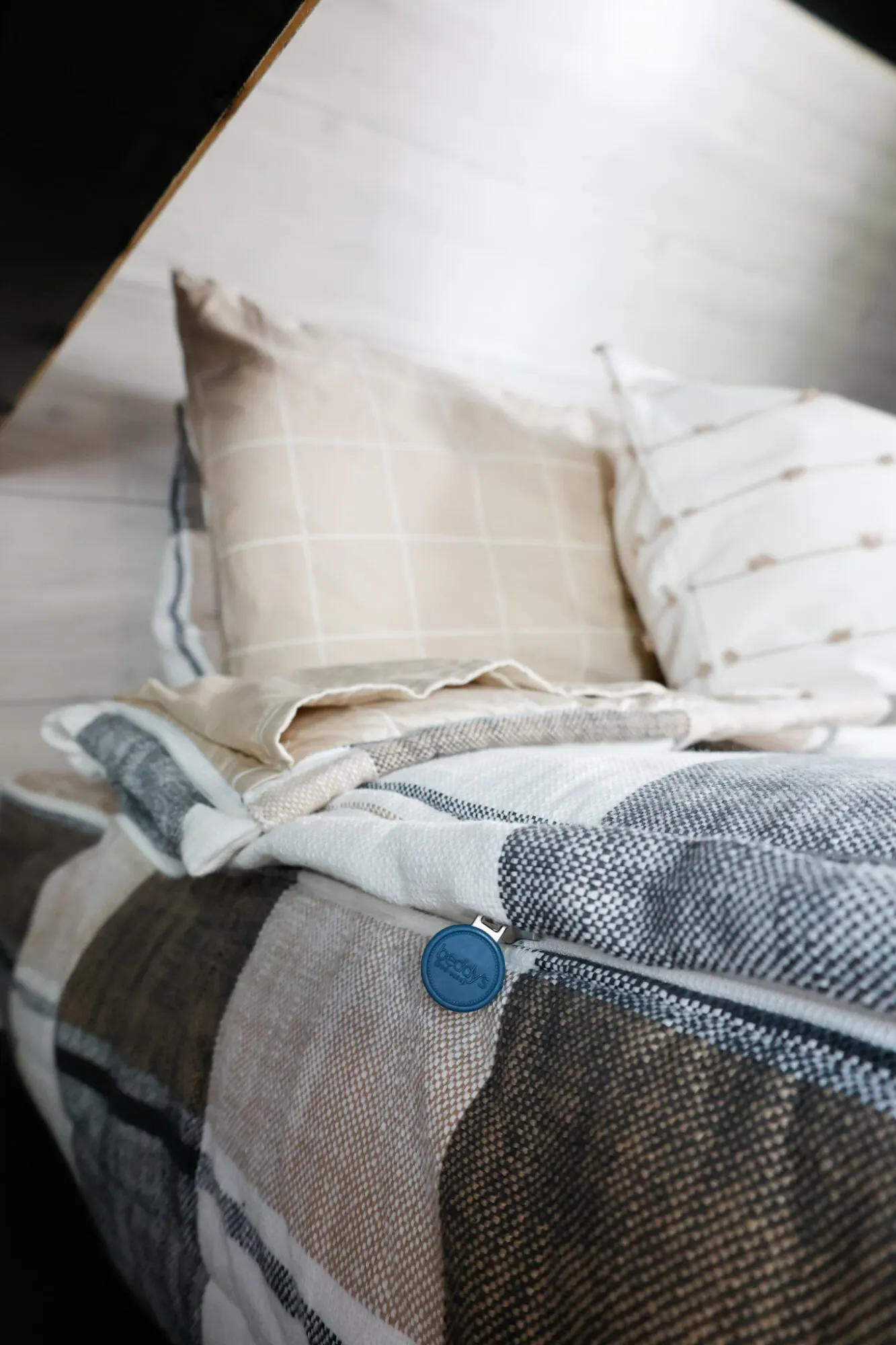 Side note: I love that the zipper tabs for the Queen and King size bedding sets are a darker blue. The Full size and smaller have a bright blue zipper tab and are great for kids' bedding sets.
Camper Bunk Bed Bedding with Beddy's
Here are our camper bunk beds with their new Erin Luxe bedding sets…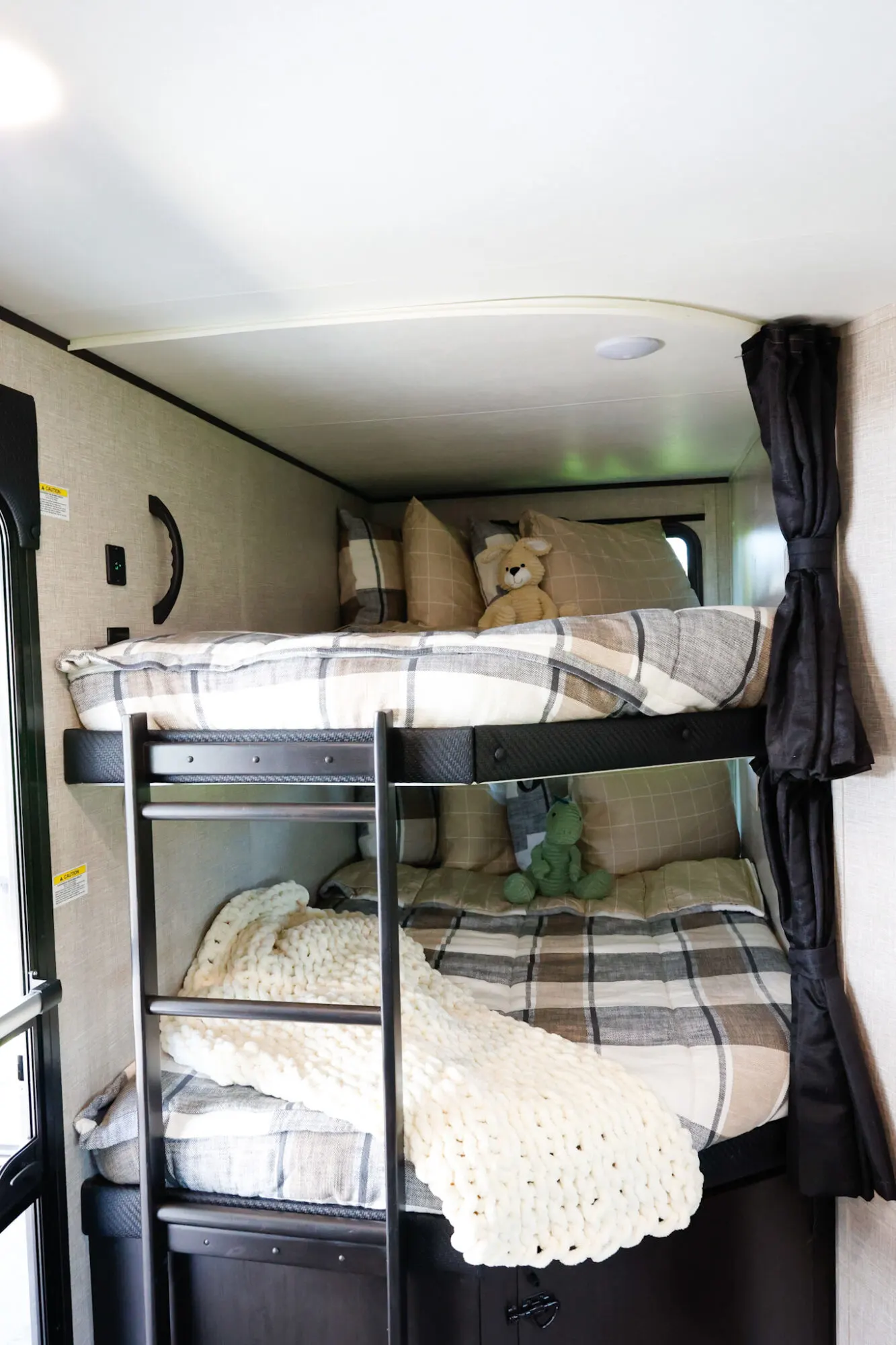 I can't get over how beautiful these bedding sets are!
The fact that they're functional and pretty is incredible.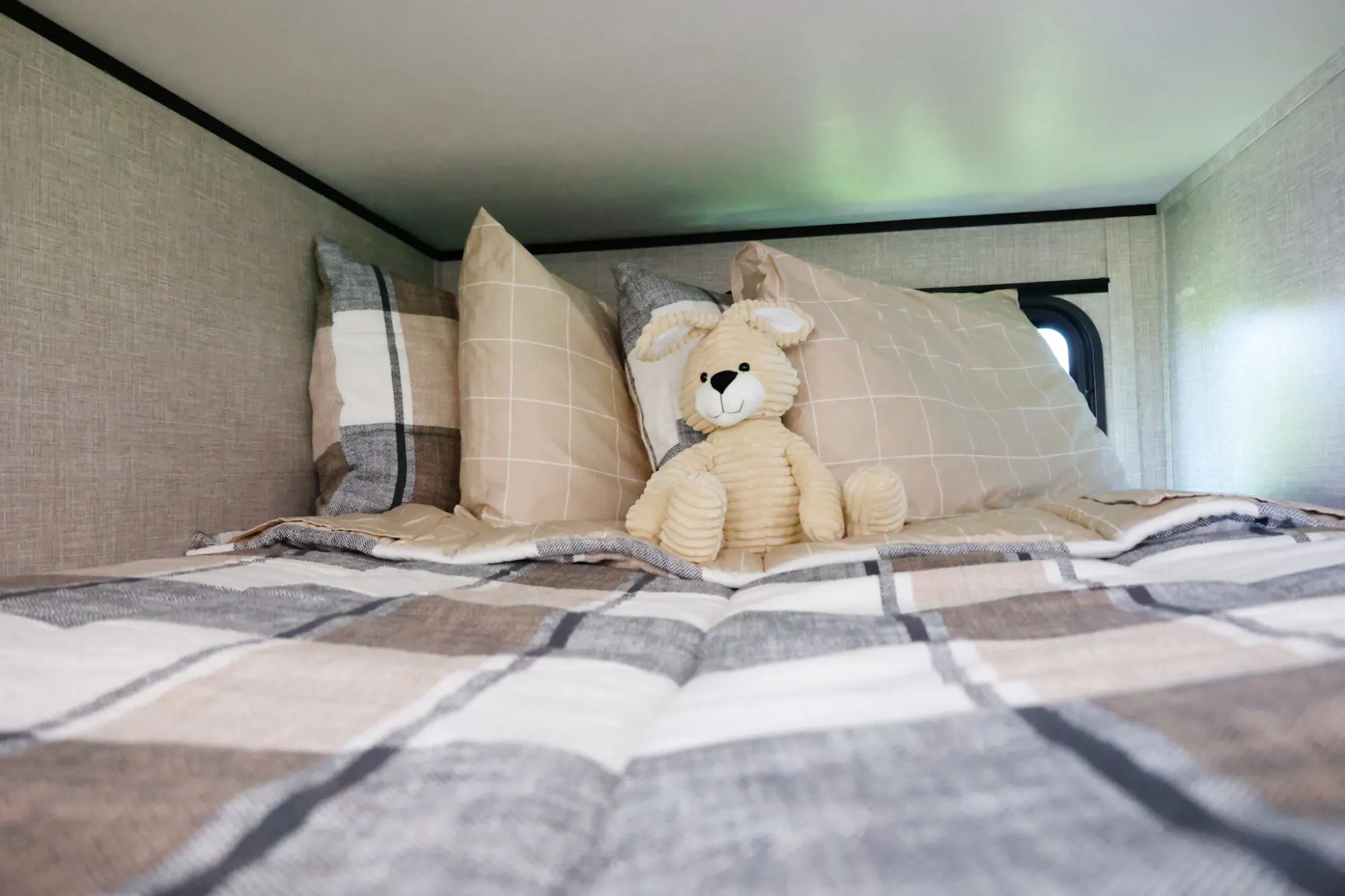 You May Also Like: Beddy's Zippered Bedding For Bunk Beds
The stuffed animals are our children's and are not included in the Beddy's bedding sets.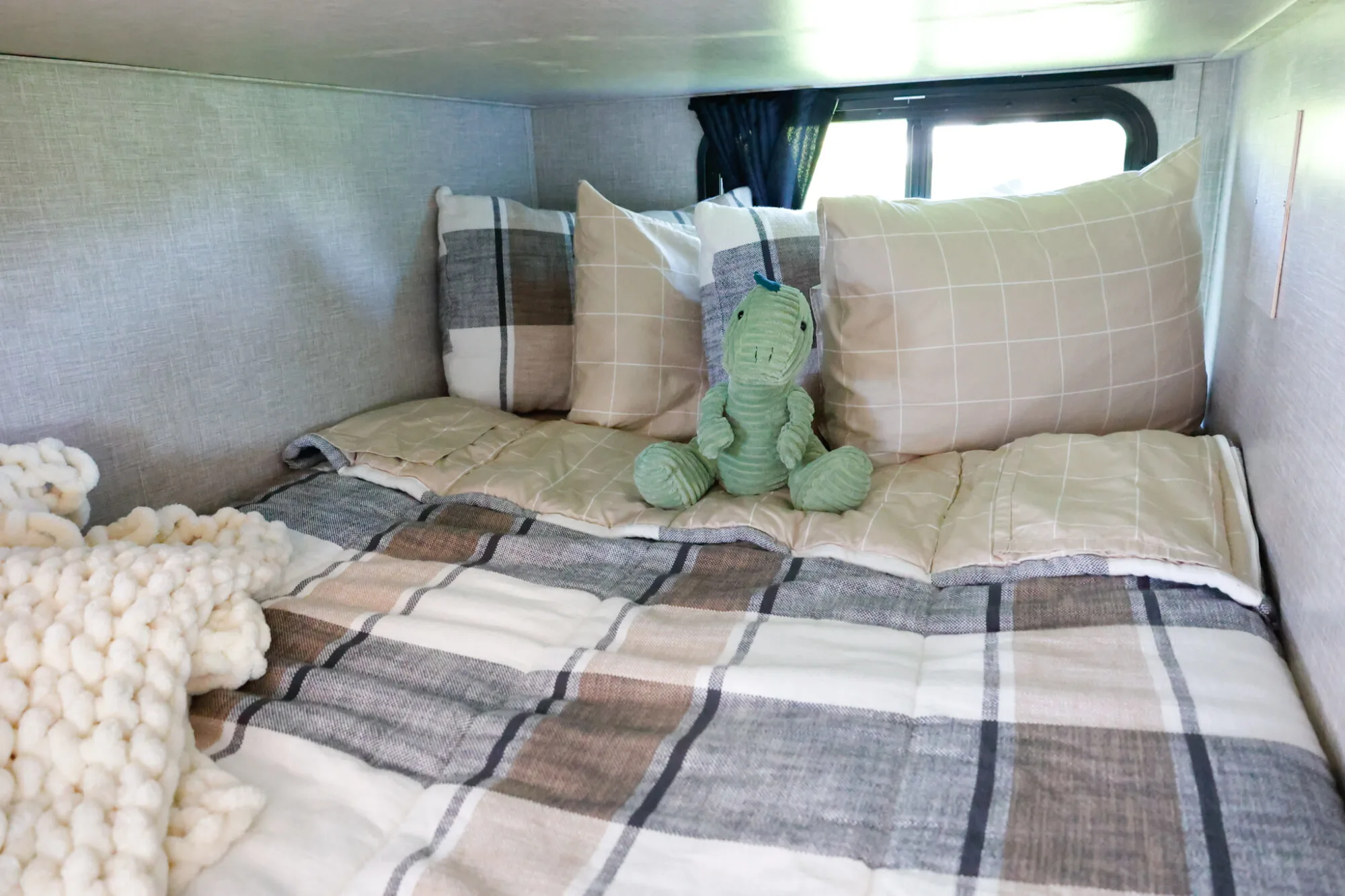 I love the look and feel of these bedding sets – they are so comfortable to sleep in at night.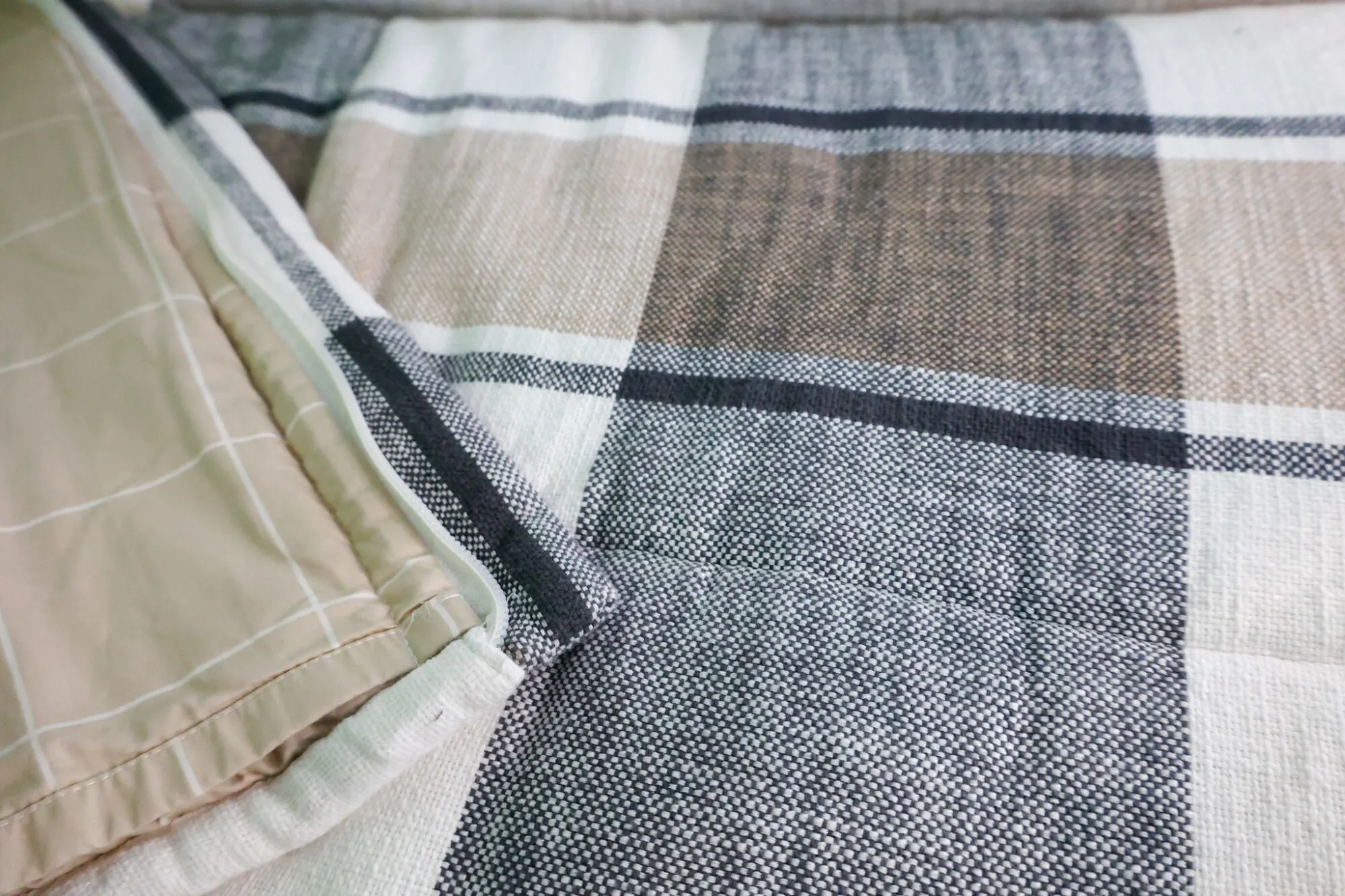 All of Beddy's bedding features a strong zipper on each side.
You can easily pull the tab to zip your bedding up and make your bed in seconds!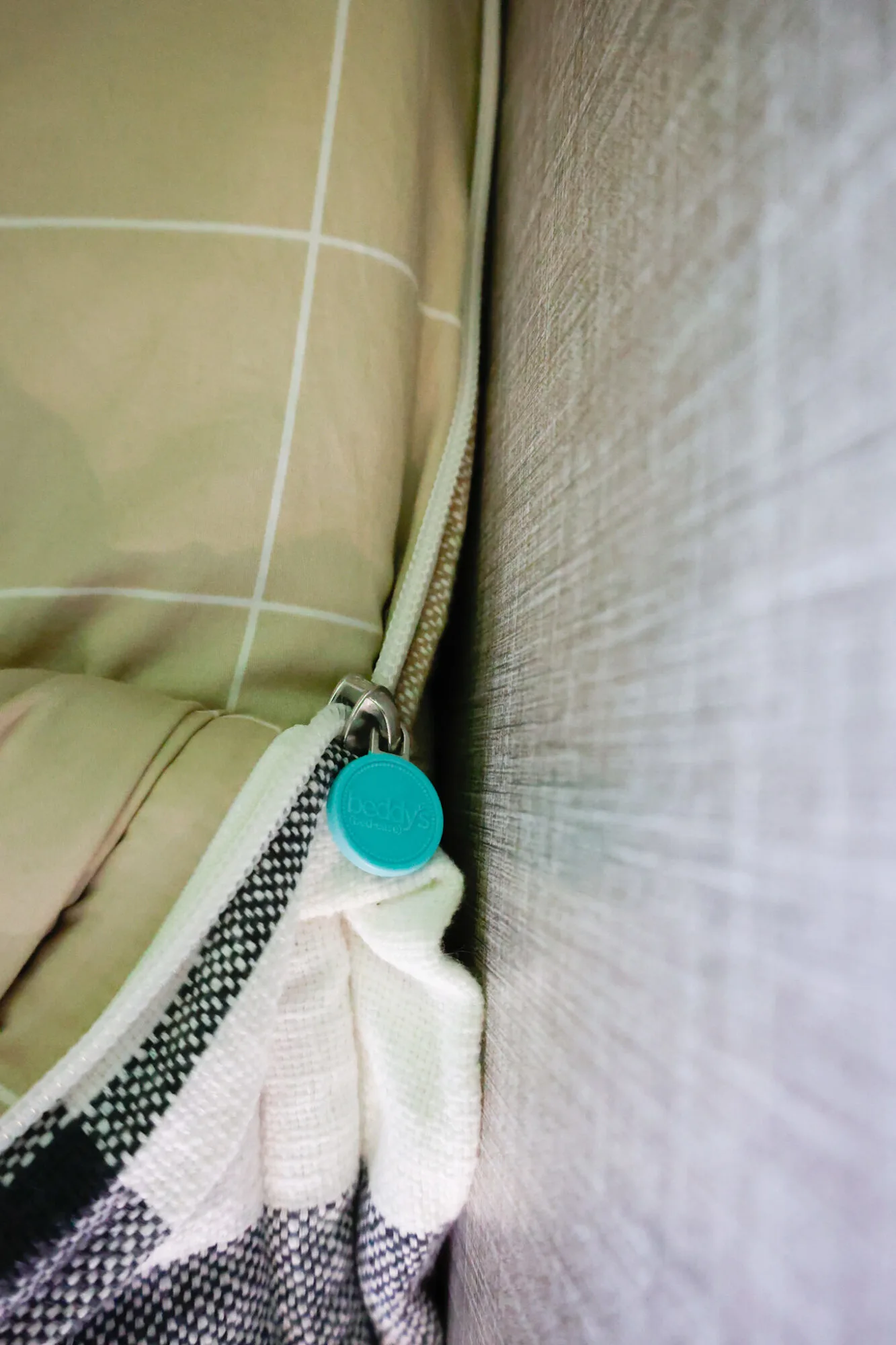 This has made it incredibly easy for our kids to zip up their beds in the morning and has kept our camper so much cleaner and tidy.
Fitting Beddy's On RV Bunk Beds
Beddy's suggests, especially with the unique shape of some camper bunk beds (take ours for example), that you use sheet stays.
Sheet stays help pull the bed set tight to the edges and corners of the mattress.
If you don't know what these are, they're just like shirt stays, and they look like this: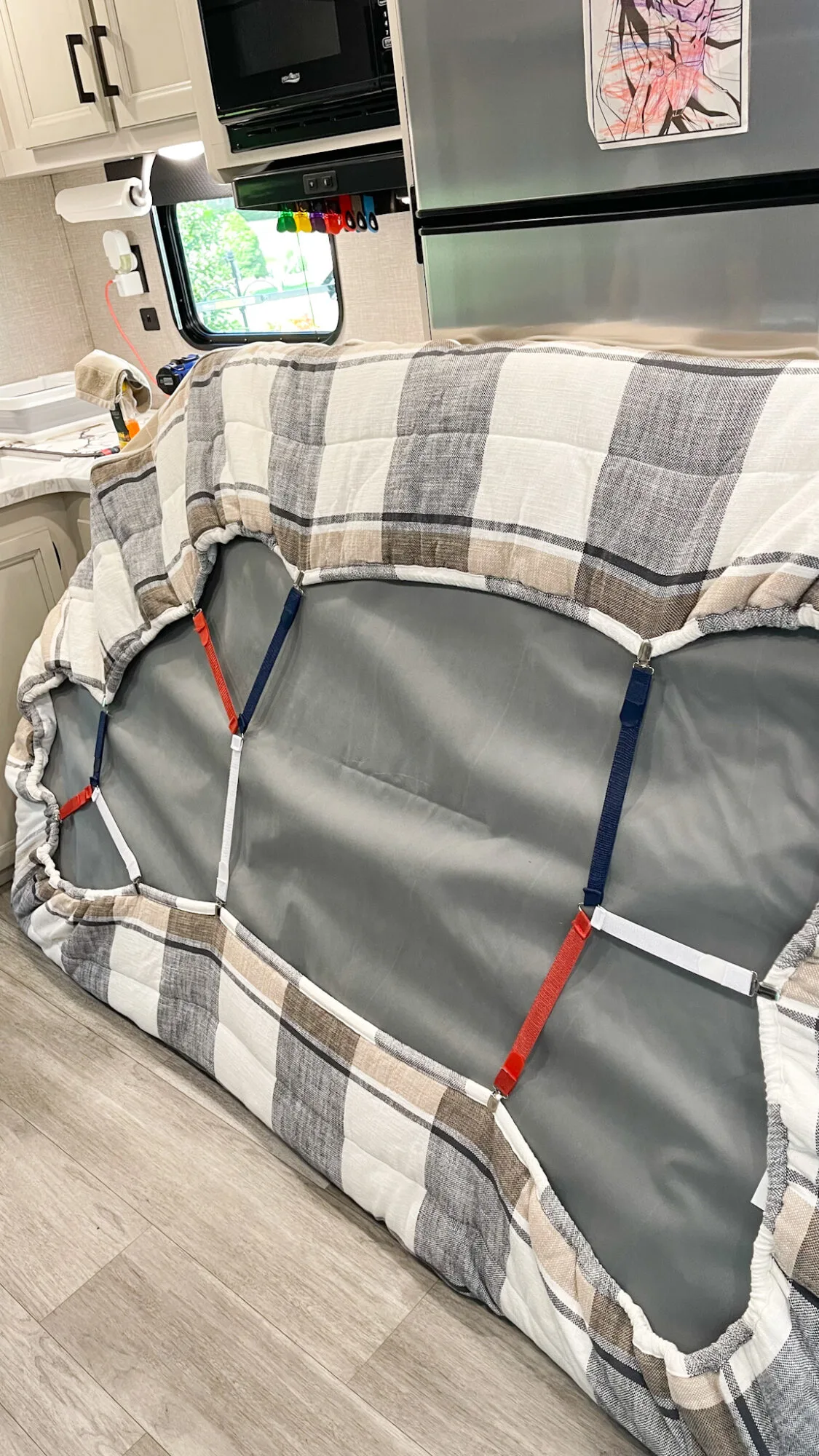 We got a little creative with the placement of our sheet stays, as you can see ;).
We found these incredibly helpful!
Here are the exact sheet stay sets we purchased for our camper bunk beds.
What Size Beddy's Do I Need?
If you're ever confused about the size you need for your camper beds, I recommend reaching out to the Beddy's Team – they're super helpful and want you to be completely satisfied with your order. For our order, I sent them our mattress measurements to ensure we got the correct recommended sizes.
Our Beddy's Bedding Sizes
Here are the sizes we received for our Beddy's RV Bedding:
bunk beds: size Full (comes with 2 shams and 2 pillowcases)
master bed: size Queen (mattress is true queen size – comes with 2 pillow shams and 2 pillowcases)
You can also shop my full Camper Favorites List here on Amazon if you need ideas of great accessories.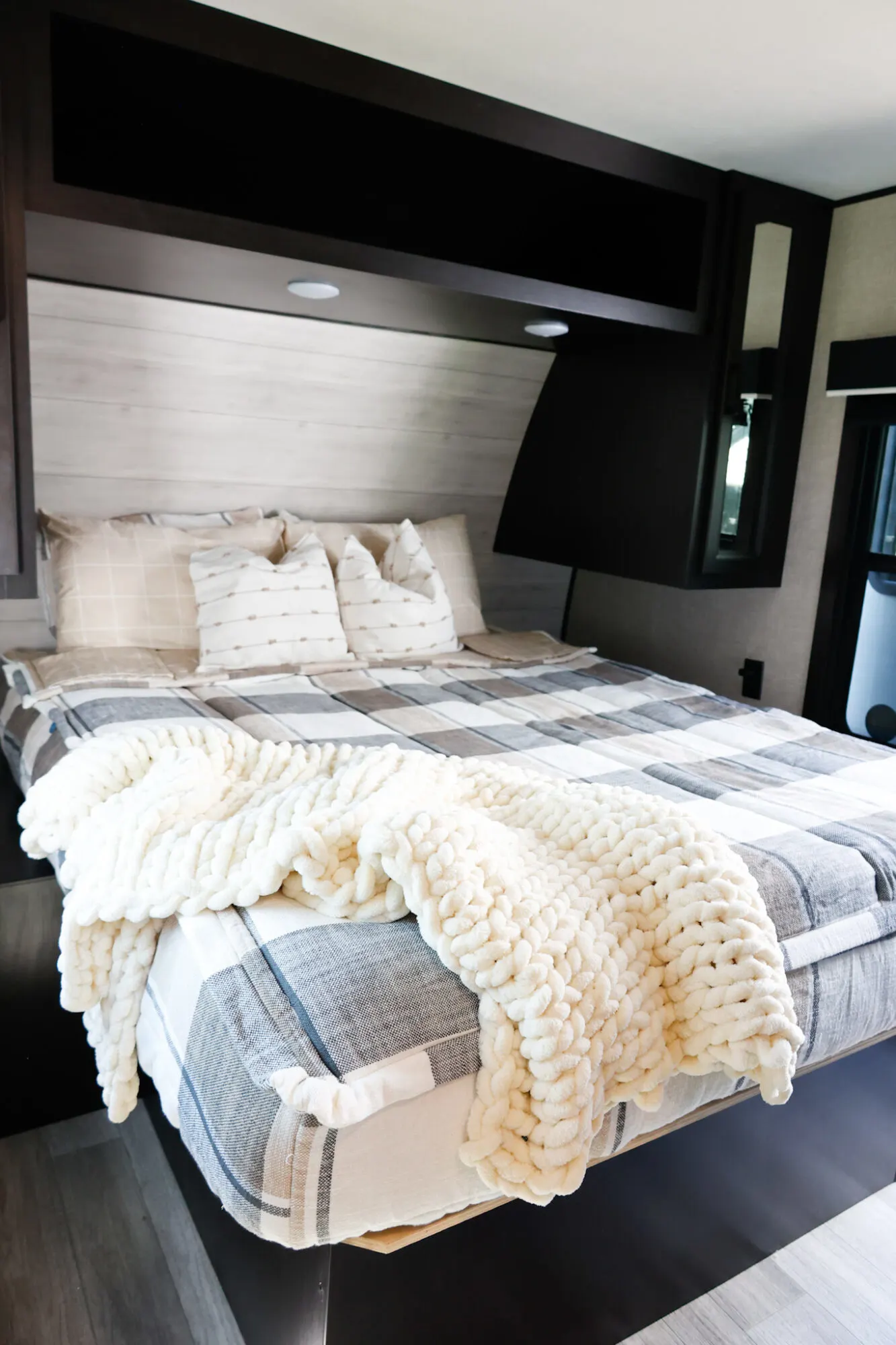 We are so enamored with our Beddy's RV Bedding and how cozy and tidy it's helped our camper become, but I'd love to hear from YOU…
Have you tried Beddy's in your home or RV/Camper? Let me know if you have any questions in the comments below!