Enjoy making your own homemade cleaners? This non-toxic homemade all-purpose cleaner is safe to use around children, disinfects, sanitizes, and is STUPID easy to make!
---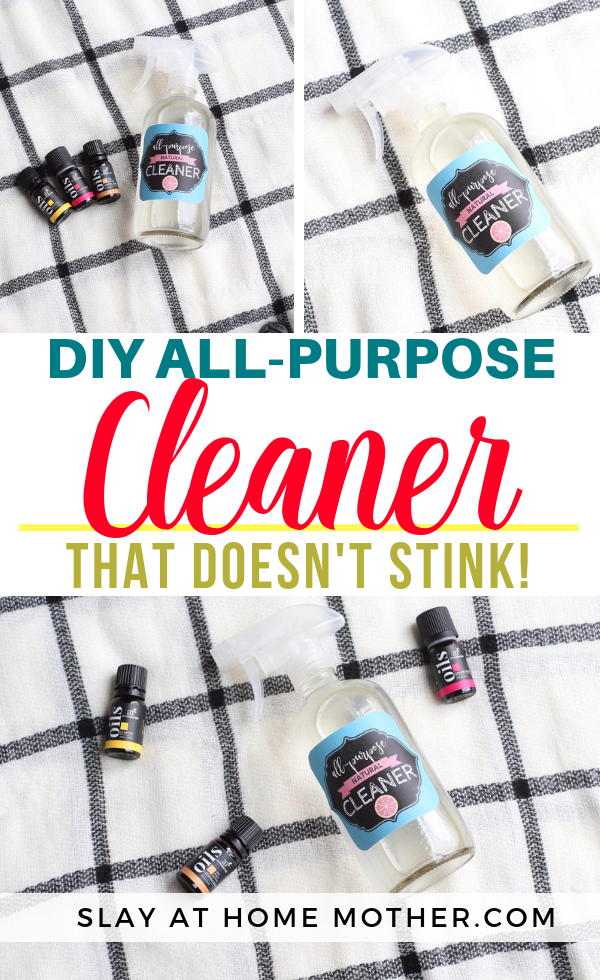 Making this DIY Homemade All-Purpose Cleaner was only my second time using essential oils – I'm super late to the oily mamas boat, but I am so glad to have discovered the INCREDIBLE cleaning and disinfecting qualities a natural cleaner has.
So, why did I start making my own cleaners? My first son, Max, was an angel. He never stuck random things in his mouth, he was quiet and respectful, and he only gave me grief when it was time to eat anything other than chicken nuggets. My second son, Jax? NOPE. He sticks everything in his mouth, licks his car seat, and is a total wild thang.
Since having Jax, whom we lovingly call 'The Terror', I had to re-evaluate my cleaning products a little because I knew anything I cleaned would end straight back in my toddler's mouth, or at least come into contact with his skin. I've always been a huge fan of bleach (because it's easy and I know it kills everything it touches), but that isn't the best option for my young family or my adventurous toddler.
I started exploring natural cleaning options, and came across some articles online outlining the disinfecting and sanitizing properties that some essential oils and vinegar have – I never realized!
I always thought oils were just oils – they smell nice, and they make for great placebos, right? WRONG.
After doing tons of research, I learned and read research backing up the cleaning and disinfecting power of essential oils like lemon, orange, tea tree, and cinnamon.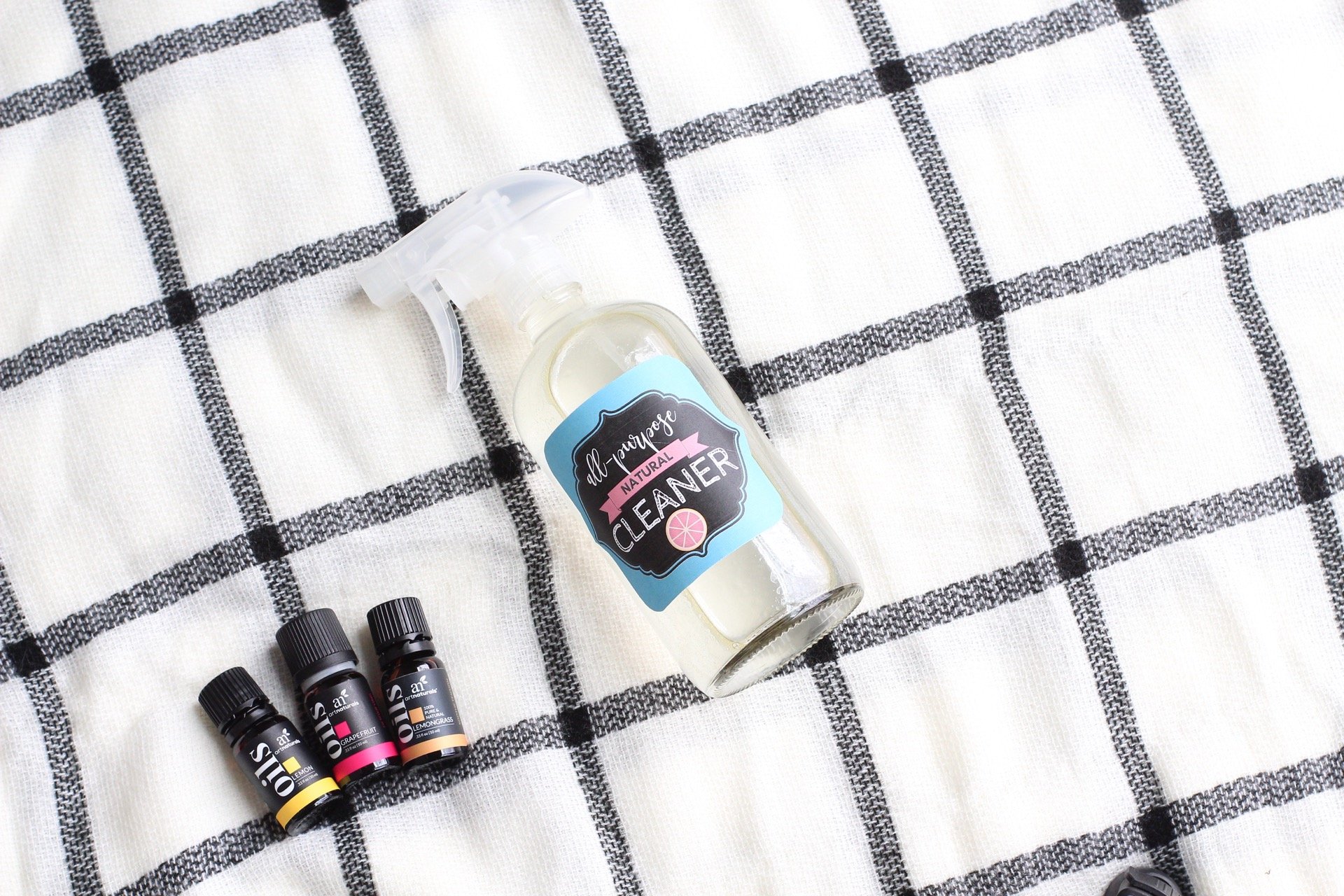 Essential Oils For Cleaning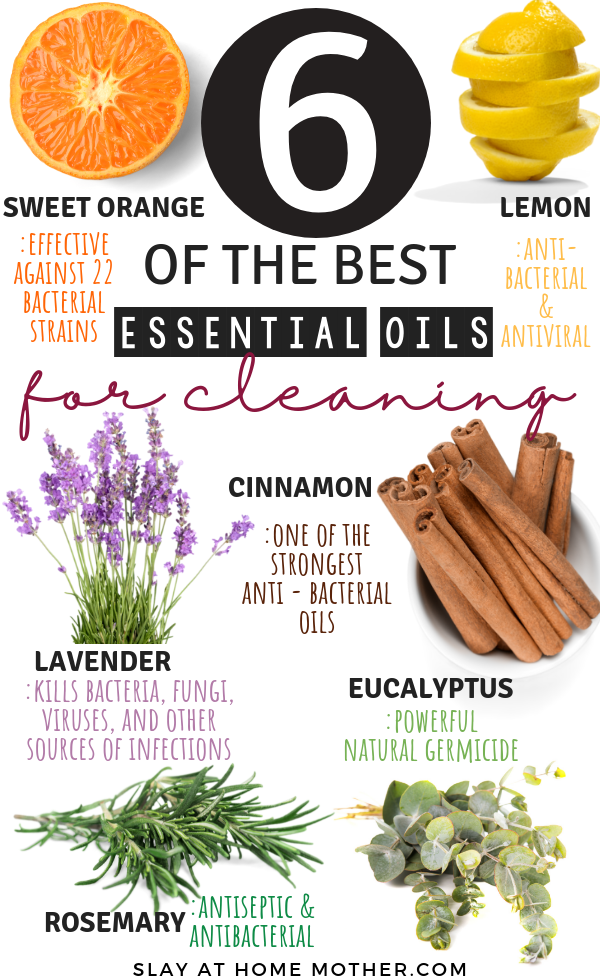 You May Also Like: DIY Degreaser Spray With Sweet Orange
Powerful Essential Oils That Fight Against Microbes, Bacteria, And Viruses
Sweet Orange: has been found in studies to be effective against 22 bacterial strains
Lemon: naturally antibacterial and antiviral (fights against viruses and bacteria)
Lavender: kills bacteria, fungi, viruses, and other sources of infections
Cinnamon: one of the strongest anti-bacterial oils
Rosemary: antiseptic and antibacterial
Eucalyptus: powerful natural germicide
Grapefruit: antimicrobial; can even fight strong bacterial strains that are responsible for food-borne illnesses, including E. Coli and salmonella (source)
Tea Tree Oil: sanitizes surfaces, and is strong enough to fight against illness-causing bacteria and viruses (including E. coli, S. pneumoniae and H. influenzae). (source)
All essential oils have a strength, but some can actually disinfect and sanitize surfaces, which makes them an ideal additive to natural homemade cleaners.
Does Vinegar Disinfect?
Vinegar does more than just stink! It actually has powerful antimicrobial and antibacterial properties and is a great addition to natural cleaners. Vinegar also kills 82% of mold species – you'll just need to give it an hour to do its magic!
Ready to make your own DIY Natural All-Purpose cleaner?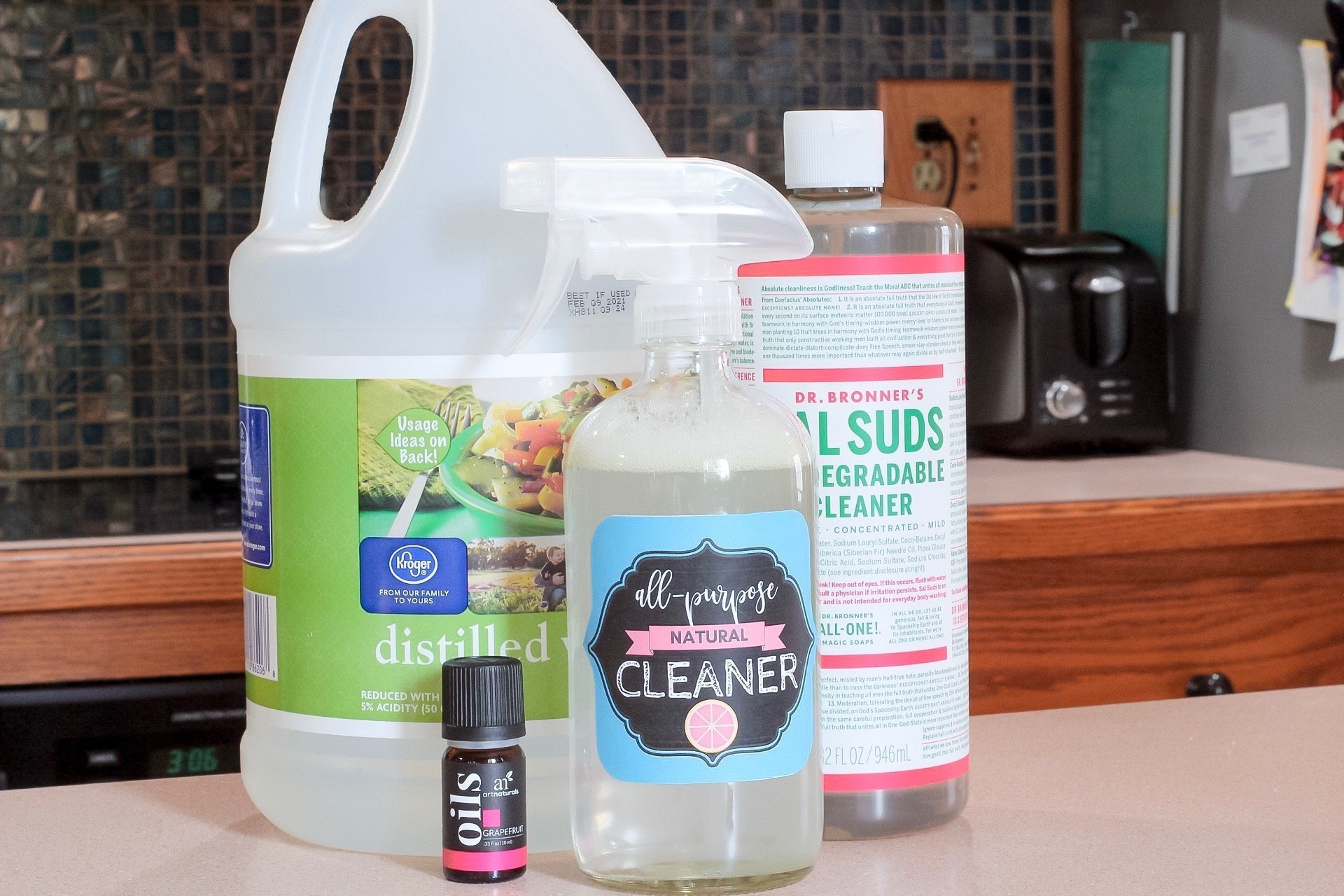 How To Make Your Own DIY All-Purpose Cleaner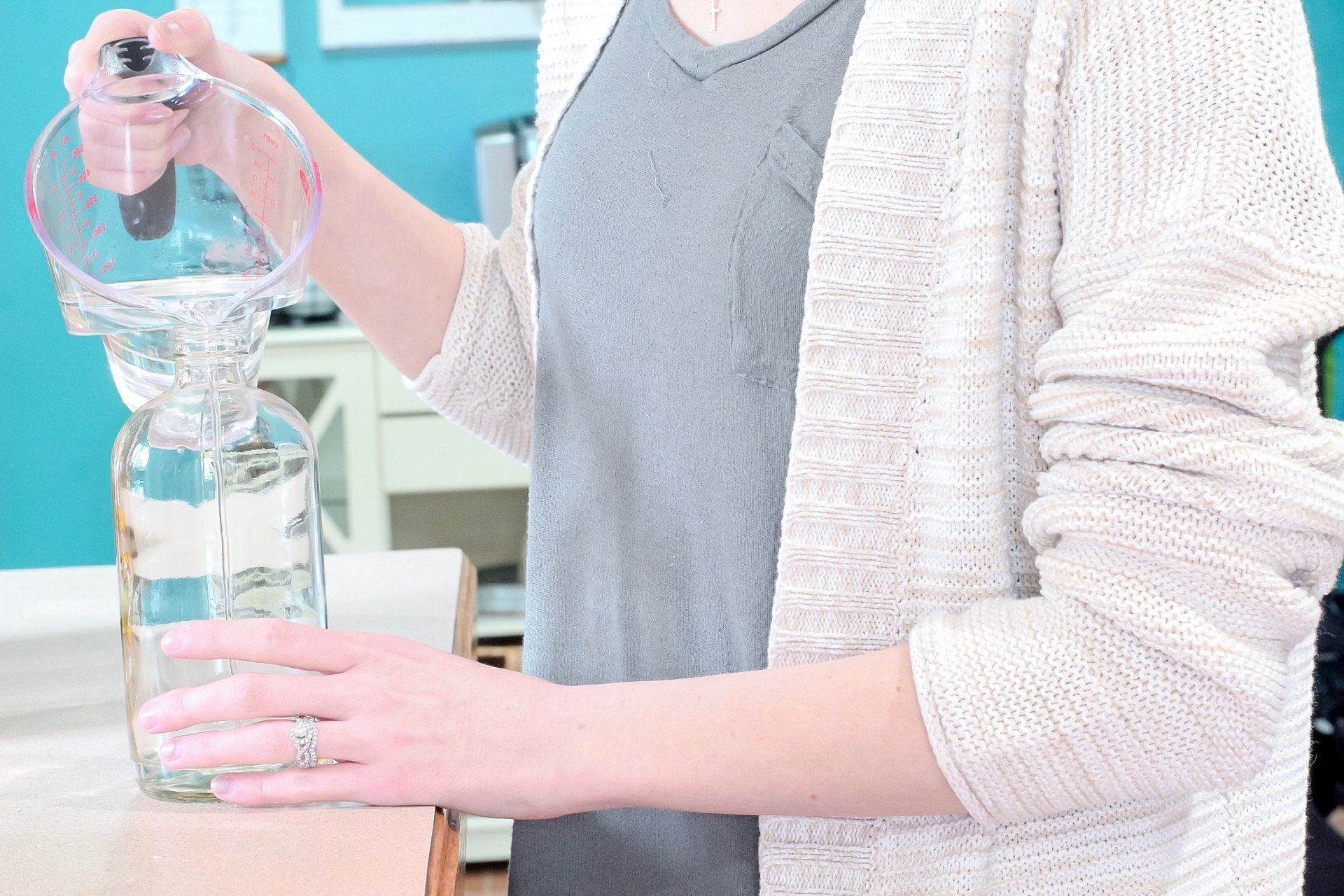 Here's what you need to make your own homemade cleaner:


Combine water and distilled vinegar in a glass spray bottle (these are my favorite glass bottles- they have powerful sprayers, durable bottles, and a strong plastic pull handle that won't break). Add in Sal Suds and essential oils (I used 10 drops of grapefruit, 15 drops of lemon, and 15 drops of lemongrass oil) – rotate glass bottle a few times to combine, and spray to clean. Use either a paper towel or microfiber cloth to wipe away messes.
*If you have a sensitive nose/stomach, or your spouse complains anytime you use vinegar to clean, adding 40-50 drops of essential oils can combat the smell while maintaining the same cleaning power. If you're fine with the smell of vinegar while cleaning, feel free to drop the essential oil drops down to 15-20.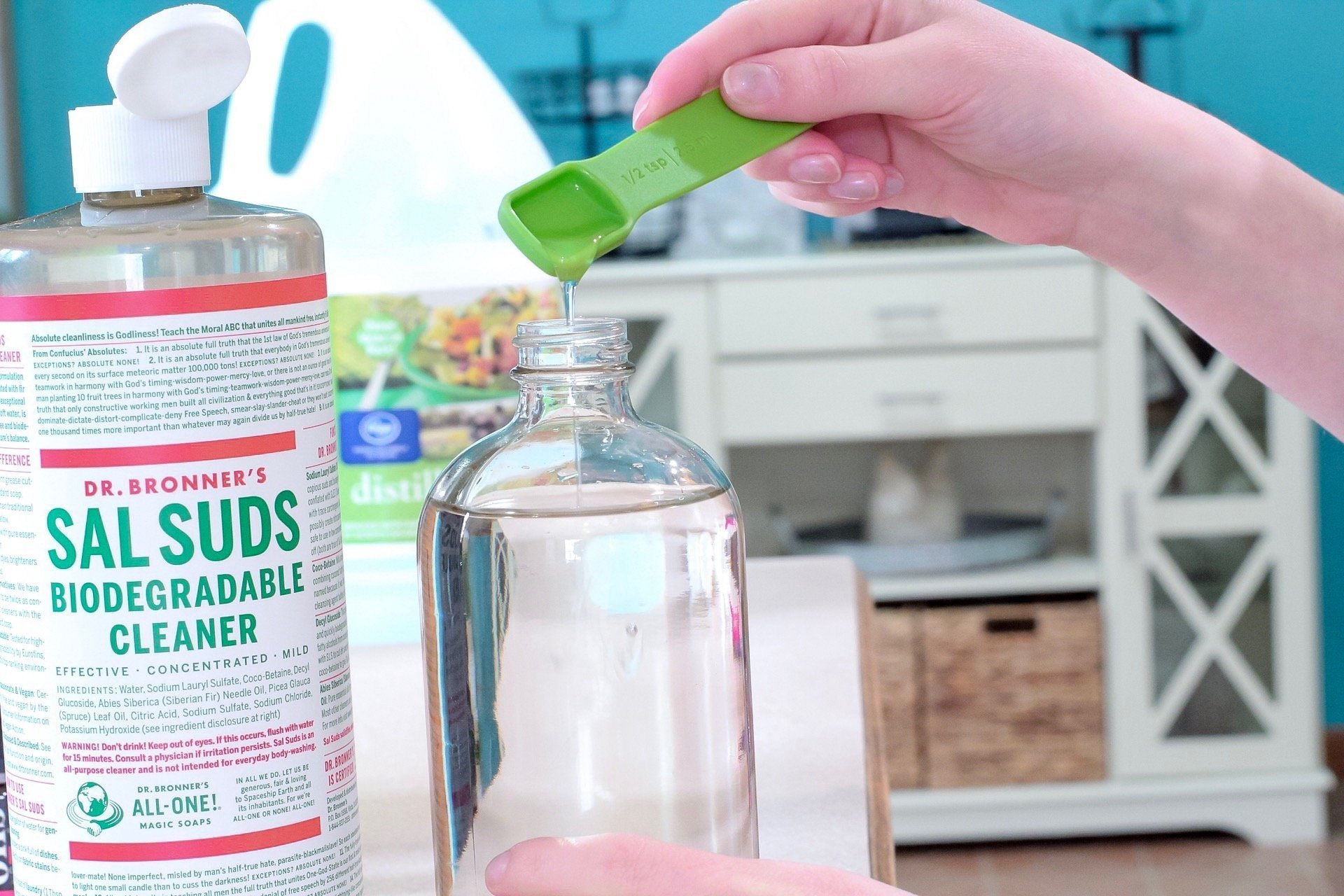 For this disinfecting all-purpose cleaner, I used Sal Suds instead of castile soap because this cleaner contains vinegar. You can read more here about why you shouldn't mix vinegar and castile soap in natural cleaners.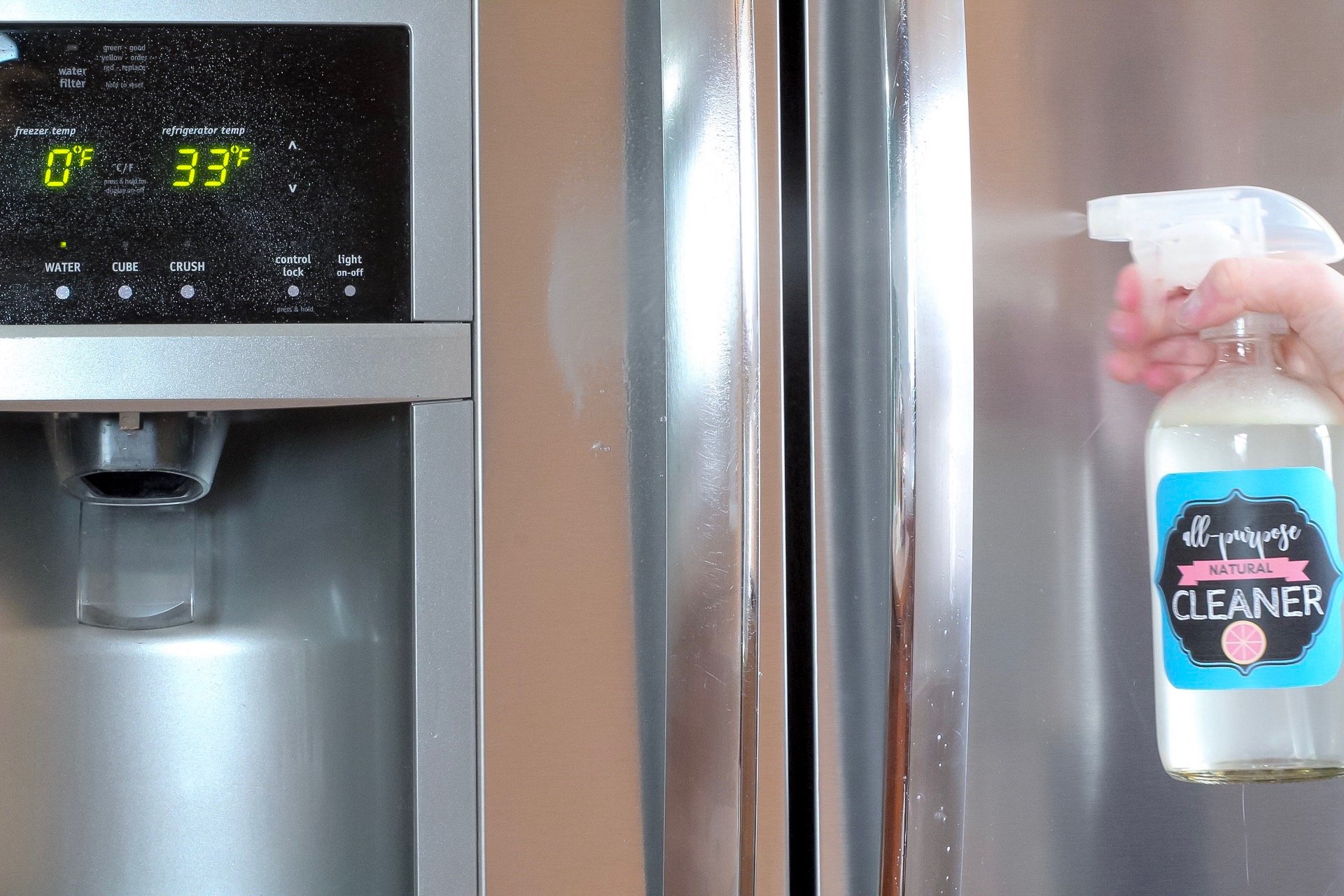 [convertkit form=868593]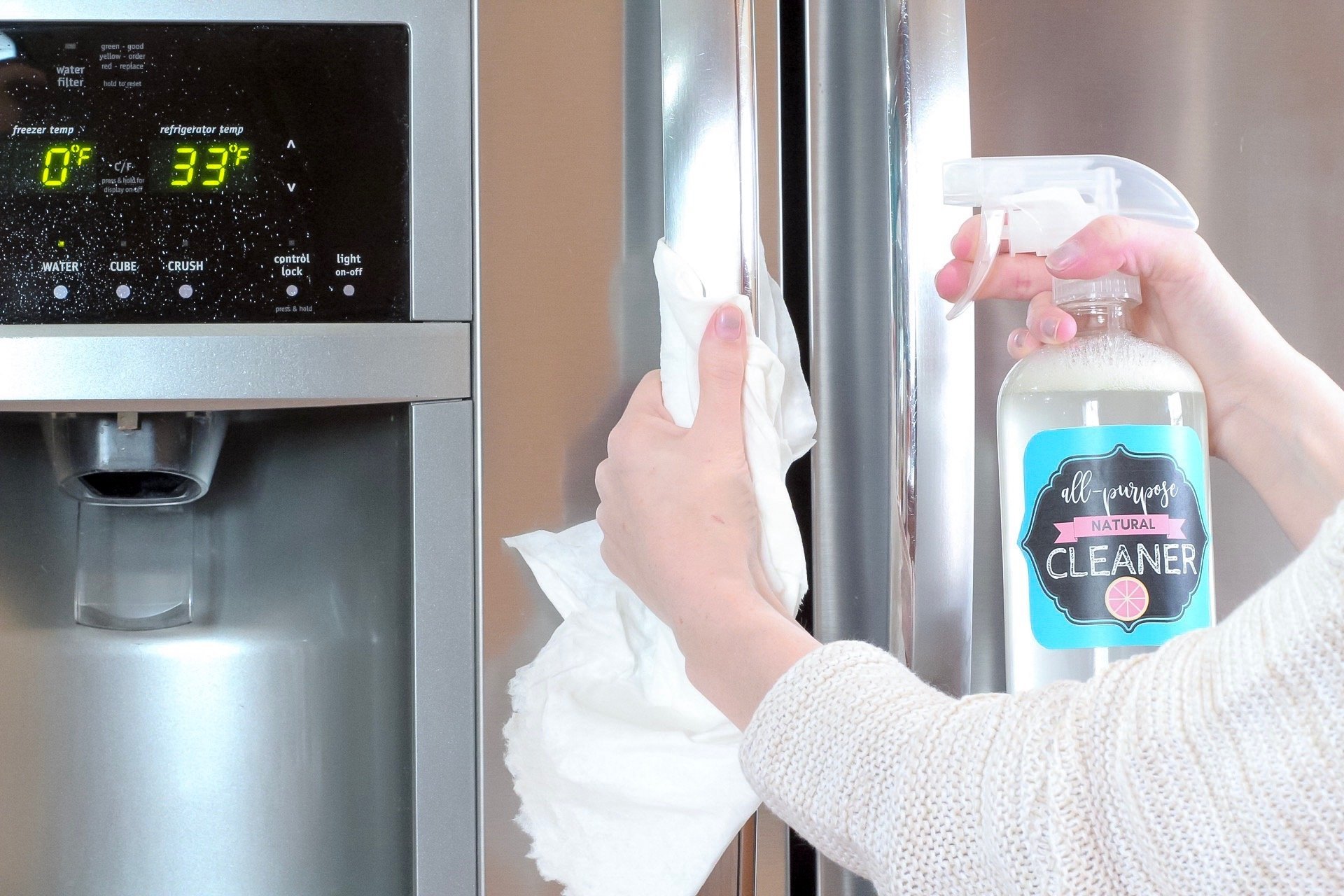 You May Also Like: Spring Cleaning Checklist (FREE Printable!)
Surfaces You Should Not Use This Cleaner On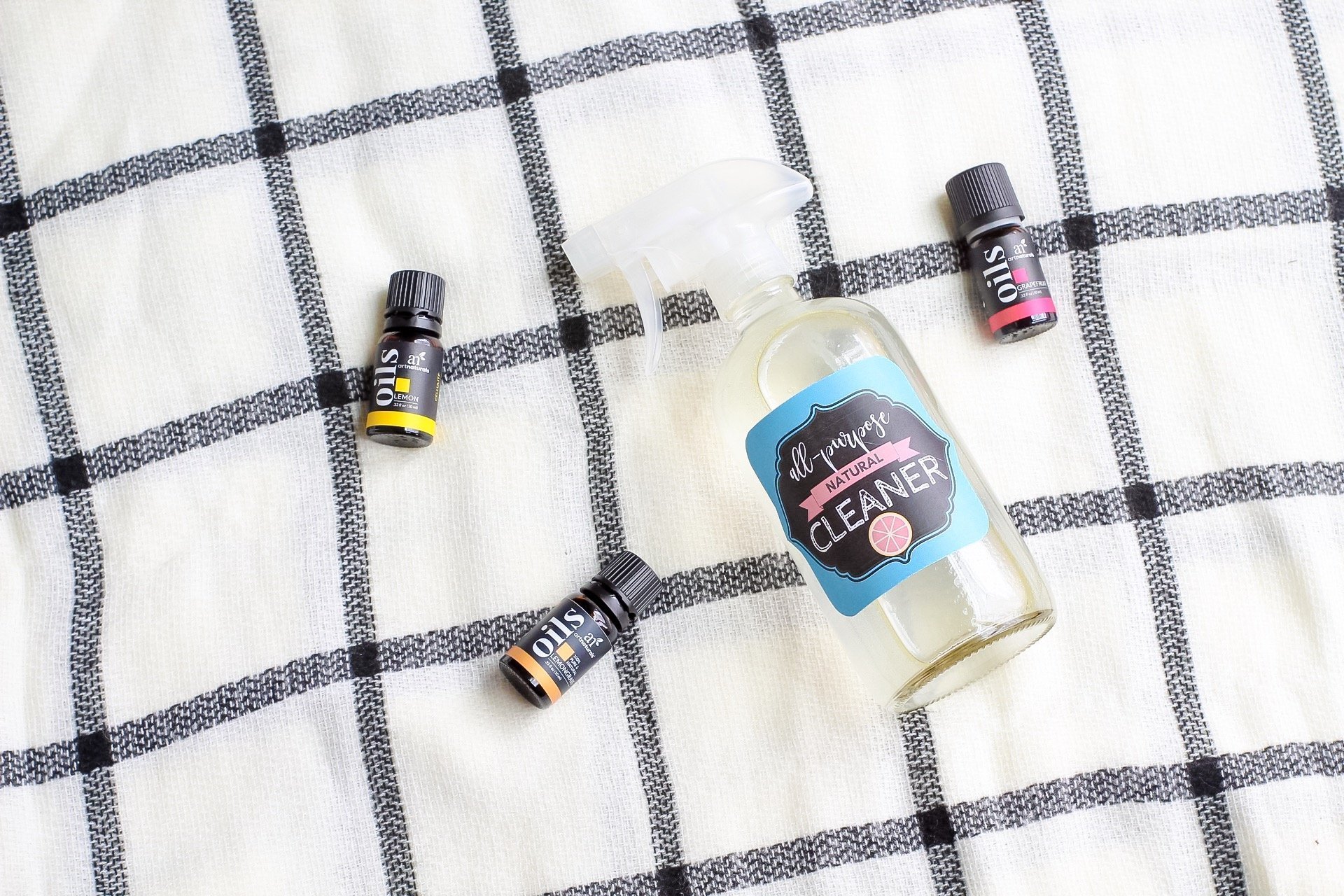 Because this cleaner contains vinegar, I would not recommend using it on surfaces such as granite or marble. Frequent use of vinegar on these surfaces (as well as Windex or Bleach) will dull it and cause its sealant to weaken.
---
PRINT THIS CLEANING RECIPE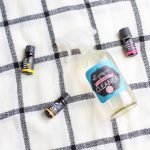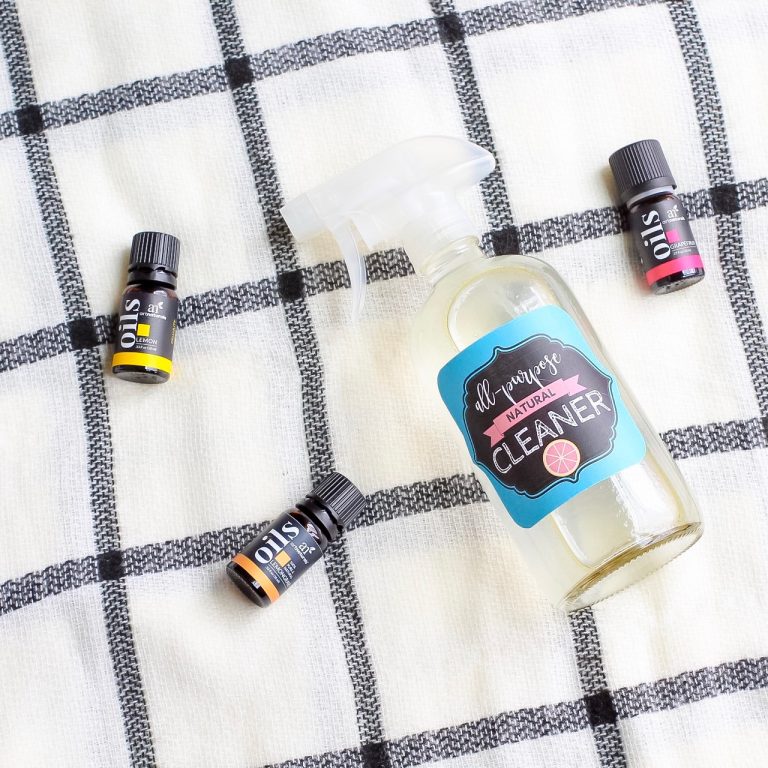 DIY All-Purpose Cleaner With Vinegar
Make your own natural all-purpose cleaner. Disinfect, sanitize, and clean countertops, stainless steel appliances, and windows with this homemade cleaner. This cleaner does NOT reek of vinegar because of the mixture and amount of essential oils.
Ingredients
1

cup

distilled white vinegar

1

cup

distilled water

(you can also boil water and let cool)

1/2

tsp

Sal Suds

(NOT castile soap)

40

drops

essential oil
Instructions
Combine water and vinegar in a glass spray bottle.

Add in Sal Suds, and then essential oils. I used 10 drops of grapefruit, 15 drops of lemon, and 15 drops of lemongrass oil.

Screw the sprayer top onto the glass bottle, and turn the bottle upside down and right side up again several times to swirl the mixture together.
PIN THIS FOR LATER!