Make your own homemade citrus degreaser spray to battle grease, grime, and yucky messes in your kitchen…
---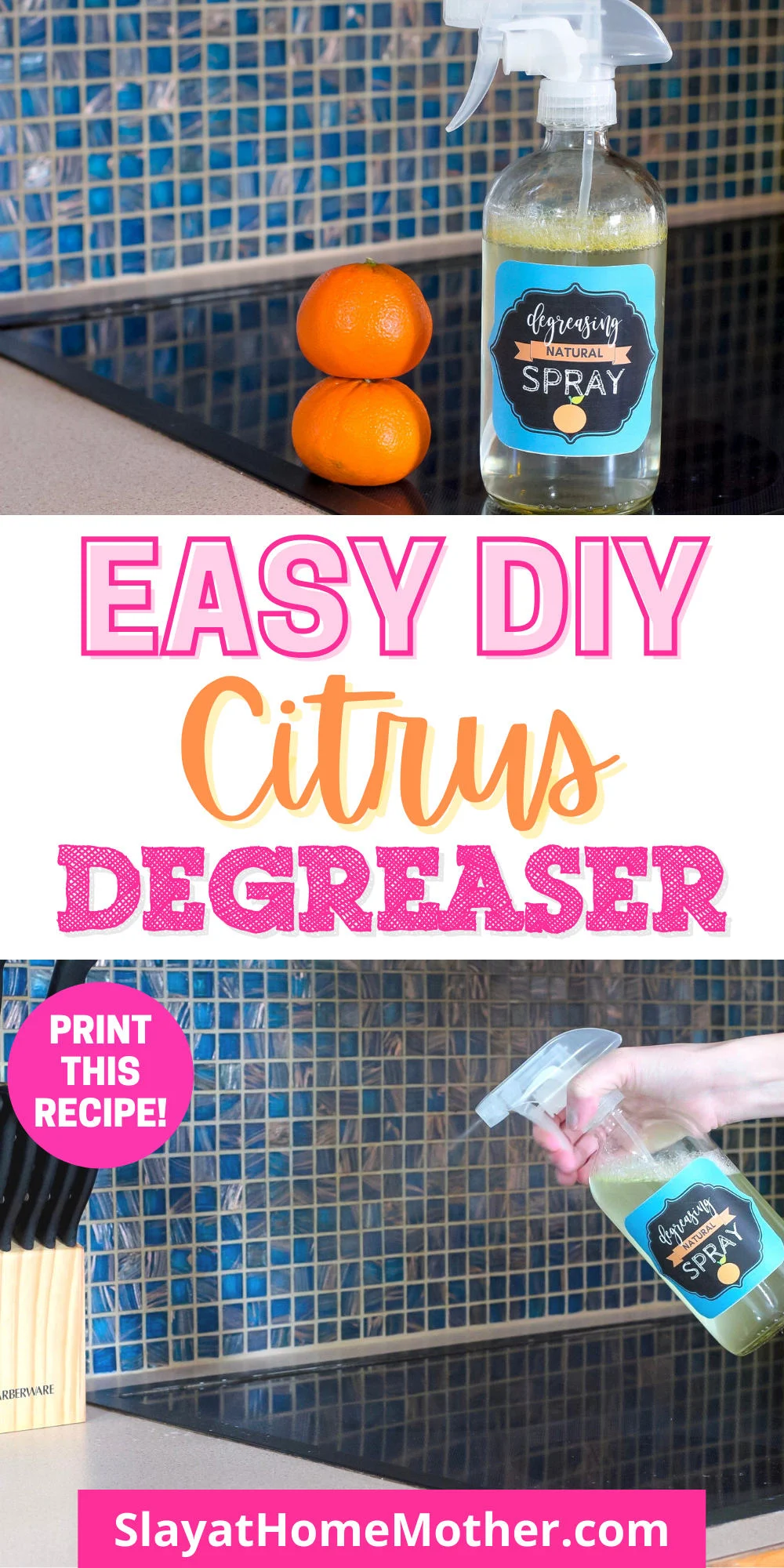 Are you looking for a natural way to cut through the grease spots on your stovetop?
This homemade citrus degreaser spray not only smells FABULOUS, but it also takes the work out of cleaning a nasty, grimy stovetop without having to use harsh chemicals.
When our stove would get greasy, I used to go through a two-step process to get it clean.
First, I would scrub it with a sponge and hot soapy water, and then I would spray it with bleach.
I would wait 10-30 minutes (usually finding something else to do while I waited for the bleach to eat away at the food particles and bacteria, and then I would come back and wipe it down.
It did the job, and my stovetop was clean.
But I always worried about rinsing my stovetop enough.
I still needed to cook on it, and I was concerned about any fumes that might develop should I need to cook on it in the next few hours.
I just never knew, and that uneasy feeling haunted me until I decided to find a natural way to clean and disinfect our stovetop.
Don't get me wrong, I believe bleach has its place in our cleaning supply arsenal, but not on surfaces that deal with food.
In this post, I'll be sharing how I make my own natural degreaser without chemicals.
When I first used this cleaner, I was half expecting it to do nothing but smell up my kitchen. I was surprised to see how clean and beautiful my kitchen was after using this degreaser – and I think you will be, too!
It makes a great kitchen, stovetop, appliance, and counter cleaner…
*This post contains affiliate links, however, all opinions are my own, as always.
Cleaning With Essential Oils
Truth be told, I used to think essential oils and natural cleaners were a huge hoax.
I totally didn't get how oil could help clean, disinfect, or do anything but offer a placebo effect.
I was (kind of) happy with my chemicals because I knew for sure that they were doing the job I needed them to do, even though they were harsh and pretty dangerous.
Cleaning and disinfecting your home doesn't have to be harsh and dangerous, though!
You can master cleaning up grease, disinfecting surfaces, and leave your home sparkly and beautiful without worrying about your children being able to touch the surface you just cleaned or being able to cook on your bleached stovetop for the next few hours.
Here's what you need to know about cleaning with essential oils…
What Are Essential Oils?
Essential oils are compounds extracted from plants – they capture a plant's essence.
To get the purest essential oil of a plant or fruit, look for essential oils that are cold-pressed.
"Cold-pressing helps preserve the integrity and potency of these oils, which offers greater health benefits to you. As the term implies, "cold pressing" involves no external application of heat. Any heat that occurs is created internally because of the mechanical pressing process. This is important because, in certain plants, high levels of heat cause the delicate and tiny molecules within the oils to break down and degrade, which can minimize the oil's health benefits." – Source
What Are Essential Oils Used For?
Essential oils can be used for many things like aromatherapy (in a diffuser) to alleviate stress, relaxation, focus, mood, and inflammation, as well as for cleaning, disinfecting, and to help freshen up homes without the use of chemicals or toxins.
Why Are Essential Oils Good For Cleaning?
Besides smelling FANTASTIC, essential oils are well-known and accepted for their microbial properties (meaning they are effective in destroying or stopping microorganisms and bacteria).
"The essential oils of aegle, ageratum, citronella, eucalyptus, geranium, lemongrass, orange, palmarosa, patchouli and peppermint, were tested for antibacterial activity against 22 bacteria, including Gram-positive cocci and rods and Gram-negative rods, and twelve fungi (3 yeast-like and 9 filamentous) by the disc diffusion method. Lemongrass, eucalyptus, peppermint and orange oils were effective against all the 22 bacterial strains." Source
After some research and reading, I chose to use sweet orange oil.
Orange oil has been shown in studies to be effective against bacteria commonly found in homes.
If you don't have any orange oil on hand, don't fret!
You can substitute the orange oil in this degreaser solution for lemongrass or eucalyptus oil. While peppermint is considered to be a great microbial, I haven't read anything that indicates it would be good for cutting through grease like the other oils I have suggested so far.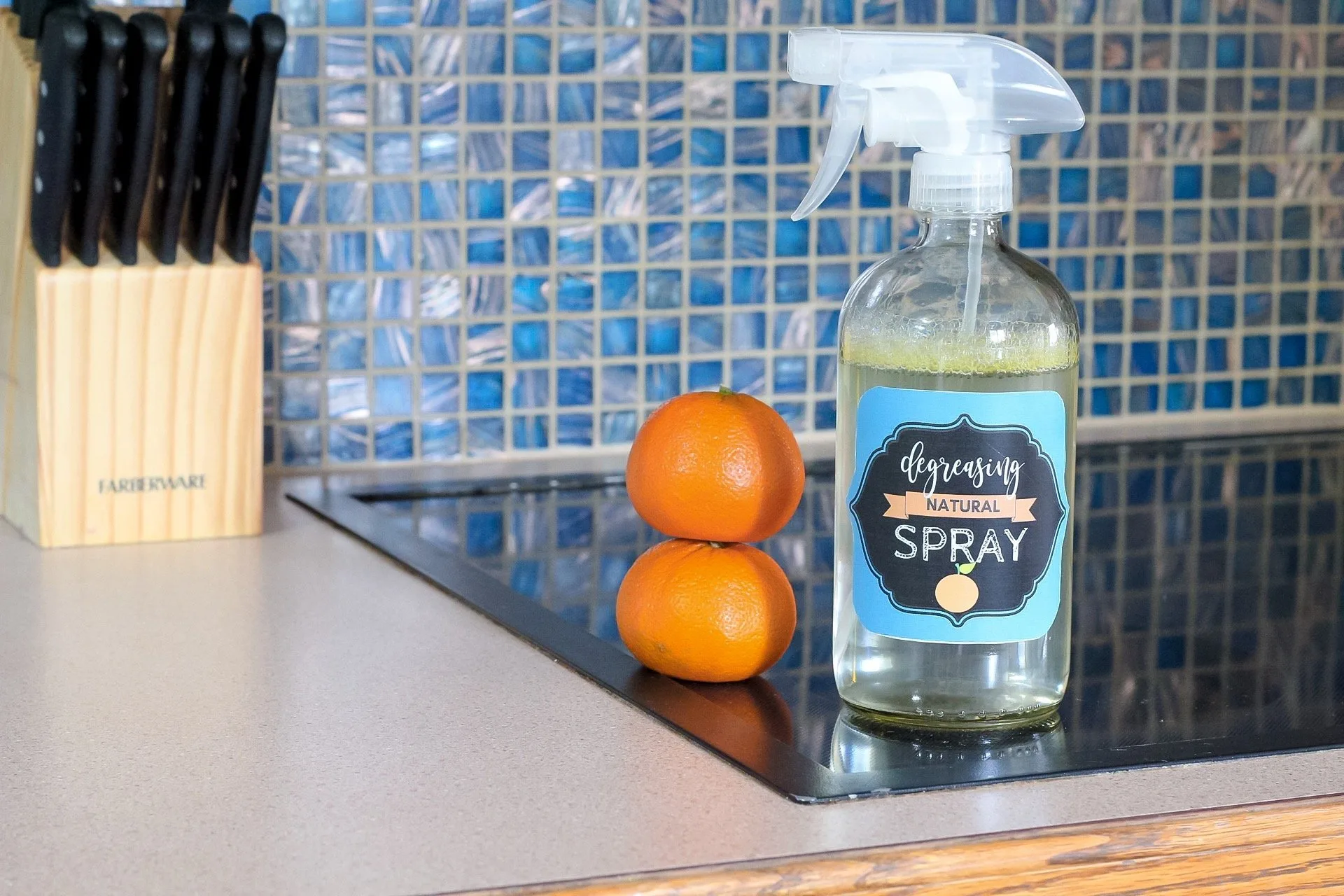 Related: How To Clean Oven Door Glass (Inside, Out, And In-Between)
Making Your Own Citrus Degreaser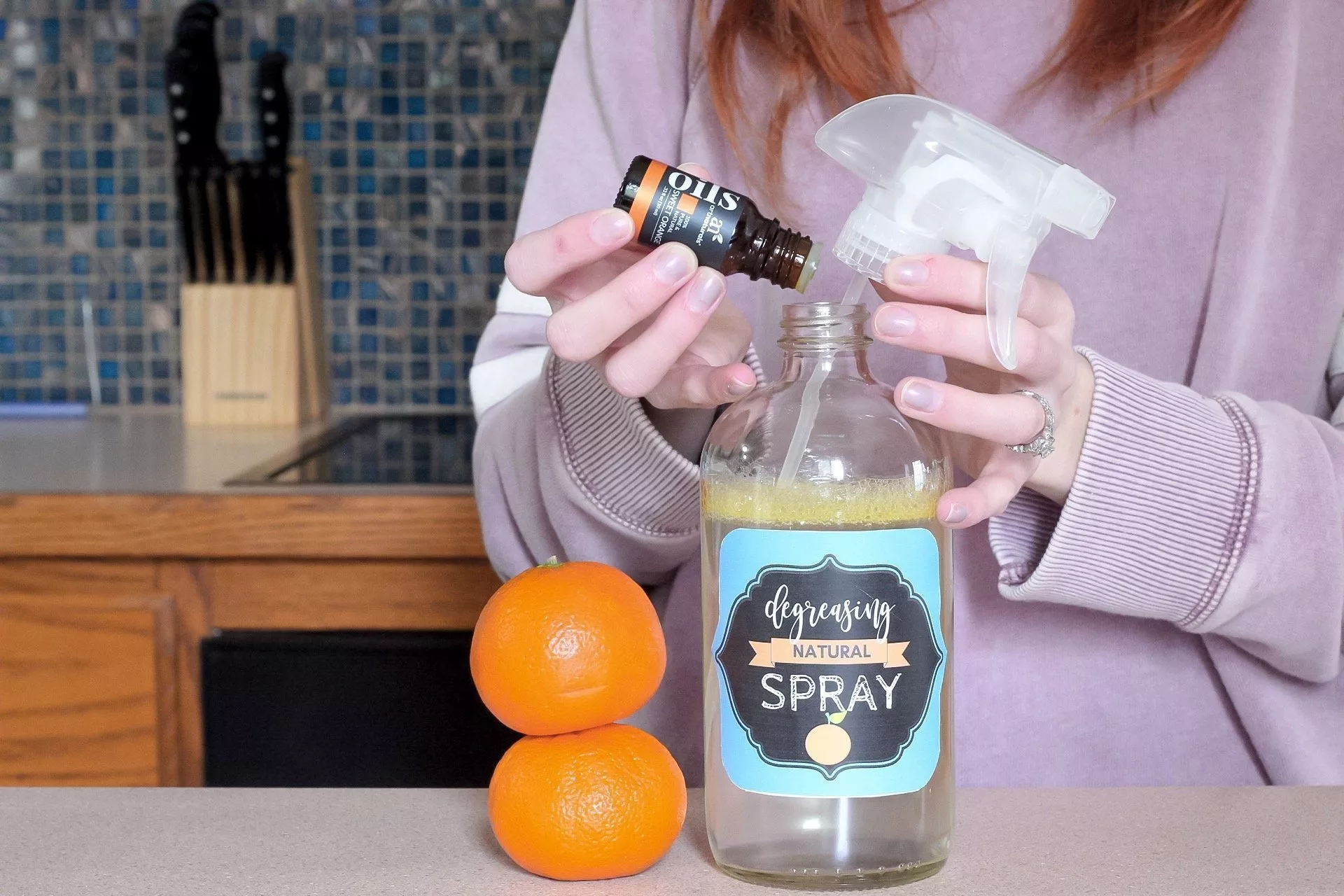 To make your own citrus degreaser spray, you'll need baking soda, Sal's suds, sweet orange essential oil, and warm water.
Oh, and some glass spray bottles!
Here are the ones I use – they have a sturdy sprayer that doesn't break, and don't clog up with solution.
See the recipe below…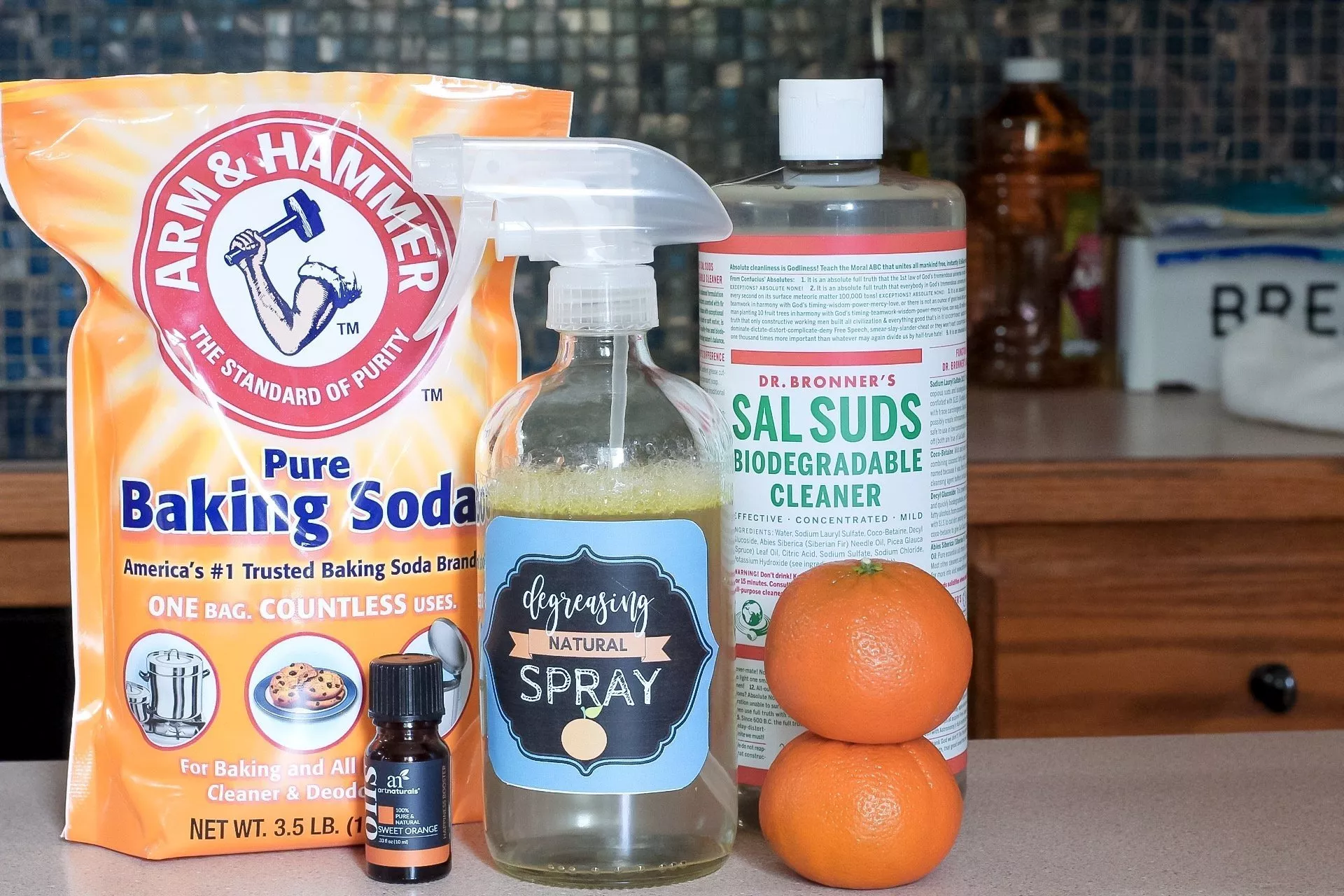 You May Also Like: Non-Toxic Force Of Nature Cleaner Review
How To Clean With Homemade Degreaser
Spray degreaser solution generously on greasy surfaces like stovetops, microwaves, oven doors, and counters.
Allow the solution to sit on the surface for a couple of minutes, and then wipe away with a soft microfiber cloth or paper towel!
The orange oil will cut through the grease while disinfecting your kitchen.
Don't forget to wipe down your kitchen backsplash (assuming it isn't wood) for a beautiful, sparkly shine!
To see this cleaner in action, check out my post on cleaning your oven glass door (inside, out, and in-between the glass)!
Surfaces You Can Use Homemade Degreaser On
You can safely use this cleaner on stovetops, stainless steel, countertops, tiled backsplash, and within appliances like your microwave or oven.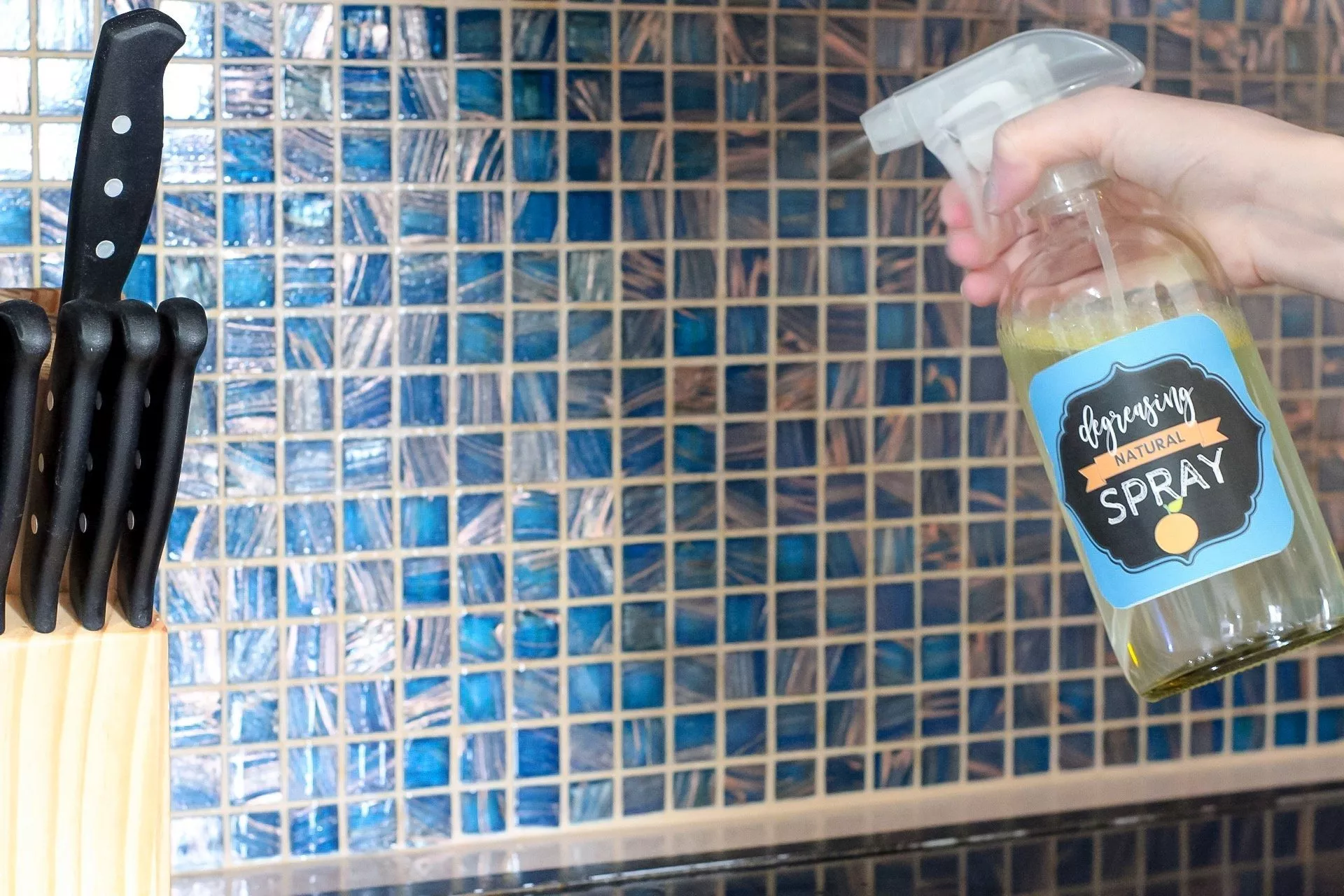 Related: How To Clean The Microwave With Two Household Ingredients + No Scrubbing
I like to spray this degreaser solution along the tiles of my backsplash when I'm cleaning the stove as well because there's usually an invisible film of grease and grime there.
It works well to remove grease and leaves my backsplash shiny!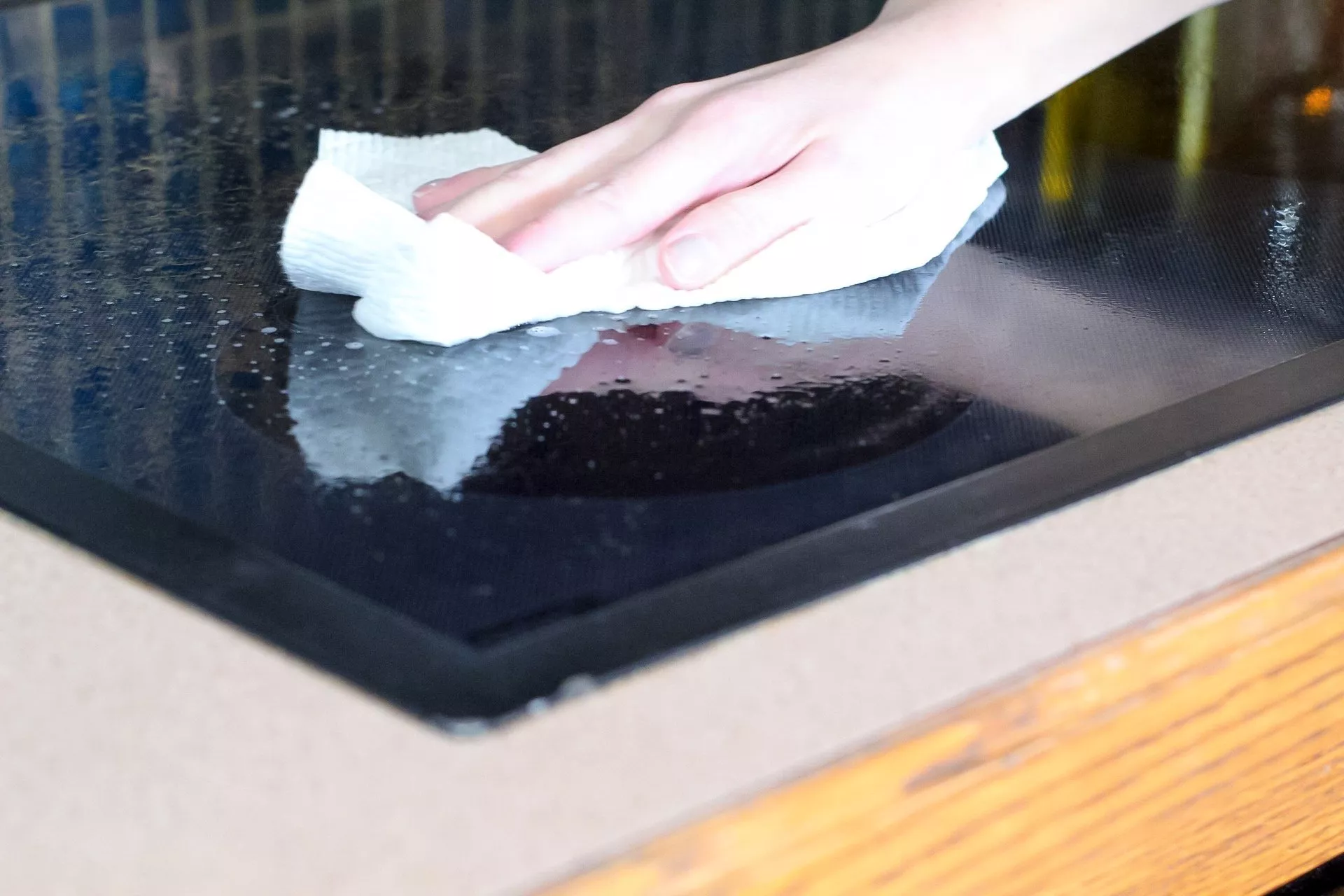 Using just a paper towel (or a microfiber cloth), I can wipe away grease and grime with ease, and leave my kitchen smelling like fresh, sweet oranges!
Before, even with the bleach, it looked like I was still spreading the dissolved grease around our stove and counters- yuck!
Surfaces To Avoid Using This Homemade Degreaser On
Although this is a great natural cleaner and degreaser, you should avoid using this solution on wood surfaces or windows/mirrors.
This solution does leave some streaks on windows and mirrors.
Using Vinegar In Cleaners
Many natural cleaners use vinegar in them because it's a great disinfectant, and it cuts through most grease and grime with ease.
Why I Chose NOT To Use Vinegar In My Cleaner
Vinegar STINKS.
That is all.
It's really a preference.
Vinegar is a great ingredient to include in some homemade cleaners because it is so acidic, and is great for cutting down grease and scum – if you can't get past the smell!
If you're considering using vinegar in your homemade degrease, know that you cannot use vinegar, an acid, on surfaces such as marble, granite, quartz, and certain flooring.
Why You Should Never Mix Vinegar With Castile Soap
Before mixing together your first homemade cleaner, remember not to mix vinegar and castile soap together.
When vinegar, an acid, mixes with castile soap, a base, they cancel each other out and create a kind of curdled white slime. The vinegar essentially unsaponifies the soap.
Your homemade cleaner would be ineffective, and you would end up having to clean a slimy mess off of your counters along with the grease and grime that is already on the surface you're trying to clean!
What You CAN Combine Vinegar With…
Vinegar can be combined with Sal's Suds (as I've used in this homemade degreaser recipe), however:
"This issue does not apply to combining Sal Suds with vinegar. Sal Suds, as a synthetic detergent, has a completely different chemical makeup and does not react with the vinegar in the same way. " – Lisa Bronner
How To Store Natural Cleaners
The best way to store a homemade natural cleaner is in an amber bottle like this one because it prolongs the shelf life of your mixed solution and keeps the integrity of the essential oils, but cobalt blue and clear glass bottles still make great storage options as well.
Personally, I use my cleaners so often that I don't need to worry about shelf life, so I prefer to use clear glass bottles!
Natural Citrus Degreaser Spray Recipe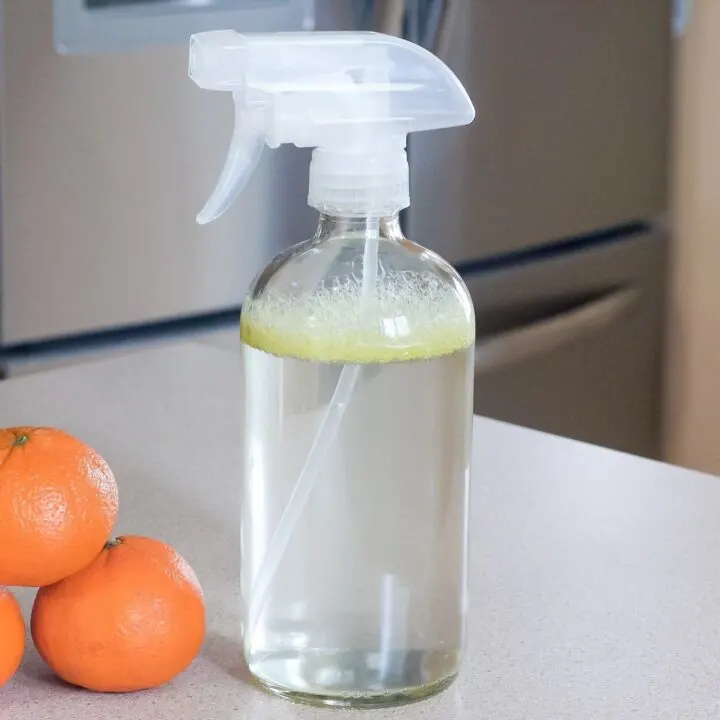 DIY Citrus Degreaser
Cut through tough kitchen grease and grime with this homemade Citrus Degreaser spray...
Ingredients
2 warm cups water
2 tsp. Sal Suds
1 tbsp. baking soda
15 drops Sweet Orange essential oil
Instructions
Combine warm water and baking soda in a 16 oz. glass spray bottle.
Add in Sal Suds and essential oils, swirl to combine.
To use, spray citrus degreaser on surface and let sit for 1-2 minutes. Wipe up with a clean microfiber cloth or paper towel.
Recommended Products
As an Amazon Associate and member of other affiliate programs, I earn from qualifying purchases.
---
I hope you enjoyed this post and want to try making your own natural degreaser – I loved being able to share one of my favorite natural cleaning solutions with you.
It's a fantastic cleaner with a lot of power, plus it smells amazing!
*Post originally published April 2019, updated December 2021.