Learn how to clean oven glass the easy way – no coat hanger required…
---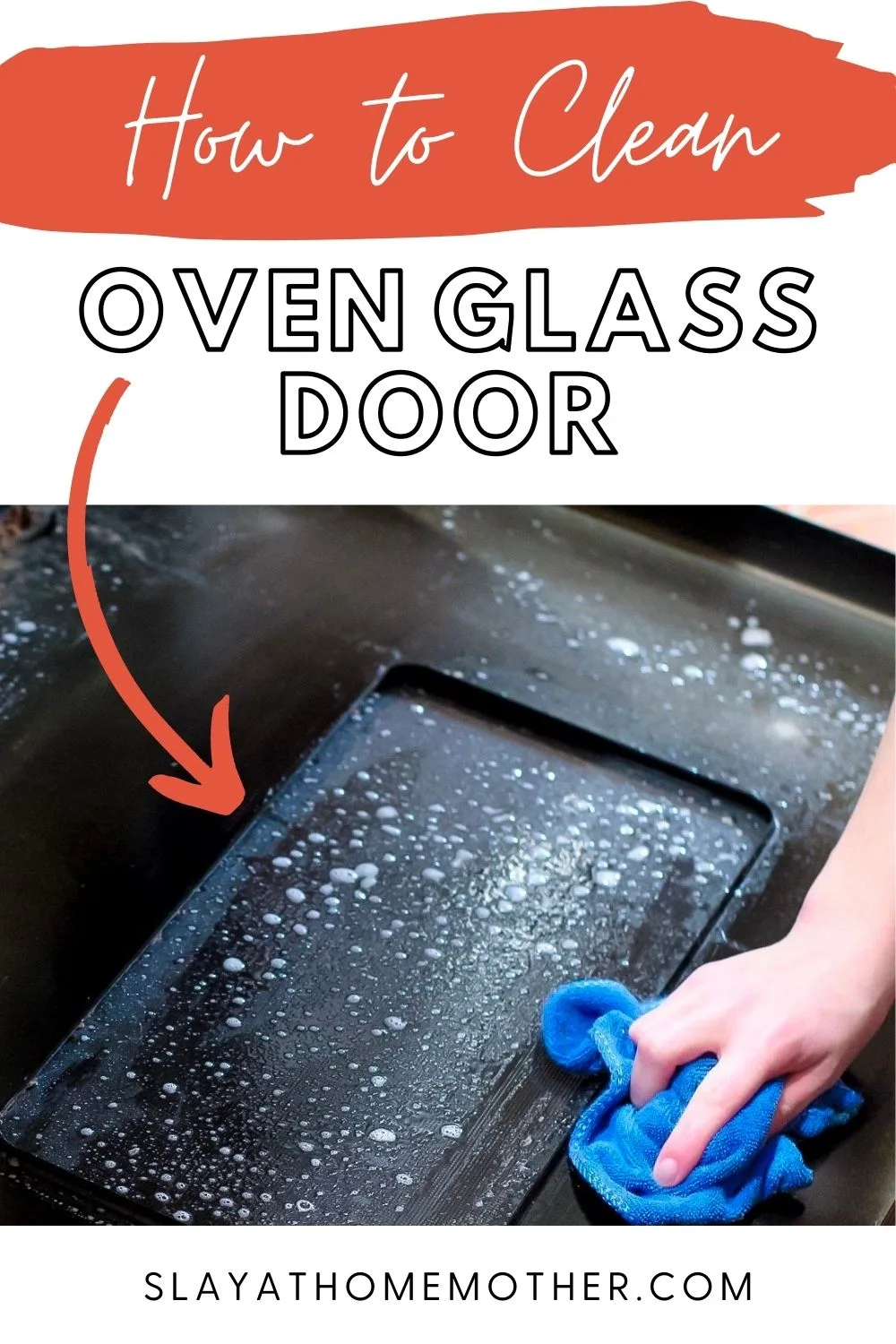 I haaaaate cleaning my oven door glass.
It sits at the top of my list of 'Things I Hate To Do', followed by changing messy diapers and pulling hair out of the drain.
But, it's just one of those pesky things you have to do once you're a homeowner.
In this post, I'm going to help you when it comes to cleaning that brown stained oven glass door in your kitchen.
Usually, when it comes to cleaning stuff, I'll ask either my mom for tips, or I'll scour Pinterest for ideas.
I mean, Pinterest is full of resources from people who have been there and done just about everything – it's probably how you came to click on this post! 😉
Oven Cleaning Hacks
I have tried so many different ways to clean my oven from Bar Keeper's Friend to steel wool and every oven cleaner under the sun. I never quite got the results I wanted using elbow grease and the 'best oven cleaner' that was all the rage.
For my oven, I wanted a no-scrub idea, and found the baking soda paste method, and got really excited! Maybe this cleaning paste would be the one that finally worked.
Cleaning your oven with baking soda is all over Pinterest and Google.
The idea behind the baking soda method was the baking soda somehow breaks down all your oven door glass grease and grime while you prop your feet up for twenty minutes and do nothing.
You mix up a gooey paste of baking soda and water, slather that goo on your open oven door, and catch up on RHOBH while your oven glass cleans itself.
I kind of loved the sound of that.
Besides, I've got these scrawny little chicken arms I inherited from my mother, and they contain almost zero elbow grease for scrubbin'.
Well, I tried the whole baking soda thing and didn't care for the results.
I googled and searched 'how to clean the glass door on an oven', but I couldn't find a good solution that would work for my poor, poor oven!
I ended up finding something that worked even better and wanted to share with you guys so maybe you can save yourself a headache when it comes to tackling the grease and grime on your oven door glass…
Plus, I discovered how to clean oven door between the glass by removing just a few screws – it's so easy to do!
*This post contains affiliate links to support my blog, however, all opinions are my own, as always! This post is not sponsored in any way.
How to Clean Oven Glass Door
There are a few ways you can clean your oven door glass on the inside of your oven, depending on how much grease, grime, and baked-on food you have.
I know quite a few people are fans of the baking soda method (combine baking soda and warm water to make a thick paste, lightly scrub, and wipe away paste), but this didn't work on my super nasty oven door glass.
Something else worked – something I wasn't expecting at all…
Cleaning My Oven Glass Using A MAGIC ERASER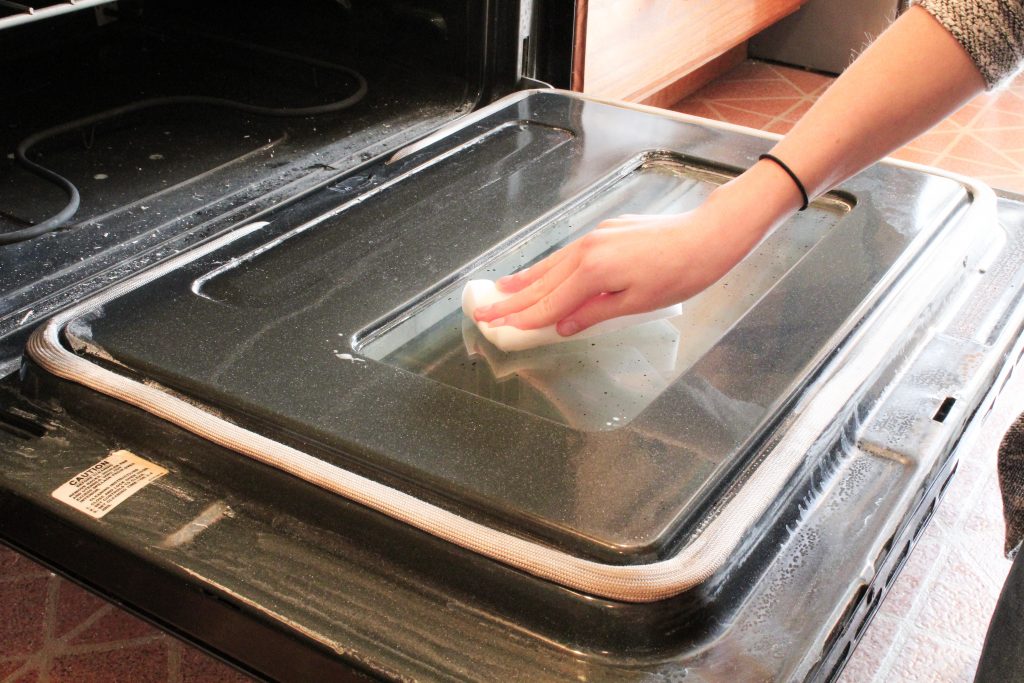 Related: How To Clean And Organize Your Fridge + FREE Printable Fridge Labels
Because I had given baking soda a go with little success, I decided to try one of my favorite tools in my cleaning arsenal – my Magic Erasers!
I use them to clean our baseboards, cabinets (they've removed sharpie from my white bathroom cabinets plenty of times when I thought I had permanently stained them!), and to help eliminate the scuff marks left over from the boys kicking the doors with their boots in the wintertime.
I used my secret weapon to scrub our oven door glass, and couldn't believe the amount of gunk and brown water that came up with the eraser.
I scrubbed and scrubbed – and actually went through two Magic Erasers to get the leftover, caked-on bits of whatever that was left on the glass. AND IT CAME UP CLEAN!
I feel like a total pro when it comes to cleaning the oven glass door now ;).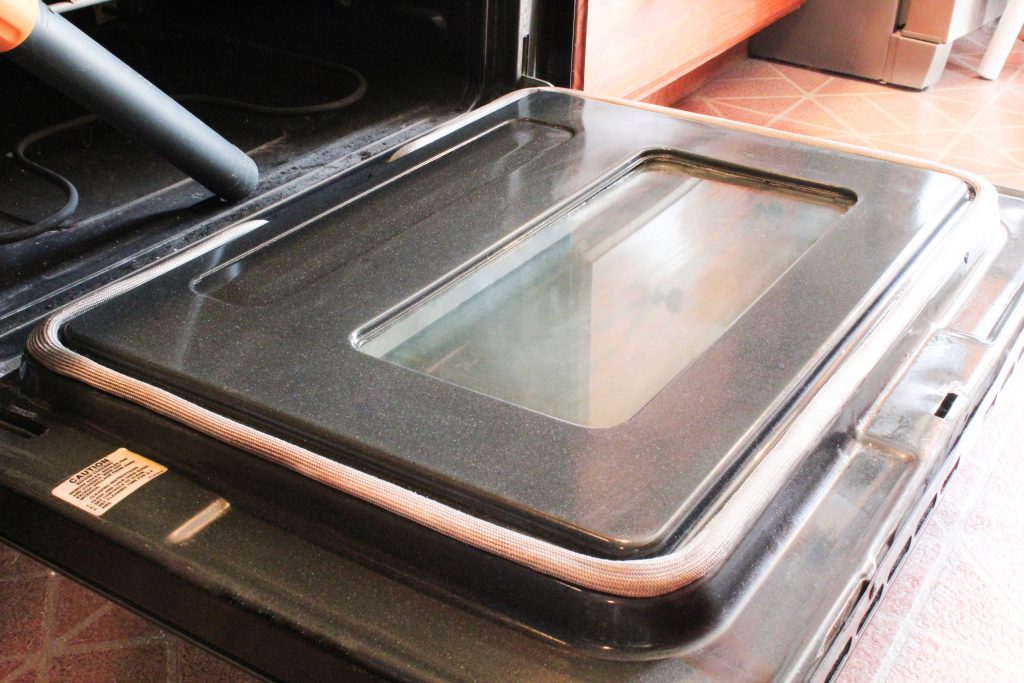 You May Also Like: How To Clean Your Microwave (It's Easier Than You Think)
Cleaning Between Your Oven Door Glass
Update: I've added this section of the post to include how to clean the oven door between the glass because I've recently figured out how to do it with my own oven and want to share the knowledge!
Separate Your Oven Door With A Screwdriver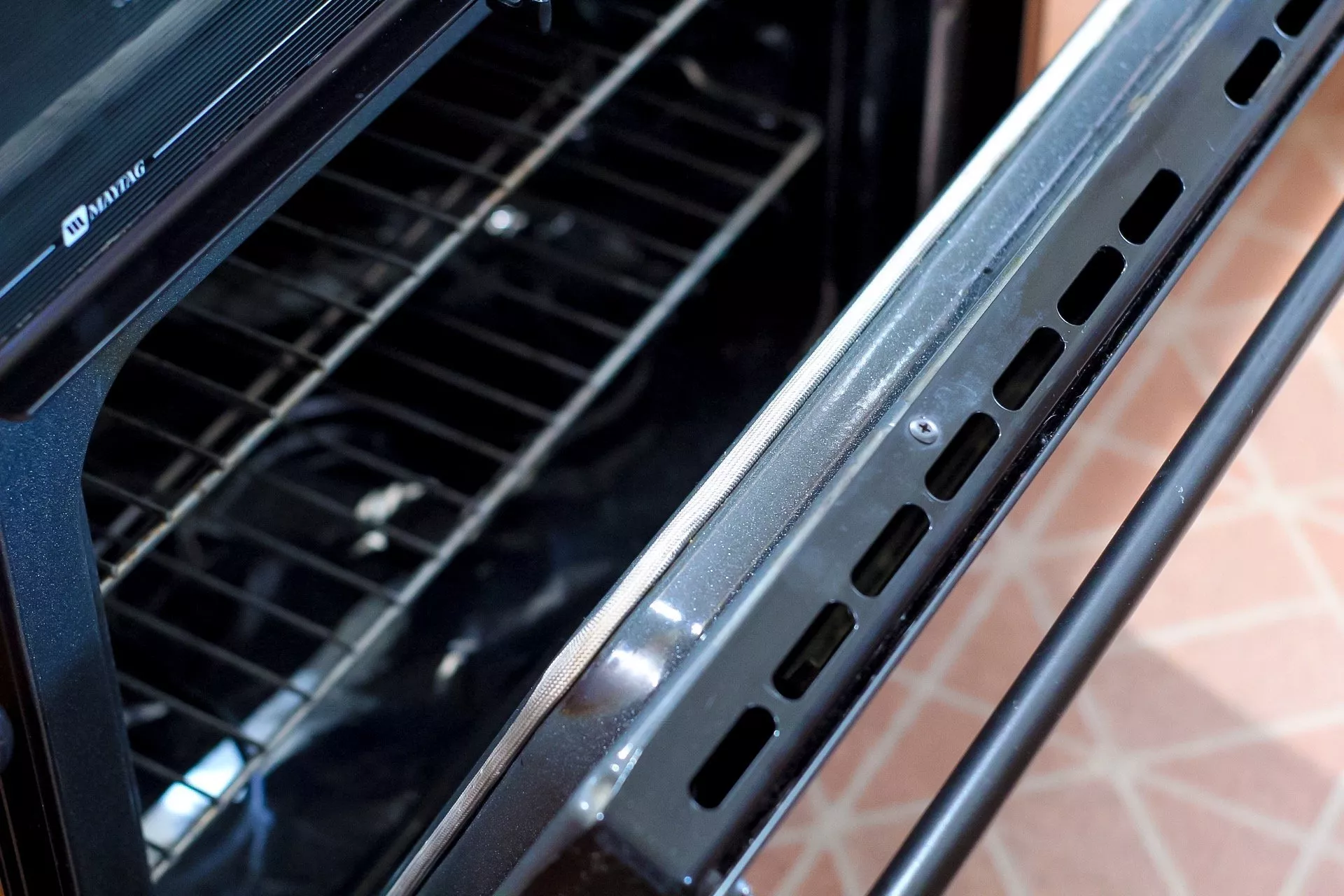 Open your oven door and find the screws that hold the door together.
In my oven, they were on the top edge of the door. Use the proper size and type of screwdriver to remove the screws – consider setting them aside in a plastic bag so they don't get lost.
Your oven door should come apart into two sections like the photo above but still be attached at the bottom.
Examine Dust, Gunk, And Grime That Exists In Your Oven Door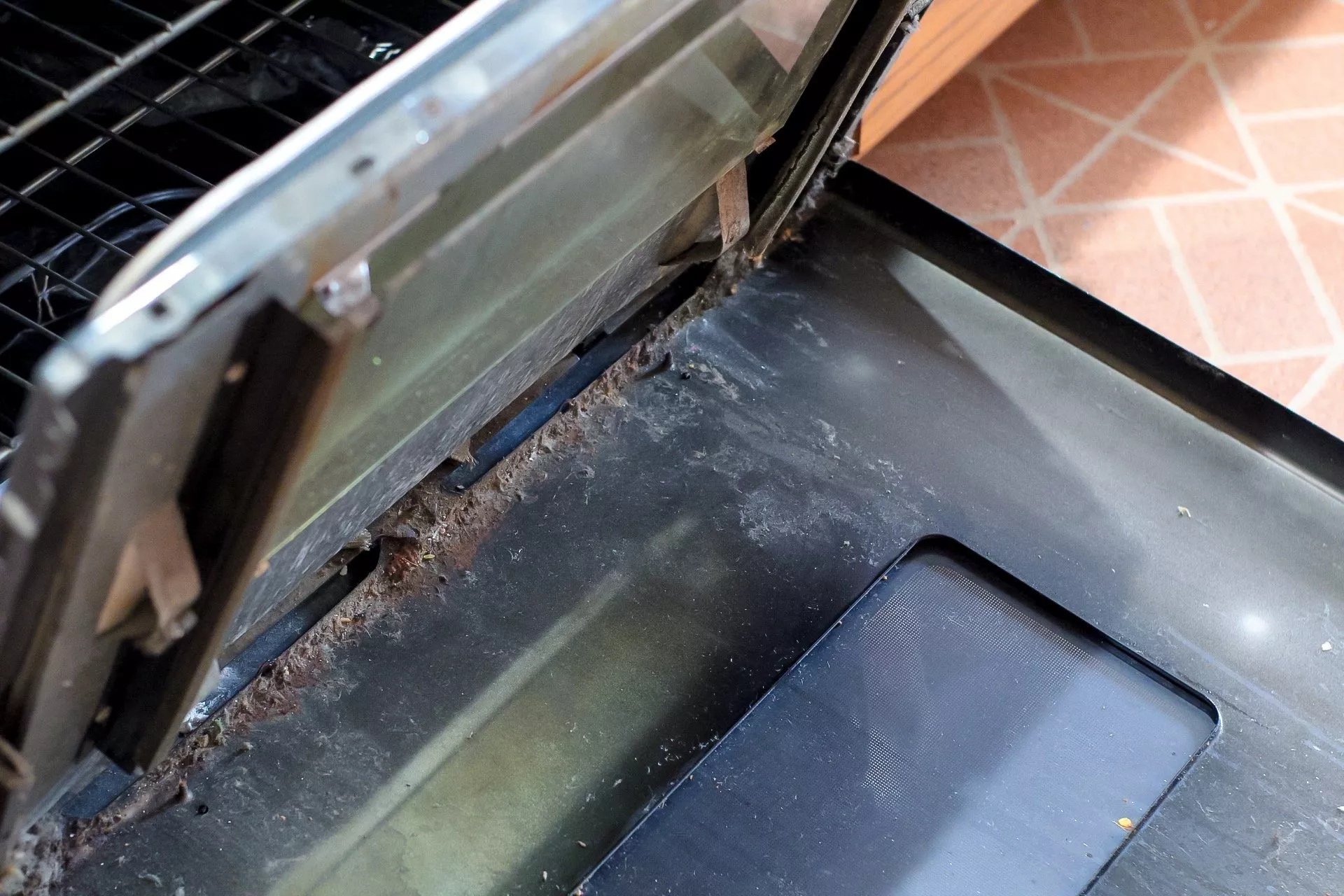 YUCK.
I want to say our oven is somewhere between 10 and 15 years old.
My husband has his money on the 20-year mark, but we aren't really sure.
We just know it fits perfectly in the cabinets, and we aren't looking to replace it before it dies on us ;).
While our oven glass was clean on the inside of my oven, it sure wasn't clean inside the door!
In fact, nothing was clean inside the oven door.
We've only lived in our home for five years, and I'll bet this was the very first time this oven has ever been opened up and cleaned before, judging by the amount of dust and grime that was present.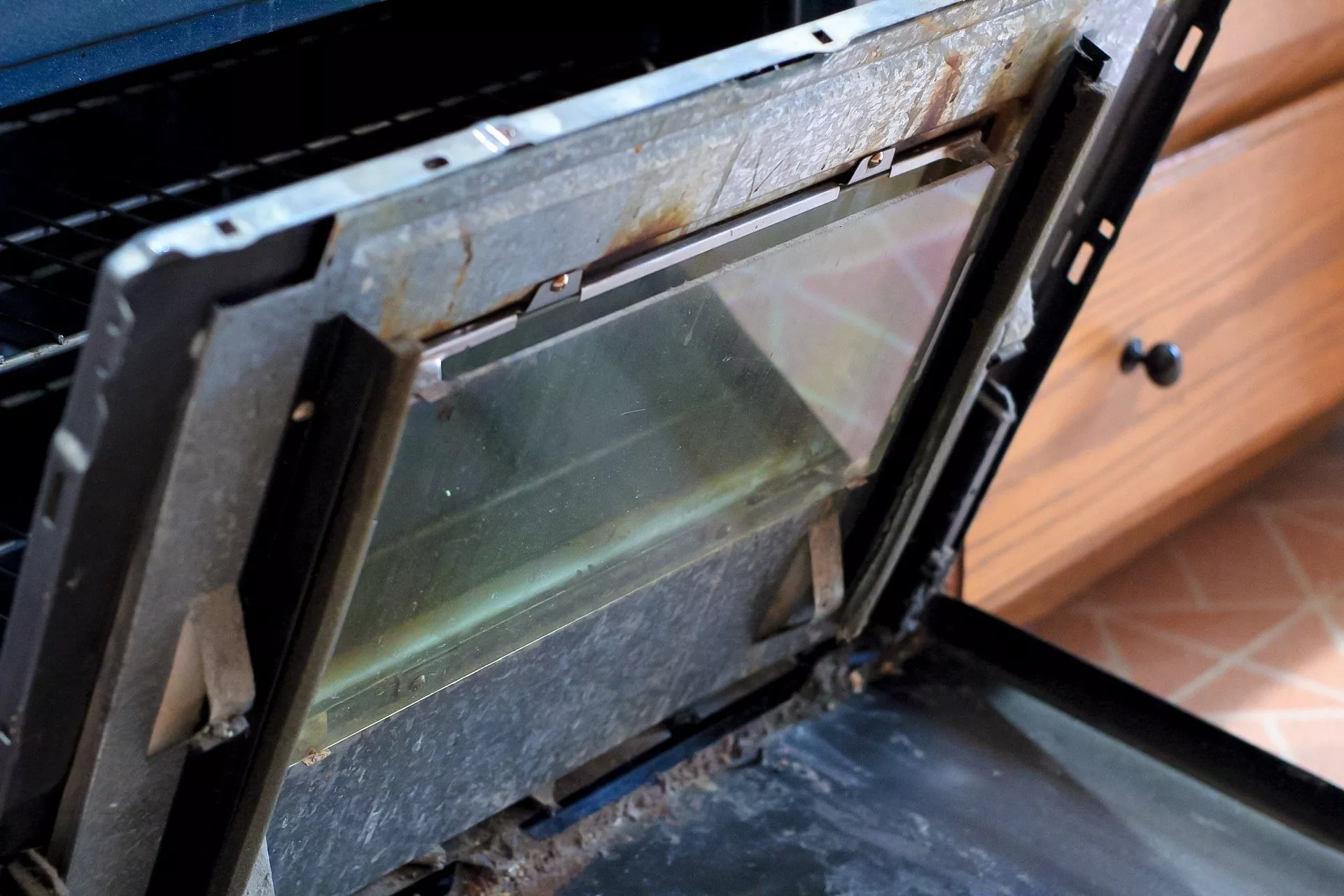 Vacuum Dust And Dirt That Has Collected In Your Oven Door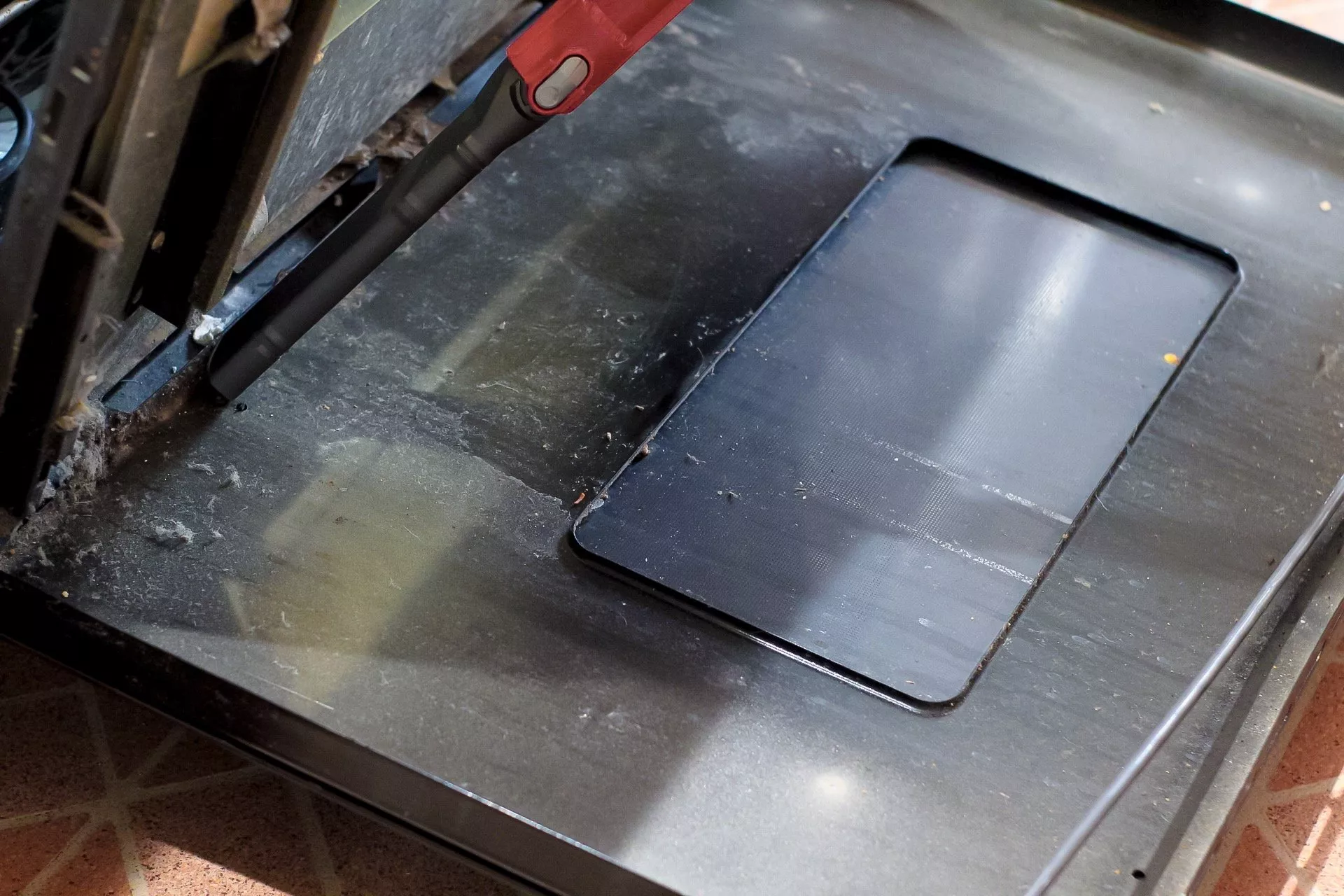 If the inside of your oven door contains a lot of dust like mine did, the quickest way to clean it up is by vacuuming it up!
Use a narrow hose attachment to get in the grooves and edges of your oven door.
Special care should be taken to avoid sucking up any insulation or foam padding between your oven door parts.
Spray Inside Oven Door Parts With Degreaser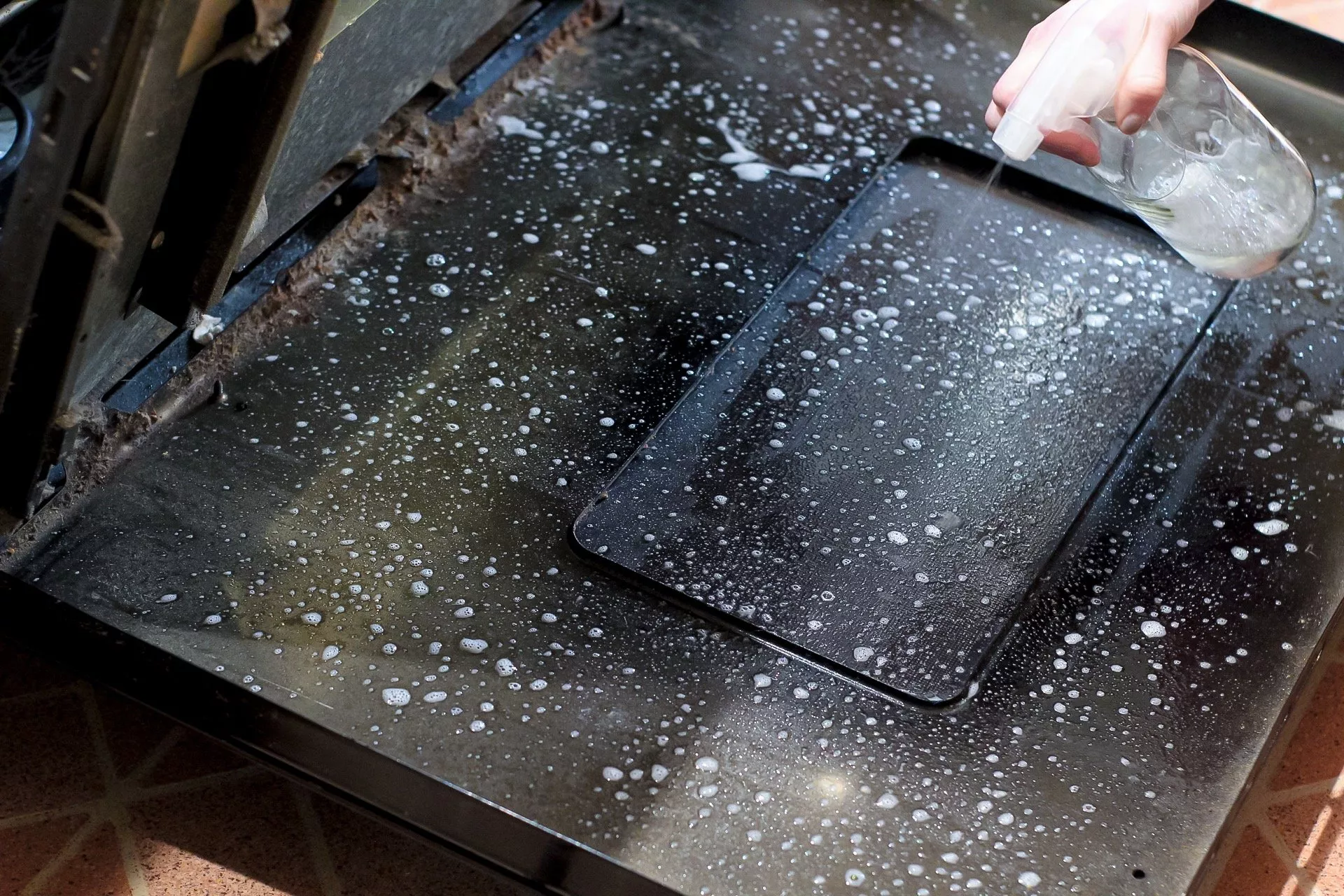 Spray Inside Oven Door Parts With Degreaser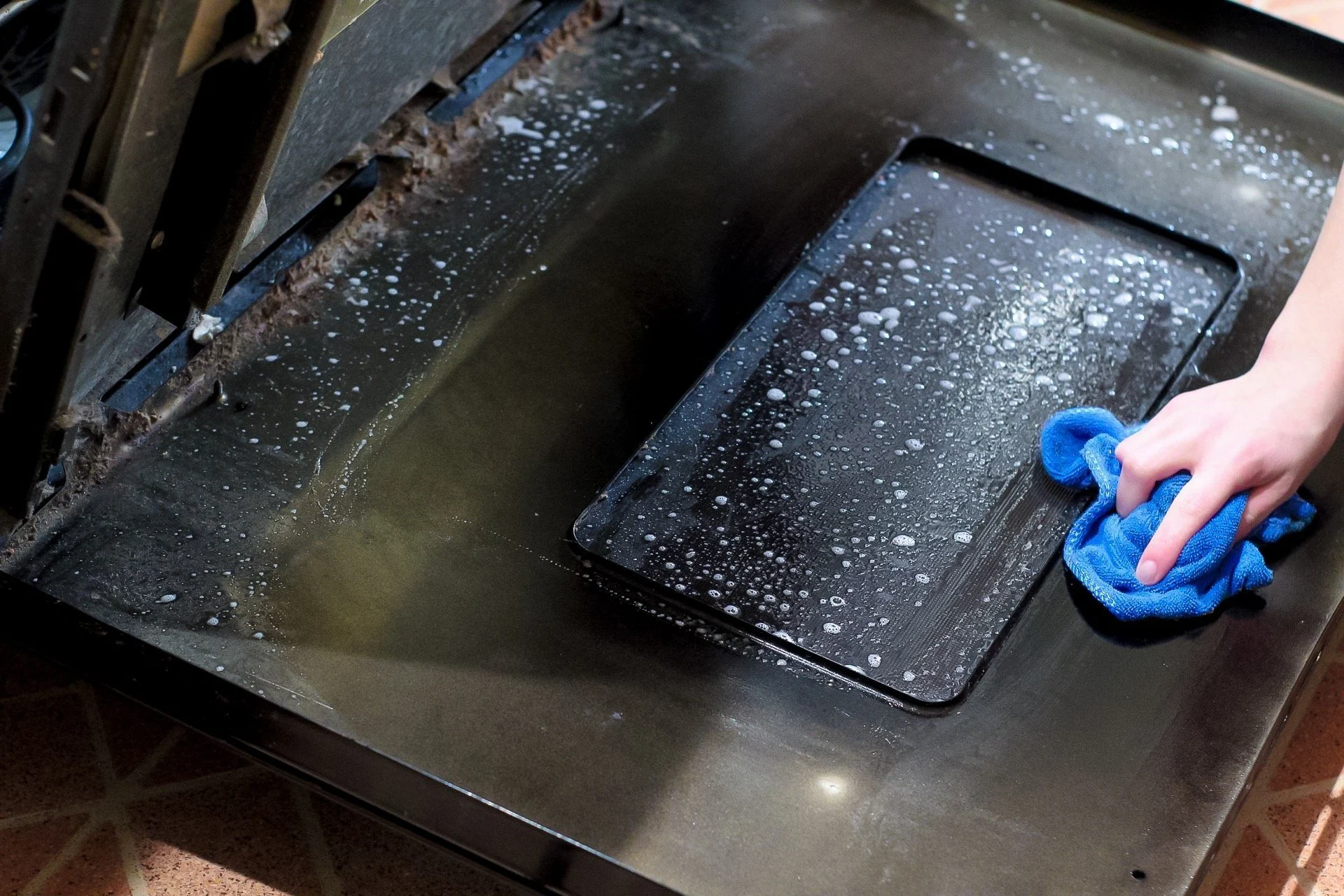 Optional: Remove Oven Glass Insert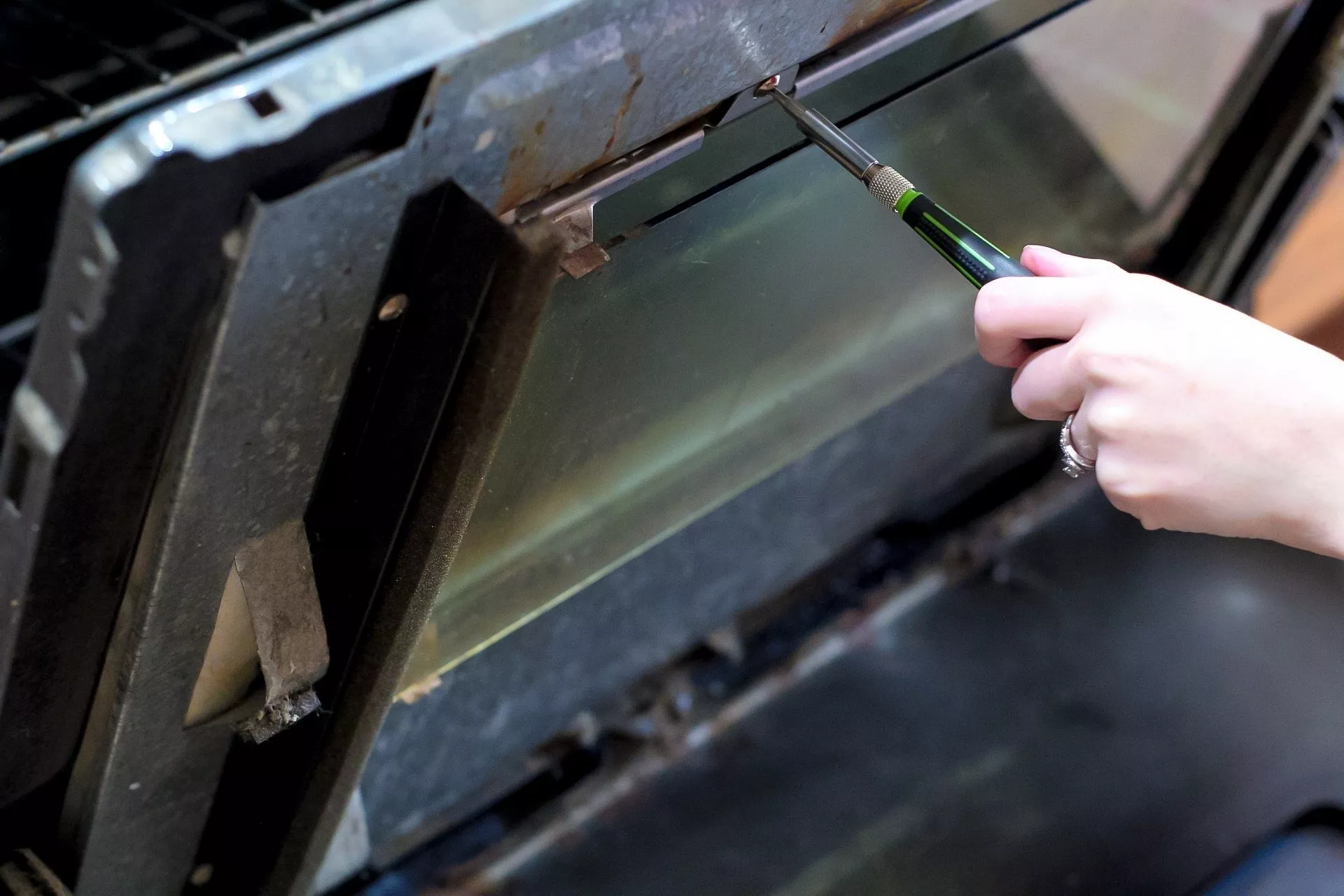 This is completely optional, and may not even be something you can do with your oven door (depending on the year, make, and model).
For our dinosaur oven, I was able to remove the oven glass by unscrewing the 6 screws holding it in place.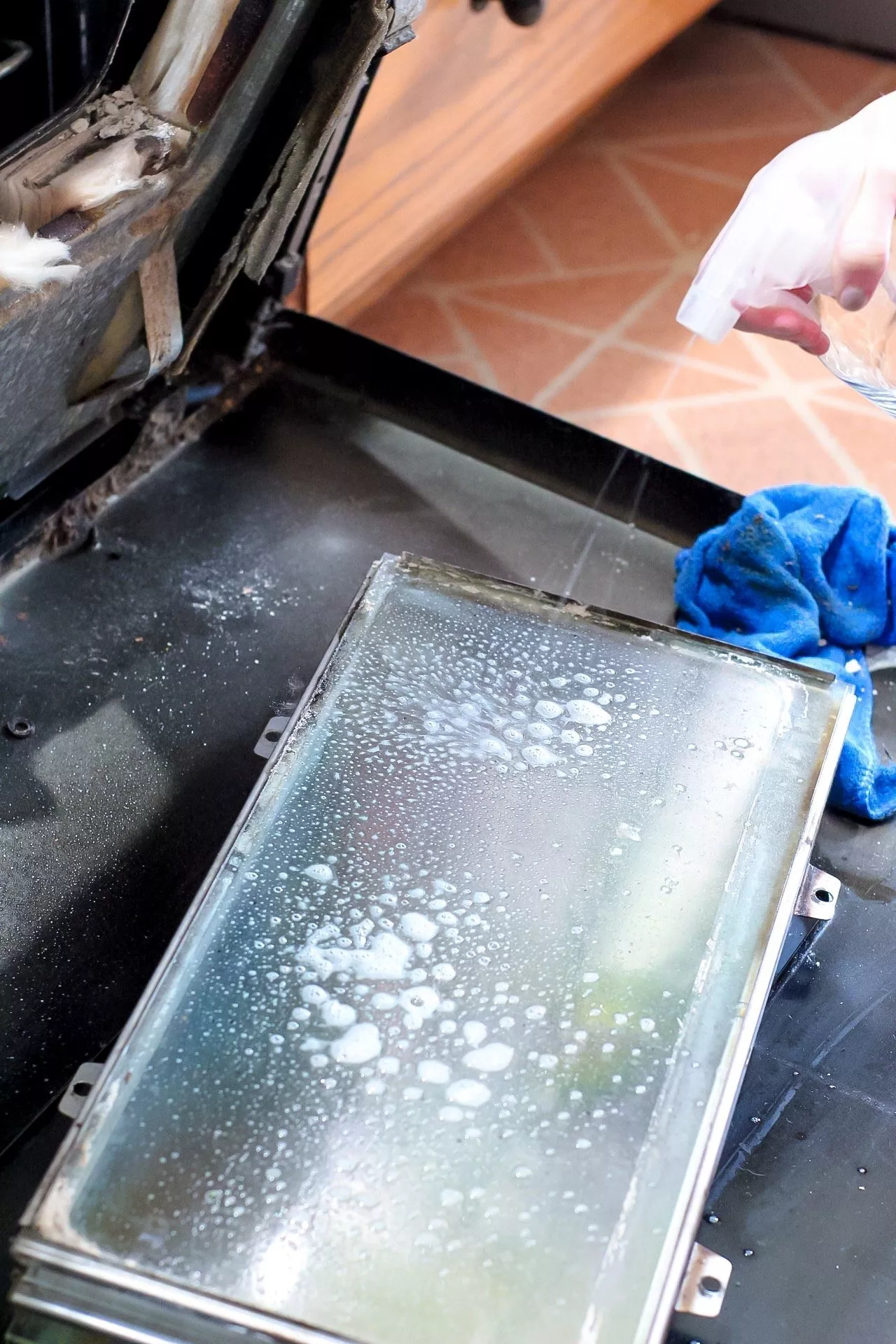 I sprayed the glass down with a degreaser and scrubbed hard with a magic eraser.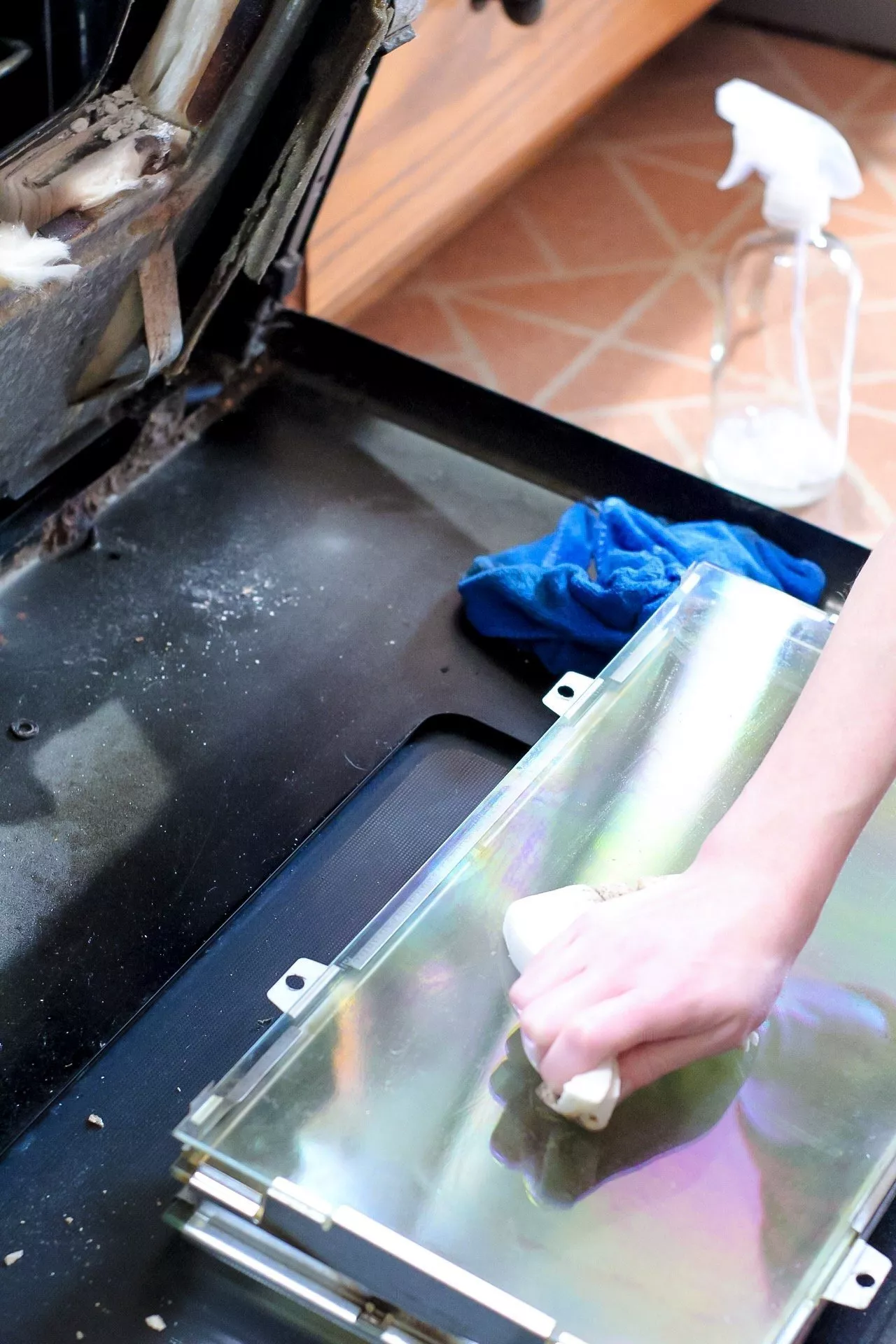 Scrub Around Edges, Corners, And Divots Using A Straw Cleaner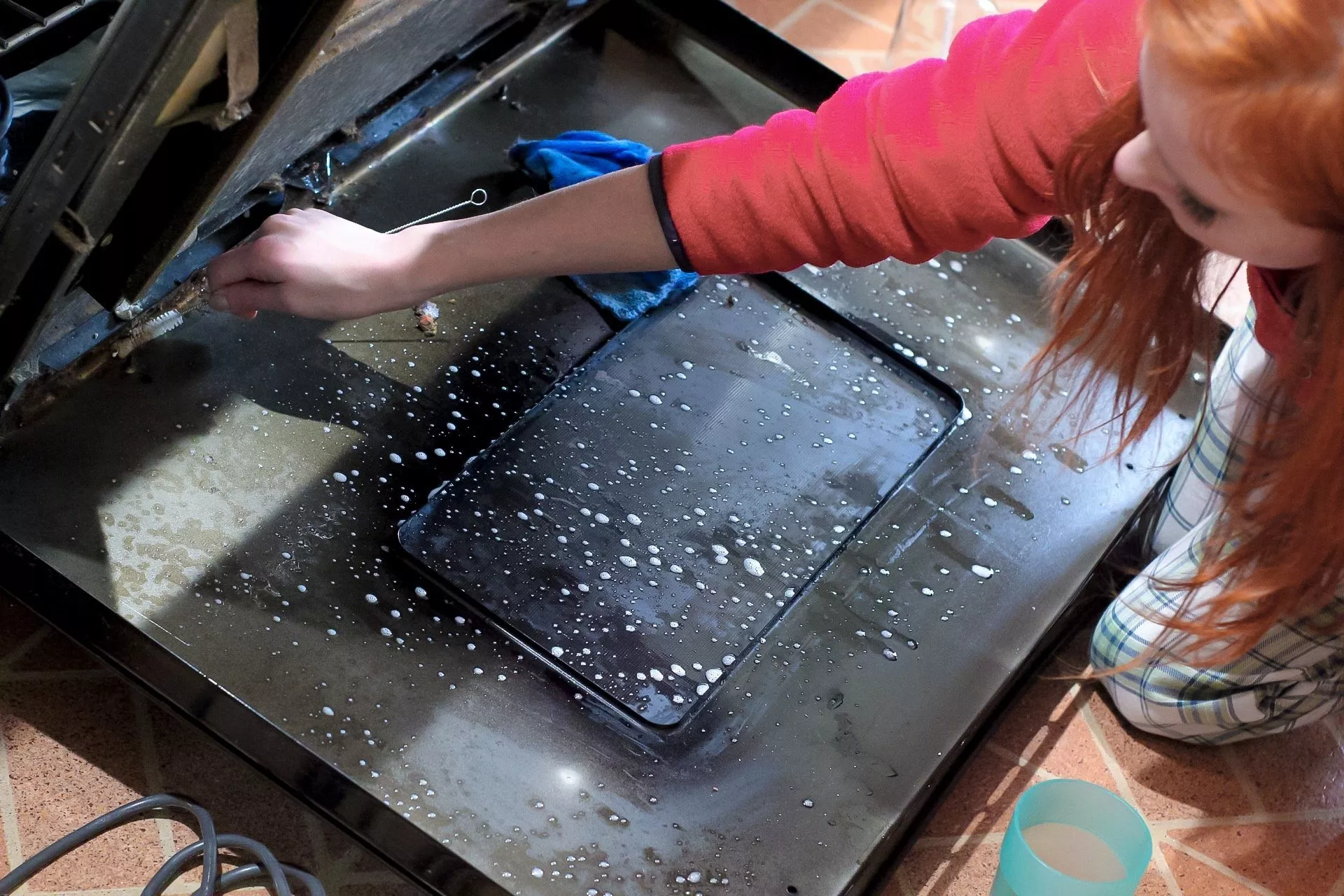 Maybe you've already seen me use straw cleaners on Instagram (I love to use them when cleaning our milk dispenser in our fridge), but I'll go ahead and tell you that I love these babies.
They get right where I need them to, and make my job 10x easier!
Using hot soapy water and a straw cleaner, I gently scrubbed around the edges of the oven door opening, around screws, and in smaller areas that were difficult to scrub down with a rag.
Reassemble Oven Door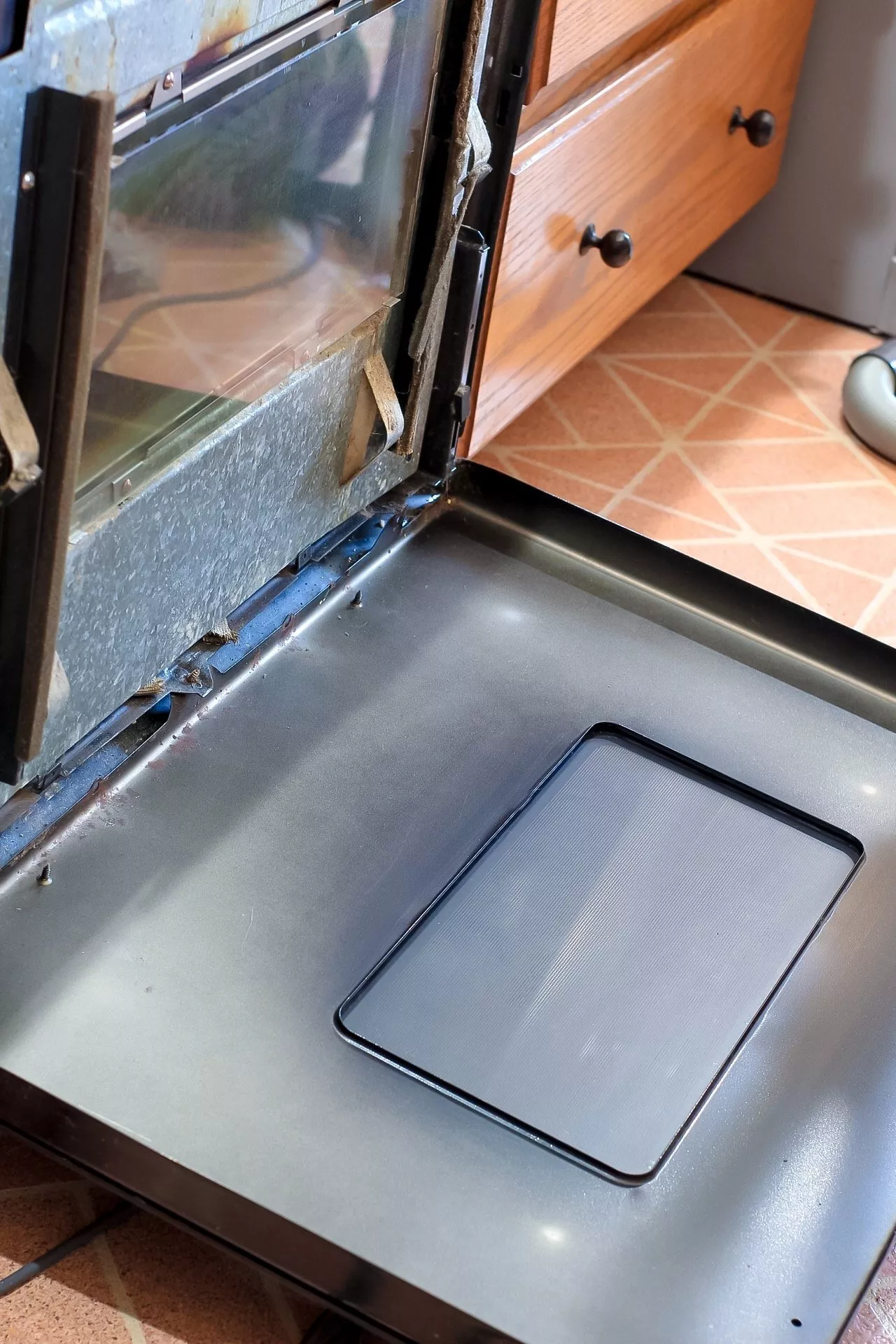 Now that your glass in your oven is clean and beautiful, reassemble it with a screwdriver and the screws you set aside earlier.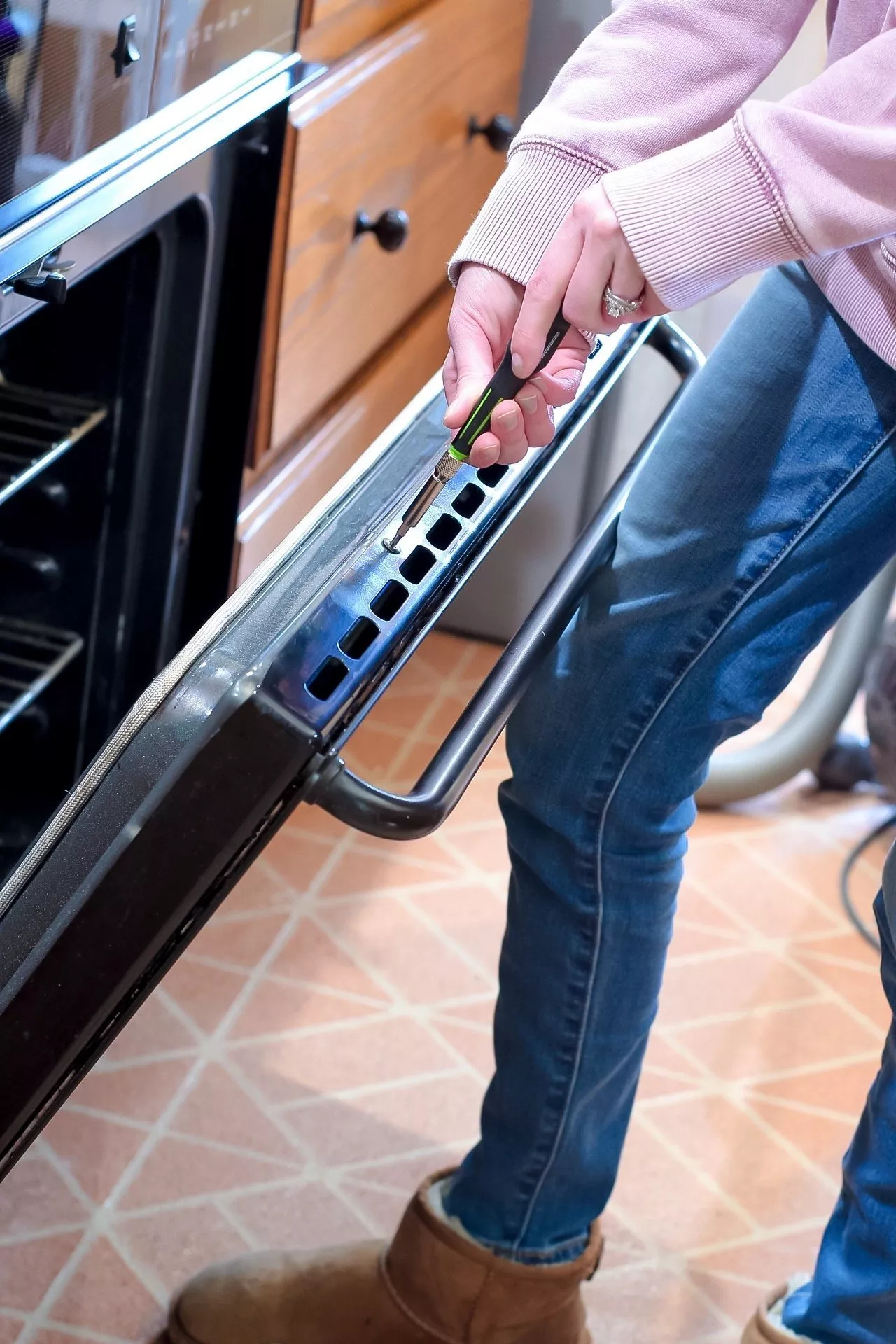 ---
How Often Should I Clean My Glass Oven Door?
As often as you'd like!
I'd recommend giving your oven glass door a good cleaning every few months, or whenever you start to see fingerprints, smudges, and grease building up.
The less frequently you clean it, the harder the job will be when you finally do get around to tackling it!
For a deep clean like we did today, once a year is my goal. It makes the job a lot less daunting that way!
I hope this helps you tackle your own dirty oven glass!
I was super surprised this even worked, and can't believe I even thought to give it a whirl but my glass speaks for itself now.
I am thrilled that I now have clean oven glass, and hope you see the same results that I did.