Learn how to clean your fridge out properly and master fridge organization with some cleaning hacks and tricks I'll be sharing with you today.
I've also included FREE printable fridge labels that you can print and use to help keep things tidy in your fridge!
---

Can I confess something here?
I'm kind of a neat freak.
My busy life doesn't always give me the time to indulge my OCD side, but I find time here and there.
Since having two kids, the messes have multiplied, and I now have two pairs of adorable little hands making messes and memories.
One of those memories involves getting into our fridge and shaking out two full bags of shredded cheese.
Yep. Shredded cheese everywhere.
But, that's #momlife.
Our recent cheese confetti situation had me thinking about the last time I actually cleaned our fridge.
I think it's been a few months if we're being completely honest.
As I laughed and mopped up the shredded cheese, I took a hard look at our shelves, drawers, and foods within our fridge.
It looked really cluttered, and there were a few spots that needed to be cleaned up that I had been overlooking.
If your fridge is anything like mine, you're probably looking for the best way to clean it.
I have some great cleaning hacks that are specifically for your fridge!
*This post is sponsored by The Container Store and contains affiliate links, however, all opinions are my own.
Master Fridge Organization: How To Clean And Organize Your Fridge
Here are a few shots of our fridge before I cleaned it…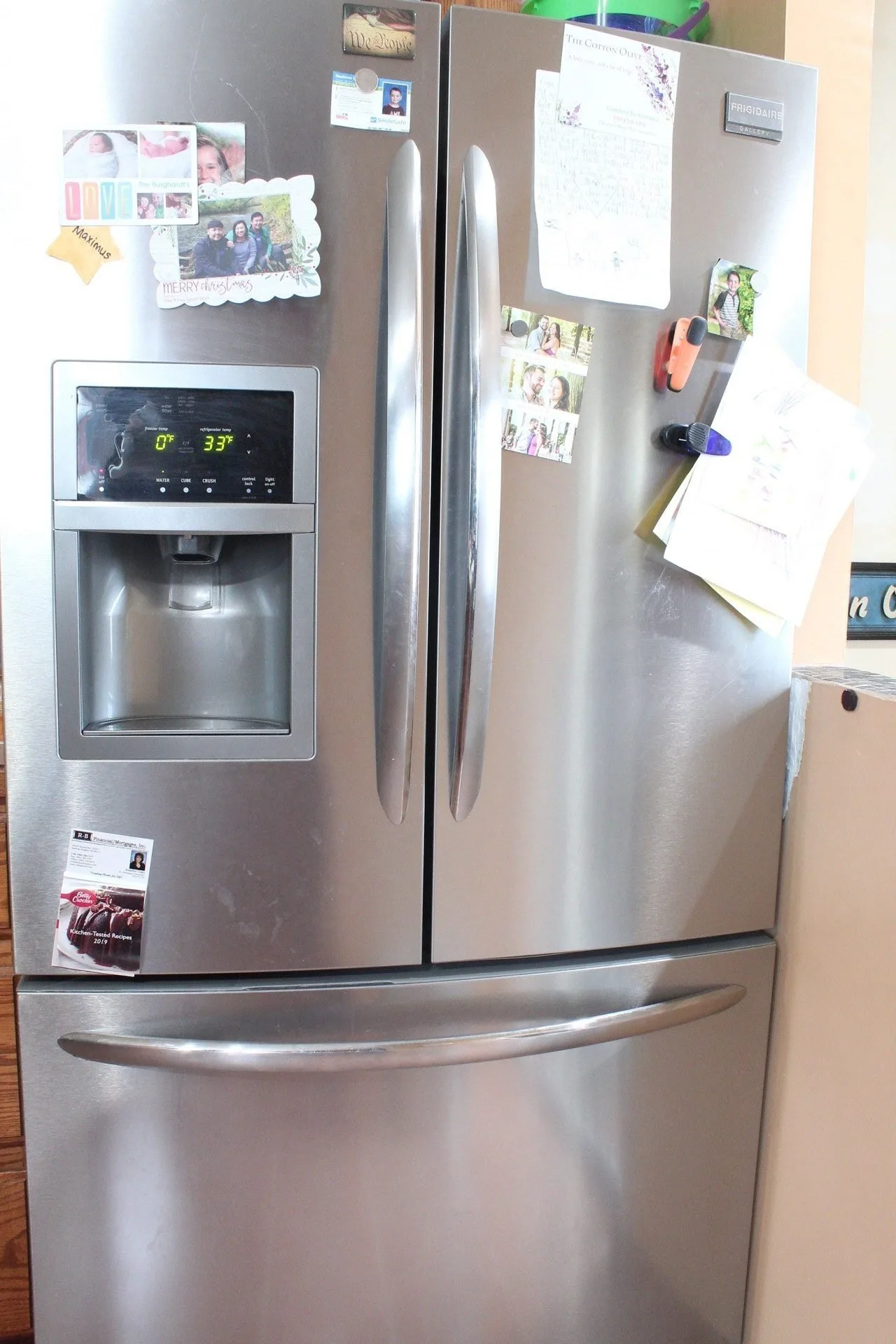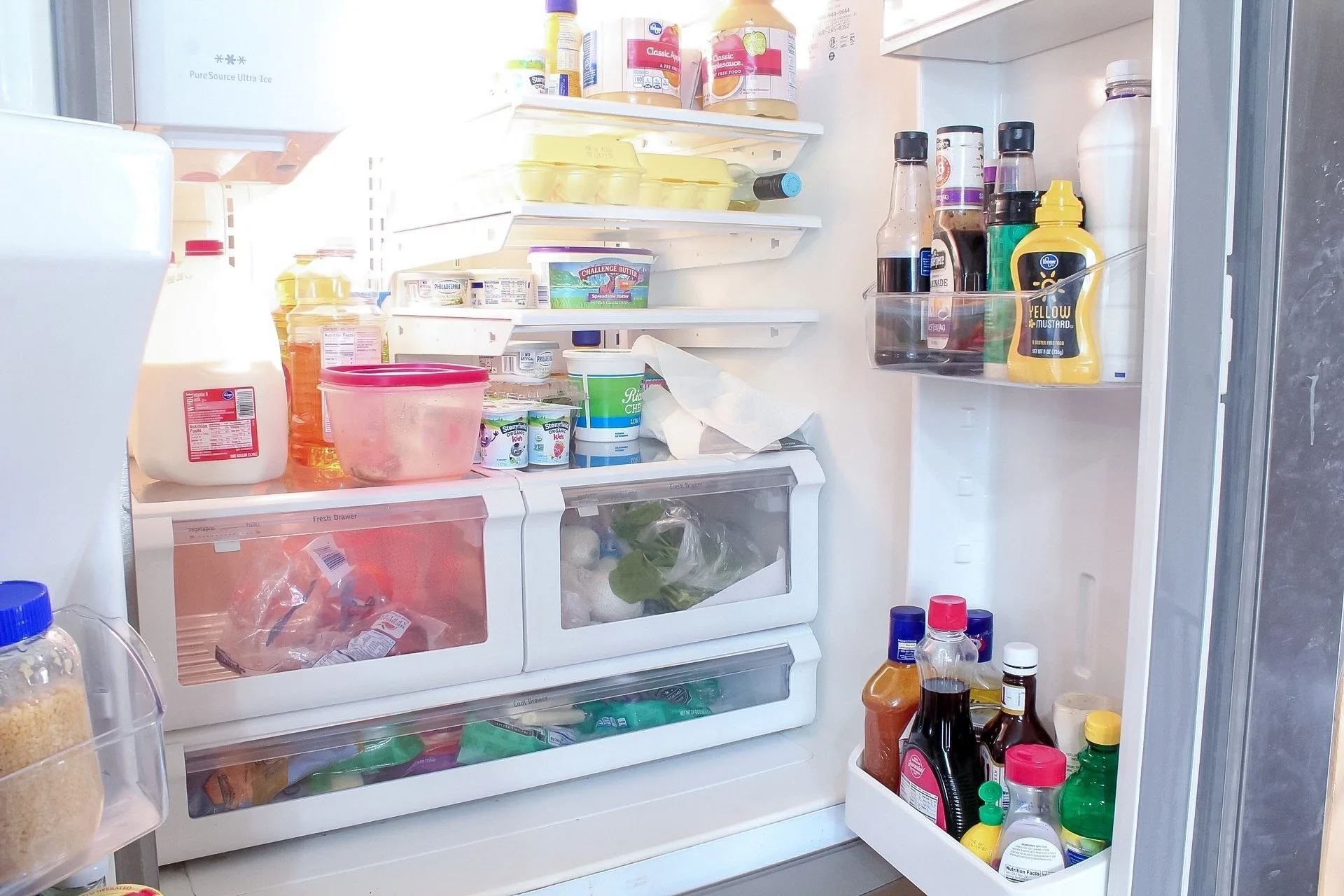 I can already see that I have yogurt in two different spots in my fridge.
My children's applesauce pouches are wrapped in a paper towel for reasons unknown.
And I'm not utilizing the space I have very well at all!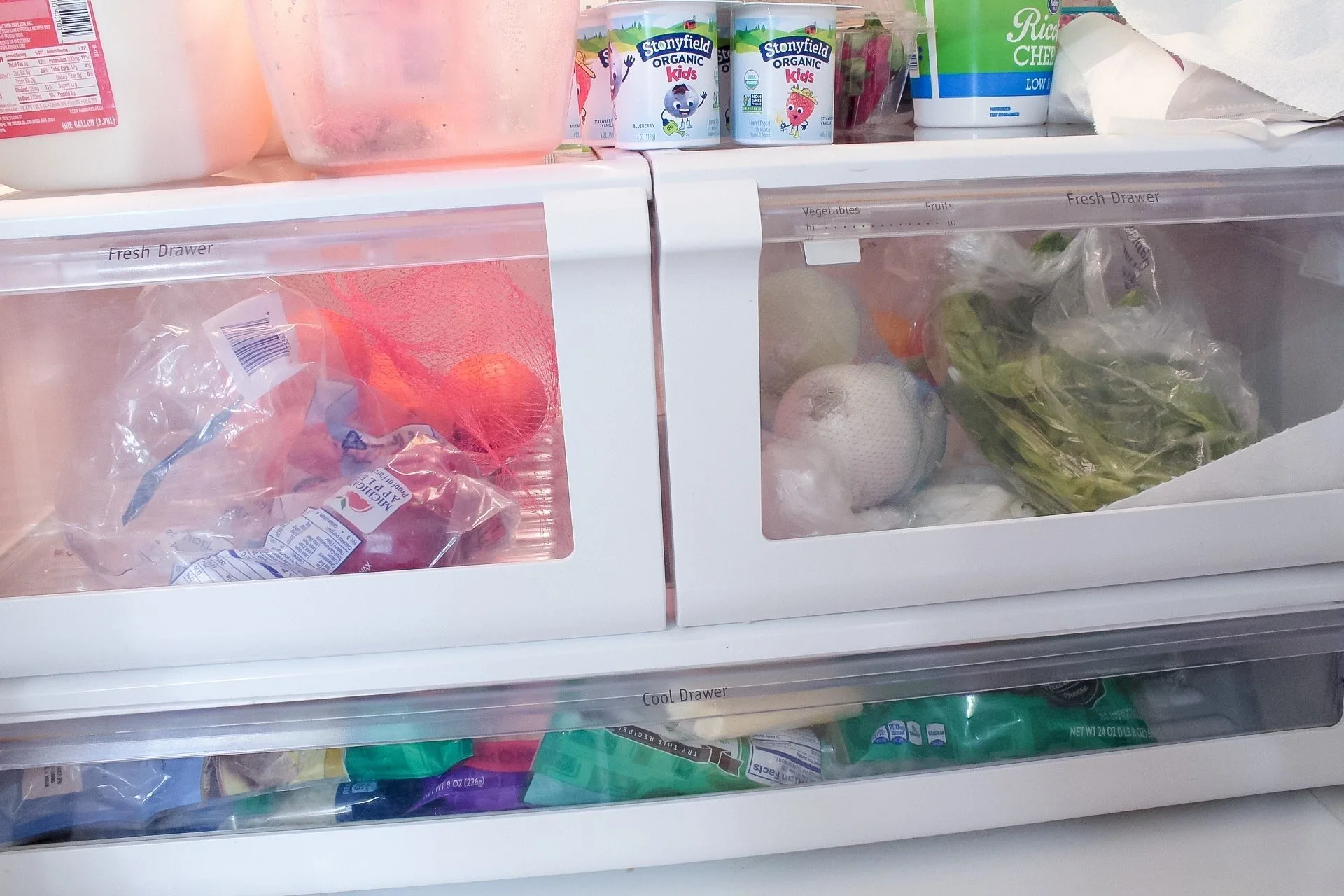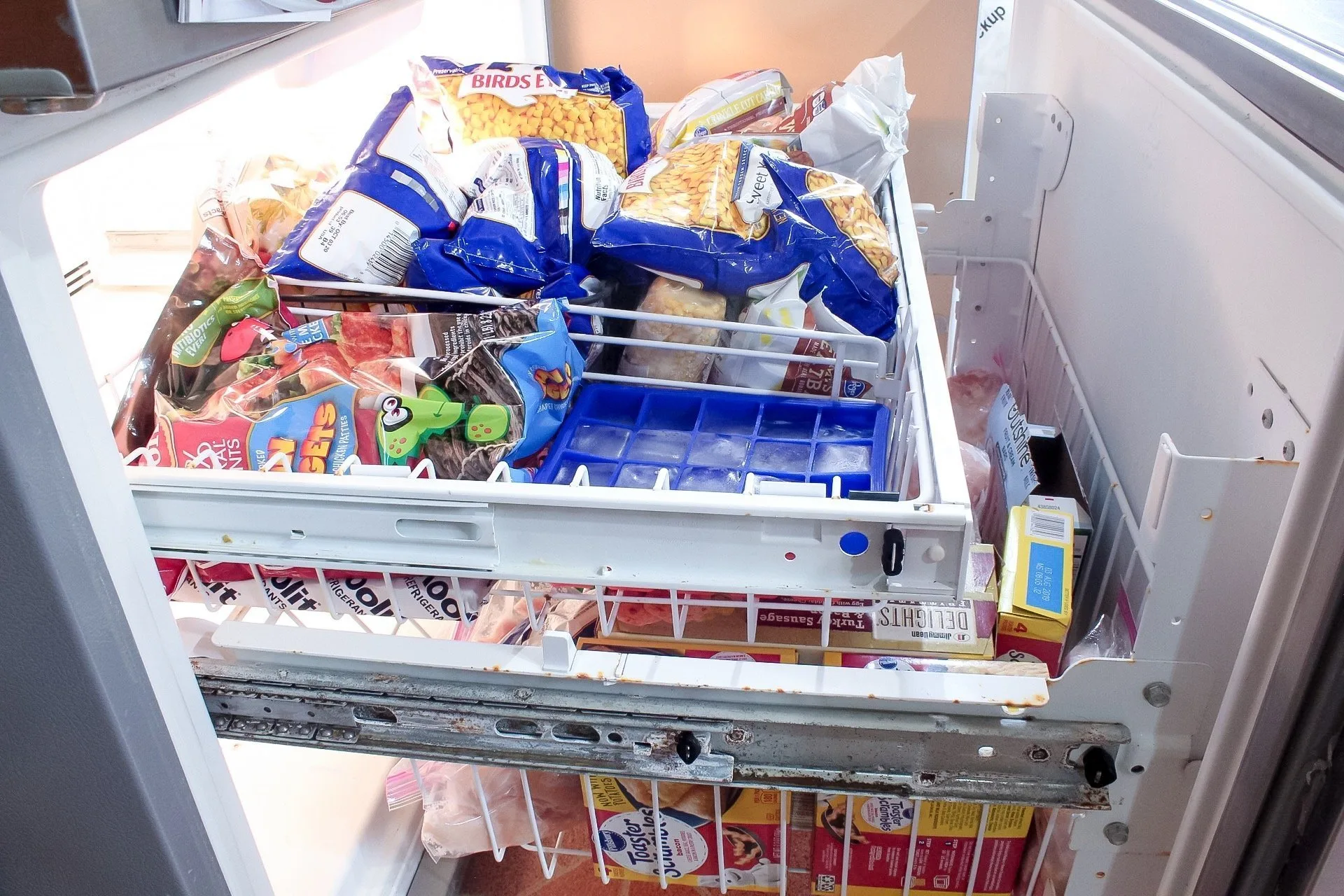 My freezer's top drawer is overflowing with frozen vegetables while my lower drawer looks kind of empty.
Drawing Out My Organization Plans
So, in true #slayathomemother fashion, I decided to do something about it, and refresh this space.
I sat down with a couple of pieces of paper and a pen and outlined my fridge and freezer.
I'm very visual, so it helps to doodle whatever I'm thinking.
I actually used to study my notes in college by rewriting them!
Because we normally just kept everything laying on the shelves, I thought we should introduce some fridge organization containers or the best fridge organizer bins to help keep things contained.
I wanted to grab things that we could use and wash if there was ever a mess.
I got out my tape measure and measured each shelf and drawer – taking note of each of their height, depth, and width.
This let me know how much space I had, and what kinds of clear refrigerator bins and containers I could implement into my organization plan.
Next, I wrote down everything I had in our fridge.
It was pretty empty at the time, so I thought about what we normally have in our fridge that takes up space as well.
Taking Inventory In Our Fridge – What's In My Fridge
Here's what we usually have in our fridge…
DRINKS
Milk

Protein shakes (for my skinny little guys!)

Apple juice

Orange juice

Water bottles
VEGETABLES
Bell peppers

Spinach

Broccoli

Green onions
FRUITS
Blueberries

Apples

Oranges

Clementines

Strawberries
DELI MEATS & CHEESES
Turkey meat

Colby jack cheese squares

Shredded cheese

Cheese sticks
SNACKS
Yogurt cups

Applesauce pouches

Grapes (divided into bags)
Taking Inventory Of Our Freezer – What's In My Freezer
MEATS
Chicken legs

Chicken tenderloins

Meatballs

Ground beef
VEGETABLES
Mixed vegetables

Carrots

Corn

Broccoli
BREAKFAST FOODS
SNACKS
Now that I have taken inventory of everything that is in our fridge and freezer, and I have the proper measurements of the interior spaces, I can figure out a game plan to store our food in a clean and organized way!
Configuring Our Fridge And Freezer To Optimize Space
Keep Your Fridge Style In Mind
When trying to figure out how to best organize your fridge, keep in mind the type of fridge you have.
Here are some common types to help you narrow yours down:
Side-by-side: the fridge and freezer are next to each other

French door: two fridge doors side by side with the freezer on the bottom

Top freezer refrigerator: the freezer is on the top

Bottom freezer refrigerator: the freezer is on the bottom
Why is this important, you may ask.
To make the most out of what you have, you need to keep in mind how much available space you have, as well as the measurements your unit offers.
We have a french door style fridge, meaning two doors open side by side for the fridge while the freezer is in a large pull-out drawer at the bottom.
Sometimes, you have to look outside the box to figure out the best solution.
Looking at the way we had our food stored in our French door refrigerator, I discovered I was wasting a lot of space.
Specifically, I wasn't using the entire depth of our shelves.
And if I was, that food that was stored towards the back of the fridge was forgotten about and most likely expired.
Measure Your Fridge
Get out your handy tape measure and take note of the height, width, and depth of each shelf and drawer.
Jot these measurements down.
Also – count the number of shelves you have in your fridge.
Do you have 2, 3, 4, or even 5 shelves?
If you seem to only have 2 inches between one shelf and another, you might be better off removing a shelf!
Research Storage Options
For our fridge, I turned to The Container Store to solve my storage problems!
I know they have just about every container known to man, in varying heights, widths, and depths.
Because I'm a big planner, I first went online to see what kind of fridge options they had that would work for our fridge and freezer.
I've been inside the store before, but I usually find my way to the closet organization section (which explains why my fridge and freezer are disorganized ;)).
They have SO many options for fridge organization – my heart was giddy with excitement as I stared at all of the possibilities!
I seriously had butterflies in my stomach.
Maximizing Our Food Storage Space With the Best Fridge Organizer Bins
I had three goals in mind with refreshing our fridge and freezer spaces:
Maximize our space
Organize our food to reduce clutter
Eliminate the forgotten foods at the back of the fridge
Maximizing Our Fridge And Freezer Space
I found that to truly maximize the space we had available in both our fridge and our freezer, I needed to move things around a bit.
While modern fridges are built to store certain objects in certain places, these often aren't optimal for maximizing the space your fridge offers.
I promise I'm done saying 'maximize'.
For instance, our fridge manufacturer decided to place the egg holder at the top of our right fridge door.
However, I've never liked them there, and prefer to store my butter there instead.
Organizing Our Food And Reducing Clutter
To play on the last point of maximizing the available space in our fridge and freezer and moving things around, I wanted to figure out the best way to sort and organize our food so it works for our family!
Eliminate The Forgotten Foods At The Back Of The Fridge
Because this is a major problem I have with the way I currently store our refrigerated food, I looked into storage bins that would take up more space longways in my fridge, like these clear refrigerator bins:
The Container Store Shopping Haul
Here's everything I got from The Container Store on my trip!
BTW- You can see our entire Container Store shopping trip video HERE!
How To Clean Your Fridge
Throw Out Expired Foods
Grab a trash can, and start by emptying your fridge.
Take out all of your food and beverages, check their expiration date, and throw expired items in the garbage.
Remove And Wash Shelves And Drawers
Once you've removed everything from your fridge, go ahead and remove the shelves and drawers.
Also removed the shelves from the doors.
*You may need to wait until your glass shelves reach room temperature before cleaning them with hot water, or else they may break!
Clean with warm soapy water, rinse with cool water, and dry.
For tougher spots, you can let the shelves or drawers soak in hotter water.
Clean The Fridge With Baking Soda Mixture
Once the fridge is completely clear of food, examine the interior of your fridge for any sticky messes.
Any stuck-on food or spills that had leaked out can be scrubbed off using a baking soda mixture.
I can't remember where I read this, but I still use these portions of baking soda to hot water to clean out fridge shelving and drawers:
2 tbsp baking soda
1-quart hot water
You'll want a thinner paste to work with because the temperature of the fridge will harden your paste as you're scrubbing with it!
For harder-to-clean spots, I may even let the baking soda mixture sit for a few minutes before scrubbing.
Wash And Fill Bins
Remove stickers from bins, and wash all bins with warm soapy water.
Rinse with cool water and dry.
Fill our clear refrigerator bins with whichever food items you have planned.
Wiping Down The Fridge Interior With All-Purpose Cleaner
Start with the very top and work my way down.
Wipe down the walls (both the sides walls and the back wall), the ceiling, the floor, the doors, and the door seal around the doors.
Every day gunk and debris find their way in the door seal.
An old toothbrush can help get these seals nice and clean!
I try to wipe our seals down every month or so.
Once the shelves and drawers have finished soaking (if they need to), scrub any leftover yuck from them, dry them off and spray some cleaner on them as well, wiping them down with a clean paper towel.
*You can use All-Purpose Cleaner instead if you wish, I find that glass cleaner works well for my fridge.
Finish cleaning the interior of your fridge by wiping it down with a clean cloth to remove any leftover residue.
Wipe Down Bottles And Containers
Before placing your bottles, jars, containers, and remaining food back into your fridge, be sure to wipe down the bottom of each.
Any hard sticky gunk will have loosened and become wet in the room temperature air while you've been cleaning the interior of your fridge, shelves, and drawers, and will now stick to your newly cleaned shelves!
You can even rinse the bottom of your jars and bottles under running hot water and towel dry before placing them back into the fridge.
Also, make sure none of your bottles are leaking! If they are, you'll need to either place them into a new bottle or toss them.
Use Fridge Liners For Shelves And Drawers
If you have kids that will be going in and out of your fridge, I highly recommend using some washable fridge liners!
Before placing produce back into their drawers, line the bottom with a fridge liner (like these from The Container Store) or some loose paper towels. This will help keep the bottom of your drawers clean, and be cut to fit the measurements you need!
Think about onions, and how they shed their outer layer of skin – those layers can be easily picked up and thrown out when it's time to replace them with fresh produce after your next grocery shopping trip.
You can also use fridge liners for your shelves.
I bought 2 3-packs of fridge liners from The Container Store, which was perfect for our fridge. I laid one of them on each of our shelves, as well as the main part of the fridge where I store our milk and drinks, and one in each of our produce drawers.
Wipe Down The Front, Sides, & Top Of Your Fridge
Now that the inside of your fridge is completely clean, focus on the outside of your fridge!
Takedown all the magnets, your children's artwork, and Save-The-Date's.
Wipe your fridge down using a glass cleaner, stainless steel cleaner, or a Clorox wipe.
Clean off the top of your fridge, and wipe it down with a microfiber cloth and cleaning solution.
I usually find the top of the fridge to be a little greasy (maybe because it's so close to the stove).
Take this time to reorganize the items you had on top of your fridge and make it look pretty!
Once you've finished wiping the exterior of your fridge, replace your magnets, artwork, and important papers.
You can also use a magnetic bin for important photos, invitations, or business cards!
You May Also Like: Organized Mom Planner – 600+ Digital Planning Pages and Checklists!!
Transferring Produce Into Containers
To help lengthen the life of your produce, consider placing them in special containers.
For our produce, I picked up some Greensavers that are supposed to help make our produce last longer!
These bad boys have non-toxic carbon filters that trap and absorb ethylene gas, which helps slow down the spoiling process.
They each have a green removable basket that prevents moisture buildup, and a vent at the top which helps promote the proper humidity level our produce needs.
They even have a chart on the inside of the lid depending on what fruit or vegetable you put in them!
Storing And Labeling Beverages
This was where I got creative and was able to figure out a way to store our drinks in a unique way that worked for both our fridge space and our family!
For our beverages, I wanted to get creative and store them in glass containers that are easy to wash – and, quite frankly, look gorgeous!
We are big milk drinkers – my kids are at least.
I decided to store our milk in this gorgeous 1.5 gallon Anchor Hocking beverage dispenser.
I used one of the freezer labels to place on our milk container to keep track of the expiration date, although we usually drink it way before it expires!
Our apple juice and orange juice are sitting pretty in two Giara glass water bottles (which are dishwasher safe, and super easy for my 9-year-old to open.
The rubber gasket on our glass bottles helps keep our juice fresh.
I have them stored behind our milk to maximize our space and ensure that I am the one that can access them.
I like to water my children's juice down before giving it to them – it's better for their teeth.
And finally, our water bottles are now organized with the Linus water bottle holder (which can hold up to 9 water bottles).
We usually store between 5-9 water bottles in our fridge, so this was perfect for us.
Cleaning Out And Organizing The Freezer
Throwing Out Trash And Expired Foods
Using the same process as my fridge, I completely removed everything from our freezer.
Wiping Out The Interior
To wipe out your freezer, mix 2 pumps of dish soap with 1 quart of piping hot water.
I use either a rag or a microfiber cloth to wipe out the inside, carefully going around the basket drawers.
If you can remove the shelves and baskets from your freezer, do so and wash them with warm soapy water in the sink once they've reached close to room temperature.
Labeling Food With Freezer Labels
Using freezer labels, I labeled our meat so I can use a FIFO (first in first out) approach.
The idea is that the food you place in your freezer FIRST should be what you first defrost and use.
We technically already use this principle, but this way I can be sure (especially if the kids or my husband happen to go in and move things around).
Organizing Our Freezer With Baskets
I actually already had baskets in our freezer that I used to store our meat in – but they were a hard metal, and the meat would often freeze and stick to the metal.
Not ideal!
I picked up some vinyl-coated steel wire baskets from The Container Store to replace my metal ones – these are great because they won't scratch the interior of our fridge, and our food won't stick to it!
Because I love baskets so much, and I'm mostly organizing boxes and bags, I purchased 5 shallow freezer baskets to use on both the top and bottom drawers of our freezer.
Free Printable Fridge Labels To Help You Organize Your Fridge
Personally, I think the best part of organizing is labeling.
If you need some labels for your fridge, I've included some generic labels for you to use.
Print these out using a LaserJet printer and some sticker paper!
Fill out the newsletter form at the bottom of this post so I can send them straight to your inbox for the best quality and accurate sizing.
Related: Small Pantry Organization + FREE Printable Pantry Labels
My Completely Organized Fridge And Freezer
Okay, here's the final reveal!
I'm thrilled with how it turned out, and still can't believe this is my fridge…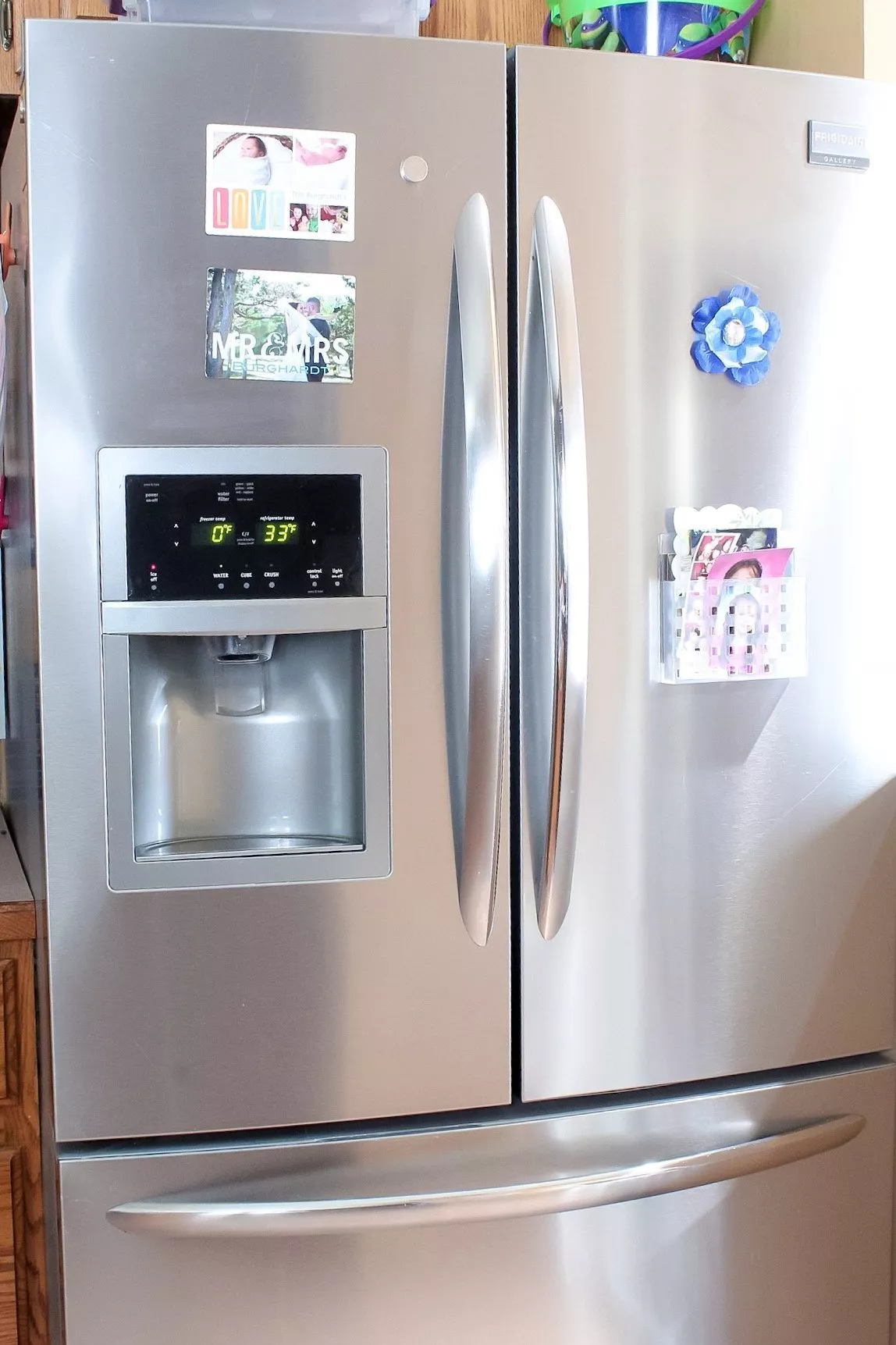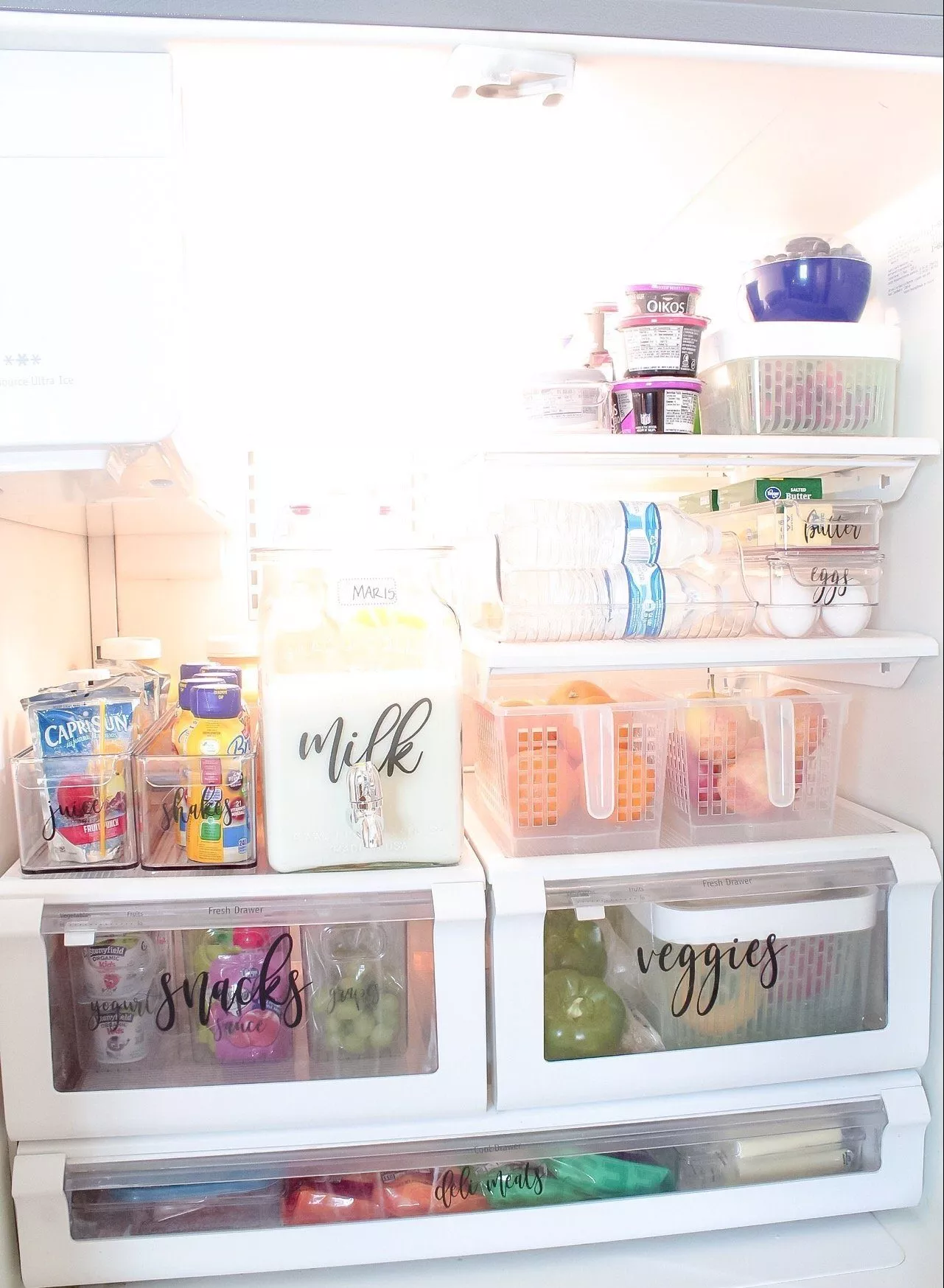 The Left Side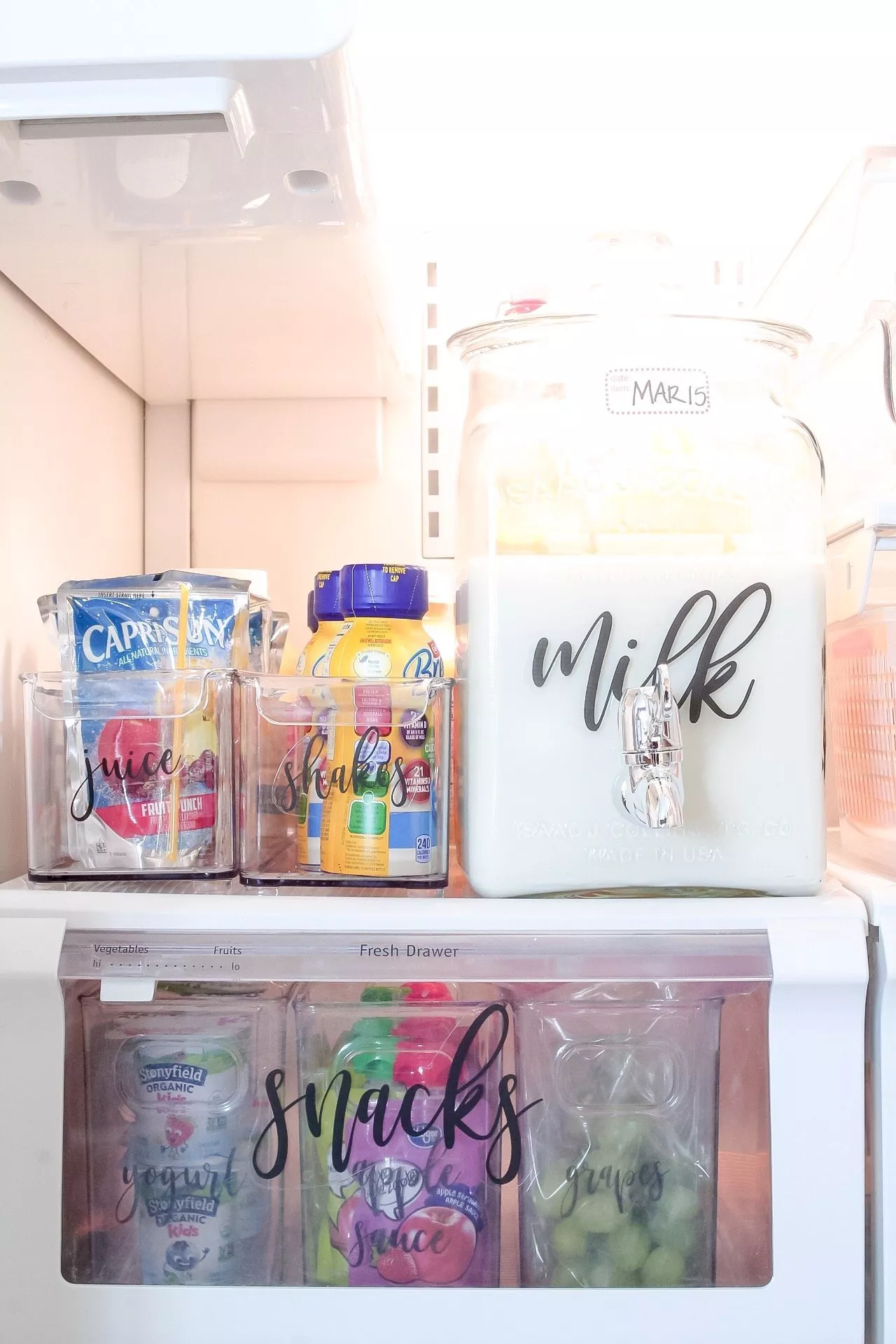 narrow deep fridge bins | 1.5 gal beverage dispenser | linus rectangle pantry bins
The Right Side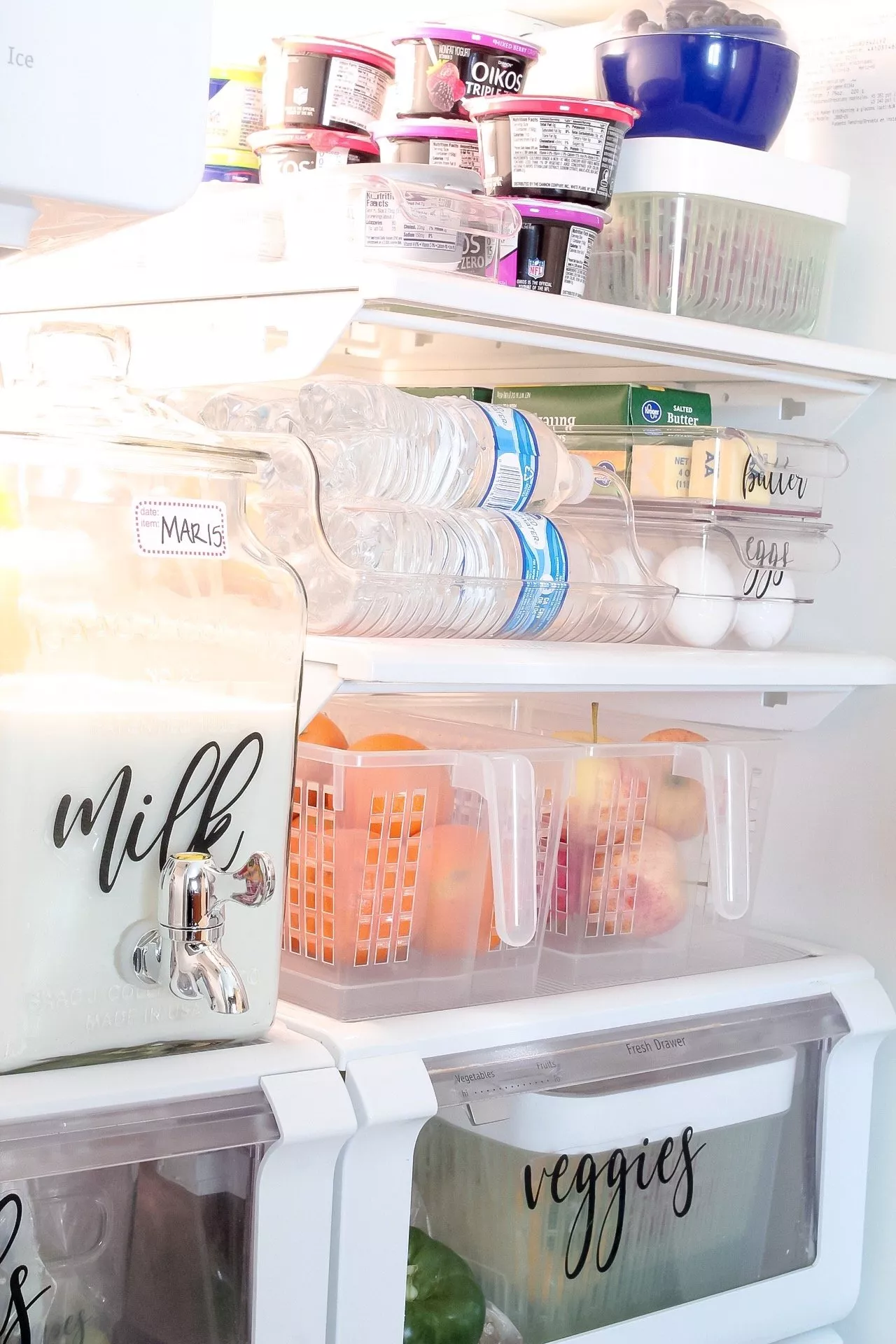 blueberry colander pod | small Greensaver produce keeper | narrow fridge bins | egg holder | water bottle holder | small handled storage baskets | medium Greensaver produce keeper
The Snack Drawer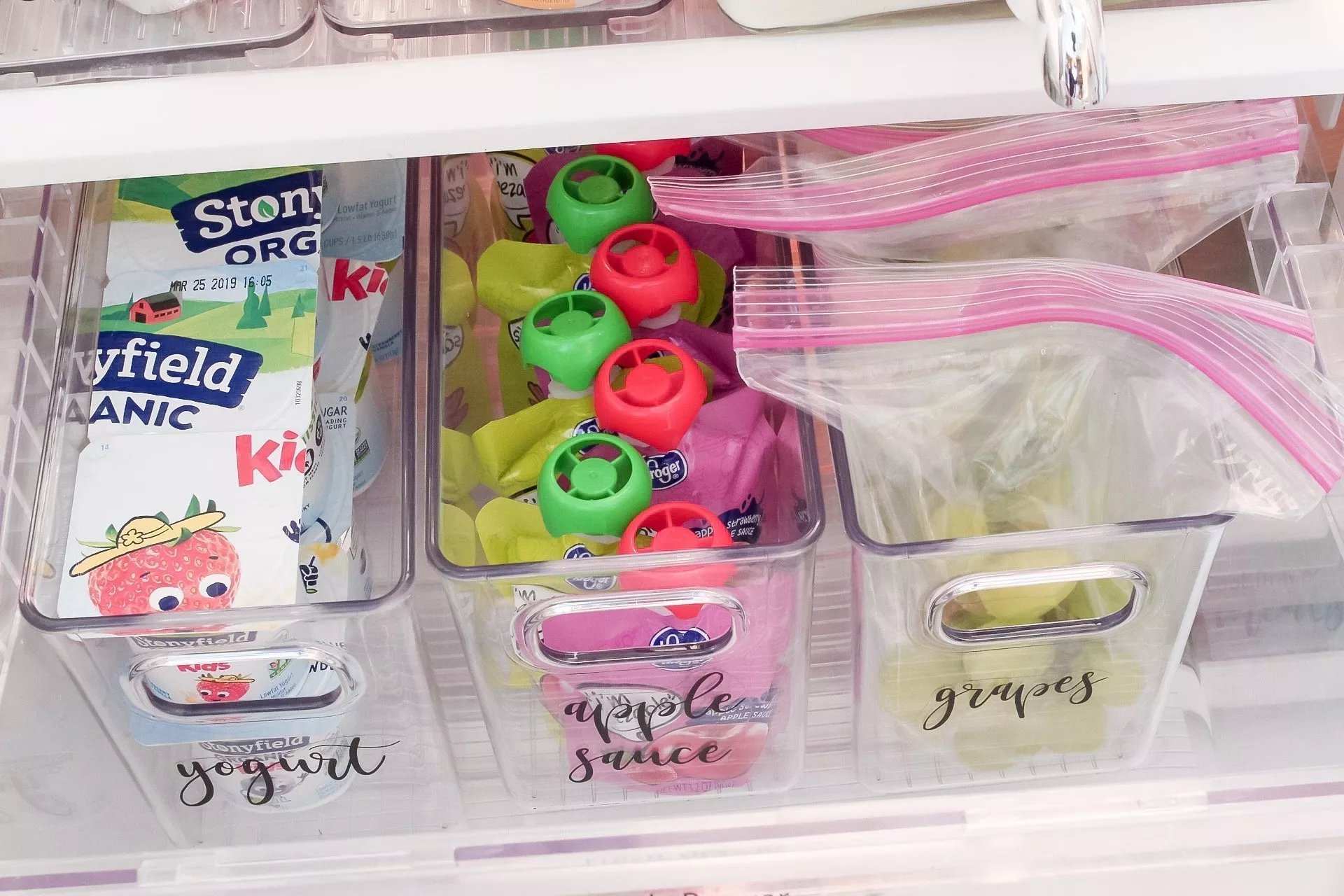 The Veggie Drawer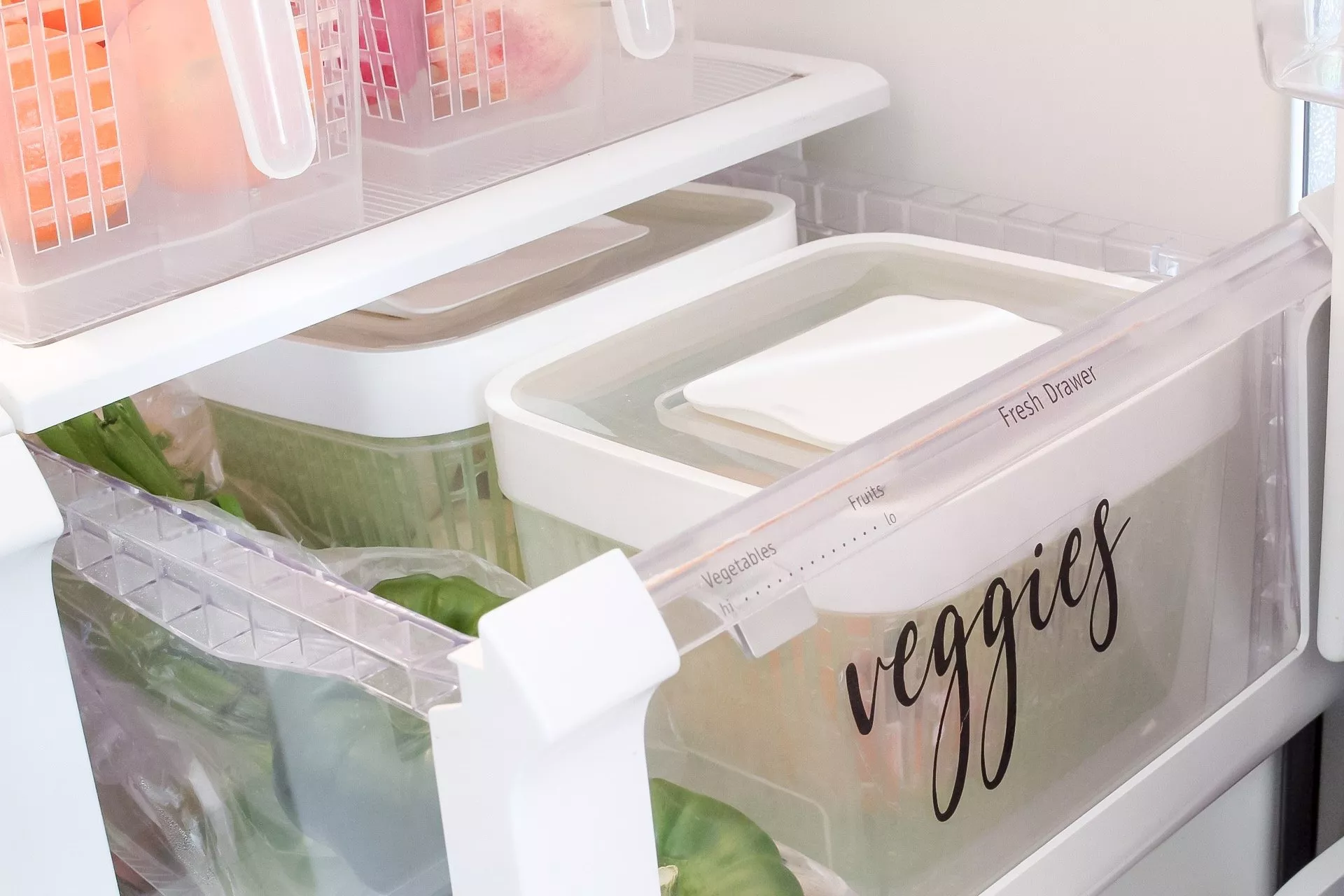 The Top Shelf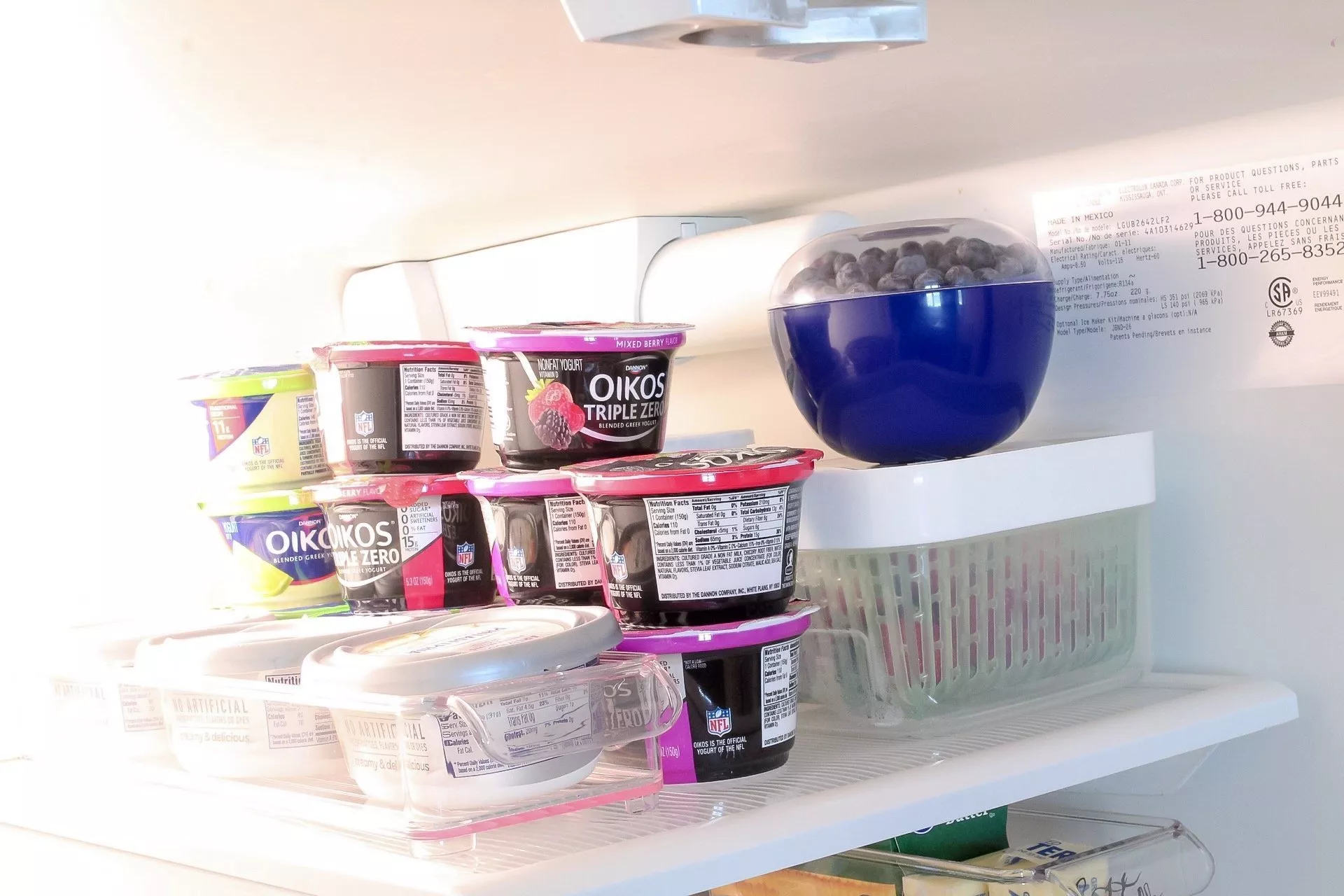 blueberry colander pod | Greensaver produce keeper | narrow fridge bins
The Middle Shelf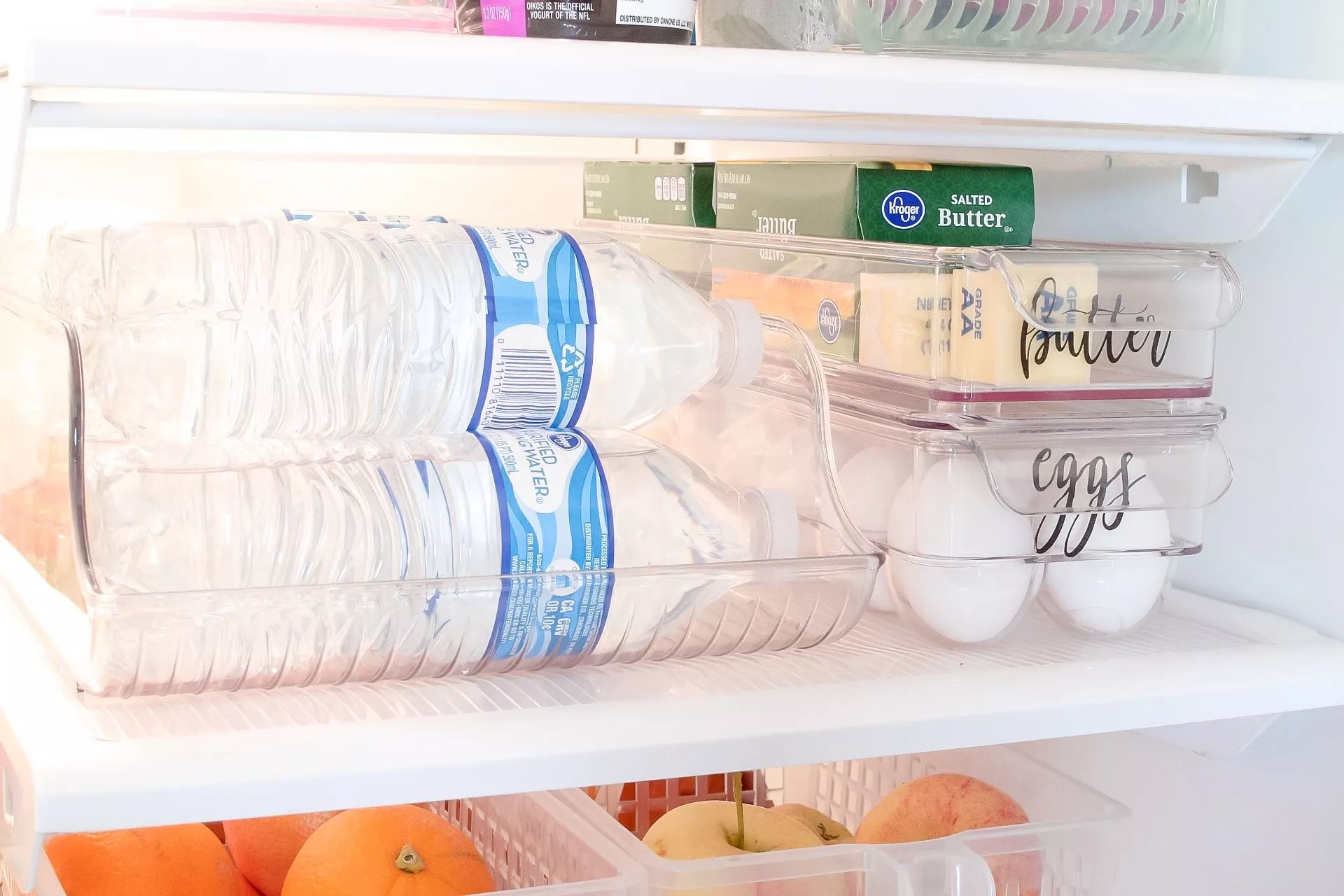 narrow fridge bins | egg holder | water bottle holder
The Lowest Shelf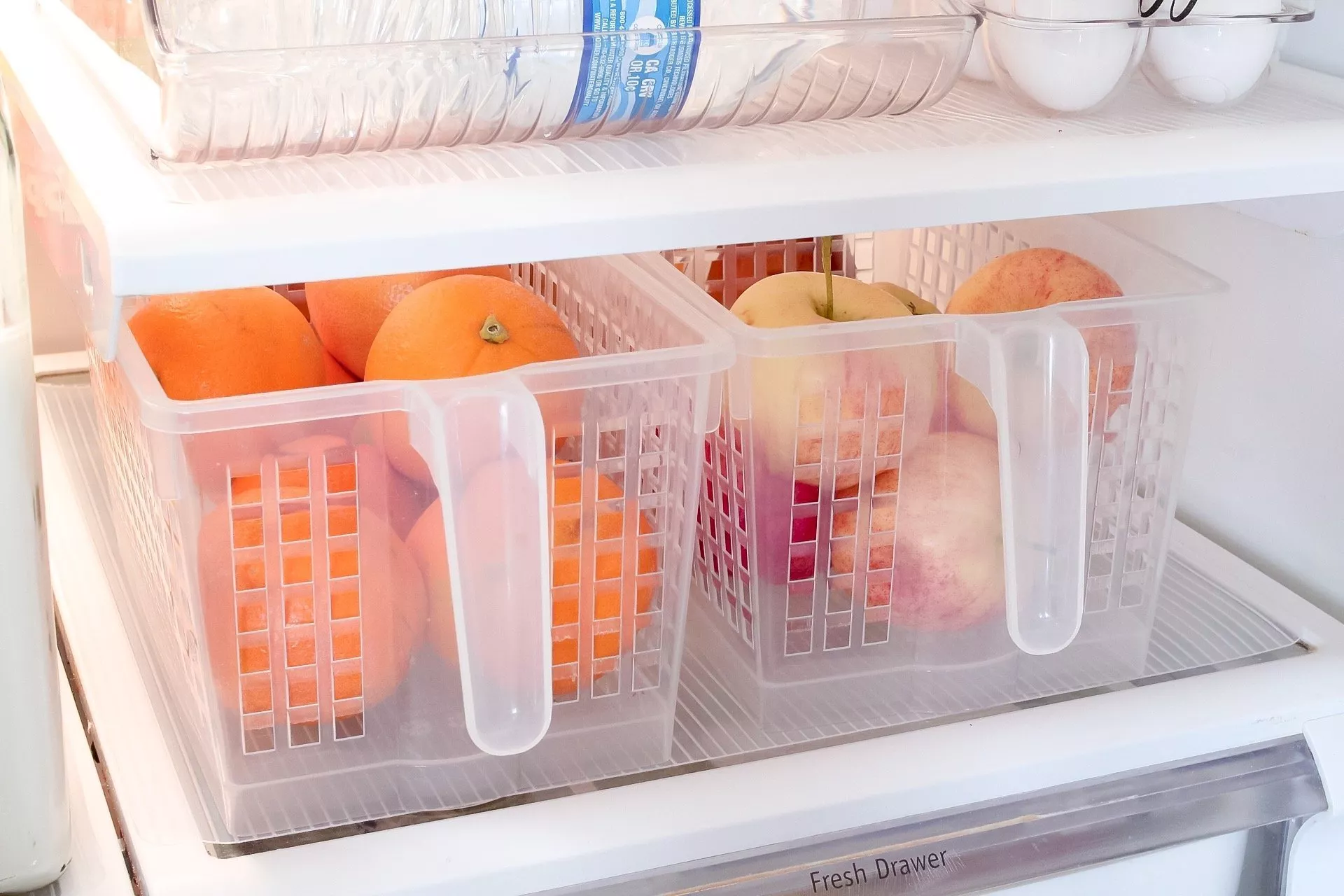 The Bottom Drawer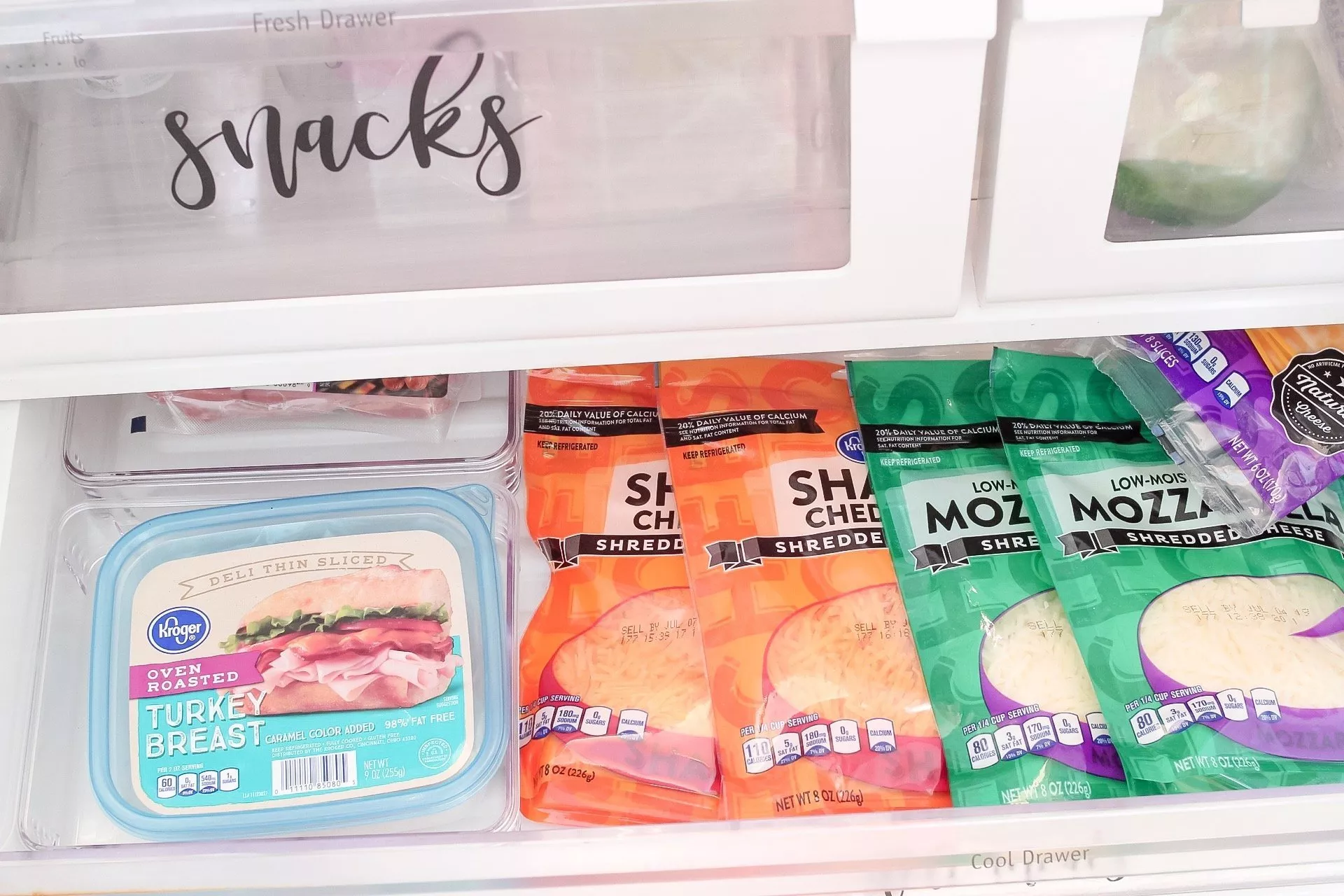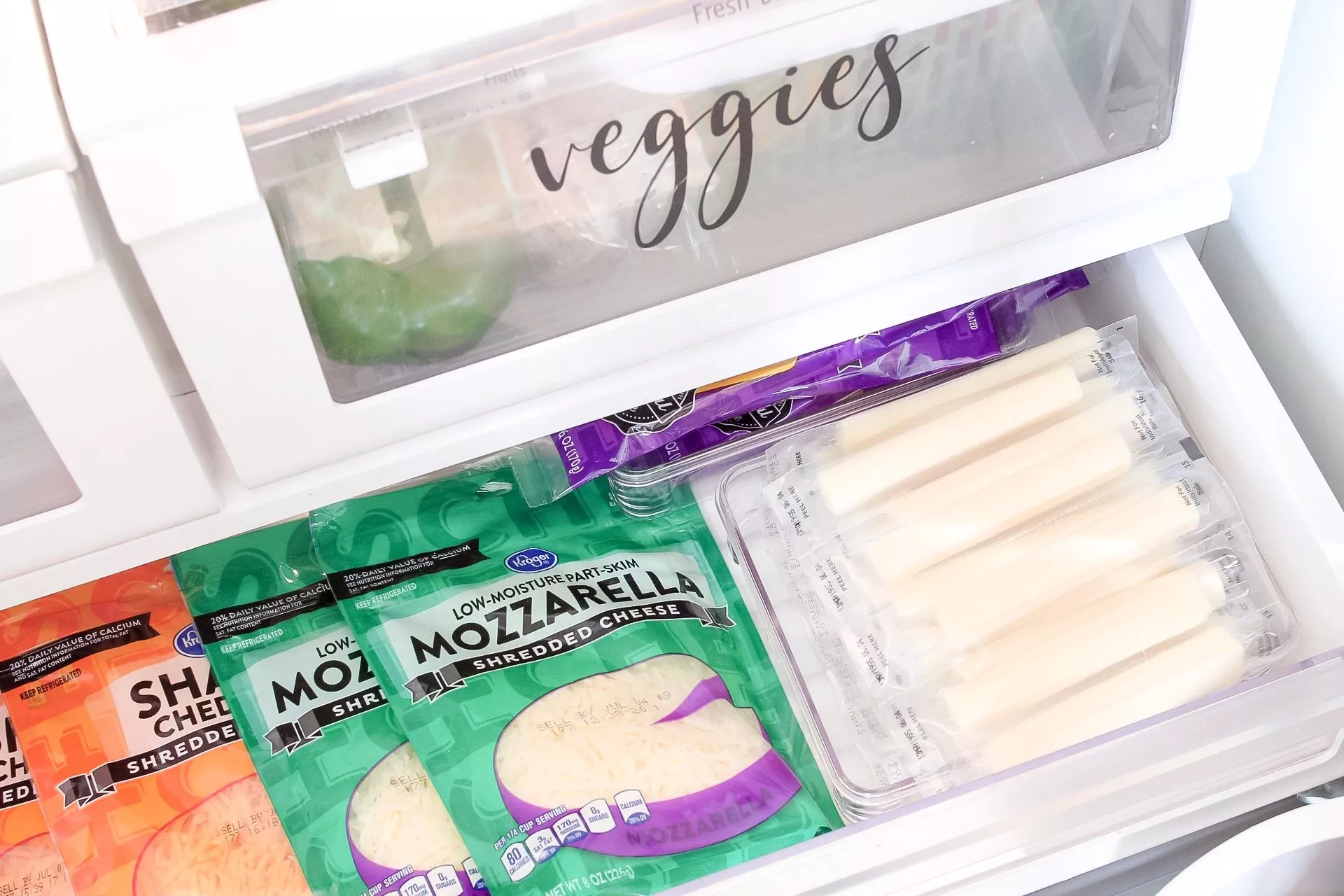 stacking canister with white lid
The Left Door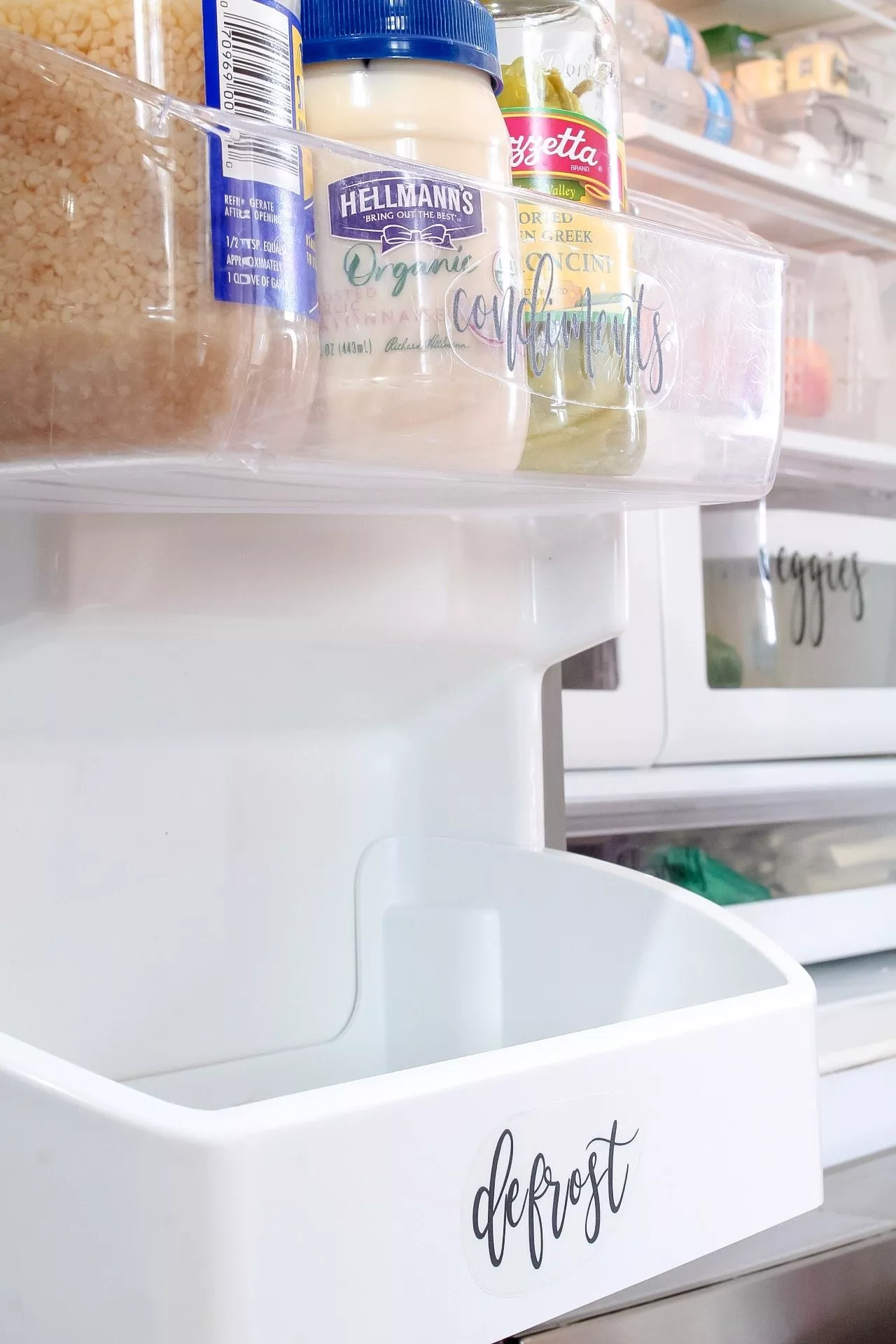 The Right Door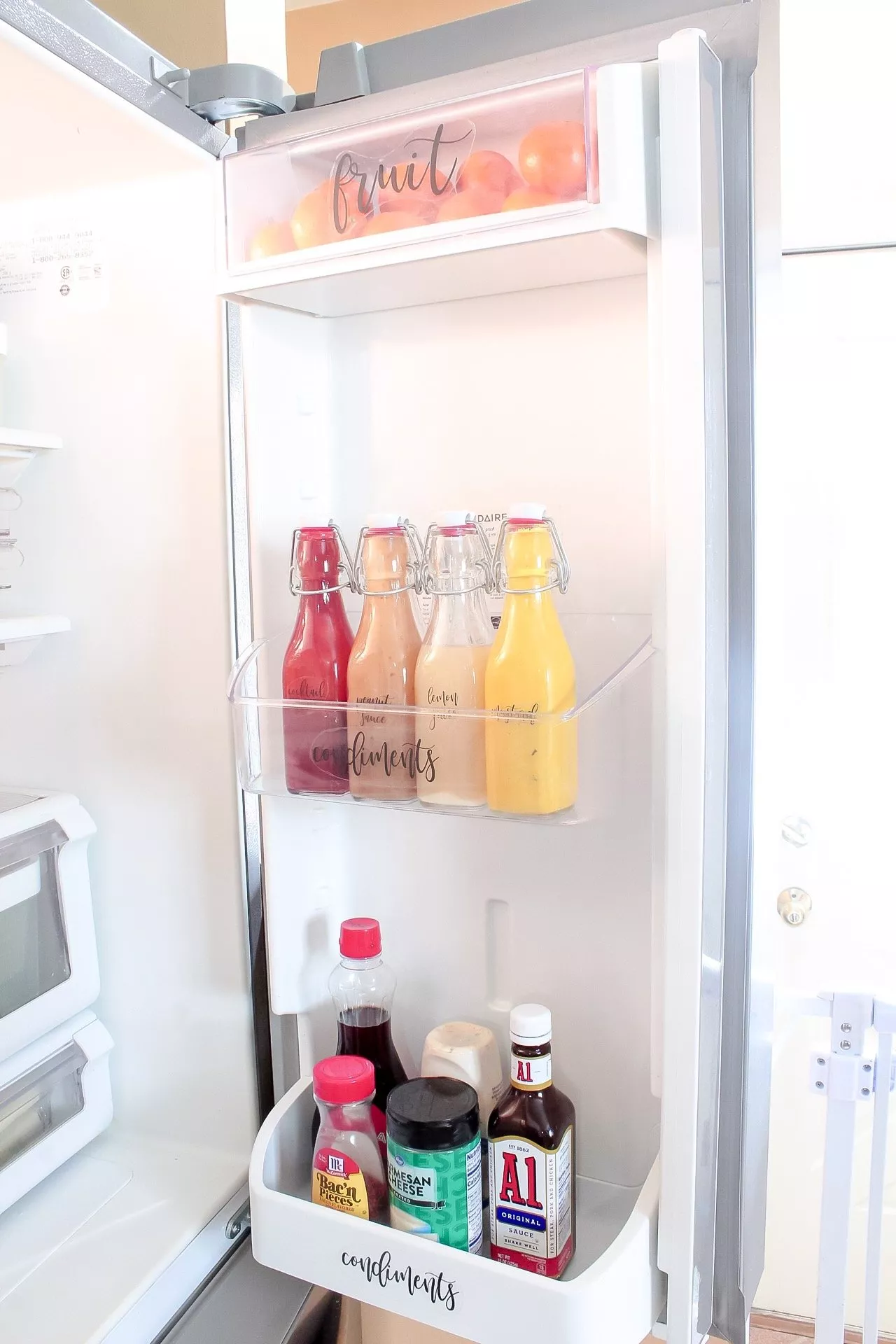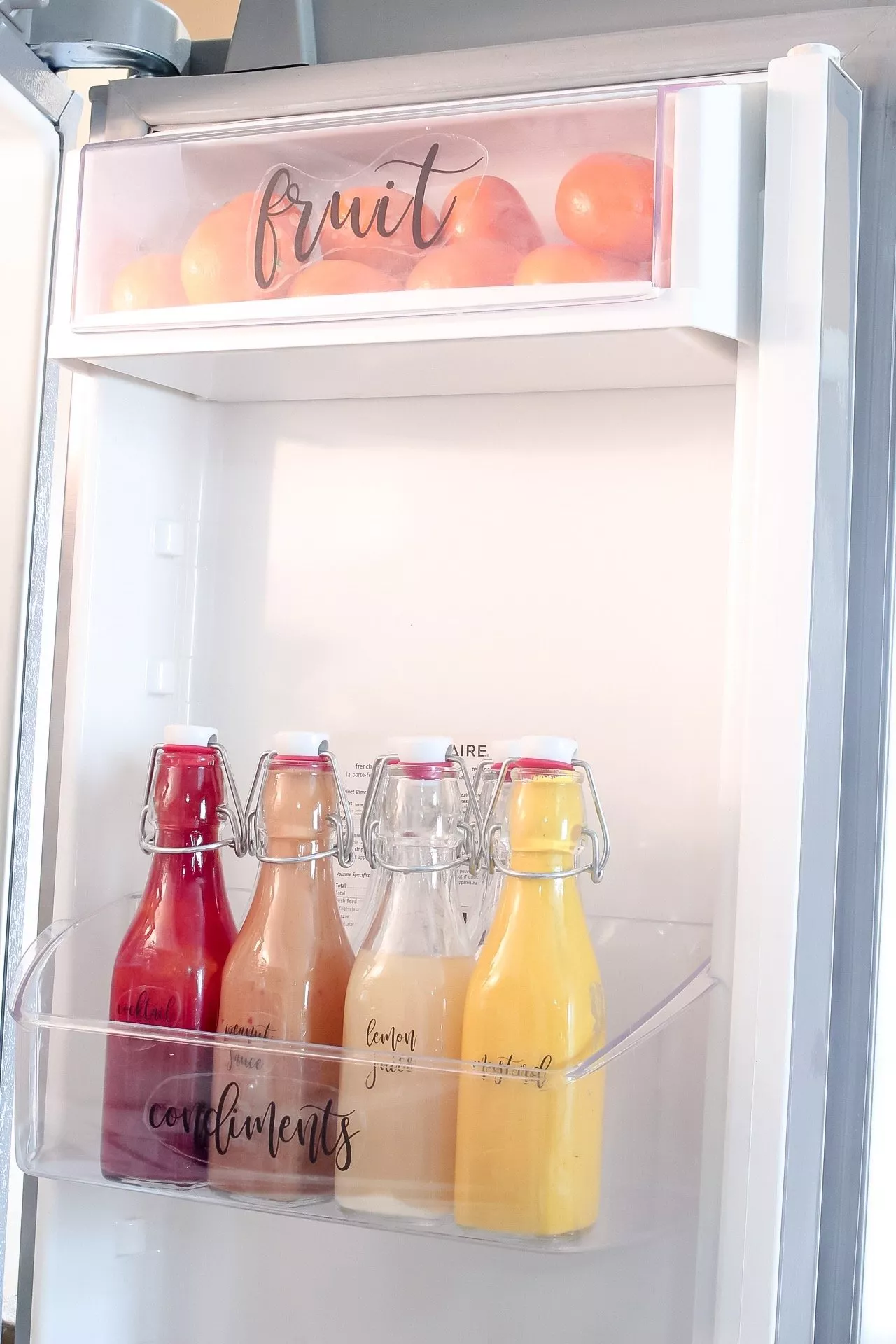 SO. MUCH. BETTER.
Fridge Organization: Frequently Asked Questions
Refrigerator Temperature – What Should You Keep Yours At?
While we're are dealing with the exterior of your fridge, let's talk about temps really quick!
If you're curious to know what temperature you should be keeping your fridge and freezer at, here are some recommendations to safely store your food according to the FDA:
Fridge: 40 degrees Fahrenheit or below
Freezer: 0 degrees Fahrenheit
*Remember that if you lose power, you'll need to try to keep the doors closed to your fridge and freezer!
How Long Can I Keep Meat In The Freezer?
If you're wondering how long you can keep meat in your freezer, here are some guidelines according to FoodSafety.gov:
Fresh poultry: 9-12 months
Fresh Beef, Veal, Lamb & Pork: 4-12 months
Ground meats: 3-4 months
Chicken nuggets: 1-3 months
Cooked leftovers: 2-6 months
Pizza: 1-2 months
Freezer labels can help you keep track of your dates – just write the date the food was purchased on your label, attach to the container or freezer bag you're using, and place the labeled bag in your freezer!
Try to use a FIFO (first in, first out) method to store your meats so you don't have to constantly check labels each time you go in to pull out your ingredients.
You can do this by placing food that has been in your freezer the longest amount of time towards the front of your freezer in a freezer basket and placing more recently dated food towards the back of the fridge.
What Is The Best Way To Organize A Fridge?
I think there are a million different ways to answer this question, because we all have different foods in our fridge, and we all have different needs and uses for them as well.
Honestly, the best way to organize YOUR fridge is the way that works for you and your family!
Maybe my milk dispenser idea won't work in your fridge, and maybe you'd prefer to store your apples and oranges in your produce drawer instead of in baskets like I did.
Like I mentioned before, look outside the box, explore new storage solutions, and take advantage of The Container Store's Kitchen Sale!
Where's The Vlog For This Post?
Right here!
---
Free Fridge Labels
I hope this post has helped you clean your fridge!
My little baking soda trick usually works wonders, but I'd love to hear your thoughts!
Let me know what you do to clean your fridge in the comments below.
Also, be sure to check out The Container Store's HUGE Kitchen Sale HERE! It will be going on until April 7th.
*Post originally published March 2019, updated May 2022.