Unbox the DreamBox 2.0 with me and see what's new!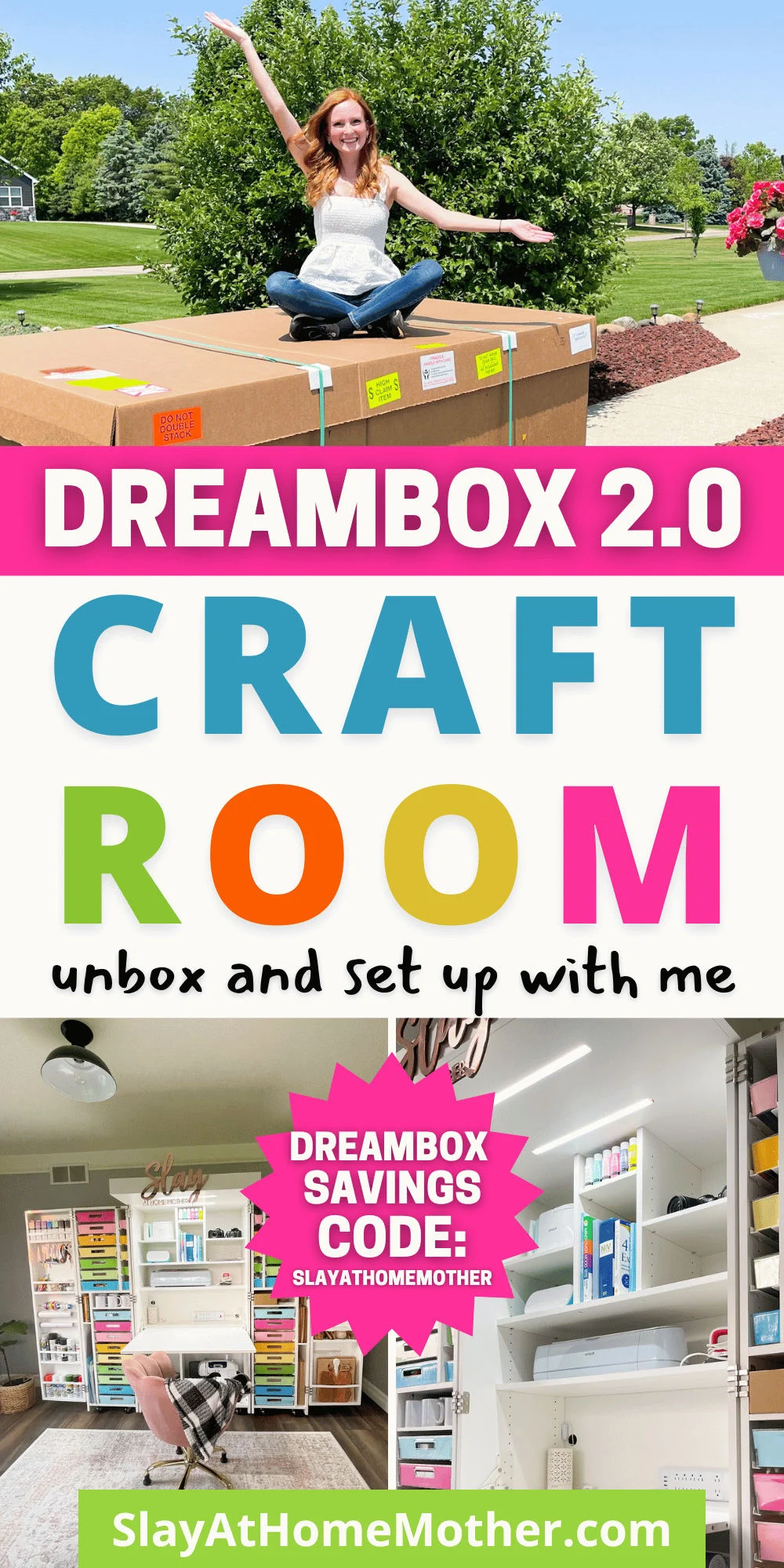 It's true, I have the new DreamBox 2.0, and I can't wait for you to see all the new features and storage it has!
Before you do any reading, keep my affiliate code SLAYATHOMEMOTHER to save BIG on your DreamBox order.
This post contains affiliate links and is in partnership with Create Room, however, all opinions are my own, as always.
DreamBox 2.0 Delivery
I received my Pre-Built DreamBox 2.0 a few weeks ago, and it came in a huge crate that weighed over 600 lbs.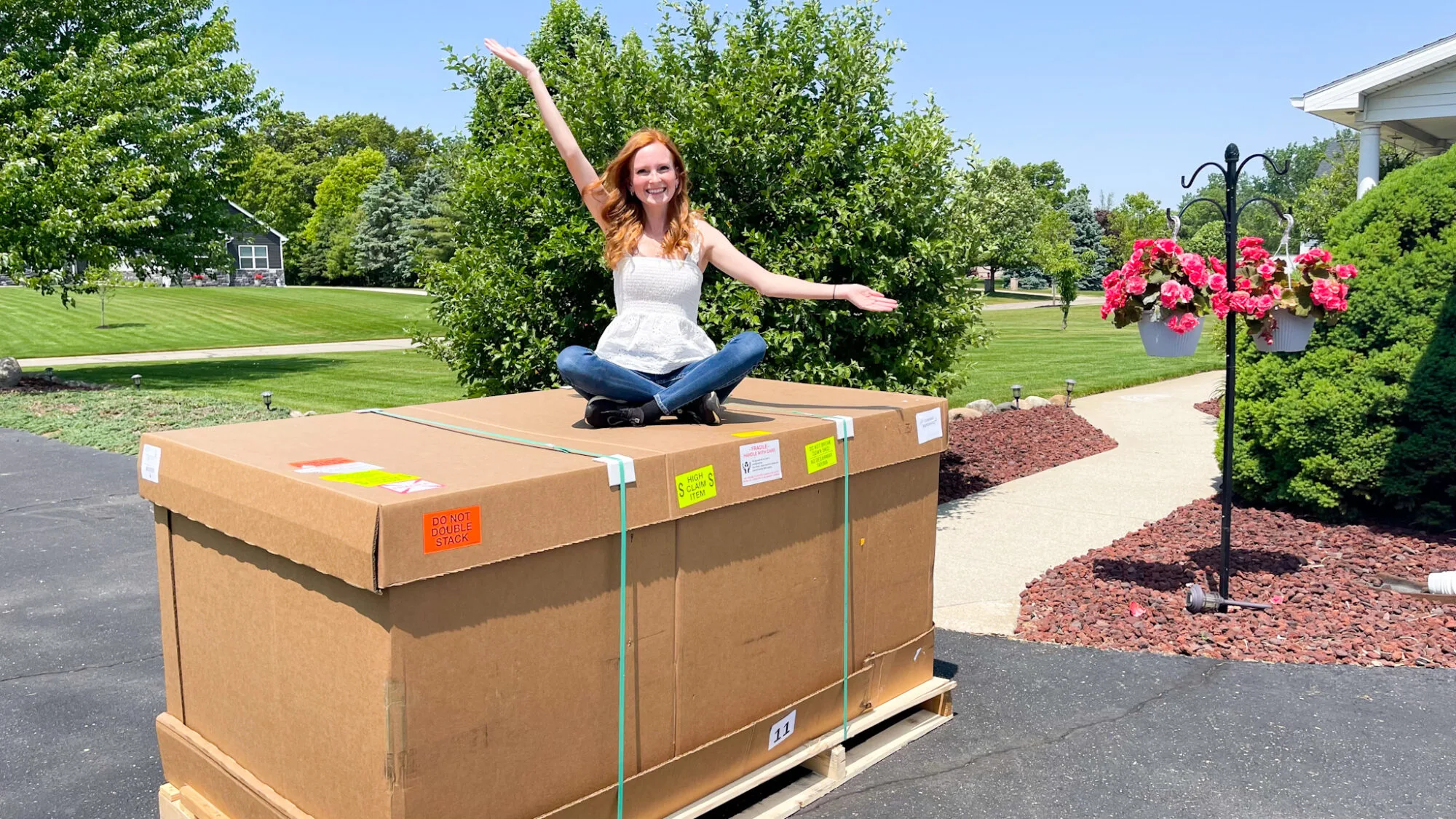 If you're wondering about delivery, read this part!
We have a long paved driveway, and when Old Dominion dropped off the crate, the delivery driver was kind enough to wheel it up the driveway (with my husband's help) to our walkway so we could get it into the house.
He volunteered to put in the garage for us, but we declined since we needed to go through the front door.
We tipped our driver, although he seemed just happy to sit and chat with us for a few about the DreamBox 2.0 and how he was thinking about getting his wife one.
In this post, I'll be sharing my experience and what I love about my new DreamBox 2.0…
Watch Me Unbox And Setup the DreamBox 2.0!
New Features I Love About The DreamBox 2.0
Fold Up Table
With the new DreamBox 2.0, the table folds UP instead of down.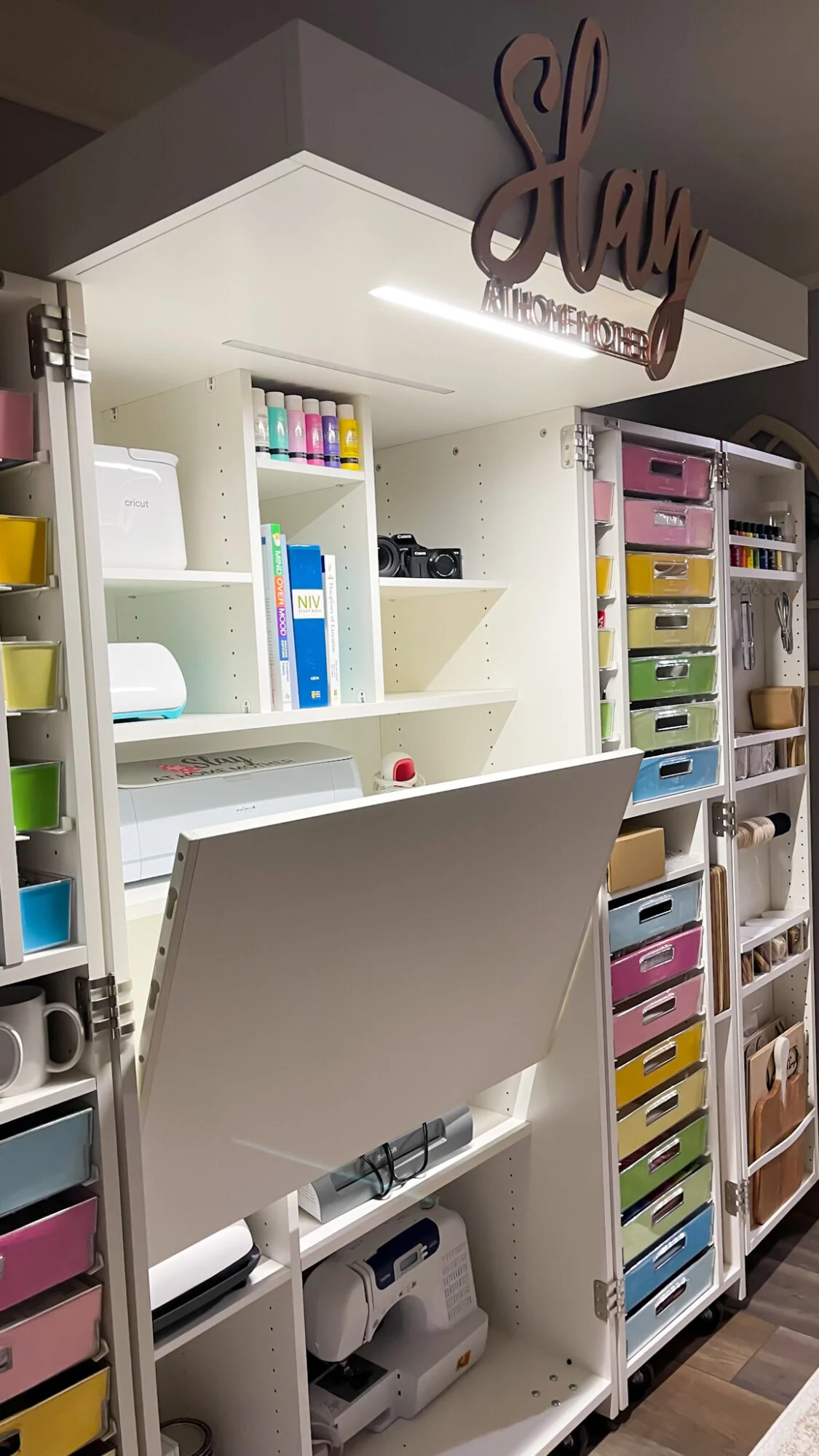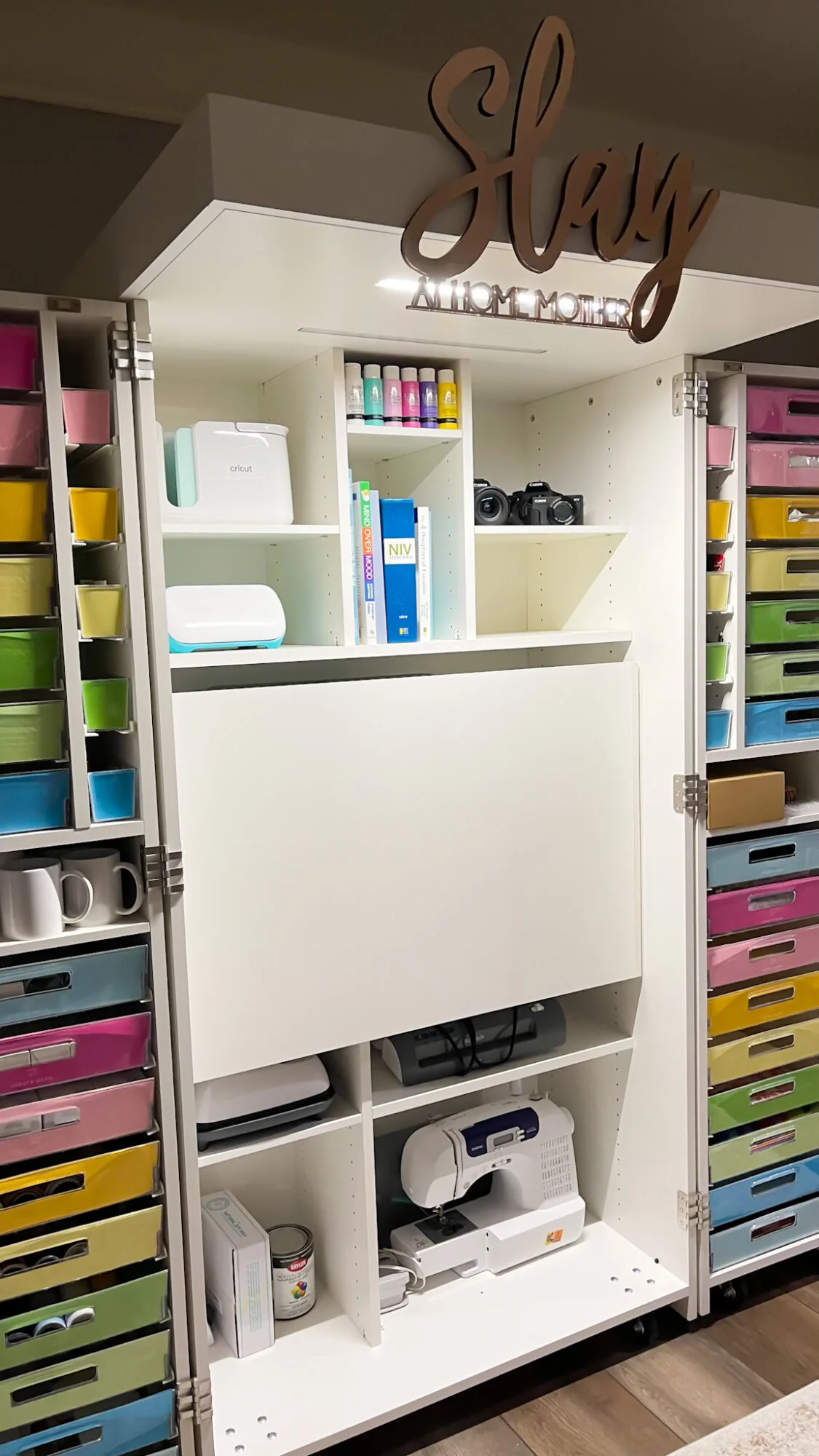 Some other new features on the new table are that it has sturdier hinges, the table depth is shorter (so you can reach your DreamBox totes more easily from a sitting position), and it includes slide-in slots on the sides to add on side tables later if you wish.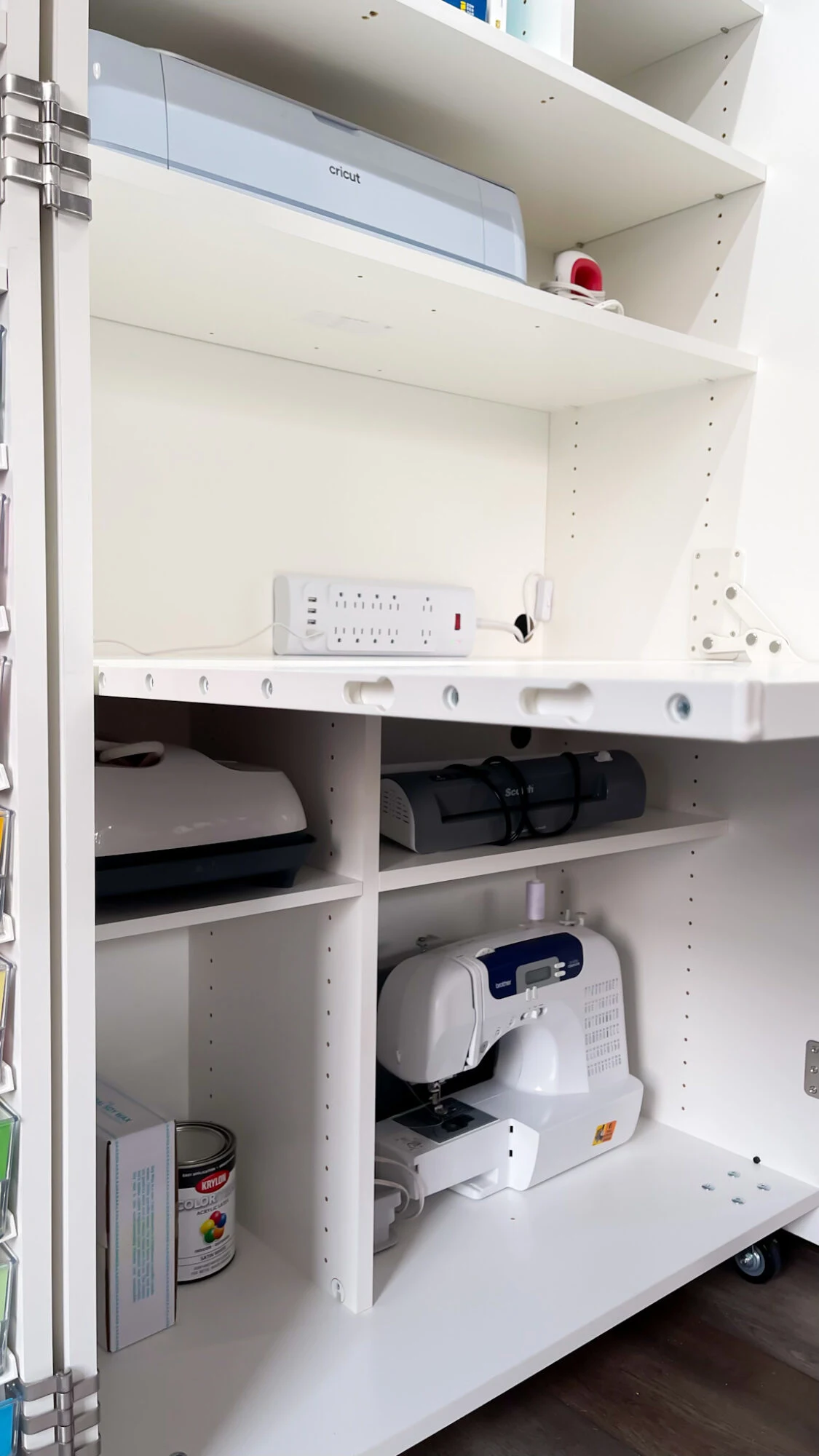 I was in awe seeing the table hinges and how solid the table felt folding it up.
This was a great improvement!
Lastly, the table doesn't have legs, so you don't have to worry about bumping your legs or working around them.
If you're wondering if the table is still as sturdy without the legs, I can say the newly upgraded hinges help tremendously with this! I find it just as sturdy without the legs thanks to the hinges.
Sturdier Hinges Throughout
The table hinges aren't the only upgrade…
Create Room upgraded the hinges throughout the entire DreamBox!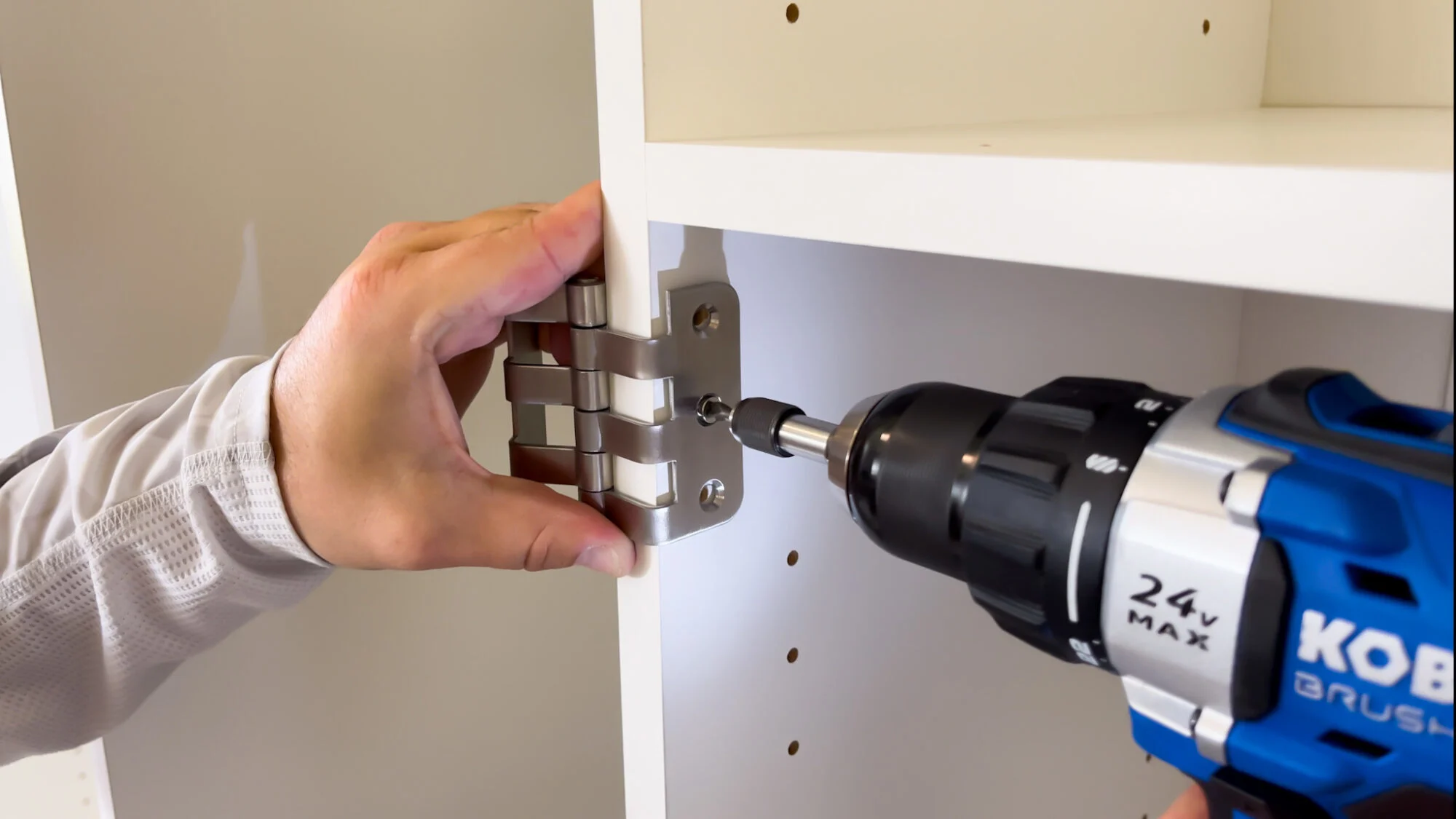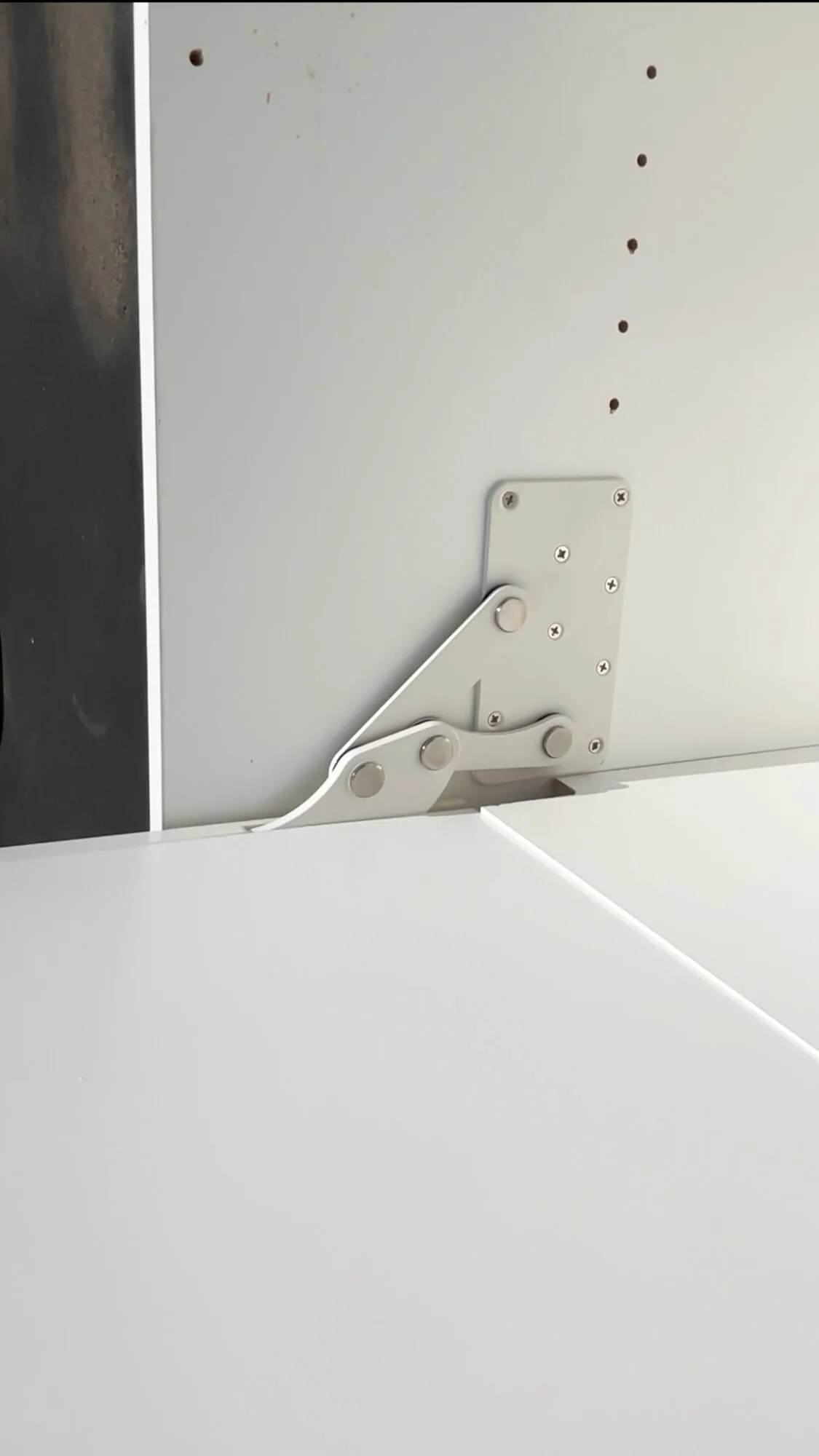 New Configuration Options
With the previous DreamBox 1.0, the center section was very well organized and standard. I loved mine! You also had the option to add on their 3-drawers for more storage.
With the new DreamBox, you'll get more options to better fit your work and lifestyle!
I chose an extra shelf for my Cricut machine (which you could honestly use for balls of yarn, books, to display art, etc.) and I love the extra storage it's given me!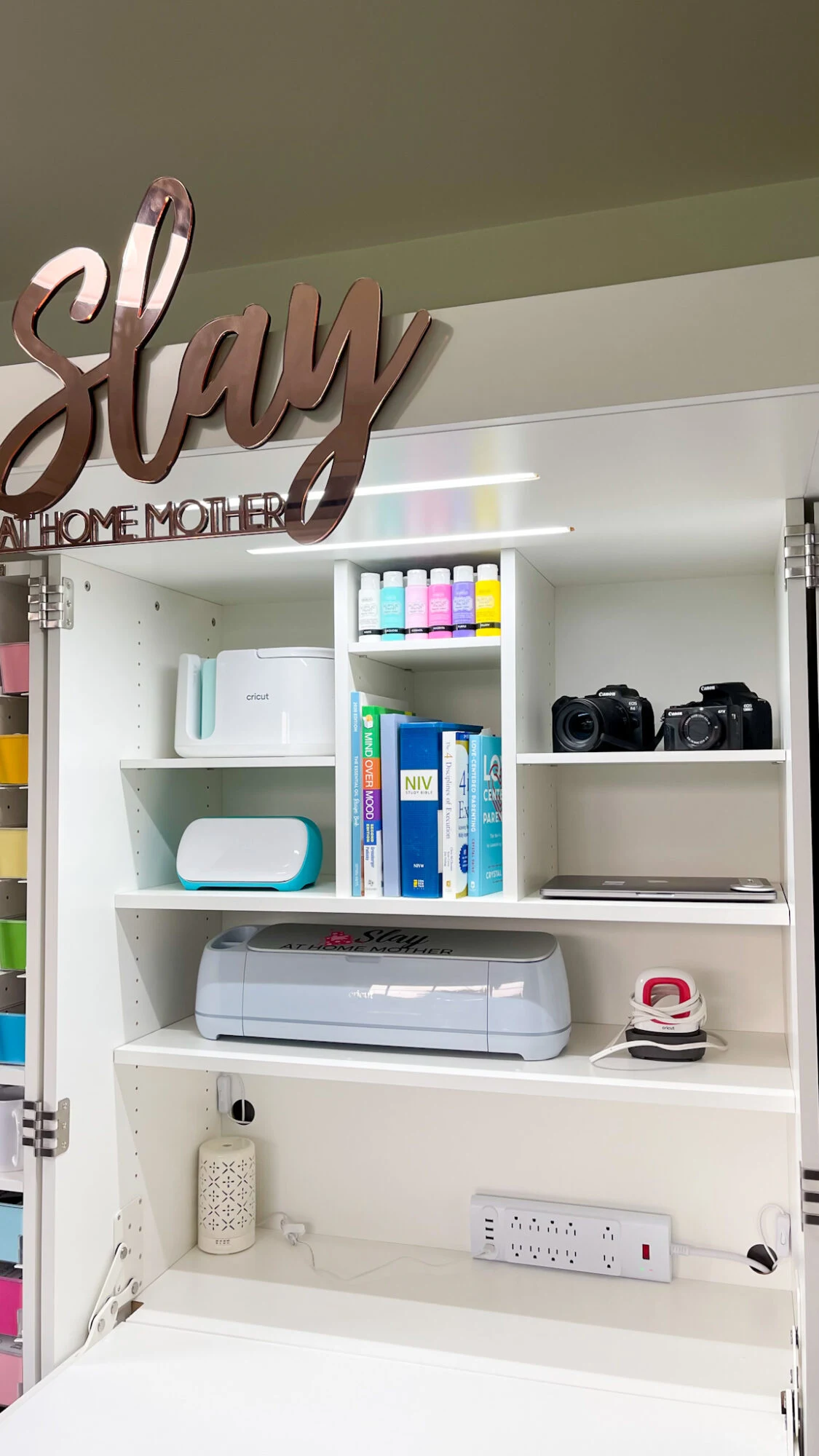 Shelf And Tote Supports
Shelf tracks were originally built to support Dividrawers, but Create Room now offers them for the in-view totes in the DreamBox 2.0!
I personally love these – they fit the tote containers very snugly and feel more secure than the previous plastic pegs.
And speaking of plastic pegs…
Create Room now includes metal pegs for shelf supports.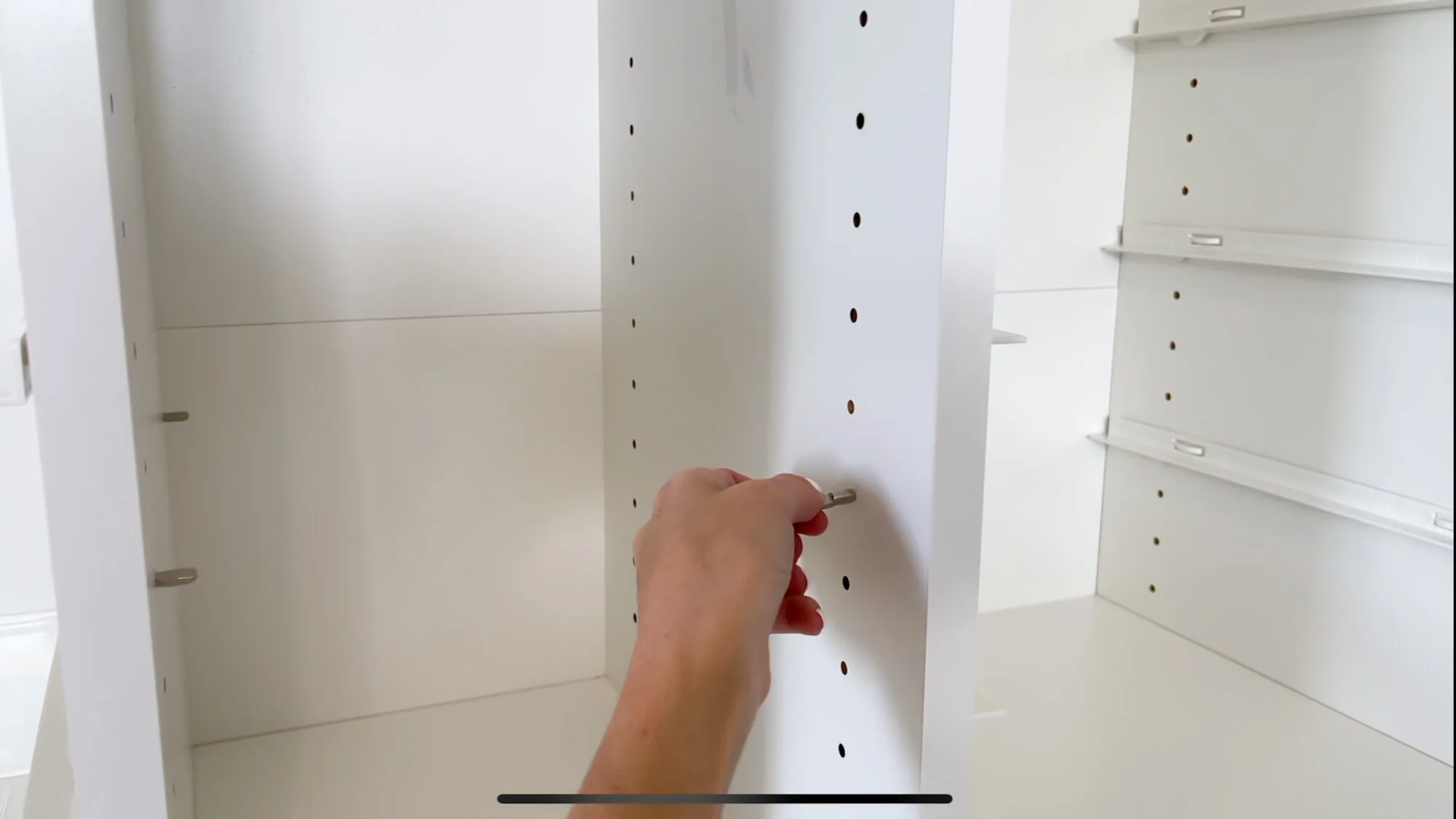 AMAZING!
DreamBox 2 Lighting Upgrade
Now, every single customer gets lighting with their DreamBox 2.0!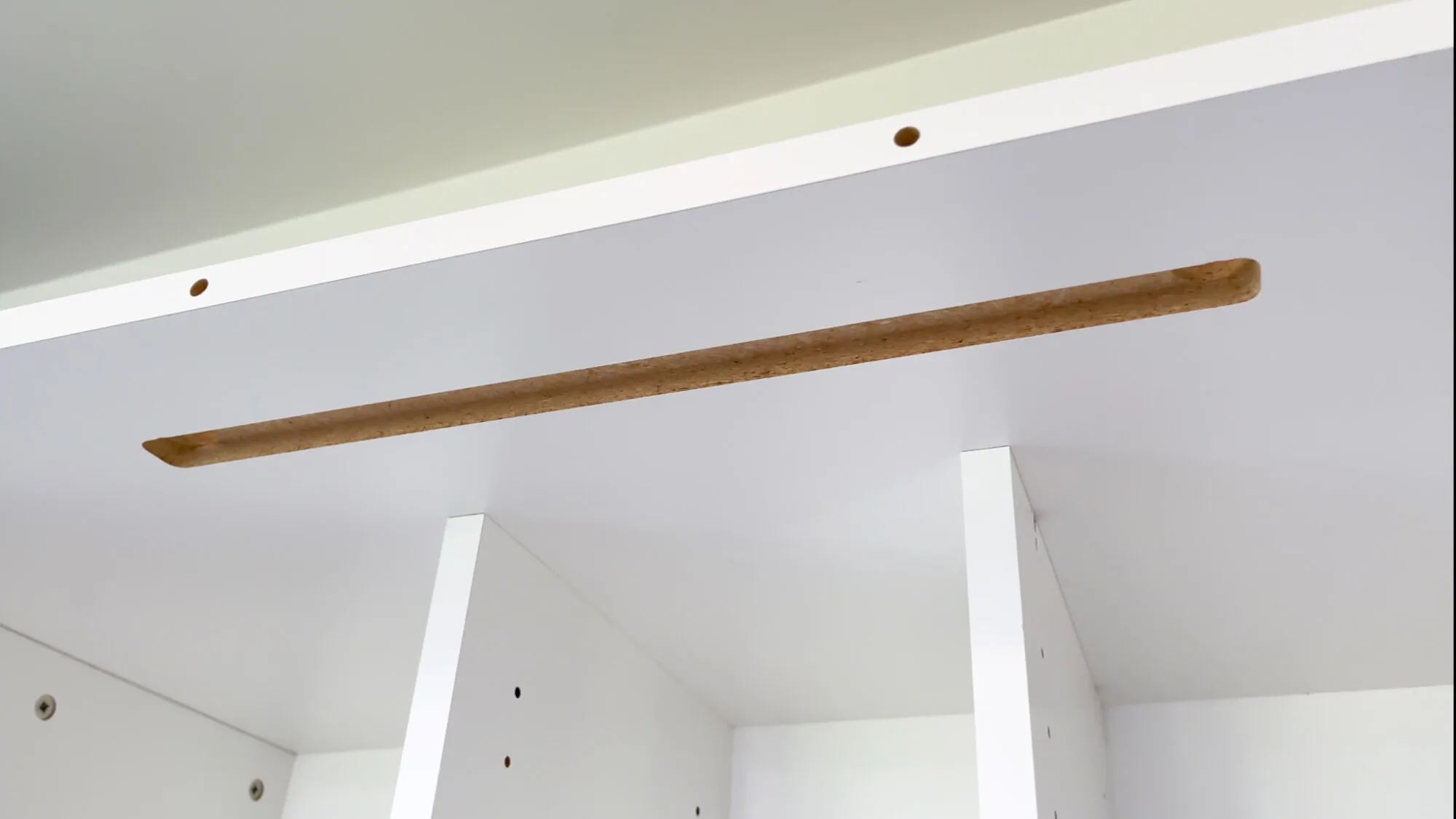 Beforehand, you had to purchase the Crown light to get any kind of lighting with your DreamBox, but now one LED light comes standard, so everyone gets lighting!
For extra lighting, you can still purchase the Crown and have two LED lights above.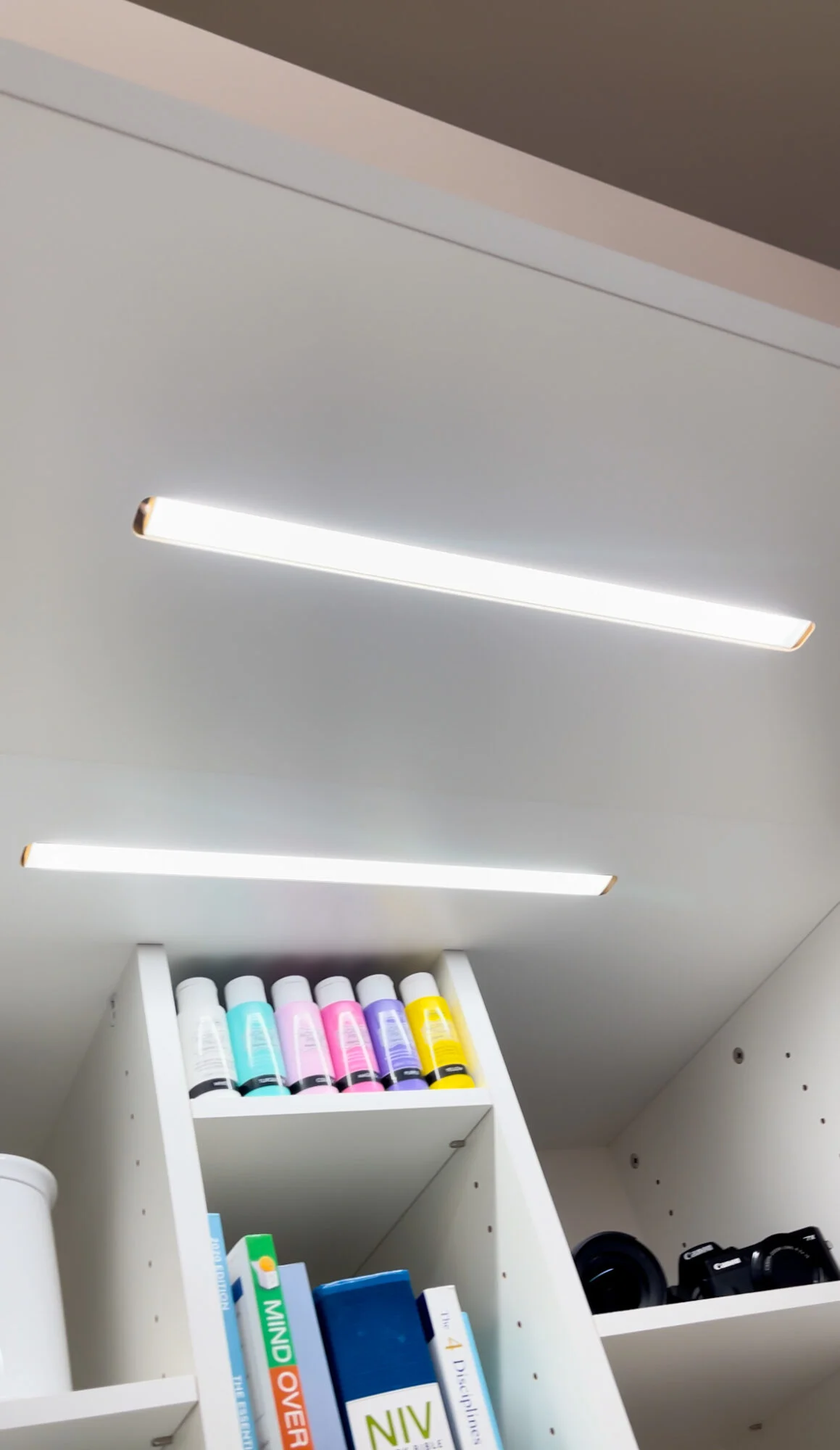 The extra lighting is just…WOW.
I also noticed a more sleek design to the Crown light edges. Time will tell how this performs when opening and closing the DreamBox 2, but so far I've found that it's been smooth operating :).
Customizable Storage Options
I mentioned above that the center part features different configurations, but the DreamBox 2.0 also features more customizable storage options.
One of my favorite changes that were made to this new DreamBox is the tool hooks.
Now there are twice as many hooks, and you can place the tools wherever you like on the doors.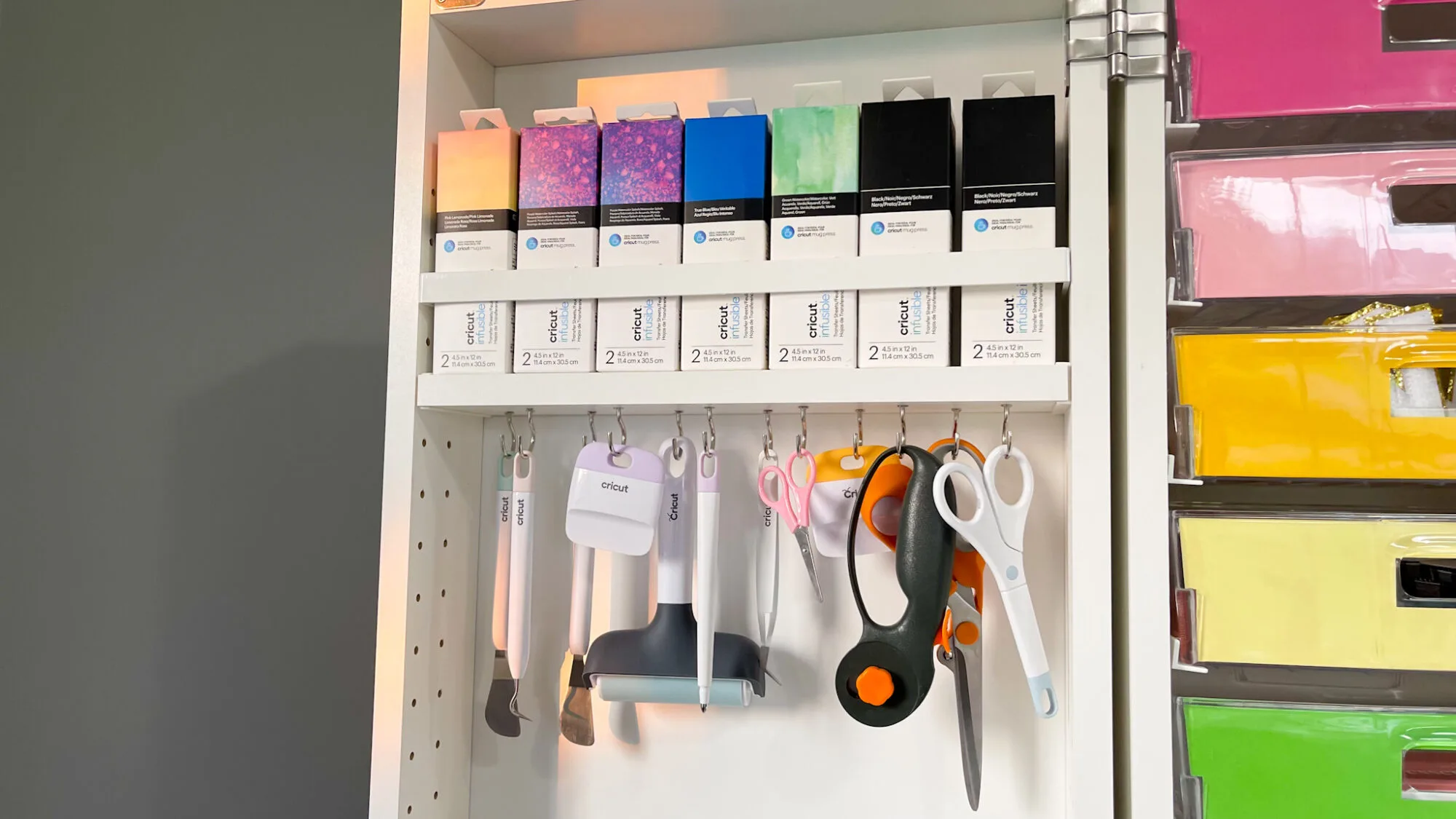 I loved this feature because we still have a toddler, and the previous placement was right at the level she could reach.
You can also decide where and how you'd like to store items like your Cricut mats, machines, totes, and more to fit your needs.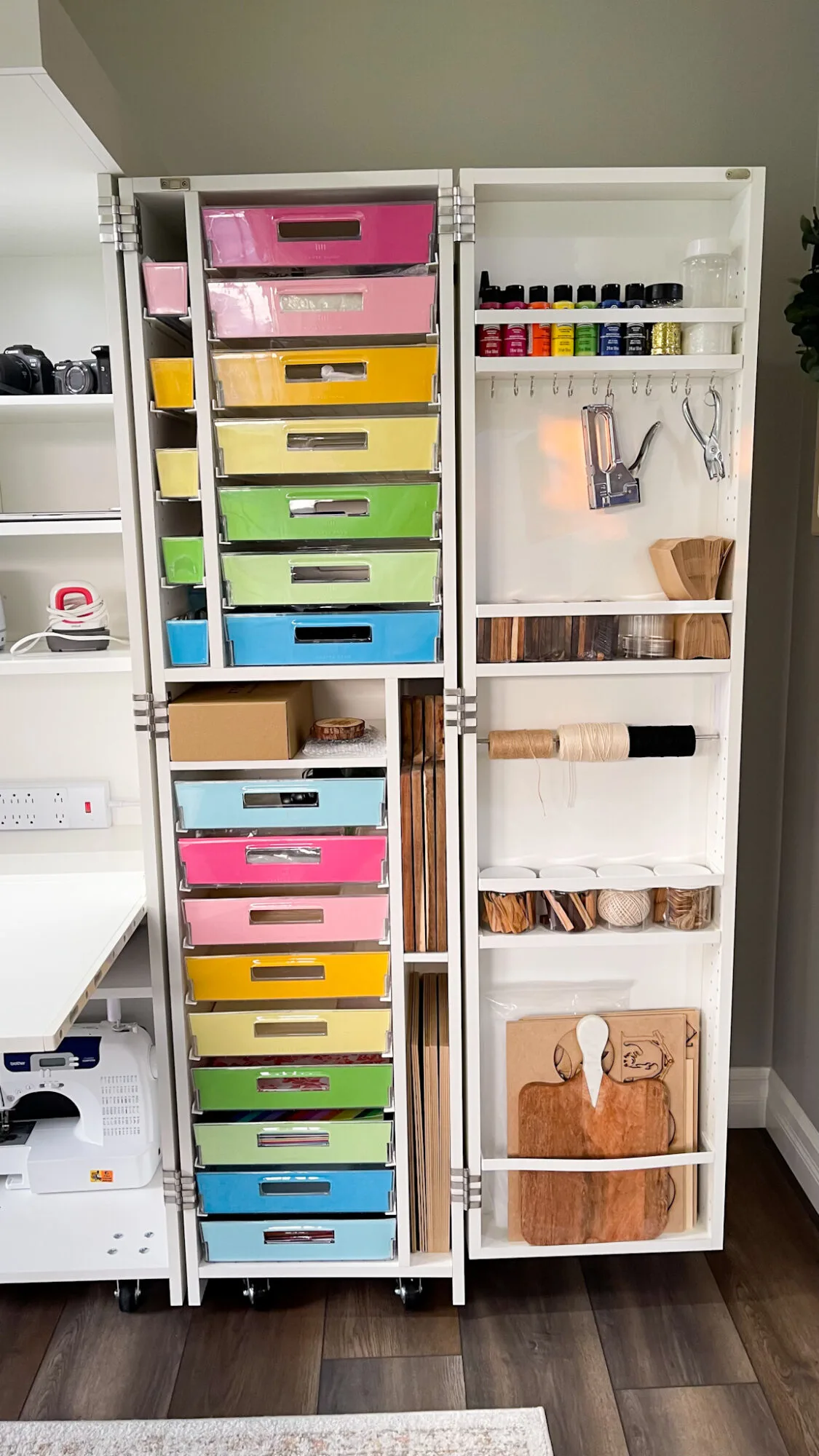 I didn't even realize how much more efficiently I could be storing my engraving materials (like cutting boards) until now.
More Cord Slots Available
With my previous DreamBox, I had just one cord slot (where I could feed the cord for my Crown light or surge protector) inside the main center part.
Now, the DreamBox 2.0 features FIVE of these cord slots, so you can place a printer under your desk or other machines.
Safety Bracket And Tilt Security
With this new design, the DreamBox 2.0 needs to be secured to the wall.
Create Room includes the necessary wall anchors (if needed), screws, and safety brackets to secure your DreamBox to the wall.
Bigger Dimensions (Measurements)
Full dimensions can be found here.
CLOSED: The DreamBox 2.0 is approximately 3″ wider and 1″ deeper than the previous DreamBox 1.0.
OPEN: The DreamBox 2.0 is approximately 2″ wider than the DreamBox 1.0.
Updated Jar Design
The new Jars included are sleeker this time around – I love the design!
If you have the older version, the lids fit the same, just FYI! So you can keep your older jars and use the new and old lids interchangeably without issue.
I also want to mention that the acrylic guards are now white instead of clear.
My DreamBox 2 Details
To shop my exact DreamBox, here are the details of my order:
Deluxe Tote Package (with 72 totes)
Crown Light
Extra Shelf (where I'm storing my Cricut Maker)
Pre-built (HIGHLY RECOMMEND)
If there is one 'extra' I would recommend above all others for your order, no matter who you are or how much time you have on hand – it would be getting the Pre-built option.
With the Pre-built option, you save so many hours of building and can enjoy your investment much sooner!
My YouTube unboxing and setup video of the Create Room DreamBox 2 features a lot of extra scenes and footage if you need more of a visual!
As always, plug any questions you have about the DreamBox 2.0 in the comments below so I can answer them!
Remember to use my affiliate code SLAYATHOMEMOTHER to save BIG on your DreamBox order. The DreamBox 2.0 will be live on Friday, June 23, 2023!
You May Also Like: DreamBox Tote Covers – Free Cricut Design Space Link