A non-sponsored, thorough Dropps laundry review. Direct comparison to Tide…
Dropps Affiliate Code: SLAY15
---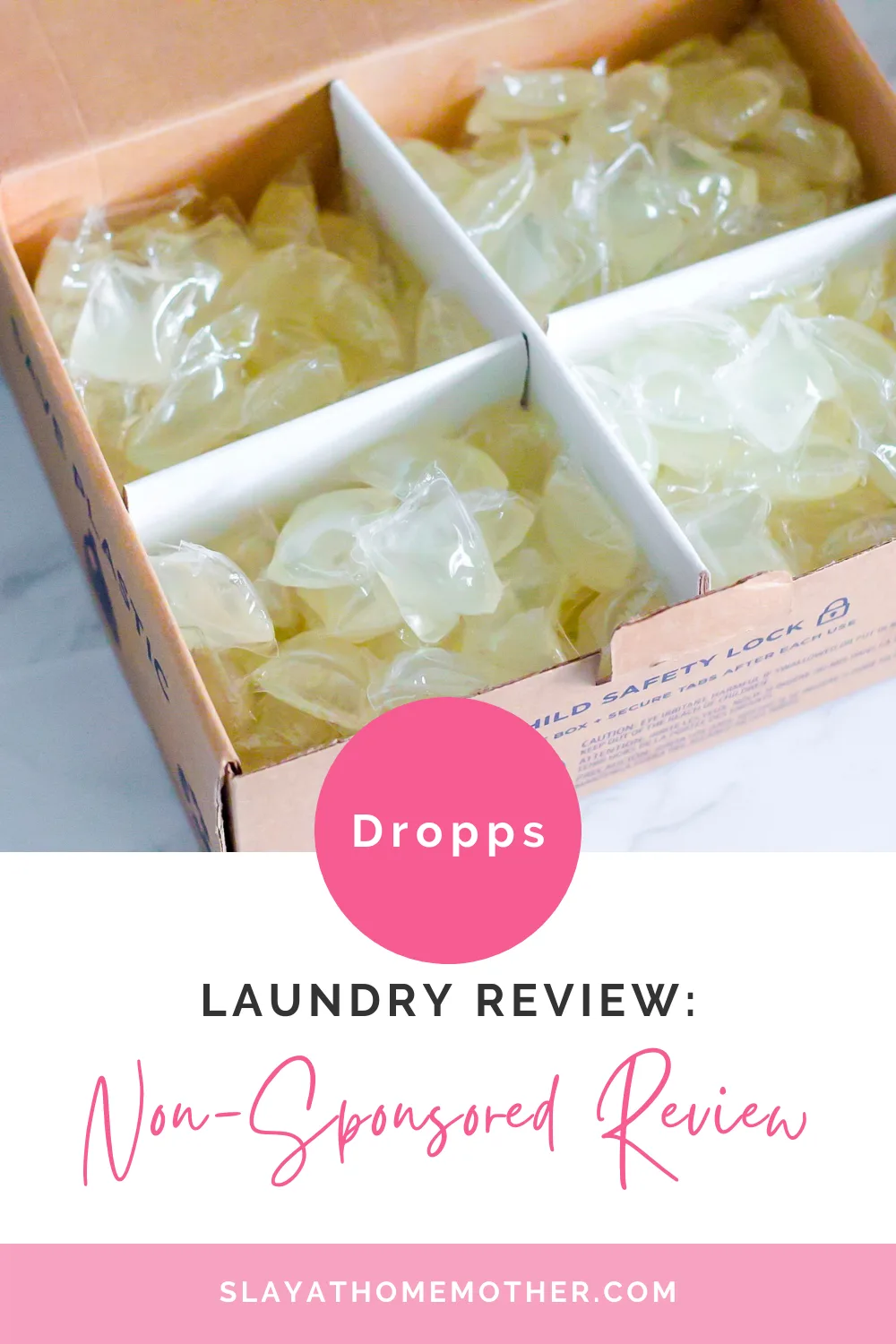 Okay, guys, here it is!
My Dropps review, featuring their laundry detergent and wool dryer balls!
I usually write and schedule my posts out a bit, but since I shared my purchase of these pods on my IG stories, I've had so many messages requesting this Dropps review and asking when the heck I'm going to post it that I've decided to go ahead and push it up to today!
Before I go into my Dropps review, I want to mention that this is a non-sponsored post.
I paid for all of these products myself with my own money so I could try them out and give you guys an honest review (which I ALWAYS do), but this way I can directly compare Dropps laundry detergent to other name brand products and mention direct price points, and how other products compare to this new brand we're trying out.
Sometimes with sponsored posts, brands don't want you to mention other brands at all, and I like my freedom, y'all.
So, here it is.
I'm covering everything.
In this post, I'm talking about why we chose to go with this brand, pricing differences, cleaning and drying performance, and my honest thoughts on these products.
*This post contains affiliate links, however, all opinions are my own, as always.*
Why Dropps Laundry Detergent?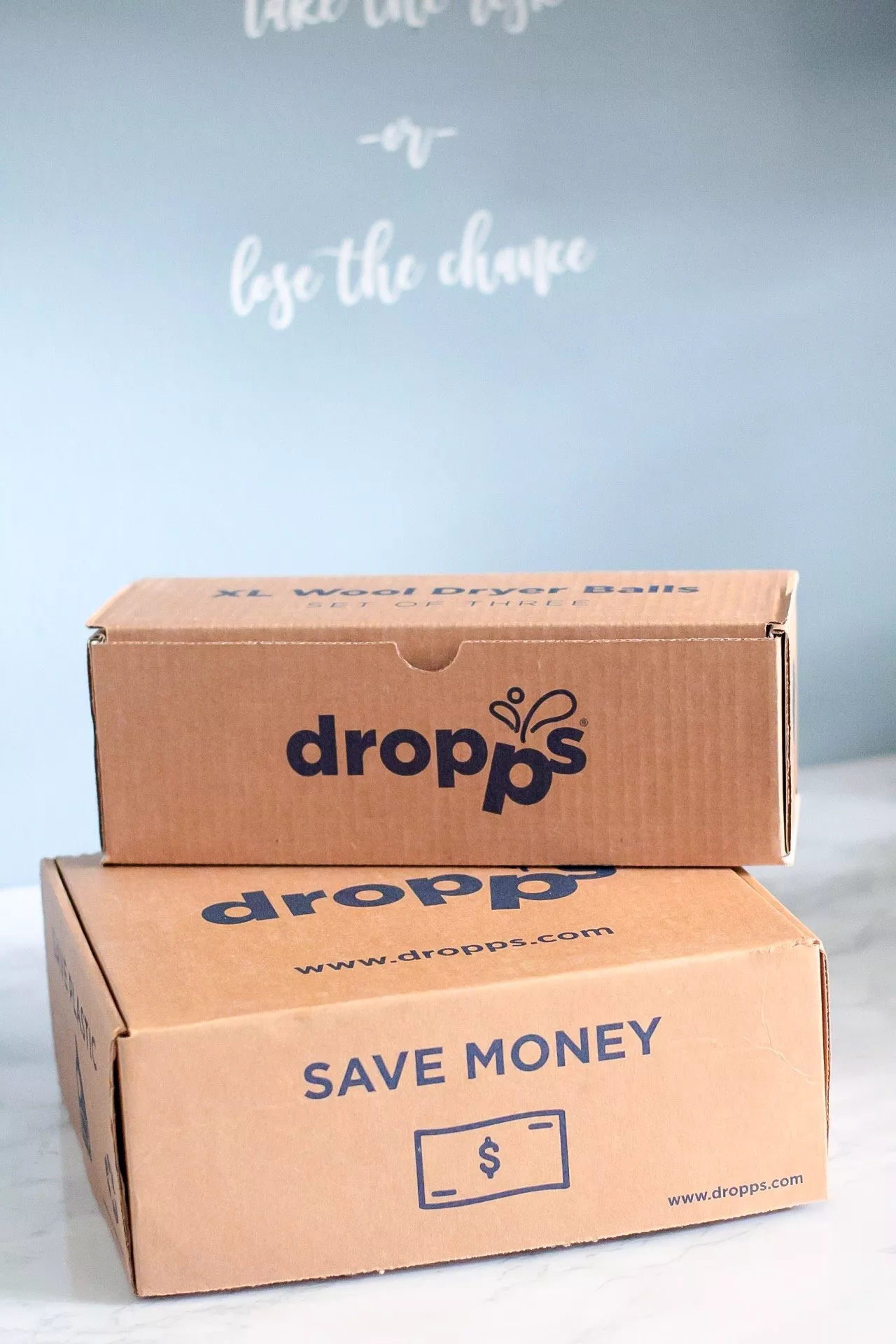 We've been wanting to try Dropps for several months now after hearing about it on Instagram.
I have been on a journey to live a less toxic life with our young family, and have really enjoyed trying out new products that contain natural ingredients.
Like last week, when I shared my review of a non-toxic multi-purpose cleaner that I absolutely fell in love with.
Today's more natural cleaning options are really surprising and pleasing!
I feel like this is finally the right time to start trying and introducing effective, less toxic cleaning products into our lives.
Products I Ordered To Review
Here's everything I ordered:
Stay tuned for the dish detergent pods review!
I failed to check how many dishwashing pods we had before I ordered everything, so I have plenty of dishwasher tabs to use up before I can even get to these dish detergent pods, but as soon as I have the opportunity to try these out and review them for you guys, I will.
For this review, I'm featuring the laundry pods and wool dryer balls and will be highlighting the benefits that drew me to want to try this brand's products.
Dropps Laundry Detergent Overview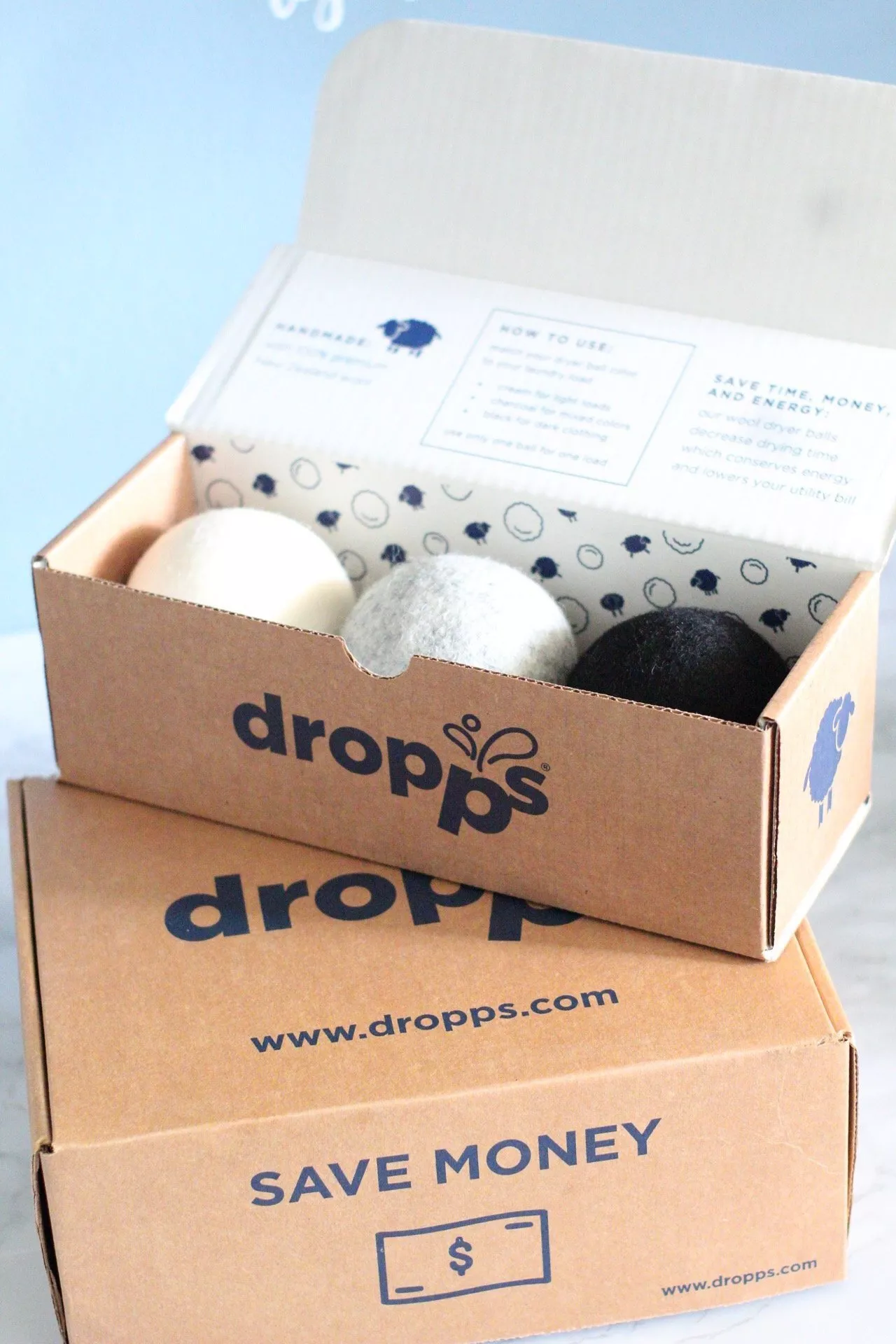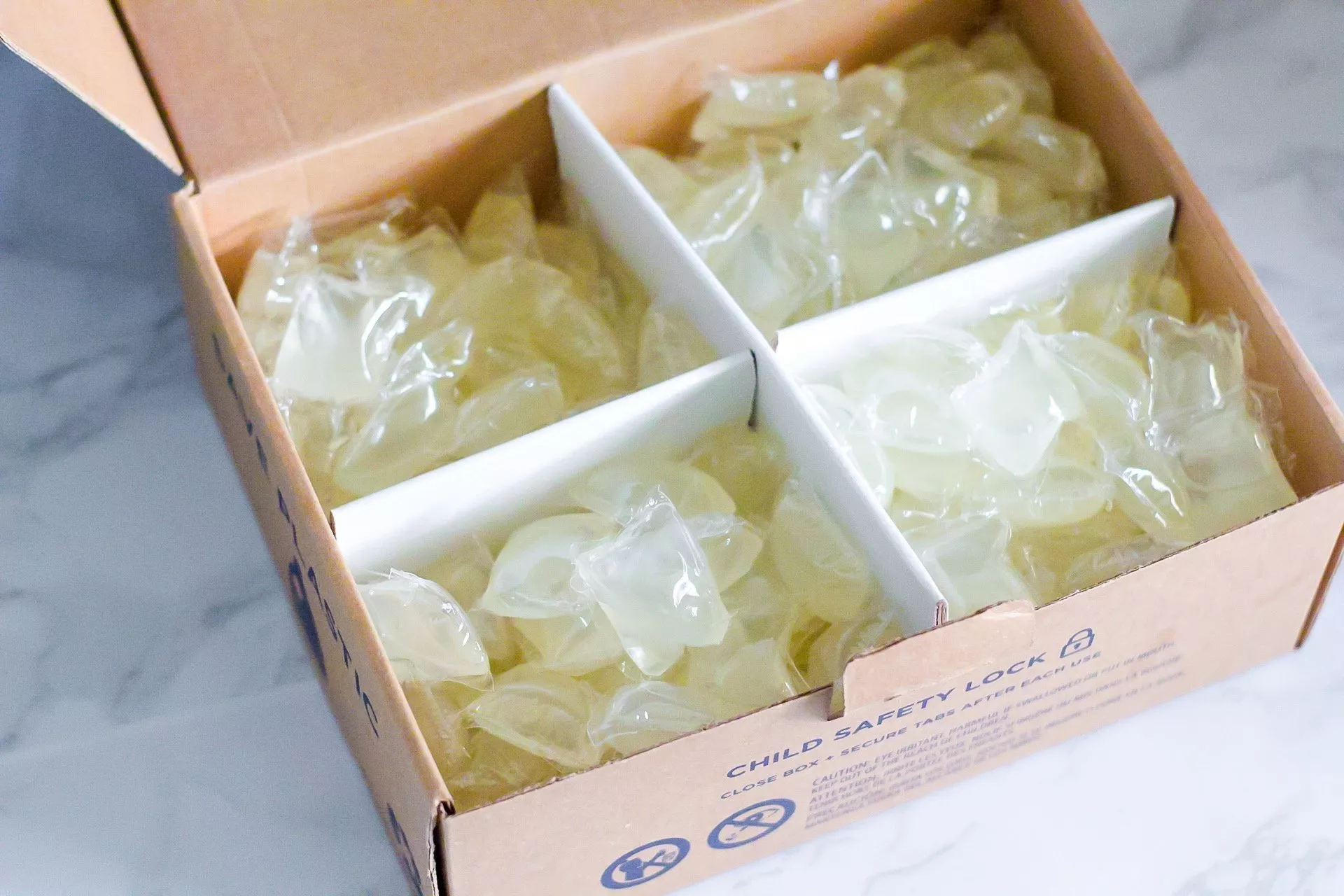 Dropps Packaging
I personally loved the packaging that Dropps came in, and appreciated the built-in child safety lock the boxes contained.
My 9-year-old could still get into the box of pods if he wanted to, but my toddler would not be able to.
With everyone having to worry about their kids popping pods in their mouths these days, that's a safety measure this mom applauds Dropps taking…
*Claps enthusiastically*.
Not that I have that particular problem, but it's super important, and the thought really means a lot!
The boxes contain biodegradable ingredients.
If you're concerned about our nation's recycling and environmental waste, this should make you very happy considering roughly 68% of plastic jugs and pod containers from other brands are not recycled and end up contributing around 275 tons of plastic waste that end up in our oceans and waterways each year… (source)
At first, this lack of plastic was a bit of a concern for me.
I know, I know. I can sense your eye roll from this side of the screen…
My boxes came within another box, and I get that there are multiple layers of cardboard protecting the pods, but these pods are designed to only get wet in the washing machine.
I immediately wondered what happens if my subscription box gets wet and all my pods leak or stick together?
But on their website, this topic is covered under the FAQ section and requires you to submit a picture of your damaged product along with the lot number and order number (if you still have them), and an estimate of how many salvageable pods you still have.
See that question and answer here on their website.
I think that's pretty reasonable!
Dropps Laundry Pod Membrane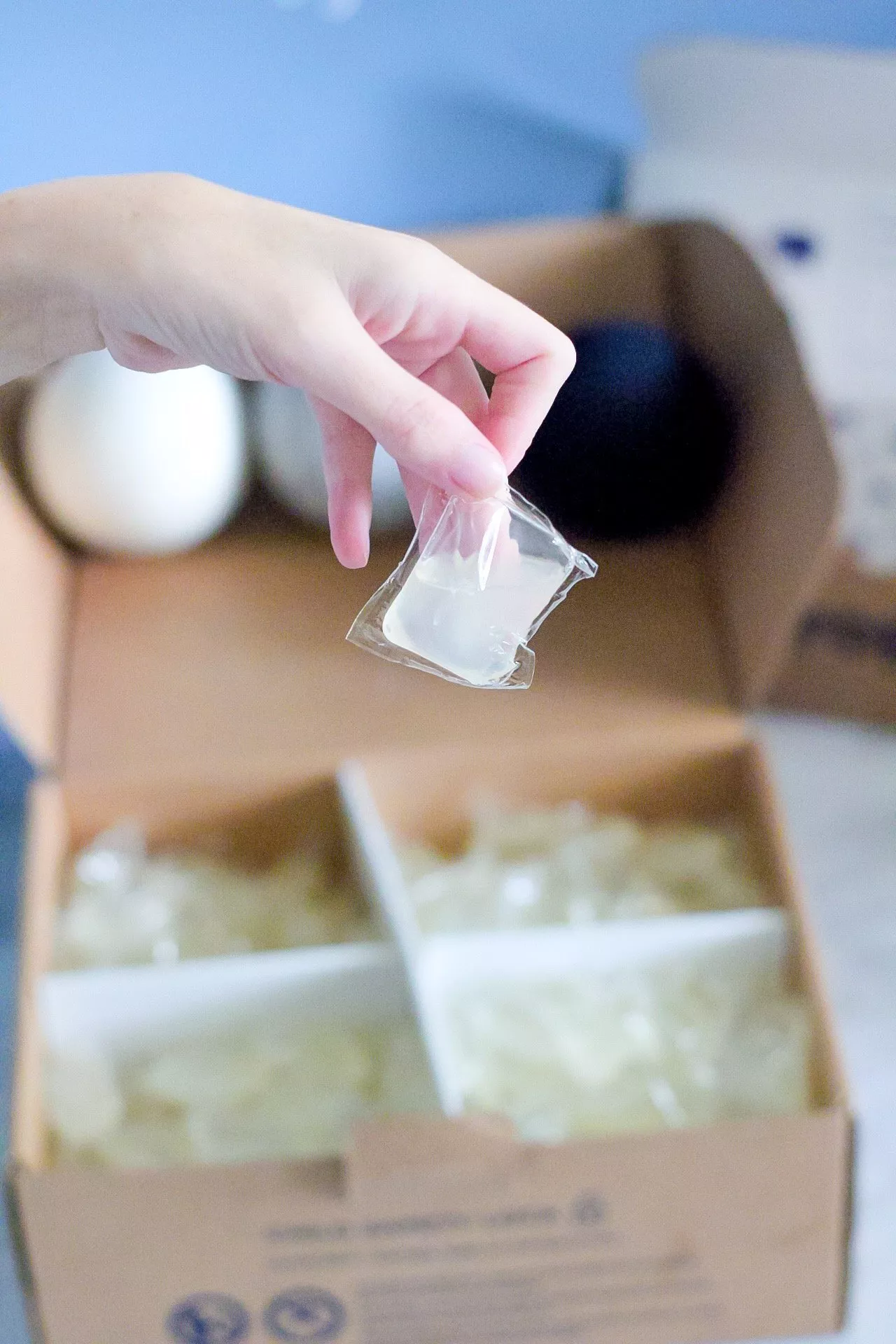 I know, you're curious about the pod membrane, aren't you?
I know I was.
Dropps' pod membrane (what forms the pod that holds the detergent) is a water-soluble, biodegradable film made up of polyvinyl alcohol which breaks down when it comes into contact with water.
Microorganisms in our water systems break down the polyvinyl alcohol into water and carbon dioxide.
Dropps does not have a leg up necessarily when it comes to the membrane makeup, though, as all laundry pod membranes are made up of polyvinyl alcohol, even Tide pods.
Tide vs. Dropps Cost overview
Alright, let's break down laundry costs…
You'll have to pardon the rough math, but I'm just trying to put the costs into the small terms we should all be looking at like cost per pod, cost per load of laundry, and cost of laundry per year with this pod versus that pod.
Is this 100% accurate? Nope.
But it gives you a rough idea of what laundry is costing you per pod, per load, and per year.
I typically use Tide.
I grew up using Tide, and have always loved the smell and how clean it makes our clothes feel.
But with having to use two pods per wash cycle, I cringe every time I had to restart a load of laundry…the container goes so fast!
Cost is also extremely important to our family, as we are currently expecting baby #3 and back to school shopping is right around the corner, along with Christmas, all of our winter month birthdays, and let's face it, life throws some crazy curve balls that we like to be financially prepared for ;).
I'm going to break down the cost of each pod and load of laundry, Tide vs. Dropps, and use sale/subscription pricing to give them both the benefit of the doubt.
For reference, we hardly ever run a small load of laundry.
As a family of four, we use two laundry pods per larger load of laundry, as you should according to all laundry pod instructions.
So here's how Dropps and Tide compare, cost-wise:
Our usual Tide 73-count pods cost 21.99 on sale (reg. 24.99)…
Tide cost: $0.30 per pod, or $0.60 per large load (two pods).
Tide Pods would cost about $0.34 per pod and $0.68 per load regularly priced.
Dropps family size subscription includes 210 pods that cost $40 with the subscription ($50 without a subscription)…
Dropps cost: $0.19 per pod or $0.38 per large load of laundry (two pods).
Dropps Pods would cost about $0.24 per pod and $0.48 per load without subscription pricing.
So with Dropps laundry pods, I'm saving about $0.22 per large load of laundry.
Realistically, I do 5 loads of laundry per week (that number includes the load or two that I forget about and have to restart the next day with new pods).
52 weeks in a year x 5 loads of laundry per week = 260 loads of laundry in a year.
Here are the annual costs of Tide laundry pods vs. Dropps laundry pods:
Tide yearly cost: 260 loads of laundry x $0.60 =$156.00 per year
Dropps yearly cost: 260 loads of laundry x $0.38 = $98.80 per year
That means with Dropps, I'm saving $57.20 on laundry detergent per year.
I like that number – with that, I can fill my kids' stockings for Christmas!
EWG Rating
Dropps laundry pods are marketed as a more natuarl and low-waste laundry detergent option that is gentle on skin and the environment.
EWG rated their 'Clean' scented pods a 'B' in 2020, which is the most recent rating and grade.
To put this rating into perspective, let's take a look at Tide's Original Pods EWG rating for the most current year, which happens to be from 2016:
If your argument is that I'm not taking their sensitive Free & Gentle version into account for fairness, then here is that EWG rating as well:
Dropps wins by a landslide in the EWG rating department!
Benefits to using Dropps laundry pods
Here are some of the main points that led me to want to try Dropps laundry pods:
They…
contain natural ingredients
are packaged in biodegradable cardboard packaing
contain no unnecessary chemicals, fragrances (depending on which variation you choose), or visual brighteners
are naturally scented
are gentle on skin
use plant-derived ingredients for a biodegradable formula
save some serious cash (see Tide comparison above)
Our biggest reason for wanting to switch laundry detergents is both of my sons' sensitive skin.
They both rash easily, and one of my boys' has a skin condition called Dermographia, which accelerates even the smallest bug bite or rash.
Even the scented versions of Dropps laundry detergent are supposed to be gentle for skin, although Dropps does offer a non-scented sensitive version as well.
How To Use Dropps Laundry Pods
Dropps laundry pods are not meant to be placed in the liquid detergent well of your washing machine.
They should be placed in the bottom of the washer drum before any clothes are loaded in.
Each box of laundry pods comes with a cold water pouch where pods can be placed before putting clothes into the washer, though know that they don't have to be.
The cold water pouch helps keeps the pouches fully submerged in the water for machines that are more efficient and use less water for the best washing cycle and outcome.
However, you can just drop your Dropps right in the washer drum if you wish!
Dropps Laundry Detergent Pods Review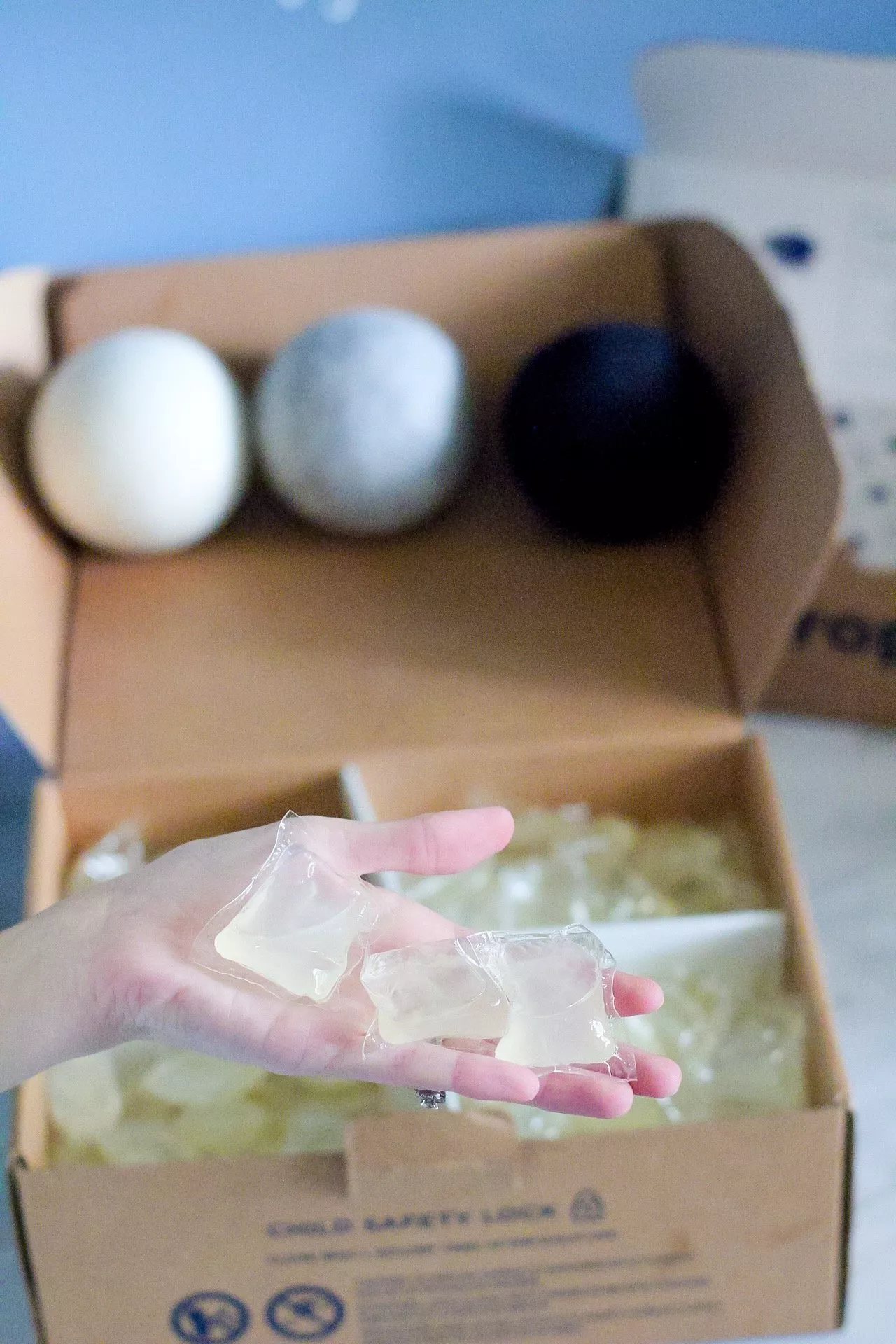 Laundry Pod Ingredients
Here are the ingredients for the laundry pods I'm featuring, which are the lavender eucalyptus pods, taken directly from the Dropps website for accuracy:
"Alcohols C12-13 ethoxylated* (cleaning agent), Laureth Sulfate*(cleaning agent), Glycerine* (solvent), Propylene glycol* (solvent), Water, Triethanolamine oleate* (cleaning agent), Sodium formate* (buffering agent), Subtilisin* (cleaning enzyme), FWA-1 (optical brightener), Ampha-amylase* (cleaning enzyme), Butylated hydroxytoluene* (cleaning enzyme), lavender* (lavendula augustifolia) (natural essential oil), lavandin* (lavandula hybrida ) (natural essential oil), corn mint* (mentha arvensis) (natural essential oil), and eucalpytus* (eucalyptus globulus leaf) (natural essential oil), polyvinyl alcohol film (PVA) with bittering agent (synthetic water-soluble film). *Denotes plant or mineral origin." – Source
Scent
I ordered the lavender eucalyptus scent for our family, which is lightly scented with natural essential oils.
Other detergents use chemicals to fragrance their laundry detergent pods, whereas Dropps uses natural essential oils and botanical extracts.
That being said, our clothes came out smelling clean, but not very scented.
I honestly wasn't expecting them to smell super perfumy though, given the lack of fragrance chemicals in their ingredients.
Overall, I wasn't disappointed because I knew a naturally scented product isn't crazy strong and so I didn't expect it to be.
Again, for reference, we use two pods per load of laundry because we run large loads of laundry as a busy family of four.
Performance And Washability
I was very pleased with how clean our clothes were.
It was confusing at first, because, to be honest, I correlate the scent of our clean clothes with how clean they are.
I'm used to pulling clothes out of the washer with a strong perfumed smell that tells me they're 'clean'.
With Dropps, I didn't get that, so I immediately brought them to my nose before tossing them in the dryer to see if they still smelled dirty.
They didn't stink like sweat, dirt, and outdoor play.
They smelled clean, as I mentioned above, just not CRAZY STRONG like before when we used Tide pods.
Gentleness For Sensitive Skin
My boys haven't randomly broken out in a rash.
Can I say that Tide was causing skin issues for our kids?
No, I'm just speculating at this point.
But I don't think it was helping their already sensitive skin.
Machine Compatibility
These laundry pods are designed to be compatible with all machines.
Cold Water Wash Cycles?
Dropps encourages its consumers to wash clothing in cold water.
Hot water has been shown to decrease detergent effectiveness, and almost instantly dissolves laundry pods in the drum.
Almost all of the energy your washing machine puts out (around 90%!) goes into just heating your water for your wash cycle.
Dropps Wool Dryer Balls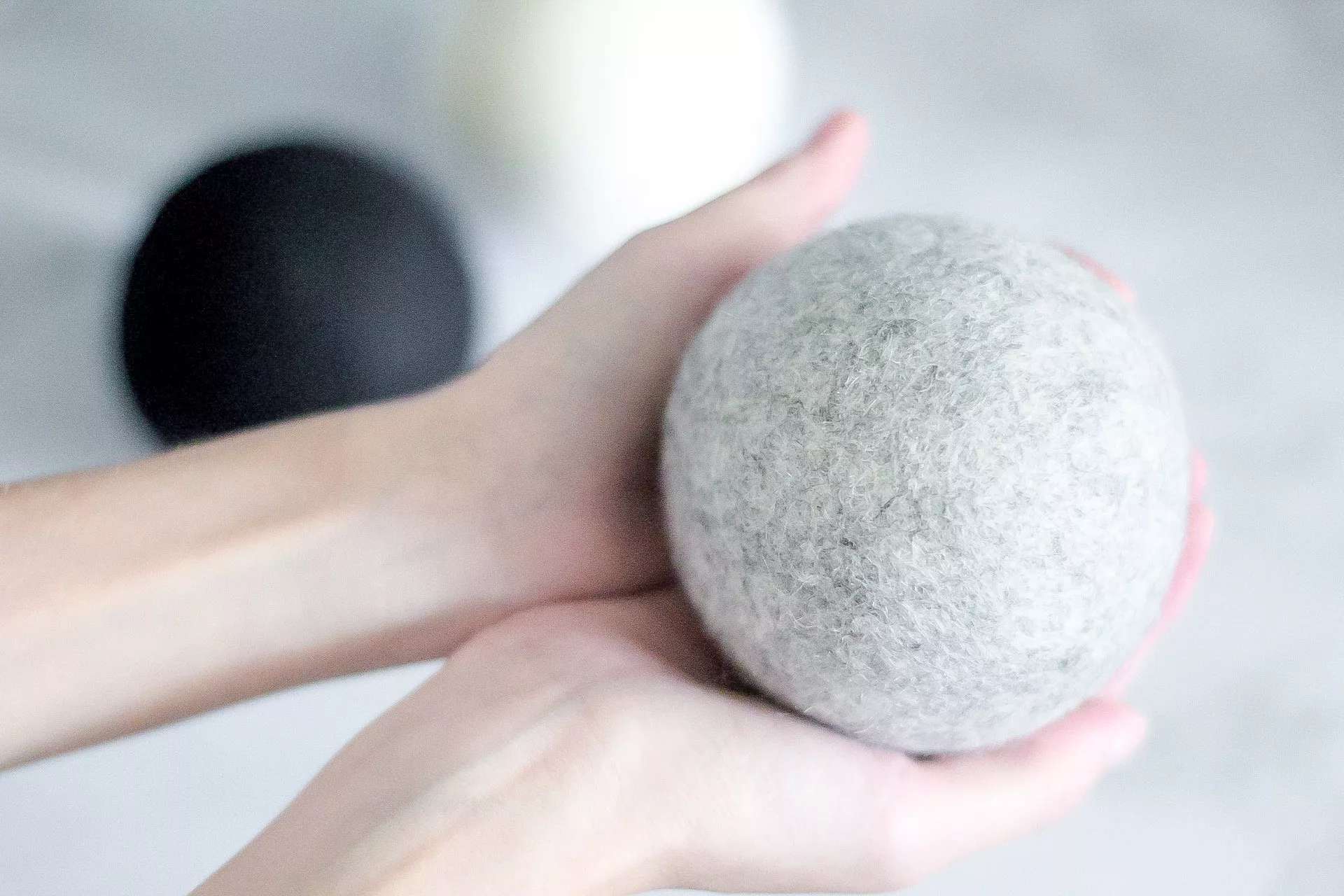 Related: Cleaning With Ozone Water? An Honest Review With Petri Dishes…
Dropps XL wool dryer balls are made with 100% premium New Zealand wool.
This is special to note because New Zealand farmers have to meet certain standards for their sheep regarding cruelty-free practices and environmental sustainability.
New Zealand sheep have their wool removed in a pain-free practice and are able to graze happily and comfortably for their entire lives.
Dropps 3-pack of wool dryer balls come with a white ball, a gray ball, and a black ball.
WHITE: use with light loads
GRAY: use with mixed loads
BLACK: use with dark loads
Benefits of using wool dryer balls
I've debated switching to wool dryer balls for about 2-3 years now. I just haven't taken the plunge until now.
But there are plenty of advantages and benefits to using wool dryer balls…
they are chemical-free, rubber-free, and petroleum-free.
they decrease drying time by up to 50%
they save money (see below for direct comparison to Bounce dryer sheets)
they reduce wrinkles
What about scent?
Did you know that most commercial dryer sheets contain fragrance ingredients that contain more harmful ingredients than toxic kitchen and bathroom cleaners, and can even disrupt your hormones?
Dryer sheet ingredients are also not fully disclosed to consumers. (source)
So while wool dryer balls aren't beautifully scented like your favorite dryer sheets, they are also completely free of toxic chemicals and harmful ingredients that you probably don't even know are there in your dryer sheets!
If you're craving some scent to your laundry though, feel free to add some undiluted essential oil drops to your dryer balls.
Don't be shy when adding your essential oils, either.
I tried following their instructions to add just 'a few' drops, but saw no improvement in scent, and am now trying several drops of both lavender and eucalyptus.
Bounce Dryer Sheets vs. Wool Dryer Balls cost overview
Now, let's talk about savings with dryer sheets versus Dropps wool dryer balls...
We typically use Bounce dryer sheets at $9.29 for 200 sheets.
Dryer sheets cost us $0.05 per regular load of laundry or $0.10 per super large or bulky load of laundry.
Dropps wool dryer balls 3-pack sells for $20, meaning each ball costs $6.67 in the set. Each dryer ball lasts for up to 1000 dryer cycles (which amounts to about 2-4 years).
Dropps wool dryer balls cost $0.00667 per load – that's less than a penny!
Over the course of a year, considering the earlier 260 load estimate per year I mentioned for our family of four, Bounce would cost us $13 per year (with only one sheet per load) while Dropps would cost us $1.73 per year.
That's a savings of around $11.26 per year.
We'll also be saving money on our gas bill because wool dryer balls reduce drying time up to 50%, although I haven't found a way to calculate that and include it in our annual savings here for this post.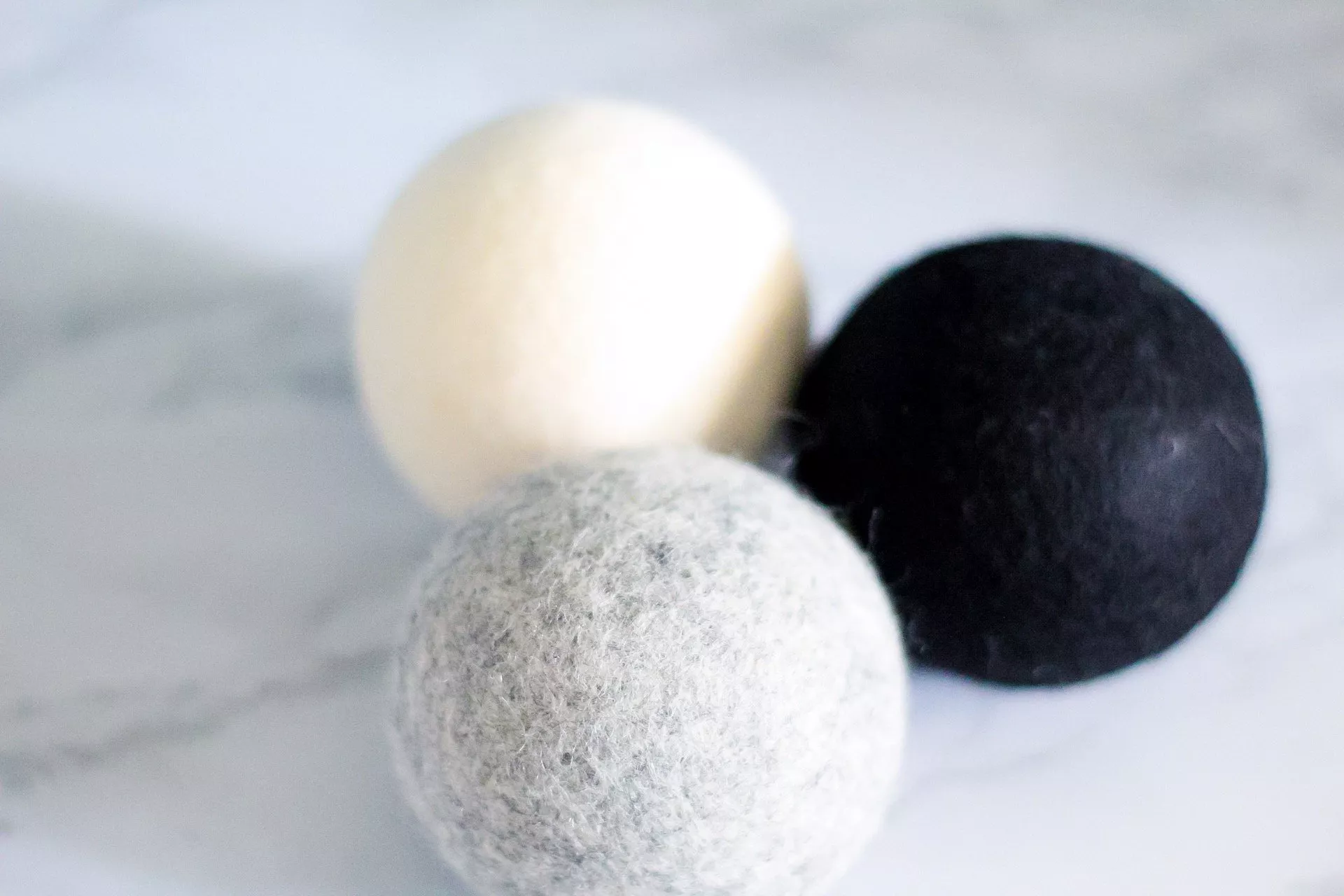 EWG rating: wool dryer balls vs. bounce fabric softener sheets
Wool dryer balls are EWG-approved and recommended, while commercial fabric softeners aren't recommended (see the EWG's recommendations of fabric softeners here).
Here is Bounce's dryer sheets EWG rating, current as of 2016:
I will let the rating speak for itself.
Dropps Wool Dryer Balls – My Thoughts
I have never used anything other than dryer sheets.
I'm used to tossing a new dryer sheet in with each load.
Getting used to removing the clothes from the washer and leaving the ball in the dryer is new for me and there have definitely been a few times I have piled everything into a laundry basket and brought the load upstairs, dryer ball and all ;).
Overall, I love the convenience of tossing in a wool dryer ball and the fact that there are three different balls for the different types of loads we wash.
Do Wool Dryer Balls Really Work?
Long answer: I had my doubts and was very skeptical about their performance, but I had high hopes given all the reading and research I've done on them.
I really didn't think anything would match up to how soft our dryer sheets made our clothes feel and be able to help with wrinkles.
But I was pleasantly surprised.
With our dryer sheets, I relied on them to help smooth out wrinkles and soften our clothes.
I never really noticed or expected them to provide scent after pulling them out of the dryer.
So I'm not really missing anything in the scent department when it comes to the wool dryer balls.
I'm still figuring out how many drops of essential oils to drop onto the balls to provide a scent, but I'm happy with their performance overall in terms of drying time (I'm able to cut our dryer cycle down by at least 10-15 minutes so far), wrinkle care, softness, cost, and convenience.
Total Dropps Cost Savings Per Year
As I covered earlier in this post, we're saving around $57 per year using Dropps laundry detergent pods and $11 using the wool dryer balls.
DRYER BALLS: $11.26
LAUNDRY PODS: +$57.20 =
PER YEAR SAVINGS: $68.46
In total, Dropps saves us roughly $68.46 per year.
Next year, with three kids, one of them being a newborn, we'll be doing more loads of laundry, which means even more overall savings.
---
Have you tried Dropps, or are you thinking about trying it?
Was there anything I missed from my Dropps review that you wish was included?
Let me know in the comments below, and be sure to pin this for later!
UPDATE: I'm still using Dropps to wash our clothes, and have got a discount code for my readers if you want to try Dropps for yourself: SLAY15 for 15% off!
*Post published August 2019, last updated June 2022.