Crockpot freezer meals are so easy and convenient! Here are 13 meals you can make ahead and freeze for busy nights, and some free printables to streamline the process…
---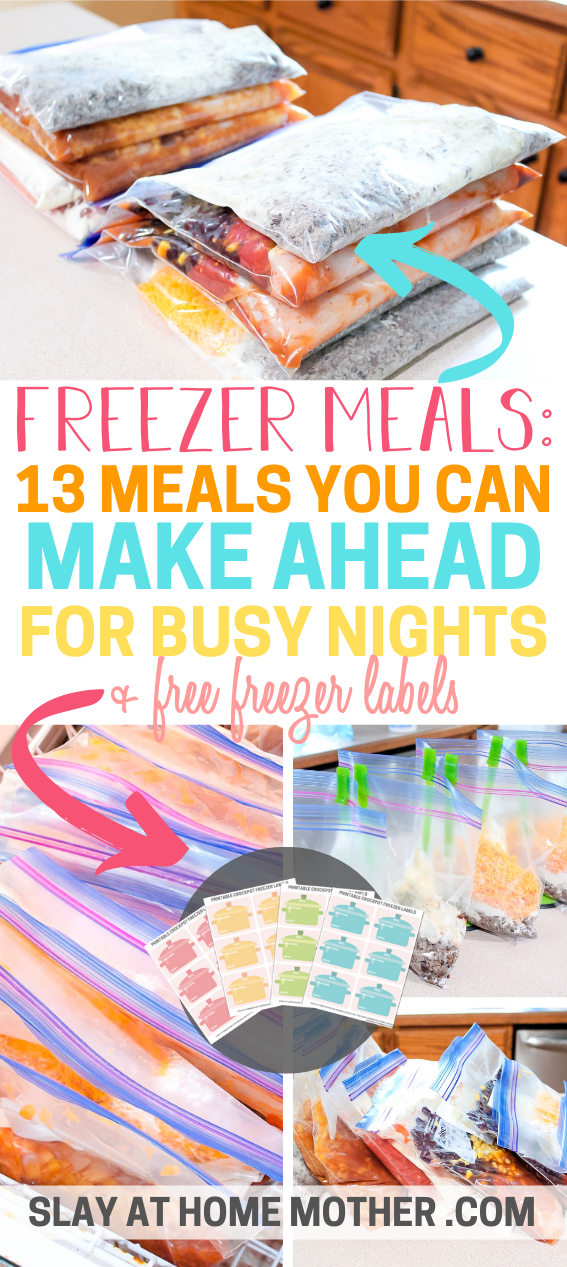 I first started freezer meals when my husband was experiencing some serious health concerns. He developed avascular necrosis in both of his hips and would need a total hip replacement. Being that he was so young, the doctors waited until his hip fully collapsed before agreeing to do the replacement.
Sometimes life hands you cards that you have to tuck and roll with, and we did just that!
I knew that with his hip collapsing (which is as painful as it sounds), and the need for surgery, he would be needing a lot of care and attention. I was working full-time four days a week and our oldest son was in kindergarten at the time. I found myself running around like crazy to grab the things he needed to make his day as easy as possible, checking on him on my lunch break, and driving our son back and forth to before and after-school care.
If I had to figure out dinners in the midst of all that chaos, I would have gone crazy, or we would have ended up spending tons of money on fast food!
About a month before his hip collapsed, A friend mentioned to me the idea of making and freezing some homemade freezer meals to thaw and dump in the crockpot. She detailed how much money she saved doing freezer meals and how easy it was to have dinner ready and waiting for us when I got home.
I loved the sound of that.
We tried them, and I fell in love. They were so easy to throw together and freeze. I just thawed them overnight in the fridge and tossed them in the crockpot in the morning. At the most, I just boiled some noodles and chopped up some spinach and we had a fresh, hot, ready-made meal to eat at dinnertime!
It's been 4 or 5 years since my husband's hip replacement, and we're still doing freezer meals because of how easy and convenient they are. We don't do them all the time, especially in the summertime when we spend all of our time grilling outside, but I love to make them during the school year and winter months when warm food is preferable.
Here's how to get started with freezer meals, some must-haves that make the process seamless, and some free printables to make your life easier…
*This post contains affiliate links.
Crockpot Freezer Meal Must-Haves
To start prepping your freezer meals, there are some essentials you'll need that make the process go by smoothly and save time. I consider all of these to be must-haves in freezer meal prep:
If you're buying these in bulk on Amazon, be sure to really look at the cost. Sometimes buying a 3-pack of boxes ends up costing more per bag than just buying one big box of bags. And with the way prices tend to fluctuate on Amazon, it's something I check every time
As an example, I looked it up today, and I could either buy a 75 count box for $8.69 -or- a 3-pack of 28 count boxes (or 84 bags) for $16.11. That means the bags in the 75-count single box cost me $0.12 (rounded up) per bag, whereas each bag in the 3-pack of bags would cost me about $0.19.
It also means the 75-count box of freezer bags at $0.19 would cost me $14.25 instead of $8.69!
baggy racks (unless you're only making 2-4 meals, you NEED these)
These are a freezer meal prep and leftover-saving dream. I grabbed just one of the 6-packs linked above, but now I'm wishing I grabbed two 6-packs.
labels (free printable labels at the bottom of this post)
Labels help you keep track of the date you should use your meals by, which meals are in which bags, and special cooking directions.
a sharpie or a pen
freezer meal planner (included in free printables below)
With a freezer meal planner, you can research and write down recipes you want to prep, as well as the ingredients you need for each meal.
Want to double up a recipe? A freezer meal planner helps you keep track of your recipes and ingredients.
Reasons To Freezer Meal Prep
Well, for starters, it's easy!
It's seriously one of my favorite things to do as a mama. At first, t was kind of daunting ad overwhelming because I had no extra set of hands to hold bags open, no real gameplan, and no system in place. But with the help of the 'must-haves' I mentioned earlier, my freezer meal prep game is strong, and I'm able to bag our dinner in a breeze.
It also makes the busy times in our lives easier…
Having a baby? Start freezer meal prepping during the last month of your pregnancy to have easy dinner you can thaw and toss in your crockpot so you can focus on taking care of your baby and getting a nap in here and there.
Having surgery? Freezer meals help with that too. Maybe you won't be able to work with your hands as much to do the chopping, dicing, or even holding a spatula to brown meat, and maybe you'll have trouble standing for long periods of time. With freezer meals, you can just thaw, dump, and stir.
It saves a ton of money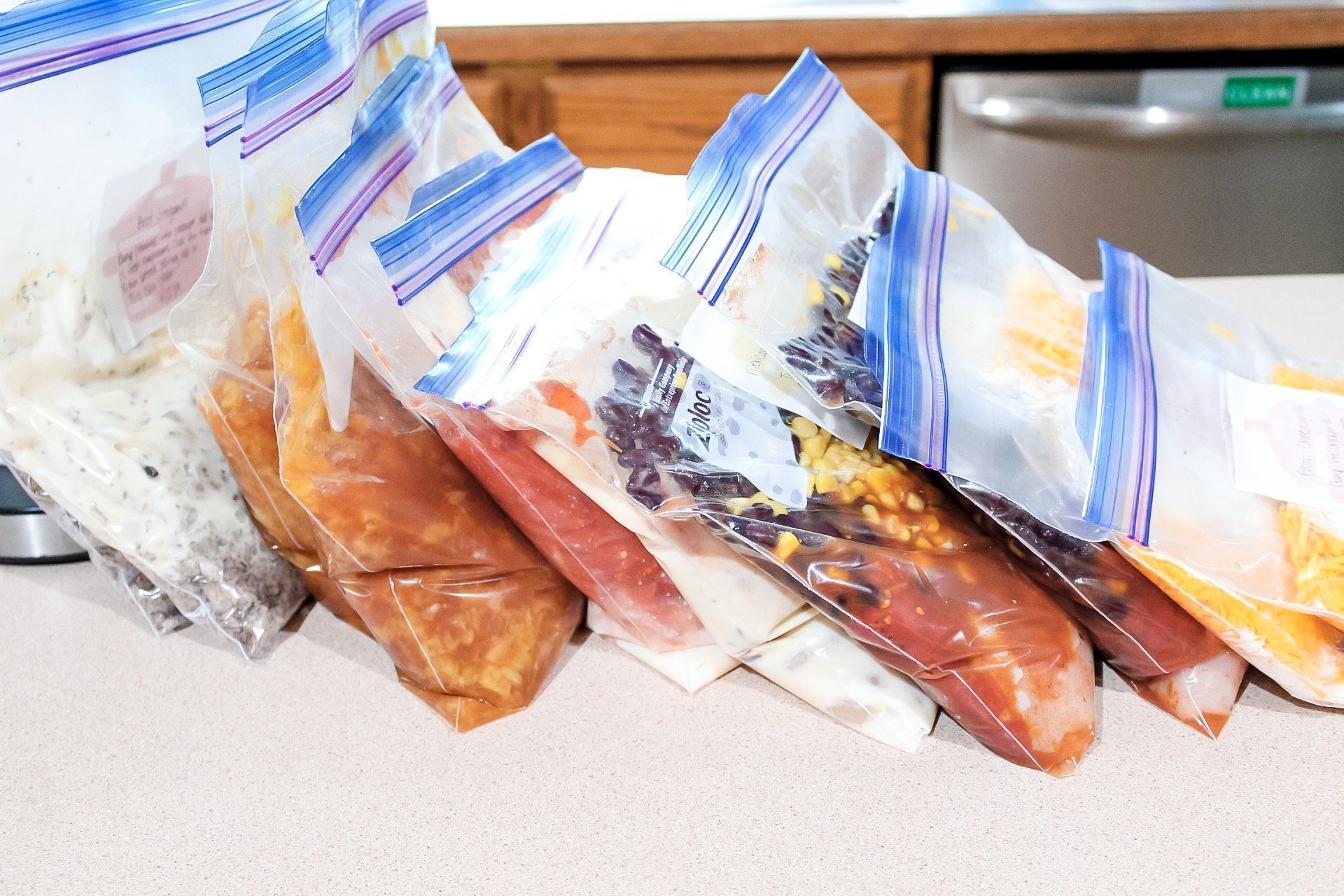 A huge reason so many people meal plan and freezer meal prep is that it saves a ton of money in the long run, especially if you shop around sale items and do your research before purchasing.
Having ready-made meals prevents our family from resorting to fast food dinners as well, which ends up saving our family of four $50+ per month at the very least.
For the 10 meals I have featured in pictures, my total grocery cost was $85.40, but I did have some pantry staples on hand that the recipes called for that I did not need to purchase. I also purchased organic chicken and beef for my recipes. That means I spent $8.54 per meal, but 6 of those meals were large enough that we will only eat half of what is made and have leftovers for the next night. So, respectively, those 6 meals would cost about $4.27 for each 'dinner'.
Prepping meals for the freezer saves time on busy nights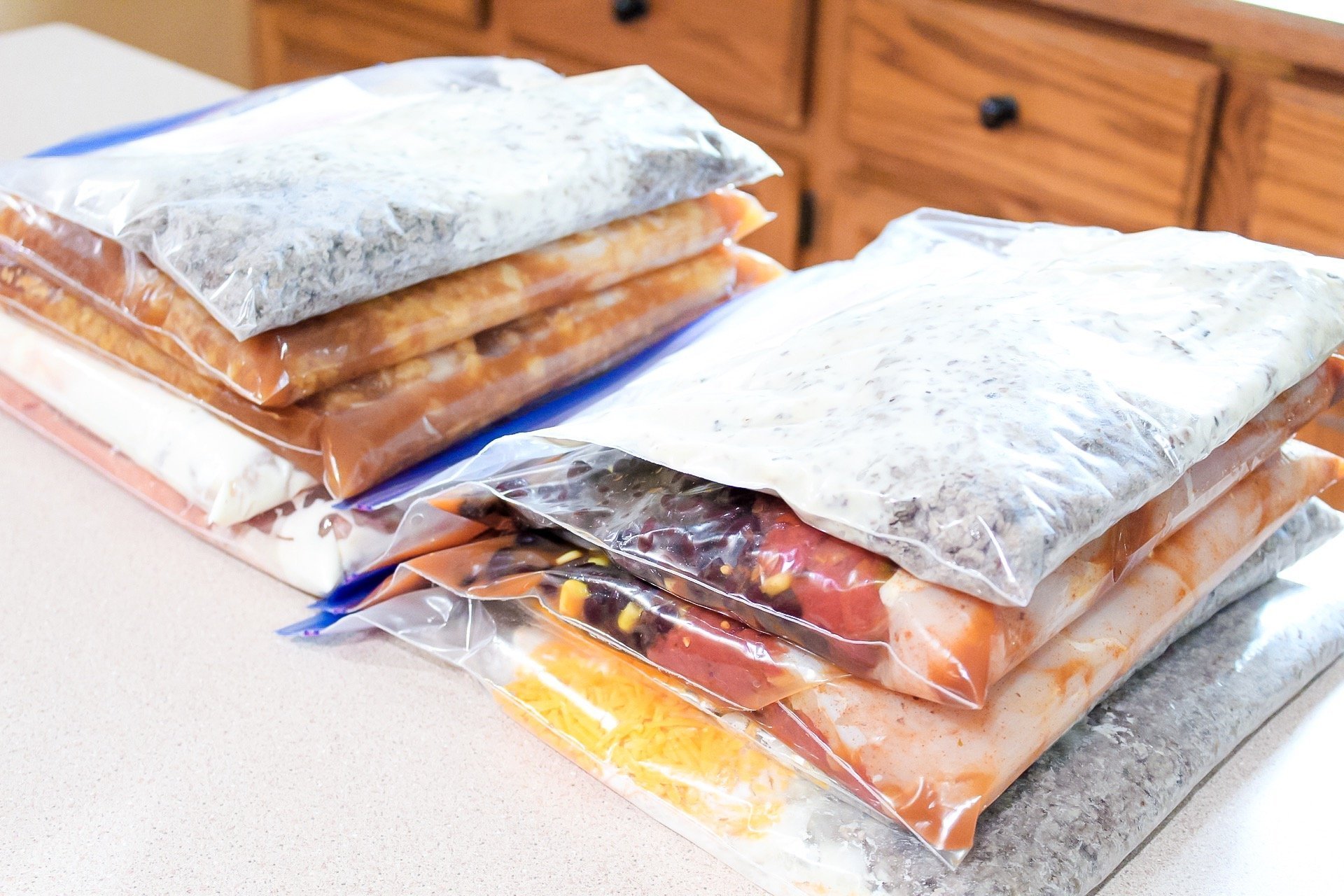 Being a mom means you're always busy. Healthy meals aren't always the easiest or quickest to make unless you're handing everyone some raw kale to chew on. For the nights you have parent-teacher conferences, soccer practice, late nights at work, or sick babies, crockpot freezer meals save so much time and mental energy so you can get sh*t done.
Chicken Freezer Meals
Chicken freezer meals are my favorite because you don't have to prep the chicken beforehand. You can literally take the recipe and dump everything into a freezer bag. How easy is that?! Here are some great chicken freezer meal recipes to try:
Slow Cooker Cilantro Lime Chicken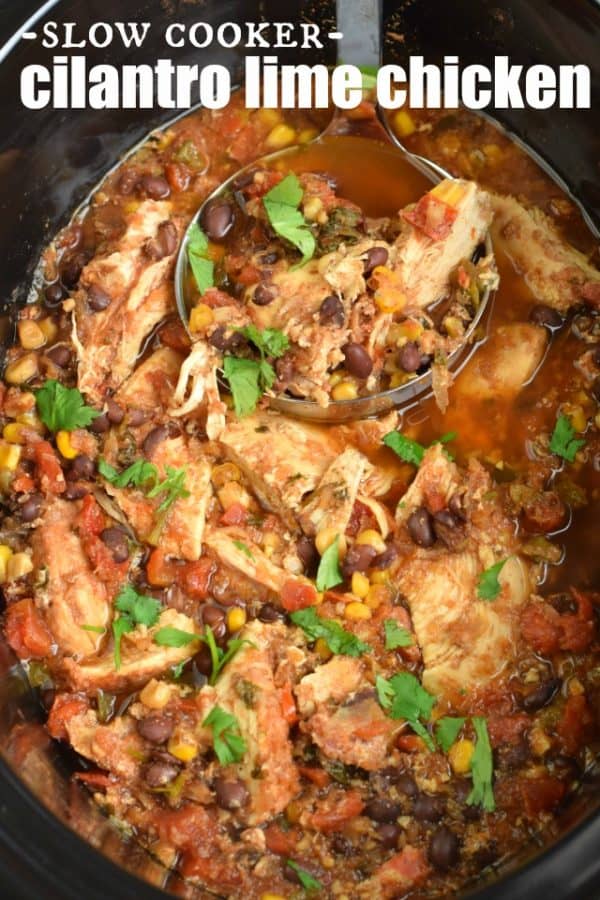 Crockpot Mexican Shredded Chicken
Slow Cooker Salsa Chicken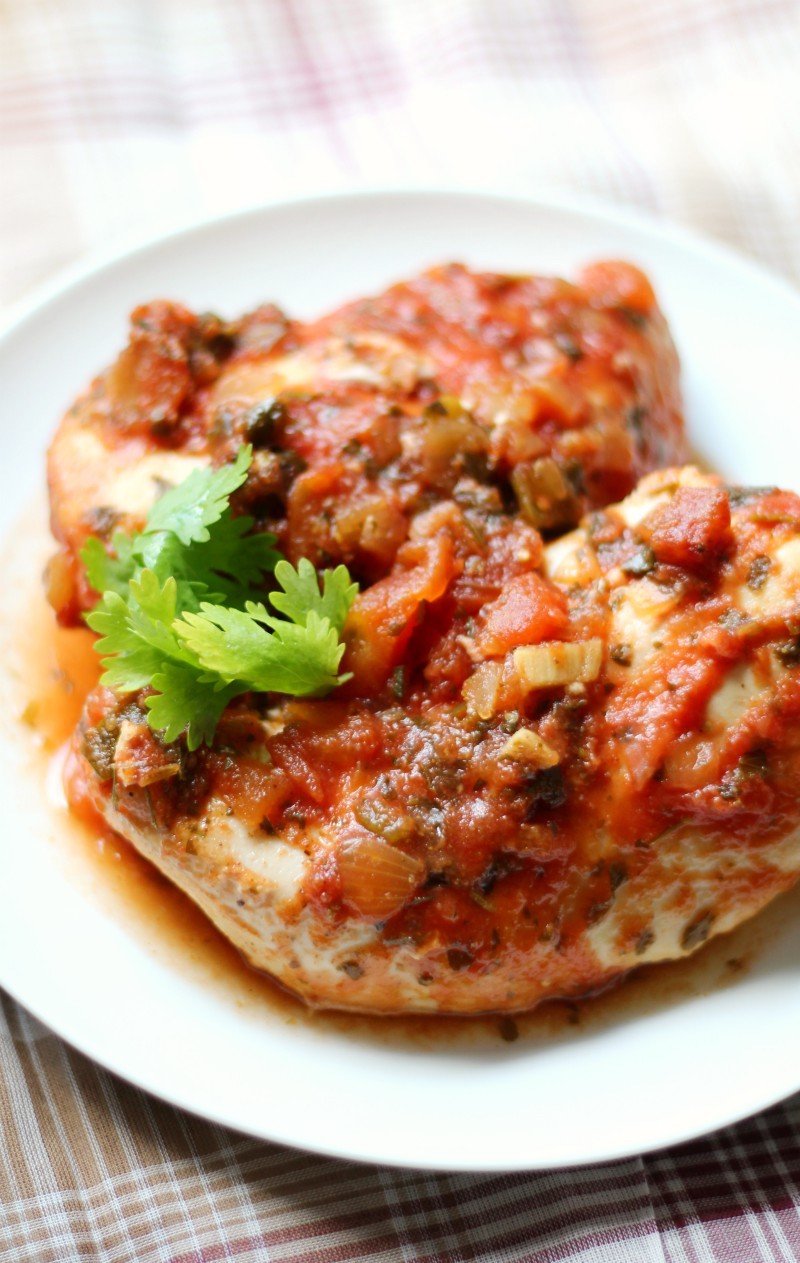 Crockpot Creamy Garlic Chicken
Crockpot Chicken & Dumplings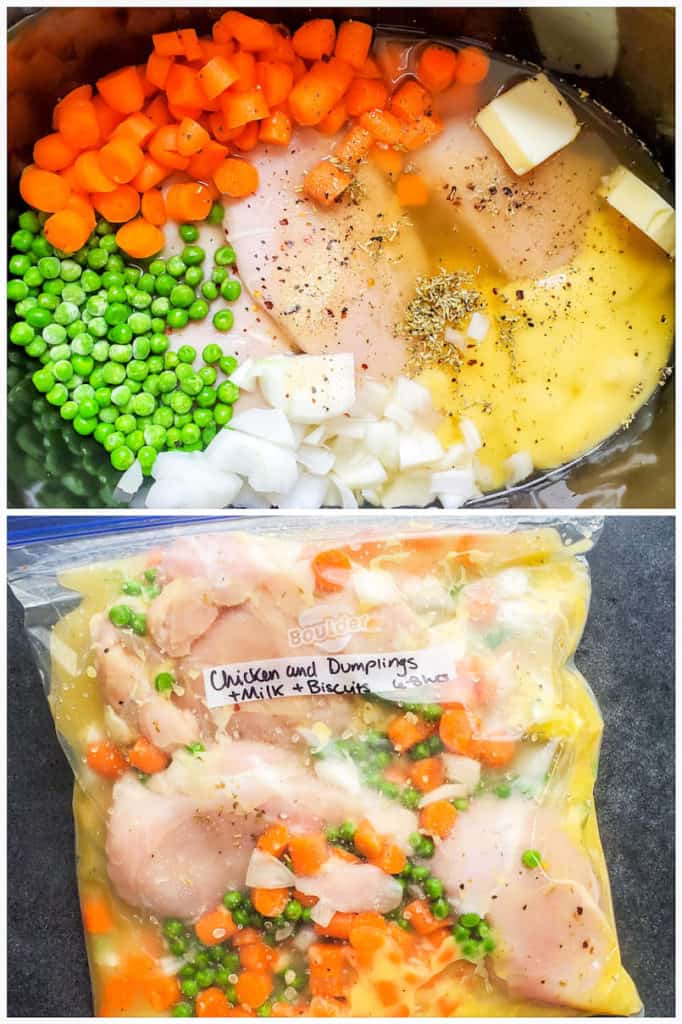 5-Ingredients Slow Cooker Honey Mustard Chicken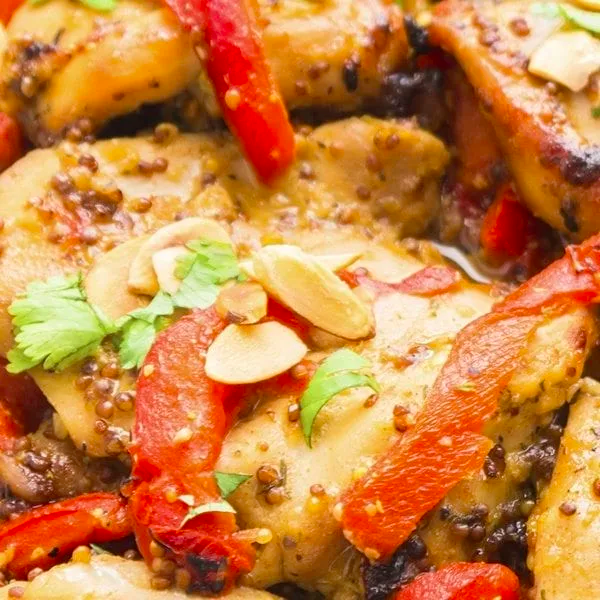 Slow Cooker Honey Mustard Chicken
Crockpot Hawaiian Chicken
Turkey Freezer Meals
Turkey does well in freezer meals, just as hamburger does. It does need to be browned and drained before placing in freezer bags, however. Here's a turkey freezer meal to try:
Slow Cooker Weight Watchers Turkey Chili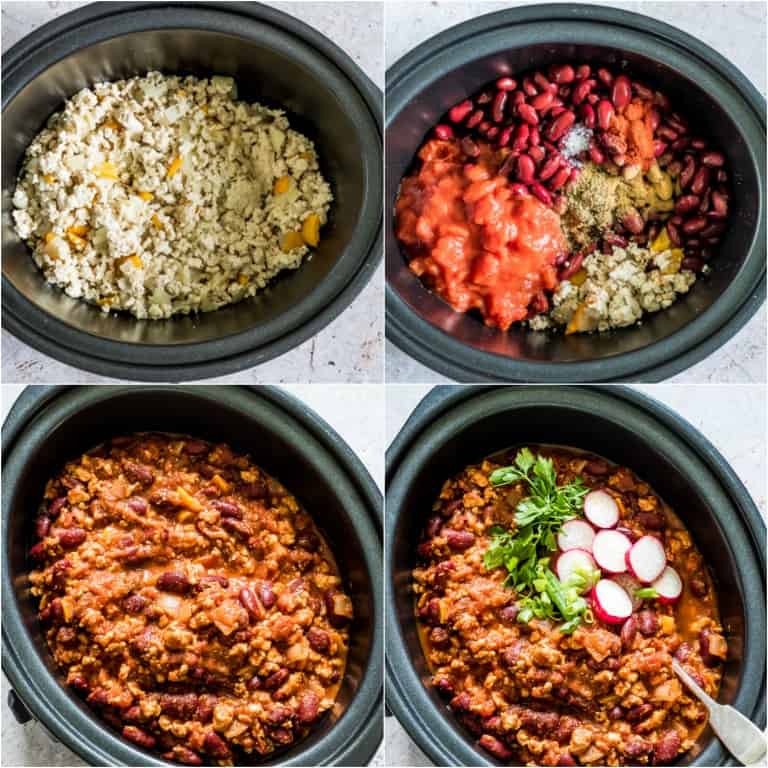 Slow Cooker Weight Watchers Turkey Chili
Beef Freezer Meals
Beef freezer meal recipes are amazing in the crockpot, though at times they contain ingredients that need to be added in fresh the same day and cannot be frozen (like milk and chicken broth). So if you're looking for more of a dump and go freezer meal, beef recipes probably aren't the best choice for you, but they're still pretty easy and convenient. They also offer a break between chicken freezer meals so your family doesn't get burnt out on chicken!
Here are some delicious beef freezer meal recipes to try:
Slow Cooker Beef Stroganoff
Crockpot BBQ Beef Sandwiches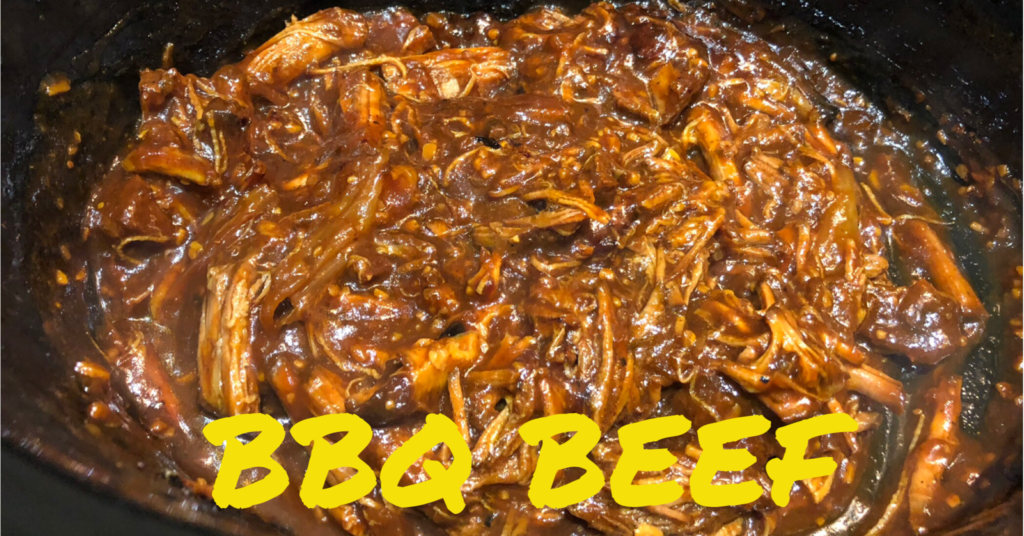 Slow Cooker Bacon Cheeseburger Soup
Pork Freezer Meals
Pork Carnitas Tacos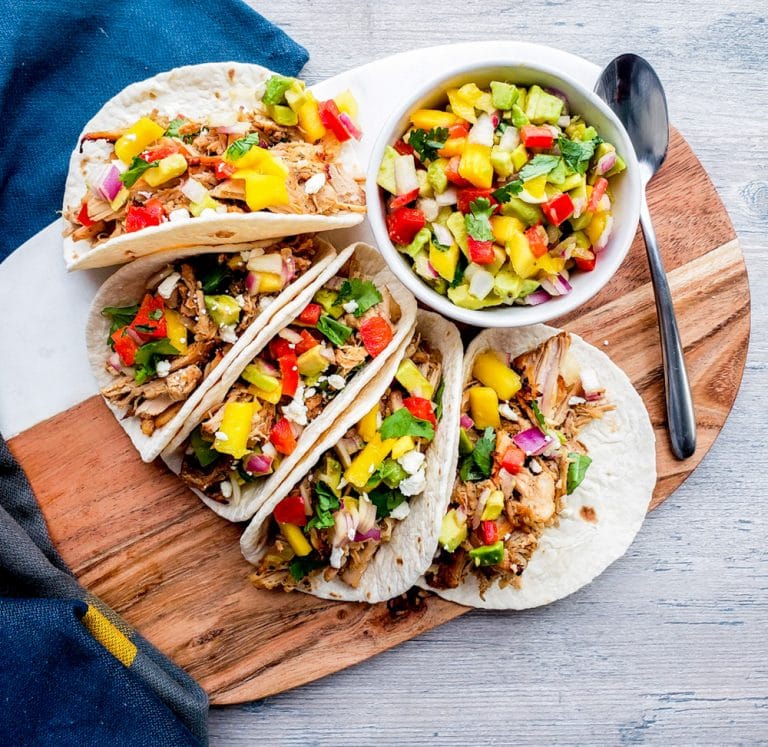 Slow Cooker Meatball Stew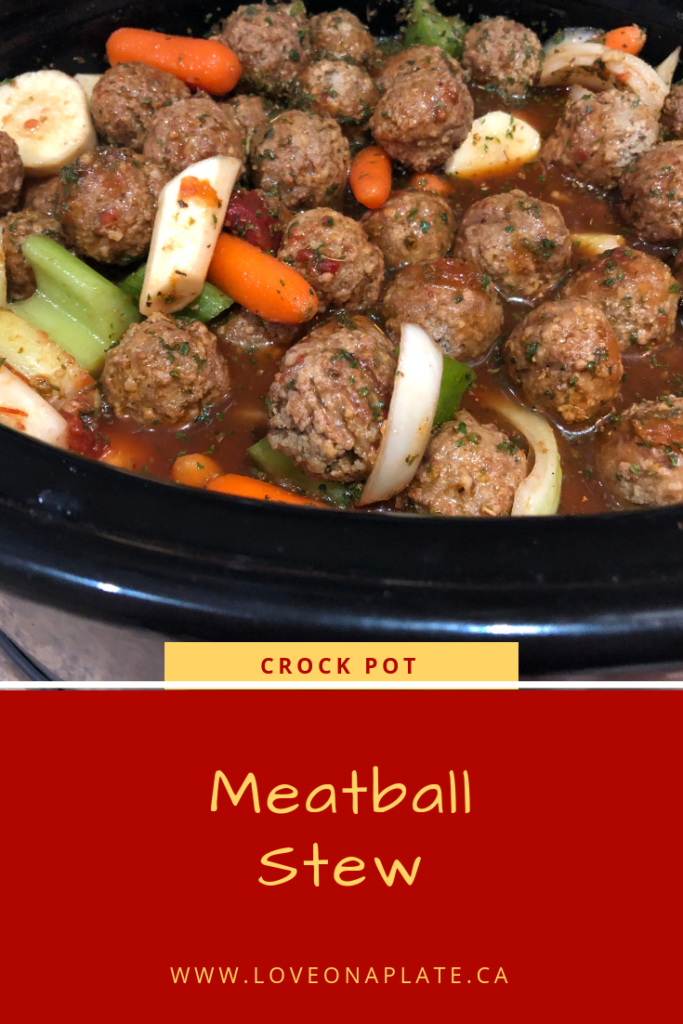 Helpful Freezer Meal Prep Tips For Success
Check out this neat timelapse video I made for my Instagram stories and Instagram feed! I love making timelapse videos ;). This video shows me making the printable recipes included within this post:
Save time by multitasking
If you are, for instance, browning hamburger, use the time it's cooking to prep your other ingredients. I always start with browning the beef we need, and once it's sizzling in the pan I will start opening cans, writing out labels, and placing bags in bag holders.
Look For Recipes That Use Some of The Same Ingredients
This helps you be able to prep meals faster and save more time because you're able to work with less ingredients.
Base Recipes Around Ingredients That Are On Sale
If your grocery store is having a huge sale on canned corn and chicken breasts, stock up and dig through your recipes to see which ones have corn and chicken.
Label Bags Before Bagging If Recipes Are Similar
I say this as someone who has been there, done that. I once made six chicken meals at once that used very similar ingredients but had completely different cook times. I thought I kept track of which recipes were in which bag – but I didn't! When all was said and done (bagged and sealed), I couldn't tell the difference between one meal and the other!
If you're just starting out with freezer meal prep, I'd say go ahead and label the bags ahead of time so you don't run into this issue.
Double Up Recipes To Make More Meals With Less Effort
When I find an easy recipe with few ingredients, I make double of that recipe. I'm already placing the ingredients into the bag, what's one more bag to fill?
Fill Bags By Ingredient Or Recipe
For example, if you're filling up 6 bags of chicken recipes, divvy up the chicken into each bag.
Next, if you have canned corn going into four of those bags, go ahead and dump the cans into the bags they need to go into.
Keep going by ingredient until your bags have what they need.
If you do one bag at a time, you'll end up taking an hour filling, checking the recipe over and over again, labeling, and closing each bag versus 20 minutes. Think of yourself as a factory, get those bags filled!
Printable Crockpot Freezer Labels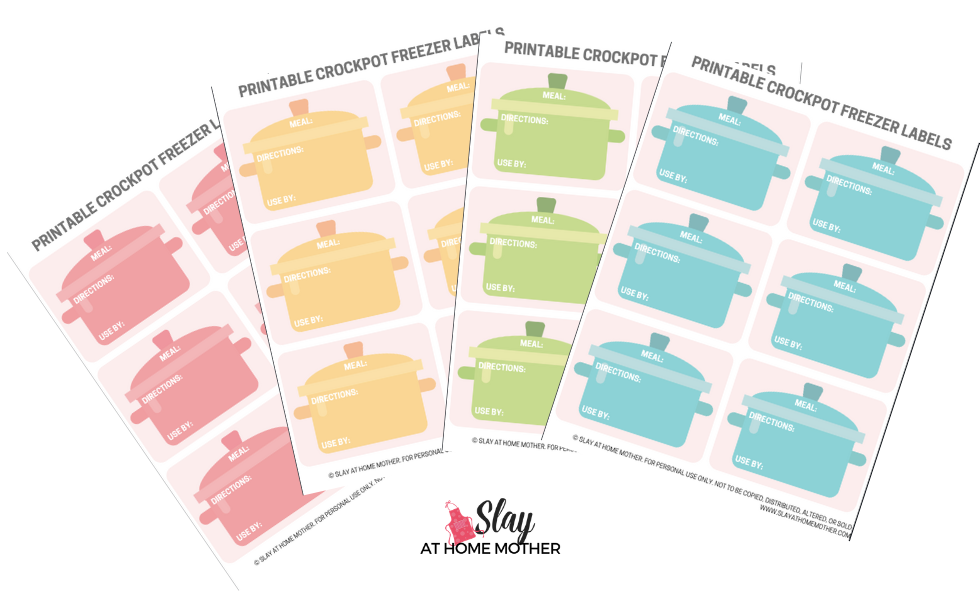 Print off these labels onto solid white sticker paper for best results, cut out with scissors and apply to your favorite freezer meals to keep track of which meal is in which bag, the date they should be used by, and cooking directions…