Learn how to balance your fireplace mantle decor so it looks gorgeous without feeling cluttered or awkward! Plus, see my favorite farmhouse fireplace mantle decor…
---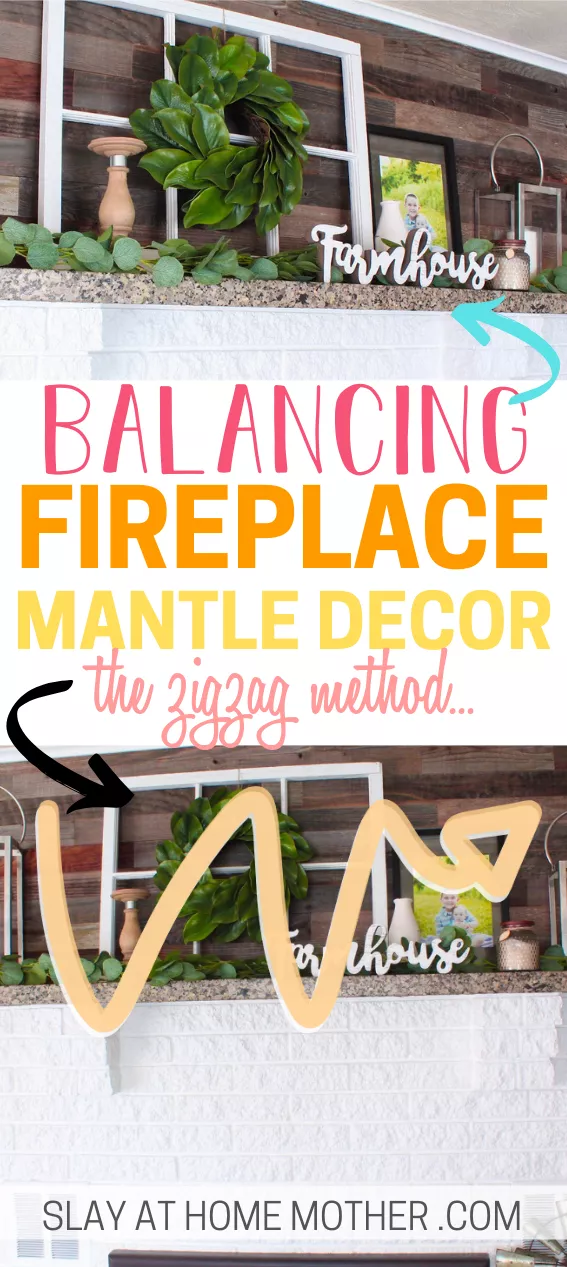 I love my fireplace – it's come such a long way over the last couple of years. From being decorated around with reclaimed wood (see that DIY HERE) to being completely primed painted a gorgeous white color – see that blog post HERE – I managed to wash, prime, and paint our fireplace for less than $150 with all paint and materials included!
It's seriously the pride and joy of our home and one of my favorite DIY projects.
In this post, I'll be showing you my zigzag method for decorating our mantle, and why I love it versus other methods or ideas I've seen.
I have finally narrowed down how to properly decorate and balance my mantle decor over the last six months. Like you have probably already done, I've scoured Pinterest to gain inspiration, ideas, and figure out what the heck to put on my mantle. Because, while I love seeing other people's mantles and ideas, it isn't always practical to get the same exact items and decorate it just so.
Besides, mantles come in all different sizes and depths. Some of them are much closer to the ceiling while others are centered on the wall (especially when there aren't vaulted ceilings in the home). Some have more depth (stick out further from the wall), which others only have about 4-5 inches of depth to work with.
This method is great for just about any size mantle, but it works best with a longer mantle like mine. Feel free to adapt your decor to match your needs and style – my only hope is that this method I've invented will give you some inspiration to find what works for you and decorate with what you love…
Balancing Mantle Decor – THE ZIGZAG METHOD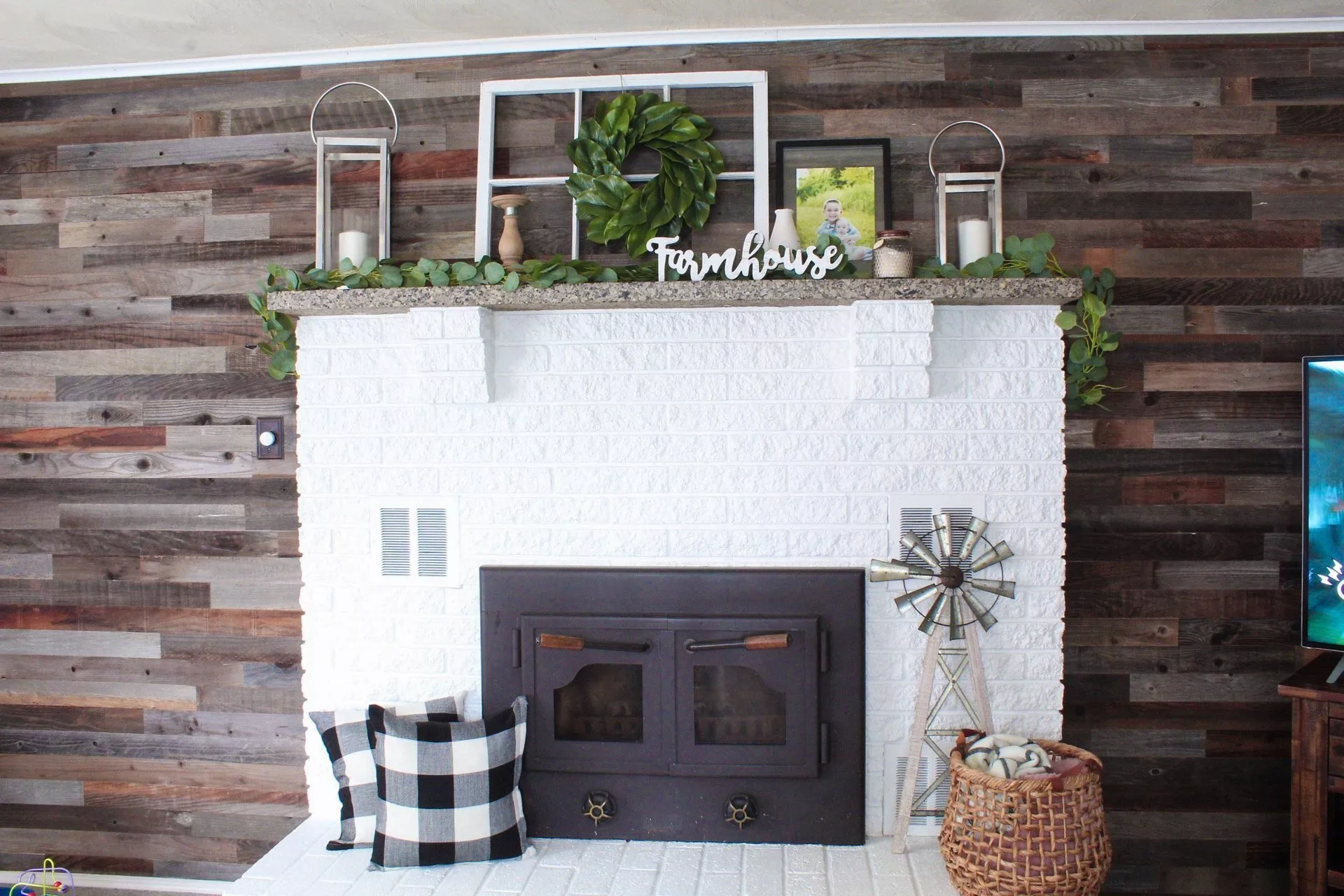 I've seen a lot of the triangle method for fireplace decor, where there is one giant picture frame or centerpiece in the middle of the fireplace with a bunch of little stuff staggered around it, but I don't personally feel like that's a very balanced mantle.
Just my opinion…
I like to use up the space I'm given, without overstuffing or overcrowding the area.
I've created something, inspired by the triangle method, that I guess I'm calling the zigzag method to balancing mantle decor. It's loving named because of the zigzag look you see below…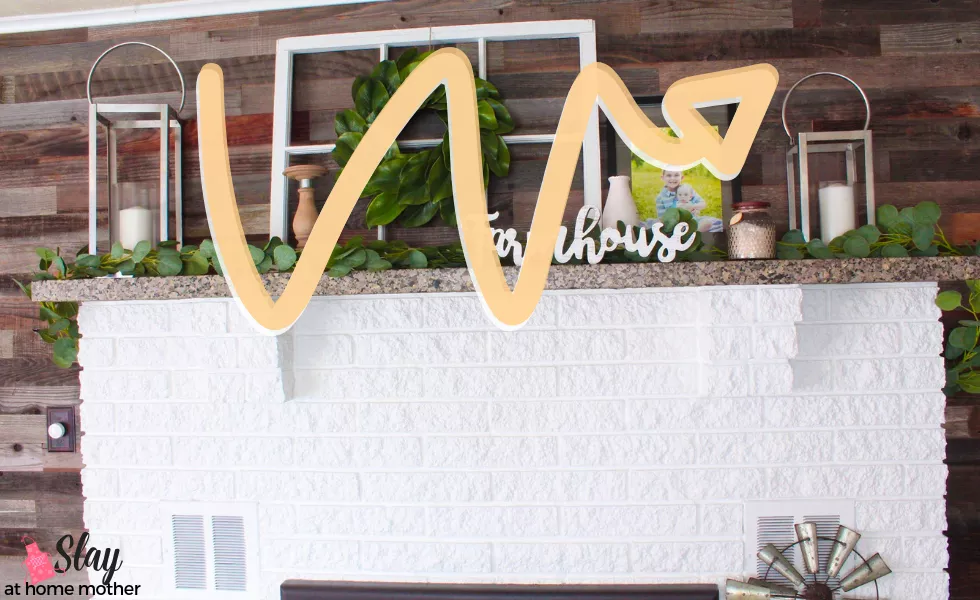 See how the decor kind of makes a zigzag line? I start high with one point, move down with lower-height decor, move back up with a centerpiece decor item, back down with more low height decor, and then jump back up a tad with a taller decor item.
For our fireplace, I do have a central centerpiece, which is my farmhouse window with a magnolia wreath tied to the front with twine, but if you can tell from the pictures, I've moved the window frame to the side JUST A TOUCH. This off-centering allows for more balance in the long run. If it was completely centered, the whole look would be and feel off.
The farmhouse window is absolutely gorgeous and is made by the same Etsy store that made the wreath above my coffee bar. I highly recommend Rusty Nail Designers on Etsy – they make gorgeous farmhouse window shutters, frames, wreaths, and decor to really make your house feel like a home! They also work with you when it comes to shipping, so if you're purchasing more than just one item, be sure to message them before paying and see if you can work out a shipping rate with them ;).
From there, I have two silver lanterns, each a different size. After testing them both out on either side, I like the larger one to the left of the window frame, and the smaller lantern to the right.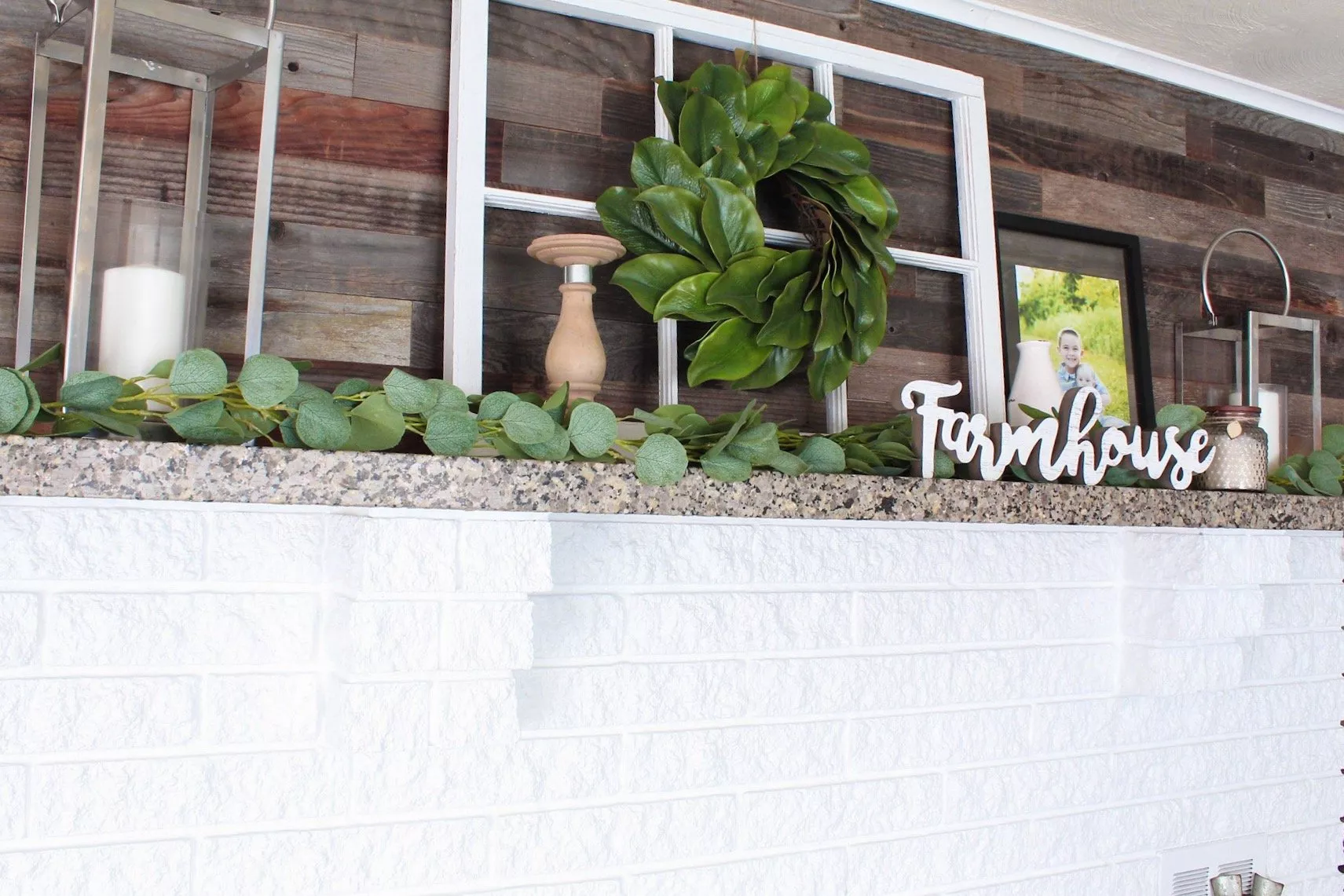 Because the window frame is off-centered to the left a touch, I've added to the right of it a black-framed picture frame with extra negative space to show a bit of the reclaimed wall behind it, as well as a small milk jug vase from Joann.
To the left of the window frame, I've placed a wooden candlestick (sans candle) with silver accents. To me, because the lantern and window frame take up so much vertical space, this single wooden candlestick is perfect to balance the left of the fireplace.
In front of this decor, I've placed two separate but overlapping eucalyptus leaf garlands I found on Amazon. In front of the garlands, I've placed a single word sign that reads "Farmhouse" in cursive, and a candle.
The candle was actually placed there by my husband while cleaning and I had intentions to move it, but I kind of fell in love with the look it brought to our mantle as well as the off-white color.
Farmhouse Mantle Decor
Easy farmhouse decor items to use for fireplace mantle decor:
lanterns
picture frames
candlesticks
garlands
jars/bottles
simple word signs
tobacco baskets
wreaths (magnolia and lamb's ear are my favorites)
When it comes to shopping for farmhouse decor accents, I find that buying local, recycled, and in stores is the cheapest way to buy.
For example…
the lanterns I have pictured were on clearance at Target right before Halloween last year for $7 for the set
the candlestick was on sale at Christmas Tree Shops for about $6 this summer
the milk jug vase was part of a set I bought two years ago
the "farmhouse" sign I bought at Hobby Lobby for $10 (but was $8 with a coupon combined with other purchases)
both the candle and picture frame have been in our home for years.
Yes, that candle was a show candle for years, but we're allowing her to retire so she can let her everlasting flame burn ;)…
Look around your house – what do you have that would work? Think outside the box.
Combining colors, textures, and touches of warmth
When it comes to your farmhouse fireplace mantle, consider your colors, textures, and touches of warmth.
Greenery proves to give some warmth to an area, just as wood does. For our fireplace, we have a surrounding reclaimed wood wall, so I felt just one unpainted wooden accent was appropriate. The green magnolia leaves on the wreath play well for both color and warmth against the background of the white farmhouse window frame and our reclaimed wall, as does the eucalyptus leaf garlands.
The leaves and wood also provide a sense of texture to our mantle.
In terms of colors, I chose a white window frame because it would POP out against the background and complement our white-painted fireplace, but if you have a lighter colored wall surrounding your mantle, consider a darker painted or natural tone wooden window frame.
The silver lanterns bring an industrial farmhouse feel (think metal silos) that still brings together a farmhouse look and tie in the lower decor items like the windmill. They also tie in a lighter color, reflect light, and complement both the white candles they hold and the eucalyptus greenery laid across the mantle.
Finally, the white farmhouse sign literally spells out the look I'm going for while staying true to the look I want and provides a depth to the decor pictured on my mantle. The first layer being the window frame and lanterns, the second layer being the eucalyptus garlands, and the third being the farmhouse sign in front.
You May Also Like: How To Paint Your Fireplace For Less Than $150
Seasonal Considerations
When it comes to decorating for the seasons, I only take down a couple of items and replace them with seasonal decor. For instance, I would take down the wooden candlestick and replace it with a similar-sized decor item (the height being lower than both the lantern and the window frame), and remove the picture frame for a seasonal sign.
For Christmas, as an example, I would also remove the "farmhouse" sign so that I could fit stocking holders.