Thinking about painting your hearth? You might be wondering, "how much does it cost to paint a brick fireplace?"
---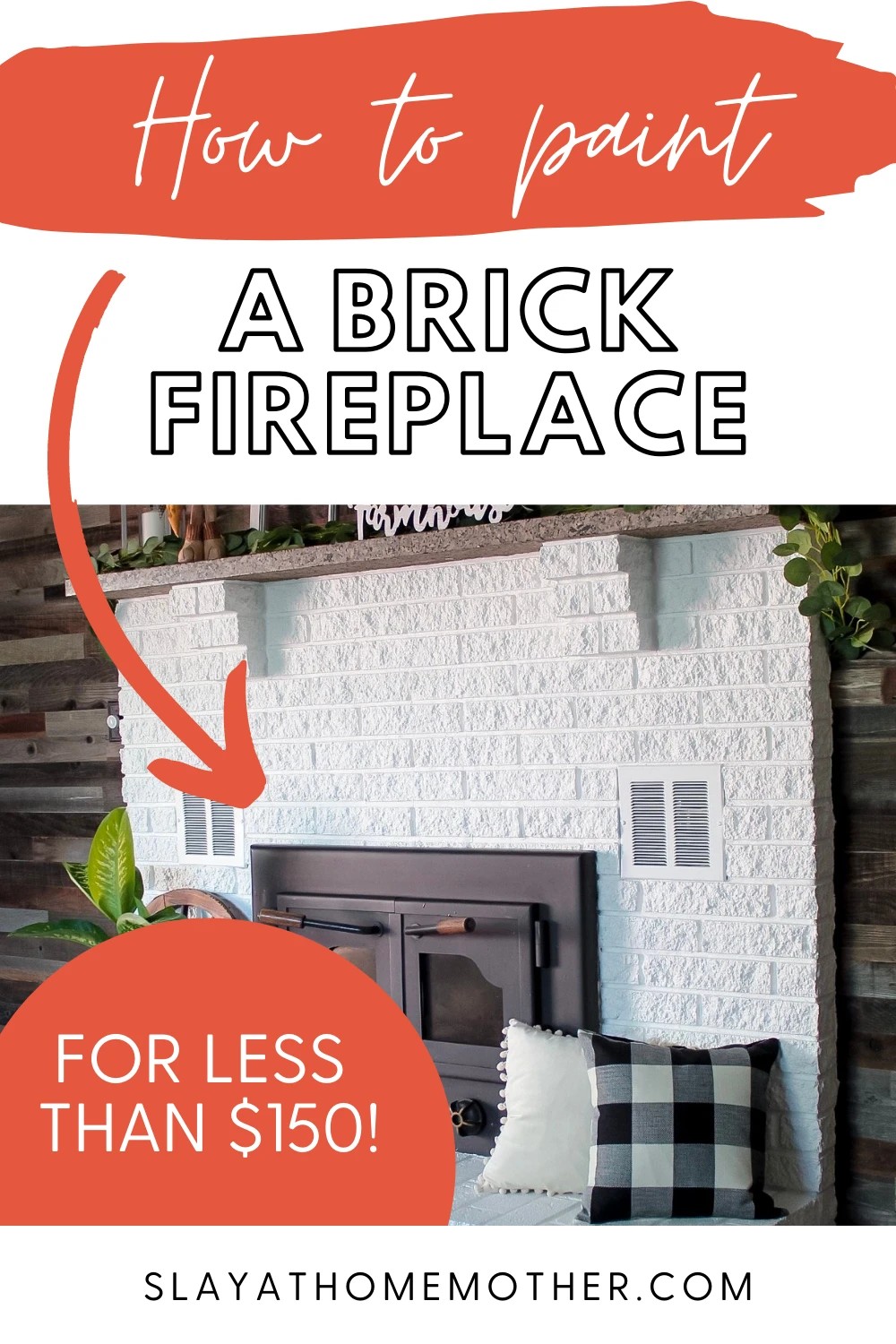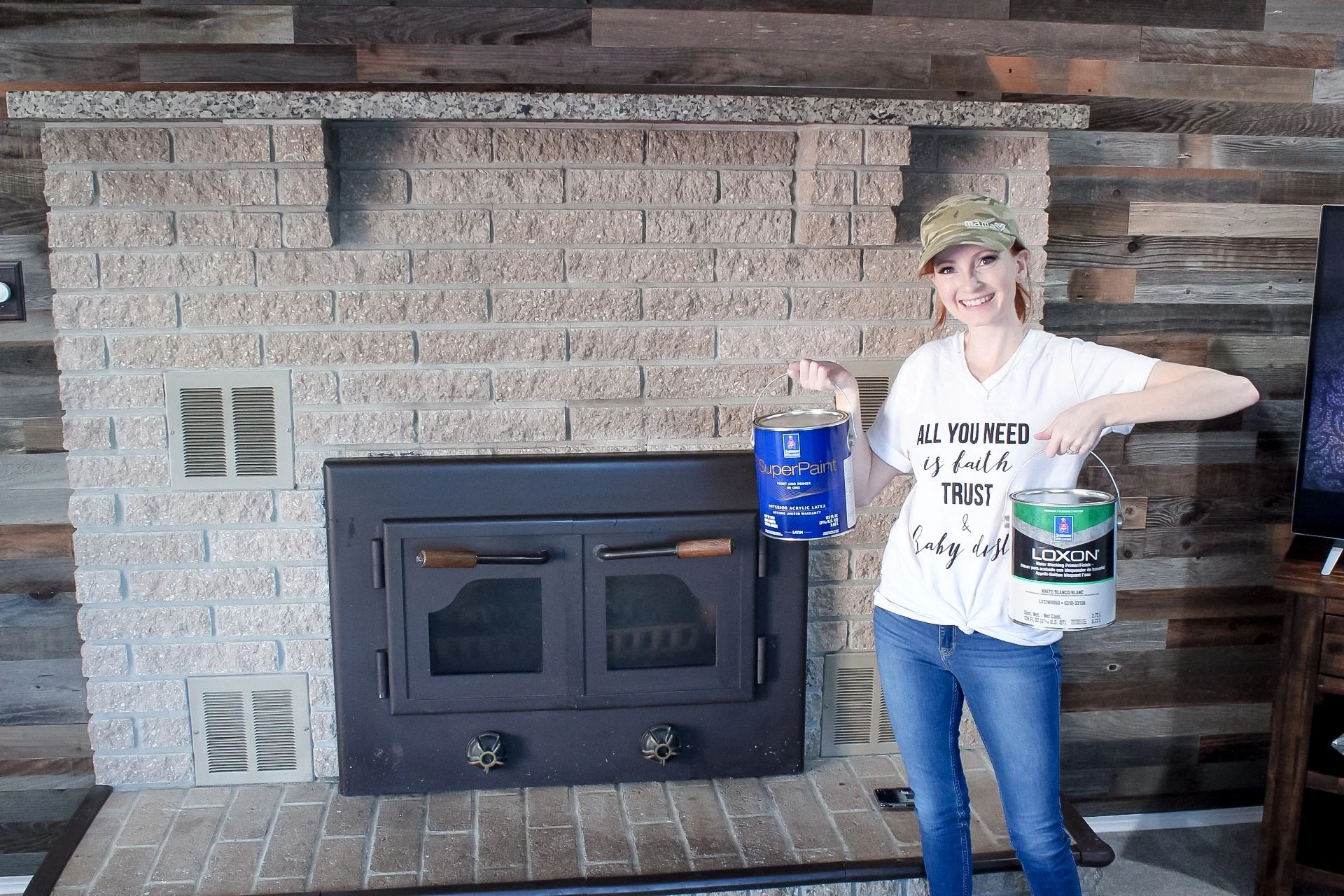 My husband is such a doll.
He really is – he is the most incredible and supportive human being I've ever met.
But we don't always agree.
We are SO different, but we're both alike in that we are incredibly stubborn and hardheaded.
He is deeply rooted in those feelings and thoughts and I am deeply rooted in accomplishing an idea.
You might be able to see why that could cause a few arguments…
I knew it would look fantastic, though, especially after completing our reclaimed wood accent wall.
I dreamed of a white fireplace, but my husband dreamed of being done renovating our living room.
I knew I wanted to paint the brick fireplace on a budget – and I managed to pull it off for less than $150!
In this post, I'll take you through the DIY project, tell you what materials you need, how much everything costs, and how to get this gorgeous DIY done the #slayathomemother way.
Here is our fireplace before…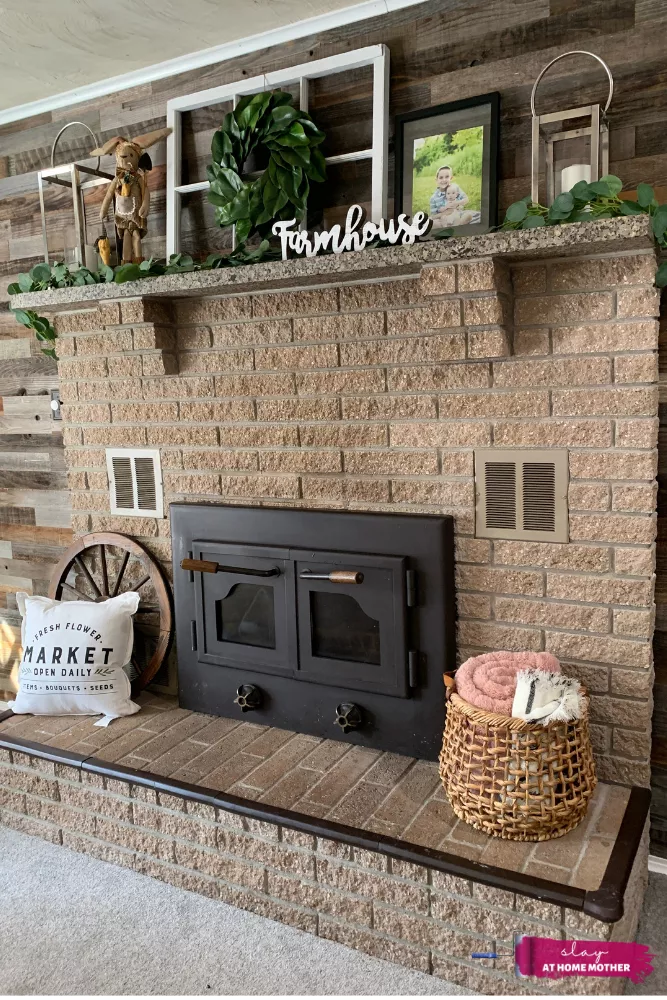 And here is our fireplace after…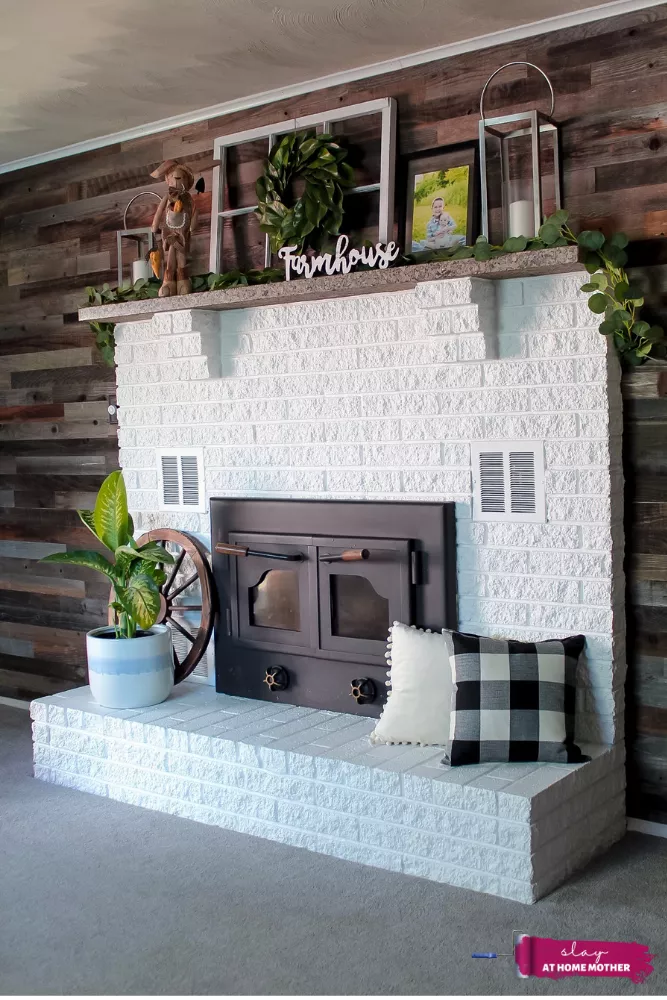 If you are at all familiar with my blog or have seen my living room refresh post, you'll know that our living room was once all brown, from the furniture to the carpet and the walls.
The window across from the fireplace pours light in the early afternoon, and our fireplace reflects that light around the room.
So this room literally pours sunshine around!
*This post is in partnership with Sherwin-Williams, a brand that I use and love, and contains affiliate links.
Before You Get Started, You Need To Know This…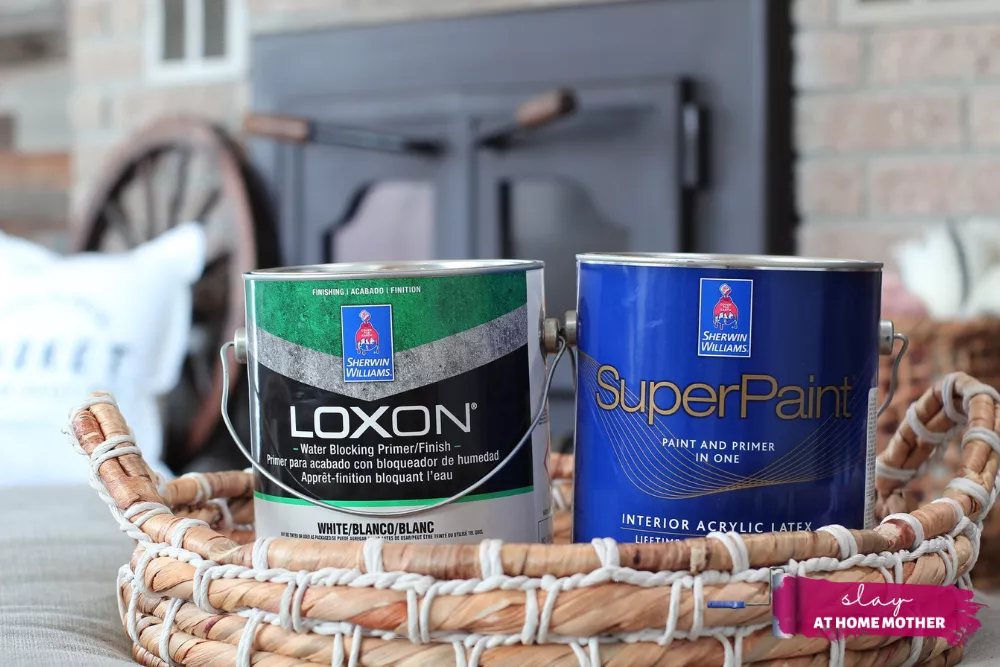 Full disclosure: this project took me 4 days to complete. I wish I could tell you I finished everything in ONE day like some other bloggers, but that's very unrealistic.
I'm all about helping you get things done RIGHT and ON A BUDGET!
And truthfully, if you're doing this RIGHT, it shouldn't be rushed into one day.
For the average person, this is a two-day project.
I say 'two days' because if you're properly cleaning your fireplace and letting it dry before starting the painting process, you'll need to give it time to dry.
Depending on the amount of scrubbing you need to do and how wet the brick ends up being after cleaning and rinsing it, your drying time can vary from a few hours to about 16-24 hours.
You can always speed up the drying process by opening up a few windows or running a fan in the room where your rinsed brick is drying, but you don't want to paint wet brick ever.
Okay, now onto the fun stuff…
What You Need To Paint A Fireplace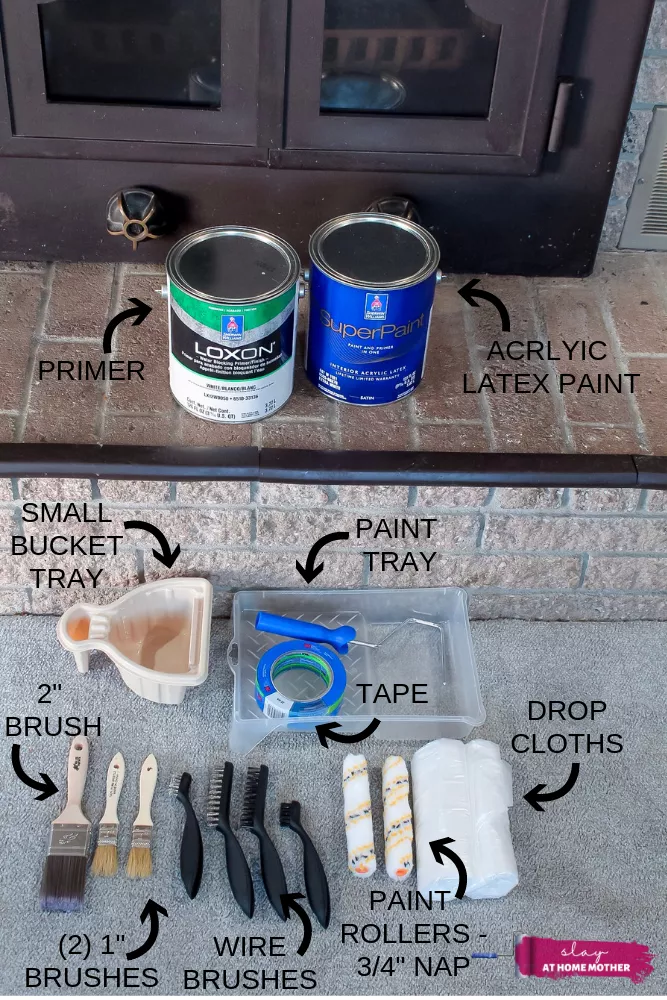 When it comes to the supplies you'll need for this project, there are some items you can pinch pennies on, and others you cannot.
I would say you can pinch pennies with brushes, but with rollers and paint, I would go for high quality.
I'll explain below…
Here are the supplies I used to clean and paint our fireplace, from start to finish:
Extra supplies – you may not need these, but I needed them and want to make sure I include them in case you do:
sponge brush
clean plastic shopping bags
small kiddie paintbrush
paint can opener
Flathead screwdriver
dish soap or TSP*
Fireplace Painting Project Costs
Primer: 44.09
Paint:$53.09
Supplies: $48
Total Cost: $145.18 (roughly)
All in all, my shopping trip for supplies cost me around $48, and the paint I used in this project would cost me just under $100.
The items I listed under 'Extra supplies' are things I already had on hand and didn't cost me anything.
You can also save 10% on your paint costs with Sherwin-Williams by signing up for their PaintPerks program as I have, and keep an eye out for special deals and coupons they have online like this one: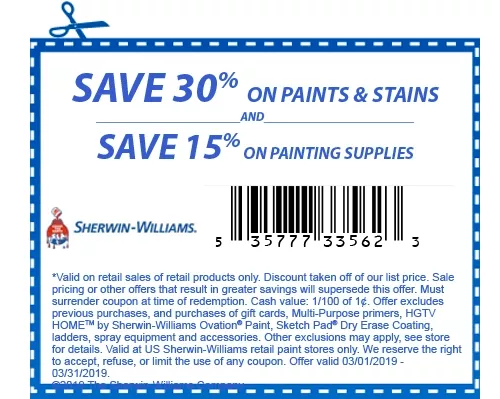 Clean And Rinse Brick Before Painting
Before you start taping anything or cracking open your paint and primer cans, it's essential to clean the brick surface you are planning to paint.
I used warm soapy water and a stainless steel wire brush.
Scrub all brick areas (pay special attention to sides of fireplace, around fireplace doors/opening, mantle supports, and grout lines).
Rinse using water and a nylon scrub brush.
Allow to completely dry before proceeding.
After allowing the brick to dry, take an industrial vacuum (like a Shop-Vac) and clean any leftover debris to ensure a clean surface for painting.
Be sure to vacuum the floor around your fireplace as well.
Cleaning With TSP*
You do not need to use TSP to clean the brick, your homemade cleaning solution will be just fine.
Prepping The Fireplace To Paint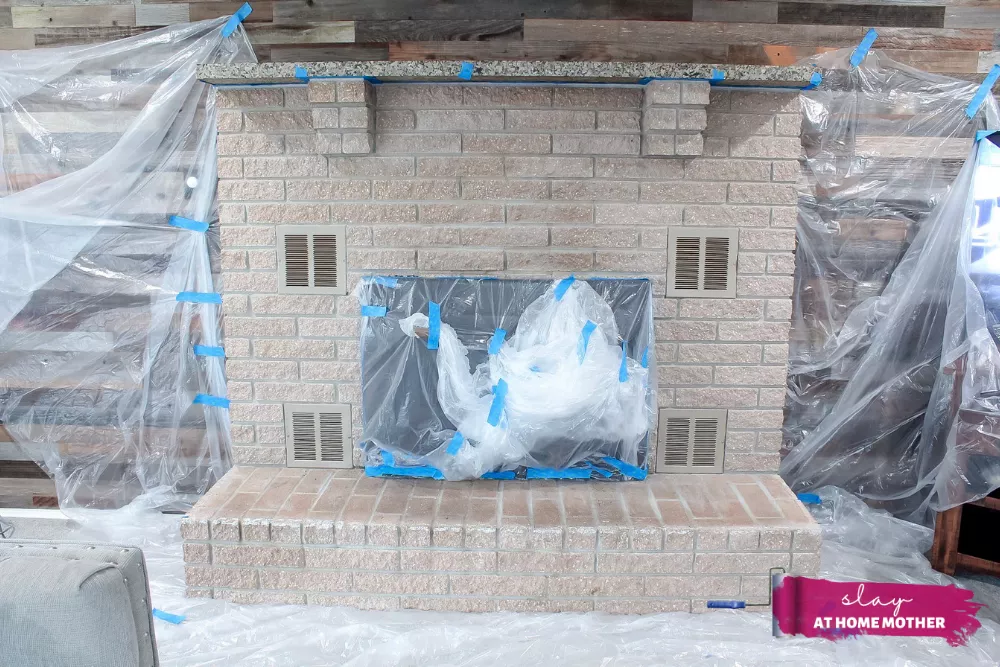 Before painting, you'll need to tape off the surrounding wall, floor, and other areas (like the fireplace doors/opening) that aren't going to get painted.
I used transparent plastic drop cloths and painter's tape.
Be sure to remove all vents (if your fireplace has them) prior to painting.
Taping The Carpet Next To The Fireplace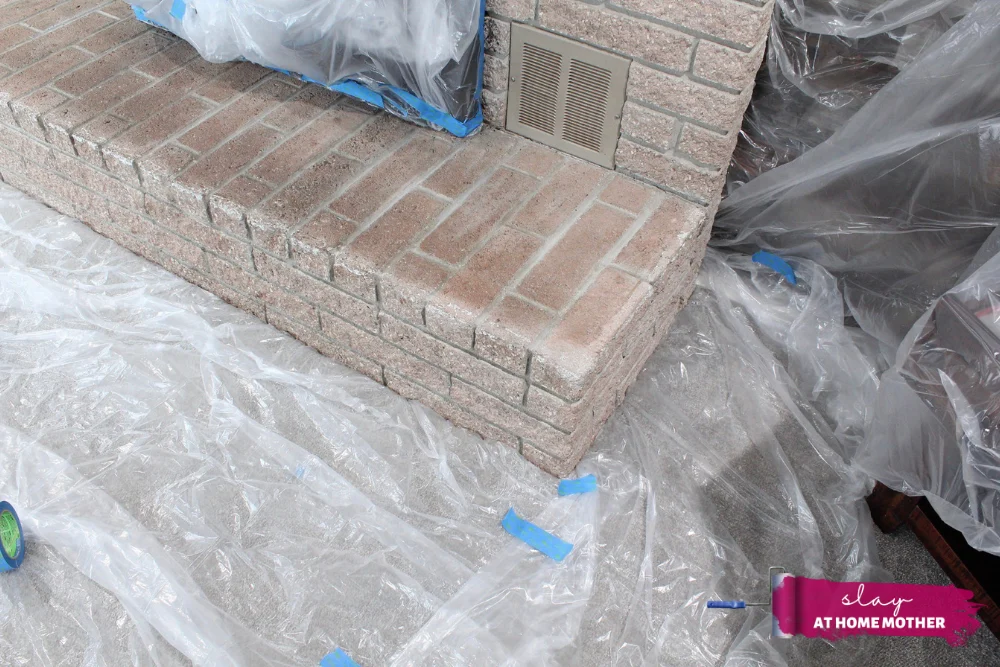 Because we have carpet in this room, taping the floor was tricky but impossible.
I placed the plastic drop cloth next to the fireplace and, using a flathead screwdriver, wedged the plastic in the groove between the fireplace brick and the carpet fibers to create a barrier.
If you have carpet and are doing the same, be sure not to let the plastic bunch up next to the brick once it's painted.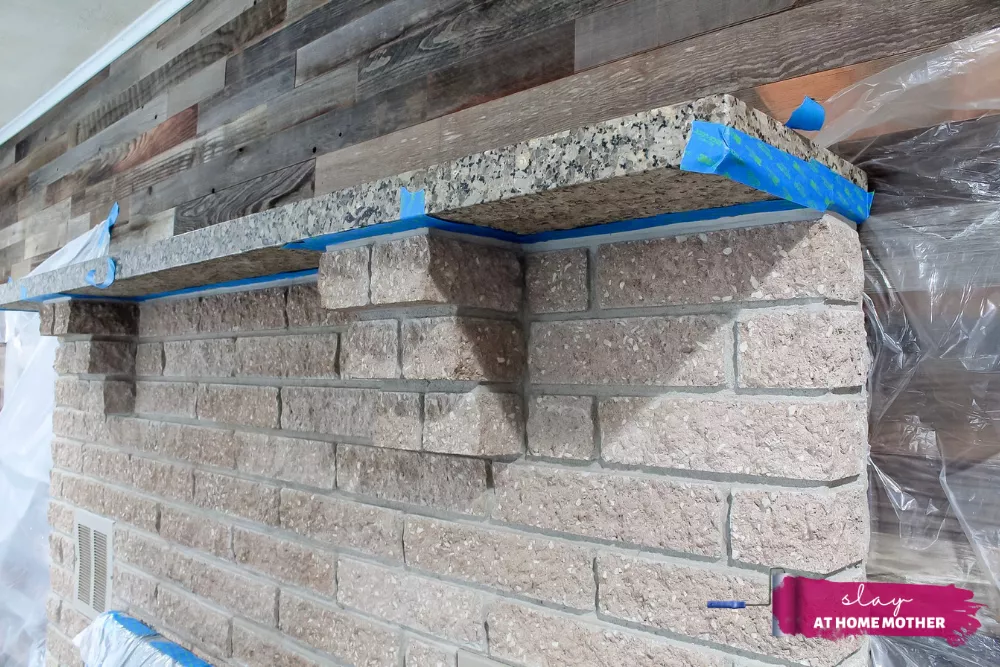 Now that everything is taped up, it's 'prime' time!
Why You Should Prime Fireplace Brick Before Painting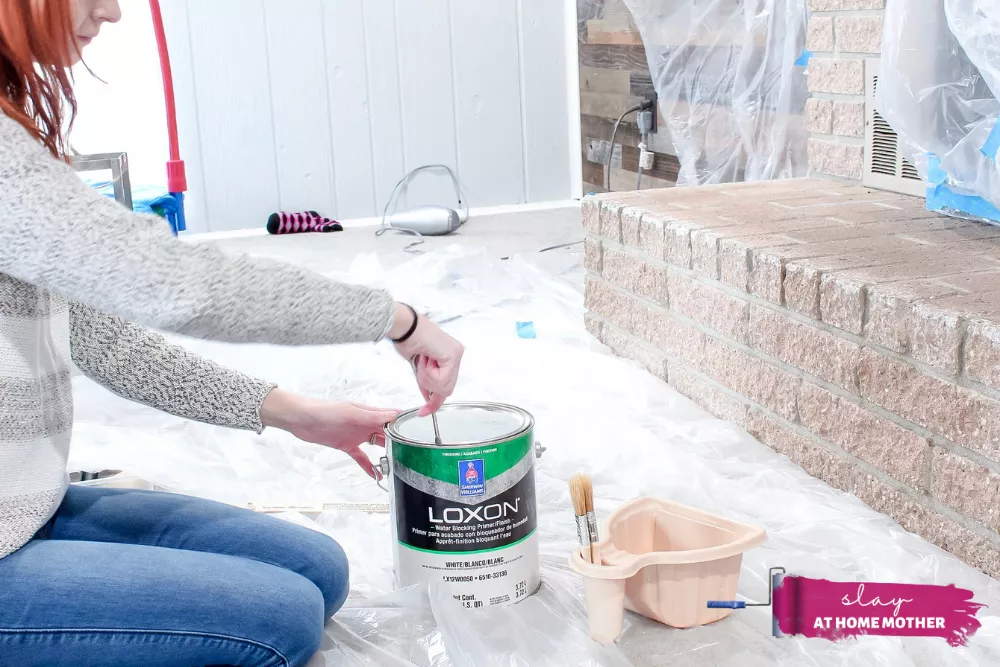 You should always prime brick before painting it because concrete and masonry have a high pH level – which can cause adhesion problems when it comes time to paint.
Priming is especially important when painting brick because the primer offers adhesion with alkali and efflorescence resistance for masonry surfaces.
This means that the gallon of paint you've just purchased and lovingly rolled over your brick fireplace will probably not even stick, should you skip the primer!
Loxon Concrete & Masonry Primer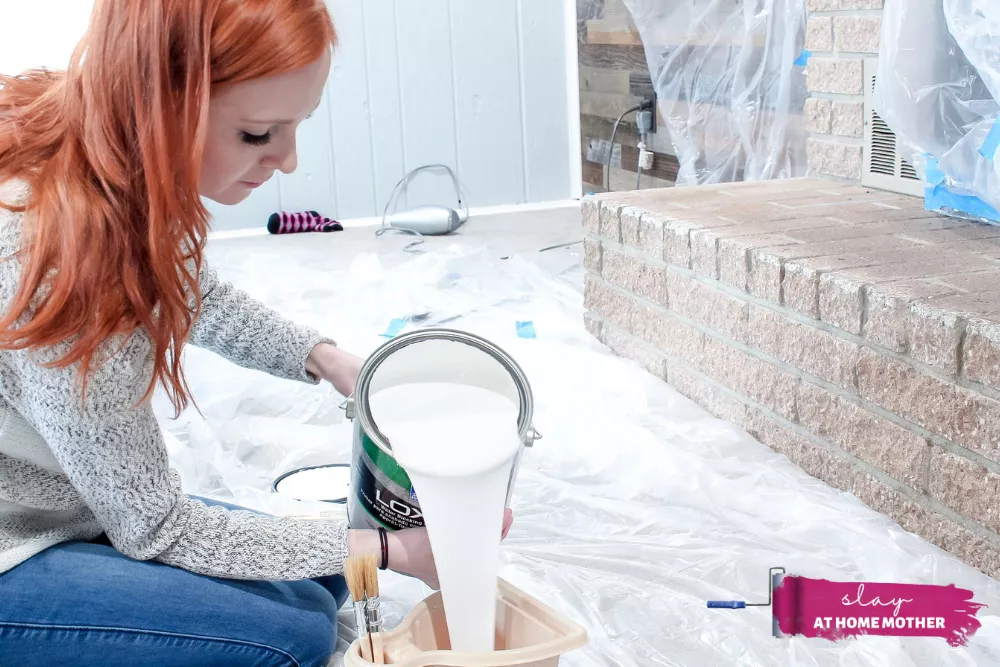 After speaking with the manager at our local Sherwin-Williams store, I decided to use Loxon Water Blocking Primer/Finish to prime our fireplace.
This way, I could easily clean our fireplace without worrying about moisture and preventing odors in our home.
Loxon Water Blocking Primer/Finish from Sherwin-Williams also carries the GreenGuard Gold Certification for their low chemical emissions into indoor air during product usage, which is better for our family and the environment.
How To Prime Brick Before Painting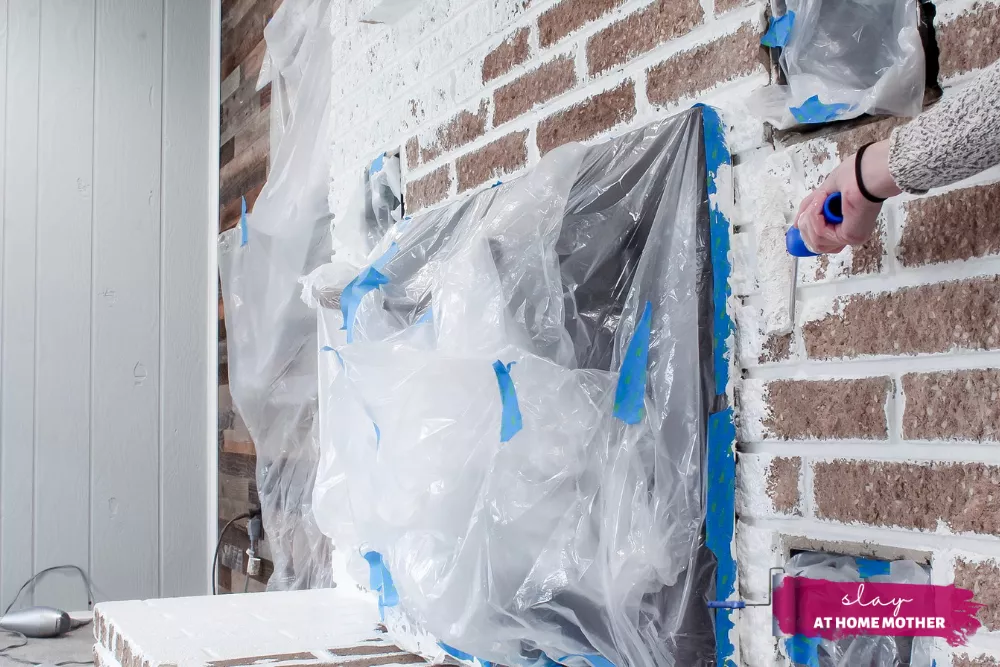 Using a 1″ paintbrush and a small bucket tray, fill the grout lines between the brick pieces.
Once you have painted the grout lines, cover the brick with primer using a paint roller with 3/4″ nap.
This nap on your roller is perfect for covering rough surfaces like brick and holds more paint in its fibers than a lesser nap would.
Allow for plenty of time to dry between coats.
I needed to apply primer twice, but the primer dries pretty quickly, so I could prime in one day during my two-year-old's nap.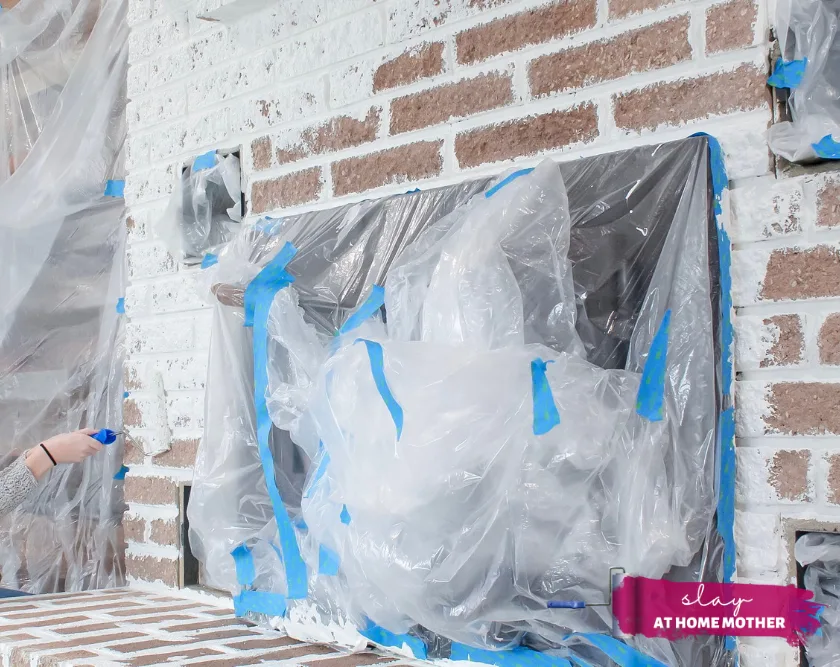 Our brick was extremely rough, especially towards the top of our fireplace.
For this section of bumpy brick, I needed to take a 2″ paintbrush and apply a little extra paint to ensure those bricks were primed.
Here's our fireplace completely primed…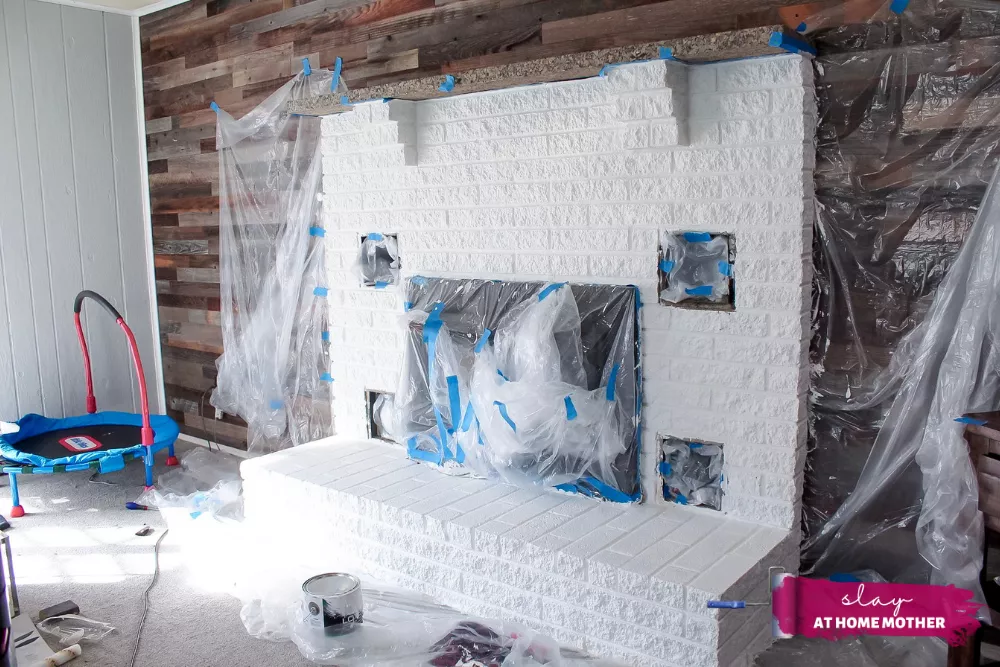 Related: Reclaimed Wood Accent Wall
The Loxon Primer created a smooth surface for the SuperPaint to adhere to and left a nice flat finish.
I love that the Loxon primer is white because I could already see how our fireplace would to look.
I loved it already!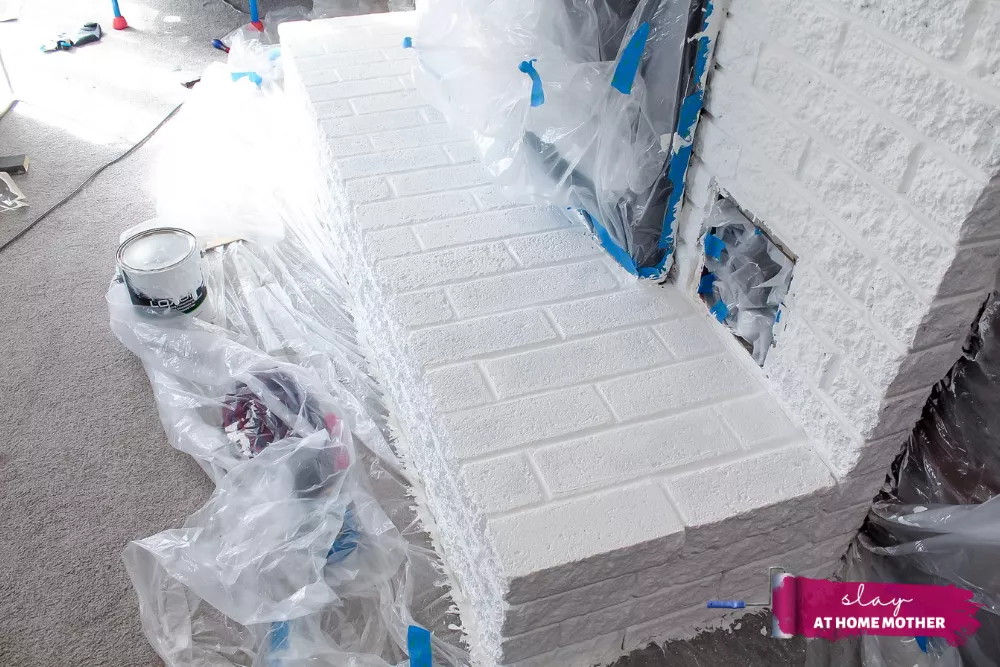 Painting Our Brick Fireplace With Sherwin-Williams SuperPaint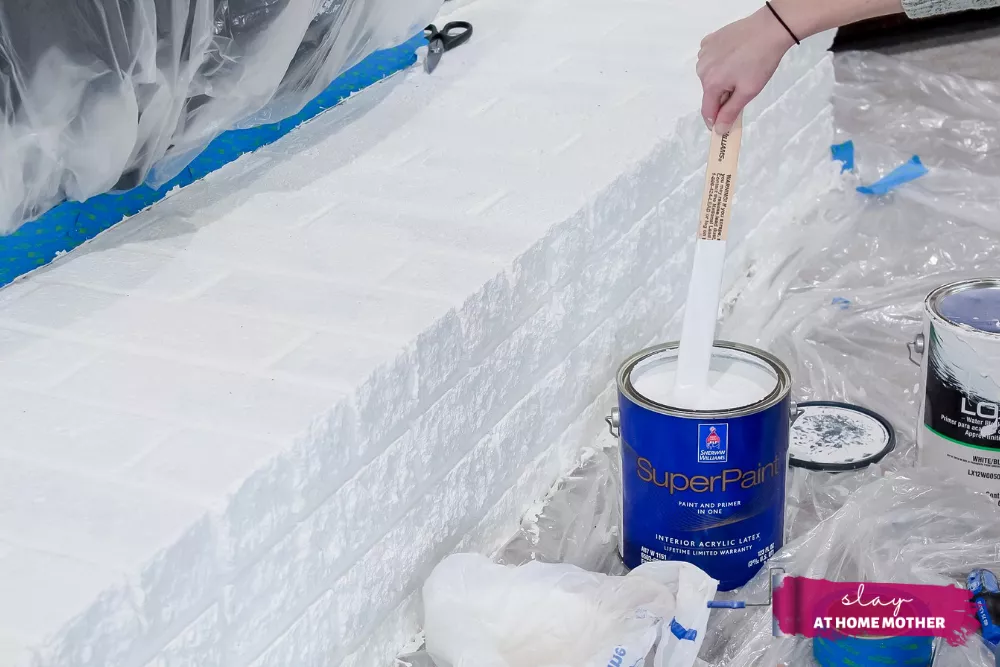 The next day, during naptime, I came back to the fireplace ready to paint!
For our fireplace, I chose the color Extra White (SW-7006). I loved both the color AND the name. I told my husband that now that he was going to let me paint our fireplace white, I was going to paint it 'EXTRA' white ;).
I chose to use Sherwin-Williams SuperPaint Interior Acrylic Latex paint for this project – it dries fast and has excellent durability, which is what I needed for this project.
SuperPaint delivers a smoother appearance, which helps tremendously when considering how rough and pitted brick can be. The manager at our Sherwin-Williams store also advised me that it can withstand excessive temperatures, making it an excellent choice for a fireplace.
It also has great scrubbability, which is ideal for a spot that will experience some soot marks from time to time!
How To Paint Fireplace Brick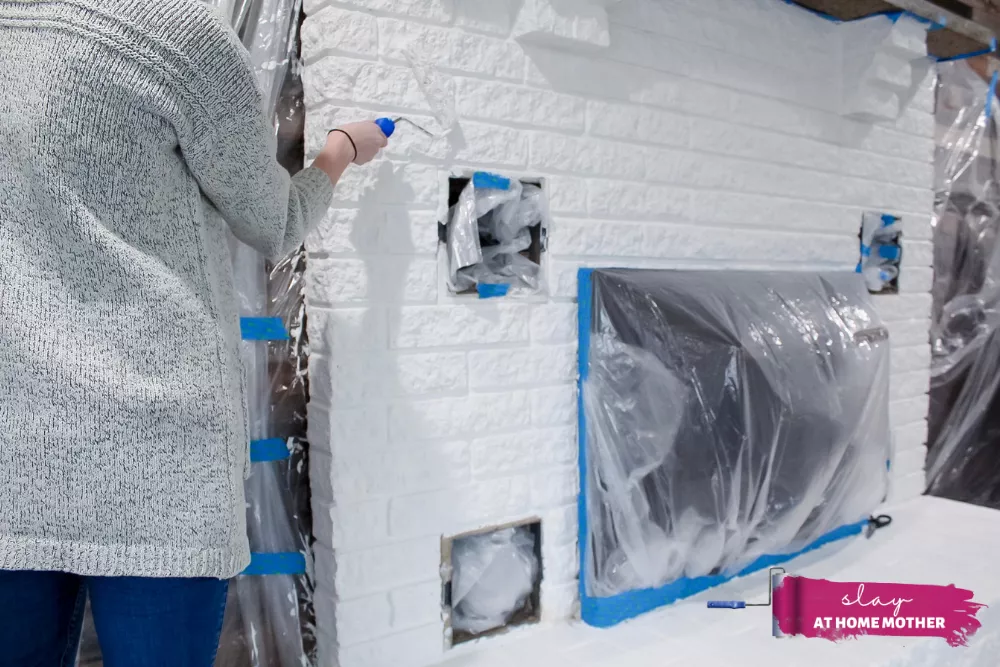 Just like I did with the Loxon Primer, I dipped a 6″ roller brush with 3/4″ nap into a paint tray with Sherwin-Williams' SuperPaint in the color Extra White (SW 7006) and painted over our primed fireplace brick.
I then used a 1″ paintbrush to cover the grout lines between the brick.
The SuperPaint adhered fantastically to our primed fireplace, leaving a beautiful satin finish.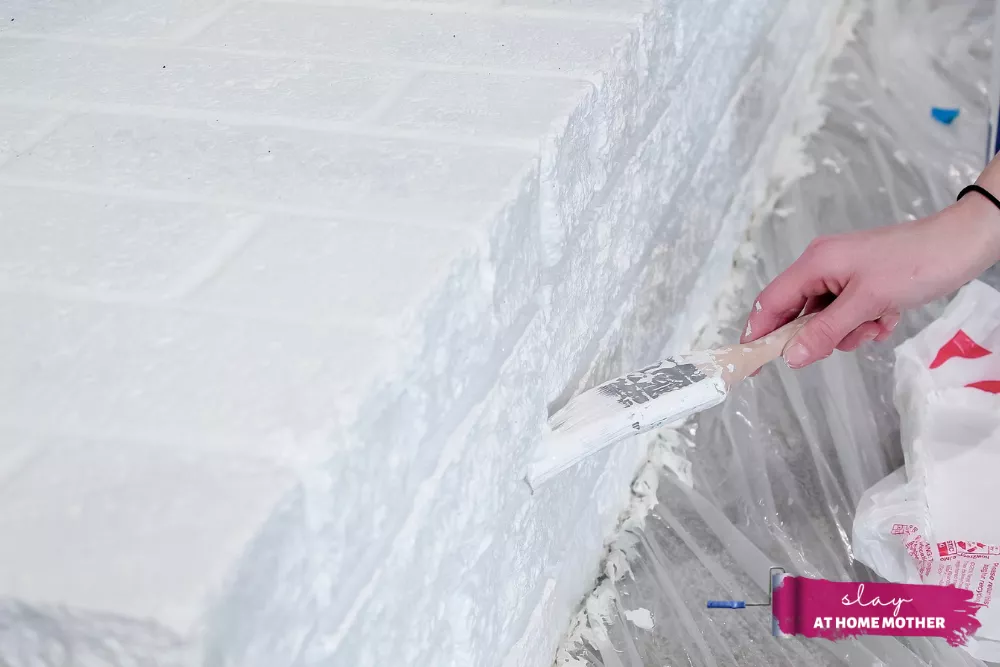 P.S. I learned a neat trick from my husband!
As an experienced painter, he told me that if I had a used tray of dried paint that I would still like to use instead of buying a new one, I could put a clean plastic shopping bag over the tray.
The plastic shopping bag would act as a sleeve so I could pour new paint in and use the tray again.
There were times I had to hold the plastic bag in place as I rolled the excess paint off the paint roller, but it worked!
Using this trick is a great way to save a few dollars and an extra trip to the store!
Painting Pits And Deep Grooves In Bricks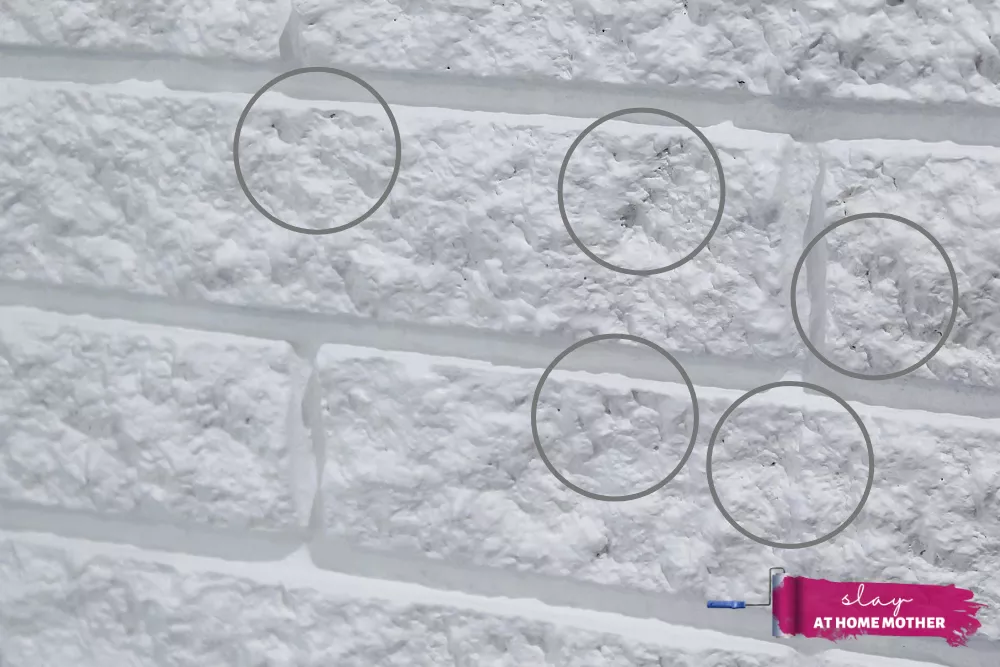 If your fireplace (or brick wall) is anything like mine, it has some seriously deep pits and grooves!
I struggled with all of my tools (1″ paintbrush, 2″ paintbrush, and 3/4″ nap paint roller) to get the paint in those pits and grooves. It was a little more challenging than I'd like to admit.
This wasn't because of the paint quality, but because my '50s style fireplace brick had very deep pits and grooves and required some special attention.
I came up with the perfect solution using a tool I had on hand that seemed to do exactly what all the others wouldn't…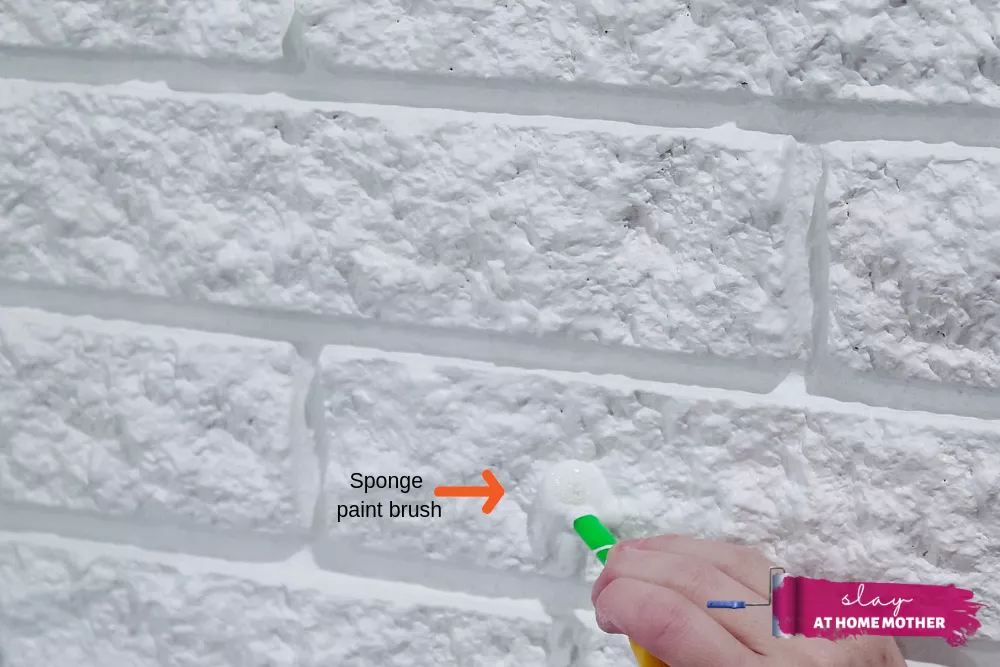 I dipped the sponge brush into the paint and simply dabbed it into the pits that the brush bristles couldn't reach before.
It worked like a charm!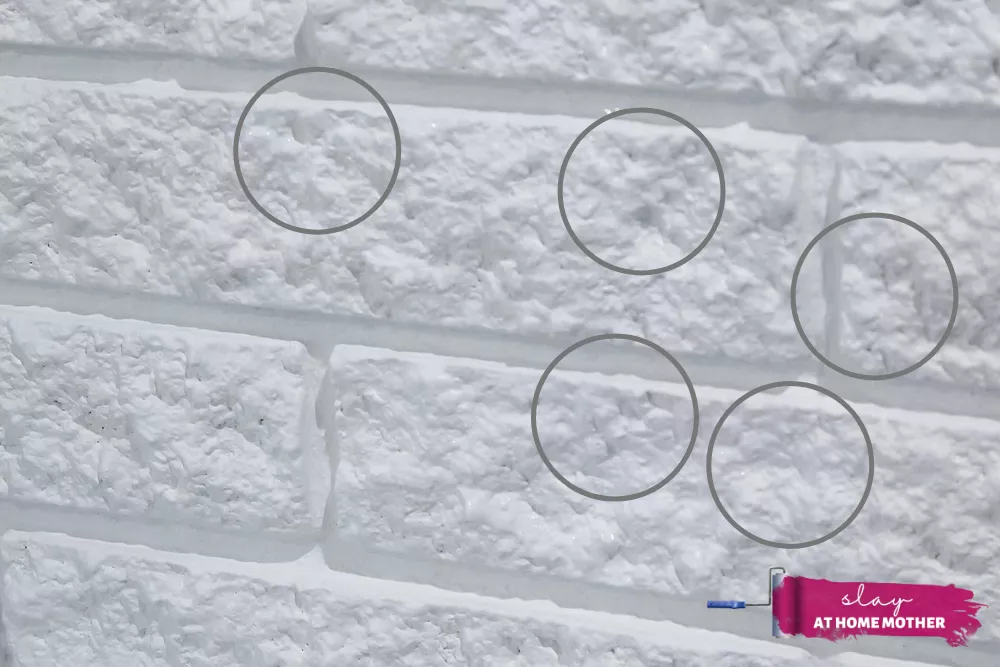 Now that the fireplace is painted and drying, it's time to wash and paint the vents!
Washing And Painting The Fireplace Vents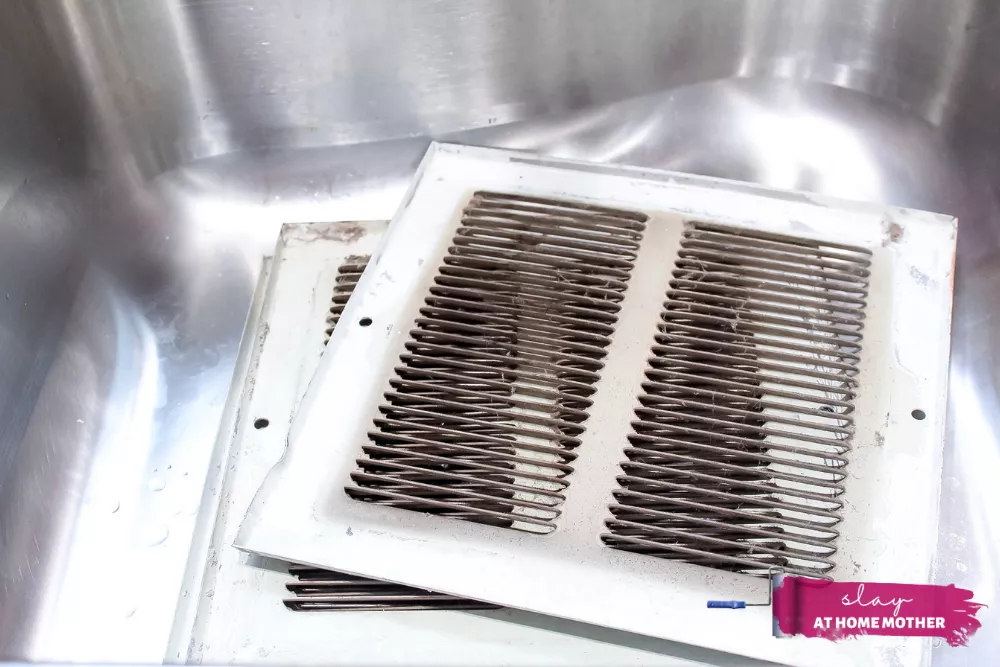 Because our fireplace is a heaterator (which means it can push heat generated by a fire out into the room through vents), it has four total vents.
The bottom two vents cover motors that help move the heat from a fire up to the top two vents that let the heat out into the room.
Although we don't regularly use our fireplace or the heaterator feature in our home, the vents still collect some dust bunnies and need to be cleaned, especially before painting.
Cleaning Our Fireplace Vents
Our vents had been previously painted a tan shade by our home's original owner to match the fireplace.
Although I debated painting them a darker color to match the fireplace doors, I decided to paint them the same color as our fireplace.
Before I could paint them, I needed to clean them thoroughly.
I scrubbed the vents using a regular sponge but decided to take a spoolie brush to the vent slats to get the excess gunk out that the sponge just couldn't reach.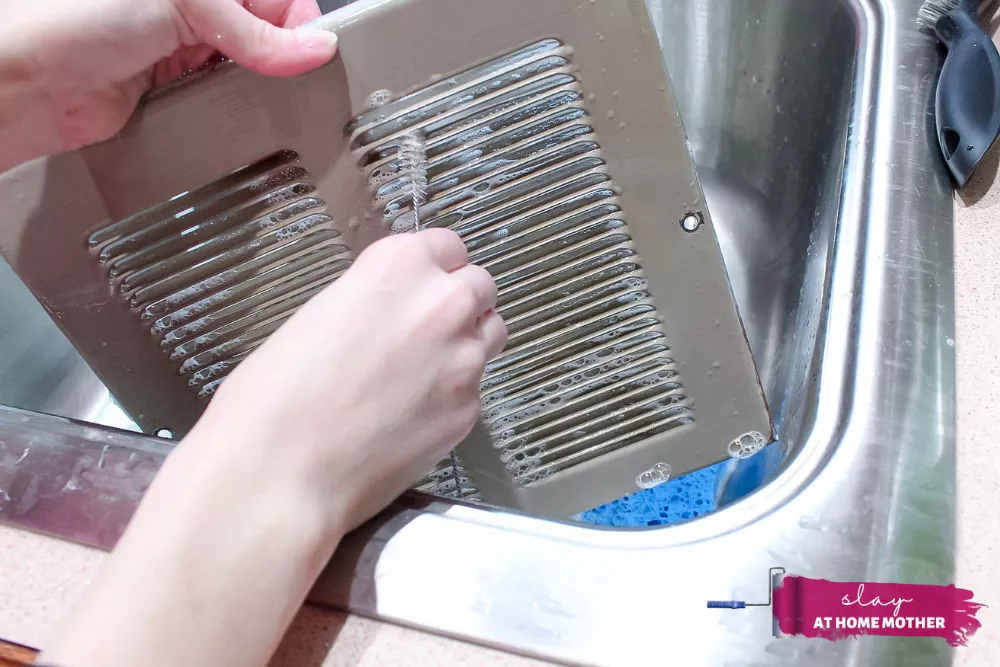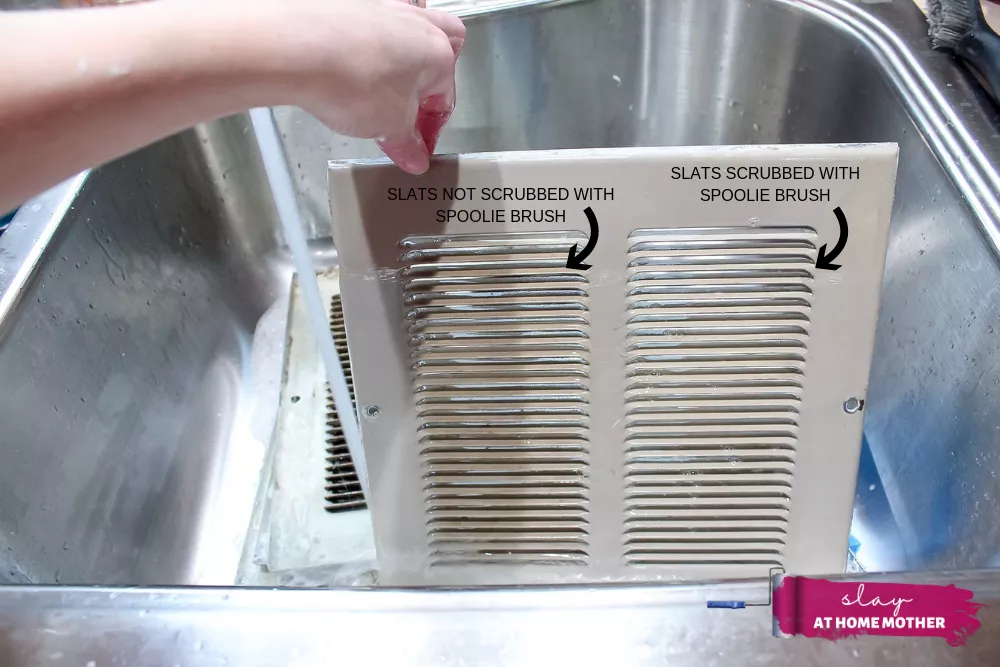 In the picture above, the right side of the vent has been scrubbed with both the sponge and spoolie brush (and has some suds in the slats that you can see), whereas the left side has only been scrubbed with a sponge and still has gunk within the slats.
I highly recommend scrubbing with a spoolie brush or straw cleaner to get slats clean if you have to paint vents like I did!
As the picture above shows, there's a huge difference, and how clean the slats are will impact how well the paint sticks to the vents.
Painting The Fireplace Vents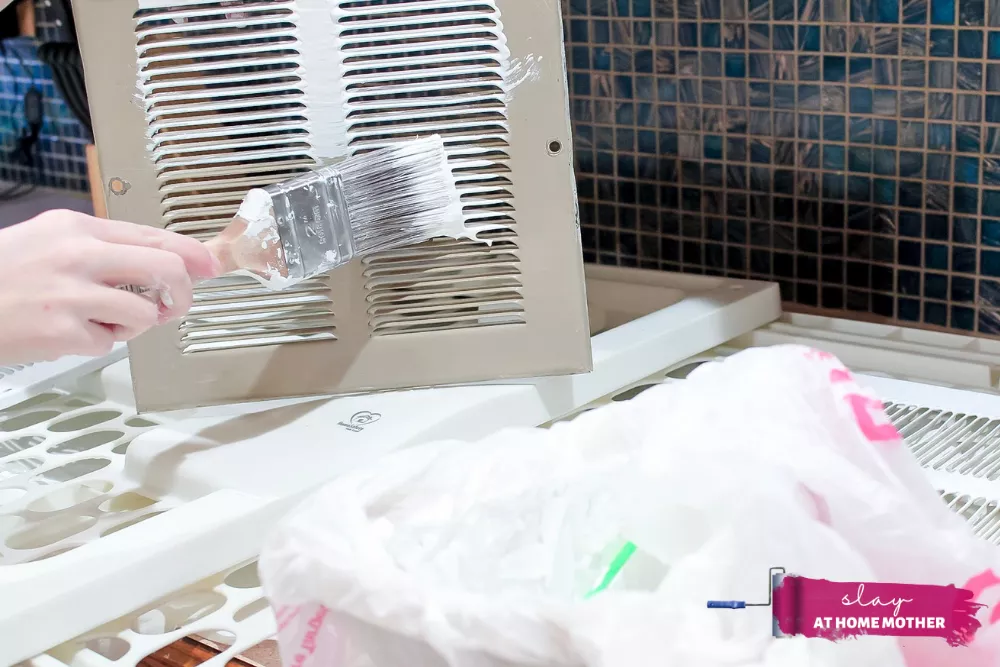 Okay, feel free to laugh, but my homemade drying rack totally worked…
I laid down a few rows of paper towels over our stove and counter, laid an old white baby gate on top of them, and got to painting our vents!
To paint our vents, I waited until they were dry from cleaning them and brought out my 2″ paintbrush.
I first swiped the bristles across the slats, and then brushed them in a back-and-forth motion to ensure coverage.
After painting the slats, I painted the rest of the vent cover, brushing in one direction, so there weren't any visible paint strokes.
To completely cover the vents (being such a dark tan color compared to the Extra White SuperPaint color), I painted three light coats, allowing plenty of drying time between coats.
I would say it took me about an hour to do all four vents.
Once the vents were completely dry, I placed them back onto my dried fireplace, screwed them in, and lightly dabbed some SuperPaint over the tops to blend in the color of the screws.
Our Finished White Fireplace
2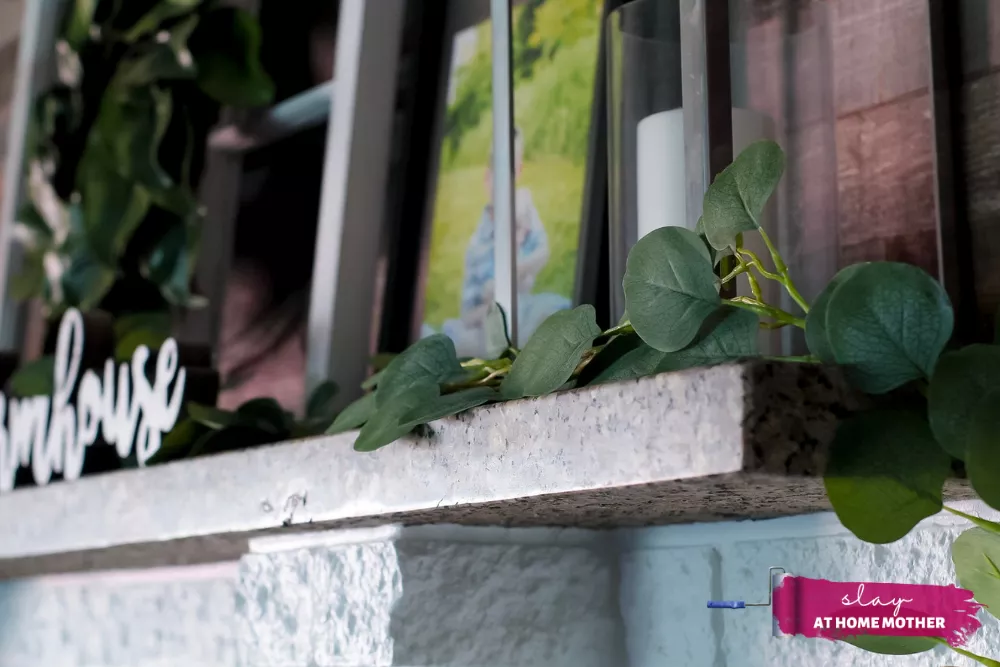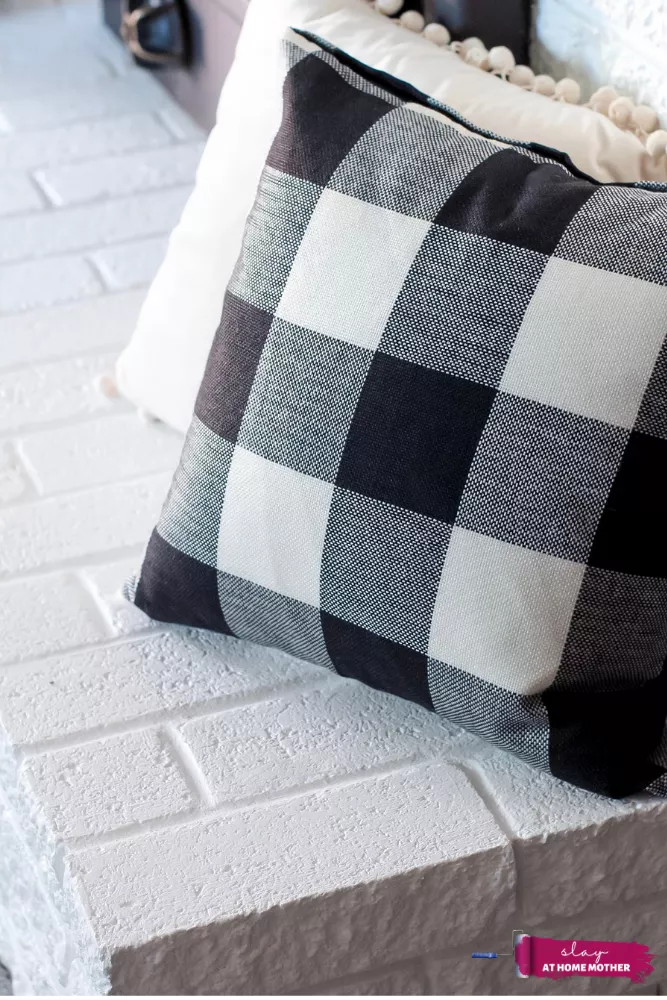 Organize Your Paint Cans With Printable Labels
I've created these free printable paint can labels to help you organize your used paint cans after a big project like this!
If your paint cans look anything like mine after you're done using them, you probably can't read the paint type, brand, color, or finish on your cans because they're covered in paint!
Just print these labels off onto a full sheet sticker label (like this one), and simply cut each label out.
Apply to your paint can, and fill in the blanks!
There's even a little circle on the bottom of the label where you can swipe some paint on so you can see the color.
Frequently Asked Questions
How Much Paint Do I Need To Paint My Fireplace?
I used one gallon of primer and one gallon of paint.
Sherwin-Williams has an awesome paint calculator that you can use on their website. You'll know exactly how much paint you need per square foot.
Simply input the height and width of the area you plan to paint, and the paint calculator will tell you how much paint you'll need!
When it comes to painting brick, you may find that you need more than just one or two coats of paint to completely cover the space, depending on factors like the original brick color, how well it's been cleaned prior to painting, and any future touchups you may need.
BTW – Sherwin-Williams' SuperPaint has excellent hide (or opacity), meaning you can make gorgeous color changes to your home or DIY project using less paint!
How Do I Clean A White Painted Fireplace?
If you are trying to remove soot, you can get creative and use silly putty!
Stick your child's silly putty to the fireplace soot to pull it away from the brick.
If that doesn't work, some warm soapy water and gently scrub with a soft rag.
This works great for dirty fingerprints, too.
What Can I Do With Leftover Paint?
Keep your leftover paint for future crafts and projects.
Use extra paint to make signs for your home or refresh an old flower pot or dresser.
You can keep a little extra in case a big mishap happens (like a hard toy getting scraped against a wall or if something hard should get dropped on or drug across our fireplace).
Leftover SuperPaint from this project was used in my linen closet refresh (coming soon!).
What Paint Finishes Should I Use For My Fireplace? What Did You Use For Your Fireplace?
I used a satin finish for our brick!
When it comes to fireplaces, you don't want your paint finish to be glossy because it looks VERY unnatural and creates a plastic-y sort of feel.
Consider a satin or flat finish for your brick fireplace.
Can I Run A Fan In The Room While The Paint Is Drying?
I would only recommend running a fan in the room while your brick is drying after cleaning, not after painting.
My reasoning for this is because if you have any dust or dirt in the room, and turn on the fan while you have wet paint (particularly if the paint is a bright color like white), you risk spinning any invisible dirt around the room and having it land in the wet paint!
Will I Need To Repaint My Fireplace Later?
If you've cleaned, dried, primed, and painted correctly, then no!
Sherwin-Williams' SuperPaint is also covered by a Limited Lifetime Warranty.
What Are Some Other Fireplace Paint Colors I Can Choose From?
In my opinion, neutral colors look best when painting a brick fireplace.
Here are some neutral Sherwin-Williams paint colors I personally love for brick fireplaces:
White: Extra White (SW 7006) – USED IN THIS POST!
Gray: Ellie Gray (SW 7650)
Beige: Accessible Beige (SW 7036)
I have a great Pinterest board that you can check out for some painted fireplace inspiration:
https://www.pinterest.com/slayathomemother/fireplaces/
Where Did You Get Your Fireplace Decor?
I loved decorating our newly painted fireplace!
Check out my decor here:
Window frame w/ magnolia wreath
Farmhouse sign (here's a similar alternative)
Silver Lanterns (here is a set on Amazon, but I got mine on clearance at Target at the end of the summer season)
White pillow covers with pom poms
Now you don't have to ask, "how much does it cost to paint a fireplace," and you can actually get started on making your own fireplace surround look amazing and on budget!
---
If you enjoyed this post, please feel free to share it with your spouse and friends, and check out these other DIY/Home Improvement projects:
Small Pantry Organization & Refresh