Check out our complete living room refresh…
---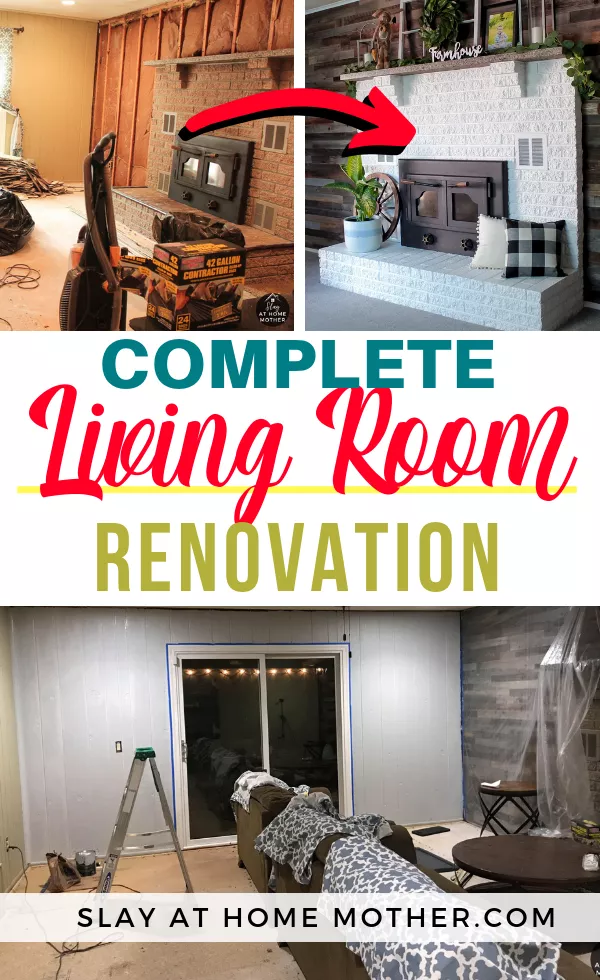 Hi friends!
I am over the moon for this post, and I think you'll agree when I show you how our Living Room Refresh turned out!
We recently kicked off a series of home improvements in our home, and thanks to a week worth of vacation days my husband was able to take, we really changed things up in our living space.
This post was written in partnership with Sherwin-Williams, however, all opinions are my own.
Before Our Living Room Refresh
Before I show you how our living room refresh turned out, I need you to know how it looked before.
It wasn't pretty.
Everything was brown/orange/yellow, including the lighting.
Before I started blogging, I didn't really see anything wrong with this picture.
Everything essentially matched, right?
Score.
But I didn't realize how dingy, dark, and muted our living space was.
No amount of turquoise curtains or pillows could save this room.
We even had 'soft white' bulbs, which really give off a yellow-like glow, enhancing the warmer tones of all of the beige-y tones.
The windows and natural light are great in this room, though, so it's still one of my favorites.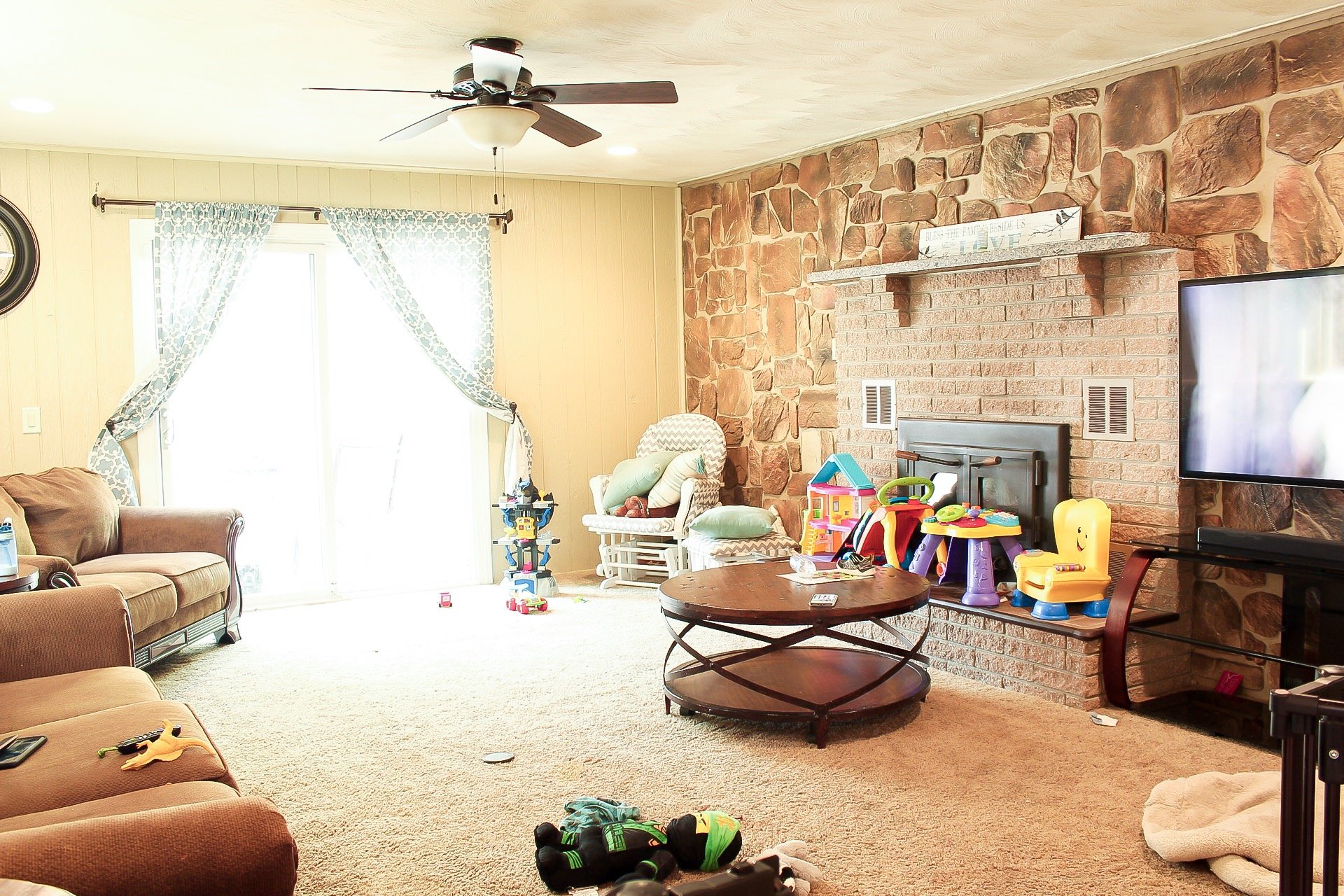 After Our Living Room Refresh
Here's what our living room looks like now…
Don't worry, I've got all the details on how we went from dark and dingy to bright and rustic below…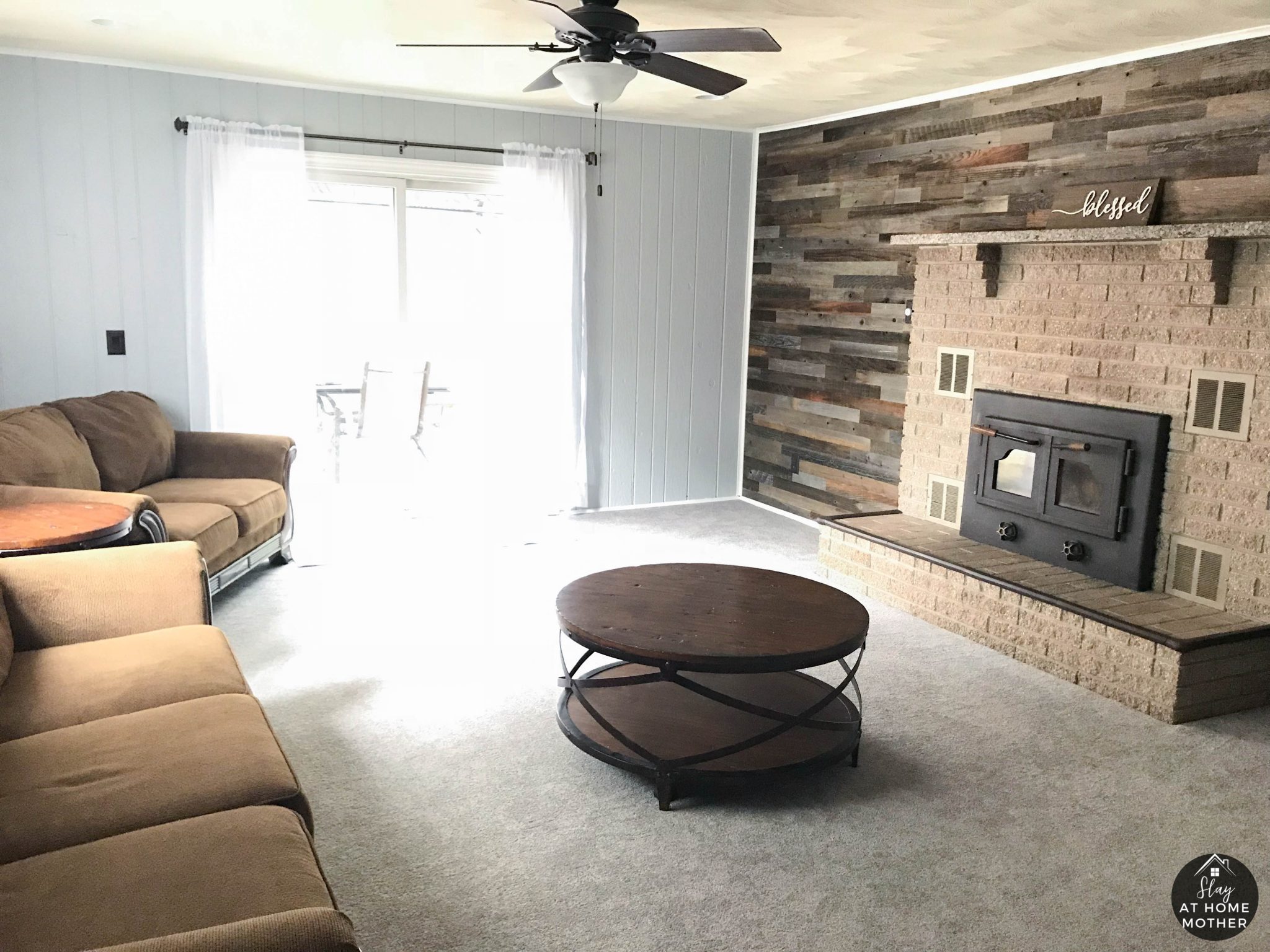 Our Living Room Renovation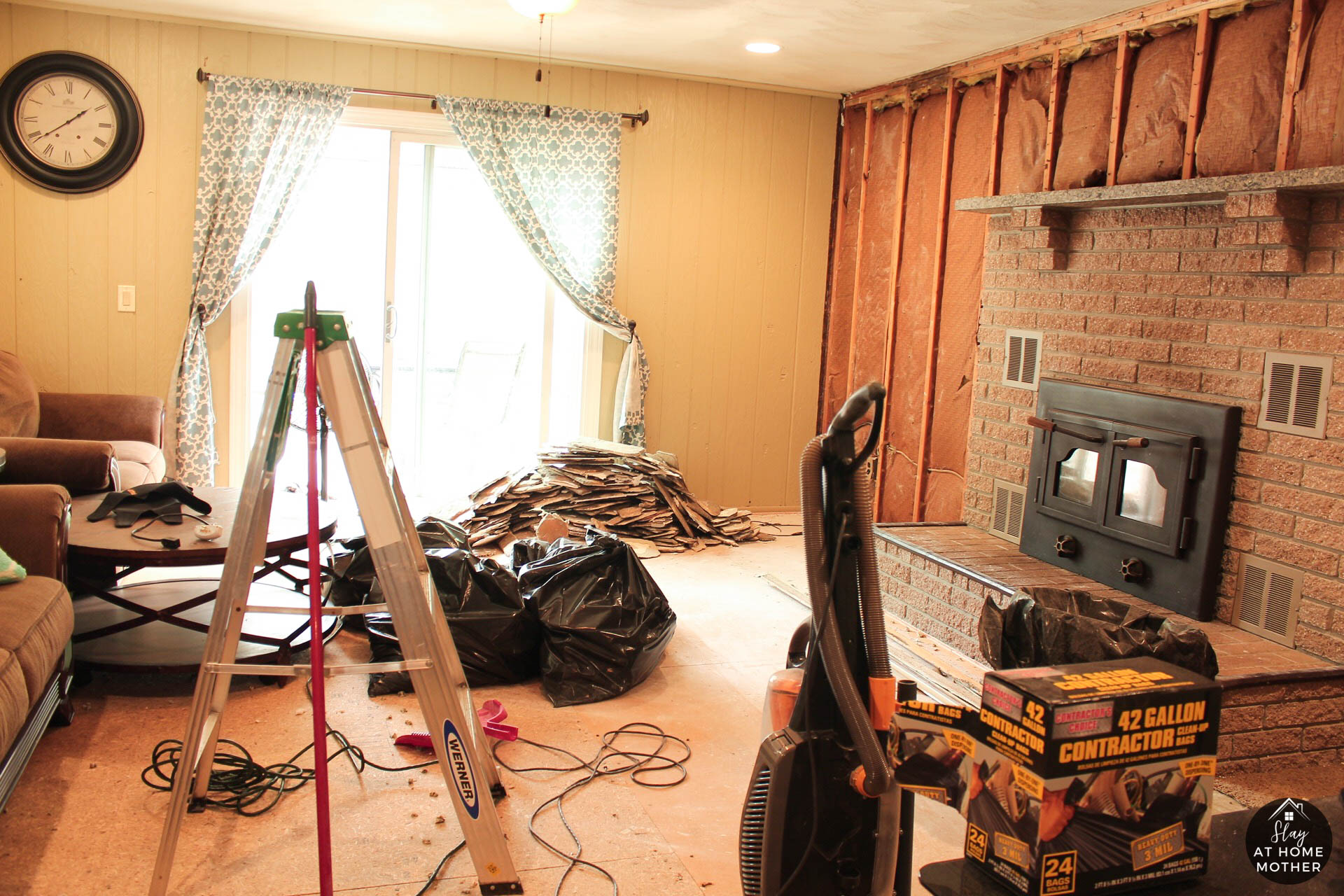 We first decided to take down the rock wall.
These were actual rocks that were barely secured to the wall.
Some of the rocks had actually fallen from the wall and shattered.
Talk about dangerous.
We opted to redo our accent wall with some peel-and-stick reclaimed wood – you can read about that HERE.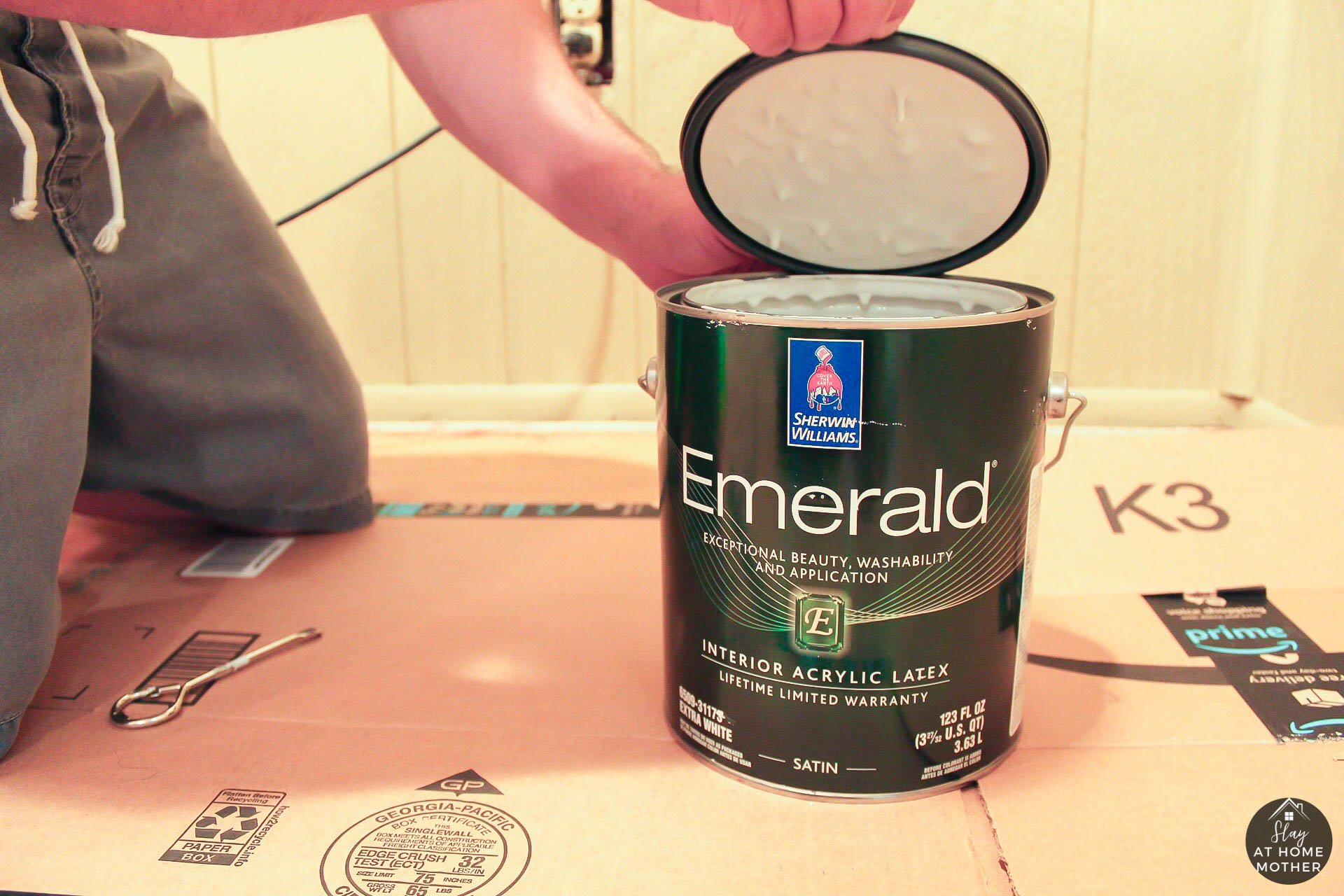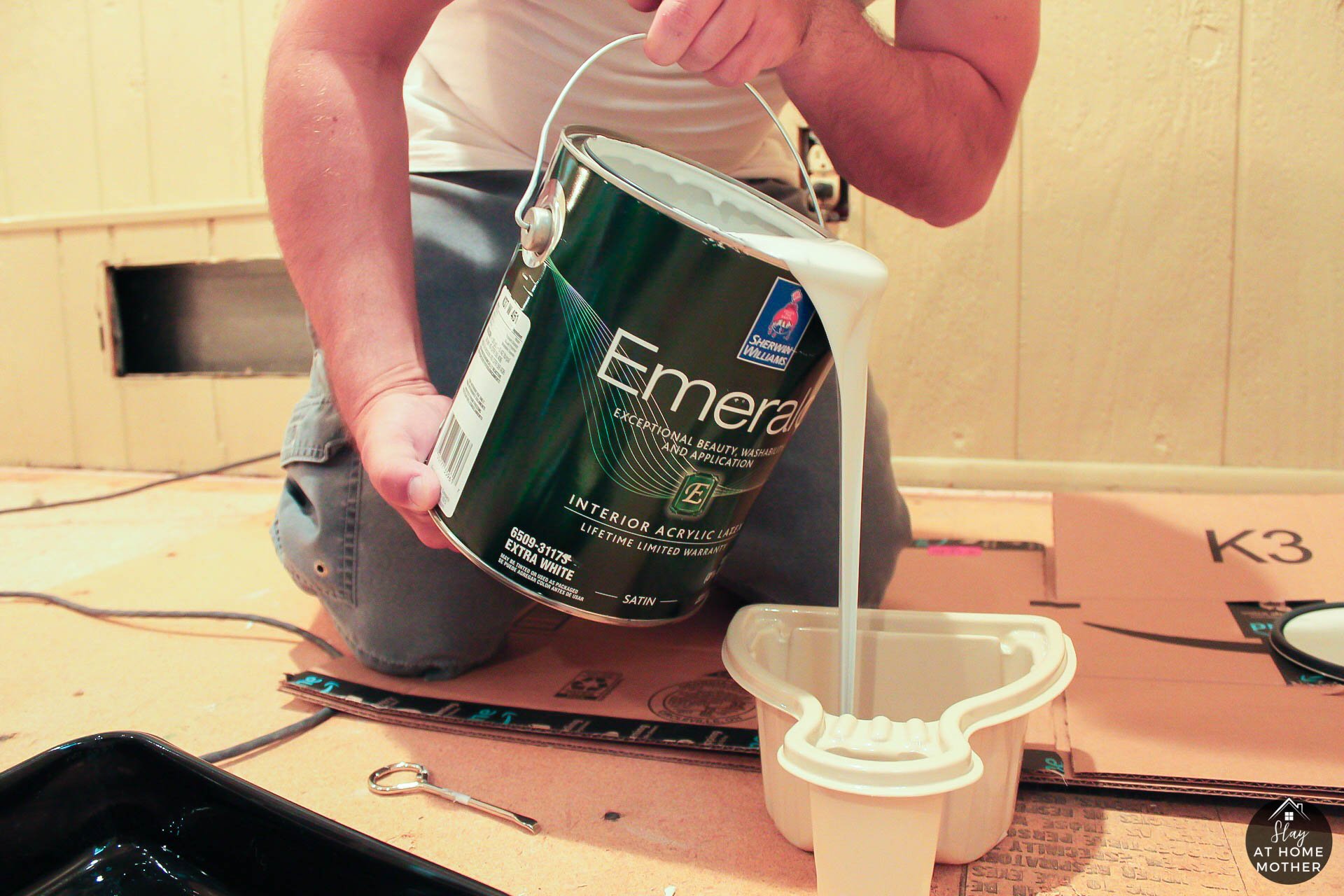 To get rid of the 'Smoker's Yellow' color (which wasn't actually from smoking, but sure looked like it), Chris and I opted to use the same color (Gray Screen SW 7071) in our living room that we used in our dining room from Sherwin-Williams.
Gray Screen is a beautiful, cool, neutral gray with blue undertones.
With our darker furniture colors and natural sunlight, the color takes on a little bit of a blue color.
Which we absolutely love.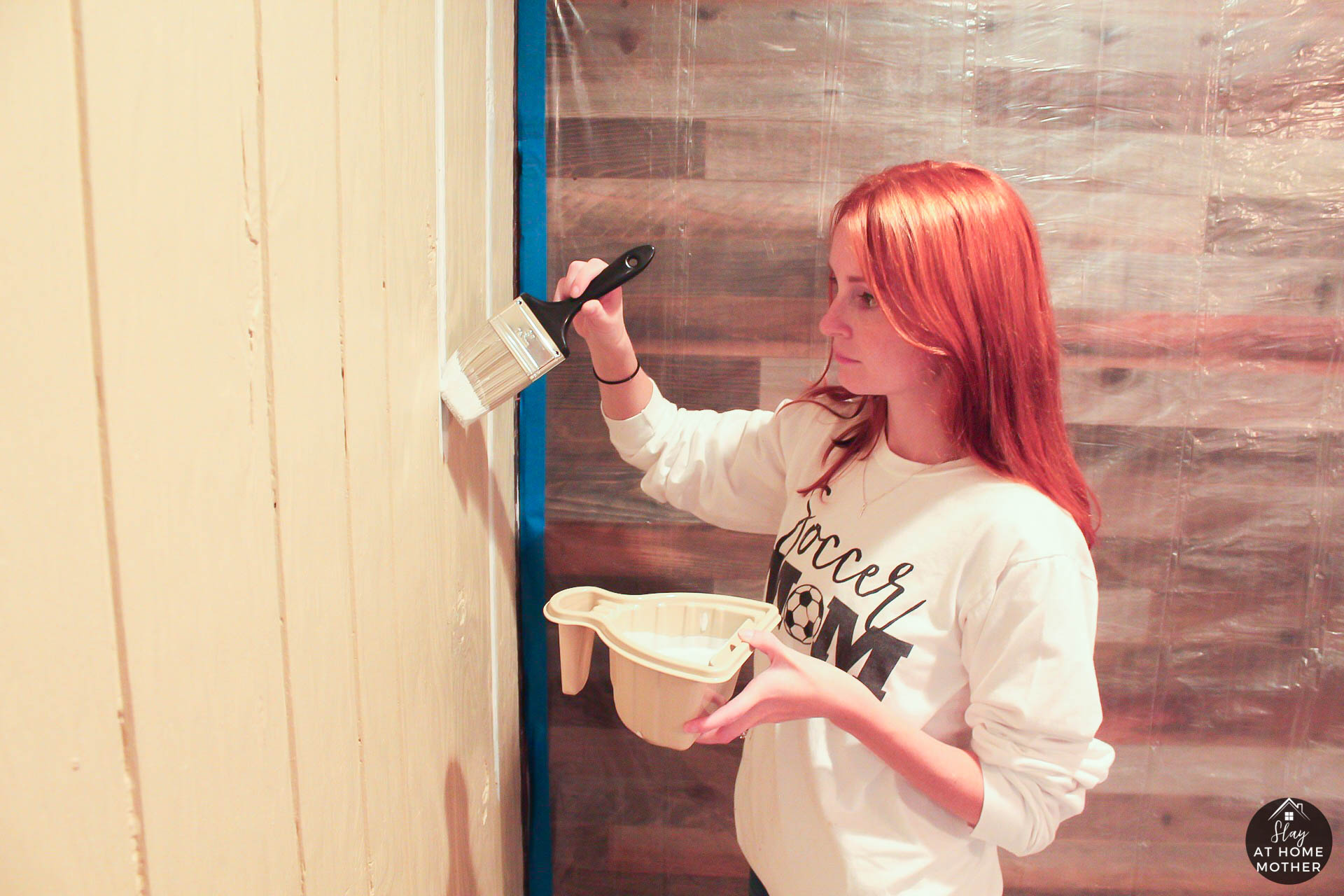 Because this is a room that was added to our home by the original owners (we are only the second family to own this late 1950's home), they chose to cover the walls with paneling.
To get the walls covered, we used a paintbrush to get into the crevices of the wood first and then used a paint roller with a heavy nap to cover the rest of the wall.
It took us only one coat to cover the walls, but we did go over the walls with a roller lightly one more time to ensure that sure everything was covered.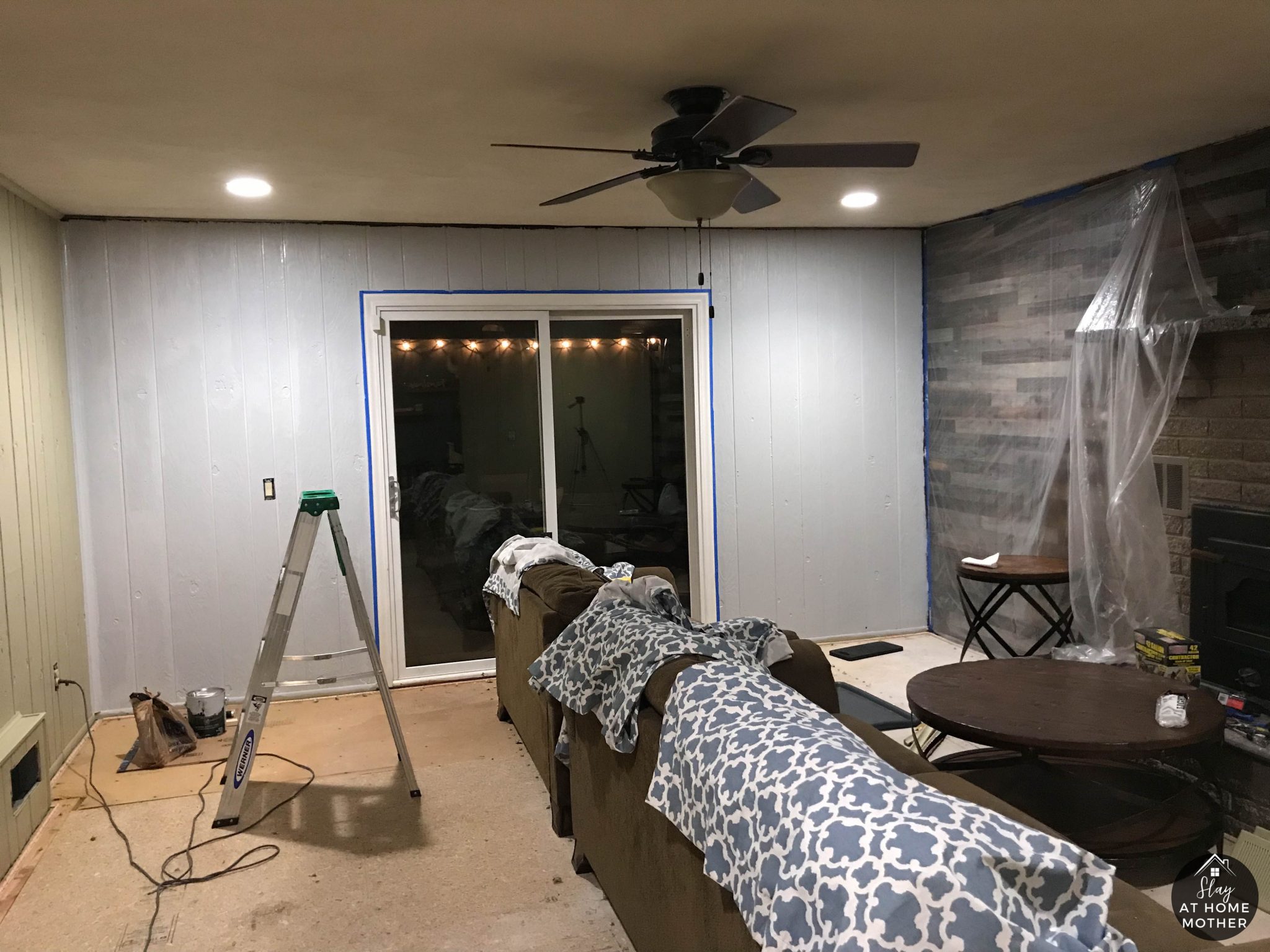 You May Also Like: DIY Painted Fireplace For Less Than $150!
This is one progress picture that I love – it shows the accent wall in place, one of the walls painted in Gray Screen SW 7071 next to another wall in that dull tan/yellow color.
My mother-in-law even said the old paint on the walls was suddenly looking green, which she had never noticed before.
Not what I wanted to hear, but she was right.
And if you look closely, you can see the original DARK color of the paneling in this room at the very top of the wall where we removed a piece of trim.
I can't even IMAGINE what this room must have originally looked like with all of that dark paneling.
It probably seemed much smaller.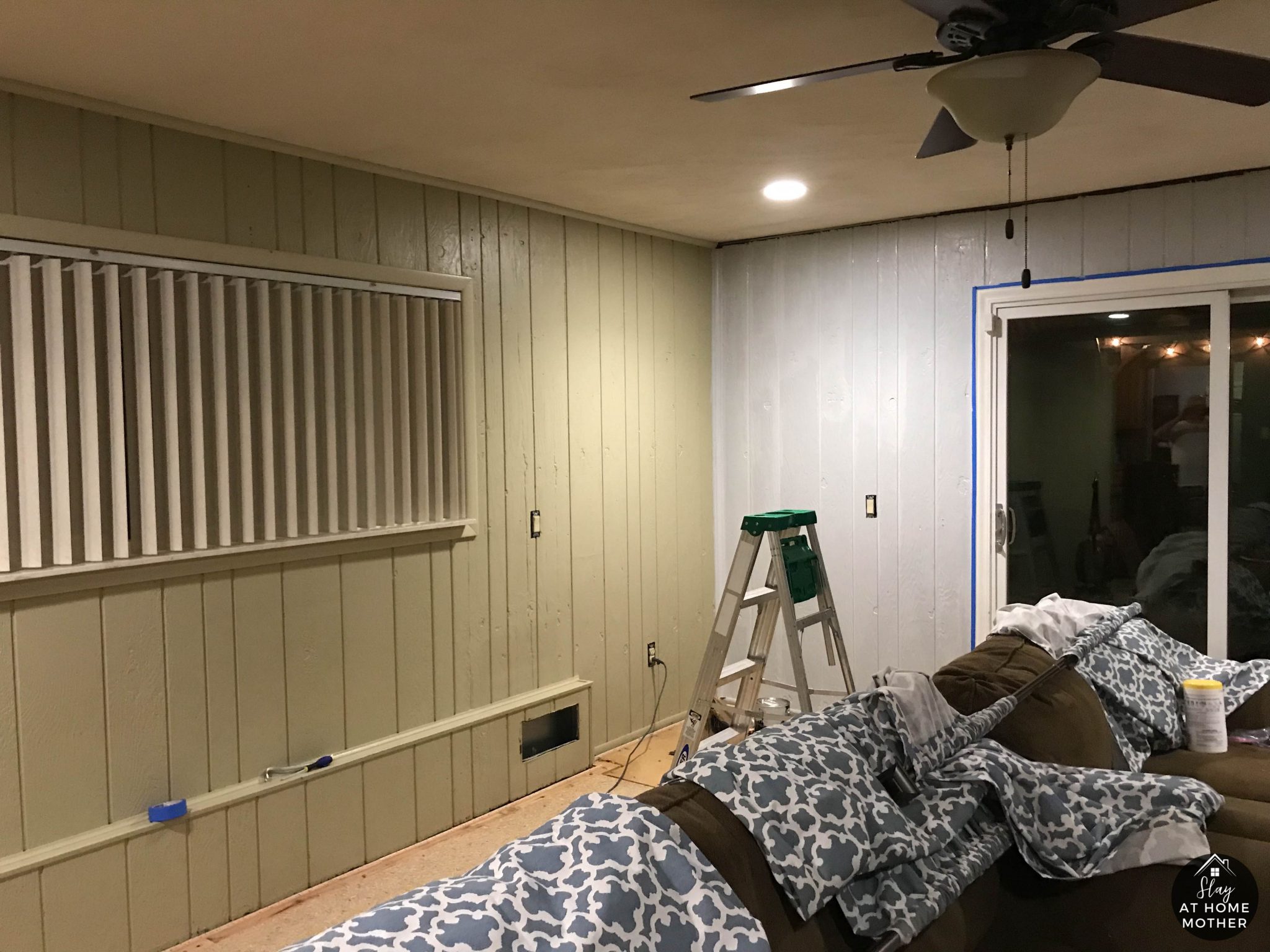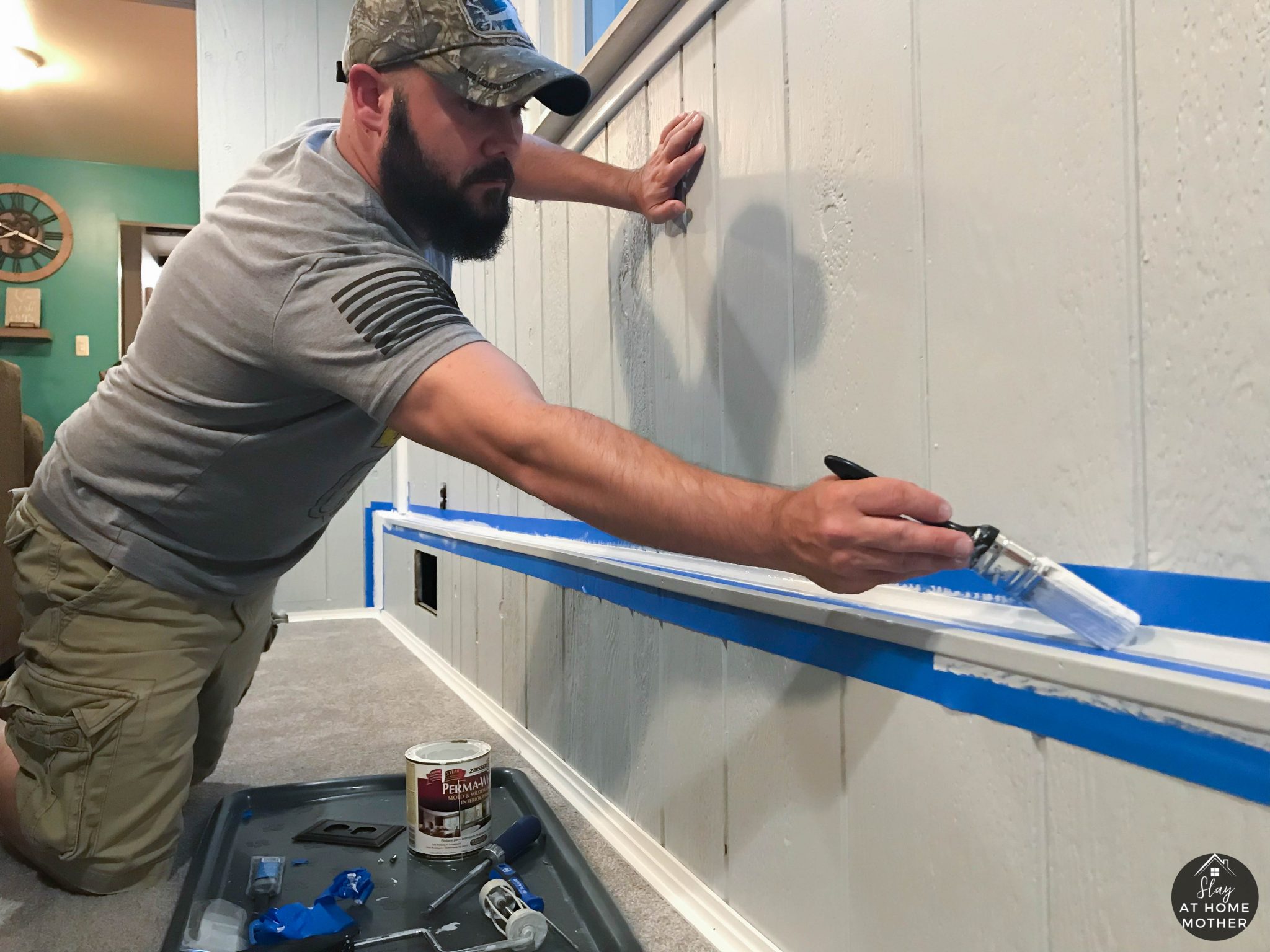 We replaced most of the trim in this room and painted the trim we didn't replace.
We also painted the vent covers white.
All of the outlets, which were a yellow color, were exchanged with brand new dark brown outlets.
We chose a dark brown color over white because we wanted the outlet on the accent wall to match those throughout the rest of the room, and the dark brown color looks best against the reclaimed wood.
For the window in our living room, we decided to replace the vertical blinds (which were a dull yellow in color) with new white vertical blinds.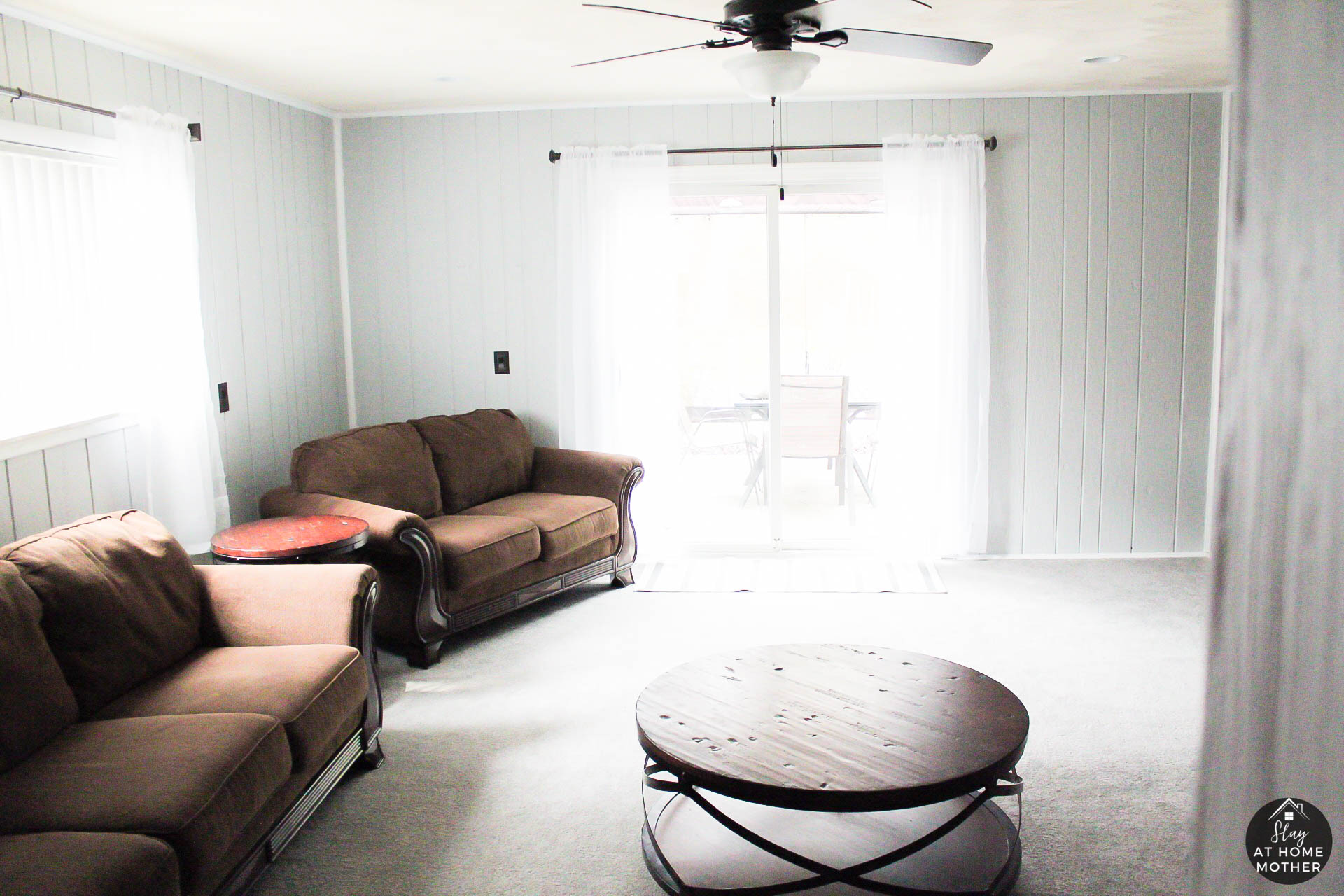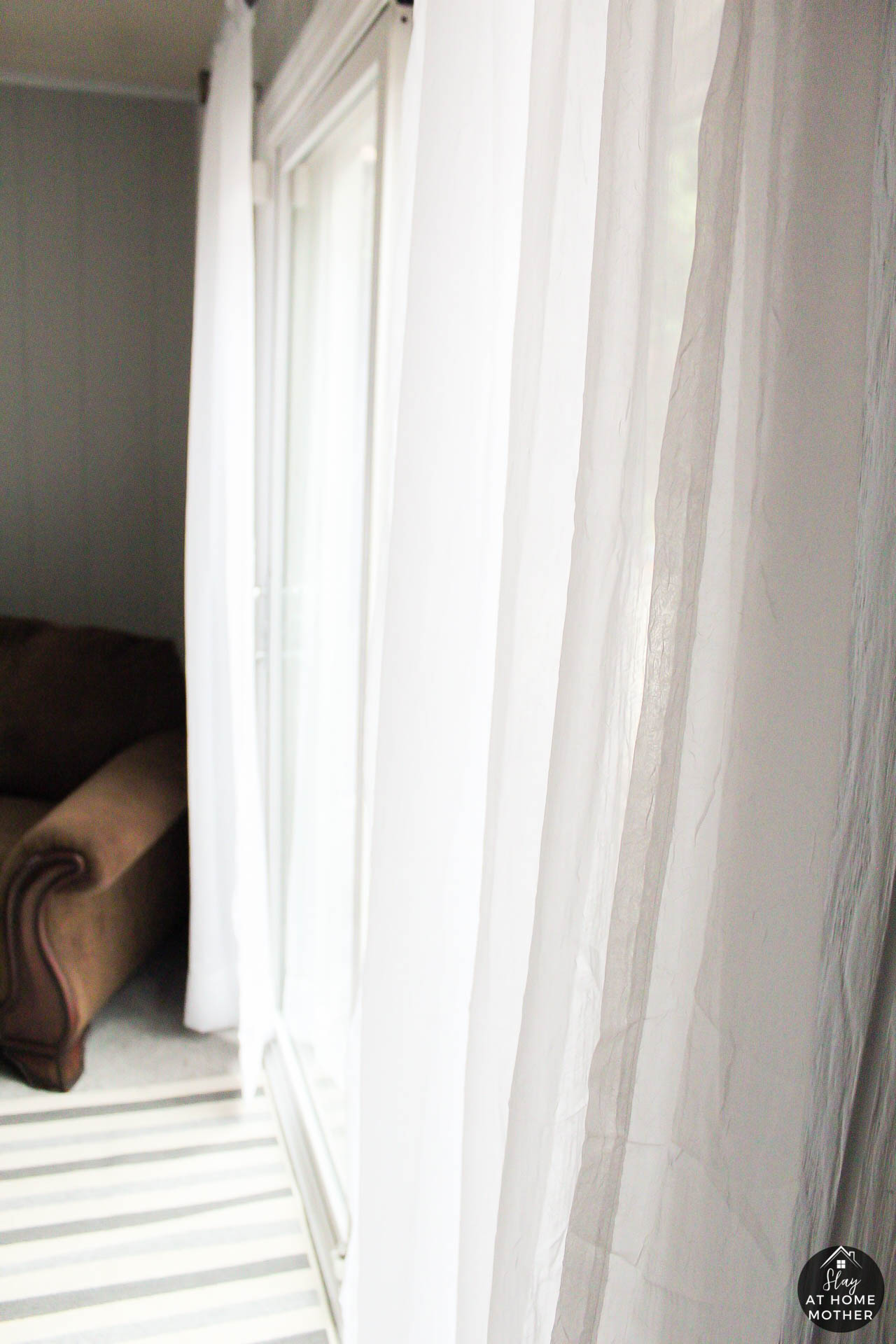 With some new sheer curtains, gray carpeting, and daylight lightbulbs, our living room is so airy and bright!
Seriously, the difference light bulbs can make on the way paint color looks is incredible!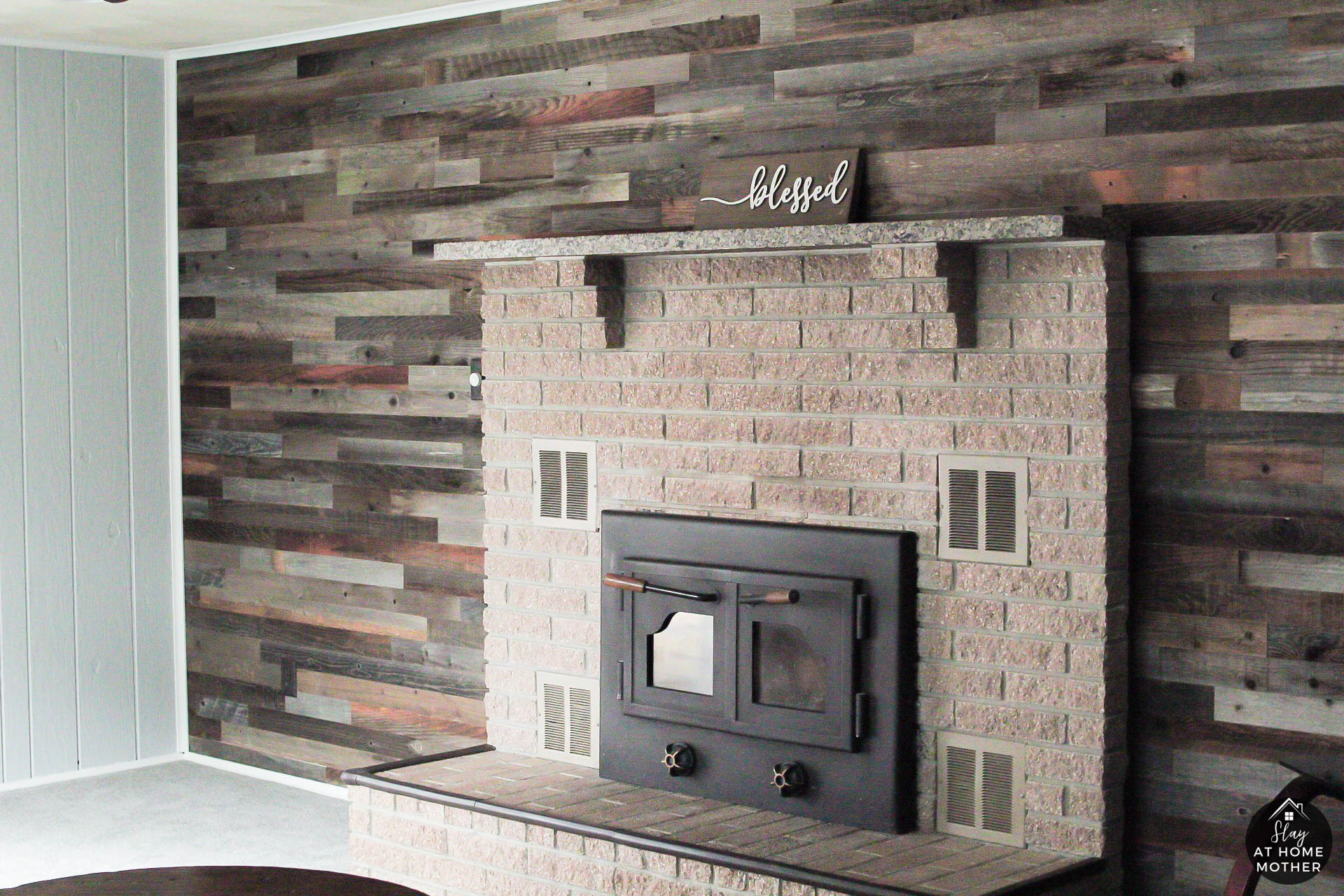 I love how the color of our walls helps brighten up our living space in such a refreshing way, and even makes our fireplace and new accent wall POP.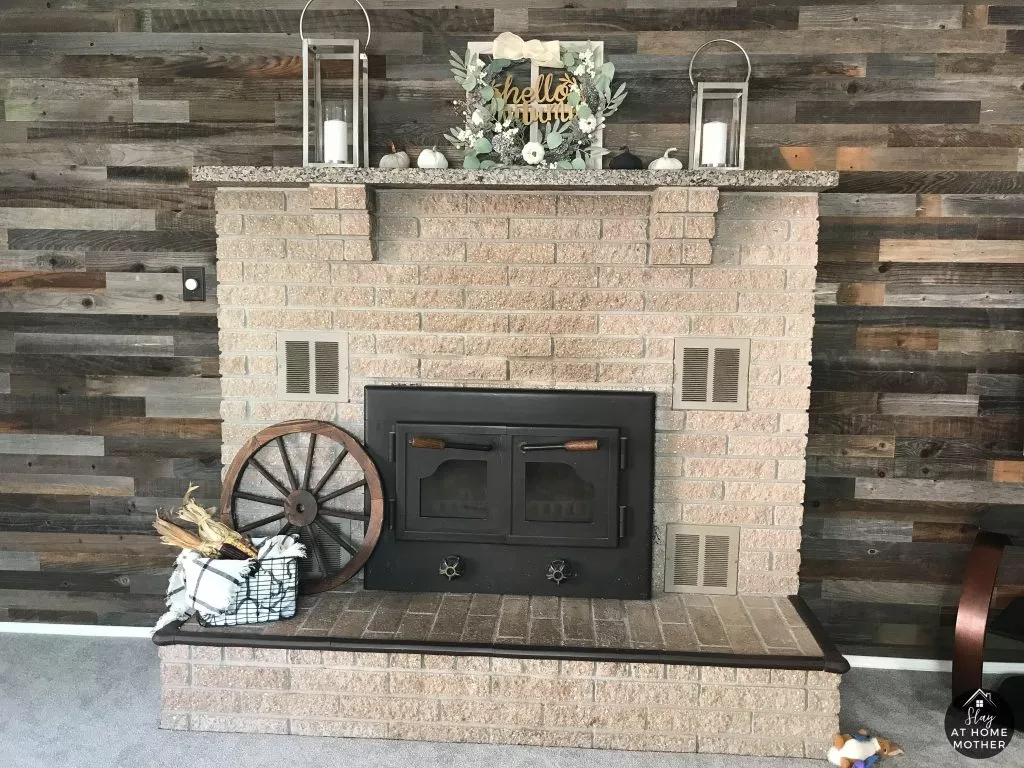 We ended up trading our dark furniture out for lighter furniture from Gardner-White, which you can see here.
Chris and I are already thrilled with how this room turned out.
---
What home projects are you working on this year? Tell me in the comments below!
*Post originally published August 2018, last updated December 2021.