Sharing is caring!
These delicious zucchini pizza boats are a healthier alternative to regular pizza, and are so incredibly easy to make! Fill these zucchini boats with your favorite toppings for a delicious vegetarian meal you don't have to feel guilty about later…
---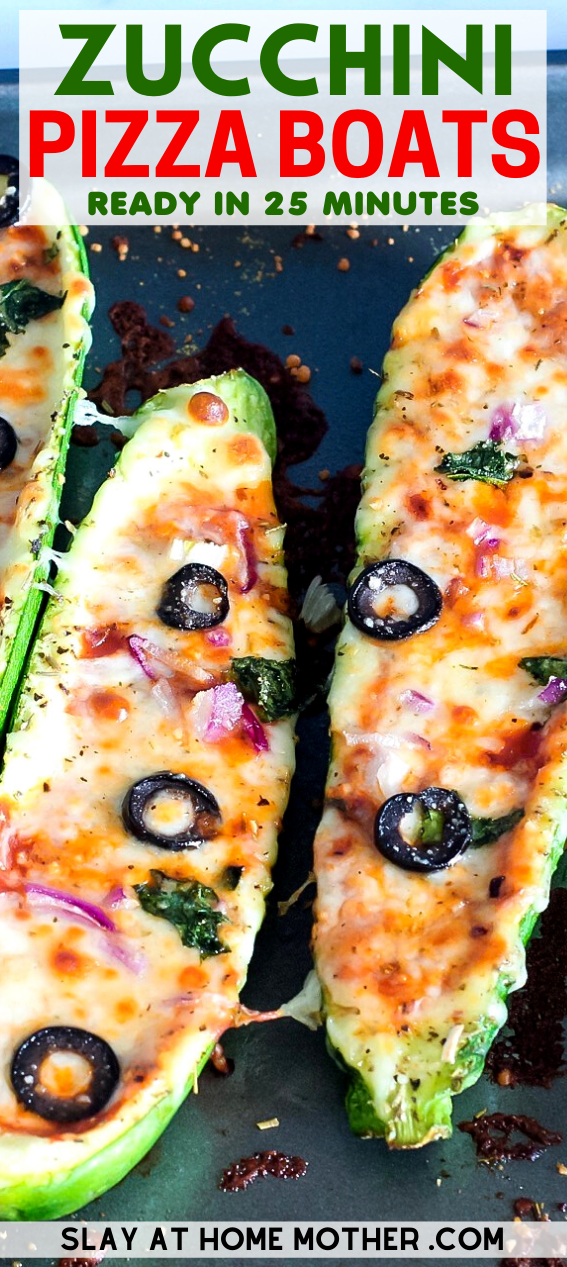 When our neighbor dropped off some fresh zucchinis from her garden, I politely accepted them, closed the door, and turned up my nose.
I'm not a huge zucchini fan. I much rather like my zucchinis in the form of pickles, but over the last few years, I've been trying different foods and flavors (especially now that I'm pregnant and this baby seems to love everything I don't, ha!).
I can't remember the exact moment or dish I tried with zucchini that made me add them to my foods I dislike list, but it's been on my list of foods to avoid for years…until now.
After pouting about the pile of non-pickles on my counter for a few hours, I stuffed them in the fridge to deal with the next day. I didn't want them to go to waste, but I didn't know how to incorporate them into a tasty dish my family (or myself) would enjoy.
I cooked dinner, I put the boys to bed after a bath, and I climbed into bed with my husband. He patted my pregnant belly and said, "I'm sure you'll come up with something – you have two brains in your body right now, after all…"
He's such a funny guy. I obviously married him for this humor :).
And he was right. That entire night, I dreamed of pizza. I woke up wanting pizza for breakfast!
And then it hit me – what if I combined the two? Pizza and zucchini! Like a veggie pizza, but with veggies for the crust ;).
And this Zucchini Pizza Boat recipe was born.
It's now one of my favorite recipes to make, and I find myself lingering around my neighbor's yard when her zucchinis are in season so I can offer to take some of them off her hands!
Alright, #slayathomemothers, here's how I made these delicious Zucchini Pizza Boats…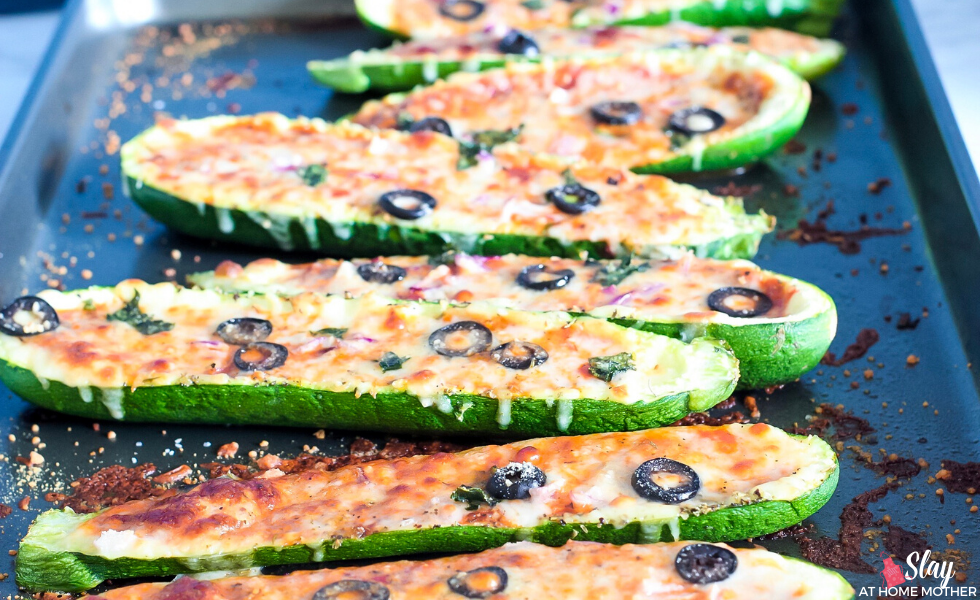 For this recipe, I used four whole zucchinis, sliced in half lengthwise. This created eight total zucchini boats.
You can use more if you have them on hand, or double the recipe, but you'll need to grab another baking sheet and increase the oven baking time by several minutes. I found that 8 boats were perfect for my large baking sheet.
Using a melon baller, I removed the insides of the zucchini (you can also use a spoon) leaving about a 1/3″ border around the boat so it could hold the sauce, cheese, and toppings while baking. I saved the insides to combine with banana for a yummy, moist zucchini banana bread recipe that I'll share with you guys here soon!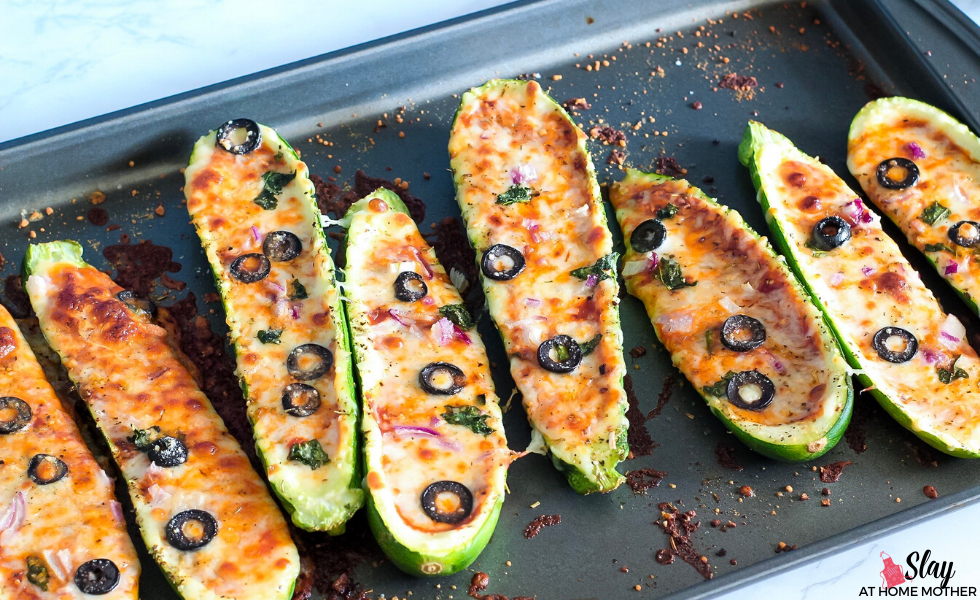 You May Also Like: Instant Pot Cheesy Corn Chowder With Bacon & Potatoes
In the hollowed-out boats, I filled the zucchini with pizza sauce, cheese, and a few yummy toppings we had on hand (olives, red onions, and spinach).
If you need ideas for toppings, here are some of our favorites:
sliced (or diced) mushrooms
olives
spinach
red onions
diced pepperoni/ham
diced tomatoes
When it comes to making your own pizza boats, feel free to get creative!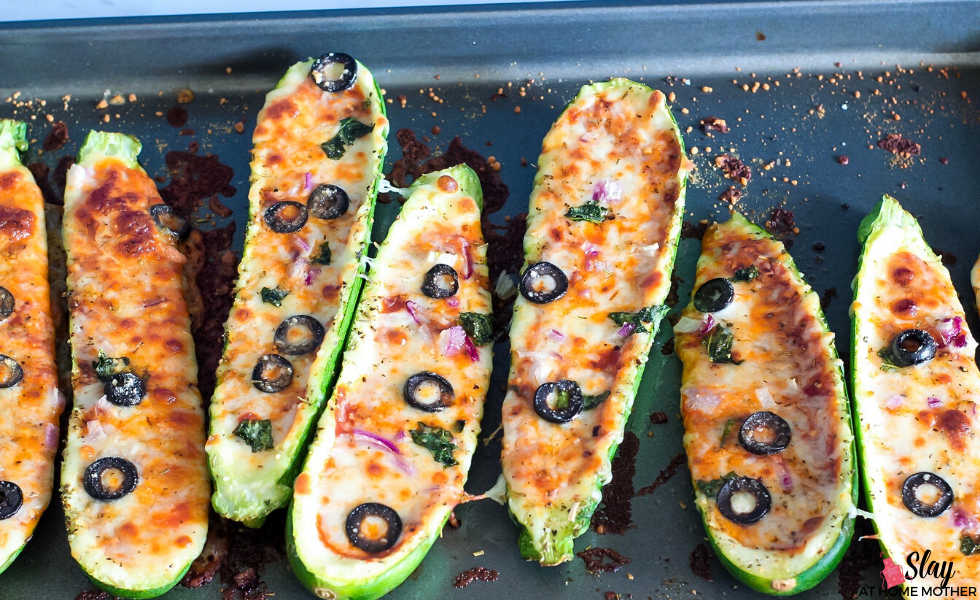 I started with sprinkling the bare boats with some kosher salt and filled them up 3/4 of the way with pizza sauce. I then used a spoon to spread the sauce evenly around the inside of the boats.
You don't need to fill your boats up to the tippy-top, but don't be shy with your sauce!
I sprinkled some shredded mozzarella cheese onto the boats and topped each with a coarse dusting of Italian seasoning.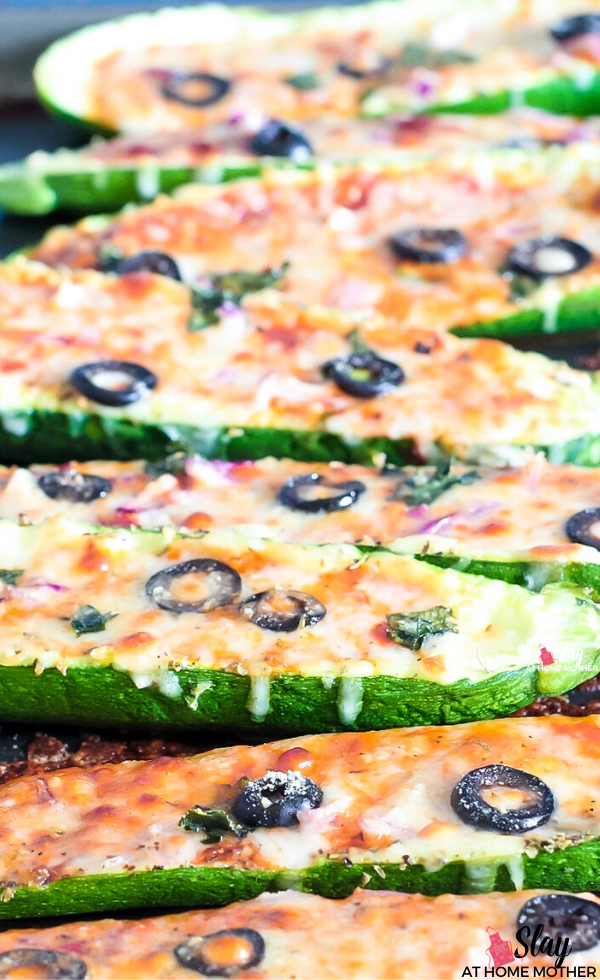 Next, I added on some toppings (these boats are topped with olives, spinach, and red onions) and sprinkled some parmesan cheese on top.
I baked these zucchini pizza boats at 375 for 20 minutes, and then set the oven to low broil for 3 minutes with the boats on the top oven rack.
They came out of the oven a beautiful golden brown color, cooked to perfection, and ready to eat!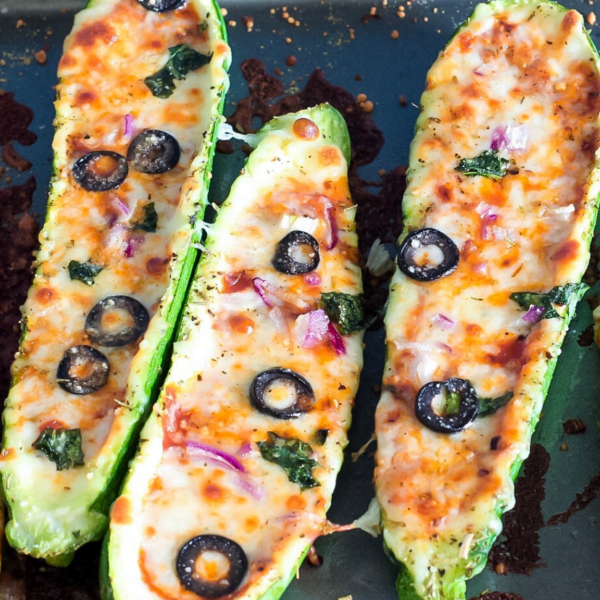 | | |
| --- | --- |
| | |
Preheat your oven to 375 degrees Fahrenheit. Spray a baking pan with non-stick spray.

Cut each zucchini in half longways. Scoop out insides of zucchinis with a melon baller or a spoon, leaving a 1/3" border to form your 'boats'. Line boats on your baking sheet with the scooped out insides facing UP.

Sprinkle boats with kosher salt evenly. Fill boats 3/4 of the way with your choice of pizza sauce, and sprinkle with shredded mozzarella cheese. Sprinkle Italian seasoning over mozzarella.

Add your choice of toppings (olives, diced tomatoes, mushrooms, spinach, red onions, cubed ham or mini pepperonis, etc). Sprinkle parmesan cheese over the boats.

Bake filled zucchini boats for 20 minutes at 375 degrees on the middle oven rack.

To make the cheese brown and bubbly, you can also set your oven to LOW BROIL and place your boats on the top oven rack for about 3 minutes (be sure to check boats before 3 minutes to ensure the desired level of broiling is achieved).

Serve immediately - enjoy!
---
I hope you all enjoyed this recipe – feel free to share your thoughts in the comments below, and let me know how your zucchini pizza boats turned out!
*Recipe originally published November 2019, updated March 2020 with video.