Perfect for Fall, this Instant Pot Corn Chowder recipe is hearty, delicious, and will have the whole family wanting more…
---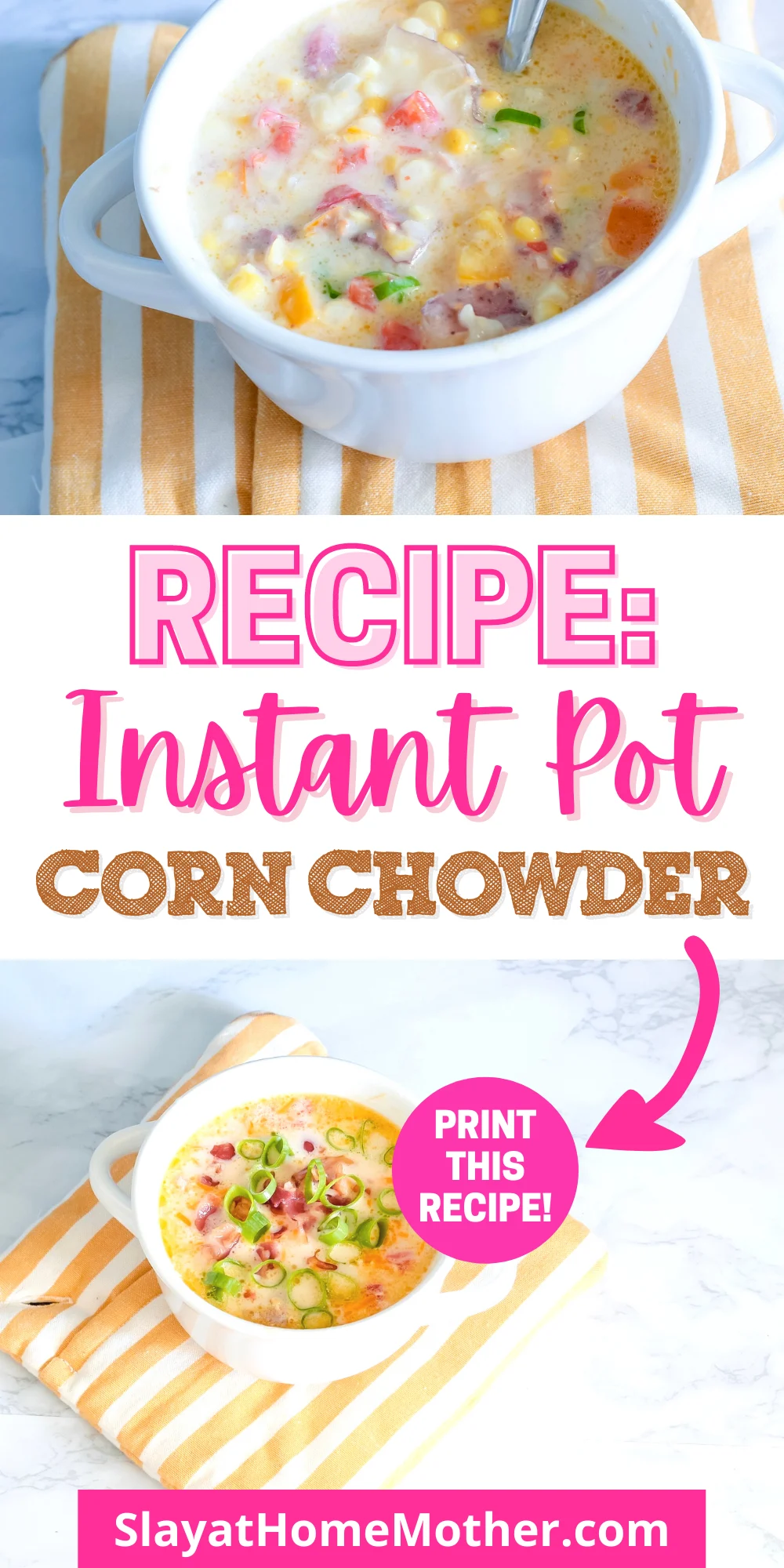 Hi friends, I'm super excited to share this easy corn chowder recipe with you guys today.
It is by far my favorite dish ever, I even make it in the hot summer months because it's so darn delicious.
Seriously, it's going to rock your freaking socks off!
It's perfect for Fall and Winter months, although you can find me whipping it up in my Instant Pot even in the warmer months because I can't live without it for too long.
I recently mentioned making this recipe to my husband for the sake of sharing it with you guys, and my husband has been bugging me for two weeks now to grab the ingredients, even in the sudden and crazy heatwave we've been experiencing!
I'd say this corn chowder recipe is in his top 3 favorites.
It's that darn good.
With diced peppers, bacon, butter, corn, and potatoes, it's a dish I crave all year long.
*This post contains affiliate links that help support my blog, however, all opinions are my own, as always. I only link to relevant products to make your life easier ;).
I also grabbed some adorable soup bowls with handles (4 for ~$21), and I can't wait to fill them up with all kinds of soups and chilis this fall and winter season!
In all fairness, this recipe costs about $21 for me to make (or $42 if you account for the purchase of the super-cute-but-totally-not-required soup bowls), so it certainly doesn't fit in the $5-10 family dinner range if you're trying to meal plan on a budget.
But it serves about 6 people and is very filling.
I find myself wanting to grab a second bowl because it's so good, but my stomach is full after just one bowl.
I justify the extra cost by looking at what an average night of takeout from our favorite Chinese place or pizza delivery would cost us, which is more than or equal to $21.
If we wanted to go out to eat at a sit-down restaurant, we'd spend double with minimal leftovers (if any).
So, while we aren't spending $5 a meal for 4 people, we also aren't making a big helping of corn chowder like this every night of the week, either.
Plus, I'd much rather have some good ol' home cooking than a meal at a restaurant. There's nothing like a home-cooked meal with tons of flavor, color, and love!
This recipe can also be frozen and reheated, so if you aren't expecting to feed 6 people or find yourself full after one bowl like I do, the rest can be saved!
What You Need To Make Instant Pot Corn Chowder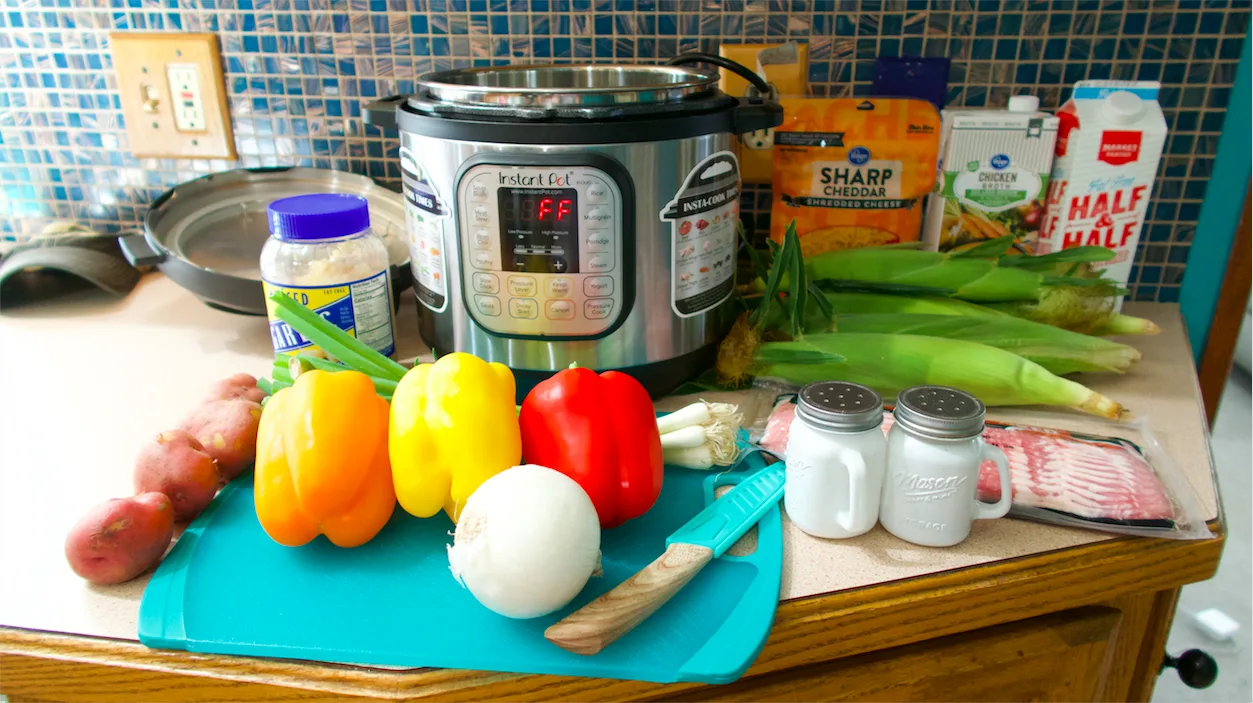 Here are the yummy ingredients you'll need to make this delicious corn chowder…
bell peppers (red, orange, yellow)
bacon
onion
garlic
red potatoes
corn (either ears of corn or canned corn – I haven't tested this recipe out with frozen corn, but if you do, please let me know your experience and difference in cook times!)
flour
water
chicken broth (can also use vegetable broth)
half and half
salt
pepper
shredded cheddar cheese*
green onions*
*These are used to garnish the finished corn chowder bowl.
Bread bowls are optional – see recipe notes for instructions on heating bowls up prior to serving.
Related: Easy Banana Bread Recipe Without Butter
And here are some helpful tools you'll need to get the job done…
cutting board
Instant Pot (I'm using a 6-quart)
wooden stirring spoon
ladle
baking sheet (for bread bowls if using those to serve)
wire whisk
How To Make Instant Pot Corn Chowder
To make this corn chowder recipe, you'll need an Instant Pot.
Okay, fine. You don't necessarily need an instant pot.
I've made this recipe plenty of times without one before adapting the recipe to apply to Instant Pot cooking times and whatnot.
But, for the purpose of this recipe, I'll be using an Instant Pot in my recipe directions.
It's a great way to speed up an otherwise long cooking process (this recipe takes me over an hour on our stove to fully prep and cook), which is great for nights when you're getting off work late or don't want to spend all your free time prepping and cooking this delicious dish!
I currently have a 6-quart Instant Pot, which can be snagged online for around $40-50 when there's a sale!
I believe we bought ours on Prime Day last year through Amazon and spent around $50.
Start by turning your pressure cooker on.
Press the 'SAUTE' button, and wait a few minutes for the pot to heat up.
Add your chopped bacon and cook until almost crispy.
Remove and place on a separate plate.
Add in your butter, garlic, diced onions, and diced peppers.
Saute for 3-4 minutes, stirring often.
*LEARN FROM ME: If there was one thing I'd change, it would be making sure I got ALL of the bacon grease out of the Instant Pot before moving on to adding the diced veggies, butter, and garlic.
My corn chowder turned out a little greasy for my taste, however, it was still delicious.
An easy way to drain excess grease and oil from an Instant Pot is by placing a few paper towels in the pot to soak up the grease, and then throwing them away so you don't have to try to lift the super hot pot.
Buuuuut, hindsight is 20/20, am I right?
Add in the corn, and saute for an additional 2 minutes, stirring often with a wooden spoon.
I like using a wooden spoon because I feel like I'm less likely to scratch the bottom of the Instant Pot.
Press 'OFF' on your Instant Pot.
Add in water, chicken stock, potatoes, and half of the bacon you cooked earlier.
Sprinkle in the salt and pepper, and close the lid into the sealed position.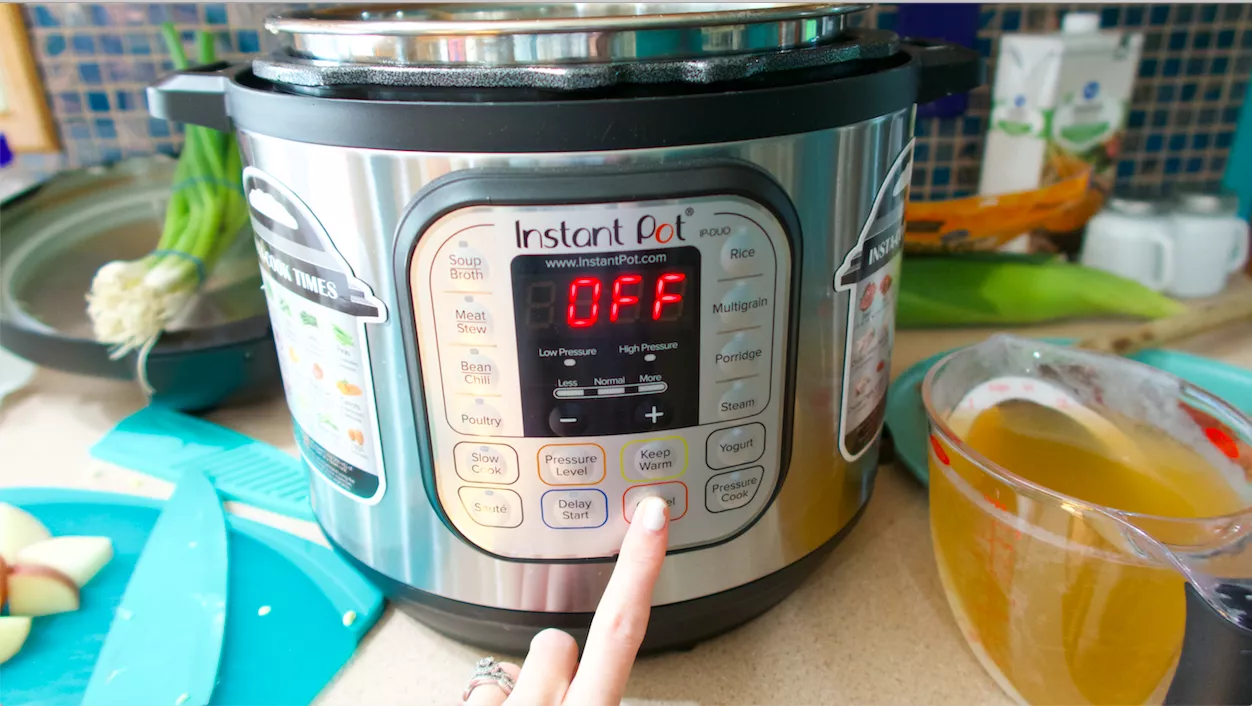 Press the 'MANUAL' button, and set the timer to 10 minutes.
If you do not have a 'MANUAL' button, press the 'PRESSURE COOK' button (this will all depend on how new or old your model is).
Make sure your steam release button is in the 'seal' position and not to 'vent' position.
The pot will take a few minutes to come to pressure, and begin cooking.
If you have bread bowls you'd like to serve your corn chowder soup in, now is the perfect time to hollow them out.
I like to slice off the top with a sharp knife, remove the insides with a spoon, and rest the tops back onto the bowls.
Your Instant Pot will BEEP when it is finished.
Press the 'OFF' button, and allow pressure to manually release for approximately 5 minutes.
In a separate bowl, whisk together half and half and flour.
After the five minutes are up, engage the quick release.
I do this by placing a dishrag on top of the release valve and using a fork. This prevents hot steam from getting near me, my hands, and my cabinets.
NEVER USE YOUR HANDS OR LEAN OVER YOUR INSTANT POT WHILE DOING THIS AS BURNS AND INJURY WILL RESULT.
I'm sure you read your Instant Pot instructions, but I feel it's necessary to write it in my post again in case you haven't so no one gets hurt!
Add the half and half mixture to your pressure cooker and allow to sit for 10 minutes.
Place your bread bowls in your preheated oven at 350 degrees for 5-7 minutes until they are warm.
Serve your yummy corn chowder topped with green onions, shredded cheddar cheese, and the rest of your cooked bacon!
This easy instant pot corn chowder recipe is as delicious as it looks and sounds.
Serve it to family and friends, or enjoy a hot bowl after working a long day.
P.S. See, aren't these bowls just darling? I'm so in love with them!
Frequently Asked Questions About Soup
Can Corn Chowder Be Frozen?
Yes! Corn chowder can absolutely be frozen and saved for later – here's a great resource on how to freeze and reheat cream-based soups.
Can I Use Heavy Cream Instead Of Half And Half?
Yes, you can!
I like to use half and half in recipes where I'm using a heavy/greasy ingredient like bacon because it was a much lower fat content than heavy cream, but I am a huge fan of using heavy cream when I can.
How Can I Quickly Thicken Up My Soup In The Instant Pot?
If you like your soup a little thicker, or your soup is runny for some reason, thicken it up by mixing together 3 tbsp. of flour or cornstarch with cold water.
Add this mixture to your Instant Pot, and turn on the 'SAUTE' button for a few minutes, stirring frequently until you've achieved the desired consistency.
Instant Pot Corn Chowder Recipe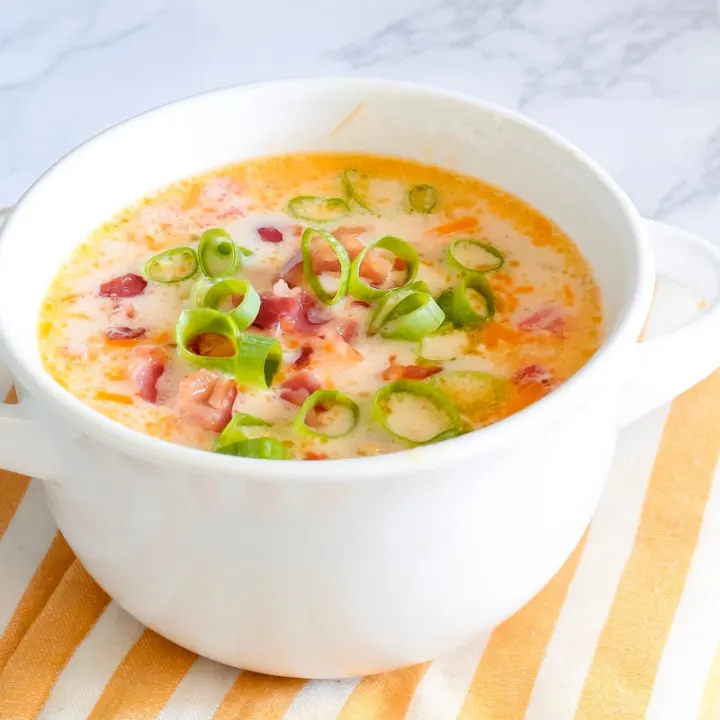 Instant Pot Corn Chowder
Additional Time:
10 minutes
Grab your Instant pot and try this incredible corn chowder recipe for a satisfying, hearty, delicious dish the whole family will love!
Ingredients
1 lb. bacon
4 ears of corn (or 3 cans of corn, drained and rinsed)
1 red bell pepper
1 orange bell pepper
1 yellow bell pepper
4 red potatoes
1 white onion
2 tsp. minced garlic
1 tbsp. flour
2 cups water
1.5 cups half and half
2 cups chicken broth
1 cup shredded cheese
1/2 cup green onions, sliced
2 tsp. salt
1/4 tsp. black pepper
2 tbsp. butter
6 bread bowls (optional)
Instructions
1. Dice bell peppers and onions. Cut potatoes into bite-sized pieces. Cut corn off ears, or drain and rinse canned corn. Chop bacon. Set ingredients aside.

2. Turn Instant Pot on and press the 'SAUTE' button. Wait a few minutes for the pressure cooker to heat up. Add chopped bacon and cook until almost crispy. Remove and set on a separate plate.

3. Add butter, garlic, peppers, and diced onion to Instant Pot. Saute together for about 3-4 minutes, stirring often. Add in corn, saute for additional 2-3 minutes, stirring often.

4. Now press the 'OFF' button on your pressure cooker. Add in water, chicken stock, potatoes, and 1/2 of cooked bacon. Sprinkle in salt and pepper, close Instant Pot lid, and lock lid into sealing position. Press the 'MANUAL' button and set the timer to 10 minutes. Instant Pot will begin cooking, although it will take a few minutes to come to pressure.

5. When pressure cooker is done cooking, the timer will BEEP. Press the 'OFF' button, and allow the pressure cooker to manually release for approximately 5 minutes. During this wait time, whisk together half and half and flour in a separate bowl. Safely engage quick release.

6. Add the half and half/flour mixture to Instant Pot. Let sit for 10 minutes.

7. Use a ladle to serve finished corn chowder in soup bowls or bread bowls. Garnish with shredded cheddar cheese, sliced green onions, and the remainder of cooked bacon. Enjoy!
Notes
If you have bread bowls you wish to serve your corn chowder in, hollow out the bowls with a spoon. 5 minutes before serving, you can place them in the oven at 350 degrees for 5 minutes so they are warm.
See the full blog post for tips on freezing leftover corn chowder and making corn chowder thicker.
Recommended Products
As an Amazon Associate and member of other affiliate programs, I earn from qualifying purchases.
---
You May Also Like:
I hope you enjoyed this recipe and post, and, as always, I'd love to hear your thoughts if you made this recipe.
Did you add something or take something out, etc.? Keep your eyes peeled for more fall-inspired dishes!
*Post originally published July 2019, last updated December 2021.