Passed down to me from my mother, this easy banana bread recipe is easily the BEST you'll ever have!
---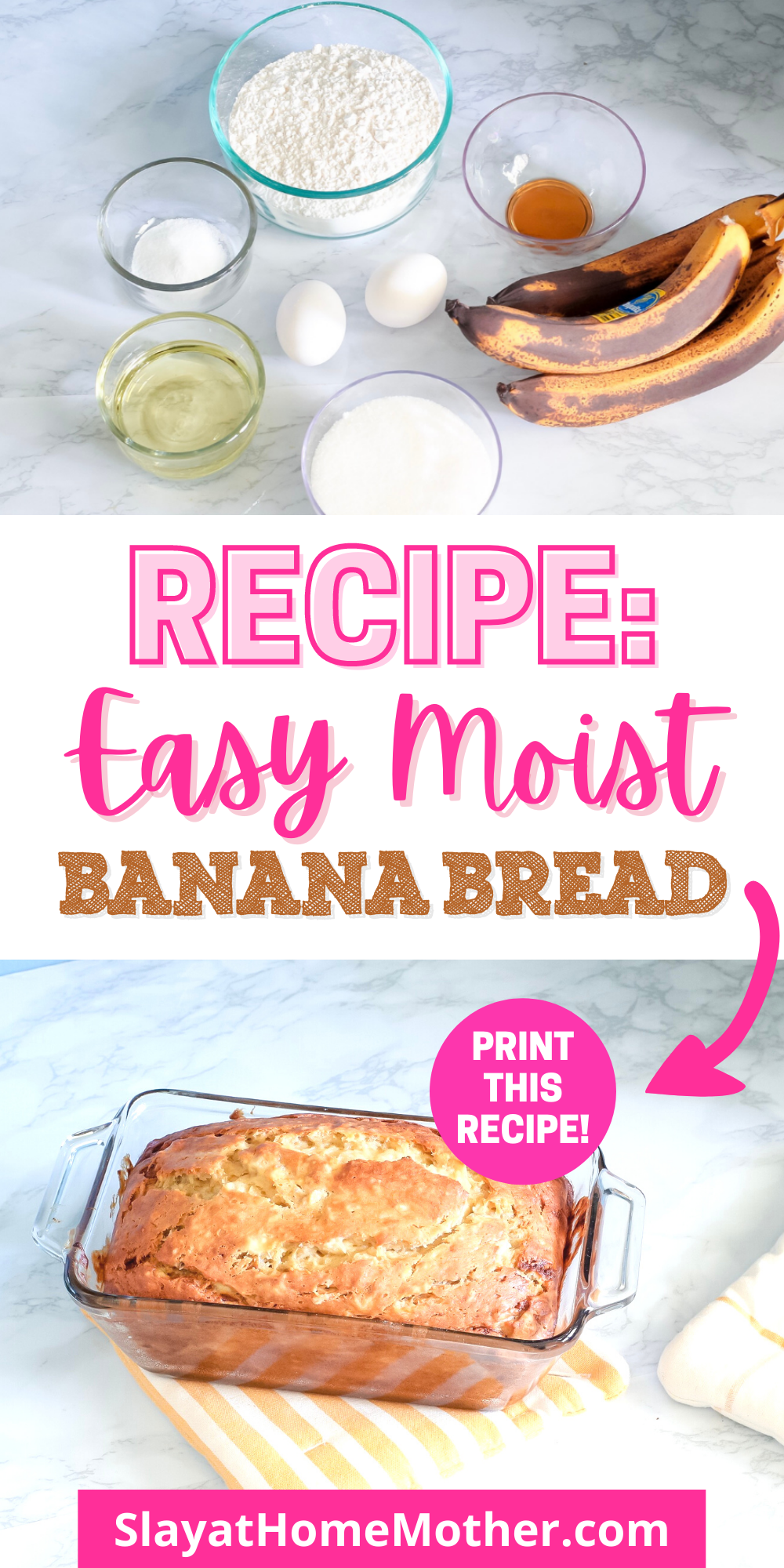 This easy banana bread recipe is easily the BEST bread you'll ever have! Passed down to me from my mother, I have a special place in my heart for this delicious recipe.
Growing up, my favorite snack to eat was my mother's delicious banana bread recipe! I remember waking up in the morning to the smell of banana bread wafting from the oven vent and flowing through the house.
I always looked forward to Fall and Winter mornings when the air was a bit chilly in the house but the freshly made banana bread would warm our bodies up and get our family talking.
She'd make one of her delicious cappuccinos while my dad brewed his Folgers coffee from the can.
Coffee and banana bread would smell up our house, and to this day reminds me of home.
*This post contains affiliate links to help support my blog, however, all opinions are my own, as always!*
Mom's Banana Bread Recipe
She recently shared this recipe with me, knowing full well I need help in the baking department.
I'll be 100% honest with you guys – I'm terrible at baking!
I'm determined to overcome this, and I'm sure with enough practice I will get better over time. But the fact is that any dessert I try to bake is pretty much inedible.
I was so thankful to get the recipe from her, especially now that I have my own children. I want them to experience that sense of home just like I did with our special family recipe.
I was really nervous about trying this recipe given my current level of baking skills.
Thankfully there was no reason for me to be so worried, even with a really bad baking track record, I was able to make this easy banana bread recipe like a total pro!
So even if you aren't as experienced in the kitchen, or feel like you are cursed when it comes to baking this recipe is as easy as it is delicious. If I can do it, so can you!
How Long Does Banana Bread Last?
Banana bread is best fresh out of the oven, however, it can be stored for a few days.
To store your banana bread, place it in an airtight container or wrap it tightly in plastic wrap.
How to Store Banana Bread
You can also freeze banana bread and thaw it out when you're ready to eat. Just make sure to slice it before you freeze it so you can easily grab a piece when you want one!
Whether you are looking for an easy banana bread recipe or just want to know how to store banana bread, this article has everything you need to know!
How to Make Banana Bread
With this delicious and easy banana bread recipe, you'll be able to treat your family and friends to homemade banana bread any time of year!
This recipe has become a staple in our home, and one that I hope my kids love as much as I did. My oldest son, Max, always swoons at the smell of the banana bread baking in the oven.
If you're in a hurry and have bananas that are borderline going bad on your kitchen counters, feel free to jump down to the bottom of this post to print out the recipe!
Ingredients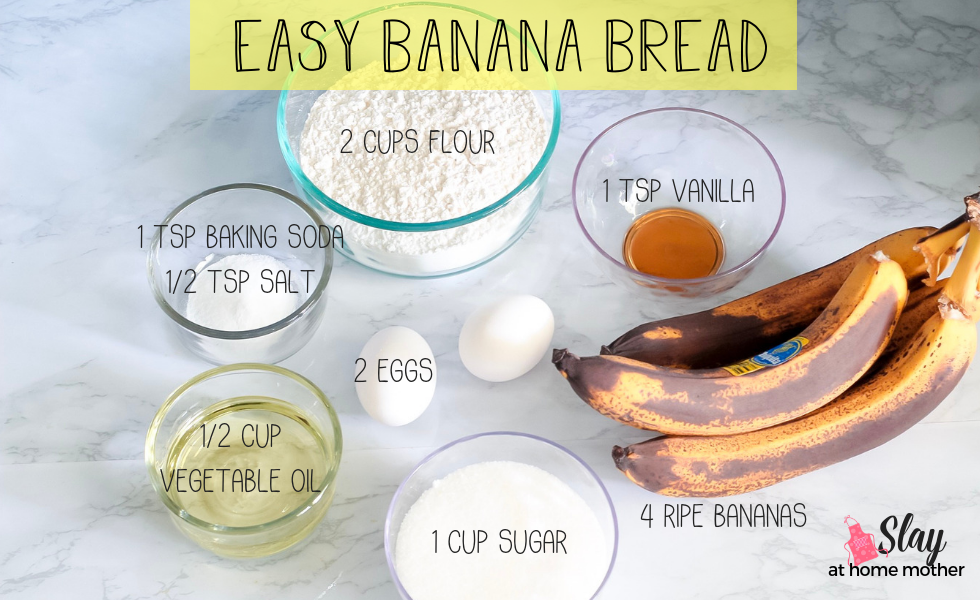 This recipe makes one loaf of banana bread without butter. To make this banana bread recipe, you'll need bananas, sugar, flour, salt, baking soda, vanilla extract, eggs, and vegetable oil.
I love waiting until my bananas are as brown as can be. The riper the better!
Using brown bananas will give your bread a much sweeter taste.
Instructions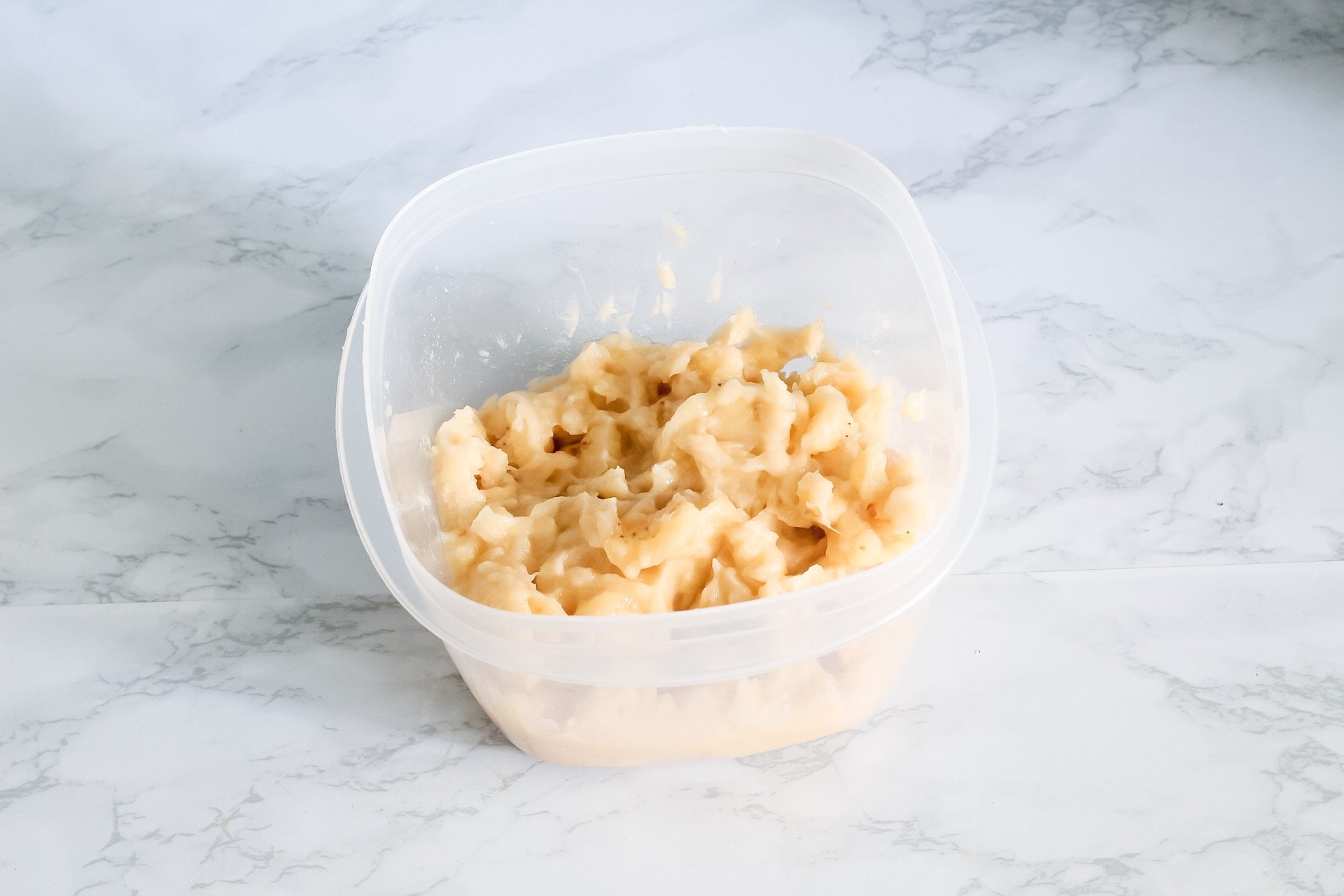 You May Also Like: 100+ Back To School Kids Lunch Ideas
Mix the wet ingredients together, and then the dry ingredients.
Mix the two together, and pour into a baking pan that has been rubbed down with shortening or a light coat of vegetable oil.
Bake your bread in the oven for 50-60 minutes or until a toothpick comes out clean.
Our oven is a bit older and takes the full 60 minutes to bake, but your oven may be more efficient and be done towards the 50-minute mark.
Allow your baked banana bread to rest for 3-5 minutes to complete cooking before slicing and serving.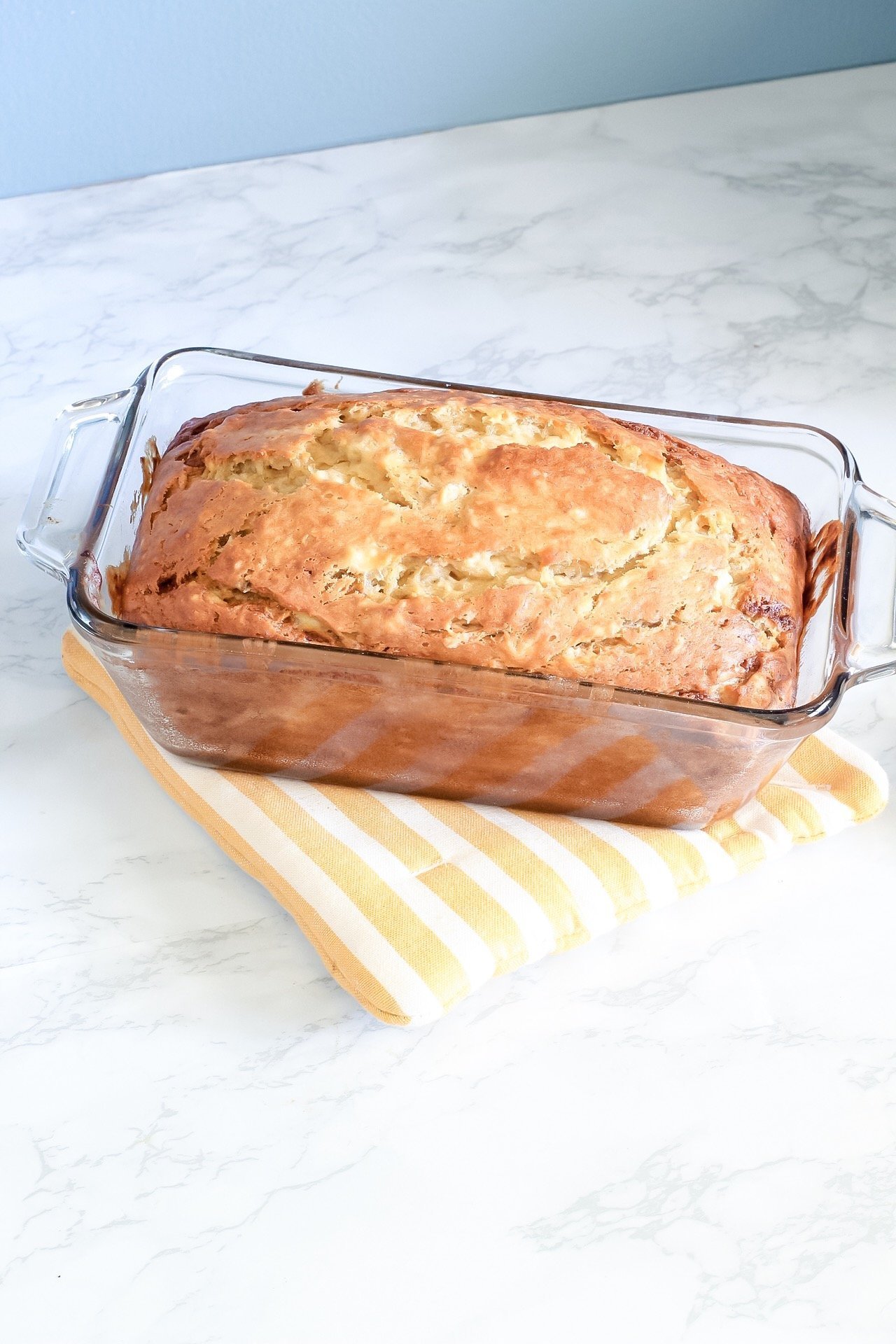 While I make this recipe for our family year-round, I make it much more often during the colder months we experience in the Midwest. It's the perfect dessert to have cuddled up on the couch with a soft blanket and a cup of coffee!
The outer part of this banana bread is delicious and firm, while the inside is fluffy and moist.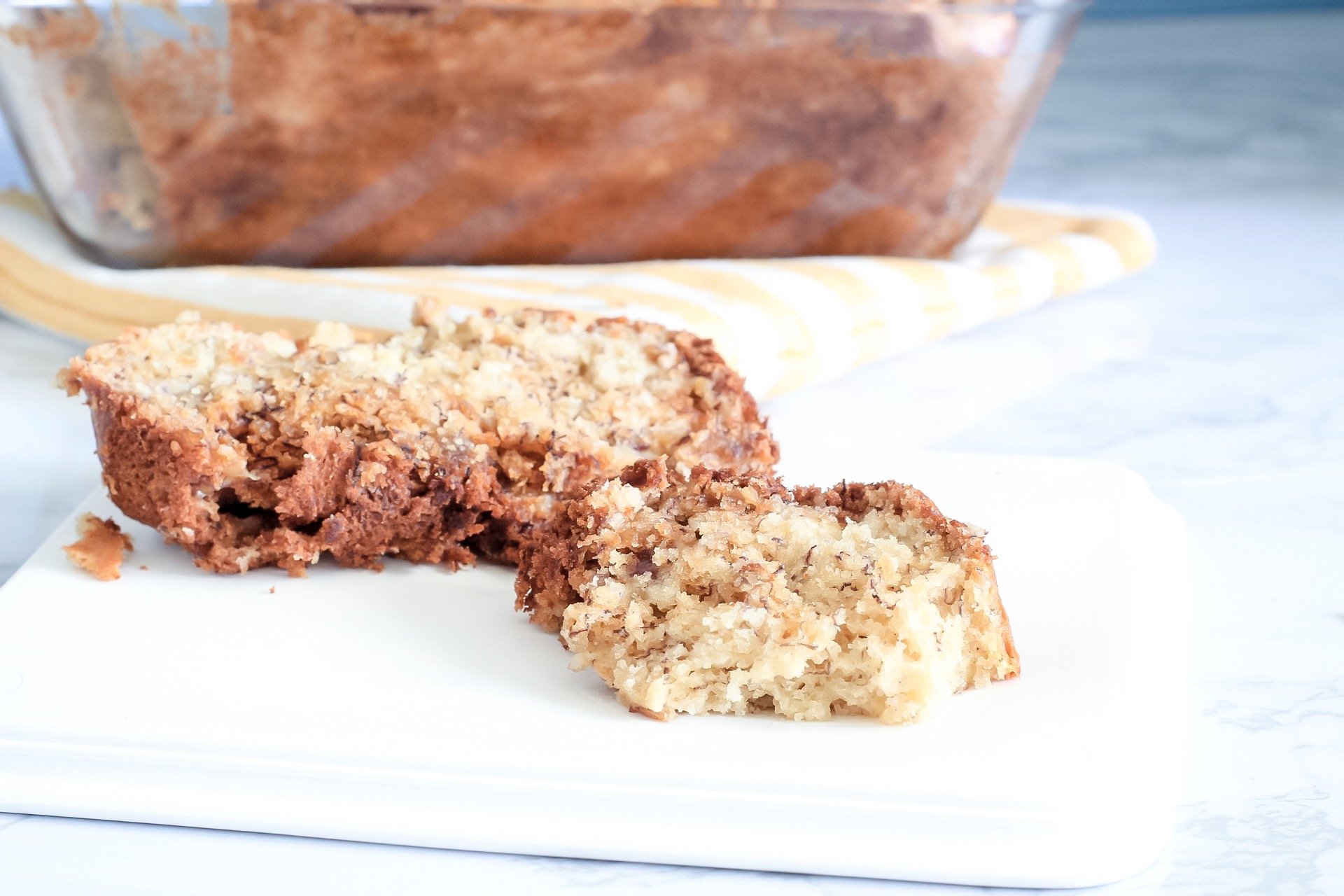 When it comes to using up bananas, this easy banana bread recipe is one of my favorites!
Banana Bread Variations
If you want to add in some mix-ins like chocolate chips, chopped nuts, or even a swirl of Nutella, go ahead and do it!
This banana bread recipe is versatile and can be changed to fit your family's tastes. Here are a few creative ingredients you might want to try when you bake banana bread:
Coconut and white chocolate chips

Pecans or walnuts

Raisins and oatmeal

Chocolate chips and chopped nuts

A swirl of caramel or chocolate sauce
I've even made a version with diced apples mixed in, which my kids loved! Get creative and have fun with it. This recipe is hard to mess up!
I hope you enjoy this recipe as much as we do. If you end up trying it, please tag me on social media so I can see your beautiful creations!
Happy baking!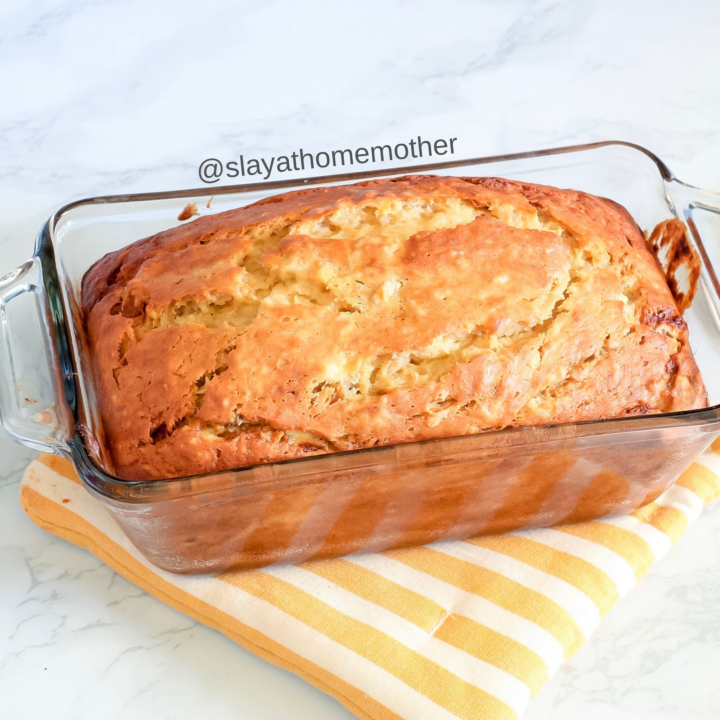 Easy Banana Bread Recipe
This delicious banana bread recipe makes a perfect loaf of moist banana bread that is so easy to make and perfect for any time or season!
Ingredients
4 whole bananas (soft, brown bananas make a sweeter bread!)
2 eggs
1 tsp. vanilla extract
1/2 cup vegetable oil
1 cup sugar
2 cups flour
1/2 tsp. salt
1 tsp. baking soda
Instructions
Preheat oven to 350 degrees. Grease baking pan with shortening or light coat of vegetable oil.
Mash ripe bananas in a large bowl with a fork. In a separate bowl, combine eggs, vanilla extract, and vegetable oil. Beat egg mixtures, and then add to the bowl with bananas.

Mix together dry ingredients (sugar, flour, salt, and baking soda), add into the banana mixture, and whisk to mix.
Pour banana bread mixture into the baking pan, leaving room for the bread to rise. Bake for 50-60 minutes or until the toothpick comes out clean.
Allow bread to cool for 3-5 minutes before slicing and serving. Enjoy!
Recommended Products
As an Amazon Associate and member of other affiliate programs, I earn from qualifying purchases.
Nutrition Information:
Yield:

1 loaf
Serving Size:

1
Amount Per Serving:
Calories:

3223
Total Fat:

123g
Saturated Fat:

12g
Trans Fat:

3g
Unsaturated Fat:

103g
Cholesterol:

372mg
Sodium:

2575mg
Carbohydrates:

500g
Fiber:

19g
Sugar:

259g
Protein:

44g
*Post originally published July 2019, updated May 2022.