Over a hundred school lunch ideas for picky eaters…
---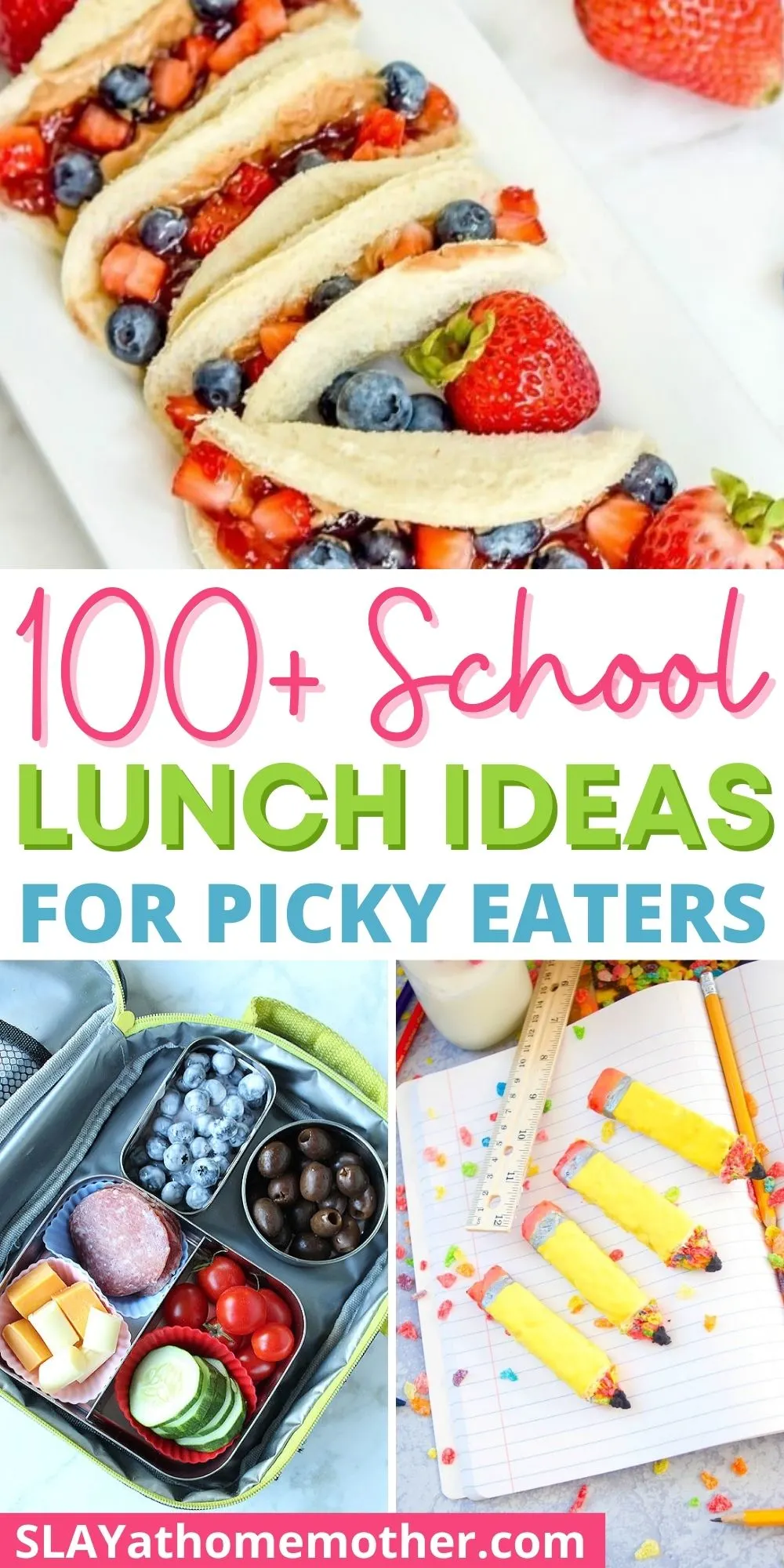 Anyone else remember eating a million peanut butter and jelly sandwiches growing up?
I'm smiling and imagining you are raising your hand while rolling your eyes, because that's what I'm doing right now, too!
I know both my parents worked extremely hard while my siblings and I were growing up (they still do!) and oftentimes making a sandwich for my sister and I was the best they could do in the little time they had in the mornings.
I applaud them for working so hard and giving us food to eat, though!
We were always taken care of.
Buuuuuuuuut, I hated eating PB&J sandwiches day after day.
Now that I'm a mother, I'm seeing the same eye roll that my mother must have seen me do off to the side, and my 9-year-old will let out a disappointed sigh.
"Aw man…" is something I hear anytime I bring out a sandwich or spaghetti.
The kid hates spaghetti ;).
I mean, I get it, I do.
But when you're a busy mom, it does get hard to come up with something that tastes good and is actually good for your children's growing minds and bodies day after day.
These last few years, I decided to change things up in his lunch box.
Personally, I let my oldest son eat lunch at school 2-3 days out of the week, and then I will make his lunch for him for the other days.
This system works really well for both of us, and luckily his school district offers free lunches so that saves us a ton of money over the years.
I didn't actually find this out until well into our second year at the school, which could've saved me even more money – be sure to check out your child's school lunch program and see if they offer free lunches for their students!
In my quest to provide healthy lunches for my boys that are as easy and they are nutritious and delicious, I've learned that, especially when it comes to picky eaters (which applies to both of my children), it's best to use a lot of variety and change things up as often as you can!
I've also picked up some bento boxes for the boys – they love that the different foods don't touch the other foods, and I feel that I am more conscious of the food groups when there are different compartments to look at and pack lunch into.
In this post, I've gathered up some of my favorite lunch ideas for kids that are easy, nutritious, and delicious!
These ideas are sure to fill you with inspiration and get you two thumbs up from your kids.
Whether you love your bento boxes like we do, or you're into easy-to-make foods you can prepare and pack ahead of time, this post is for you!
Here are some kid-friendly lunch ideas for school that are easy to make and pack in your child's lunchbox…
*This post contains affiliate links to help support my blog at no extra cost to my readers. All opinions are my own, as always.
Back To School Lunch Ideas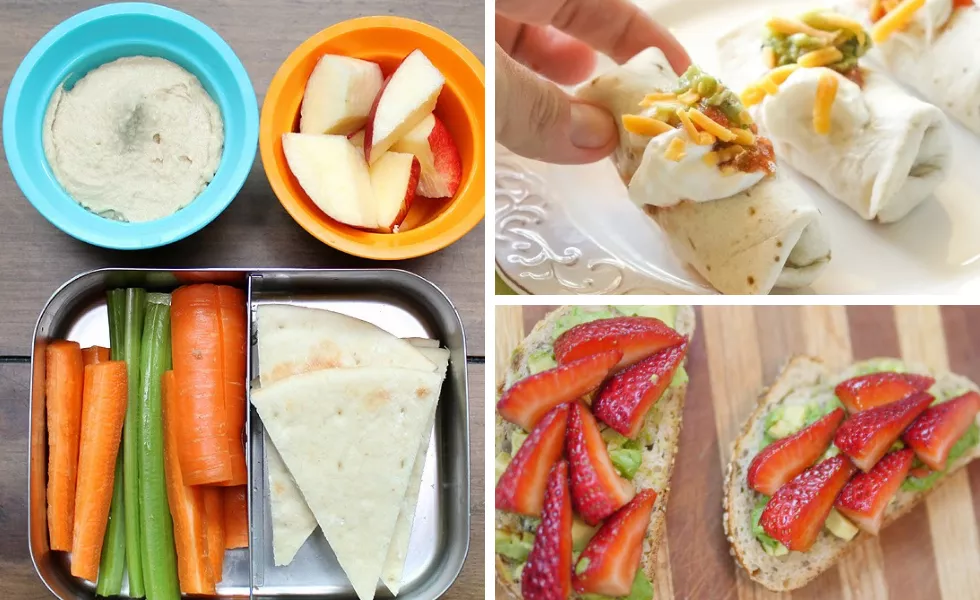 What kid doesn't like to dip?
Skip the frozen chicken nuggets and try this dippable bento box with fresh veggies and pita bread!
If you make tacos for dinner, save some taco meat for tomorrow's lunch box and wrap up some adorable mini burritos for your child's lunchbox.
This yummy balsamic strawberry avocado toast makes a great lunch option for both kids and adults alike!
Rainbow Vegetable Tortilla Wrap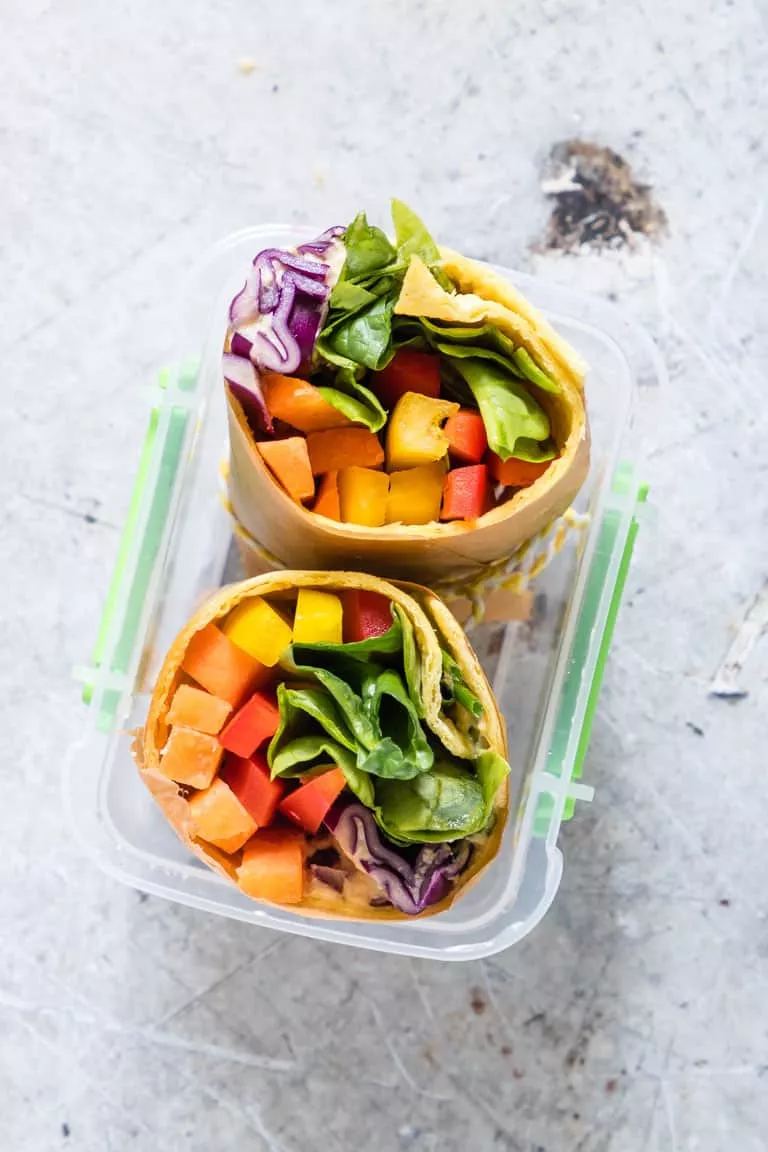 Create a rainbow-themed lunch box with these rainbow vegetable tortilla wraps!
Just add some colorful berries and veggies to complete your child's lunchbox.
Blueberry Cornbread

Blueberry cornbread is an easy and delicious snack to pack in your child's lunch box that they're sure to enjoy!
Red White & Blue Fruit Salad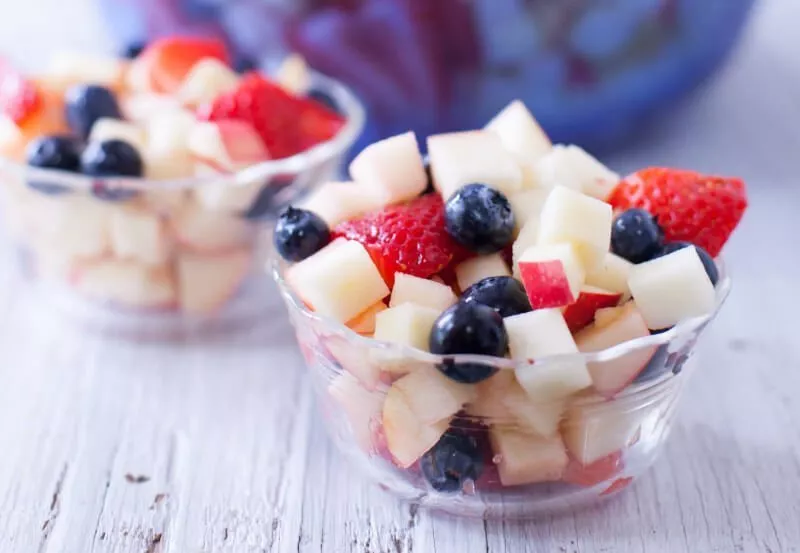 Not just for the 4th of July, this colorful fruit salad is perfect for school lunches!
You May Also Like: Healthy Homemade Gummies With Fruit & Honey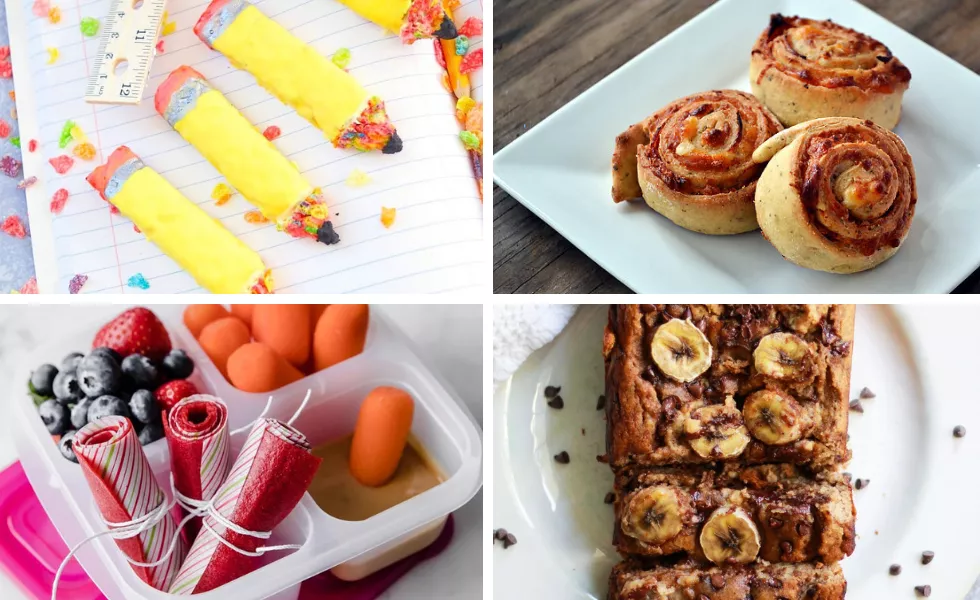 What's cuter for your child's packed lunch than some adorable pencil-shaped treats?!
These are a bit on the not-as-healthy side considering the amount of icing involved, but are a cute idea!
DIY fruit leather is sure to be a hit with your child and is super easy to make at home (and doesn't have all those preservatives stuffed in them).
This paleo banana bread not only looks amazing, but it's also filling!
Your child should be able to focus better with a full stomach – which means more productive learning and development ;).
Vegan Potato Cakes With Carrots & Rice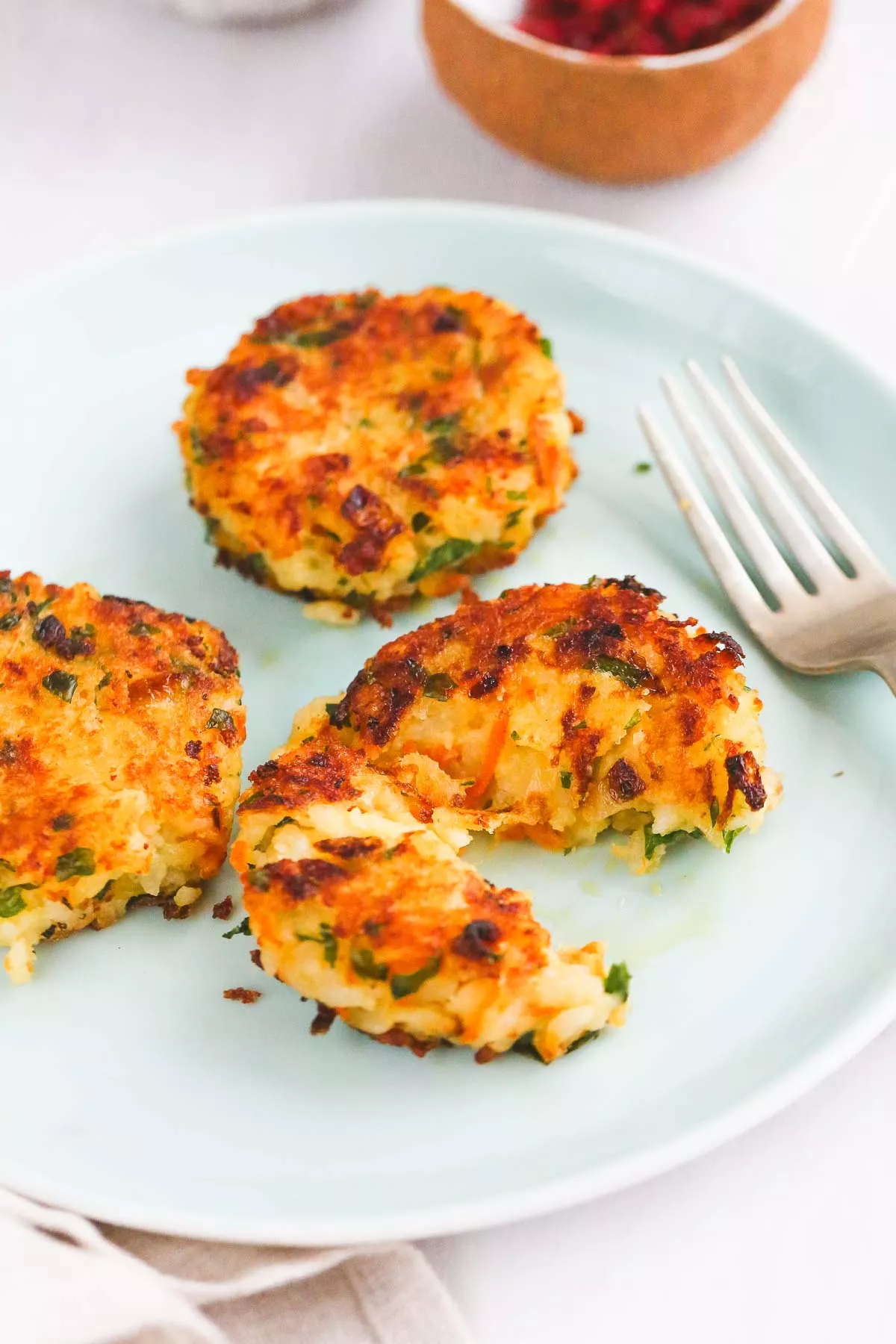 Mix things up for your child's lunchbox by skipping the traditional sandwich and whip up these incredible potato cakes with carrot and rice!
No-Cook Taco Salad Bento Box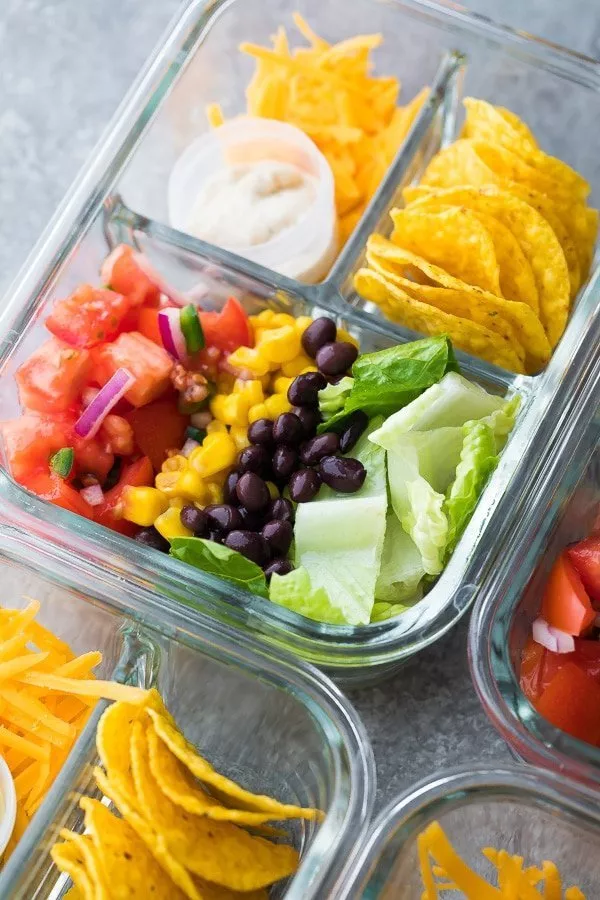 Have some bento boxes handy?
Easily make taco salad for a healthy lunch idea your child will love (without having to cook!).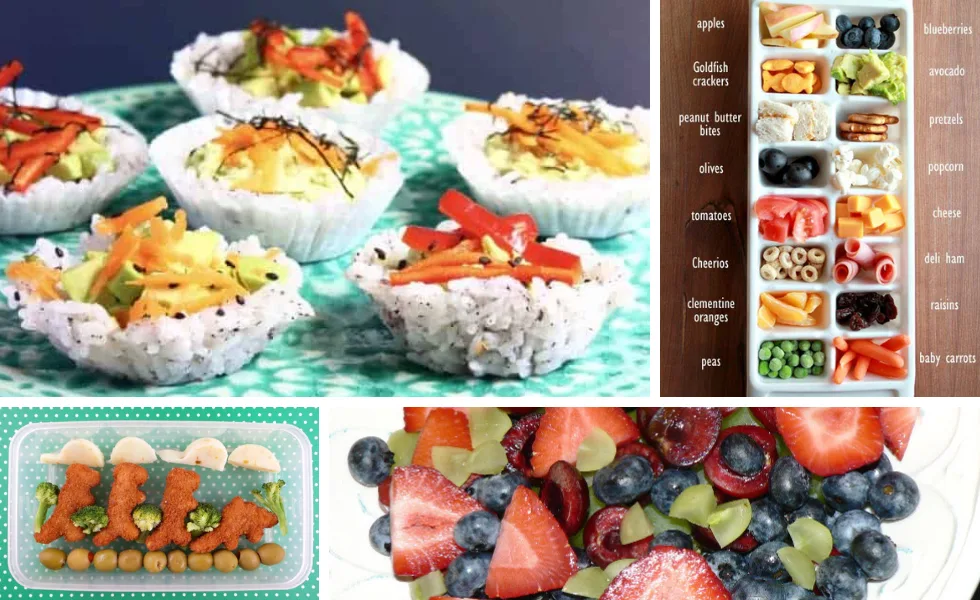 If your child is a fan of sushi (like my 9-year-old is), try making these sushi cups with edamame for their lunch.
This ice cube tasting tray is such a cute idea! Grab a small enough ice cube (like this one here) tray to fit in your child's lunchbox, and fill it with different fruits, veggies, meats, and cheeses!
Perfect for your dinosaur-loving littles, this fun dinosaur lunch idea will get them excited for lunch at school!
Pack some healthy fruits into your child's lunch with this strawberry salad with cherries and blueberries!
Cheese & Turkey Kabobs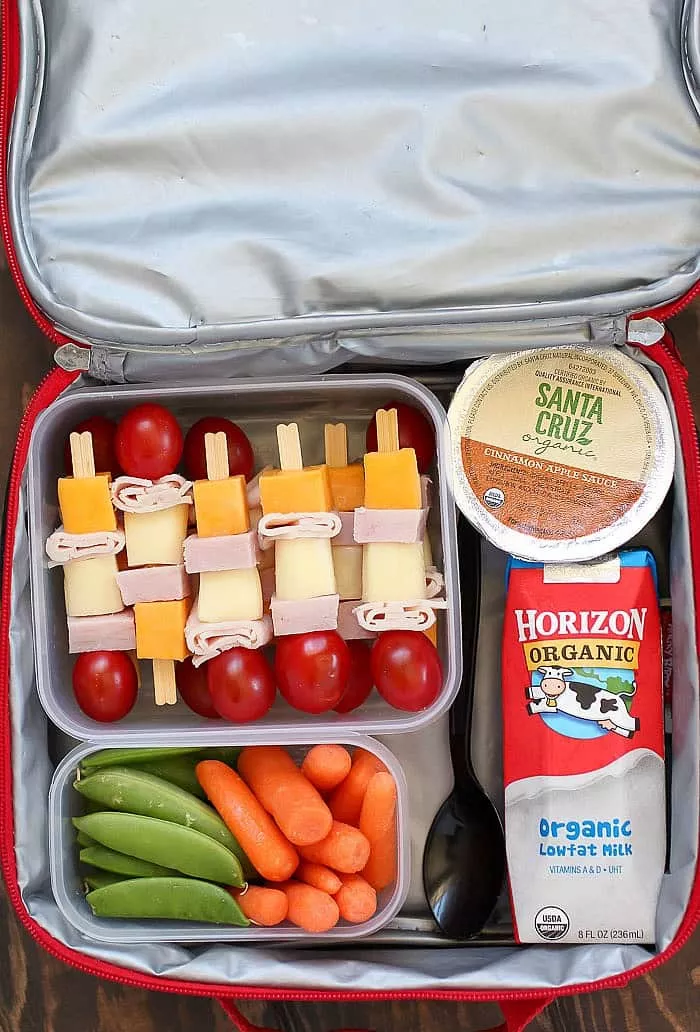 It's okay to skip the bread and just go for the meats and cheeses to mix things up!
Try these cheese and turkey kabobs paired with some fresh veggies!
Broccoli Cheddar Quinoa Bars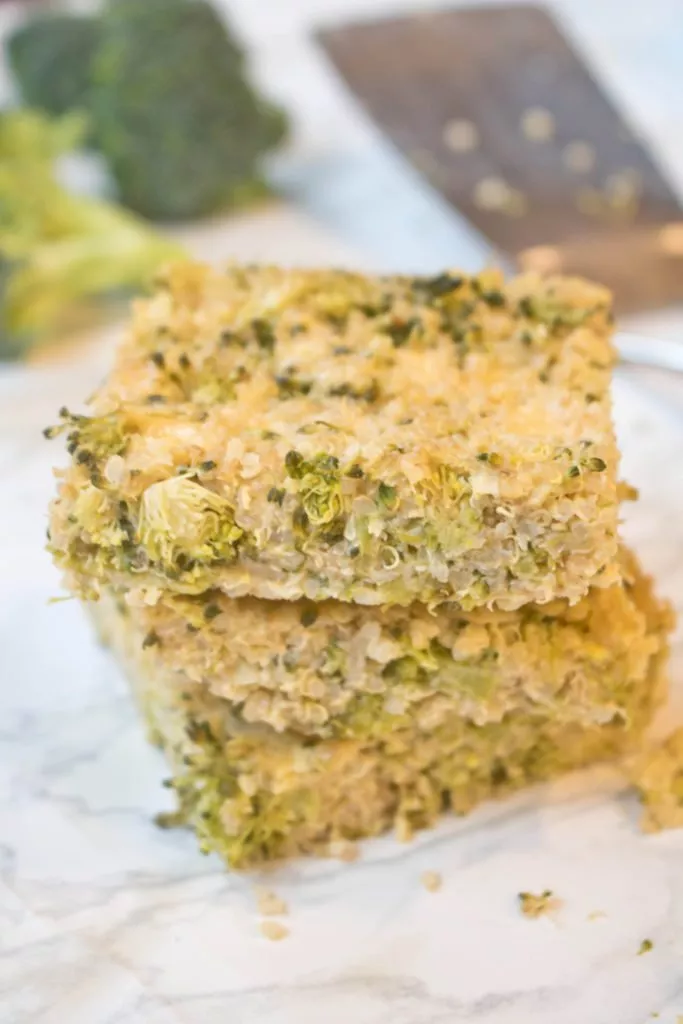 Yes, please!
These bars will be a hit with any child's lunch ;).
Avocado & Tomato Sandwiches

If your child loves tomatoes and avocado, then this sandwich is a delicious idea to pack for them.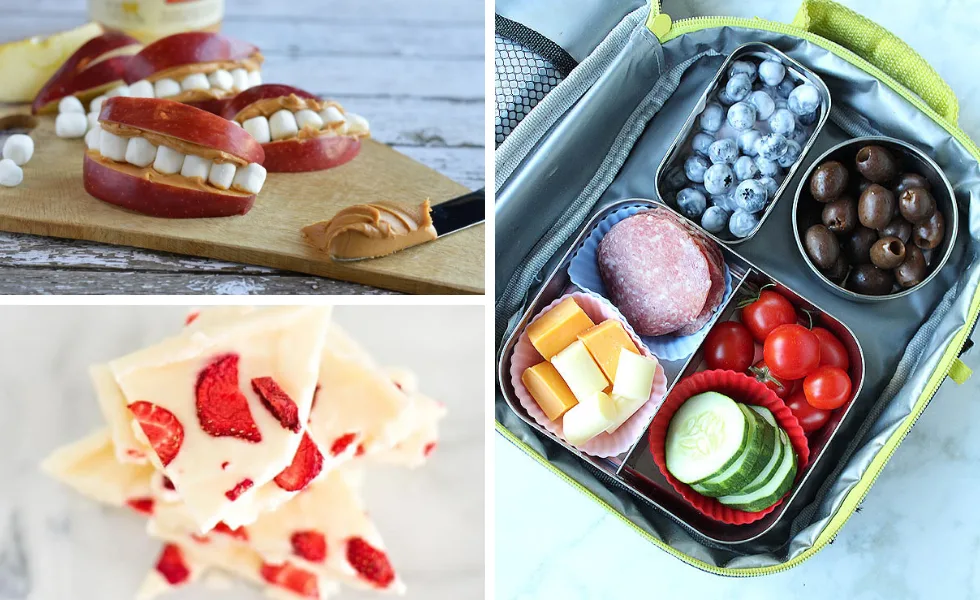 Make your child smile with these ADORABLE apple peanut butter teeth!
While the apple and peanut butter are healthy, the marshmallows are just for fun ;).
Strawberry yogurt bark is a perfect side to your child's lunch.
It's also easy to make, and includes fresh-cut fruit!
Try this sneaky salad bento box lunch for a healthy and sneaky salad option ;).
Homemade Spaghetti-O's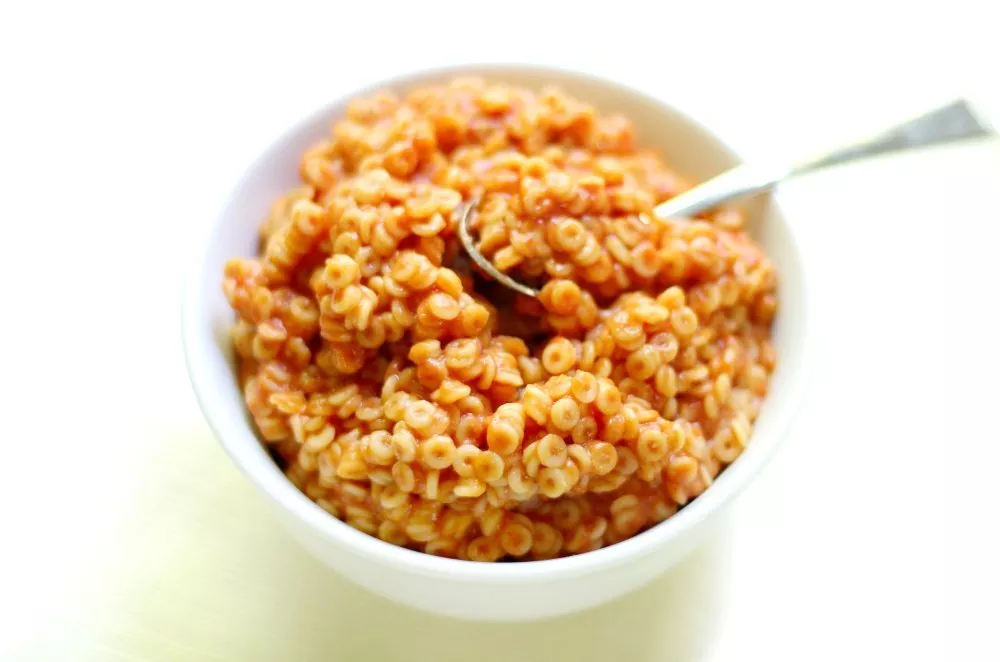 While the canned stuff isn't the healthiest, homemade spaghetti-O's are both delicious and nutritious!
Give them a try – they won't disappoint!
Dinosaur Bento Lunch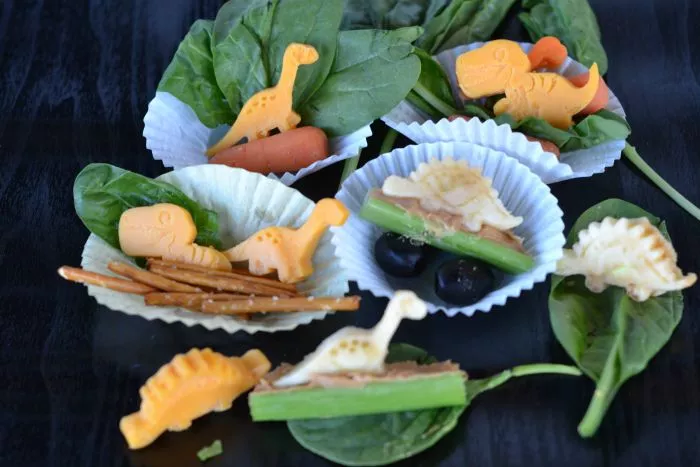 Grab some fun-shaped cookie cutters, and get to making this adorable dinosaur bento lunch your child is sure to love you for!
Related: 25 EASY Summer Punch Recipes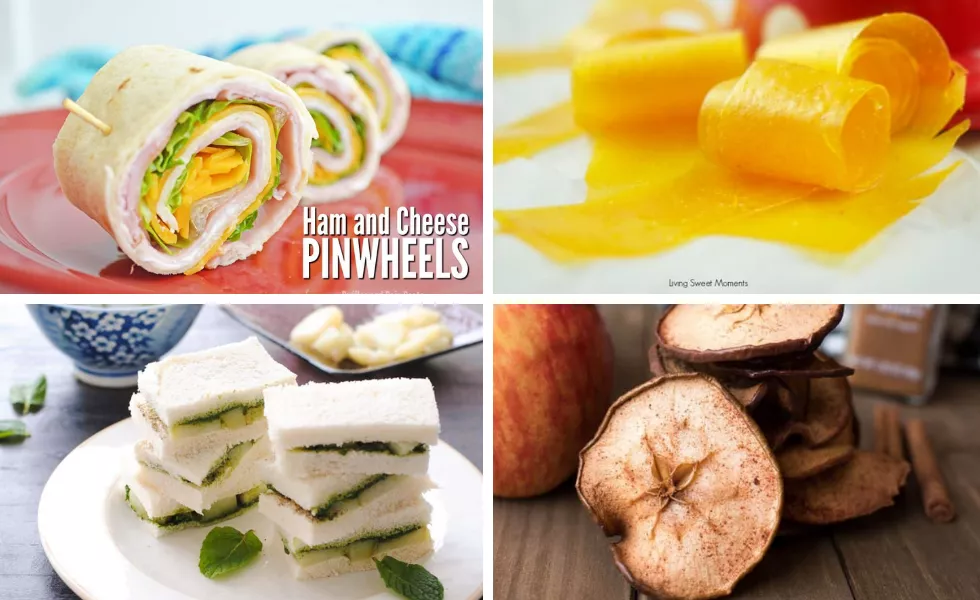 Ham and cheese pinwheels are the perfect idea to put a fun spin on sandwiches that your child will love.
Make some of these delicious chutney sandwiches, made with cucumber, cilantro, mint, and more!
Mango fruit roll-ups make a great side snack for your child's lunchbox and are super simple to make at home.
If your child LOVES chips, but you're tired of packing them junk food, try making them some healthier cinnamon apple chips to take with them for lunch!
Ham, Cheese, & Egg Cups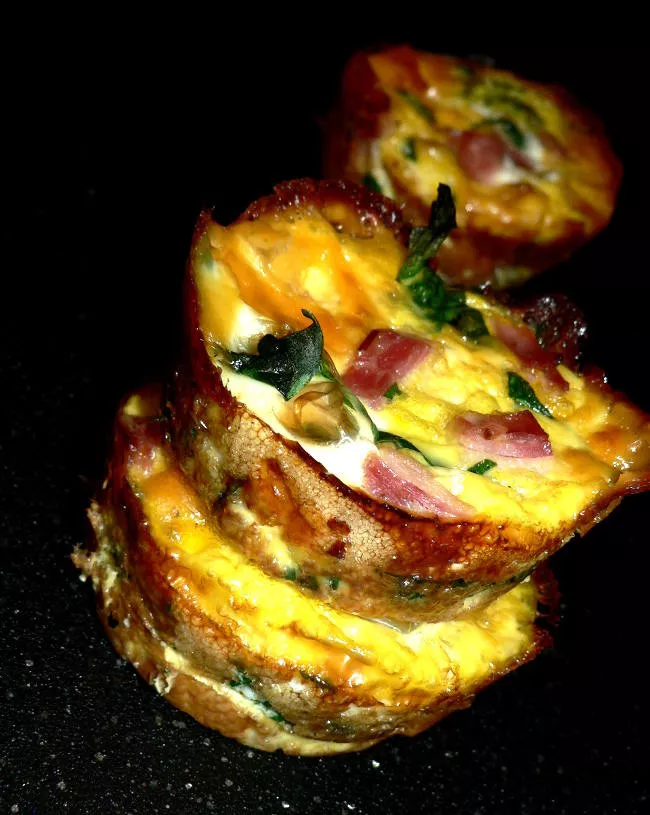 These yummy ham and cheese eggs cups are full of protein and oh-so-delicious.
Corn Dog Muffins

While you may not be able to pack corndogs in your child's lunch because they often require cooking in an oven, these corndog muffins are a great option to try!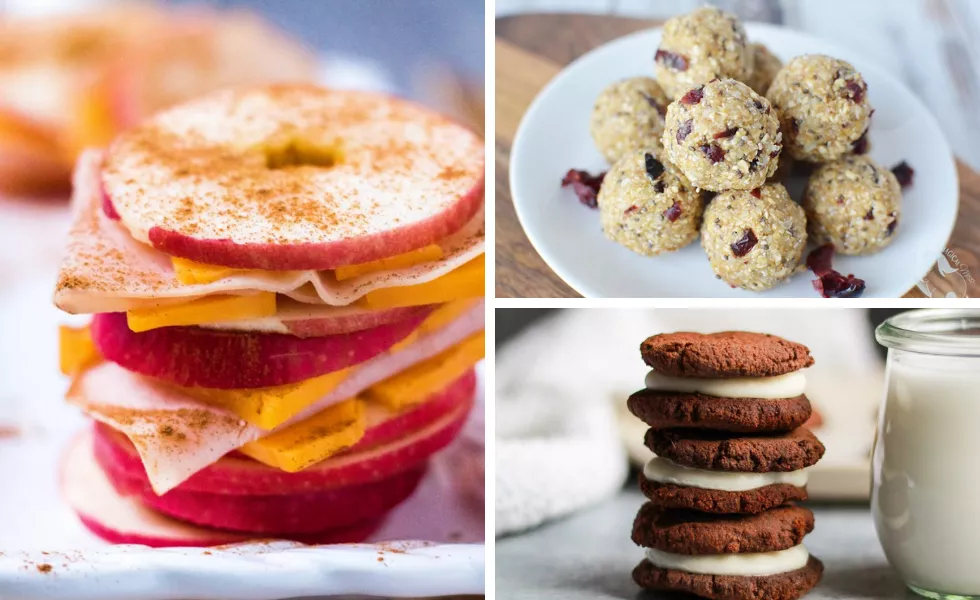 Homemade turkey apple cheese sandwiches (without the bread) are a fun idea to try for school lunches.
Skip the unhealthy Oreos in your child's lunch box and opt for healthier, homemade Oreos!
Cranberry no-bake energy bites with quinoa are the perfect addition to your child's lunch and are sure to keep them awake and focused for the remainder of their school day.
Pizzadillas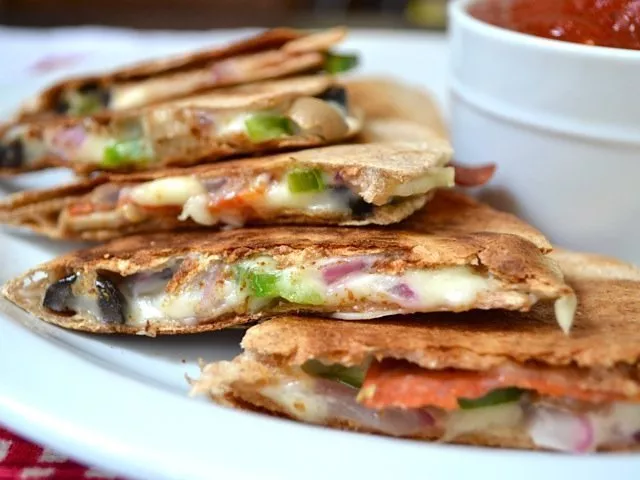 Pizzadillas (quesadillas with pizza toppings inside!) sound amazing and make great lunches for both adults and kids!
Healthy Donuts With Banana And Chocolate Chips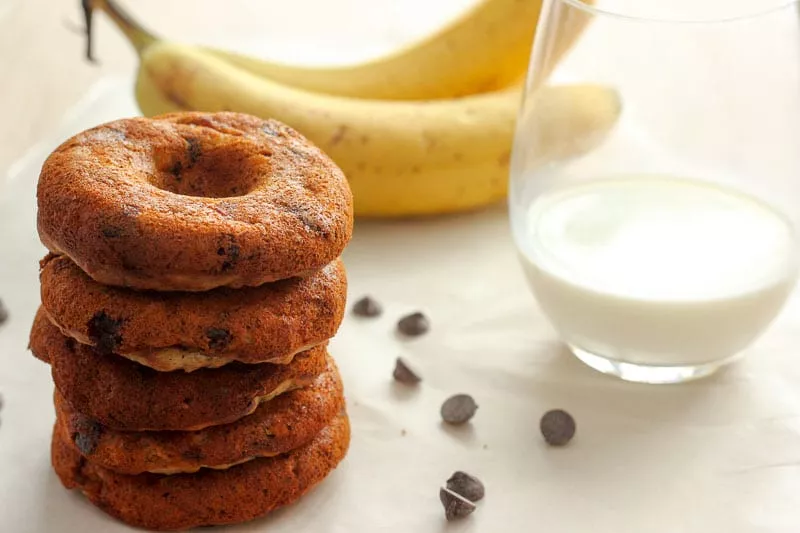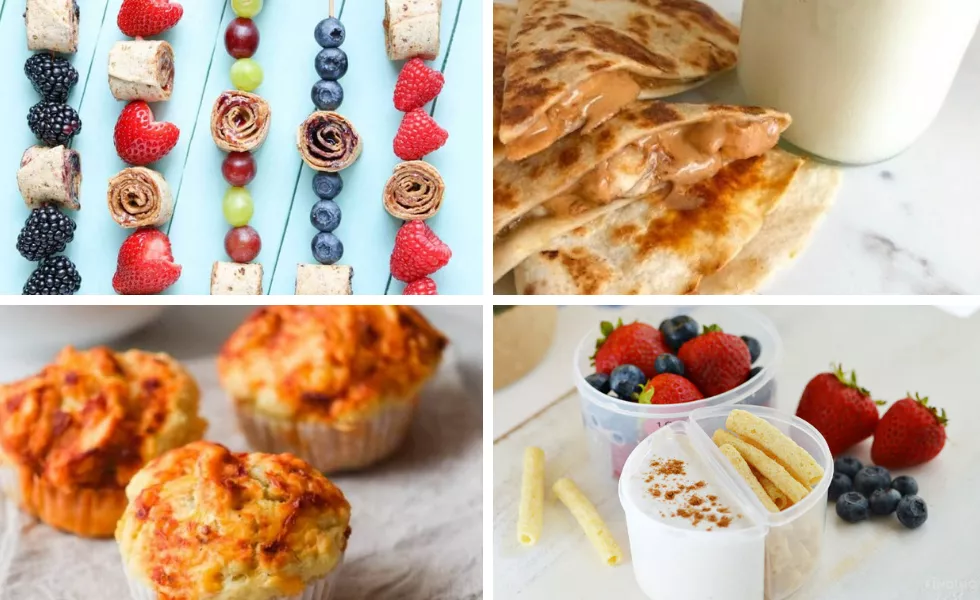 These adorable PB&J pinwheel sandwich kabobs are adorable AND fun! Pair them with fresh fruit for a nutritious lunch!
Pepperoni and cheese muffins make a great lunch choice for kids, store well in a lunchbox, and are super fun to eat.
Mix up your own yogurt (or enlist help from your child) so you can pack these yummy cinnamon yogurt dippers in your child's lunchbox!
This recipe is super easy to make and can be served with fresh-cut fruit or pretzels.
PB & banana quesadillas are a delicious lunch idea your child is sure to love.
Veggie Fritters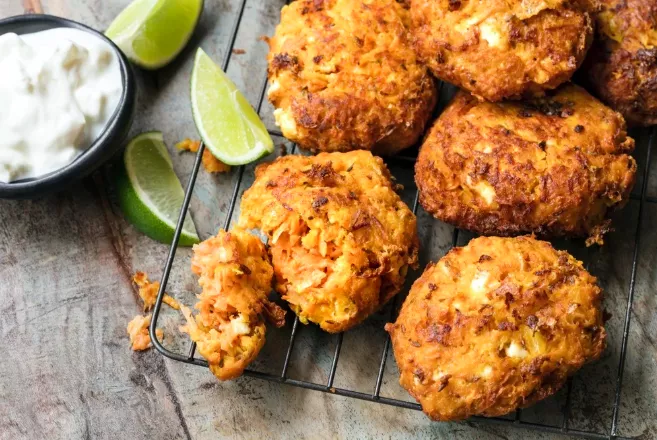 Sneak some veggies into your child's lunch with these CRAZY GOOD veggies fritters!
Open-Faced Sandwiches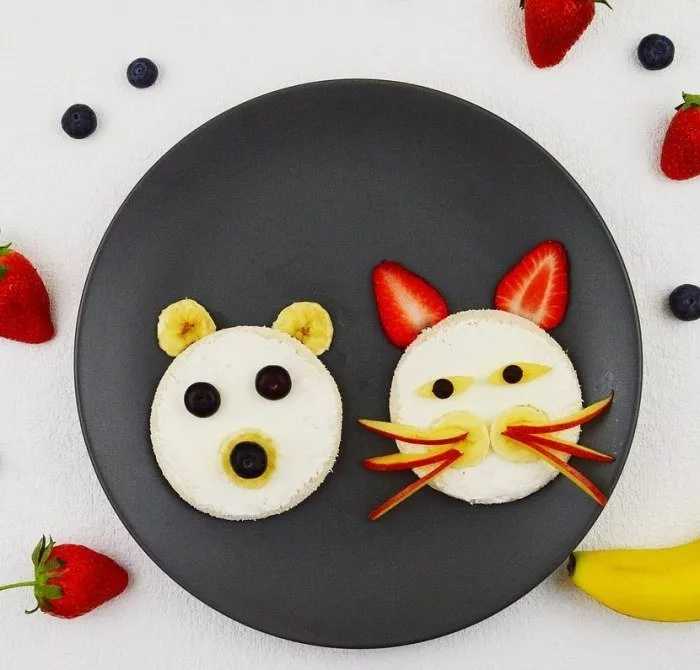 Add some fun to your child's lunchbox with these adorable open-faced sandwiches! Learn how to make them HERE.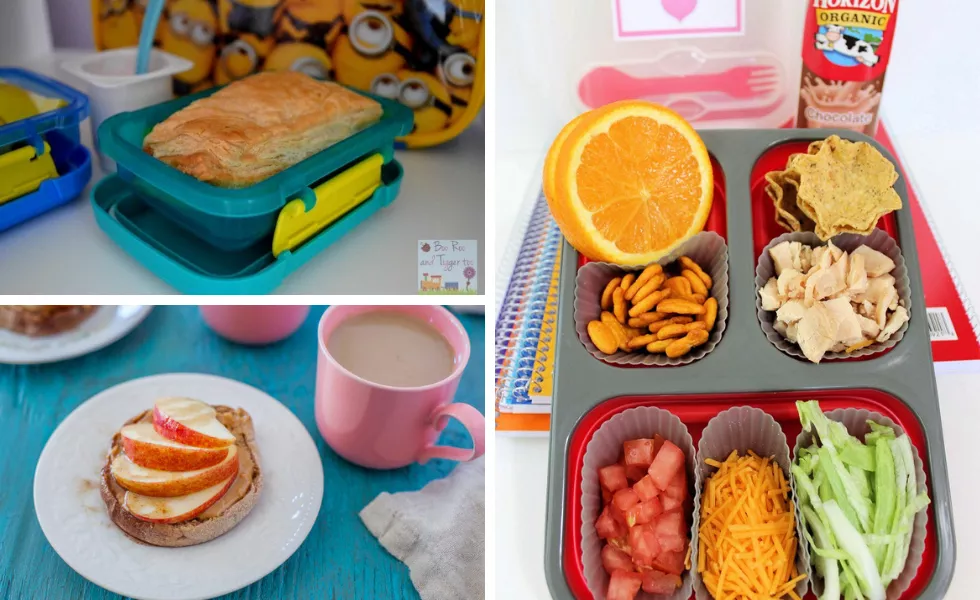 What's better than a mix of cheese, potato, and pickles?!
Try these cheese potato and pickle pasties to mix things up in your child's lunchbox!
These English muffins with apple and PB make a great breakfast, snack, or lunch idea!
Calling all bento box lovers! Try this fun chicken taco bento box idea – your child can mix their very own chicken tacos during lunch!
Sandwich Lollipops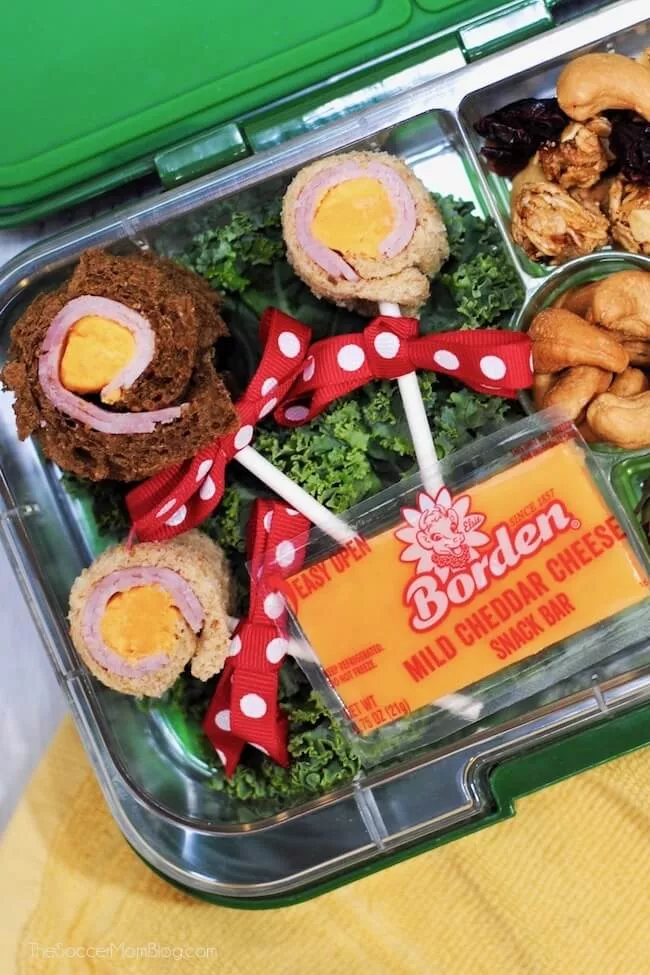 If your child is a big fan of lollipops, try these easy-to-make sandwich lollipops!
Add in some fresh fruit, nuts for an easy lunch idea.
Curry Chicken Salad With Almonds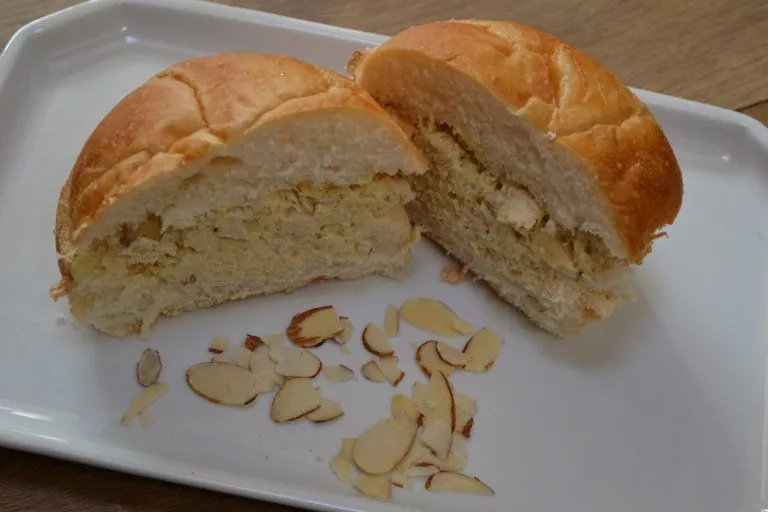 This yummy curry chicken salad is perfect if your child needs a change from the traditional PB & J, made with almonds.
Shredded Zucchini Tots

These yummy zucchini tots are way too fun to be healthy, right?!
NOPE. They're both!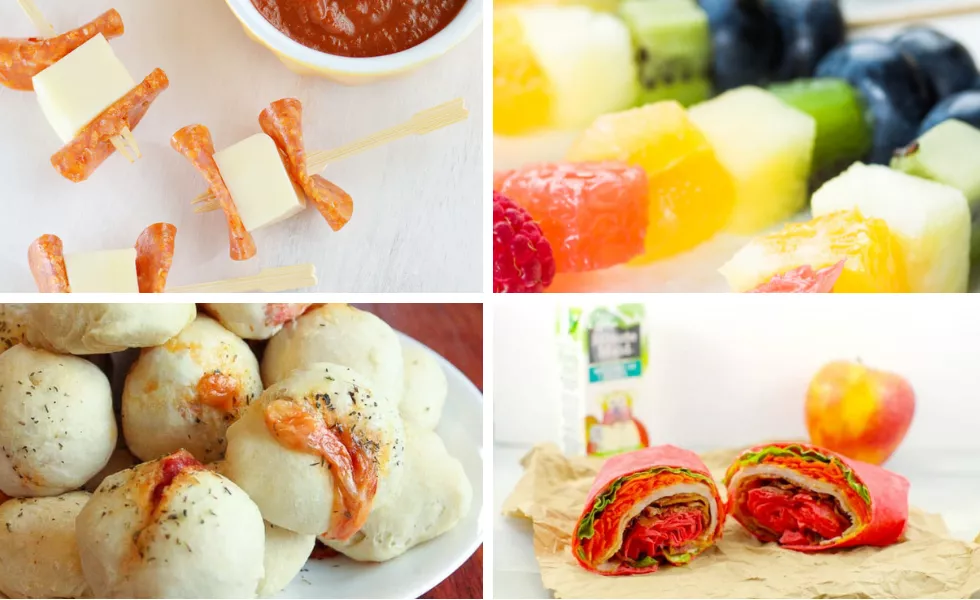 These yummy pizza dippers would be fun to make with your child before they leave to get on the bus!
Hand them a kabob, and enlist their help!
Try these homemade pizza pockets for your child's lunchbox – they're super easy to make, and even taste great served cold!
Rainbow fruit skewers are a great (and colorful) way to incorporate some fresh fruits into your child's lunch!
Have your child help you arrange them in order of color to create a gorgeous rainbow effect!
Served hot or cold, this turkey club ranch wrap is a great choice to consider to mix things up for your child's lunch.
You May Also Like: Homemade Honey Apple Cinnamon Gummies with Turmeric
Cheddar Bacon Biscuits

These allergy-friendly cheddar bacon biscuits are perfect for your child's lunch – pack them with fresh fruit and veggies for a delicious lunch idea!
PB & J Monster Sandwich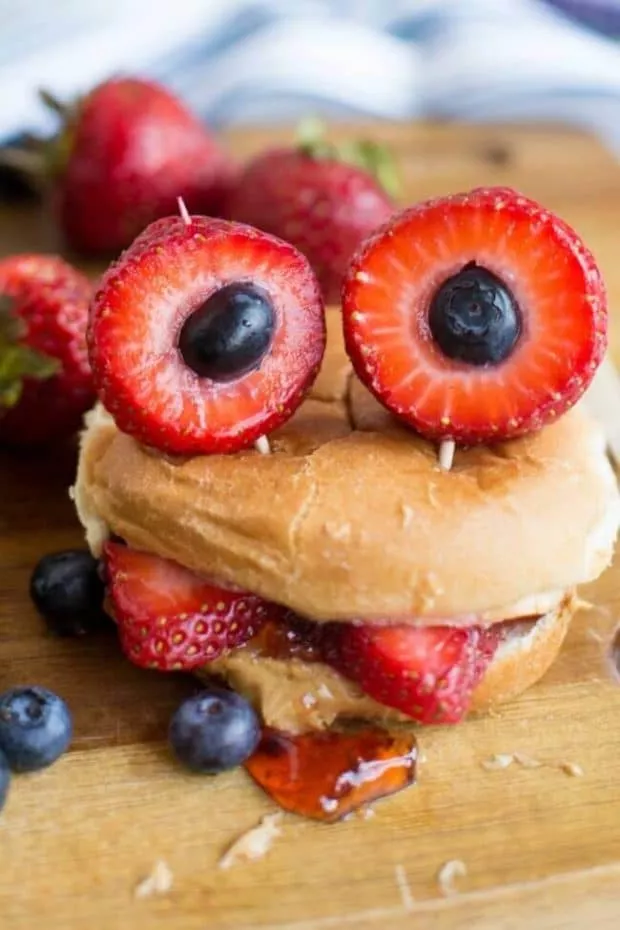 What's cuter than a PB&J Monster Sandwich?!
Easily make these monsters with fresh berries, sandwich essentials ;), and toothpicks!
Spinach & Cheese Quinoa Cups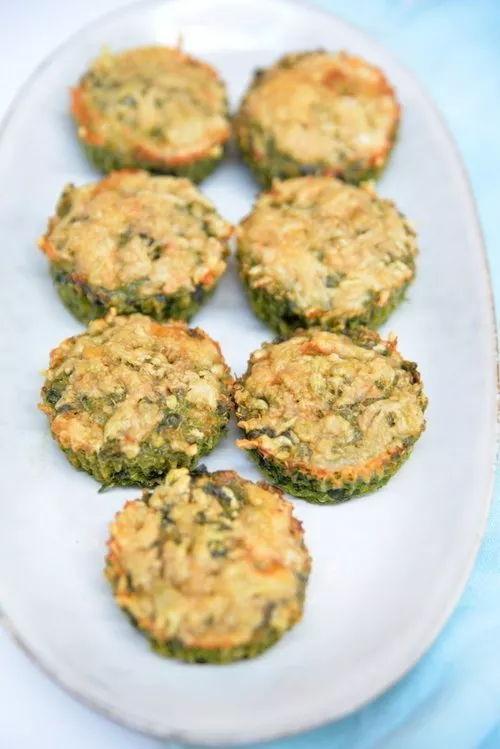 Quinoa contains heart-healthy omega-3 fatty acids (which play a big role in brain function and development), and all 9 essential amino acids (source), so these spinach and cheese quinoa cups are the perfect brain food for your child's lunchbox!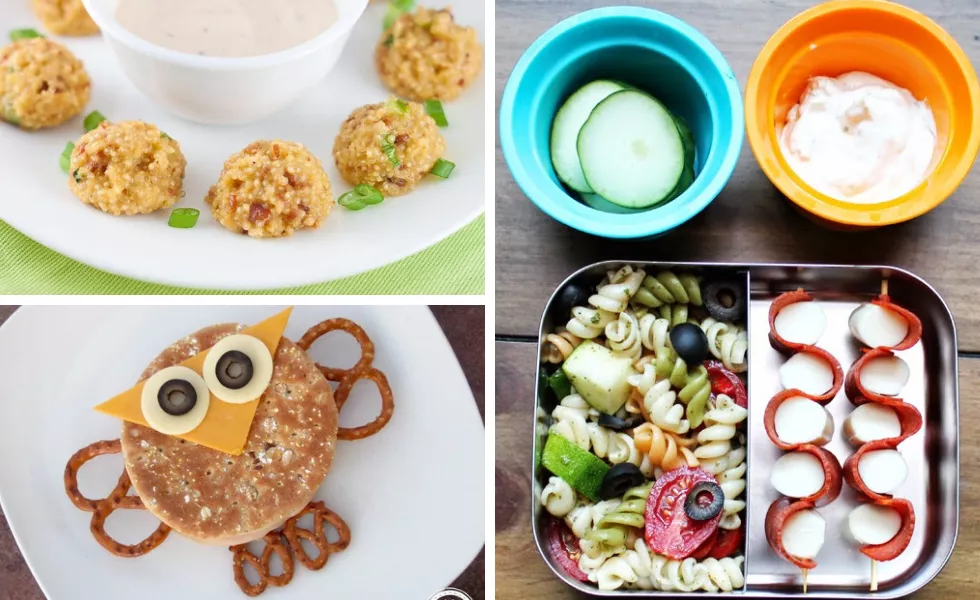 Can you tell we're big fans of quinoa yet?
Try these yummy cheesy bacon quinoa bites to pack in your child's lunchbox to give them energy all day and help them focus in class!
This easy owl sandwich will soon become a favorite go-to on a busy morning because it's so simple but adorable!
This delicious-looking antipasto bento box lunch is packed with fresh veggies, meats, cheeses, and all the things that make up a great cold lunch.
Lego Movie Wyldstyle Lunch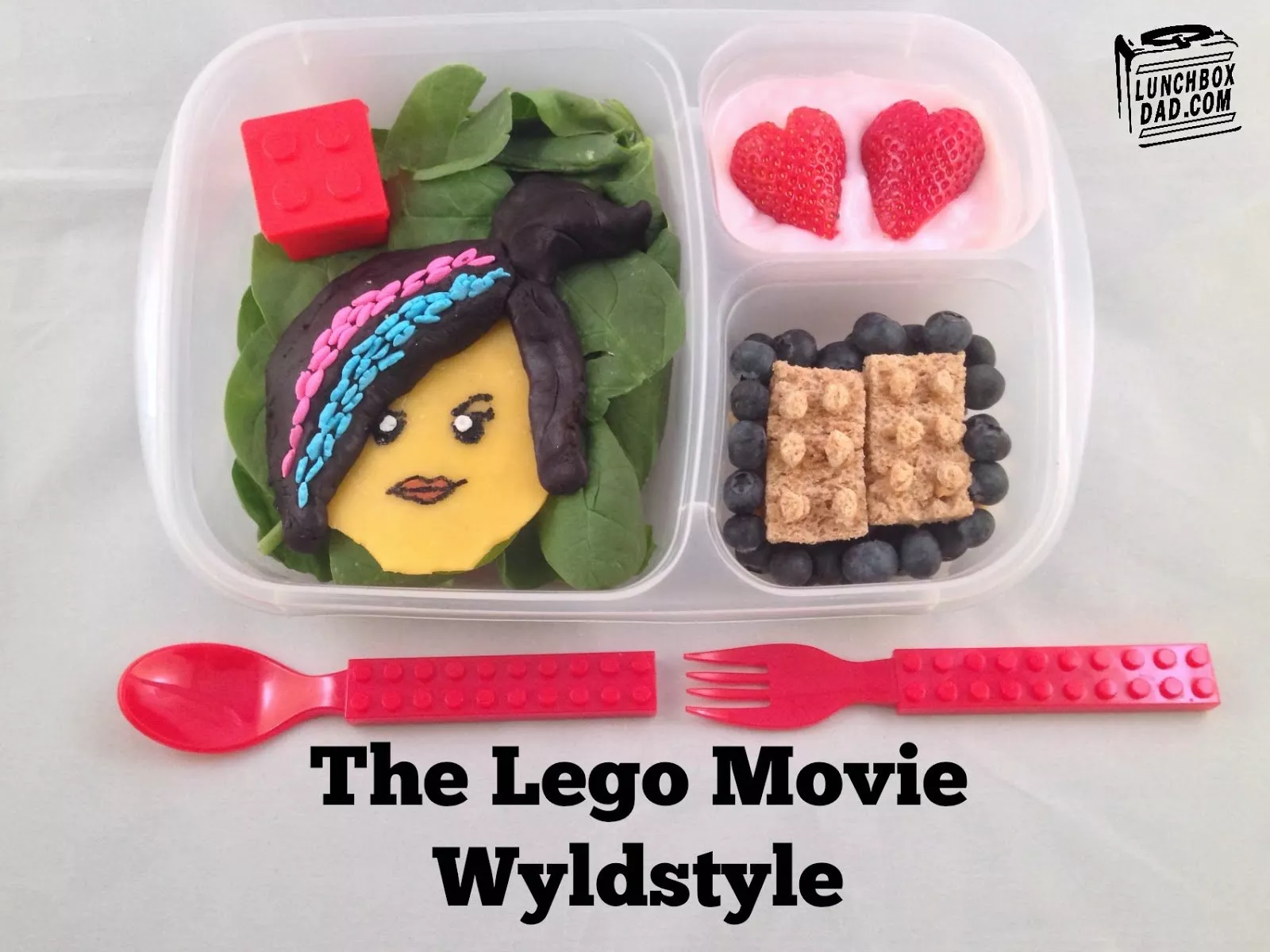 If your child is a fan of the Lego Movie, this adorable Lego Movie Wyldstyle lunch idea is perfect for you!
Learn how to make it HERE(with detailed pictures and descriptions).
Turkey Sushi Rolls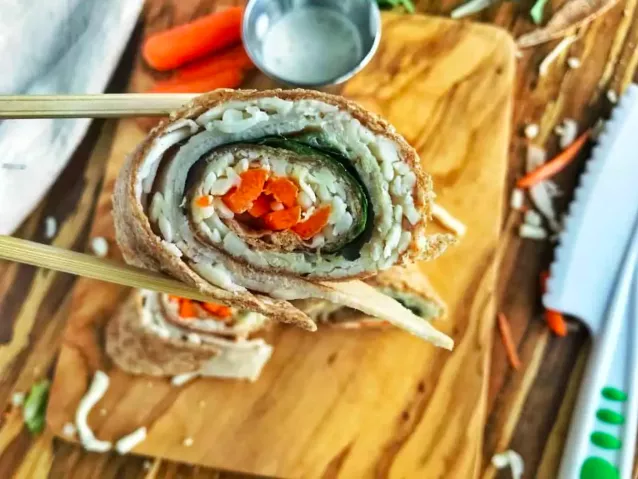 Forget the raw fish, pack these turkey sushi rolls in your child's lunchbox!
These homemade sushi rolls are easy to make and are sure to become a favorite.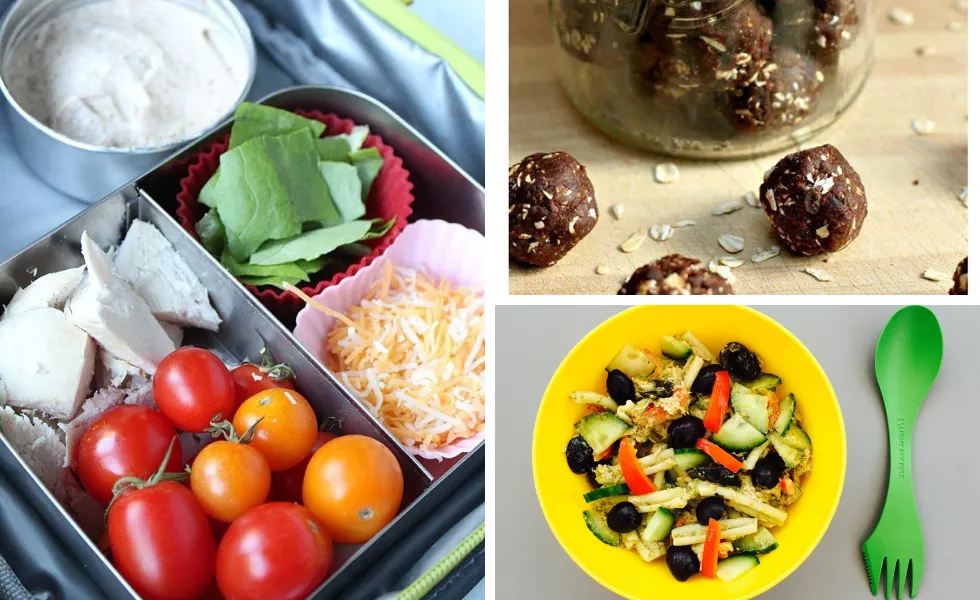 Allow your child to make their own chicken tacos during lunch with this deconstructed chicken tacos bento box idea!
These delicious no-bake energy bites are perfect for a child's lunchbox because they provide your child with the energy they need to get through the day.
Ditch the sandwiches and mix up some yummy tuna pasta salad for your child's lunch!
Healthy Lunchbox Snack Mix

Packed with energy and nutrients, this healthy lunchbox snack mix is perfect for your child's lunch (or even to pack as a snack by itself if your child's school requires them to bring snacks).
Homemade Granola Bars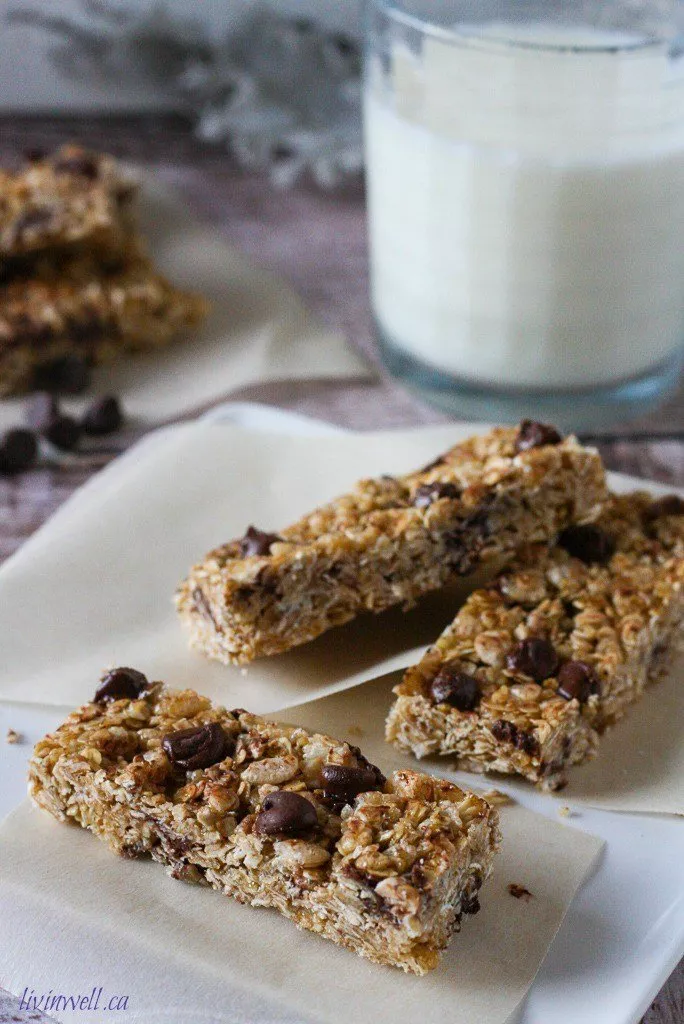 Skip the preservative-packed granola bars and make your own!
With this tutorial, you can easily make your own homemade granola bars! Serve with fresh fruit or yogurt if you wish.
Tuna & Potato Patties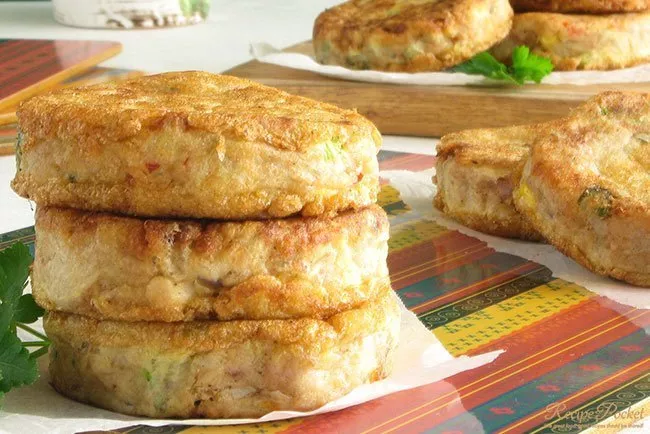 Tuna & potato patties make a great lunchbox choice because they're super easy to make and are packed with all the good stuff your child needs to focus and feel full.

Not just for vegans, this vegan mac & cheese is a delicious idea for your child's lunch!
And what child doesn't love macaroni and cheese?
Make your own homemade hummus, pair it with fresh veggies and milk!
These yummy ham, carrot, and cheese muffins can help your child feel full with fewer bites (great for kids that are picky or don't eat as well at school). Plus, they contain carrots, so you can sneak some veggies in where you can.
These oh-so-good baked cheddar parmesan crisps are a great side to your child's lunch.
Make Your Own Bagel Bites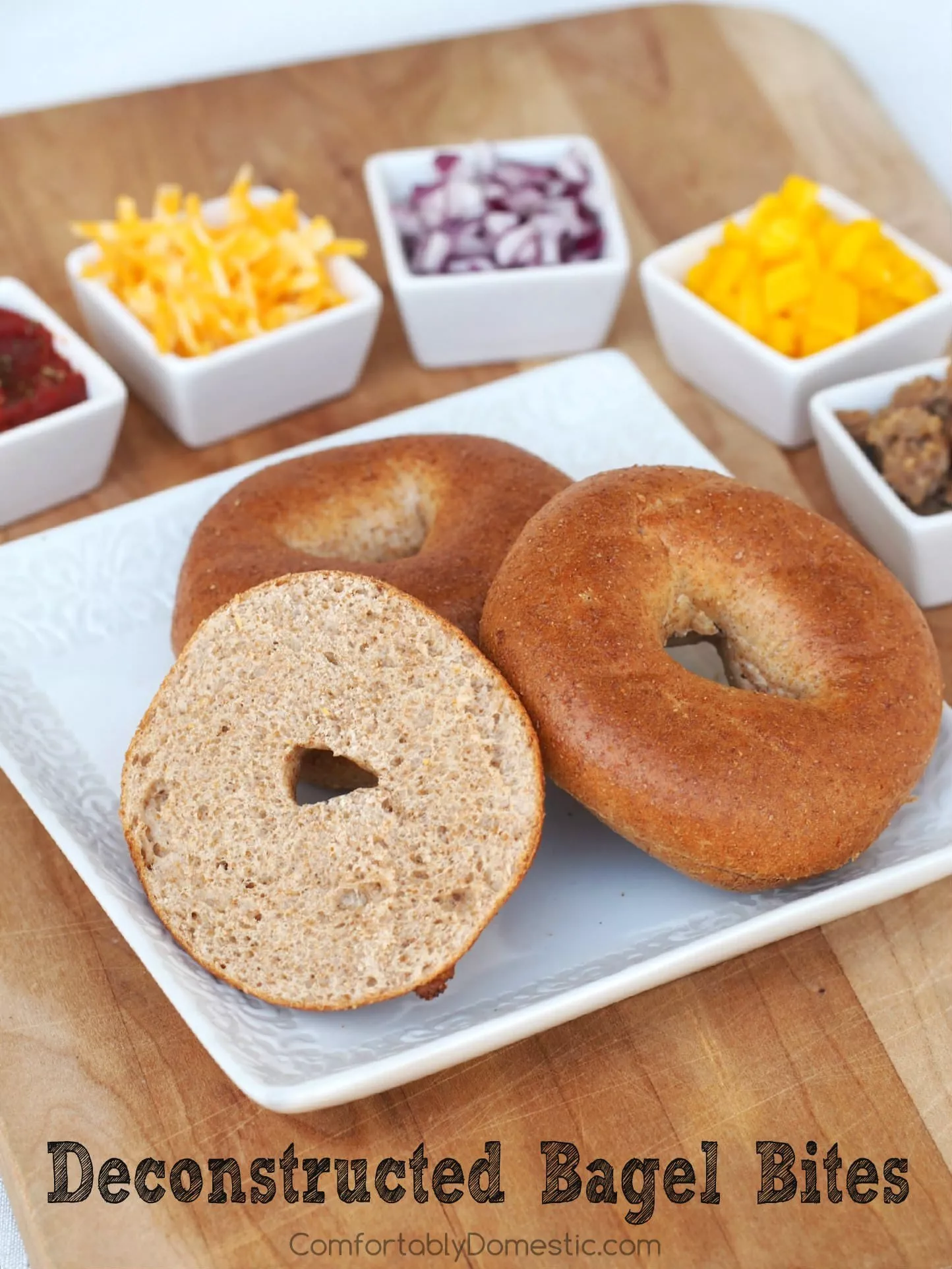 If your child loves to help out in the kitchen with cooking or preparing food, this deconstructed bagel bites idea is perfect for them during lunch.
They can get the joy out of creating their own bagel bites while they are at school!
Mexican Buddha Bowl With Cilantro Lime Sauce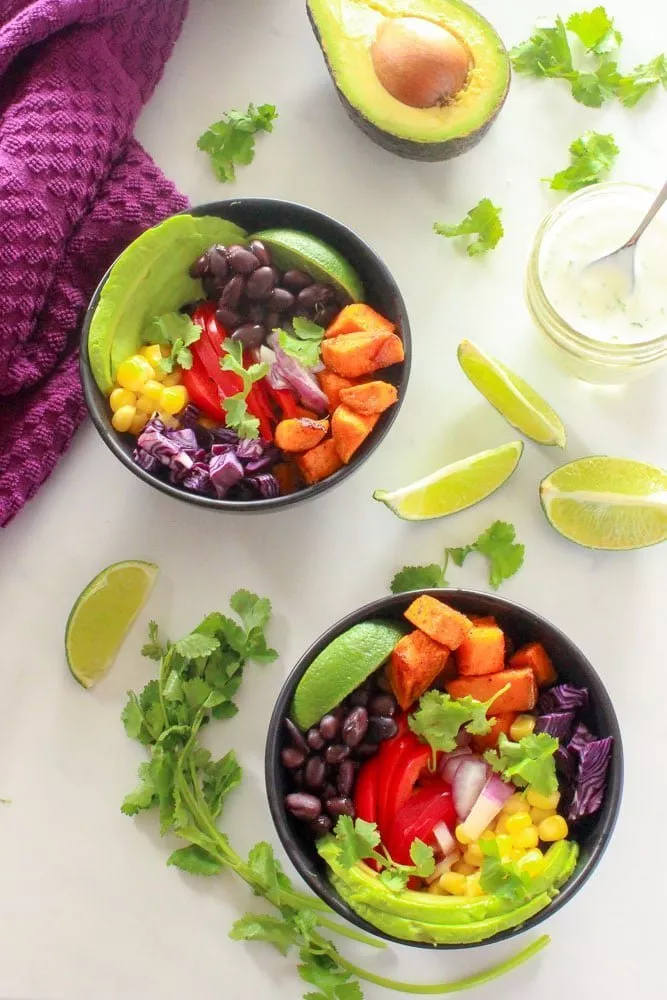 Packed with flavor, this Mexican buddha bowl is both colorful and delicious.
You can either prepare it as shown or spread the ingredients out into a bento box and have your child construct it themselves during lunch.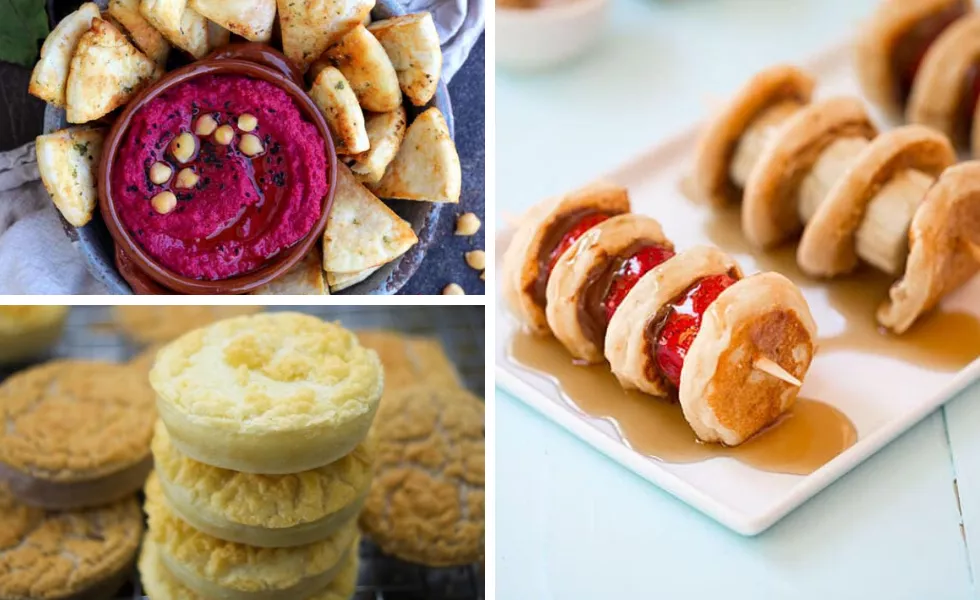 Mmm, this colorful roasted beetroot hummus with pita chips is a great way to add in some veggies to your child's lunch!
Beets are a great food to sneak into your child's lunch because they are packed with fiber, folate, and vitamin C.
Skip the preservatives and make your own homemade rice cakes with this easy recipe.
Extra syrup on the side! These mini pancake kabobs are such a fun idea for a child's lunchbox!
Serve their syrup on the side to keep their tiny pancakes from getting soggy before lunch!
Sushi Sandwich Roll-Ups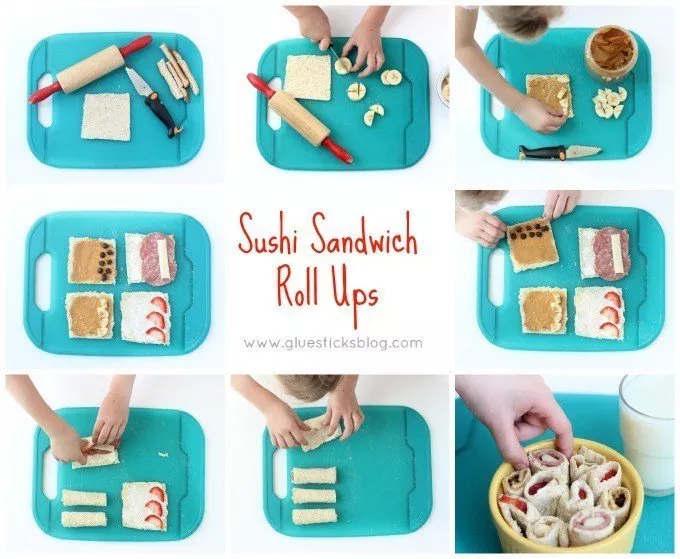 These adorable sushi sandwich roll-ups are so easy to make – lay out the ingredients and ask your child what fun combinations they'd like to make for their lunch!
Toast Pizza With Carrot + Cucumber 'Butterflies', Hummus, & Berries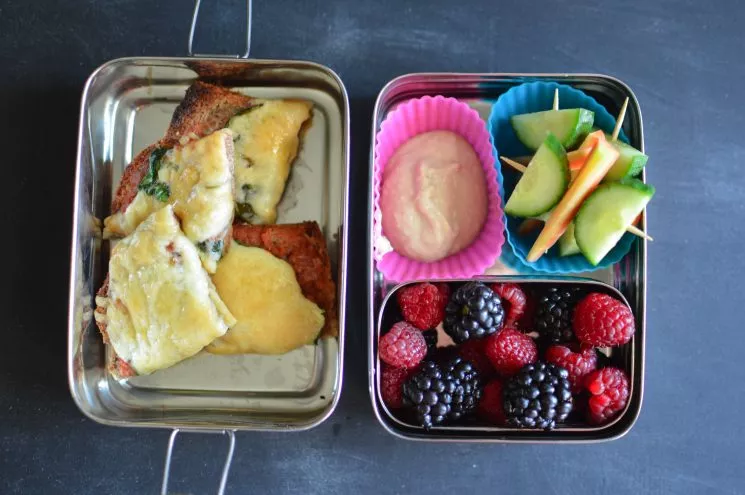 Butterflies made up of carrots and cucumbers?!
ADORABLE.
Make this easy toast pizza bento box idea HERE.
Easy Pizza Crackers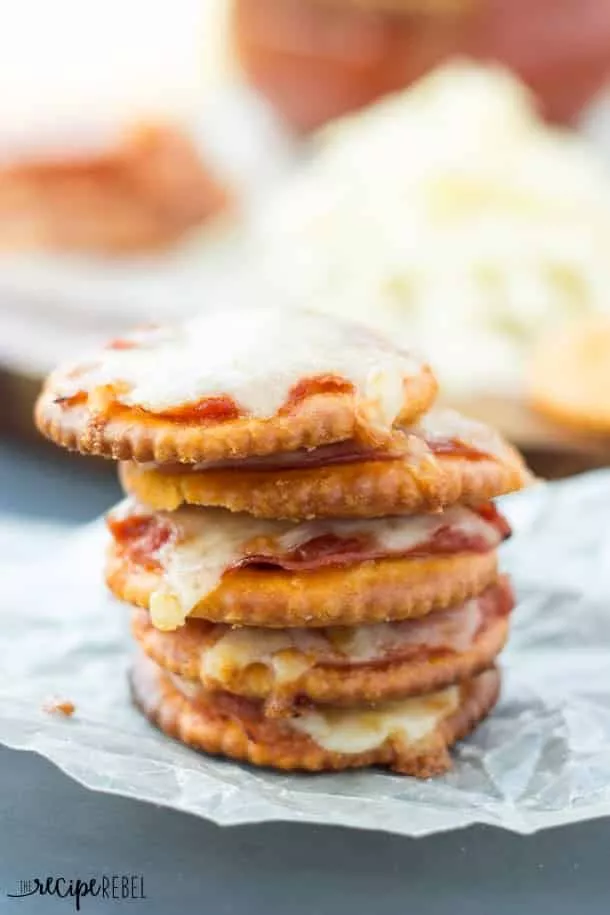 If you're looking for the easiest recipe here, THIS IS IT.
These pizza crackers save time in the morning when you're in a rush and are an instant favorite.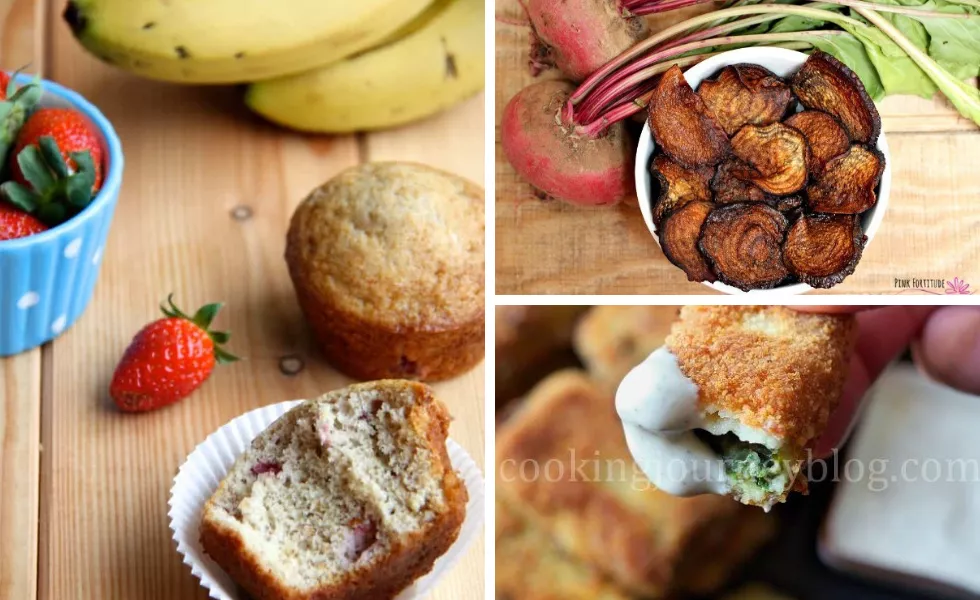 These sweet strawberry banana muffins will fill your child up during lunch and allow them to focus during class – plus they taste GREAT!
You don't have to be named Dwight to love these delicious oven-baked beet chips ;). Skip the chips and serve these as a side in your child's lunch.
Make your own cheese sticks at home with this easy spinach mozzarella sticks recipe.
Turn Up The Beet Bento Box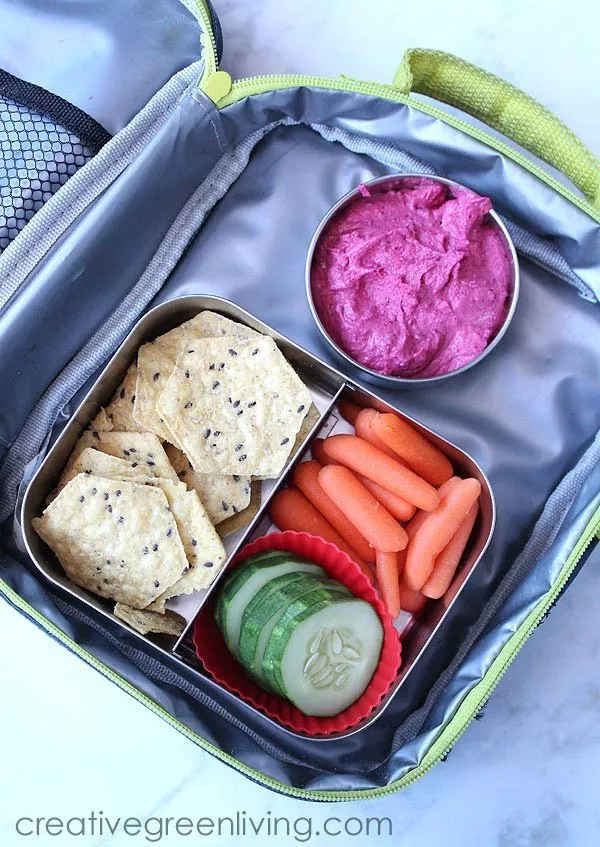 This bento box idea (with beets) is healthy and colorful – learn how to make it HERE!
Double Chocolate Chip Banana Muffins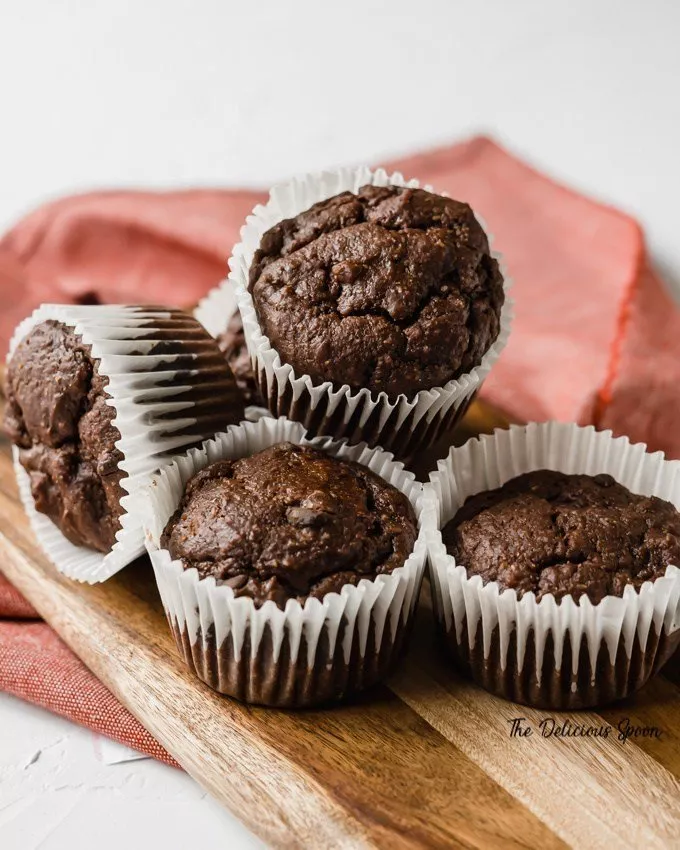 Hello, muffins!
These delicious double chocolate chip banana muffins are the perfect side to your child's lunch (serve these with fresh-cut strawberries and yogurt)!
Pita Bread Pizza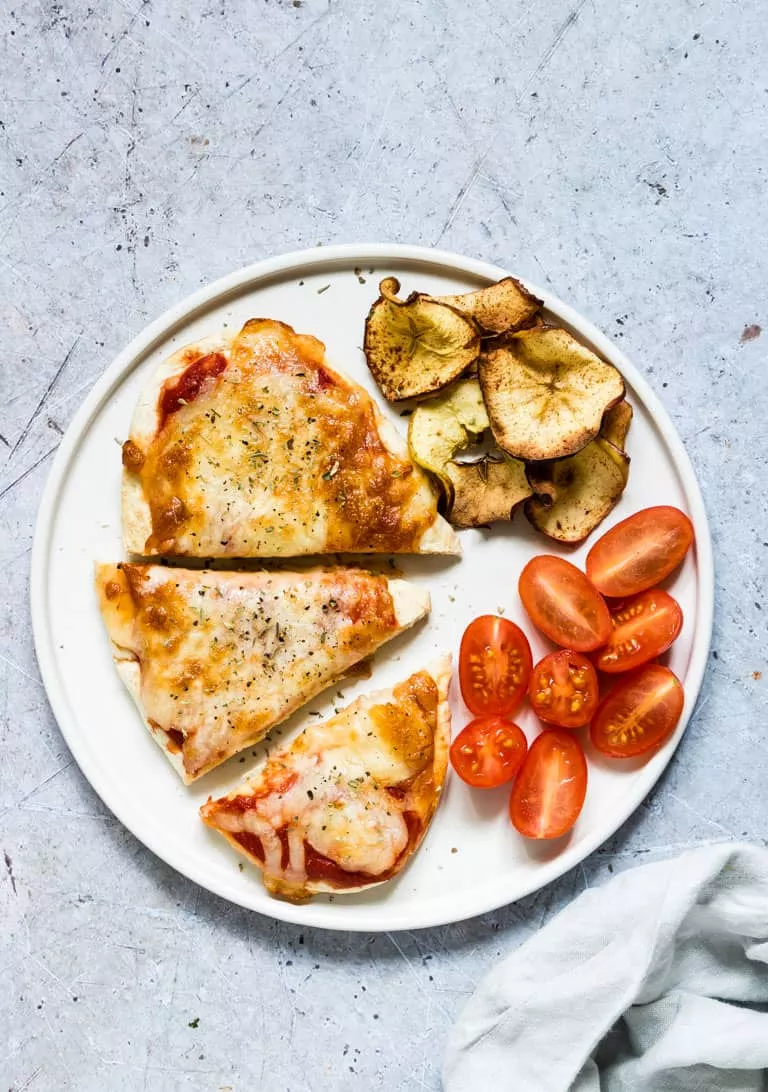 Pita bread is perfect for lunchboxes, am I right?
It's thin, flexible, and yummy!
Craft some easy pita bread pizzas for your child's lunchbox and serve with fresh tomatoes and apple chips.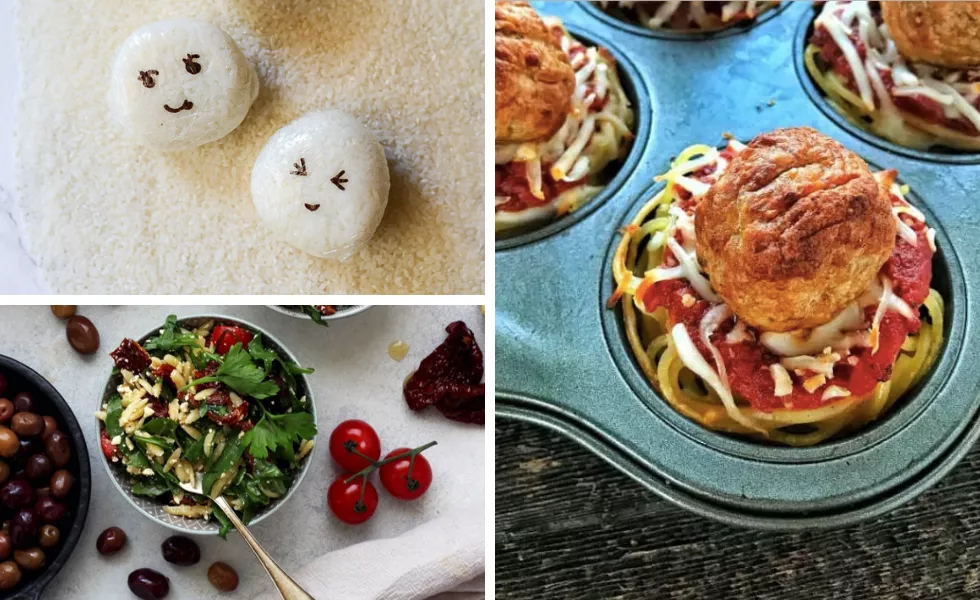 If you have extra sushi rice on hand, try these adorable onigiri rice balls for your child's lunch this year!
If you have a spaghetti fan on your hands (or bought WAY too many boxes of spaghetti noodles, try these yummy baked spaghetti and meatball cups for your child's lunchbox.
This greek orzo salad would make a great child AND parent lunch idea!
PB & Jelly Tacos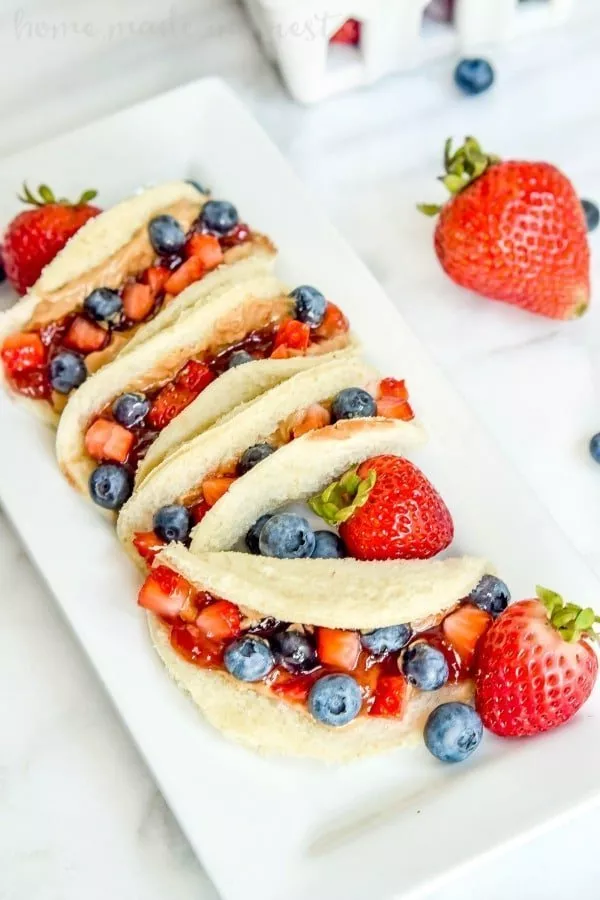 Of all the PB & J ideas I've stumbled upon, this is the cutest!
Try these adorable PB&J tacos for your child's lunchbox, packed with fresh fruit.
Pepperoni Rolls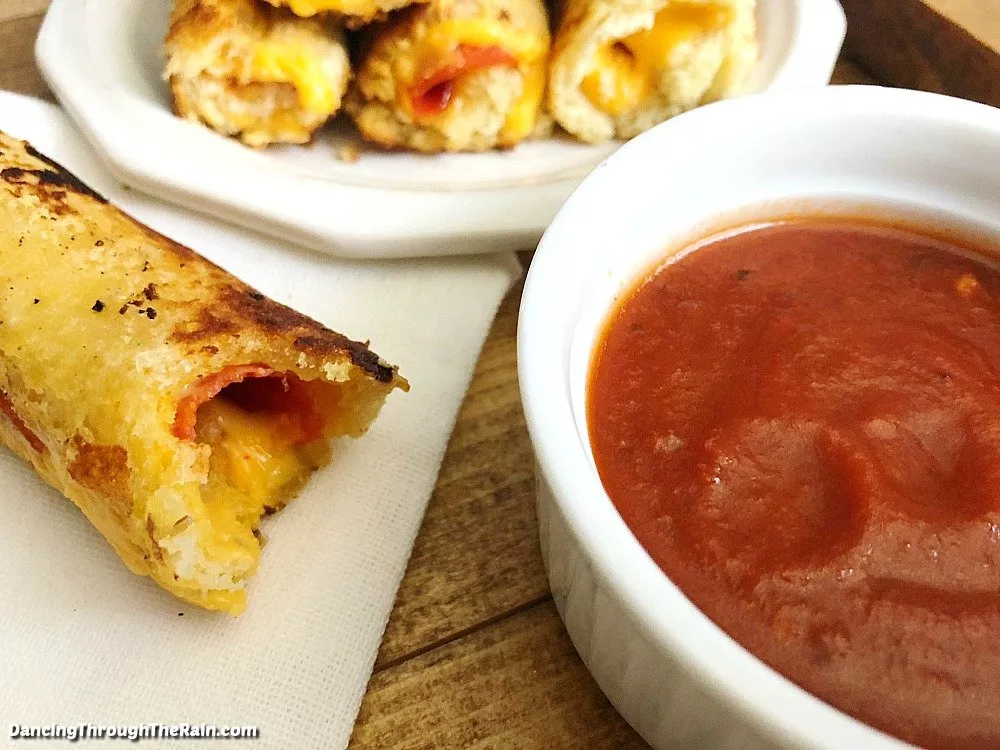 Pepperoni rolls are sure to be a new favorite for your child – learn how to make these delicious rolls HERE!
Antipasto Salad Skewers
Have your child help make these yummy antipasto salad skewers in the morning so they can pack them in their lunchbox.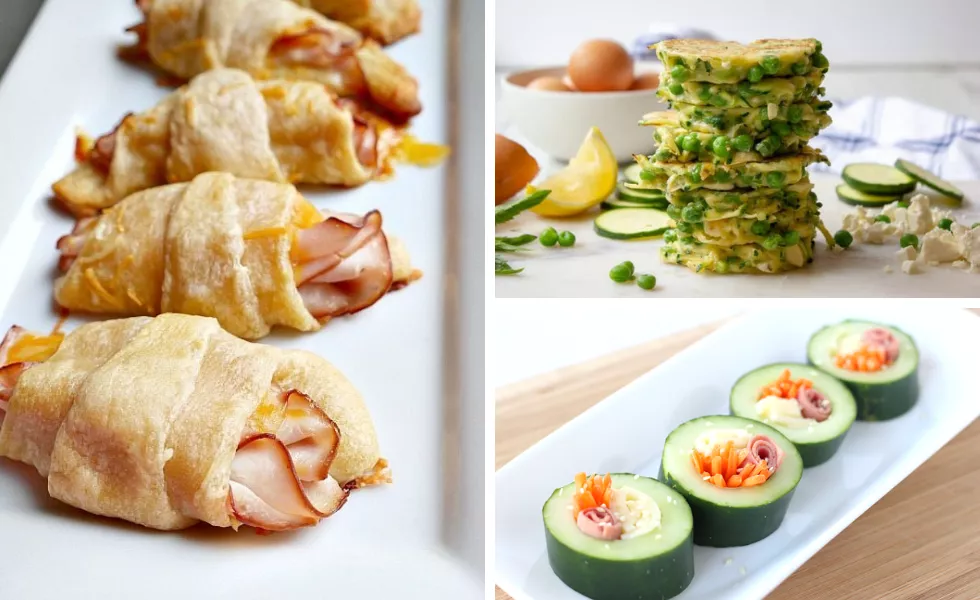 Easy and delicious (what parents don't love those two words when it comes to preparing food?), these turkey and cheese crescent rolls are sure to please any picky eaters for lunch!
Pack in the veggies with these yummy zucchini pea fritters!
If your child loves sushi, try this easy cucumber sushi recipe (without the raw fish).
Cauliflower Cheese Chicken Fritters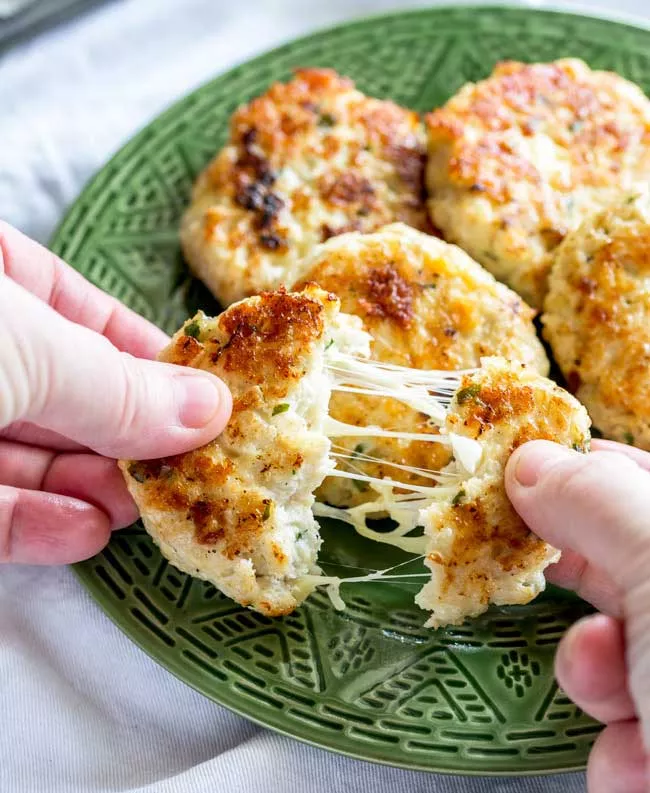 Cauliflower is another brain food that gets overlooked.
Packed with choline (which is essential for learning and memory), B-vitamins, and fiber, cauliflower is a great addition to your child's lunchbox.
Make these easy cauliflower cheese chicken fritters to pack in your child's lunchbox and help them learn throughout the day!
Avocado Quesadillas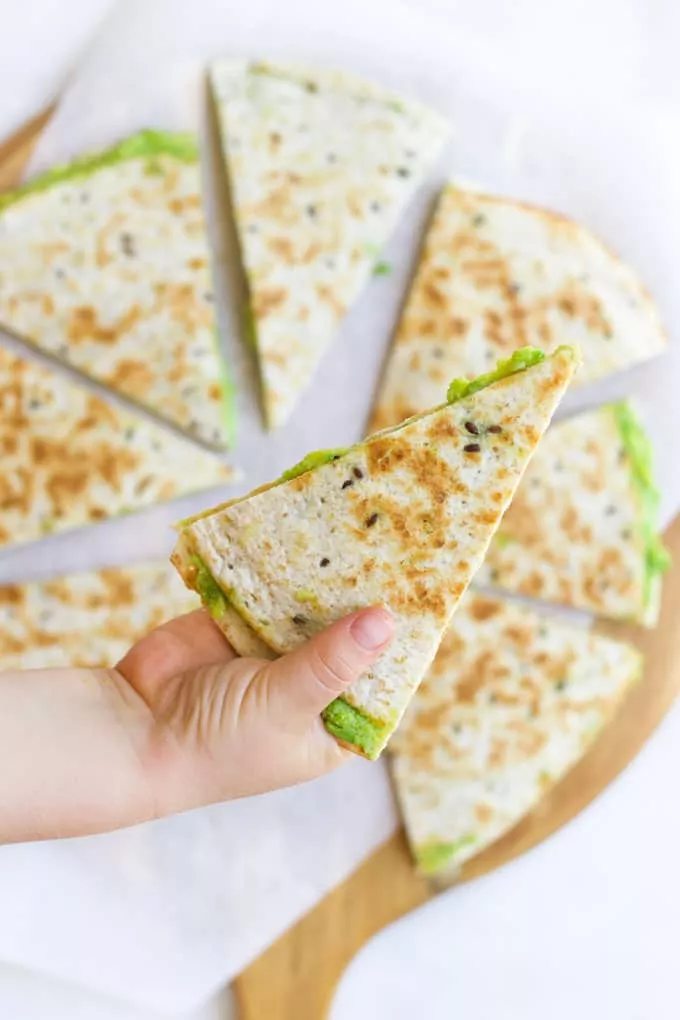 I bet you haven't seen these before – these avocado quesadillas are so fun!
Avocados contain nearly 20 vitamins and minerals that growing kids need (like folate, lutein, and B-vitamins) (source), and are a great choice for your child's lunchbox.
Hungry Hippos Sandwiches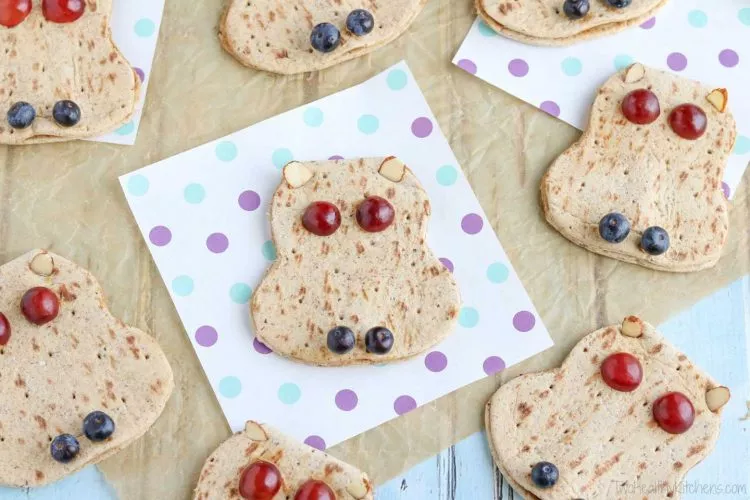 Aren't these hungry hippo sandwiches to die for?
They're super easy to make – learn how to here!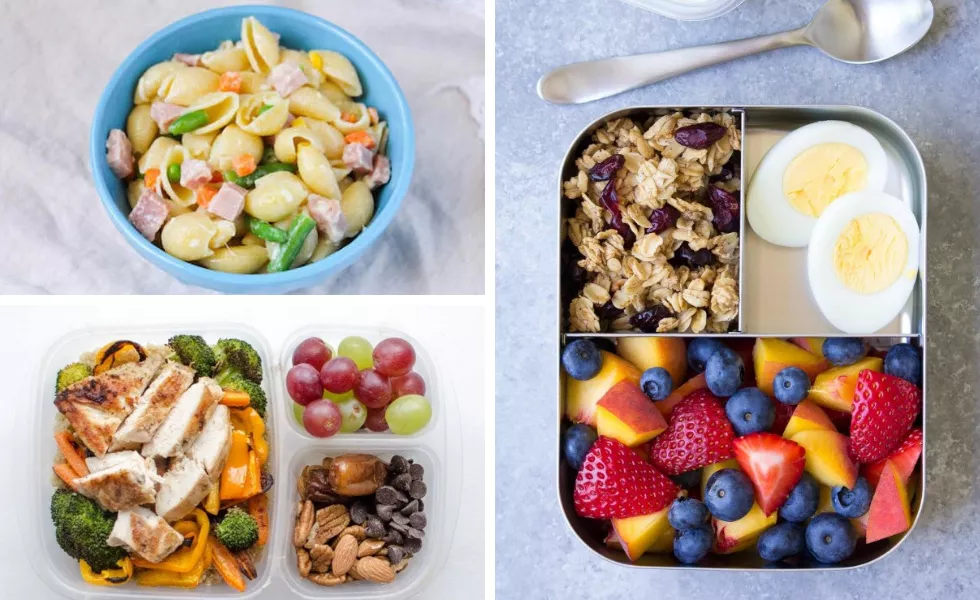 Picky eaters everywhere will love this pasta with butter and parm – it's super easy to make and is a crowd pleaser!
Serve with a side of fresh fruit and milk.
This yummy bento box is filled with cooked quinoa, roasted veggies, chicken breast, red and green grapes, almonds, dates, pecans, and dark chocolate chips. Have your child help you assemble their bento box in the morning!
If your bento box lacks inspiration, try making some homemade granola and serving it with fresh fruit!
Make-Ahead Cold Lunches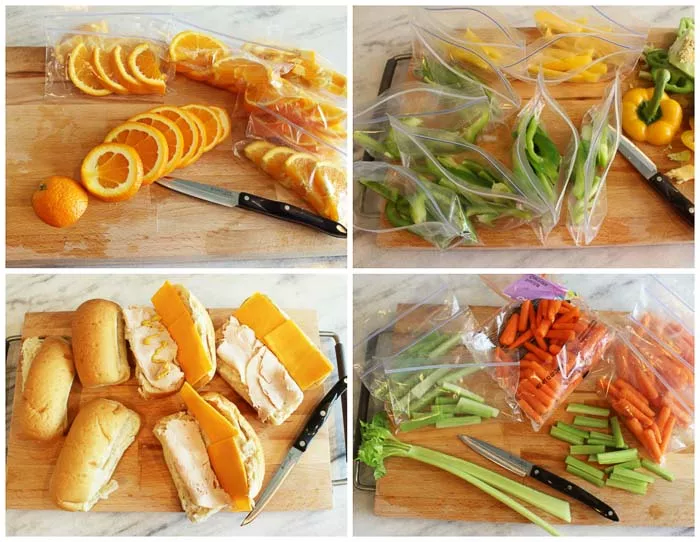 Meal prepping isn't just for fitness junkies or people trying to lose weight.
You can meal prep and make cold lunches for your child ahead of time – find inspiring make-ahead ideas for your child's lunchbox HERE!
Spinach & Feta Egg Cups

Pack some brain foods into your child's lunchbox with these yummy spinach and feta egg cups!
They're super easy to make – just grab the recipe HERE and a muffin tin!
Spaghetti & Meatballs Bento Box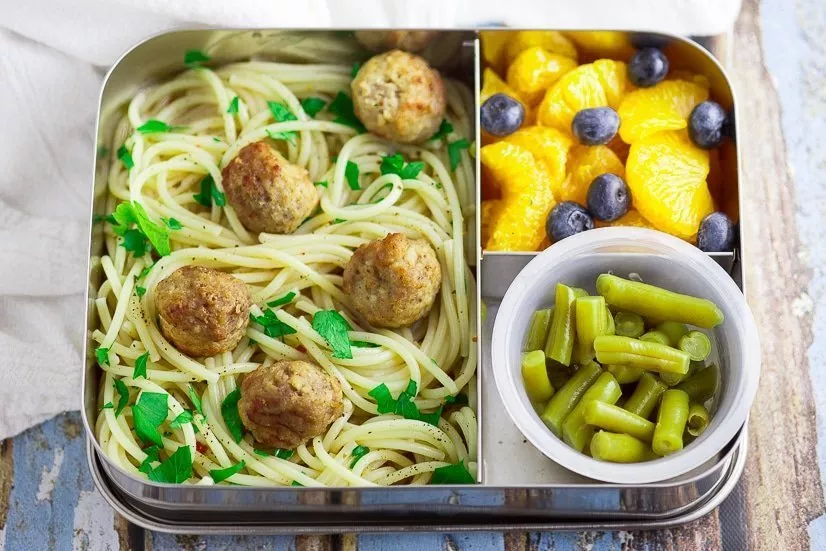 Packed with a little bit of everything, this delicious spaghetti and meatballs bento box!
See how to make this bento box recipe HERE!
---
*Post originally published March 2019, updated December 2021.