Here are some meal planning ideas, over 100 family-friendly recipes to inspire you, and a FREE weekly meal planner template…
---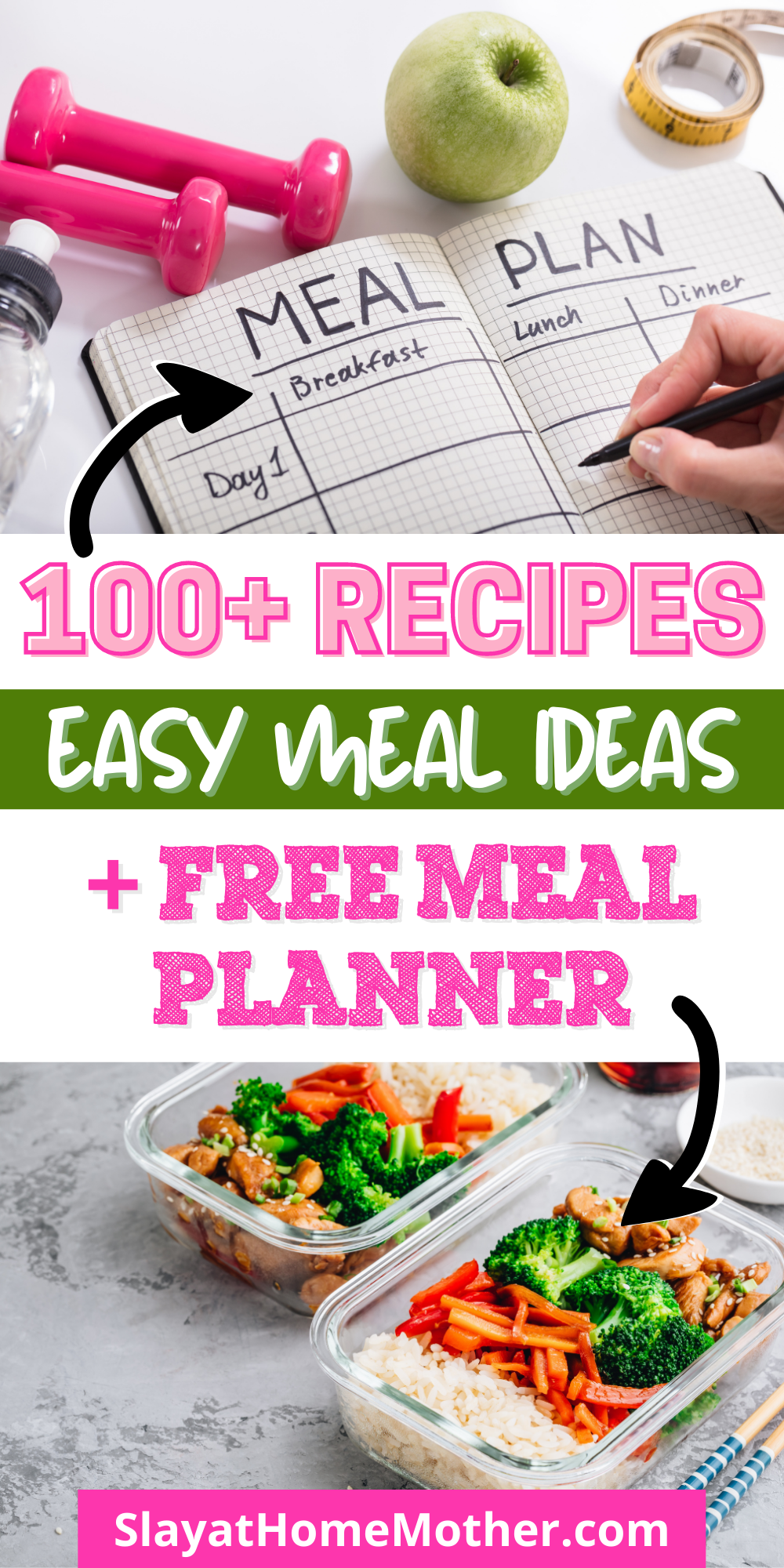 I started meal planning once my second little guy turned two – and it has been a HUGE lifesaver!
It has saved us tons of money and has helped me to be able to organize and utilize all of the groceries I buy with minimal waste.
It also helped us manage bills and expenses on just one income.
It's hard to picture a time before meal planning, but I can remember being very disorganized.
I had boxes and cans of food from a previous year that were never used and had to be tossed.
I grocery shopped depending on what I thought we might need – with maybe 2 or 3 dinners actually planned for two weeks I shopped for.
I would get home from work and struggle to think about what ingredients I had, and which recipe they would work for.
At times, I would forget about the produce I had waiting to be used in the fridge that would go bad before I remembered to use it!
Yikes!
My pantry was full of ridiculous things that made no sense!
I actually got so fed up with it that I decided to completely clean out my pantry, renovate the space, and start fresh.
And that's where meal planning came in. I decided to only get what I needed and to have some structure with our family dinners.
I didn't know that what I was doing even had an official name. I just knew I had to find another way – an organized way!
Now, I feel like the master of grocery shopping, meal planning, and organizing my pantry!
My groceries all have their place and purpose, my home isn't as chaotic (I still have two roughhousing little boys to parent, after all), and I lost the stress of figuring out what I could make out of what I had leftover. Meal planning changed our lives!
Have I said meal planning enough yet?! MEAL PLANNING. MEAL PLANNING. MEAL PLANNING. 😉
In this post, I'll be sharing how to start family meal planning on a budget, free printables you can use, how to go through your pantry and fridge and take inventory, a sample weekly meal plan, and over 100 delicious meals you can use to start your family's meal plan off right…
*This post contains affiliate links, however, all opinions are my own.
Why You Should Have A Family Meal Plan
Establishing a family meal plan can help you master your dinner schedule and your budget.
BTW – Meal planning shouldn't cost a fortune – it's just an organized way to plan out family dinners that everyone in your home can eat.
If you stay at home, you can also structure your weekly meal plan to work for breakfast, lunch, and dinner.
With our family, we rely on waffle mix, fresh fruit like strawberries and apples, and cereal to get us through the week!
My oldest son, Max, eats a free breakfast at his school, so that saves us a ton of money as well.
We do a weekly meal plan for my husband Chris' work lunches, and Jax eats what I eat during the day!
Don't be afraid to over-plan your meals, especially when you're on a tight budget or one income.
The first step to successfully planning your family's meals is to take inventory of what you already have…
Eliminate Waste And Organize Your Current Inventory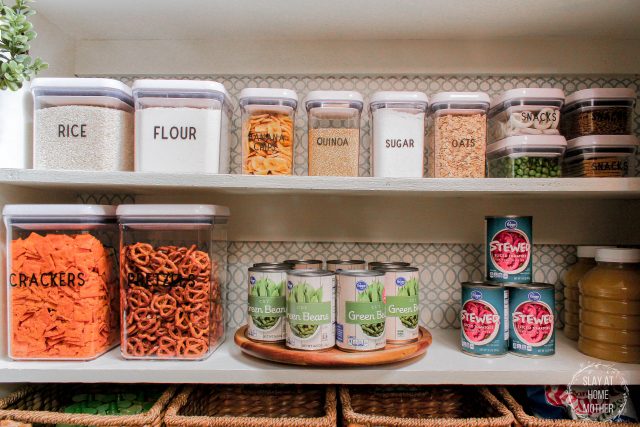 Related: See my Amazon Kitchen Favorites here.
Take Inventory Of Your Pantry And Fridge
Meal planning often requires you to take inventory of what you already have and to organize that inventory.
And where are most of your inventory kept?
The fridge and pantry (or cupboard)!
Sort through your pantry and fridge and throw out old and expired foods.
This way, you can eliminate the clutter and get a really good sense of what you have that can be used for your weekly meal plan.
You can learn a lot about yourself and your buying habits by looking at your food inventory.
For example, I learned that I buy 2-3 cans of green beans every time I go grocery shopping, but I rarely prepare those green beans in our weekly dinner meals.
So, I'm basically stockpiling cans of green beans every week for no reason!
Maybe you're consistently buying groceries that will never get used, too – that's money that is being wasted!
Meal planning can help with that by giving you a plan of action, and by giving the food you've spent your hard-earned money on a purpose other than taking up space until it has been forgotten and is no longer edible.
Create Or Download a FREE Weekly Meal Planner
Take inventory of what you currently have in your fridge and pantry with my free weekly meal planner downloads(which include both a pantry inventory list and a fridge inventory list).
You can then use this inventory list for brainstorming your weekly meal plan…
Brainstorm Meals For The Week
Using A Meal Planner To Plan Your Meals
Once a week, I sit down and meal plan.
It only takes me half an hour at most to get it done, and I usually plan ahead of two weeks instead of one to make the most of my grocery shopping trip.
To get this task done within 30 minutes, I usually do it while my youngest son Jax naps, and I pick a time when I need to go grocery shopping to begin this process.
To meal plan, I use my free printable meal planner and brainstorm the different meals I want to make and serve for the week.
To start with, I brainstorm five meals my family will be eating for the week and research the recipes I have hidden somewhere among my 97598358345 pins on Pinterest ;).
Things I consider when picking my meals for the week:
Are the ingredients in season? This saves me money and ensures I can feed my family fresh ingredients.
Did my family enjoy eating this dish the last time I served it? If not, I can make some adjustments to really make it my own, or save some money by eliminating a not-so-favorite ingredient.
What ingredients do I already have in my pantry that I can use in my dishes for the week?
You can also use a family meal planning app if you wish.
I find it easier to write things down on paper and brainstorm that way, but whatever works best for you is fine!
Create your meal plan starting with Sunday (or Monday if that's easier for you), and write out which meals you plan to have each day.
I have a sample weekly dinner meal plan below…
Sample Weekly Meal Plan For Families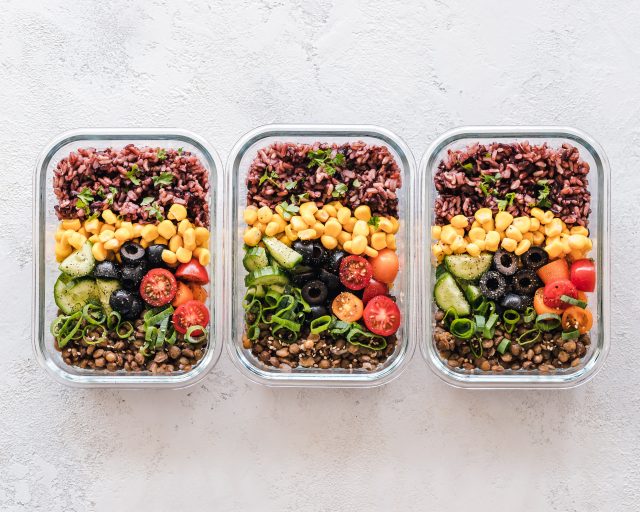 Take Meal Planning Slow At First
When selecting meals and recipes for your meal plan, don't be blinded by the over-the-top meal plan ideas there are online.
Yes, 'Korean-Style Marinated Skirt Steak' and 'Pasta Puttanesca' sound delicious, but if you've never made them before and are trying to dive headfirst into meal planning and learning multiple new dishes at the same time, I'm sorry to say that you will most likely feel defeated at the end of the week.
Incorporating meal planning into your life is almost like adopting a new lifestyle – it takes some practice and consistency.
Think of it as your new good habit to help your wallet, your mind, and your belly ;).
If you overwhelm yourself to start with, you won't want to explore this new concept any further, and you won't benefit.
And I WANT you to benefit from meal planning – because it really is a game-changer.
Try to limit the number of new dishes you try at first.
I'm all about trying new foods and incorporating new dishes into our diet, and we try a new dish once every two weeks or so.
I try to rotate our weekly meal plan around so it doesn't get boring and slide in a new meal to try every two weeks.
If the crowd loves it, we add it into our rotation. If not, we will try something else next time!
Example of A Weekly Family Meal Plan
Here's an example of what my family will eat with our weekly meal plan (just one week):
Sunday: Chicken enchiladas and corn
Monday: Spaghetti and meatballs with a side of carrots
Tuesday: Goulash with elbow noodles
Wednesday: Drumsticks, angel hair pasta, and mixed veggies
Thursday: LEFTOVER Goulash with fresh elbow noodles
Friday: Chicken fettuccine alfredo with spinach
Saturday: KIDS CHOICE (Macaroni and cheese, mixed vegetables, and drumsticks)
Sunday next week: LEFTOVER Chicken fettuccine alfredo with spinach.
With this sample meal plan, and with our family working on a budget, I like to make dishes that can stretch to cover two meals in one week.
Save Money By Considering Dishes That Make Enough For Two Nights Of Food
The chicken fettuccine alfredo with spinach dish makes enough for two nights of meals, as does the goulash dish I make.
When I go grocery shopping, I know that the noodles I buy for these meals will have to be in big enough quantities to accommodate two nights of eating.
Get Creative With Your Meal Plan!
For your weekly family meal plan, you could try something like Meatless Mondays, Taco Tuesdays, Kids Choice Saturdays (those go over really well in our house), etc.
If it helps to have a theme to your meal plan, go for it!
Now that you have a better idea of how to meal plan for the week, you can even try meal planning your month out.
Mix up the meals you usually serve, write everything down, and you have an easy month of meals already planned for you!
Over 100 Meal Planning Recipes and Ideas!
If you need some inspiration to get you started with meal planning for your family, I've asked some of my blogging friends to share their easy dinner recipes with me.
There are plenty of options to choose from (over 100!), and I've sorted them into groups to help with any dietary concerns you or members of your family may have!
There are a ton of gluten-free dishes here, too!
These recipes should keep you from getting in a rut while you're meal planning, and might even give you some ideas to create your own dish based on what your family likes!
I can honestly say, after looking at these recipes – I'm suddenly starving!
They all look fantastic.
Remember not to overwhelm yourself with too many new dishes for your new meal plan – stick to the basics at first, and try to incorporate new dishes slowly at first.
Once you are more comfortable with the process, try some of the amazing dishes below…
Here are some great ideas for meals to get you started on your meal planning journey…
Gluten-Free Options
Beef Dishes
Pork Dishes
Chicken Dishes
Turkey Dishes
Seafood Dishes
Crock-Pot Meals
Veggie Dishes
Soups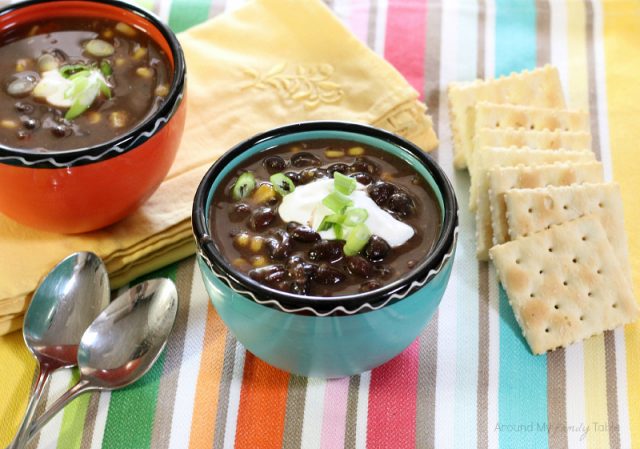 Breakfast For Dinner Dishes
---
I hope you enjoyed this post and learned just how great meal planning can be.
Don't forget to download my free weekly family meal planner to help you budget and plan out your dinners!

*Post originally published Feb 2019, updated December 2021.