Try these 38 DIY home decor projects, all for less than $50!
---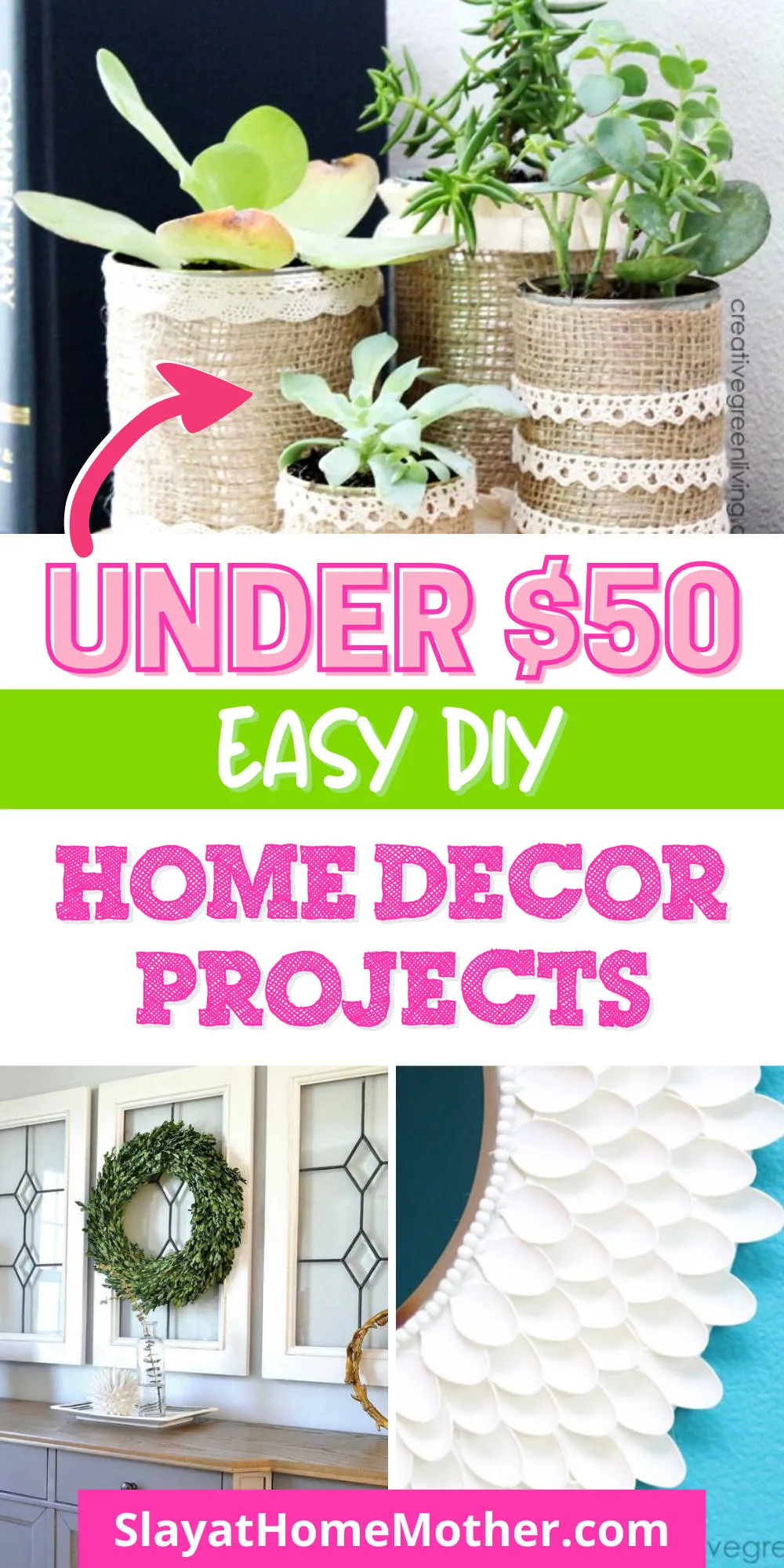 38 Home Decor Projects For Under $50!
Hi friends!
Spring is right around the corner…
With the Christmas decor taken down and put away for the next 11 months, our mantles, coffee bars, and walls are bare.
What used to be decorated with all things bright, cheery, and jolly now feels empty and less like a home.
But before you go out and spend hundreds of dollars at Joann to fill the home decor void that taking down Christmas has left you with, try some affordable DIYs first!
We all want to make our home as beautiful as it can be – and with shows like Fixer Upper, Chip and Joanna Gaines have us all feeling a little lacking in the home decor department.
While we could all go out to Target and snag some adorable home decor from their collection, it will have us going for broke trying to keep up.
And don't even get me started with Instagram homes – totally unfair ;).
But then again, they are very inspirational…
But even if you're chasing after the dream of having the perfect home, or are catching the home decor bug, you don't have to shell out the big bucks or pay an arm and a leg to get it!
Just complete a couple of easy DIYs and you can have the home of your dreams in no time!
If you're looking for some easy home decorating ideas on a budget, I have a great roundup of ideas for you!
There's nothing like creating your own home decor, especially with so many easy-to-follow tutorials online.
You can get the farmhouse rustic, modern chic, or classy and elegant home decor you want on a dime with these cool DIY projects.
From the bedroom to the kitchen, these DIY projects will motivate you to start crafting and creating something beautiful of your own!
DIY Succulent Twig Wreath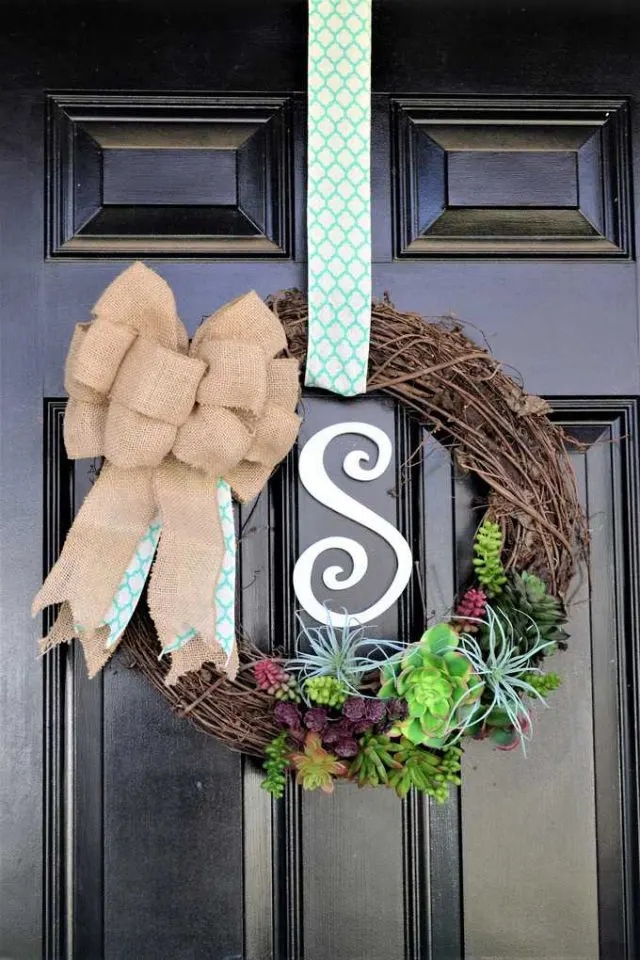 Perfect for Spring, this gorgeous DIY succulent twig wreath from All Crafty Things is both colorful and beautiful.
Follow her tutorial with step-by-step pictures, and customize it to make it fit your style!
DIY Floral Spring Arrangement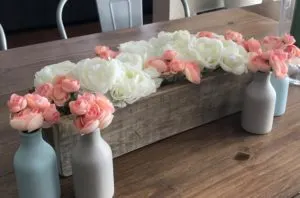 This gorgeous DIY boxed floral arrangement from Simply Pretty Life is giving me all the spring feels.
I can actually picture this as a rustic wedding centerpiece, can't you?
I've seen similar floral arrangements being sold on Etsy for anywhere from $50 and up (not including the cost of shipping), but this tutorial shows you how to easily make your own rustic floral arrangement for less!
Simple Wood Picture Frames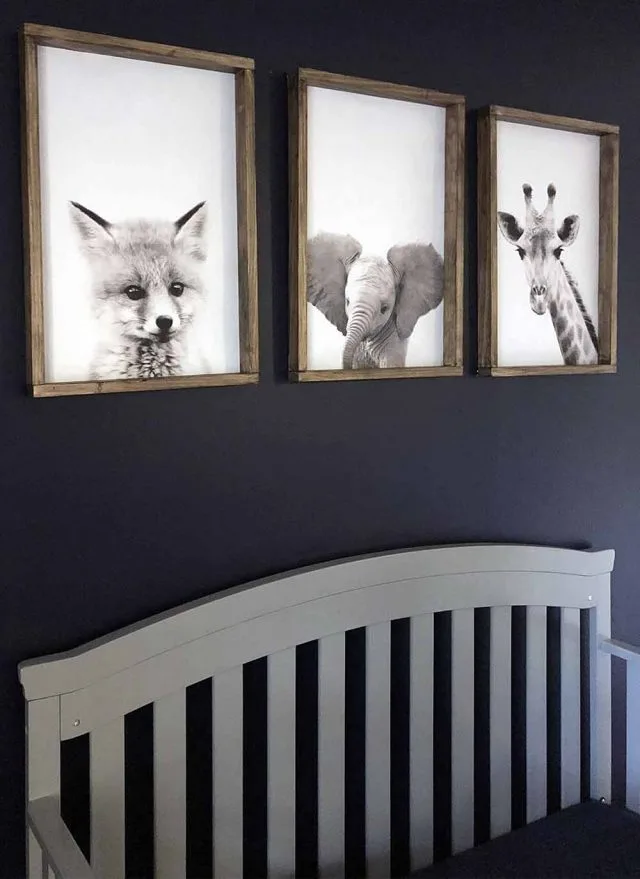 Craft some easy DIY wood picture frames with this easy-to-follow tutorial from My Design Rules.
Perfect for any room in your home, and incredibly cost-effective!
DIY Felted Yarn Basket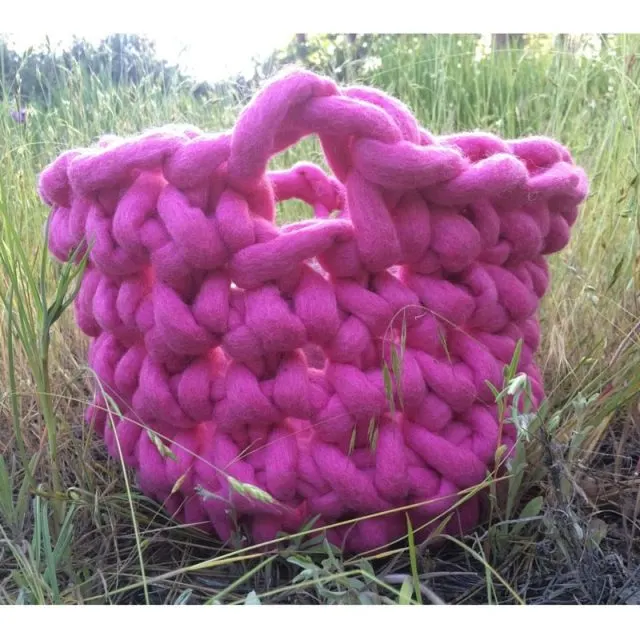 Even if you don't know how to crochet, you can learn a few quick stitches and weave a beautiful felted yarn basket thanks to the easy tutorial from The Domestic Wildflower.
DIY Tiled Shelf Hanging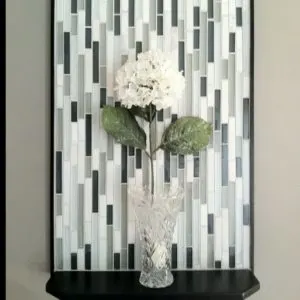 This DIY is a beautiful (and unexpected) use of decorative tile – but I'm loving it all the more!
Read more about this DIY home project over at Simply Pretty Life, and start crafting one of your tiled shelf hangings.
DIY Painted Window Decor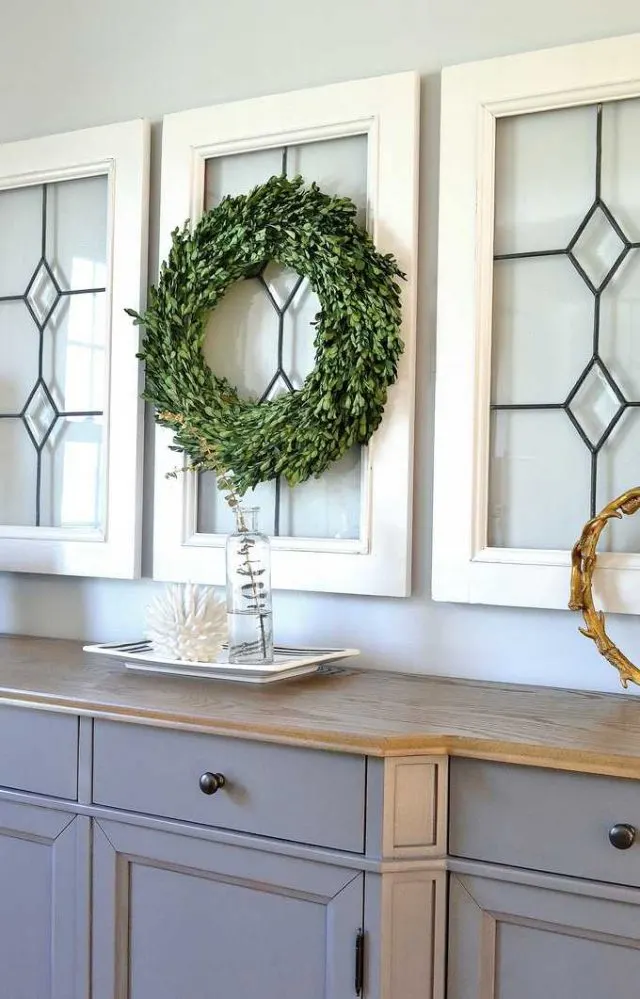 Anyone else loving the painted window frame trend right now?
This gorgeous white painted window decor tutorial from Burlap And Blue will have you jumping on the farmhouse window decor bandwagon in no time.
DIY Be Creative Colorful Pallet Sign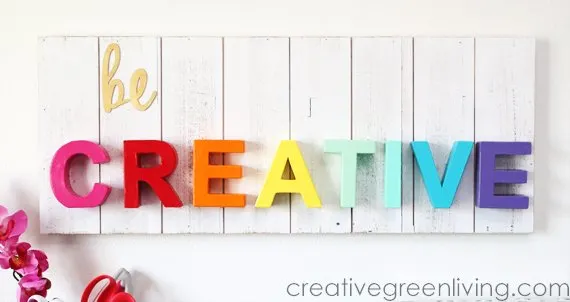 Anyone in. the mood for some DIY home decor crafts with #allthecolors?!
This pallet sign is so creative, and I'm loving the rainbow colors!
Create this easy pallet wood sign (you can always customize it to say whatever you want!) by checking out the tutorial at Creative Green Living!
DIY Knot Pillow Tutorial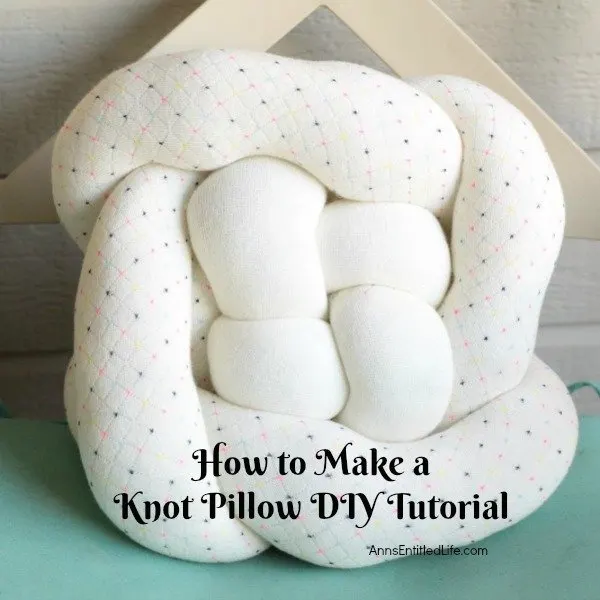 Anyone else just love knotted pillows?! I think they are so adorable!
If you've always wanted one (but don't love the hefty price tag that comes with the ones you can buy online), try to make your own using this Knot Pillow DIY Tutorial from Ann's Entitled Life.
She has step-by-step pictures that show you everything you need to do to get this gorgeous pillow!
DIY Vision Board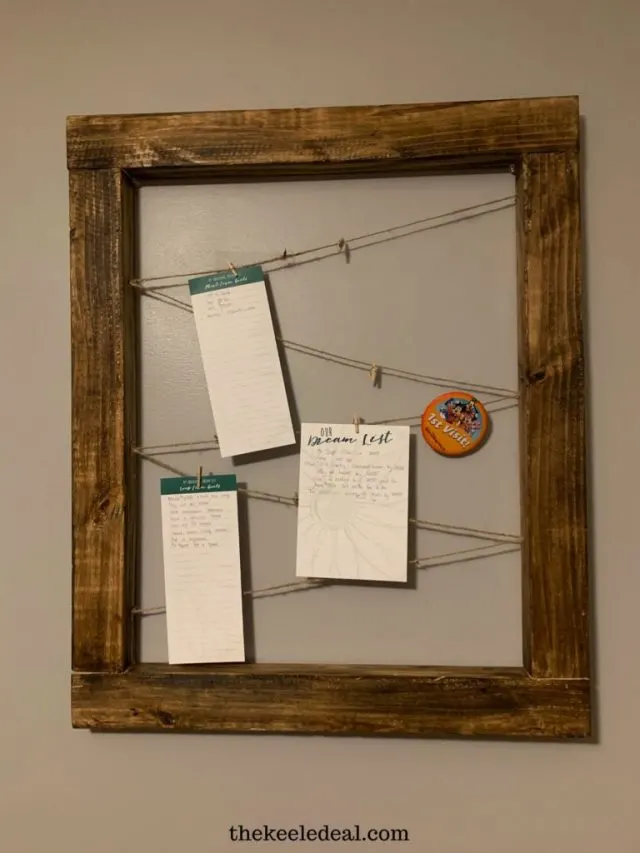 This vision board from The Keele Deal is so easy to make, and would make a great piece of wall decor for an office, bedroom, or entryway!
Hang up pictures that inspire you, quotes, etc.
Easy Home Decor With Faux Succulents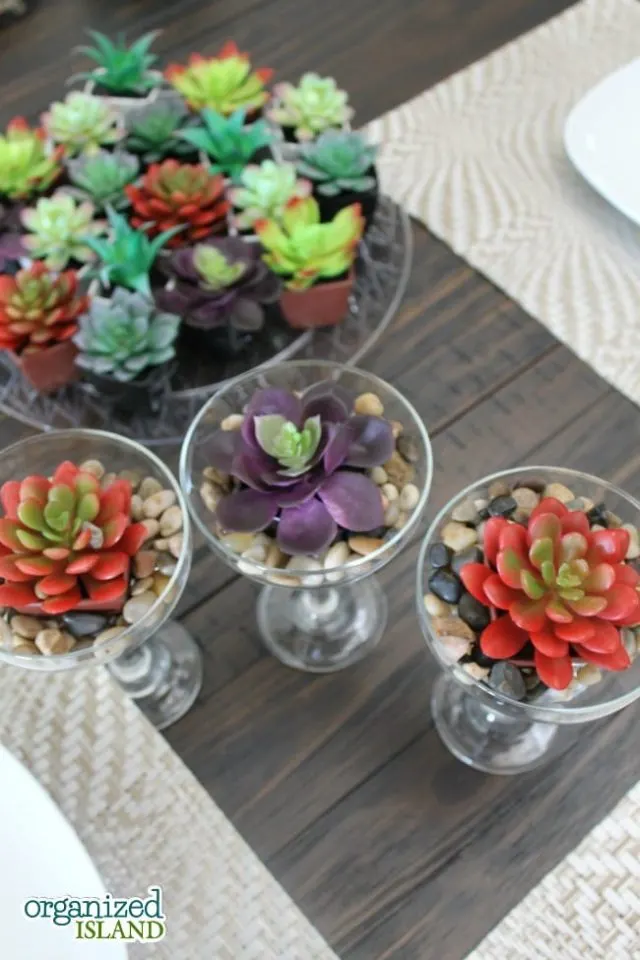 These faux succulents are so pretty!
If you are looking for a creative way to display succulents in your home, follow this tutorial from Organized Island using just three materials!
DIY Chrysanthemum Mirror using Plastic Spoons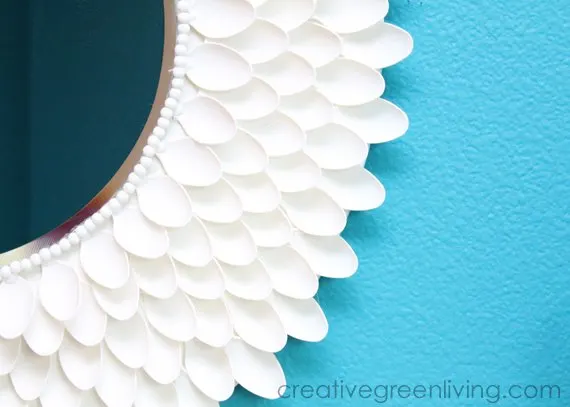 Creative Green Living has mastered plastic spoons with this beautiful Chrysanthemum-style mirror!
I was so surprised to learn she used plastic spoons, but the end result is so beautiful!
Follow her tutorial HERE to craft your own!
DIY China Hutch Makeover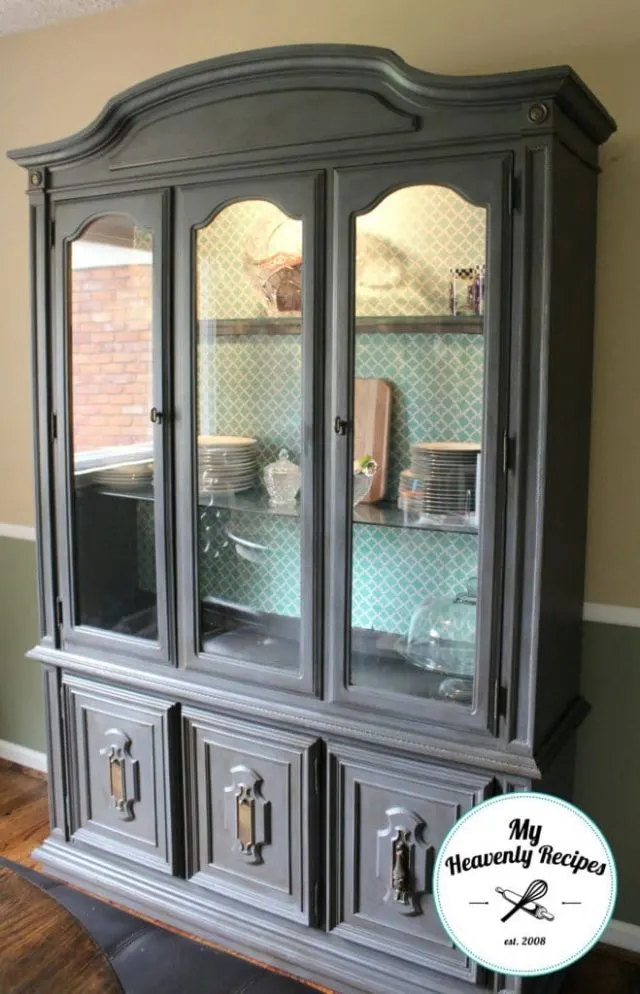 Sometimes, when you're looking for easy DIY home decorating ideas, the answer to what you should DIY first is right in front of you, like this china hutch makeover from My Heavenly Recipes.
Marci transformed her china hutch using chalk paint, wax, and some contact paper – and the end result is beautiful! If you have pieces of furniture (or even a set of dining chairs) that need an update, Marci's got the deets!
DIY Wood Crate Centerpiece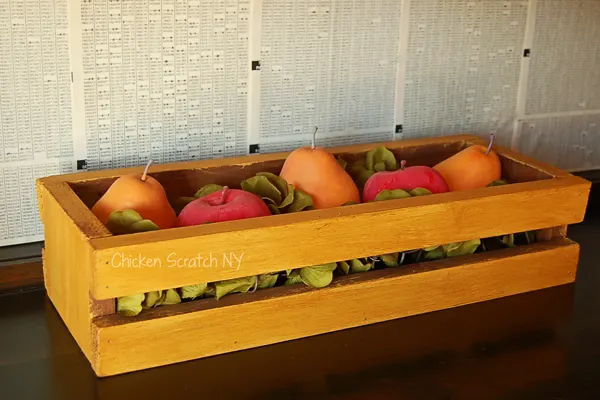 Find out how to build your own wooden crate centerpiece with Chicken Scratch NY's easy tutorial and fill it with whatever your heart desires!
DIY Bathroom Mirror Frame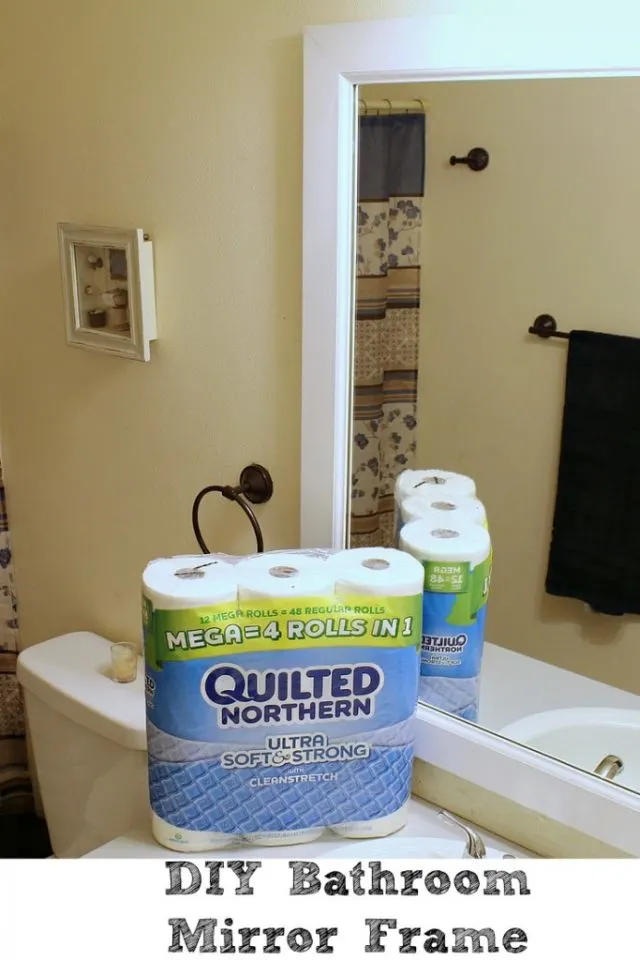 Do you have one of those mirrors in the bathrooms that don't have a frame?
We used to have one of these in our bathroom in our home in North Carolina, and I hated it!
A frame would have changed the look of the bathroom entirely…
You can build your own bathroom mirror frame with this easy DIY from Cook Eat Go!
DIY Heart Curtain Ties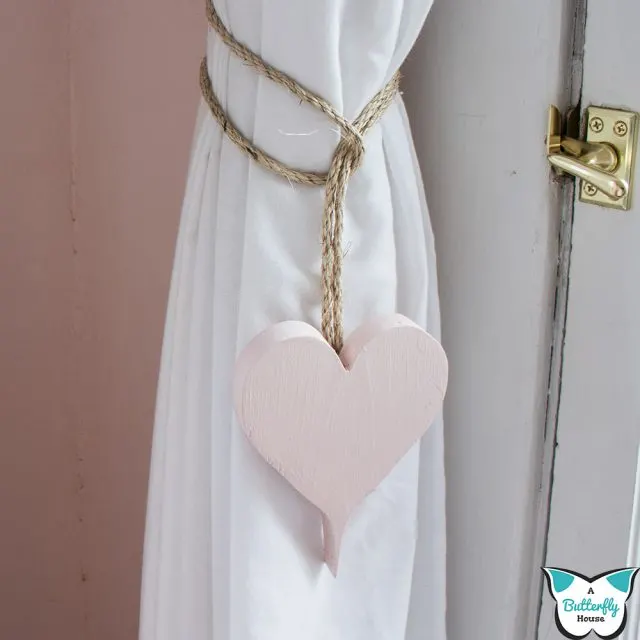 Just in time for Valentine's Day, this cute DIY Heart Curtain Tie just stole my heart away!
Learn to make your own with this tutorial from A Butterfly House using tools you probably already have in your garage!
DIY Updated Doorbell Cover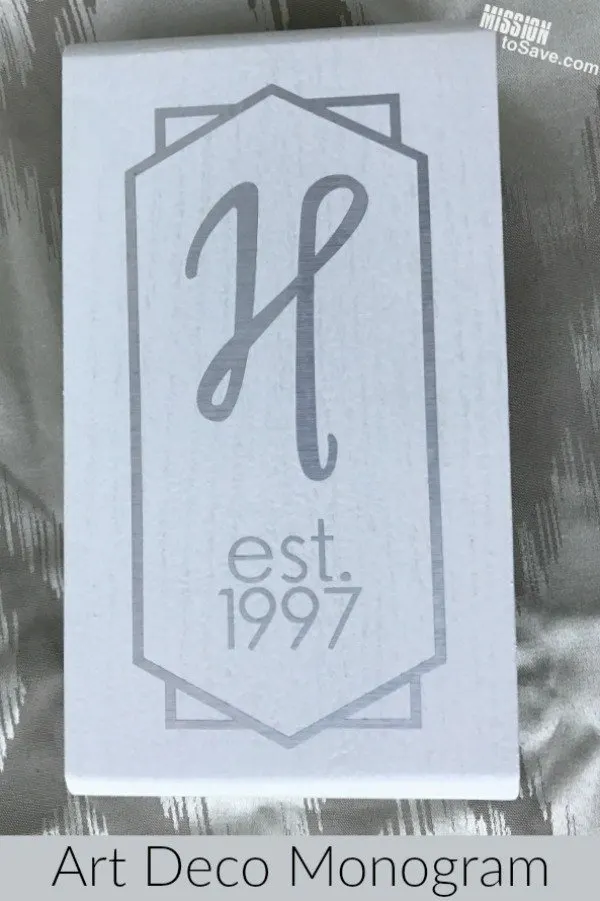 Here's an idea you probably haven't given much thought to lately – updating your doorbell cover!
Mary from Mission To Save updated her doorbell cover for less than $50, and the end result is gorgeous!
*While this tutorial was completed using a Cricut, you can get away with cutting out a design with contact paper or purchasing a vinyl design from a seller on Etsy for about $15 or less depending on your design!
DIY Painted Oar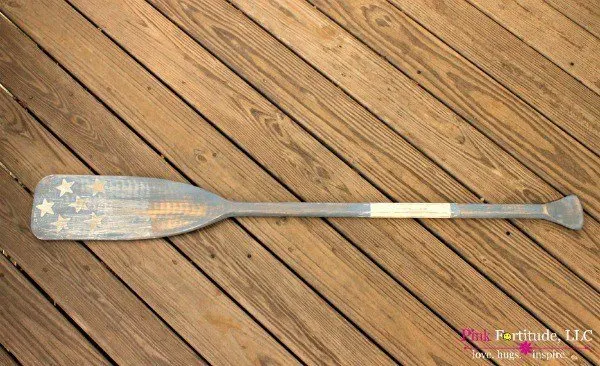 This painted oar DIY from Pink Fortitude is so beautifully done, and a great dupe for the Pottery Barn oar that inspired its design!
Holly crafted this gorgeous DIY using an oar she found at a yard sale (which is a great place to find materials for your next DIY), instead of paying $200 for the Pottery Barn version!
Follow her tutorial, and get inspired…
DIY Easy Pillow Covers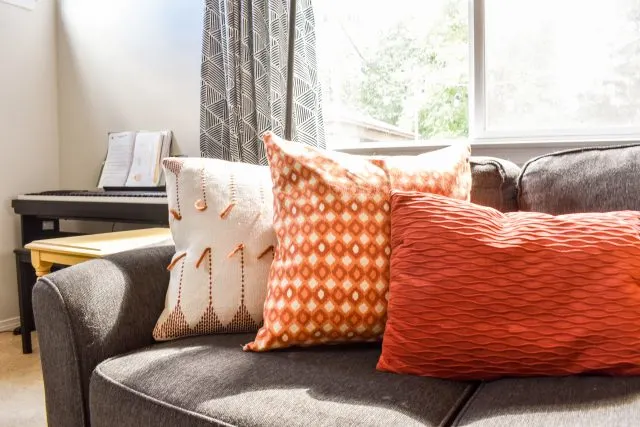 DIY pillow covers are easier than ever with this tutorial from Jessica Welling Interiors!
Choose your fabric, follow her steps, and you'll have some easy custom-made pillow covers in no time.
DIY Rustic Farmhouse-Style Picture Frame With Vinyl Lettering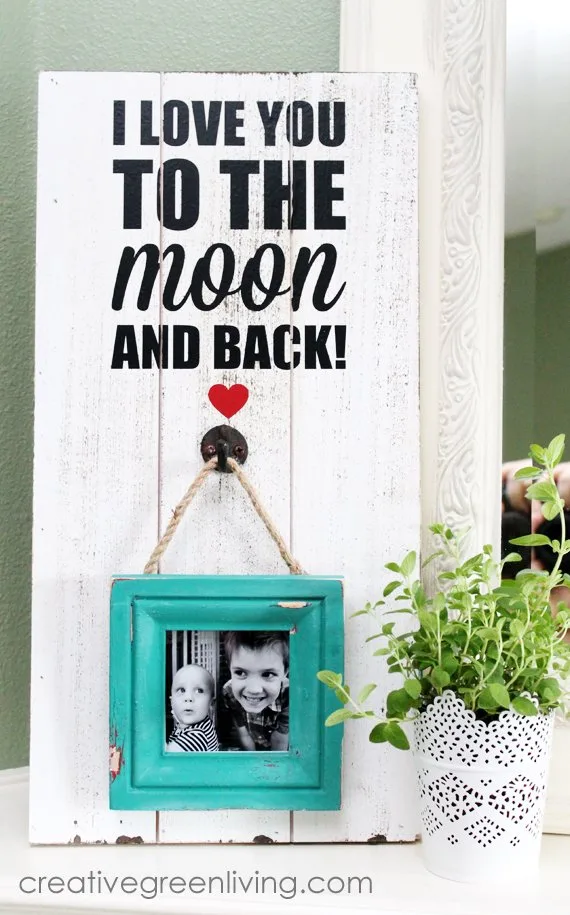 Another gorgeous DIY from Creative Green Living, this rustic farmhouse-style picture frame with vinyl lettering would make the perfect gift or piece of home decor for your own home!
Carissa takes you step-by-step in her tutorial to help guide you to make your own beautiful custom picture frame – customize the paint colors and the letters to make it your own!
DIY Chalk Paint Fireplace Makeover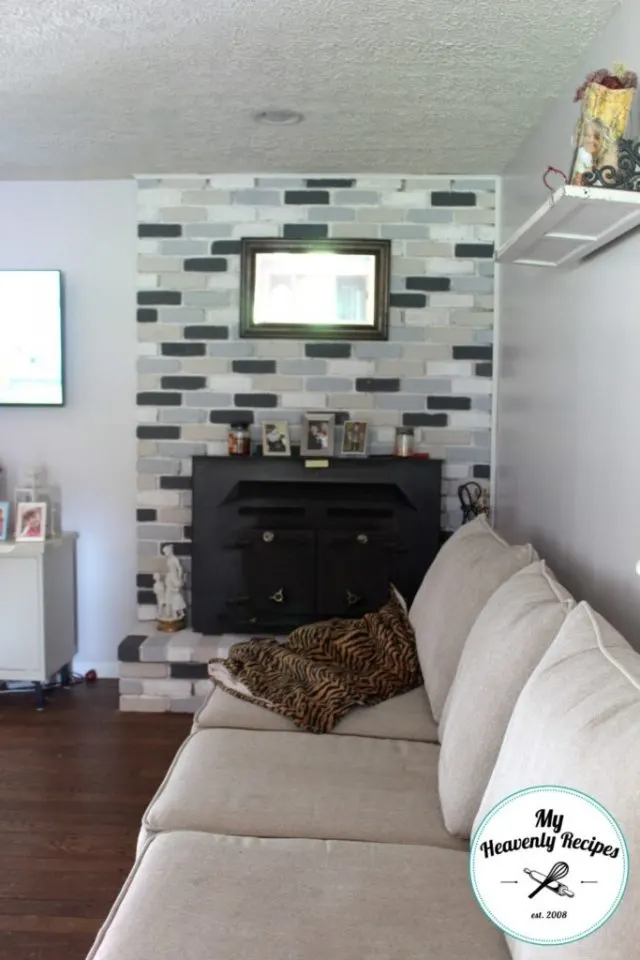 If you're itching to paint something in your home, but the walls are off-limits (or too much of a commitment), consider painting the fireplace!
This DIY from My Heavenly Recipes shows you how to paint your fireplace, what kind of paint to use, and invites you to use more than just one color!
DIY Cotton Stems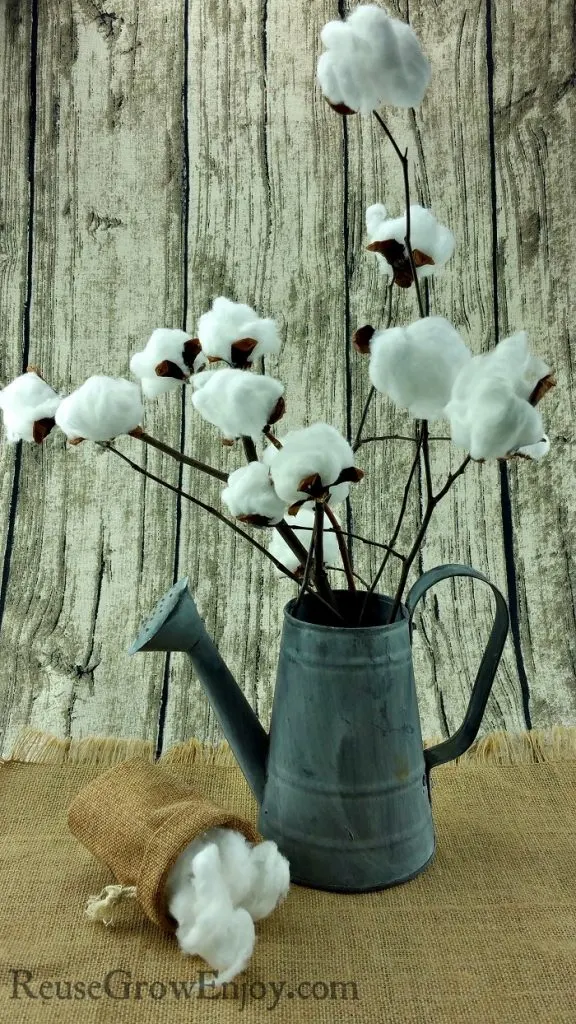 Cotton balls + sticks + pinecones = DIY cotton stems!
It's the ultimate rustic DIY.
Follow along with Reuse Grow Enjoy's easy tutorial to craft your own cotton stems, because with how popular the farmhouse style is getting these days, it can get expensive to create a cotton centerpiece for your dining area or mantle!
DIY Recycled Succulent Planters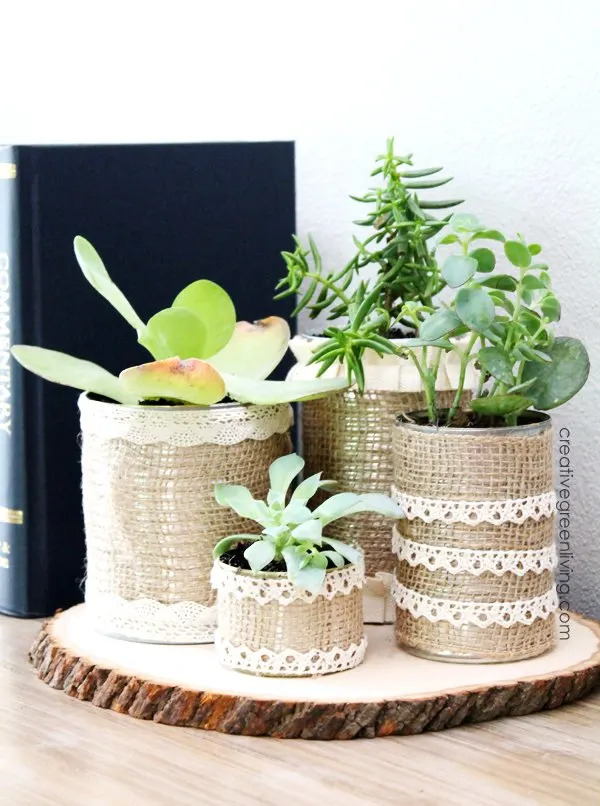 One of my favorites here – these recycled succulent planters, made with burlap and lace, from Creative Green Living are so pretty and PERFECT for spring!
DIY Burlap Curtains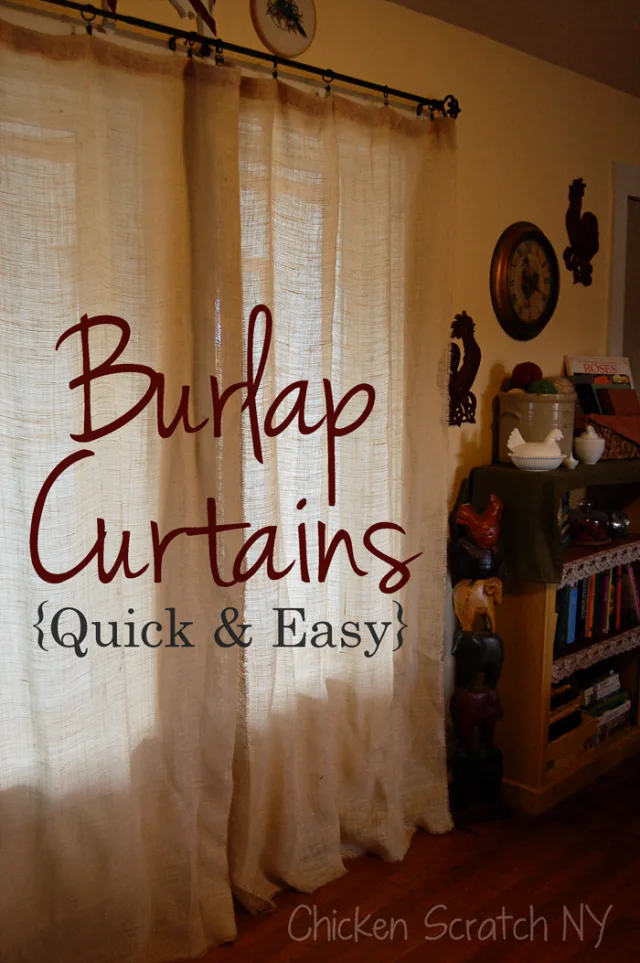 If you love burlap, you'll love these DIY burlap curtains from Chicken Scratch NY!
DIY Faux Wood Pallet Sign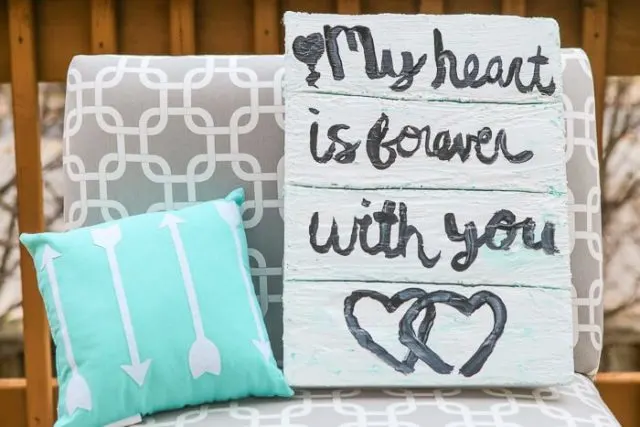 You wouldn't know it, but this home decor sign isn't made with real pallet wood!
Follow Play Party Plan's simple DIY to make your own faux wood pallet sign – the materials list may surprise you, but the end result won't!
DIY Little Golden Book Banner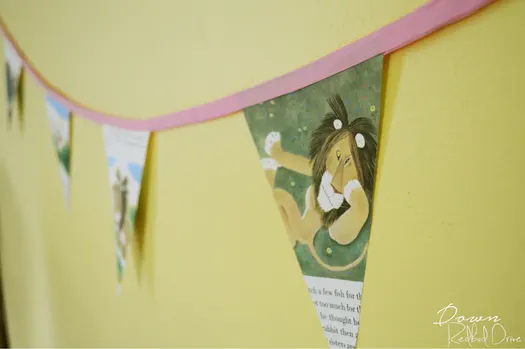 If you have an abundance of books, consider making them into a banner for either your fireplace mantle, children's playroom, or your child's room!
This easy DIY only cost Down Redbud Drive $3.25, and is a great beginner DIY to try!
DIY Floral Bookends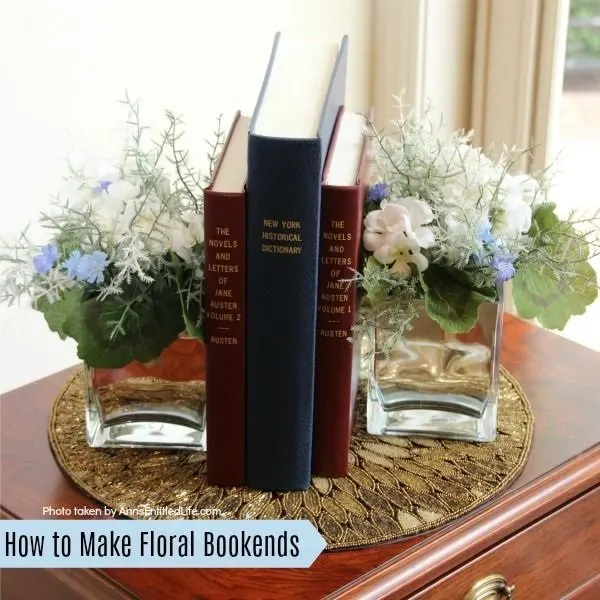 Hello, spring vibes! This DIY is a great way to bring floral arrangements into your home with purpose (so minimalists can still appreciate these bookends).
Ann's Entitled Life explains how to craft these gorgeous floral bookends with her easy-to-follow tutorial HERE.
DIY Boho Bean Bag Chair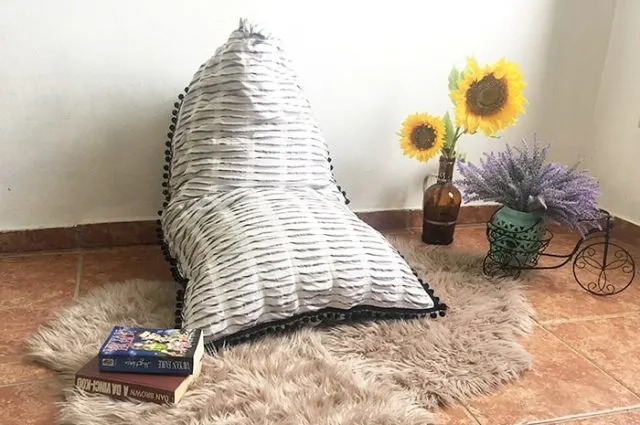 This boho bean bag from Hungarican Journey looks so comfy, I want three of them!
Follow along with her tutorial to make your own!
DIY Coffee Filter Wreath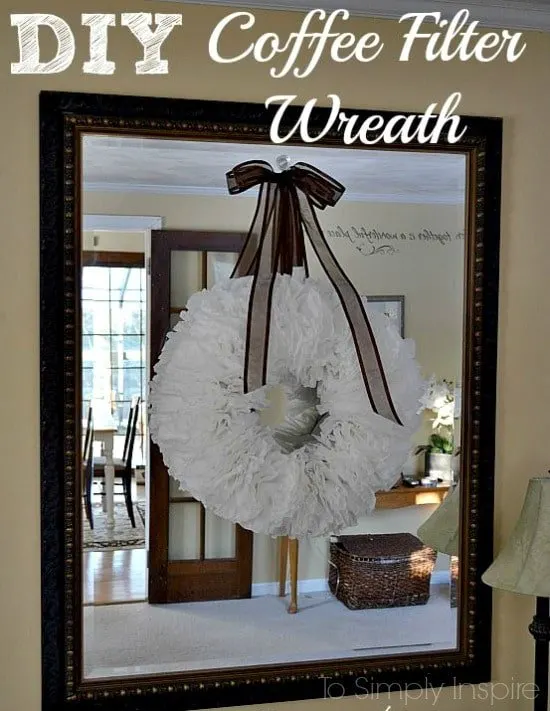 This wreath is so pretty, I would never have guessed this wreath was made with coffee filters!
See the full tutorial over at To Simply Inspire.
DIY Floating Shelves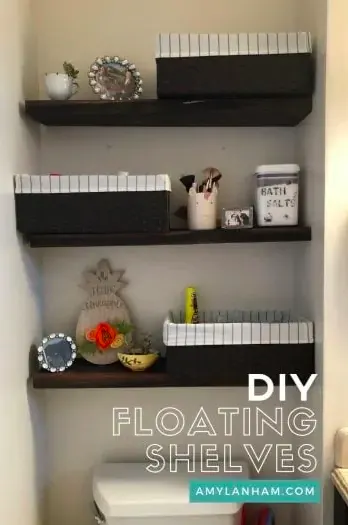 Floating shelves seem to be all the rage right now, especially in bathrooms!
You can stack toilet paper, farmhouse decor, or your favorite scents and sprays.
This DIY tutorial from Amy Lanham will have your bathroom be the envy of all your friends!
DIY Blanket Ladder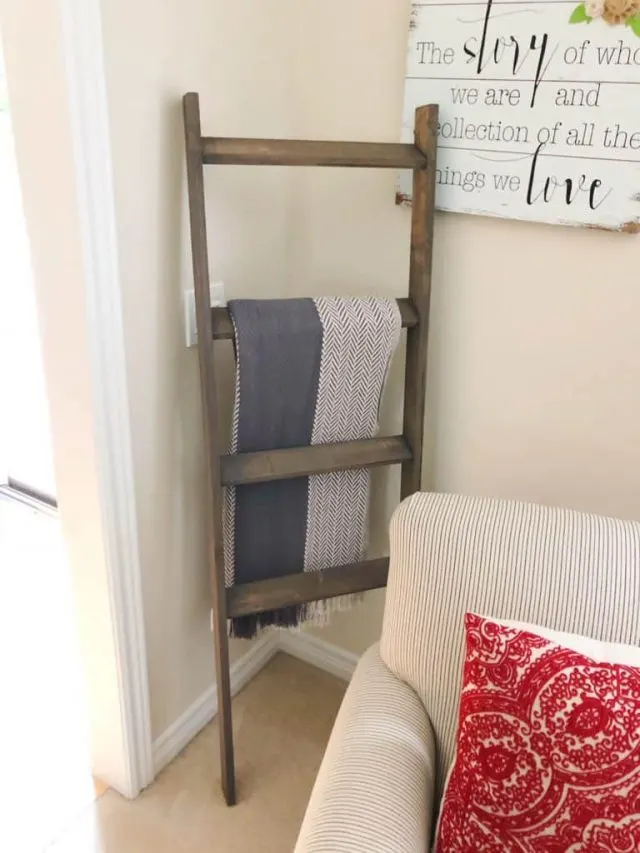 If you don't already have a blanket ladder for these chilly winter nights, you're missing out!
These easy instructions from Savings Lifestyle will have you crafting a gorgeous DIY blanket ladder in no time!
DIY Roll Out Pantry*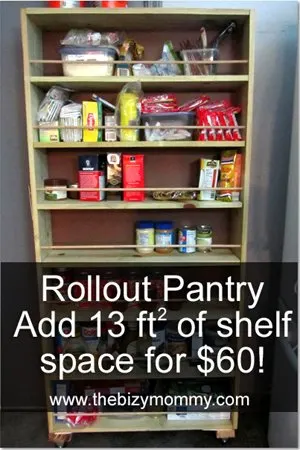 This roll-out pantry is genius!
I have to let you guys know that this is actually $10 more than the $50 limit…
But I didn't want to exclude it in case you wanted to spend an extra $10, or you might be able to swing it for $50 with locally sourced materials!
This rollout pantry fits next to your fridge and can be used to store extra cans, spices, or boxes.
Check out the DIY roll-out pantry HERE from Atlanta's Frugal Mom…
DIY White Painted Kitchen Cabinets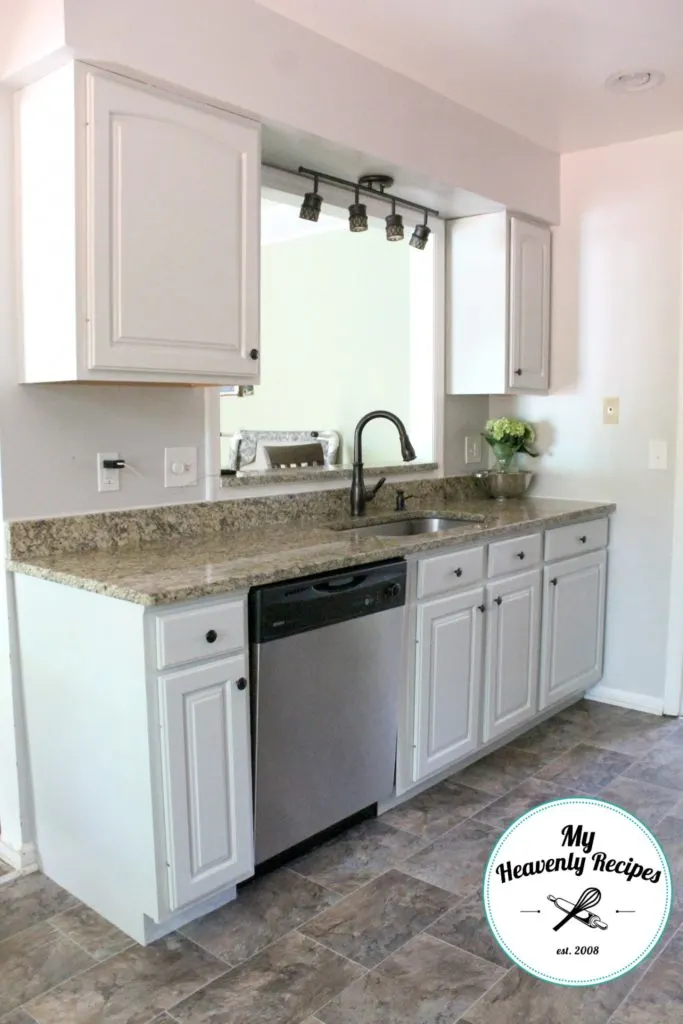 Tired of your oak cabinets? Paint them!
I had no idea you could paint your kitchen cabinets for under $50, but this kitchen cabinet makeover from My Heavenly Recipes makes me want to transform my own kitchen.
It's easily one of the most incredible DIY projects for home improvement on this list!
DIY Batman Shelf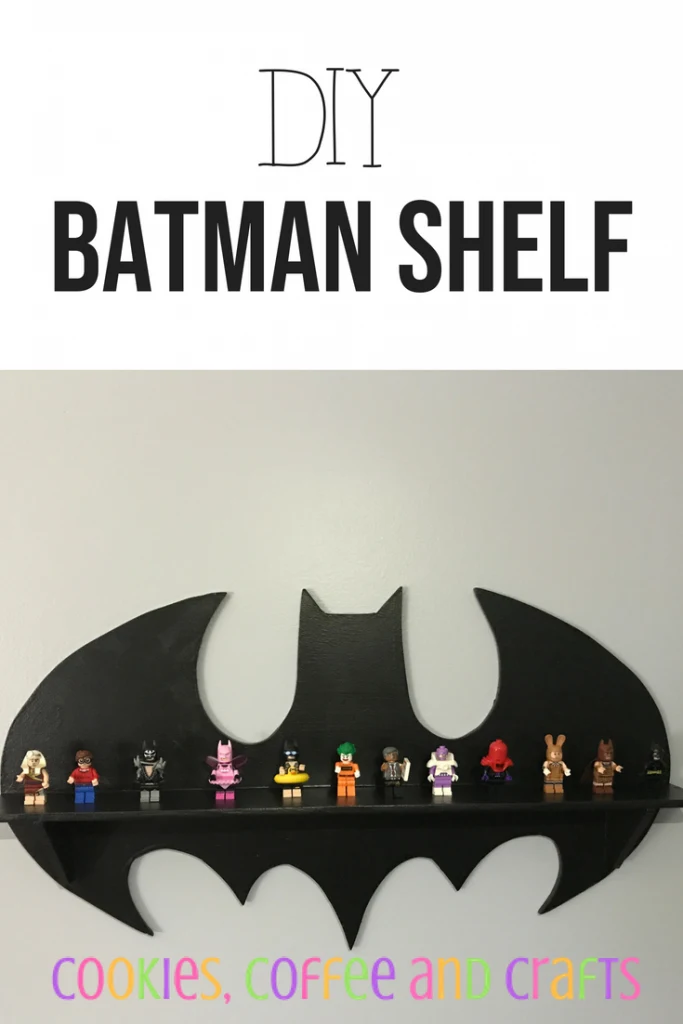 Perfect for your child's room, this DIY Batman shelf from Cookies Coffee And Crafts is adorable!
But don't tell Batman we said that ;). Find her tutorial HERE to start making one of your own!
DIY Frosted Glass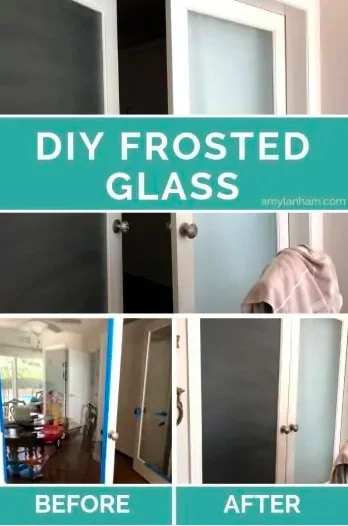 If you need a little more privacy in your home (think the front door glass that's clear for anyone to peer into your home through!), follow this easy DIY from Amy Lanham to make your own spray-on frosted glass doors!
She even includes the. changes she would make the second time around so you can complete the DIY with ease!
Display Shelves Makeover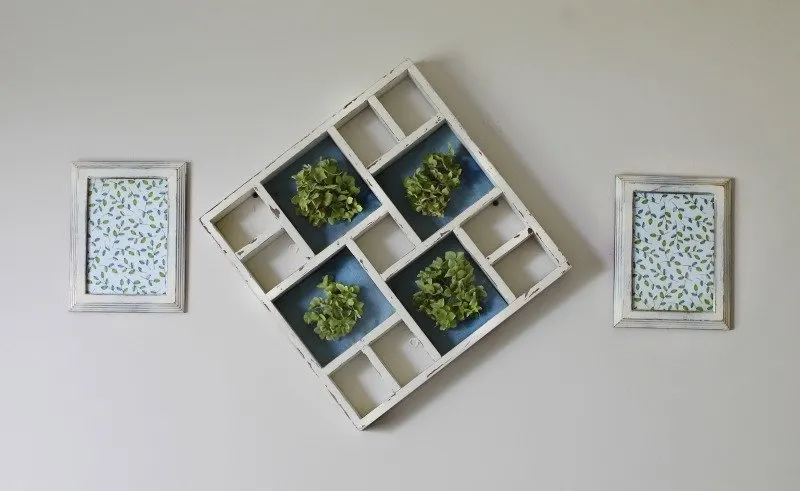 This is a must-see DIY from Happy Deal Happy Day! She took her old shelf and transformed it using paint, easy distressing, and extra fabric. I'm loving the ease and beauty of this DIY!
Check it out here, and use it as inspiration to transform something in your home – even your dining room chairs!
DIY Multi-Seasonal Monogram Frame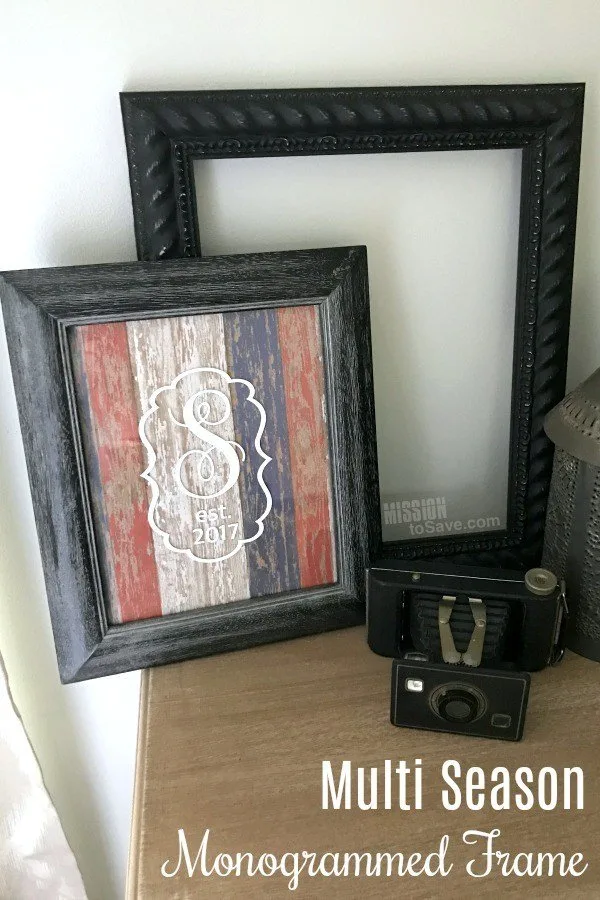 This has to be one of the most versatile DIYs ever! Mission To Save created this Multi-Seasoned Monogram Frame by placing vinyl on top of the front glass of the frame and changing out the background paper (which is simply scrapbook paper) with the seasons or as her decor changes.
*If you don't currently own a fancy machine like the Cricut or Silhouette, don't fret!
You can create the same look with contact paper or by contacting a seller on Etsy to create something for you often for $15 or less depending on the design!
DIY One Hour Table Runner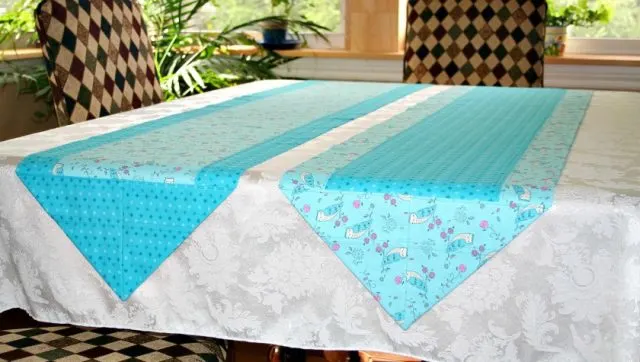 If you've been on the hunt for a table runner that will fit your table but don't want to spend an arm and a leg at the store, make your own!
Super Mom No Cape (how cute is her blog name, BTW?) found a way to craft a table runner in just an hour!
You need the fabric, a sewing machine (or two busy sewing hands you can rely on), and some thread to complete this DIY.
And if you're newer to sewing, she goes into detail on how to properly measure your table runner! Check out her DIY HERE!
DIY Inspirational Butterfly Wall Art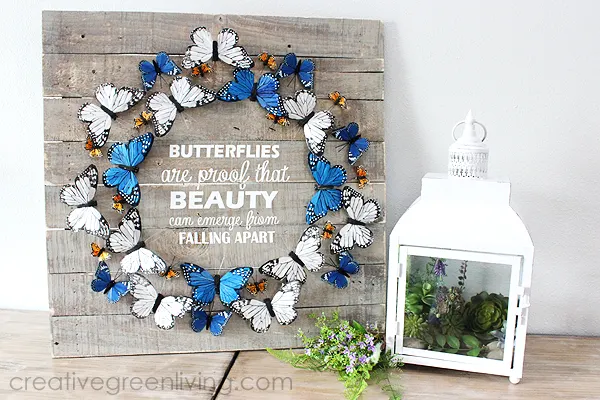 This beautiful butterfly sign from Creative Green Living is perfect for spring!
---
I hope you feel inspired to create some of your own DIY home decor projects this year with these easy tutorials!
I want to say a huge THANK YOU for the ladies that allowed me to feature their work on my blog. I'm always happy to share products and posts that my readership will find useful, inspiring, and will enjoy.
Which DIY home decor project was your favorite? Tell me in the comments below!
*Post originally published February 2019, last updated December 2021.