Try these 14 easy DIY projects you can make with peel and stick contact paper…
---
What Is Peel And Stick Contact Paper?
Hi friends!
I've put together a great post for you guys today – and it's all about contact paper!
If you are looking to refresh your space on a dime (without looking like you probably only shelled out a dime) contact paper is a great option.
With adhesive-backed contact paper, you can transform any room in your home from the bathroom or kitchen to the office or your kids' room.
As long as you're working with a smooth surface, you can use contact paper.
Contact Paper comes in SO many different prints, patterns, and colors.
There are even some printed contact papers that closely resemble granite, marble, brass, or wood!
These specialty contact paper prints may cost a couple of dollars more than the usual average price of $4-8 a roll, but even paying $9-12 a roll is much more cost-effective than renovating your entire countertop space (or whichever space you're looking to refresh).
Some people even feel brave enough to use contact paper for furniture – think fridges, dressers, and even cabinets!
Contact paper is also great for renters because it isn't permanent.
Contact paper removal is easy, and can often be completed using a hairdryer and a wet sponge!
In this post, I'll be sharing some of my favorite Contact Paper DIYs from some truly fantastic bloggers that have transformed spaces, objects, and even entire rooms!
These beautiful tutorials have tons of pictures, give you all the details on before vs. after, and tips on application.
Without further ado, get ready to apply contact paper everywhere…
*This post contains affiliate links, however, all opinions are my own, as always.
DIY Brass Coffee Table Using Contact Paper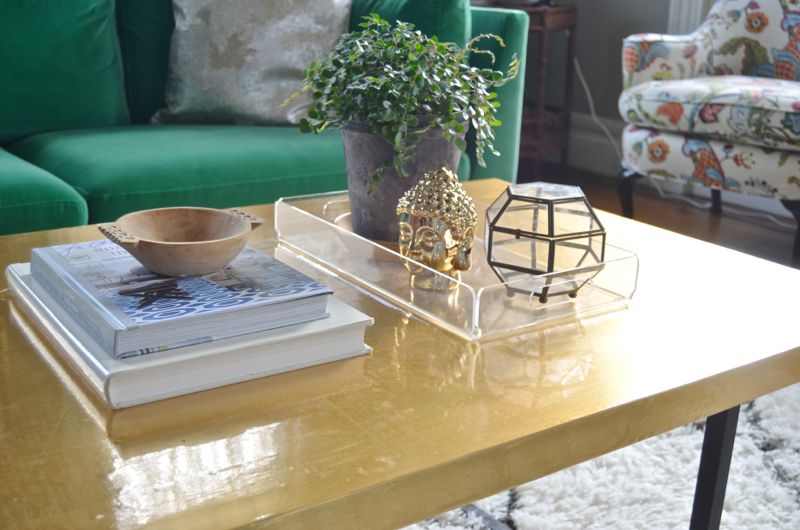 Charlotte from At Charlotte's House
transformed her ordinary coffee table
using brass colored contact paper
– and the final result is so chic!
While her original coffee bar wasn't necessarily lacking, the contact paper really jazzed her room up and brings in so much warmth!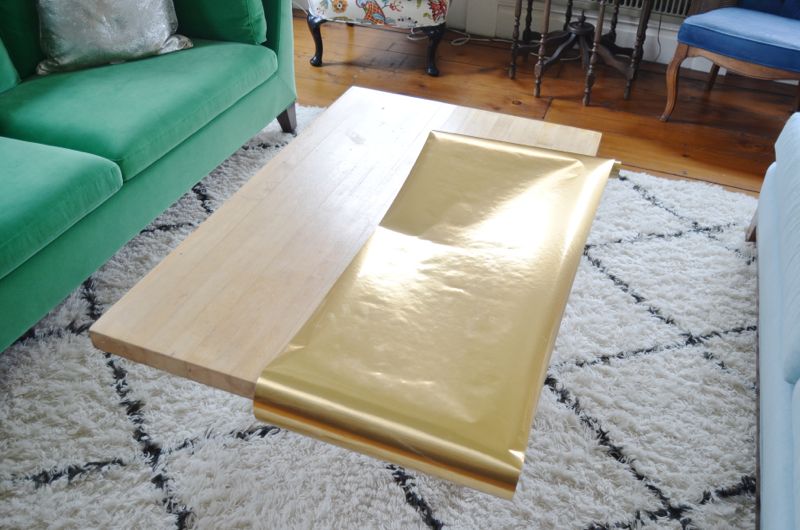 And if brass isn't your thing, consider using her tutorial with a color or pattern you love.
DIY Chalkboard Command Center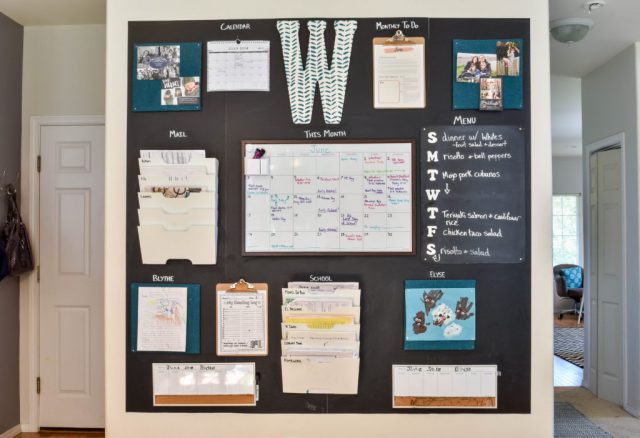 Hello, gorgeous command center!
Jessica from Jessica Welling Interiors created her own command center using chalkboard contact paper and completely transformed this wall.
Now, this space is perfectly functional for her family and looks incredible. See her tutorial HERE!
DIY "MARBLE" Countertops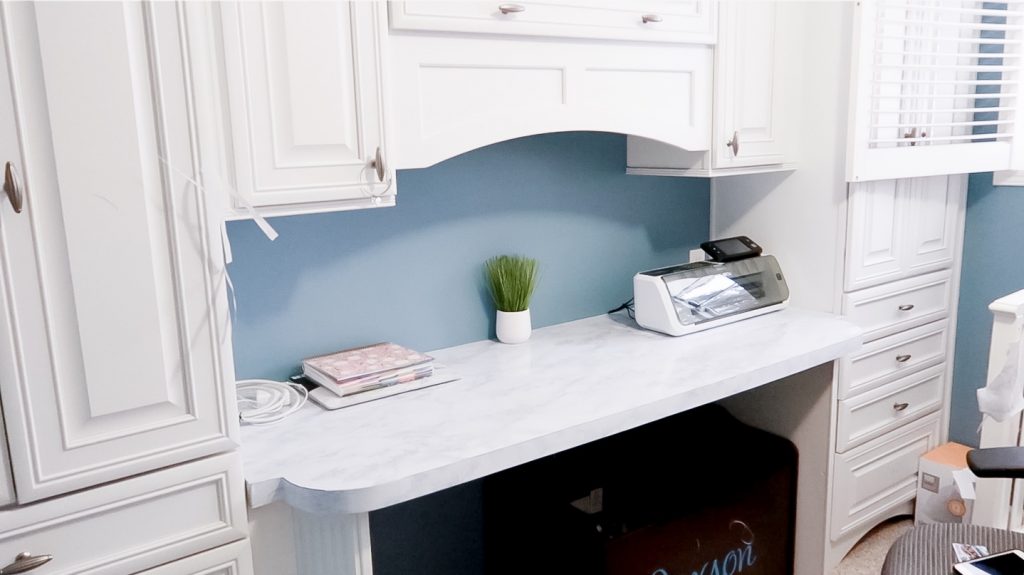 This is a Slay At Home Mother Room Refresh (office edition)!
I transformed my original countertops in our office/nursery (which resembled 90s roller rink carpet print) using marble-printed contact paper.
Here's the exact contact paper I used for this easy DIY. It only costs $8.99 per roll!
DIY Contact Paper Drawer Dividers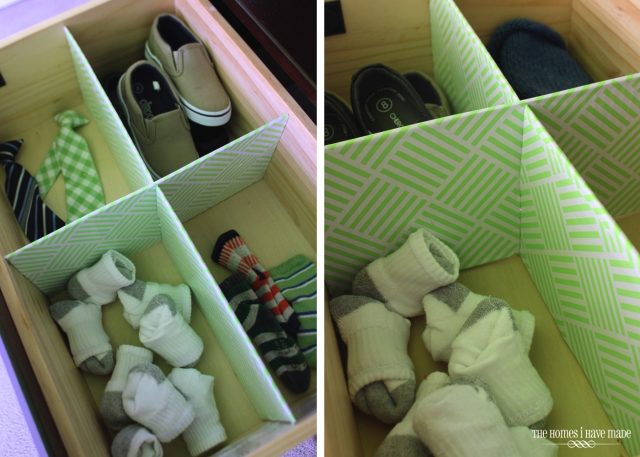 This genius DIY from
The Homes I Have Made
combines organization and design!
Megan created her own drawer dividers using corrugated cardboard and contact paper with a fun design so she could organize her drawers with style.
Check out her tutorial HERE, she goes into detail and even links the essentials you need to accomplish this easy DIY.
DIY Dress Up Your Dresser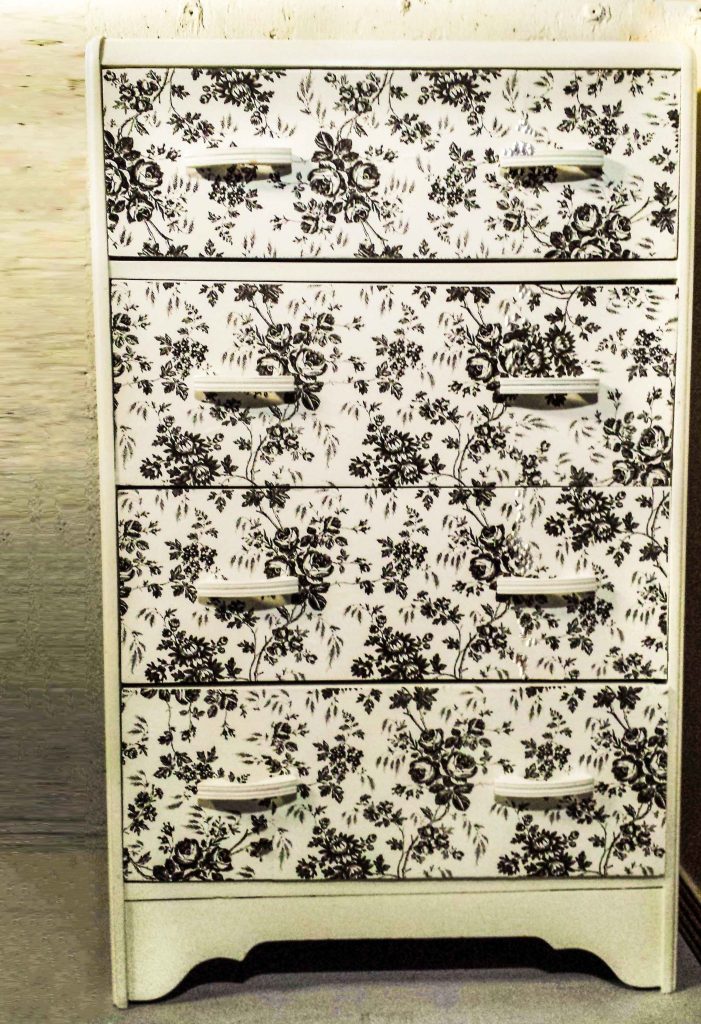 Queti
from Fancy Momma dressed up her dresser with dollar store contact paper!
I was totally surprised to learn her contact paper came from the dollar store – it looks so fancy.
So if you're on a tight budget and want to give new life to your dresser, try her DIY.
Ceiling Fan Blade Makeover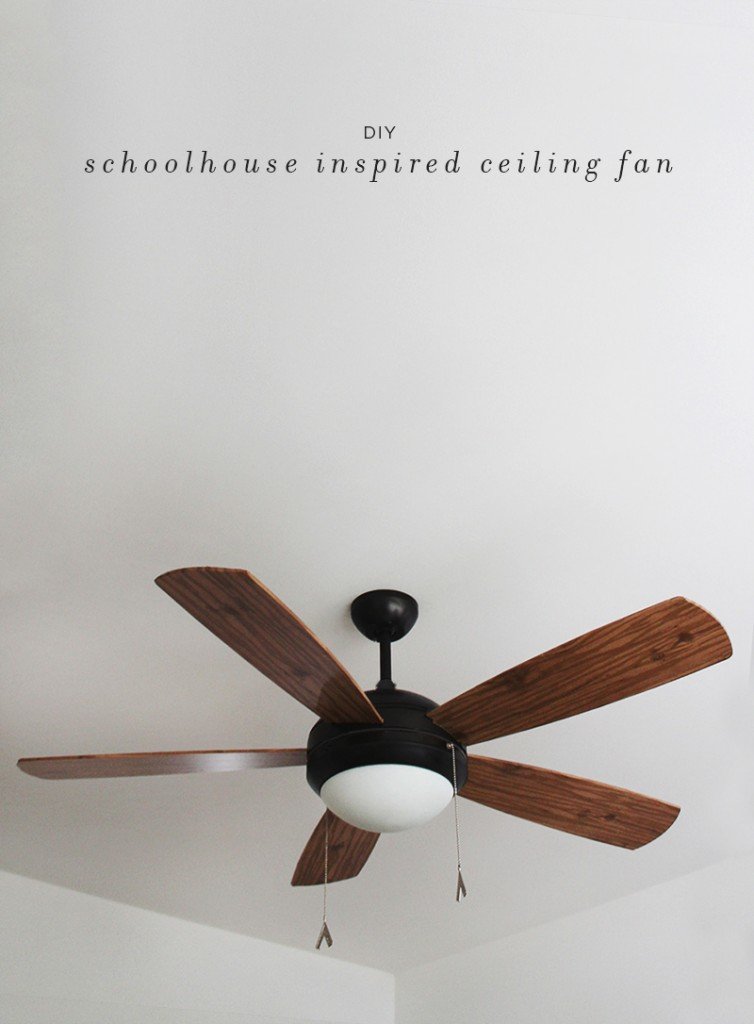 This ceiling fan DIY sure fooled me!
It doesn't even look like contact paper – but I promise you that it is!
Molly from Almost Makes Perfect transformed her white fan using wood grain contact paper and oil rubbed bronze spray paint – read her tutorial here!
She also linked the fan she used if you're interested in getting the same one.
DIY Chalkboard Wall (Without Using Any Paint!)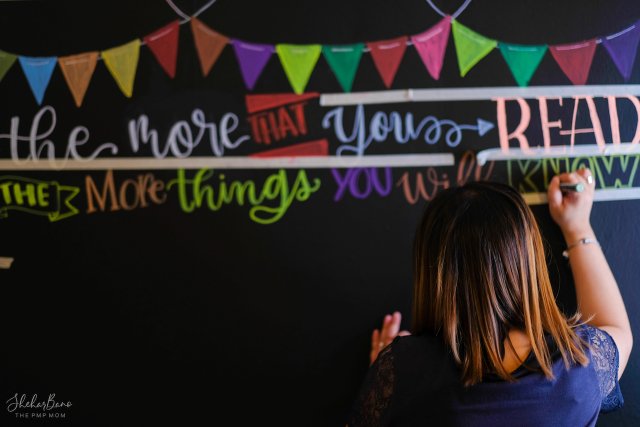 Chalkboard paint isn't as easy as it looks, particularly if you're trying to cover a wall (or a small section of a wall).
If you're looking into a chalk wall for your children or even your office, consider using chalkboard contact paper.
Shehar from Diary Of A PMP Mom used chalkboard contact paper to neatly transform a wall in her kids' playroom – and even includes how she got it to stick without any bubbles!
DIY Frosted Glass Door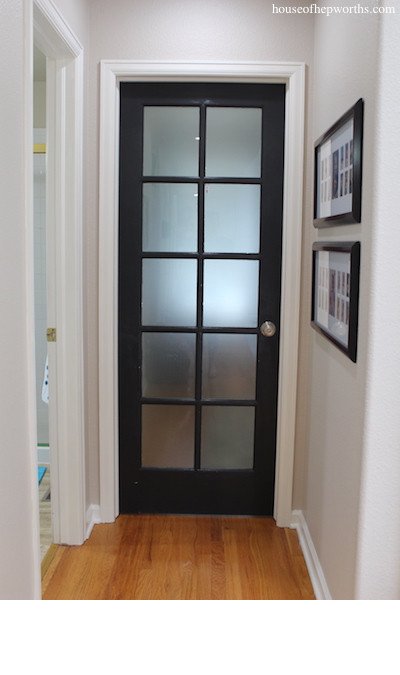 This is by far the most modern use for contact paper I've seen, and am so happy to be able to feature it in this DIY contact paper roundup!
Allison from House Of Hepworths created a faux frosted glass for her door using contact paper – and it looks divine!
Follow along with her DIY here – she even keeps you updated with how it looks a week later ;).
DIY Wall Decals For A Gorgeous Bathroom Makeover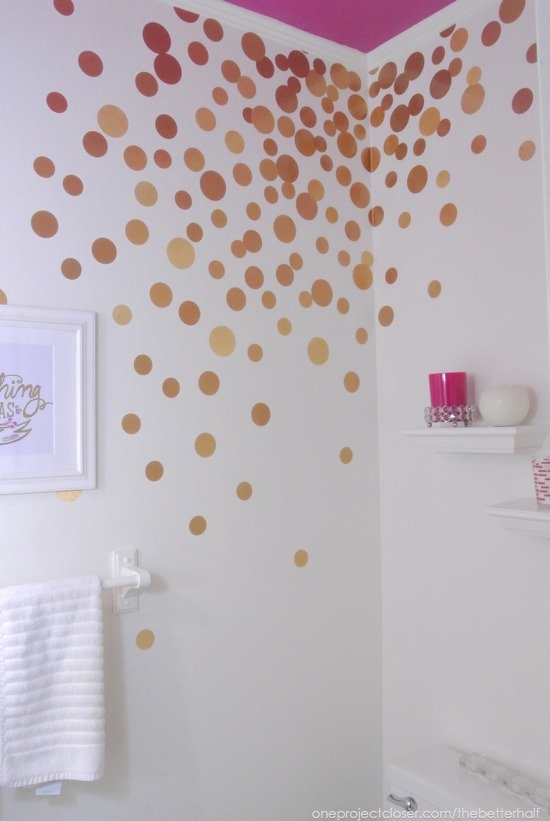 This self-dubbed 'Champagne Room' bathroom makeover from
Jocie at One Project Closer
using contact paper is gorgeous!
Using her Silhouette, she cut circles out of her contact paper and adhered them to the wall after painting it.
Read about how she achieved this gorgeous bathroom makeover HERE.
It will make you want to put gorgeous circles in every room of your house ;).
DIY Filing Cabinet Refresh Using Printed Contact Paper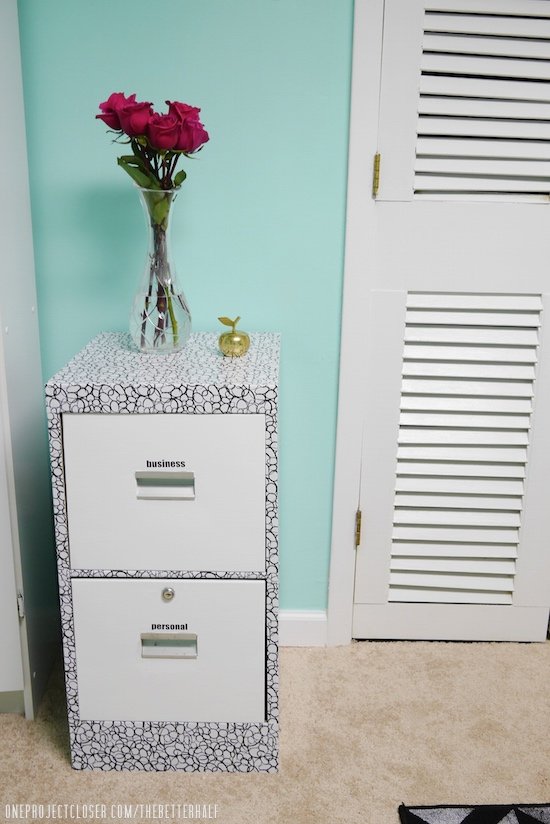 Another DIY to try from
One Project Closer
, Jocie brought new life to her filing cabinet using black and white printed contact paper and some custom letter labels.
In this post, she also included her DIY painted rug you can see in the picture above.
Read her easy tutorial HERE, and try it for yourself!
Use Contact Paper As Wallpaper For A Renter-Friendly Option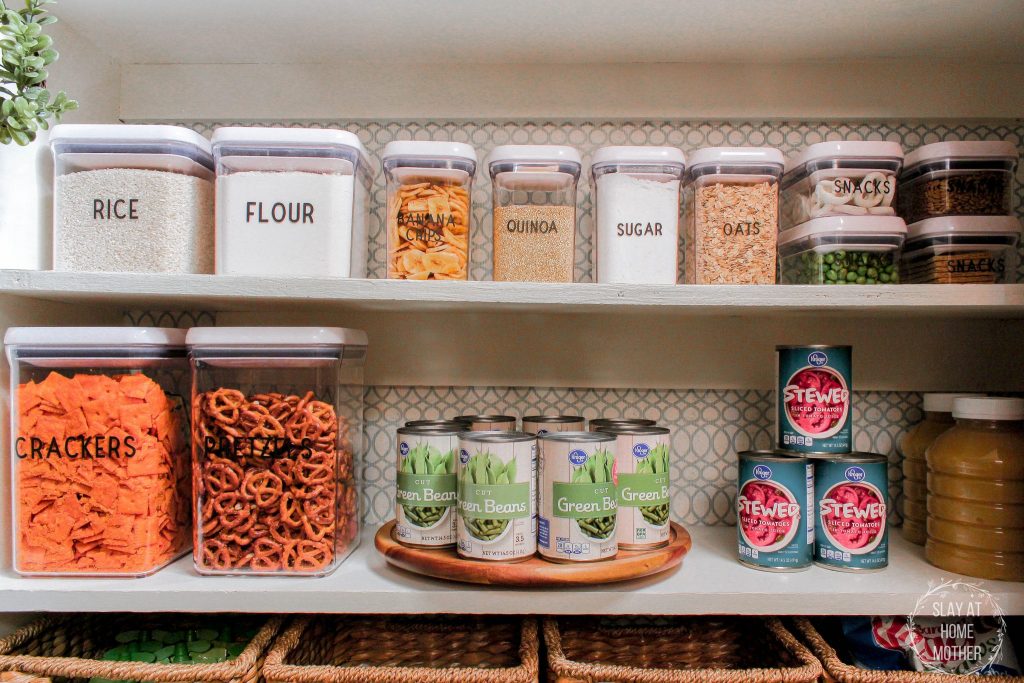 This is another tutorial by Yours Truly!
Last summer, I was dying to get into the DIY game and I started things off with a bang by completely refreshing my pantry.
It is still located in the basement because we simply don't have the room for it upstairs, and I'm convinced the original owner of the home renovated the original pantry space into a spare bathroom (which wasn't an entirely bad idea).
While I couldn't change the location of our pantry, I was able to refresh this space completely for a bright and airy (and trendy, if I may say so myself) space…
I painted the walls and shelving, applied adhesive-backed white contact paper on the shelves, and applied printed contact paper to the back wall of the shelving or a wallpaper-esque feel.
Guests that come to our home don't realize that it's actually a contact paper wall and not wallpaper!
I'm loving the AFTER result of the contact paper wall and contact paper shelves.
Read that tutorial here – and if you're most of a visual person, I've included a DIY video as well.
DIY Labels (Only A Printer Required!)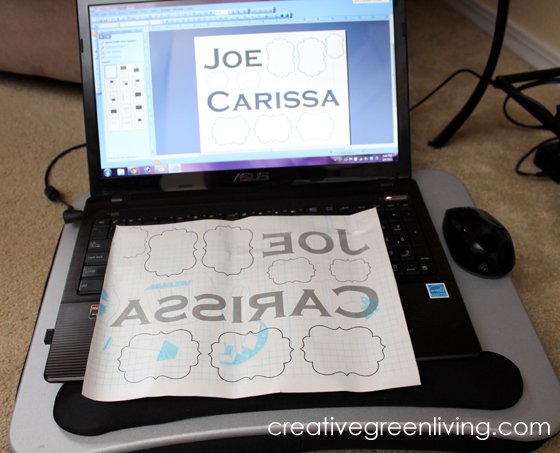 If you're looking for a way to dress up a space with labels, but can't afford one of the fancy Cricut, ScanNCut, or Silhouette machines that are SO popular on Pinterest,
Carissa at Creative Green Living
discovered a way to create
vinyl letters
using contact paper and your printer!
Follow her easy tutorial, and start labeling your command center, backpack hooks, pantry, etc!
Bookshelf Makeover with Contact Paper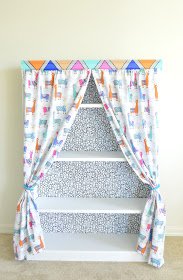 This bookshelf DIY with contact paper is gorgeous! I only wish the pictures were bigger on
Vikalpah
to better show off the detail ;).
She used contact paper for the back wall, and fit curtains along the top, tying them at the sides for a functional and beautiful bookshelf!
Faux Granite Contact Paper Countertops*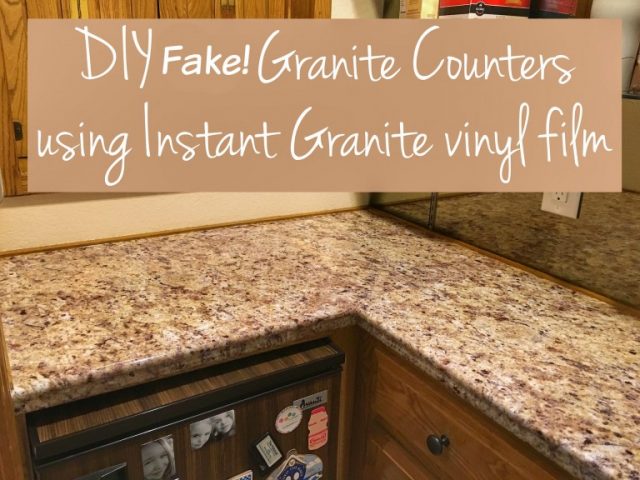 Okay, for this last one, this isn't actually peel and stick contact paper, it's vinyl – but it came out so beautifully, I thought it wouldn't hurt to feature it as well!
Tammy from Three Different Directions transformed her wood countertops into faux granite and they look amazing.
Read her tutorial here, and learn more about using vinyl as a countertop medium…
DIY Notebook Makeover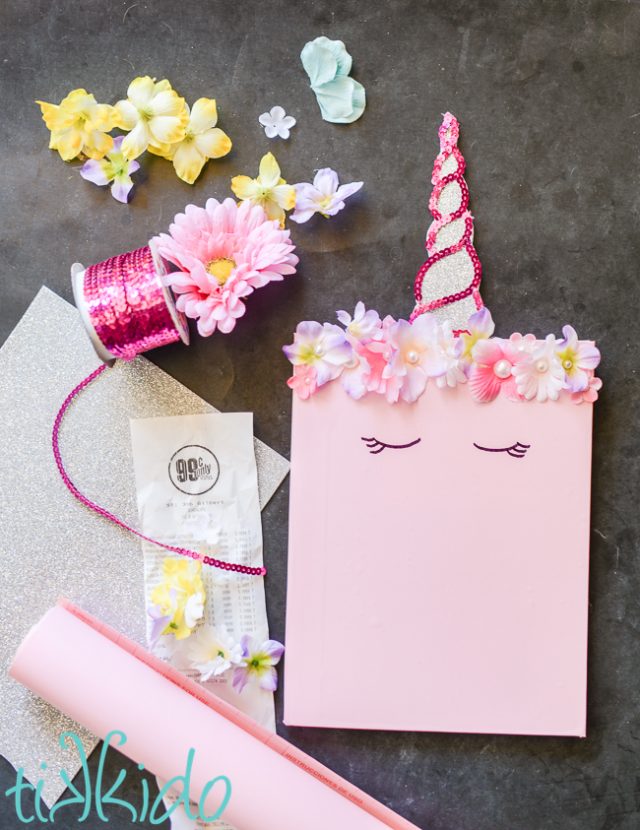 I saved the cutest for last – how adorable is this notebook!
The horn is actually a bookmark.
This unicorn composition notebook from Tikkido takes the cake on originality – and is so inspiring.
Use her tutorial to create your own unique scheduler, planner, notebook, or journal.
---
I had so much fun putting this post together for you, and hope you'll take the time to visit these wonderful peel and stick contact paper tutorials within this post because these ladies did such a wonderful job achieving a great look for less with contact paper!
*Post originally published January 2019, last updated December 2021.