Learn how to wash walls SAFELY with this easy DIY cleaning recipe and the right tools…
---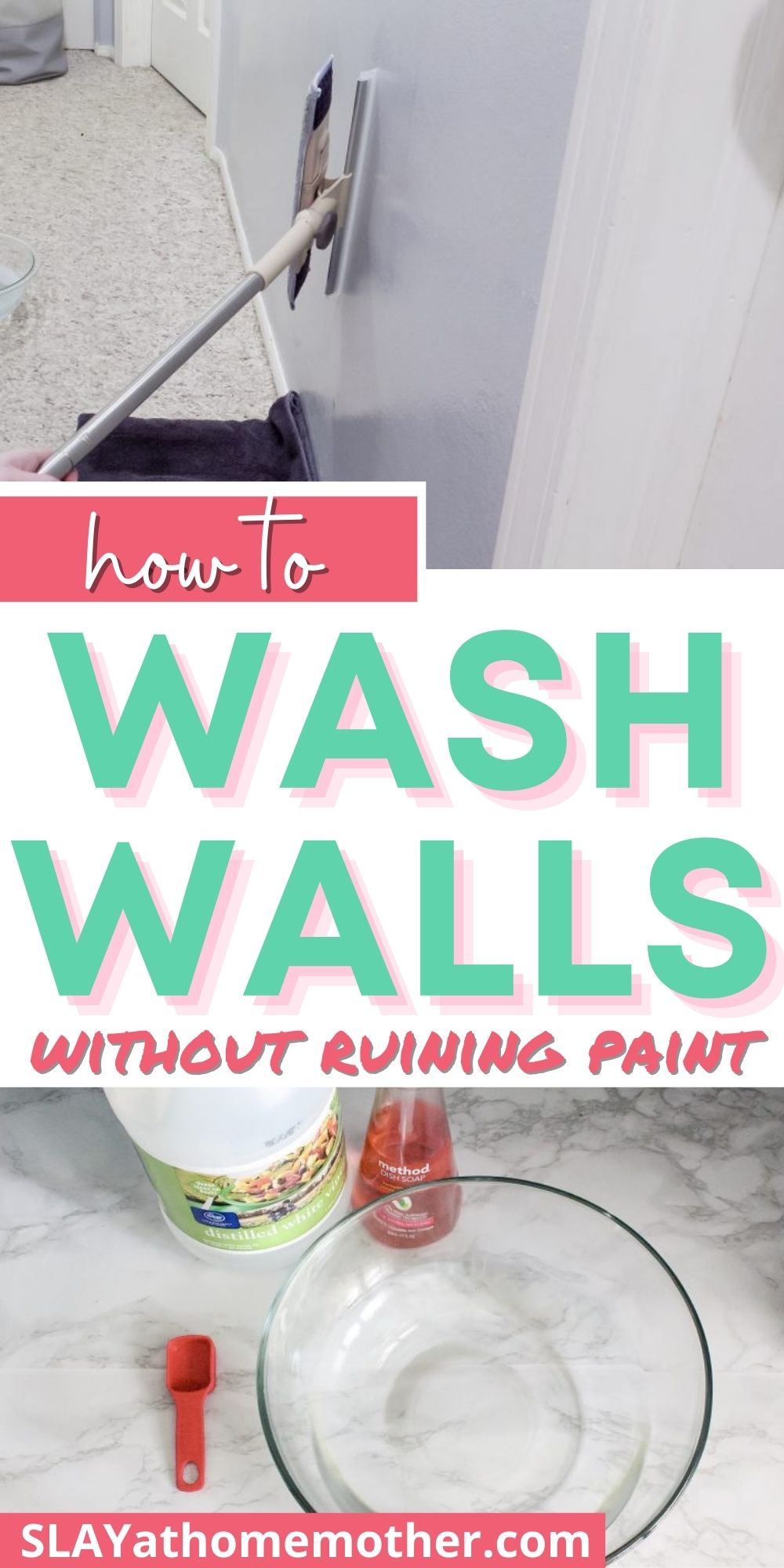 Is anyone else a SUPER HUGE Desperate Housewives fan?
The ONE line that stuck out to me from the show was during an episode where Susan has a visit from her Mike's mom (her MIL), and her MIL jokingly says something to the effect of 'Just because we don't walk on the walls doesn't mean we don't have to wash them…' and then laughs…Susan is so annoyed that she fakes going into labor!
I know, I know, out of all the crazy stuff that happens on that show – THAT'S what stuck with me?
I think about that scene often. Probably because before watching that, I honestly never thought to wash the walls!
If there are some fingerprints leftover from the kids wiping their hands on the wall after playing outside, I definitely wipe those up. But I had never realized it was something you should regularly do…
And it REALLY hit me after we painted our walls a light gray color with blue undertones last year.
As pretty and bright as the color was, it started to show me things I never knew were there!
The dogs would scratch their backs against the walls, the kids would trace circles on the walls with their hands, and there was dirt from God knows where just sitting there on the wall…
It opened my eyes to just how dirty our walls could get.
I surveyed a few friends to see if they washed their walls.
None of them cleaned their walls or had really thought of doing it (besides cleaning up the obvious, in-your-face kind of messes).
It absolutely makes sense, though.
We vacuum our carpets and wash our floors, so why isn't it common knowledge to wash the walls too?
Luckily, learning how to clean dirty walls is much easier than it sounds.
In this post, I'll show you the few tools you need, how to make your own wall cleaning solution, and how to rinse your walls when you're done cleaning!
The very best part of this is that you can use this easy homemade solution to wash not just your walls, but also your baseboards and ceilings!
I used it on my ceiling above my stove (an area that needed some serious TLC – it was seriously grossing me out!) and it worked beautifully with minimal scrubbing on my end!
I have a nifty before and after photo below that shows you just how good this solution works without stripping paint or leaving streaks…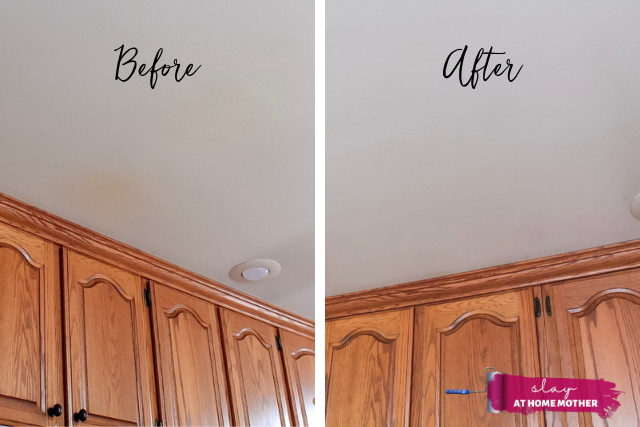 I'll admit that I needed to stand on my kitchen island with my husband nearby to catch me in case I fell (mostly because I am vertically challenged at only 5 feet tall) so I could get at the right angle to thoroughly clean the ceiling in our kitchen, but I think the picture speaks for itself.
It was SO easy to do, and I'm really excited to share my wall cleaning solution and cleaning method with you guys…
*Note: Please try to use a ladder with a friend or family member nearby, don't follow my example of standing on your kitchen island or counters to access your ceilings!
This post contains affiliate links for your convenience at no cost to you, however, all opinions are my own.
What You Need To Wash Your Walls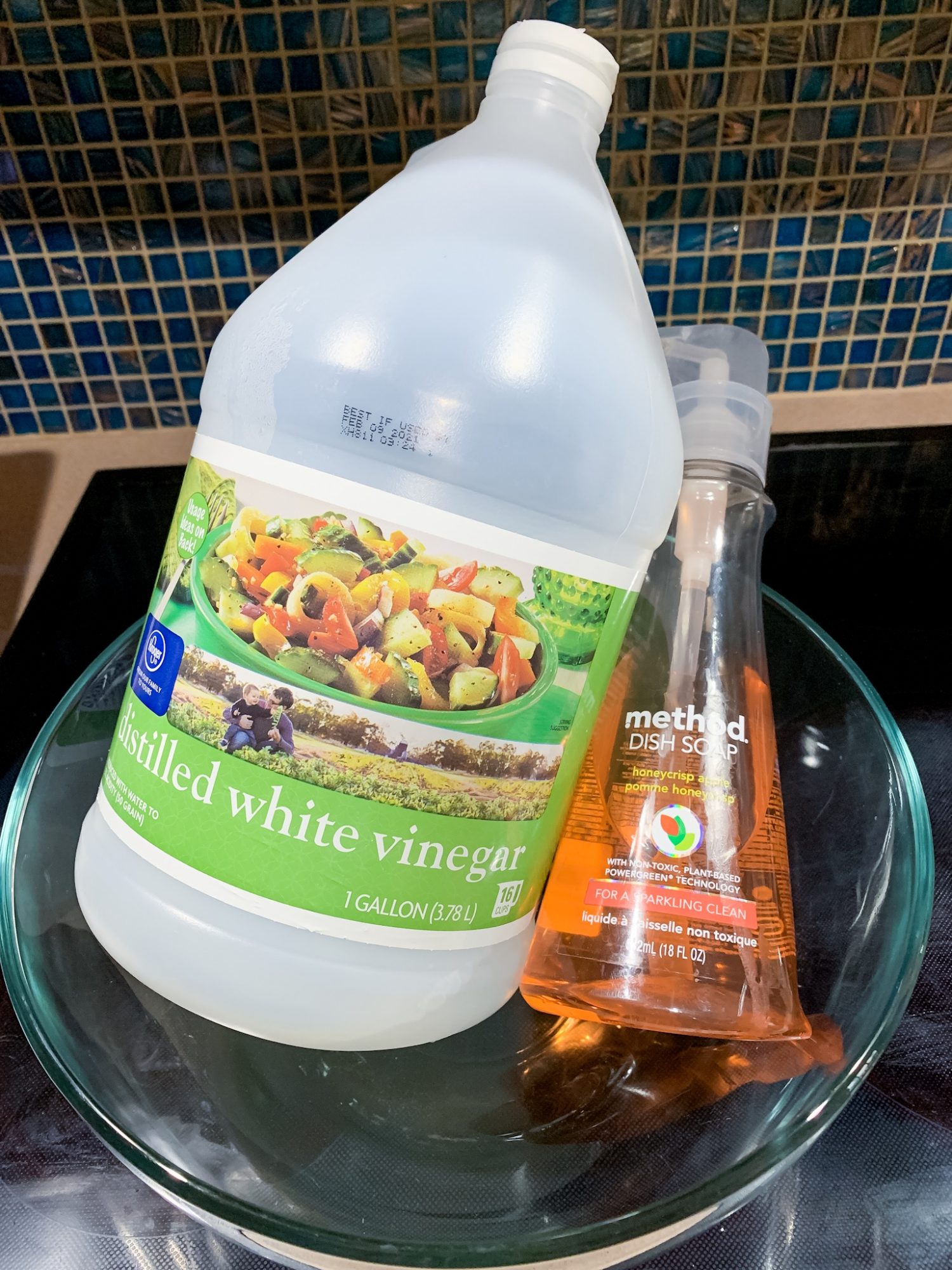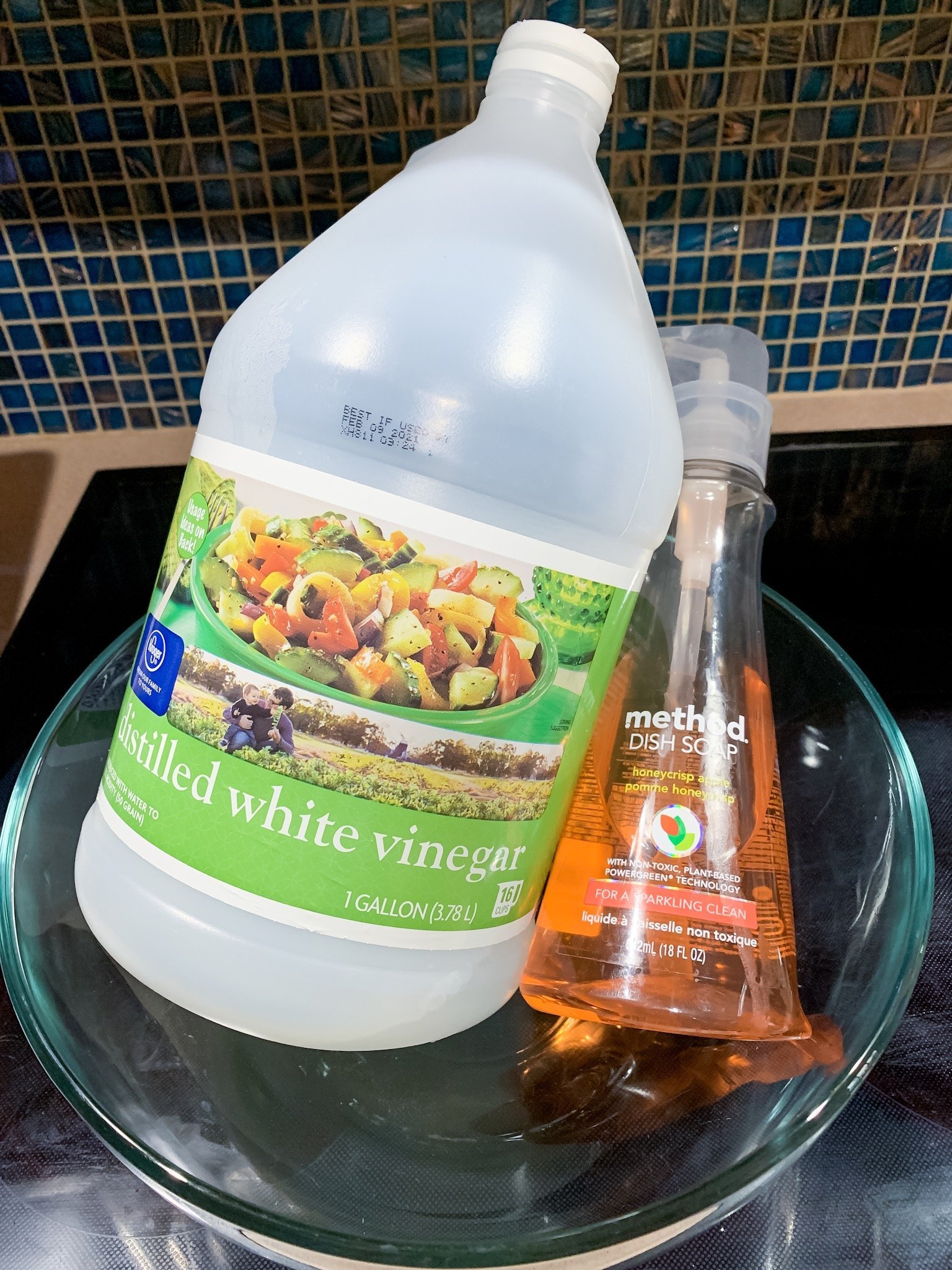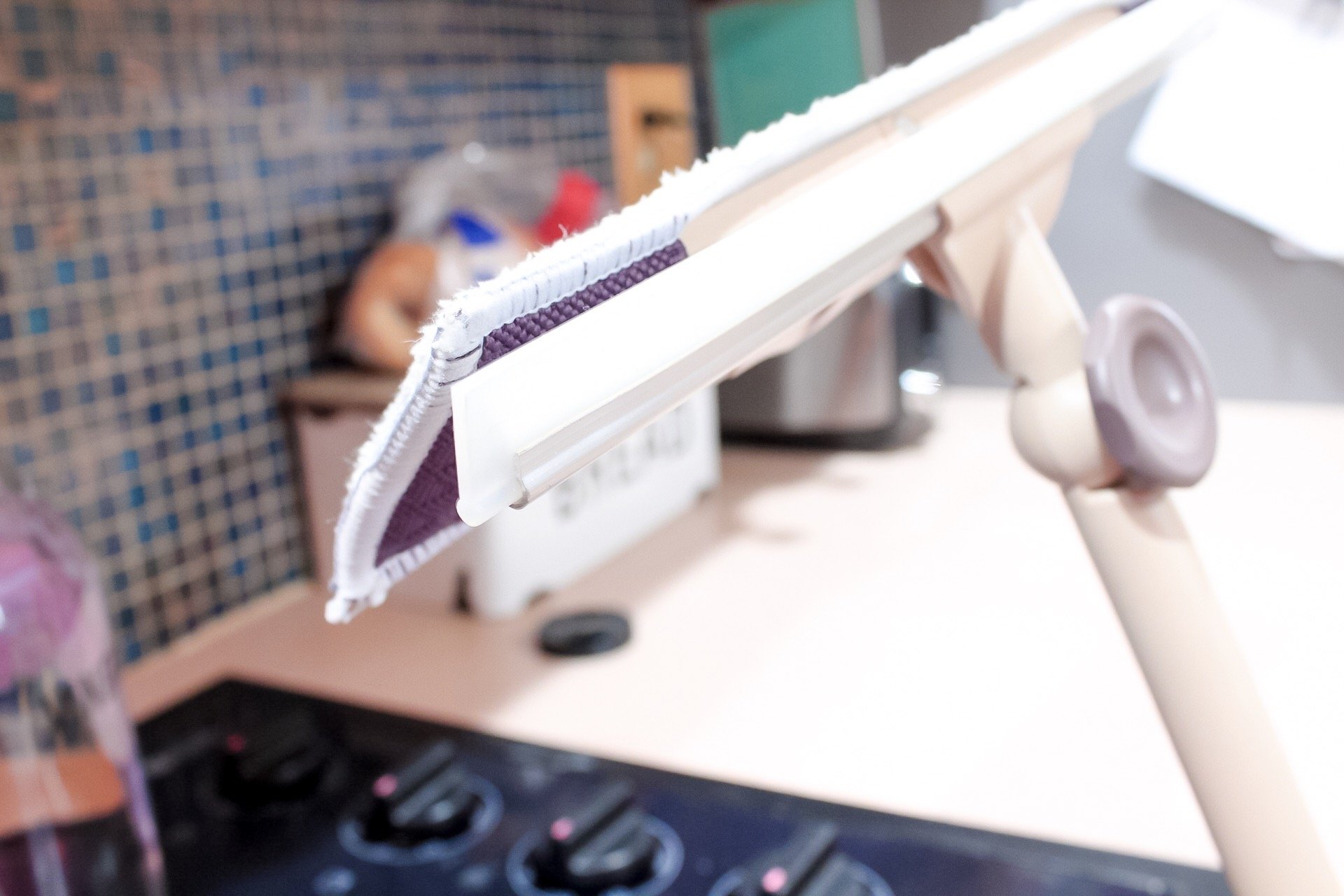 You May Also Like: Spring Cleaning Checklist – 25 Days To A Clean Home!
Here are the tools I use to clean our walls:
Squeegee Microfiber Mop (here is the exact one I use!)
Wall-Cleaning Solution (see below to make your own)
Bucket for solution
Microfiber cloth
My sister-in-law actually gave me the idea to use a squeegee. It works great for windows, but you can also use it for your walls.
I recommend a squeegee microfiber mop over a regular floor mop for your walls and ceilings – and I'll tell why you by showing you in a photo further down in this post…trust me, you'll want to buy a squeegee microfiber mop!
If you are planning on buying one, do your research before purchasing, making sure to check reviews and inquire about the handle length of your squeegee because you'll need to reach the tippy-top of the walls and the ceilings.
For shorter folks like Yours Truly, the handle length is especially important for us and should not be ignored.
ALSO – After washing my own walls, particularly in a very narrow but tall hallway, I'd recommend picking one up that can dissemble.
If my squeegee didn't unscrew at one spot in the handle, I wouldn't have been able to clean as easily towards the bottom part of the wall and would have had to work a lot harder.
DIY Wall Cleaning Solution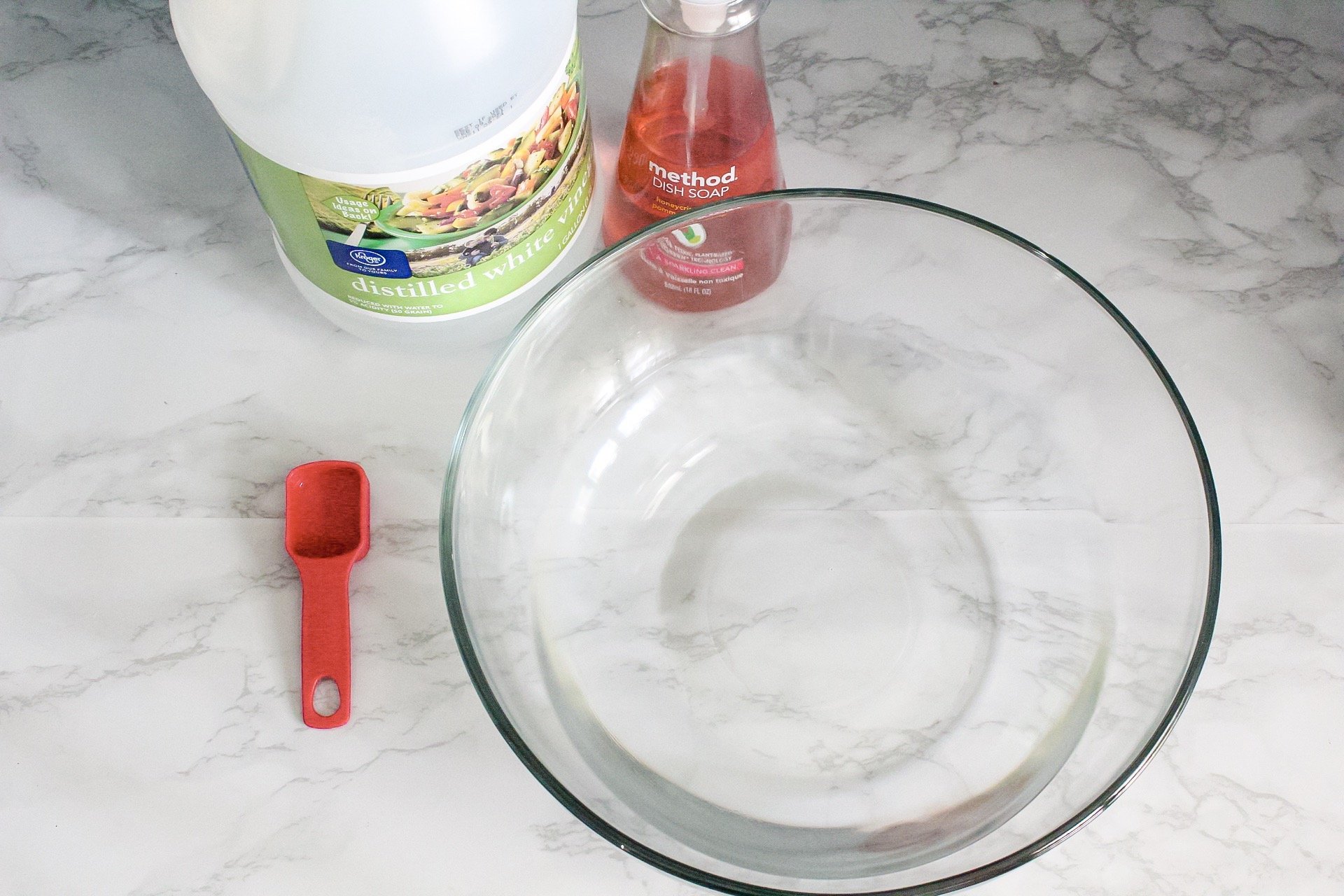 You don't need to clean walls with TSP to get them clean – use just 3 ingredients to make your own wall cleaning solution!
The best part is that you probably already have everything you need to get your dirty walls clean again.
This solution leaves no streaks in my experience, and I use it once every 6-8 weeks to clean our dirty walls and baseboards.
DIY Best Wall Cleaner
Here's what you'll need to make this wall cleaning solution:
3 Pumps of Dishwashing liquid
2 Tbsp

White Distilled Vinegar

4 Cups of HOT Water
Bucket or bowl (in which to contain your wall-washing miracle liquid 😉)
Mix the hot water, soap, and vinegar together, and you're ready to wash some walls!
You can even use this solution to clean the walls before painting!
Do I Have To Include Vinegar?
Nope!
I had this question asked on my Instagram the other day, and I love that someone thought to bring it up.
You can clean your painted walls without adding white vinegar to your cleaning solution as long as your walls are already maintained regularly.
The vinegar adds some extra OOMPH to this cleaning solution that helps you get rid of tough stains, odors, smoke, and everyday dirt buildup that is invisible to the eye but definitely there.
How To Wash Walls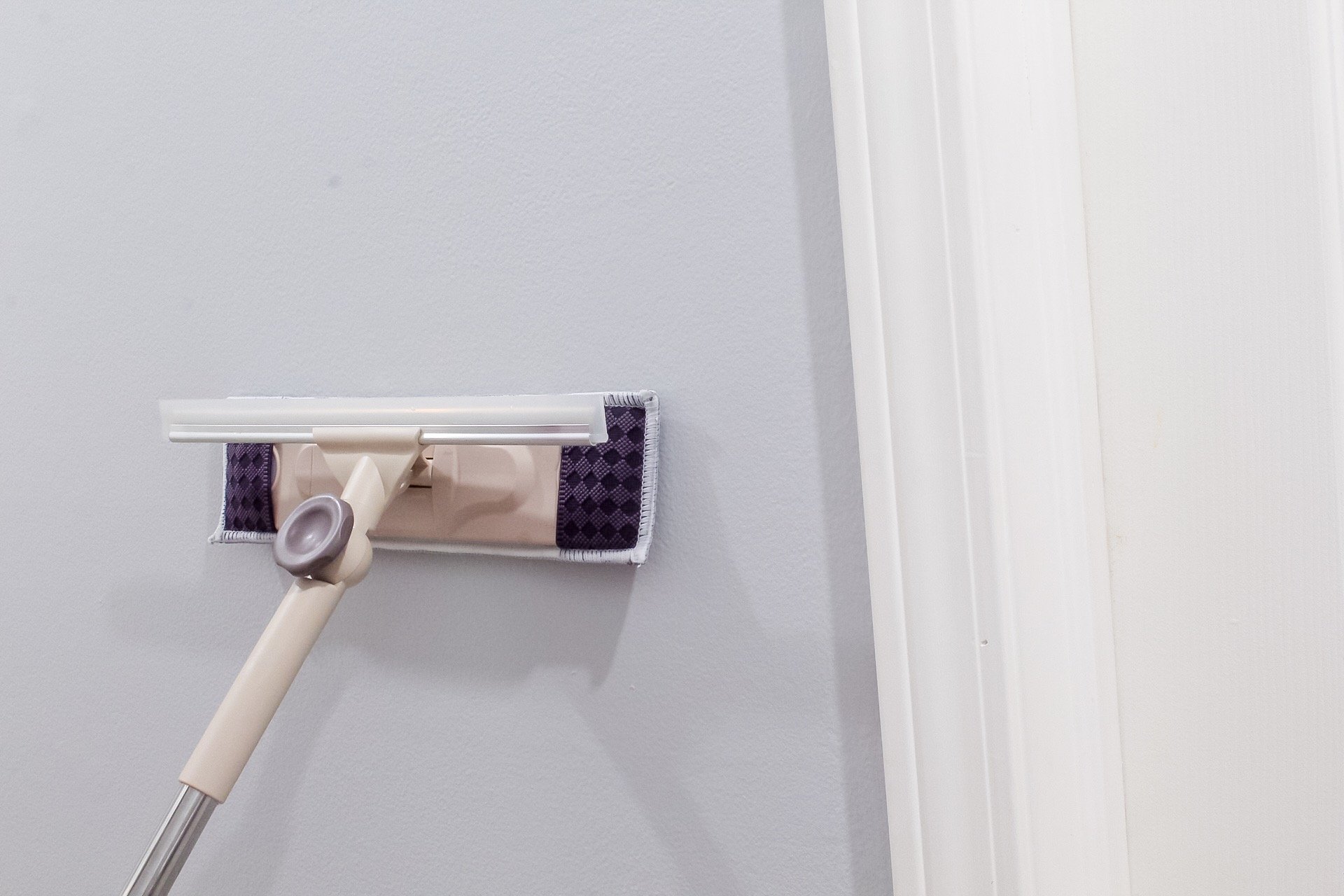 Dunk your squeegee microfiber mop in the soap, vinegar, and hot water mixture.
Wring or squeeze out extra water.
Starting in the corner of the wall, run the microfiber mop across the walls.
Be sure to wash the entire wall, and not just the dirty spots.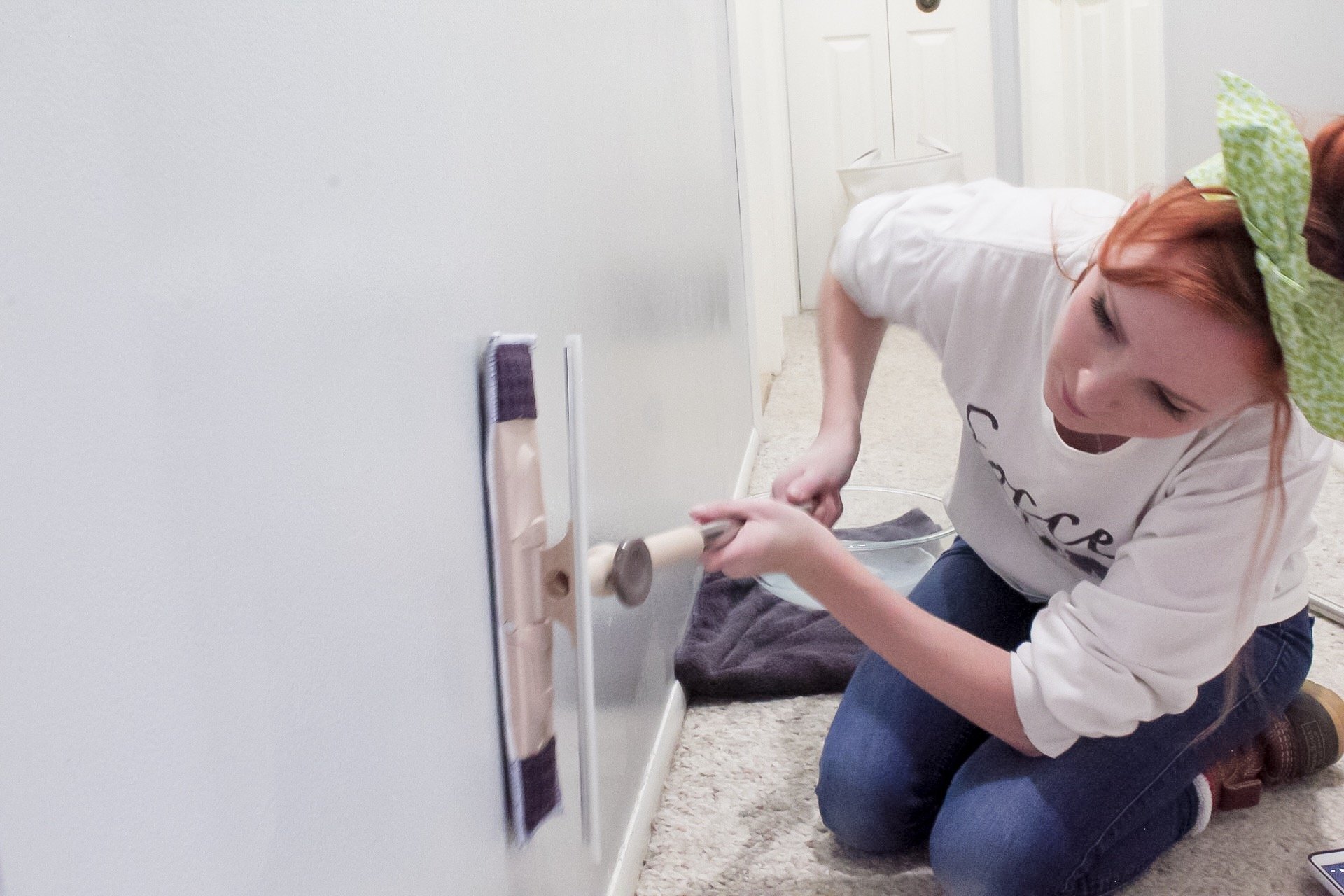 You May Also Like: How To Clean Your Microwave Without Scrubbing
In the photo above, I have unscrewed the bottom part of my mop's handle so I can more easily clean the bottom part of the wall in our tight hallway – worked like a charm!
When you're done washing the walls, use the squeegee to remove the dirt and dirty water from the walls.
Having a towel placed at the base of the wall where you are squeegee-ing to catch the excess water is ideal if you have carpet or don't feel like mopping the floor after you're done ;).
Squeegee the entire wall, wiping your squeegee with a clean, wet cloth every other swipe.
Or, you can wipe the squeegee across the floor towel as you go for convenience.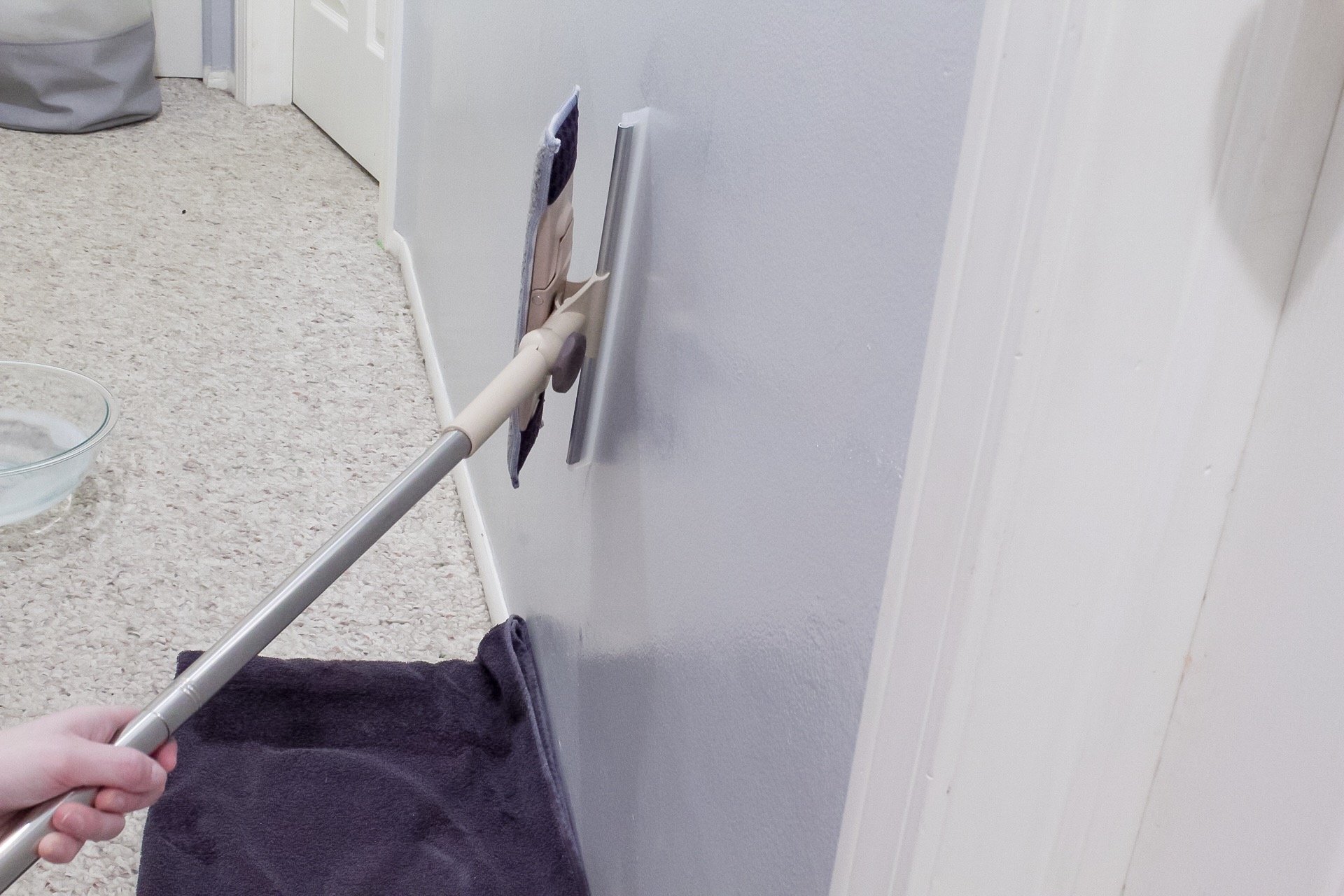 Here's the squeegee microfiber mop I used in this post.
The microfiber mop is gentle on painted walls and takes the work out of regular hand scrubbing, while the squeegee removes nasty dirt and dirty water that you can't even see sitting on the wall when you're done.
Plus, it eliminates streaks and drips!
Remember when I mentioned earlier that you definitely want a squeegee mop over a floor mop to wash your walls?
Here's why….
When I washed my walls with the microfiber mop part of my squeegee mop, it cleaned off the visible dirt and looked great!
But when I decided to use the squeegee end, it removed this layer of dirt that I thought was my paint color! See the photo below…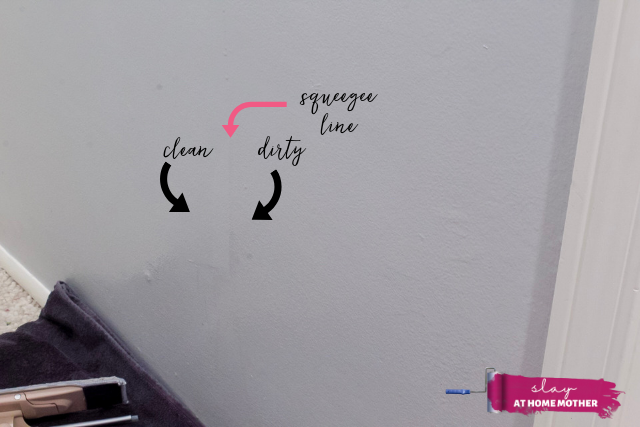 Can you see that line of dirt?!
The middle right half of the wall in the photo above is after I cleaned the wall with the soap and vinegar mixture. It looked fairly clean to me – I couldn't see any visible marks and was fairly happy with the results.
But when I swiped the squeegee across the 'clean' walls, a layer of dirt and water was removed, and my true clean walls were revealed!
If you choose to use a floor mop on your walls and towel dry them, that's your right!
After seeing the obvious difference for myself between using a squeegee and not – I highly recommend the squeegee.
I had some crayon marks from my toddler on the hallway walls, and they came right off with this easy wall cleaning solution, although I can't speak for how it would work on pen or marker marks.
If you have REALLY tough spots to remove (like pen or marker) on your walls, try using a wet magic eraser.
How To Clean Baseboards And Ceilings
Here's a post that details cleaning baseboards and offers 5 easy ways.
Using the wall cleaning solution recipe I gave you for the walls, dip a microfiber cloth into the solution, squeeze excess solution out, and start lightly scrubbing along your baseboards.
This solution works so well that you shouldn't need to scrub hard unless you have a longstanding, difficult mess to clean (like dried-up food).
For ceilings, use the same method you would for the walls, taking special care to wring out excess water before applying squeegee microfiber mop to the ceiling (to avoid solution and water dripping all over you).
Rinsing Walls After Cleaning Them
After washing your walls and squeegeeing all of the dirty water from them, give them a quick rinse with clean, warm water using your mop again.
Be sure to rinse out your squeegee microfiber mop before rinsing your walls, and to again squeegee the water from the wall after mopping the walls.
Touchups And Minor Cleaning Tips For Walls & Baseboards
This cleaning solution is meant for deep cleaning walls, but there are times you may just need to clean one little spot off the wall…
My go-to product to use for cleaning random dirty fingerprints from walls is just a regular sponge with warm soapy water or a magic eraser!
The other day, I walked into the next room to find my preschooler Jax drawing with a black pen on the wall.
The black pen was hiding under our stand-alone fireplace in the dining room (it must have rolled under there at some point), but was retrieved and put to good use creating a mural on our light gray dining room walls.
YIKES.
I don't find the need to mix up this cleaning solution for little fixes like that. I found that a magic eraser did the trick just fine!
---
Now that you're a total pro at this whole cleaning your walls thing, you can feel confident cleaning your walls every 6-8 weeks if your wall paint is a lighter color, and every 4-6 months if you have a deeper paint color.
As long as you have some soap, water, and vinegar, you can make endless amounts of wall cleaning solution and battle marks and stains on your walls from the kids and furry friends in your home!
*Post originally published February 2019 – updated June 2021 with additional tips and references.