Learn how to engrave pencils with your xTool M1, and download my free pencil jig…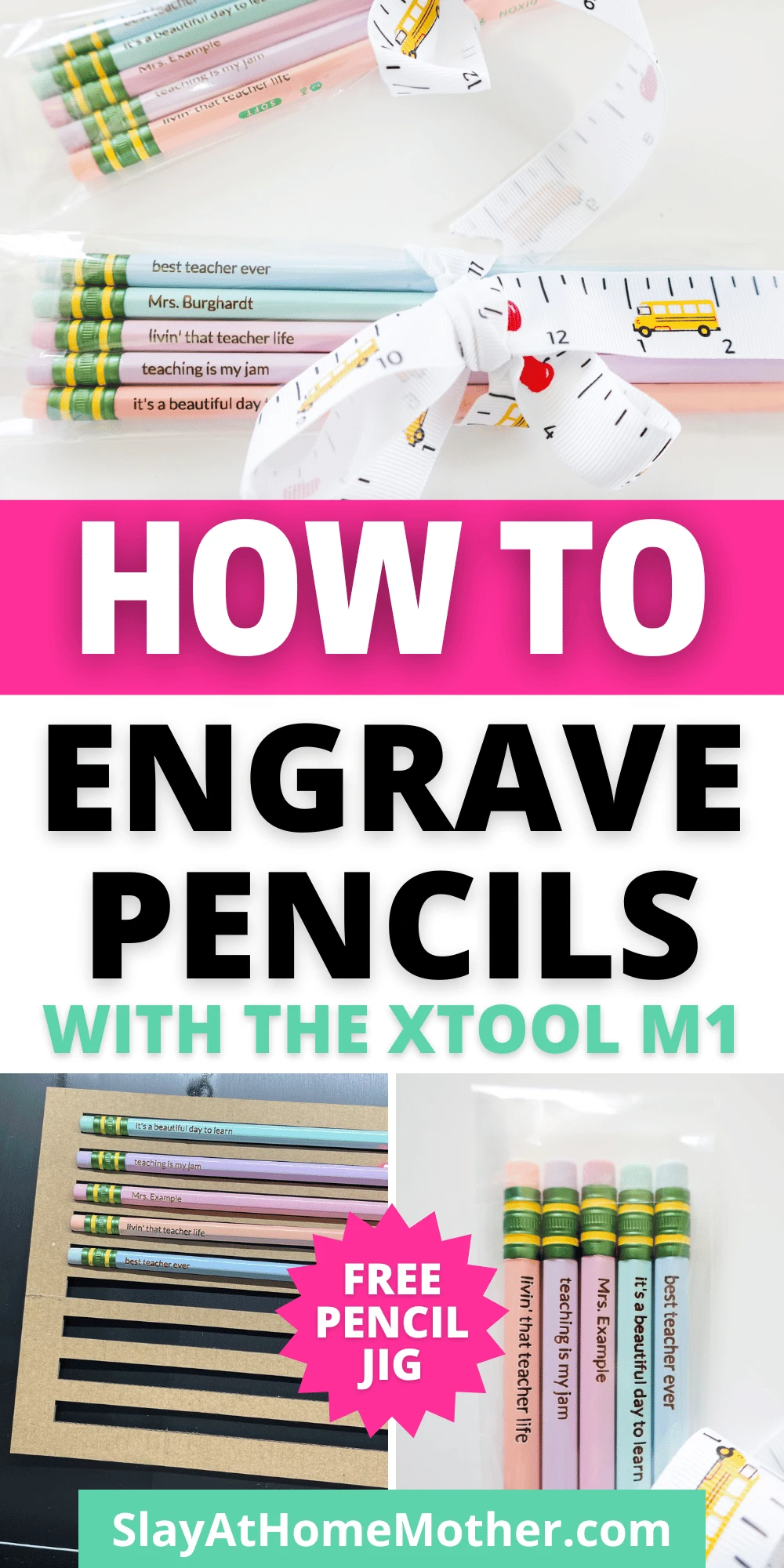 Have you tried engraving pencils with your laser machine yet?
I've only owned my laser for a few months at this point, but I'm amazed by how much it can do!
Now that we're gearing up to go back to school, I was thinking of some simple but useful gift ideas I could put together for our children's teachers this year.
On a recent Instagram poll, I asked what gifts teachers were wanting, and the answers were overwhelming in favor of gift cards (any amount, too!).
But something I found so funny about the poll was the amount of messages I received warning people to stop sending in mugs and cups.
I have given my fair share of mugs to teachers in the past, so I giggled at that – I had no idea!
I guess if a few students every year give a teacher a mug, after a few years, it would get tiring trying to decide what to keep or not feeling terrible about having to toss some gifts.
Besides gift cards, I knew I wanted to come up with something personal but useful – and not a cup or mug.
I was writing in my digital planner with my Apple pencil when I looked at my hand and thought – PENCILS.
I'll bet I could try engraving pencils!
You probably clicked on a picture of my finished engraved pencils to even get to this post, so I can go ahead and spoil this post with the fact that it did indeed work ;). I'll be sharing how to engrave pencils with my laser machine, as well as sharing my free pencil jig with you to download.
This post may contain affiliate links, however, all opinions are my own, as always.
What You'll Need To Engrave Pencils
For your project, you may or may not have the same machine as I do, so feel free to sacrifice a pencil to do some test engraving on first!
Here's what you'll need for this engraving project:
How To Engrave Pencils on the xTool M1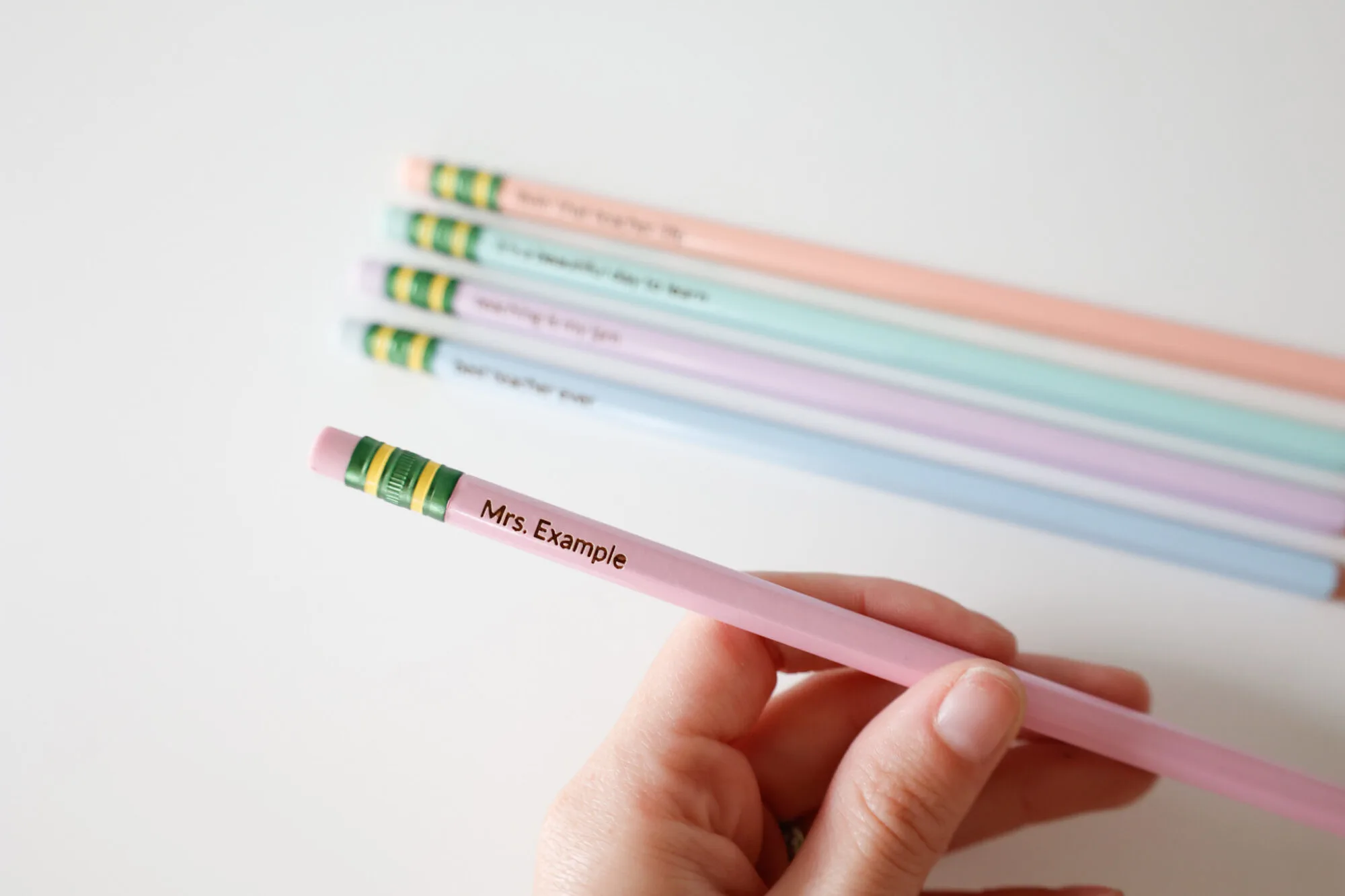 Read my original unboxing of the M1 machine in this post.
First, download this free pencil jig below:
Choosing Pencils To Engrave With Your Laser Machine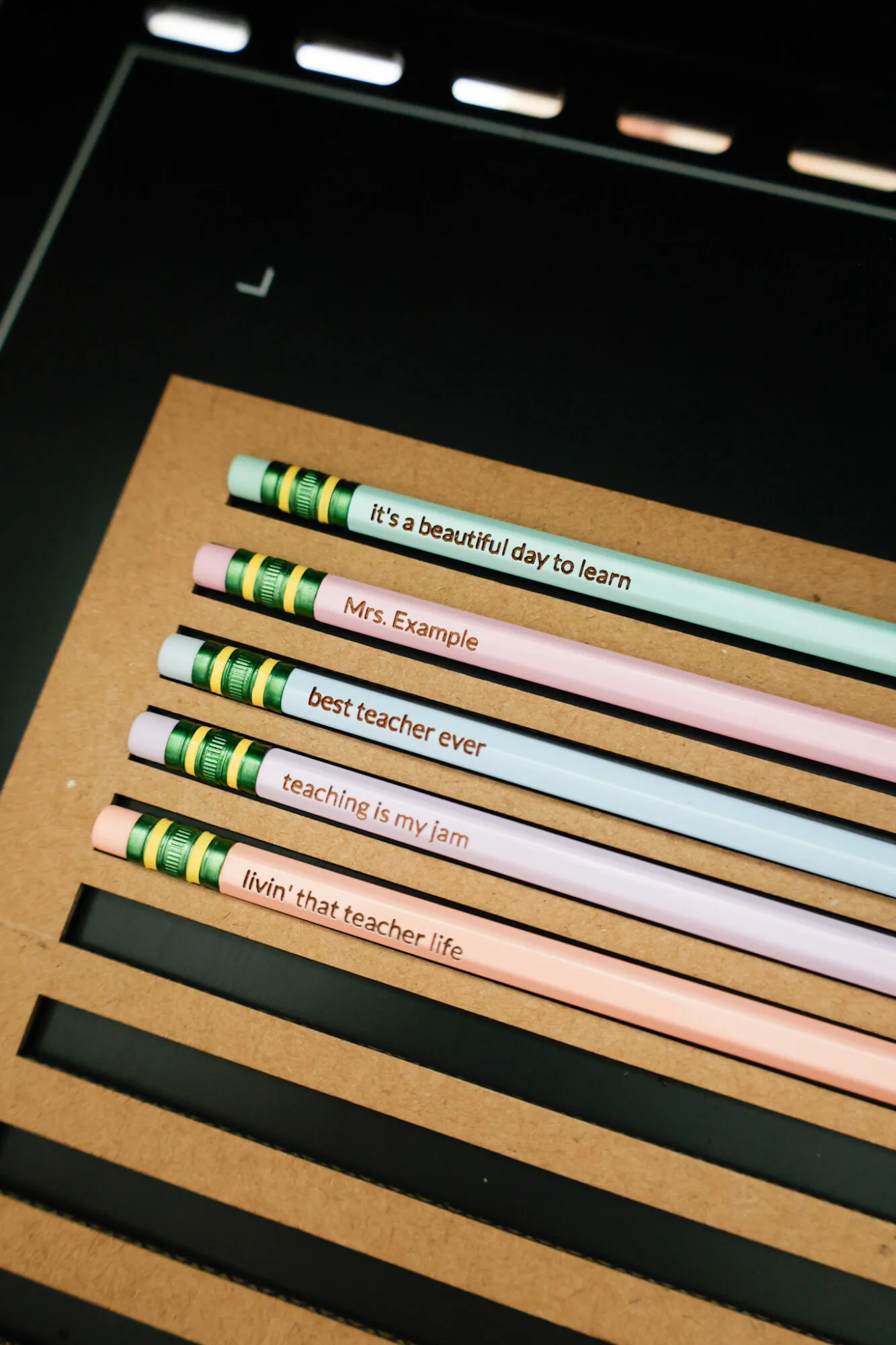 According to some dear teacher friends of mine – the Ticonderoga brand is the ONLY brand you should consider engraving if you are gifting to students or teachers.
Here is the bulk box I got – the price worked out to just below $0.40 per pencil.
I love the pretty pastels in this pencil box set – so pretty!
If you are planning on selling these, the going rate for engraved pencils seems to fall between $1-2 per pencil.
I worked the price out for each gift set of pencils to cost about $2.40 in supplies, roughly.
Lining Up Your Pencils In The Jig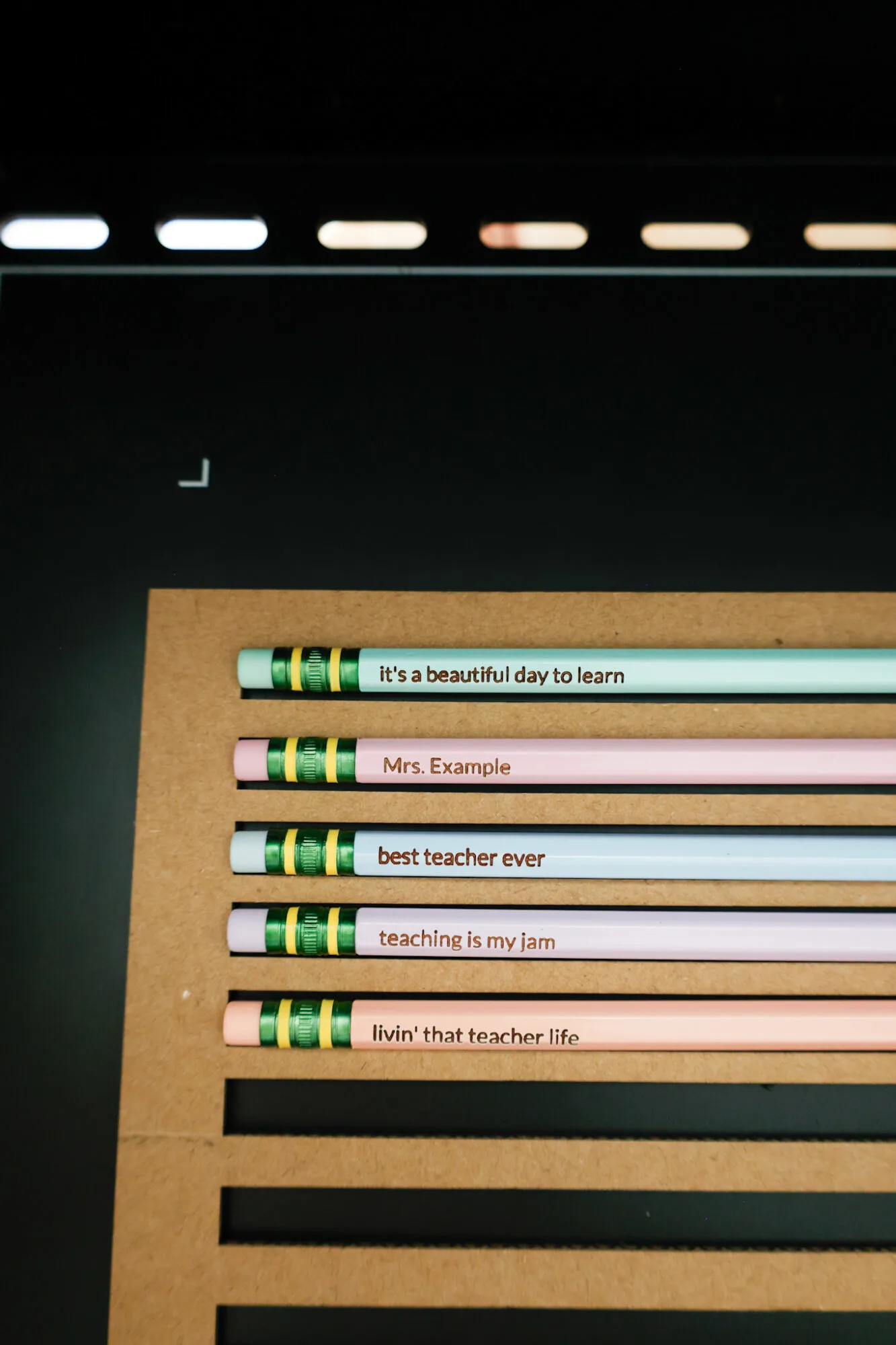 Line up your jig under the laser camera and place your pencils in the pencil jig slots.
I placed the pencils so that the green writing was face down on the laser bed surface.
The pencil jig will keep the pencils from wiggling or moving around during the engraving process.
No triangular prisms are needed for this project.
Pencil Engraving Settings in the xTool M1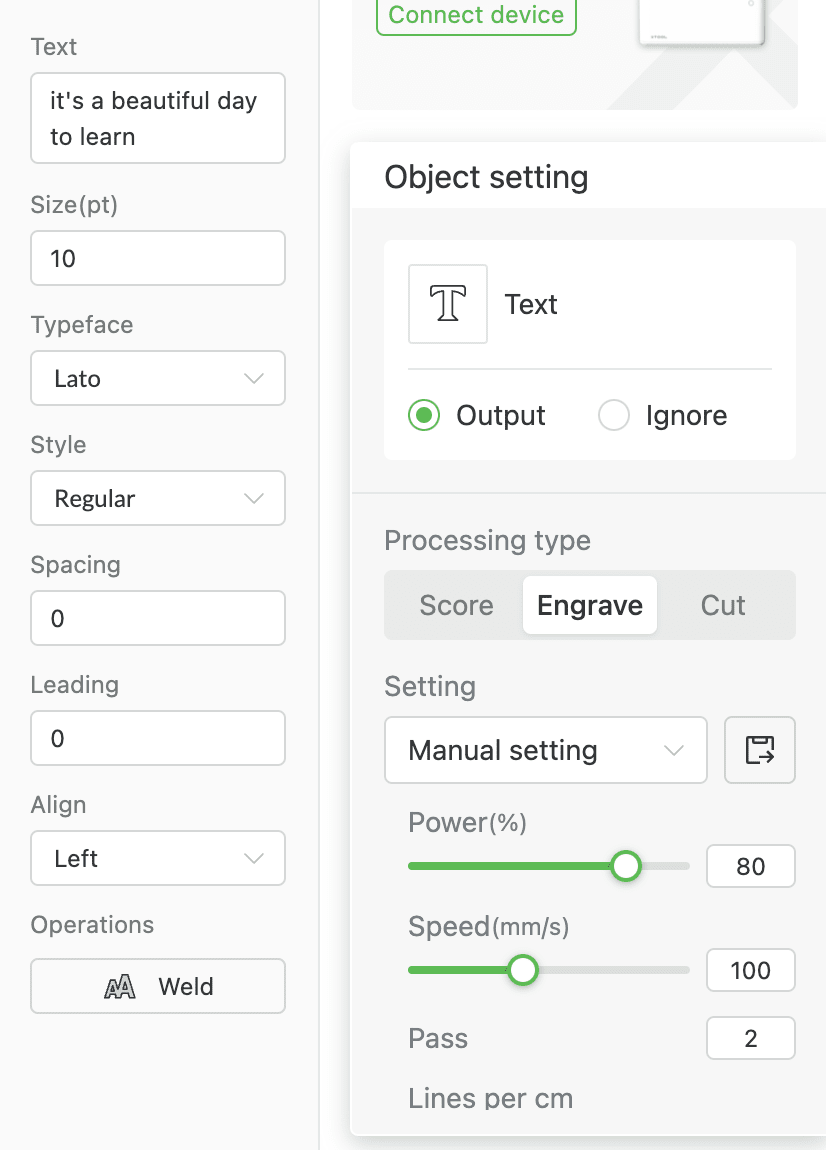 For my pencils, I set the engraving settings to:
My font size was 10 in Lato typeface in the xTool Create Space design program.
xTool Creative Space is a free design program with a lot of features available to you! You can even download and import fonts from your computer to use within the program.
You can achieve a deeper engrave if desired by increasing the power and decreasing the speed.
With these settings above, the engraving process for all 5 pencils pictured was about 3 minutes – super quick!
Download my XCS file for these Pencil Engraving Settings below:
You'll need to unzip the file and open it in xTool Creative Space.
Engraving Pencils for Teachers – Phrases and Sayings Ideas
Here are some ideas of what you can possibly engrave on your pencils:
student names
GO *INSERT MASCOT HERE* (STALLIONS, BULLDOGS, etc.)
teachin' ain't easy
teaching is my jam
livin' that teacher life
it's a beautiful day to learn
Mrs. *INSERT TEACHER NAME HERE*
Please return to Mrs. *INSERT TEACHER NAME HERE*
best teacher ever
Room # *INSERT ROOM NUMBER*
This is where you can get creative with what you engrave on your pencils! Think about your community, the season, what they'll be used for, etc.
Cleaning Pencils After Engraving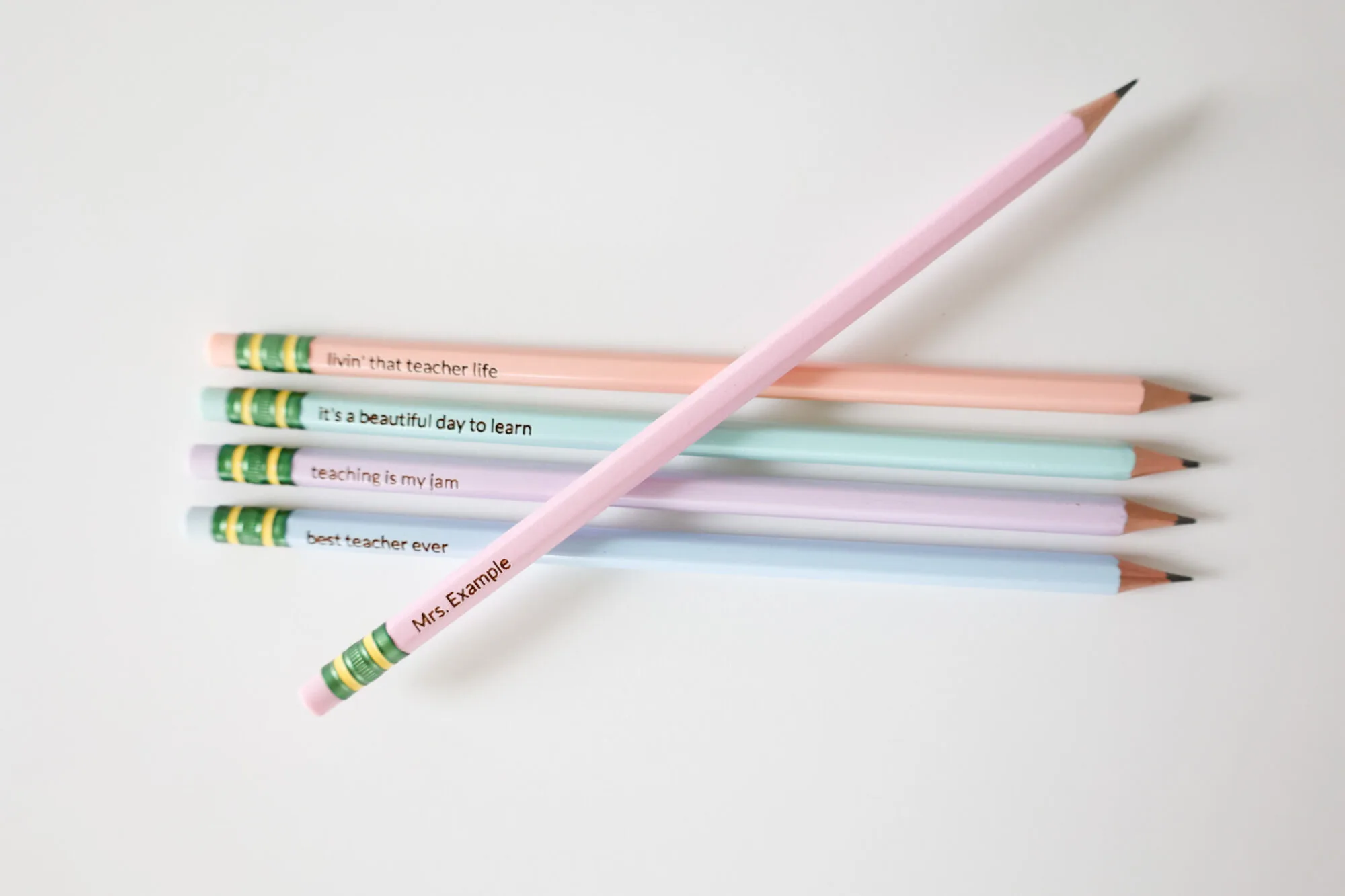 To clean the char from your pencils after engraving, you can lightly wipe the engraving with some rubbing alcohol.
You can also choose to mask your pencils before engraving (placing down a piece of blue painter's tape) to prevent charring, but I found rubbing alcohol was a faster effective method for removing the tiny amount of char I saw!
Finished Engraved Pencils
Please note that these images, just as with my other posts, are copyrighted and may not be used for selling your finished product should you choose to sell engraved pencils. These images are copyrighted and are considered intellectual property. Thanks for understanding!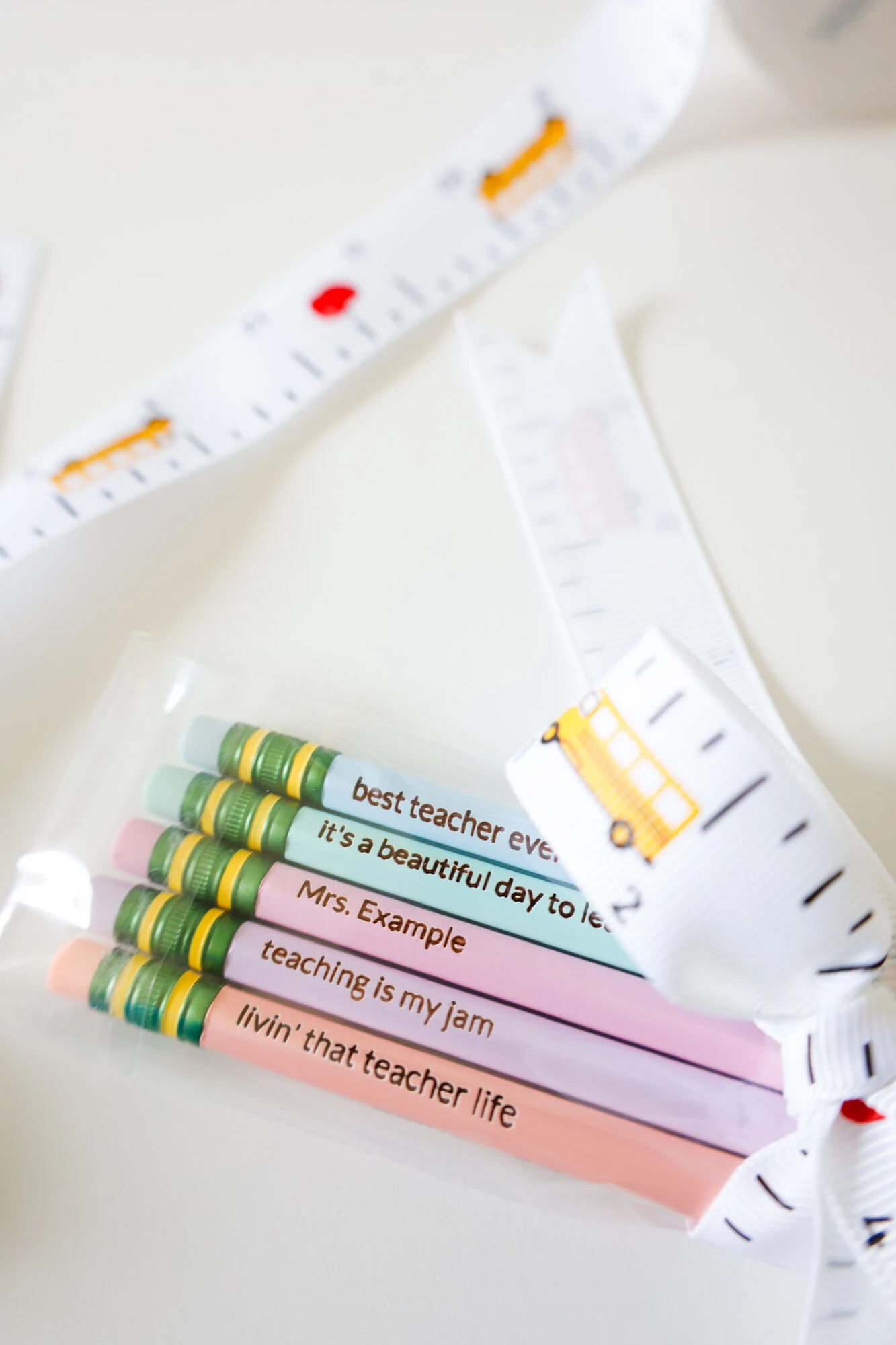 I chose a school/teacher-themed ribbon for this gift set and I think it complemented the package very nicely!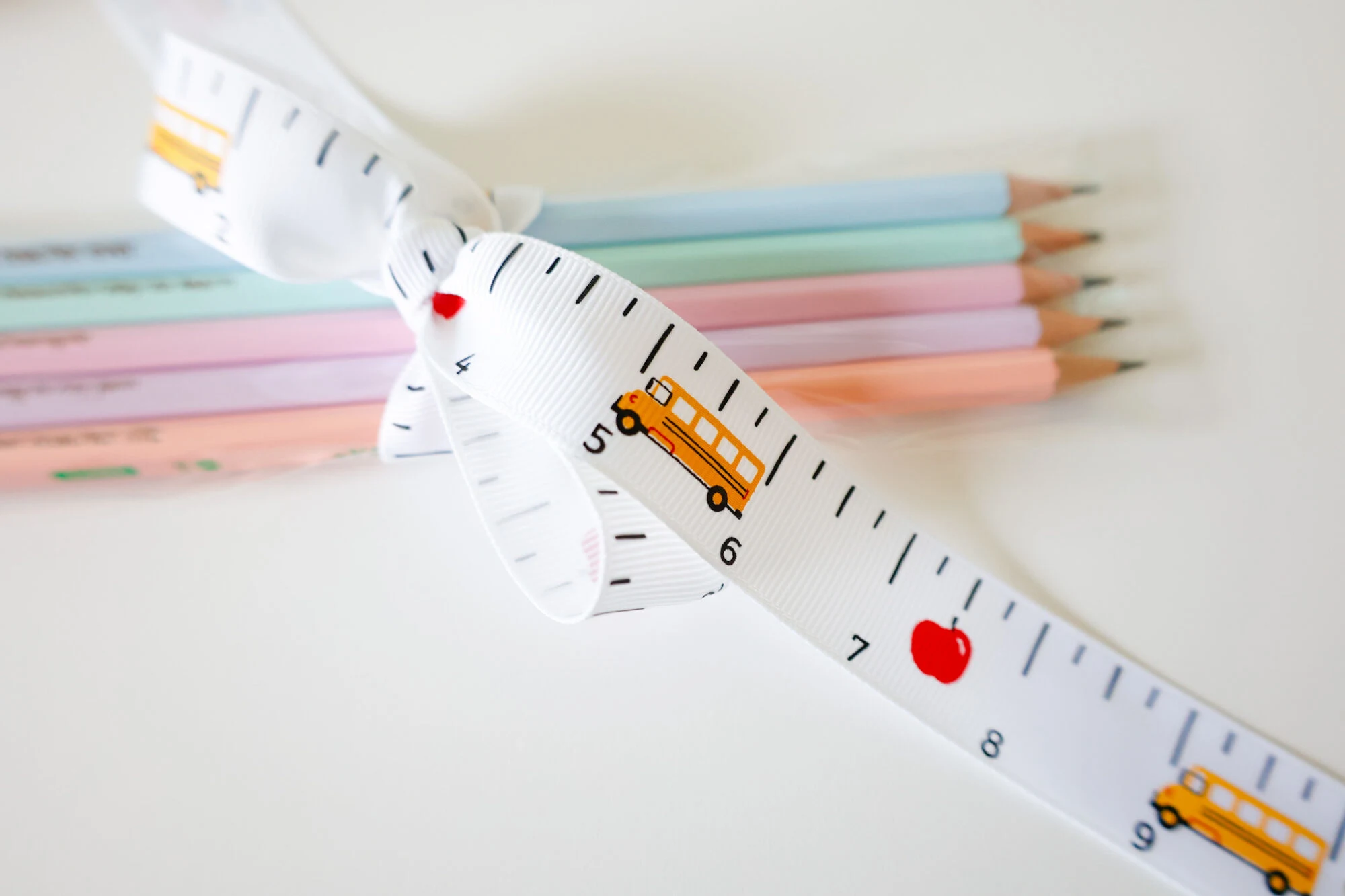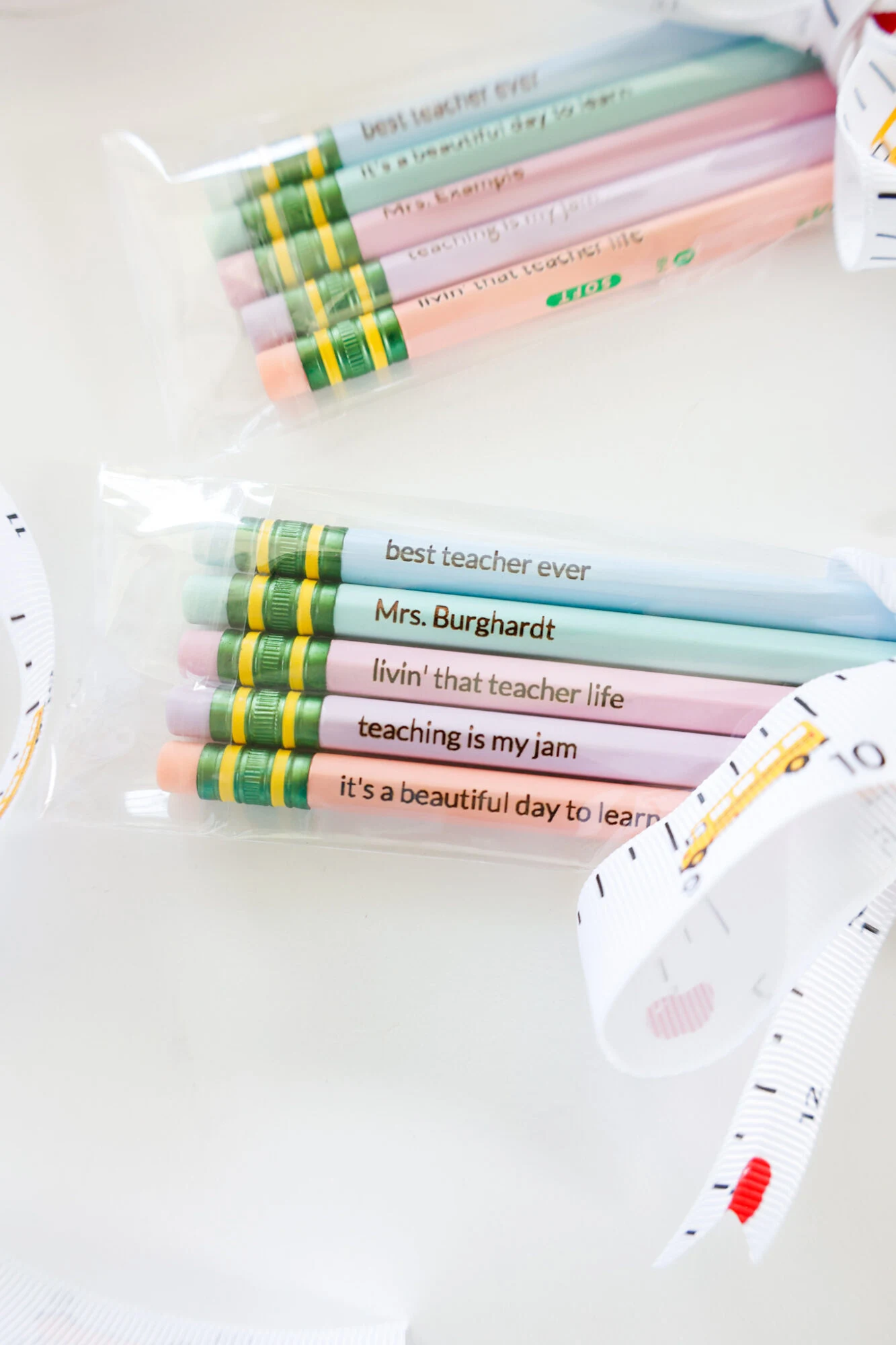 The bags I chose fit them perfectly, and I love that they seal at the top, too!
With the bags and ribbon together, these pencils are ready for gifting.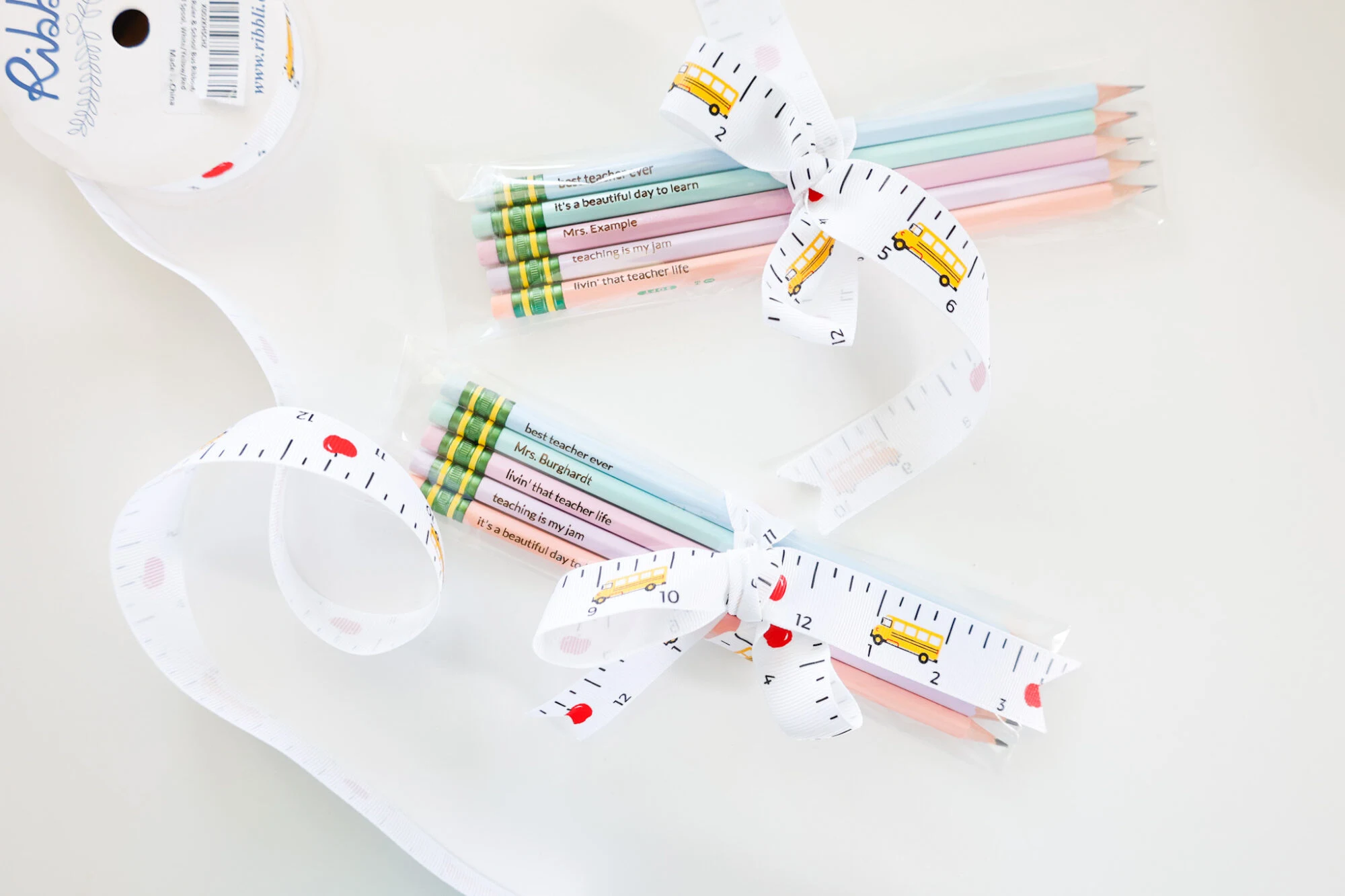 For only 3 minutes, this teacher gift was so easy to make, and I know it will be appreciated much more than another mug.
Have you tried this with your xTool M1 or other laser machine yet? Let me know in the comments below!