Learn how to make stickers with a Cricut Joy – no printer needed!
---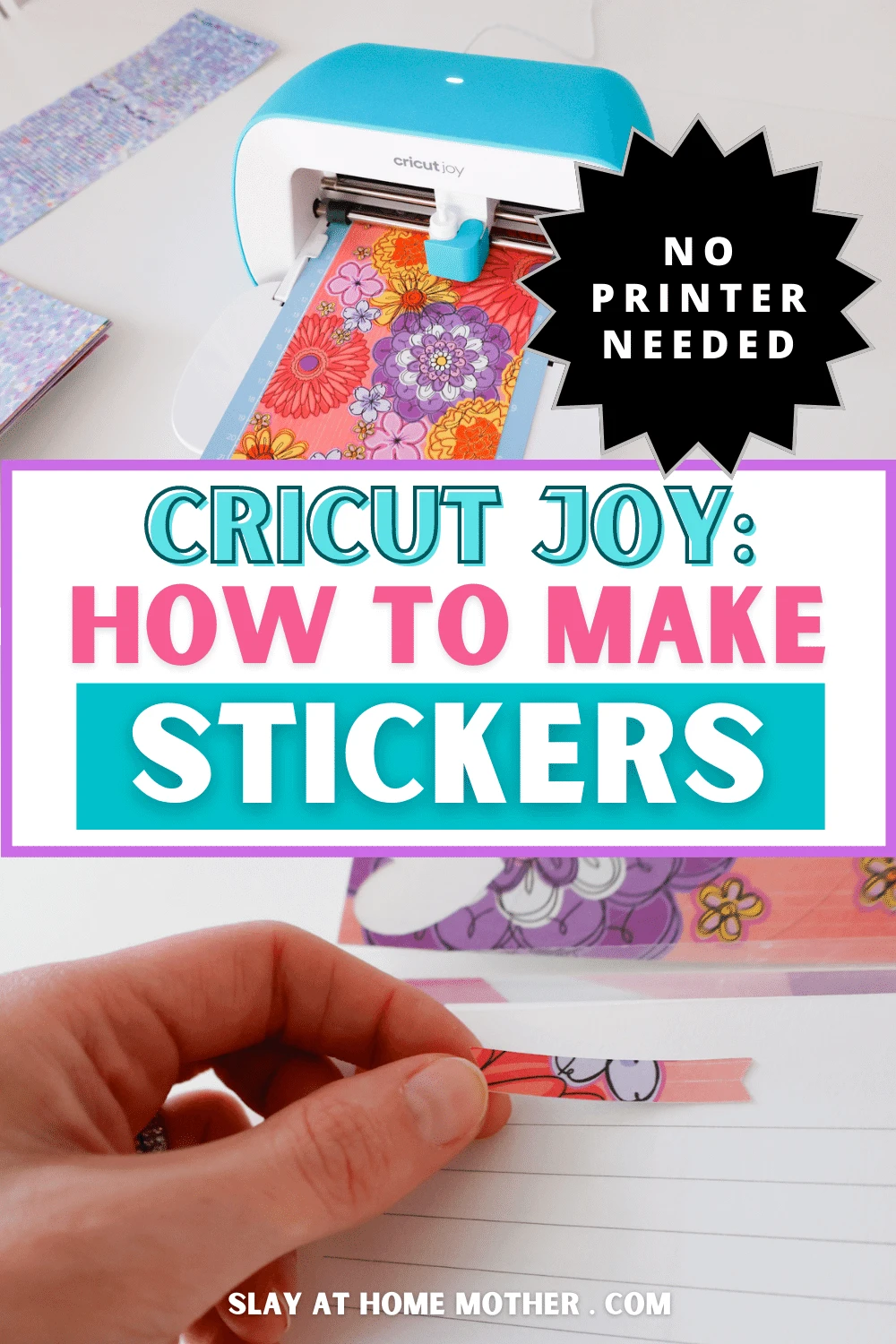 What's So Special About The Cricut Joy?
Cricut Joy Vs. Explore Air 2
Here are a few key points in how these two machines differ…
*This post contains affiliate links, however, all opinions are my own, as always.
Cricut Joy Compatible Materials
Here's a complete list of materials the Cricut Joy can cut:
Corrugated Cardboard

Flat Cardboard
Foil Poster Board
Glitter Cardstock
Insert Card – Cardstock
Medium Cardstock – 80 lb (216 gsm)
Everyday Iron-On Mesh
Everyday Iron-On Mosaic
Glitter Mesh Iron-On
Holographic Iron-On
Holographic Iron-On Mosaic
Holographic Sparkle Iron-On
Infusible Ink Transfer Sheet
Smart Iron-On
Smart Iron-On – Glitter
Smart Iron-On – Holographic
Smart Iron-On – Patterned
SportFlex Iron-On
Faux Leather (Paper Thin)
Deluxe Paper
Deluxe Paper Foil Embossed
Foil Paper – 0.36mm

Pearl Paper

Shimmer Paper

Smart Label Writable Paper

Sparkle Paper

True Brushed Paper

Foil Acetate

Adhesive Foil

Chalkboard Vinyl

Dry Erase Vinyl

Holographic Sparkle Vinyl

Premium Vinyl

Premium Vinyl – Frosted Glitter

Premium Vinyl – Frosted Gray

Premium Vinyl – Frosted Opaque

Premium Vinyl – Holographic

Premium Vinyl –

Holographic

3D Texture

d

Premium Vinyl – Holographic Art Deco

Premium Vinyl – Holographic Bubbles
Premium Vinyl – Holographic Crystals

Premium Vinyl – Holographic Threads

Premium Vinyl – Mosaic

Premium Vinyl – Pearl

Premium Vinyl – Textured

Premium Vinyl – Textured Metallic

Premium Vinyl – True Brushed

Smart Label Writable Vinyl

Smart Vinyl – Holographic Patterns

Smart Vinyl – Matte Metallic

Smart Vinyl – Permanent

Smart Vinyl – Removable

Smart Vinyl – Shimmer

Stencil Vinyl

Party Foil

Window Cling
If you're looking for a powerful and compact machine that can cut a wide variety of materials, the Cricut Joy is a great one to consider.
Speaking of compact, it weighs less than 4 lbs.
See how I organized my pantry with the Cricut Joy in this post HERE.
But, if you need a machine that has more cutting power and capabilities, the Cricut Explore Air 2 can cut twice as many materials and is Cricut's most popular machine.
How To Make Stickers With Cricut Joy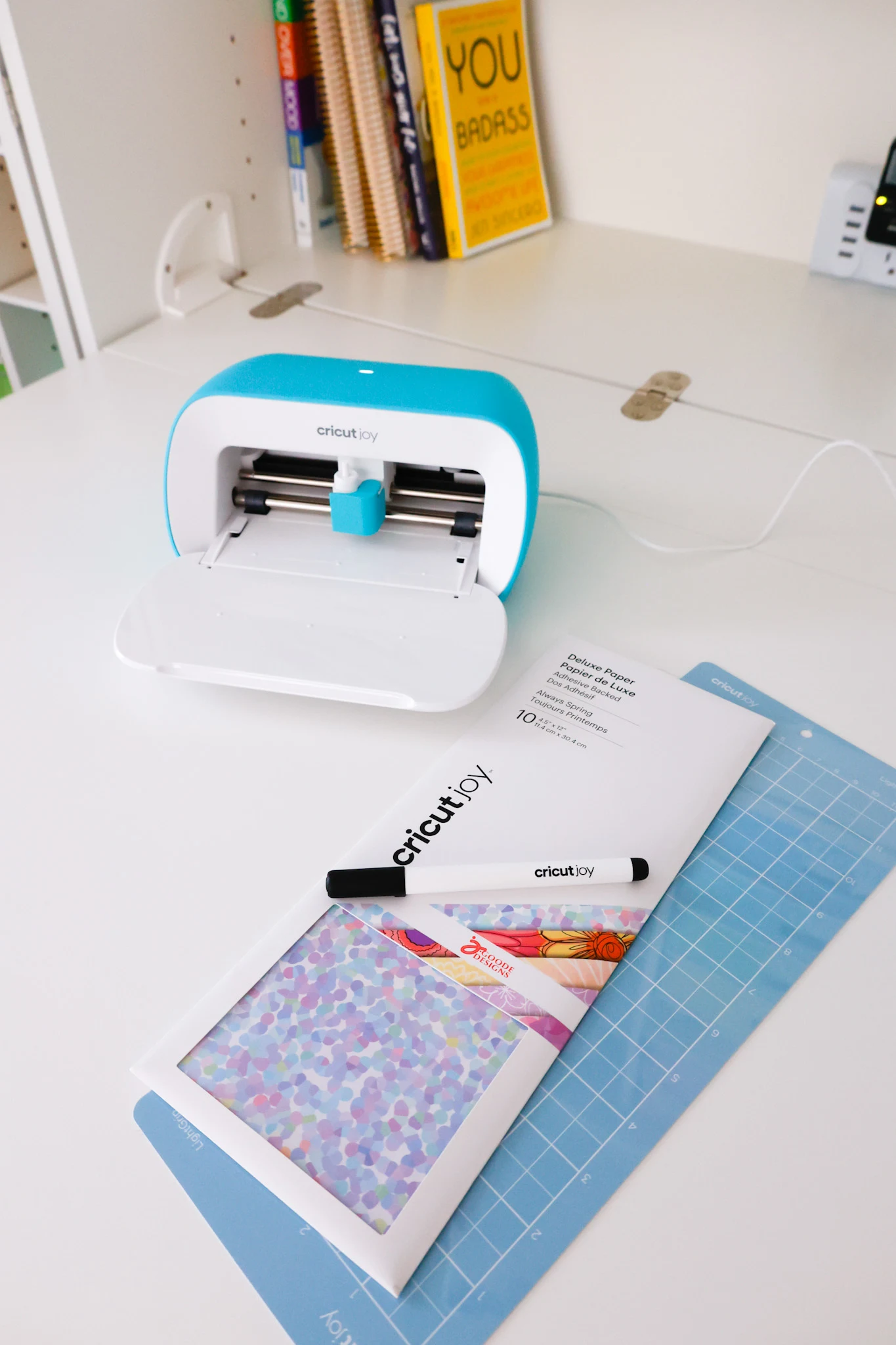 You May Also Like: Print Then Cut Stickers Tutorial
Here's what you'll need to make planner stickers with the Cricut Joy: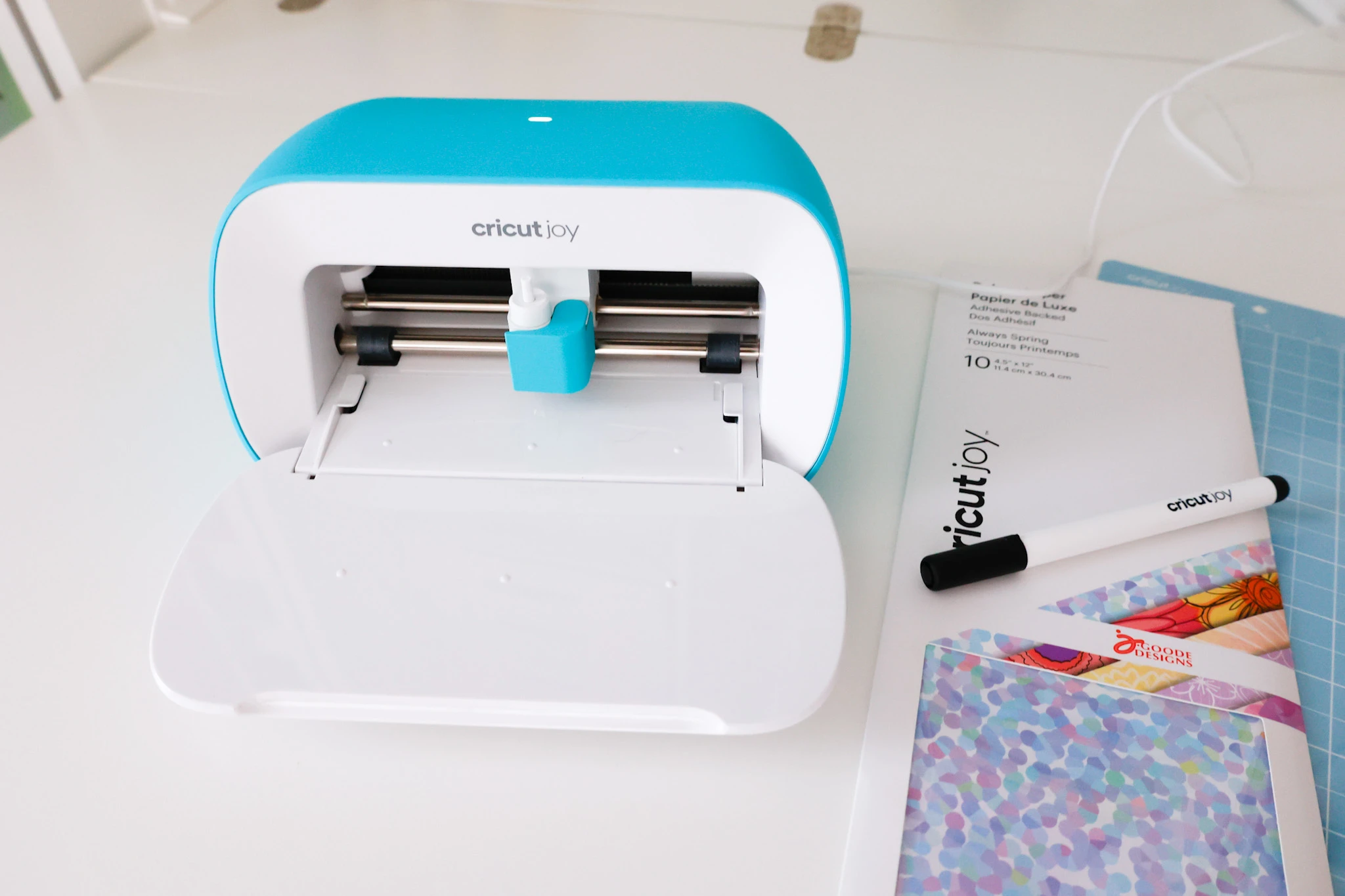 Designing Your Stickers in Design Space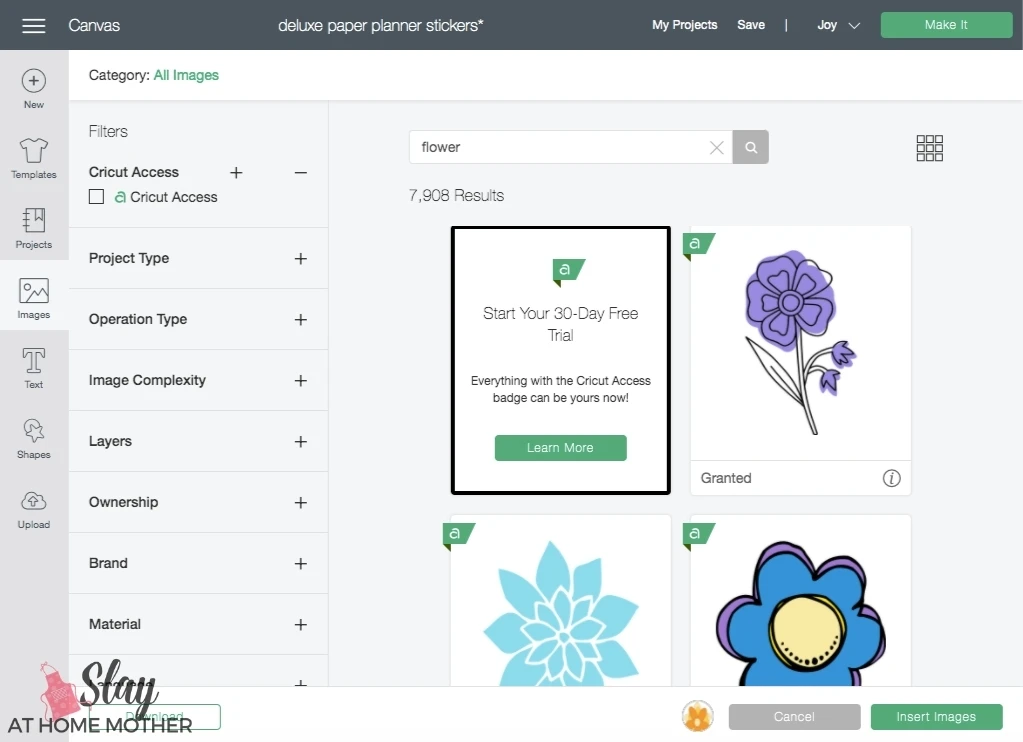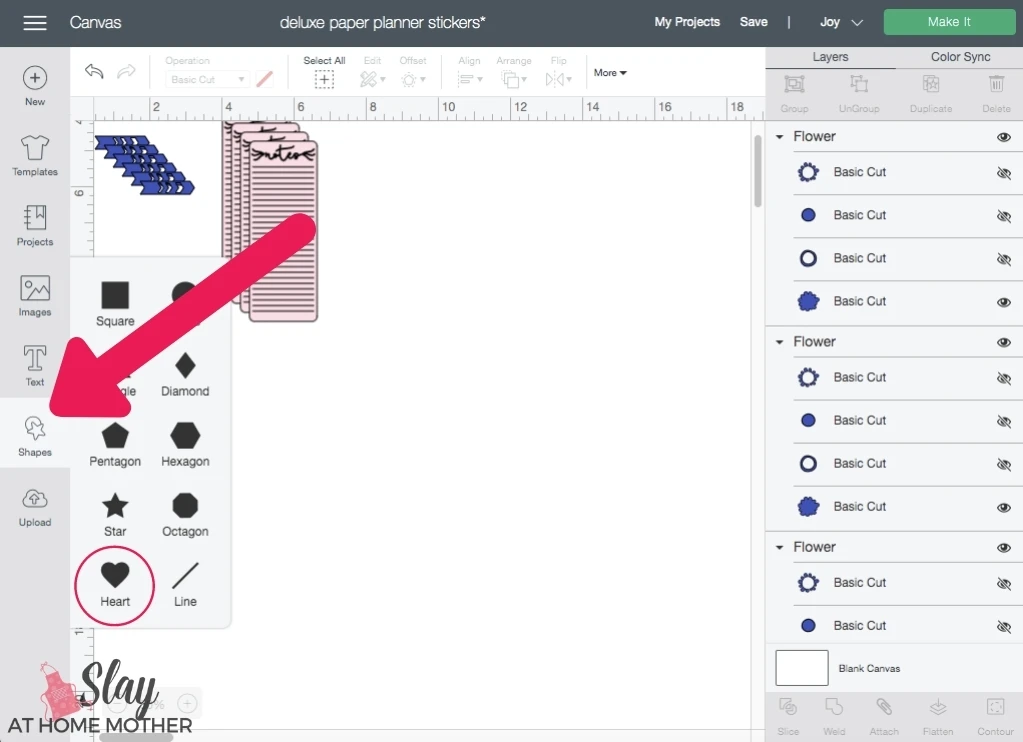 Cricut Access Subscription
As an avid cutting machine user, I would recommend the Cricut Access subscription.
With the subscription, you get access to over 100,000 images, 500+ fonts, and can use fonts from your computer.
I find the subscription really beneficial as I am able to access any font within my computer to personalize projects as well as thousands of gorgeous images within Design Space.
If you have additional concerns or questions about this recent change and rollback, feel free to drop them in the comments below but please know that I do not represent Cricut on any corporate level, just as a creator and fan of their products!
Cricut Deluxe Paper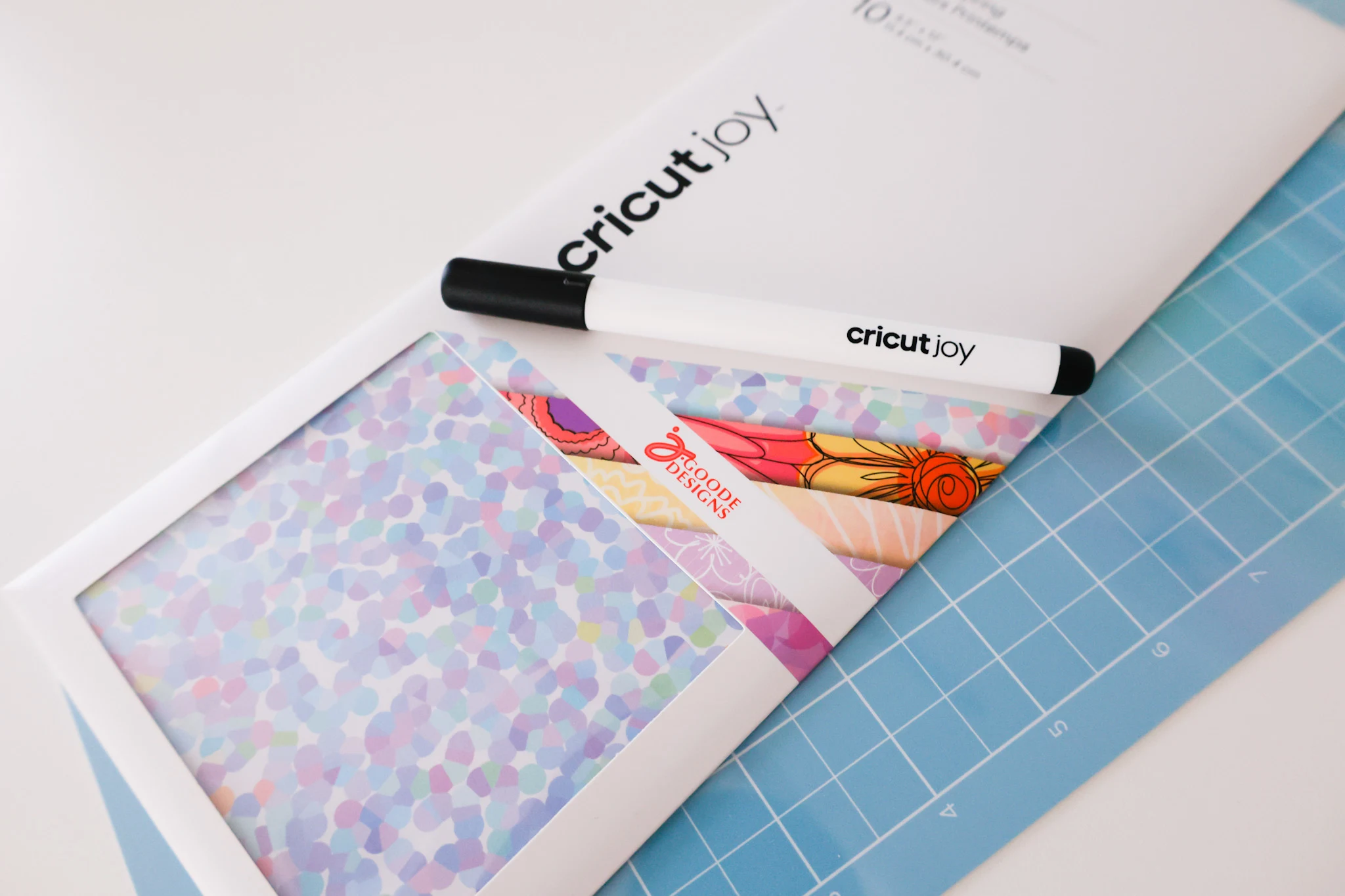 Related:Cricut Closet Organizers – A Print Then Cut DIY
For my stickers, I am using Cricut adhesive-backed deluxe Paper in the Always Spring print set.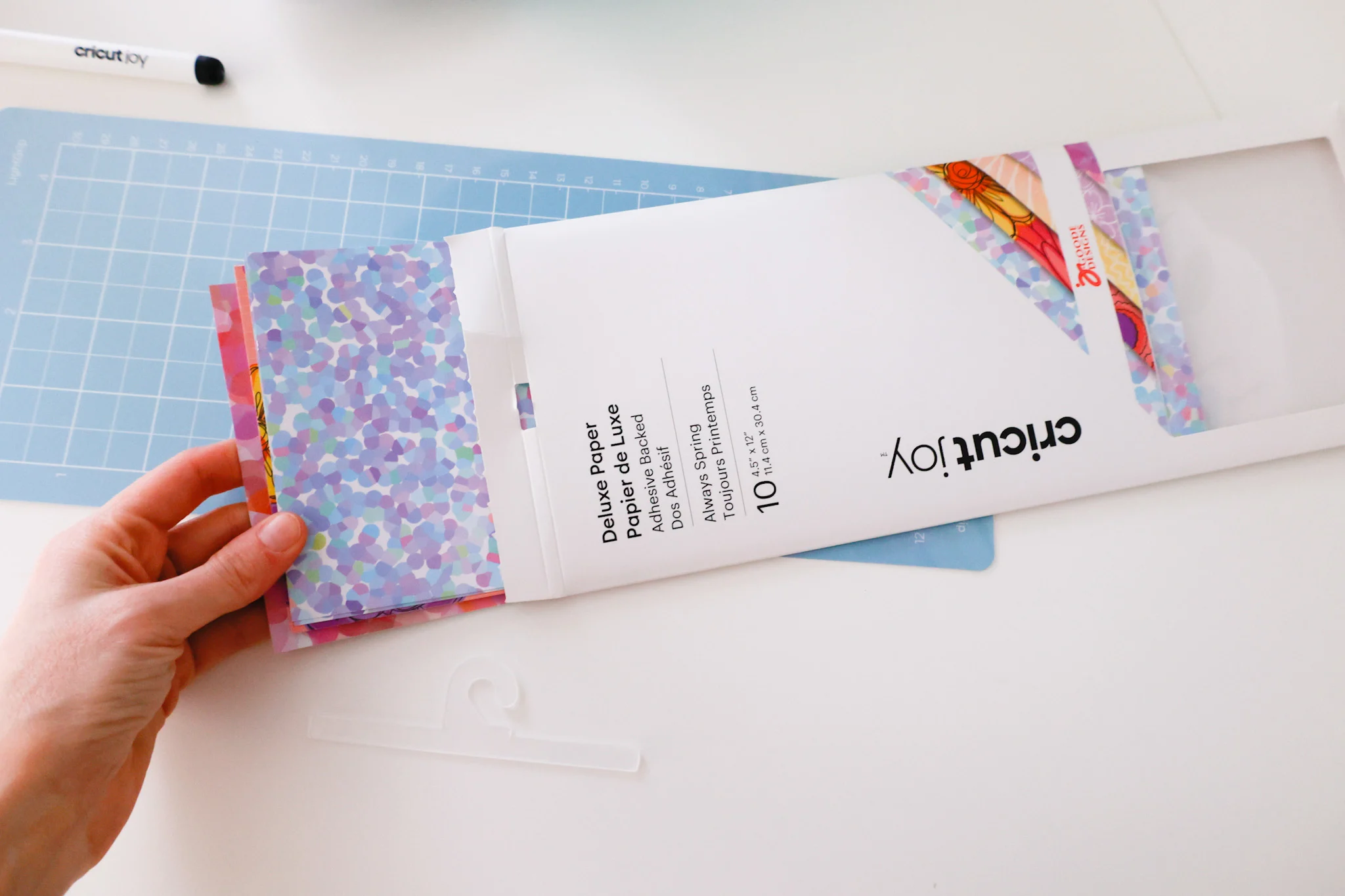 I love how bright and colorful this set is!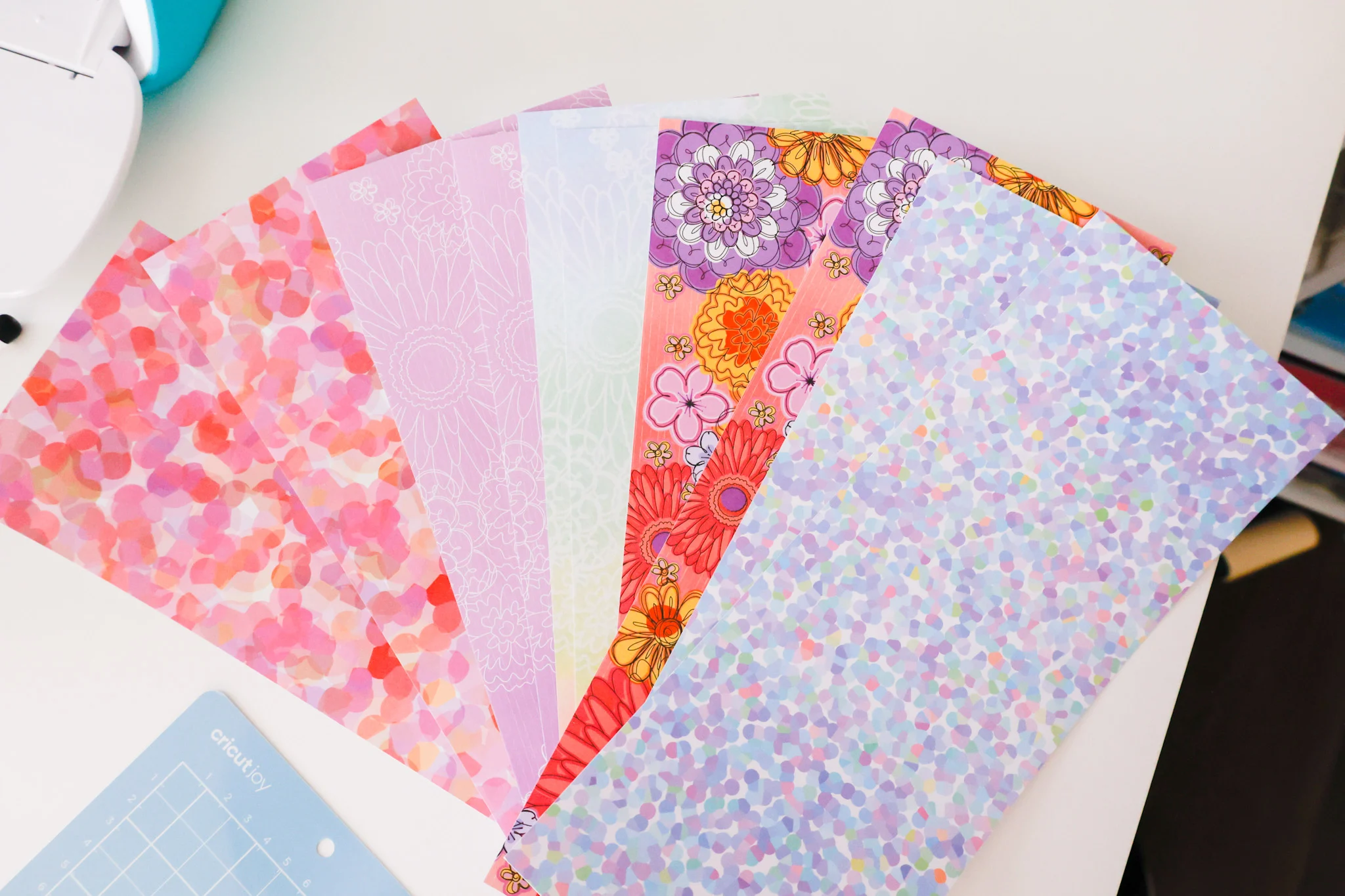 There are 10 adhesive-backed sheets that measure 4.5″ x 12″.
This material is perfect for creating planner stickers with your Cricut.
The paper is also thicker and resembles cardstock.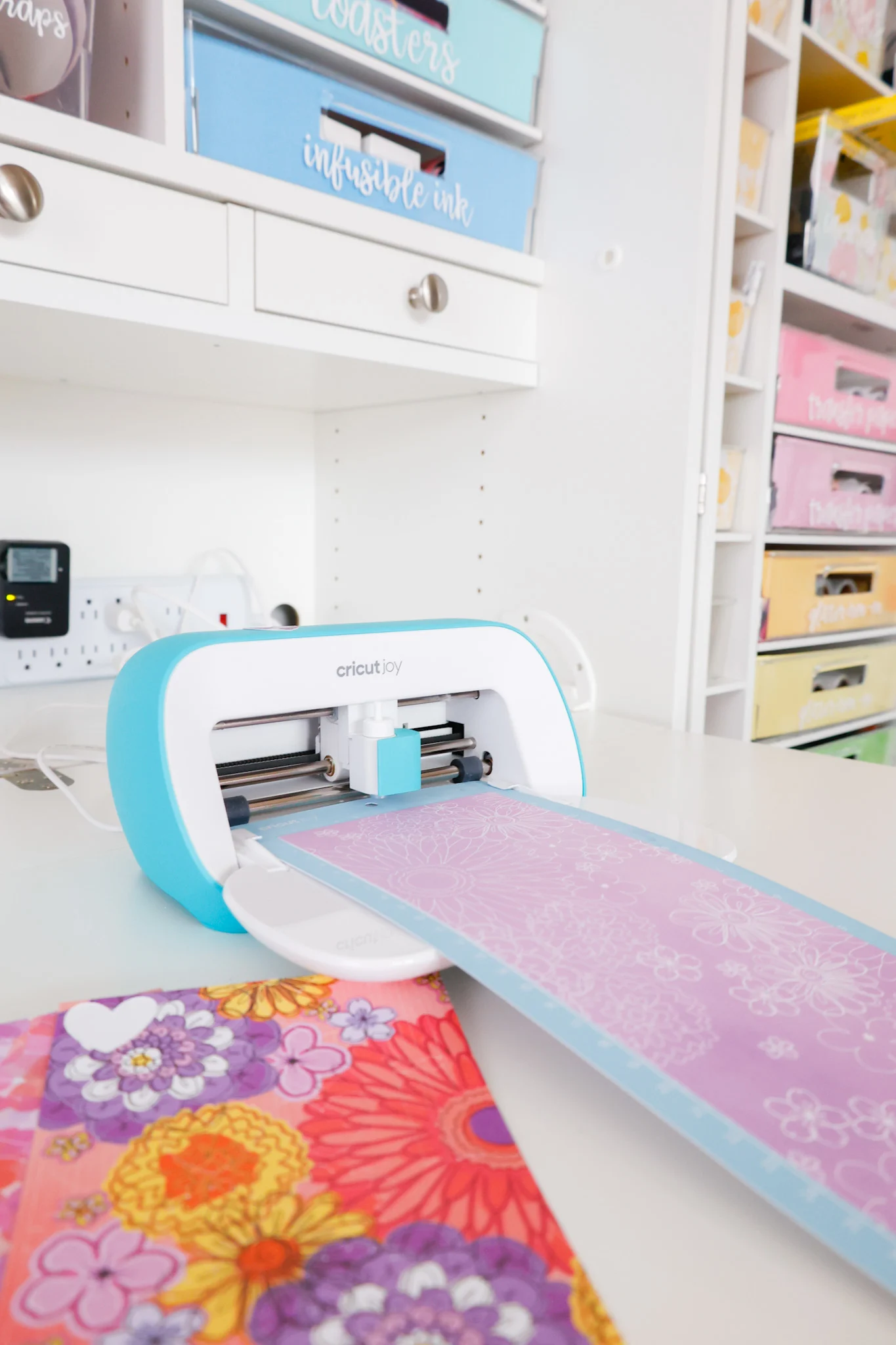 Designing Your Stickers In Design Space
This is the fun part, in my opinion – time to design your stickers!
Open Design Space (or access my design for these planner stickers HERE).
Create a new project.
For your stickers, think of the different shapes you want to cut out with your Cricut Joy.
I wanted to incorporate hearts, flowers, and some rectangle shapes that I could use for additional notes.
You can search for shapes within the Images tab on the left toolbar (see screenshot below).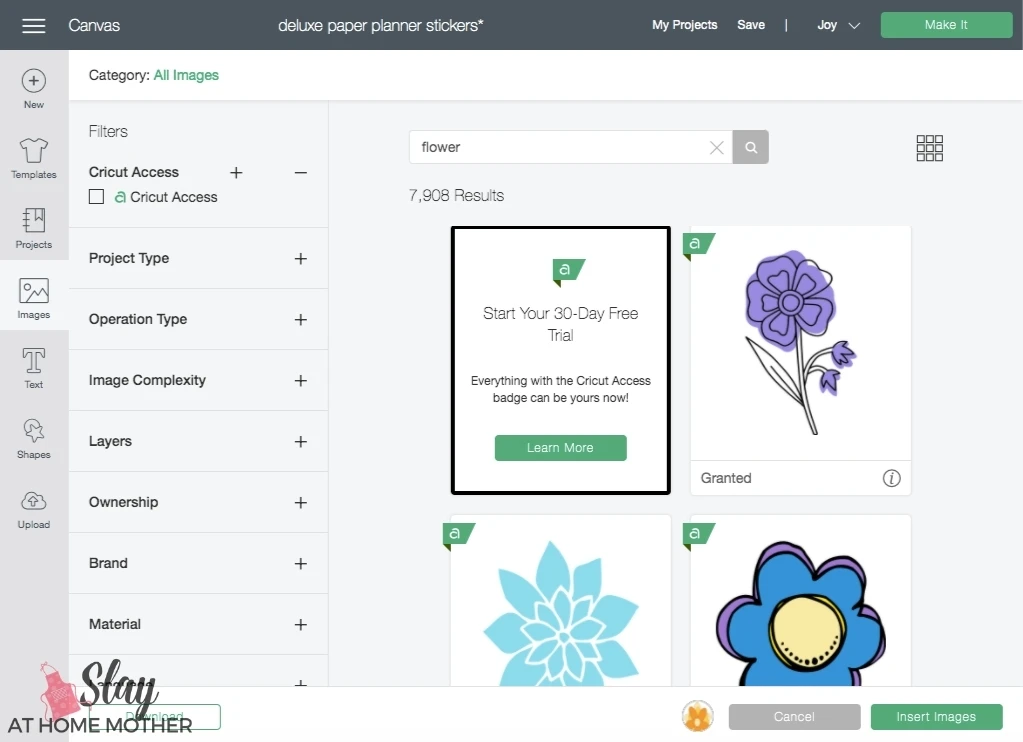 If you want just the shape of an image and not all the cuts, just click on the Eye icon within the Layers section to the right of the screen to hide those cuts. Your machine won't cut any layers that are hidden.
Design Space also offers basic shapes to choose from, like squares, hearts, circles, triangles, stars, pentagons, etc.
These are available within the Shapes tab on the left toolbar (see screenshot below).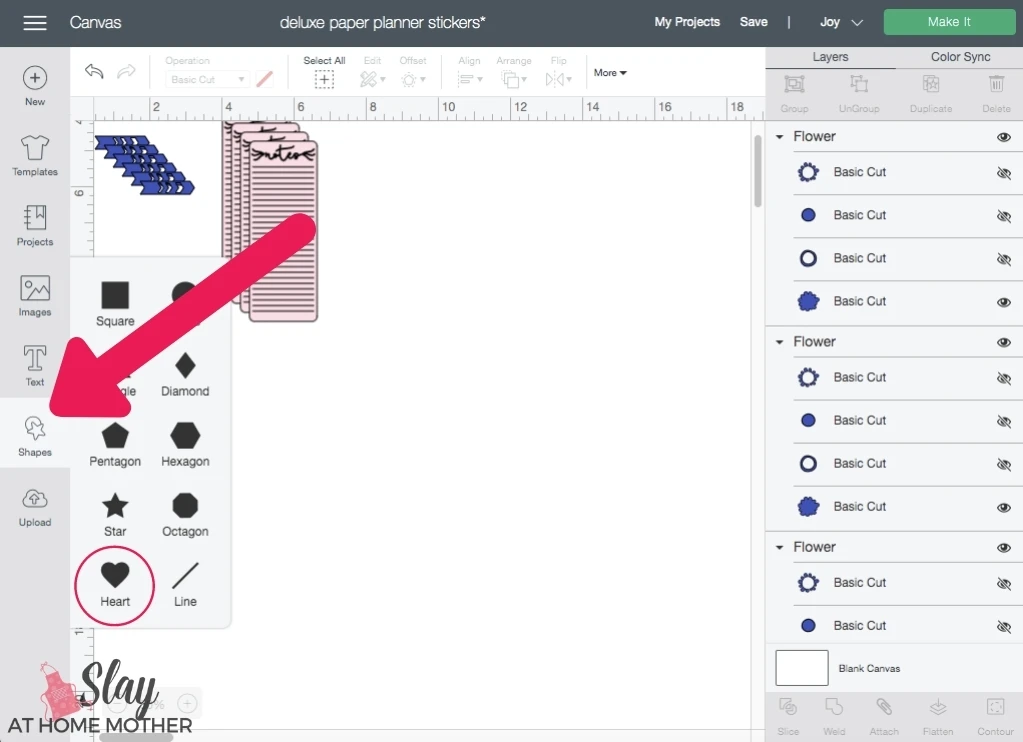 Once you have your images and/or shapes selected, size them as you wish.
You can also add text to your stickers.
For instance, if you want to create planner stickers that read 'Bills', 'Spring Break', etc. just add text using the Text tab on the left toolbar.
Be sure you select Pen under Draw on the top toolbar so your machine will know to draw instead of cut the letters.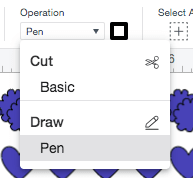 Now you're ready to hit the Make It button towards the top right of the screen!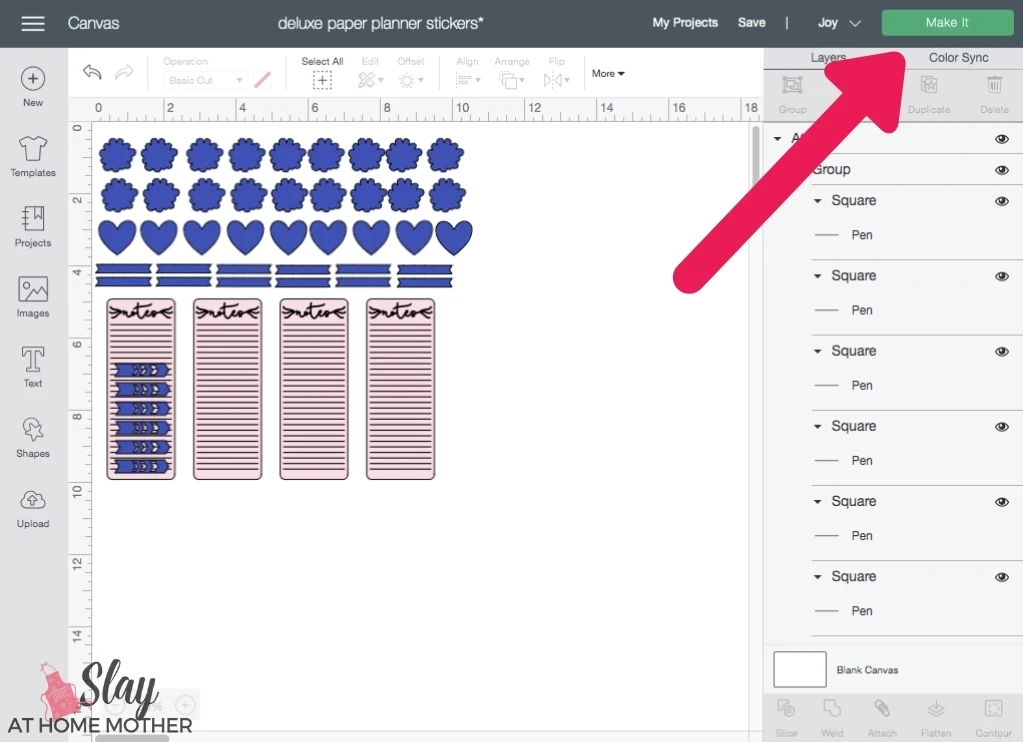 For deluxe paper, you'll need a Cricut Joy LightGrip mat.
On the Prepare screen, click on the On Mat option since you'll be using one.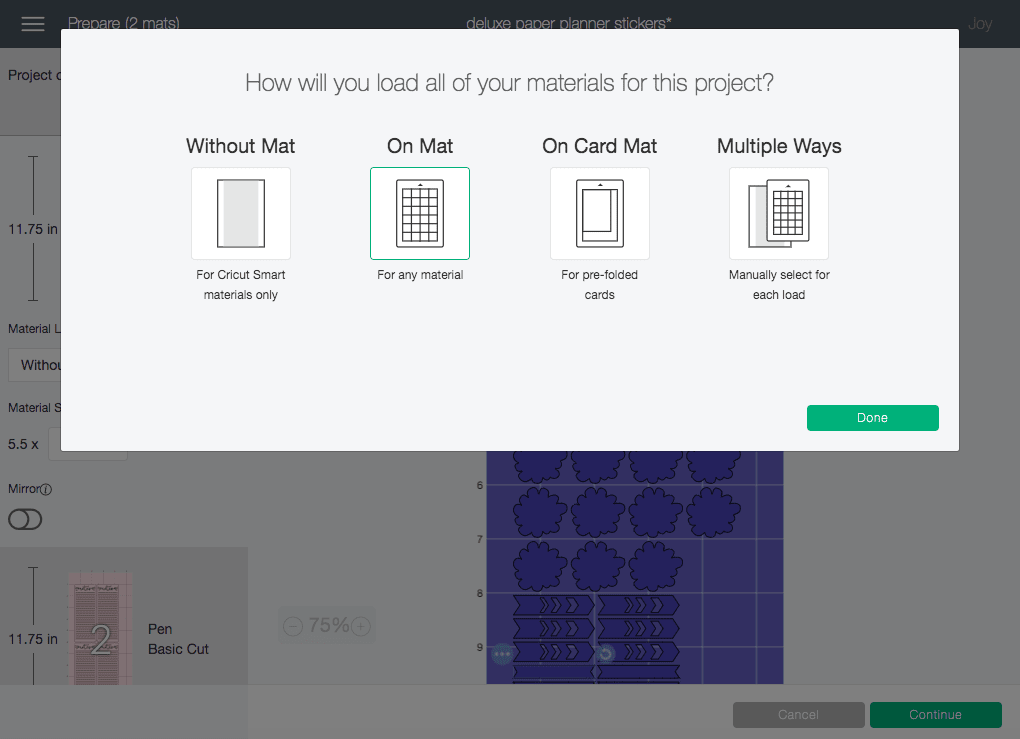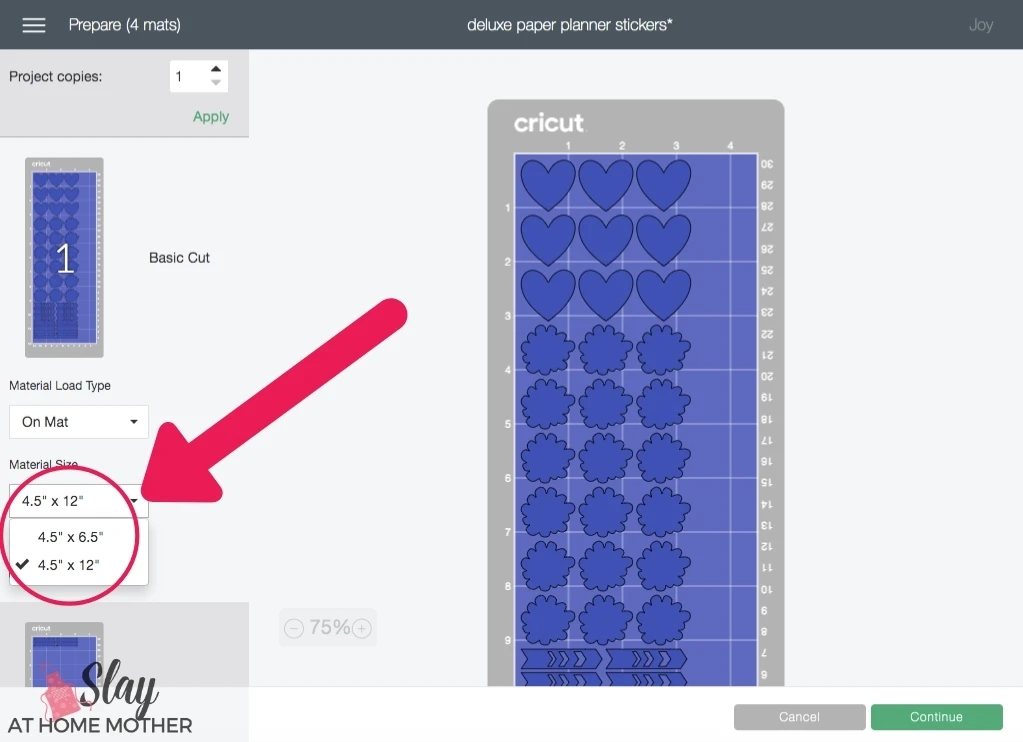 For material selection, select Deluxe Paper, Adhesive Backed.
If you're drawing any text, you'll want to load a Cricut Joy pen into the machine housing and load your LightGrip mat with your choice of Deluxe Paper.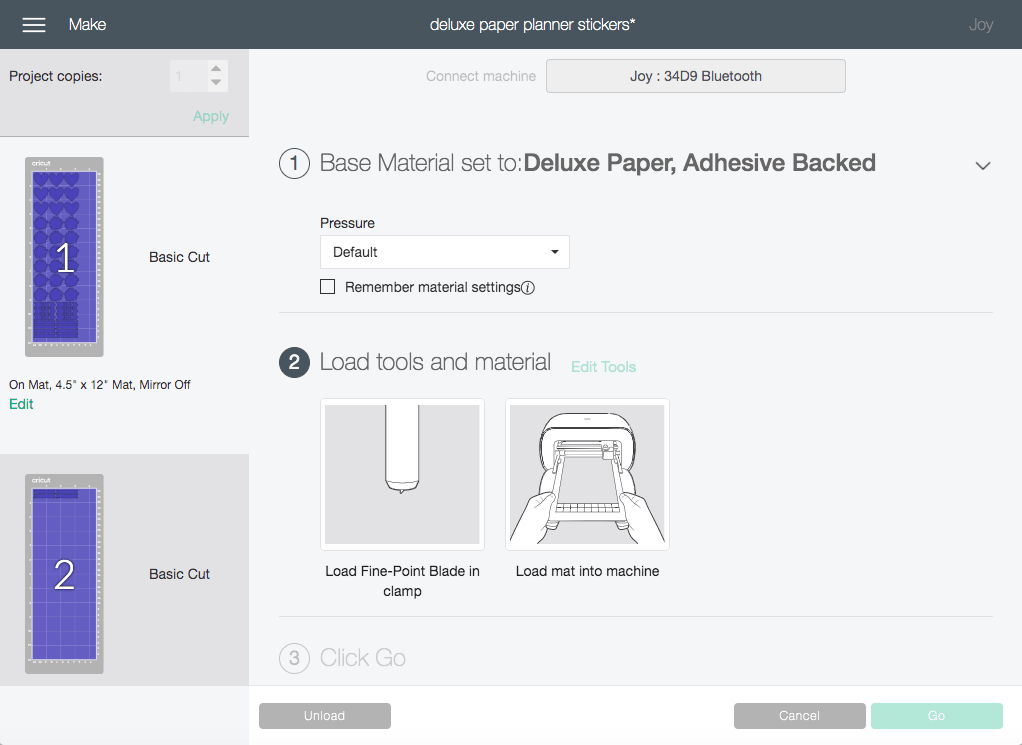 Your machine will begin drawing first.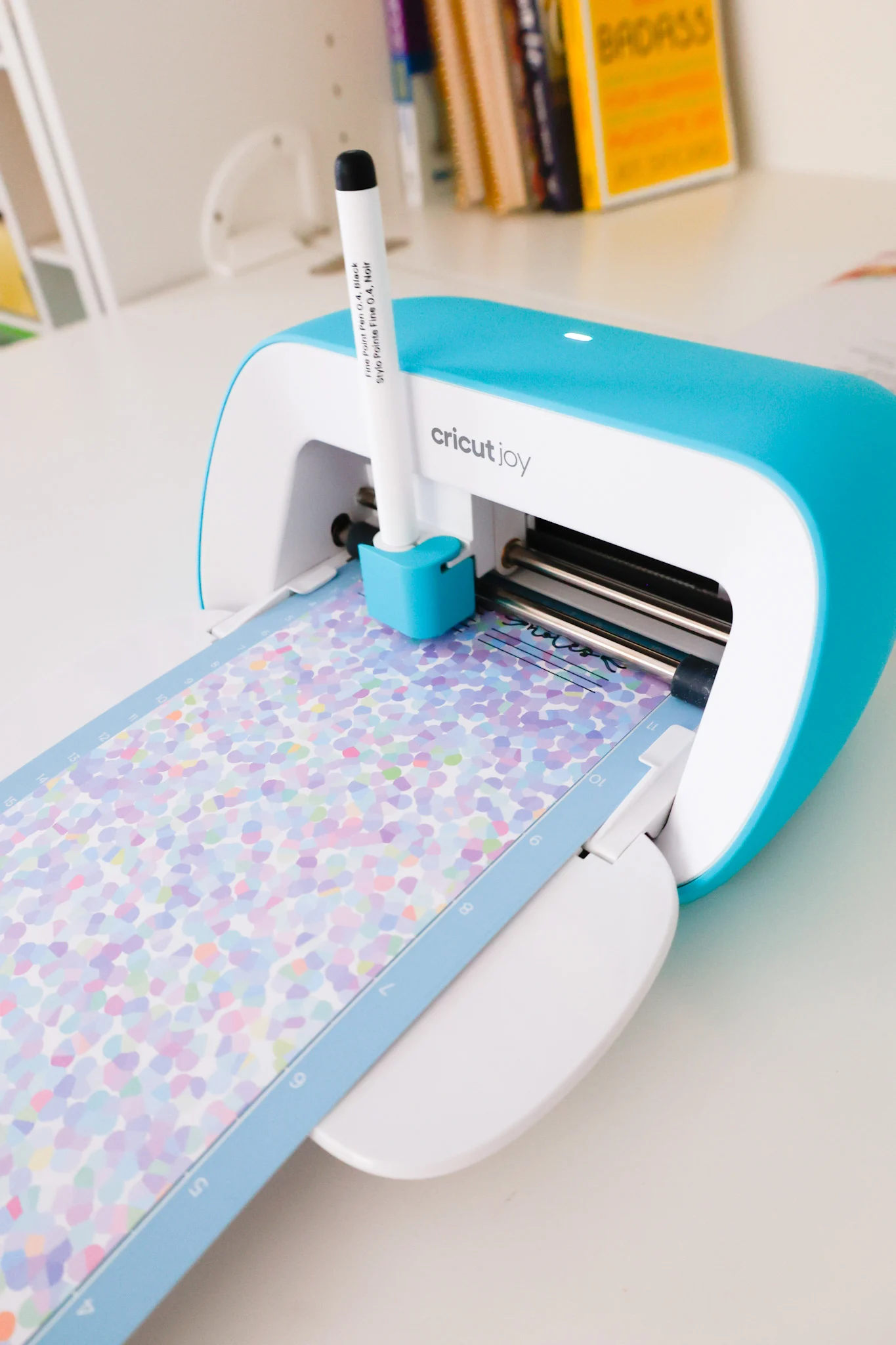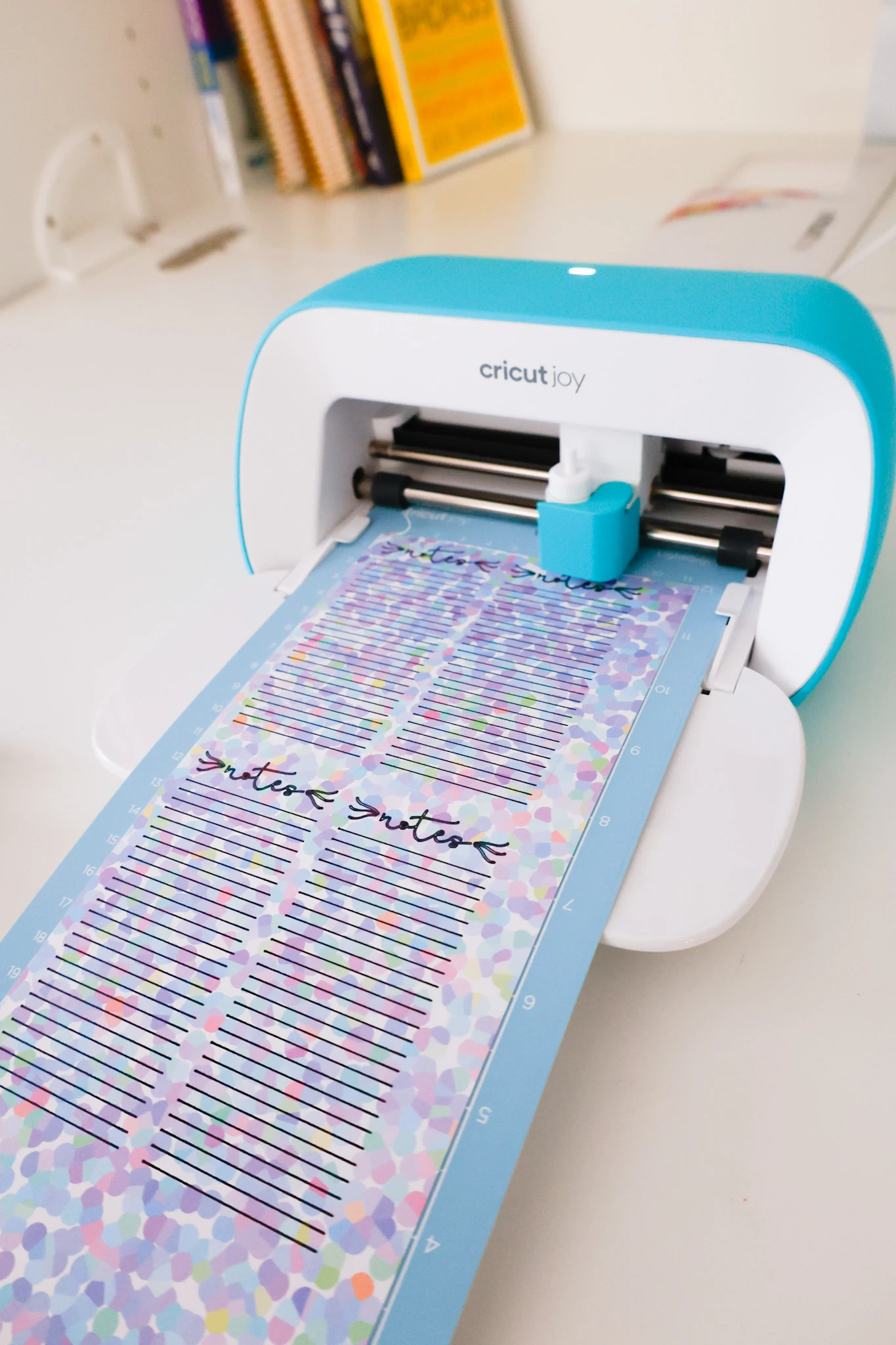 Once your Cricut Joy is done drawing, Design Space will let you know it's time to switch the Joy pen out for a fine-point blade (this is the one that comes with your machine).
Then, it will proceed with cutting out your sticker shapes – yay!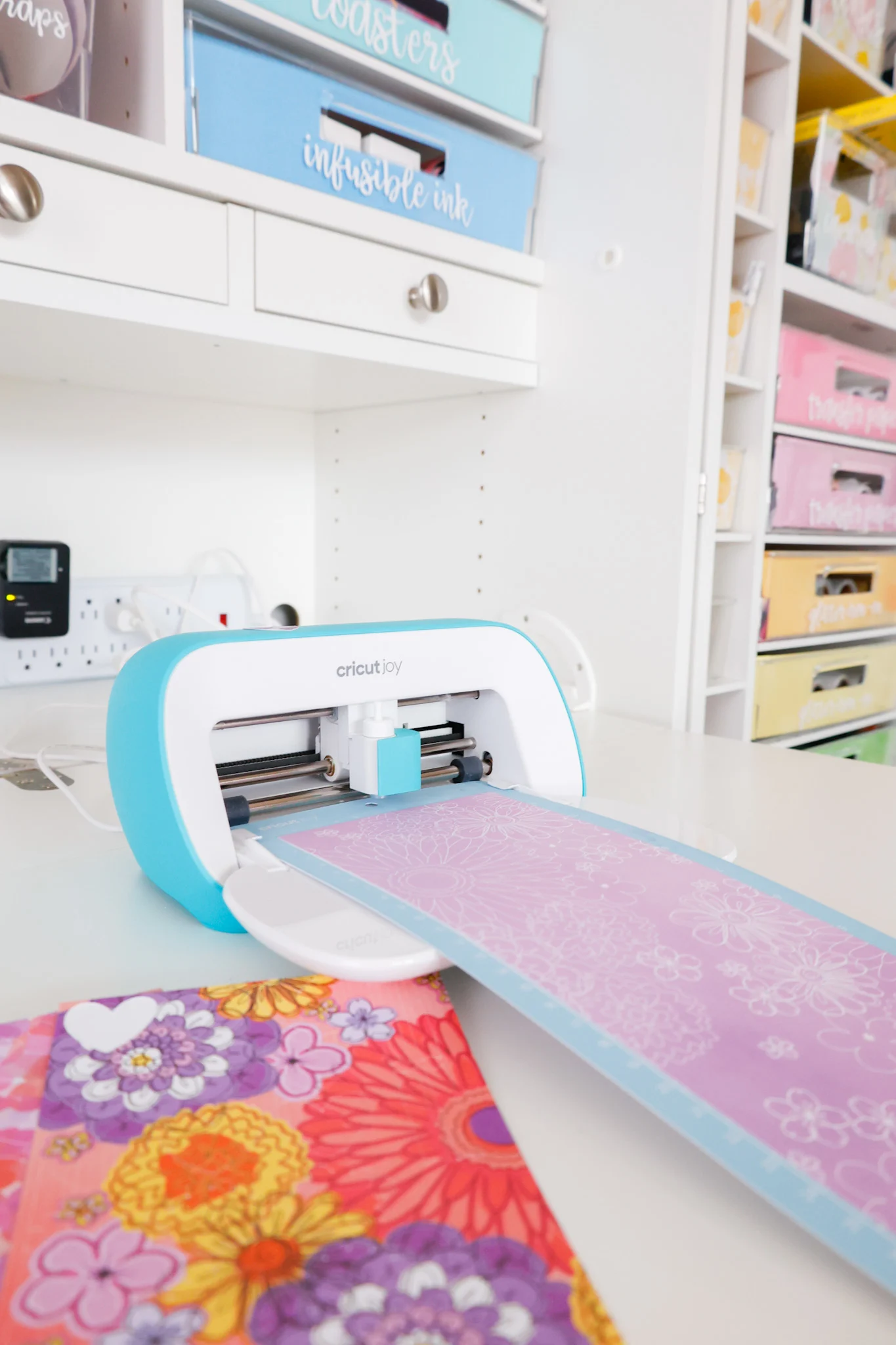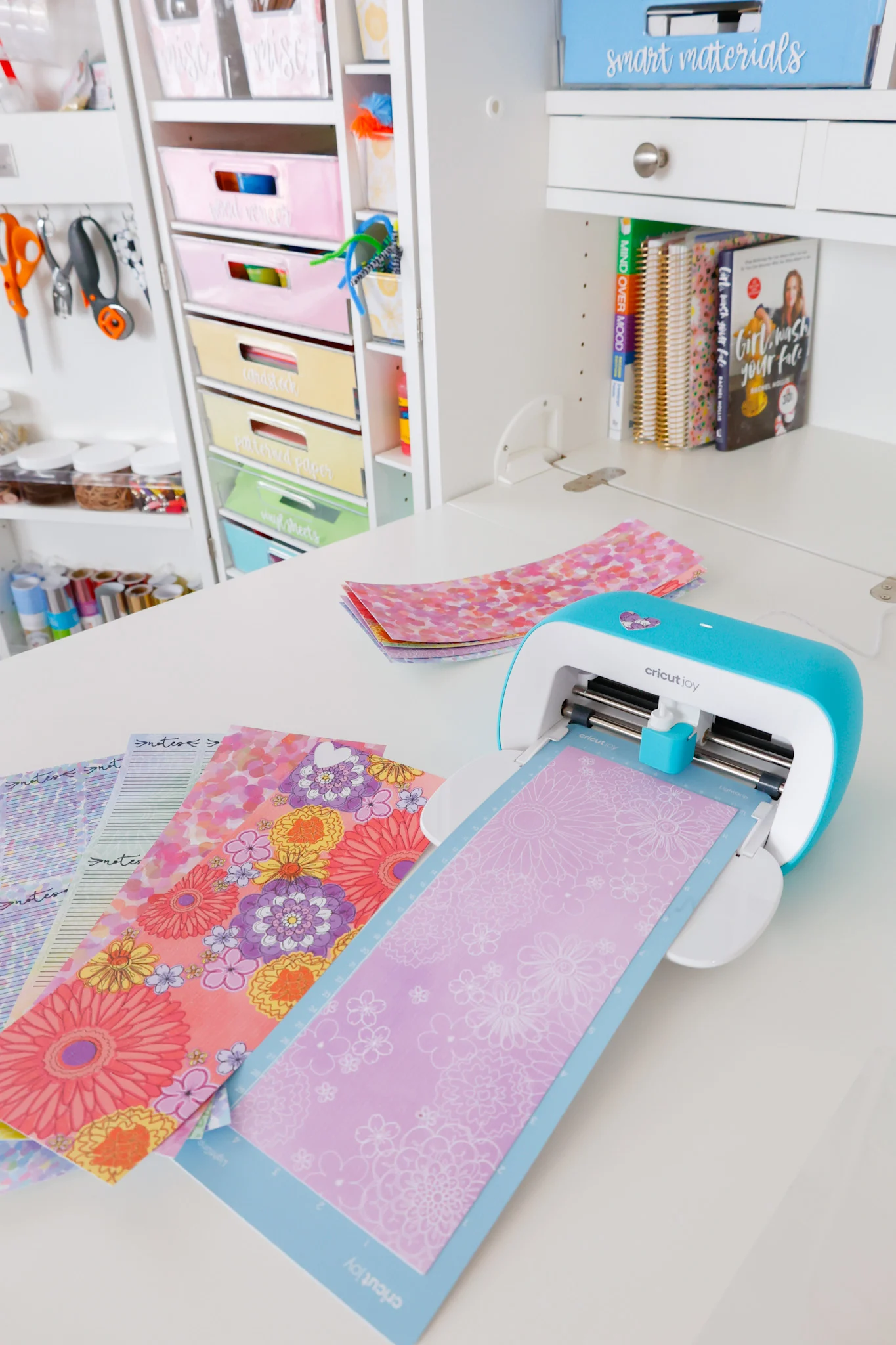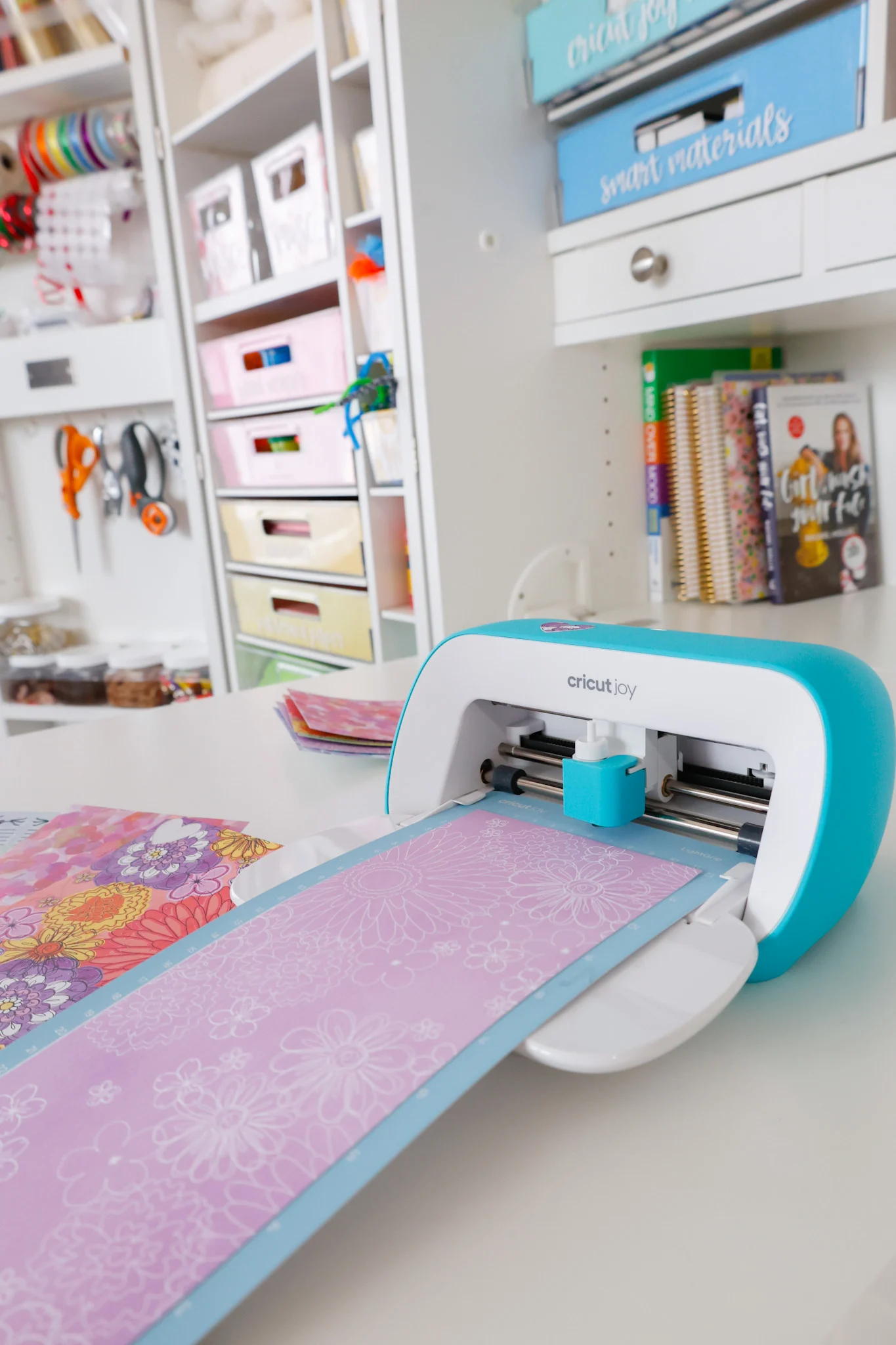 Once your stickers are cut, peel the deluxe paper away from the LightGrip mat, and use them!
These are sturdy DIY stickers that would be great to use for vision boards, planners, or on a command center.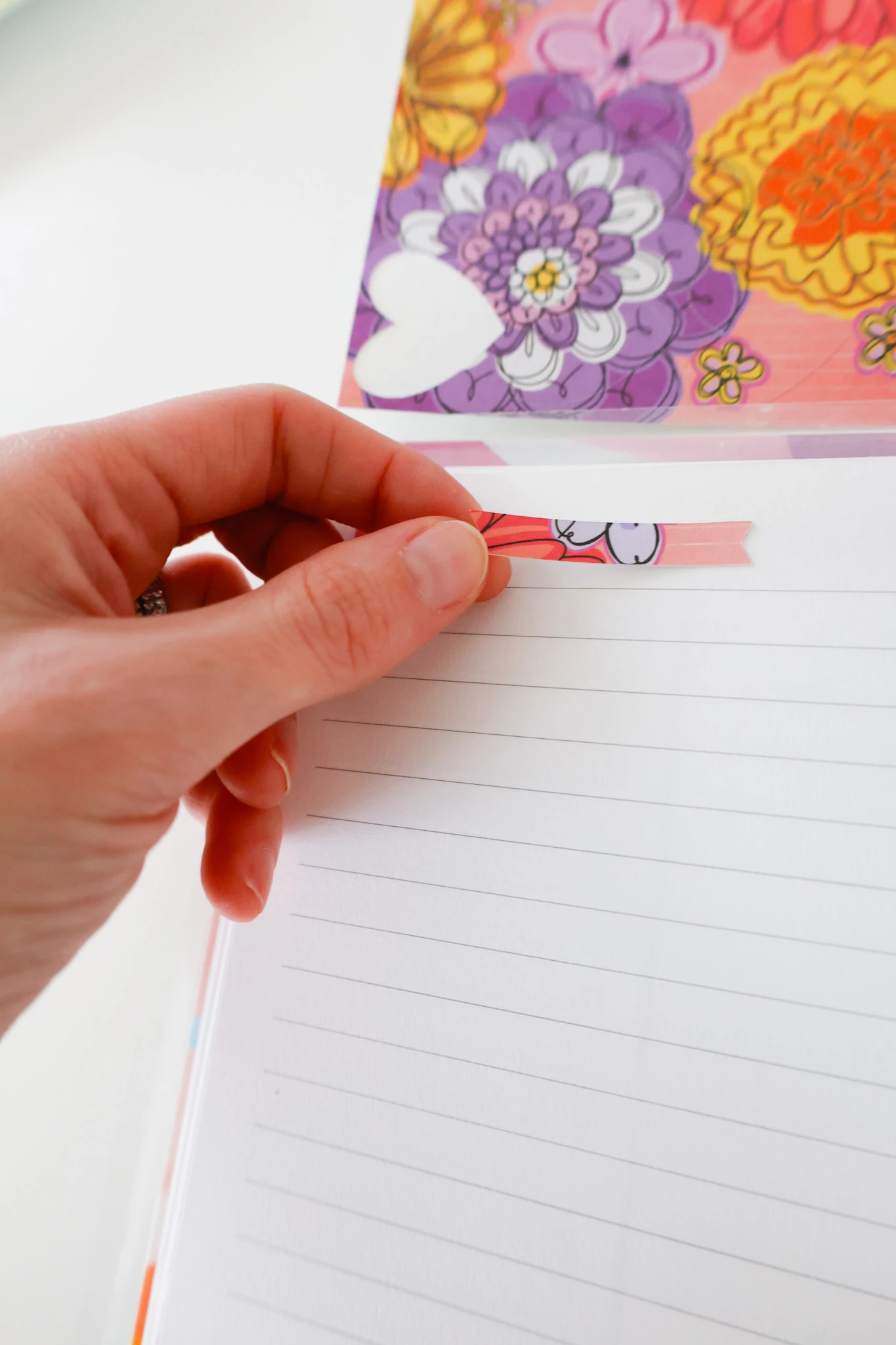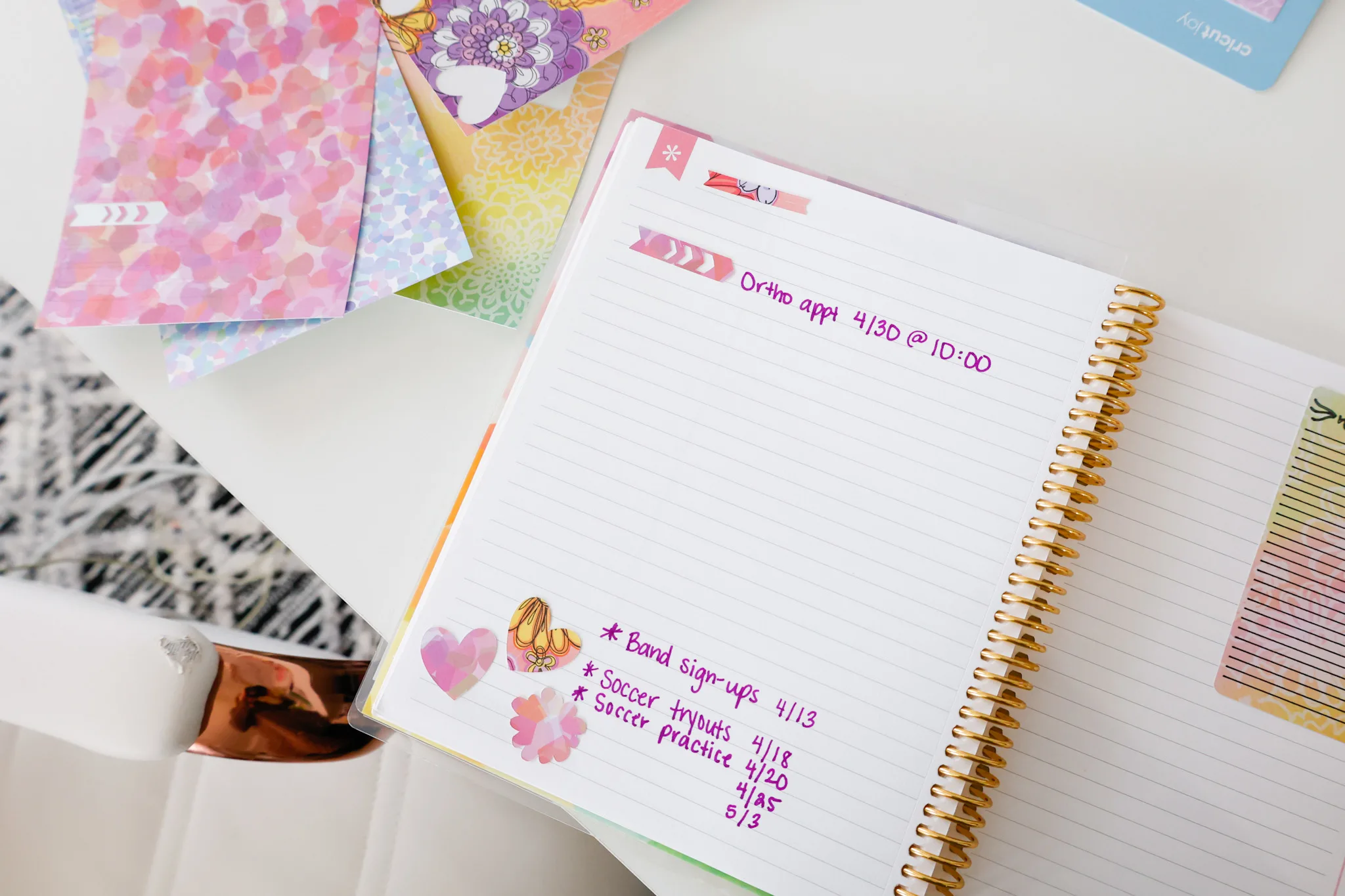 I'm in love with this spring print collection of deluxe paper – shop it here!
The prints are so colorful and perfect for helping decorate and organize my planner.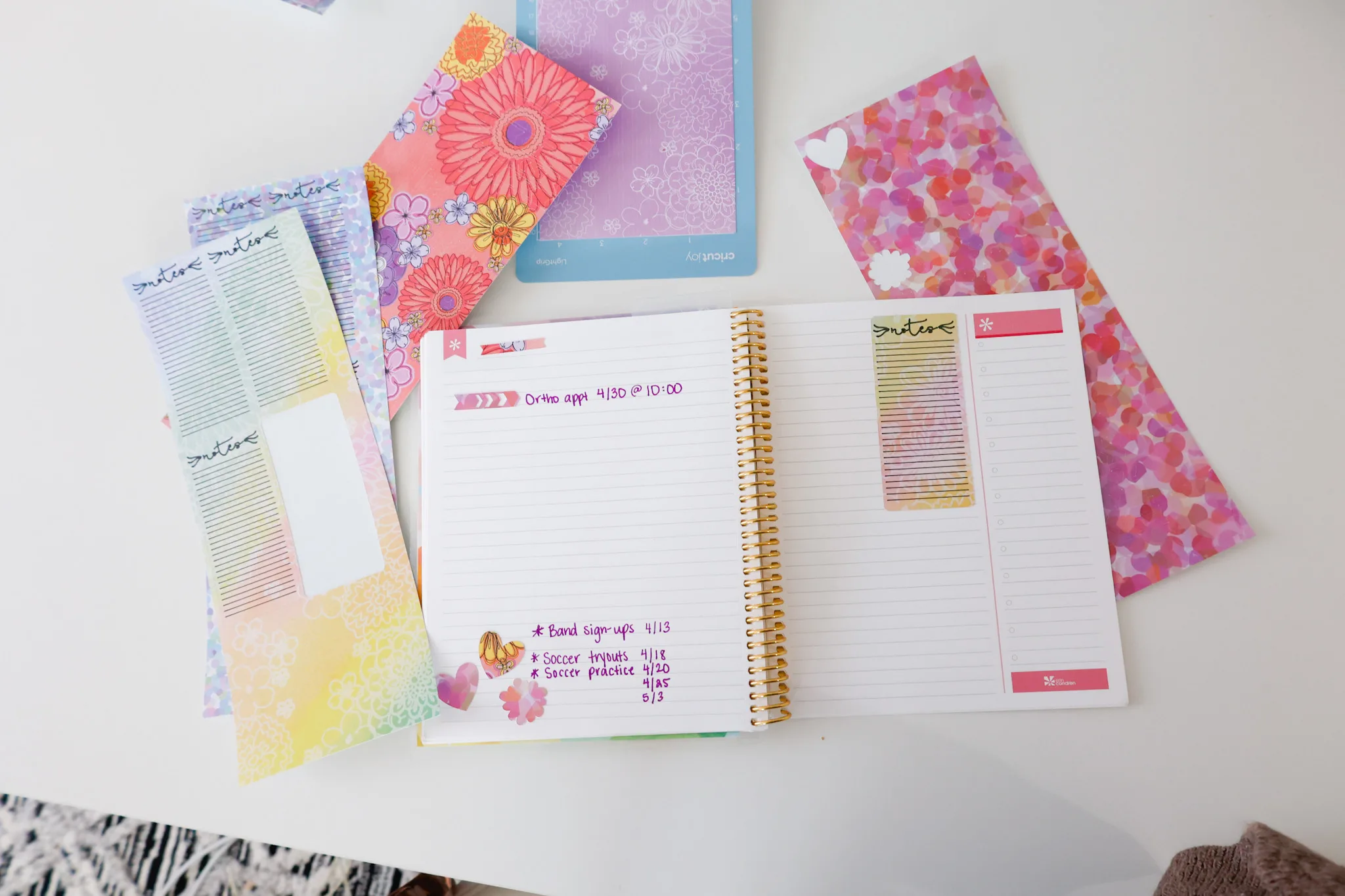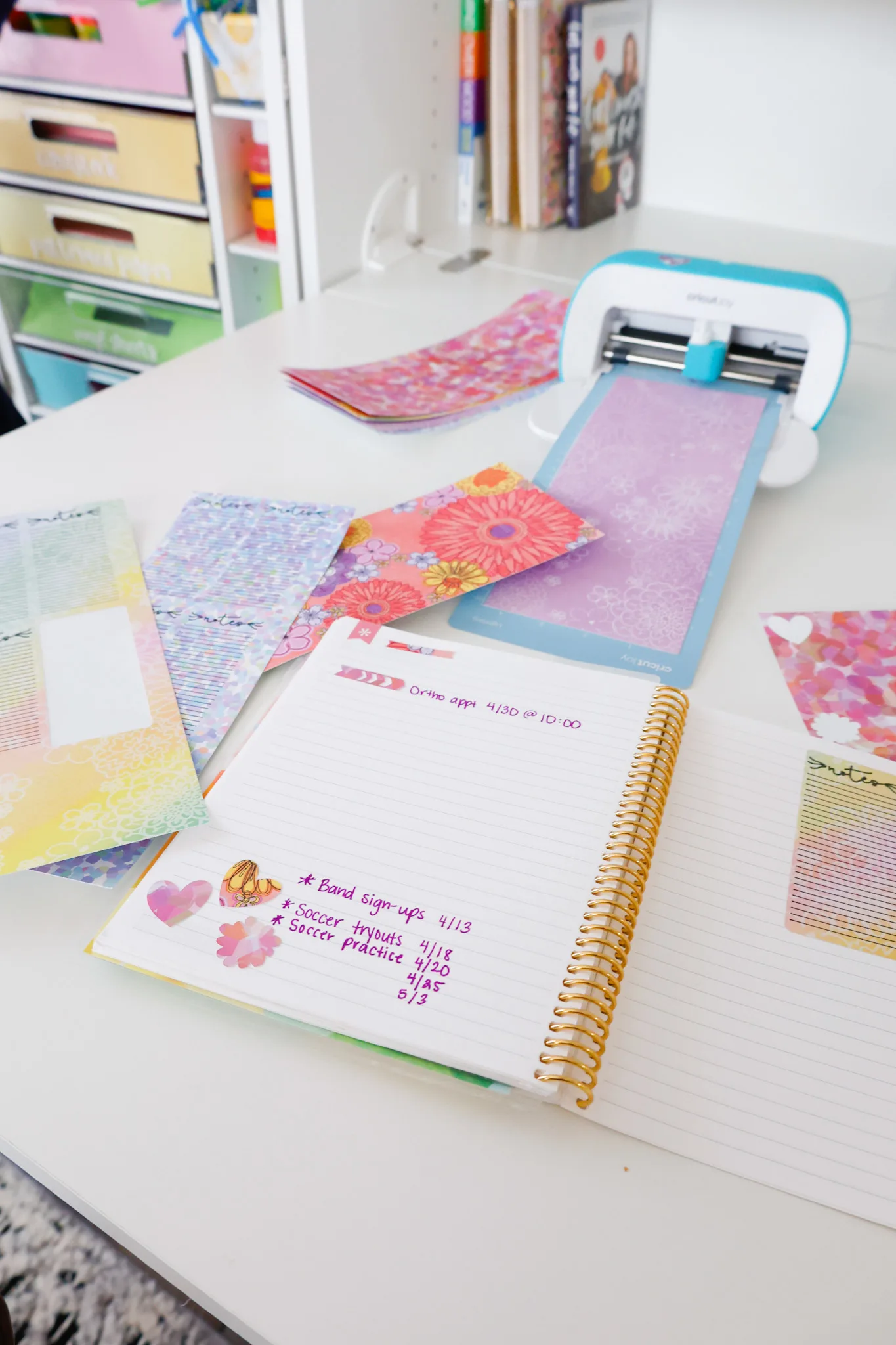 I hope this step-by-step tutorial was helpful!
Feel free to drop questions you have about the Cricut Joy or the sticker-making process in the comments below so I can answer them.
*Post originally published March 2021, last updated January 2023.