Set up your Indoor Vegetable Garden with the Lettuce Grow Farmstand and Glow Rings!
---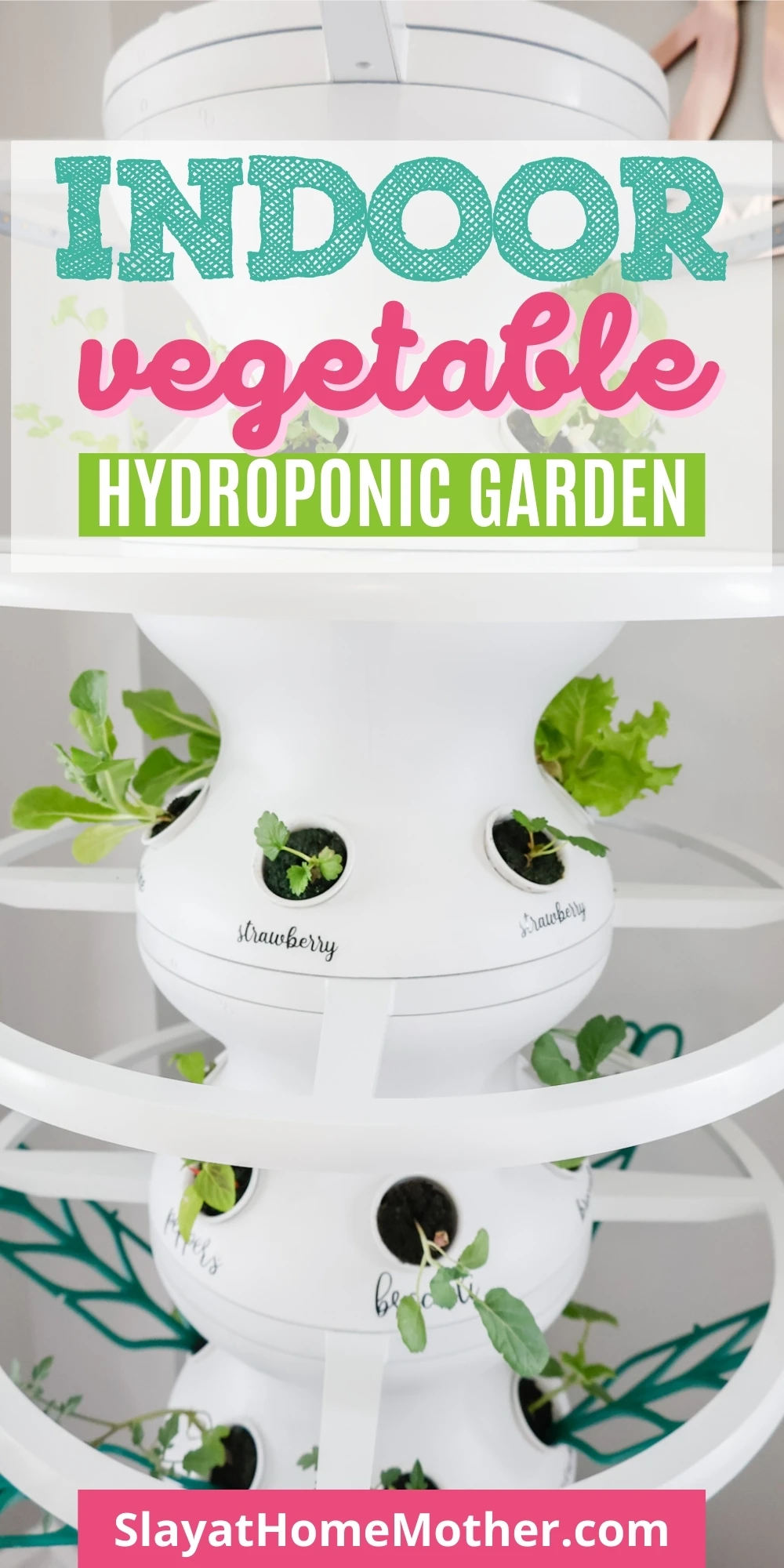 Hello, friends!
In today's post, I'll be showing you how to set up your own indoor vegetable garden with the Lettuce Grow Farmstand!
I love growing with this hydroponic growing system, and I love using it to help educate my kids on plant growth and gardening.
Especially when we live in an area with a ton of wildlife!
We even have a family of rabbits that live in the bushes right outside our living room window.
This will be my first successful season of growing food indoors (without a caterpillar infestation).
We've had our Farmstand for just over a year now, and it's been such a great investment for our family.
You can read my initial setup, review, and video in this post here.
I'll try to answer some of the most asked questions I get in this post and cover the Lettuce Grow Farmstand, Glow Rings, and seedling topics in this post, but as always, feel free to post additional questions you have in the comments below.
You can also check out my indoor vegetable garden setup video HERE.
*This post contains affiliate links, however, all opinions are my own, as always.
About The Lettuce Grow Hydroponic Garden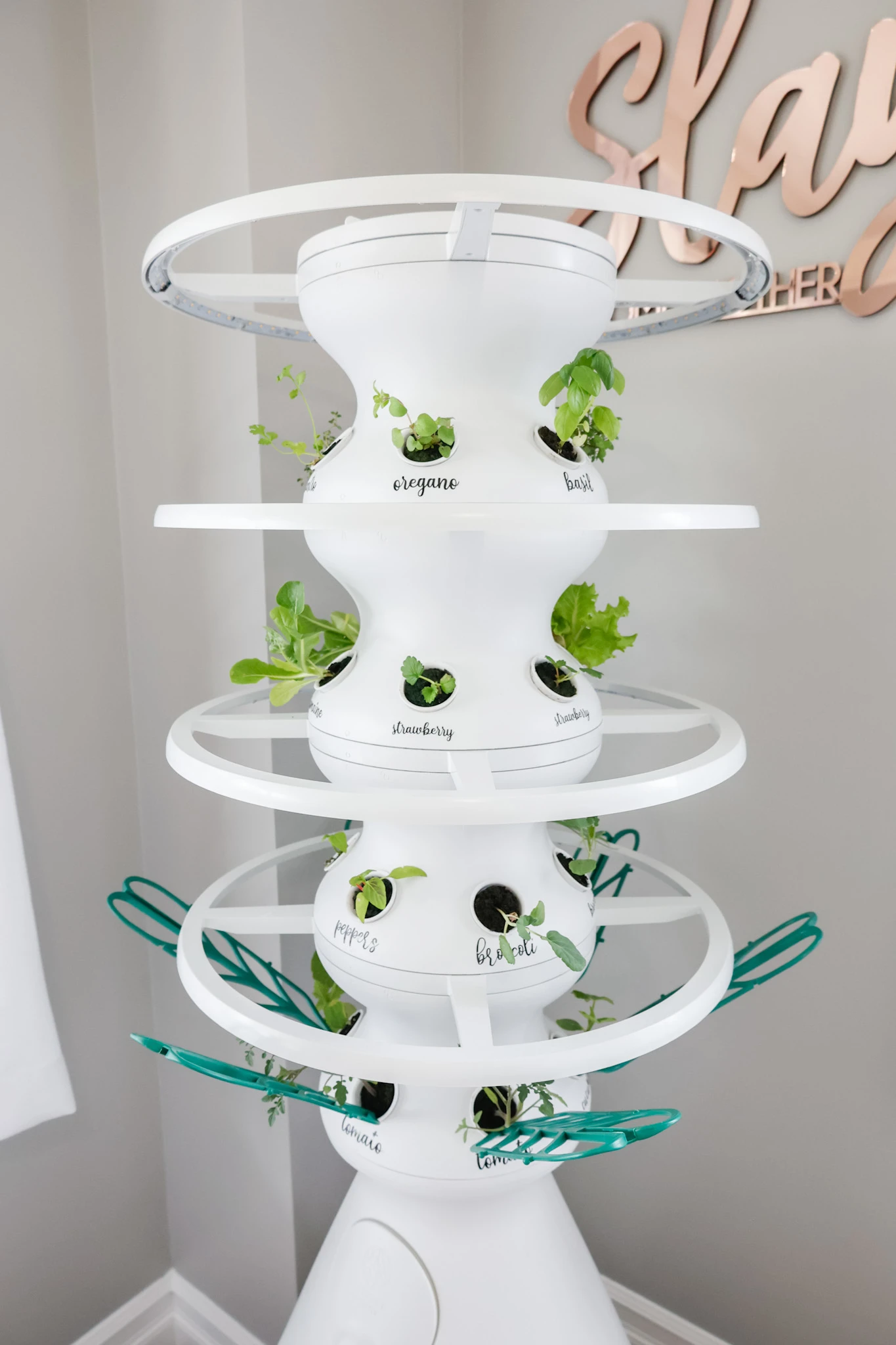 If you are lacking space, live in an apartment, or just don't have a green thumb growing in soil, the Farmstand is the answer to your prayers.
This hydroponic vertical garden tower runs on electricity and self-waters and self-fertilizes!
Once a week, just top off your water and add nutrients, and watch your vegetables grow.
What Is a Hydroponic Garden?
A hydroponic garden is one that operates on water, not soil.
The Lettuce Grow Farmstand is a hydroponic garden because it used water to deliver nutrients to plant roots and grow plants.
How Does the Lettuce Grow Farmstand Work?
The Farmstand has a pump at the bottom of the tank that is attached to a pipe.
When the pump is turned on (with a handy timer that comes with your Farmstand), it sucks water from the tank into its filter and pushes the water up the pipe to the top of your Farmstand.
A diffuser at the top of your indoor garden tower's pipe then diffuses the water flow to spread out and fall down onto the plant roots below.
I like to think of it like a showerhead.
You simply put the Farmstand together, fill the water tank up with water, put in nutrients needed, and do weekly maintenance (only 5 minutes a week needed, if that!) and your indoor vegetable garden does the rest.
Because the pump works to water your plants automatically, and the nutrients are added into the water tank, it also self-fertilizes at the same time it waters.
What Kinds Of Vegetables Can You Grow?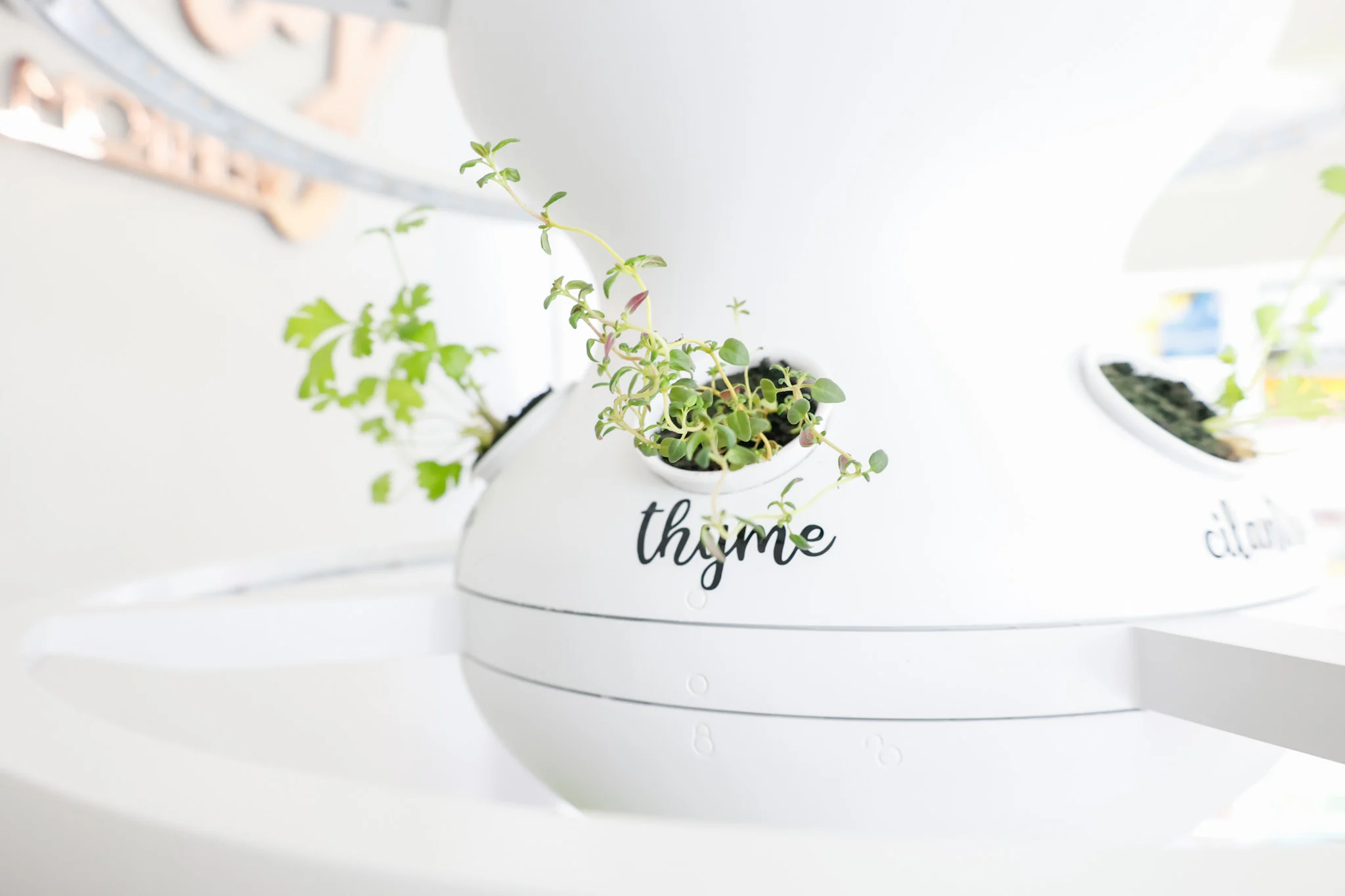 Non-rooting plants work best in the Lettuce Grow Farmstand.
That is, plants that grow underground would not do well in this hydroponic garden because there isn't really any soil, nor is there any room for the plant to grow in the cup.
Stemming plants (those that grow up and out of the soil, or in this case the grow medium) do best in this water garden.
Here are some of the seedlings you can choose from:
cucumber
zucchini
tomato
peppers
broccoli
strawberry
romaine
lettuce
green onions
basil
oregano
cilantro
thyme
pumpkin
watermelon
jalapeno
sugar snap peas
fennel
wasabi arugula
spinach
cabbage
kale
Do I Have To Buy Lettuce Grow Seedlings?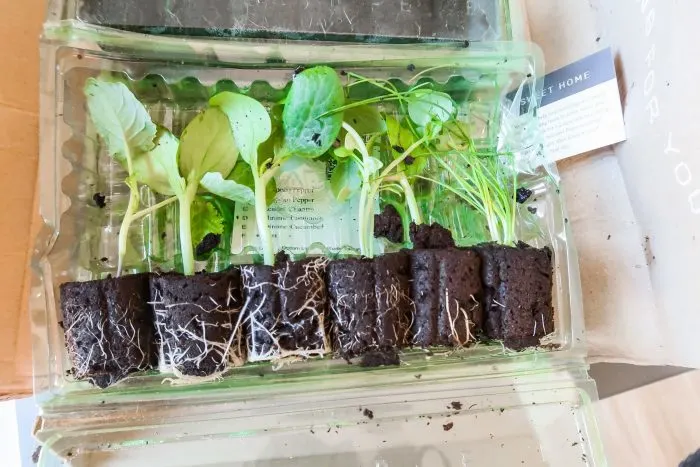 NOPE – You do not have to buy the seedlings from Lettuce Grow.
If it's your first time growing with your Farmstand, however, I would recommend that you do – at least until you get the hang of how it works.
You can start your own seedlings at home and use a grow medium like this one (highly recommended in gardening groups, but not guaranteed).
Lettuce Grow offers their seedlings so you can harvest your veggies much quicker, but they aren't the only way to grow vegetables in your Farmstand.
I know a lot of people who start their own seedlings indoors, and then transplant them into their Farmstand once they're big enough.
I haven't talked to anyone that has started seedlings in their Farmstand, however, I'm not saying it's impossible!
I personally prefer to buy the seedlings from Lettuce Grow for convenience and quality.
They have so much to choose from, I feel their seedlings are at a fair price, and I know their seedling variations have been tried and tested to be successful in my Farmstand.
How To Grow Your Vegetable Garden Indoors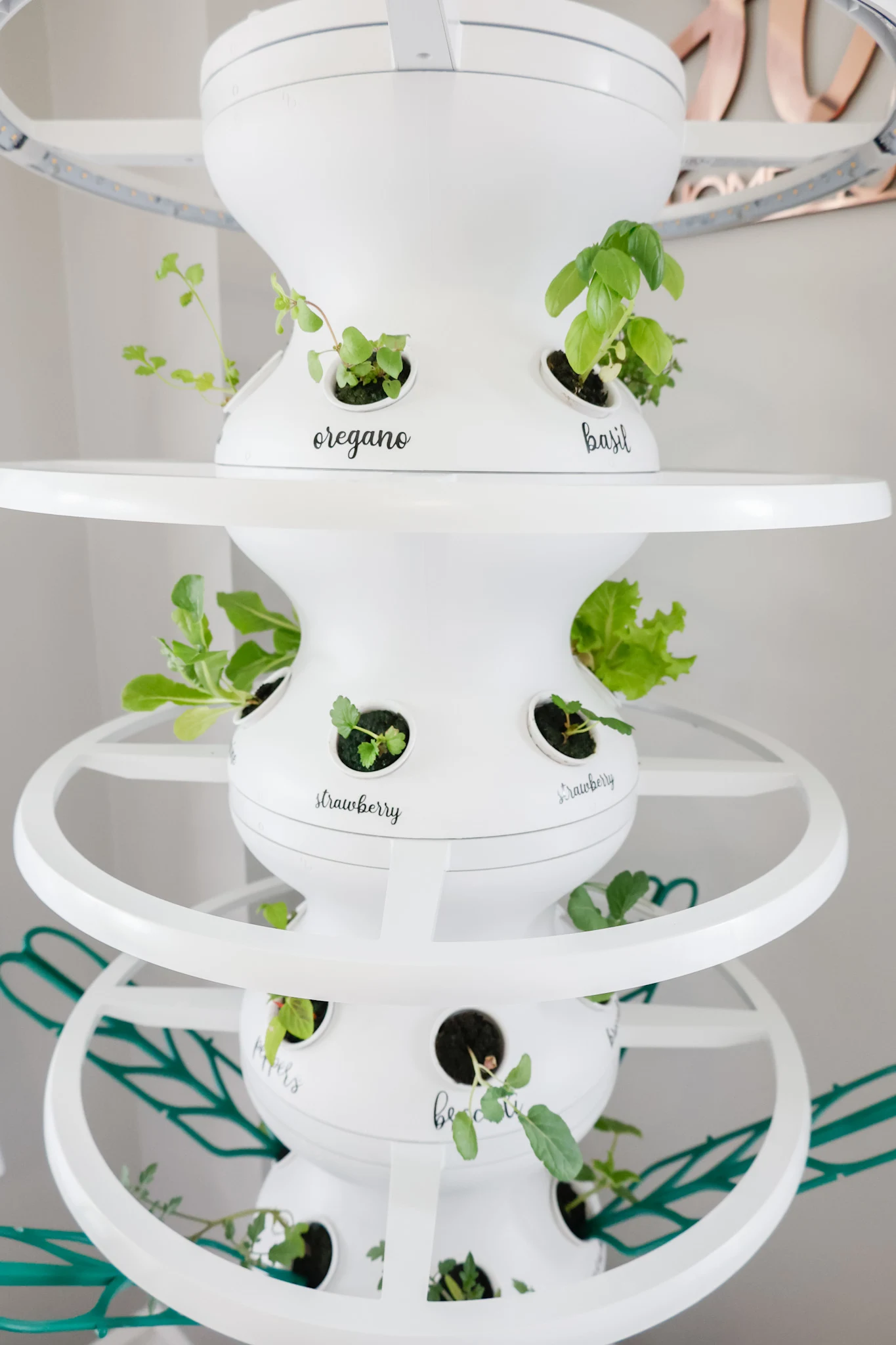 If you're looking to grow your vegetable garden indoors, the Lettuce Grow Farmstand is a wonderful investment.
I say investment because it isn't like the $20-40 DIYs all over Pinterest – it's a full-on growing system.
But it helps solve a lot of problems that stop people from growing vegetable gardens today!
Whether you lack the space in your yard (or have a balcony from your condo/apartment in lieu of a yard), or you find yourself accidentally killing anything you plant – this hydroponic garden will work for anyone that maintains it.
The beauty of the Farmstand from Lettuce Grow is that you can grow indoors or outdoors, and even switch between the two throughout the year.
Lettuce Grow Glow Rings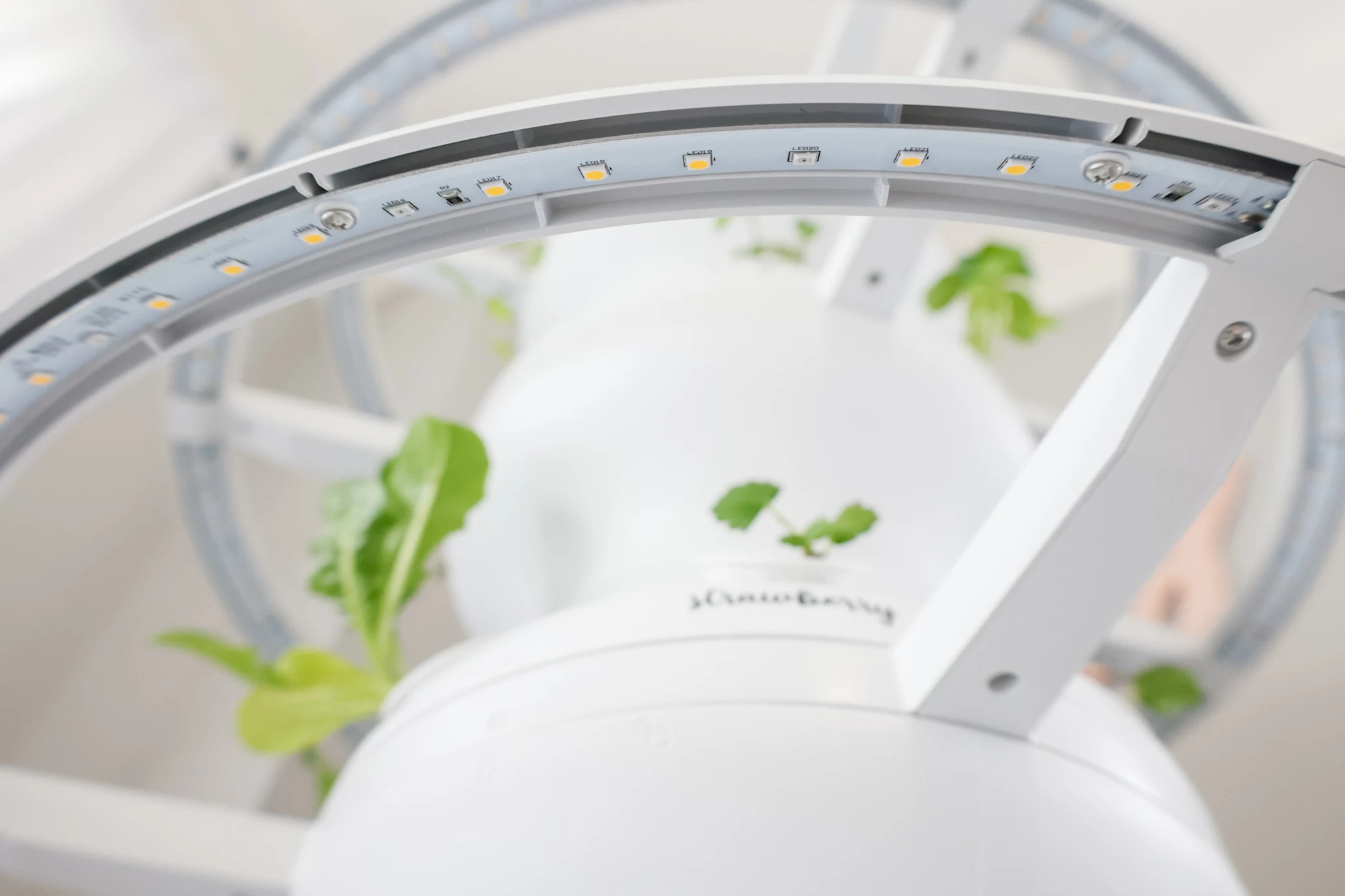 To help better simulate the sun's natural rays outside, Lettuce Grow developed their Glow Rings that lock on top of each tier to save space and allow your plants to flourish the same way they would outside, inside!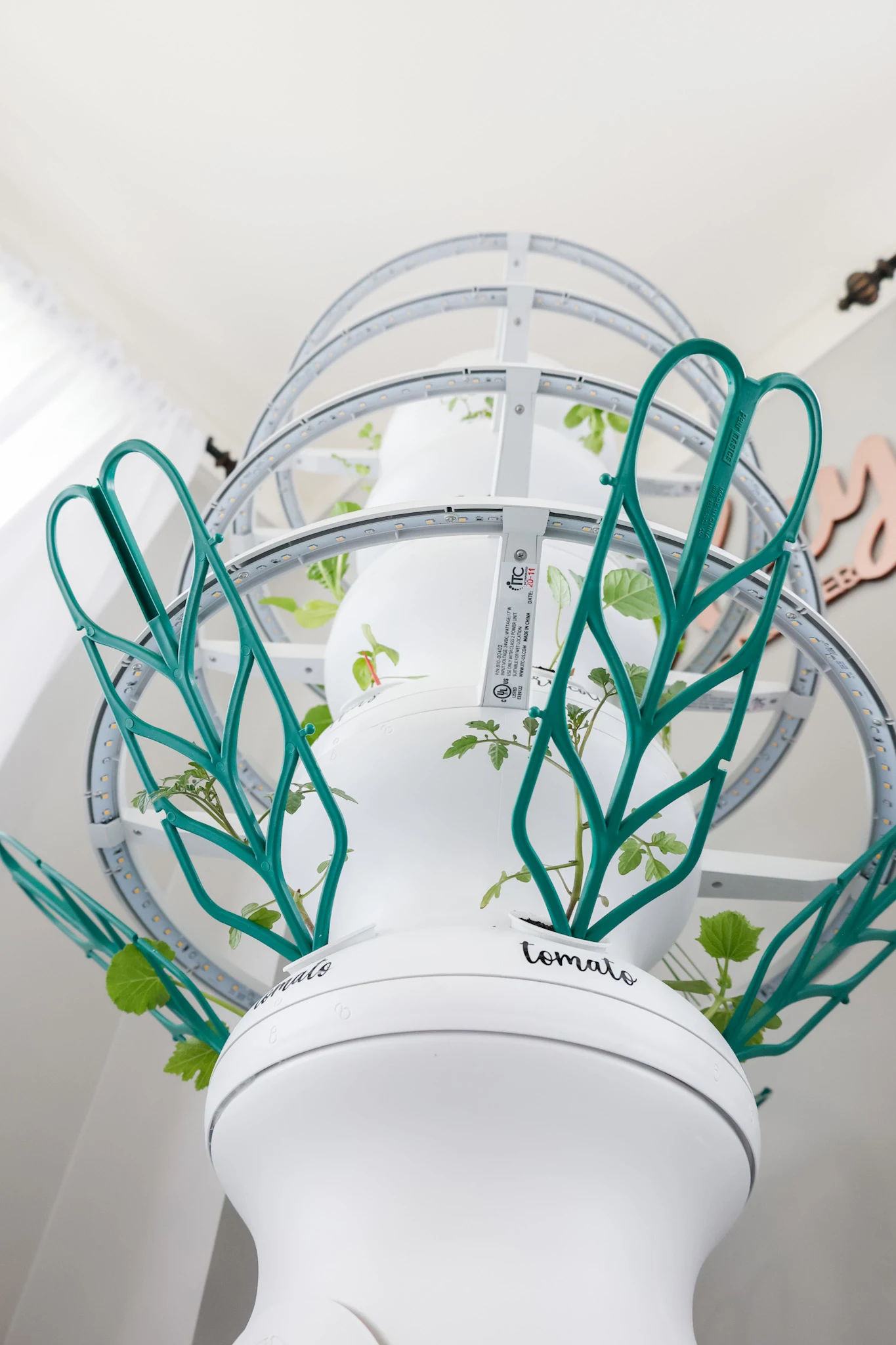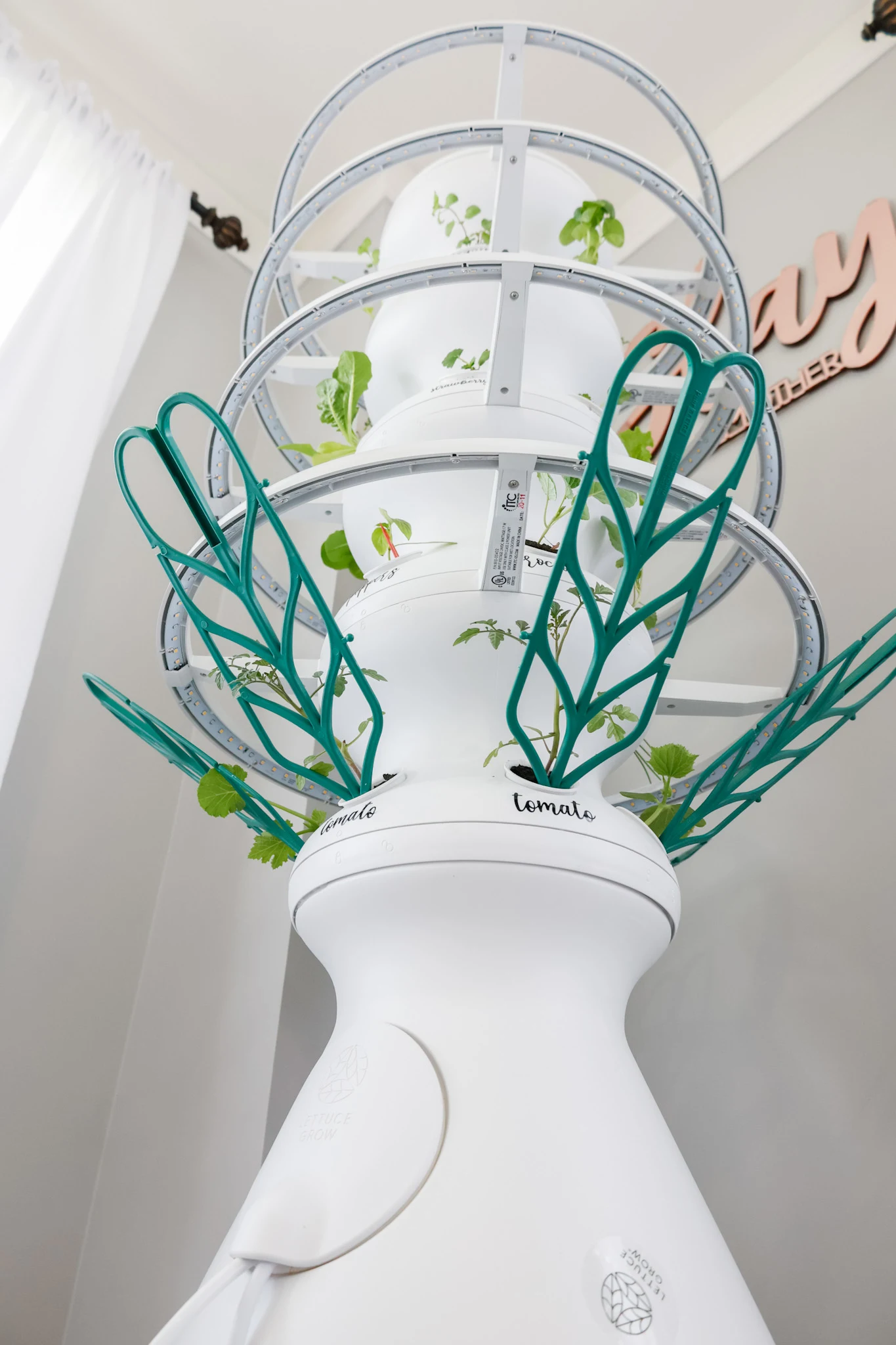 LG's Glow Rings contain high-efficiency LED lights that shine down on the plants below them.
How Do The Glow Rings Work?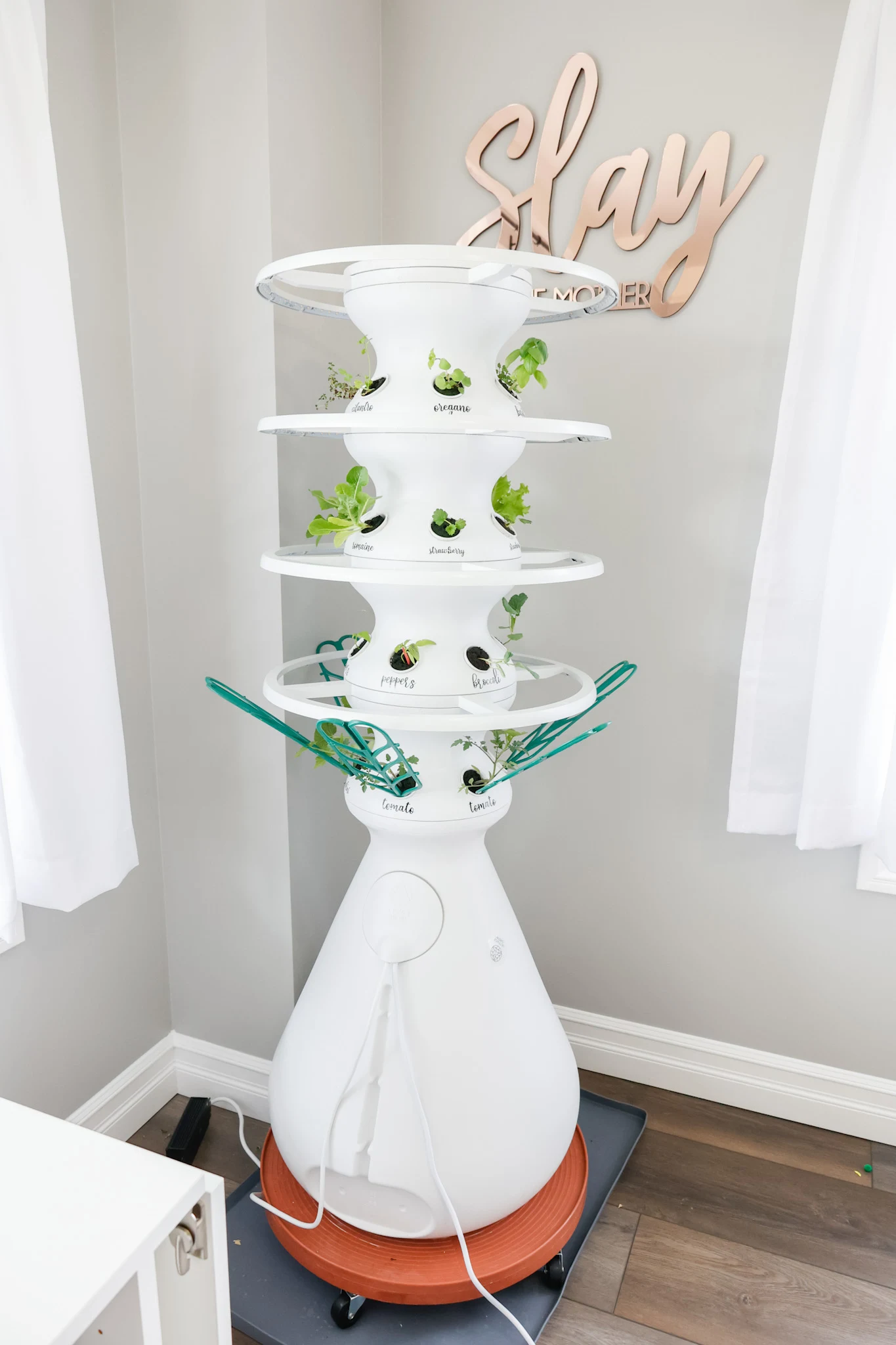 Trellis system I'm using is linked HERE.
The same way your Farmstand pump runs on a timer to automatically self-water and self-fertilize, the lights run on a timer to automatically power on.
Each Glow Ring is powered and plugged into another ring – the main cable that connects them all is plugged into a timer, which is powered by plugging into an outlet.
Based on when you customize your timer's notches to be ON, your Glow Rings will respond accordingly and turn on when programmed to be on.
How Bright Are The LG Glow Rings?
Because these lights are pretty bright (see my YouTube video or the picture below for reference), LG recommends that you start your light cycle with your Glow Rings in the evening and have them on throughout the night.
Of course, you can always opt to use them during the day.
But the reasoning for this suggestion of running your Glow Rings at night is so that the lights don't disrupt your work or home life.
Some people may find they are too bright, especially if your Farmstand is in a communal, highly-trafficked area like the living room or dining room.
At the time of this writing, the lights do not offer a way to lower the brightness, they function by simply powering on and off in response to the timer.
Where Do The Glow Rings Attach To The Farmstand?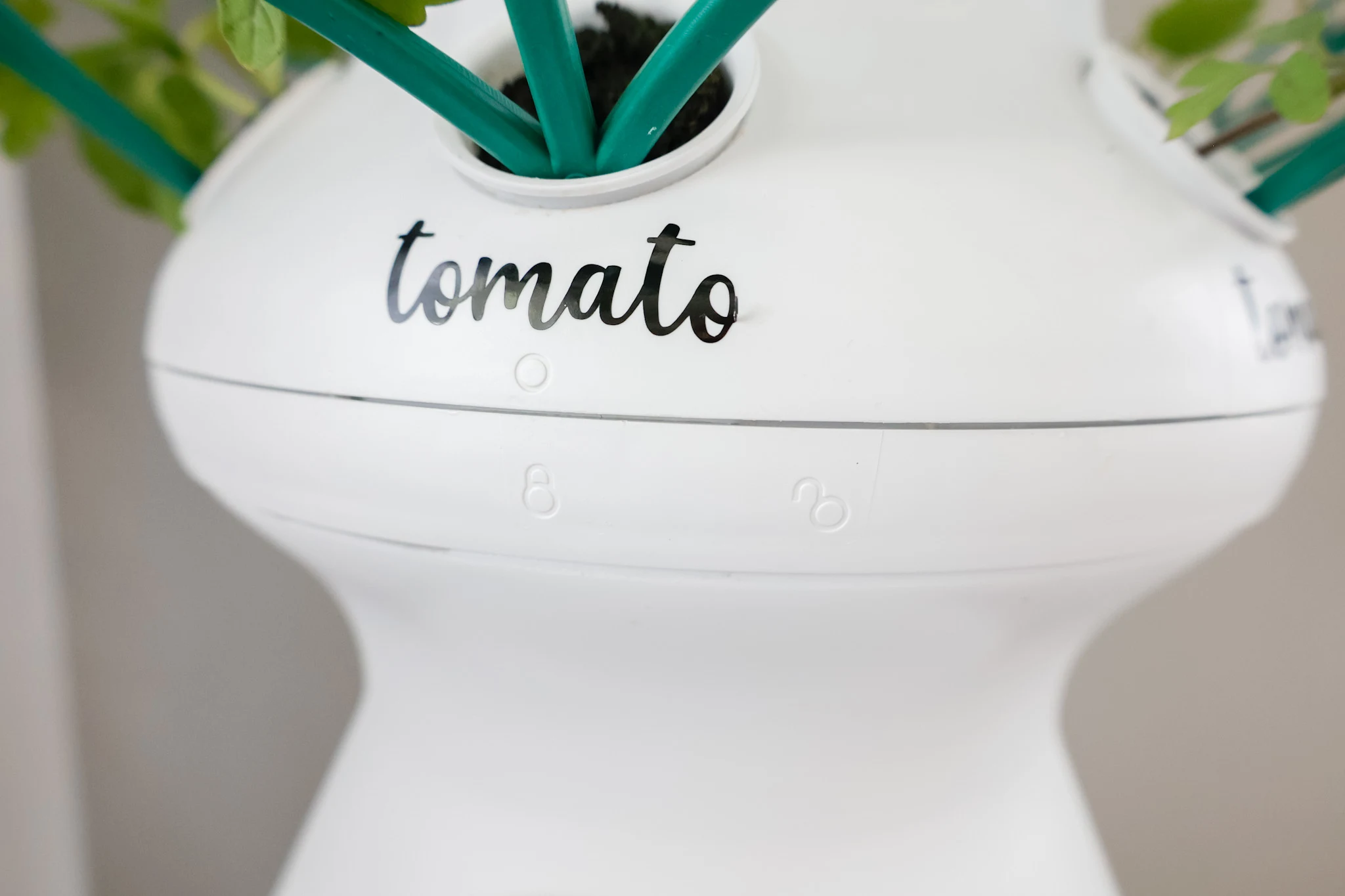 The same way the tiers of your Farmstand lock into each other, the Glow Rings do, too!
Simply place the notch of one of the Glow Rings into the slot of the top of a tier lined up with the unlock symbol, and then slide it clockwise so that it audibly clicks the circle symbol is lined up with the lock symbol.
This way, it takes up the least amount of space and is perfectly positioned over the seedlings for optimal growth and lighting.
Can I Use Third-Party Grow Lights For My Farmstand?
Yes, you can!
While the Glow Rings were optimized to work best with your Farmstand, you can certainly use third-party grow lights.
Here are the ones I bought and used last year that I still use for my fiddle leaf fig trees in the winter to give them some extra light here in the Midwest.
I want to mention, however, that when I used third-party lights for indoor growing last year, they took up quite a bit more space!
You don't want them to be so close to the plants so you'll have to space them out a couple of feet, which increases the footprint of your indoor growing system.
If this isn't an issue for you (space), then I don't see the harm in trying it, especially if you aren't quite ready to invest in the integrated lighting system for your Farmstand.
Choosing Plants For Your Indoor Garden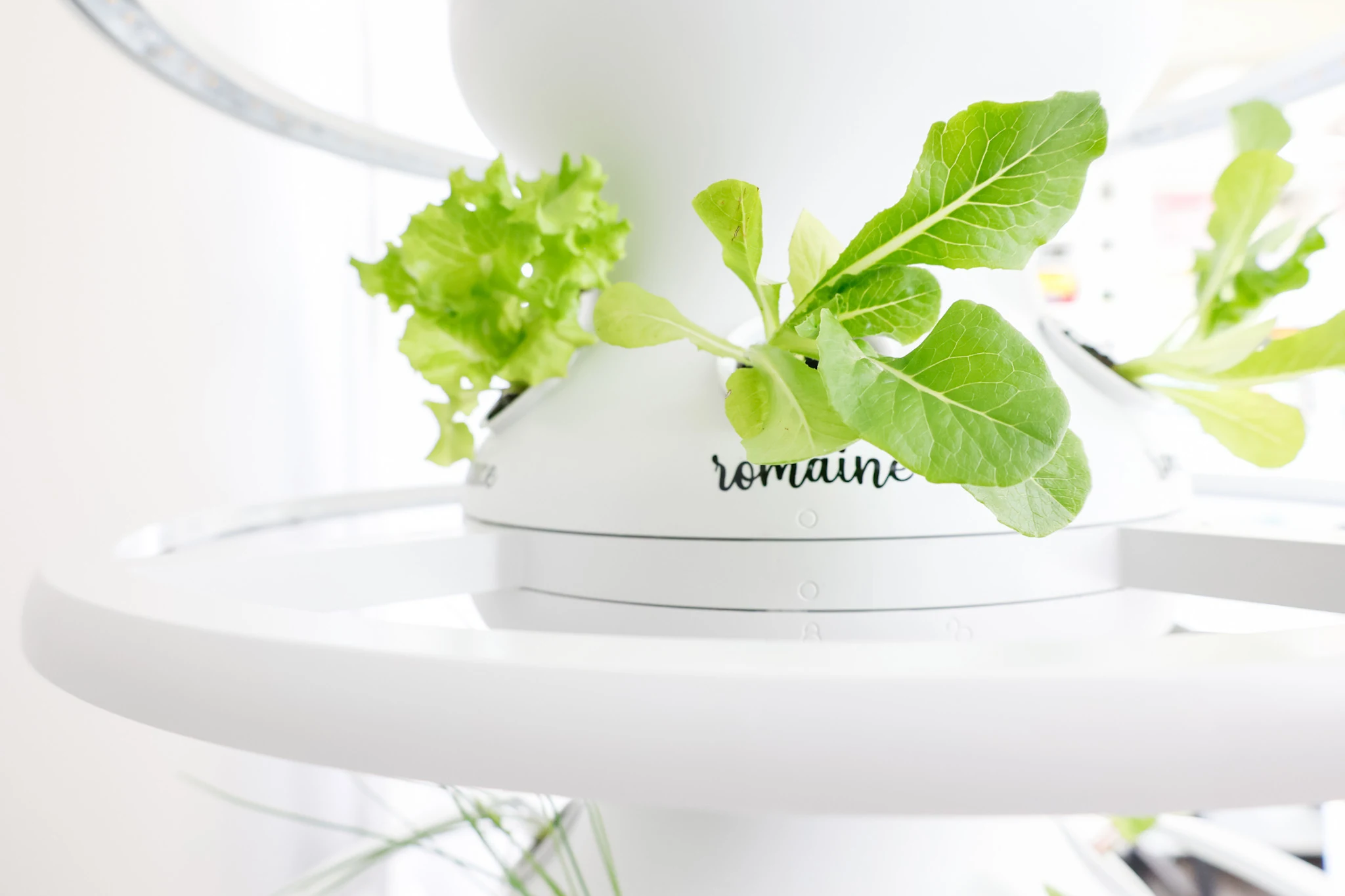 When considering foods to grow in your indoor vegetable garden, think about…
What kinds of foods are you wanting to eat more of?
What are some of your favorite foods?
What are fun foods to watch grow with your children?
What foods have nutrients your body needs, and that you should be eating more of?
I split my plants for our indoor vegetable garden into foods I knew I need to eat more of (like romaine, tomatoes, peppers), and plants I knew my kids would be excited to watch grow inside (strawberries, broccoli, zucchini).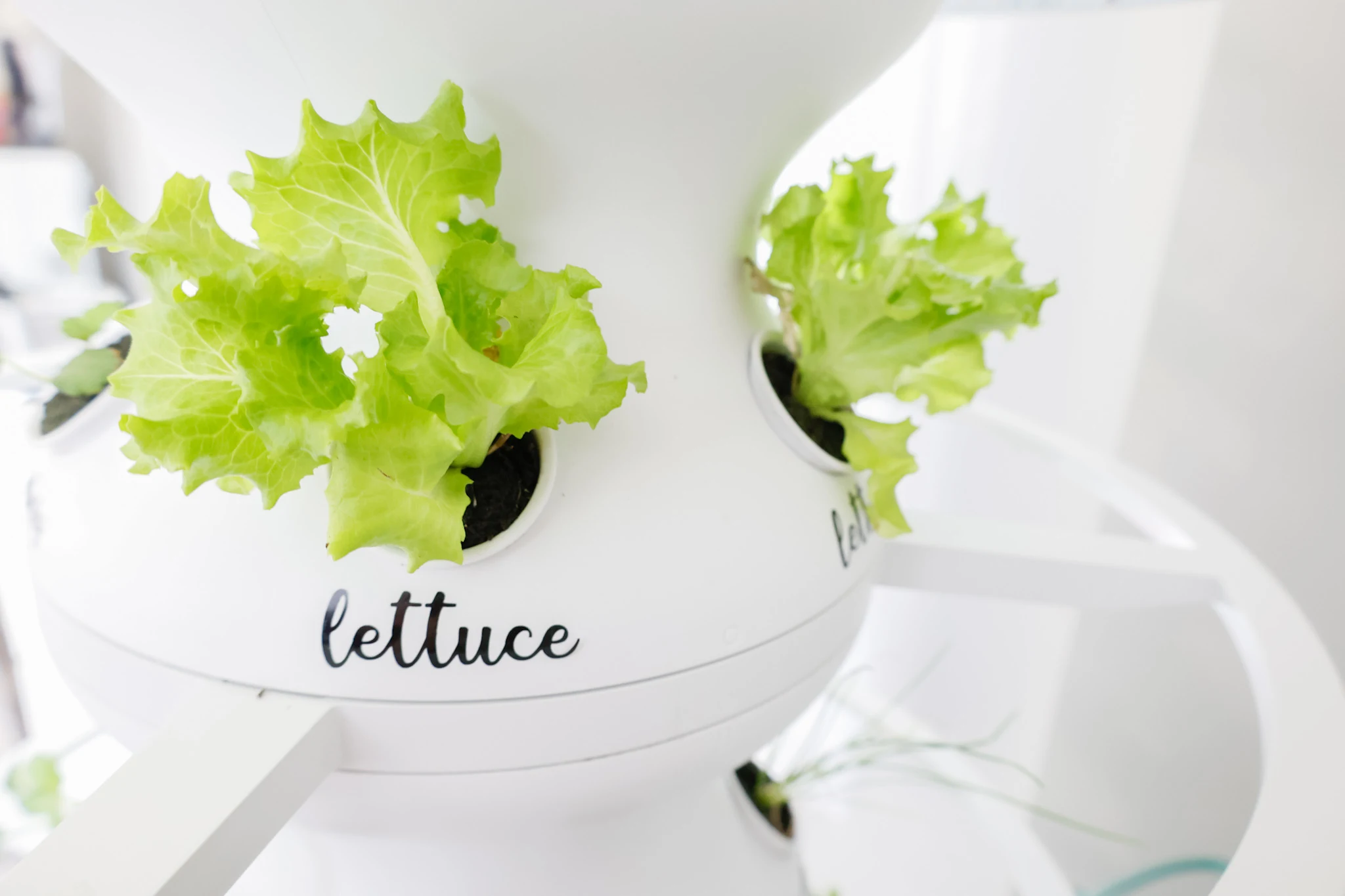 You could even just pick a few types and grow a bunch of those.
Cut & Come Again vs. Full Harvest Plants
When considering plants to grow indoors, I would also look into whether you would want to buy seedlings that you can harvest several times (cut & come again) or those you can harvest just once that will need to be replaced after harvesting (full harvest).
I have a mixture of plants, so some will need to be replaced after harvesting.
Here are some Cut & Come Again plants for your LG Farmstand:
peppers, tomatoes, zucchini, cucumbers
strawberries
green onions
eggplant
broccoli (cut the main stalk off, and smaller side stalks will begin to grow)
herbs (basil, oregano, thyme, etc.)
Other plants like arugula, lettuce, romaine, cauliflower, etc. are full harvest plants that will need to be replaced with a new plant once harvested.
Consider Whether You'll Need A Trellis
This was something Io didn't think about (or know that I even needed to consider) when I first picked out my seedlings.
Plants like tomatoes, cucumbers, zucchini, and peppers need trellis'.
These are plants that need support as they grow.
Trellis' can be handmade (I made my own last year growing outdoors by tying jute twine around two 18″ macrame rings) or bought online.
Here is the trellis system I'm using for my plants on the bottom row – the pieces attach to each other on the ends so I can keep adding on pieces as I need to!
*Note: You should not hang any trellis or string from your Glow Rings – they are not made to withstand the weight of a trellis system!
---
I'll be sharing a series of video updates and tips on my YouTube channel this year featuring my indoor garden setup, so be sure to follow me there or on Instagram.
*Post originally published April 2021, last updated May 2023.