Updating my readers on how my indoor vertical garden with the Lettuce Grow Farmstand is going this year…
---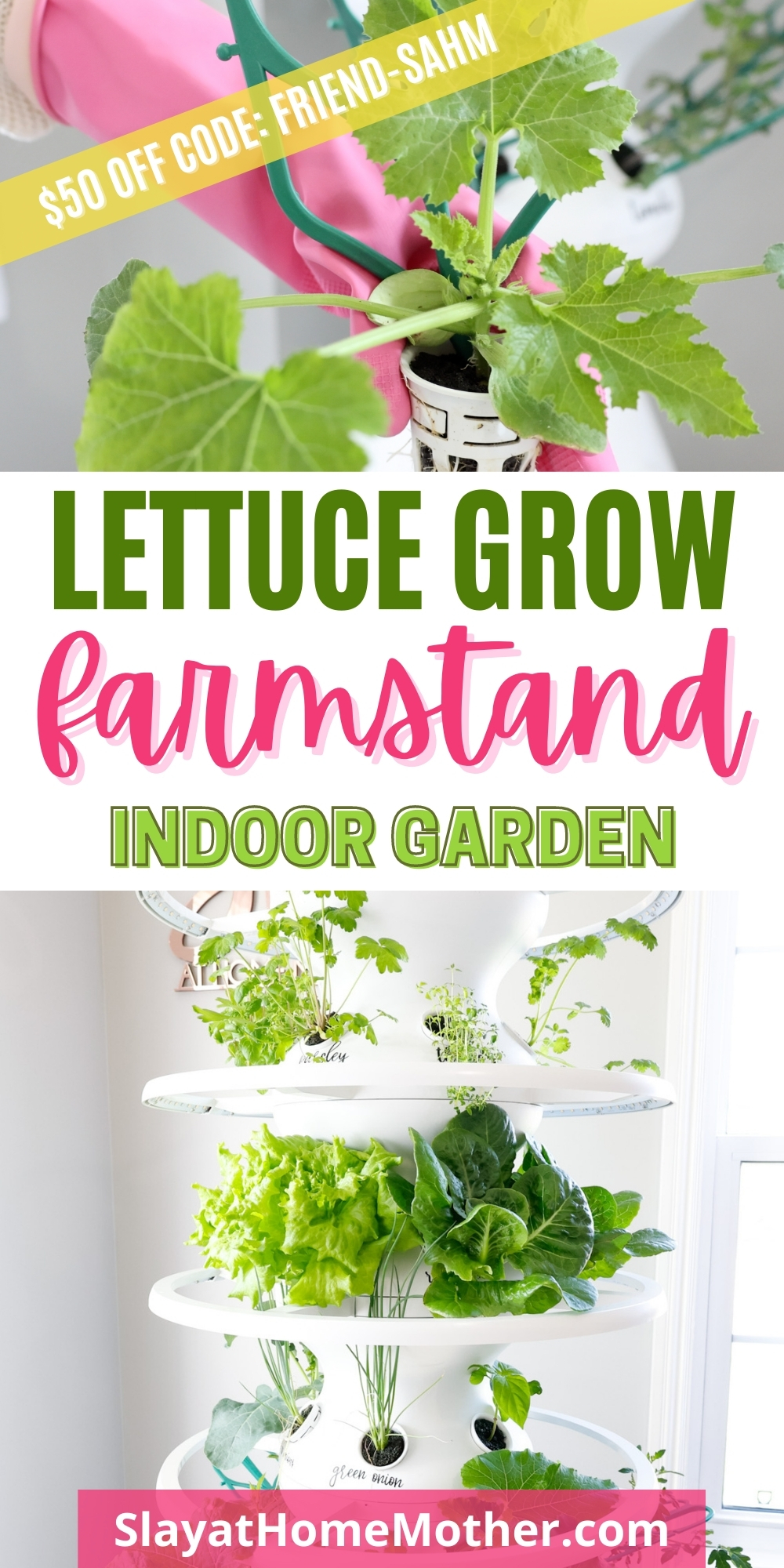 Hello, hello!
In this post, I wanted to share a little 2-week update on my indoor vertical garden.
I'll be sharing how my seedlings are doing, if I have any harvest updates, troubleshooting issues, etc.
Please be sure to use my link below on the Lettuce Grow site to save $50 on your purchase (I'm all about saving you guys money!).
Read my previous Indoor Gardening posts:
Indoor Vegetable Garden: Lettuce Grow Farmstand Setup with Glow Rings
How To Reset Your Lettuce Grow Farmstand
Lettuce Grow FarmStand: Easy Hydroponics Gardening System Review
*This post contains affiliate links, however, all opinions are my own, as always.
Farmstand Initial Setup
As a refresher, or if you missed my initial indoor vertical garden setup post with my Farmstand, here's what the seedlings looked like when I first put them in…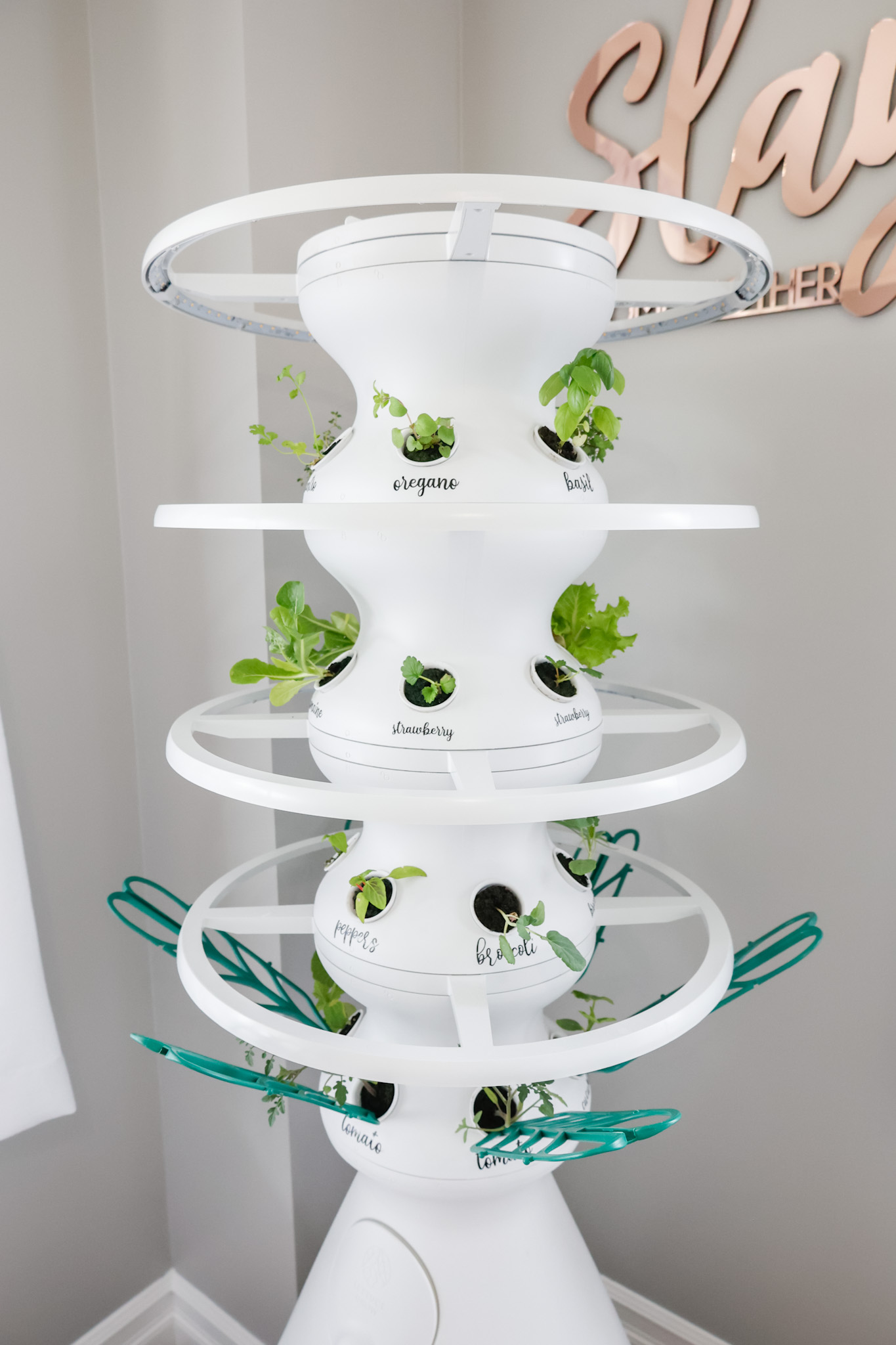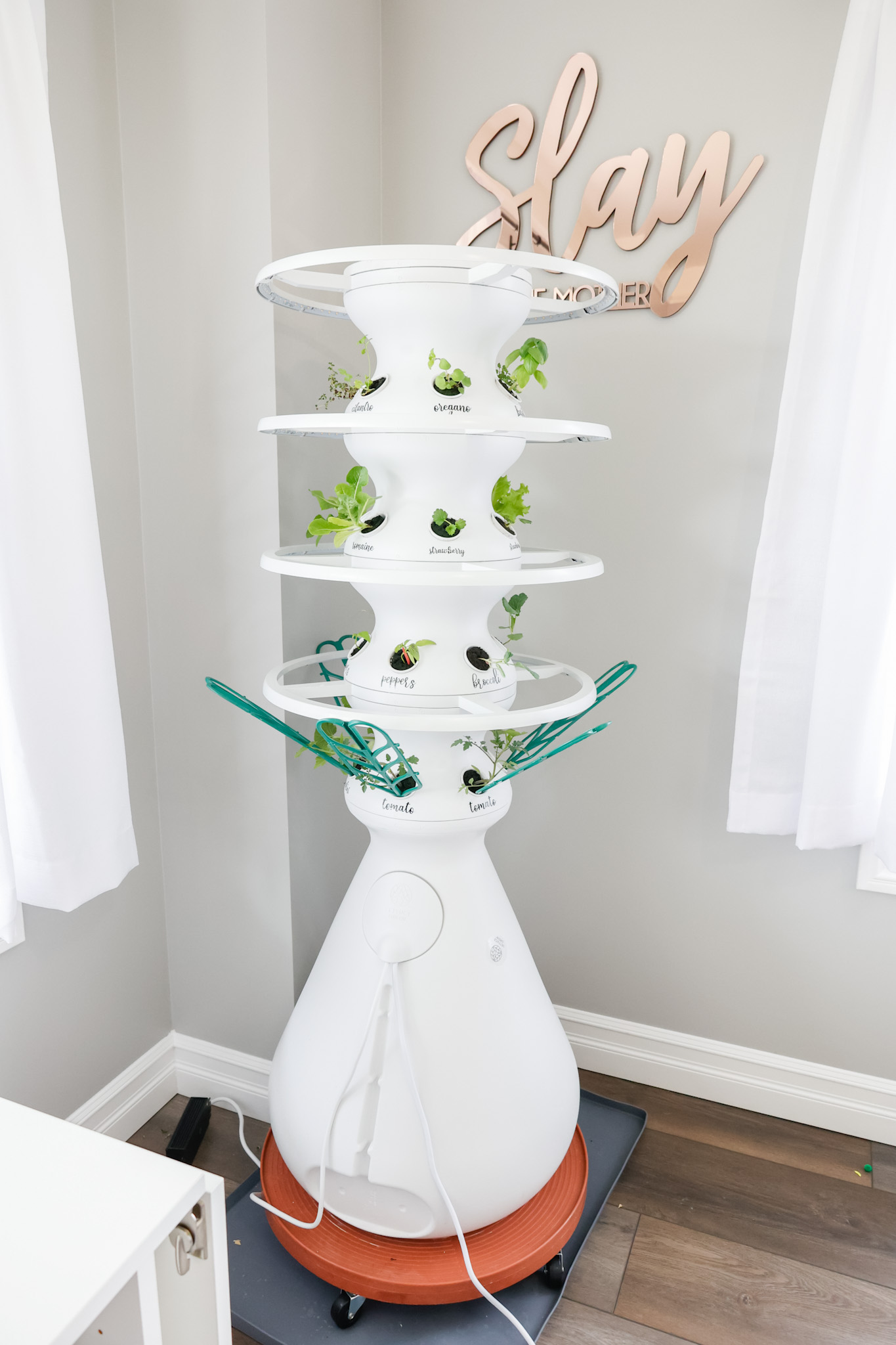 Lettuce Grow Farmstand – 2 Weeks Later
And here's what they look like two weeks later…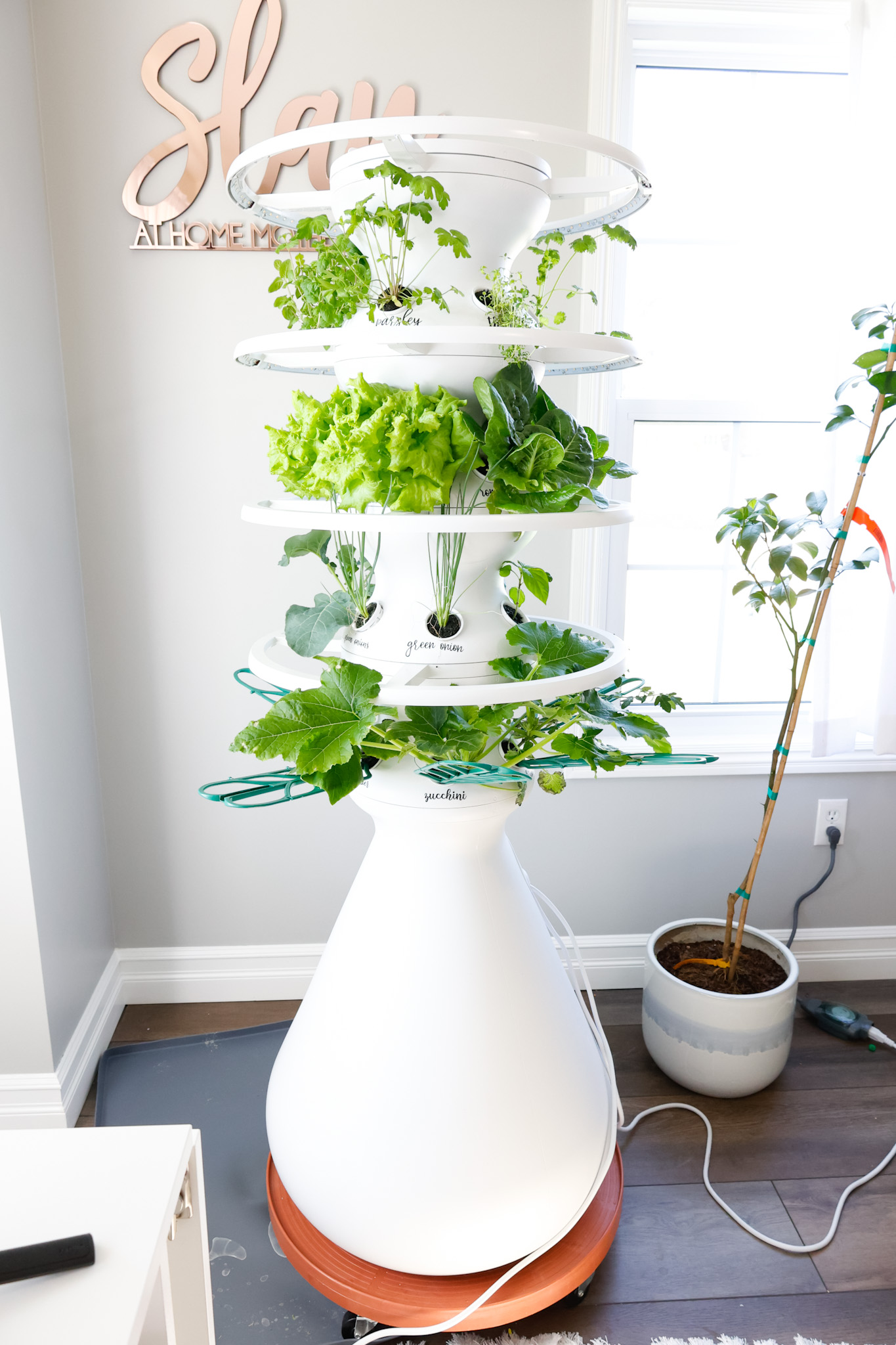 Here's a side-by-side picture to show you the growth I've seen over the last two weeks…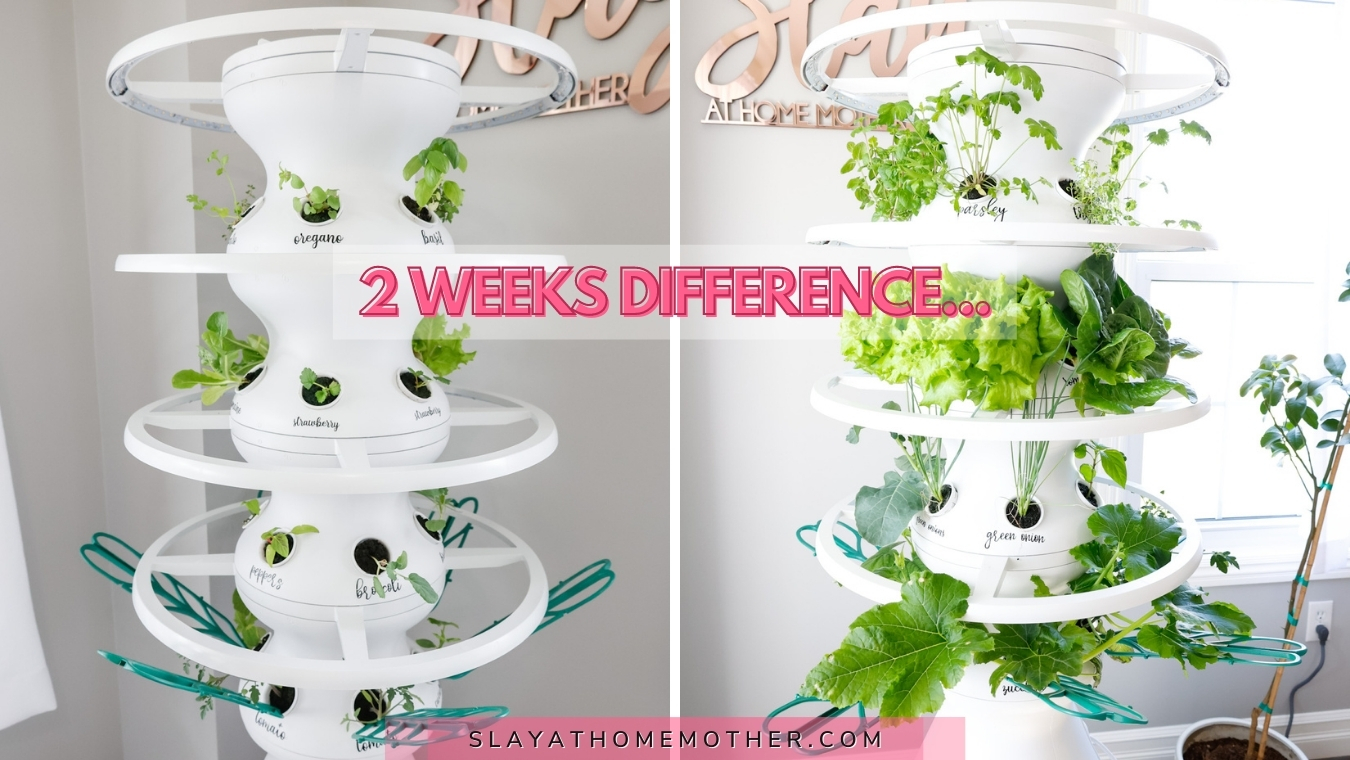 Incredible!
Hydroponics is just incredible…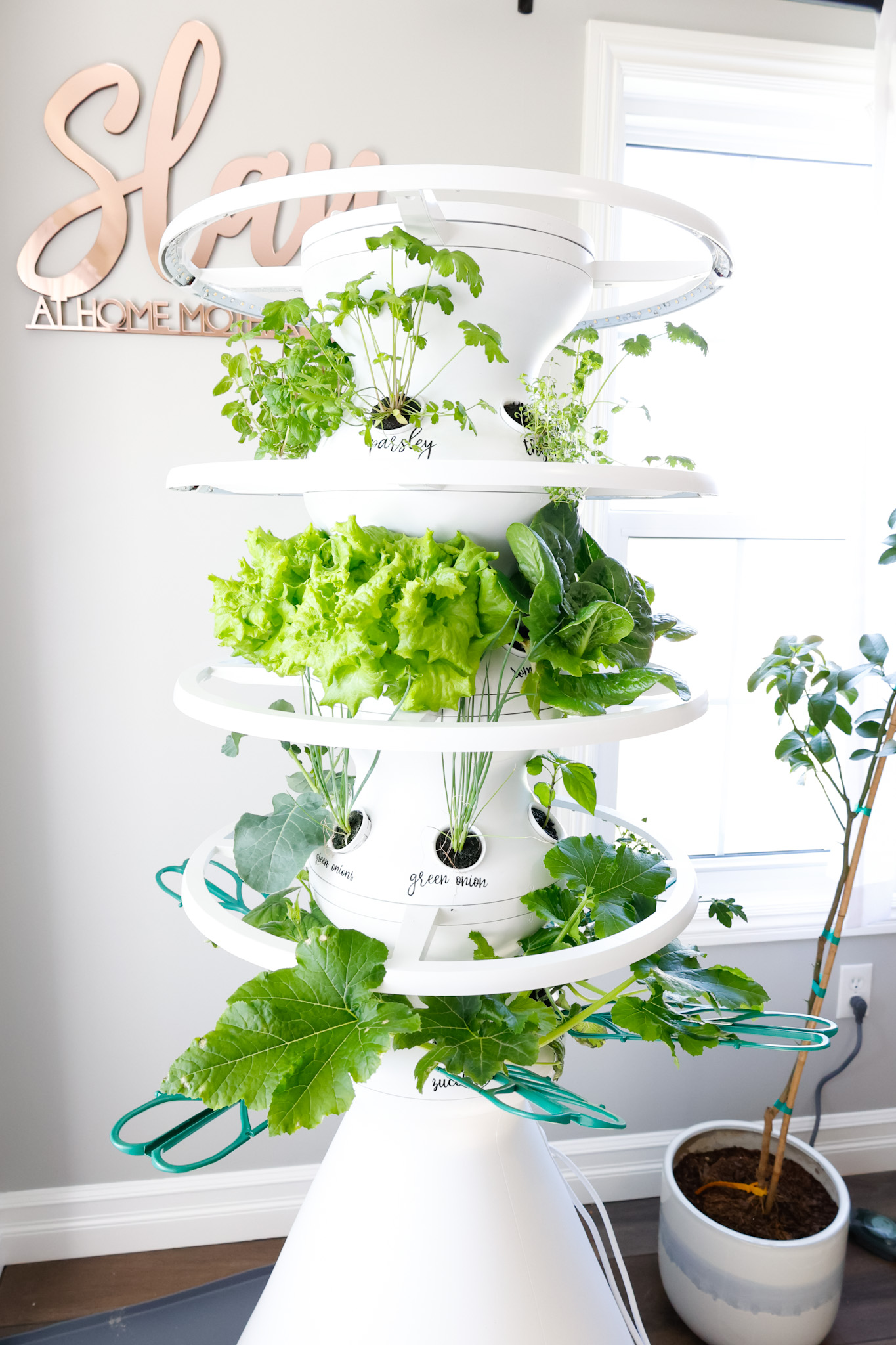 I'm loving how my lettuce and romaine are filling out, and how tall my herbs are growing!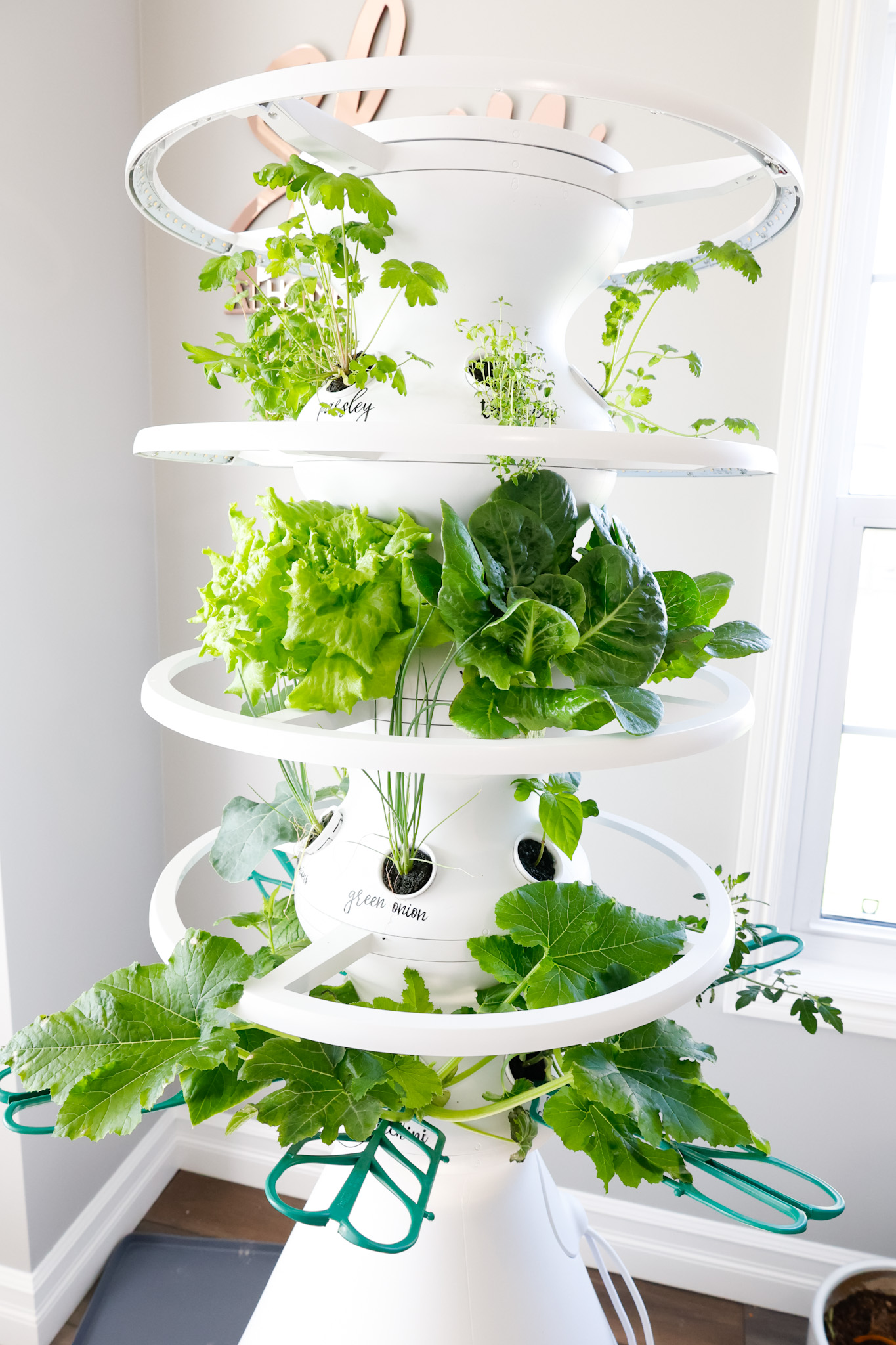 I have the 24-plant Farmstand, which is made up of 4 attachments, each with 6 plant pods.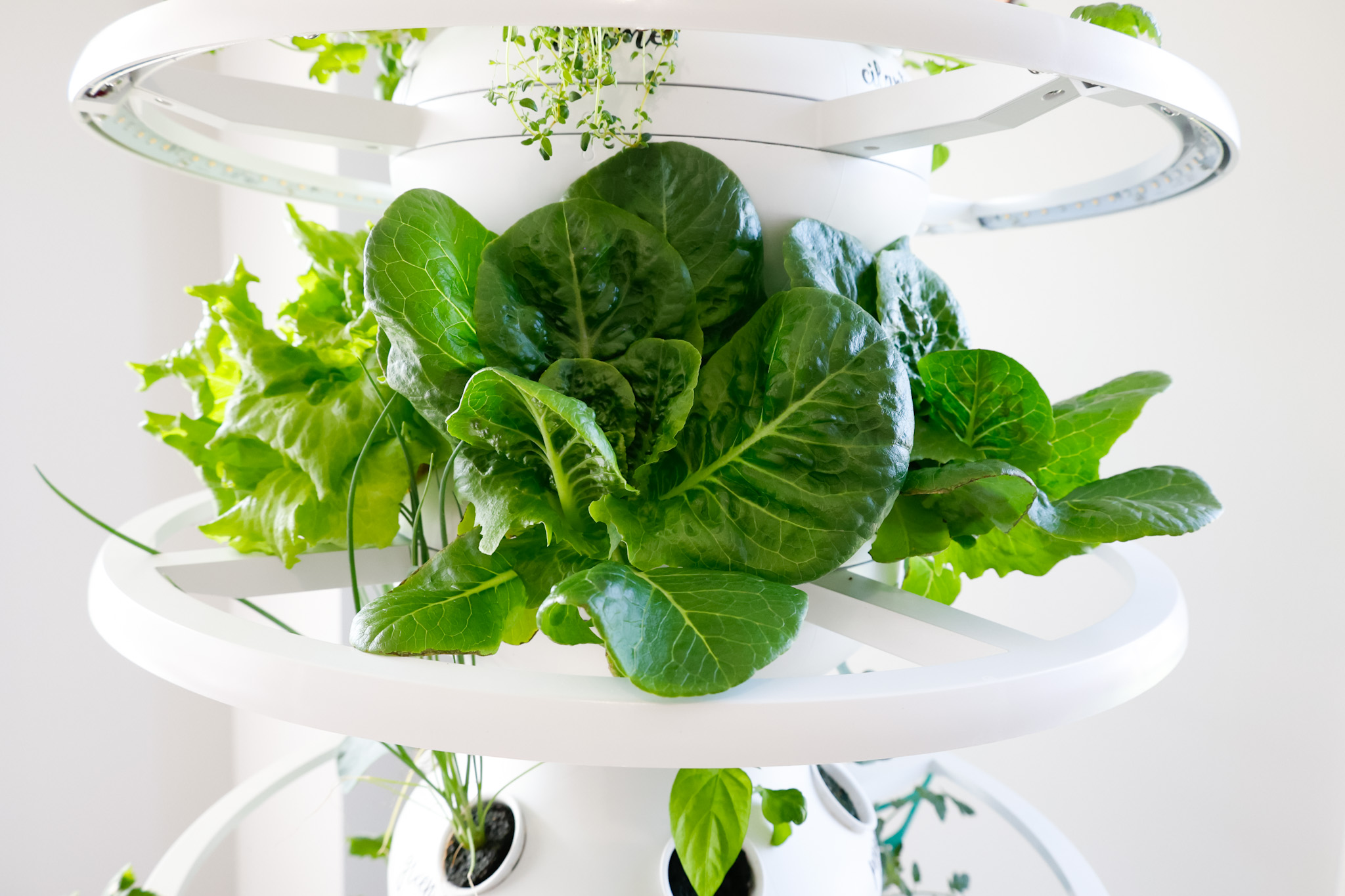 I also have the indoor Glow Rings from Lettuce Grow.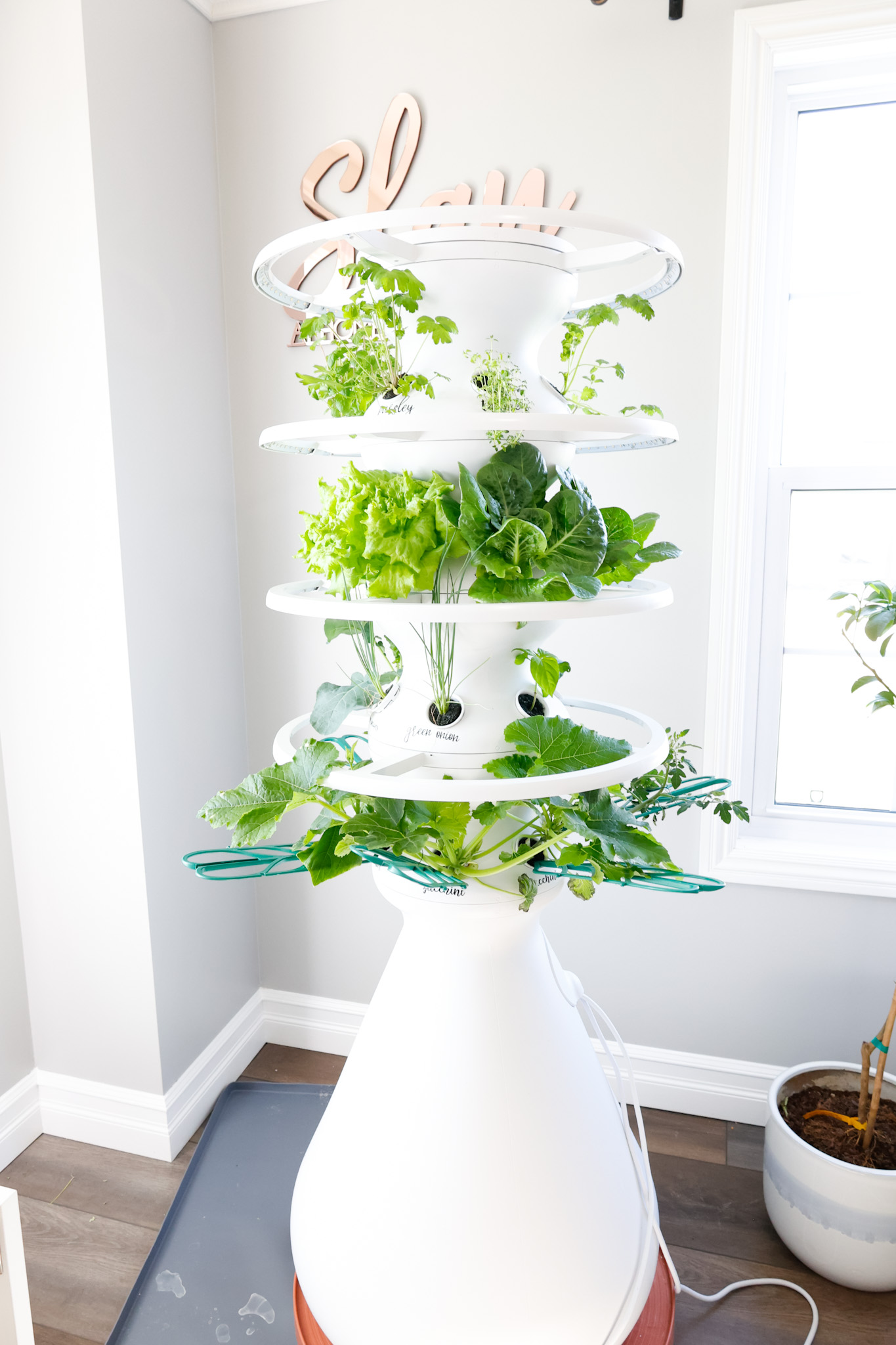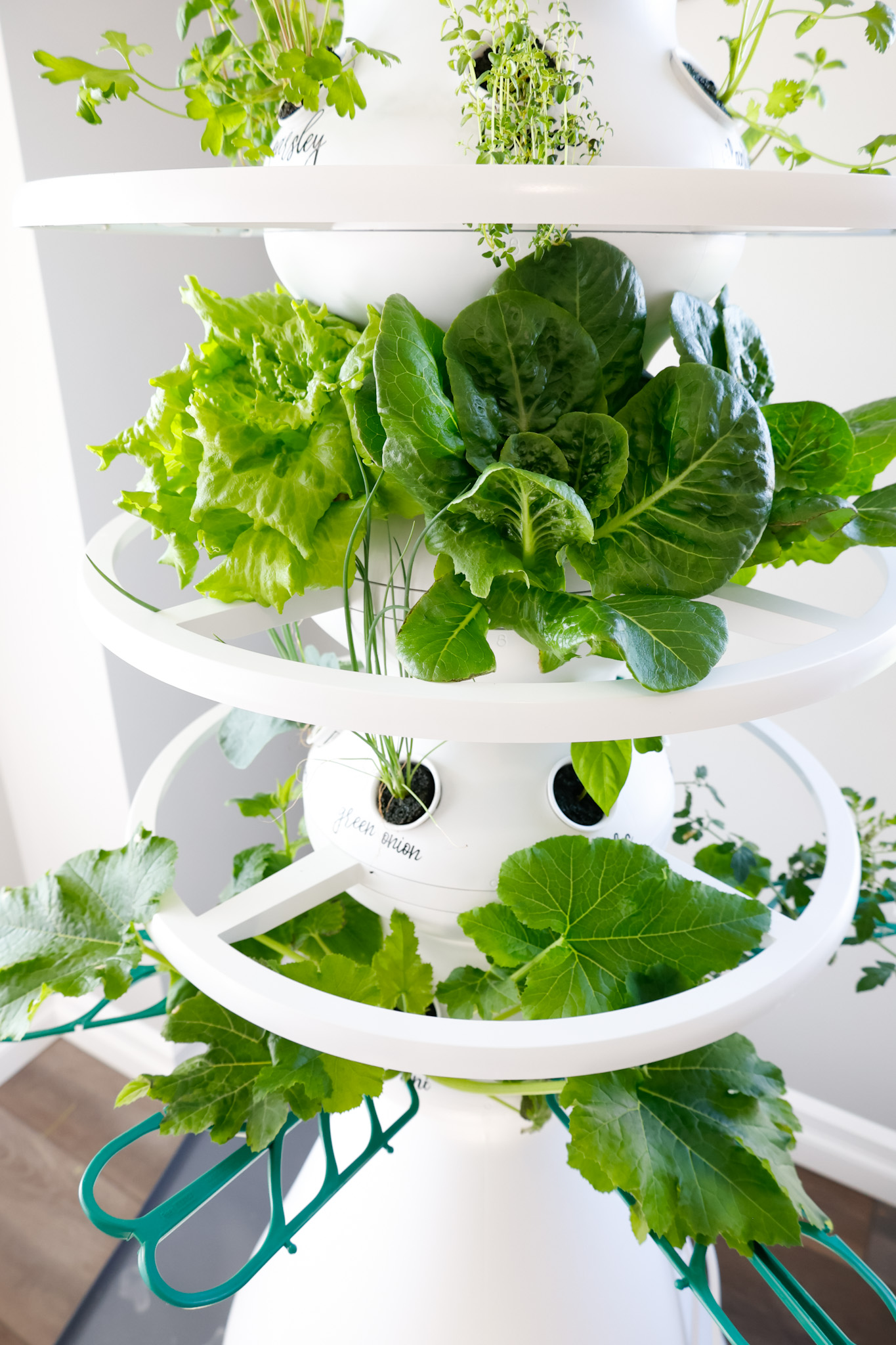 Top Row Of My Farmstand
On the top row of my Lettuce Grow Farmstand, I have my herbs.
Here is what my basil and mint look like now…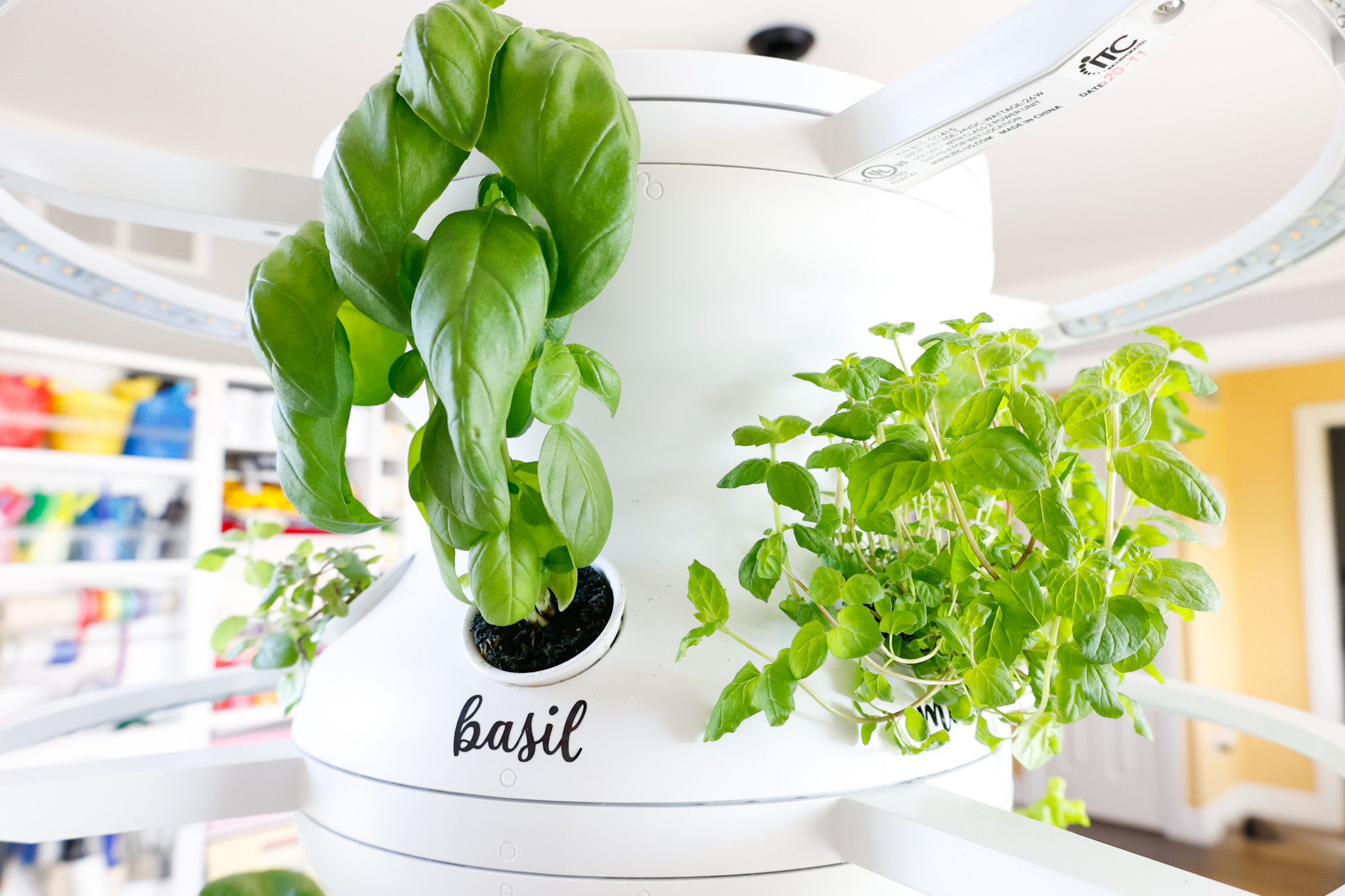 My thyme seems to be growing down and then back up towards the light…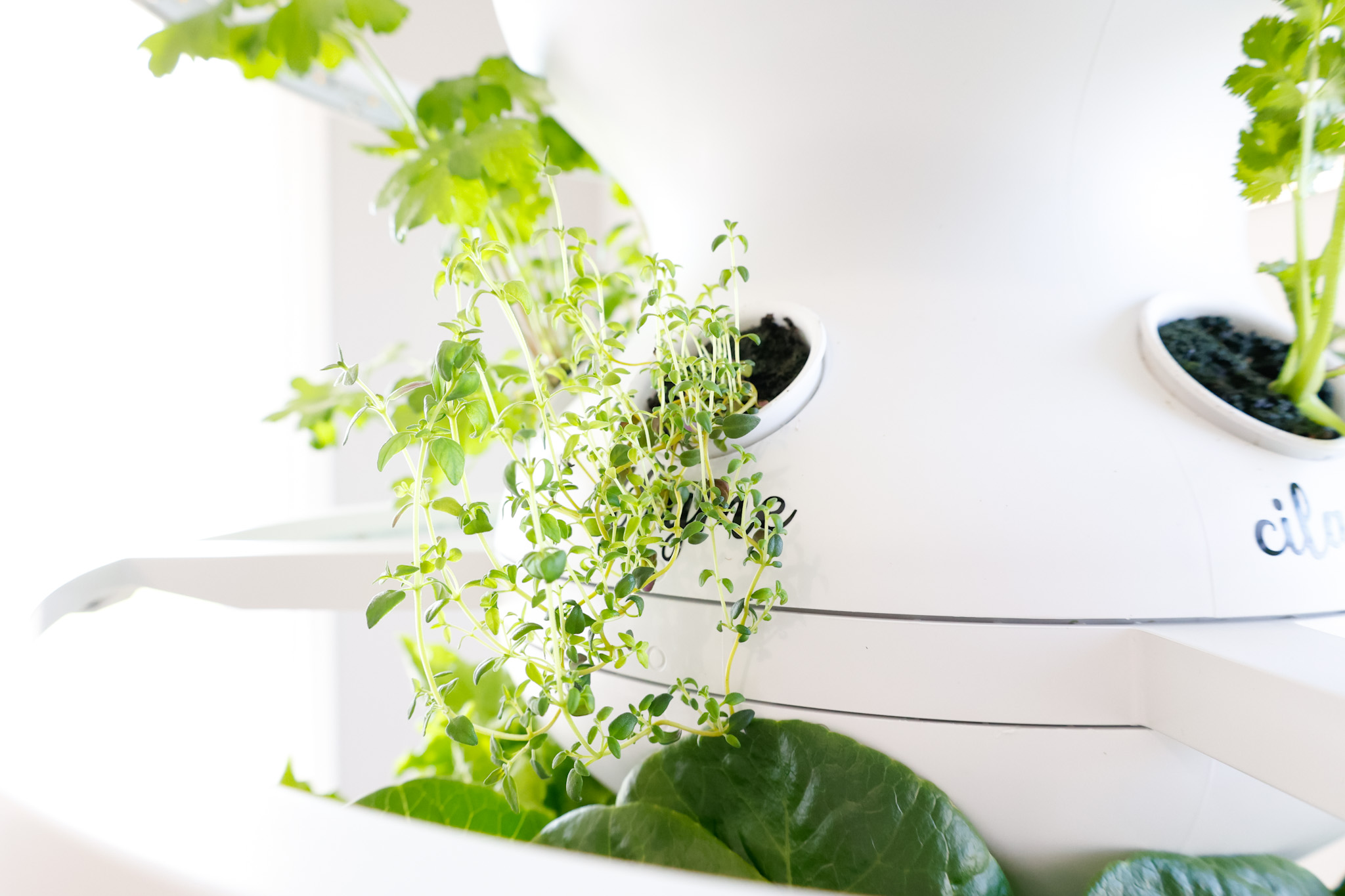 My mint and parsley (both needing some pruning and harvesting)…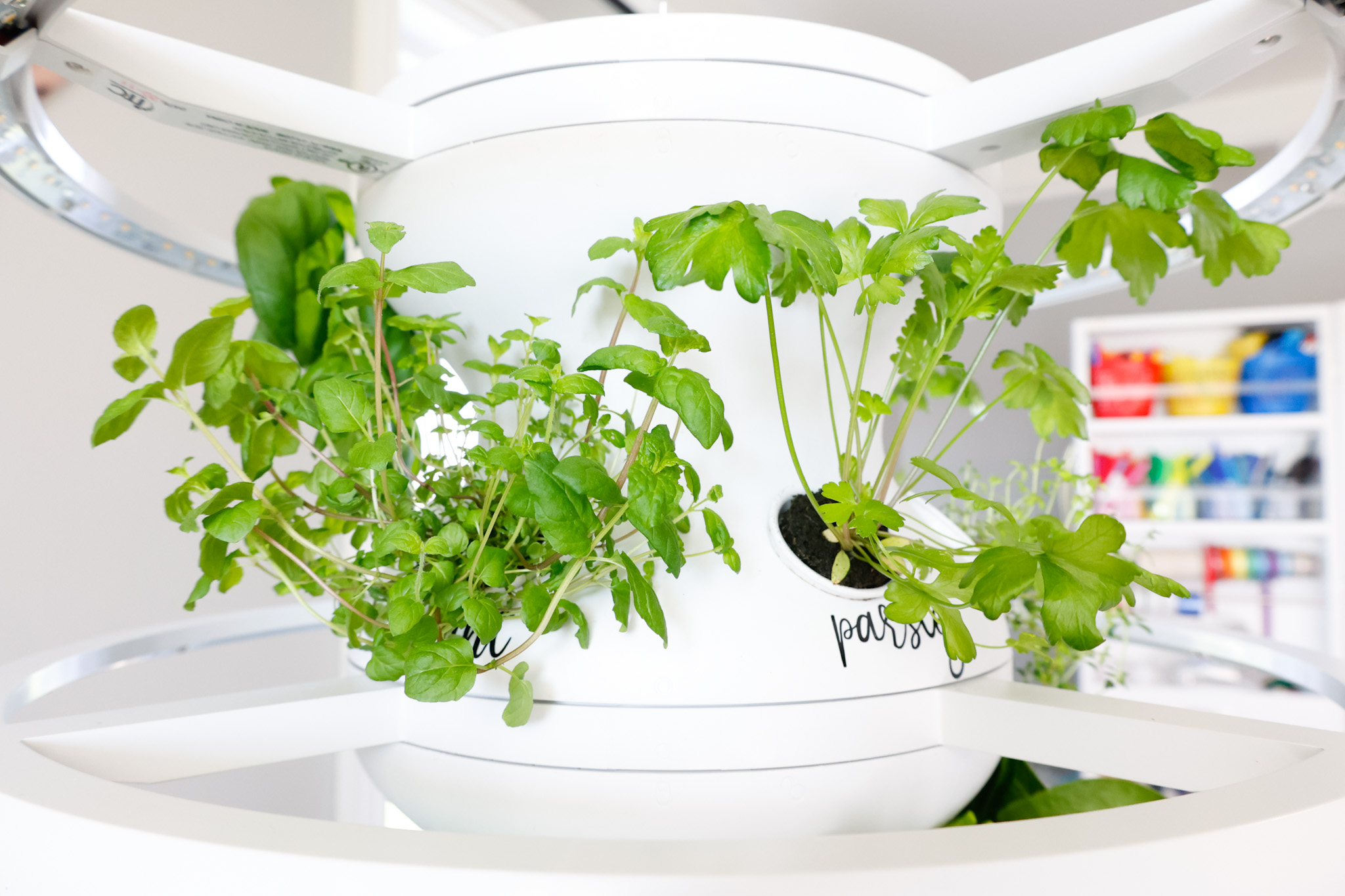 WOWZA…
I probably should have harvested it first a while ago. 😉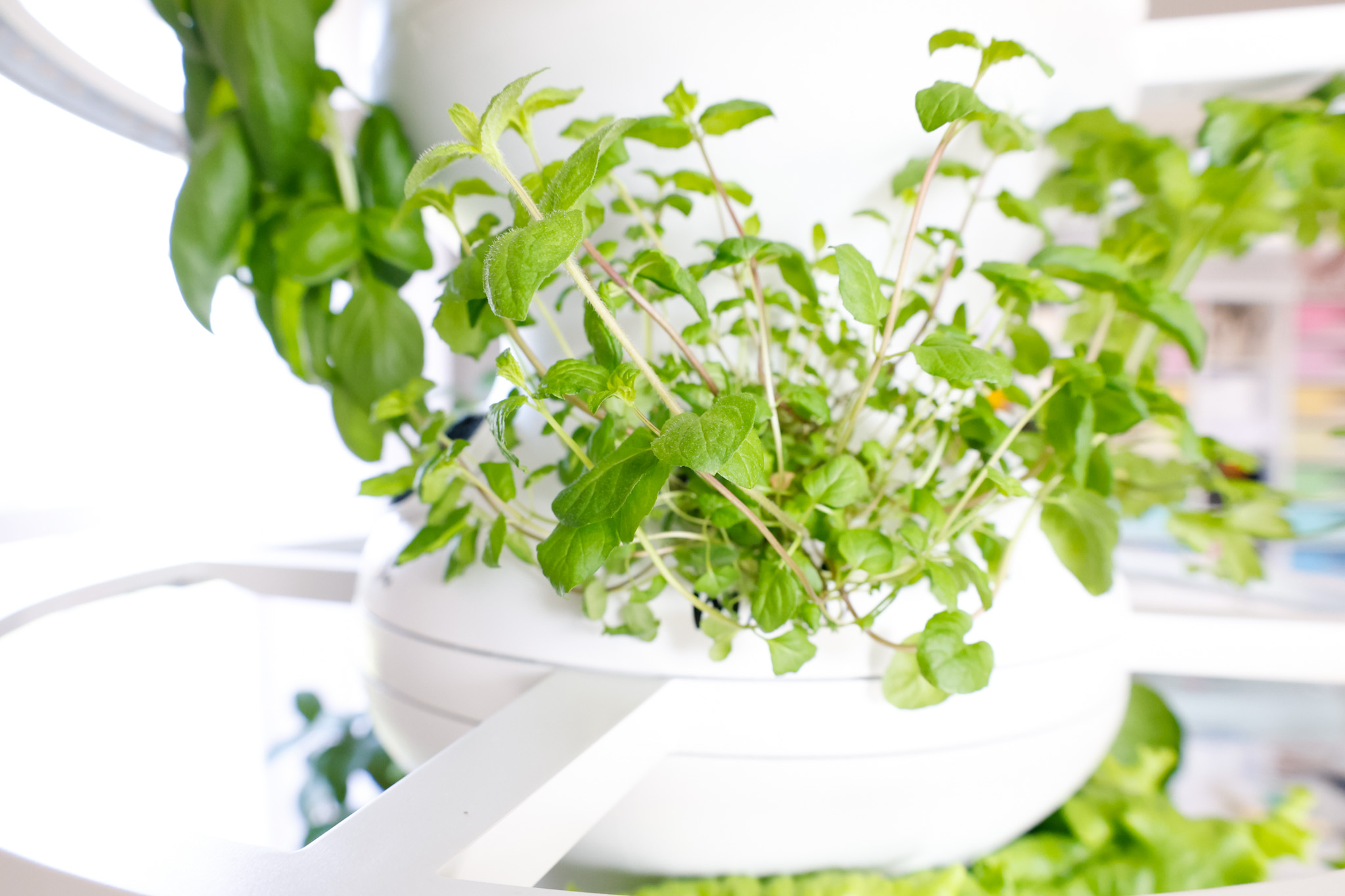 And here is my oregano…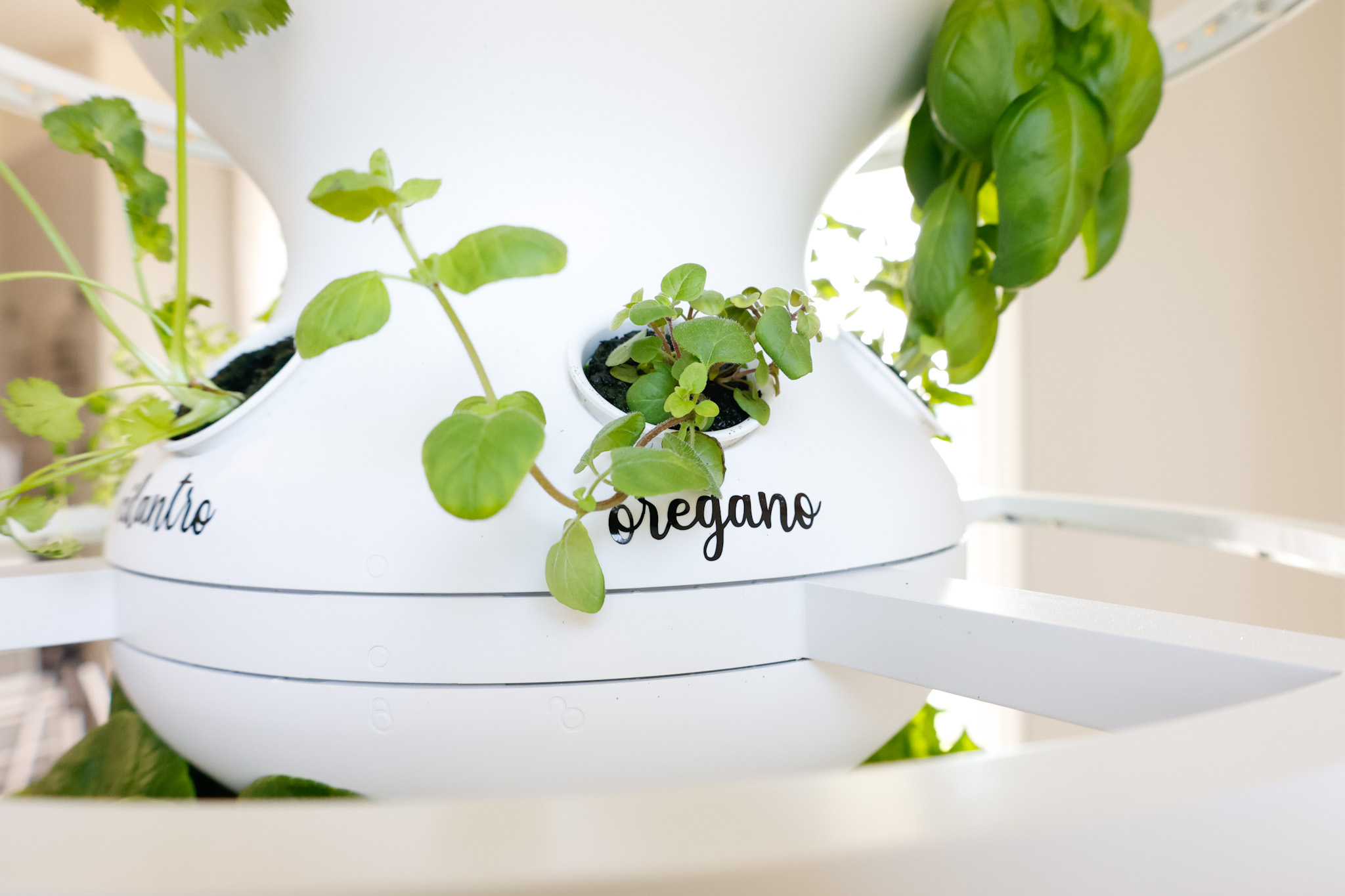 Second Row Of My Farmstand
On my second row from the top of my Farmstand, I have 2 each of:
summer lettuce
romaine
strawberries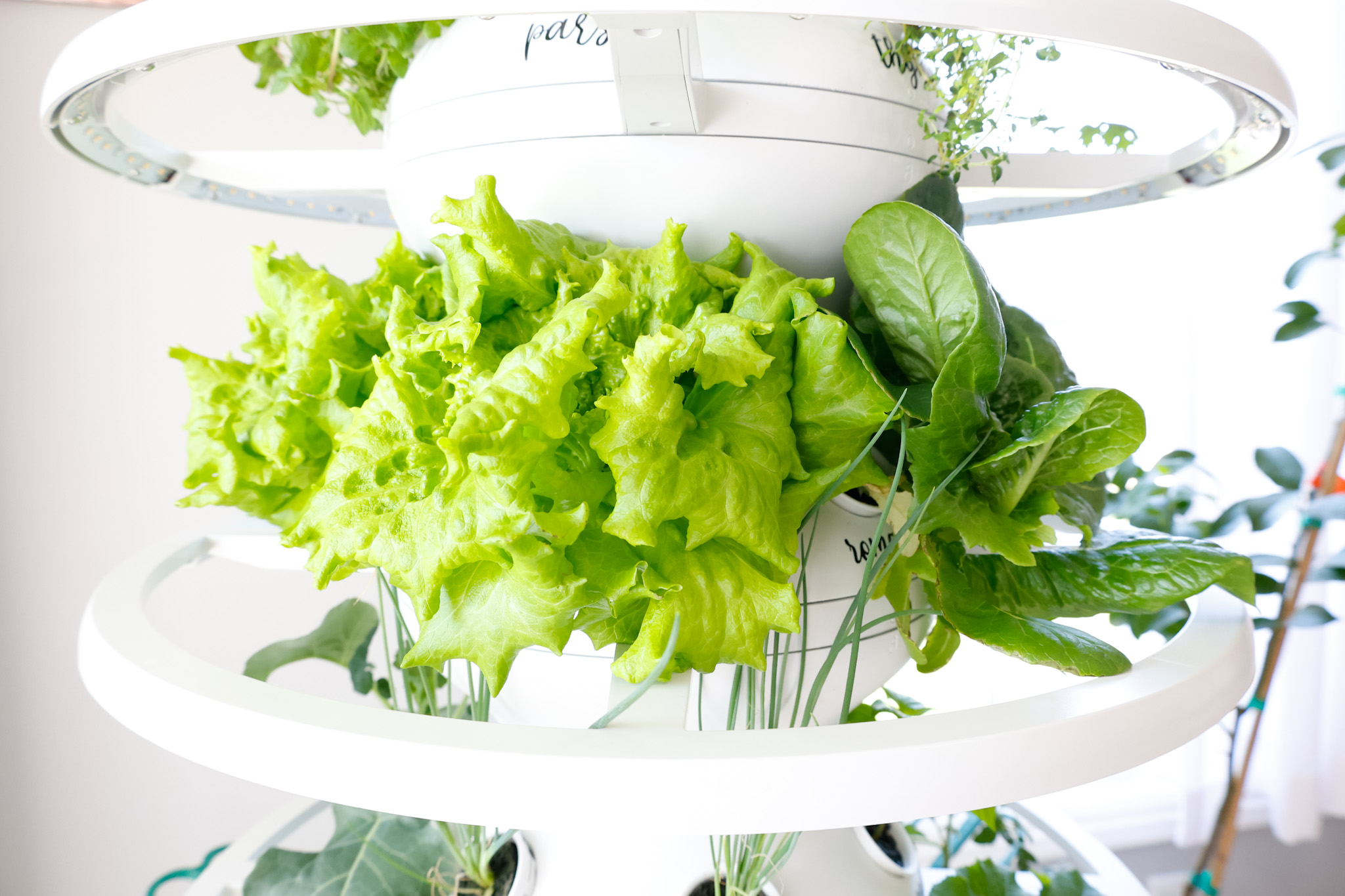 My strawberries seem to be taking a while to grow, but then again, the harvest window for strawberries is between 5-10 weeks and I'm only at 2 weeks!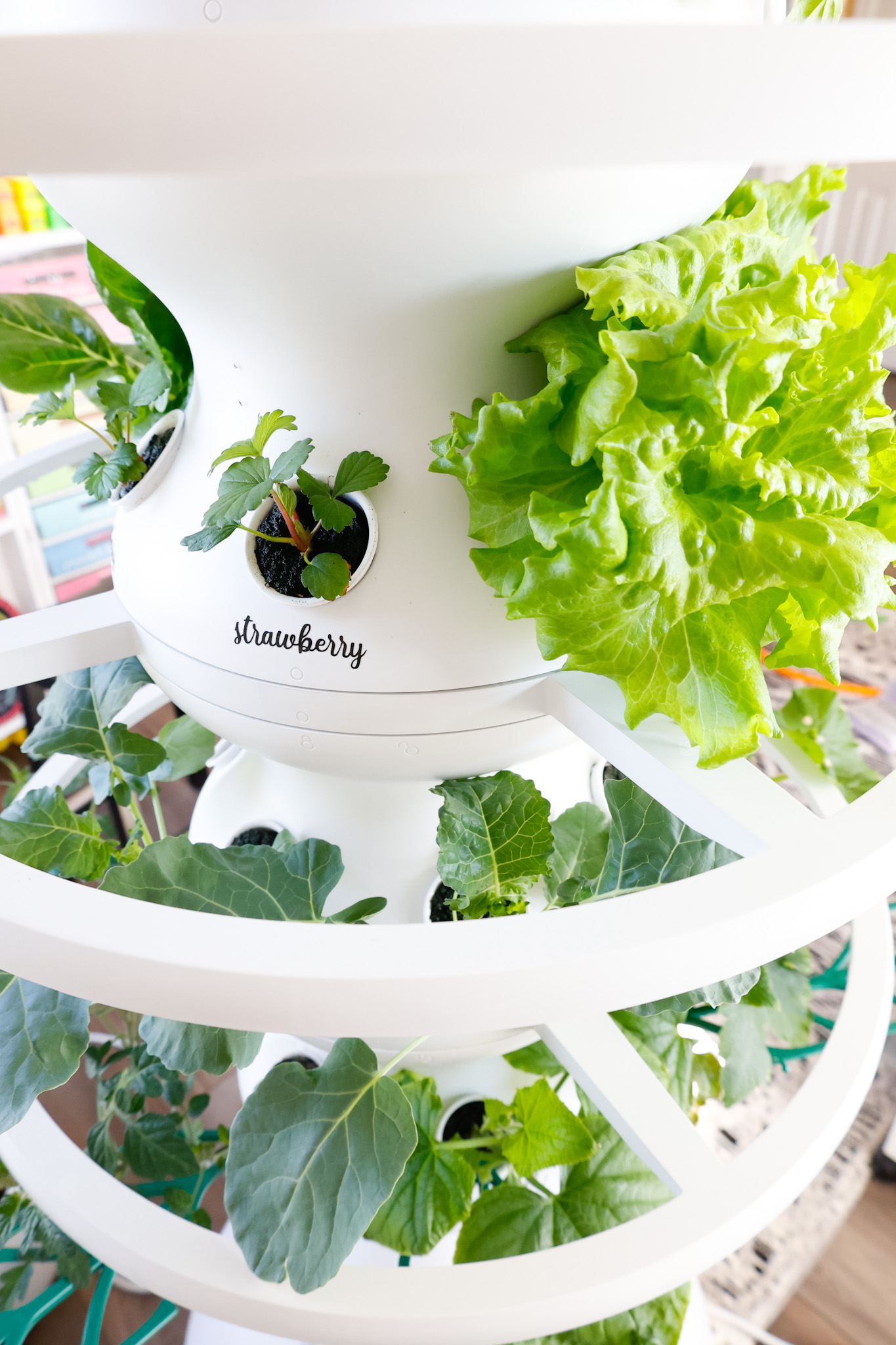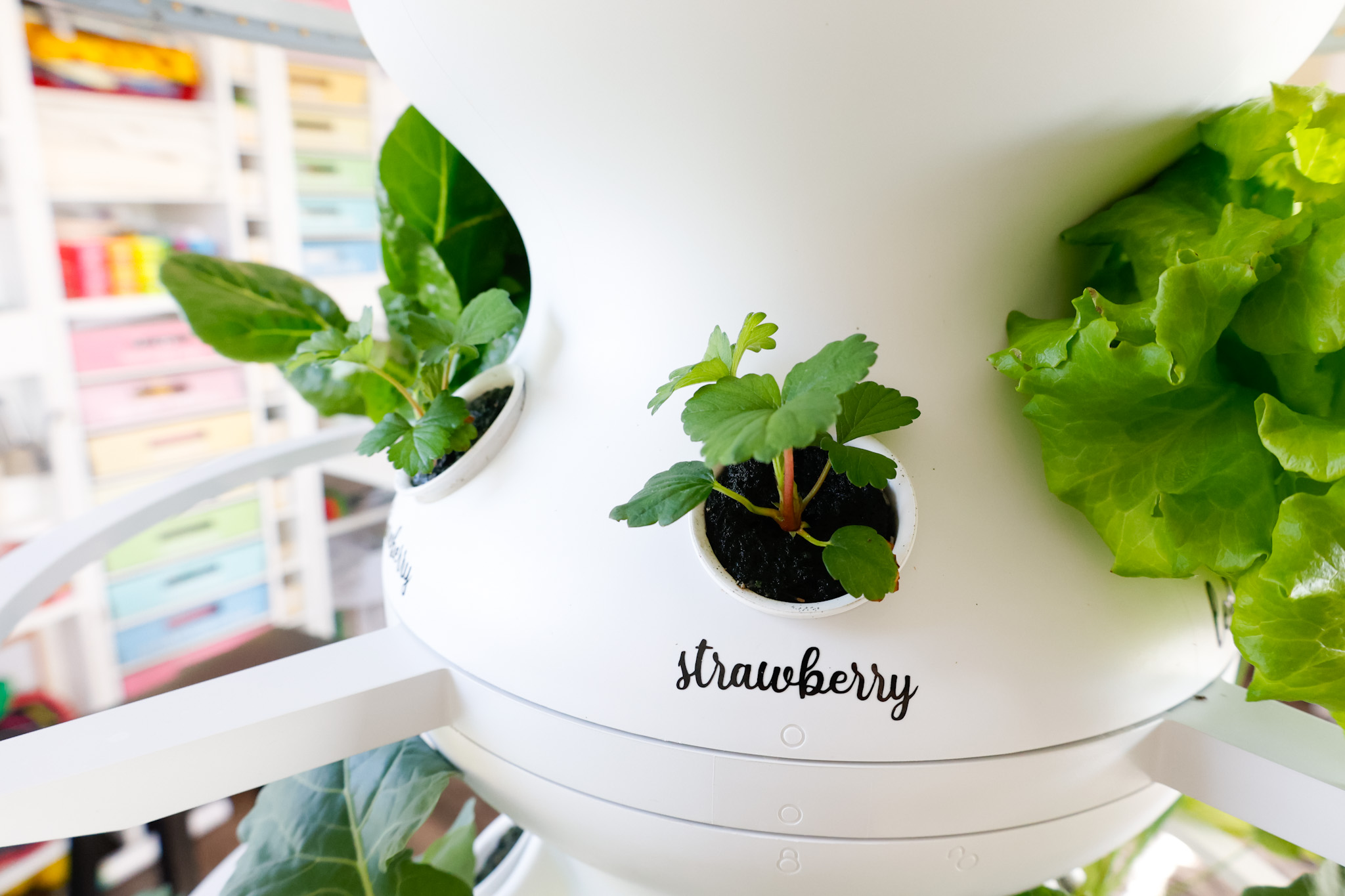 Our bearded dragon, Doug, will be so happy to chomp on this romaine soon…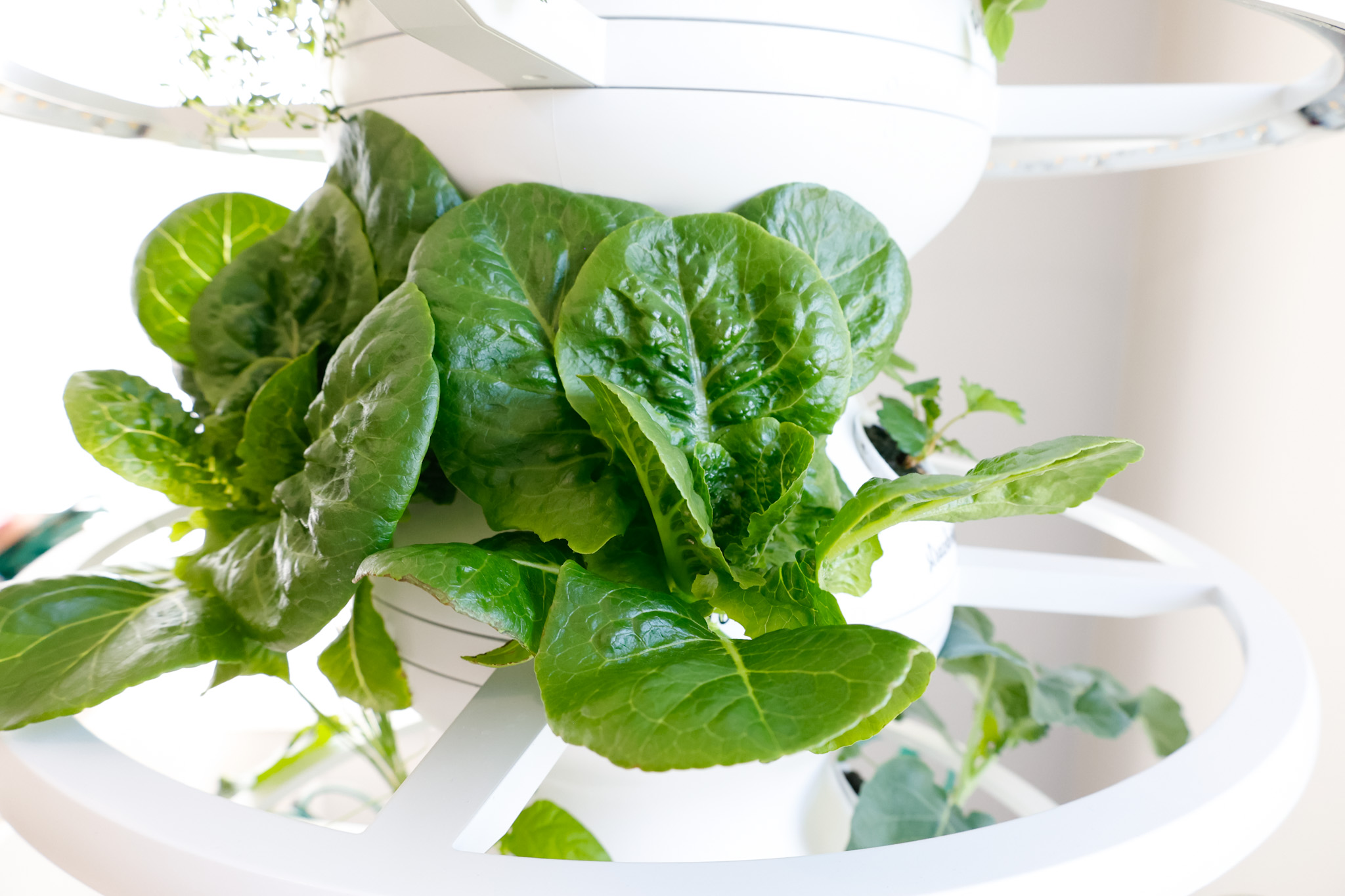 The Third Row Of My Farmstand
On the third row of my Farmstand, I have…
green onions
lunchbox peppers
broccoli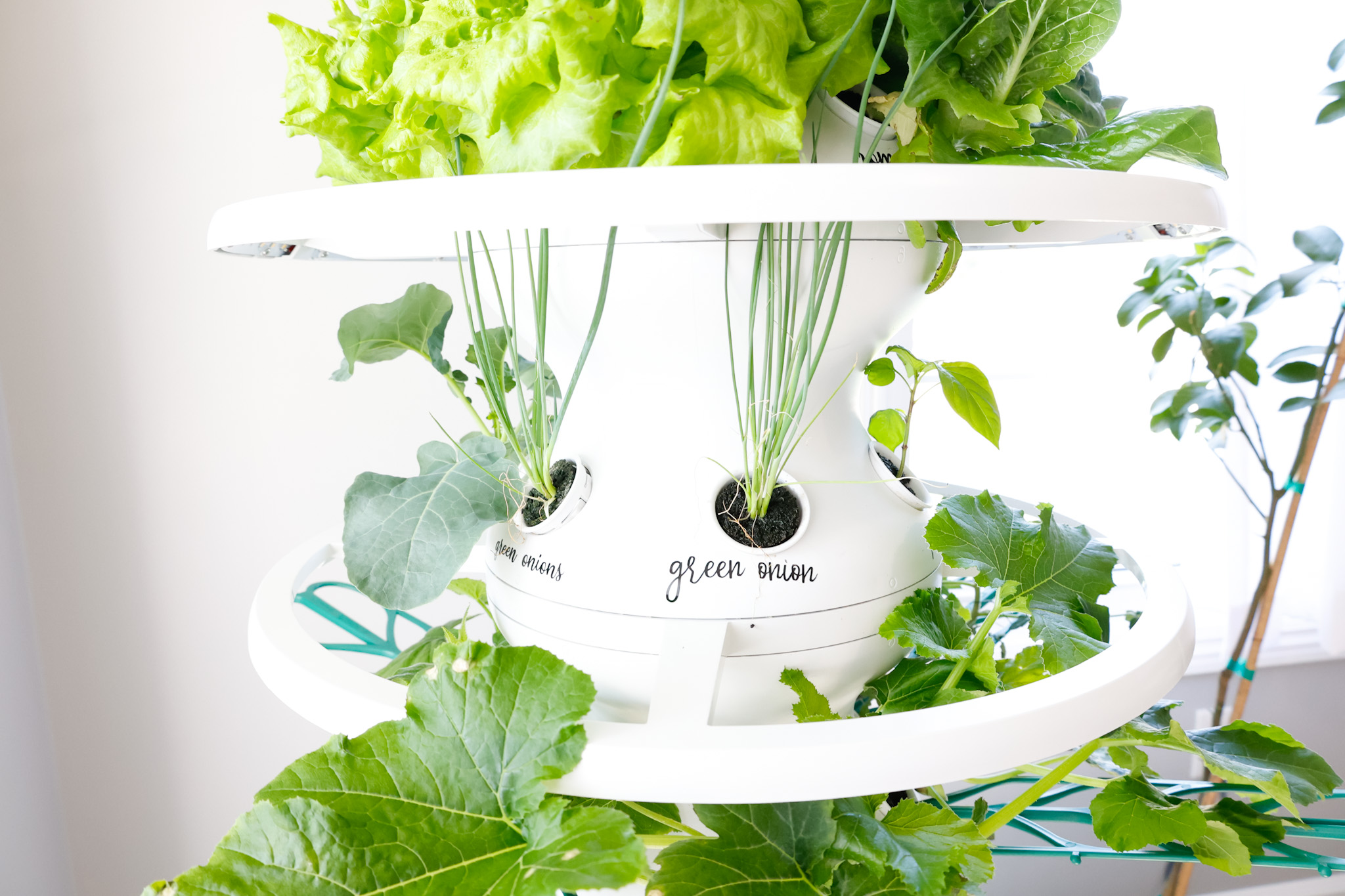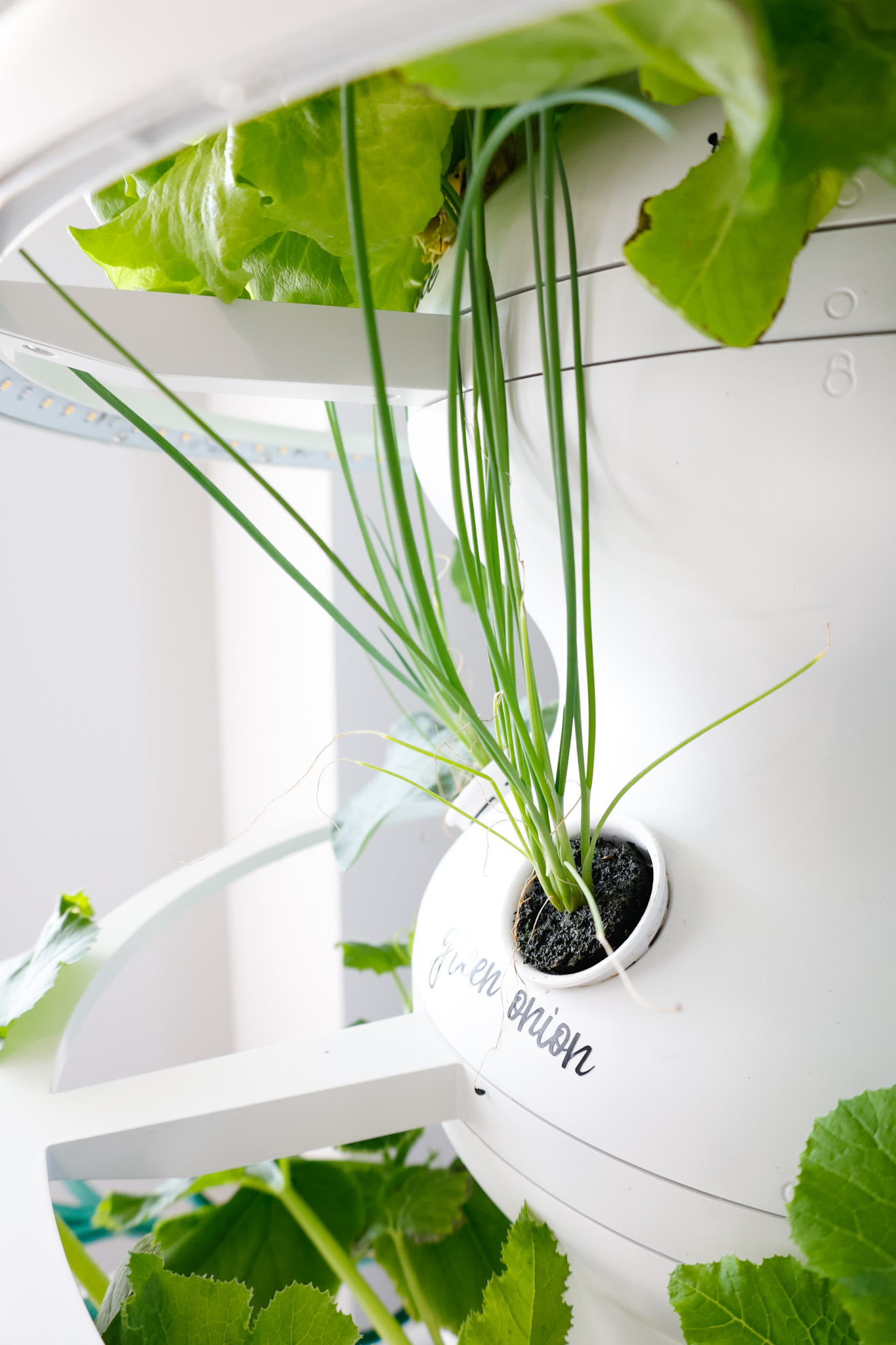 One of my pepper plants died during transit – the stalk snapped during shipping or packaging, so sadly I have only 23 plants now.
When I contacted them about the seedling fatality, Lettuce Grow graciously credited my account for the seedling.
They ship a minimum of 6 seedlings at a time, so I will be able to replace the seedling with my next shipment!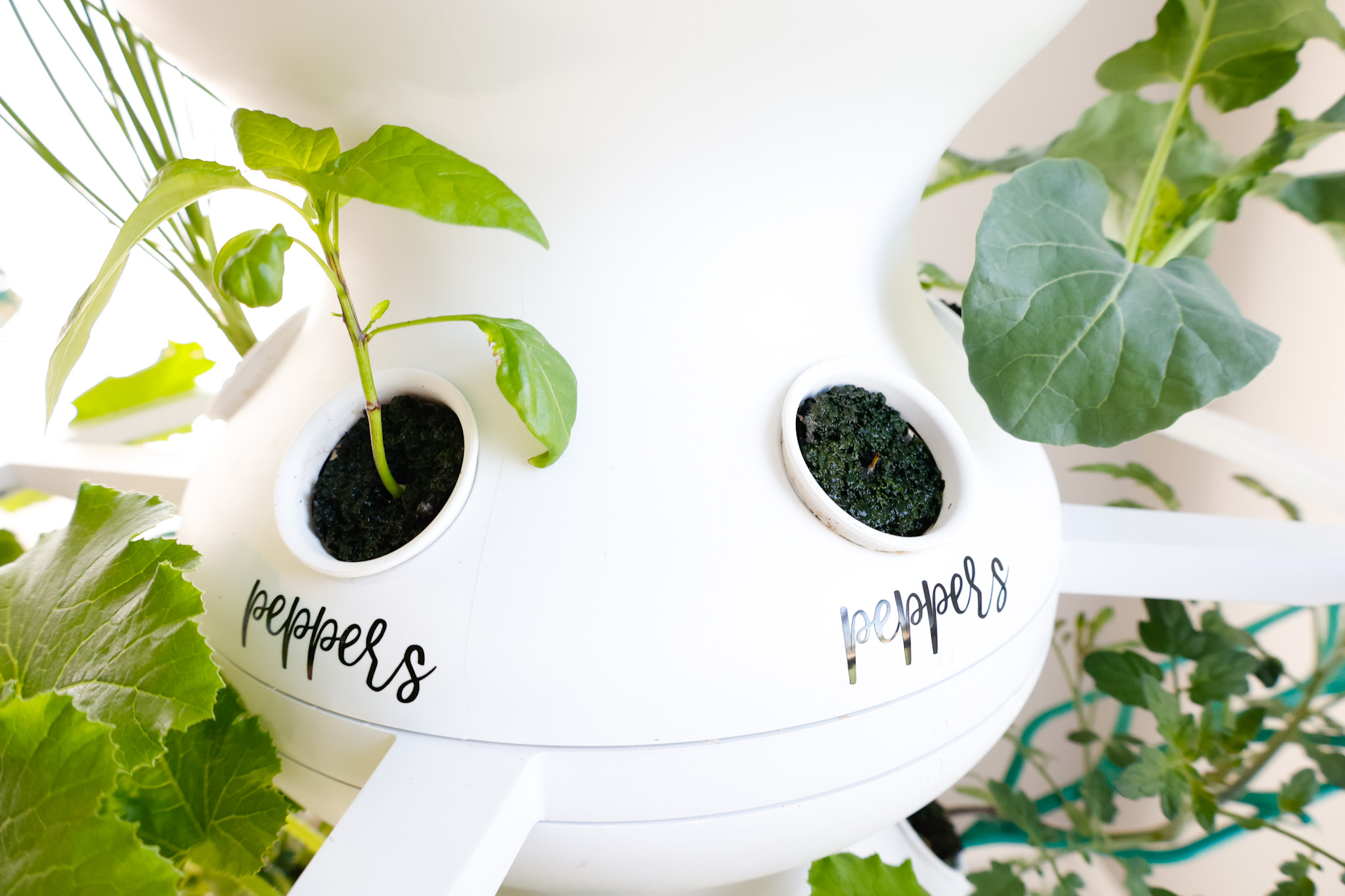 After cutting the snapped portion of the stalk off, I waited about a week to see if the seedling would still survive, but it did not.
For now, I've removed the seedling and grow medium from the cup, and temporarily placed a foam golf ball in the hole (see below).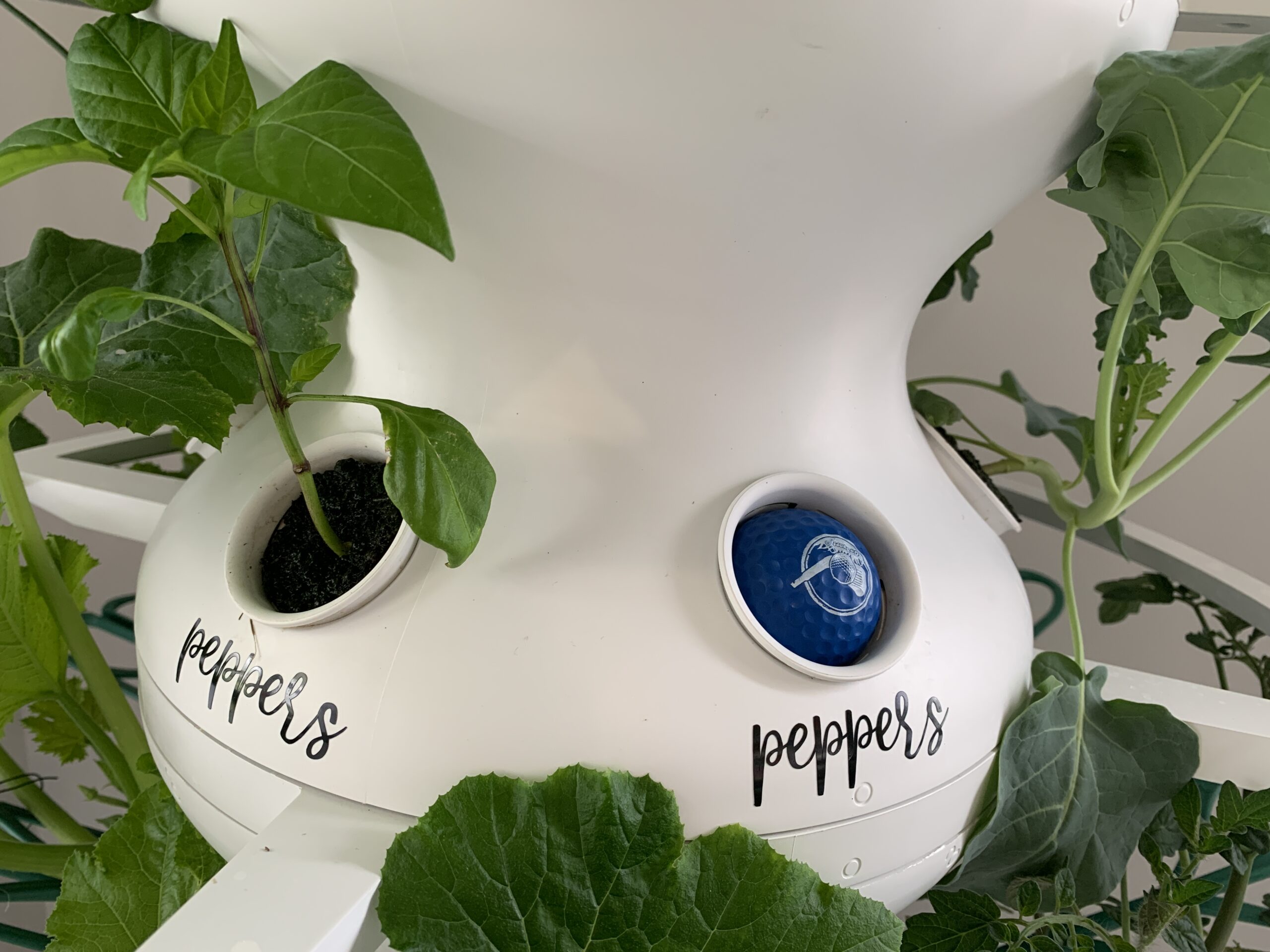 This helps block sunlight to prevent algae growth in the tank and prevents bugs from flying in and populating.
My broccoli is growing fairly well, but no vegetable stalks yet!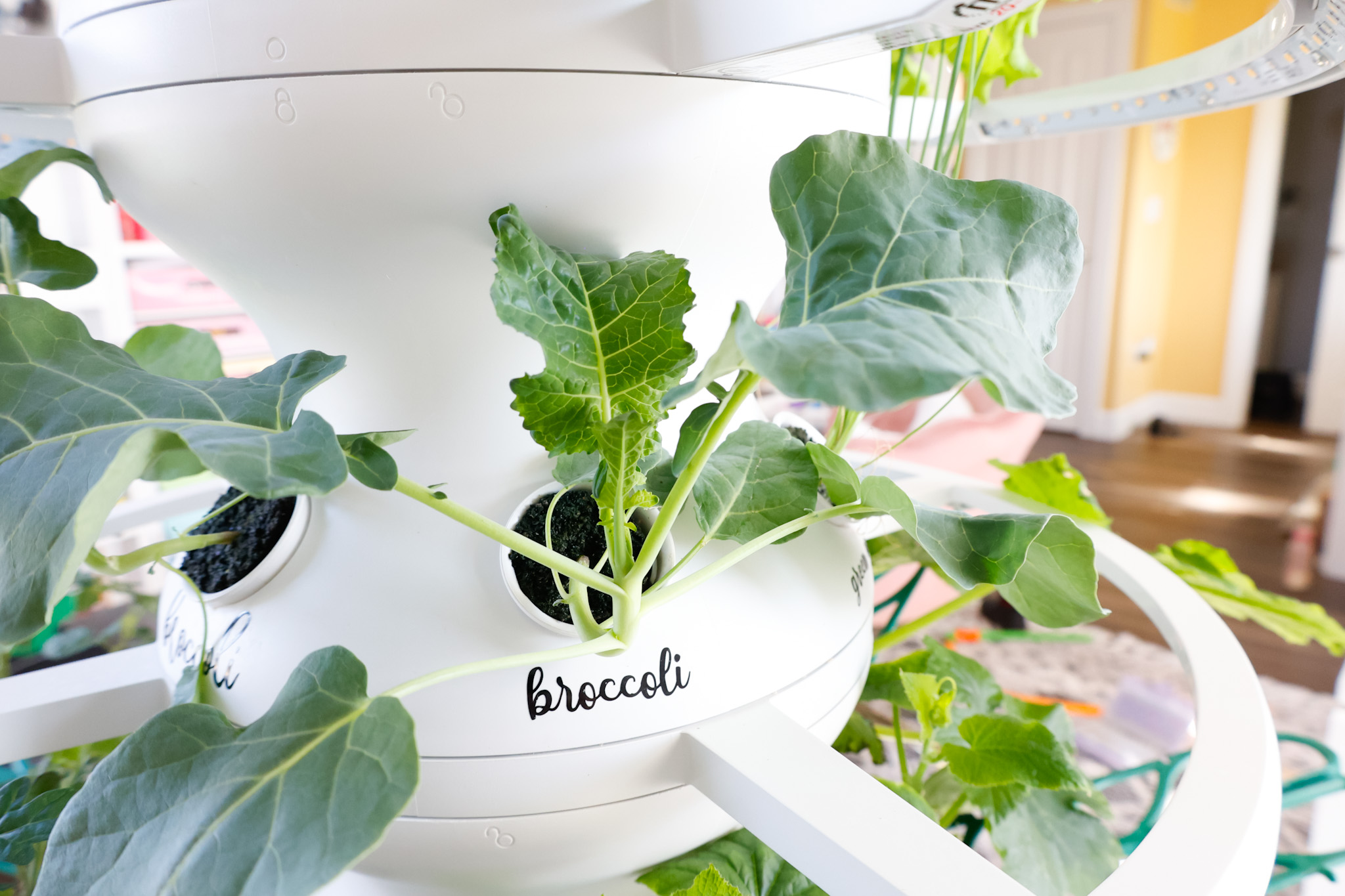 Did you know that you can also cook broccoli leaves? Yum!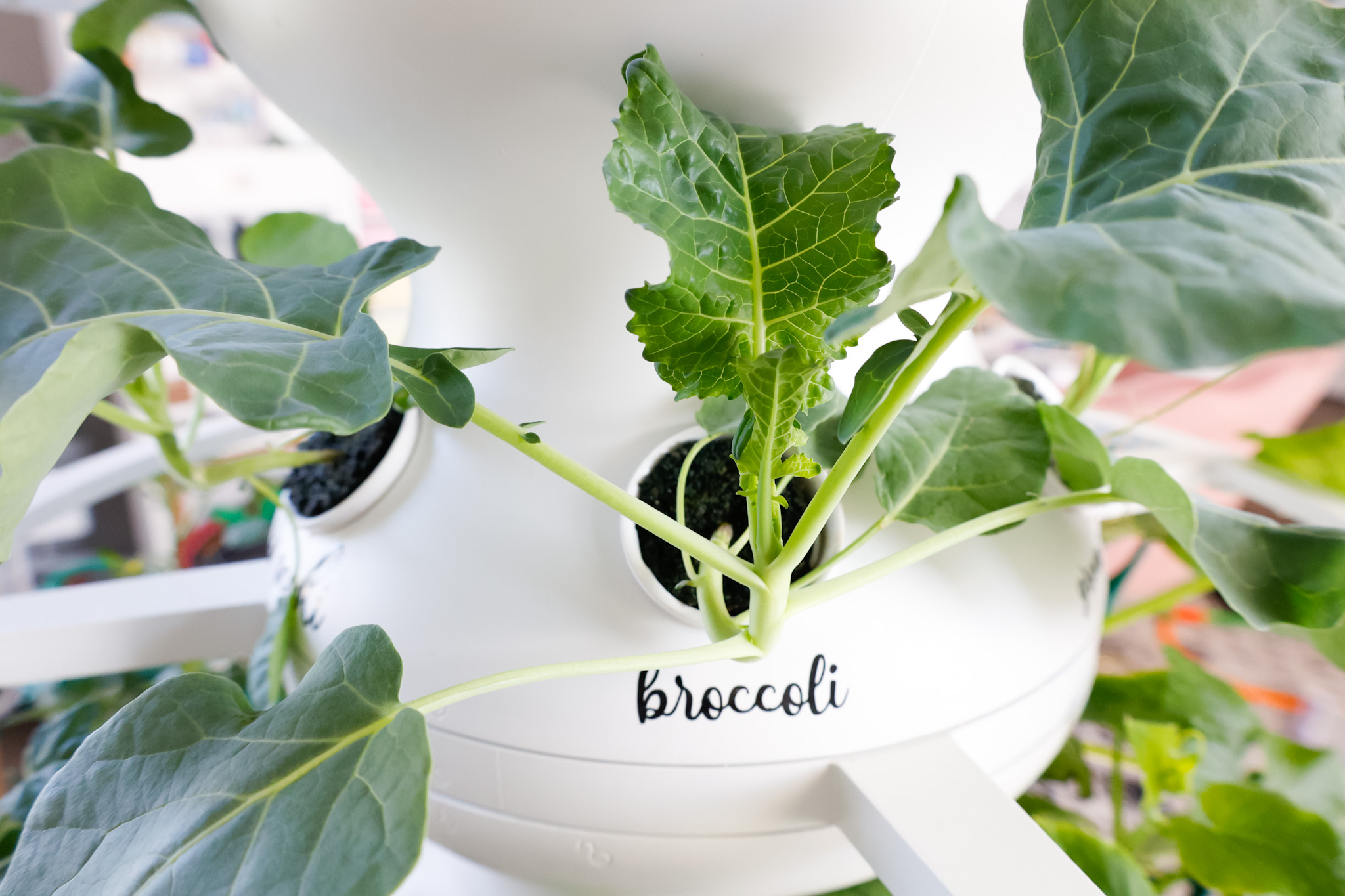 The Bottom Row on My Farmstand
On the bottom row of my Farmstand, I have my vine plants (the ones that need support with a trellis):
zucchini
mini cucumber
scarlet cherry tomatoes
Here's what my zucchini seedlings looked like when I first placed them from the mail into my Farmstand…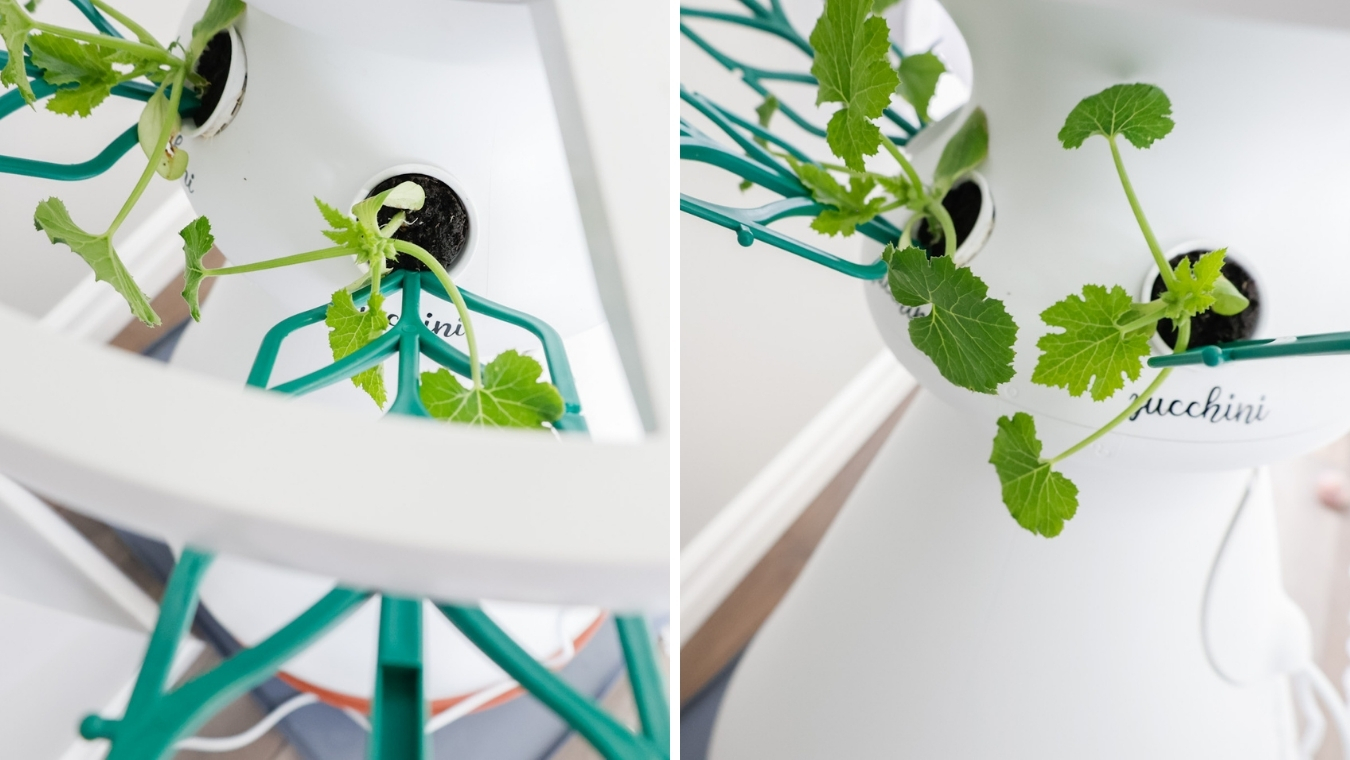 And now, 2 weeks later, my zucchini plants are starting to bud with male and female flowers…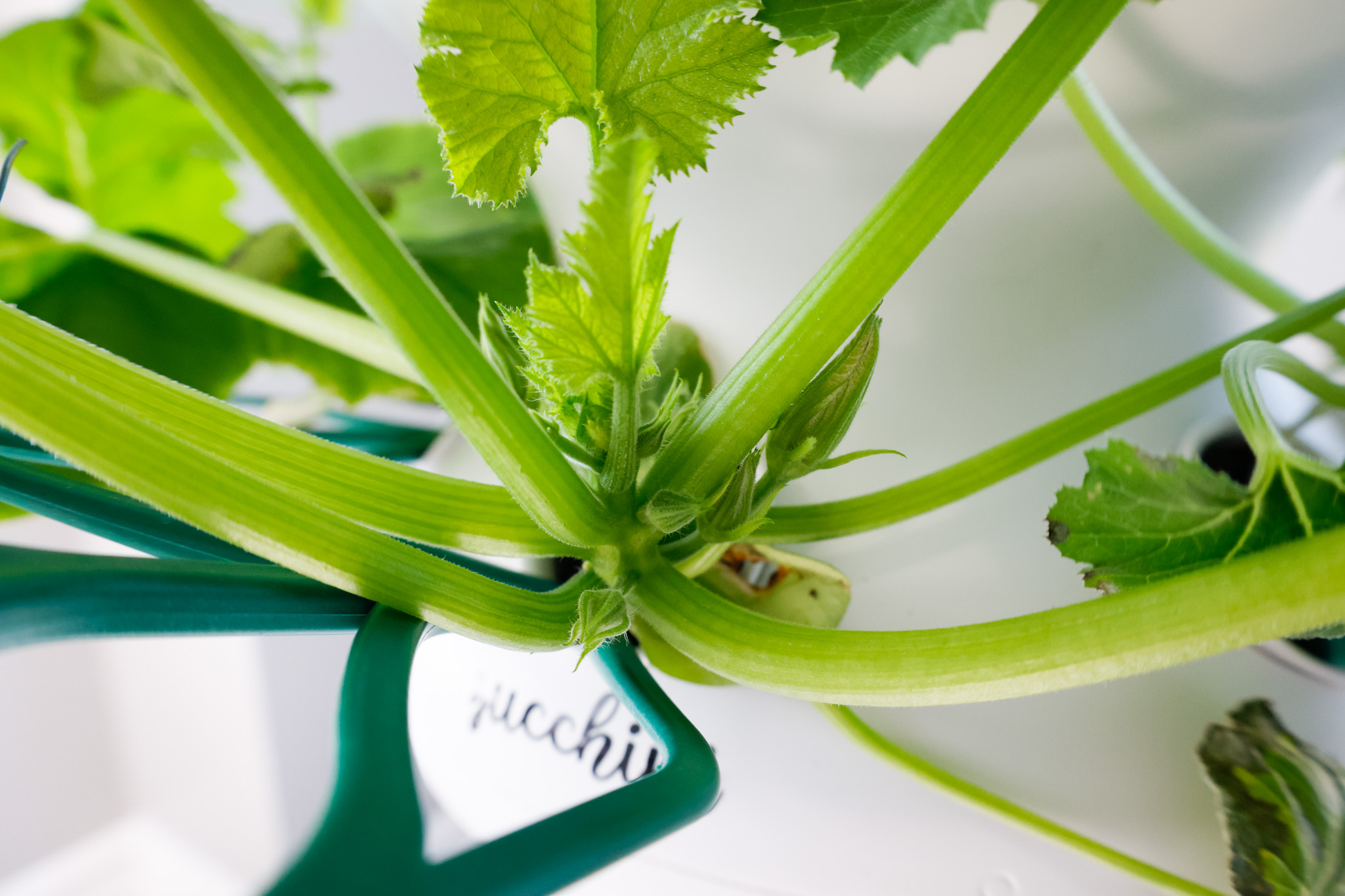 The female flowers are the ones that look like tiny zucchinis with buds on the end, and the male flowers are just lone flowers…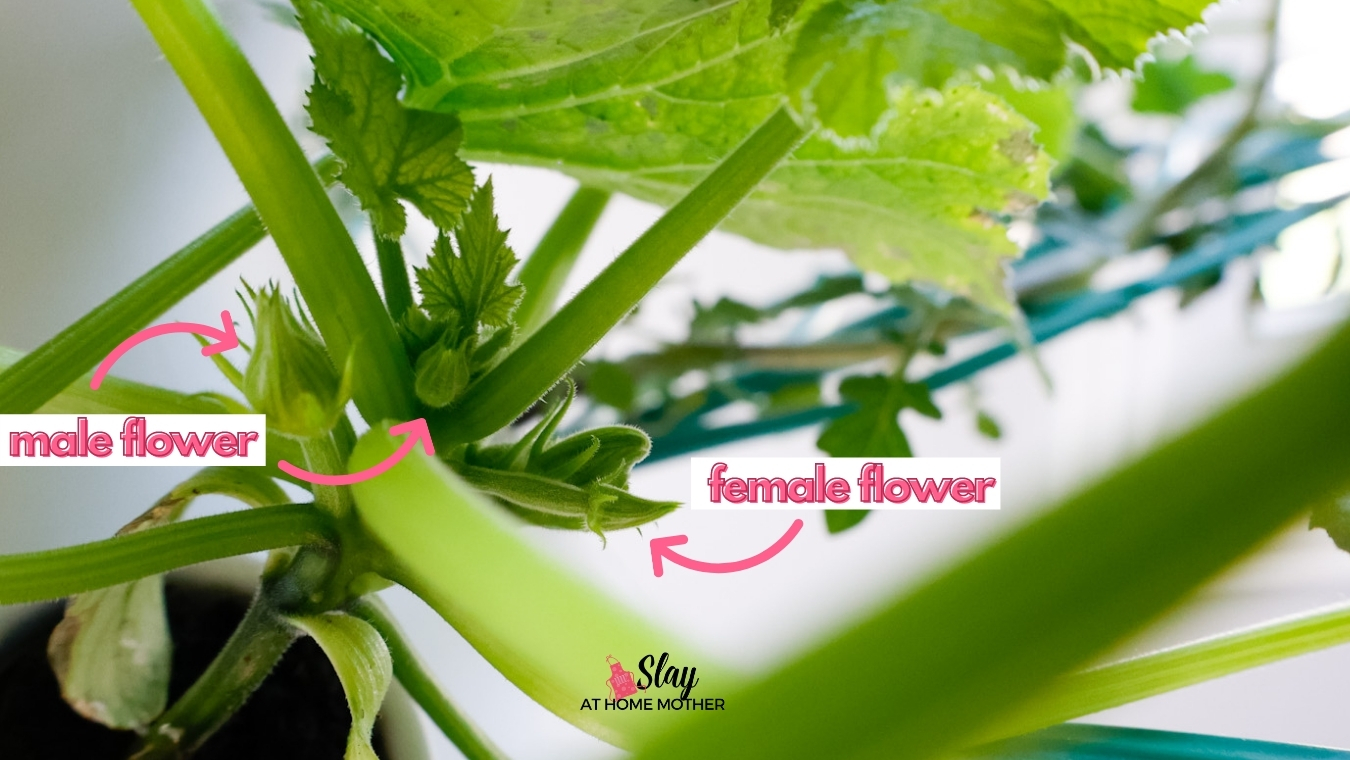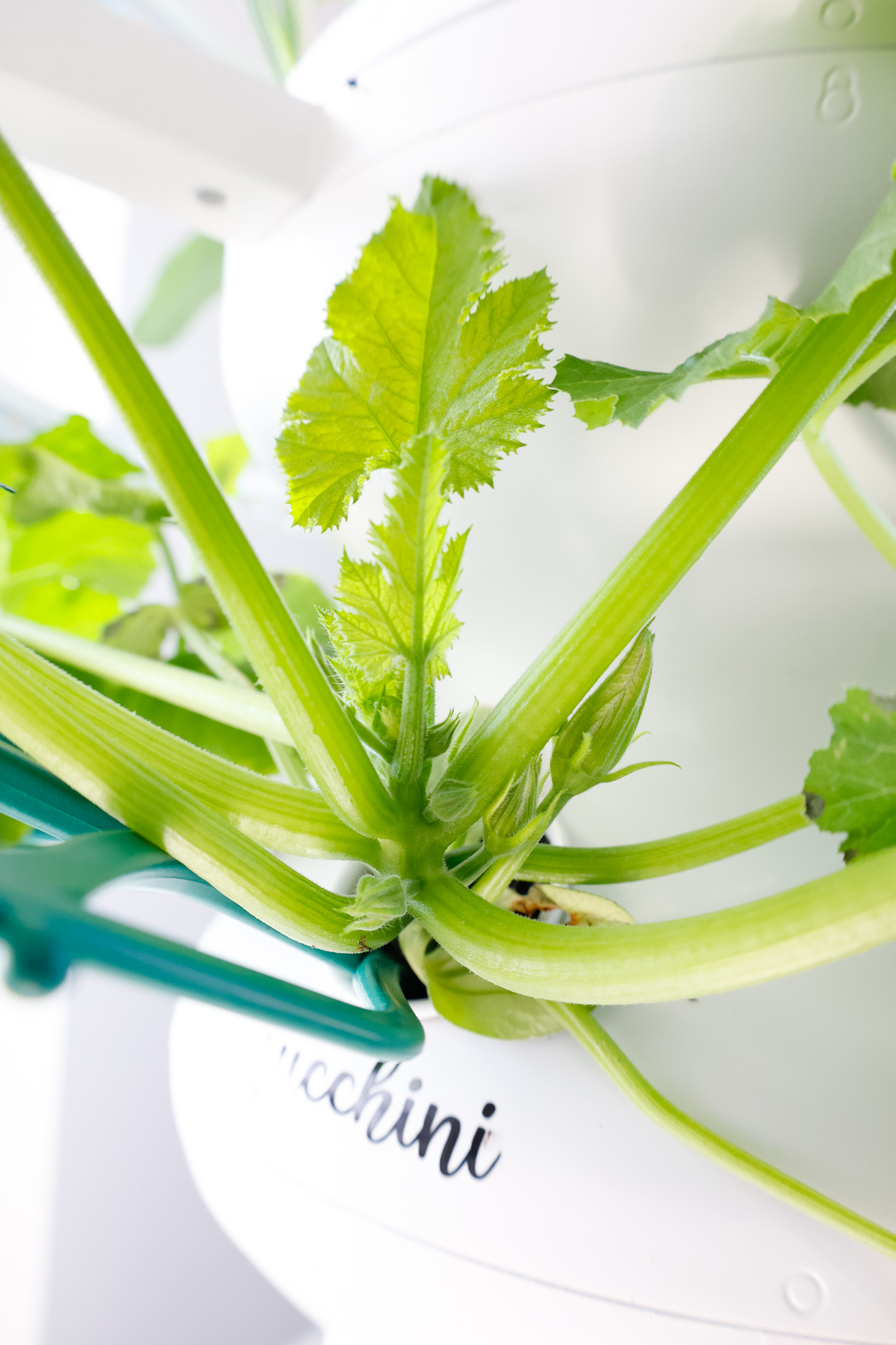 And my mini cucumbers are starting to bud as well…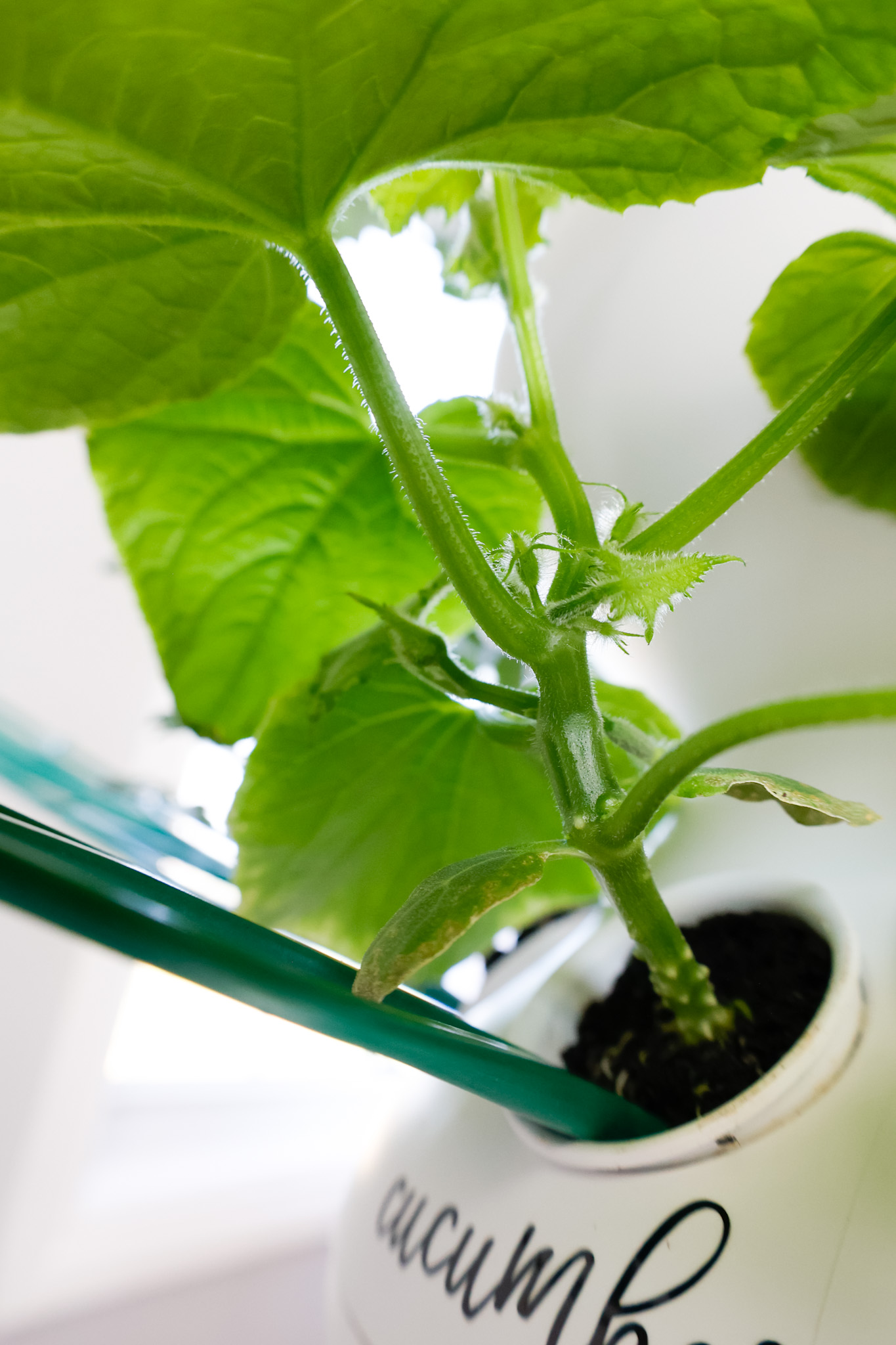 Here's a better side view that shows off all my cucumber buds!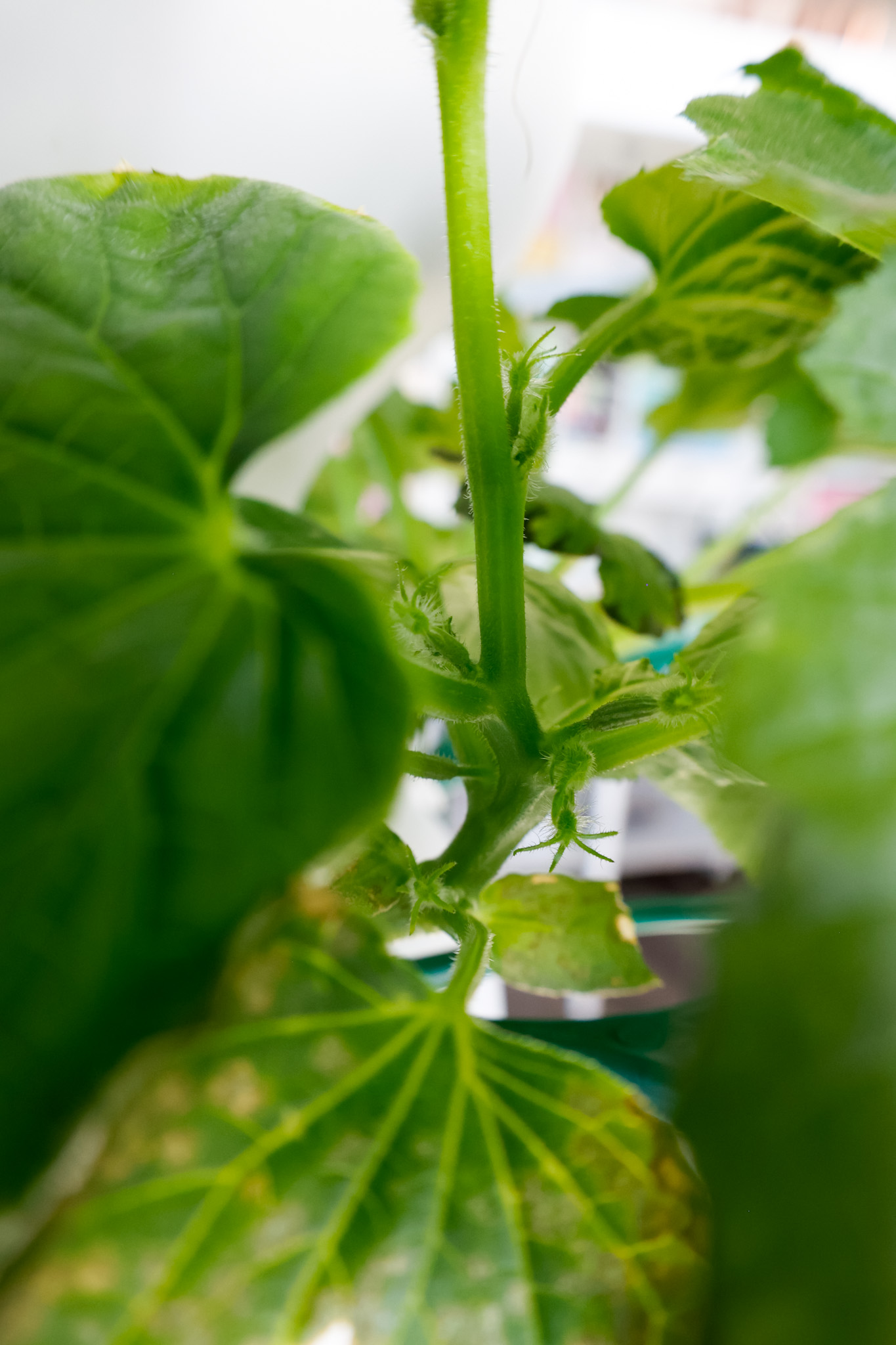 I also have one scarlett cherry tomato plant that has flowers!
Flowers mean fruit!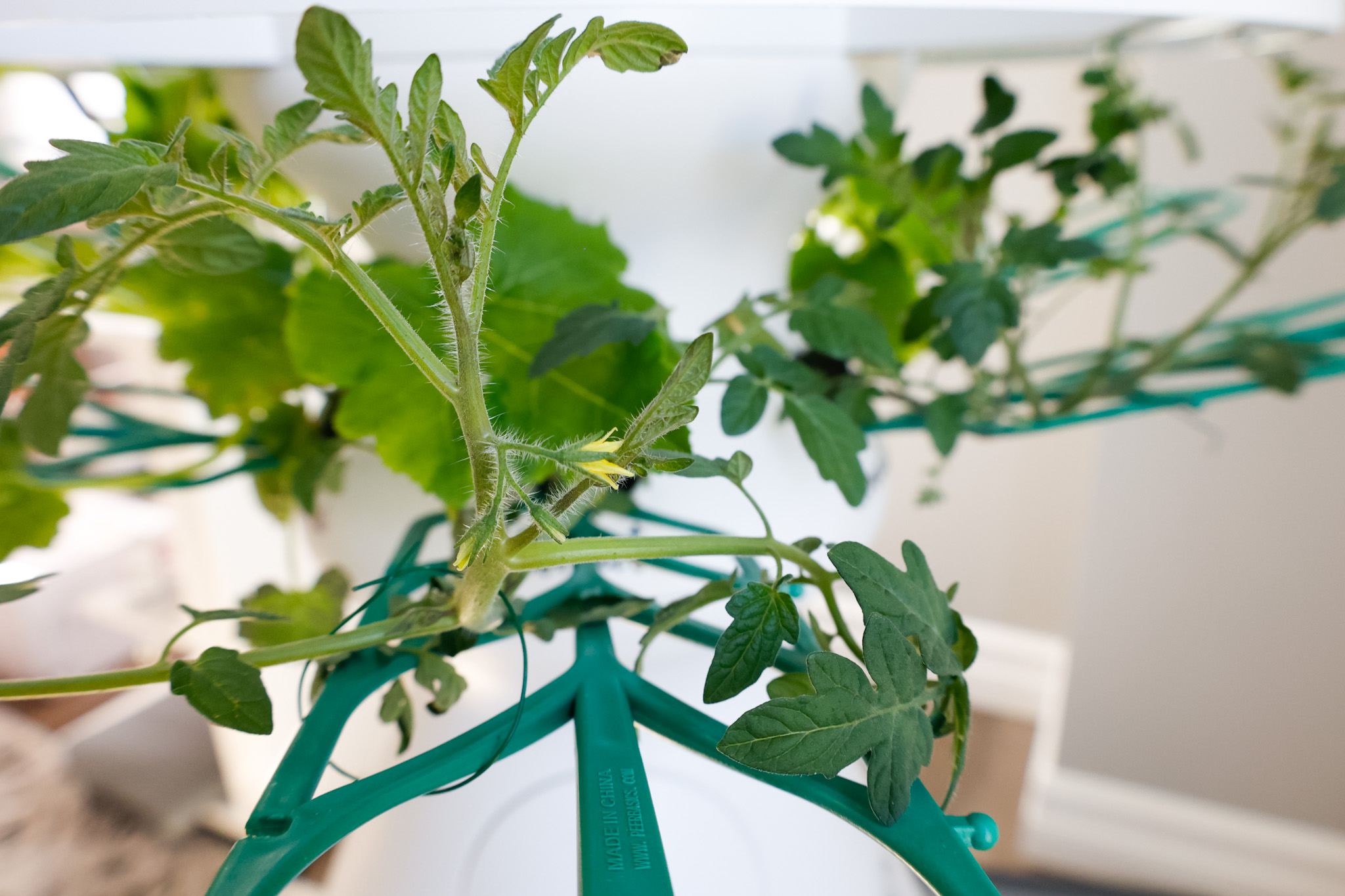 BTW, I used some floral wire LOOSELY to kind of anchor my tomato plants to the trellis I'm using because they keep trying to grow straight up towards the Glow Rings right now.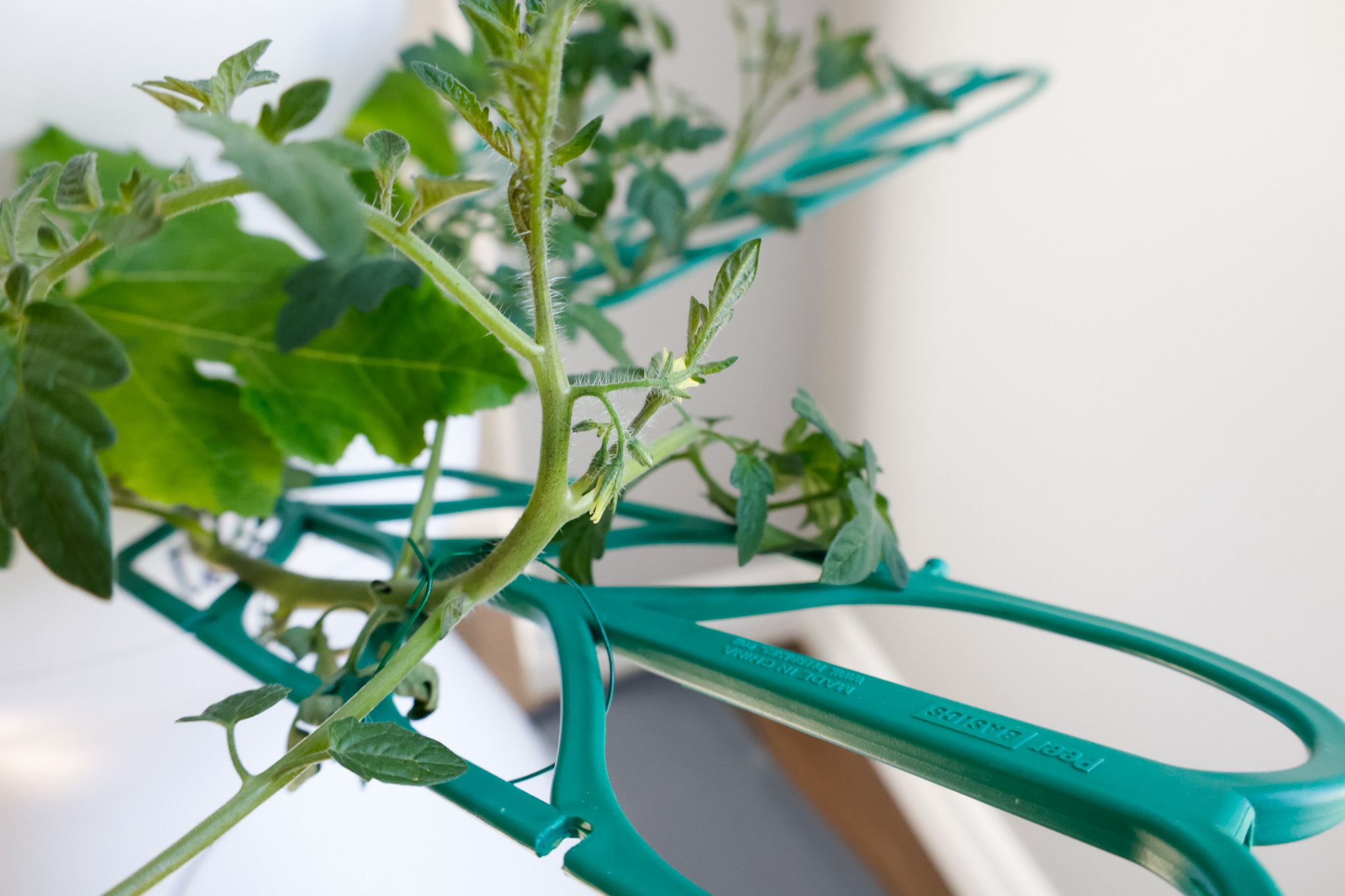 Troubleshooting Indoor Vertical Garden issues
Farmstand Gnats
I have been seeing a few gnats flying around my office, and I'm not sure if it's a Farmstand issue or we just happen to have a few and they're drawn to my Farmstand.
According to Lettuce Grow, gnats can be a common indoor garden occurrence, but also can be dealt with quickly and painlessly.
Using Lettuce Grow's recommendations, I purchased some gnat control additive (linked here) and am adding 1 tsp. per week to a tea strainer that I'm submerging in my Farmstand water tank.
Vine Plants Need Support
For plants that need extra support (bottom-tier plants on your Farmstand), be sure to provide a trellis system!
I've been using these plastic trellis pieces that stick right in the cup and work really well!
Aquarium-Smell Indoors
If you're noticing a smell coming from your Farmstand, simply put 3 tbsp. of 3% hydrogen peroxide in your Farmstand tank per week.
I noticed a slight aquarium tank-like smell the first week I had mine set up, and followed LG's hydrogen peroxide suggestion and have noticed the smell was completely gone within a day!
I keep up on putting hydrogen peroxide in the tank once per week as a preventative measure since it's positioned in my office and I work in there each day ;).
White Mold On Grow Medium Or Plant Cups
If for whatever reason, you notice any mold on the grow medium of your plants, you can dip them in a small bowl of diluted hydrogen peroxide for 30 seconds, being careful not to wet the leaves of your seedlings.
Also, place 3 tbsp. of hydrogen peroxide in your water tank once per week.
Dead Seedlings
If your seedlings arrive dead or immensely stressed from the shipping process, snap a quick picture and send it to Lettuce Grow's customer service team.
They are phenomenal, and will more than likely credit your account for the seedling(s) that did not survive.
I will say, this has only happened to one seedling out of many orders I've placed over the last year!
Seedlings are very well packaged for shipping.
You will also need to plug the hole in your Farmstand (much like I did in one of the photos above).
Use a foam golf ball or similar object to place in your cup to block light and contaminants from getting into your Farmstand.
Here are the golf balls I purchased that fit in the Farmstand plant cups – they're mainly for practicing golf and are foam but still stiff and sturdy.
You won't break a window with these balls! 🙂
Regular Maintenance of Your Lettuce Grow Farmstand
As far as maintenance goes, there's very little with the Farmstand…
Add in the recommended weekly nutrients.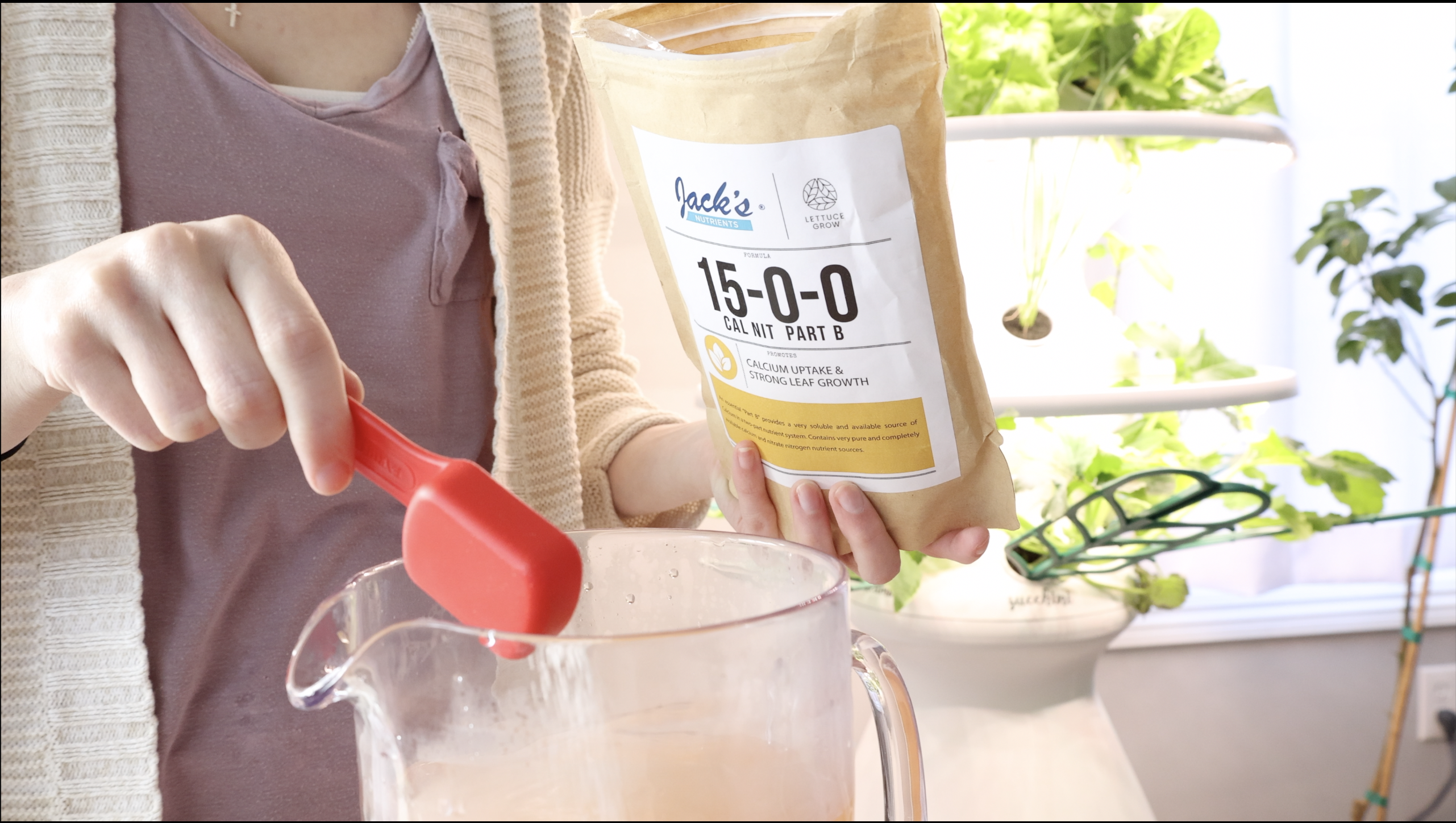 Test your water's pH (add pH down if needed and retest until pH of 5.5-6 pH level is achieved)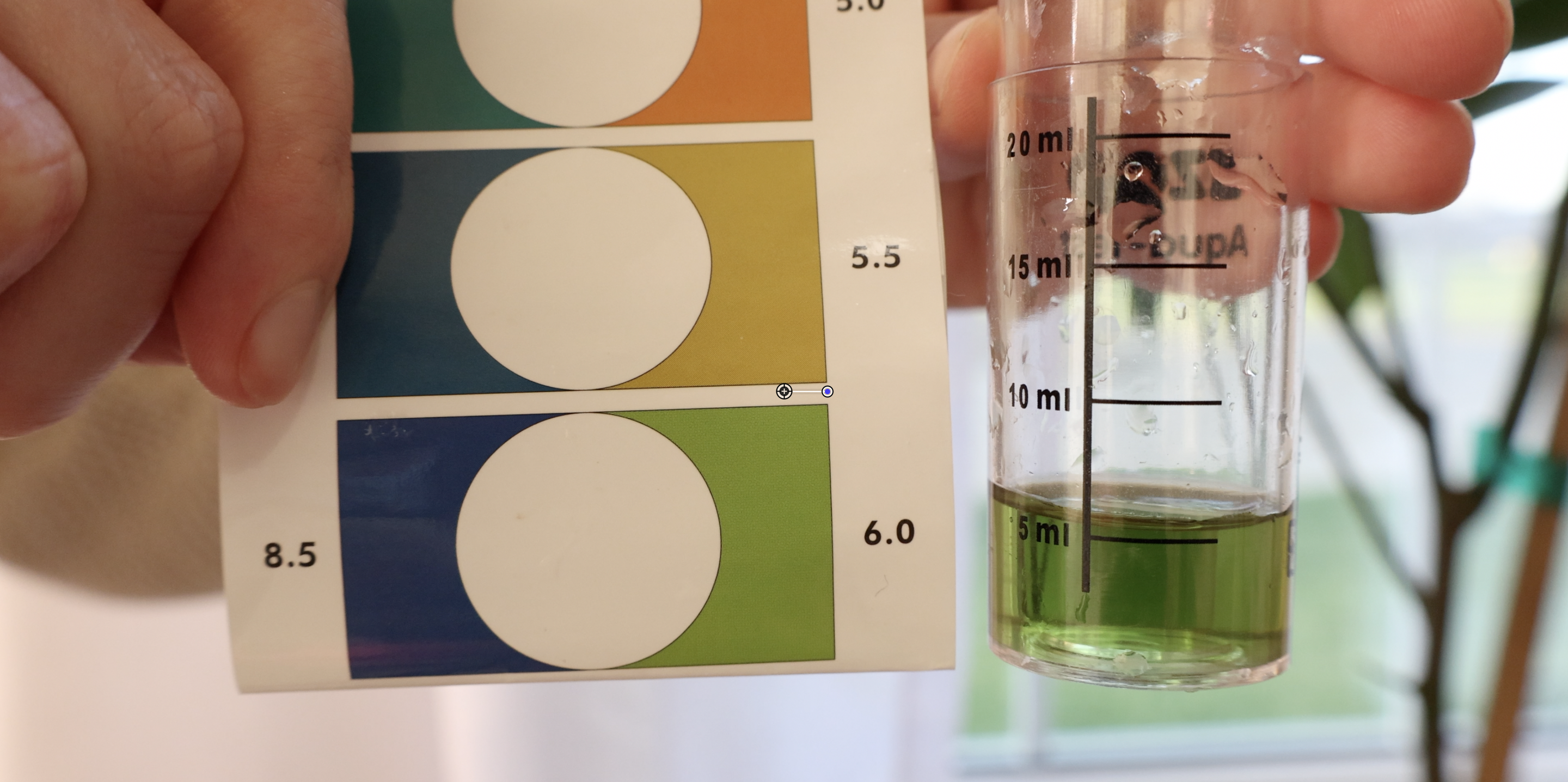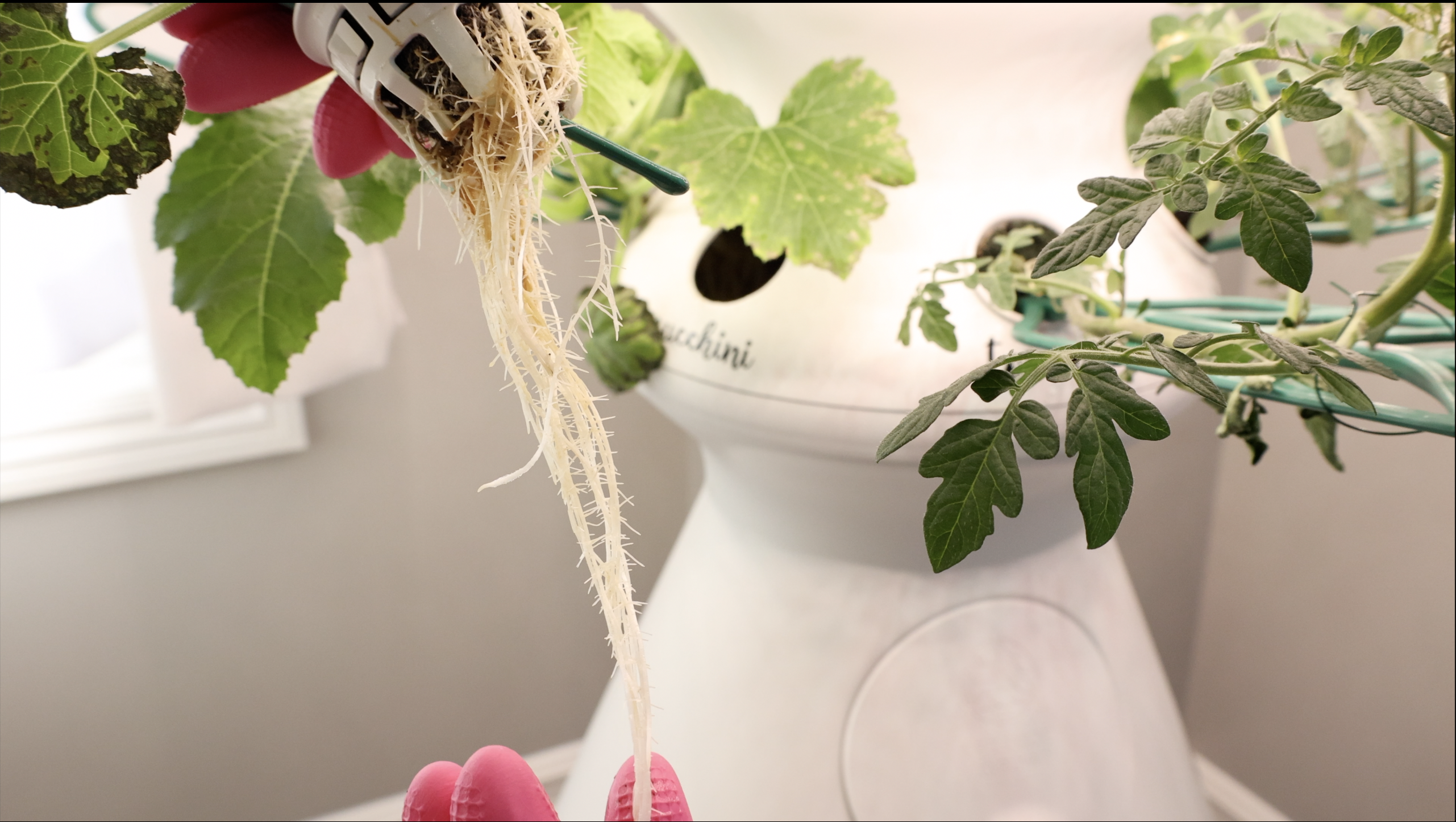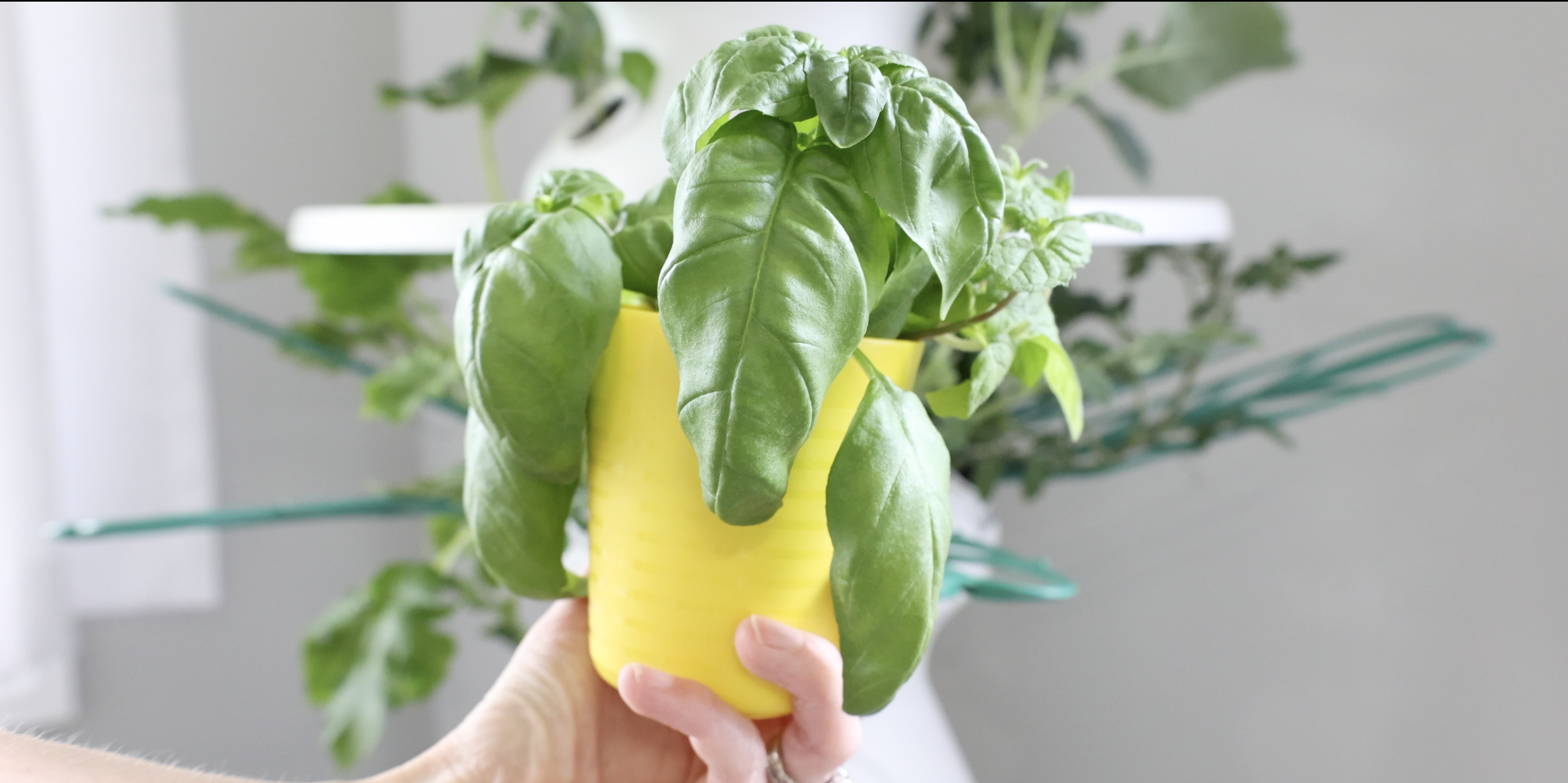 reset your Farmstand every 3-6 months, as needed (this means taking the plants out and cleaning it from the inside out)
Farmstand Video Series
Here are some videos I've made this year featuring the Lettuce Grow Farmstand and my indoor vertical garden growing adventure…
---
What other questions do you have about the Farmstand? Let me know in the comments below!
*use code FRIEND-SAHM to save $50 on your order!!*
Check out my Amazon favorites for Lettuce Grow accessories (plant dolly, tea strainer, nutrients, etc.)!
*Post originally publishes in May 2021, links updated September 2021.