Refreshing and delicious, try this incredible mint lemonade recipe…
---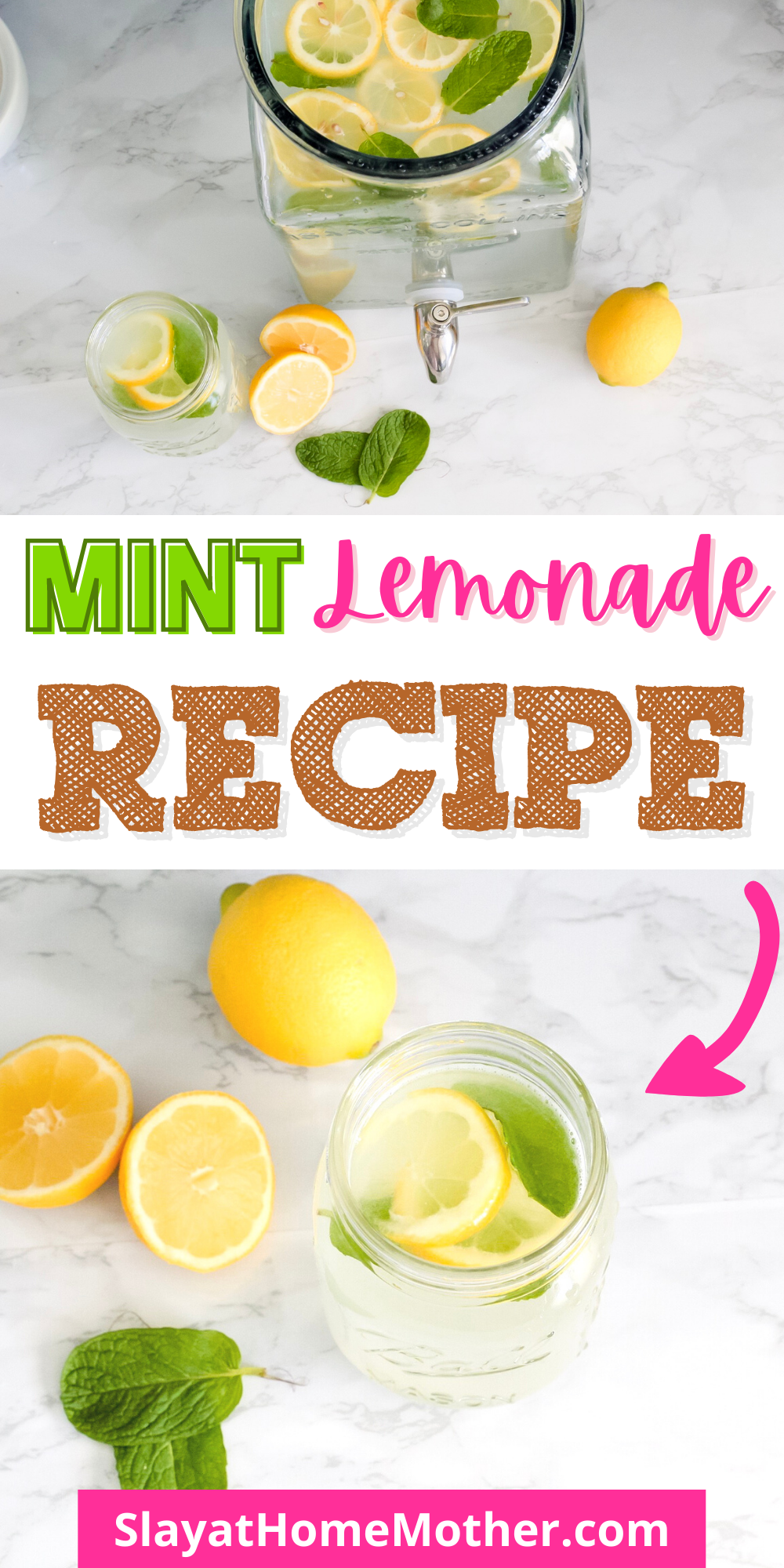 Now that the warmer weather has made its appearance here in the Midwest, it's time for my homemade mint lemonade recipe to make its debut! Refreshing and delicious, you'll want to try this incredible mint lemonade recipe at your next gathering!
Michigan weather tends to take its sweet time getting warm, but when it does, sitting outside with a glass of this refreshing mint lemonade is exactly what summer days (and nights) should look like.
How to Pick Fresh Mint
The key to making a great mint lemonade recipe is using fresh mint. You can find fresh mint at your local grocery store, farmer's market or even grow your own!
If you're lucky enough to have a backyard full of mint, then you definitely need to put this recipe to use. Mint plants tend to grow quickly each year, so there's always more than enough to make this recipe often.
I'm lucky and I don't have to buy fresh mint. My sweet next-door neighbor actually grows mint and offered her plants up to me anytime I need fresh mint.
Although she has multiple plants and plenty to share, I want to start growing my own mint plants this summer. She's just so kind to offer!
I give her plenty of bell peppers and onions from our vegetable garden to thank her for sharing her mint with me. I love that having such a kind neighbor and that we are both so willing to share to help one another out.
If you're not growing your own mint, look for fresh mint that has vibrant green leaves and smells fragrant. Avoid any bunches of mint that have wilted or brown leaves as this is a sign that the mint is old.
Once you have your fresh mint, it's time to make the lemonade!
Homemade Lemonade Variations
This recipe is for a classic mint lemonade, but there are so many delicious ways that you can mix up this recipe.
Here are a few of my favorite variations:
Peach Mint Lemonade: Add in a couple of fresh peaches (or make a peach puree) to the pitcher of fresh lemonade.

Raspberry Mint Lemonade: Toss in a handful of raspberries (fresh or frozen) to your lemonade. You'll want to smash them up with a fork to release the flavor.

Cucumber Mint Lemonade: Add in a couple of slices of fresh cucumber to the blender with the rest of the ingredients.

Watermelon Mint Lemonade: Toss in a couple of cups of cubed watermelon into the blender to make a puree, then add them in with the rest of the ingredients.

Strawberry Mint Lemonade: Muddle a cup of fresh strawberries and add them to the rest of the ingredients.

Ginger Mint Lemonade: Add in a teaspoon of freshly grated ginger to the carafe for a spicy and cool drink.
Now that you know all about fresh mint and some delicious variations of this recipe, it's time to learn how to make it! This recipe is so easy that anyone can do it
How To Make Homemade Mint Lemonade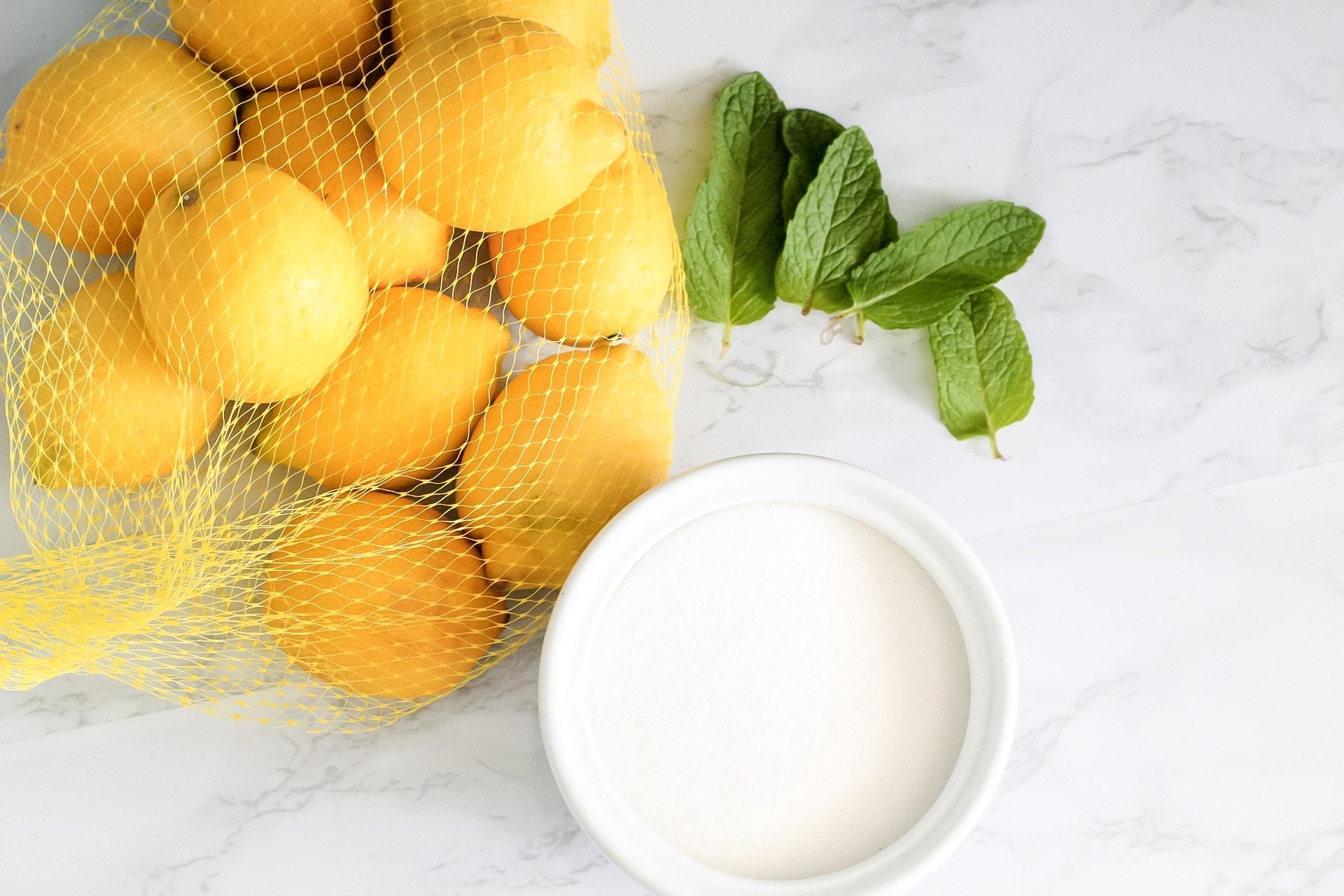 This lemonade is so easy to make and is so refreshing on a hot summer day.
My husband loves when I make this mint lemonade for him, especially when I add fresh sprigs of mint to it!
The mint and lemon flavors are perfect together. And with real sugar, it's a slightly sweet, tangy treat during the summer and on hot days.
For this recipe, all you really need is fresh mint, lemons, water, and sugar!
Yep, that's it! It's super simple to make and tastes incredible.
To start, mix together one gallon of filtered or bottled water and the juice from 8-10 lemons in a beverage dispenser.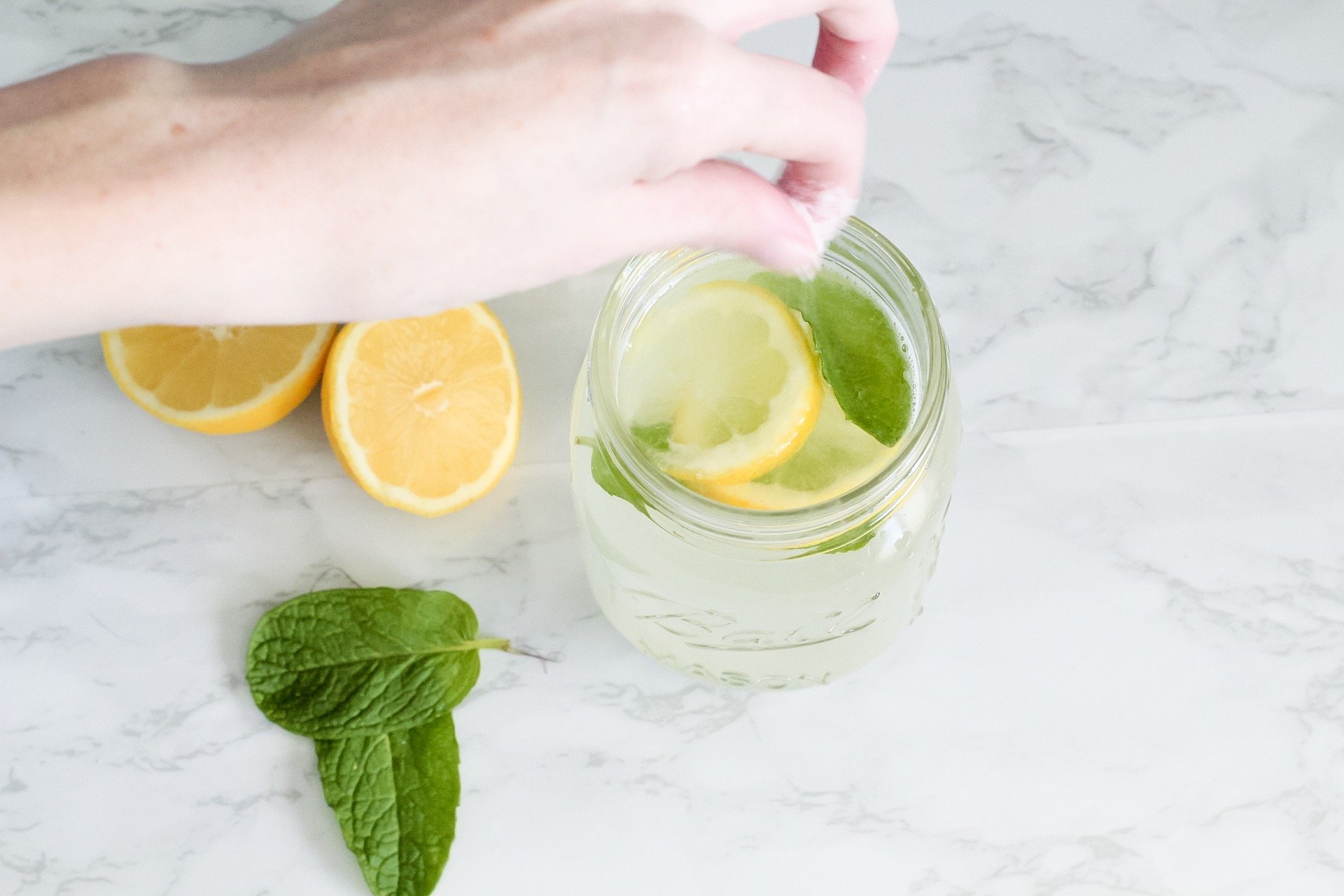 If you trust your tap water or have a filter on your tap, feel free to use that as well.
I am a water snob and like to have everything filtered when I can.
For the lemon juice, I like to cut my lemons in half, and then squeeze each half into the water.
I ended up using 8 lemons for this recipe in a 1.5-gallon beverage dispenser.
You can stir the juice and water together using a wooden or plastic spoon or just let the flavors infuse in the fridge (more on that below)!
Once the lemon juice and water have been gently combined, stir in one cup of granulated sugar.
Stir, stir, stir!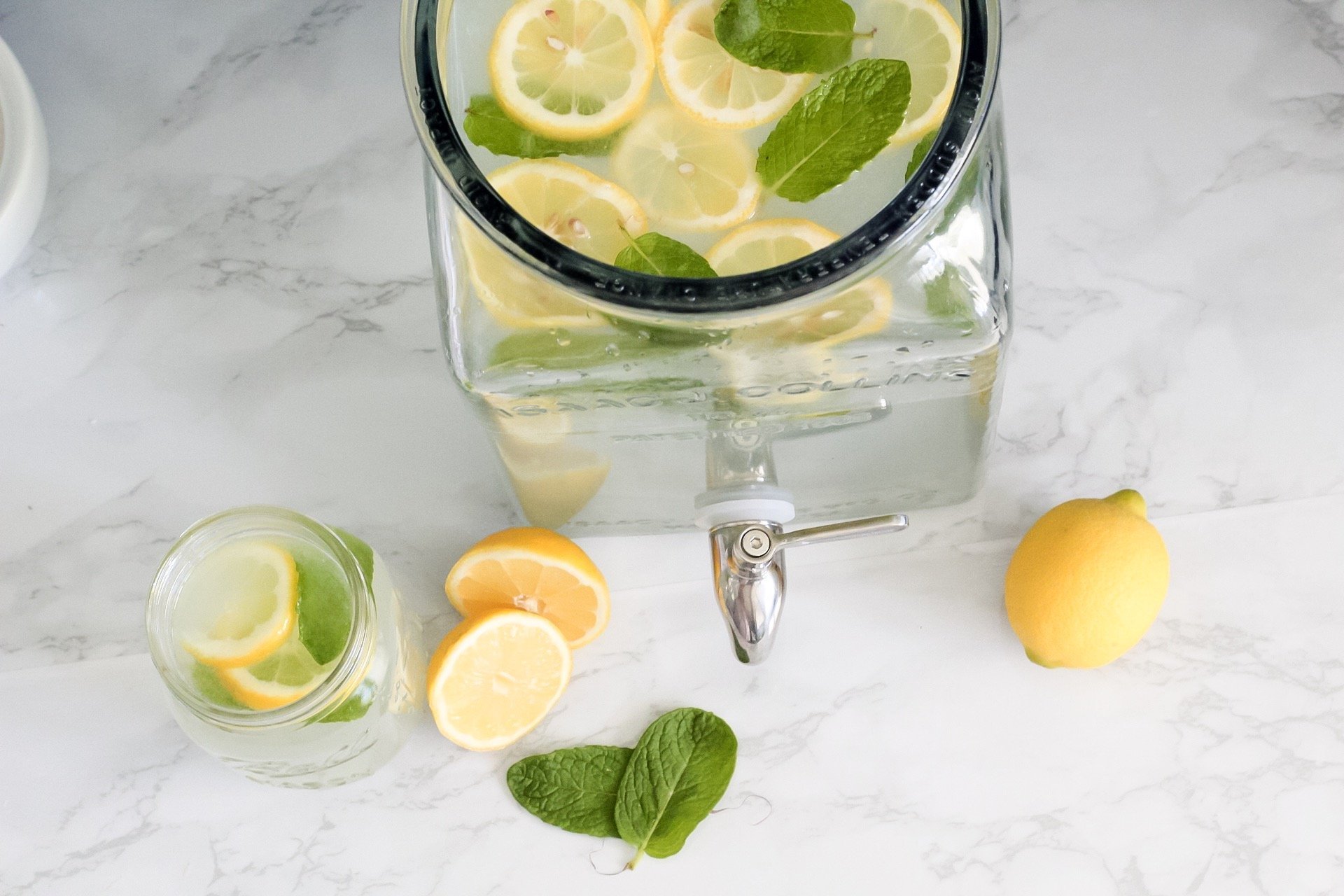 As far as lemonade goes, most people are used to the super sugary version that is sold in stores or in restaurants.
If your taste buds prefer a sweeter lemonade (or your lemons are on the super sour side), try adding in more sugar (up to two cups total) and testing it until you are happy.
If you like your sugar to be completely dissolved, you may want to try to make your own simple syrup!
This is done by adding equal parts sugar and water to a saucepan and heating. When the mixture is clear (not cloudy), remove the pan from your stove and allow it to cool.
Then, add the mixture to your lemonade and stir.
Finally, add in some fresh sprigs of mint – feel free to stir the mint leaves into your lemonade for a stronger mint taste.
Once your lemonade is finished, chill it in the fridge for a minimum of two hours.
The longer, the better!
This allows the flavor from the lemons and mint to infuse and make one tasty homemade lemonade.
Plus, I think lemonade tastes better when it's really cold.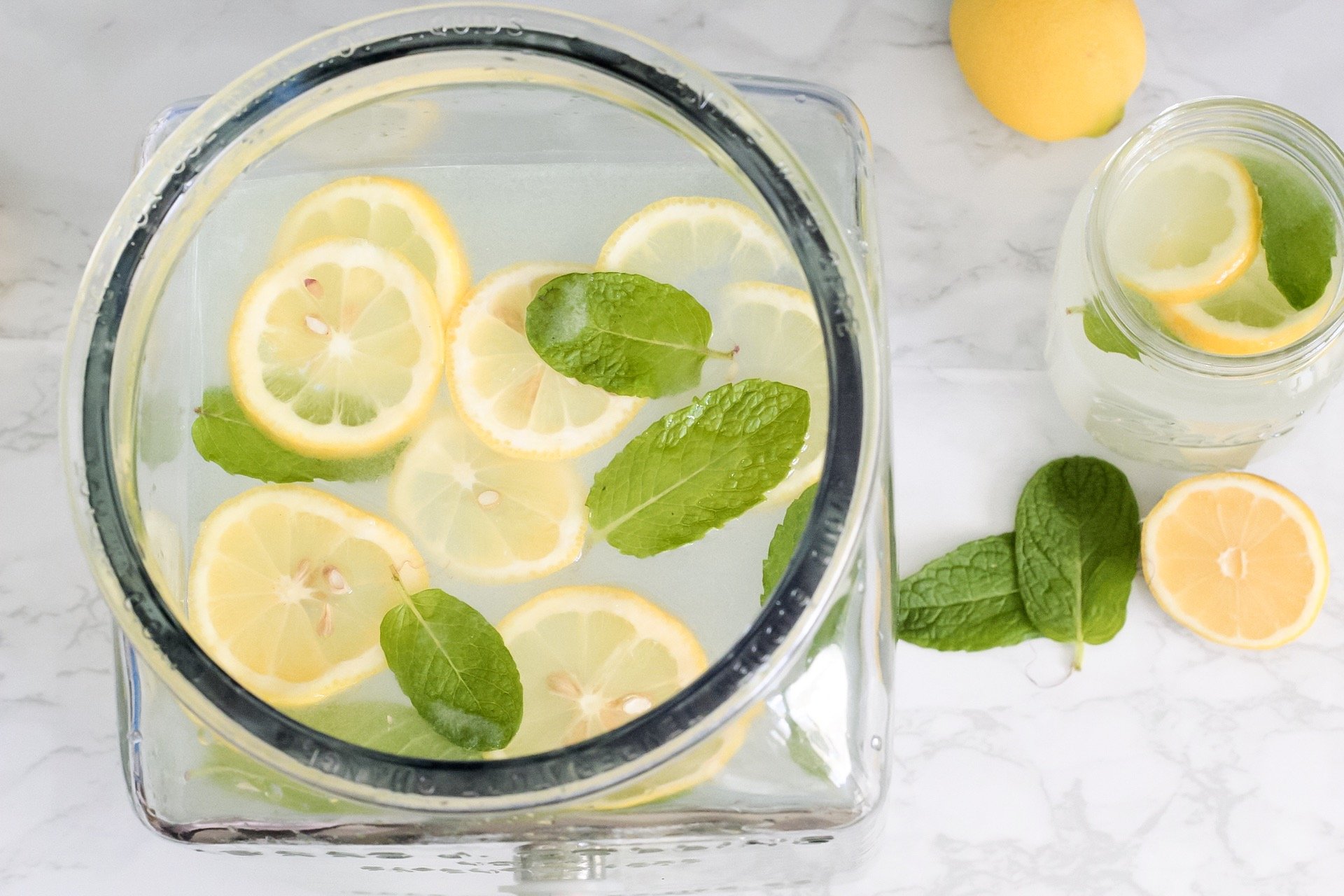 I usually leave mine in overnight for a good six to eight hours because I like tasting the mint flavor.
Once it's been chilled, feel free to pour yourself a tall glass, toss in a few ice cubes, and sit back in the sunshine sipping on your refreshing mint lemonade!
This mint lemonade is perfect for summer days, barbeques, parties, baby showers, bridal showers, and friendly get-togethers.
Every time I make this drink, I receive tons of compliments from all those who drink it – it truly is a crowd pleaser!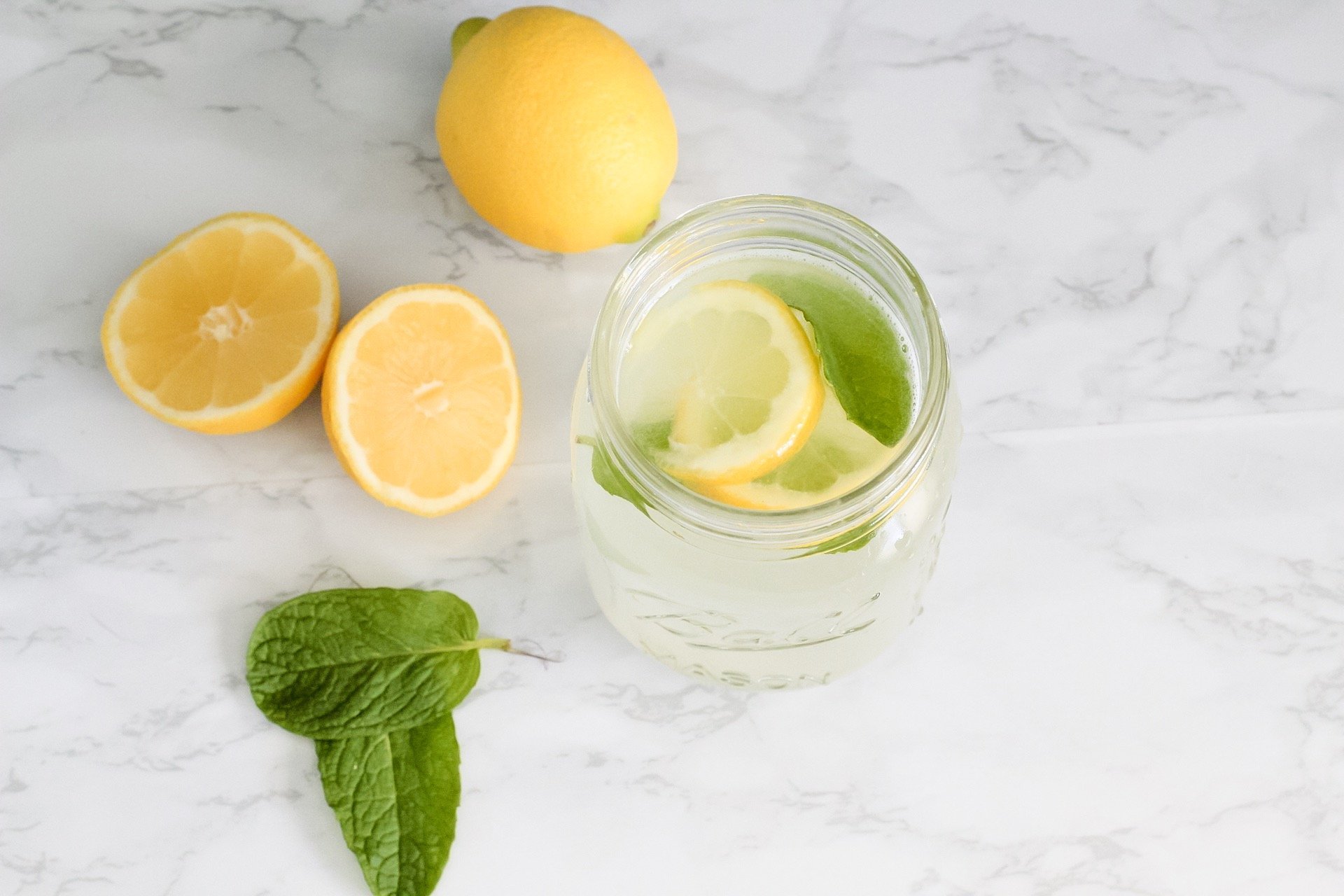 Easy Mint Lemonade Recipe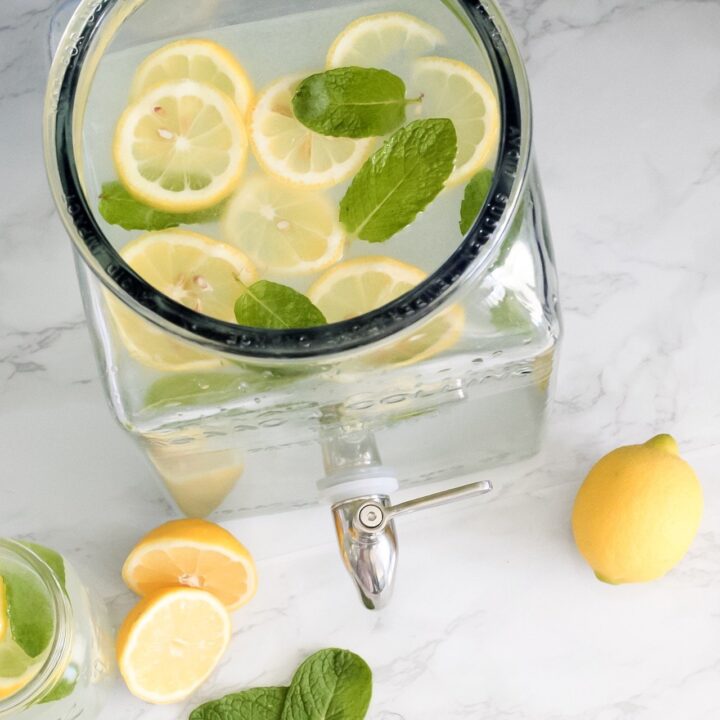 Mint Lemonade
Perfect for hot summer days, this easy homemade mint lemonade will make you want to kick back and relax in your favorite chair after a long day at work or at the beach.
Ingredients
1 gallon filtered water
1 cup granulated sugar
8-10 whole lemons
10-12 sprigs of mint
Instructions
Pour 1 gallon of filtered water into the beverage dispenser or large drink container.
Cut 8-10 fresh lemons in half, and squeeze the juice into the beverage dispenser.
Add in 1 cup of granulated sugar and taste test. Slowly add in more sugar as desired (depending on the sourness of your lemons and personal preference).
Add in sprigs of mint - allow to chill overnight in the fridge. Flavors will intensify the longer you allow the lemonade to sit.
Pour fresh chilled mint lemonade into a glass and enjoy!
Recommended Products
As an Amazon Associate and member of other affiliate programs, I earn from qualifying purchases.
Nutrition Information:
Yield:

8
Serving Size:

1
Amount Per Serving:
Calories:

139
Total Fat:

0g
Saturated Fat:

0g
Trans Fat:

0g
Unsaturated Fat:

0g
Cholesterol:

0mg
Sodium:

22mg
Carbohydrates:

38g
Fiber:

3g
Sugar:

29g
Protein:

1g
---
I hope you enjoyed this mint lemonade recipe!
*Post originally published May 2019, last updated May 2022.