These 15 simple tips can help you in selling a home fast!
---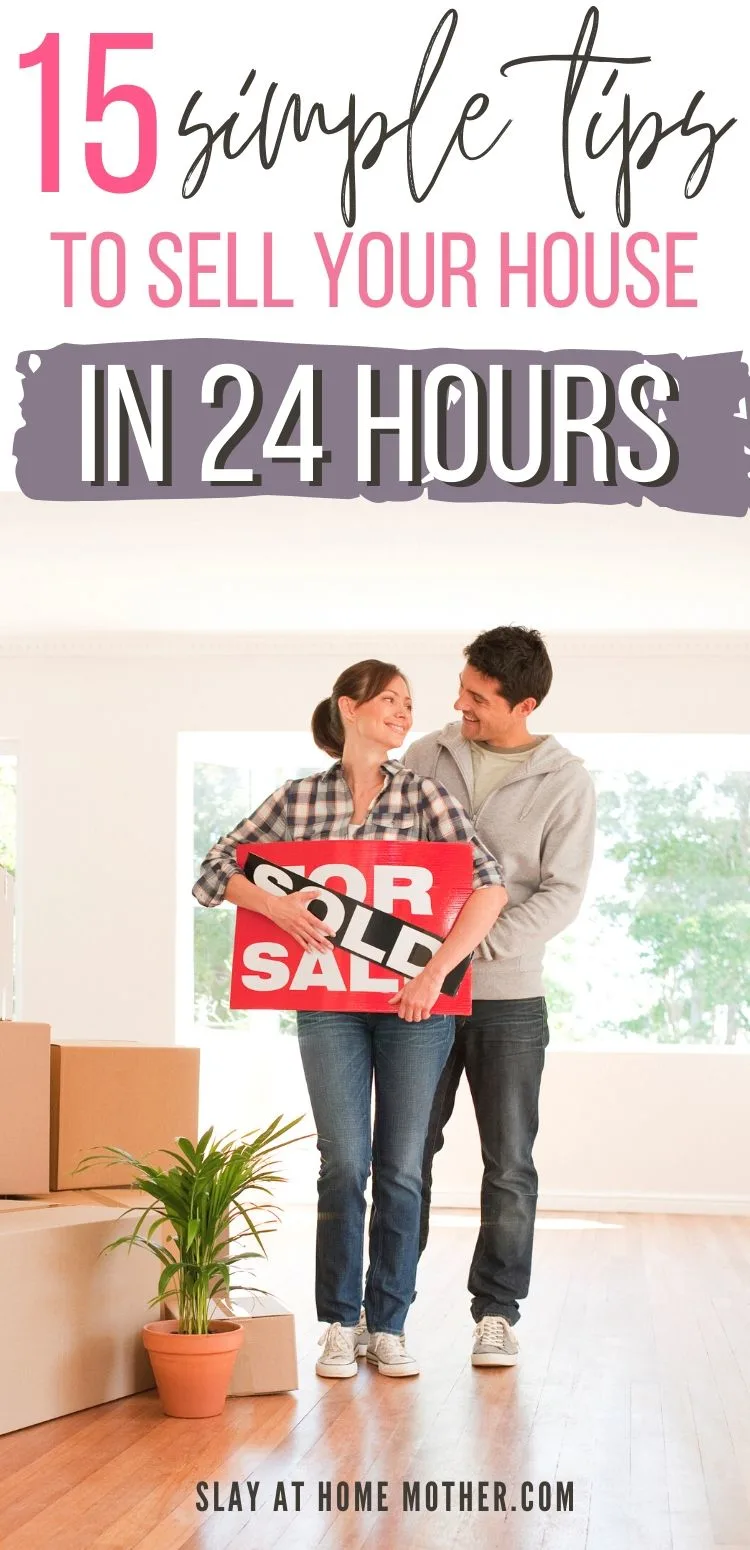 We sold our house in 24 hours – Ahhhhhh!
Not only did we sell that puppy in a day flat, but we also received 5 offers within six hours and seven offers within two days of it being on the market.
I wanted to mention the other two offers and the second day because they DID happen, and we didn't expect to receive so many offers in the first 24 hours (or any so soon!) that we booked the other two showings the second day just to keep the momentum going.
I will also say that we have an incredibly knowledgable and motivated broker that we were working with that gave us some insight into things we needed to do and keep in mind that I highly recommend.
If you are in the Metro Detroit area, please check out Jennifer Gogo of Realty Professional Group in Sterling Heights, MI – she's fantastic!
Before I share this list with you, I want to inform you that this list is meant to be helpful, and is certainly not a guarantee that your home will sell as quickly as ours did.
That may be common sense, but I felt the need to dampen the torches before they're lit ;).
This list is fairly simple, but these tips helped us tremendously and were super easy to implement.
My hope is that you'll pick up several things you didn't know before that will help sell your home as fast as we did – or way faster than you would have before!
Certain factors can affect how quickly your home sells, one of them being the market and the economy.
Also noteworthy is the price you settle on listing your home for (overshooting/undershooting), bad pictures on your home's listing, and the time you choose to list your home.
Did you know that election years can negatively or positively affect the listing of your home? And there's no way to tell how it will affect you!
Again, I highly recommend working with an agent to sell your home FAST, and follow these simple tips to maximize your incoming offers.
My goal in this post is to help spread the wealth – of knowledge and of profiting from your home selling.
P.S. In my previous post, I included a Moving Out Cleaning checklist with the top 15 areas you shouldn't miss cleaning when moving out!
Here are the 15 things we did that helped sell our house in 24 hours…
cleaning out gutters
Take the time to clean out our rain gutters around your home. Not only is this general maintenance for your home that should be kept up with regularly, but it also makes your home look more appealing curbside, and eases the mindset of buyers that flooding of the basement or breakage of the gutters will not occur.
painting front door
Prior to selling our home, our front door went through some serious wear and tear from our keys scraping against the paint to our kids busting into the house day after day.
Needless to say, there were plenty of chips and rips in the paint, leaving very noticeable white spaces in the door that could be seen from the road.
Yikes.
Not to mention the front door and porch area are the very first impression potential home buyers get when coming to see your home in person!
For our front door, we sanded it down using a regular handheld sander with 100 grit sandpaper so we didn't damage the metal underneath. We then paint-matched the door and re-painted the entire door.
Chris used a brush, not a roller, to get into the nooks and crannies, to create the illusion of grain. He painted the vertical sections of the door vertically, and the shorter, wider sections he painted horizontally (see image below).
box up all non-essentials
Decluttering your home is essential in selling it, especially before any pictures are taken or showing begin.
Even if you are still living in your home, you should begin neatly boxing up items and storing them out of sight, either in a special corner in the garage or in a storage unit.
Eliminating some of the clutter, furniture, and personal non-essential items in your home help the buyer to envision their furniture and personal effects in your home and helps them get a real sense of the space available.
I remember how many homes Chris and I saw online that we were initially interested in based on the outdoor pictures, but once we got to certain pictures of the bedrooms and kitchens and saw boxes stacked everywhere and clutter everywhere, we opted not to even bother seeing those homes.
If you do the work now to declutter and make your home as inviting as possible (both online and in person), your home will sell so much faster!
take pictures of house furnished and non-furnished
If at all possible, say you might be moving out of your current home into a new home, try to take pictures of your home furnished (but NOT cluttered), and unfurnished (when you're all moved out). This not only gives the buyer an idea of what your home looks like when it's lived in but also lets them see how much room they have.
It also keeps their eyeballs locked on your listing for a longer time online, and creates a more lasting impression because they're taking longer to process your home through more photos.
I hope that makes sense.
It doesn't have to be all areas that are photographed with and without furniture, though. We did this with our basement, and it really showed what could be achieved with furniture and a basement theatre set up, and then showed how much space was available when that was all taken out.
We feel it gave homebuyers an idea that the possibilities were endless, and they could achieve whatever the wanted with that space.
yard and garden clean up
If you're selling your home in the winter, you might be able to skip a lot of the yard cleanup that's needed prior to selling a home. But if you are selling in any of the other three seasons in the year, you'll need to tidy up the yard, patio, and garden area (if your home has one).
Rake up leaves, pick of sticks, place loose rocks back in their place.
You may also benefit from staging your home's yard with fresh mulch.
Earn extra brownie points (and value to your home) with extras like power washing your home's siding and patio/driveway.
fresh doormat
I mentioned in my previous post that the porch and front door is the very first impression a homebuyer has when they go to a showing.
Put down a fresh doormat with a colorful mat underneath.
newspapers/local magazines
Place some local newspapers and magazines on your kitchen island to help homebuyers see what kind of town they will be buying into.
No more than three, and pay attention to headlines.
If you've had a recent burglary or violent crime take place in the area, that isn't something you want to advertise!
I'm not saying you should withhold the truth from them, but you should leave that up to them to research crime events and statistics.
coordinate lighting and bulbs
You may not have noticed (or may have been completely okay with it at the time) your mismatched lighting.
Bulbs should all match in a single room and an entire open floor plan.
This means that all bedrooms should have the same type of lighting, and an entire floor of rooms in an open floor plan should have coordinating bulbs (warm, soft white, daylight, etc).
You don't want the kitchen with warm bulbs looking directly into the living room which has daylight bulbs.
It cheapens your home and feels off to homebuyers.
open window blinds
Open your window blinds and angle them upwards.
This prevents people from outside being able to see in, but it lets light into home for showings which can have a huge impact on how roomy your home feels.
Leave your porch light and entryway light on 24/7
Leave your porch light and entryway light on at all times.
Potential homebuyers may drive by the home at night and want to see it, or they may be attending a showing in the late evening.
You don't want the homebuyers waiting on your dark porch at night while their agent fiddles with their phone's flashlight to retrieve the key from your lockbox.
It starts the showing off on a bad (and kind of creepy) note!
If you aren't going to be home or nearby for showing to turn the porch light on, simply put a piece of Scotch tape over the light switches you want left on.
The agent will go through the house before his/her buyers leave and ensure the lights are all turned off, but the tape on the light switch tells both buyers and agents that they should leave those switches alone.
set thermostat at a reasonable temp
Set your thermostat at 68 degrees if occupied or 65 degrees if unoccupied.
Buyers will not notice the temperature difference too much and will not linger for too long.
Stock simple amenities
Remember to stock your home with simple amenities like toilet paper, hand soap, paper towels, and waters in the fridge.
This is especially important for homes with three bedrooms or more because families with children will be looking at your home and bringing their children along with them.
And if you're a parent, you already know kids need to go to the bathroom in just about every store and house they go to!
It's just a kind thing to do and makes your home that much more comfortable feeling to homebuyers.
You may also want to leave a bottle of hand sanitizer in the entryway or at the front door.
Enlist smell goods
Invest in some Glade Plug-Ins to go in your home.
My husband calls them smell goods.
If your home is unoccupied, then you can simply place one plug-in per floor.
I like to go for the vanilla ones because they remind people of baking, which seems homier.
open closet doors in bedrooms and closets
While you can bet that people are going to be opening and closing your closets, cabinets, and doors – help them out a little by showing off the spaces you want them to see!
Do you have a big pantry with doors? Open the doors for them so they can see that!
Doors to places like hallway closets, pantries, walk-in closets, and spacious bathrooms should be left ajar.
deep cleaning
The biggest thing we did to help sell our home in less than 24 hours was giving our home a deep cleaning!
We scrubbed it floor to ceiling – I even waxed the cabinets!
Be sure to check out my previous post of Cleaning While Moving Out – I included the 15 places you don't want to miss!
You could tell in both the pictures and in person that we loved and cared for our home and took pride in both its appearance and its upkeep.
This is especially important to do if your home is older than 20 years.
Older homes as it is often require plumbing work, roof replacements, driveway resurfacing, and updating. By keeping your home clean and sparkling, you can distract home buyers from this fact and make them want to invest their time and money into your home because of how beautiful and well kept it already is.
Again, this isn't necessarily a 'trick', but a reminder that the home you're selling is well worth the investment, as all homes need these major updates and replacements in their own time.
---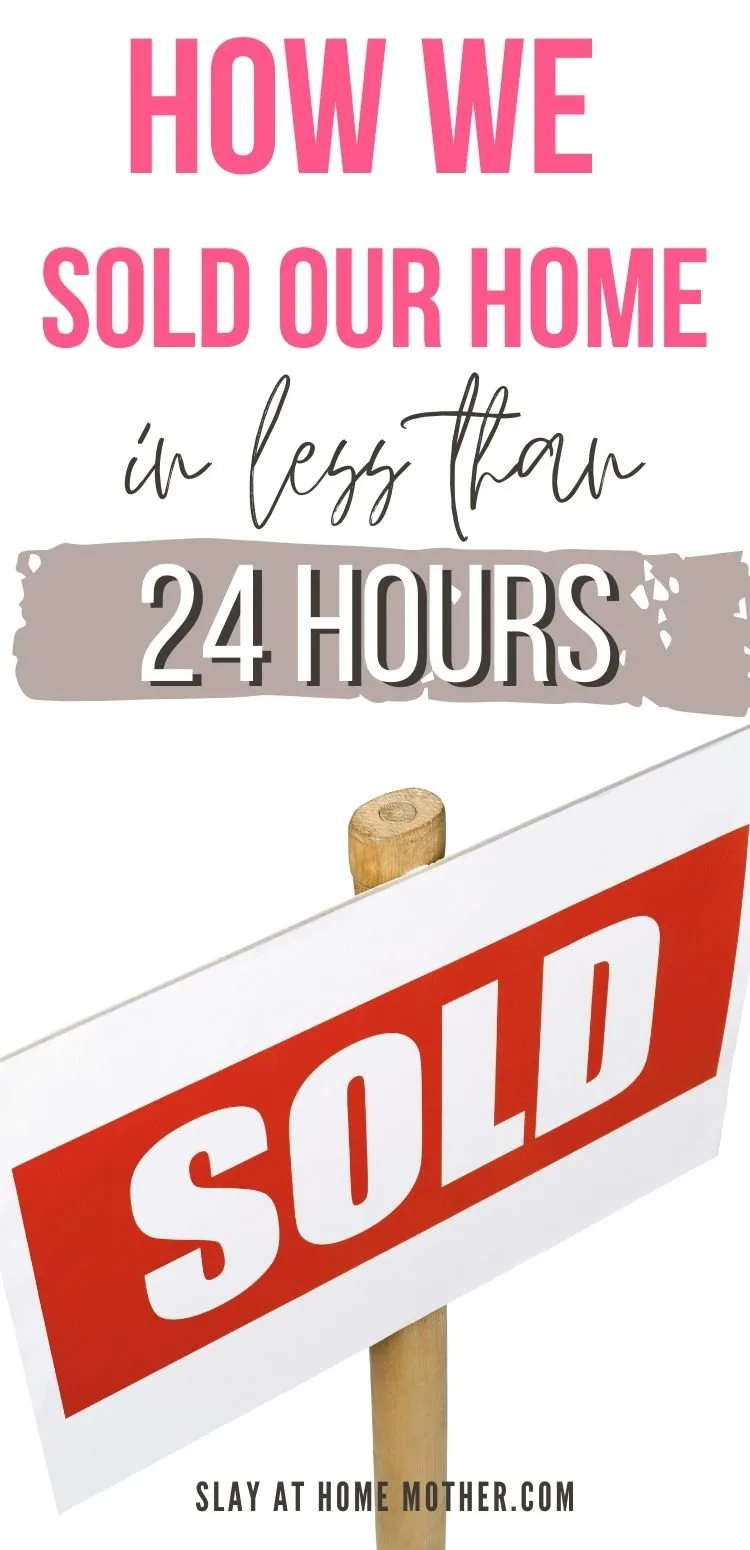 I hope you learned some useful tips to help you sell your home! Did I forget anything? Tell me something that helped you sell your home in the comments below so I can include it!