This post is sponsored by Babbleboxx. All opinions expressed are my own, as always.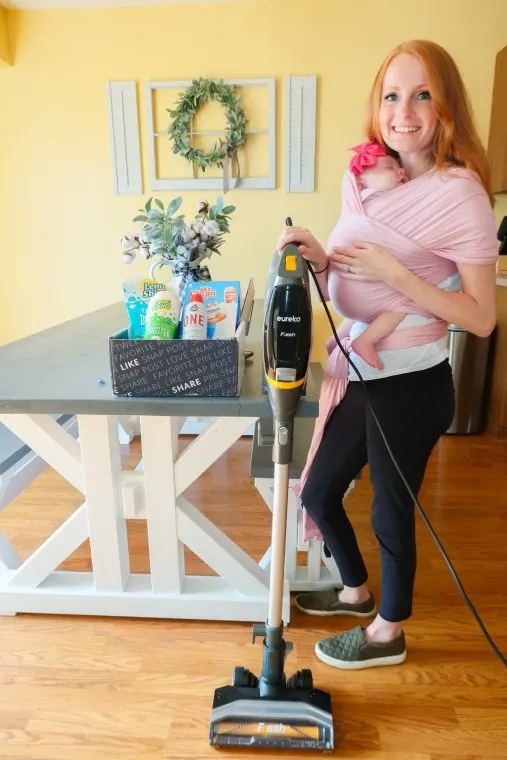 Hi friends!
Is anyone else struggling with cleaning lately?
This is one area I tend to shine in because I love cleaning. Having a clean home makes me feel accomplished, and ready for anything – like my son's weekly Zoom class meetings ;).
It also establishes some order in the midst of the chaos that is raising three kids.
But I'm finding myself struggling to keep up lately. I can't seem to find…
the time
the motivation
My friends at Babbleboxx offered to send me their Spring Home Box filled with cleaning tools and supplies to help reinvigorate the cleaning boss within me, and I have to say that my motivation is BACK!
I'm happy to share these wonderful products with you, my loyal readership, and help you get your motivation back as well.
You might also recognize one of these products (the magic eraser) as a Holy Grail cleaning product I mention all the time…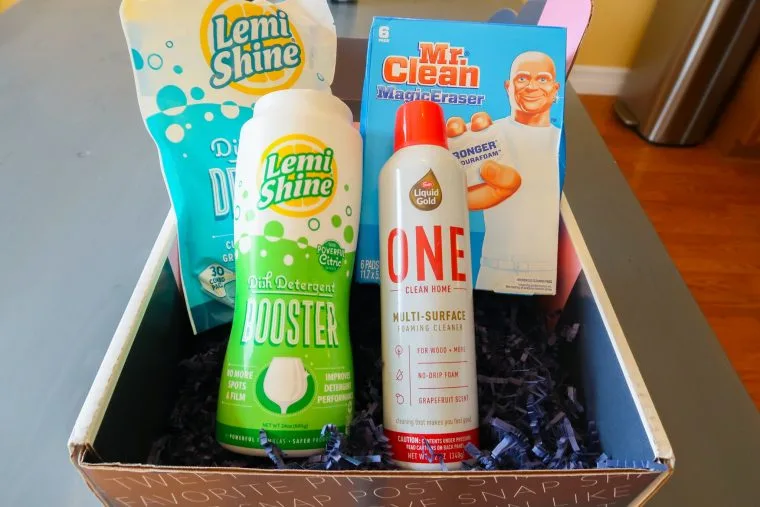 I'll be sharing Babbleboxx's Spring Home box and the cleaning products I received and help you get your home ready for Spring (and maybe some visitors here in the near future).
Also, keep an eye out on my social channels and within this post for a coupon code to help you save on the vacuum in this post!
Lemi Shine Dish Detergent And Shine Booster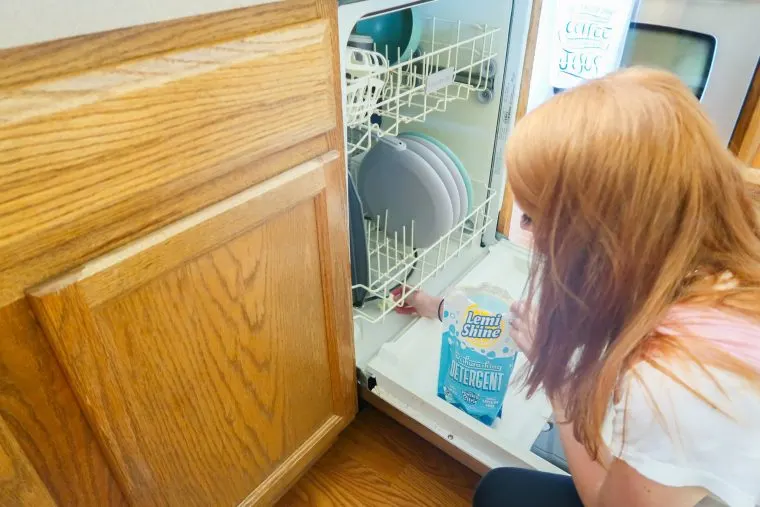 When teaching my kids to clean up after dinner, I would tell them to please put their dishes in the dishwasher.
It simplifies my nighttime routine while still teaching them some life skills.
A problem I ran into frequently was that no one was rinsing their plates off beforehand, which normally meant that I had to take them all out, rinse them, and place them back into the dishwasher for the second time.
Which defeats the purpose entirely, am I right or am I right?
With Lemi Shine Dish Detergent, I don't have to worry about rinsing.
Plates can go directly from the dinner table to the dishwasher thanks to Lemi Shine dish detergent's powerful citric extracts.
That includes our messy spaghetti plates, casserole dishes with baked-on cheese, and even sippy cups and bottles!
Lemi Shine Dish Detergent Booster also contains powerful citric extracts to help make your dishes shine like new without hard water spots.
Plus, and this is a huge plus for me and my family, it carries the Safer Choice icon (you can read more about that HERE), which means it's one of the few products the EPA has designated to qualify based on stringent criteria to help families choose products that are safer to use.
I just put the Lemi Shine Dish Detergent pod in the bottom of my dishwasher and pour the Lemi Shine Dish Detergent Booster crystals into the main detergent receptacle, and my dishes come out looking brand new every time.
Mr.Clean Magic Erasers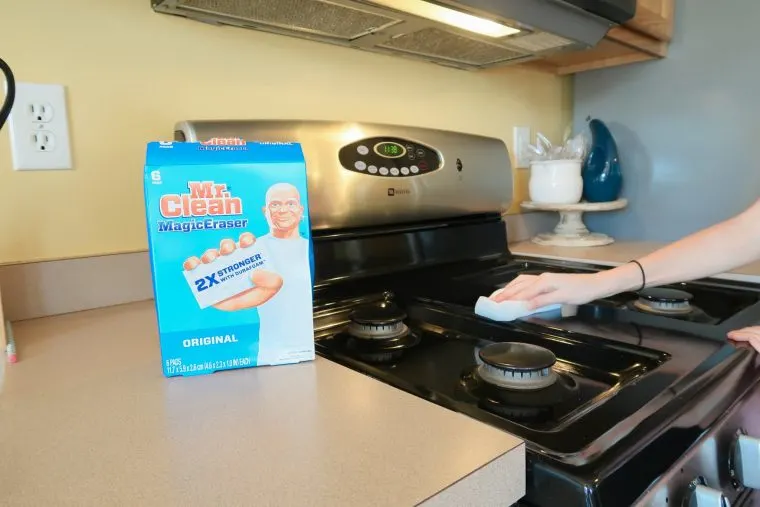 Okay, so this isn't new to my blog.
If you guys have been around for a while, you've probably already seen me use Magic Erasers in my cleaning posts.
That's because they work.
They cut through grease and grime like no other, and even help out in everyday messes and mishaps (like when our toddler finds a random crayon in the hallway and decides to practice writing his name on the wall).
True story.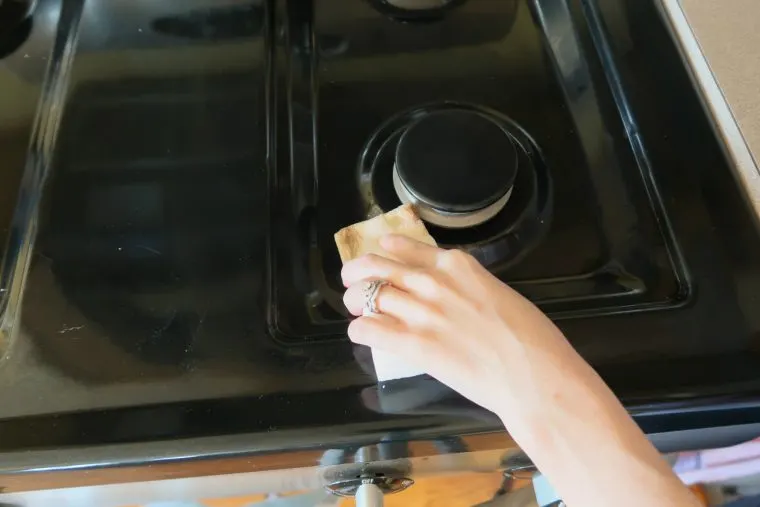 Since moving into our new home, we have been adjusting to using and cleaning our gas stove. We were used to using an electric stovetop, which is flat, and frankly, easier to clean!
But with magic erasers, I can easily wipe down around the gas burners and clean up food drips and grease splatter in no time at all.
It's so powerful, it has 2x stronger cleaning performance with Durafoam versus the leading all-purpose bleach spray.
It's also available in Extra Durable, Magic Eraser Bath (great for tough bathroom messes and marks), and Magic Eraser Kitchen (you guessed it – perfect for kitchen messes).
P.S. Anytime I have the chance to make up a housewarming basket, I always put a box of magic erasers in with some goodies. They're good for so many of life's messes and mishaps!
One Clean Home from Scott's Liquid Gold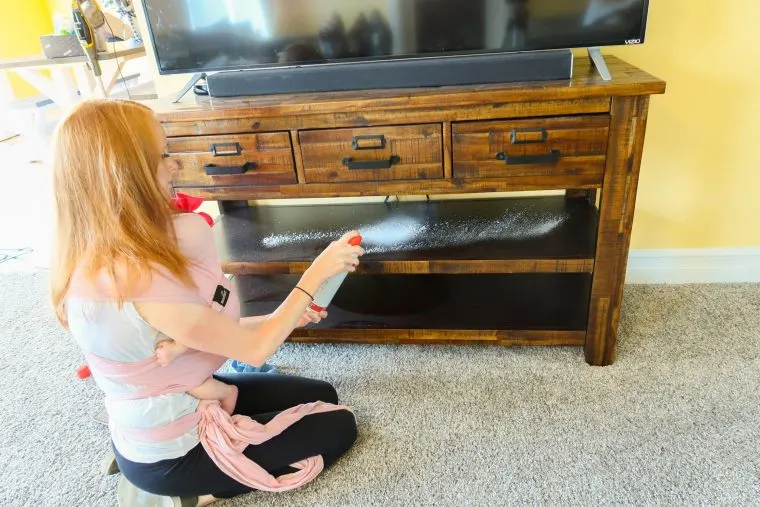 For our wood furniture, I love using this One Clean Home foaming no-drip cleaner from Scott's Liquid Gold. It's formulated with non-toxic citric acid to tackle a series of household messes and helps our wood shine like it's brand new.
I love that I can also use it on a variety of other hard surfaces like:
tile
stone
plastic
porcelain
metal
vinyl
stainless steel
finished wood & wood laminate
It can also be used on surfaces like
window screens
inside your car
on outdoor furniture
on metal hardware and tools
ceiling fans and more!
It's safe to use around pets and people and carries a fruity grapefruit scent that helps smell up our home with essential oils.
You can find it at Lowe's or at Amazon.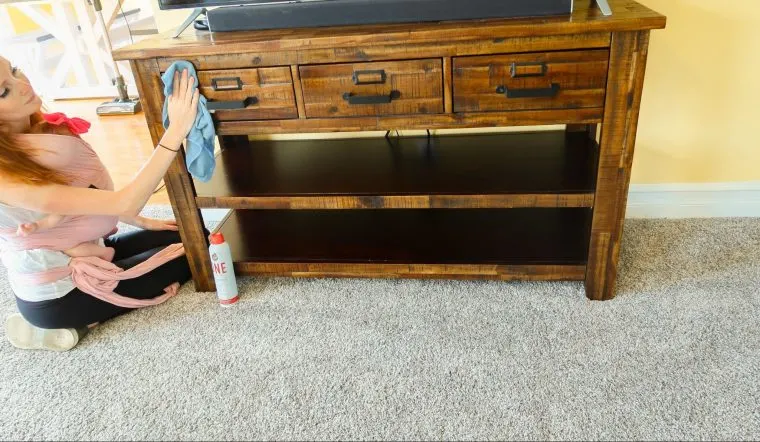 I have even been using it to clean the stair rail and staircase columns and it works beautifully.
Eureka Flash Corded Stick Vacuum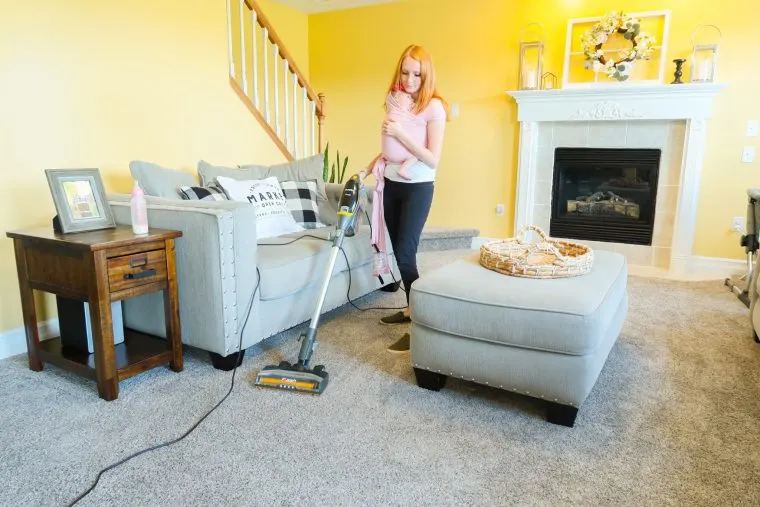 And finally, enter my new favorite vacuum for everyday cleanup: the Eureka Flash!
I love this Eureka Flash stick vacuum – it's so lightweight and easy to use.
It works on both hard floors and carpet with the option to turn the roller brush on or leave it off depending on the floor surface and dirt levels.
I use it on our carpets and out hard kitchen floors to suck up the numerous cracker crumbs and snack messes we always seem to have.
For reference, our entryway carpet is a very loose shag with a high pile, our living room and stairway carpets are shag with a medium-high pile, and the kids' bedroom carpets are all a tighter knit carpet with low pile.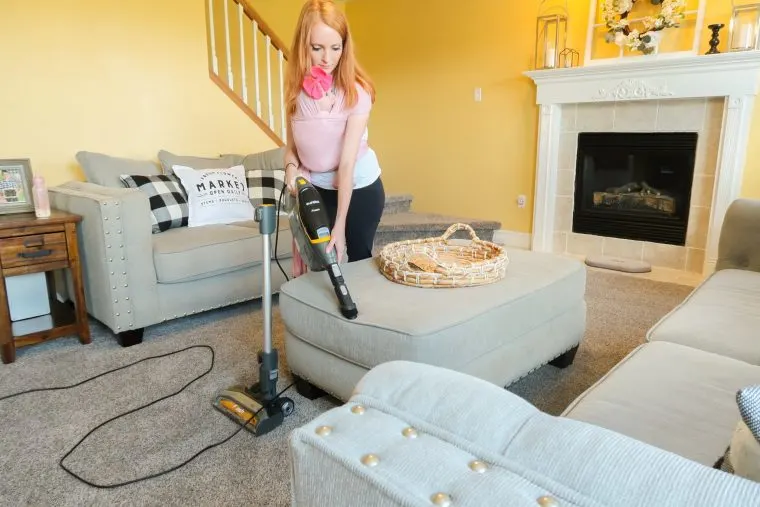 The top part of the vacuum also detaches for super easy detail cleaning, which I love so I can easily clean our carpeted stairs and couch arms.
Because #kids.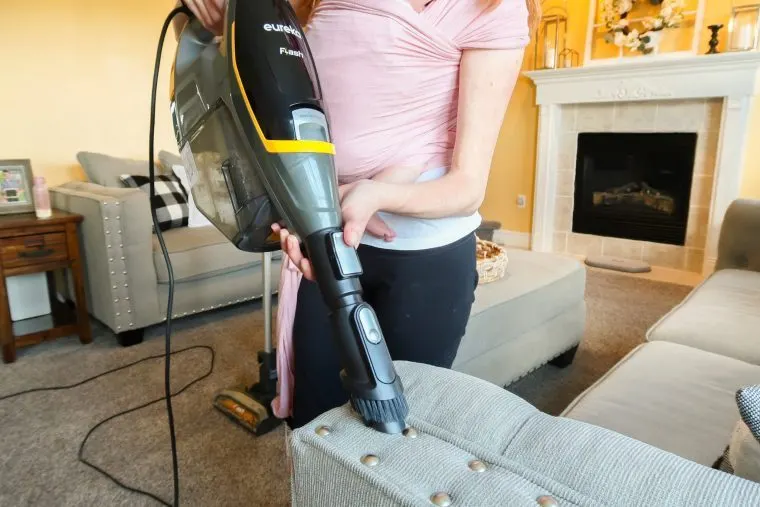 Vacuuming with this lightweight stick vacuum is so nice, especially for the newborn baby-carrying season of life we are in right now as it doesn't put any additional strain on my arms or core pushing it around or even lifting it when I need to.
Now that we have three kids, babywearing is taking more of a toll on my body trying to keep up with everyone and everything than it did when I was much younger with just one baby ;).
I have even been asking our kids to vacuum up their messes when they're done (like that time they crumpled popcorn kernels all over the living room carpet for fun…), and they have no difficulty vacuuming with it at ages 10 and 4.
But even with it being so lightweight at 7.4 lbs., it does a fantastic job at picking up dirt and dust at the same degree that our heavy-duty vacuum can.
It's also super affordable at just $139.99 and is equipped with LED headlights, swivel steering, and a 30 ft. power cord.
Don't forget to use coupon code 15OFFNES510R to get 15% off through May 17, 2020!
Seriously impressed by this vacuum – can you tell? 😉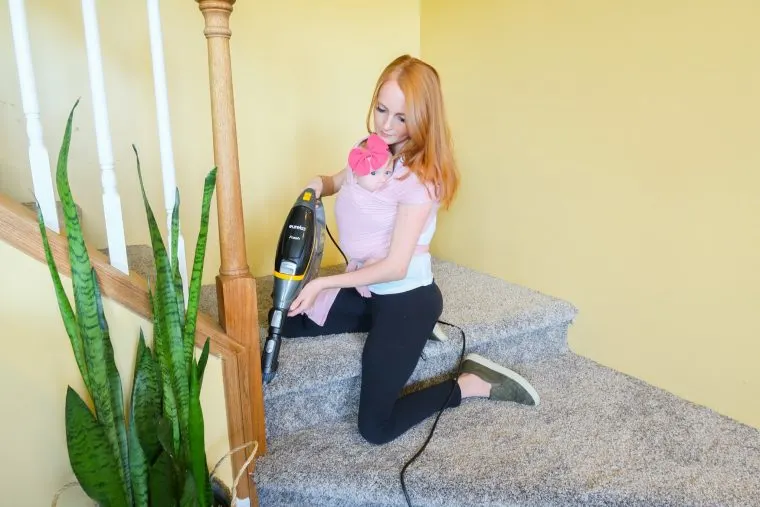 Look at those adorable little peepers peeping out from my baby carrier!
These products surprised me in the best ways, and have been helping me tackle household messes with ease in our new home.