My honest review of the Simply Earth essential oils subscription box, featuring non-MLM 100% pure EOs and fun recipes to DIY at home…
---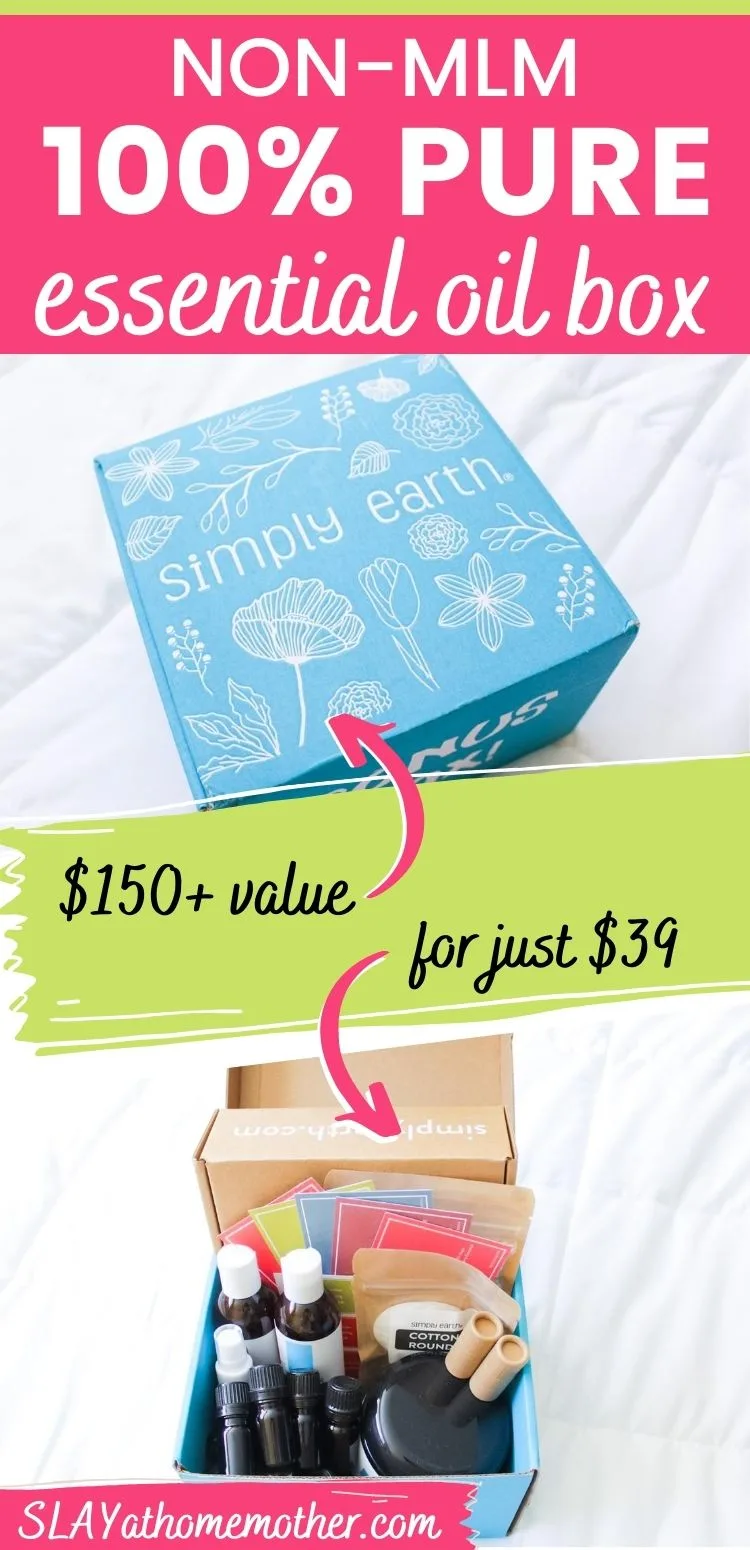 Hi, lovelies!
In today's post, I'm finally sharing my review of the Simply Earth essential oil subscription box with you!
I shared a few weeks ago on my Instagram that I wanted to step away from my usual MLM brand of oils and try an EO brand that was high-quality, educational, 100% pure, and non-MLM.
I also wanted to look for a brand that wouldn't break the bank, as that was my big concern with MLM brands because you aren't really paying for the quality of the oils, you're paying your upline (the people who helped recruit you into buying and promoting products).
I won't name any names…but I think you know who I'm talking about.
This is also known as a pyramid scheme, and I was done having to pay crazy prices for products just for the people to make money off of me, or having to 'recruit' other people to help pay for my essential oils at ridiculous prices.
So I grabbed my purse strings and pulled them tight, and I started doing some research.
That's when I came across Simply Earth essential oils.
As I browsed through their website, I discovered that not only are their oils affordable, 100% pure, and GC/MS tested, but Simply Earth also donates 13% of their profits to fight human trafficking.
I love that they support such an important cause that affects every single country in the nation and an estimated 20-40 MILLION people worldwide, with 51% involving children (source).
Their website is also very easy to use, which I appreciate because other EO sites can be pretty confusing.
I decided to try out their essential oil box, which is marketed towards beginner and advanced EO-users alike and features fun DIY recipes you can make with their 100% pure essential oils!
In this review, I'll be showing you the August box from Simply Earth.
This month's box focuses on self-care, and I can't even tell you how BADLY I need to incorporate some of that into my life right now with the pandemic, homeschooling starting up next month, and our full kitchen renovation taking over the main floor of our home.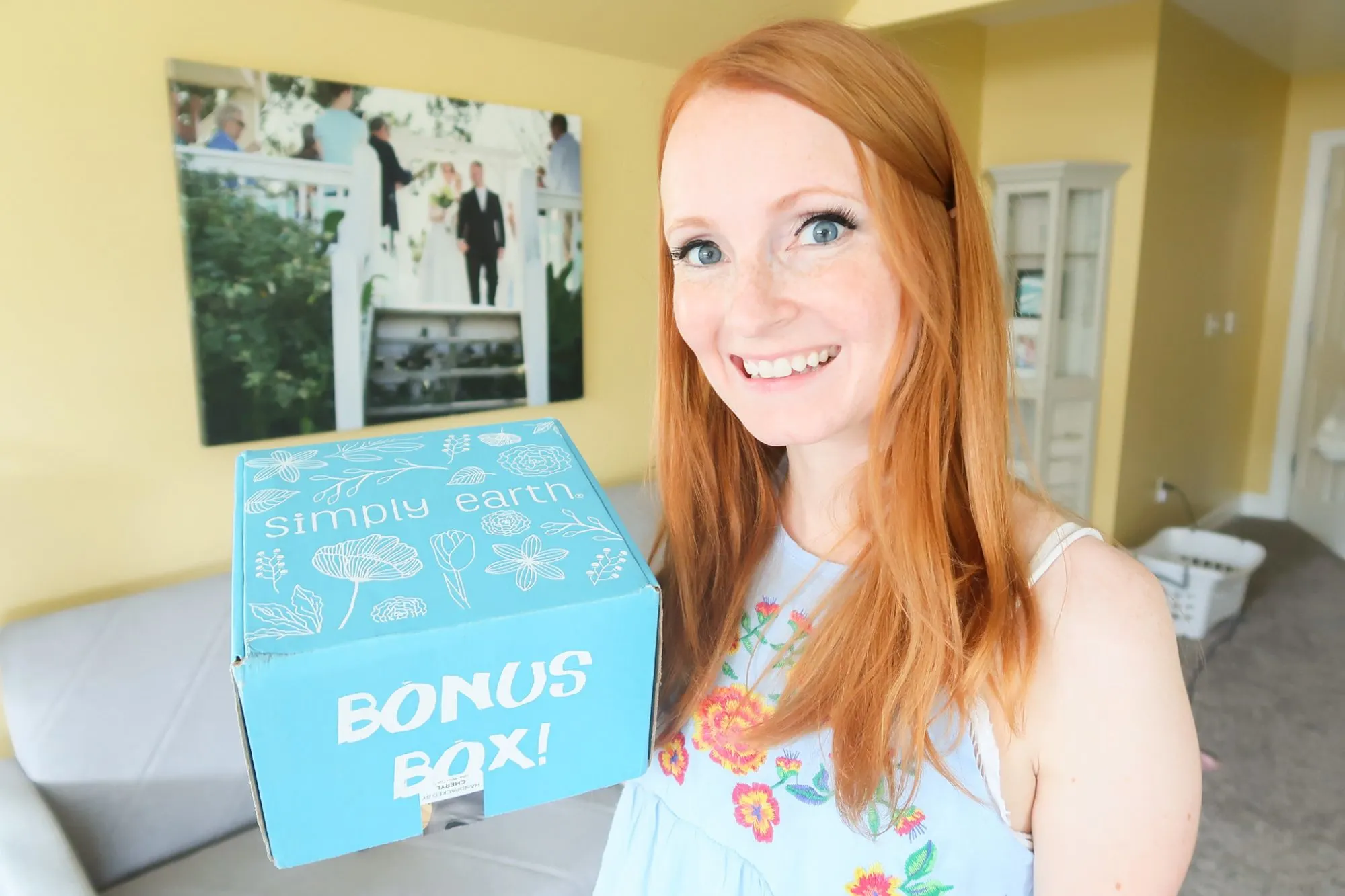 And yes, I'm featuring pictures in our master bedroom for this post since my kitchen is basically torn down to the studs right now, and my office contains all of the things that were once taking up space in our kitchen cabinets and drawers ;).
So, just this once, please forgive the mess!

*This post does contain affiliate links, however, all opinions are my own. I am extremely honest, thorough, and particular in the products I recommend and feature on my website for my 100,000+ readers.
Are Simply Earth essential Oils Really 100% Pure?
Each batch of essential oils from Simply Earth is third-party tested using Gas Chromatography with Mass Spectrometry.
This method separates the volatile compounds in essential oils into individual components and identifies each of the components and their percentages (source).
On Simply Earth's website, you can go to each essential oil's listing and click on View GC/MS Report.
To see the specific report for your batch of oils, simply type in the Lot #.
Otherwise, you can view the results of the latest GC/MS report for that oil.
You can also read more about Simply Earth's Pure Promise HERE, where they mention that their essential oils are ethically sourced and contain no additives, artificial fillers, or fragrances, EVER.
How Do They Keep Their Prices So Low?
By not operating like a pyramid scheme, Simply Earth can provide incredible, high-quality essential oils just like your favorite MLM brand for much less!
This lower cost doesn't speak to the quality of their oils, it speaks to their company's belief in providing 100% pure essential oils without trying to artfully scam the masses.
I know certain brands with higher price tags use those prices to scare loyal EO-users into believing that cheaper oils = lower quality, but that isn't the case with Simply Earth.
Each oil is third-party tested (meaning they send the oils out to be tested by another company so there isn't any bias), and reported on their website that you and I can review.
August simply earth Essential Oils Subscription Box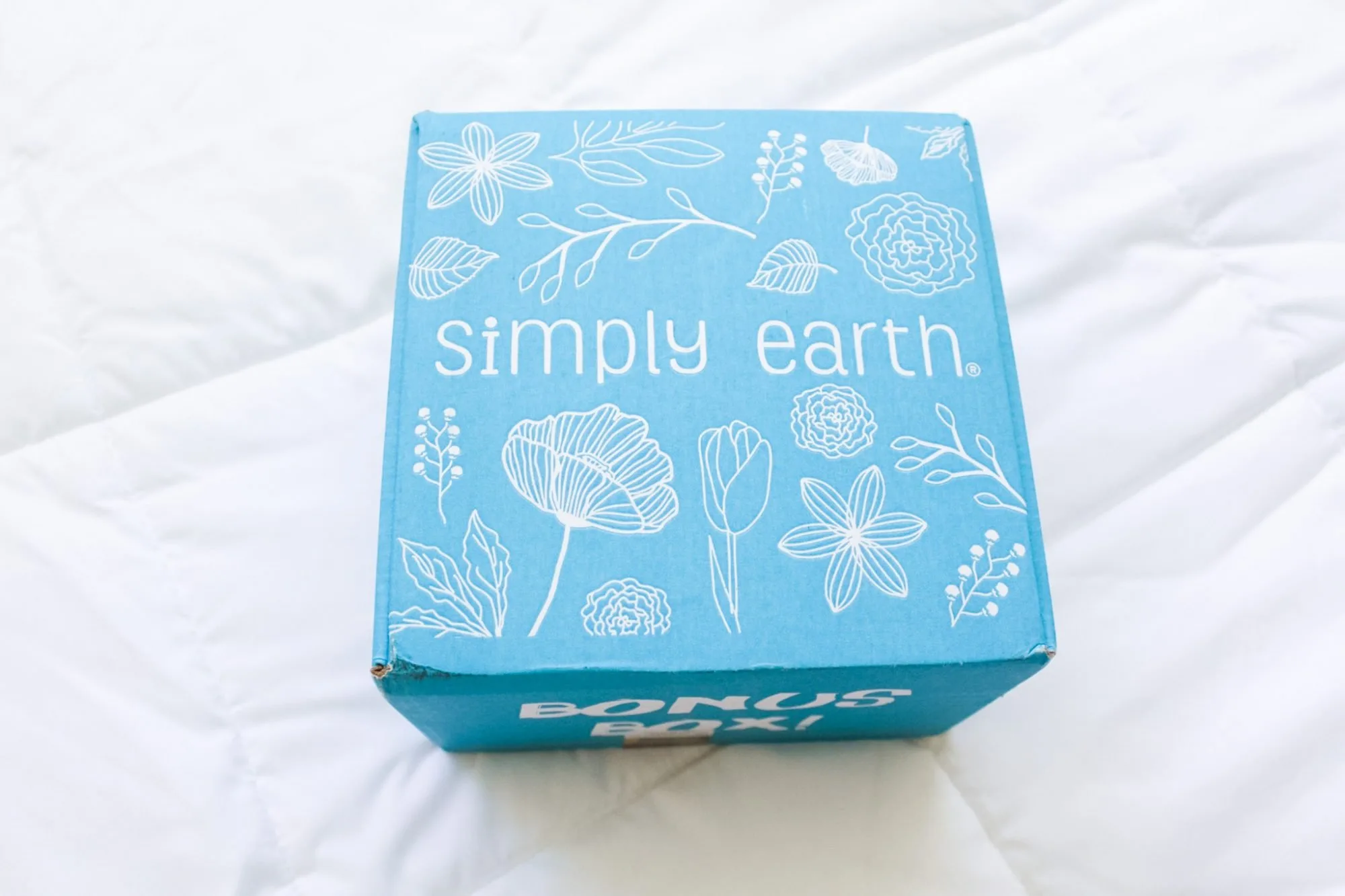 You May Also Like: Non-Toxic Cleaning With Force Of Nature (Hypochlorous Acid)
What comes in the box?
When you order this month's box, you'll receive the subscription box PLUS their BIG BONUS BOX with other $150+ combined value* and be able to complete these 6 fun DIY recipes at home:
cucumber soothing eye mask
sweet lips exfoliating lip scrub
sweet citrus lip balm
citrus face mask
radiate joy roll on
citrus summer essential oil diffuser blend
I'll be featuring the Citrus Face Mist in this post, so check that out below!
*The BIG BONUS BOX ships free with your first order, and your 6th! Woohoo!
What's Included In The August Subscription Box?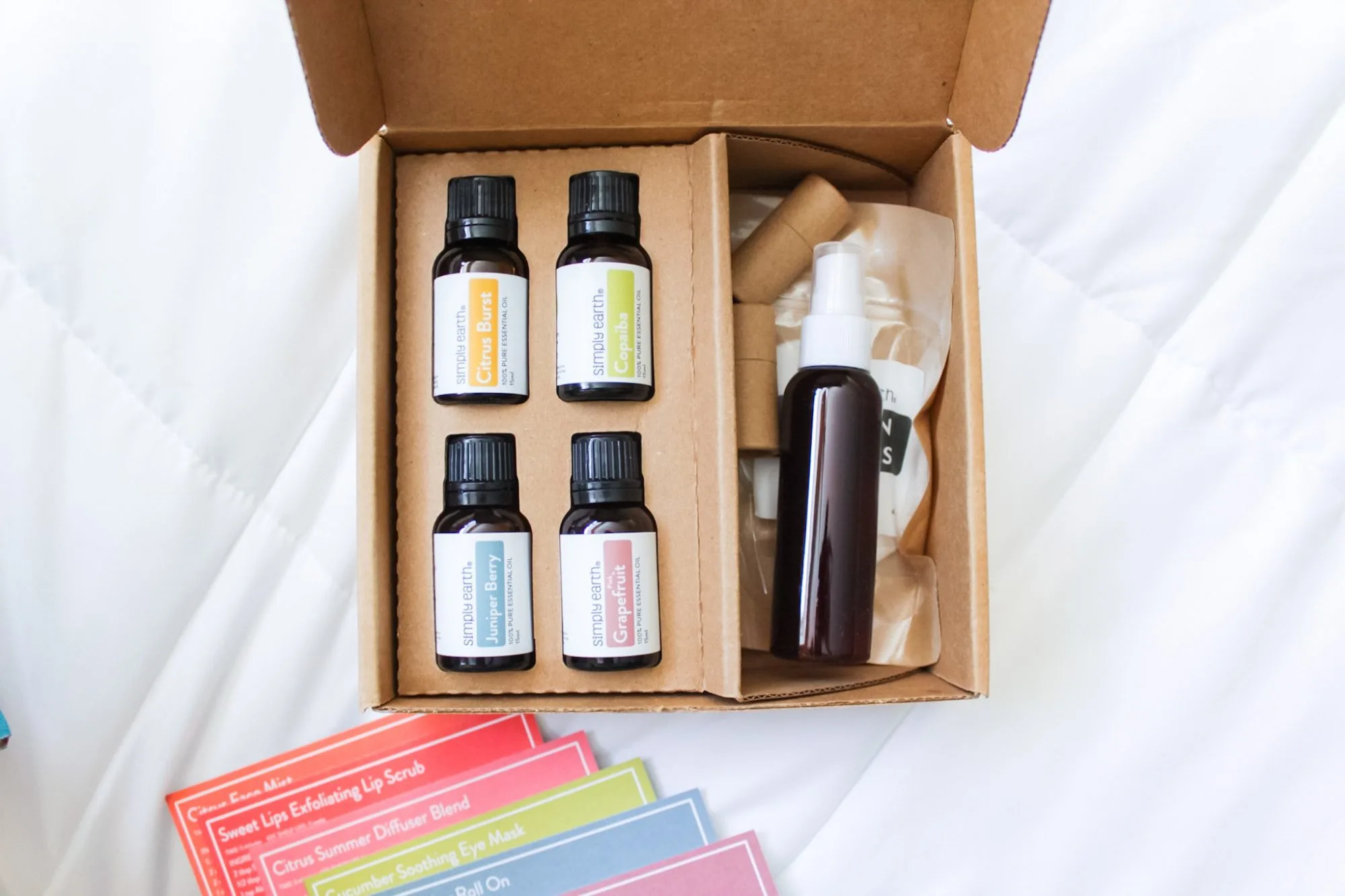 Each subscription box comes with over $100 worth of products (compared to the bigger MLM brands):
(4) full-size essential oil bottles (15mL)
2 oz. 100% pure beeswax
cotton rounds
(2) lip balm tubes
spray bottle
colorful stickers to apply to your finished recipes so you can label them
What comes in the BIG BONUS BOX?
*$40 Discount code: SAHMFREE (use at checkout to save $40 off your next box or towards your next purchase)!
For the month of August, Simply Earth is gifting new subscribers their BIG BONUS BOX, which boasts:
P.S. You don't need to add the BIG BONUS BOX to your order – once you add the subscription box to your cart, the bonus box will be automatically added to your cart and the discount will be applied!
Is there a monthly commitment or month-to-month option?
If you're interested in trying Simply Earth's subscription box, you can do so without any monthly commitment – that's right, you can cancel at any time!
You'll sign up for the subscription box, and it will arrive once a month for each month until YOU cancel it, if you ever choose to.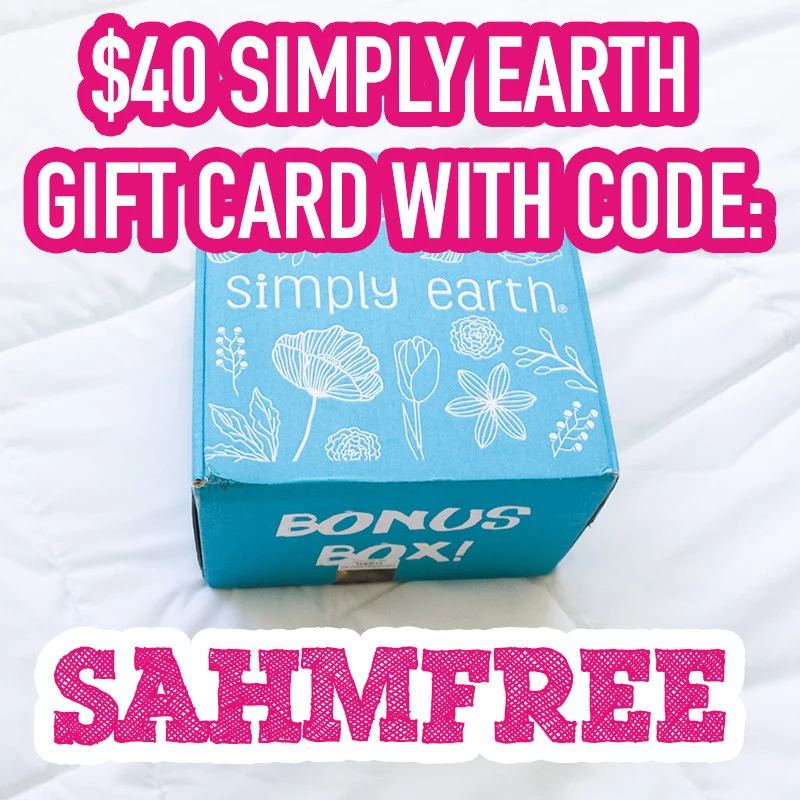 Related: Dropps Non-Toxic Laundry Detergent Pods Review
Do I have to subscribe to get simply earth essential oils?
NOPE.
You can shop Simply Earth's website for oils, diffusers, roll-on bottles, EO bottles, stickers, EO diffuser bracelets, carrier oils, beeswax, STARTER KITS, and so much more!
Simply Earth's prices are amazing for the quality that you get, so if you're more interested in getting specific oils that you need or want versus getting a monthly subscription box, that's certainly an option.
Let's Make A Recipe Together From The Subscription Box…
This morning on my Instagram stories, I'll be making one of the subscription box recipes, but I'll also be featuring a recipe here as well because I know not everyone has Instagram ;).
DIY Natural Citrus Face Mist with Simply Earth
Using the recipe card, spray bottle, and oils provided in the subscription box, I followed the directions to make my own Citrus Face Mist.
The only extra item that I needed to make the recipe that wasn't in the box was a coffee filter.
I usually keep those on hand for crafting projects with the kids, even though we own a Keurig.
I boiled 1/4 cup of distilled water, added the drops of Grapefruit, Citrus Burst, and Juniper Berry oils to the heated water and let it cool.
Once it was cool, I positioned a coffee filter over the opening of my spray bottle and gently poured the water into the bottle.
The coffee filter helps filter out the extra oils, which is great because this spray is meant to help balance out the oils on your face.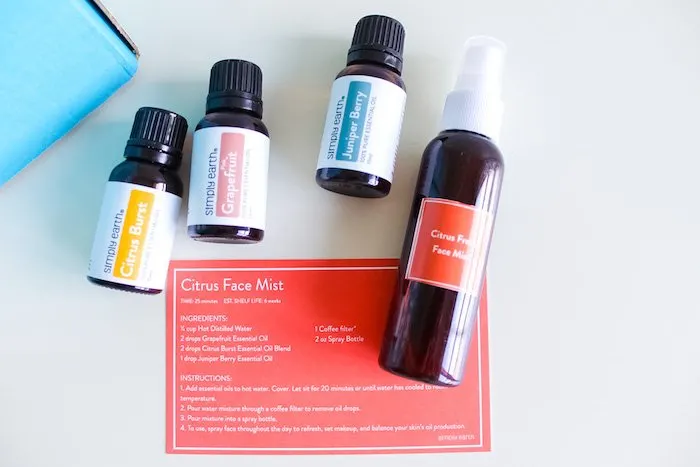 I pressed one of the labeling stickers on my spray bottle (that came with the other ingredients in my box) and misted my face with it.
I think this would be a great pre-makeup, post-workout, or before bed mist.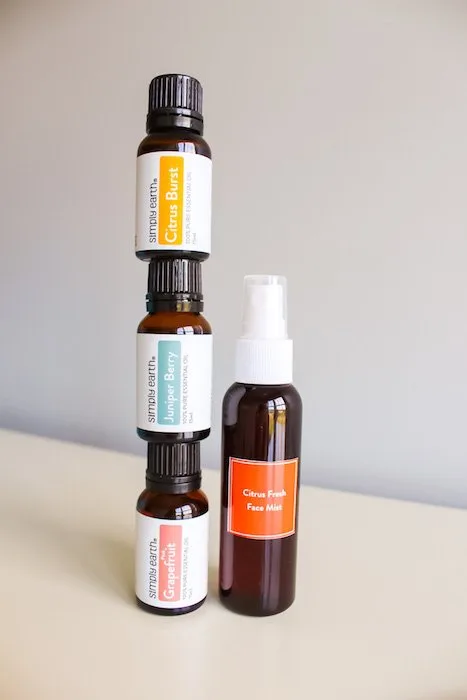 You May Also Like: Homemade DIY Floor Cleaner With Essential Oils (Smells Like Heaven!)
My Thoughts On The Simply Earth Essential Oils Subscription Box
Guys, I'm in looooooove with this subscription box!
And that says a lot, because I'm not big on subscription boxes by any means.
The only thing I have that is remotely close to a subscription box is my weekly Amazon Prime order (I blame the pandemic)….
*wink wink*.
I love the value this box provides for the cost and the fact that I can broaden my horizons and learn new ways to use my essential oils besides just diffusing them!
Needless to say, I will be receiving next month's Simply Earth recipe box and will be featuring a complete unboxing review of that box as well.
Maybe a video review?
I honestly planned to do that for this box, but as I mentioned before, our kitchen and main floor area is under construction right now.
To save on your next box, be sure to use my code below for a free $40 e-gift card that you can use towards your next purchase!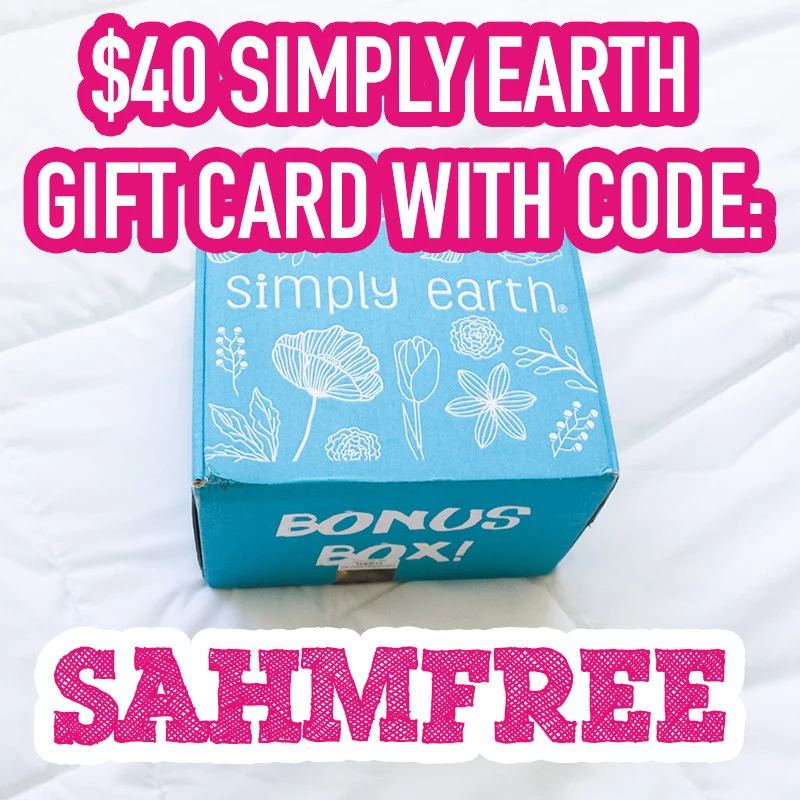 What is your favorite essential oil or way to use essential oils? Tell me in the comments below!
*Post originally published July 2020, last updated January 2022.