Explore the September essential oil recipe box from Simply Earth with me, and save $40 on your next box with my partner code SAHMFREE…
---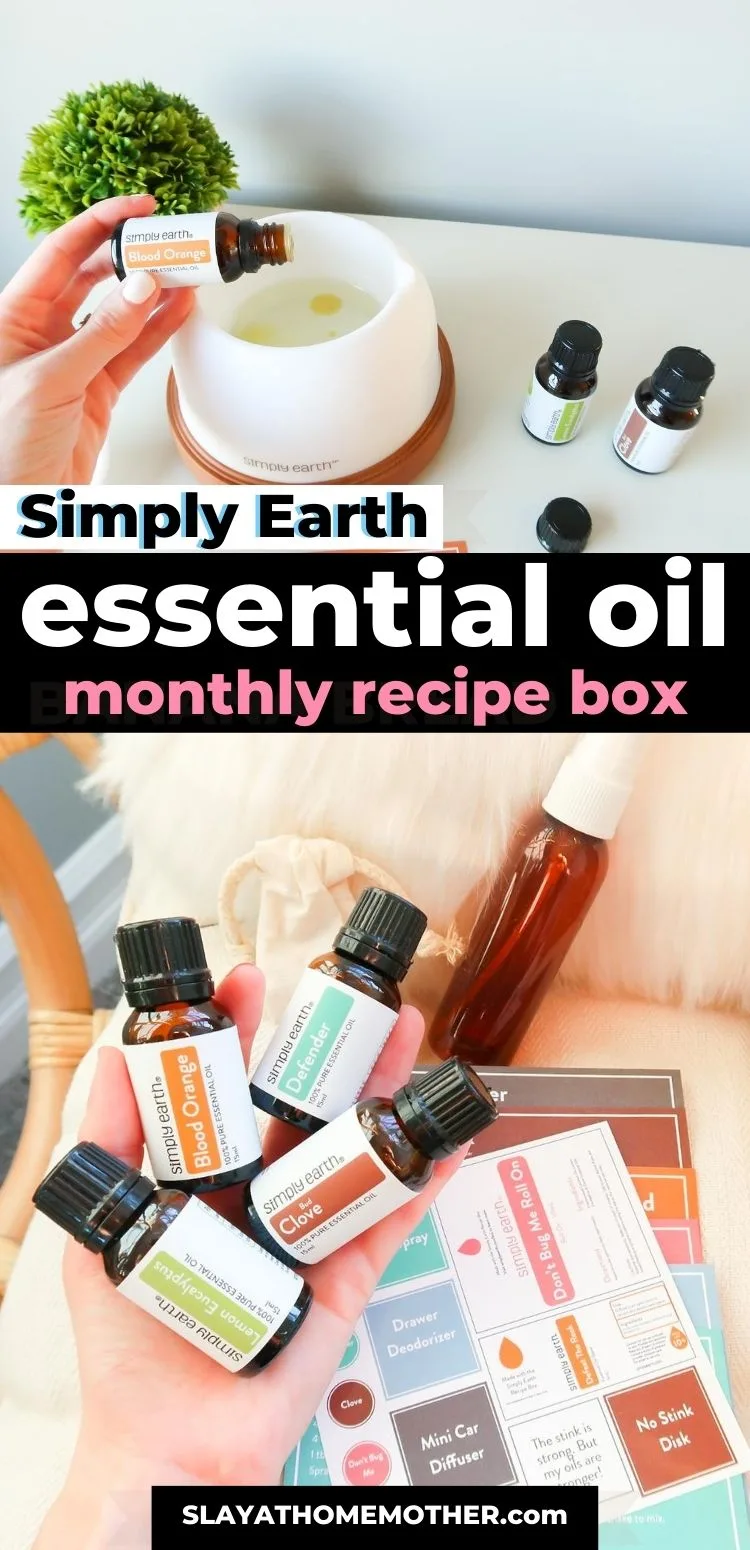 Hi, lovelies!
I know how much you guys loved my last post on the Simply Earth recipe box from August, so I've partnered with them for another month to share the September recipes and oils with you!
This brand has completely blown my old MLM brand out of the water with the potency, quality, and price.
I actually ended up buying my own Starter Kit from Simply Earth because I truly love their oils.
If you guys want to see an overview of the Starter Kit, let me know in the comments below!
I've even dedicated a corner in our home to my oils…
I especially love the fact that Simply Earth donates 13% of its profits to fight human trafficking.
Knowing that my purchases help those affected by trafficking is incredible.
In this post, I'll be opening my subscription box, sharing the recipes that come in it, and trying out one with you!
This post contains affiliate links, however, all opinions are my own, as always.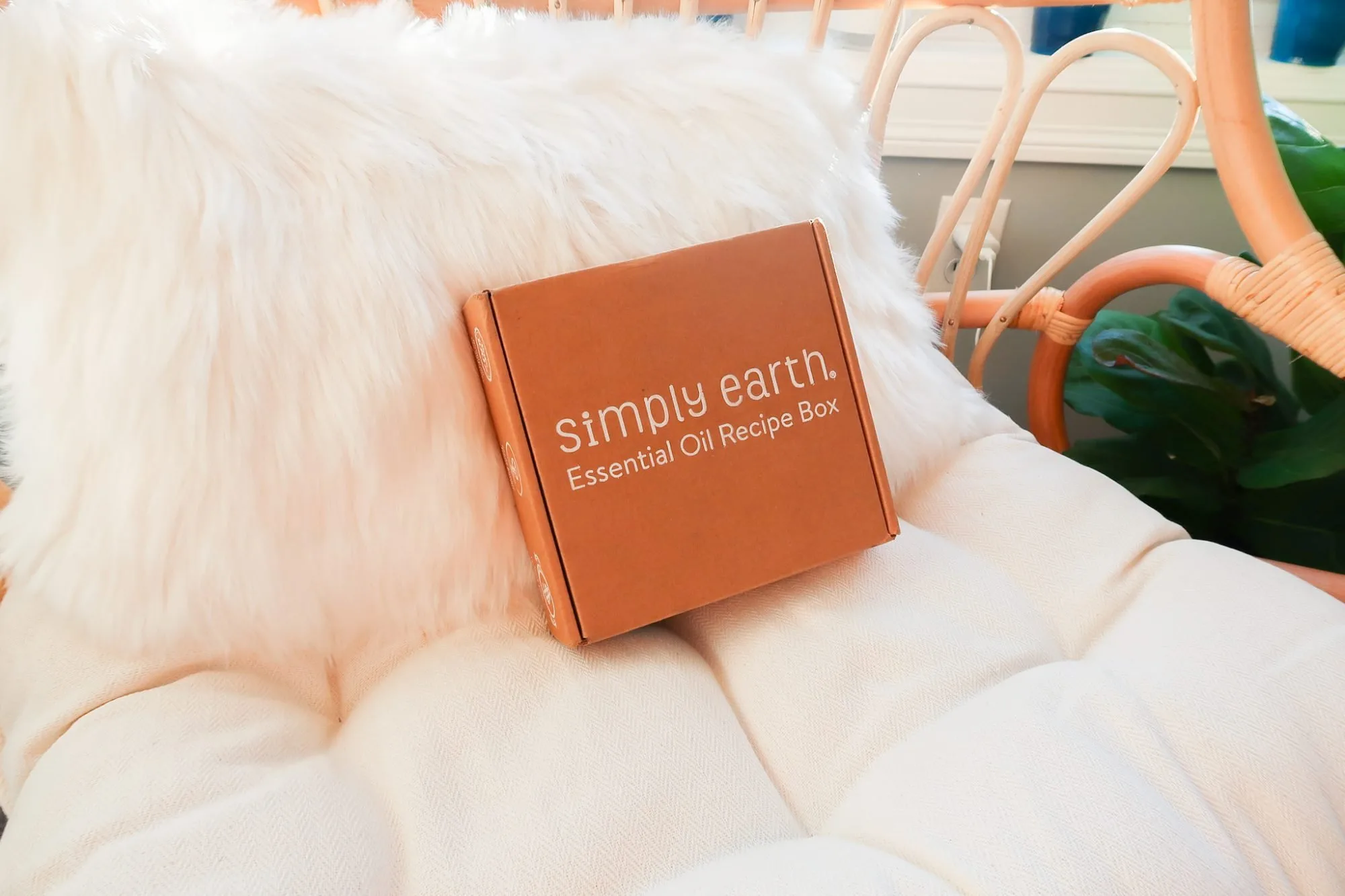 What Comes In The Box?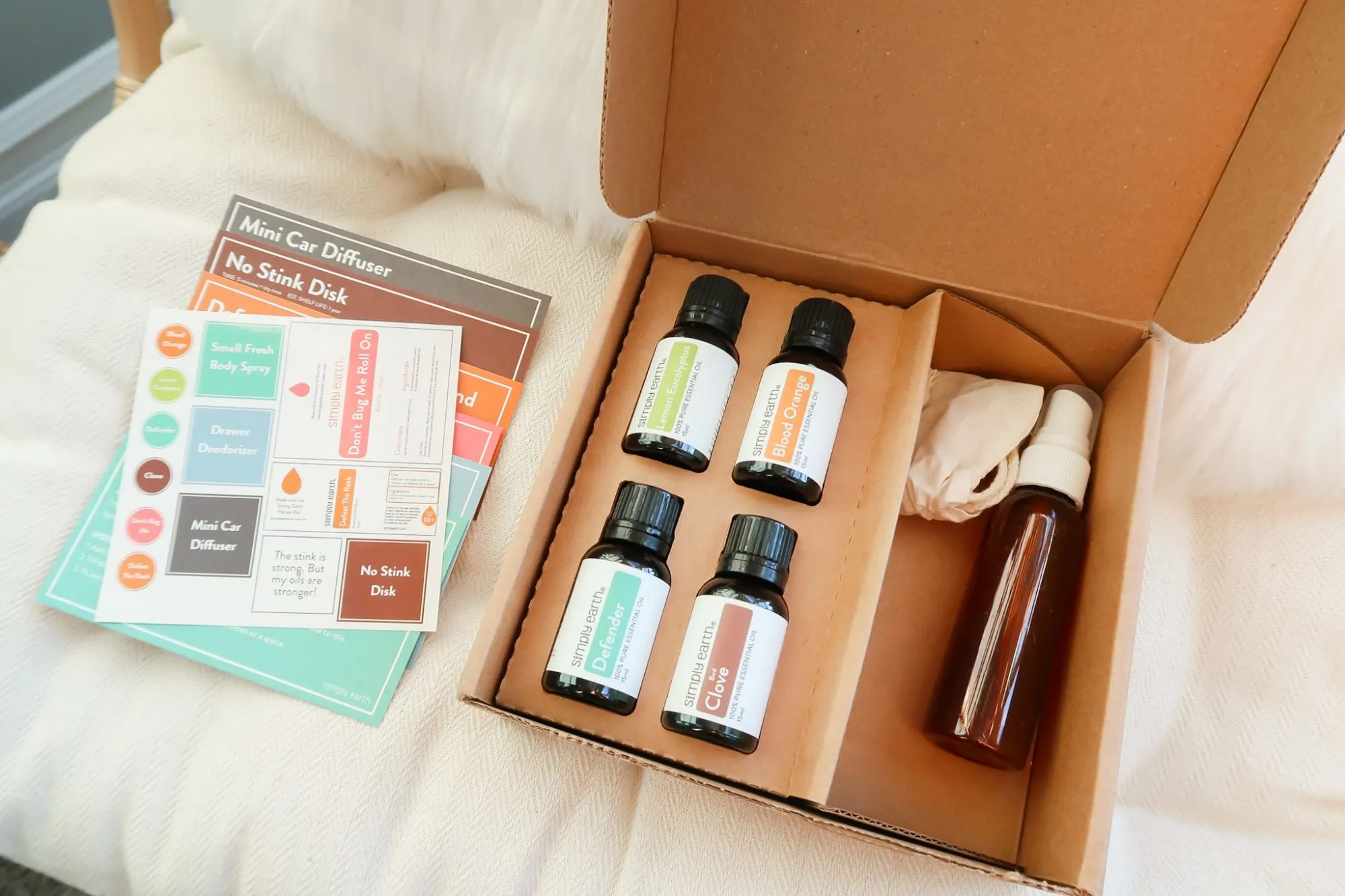 For this month, September 2020, here's what is included in your box:
(4) 15mL bottles of 100% pure essential oils
cotton bag
wool balls
spray bottle
6 fun DIY recipe cards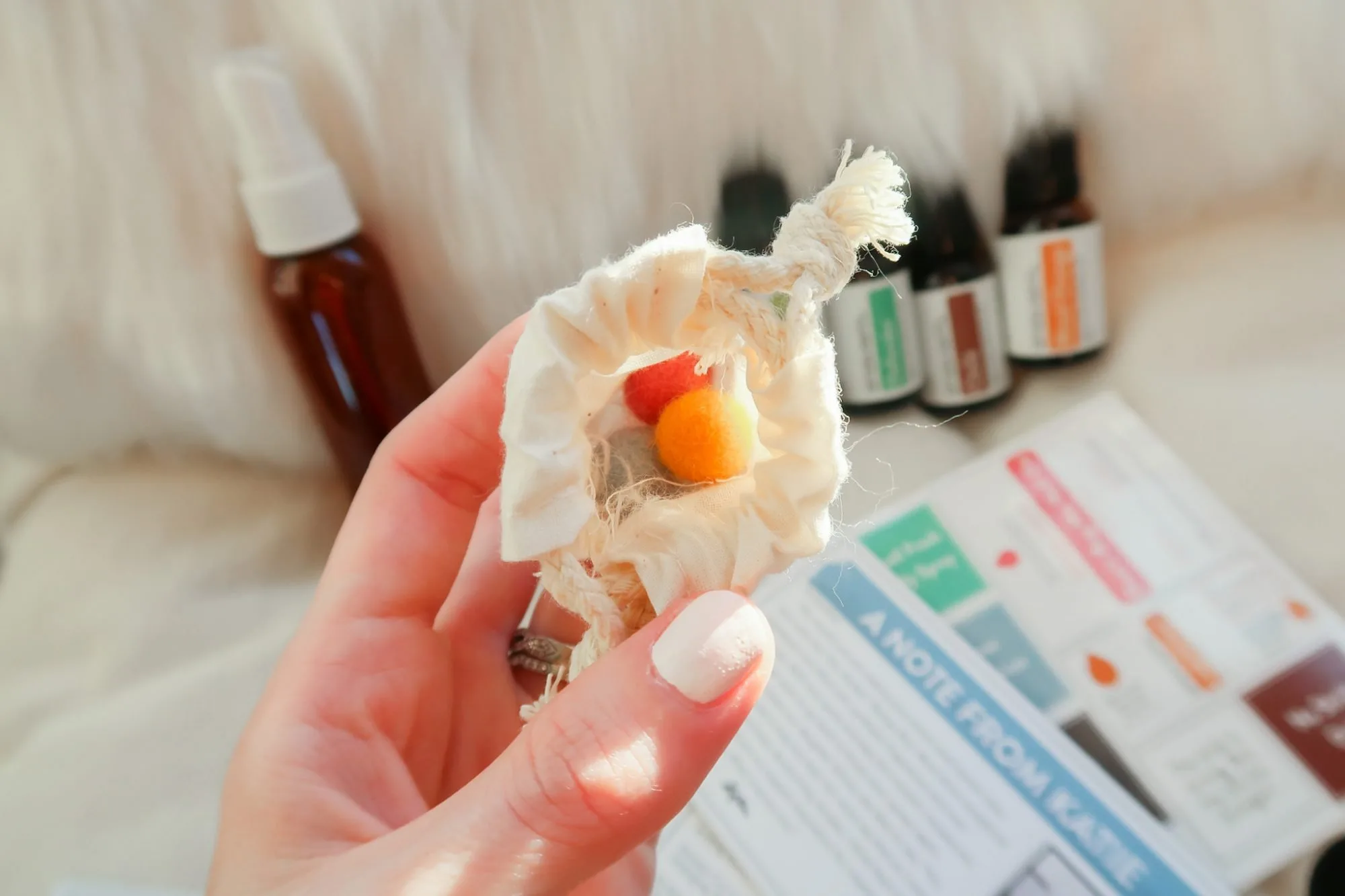 Each recipe card also details what oils are safe for pregnancy or children (and even has safe ages you can use the oils around kids if they are kid-safe), whether they are cat/dog safe, and information on general safety.
The best part about this box, besides all of the other huge pluses?
These recipes call for only a few drops of the huge 15mL bottles you get in your monthly subscription box, which means building up your essential oil supply is easier than ever, and you can use your oils for plenty of other things as well!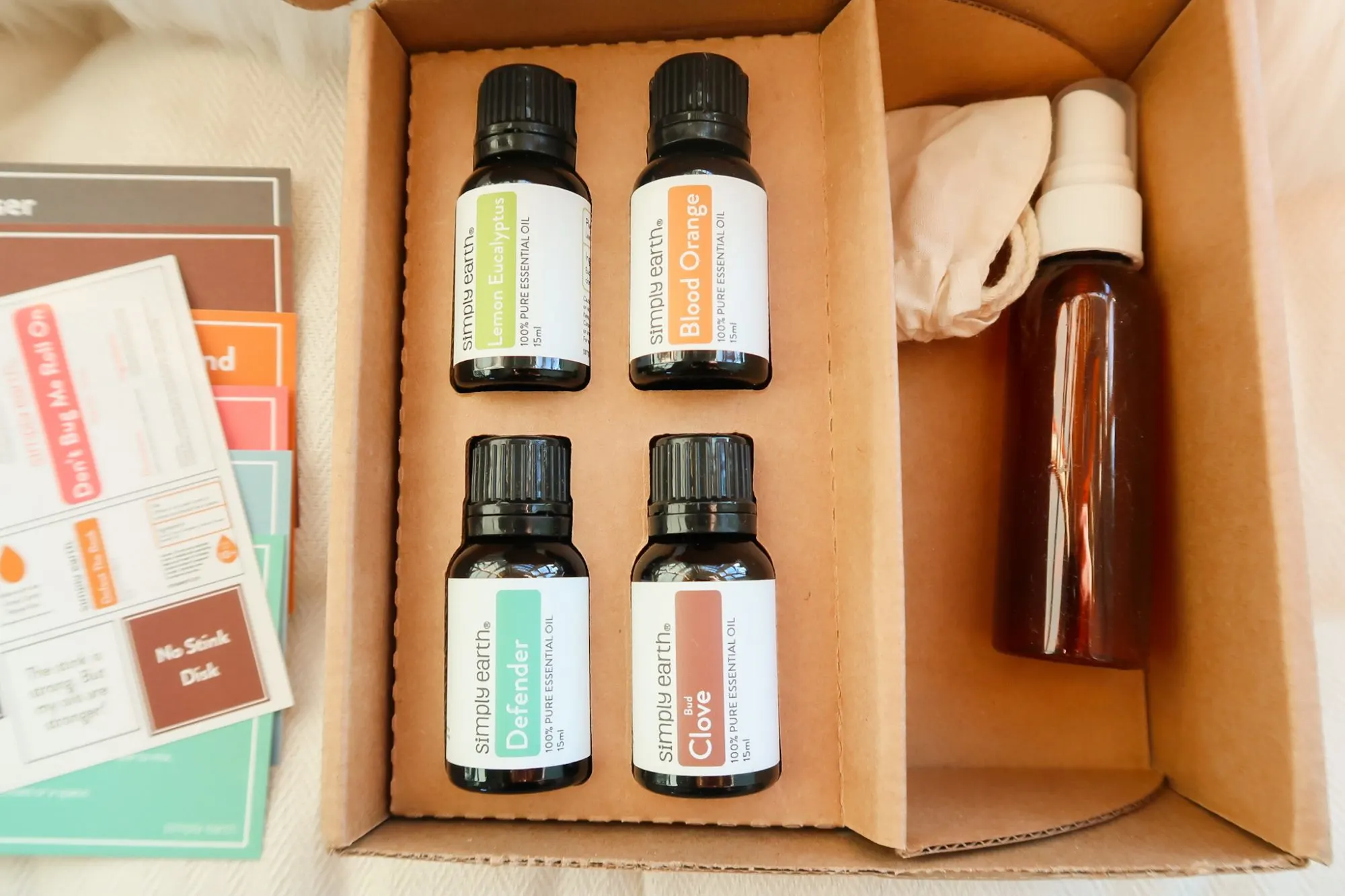 When you purchase your first box with Simply Earth, they also send you a free BIG BONUS BOX, filled with:
Read more about the BIG BONUS BOX that comes with your 1st and 6th monthly boxes from Simply Earth HERE.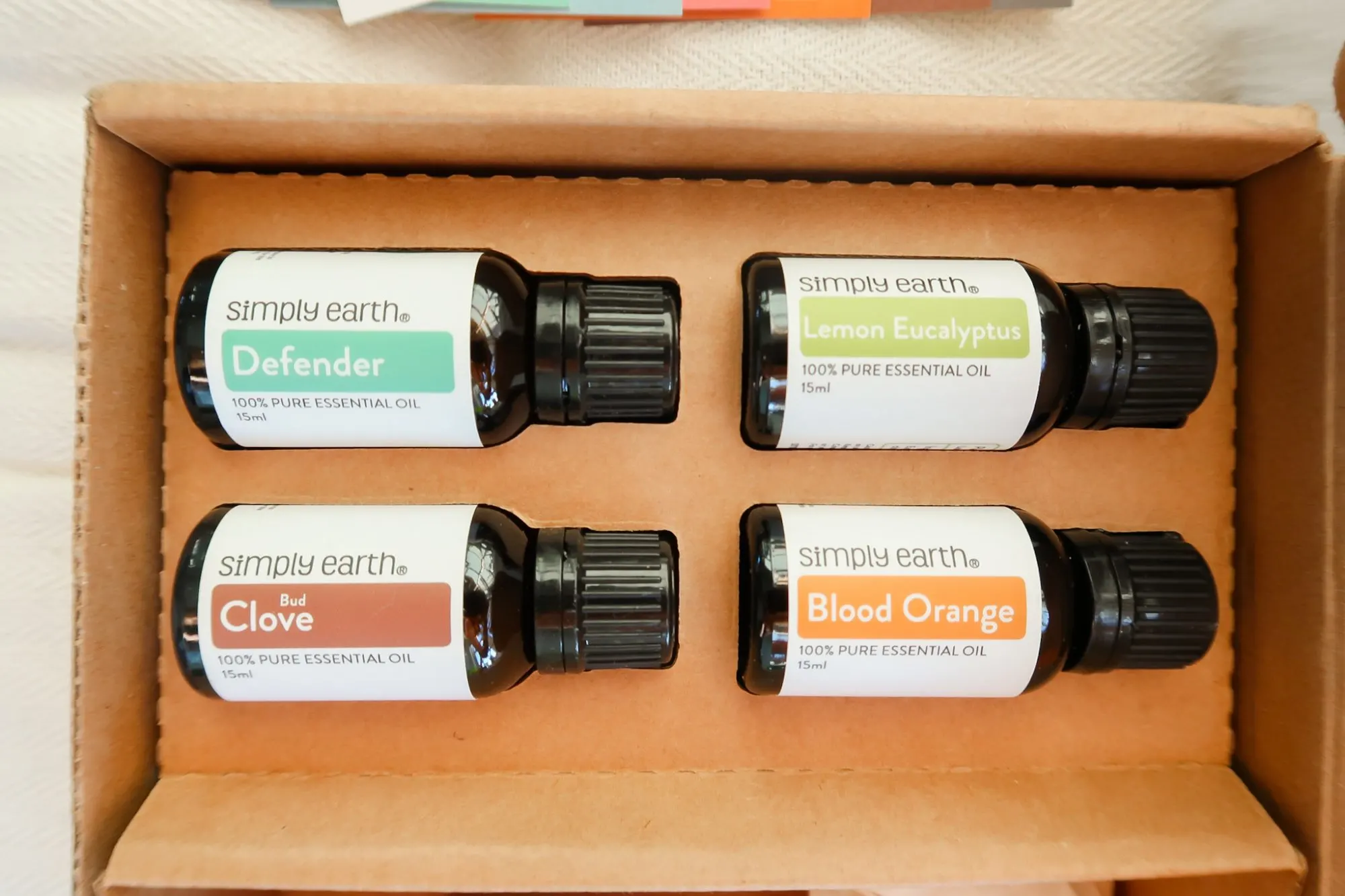 Related: August 2020 Simply Earth Essential Oils Recipe Box Review
What Recipes Can I Make With These Oils?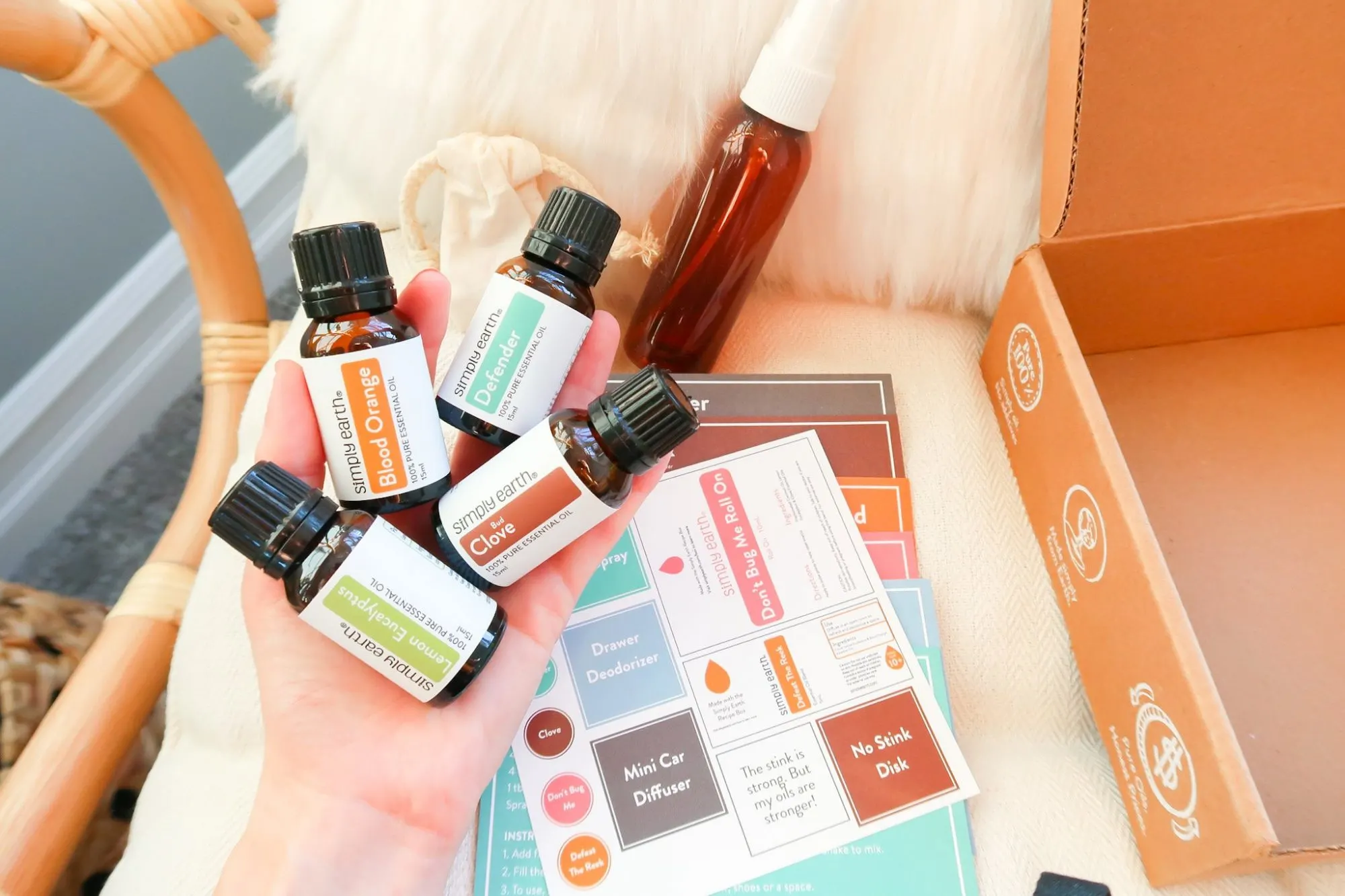 In each monthly recipe box, Simply Earth includes 6 fun DIY recipes that teach you different ways to use essential oils. For the month of September, the recipes are:
Mini Car Diffuser (I'm SO excited to try this – does anyone else suffer from stinky car syndrome? Just me? Okay…. 😉)
No Stink Disk
Defeat The Reek Diffuser Blend
Don't Bug Me Roll-On
Drawer Deodorizer
Smell Fresh Body Spray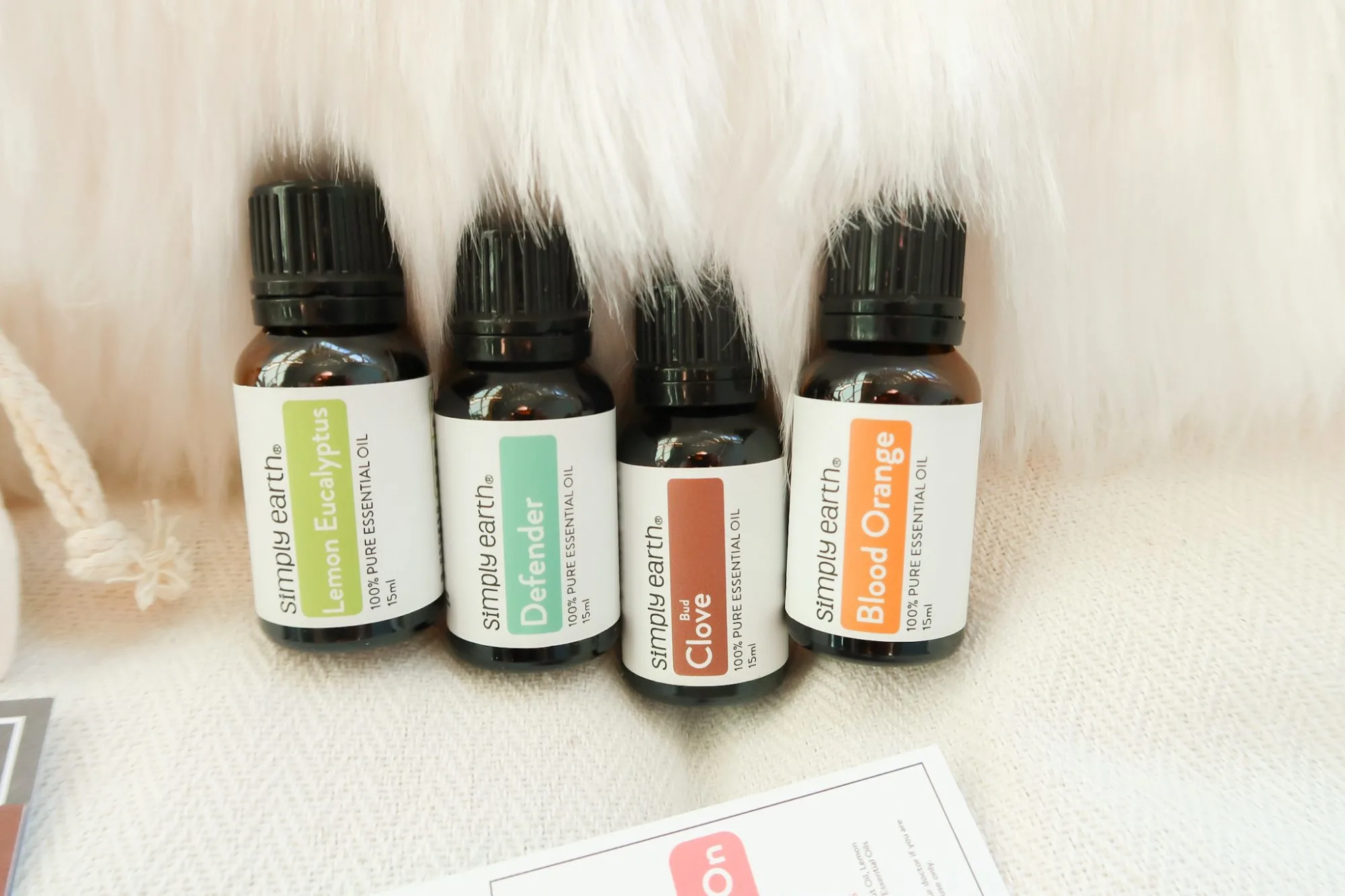 You May Also Like: 2020 Dropps Non-Toxic Laundry Detergent Review
Let's Make A Recipe From The Box!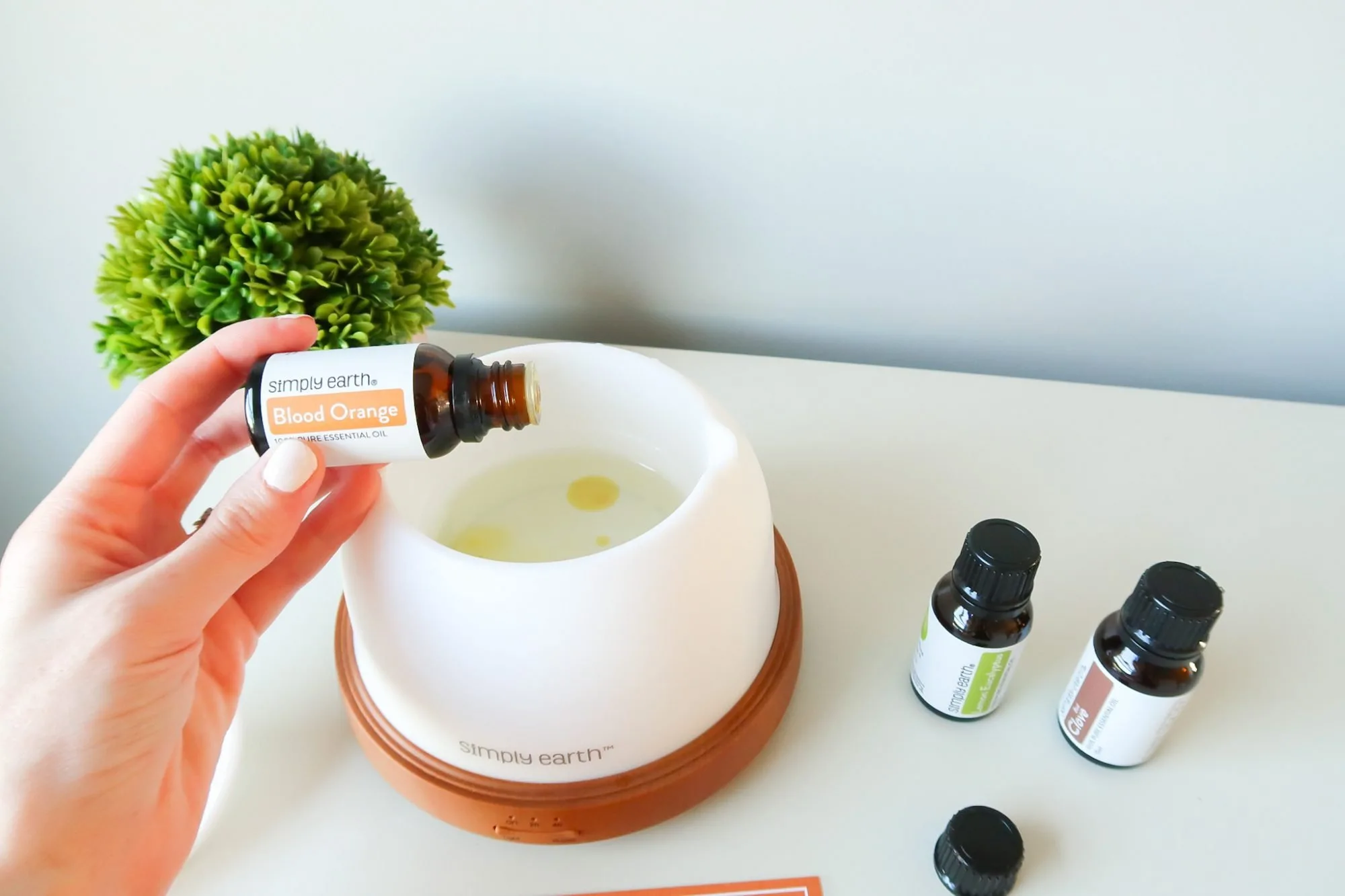 For this post, I decided to try the Defeat The Reek Diffuser Blend recipe included in this month's box, which calls for Lemon Eucalyptus, Blood Orange, and Clove oil.
The recipe only calls for 2 drops of blood orange, 1 drop of lemon eucalyptus, and one drop of clove oil.
I tried it out in our master bedroom, which is about 700 square feet, and is where we change most of Zoey's diapers, so I thought this would be the perfect place to defeat the reek, you feel me? 😉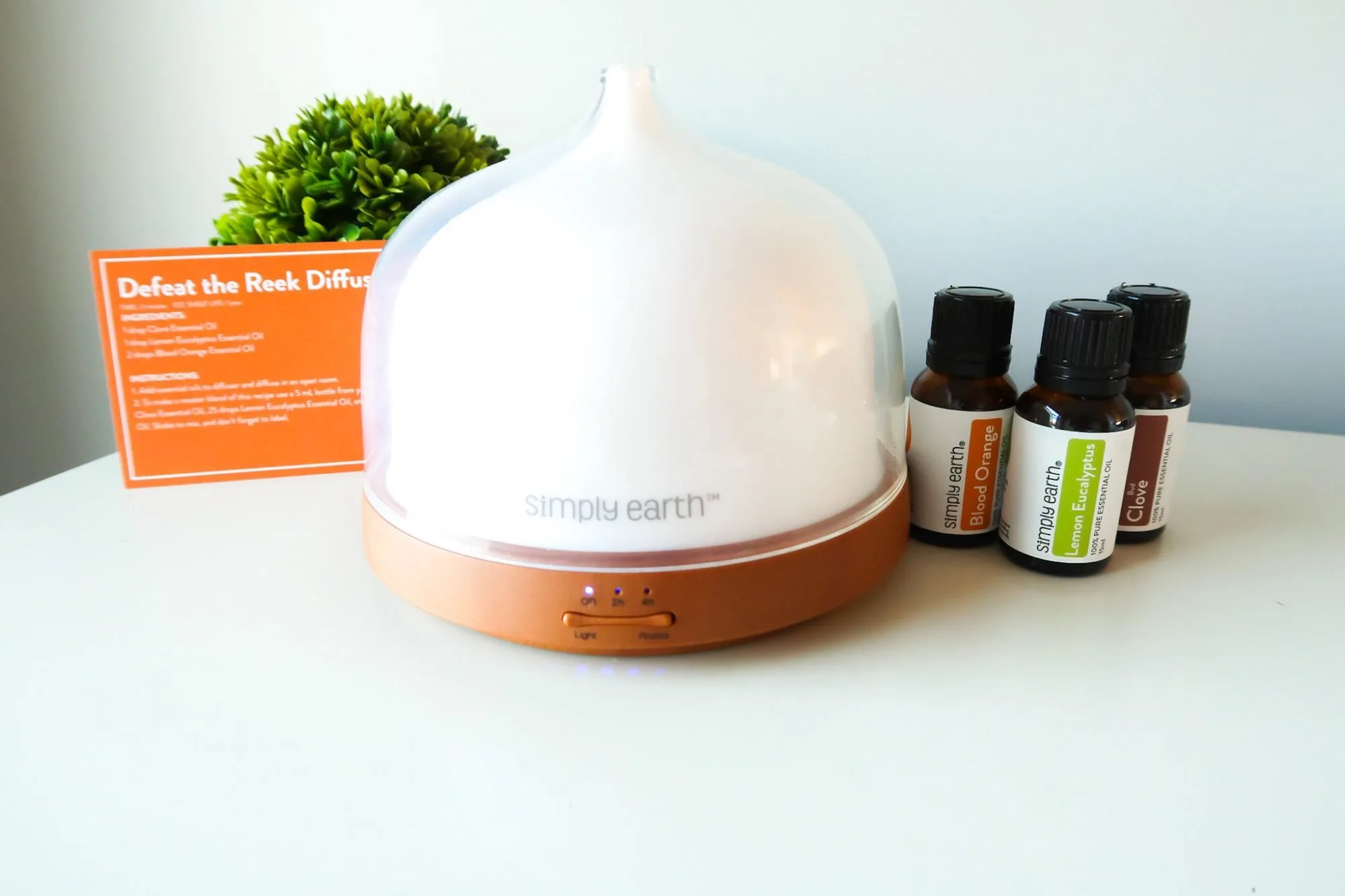 Within a matter of minutes, our entire master bedroom was filled with a relaxing and energizing smell!
The blood orange is the hero in this diffuser blend, for sure.
I think it's a great diffuser blend, and I'm loving this month's oil scents!
I'll be sharing more of the recipes from the August and September boxes on my Instagram, so be sure to follow me there.
To save at checkout, be sure to use code SAHMFREE, which gives you a $40 e-gift card that you can use towards your next box or purchase!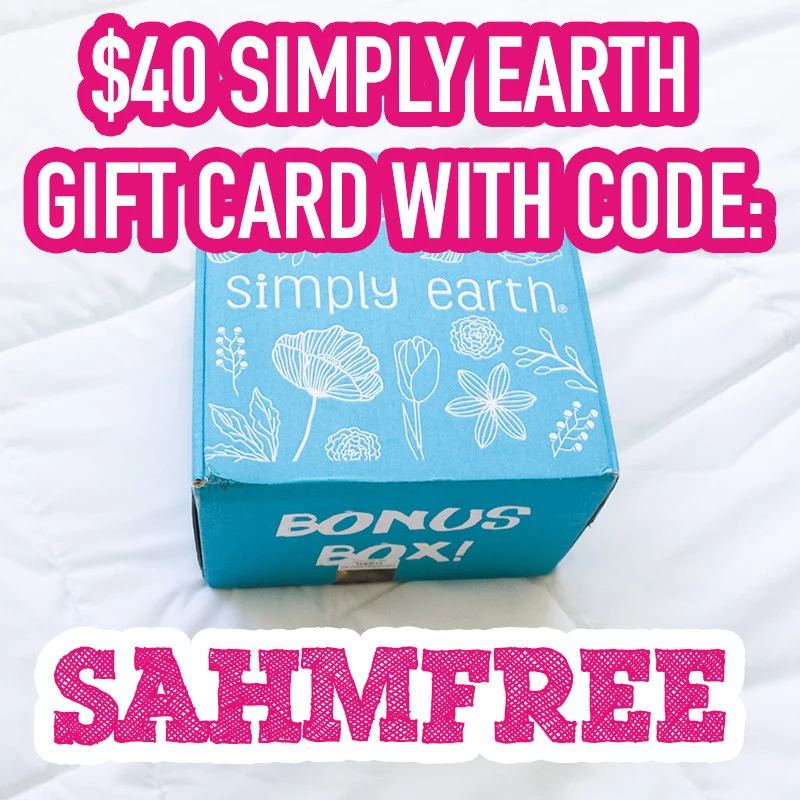 Can I Cancel Or Pause My Subscription?
Once you sign up for Simply Earth's subscription, there is absolutely NO obligation.
If you find yourself needing to cancel or just pause the subscription for a month, you can!
DO I HAVE TO SUBSCRIBE TO GET SIMPLY EARTH ESSENTIAL OILS?
NOPE.
You can shop Simply Earth's website for oils, diffusers, roll-on bottles, EO bottles, stickers, EO diffuser bracelets, carrier oils, beeswax, STARTER KITS, and so much more!
Simply Earth's prices are amazing for the quality that you get, so if you're more interested in getting specific oils that you need or want versus getting a monthly subscription box, that's certainly an option.
---
I hope you enjoyed this post. Tell me in the comments below if you've tried Simply Earth's monthly subscription box yet, or are thinking about trying it, and what your thoughts are!
*Post originally published August 2020, last updated January 2022.