Here's my complete stay at home mom schedule, including blogging and working from home, cleaning, and raising kids from sun up to sun down…
---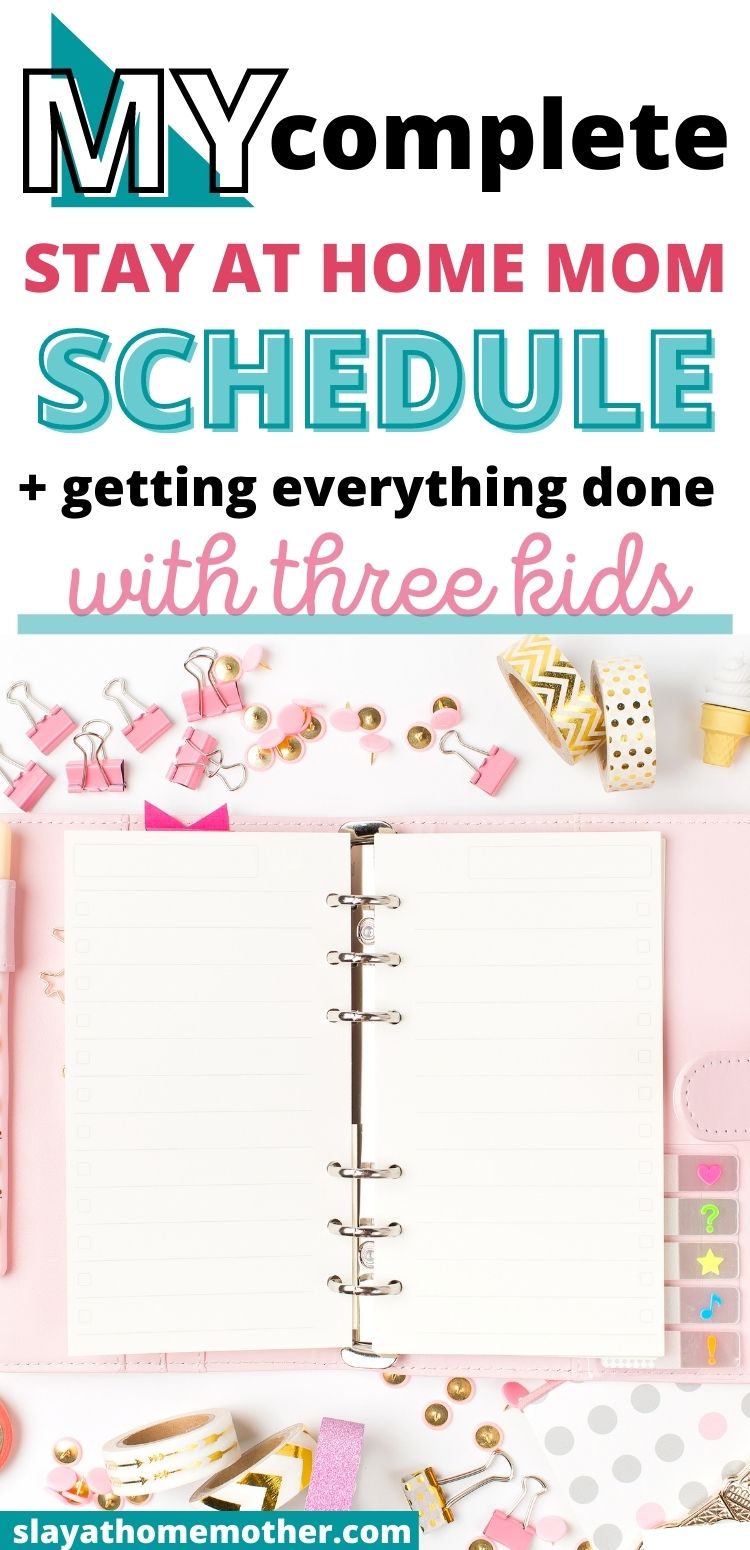 My Stay At Home Mom Schedule
Developing a schedule has helped me so much.
Before, my days were completely unstructured and were totally haywire.
I felt like I was going crazy.
There were so many overwhelming tasks to take care of and get done, not to mention basically being an entrepreneur with my own blog and thriving social media platforms to run, and I wasn't sure I was capable of doing it all.
Most days, I felt like I was drowning.
It wasn't until I got my planner that I started to really write everything down.
It was my first step in getting organized.
Getting a planner is a great start to getting organized or getting the motivation to organize your life.
If you're looking for a great printable planner, check out The Everything Planner in my shop!
That's what it did for me – I suddenly felt the drive to get myself organized.
I decided to document one of my days.
I took out a blank sheet of paper and one of my son's mechanical pencils (because my handwriting is much prettier when I write with one versus a wooden pencil ;)), and started writing.
I wrote what time I woke up, and documented our family's entire morning routine all the way up to dropping the boys off at school.
From there, I had to take several more days to figure out how to manage my blogging/work schedule and my cleaning schedule because I was really starting from a place of chaos and frenzy that wasn't well-maintained in the first place.
This led to me developing my cleaning checklist, which helped me tackle household chores and conquer house chores one day, one week, and one month at a time. You can grab my free printable cleaning checklist HERE.
Once I had my house in order, I was able to easily incorporate cleaning into my daily schedule.
Now that I have my stay at home mom schedule figured out, I finally have my house (and my brain) on the right track.
I'm able to get everything done that I need to by focusing on what needs to be done and structuring my day to allow myself plenty of breaks from certain activities.
Creatively speaking, my brain stops when my body stops, and I find that I need to keep moving to keep the creative juices flowing.
I like to brainstorm and plan things out while I'm doing other activities…
My Secret To Getting Everything Done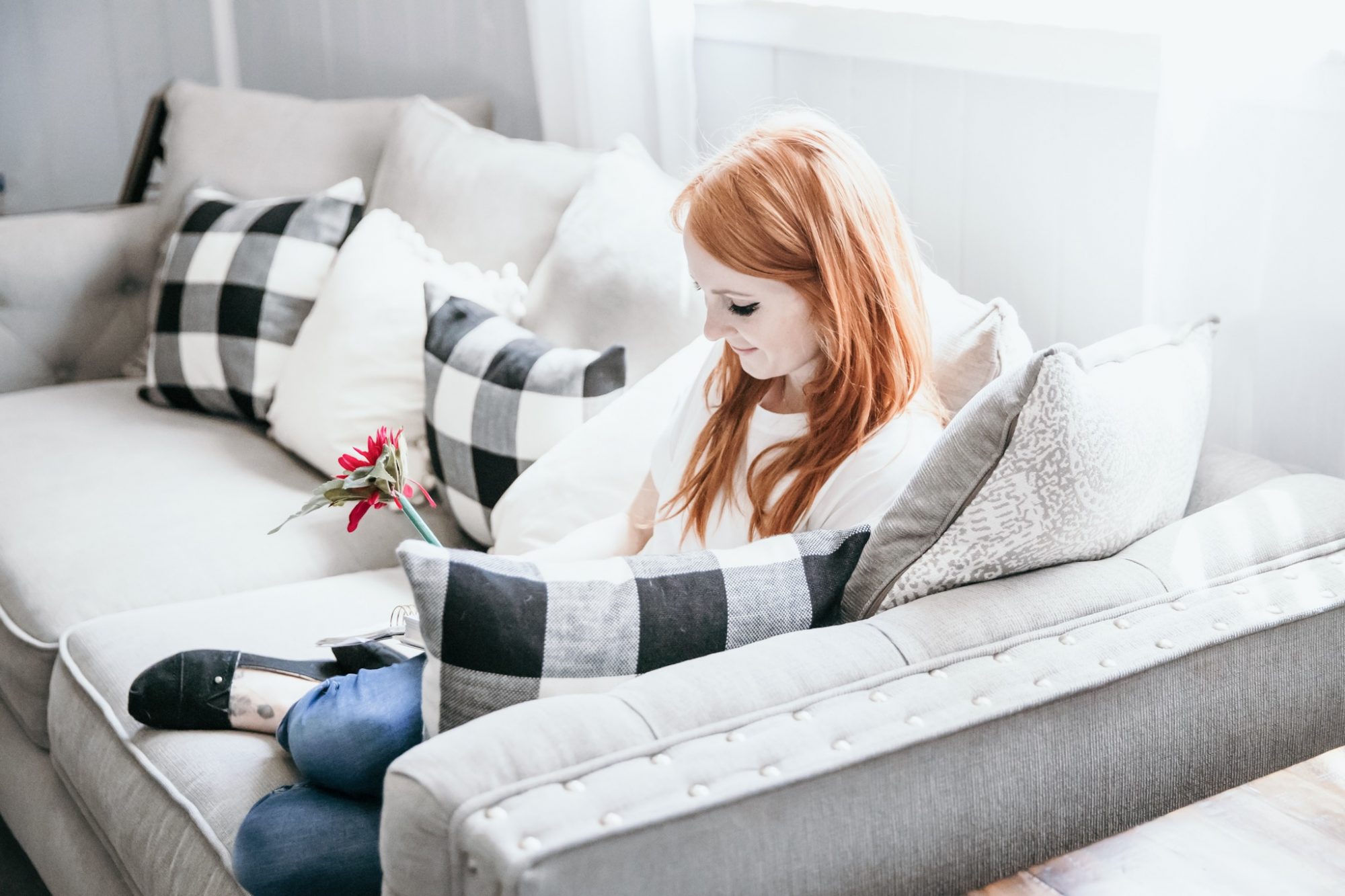 I almost never stop moving.
Getting everything done means I have to do the work to get everything done.
I was having coffee this past week with a friend (who also happens to be a wonderful local photographer and has the cutest personality ever!), and we started talking about our schedules working from home.
She made the joke that she never stops moving…and I thought that was the perfect way to describe what I do, too!
It gets exhausting some days, but the reward of getting to do what I love every day and help provide for my family while sharing tips with my readers makes me feel alive.
Plus, I sleep like a champ every night!
So, if you look at my schedule and think I do a lot of bouncing around, you're absolutely right, but it's a necessary process for me.
Feel free to adjust your own stay at home schedule to do what works for you.
Morning Stay At Home Mom Schedule
5:30 a.m.: Wake up, make bed, take shower.
I'm not a fan of making the bed.
In fact, I grabbed some bedding sets from Beddy's that zipper up like a sleeping bag and fit over our children's mattresses so my kids could easily make their own beds, ha!
But, truthfully, I've noticed that I'm twice as productive one days that I make the bed versus days I just leave the sheets askew.
Making the bed really sets the tone for the rest of the day, and I feel instantly motivated to do the next tasks on my to-do list!
Don't tell my mom, though. She tried telling me how important making my bed was in the morning for years and years and years, and I hate telling her when she's right ;).
P.S. Use code slayathome to save 20% on your order from Beddy's!
6:05 a.m.: Start a cup of coffee and start a load of laundry.
I have a lovely Keurig, so I can just start one cup of coffee in the morning for myself.
In the time it takes my Keurig to make my cup of coffee, I can run downstairs and start a load of laundry and come back up to add the cream and sugar.
My husband hates wrinkly clothes and will put wrinkly clothes back into the dirty clothes basket if they are too wrinkly, which means more laundry for me, so I choose to re-fluff the clothes in the dryer while the new load is running in the washer to smooth out wrinkles.
I'm all about less laundry, aren't you?
6:10 a.m. Drink coffee, catch up on e-mails and do light blogging maintenance.
This is my me time. I take this time to catch up on things I need to like e-mails and blogging updates while the kids are still asleep.
I'll also quickly apply some makeup and get dressed for the day.
See my curly hair routine in the mornings HERE.
7:00 a.m.: Wake the kids up for school day, help them pick out clothes to change into.
My 9-year-old can pick out his own clothes, but I try to make sure he's dressed appropriately for the weather and temperature outside.
My 3-year-old needs help picking out his clothes but can dress himself.
7:15 a.m.: Pick our lunch and snack items for school
The boys' schools require them to bring snacks to school with them, and I need to pack them both lunches.
They both help pick out healthy foods and a drink to pack.
You May Also Like: 100+ Back To School Lunch Ideas
7:25 a.m. Give kids a multivitamin gummy and start breakfast.
7:35 a.m. Eat breakfast together as a family
7:50 a.m. Get ready to get in the car
I try to leave the house at 8:00 a.m. every morning, so usually ten minutes before we have to leave, I help the kids gather backpacks, coats, homework papers, and lunchboxes by the front door.
We fit in a quick potty break before putting on coats, snow pants, boots, etc., and I start the car to warm it up.
While the car is heating up, we will double check our backpacks to make sure the boys have everything they need for the day and are dressed for any rain, snow, or cold temperatures we're having here in the Midwest.
8:00 a.m. Pile into the car
Now, we'll get into the car, buckle our seat belts and adjust car seat harnesses and buckles for safety. Drive to school for drop off.
8:10 a.m. Drop oldest off at school. Drive to other son's preschool.
8:30 a.m. Drop younger son off at preschool
8:35 a.m. Drive back home
8:40 a.m. Defrost meat and fold laundry
Now onto the fun part of my stay at home mom schedule…
Once I'm home, I'll take out meat from the freezer to defrost in the fridge for dinner and change loads of laundry.
I like to put on some music that doesn't contain lyrics involving Pokemon or the alphabet and fold the load from the dryer.
8:50 a.m.: Vacuum living room, kitchen, and dining room floors.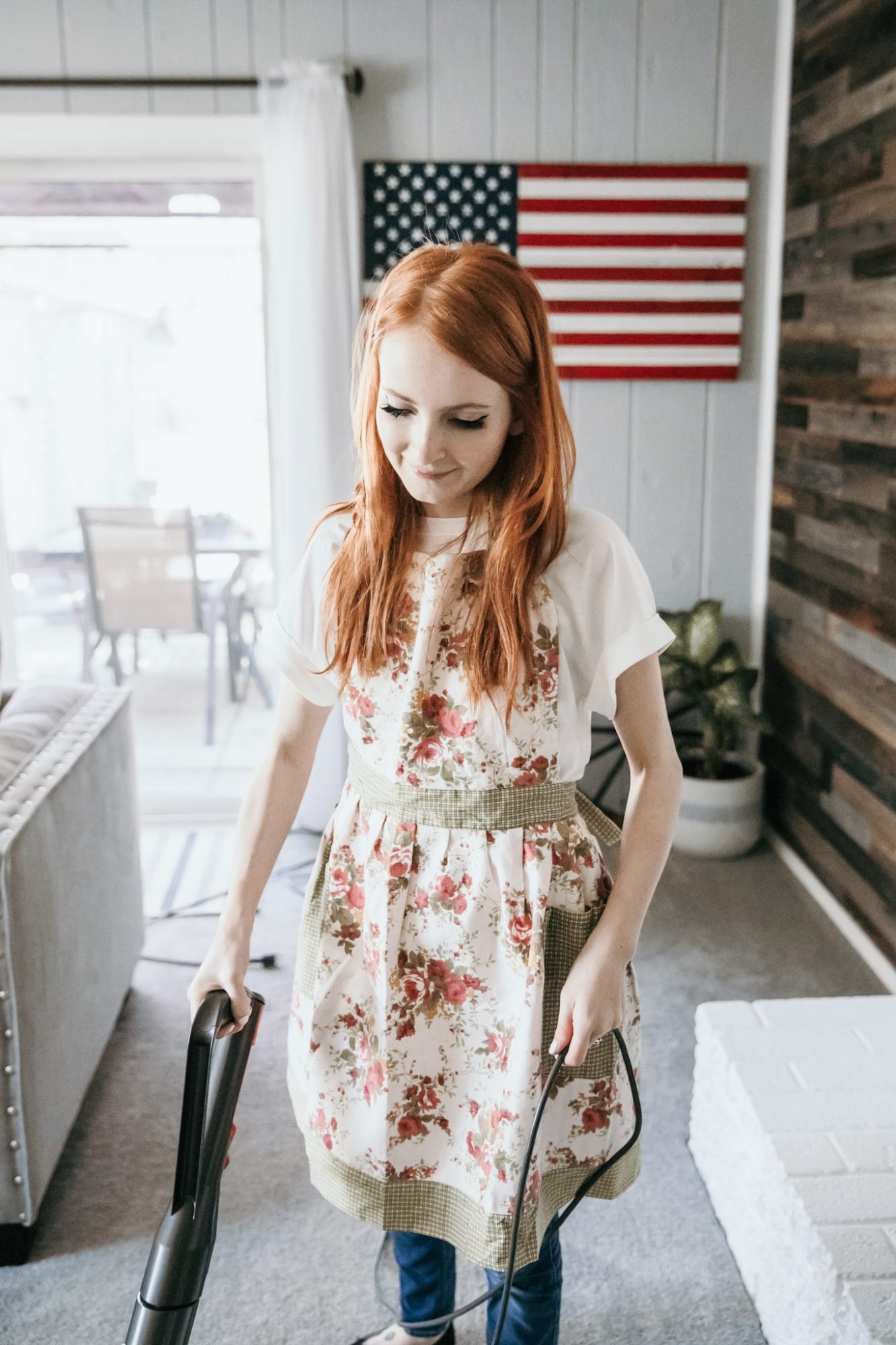 Full Cleaning Checklist Schedule (Daily, Weekly, Monthly Tasks)
Now, I'll vacuum the floors in the living room, kitchen, and dining room because those are the rooms that see the most traffic and require daily vacuuming.
This cleaning task takes no time at all and gives me instant satisfaction as the dog hair, dust, and crumbs get lifted off our hard and carpeted floors!
Here's the vacuum I currently use – it's great for light, everyday pickup.
The canister is easy to empty, and I love being able to see everything it's sucked up.
9:00 a.m. If the sink is full, unload the dishwasher and run a new load.
This is normally my oldest son's chore, but there are times I let the dishes slide for him, especially during times I know he is struggling with a subject at school or has a big project due.
I think chores are important, but so is schoolwork.
If the sink isn't full and only a few dishes are in the sink, I'll skip this step entirely and begin working on my blog a full 15 minutes earlier!
9:15 a.m. Work on my blog for the next three hours.
Now that I've accomplished some light cleaning and chores around the house, I can relax and get working on my blog.
I'll spend the next 3 or so hours writing blog posts, researching post topics, and promoting on my social media channels.
Have you followed me on Pinterest yet?
afternoon stay at home mom schedule
12:15 p.m. Lunch break.
If I had leftovers from the night before that won't feed our entire family a second dinner that night, I'll eat them for lunch.
Otherwise, I'll whip up a quick lunch for myself.
12:45 p.m. Switch loads of laundry,
After lunch, I will switch loads of laundry but REFRAIN from starting a new load.
I try not to start a load of laundry in the afternoon because I know myself.
And I know I absolutely, without a doubt, will not get it. It will sit in the washer overnight and begin to stink.
So I leave the washer empty and bring up the dryer's load to fold.
1:00 p.m. Put away folded clothes.
Now I should have two loads of folded laundry to put away.
1:15 p.m. Tidy up daily cleaning checklist areas
Here are my daily cleaning duties in my stay at home mom schedule I do each day to help keep my home tidy (which are also included in my checklist):
wipe down counters
make the beds (hey, this is already done when I first wake up!)
empty trash (we are a busy family of four – almost five – so the trash needs emptying almost every day)
wash dishes (this is either done in the morning after school drop off or after my oldest son finishes dinner)
clean as I go
1:30 p.m. Focus on one room to fully clean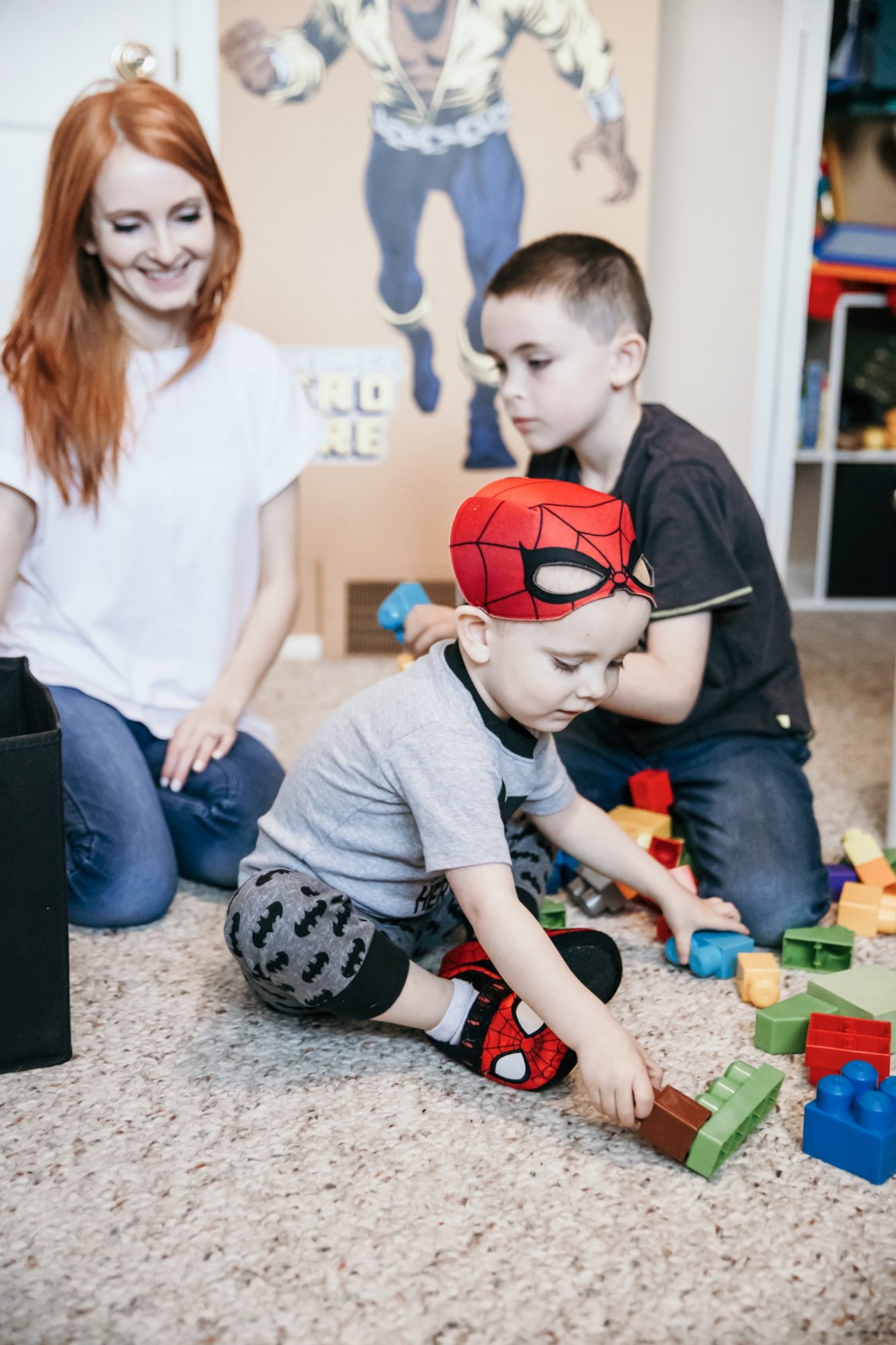 Related: Master Cleaning Calendar: A Clean Home Year-Round With 160+ Printable Pages!
My cleaning checklist focuses on one major room of the house per day.
For instance, Monday's focus is cleaning up the kitchen, so I will spend time clearing off and wiping down our counters, wiping down appliances and our sink, and tossing old food from and organizing our fridge.
1:45 p.m. Prep For Dinner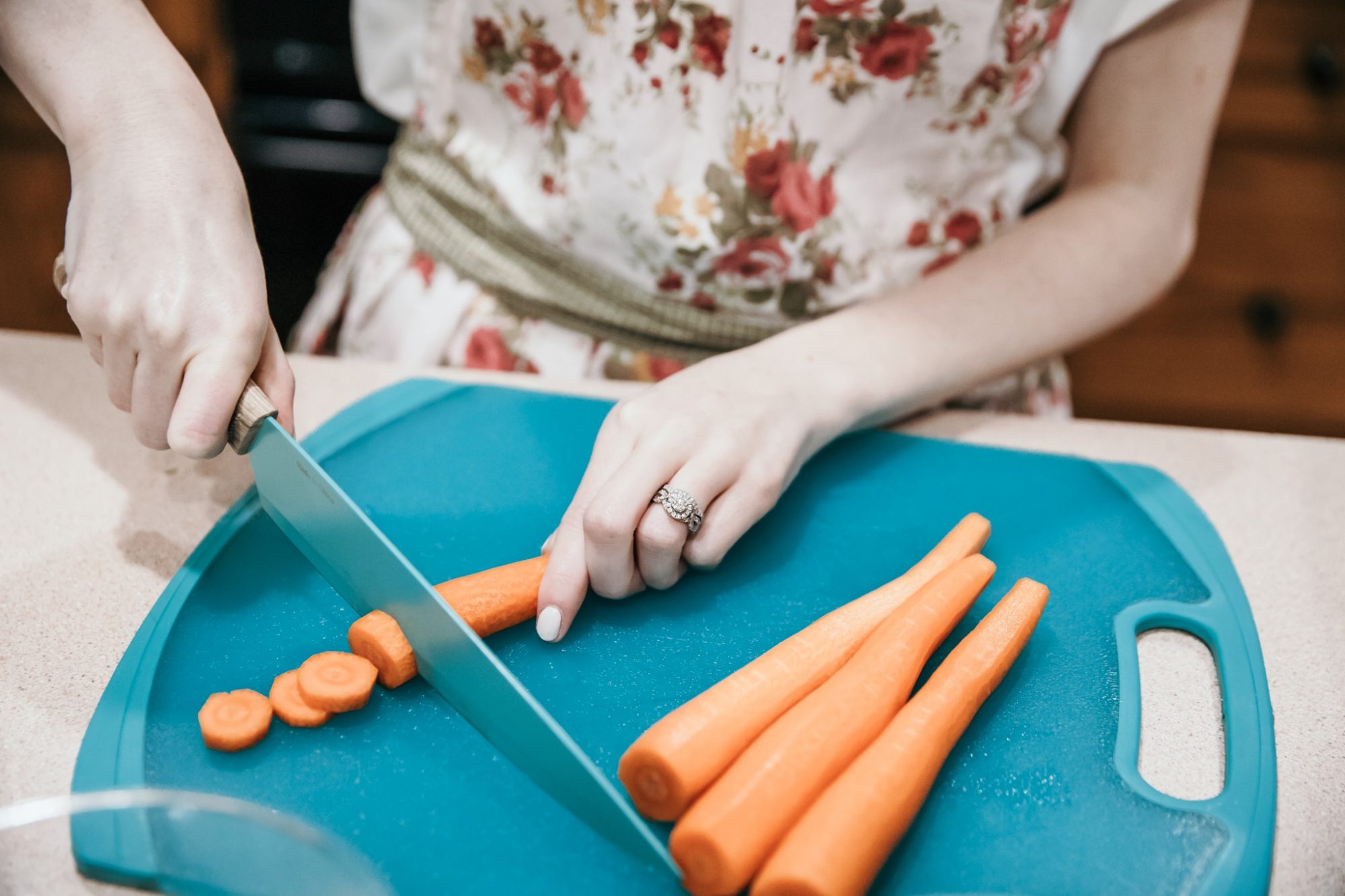 If I'm making a dish for dinner that I know requires a lot of slicing and dicing prior to making it, I'll try to prep these ingredients beforehand. I don't always know when my kids are bringing home a big science project or a lengthy essay to write, and I want to spend as much time with them as I can once they get home, so I like to take care of this while I have the "free" time.
Related: 13 Family-Friendly Crockpot Freezer Meals
2:00 p.m. Work for next hour or so.
After my second round of cleaning and prepping for dinner, I will go back to work on my blog.
You might be wondering why I don't just clean for a couple of hours and then work for several more…
I do that on purpose.
Taking breaks makes housework and blog work feel like less of a chore. It also keeps me moving.
3:15 p.m. Leave house to pick up son from preschool
3:30 p.m. Pick up son from preschool
Because my son has more than 10 other classmates in his preschool class, picking him up takes about 10 minutes because there is a mini swarm of other parents and kids, and I like to briefly ask if he had a good day or not.
3:40 p.m. Drive to pick up my other son from school.
3: 50 p.m. Pick up my other son from school
My oldest son's school lets the kids out right next to the playground, which is large and welcoming.
If it's sunny and decently warm outside, I'll allow them to play for a few minutes together before heading back to the car.
evening stay at home mom schedule
4:00 p.m. Arrive home, review homework assignments.
At this time, I'll review papers in my children's backpacks and see if there are any permission slips I need to sign, papers I need to review, and what homework assignments my children need to get started on or continue.
4:10 p.m. Complete homework (assist if needed).
At this time, I'll help my preschooler with any homework or activities his teacher wants us to do at home, and offer help if my 9-year-old needs it.
Once homework is done and put back into backpacks to return to school the next day (or placed in our homework organizer hanging on the wall), the kids can play together until dinner is ready.
5:00 p.m. Start dinner.
5 minutes before dinner is served, I'll ask our children to wash their hands and put away toys they've been playing with.
5:30 p.m. Eat dinner together as a family.
This is super important. I try to stress that phones and computers be put away during this time.
6:00 p.m. Clean up the kitchen, have my oldest son start a load of dishes.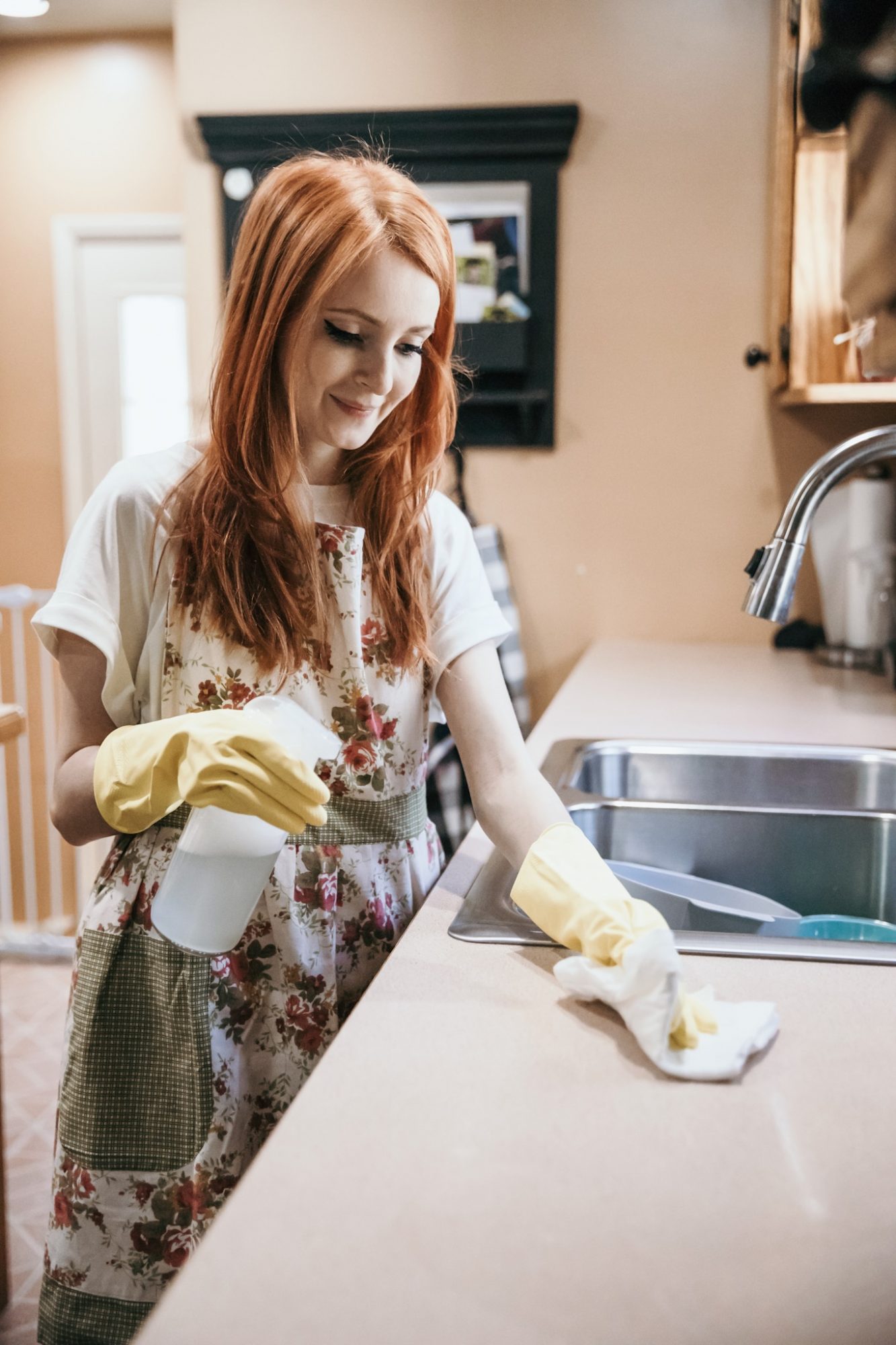 My oldest son, now 9, has a main chore that he is responsible for, which is the dishes.
As I'm cleaning up after dinner, I'll ask him to get started on the dishes.
He unloads and reloads the dishwasher.
Most of the time, my younger son will help his brother unload the dishwasher because he wants to do everything his brother does.
Once he turns 10, I will teach him how to handwash pots and pans, but for now, I don't require him to handwash anything that won't fit in the dishwasher.
I'll also help my son rinse out the sink since this is an area he struggles with (you have to scoop out any leftover food from dishes into the side of the sink that has the garbage disposal, which can be a slight issue with his sensory processing disorder).
Then, I'll put away any leftovers we may have in the fridge with a dated label.
6:20 p.m. Spend time together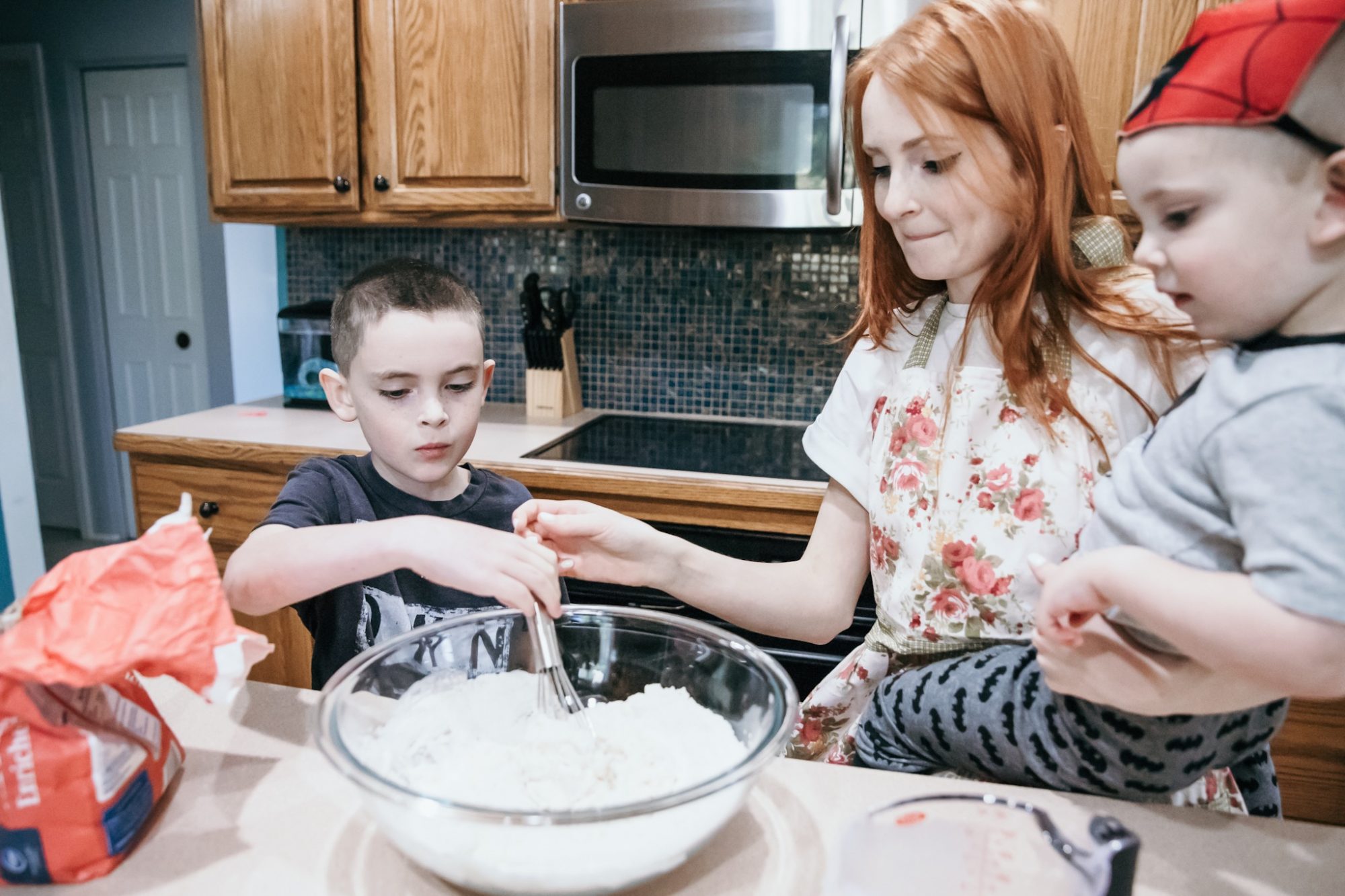 Now we'll either watch TV together, play outside, or take a walk around the neighborhood.
7:30 p.m. Water garden, ask children to change into pajamas.
Our kids can pick out and change into their own pajamas, so while they do that I take time to lightly weed and water our vegetable garden.
We're currently growing bell peppers, tomatoes, and onions.
7:35 p.m. Help children brush their teeth and wash faces.
After letting them brush their teeth for a couple of minutes, I like to follow up and brush their teeth as well.
*As a prior dental assistant, I can tell you that your child may be able to operate the toothbrush and brush back and forth, but they aren't able to really clean their teeth fully to prevent cavities until around 11-12 years old and will still need some help here and there to make sure they are reaching and getting all areas.
Then, I'll have my oldest son swish with a fluoride rinse, and wet a soft rag with warm water.
They will both wipe their faces from forehead to chin a few times, and pat dry.
7:45 p.m. Read to the kids in bed
I have our kids take turns picking out books because they rarely agree on a book, but they both love to be read to.
8:00 p.m. Lights out, kids go to sleep.
My kids take a full half-hour to settle down, especially since they share a bedroom with a set of bunk beds.
This is my favorite part of my stay at home mom schedule ;).
8:05 p.m. Tidy up the living room
Once the kids are in bed, my husband and I will go through the living room and pick up remaining toys, empty laundry baskets, or cups.
8:10 p.m. Blogging
At this time, I'll wrap up blogging work that I need to get done, schedule out a post, and go through my e-mails once more.
Like right now, I'm writing out this stay at home mom schedule post at 8:13 p.m., right on schedule! 😉
9:30 p.m. Go to sleep.
---
That's it for my stay at home mom schedule!
I hope this helps you tackle those everyday chores and tasks, and incorporate any work-from-home activities you need to during the day. Let me know what your schedule looks like in the comments below!
**All photos within this post were taken by the wonderful and amazingly talented Olivia Stouffer from Liv In The Moment Photography**
*Post originally published September 2019, updated January 2021.