Maintain your home this season with some important cleaning duties to complete in summer on my free printable Summer Cleaning Checklist…
---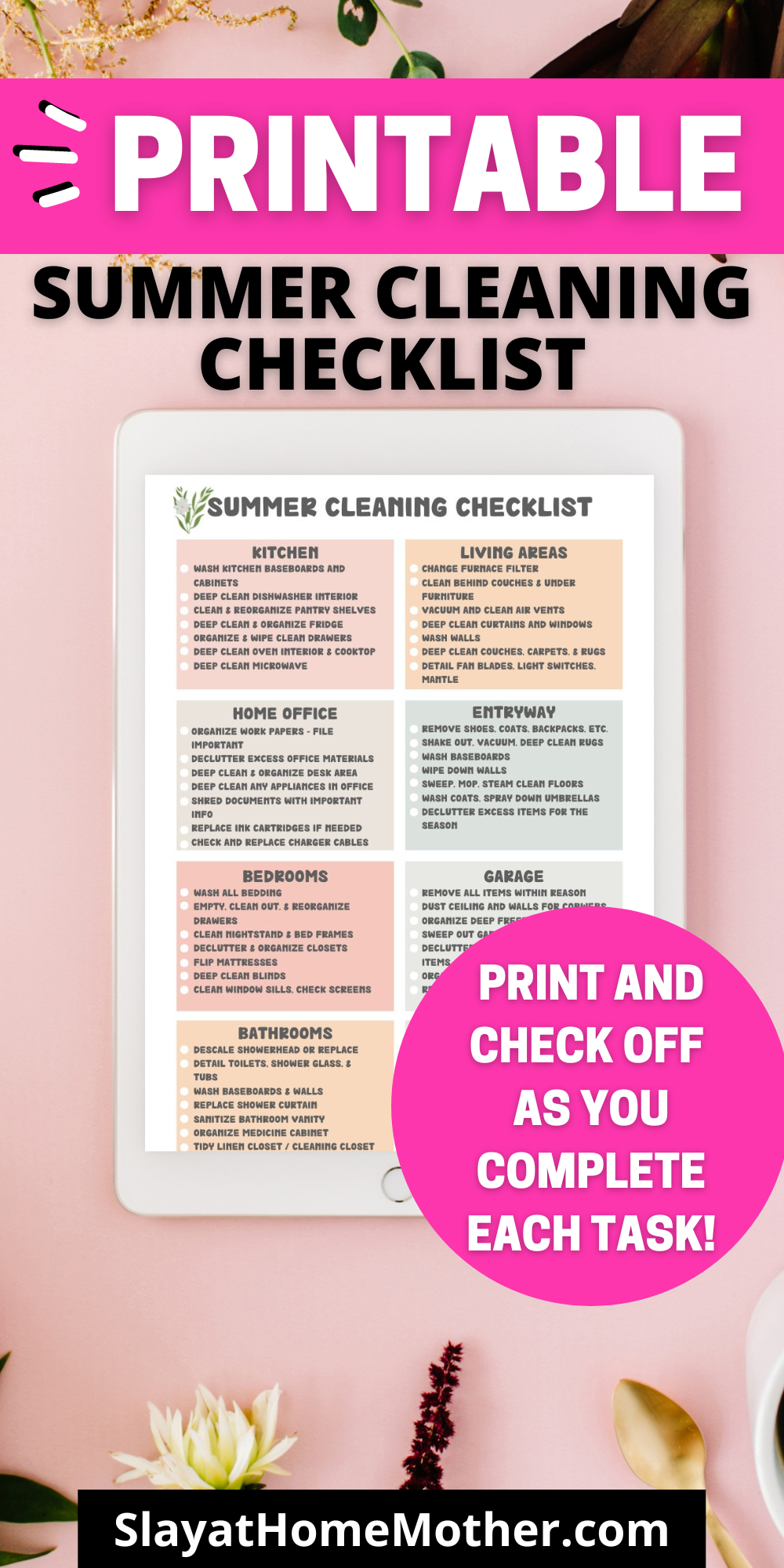 Summer Cleaning Checklist
Summer is a perfect time for some deep cleaning chores.
This is because of the nice weather, meaning you can open windows and clean up messes without worrying about freezing your fingers off in the process.
Additionally, it's a good season to undertake these tasks because you'll have more time on your hands to do them: the kids will be out of school and on vacation, so they won't require as much attention.
The same may be true for work—you get more flexibility when it comes to taking time off during summer months than during other times of year.
And if you don't, why not take advantage of that summer feeling—even if just for an hour or two—to take care of some home-cleaning business?
Another perk to doing these chores in the summer?
You'll avoid having such a large pileup come fall and winter, which is especially essential if you're someone who likes having holiday parties at home or hosting friends during colder months.
Summer is a great time to tackle deep cleaning tasks. With windows open and a warm breeze wafting through your home, you can check off as many chores as possible. Plus, it's important to stay on top of any major cleaning duties so that you have time during the long summer months to relax and enjoy yourself! Below are 15 items that should be included in your summer cleaning list.
Entryway
Wipe down the walls and door with a damp cloth.
Vacuum or mop the floor—and if you have carpet, be sure to shampoo it. Vacuuming before cleaning your carpet is recommended for a good deep cleaning.
Remove cobwebs from lights and ceilings.
Store items that belong in winter but not summer (such as umbrellas). You can store certain sizes of mittens and gloves in a zip bag, labeled, and stack the bags in a container to store in your out-so-season space (garage, basement, etc.).
Clean the light fixtures. A light dusting (dusting gloves are great for this), and a quick wipe down can help you clean your light fixtures.
Refresh curtains or blinds by washing them if possible, or replace them altogether if they are looking worn out. Here's a great cleaning hack for cleaning mini blinds!
Clean the doorbell switch so it doesn't collect germs, which can easily be spread between visitors pressing their fingers to it. You can also wipe your screen door and detail the door handle of your entryway on both sides of the door. Wet a cotton swab with warm soapy water to detail your doorknob, locks, and other deep grooves and crannies on your entryway doors.
Kitchen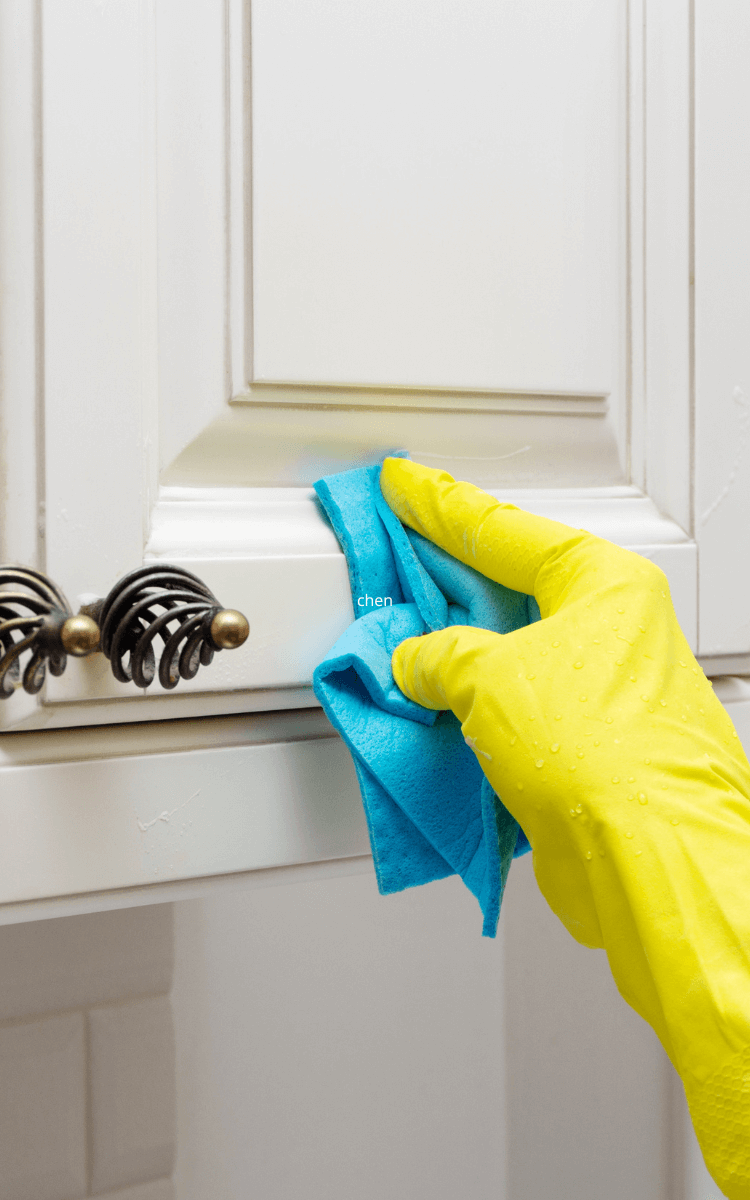 Wash kitchen cabinets and baseboards. I like to use this cleaner for our cabinets for a deep clean and shine.
Deep clean your dishwasher. I have a great dishwasher cleaning hack HERE that works great.
Wipe down appliances well. You can use a special stainless steel cleaner and a microfiber cloth to detail appliance fronts, handles, and sides.
Deep clean inside the fridge, especially inside drawers, the door shelves, and the seals. Mix together one tbsp. of baking soda with some warm water to make a paste that will help scrub off any sticky residue or cooled spills inside the fridge.
Clean and organizer pantry shelves. Toss expired foods, restock dry ingredients and remove excess packaging to clear clutter. Take inventory of what you currently have an abundance of so you can start meal planning and use up that stock to clear more space in your pantry.
Bathrooms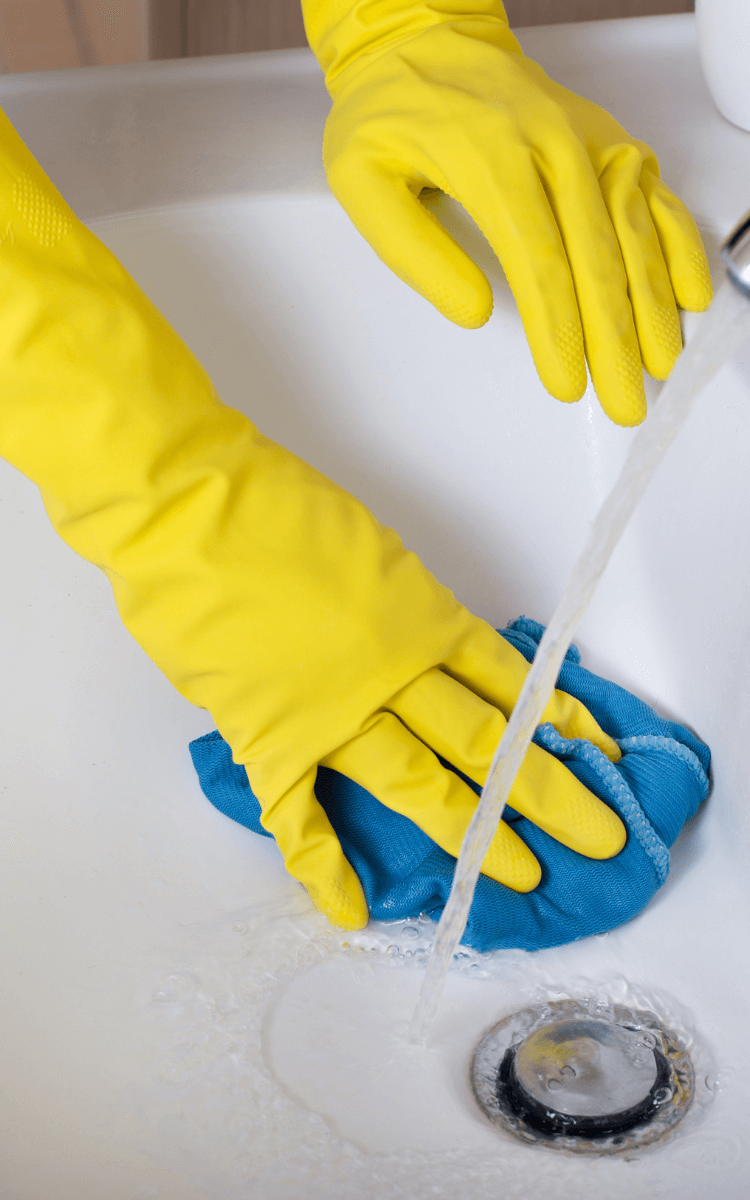 Take everything out of the bathroom cabinets and off the counters, then clean all surfaces with an appropriate cleaner. Pay special attention to your mirror(s), handles, light fixtures, and showerheads. Lastly, wipe down the sink.
Next, give your toilet a good scrubbing, remembering to clean the seat and the floor behind it as well as inside the bowl. If you need some extra sanitizing power, use a steam cleaner to blast away grime and germs.
After you've cleaned your tub or shower (and maybe even tiled walls if applicable), tackle that floor! Sweep up any debris first; then mop or vacuum thoroughly before wiping away any water left behind on hard surfaces with a towel—this will keep mildew from creeping in after you're done cleaning!
Cleaning out the trash is an important part of making sure your bathroom stays fresh and smelling great all summer long; empty the garbage can(s) regularly into a larger trash bag for proper disposal outside your home (or make sure everyone in your house knows where to take their own bathroom trash).
After putting fresh liners back into each canister, spray them down with disinfectant spray before replacing them in their rightful places: under sinks or next to your toilets.
Go ahead and pull out that old toothbrush from last year's cleaning supplies because it's time to get rid of those little bits of grime hiding behind knobs that tug at our fingers every time we enter this room.
Bedrooms
Dust dressers, nightstands and headboards. You can use a general all-purpose spray and microfiber cloth for easy cleaning. Be sure to rub the microfiber cloth along the sides, legs, and front of your furniture as well.
Vacuum or steam clean carpets. Use a carpet cleaner for difficult stains or spots you may have – this carpet cleaner is my favorite!
Wash or dry clean curtains or blinds.
Vacuum or steam clean mattresses and rotate mattresses if needed.
Clean all bedding, including pillows, duvets and comforters—and even rugs on the floor.
Dust light fixtures and ceiling fans. For ceiling fans, you can use an old pillowcase! Simply slide the pillowcase over each fan blade, lightly press the top of the pillowcase down along the fan blade and wipe the dust layer off as you go. The pillowcase will catch all the loose dust, preventing it from flying everywhere and landing all over your furniture and floors.
Closets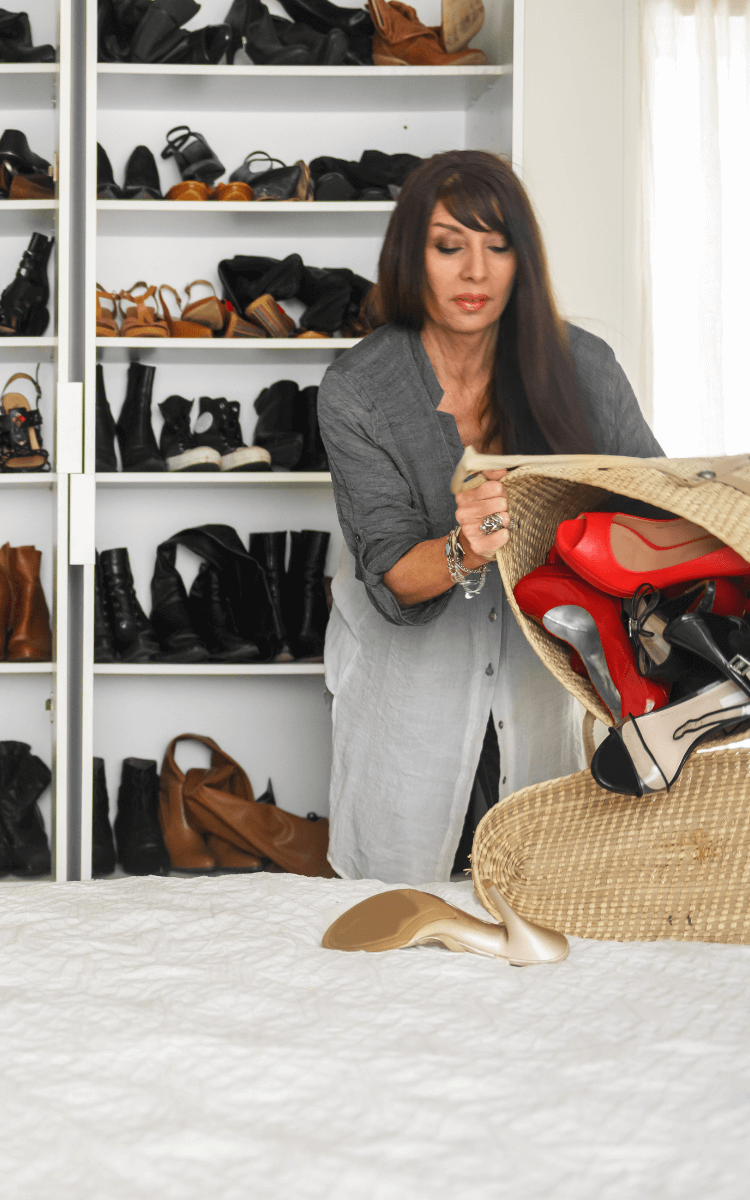 Transitioning from winter to summer clothes can be a mess if you don't have a plan.
Don't overwhelm yourself by trying to do everything at once. Instead, do one closet at a time, using our handy checklist.
Try things on: If you haven't worn it in the past year, it might be time to donate it.
Check for wear: Make any necessary repairs and alter items that no longer fit.
Group seasonal clothes together: Put sweaters and pants in storage bins and put away your swimwear until next summer!
Windows
Clean the screens. If your screens are removable, take them outdoors and hose them down. If they can be cleaned in place, use a soft brush and gentle detergent to wipe away dirt and debris.
Clean the windows with a solution of equal parts water and vinegar or one teaspoon of liquid dishwashing detergent per cup of water. Dip a soft cloth into the solution, then wipe the window glass, being careful not to drip on the window frame or sill.
Use a squeegee to get rid of streaks and excess cleaner (which may attract dust). Wipe up the remaining cleaner with a damp microfiber cloth, which absorbs dirt and won't leave lint behind like paper towels can. And don't forget to get into those corners! Use an old toothbrush or cotton swab dipped in cleaning solution to get deep in there.
Clean the window frames, sills and tracks with a damp microfiber cloth followed by dry cloths for polishing. For tougher stains, mix one part warm water with two parts baking soda; scrub gently with a toothbrush until clean; rinse thoroughly; dry well with another soft cloth; polish if desired; remove stubborn spots using an eraser sponge (the kind you use for bathrooms).
Difficult window tracks can be cleaned using a steam cleaner. Steam cleaners can blast hot steam into the tracks, loosening grime and caked-on dirt for an easy, elbow-grease-free cleaning method.
Patio/Porch/Outdoor spaces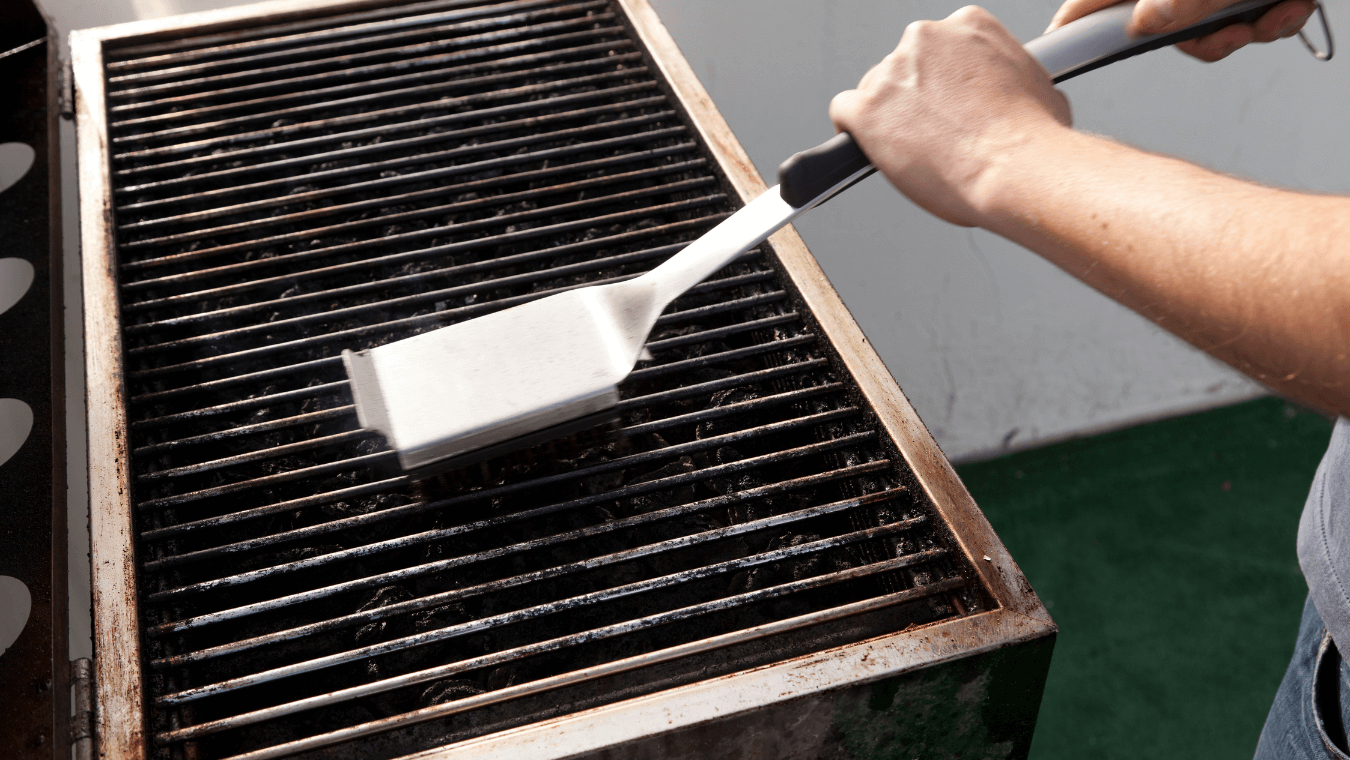 Clean the grill. Remove the cover, wipe down the grill top, sides, and legs. Look inside your grill to examine if it needs a good deep cleaning. Empty any debris from the grill and add fresh charcoal or a gas canister is needed. If you have a flat top grilling surface like a Blackstone grill, season the cooking surface.
Clean the patio furniture. Use a cloth with warm, soapy water to wipe down your plastic/wicker furniture, and then let it dry. Wipe down mesh or webbing straps with a damp cloth as well—you might be surprised by how much dirt has collected on these parts of your patio furniture! Finally, if you have wrought iron or other metal pieces, use a mild soap and a scrub brush to remove any dirt from their surface, then rinse them off and allow them to dry completely before storing them away for the winter.
If you have furniture that needs extra attention (refinishing, painting, etc.), now is a great time to sand them down and repaint them.
Wash the outside of your windows and doors (as long as it's not too cold out). This is also a great time to clear out any leaves or debris that may have made its way inside gutters or drains; use either an old paintbrush or vacuum cleaner attachment to get this job done quickly but thoroughly!
Sweep the patio or porch area clean of any dirt, dust, cobwebs, etc., then mop with warm water mixed with some dishwashing liquid (if desired). If you have wooden decking boards on your patio flooring they might need more than just sweeping—use a power washer at low pressure first before doing any mopping! If there are stains that won't come up after gentle scrubbing then try applying an oxalic acid-based cleaner such as Bar Keepers Friend Soft Cleanser first followed by rinsing thoroughly with fresh water again using low-pressure hosing equipment like one made specifically for patios/decks – these can be found at most hardware stores in town.
When you're ready to tackle the backyard, it's best to start with the furniture. Check the tags on your cushions and pillows for specific cleaning instructions, then set them outside, on top of a tarp if possible. If there are any spots that need extra attention, use a cleaner that is safe for the fabric or just some warm water and a sponge. Give each cushion or pillow a good scrub (you might want to enlist someone to help). Then vacuum all of them with a soft brush attachment before returning them to their rightful place in the sun.
Make sure your family has enough hooks available in all of these areas so that coats can be hung up as soon as they come inside. Round up all of the snow boots and throw them outside. Organize scarves/mittens/hats in baskets if they are seasonal items that will be coming back out again this winter. If you haven't done this already this spring/summer, go through shoes and get rid of any that no longer fit or are damaged beyond repair. Put away any seasonal clothing items (such as winter coats) and place summer gear like flip flops into storage bins in the garage for next year!
Living Areas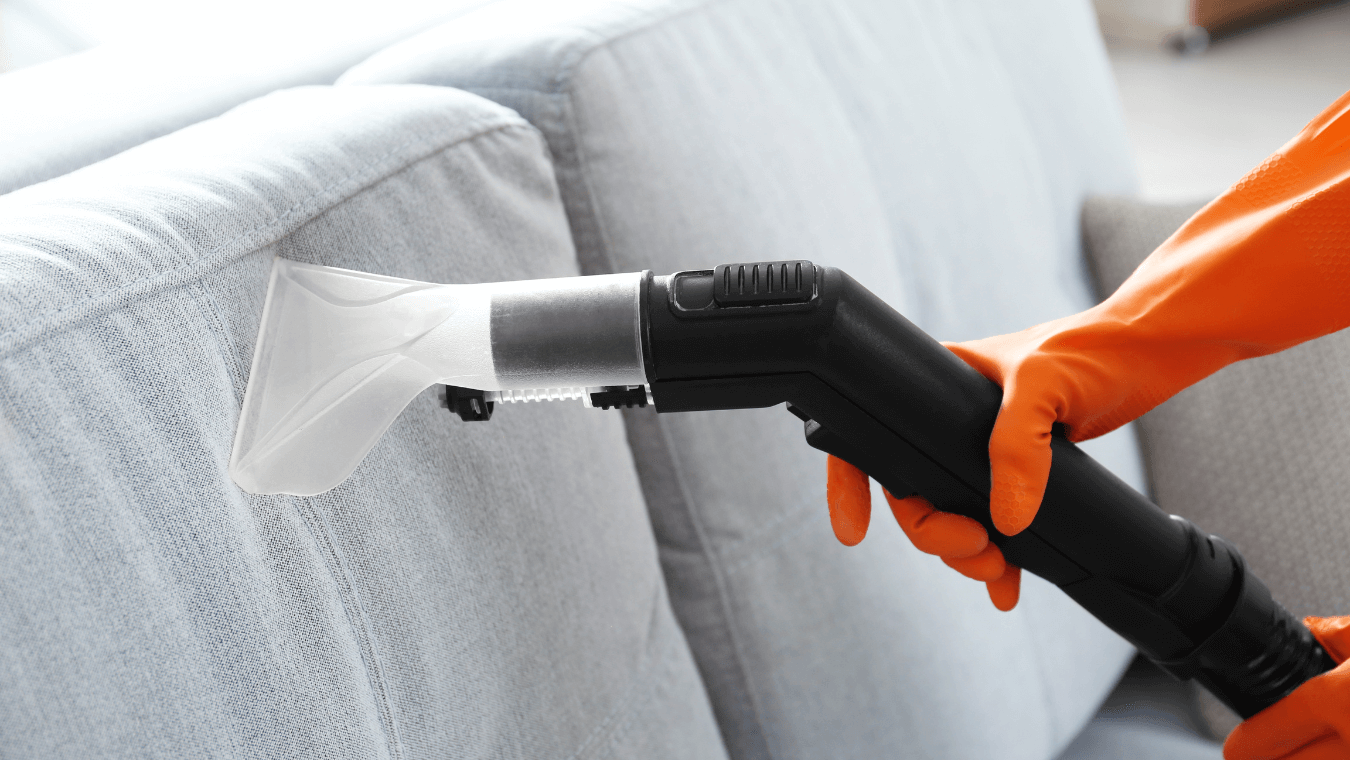 Deep clean your couches, ottomans, and furniture. Use a quality wood cleaner for your wood furniture (this spray is affordable and works great), and a microfiber cloth to keep and enhance the wood's integrity over time.
Deep clean your carpets, rugs, and flooring.
Wash the walls. This can be done with either a steam cleaner and floor attachment or a microfiber squeegee brush and a homemade solution you can make HERE.
Clean behind couches and under furniture. Remove couch cushions, and vacuum under cushions. Toss or put away excess items found under your cushions.
Wash any hanging curtains and detail windows. You can remove any wrinkles by hanging the wet curtains up outside once they are washed and dried. Then you can use an iron or steamer to get rid of any wrinkles that remain after hanging them up outside.
Change the Air Conditioner Filter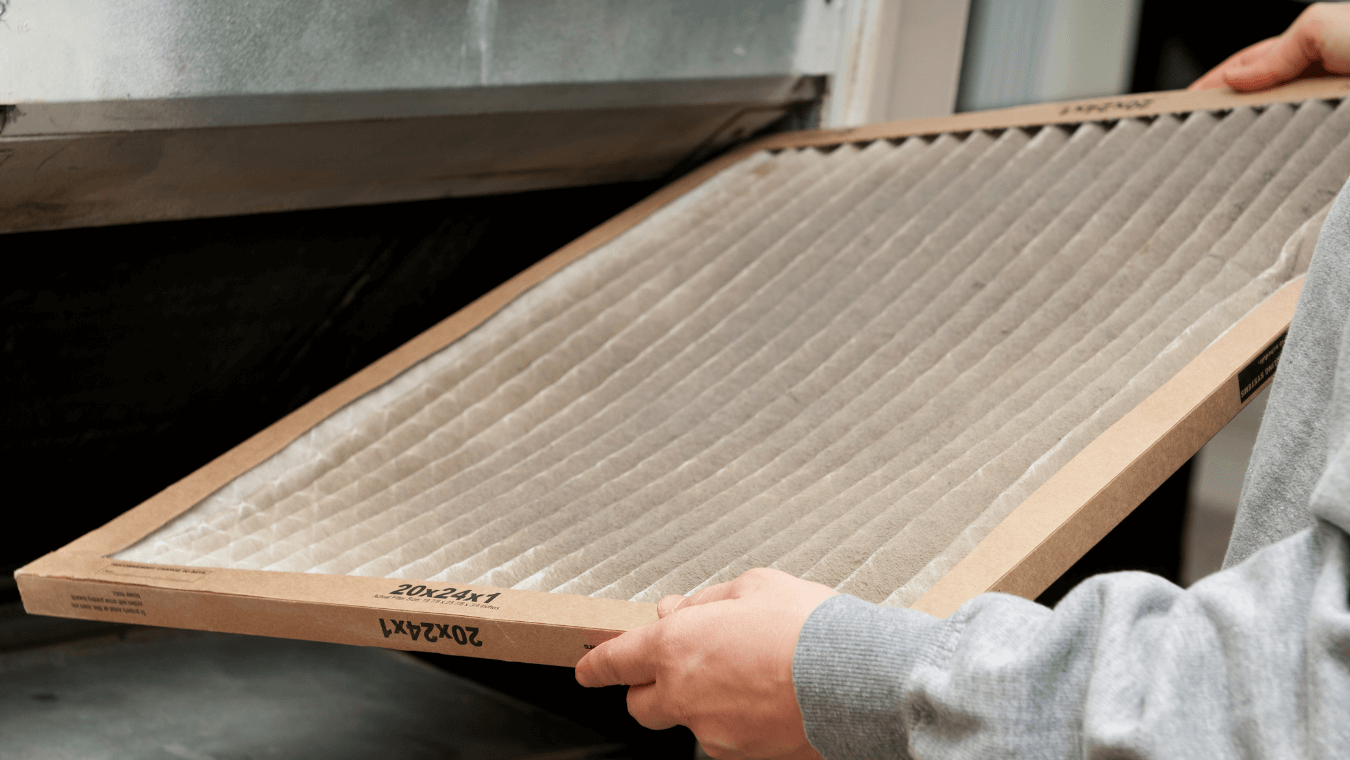 Check the filter every month, and clean or replace it if needed. If you're using your air conditioner more than a few months out of the year, you should be replacing the filter every 3 months so that it doesn't become caked with dust and dirt.
Clean both the indoor and outdoor units of your air conditioner to keep it working efficiently. While you may think that only the air coming out of your vents is important to clean, neglecting your outdoor unit can lead to all kinds of problems in the future. You'll want to clean off any leaves or debris from inside and outside the unit, as well as around where it's attached to your house. If you don't feel comfortable doing this yourself, hire a professional, who will also know how to check for any worn hoses in need of replacement.
---
What cleaning duties are on your list this Summer? Let me know in the comments below!