The very best Modern Farmhouse Decor Ideas on Amazon – because who doesn't love gorgeous #farmhouse decor with free 2-day shipping? 😉
---
Hello friends!
I am really excited about this post because today I'm sharing with you some of the BEST Farmhouse Finds on Amazon!
I'm a huge Amazon fan – it's kind of an obsession, and there is probably at least one Amazon Prime box sitting on my doorstep every week.
I guess there's something really exciting about coming home to find a box on your doorstep, even if you already know exactly what's in it!
Especially if it's something for your home…
I looove finding the perfect piece of home decor for every room in my home.
Seeing how each item ties a room together make my heart flutter with excitement!
Amazon has some really great steals – and you can often find the perfect piece of decor you've been looking for for a really great price.
I recently purchased some cotton, lavender, and lamb's ear stems on Amazon to piece together a floral arrangement centerpiece for our dining room table.
I already had a gorgeous $15 white ceramic pitcher from Target, on which I tied a piece of twine in a bow around the top.
It was gorgeous against the dark wood of our custom farmhouse dining table.
Unfortunately, my toddler + birthday balloon string + running around the table = knocked over pitcher.
Needless to say, I'm on the hunt for another pitcher.
I would forge my way through the recent blizzard and still-unplowed roads to Target to replace my broken pitcher, but my southern driving skills still aren't up to par to battle with my northern habitat and the icy, snowy pavement.
So, online shopping it is!
I always find great deals and steals on Amazon when it comes to the farmhouse genre of decor, so I bet I'll find something fantastic online.
Anyways, here you are lovelies – my compilation of gorgeous modern farmhouse decor ideas on a dime…
---
This post may contain affiliate links for your convenience, at no cost to you.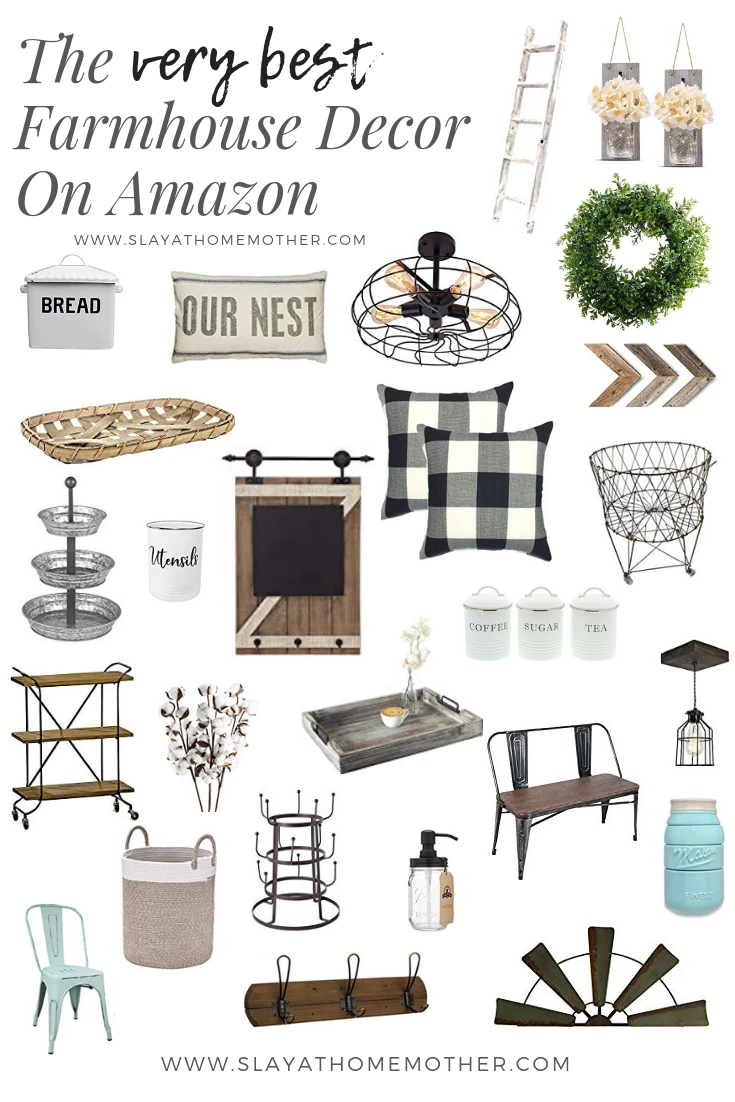 Best Farmhouse Finds On Amazon
rustic coat rack // buffalo check pillow covers // mason jaw wall sconces // bread box // collapsible rolling laundry cart // wood arrows // windmill wall decor // cotton stems // boxwood wreath // galvanized 3-tier serving tray // mason soap jar with pump // cage light fixture // metal and wood rolling cart // woven basket // metal mug tree // fan style cage ceiling light // our nest pillow // tobacco basket // mason jar measuring cup set // metal kitchen canisters // farmhouse chalkboard
*I actually own the buffalo check pillows on this list – great steal, and they look great on our sofa!