Here's my list of the Top 10 Disinfectants for Coronavirus, plus top areas to disinfect in your home…
---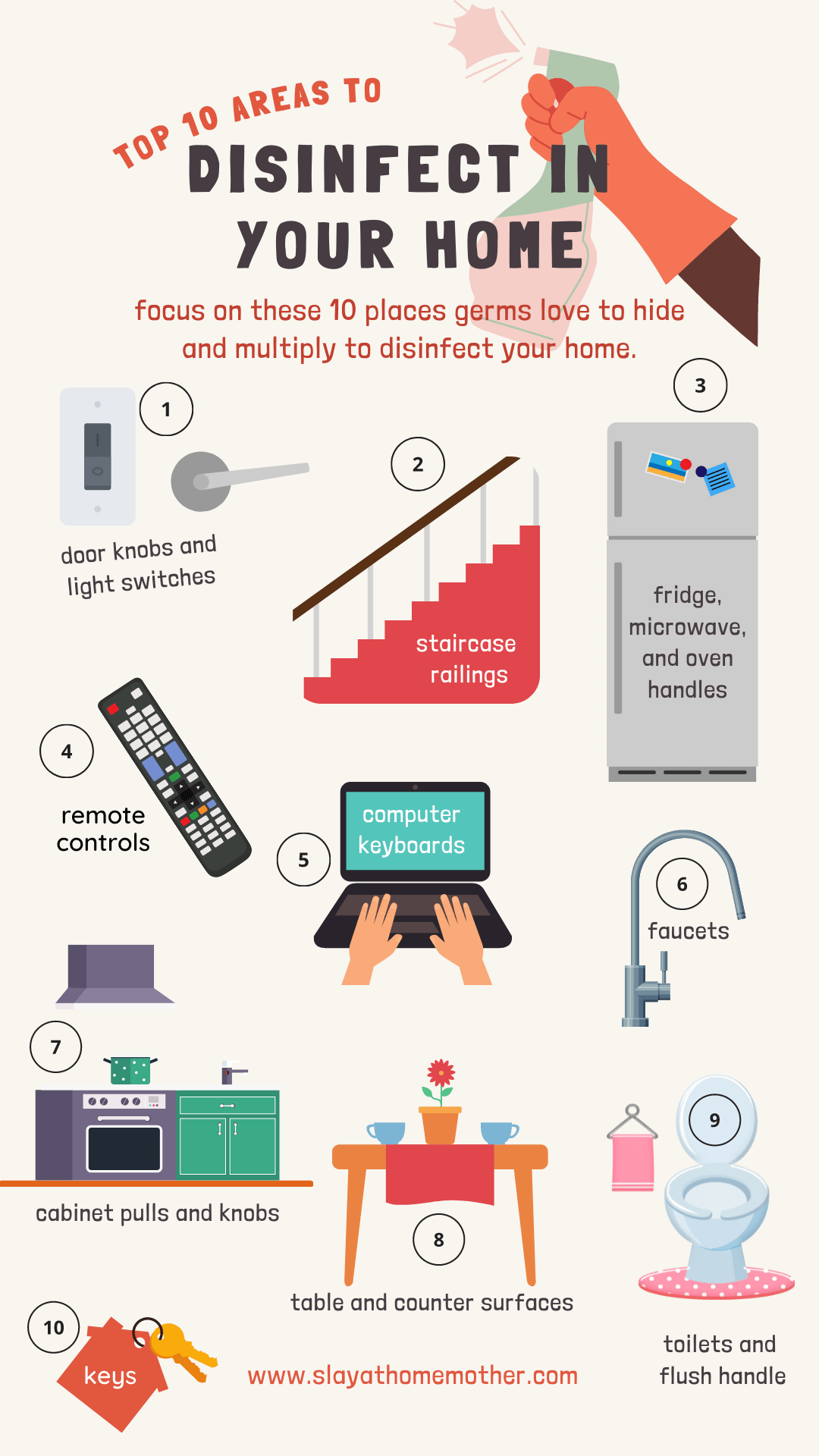 With Flu season upon us (and the entire year being COVID-season), I wanted to share some top disinfectants for Coronavirus to help prepare you for this fall and winter.
Almost all of these disinfectants are approved by the CDC and are on the EPA's List N.
List N is the official list of cleaners that kill Coronavirus – check out the full list here.
*This post contains affiliate links, however, all opinions are my own, as always.
Top Disinfectants For Coronavirus
Here is my list of the top disinfectants for Coronavirus.
I compiled this list with cleaners that can be easily found, are designed for household use (not hard-to-find hospital cleaners here!), and do the job.
I've included important information from the EPA's List N as well, like the contact time (this is the amount of time it takes for a cleaner to remain on a surface before it kills the bacteria intended) and the active ingredient.
I invite you to research these cleaners to see which one(s) are the right fit for you and your family, your lifestyle (can I really spray the counter and wait 10 minutes for it to work before wiping it, or do I need something that works in 60 seconds or less), etc.
Clorox
Contact Time: 10 minutes
With a contact time of 10 minutes, Clorox products (sodium hypochlorite) are great for disinfecting and EPA List-N approved.
Force Of Nature
Contact Time: 10 minutes
This non-toxic cleaner (sodium chloride) is made at home with a small generator that looks like a beaker and has been shown to be as effective as bleach.
If you're looking for an amazing bleach alternative, this is it!
I wrote a separate review HERE on Force Of Nature that you can read, and included personal Petri dish results to show how it worked for us.
Oxiclean Laundry & Home Sanitizer
Contact Time: 15 minutes
This cleaner (active ingredient: hydrogen peroxide) is great for sanitizing laundry, tile, couches, and carpets while being color-safe. It claims to kill 99.9% of bacteria within 15 minutes.
Lysol Disinfecting Products
Lysol Disinfecting Wipe Contact Time: 2 minutes
Lysol Disinfecting Bathroom Cleaner Spray: 5 minutes
The active ingredient in Lysol Bathroom Cleaner is citric acid.
Lysol is a great disinfecting option for quick cleaning – with such little contact time, a great scent, and the ability to work effectively on multiple surfaces without tarnishing or damaging them.
O3 Waterworks
Contact Time: 30 seconds
The active ingredient in O3 Waterworks is aqueous ozone, generated by the bottle.
This sanitizing spray bottle has been shown to kill 99.9% of bacteria within 30 seconds of contact – amazing!
Comet Disinfecting Bathroom Spray
Contact Time: 10 minutes
Comet disinfecting bathroom spray (active ingredient: citric acid) is on the EPA's List N, and can be used on Ceramics, enamel, fiberglass, plastic, porcelain, and stainless steel.
Scrubbing Bubbles Products
Scrubbing Bubbles Multi-Purpose Disinfectant Spray Contact Time: 5 minutes
With just 5 minutes of working time, Scrubbing Bubbles Multi-Purpose Disinfectant Spray (active ingredient: triethylene glycol; quaternary ammonium) has been tested successfully against SARS-CoV-2 and works as both a sanitizer and disinfectant.
Take care of soaps cum, mold, mildew, and bacteria.
Avoid use on carpet, bedding, leather, silk, mattresses, clothing, polished wood, lacquered metals, acrylic plastics, and painted surfaces.
Fantastik All-Purpose Cleaner
Contact Time: 3 minutes
Sanitize in 10 seconds or disinfect in 3 minutes with Fantastik All-Purpose Cleaner (active ingredient: quaternary ammonium).
This spray cleaner kills 99.9% of bacteria and has been shown to kill a harder-to-kill pathogen than SARS- CoV-2, earning it a spot on the EPA's List N.
Windex Disinfectant Cleaner
Contact Time: 10 minutes
Safe to use on virtually all hard surfaces (even sealed marble and sealed granite), use Windex Disinfectant Cleaner (active ingredient: l-lactic acid) to kill 99.9% of bacteria.
Spray, let sit for 10 minutes, and wipe away with a clean paper towel or microfiber cloth!
Tilex
Contact Time: 1 minute
Tilex (active ingredient: sodium hypochlorite) is a quick, effective cleaner to use that kills COVID.
This cleaner can be used on 'glazed ceramic tile, grout, tubs, fiberglass, shower doors, vinyl shower curtains, sinks and no-wax floors', but should be kept off fabric, wood surfaces, and painted surfaces.
Top Areas To Disinfect In Your Home
Here are 10 top areas to disinfect in your home…
door knobs
light switches
remotes
computer keyboards and mice
bathroom counters, sinks, toilets, and flusher
appliance handles
staircase railings
faucets
keys (I prefer a dry disinfection method when it comes to small toys and our car keys – here's the sanitizer we use!)
toilet and flusher handle
When Should I Disinfect My Home?
I try to disinfect our home every 10-14 days because I'm actively cleaning it every day.
Disinfection is not necessary every day or every week.
Here's when I typically disinfect…
if someone is sick in the house
every 2 weeks in the fall and winter
every month in the warmer months
Obviously, if someone in our home is currently sick, it goes without saying that we need to actively disinfect to ensure the rest of our household is less likely to catch the illness too.
During the warmer months, I try to disinfect common areas in our home about once a month (I've gone as long as 2 months between disinfecting before, but, again, that's because I actively clean these common areas in our home).
But during the colder months here in the Midwest, I increase the frequency to every 2 weeks.
That's because it's cold and flu season, and we're spending more time indoors which actively contributes to the further spread and sharing of bacteria and viruses.
It's important to note that over-disinfecting can also negatively impact your and your family's health.
Your body and immune system need to be regularly exposed to some bacteria.
If you're constantly disinfecting bacteria from the common surfaces in your home, your body won't know how to respond when it finally does become exposed to bacteria.
You would be more likely to become sick from exposure to that bacteria because it can make the bacteria more resistant to disinfectants in the long run, impacting your health in a greater way.
---
What's your favorite disinfectant from this list? Do you have trouble disinfecting these top areas in your home? Tell me in the comments below!